This oven-baked chicken and bell pepper recipe features gorgeous crispy-skinned chicken thighs, colorful bell peppers, and creamy mashed chickpeas. The combination creates a delightful meal that tastes as good as it looks.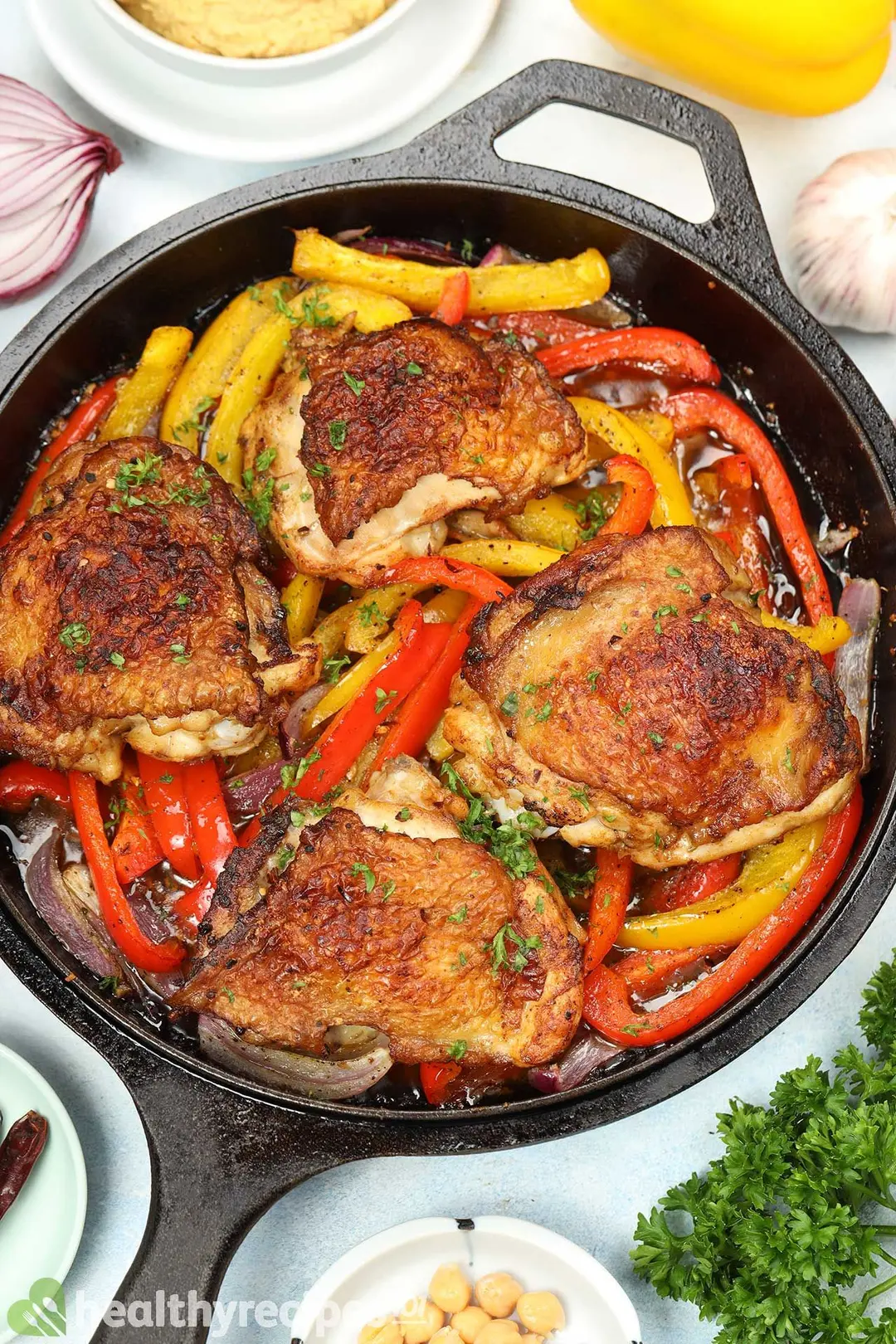 Ingredients You'll Need
The ingredients we need for this recipe are easy to prepare and super simple to work with. Let's take a look!
We opt for skin-on bone-in chicken thighs. These cuts have a deliciously juicy texture as well as deeply rich flavors.
To season, we toss the thighs in a mixture of Italian seasoning, salt, garlic powder, paprika, ground black pepper, and Cajun seasoning for a pungent and savory kick.
We then give them a quick pan-sear with olive oil to give the skin a nice golden-brown color and crispy edges before baking them in the oven.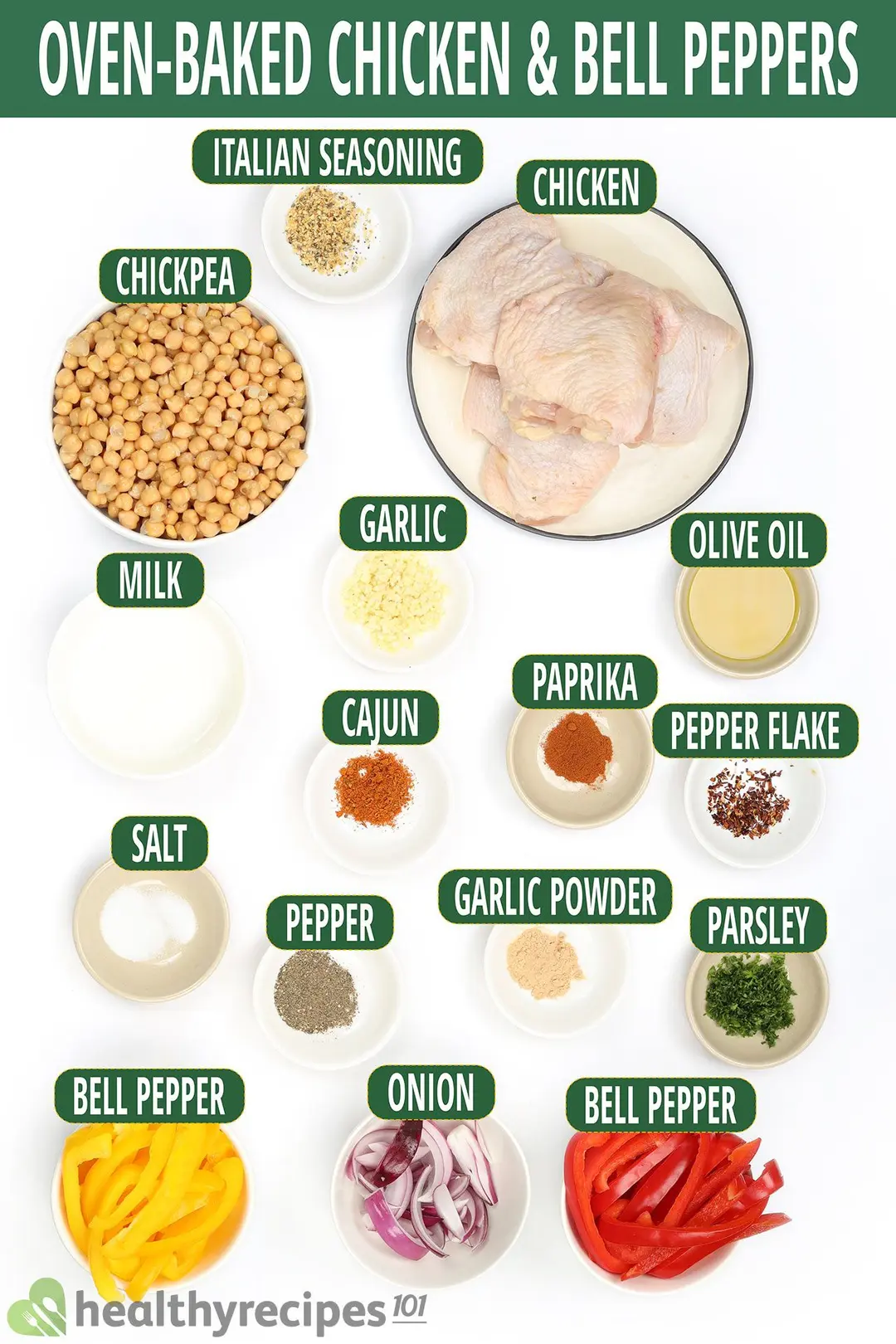 We went with red and yellow bell peppers as these varieties have a mildly sweet and citrusy flavor, which pairs wonderfully well with our savory chicken. We stir-fry the bell peppers with minced garlic for an aromatic boost before placing them with the chicken in the oven.
Give your main course a low-carb twist with mashed chickpeas. It's super easy: You'll only need chickpeas and milk to whip up a creamy and buttery mixture that tastes just as good as the classic mashed potatoes.
Add some sprinkles of fresh parsley and dried red pepper flakes to give the dish a pop of color.
Is Chicken and Bell Pepper Healthy?
Yes, our recipe with chicken and bell peppers makes for a nutritious meal that's high in protein and loaded with vitamins.
Thanks to the chicken, our dish is packed with protein. For each serving, you will have a considerable 29.4 grams of protein—enough to give you a filling and satisfying meal.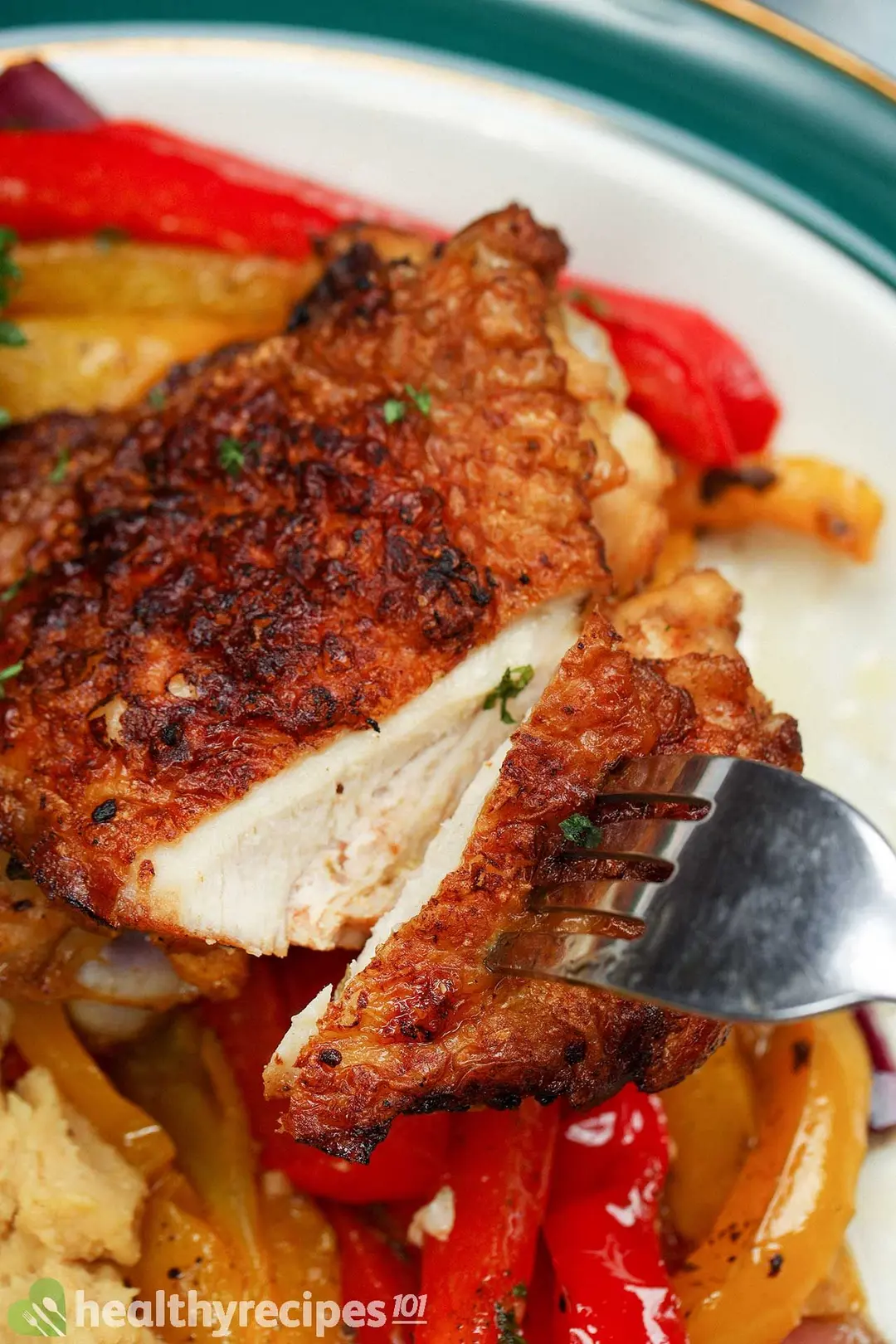 Then, the red and yellow bell peppers make an impressive contribution to the amount of vitamins in our dish, especially that of vitamin C, with one serving accounting for 150% of the daily recommended intake.
On top of that, the mashed chickpeas add to the fiber content of the dish and give it a boost of healthy fats.
How to Store and Reheat the Leftovers
You can keep the leftovers in an airtight container in the fridge for up to 3 days. When you want to eat it again, simply reheat it in a microwave for 1-2 minutes or in a preheated oven for about 5 minutes.
What to Serve With Oven-baked Chicken and Bell Pepper
Here are some recommended sides to serve with our chicken and bell pepper: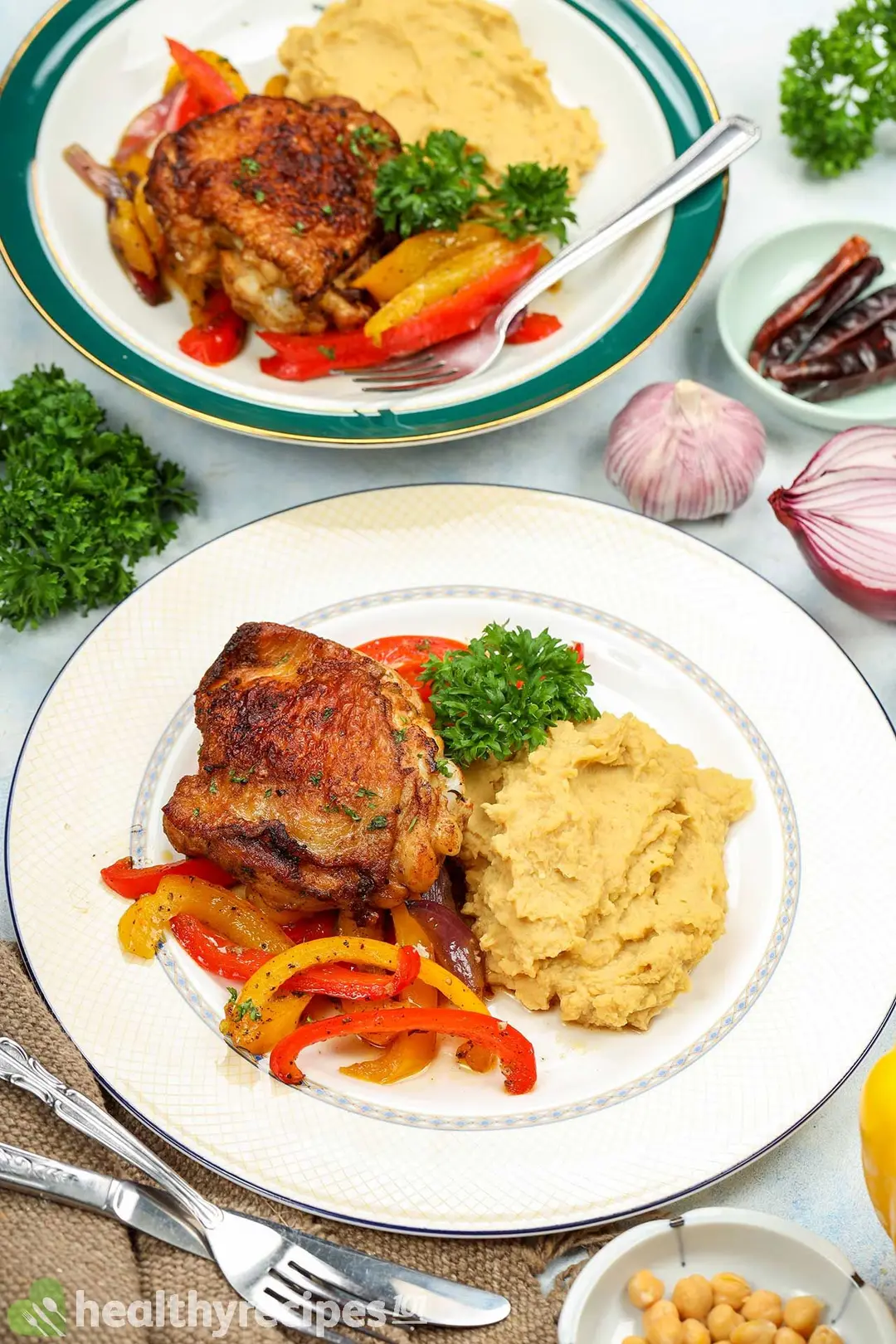 Oven-baked Chicken and Bell Pepper Recipe
As simple as it may sound, this oven-baked chicken and bell pepper recipe will surprise your taste buds with a gorgeous mixture of savory and sweet flavors. It features crispy-skinned chicken thighs baked with colorful bell peppers, served with creamy mashed chickpeas.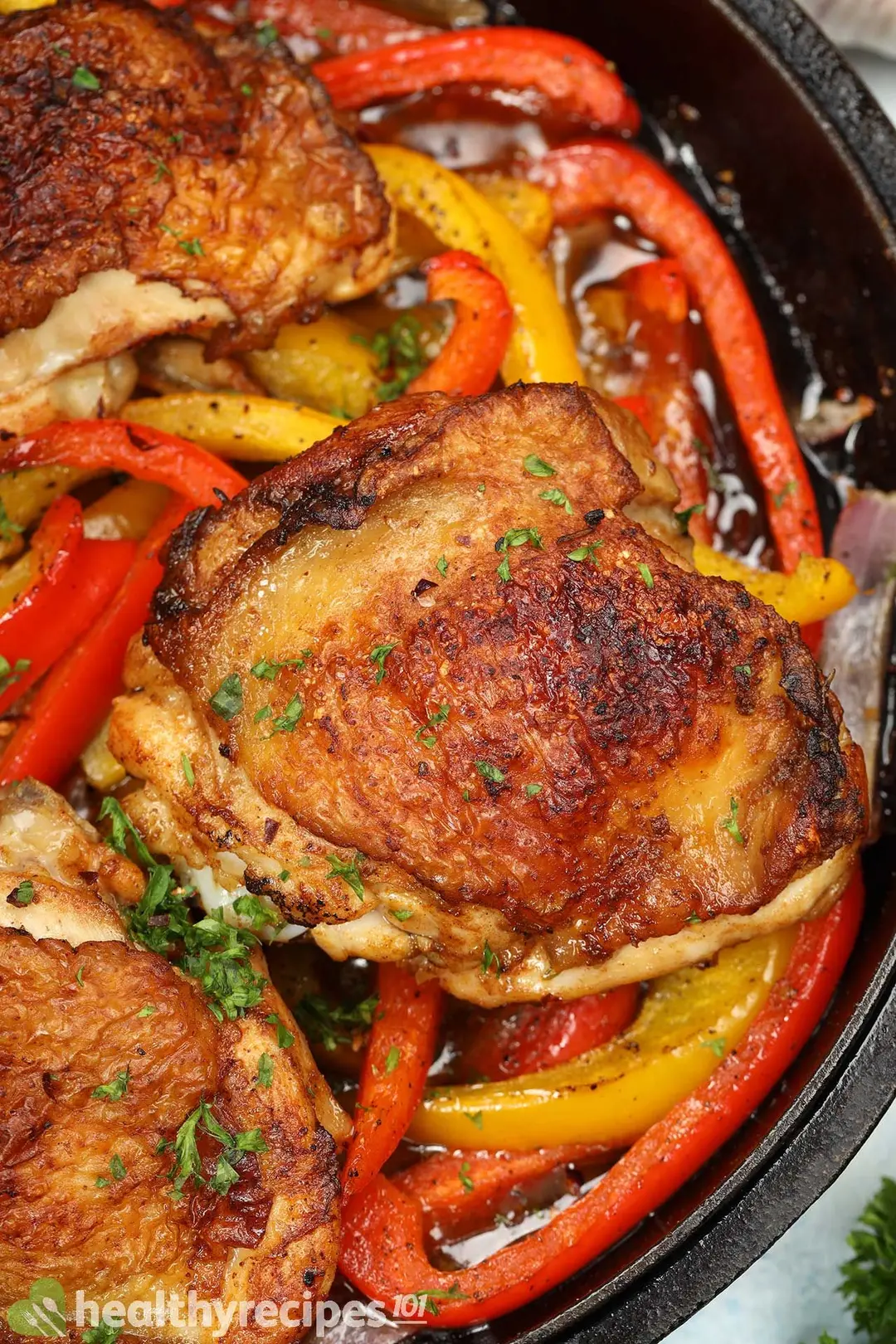 cook TIME

35 mins

prep TIME

10 mins

total TIME

45 mins
COURSE

Main Dish

CUISINE

American

SERVINGS

servings

CALORIES

505 kcal
INGREDIENTS
2 oz

red onion (cut into wedges)

6 oz

red bell pepper (sliced)

0.5 tbsp

Italian seasoning

1 tbsp

garlic (minced)

6 oz

yellow bell pepper (sliced)

0.5 tsp

salt

0.5 tsp

garlic powder

0.5 tsp

paprika

2 tbsp

olive oil (divided)

0.5 tsp

ground black pepper

2 tbsp

parsley (chopped)

18 oz

skin-on bone-in chicken thighs (scored)

0.5 cup

milk

18 oz

canned chickpeas

0.5 tsp

red pepper flakes

0.5 tsp

Cajun seasoning
INSTRUCTIONS
Prep:
1
Score the chicken thighs.
2
Slice the bell peppers: Cut away the top and bottom of the bell pepper, and slice it open. Hold the knife horizontal to the cutting board and carefully slice away the white part as well as the seeds. Cut the rectangular piece of pepper into thin strips.
3
Cut the onion into wedges: Half the onion lengthwise and slice off the root and head. Lay one half flat and cut vertically right through the center into two large wedges. Flip the large wedges and cut them into four small wedges.
4
Peel and mince the garlic: Remove the root of each garlic clove and mash them down with a knife to remove the peel with ease. Mince the peeled cloves.
Cook:
1
Microwave the chickpeas and milk: Add 18 oz canned chickpeas and 1/2 cup milk to a microwave-safe medium bowl. Cover with plastic wrap, then microwave for 5 minutes.
2
Mash the chickpeas: Put 18 oz canned chickpeas into an immersion blender and blend until smooth.
3
Season the chicken: In a medium bowl/plate, add 18 oz skin-on bone-in chicken thighs, 1/2 tbsp Italian seasoning, 1/4 tsp salt, 1/2 tsp garlic powder, 1/2 tsp paprika, and 1/2 tsp Cajun seasoning. Dry-rub the spices onto the chicken until evenly coated.
4
Pan-sear the chicken: In a skillet over medium heat, add 1 tbsp olive oil. Place the chicken skin-side down and pan-sear for 5 minutes until golden brown. Remove from the heat, then set aside on a different plate.
5
Sauté the garlic in olive oil: In the same skillet over medium heat, add 1 tbsp olive oil and 1 tbsp garlic. Sauté for 30 seconds.
6
Add the red onions and bell peppers: Add 2 oz red onion, 6 oz red bell pepper, 6 oz yellow bell pepper,  1/4 tsp salt, and  1/2 tsp ground black pepper. Stir well for 1 minute.
7
Add the chicken into the skillet again and turn off the heat
8
Bake everything in the oven: Place the entire skillet with chicken and bell peppers in a preheated oven and bake at 400 °F for 15 minutes, then remove from the heat.
9
Garnish with 2 tbsp chopped parsley and 1/2 tsp red pepper flakes.
10
Transfer onto serving plates and serve with the mashed chickpeas.
NUTRITION
Nutrition Facts
Oven-baked Chicken and Bell Pepper Recipe
Amount Per Serving (1 serving)
Calories 505
Calories from FDA
% Daily Value*
* Percent Daily Values are based on a 2000 calorie diet.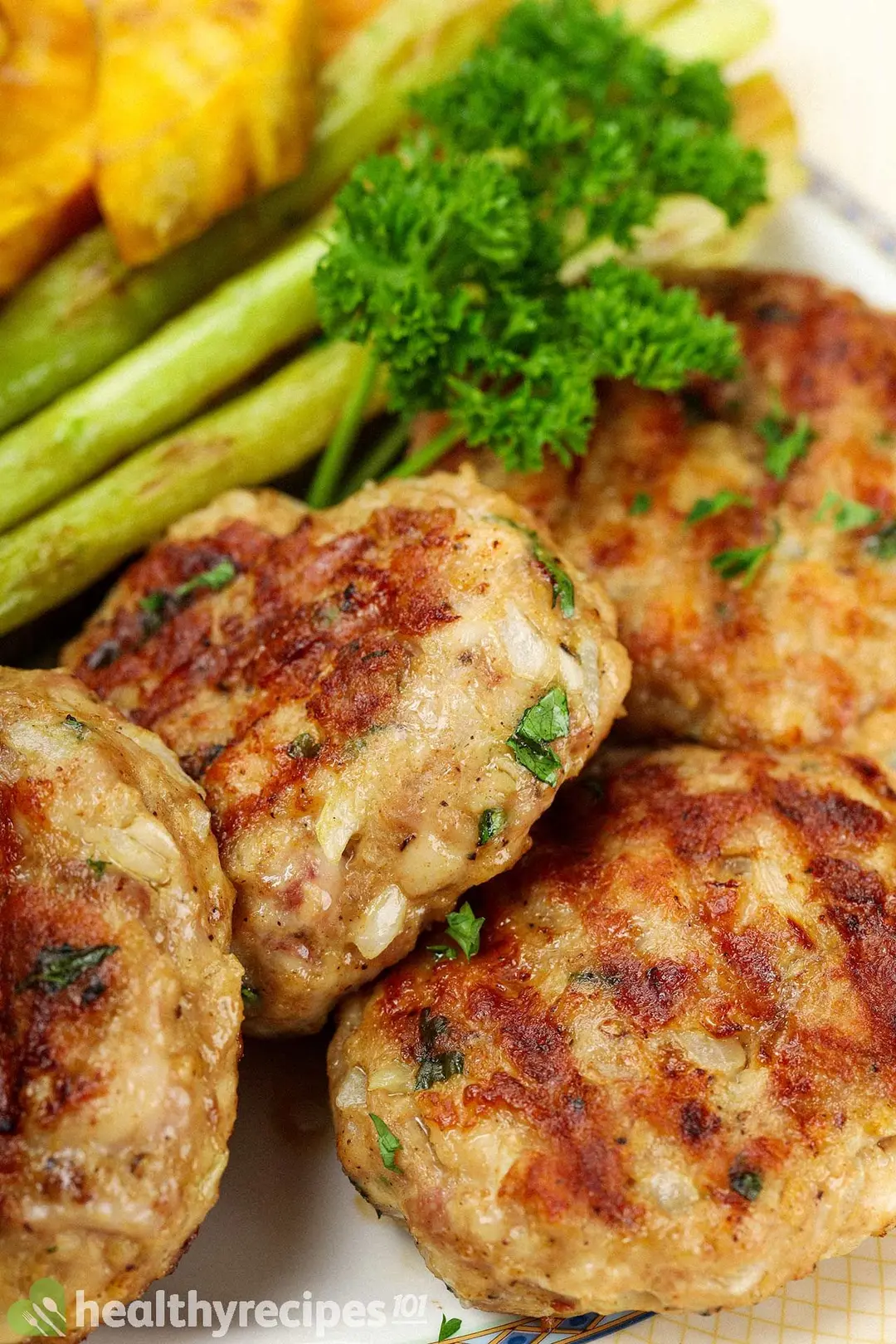 Previous Recipe
Ground Chicken Patties
Ground Chicken Patties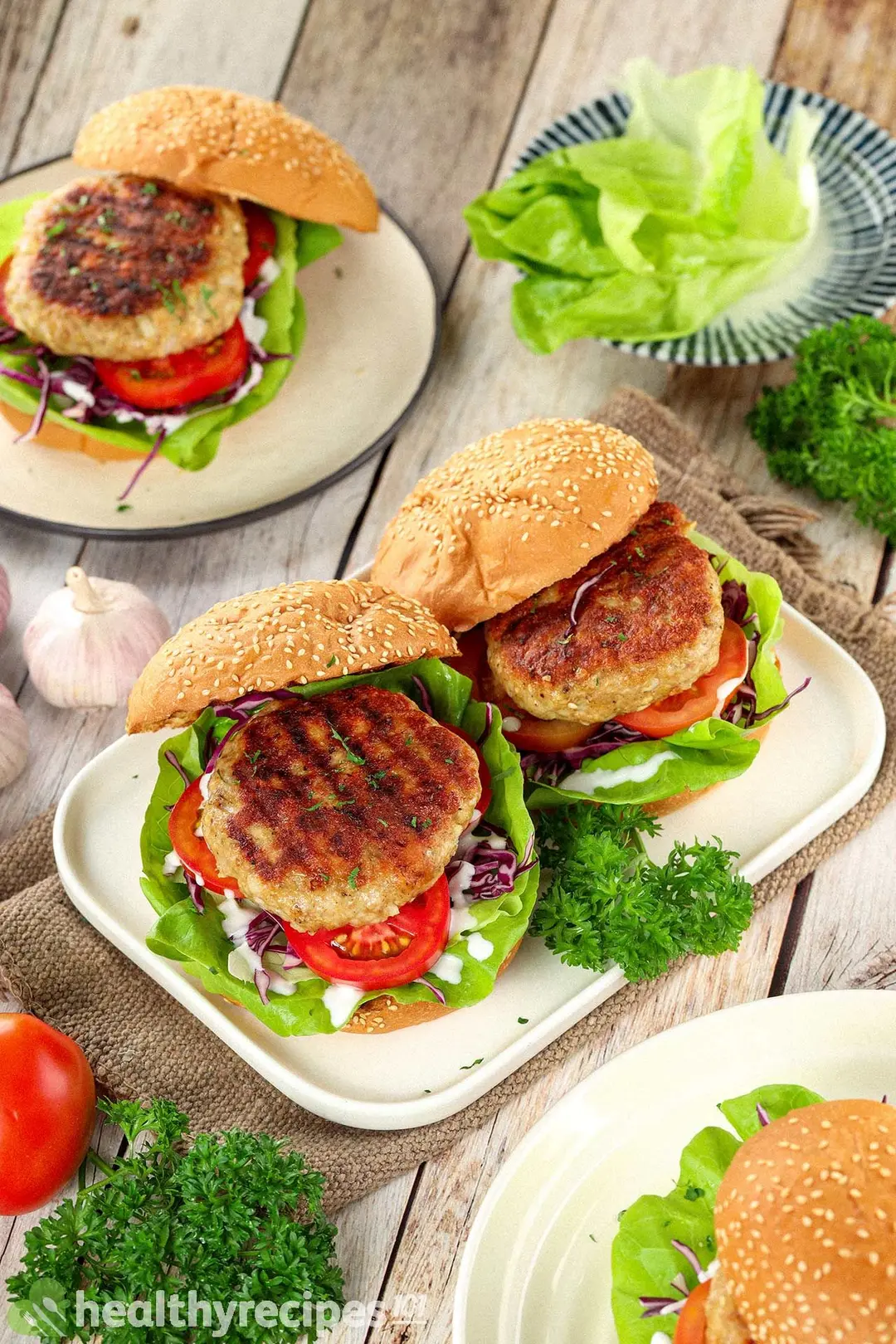 Next Recipe
Ground Chicken Burger
Ground Chicken Burger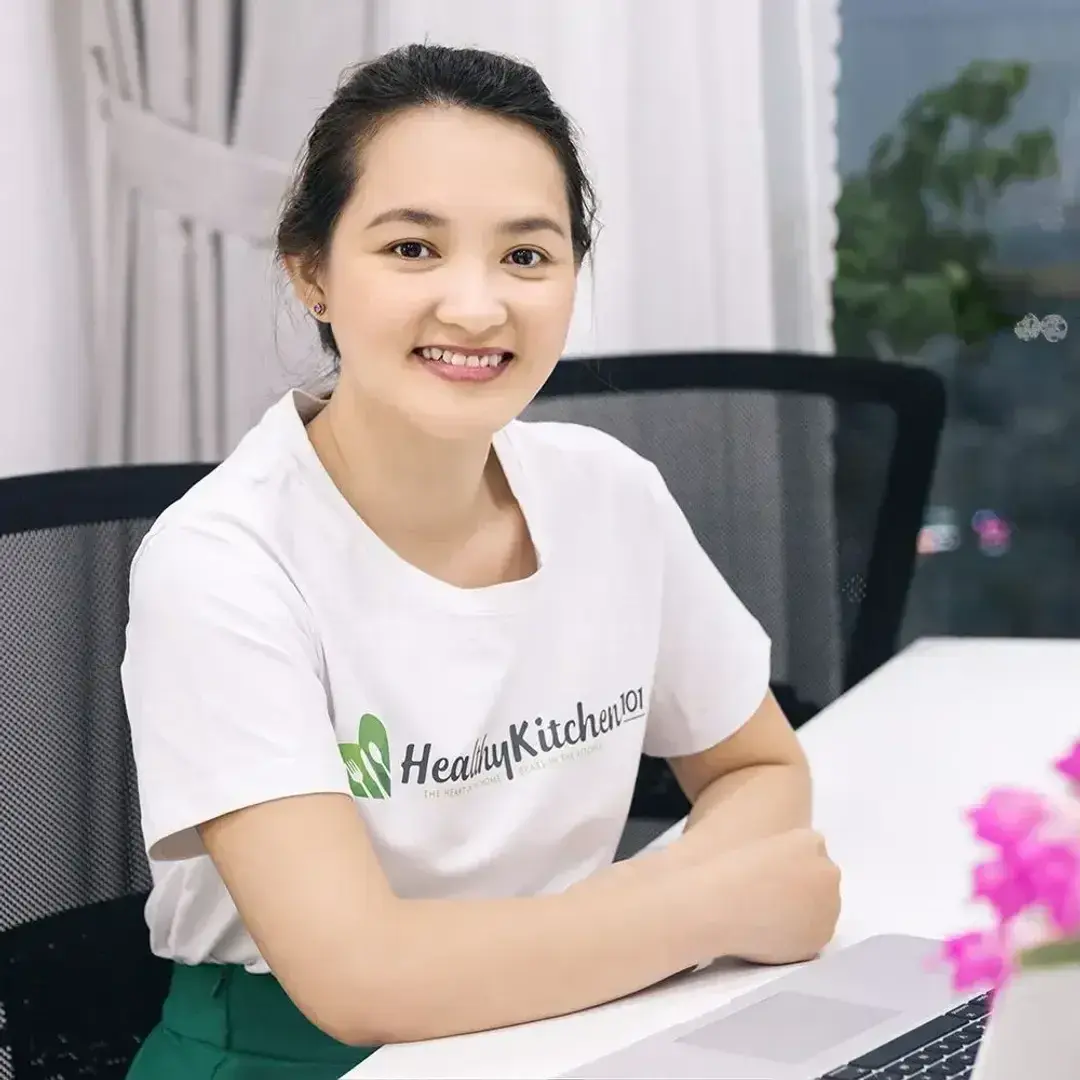 Founder
Luna Regina is an accomplished writer and author who dedicates her career to empowering home cooks and making cooking effortless for everyone. She is the founder of HealthyKitchen101.com and HealthyRecipes101.com, where she works with her team to develop easy, nutritious recipes and help aspiring cooks choose the right kitchen appliances.
Comments/ Reviews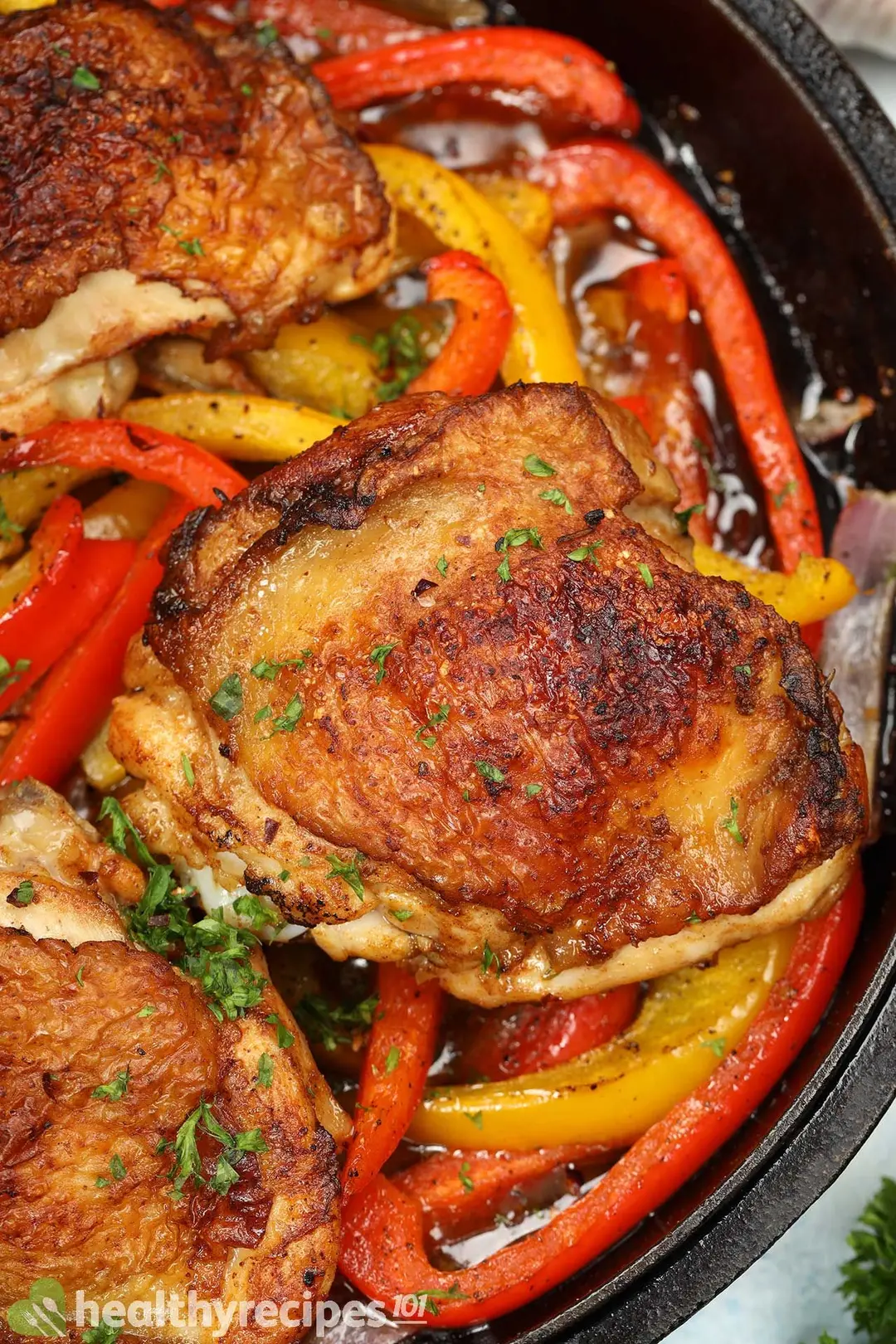 Oven-baked Chicken and Bell Pepper Recipe