With grilled chicken patties that are lightly smoky and deliciously juicy, this ground chicken burger recipe makes it feel like summer is just around the corner. You can make it in less than 30 minutes without the need for an outdoor grill. Whether you're making a casual dinner or planning an exciting cookout, these burgers are the go-to choice for an effortlessly flavorful meal.
Is Ground Chicken Burger Healthy?
Burgers are commonly known to be fast food, which is often considered unhealthy due to the high amount of salt, artificial sweeteners, and other potentially disease-promoting chemicals. However, with this homemade recipe, we've made sure to carefully select the ingredients and keep the important dietary components within limits so that the burgers are still relatively healthy.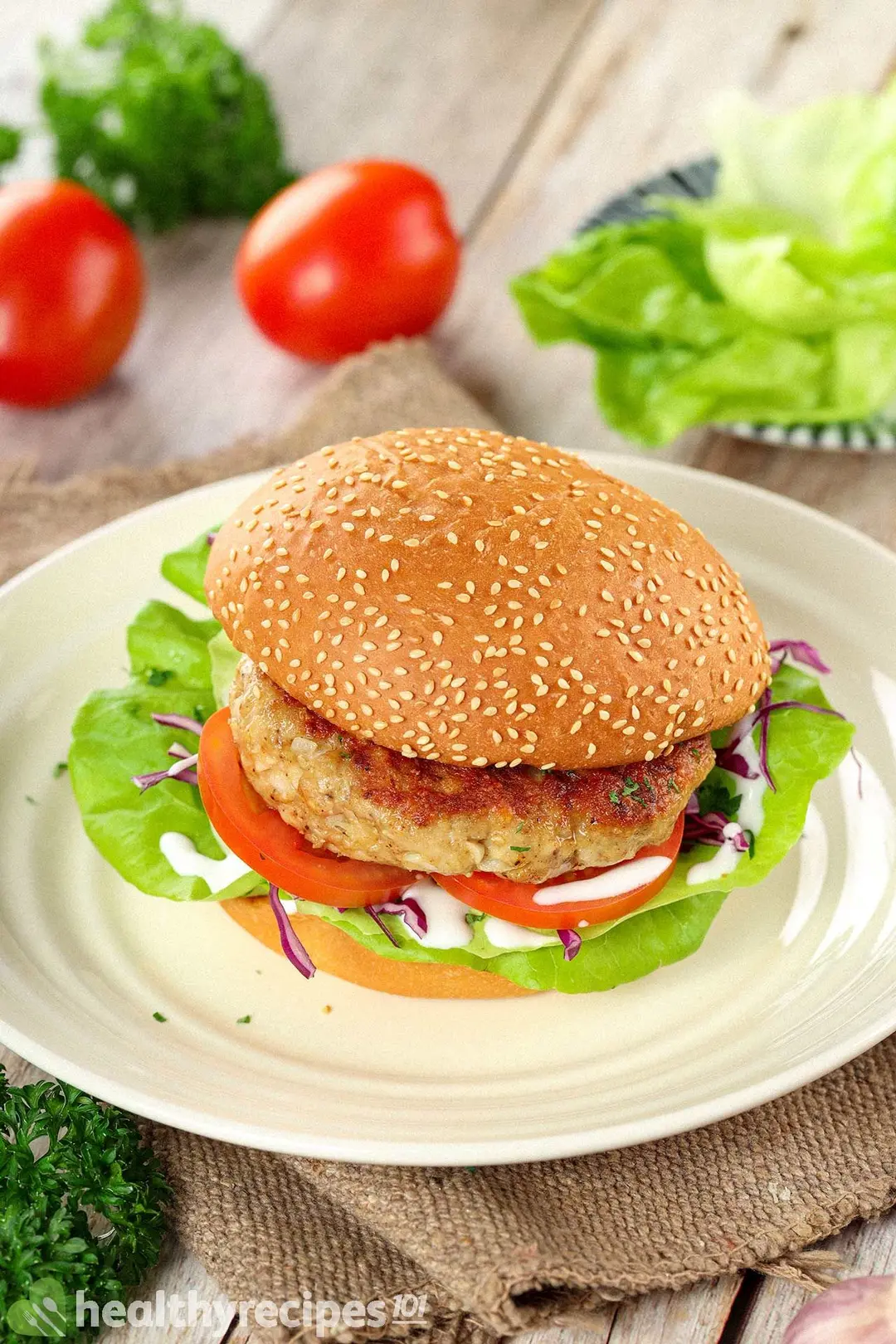 More specifically, each serving contains:
454 calories
6.8 g saturated fat
608 mg
These amounts were set in accordance with the standards set by our nutrition guidelines.
Moreover, with chicken as the main ingredient, the dish is an amazing source of protein. To balance things out, we also included some green leaf lettuce and tomatoes. These veggies provide a decent amount of vitamins A and C, and minerals like potassium, calcium, magnesium, and phosphorus.
Ingredients for Ground Chicken Burger
This burger is simple through and through, so you won't be needing anything more than the basics to make it. You might even find most of the following ingredients already sitting in your pantry: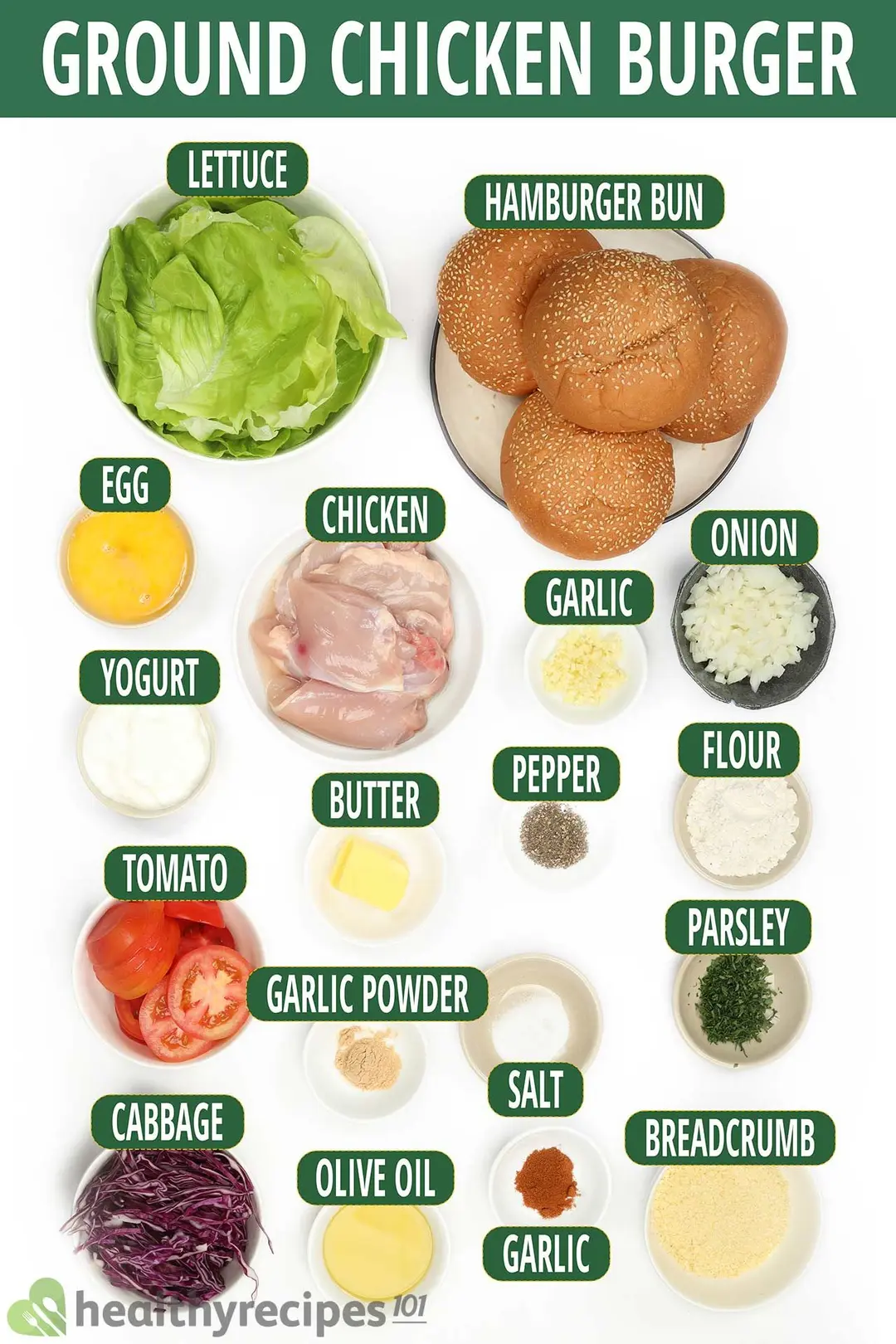 1. For the Patties
Chicken: As the name suggests, this recipe calls for ground chicken. Since we couldn't find any that were readily available, we decided to go with boneless, skinless chicken thighs and grind them in a food processor.
Aromatics: Since chicken meat is quite mild-flavored, we added some garlic and onion to infuse the meat patties with a strong and peppery flavor kick. Make sure you finely dice them so the pieces melt seamlessly into the patties. The bigger pieces might crumble more easily when cooked.
Egg & Flour: These are binding agents that give the meat patties structure and keep them from falling apart. They also help to slightly thicken the meat, giving you a more substantial mouthfeel with each bite.
Breadcrumbs: This is also another crucial ingredient that significantly affects the patties' quality. The breadcrumbs retain moisture that keeps the meat tender and juicy while also adding a subtle crispiness to each bite.
Spices: Since the dish is already quite loaded with a myriad of ingredients, we kept things simple and only used garlic powder, salt, and pepper for seasonings.
2. For the Buns
Buns: Go with your preferred store-bought varieties. Anything tender but still slightly firm with a certain amount of structure should do.
Greek Yogurt: Most burgers use regular ketchup or mayo as a sauce, but we decided to go with a healthier alternative—Greek yogurt. It has a distinct tangy taste that goes surprisingly well with the chicken's mild savoriness and the buns' soft pastry scent.
Vegetables: We went with the classics that you could always find in a typical burger, such as lettuce, tomatoes, and red cabbage.
Tips for Cooking the Perfect Ground Chicken Burger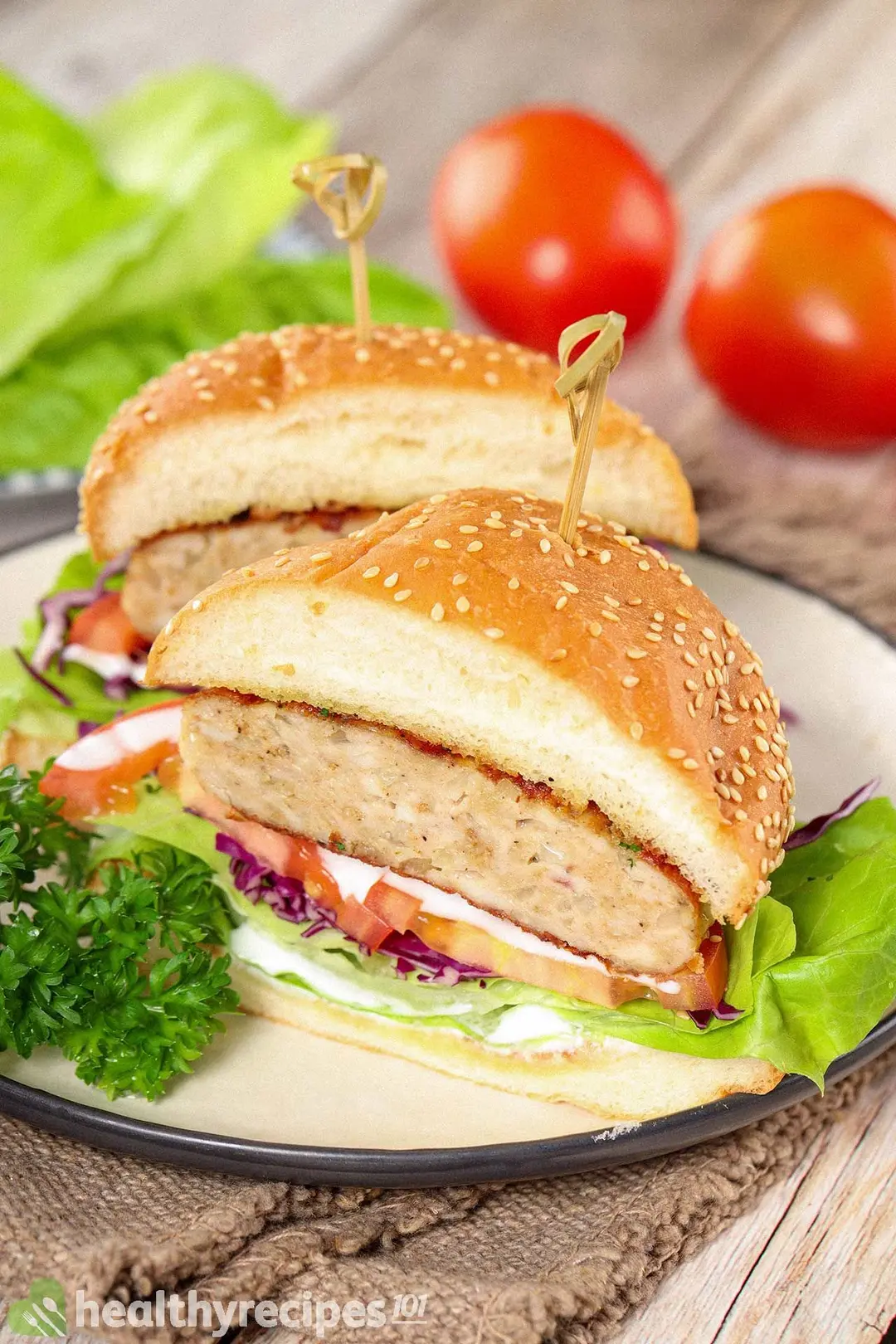 Press Down the Middle of the Patties
Use your thumbs to press down the centers of the patties to help them cook evenly and prevent them from shrinking.
Don't Overmix the Patties
Make sure you mix the meat and other pattie ingredients well but don't overdo it or the meat might become tough and chewy.
If you want a precise estimation of when the meat is cooked, use a meat thermometer. For ground chicken meat, the internal temperature should reach a minimum of 165 °F, according to the USDA.
Don't Flatten the Burgers
The spatula pressing down on grilling meat patties is a common sight on TV, but we advise against it because this will cause the juice to seep out and make the patties lose their moisture and flavor.
How to Store the Leftovers
Tightly wrap this burger in cling wrap or keep it in airtight containers for around 3 days. You can reheat the meat patties on the stovetop or in the air fryer. As for the buns and veggies, you can use paper towels to pat the excess moisture to minimize the sogginess.
What to Serve With Ground Chicken Burger
This burger is filling enough to be eaten on its own as a light meal. You can pair it with one of the following side dishes to make a complete meal filled with flavors and nutrients: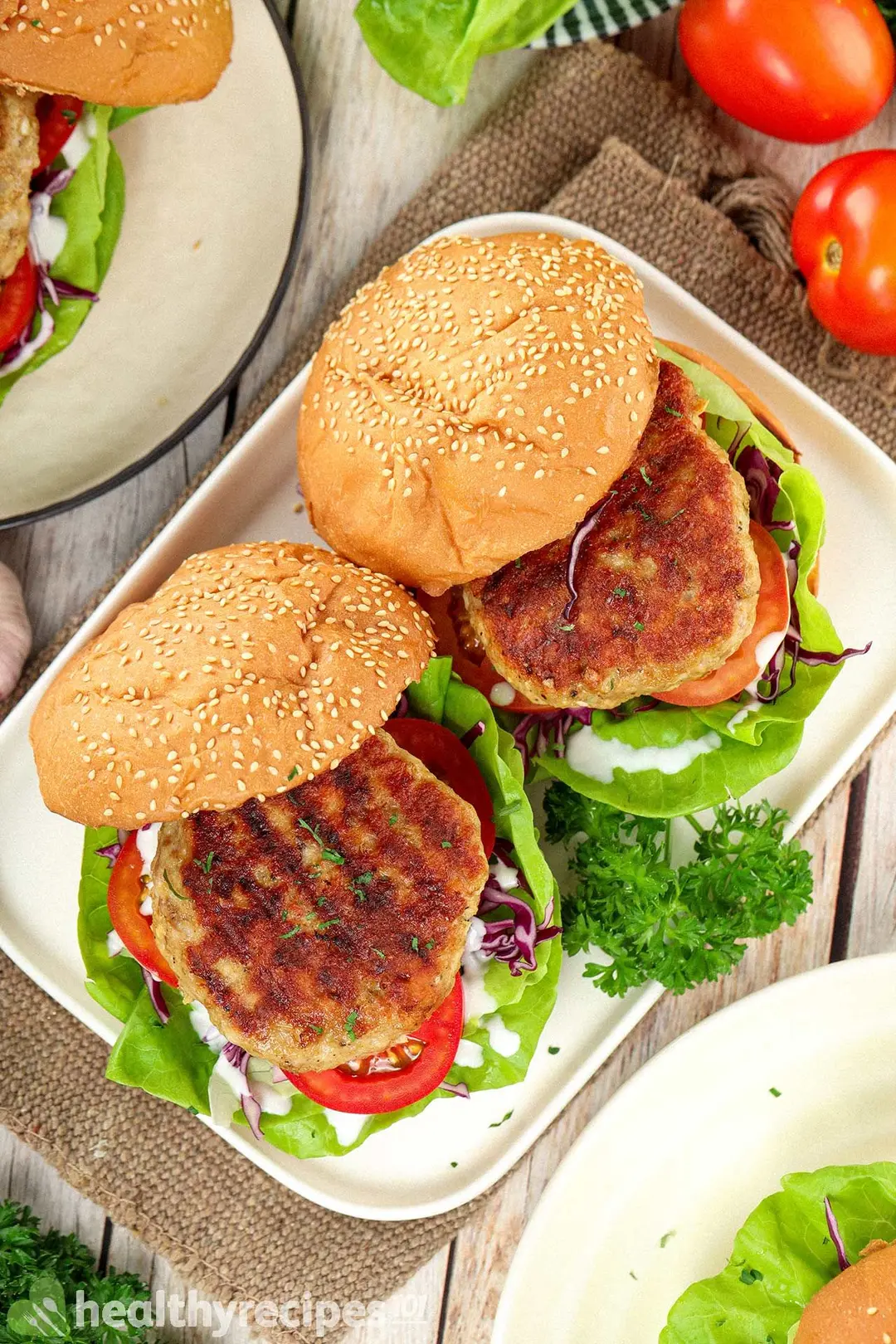 Ground Chicken Burger Recipe
With grilled chicken patties that are lightly smoky and deliciously juicy, this ground chicken burger recipe makes it feel like summer is just around the corner. It comes together in just half an hour—the ideal choice for an effortlessly flavorful meal.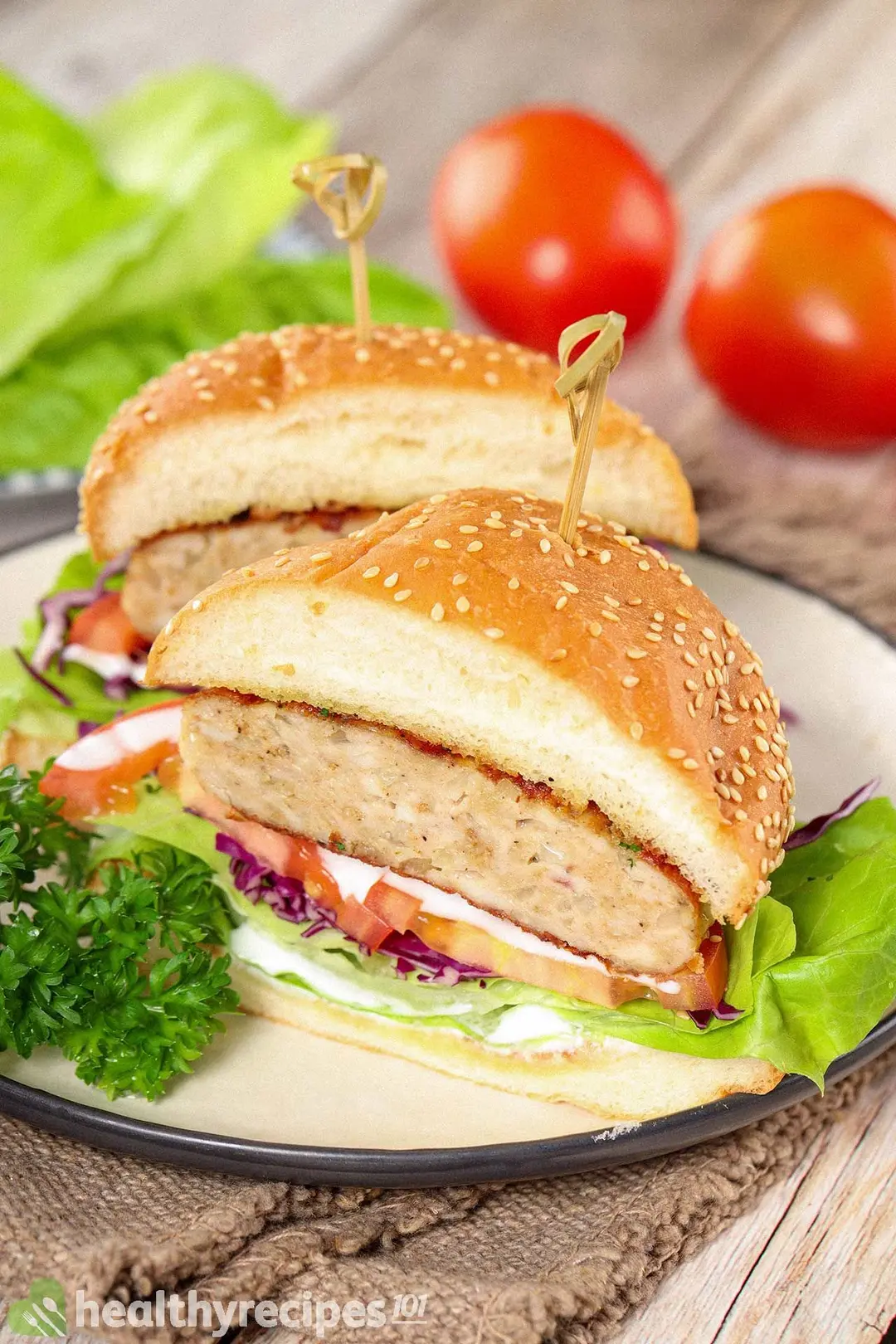 cook TIME

20 mins

prep TIME

7 mins

total TIME

27 mins
COURSE

Main

CUISINE

American

SERVINGS

servings
INGREDIENTS
14 oz

skinless boneless chicken thighs

4

hamburger buns

4 oz

green lettuce shredded into large pieces

6 oz

tomato sliced

2 oz

red cabbage sliced into ribbons

2 oz

onion diced

1 tbsp

garlic minced

2 tbsp

parsley chopped

1

medium egg

3 tbsp

all-purpose flour

0.5 cup

plain panko breadcrumbs

2 tbsp

olive oil

4 tbsp

plain Greek yogurt

2 tbsp

unsalted butter

0.5 tsp

salt

0.5 tsp

ground black pepper

0.5 tsp

garlic powder
INSTRUCTIONS
Prep:
1
Slice the Cabbage: Lengthwise slice the cabbage in half then lay the half flat and thinly slice crosswise into cabbage shreds.
2
Mince the Garlic: Cut off the root, bash the flat side of the knife onto the cloves to remove the peel then thinly slice each clove. Rock the knife over the sliced pile a few times to finely mince the garlic.
3
Dice the Onion: Cut the onion in half lengthwise. Turn the half vertically and make thin slices but leave the root intact. Then turn the onion horizontally and push the knife crosswise into the slices. Then, thinly slice to make small, diced pieces.
4
Chop the Parsley: Bunch the leaves together, cut off the stems, then thinly slice. Rock the knife over the sliced pile of leaves a few times until they are finely chopped.
Cook:
1
Grind the Chicken: Slice 14 oz skinless boneless chicken thighs into small cubes then place them in a food processor and process until the texture resembles ground meat.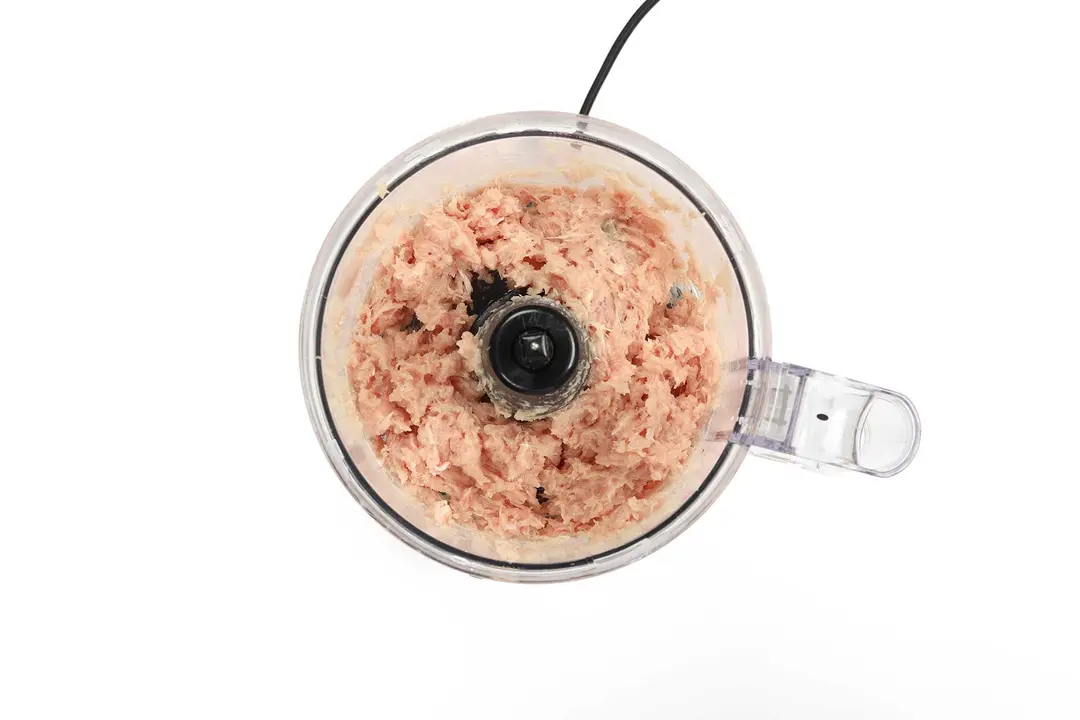 2
Make the Patties Mix: In a large bowl, mix the ground chicken with 1 medium egg, 2 oz onion, 1 tbsp garlic, 1/2 tsp salt, 1/2 tsp pepper, 1/2 tsp garlic powder, 3 tbsp all-purpose flour, and 1/2 cup plain panko breadcrumbs.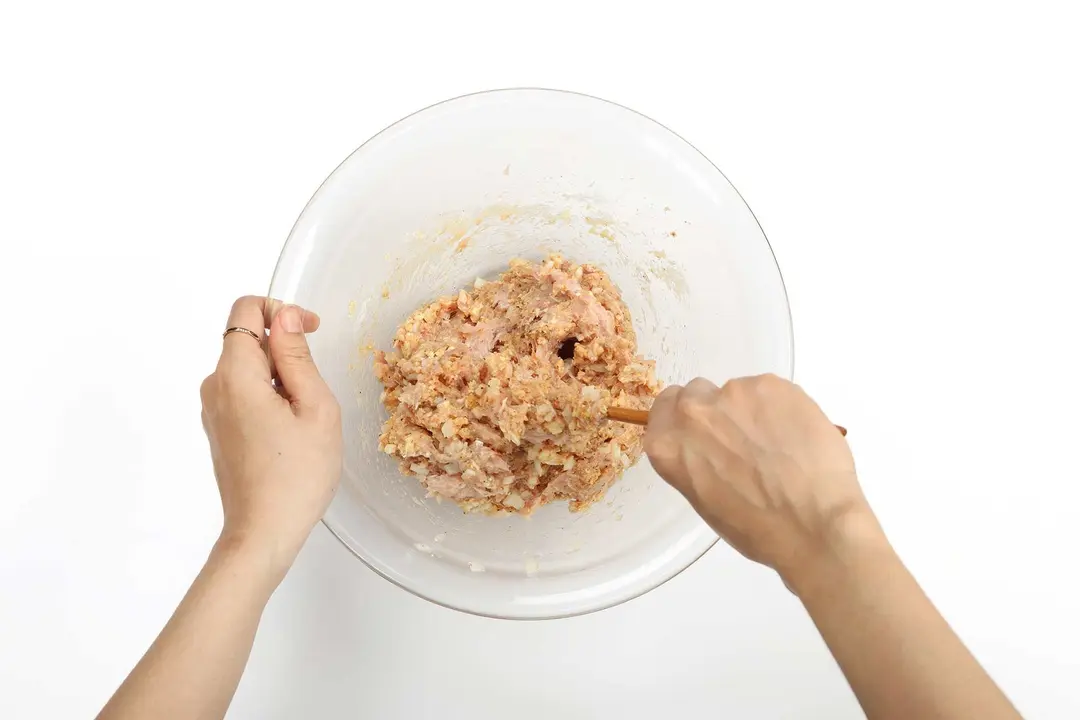 3
Mold the Patties: Divide the mixture into 4 equal parts, scoop each part into your palm, and press down lightly with a spoon. Use your fingers to mold around the edges.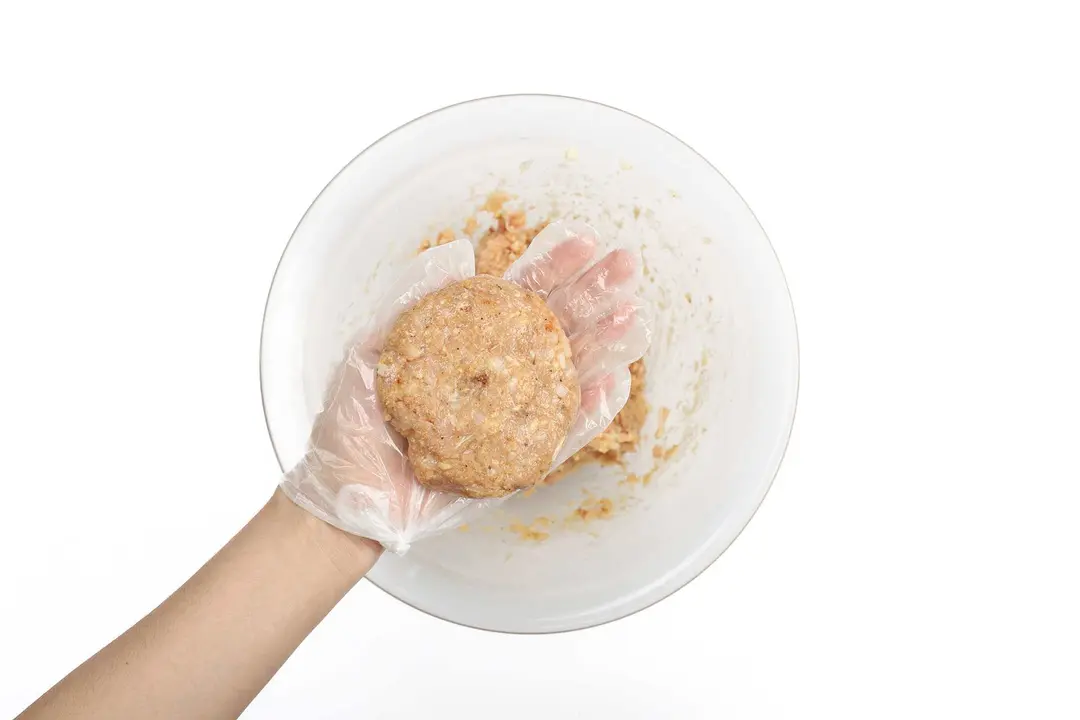 4
Prepare the Buns: Leave 2 tbsp unsalted butter at room temperature to soften. Slice 4 hamburger buns in half then spread the softened butter over the cut sides of the buns.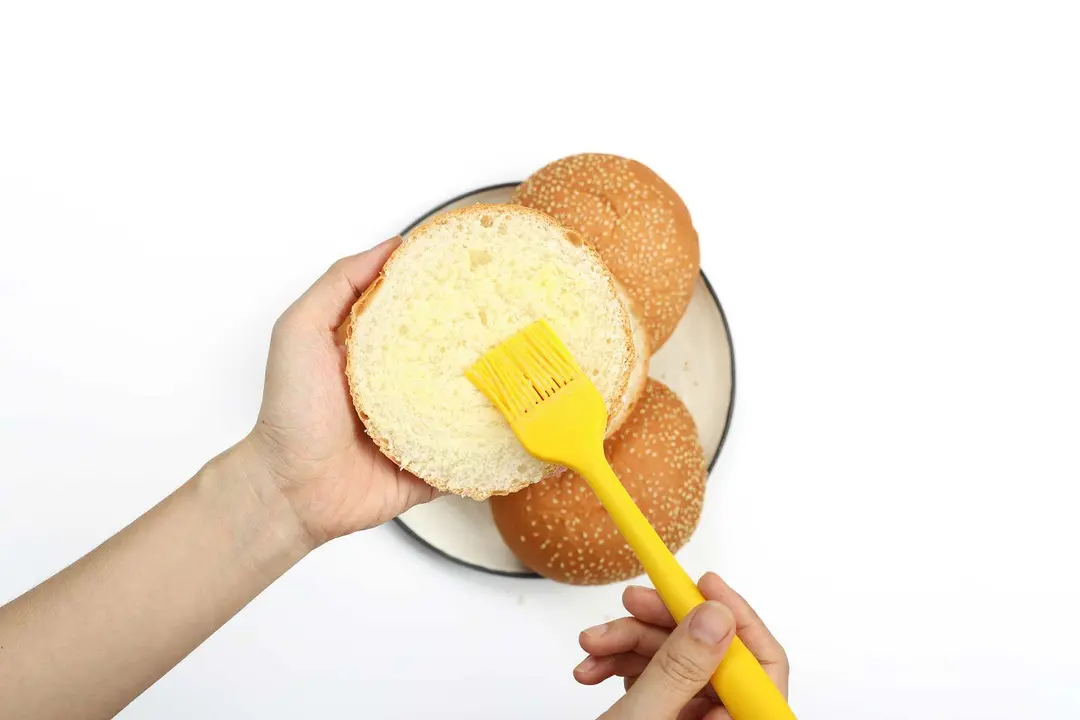 5
Grill the Buns: On a griddle over small heat, place the buns buttered-sides down and cook for around 2 minutes then remove from the heat.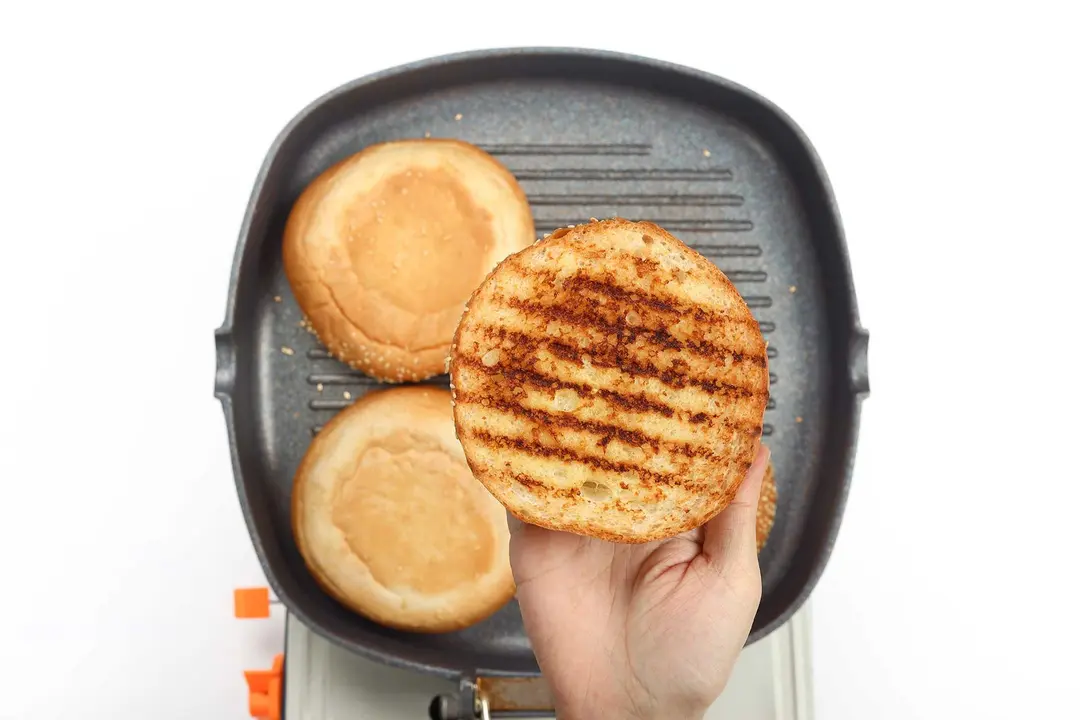 6
Grill the Patties: Add 2 tbsp olive oil to the griddle then add the patties and grill for 5 minutes over low heat on each side until the meat is browned.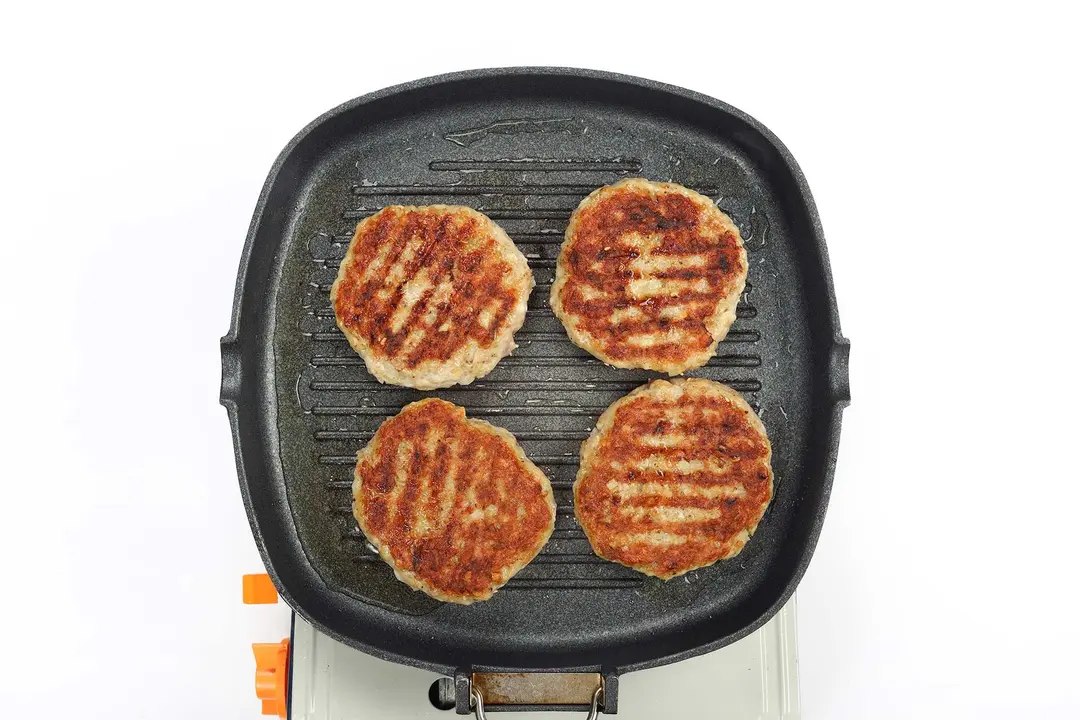 7
Assemble the Burger: Spread 4 tbsp plain Greek yogurt onto the insides of the buns then layer 4 oz green leaf lettuce, 6 oz tomato, 2 oz red cabbage, and the patties in between 2 bun halves. Sprinkle 2 tbsp parsley and enjoy.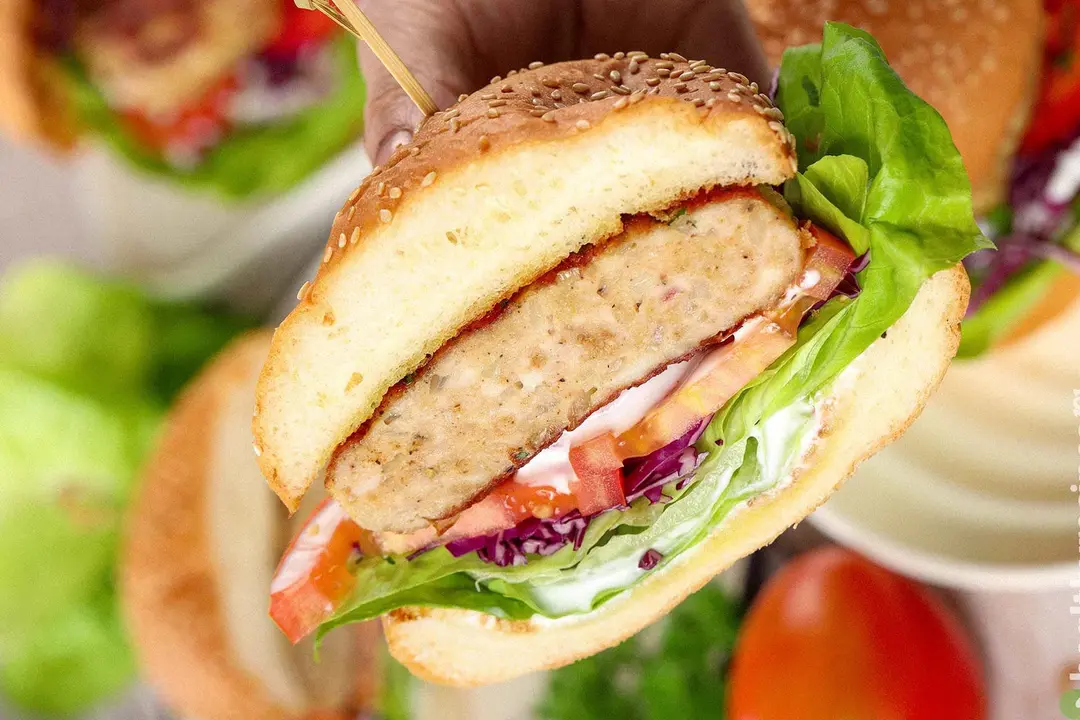 NUTRITION
Nutrition Facts
Ground Chicken Burger Recipe
Amount Per Serving (1 serving)
Calories
Calories from FDA
% Daily Value*
Monounsaturated Fat 9g
NaN%
Polyunsaturated Fat 2g
NaN%
* Percent Daily Values are based on a 2000 calorie diet.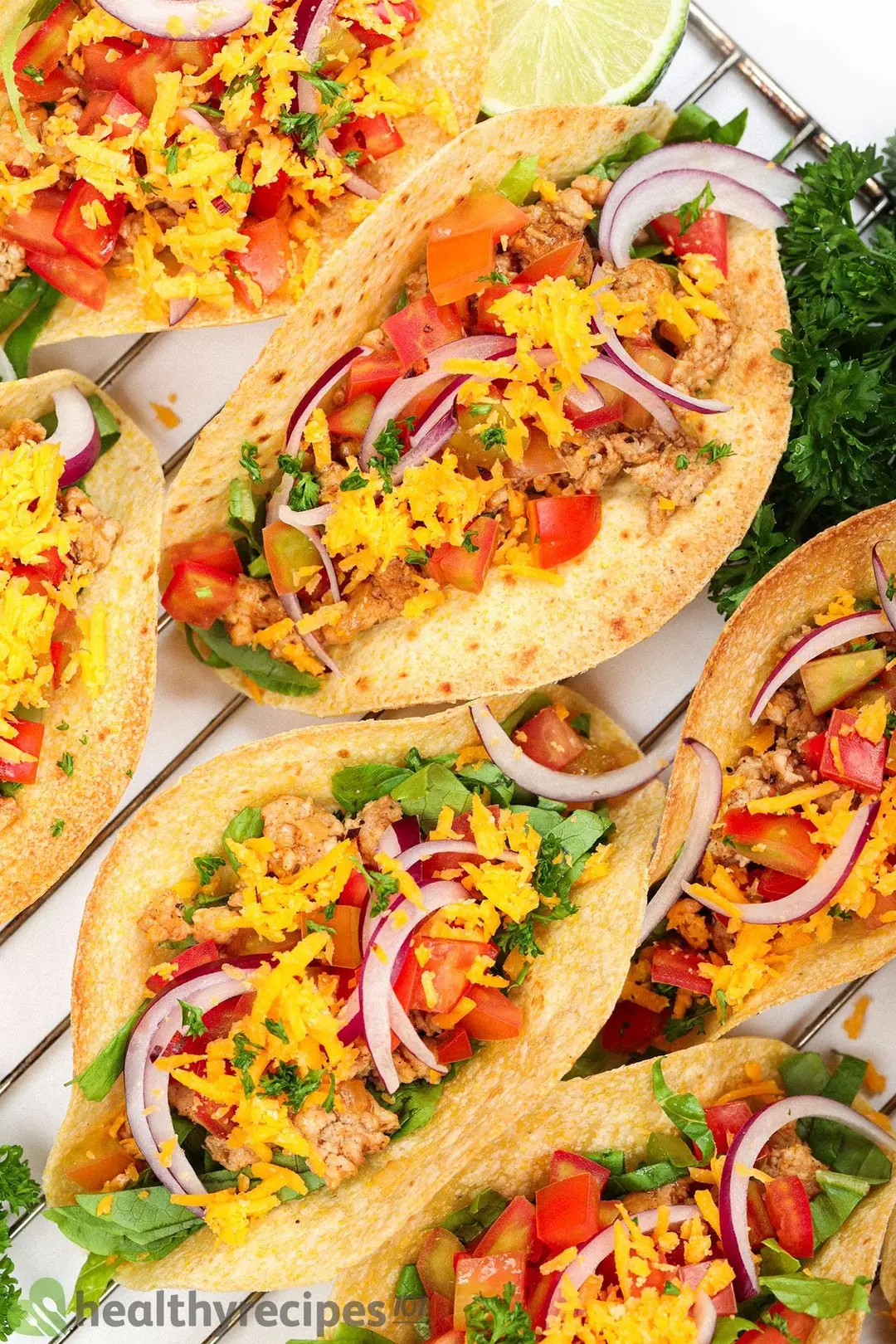 Previous Recipe
Ground Chicken Tacos
Ground Chicken Tacos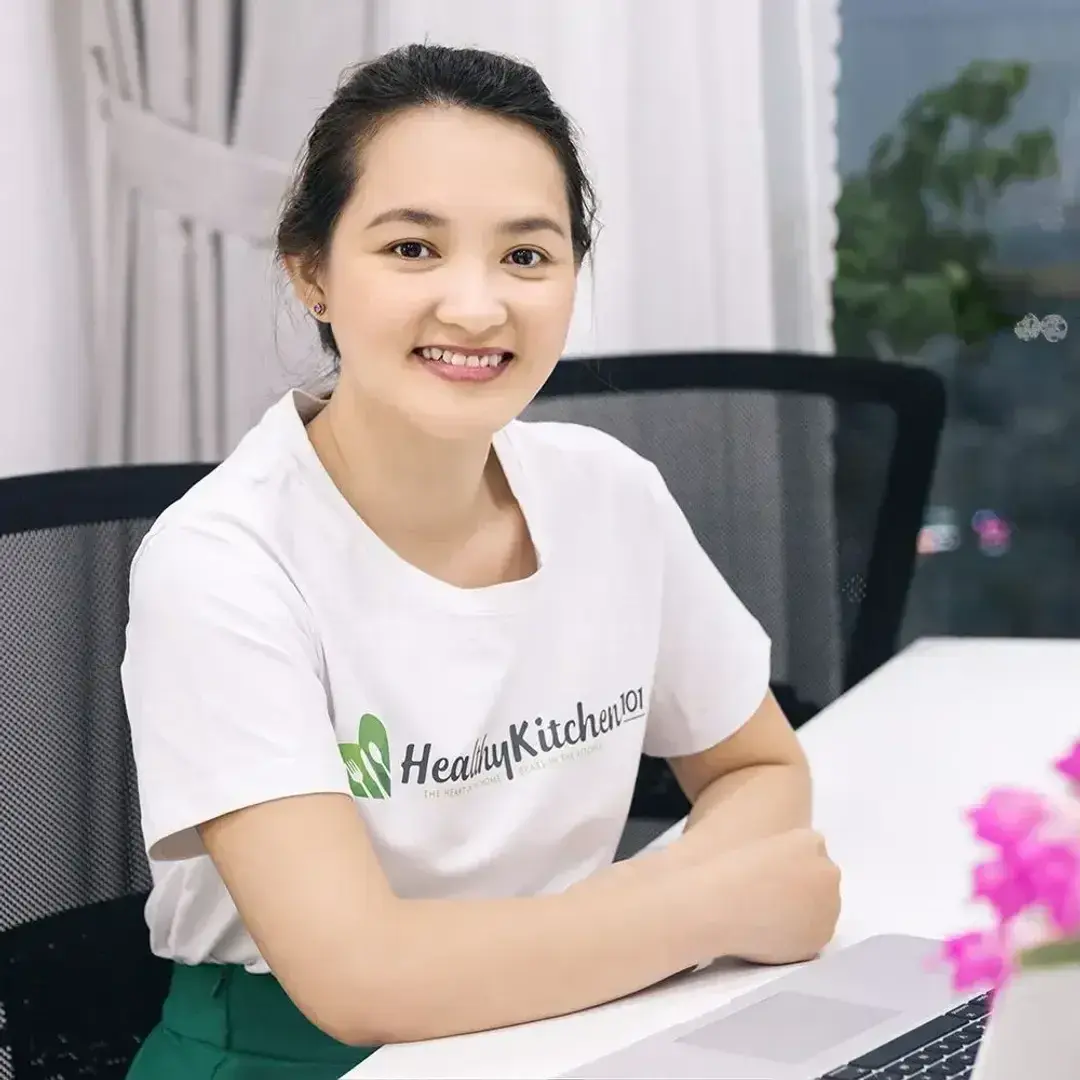 Luna Regina
Luna is the founder and chief recipe developer of Healthy Recipes 101. Apart from cooking, she also loves reading, programming, exploring the outdoors, and collecting useless facts about everything.