The Italians know their food—they can take simple cooking ingredients and turn them into exquisite dishes. 
Today's balsamic chicken recipe, featuring succulent chicken breast, cherry tomatoes, and mozzarella cheese smothered in a balsamic honey sauce, is a fine representative of Italian cuisine.
With only 40 minutes of prepping and cooking, even beginner-level home cooks can pull together this wholesome balsamic chicken. 
What Does Balsamic Vinegar Taste Like?
Originating from Modena, Italy—the city of art and taste, balsamic vinegar is traditionally made by crushing hand-picked fresh grapes (skins, seeds, and stems included) to form grape must.
After finishing crushing comes the aging process, which gives authentic balsamic vinegar its complexity—a sophisticated sweetness with notes of wood, fig, and chocolate.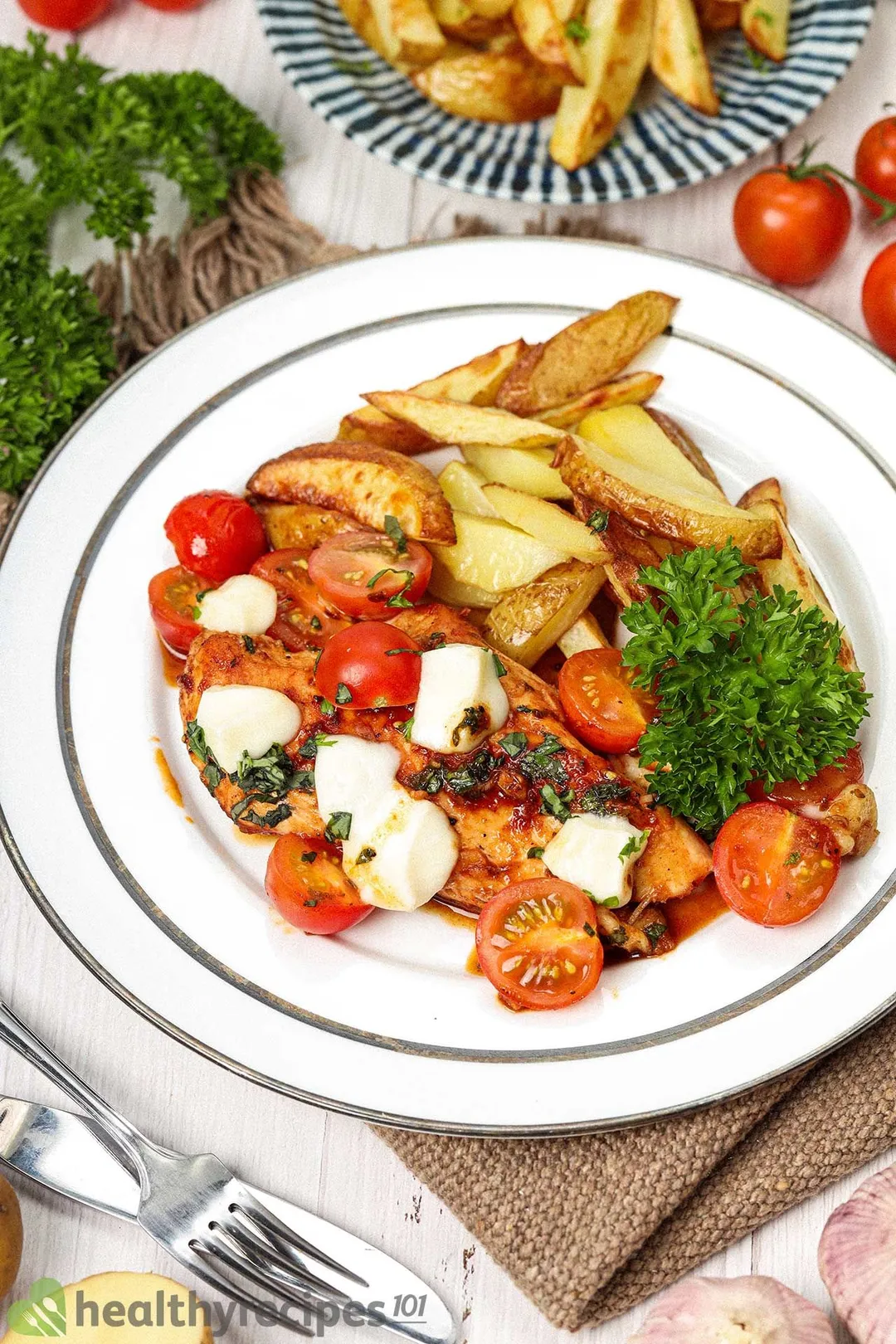 Due to the effort spent on producing, traditional balsamic vinegar can be expensive and difficult to purchase.
Modern balsamic vinegar is a more affordable and easily accessible version that works wonders in our recipes—from appetizers to main courses. Our chefs describe its taste as sweet, fruity, and tangy.
Is This Recipe Healthy?
We believe our balsamic chicken dish is as healthy as it is tasty. Let us explain why.
With 509 calories, 6.4 g of saturated fat, and around 565 mg of sodium per serving, this main course is diet compatible and deserves a place on your daily menu.
As for the main ingredients, our chefs combine boneless skinless chicken breasts with skin-on potatoes, asparagus, fresh mozzarella cheese, spices, and herbs—creating an impressive nutritional profile. 
Chicken breast is a rich source of lean protein, while vegetables provide tons of dietary fiber, vitamins (A, C, and K), and minerals. Besides, the cheese also adds a considerable amount of protein and calcium, which helps support bone health.
After having an overview of the dish's nutritional facts, let's move to the grocery list.
Ingredients You'll Need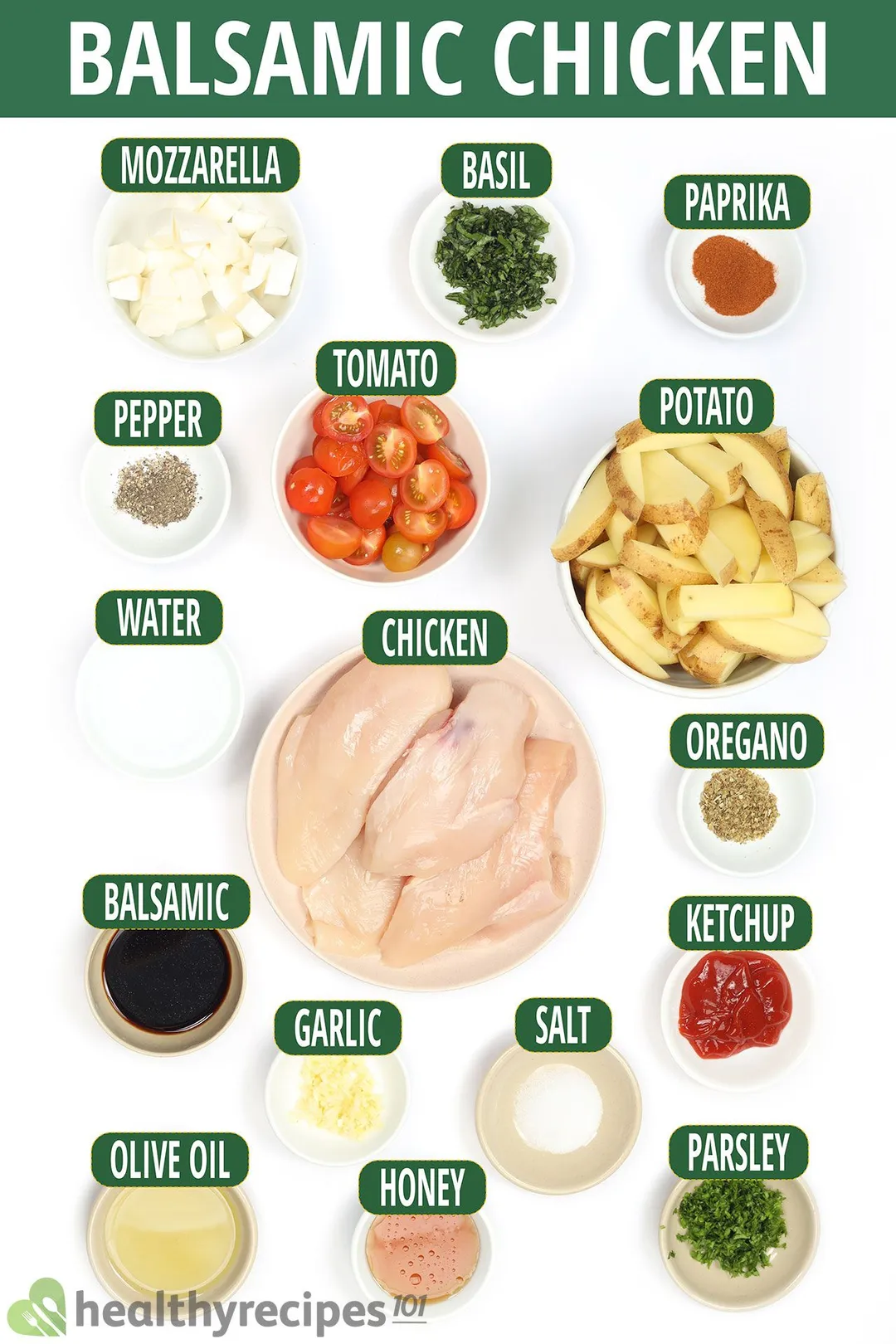 Chicken: We opt for chicken breasts in this recipe, but any chicken cut (wings, drumsticks, thighs, or tenderloins) will work fine. Remember that your choice will cause a slight change to the calorie count.
Potatoes: French fries are our personal-favorite pairing for many types of protein—chicken, beef, and lamb. However, if you want to mix up the dish, give our zucchini fries recipe a try.
Cherry tomatoes: This vegetable gives a bright red hue, a crunchy texture, and an umami flavor to your balsamic chicken.
Mozzarella cheese: Its delicate flavor profile won't overpower but complement your chicken breasts. For those who are lactose-intolerant, you can replace mozzarella cheese with cashew cheese or go ahead and skip this add-in.
Sauce: We start by mixing diluted balsamic vinegar, ketchup, and honey for a sweet and tangy foundation. To add depth and dimension to the sauce, we incorporate freshly minced garlic, salt, black pepper, and oregano. The sauce will slowly thicken during the cooking process, giving your chicken a glossy, visually appealing outer coat.
Substitutes for Balsamic Vinegar
If for any reason, balsamic vinegar is out of stock at your local grocery and you want a stand-in for it, we are here to help.
Here are some quick and easy options that best replicate the taste of balsamic vinegar:
Combine a tablespoon of red wine vinegar with two teaspoons of maple syrup or honey.
Combine a tablespoon of red wine vinegar, a teaspoon of grape jelly, and 1/2 teaspoon of reduced-sodium soy sauce.
Substitute balsamic vinegar with Balsamic vinaigrette at a 1:1 ratio.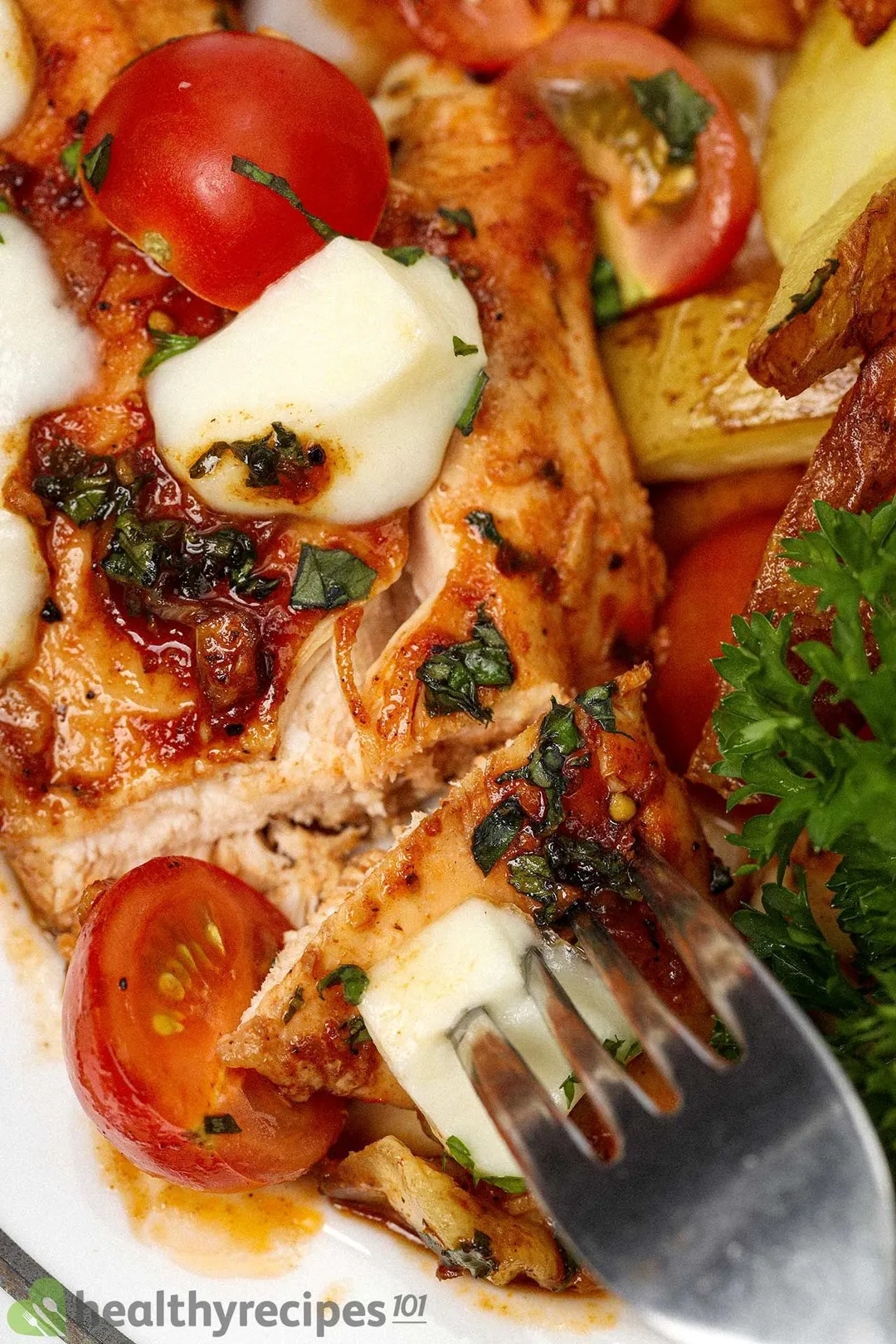 How to Store and Reheat Leftovers
1. How to Store
Before refrigerating your leftover balsamic chicken, ensure your dish has completely cooled down. Portion your food, place them in airtight containers or Ziploc bags, label the date, and keep them in your fridge. They will remain at their best quality for 2 to 3 days. 
2. How to Reheat
Transfer your chicken and vegetables onto a microwave-safe plate covered with plastic wrap (never use aluminum foil in the microwave). Microwave the dish at 'high' for 2 minutes or until hot.
What to Serve With
Quickly toss together some green veggies with your favorite dressing, and you will have a refreshing side dish for your balsamic chicken. If you're looking for some inspiration, check out our salad ideas below.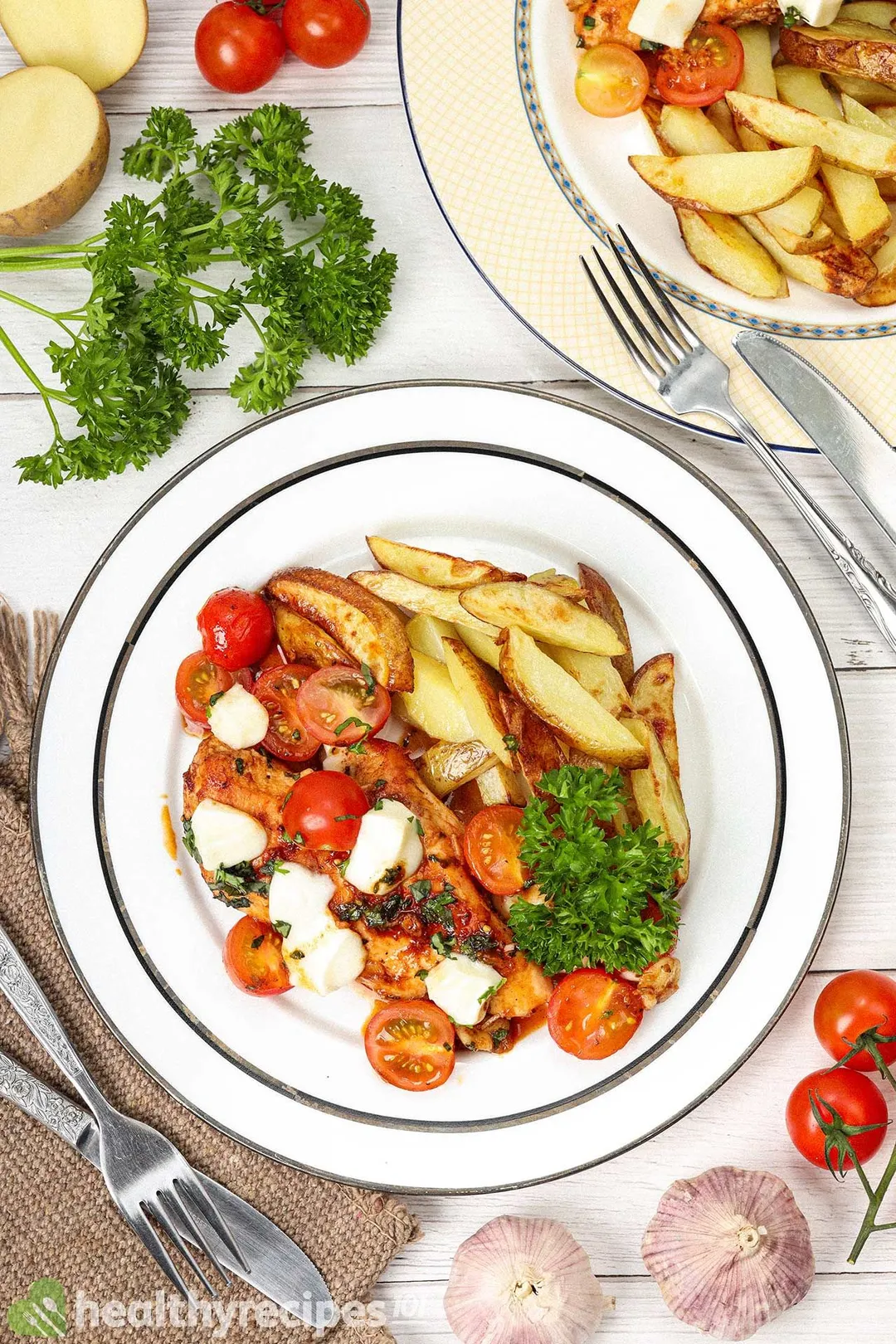 Juicy, Savory Chicken to Serve With Rice
If you're a fan of rich and satiating food, then this peanut butter chicken is definitely worth a try. It coats the chicken in this peanut butter, garlic, honey, and ketchup sauce that goes so well with steamed broccoli and rice. It's a delicious way to eat more veg.
Our chicken tagine recipe modernizes the traditional slow-cooked Moroccan dish that's traditionally cooked in a clay pot. The rich and aromatic sauce coats the fork-tender chicken, olives, onions, and chickpeas for a complex flavor combination that will please everyone at your dinner table.
Balsamic Chicken
Requiring only 40 minutes from the kitchen to your dinner table, this balsamic chicken makes a crowd-pleasing and satisfying chicken meal. Treat yourself and your loved ones to an Italian feast.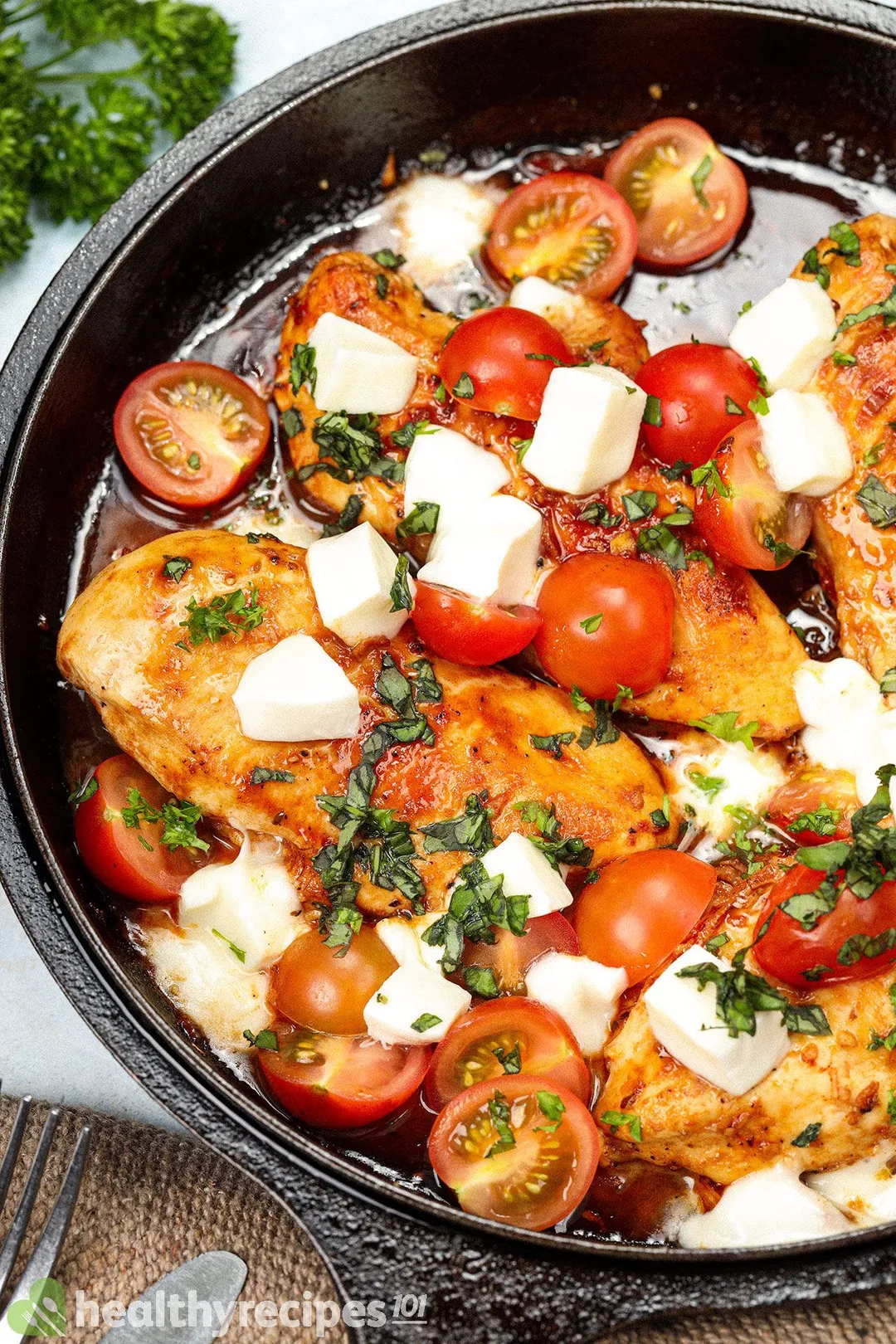 cook TIME

36 mins

prep TIME

4 mins

total TIME

40 mins
COURSE

Main

CUISINE

Italian

SERVINGS

CALORIES

499 kcal
INGREDIENTS
20 oz

skinless boneless chicken breast

20 oz

potatoes

(cut into strips)

6 oz

cherry tomatoes

(halved)

4 oz

fresh mozzarella cheese

(cut into small cubes)

1/2 tsp

ground black pepper
INSTRUCTIONS
Prep:
1
Place the chicken breast on a cutting board. From the long side of the chicken breast, slice the meat in half in a sawing motion, but leave about 1/4 inch so that the two pieces are still intact. Set it aside and repeat with the remaining pieces.
2
With a large sharp knife, roughly cut the potatoes into slices. Stack the slices up, and slice them into thin strips, about 1/2-inch thick.
3
Cut the cherry tomatoes in half lengthwise.
4
Cut the fresh mozzarella cheese crosswise into slices, then slice those slices into small cubes.
5
Finely chop the fresh basil leaves.
6
Separate the garlic cloves from the bulb. Slice off the root of each garlic clove, then peel away the skin. Finely mince the peeled garlic.
Cook:
1
Microwave the potatoes: In a large microwave-safe bowl, add 20 oz stripped potatoes. Cook for 10 minutes, then remove them from the heat.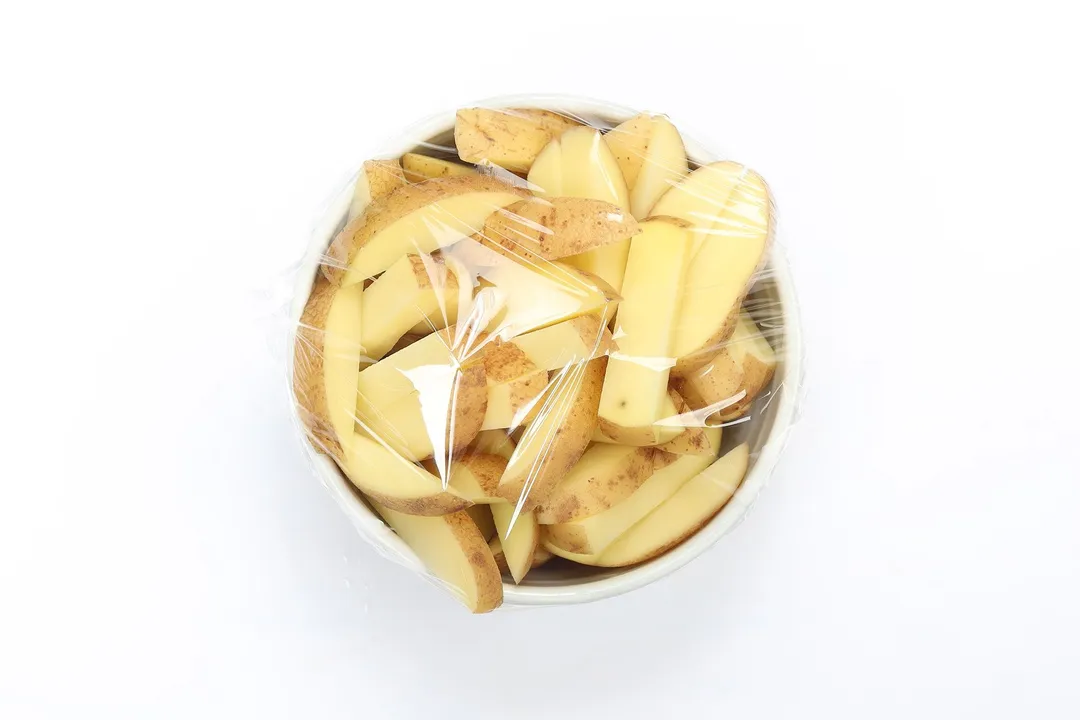 2
Make the sauce: In a small mixing bowl, combine 4 tbsp balsamic vinegar, 2 fl oz water, 2 tbsp honey, 2 tbsp Heinz ketchup, 1 tsp paprika, 1/2 tsp salt, 1/2 tsp black pepper, 1 tbsp minced garlic, and 1/2 tsp dried oregano. Mix well with a wooden spoon.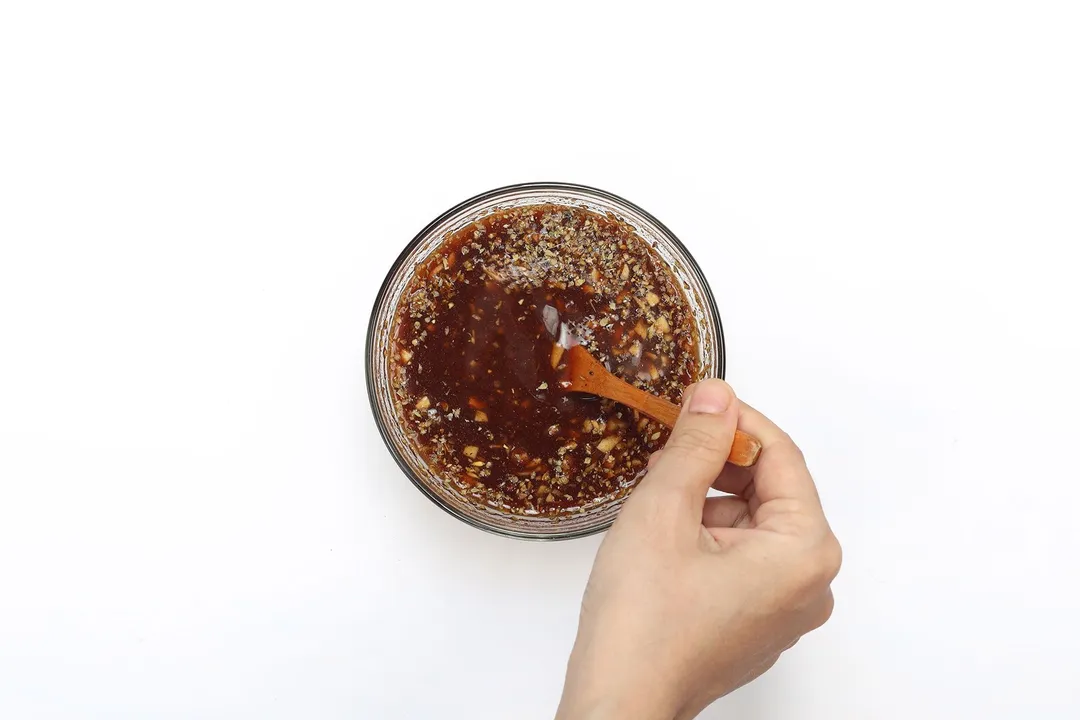 3
Air-fry the potatoes: Transfer the potatoes to a large glass bowl, then add 1 1/2 tbsp olive oil. Mix gently until the potatoes are evenly coated in olive oil. Place the potatoes in the air-frying basket and air-fry them at 390°F for 15 minutes.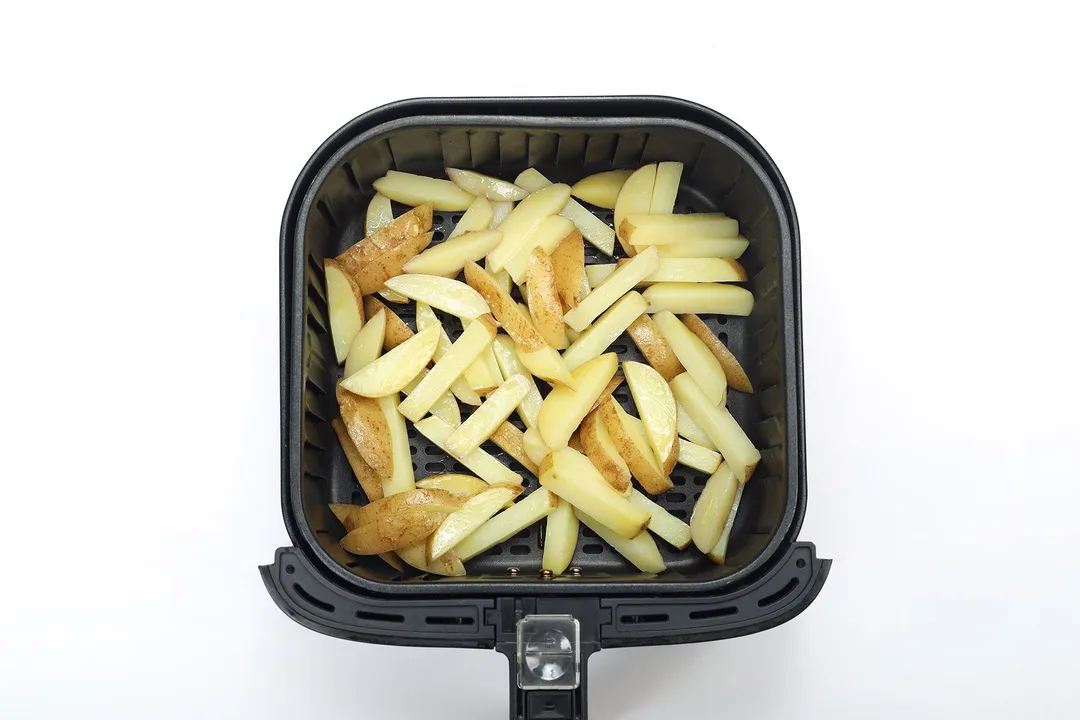 4
Pan-sear the chicken breasts: Place a large skillet over medium heat and pour in the remaining olive oil. Add 20 oz chicken breast into the skillet and pan-sear each side for 3 minutes 30 seconds (7 minutes in total).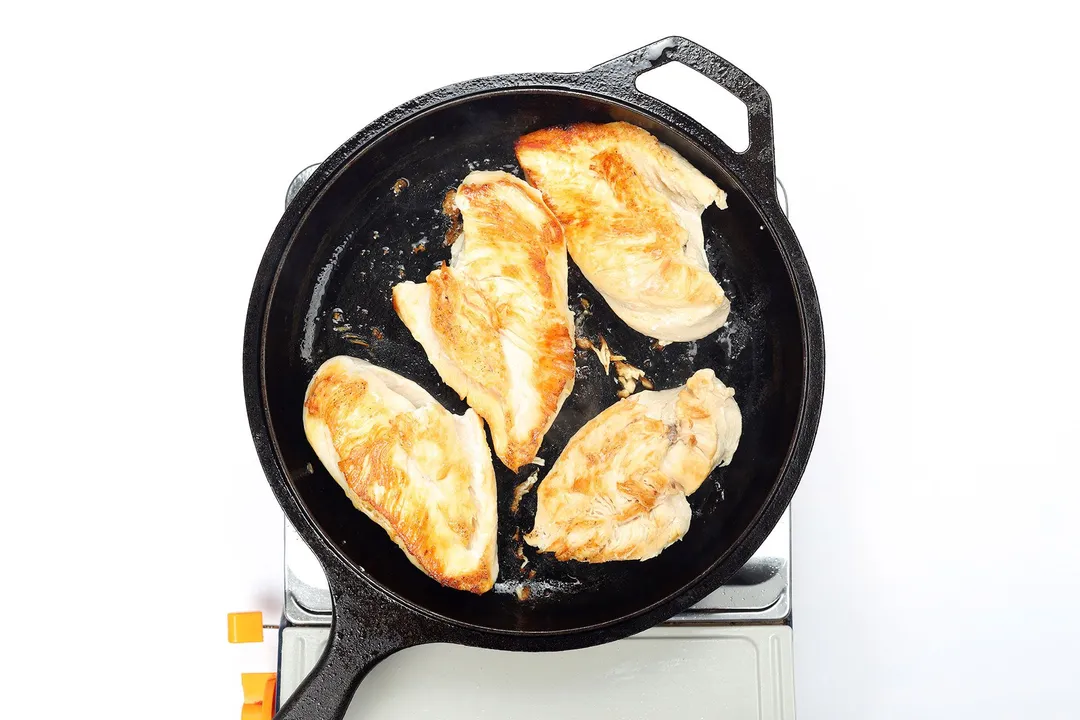 5
Incorporate the sauce: Turn to low heat, add the sauce to the skillet and cook for 3 more minutes.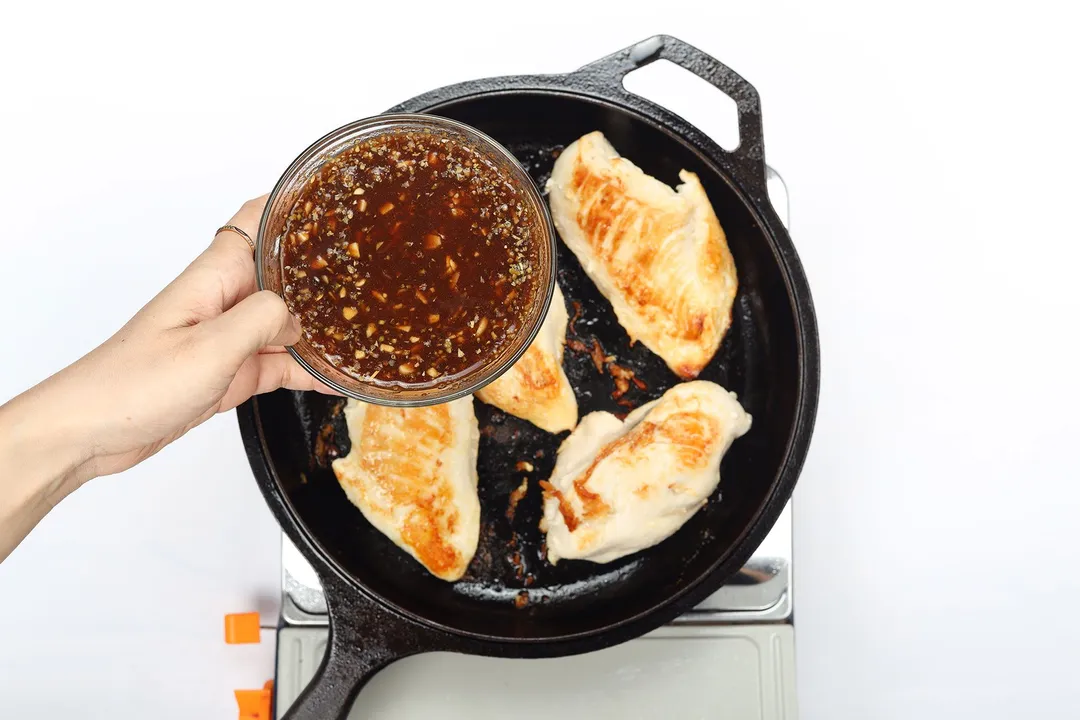 6
Add the cherry tomatoes and cheese: To the same skillet, add 6 oz halved cherry tomatoes and 4 oz cubed fresh mozzarella cheese. Cook for another 1 minute before turning off the heat.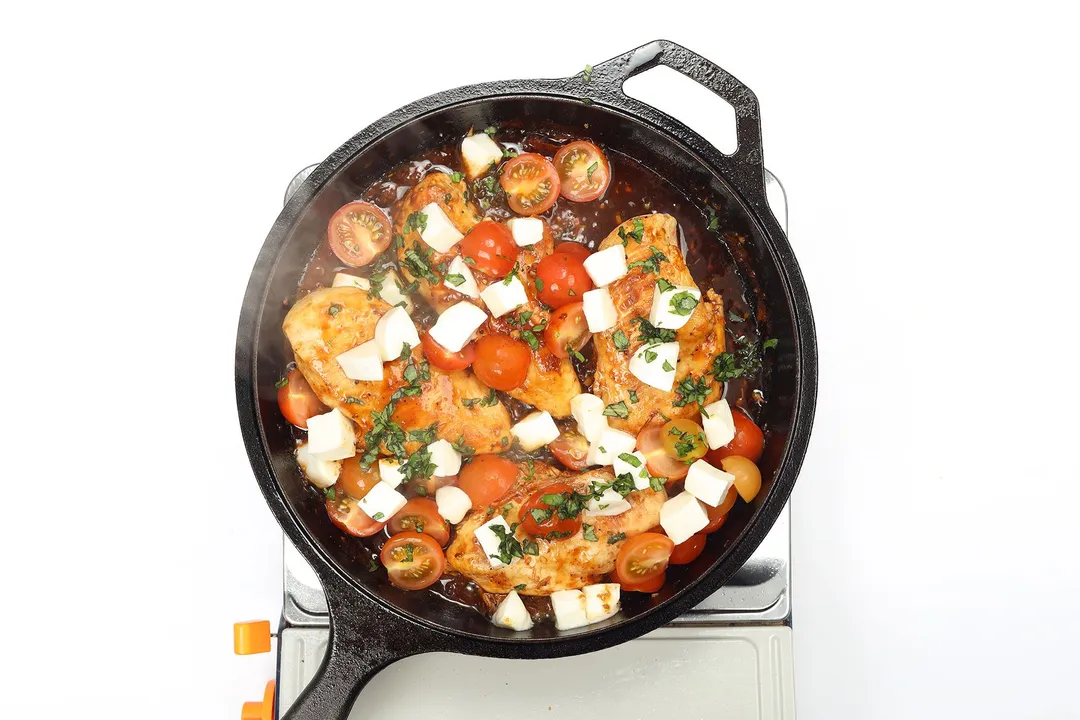 7
Garnish and serve: Transfer your desired portion onto a platter, and garnish with 1/4 cup chopped basil and 2 tbsp chopped parsley. Enjoy!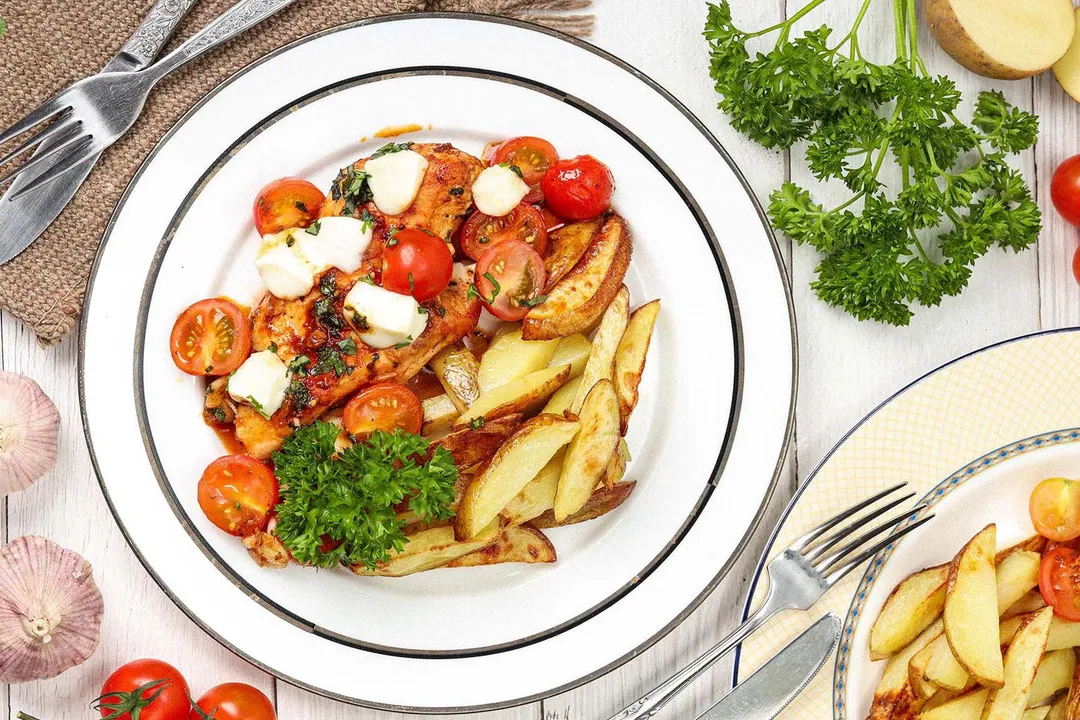 NUTRITION
Nutrition Facts
Balsamic Chicken
Amount Per Serving (1 serving)
Calories 499
Calories from Fat 176
% Daily Value*
* Percent Daily Values are based on a 2000 calorie diet.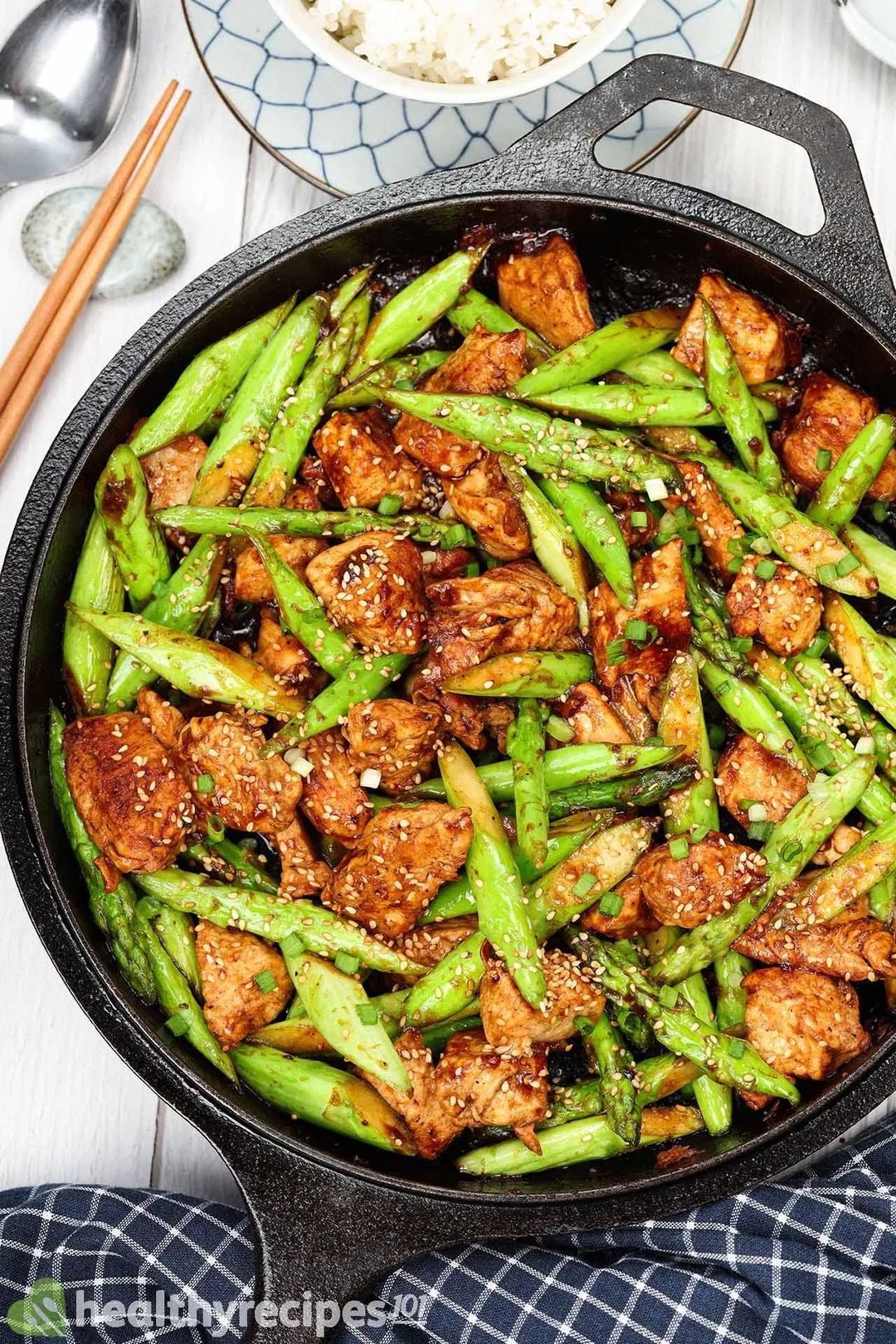 Previous Recipe
Stir-fried Chicken Asparagus
Stir-fried Chicken Asparagus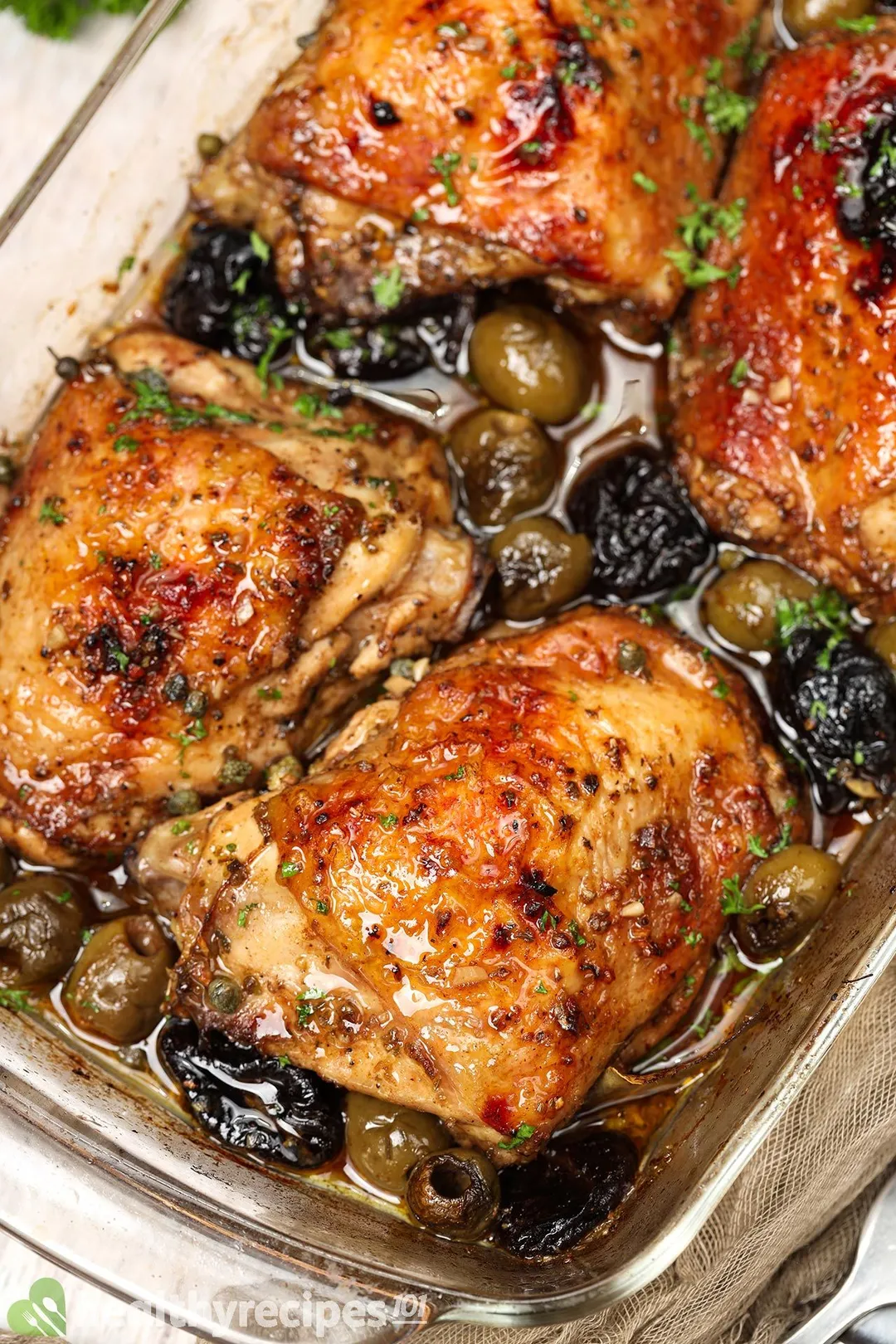 Next Recipe
Chicken Marbella
Chicken Marbella
Head Chef, Culinary Consultant
Tuyet Pham is an award-winning Saigonese chef who believes that joy is the secret ingredient to delicious food. At Healthy Recipes 101, Tuyet personally tests and simplifies every recipe, ensuring maximum flavor with minimal effort. With a background at prestigious French restaurants P'TI Saigon and Le Corto, Tuyet knows how to make every dish exceptional.
Writer, Author
Luna Regina is an accomplished writer and author who dedicates her career to empowering home cooks and making cooking effortless for everyone. She is the founder of HealthyKitchen101.com and HealthyRecipes101.com, where she works with her team to develop easy, nutritious recipes and help aspiring cooks choose the right kitchen appliances.
Delicious and tangy chicken recipe.