If you're celebrating National Hot Sauce Day (January 22), you'll love this recipe: buffalo sauce recipe.
To me, this buffalo sauce recipe is the MVP when it comes to jazzing up a chicken dish, baked or fried. This fermented sauce is beyond easy and only takes a few minutes to put together. Then all you need to do is let it sit for a week.
After that, just blend everything, strain it, and you'll have a wonderful homemade hot sauce. Let's enjoy this flavorful sauce and get ready to feel the heat!
What Is Buffalo Sauce?
Buffalo sauce is a mixture of melted butter and hot sauce. It has a satisfying balance of rich and spicy flavor with a smooth texture.
1. Why Is It Called Buffalo Sauce?
The good news is neither the origin of the name nor the ingredients have anything to do with an actual buffalo. The sauce was named after a restaurant in Buffalo, New York, where chicken wings were first served with this sauce. Until then, chicken wings were regarded as waste and used to make soup.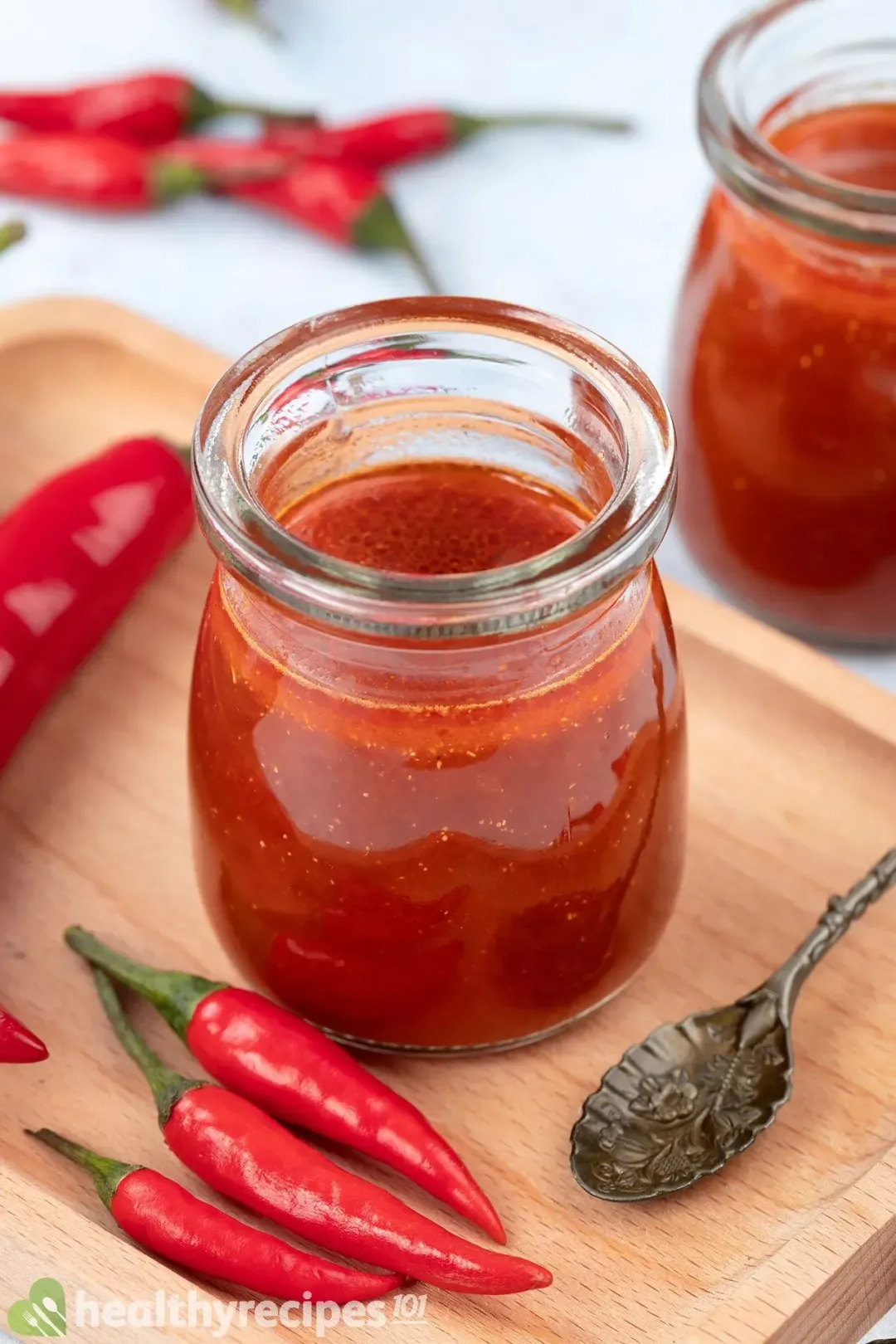 The original sauce is ridiculously simple to make; you only need five essential ingredients: chili, butter, vinegar, water, and salt. You can make your version of this recipe by adding other ingredients to enhance its flavors.
This sauce adds a sweet, spicy, and slightly tangy taste that bursts beautifully on the taste buds. The best part is, it goes well with a whole lot of different types of food. Over the years, we've turned it into a key ingredient for some irresistible dishes such as: Air Fryer Buffalo Cauliflower, Buffalo Chicken Dip, Buffalo Cauliflower Tacos, Buffalo Chicken Salad, and Buffalo Chicken Pizza.
2. Is This Sauce Vegan?
The short answer is no.
Original buffalo sauce is a chili-based hot sauce with melted butter. As butter is a dairy product that is made from milk, it's considered a non-vegan product.
Recently, many brands have replaced the butter in the sauce with plant-based fats to make them vegan friendly and lengthen the shelf life. You can check the label carefully to get the kind of buffalo sauce you want.
Is Buffalo Sauce Healthy?
Buffalo sauce is a fermented food. This means it is full of healthy bacteria, grown during the fermentation process, which help with digestion and strengthen your gut microbiome.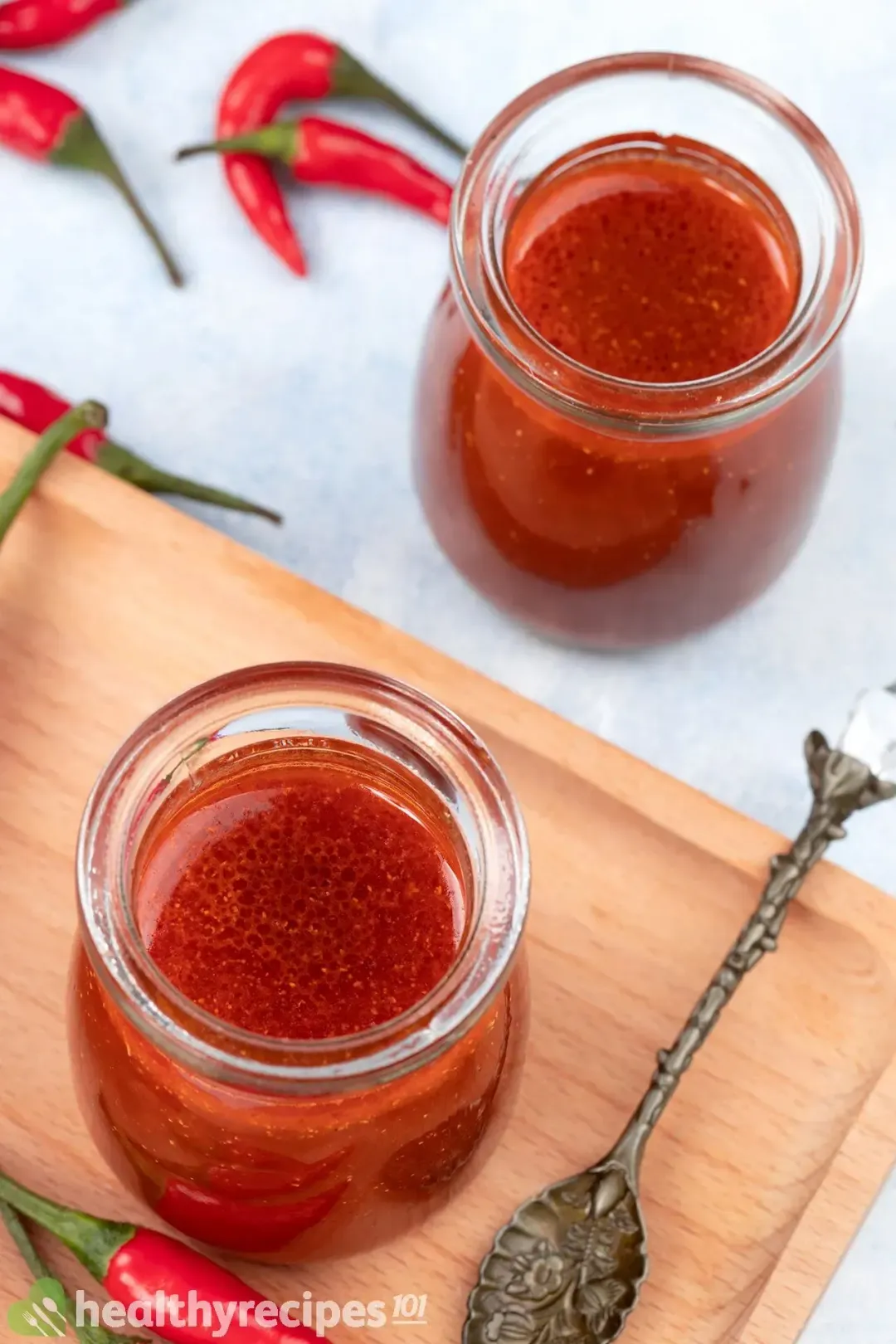 The chili peppers used contain a large number of fundamental minerals, antioxidants, and vitamins (especially vitamin C). Vitamin C can aid in preventing colds and might even help lower the risk of heart disease and cancer.
It is important to note that spicy peppers don't agree with everyone; they can increase acidity and lead to inflammation of the stomach. A recent study found that adults over 55 who consistently consumed more than 50 grams of chili per day had an increased risk of memory decline. So how much buffalo sauce can you use daily? Ideally, no more than 3 tablespoons.
Buffalo Sauce Ingredients
This homemade buffalo sauce recipe gives a kick of pleasant heat and tang. It can be used as a dipping sauce or coating for chicken wings.
What Is This Sauce Made Of?
All the ingredients to make this amazing sauce are really simple: chilies, vinegar, butter, salt, Worcestershire sauce, and seasonings of choice. You can choose your favorite chilies and change the ratio of them to control the heat of the sauce.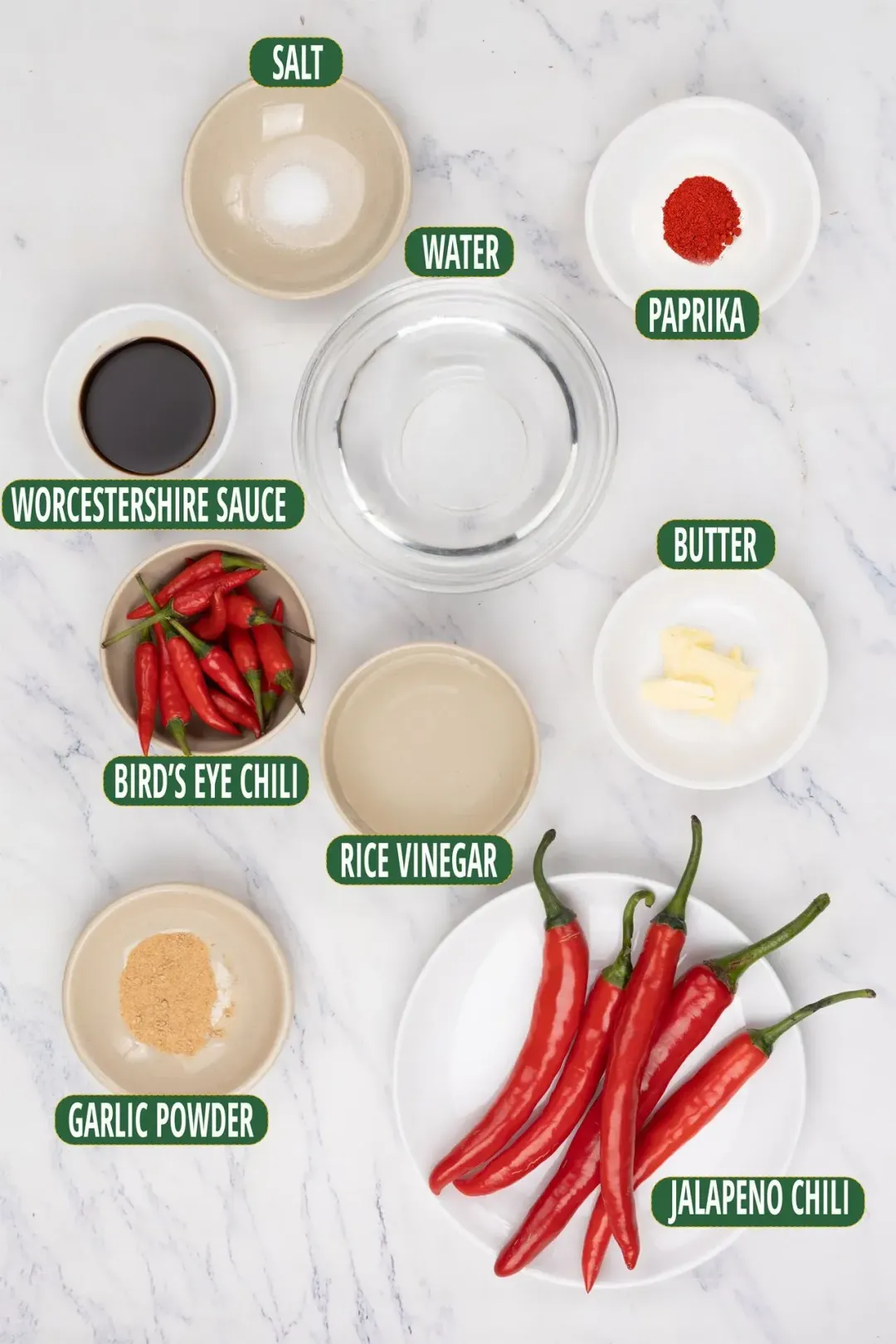 How To Thicken Buffalo Sauce
If you want to thicken your buffalo sauce, simmering is the easiest way. Pour the sauce into a small pan over low heat, use a spoon to stir gently to ensure that the liquid doesn't burn.
You can choose to omit other ingredients which will result in a more concentrated sauce.
Creamy ingredients like sugar or butter can also thicken the buffalo sauce. Try to add some sugar or melted butter into the sauce and then bring the mixture to a boil. You should keep a close eye on it during this process since overcooking the sauce might cause a change in consistency and flavor.
Buffalo Sauce Nutrition
Each tablespoon of our buffalo sauce recipe contains 10 calories and fat accounts for most of them (9 calories). Other elements are present in small amounts:
Fiber: 1 gram
Carbohydrate: 1 gram
Protein: 1 gram
Potassium: 19 mg
How Long Will This Sauce Keep?
The shelf life of fermented foods is dependent on low temperatures and high-quality packaging. Without any preservatives, the homemade version has a significantly shorter shelf life than the commercial sauce.
This homemade buffalo sauce can easily be kept around 2 weeks in a cool, dark location (like a low cupboard) or the refrigerator for even longer. It's all about the acidity.
Technically shelf-stable food has a pH level below 4.6 pH. If you're concerned, adding more vinegar can lower the pH and might enable the sauce to be shelf-stable for up to a year.
From my experience, as long as the vinegar in it doesn't smell bad and there are no signs of mold, you can use it.
If you are in the mood for another homemade sauce, our tomato sauce is also a great option.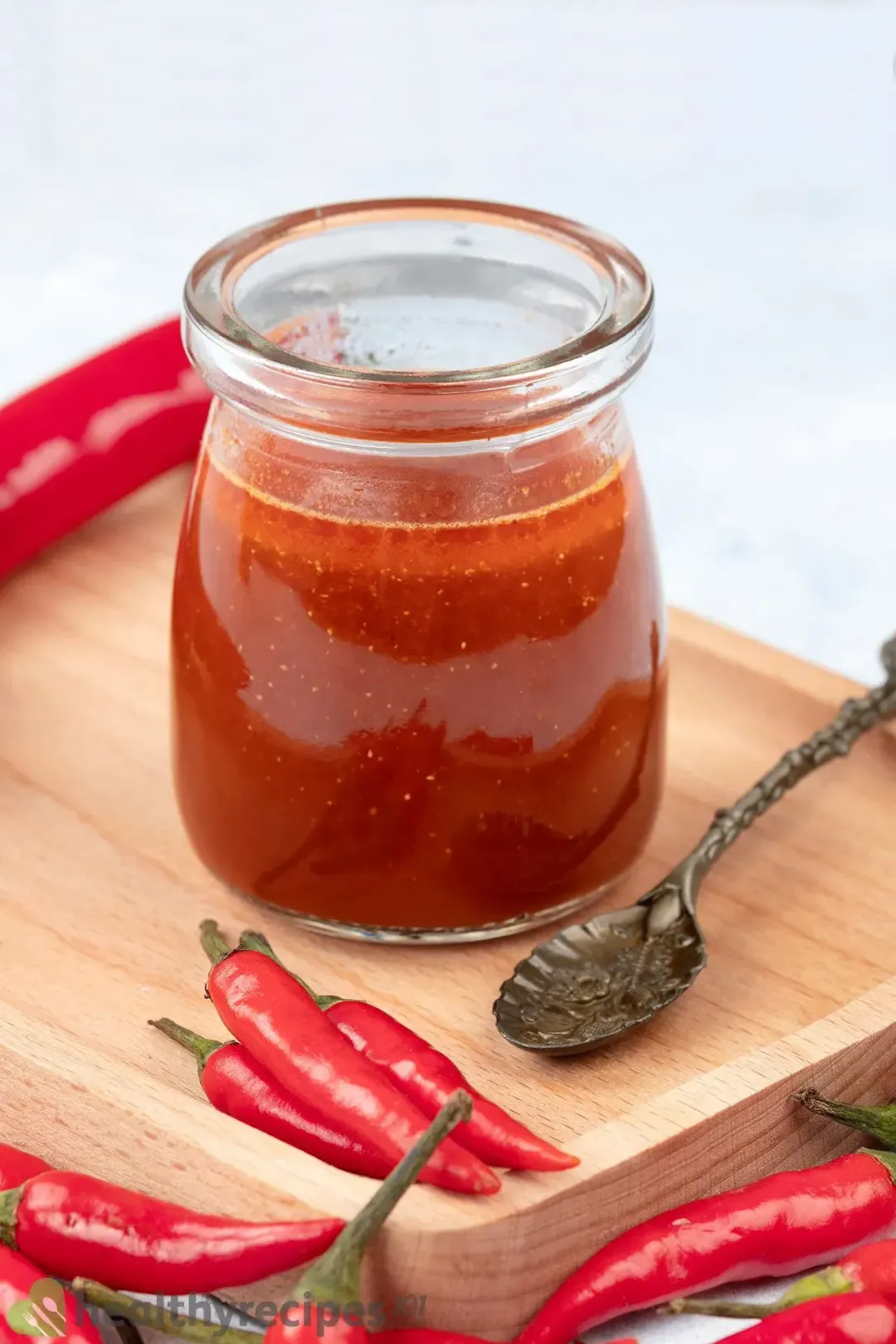 More Amazing Dishes to Try
Buffalo Sauce
Instead of buying a commercial buffalo sauce from the store with all sorts of ingredients in, give this easy homemade buffalo sauce recipe a try. It takes less than 30 minutes of active prep in the kitchen and the result is stunning. A delicious, hot, spicy sauce to dress up your chicken!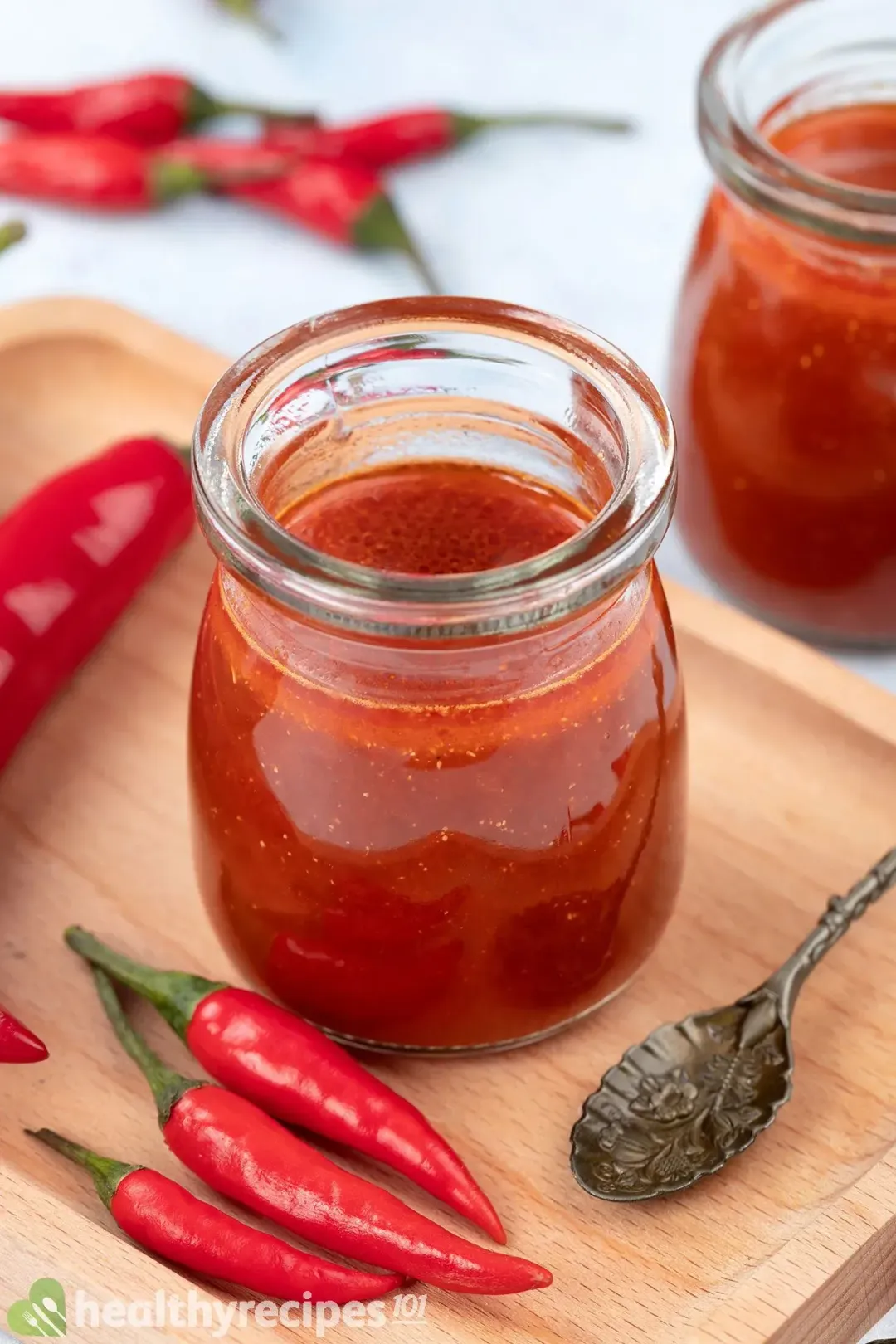 cook TIME

10 mins

prep TIME

15 mins

total TIME

25 mins

INACTIVE TIME

7 days
COURSE

Sauce

CUISINE

American

SERVINGS

CALORIES

13 kcal
INGREDIENTS
1/2 cup

white rice vinegar

2 tsp

Worcestershire sauce
INSTRUCTIONS
1
Remove the ends of the chili peppers and cut them into 2-inch pieces. We suggest using rubber gloves for this step since your skin might get burned or irritated cutting them without gloves.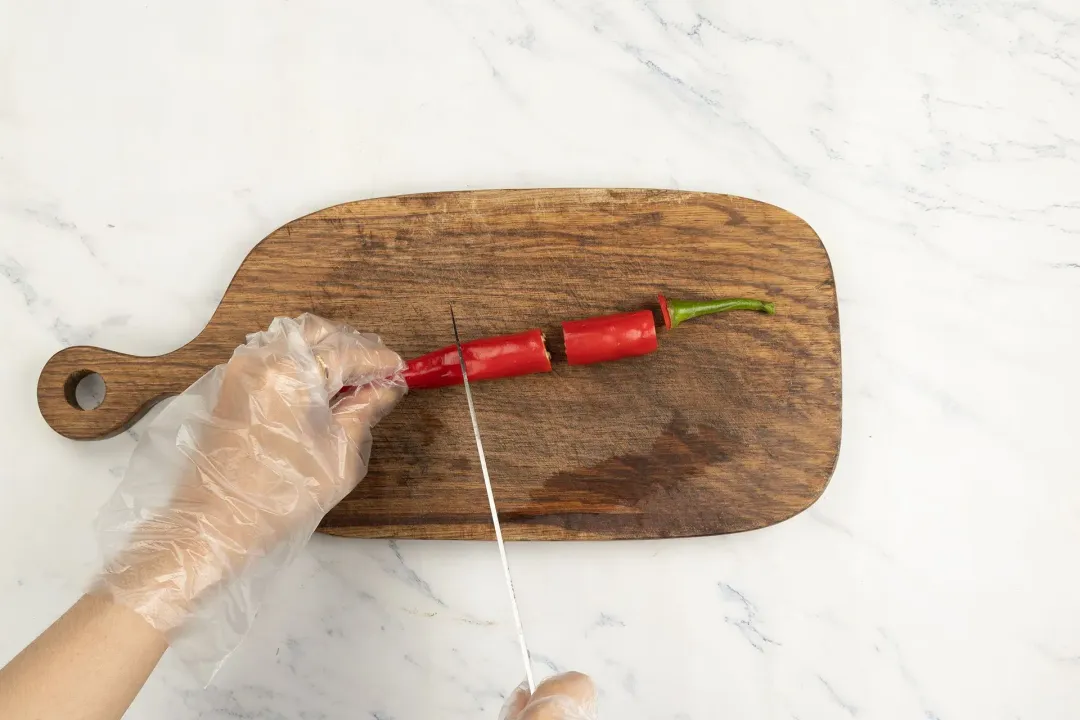 2
Add 1/4 cup water, 1/2 cup rice vinegar, and 1/4 tsp salt into a glass container. Then transfer 1 oz chili peppers into the container. Store it in a dark place at room temperature.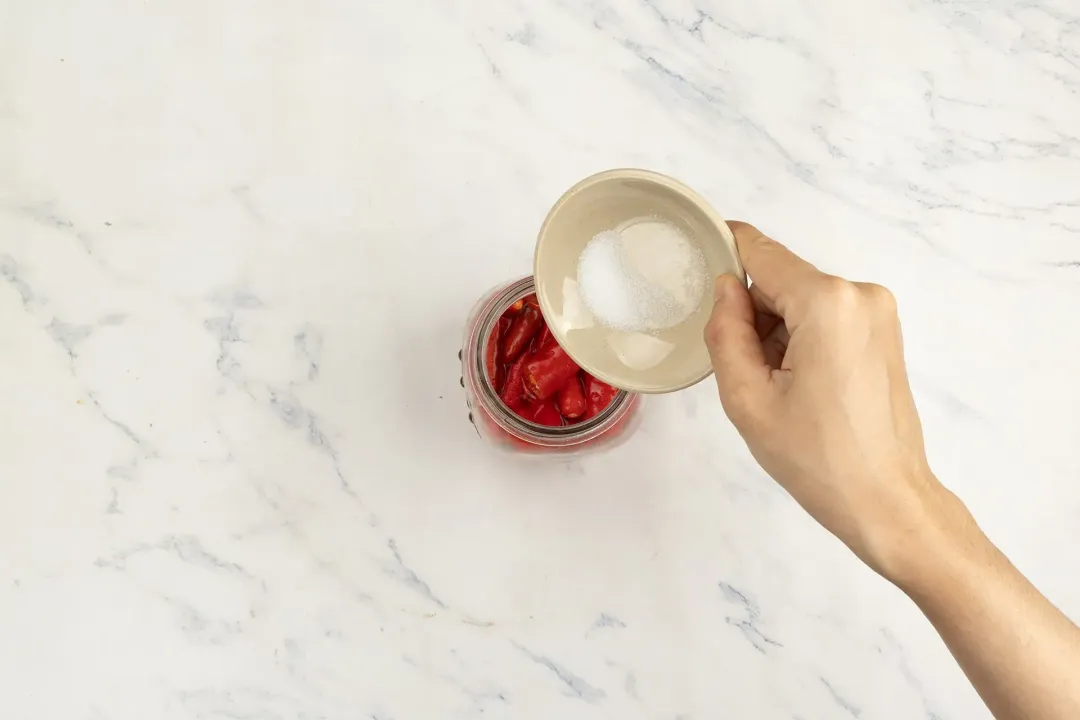 3
After 5-7 days, it will have some small bubbles floating on the surface. Transfer the chili mixture from the jar into a high-speed blender for 1 minute to get more liquid out of them.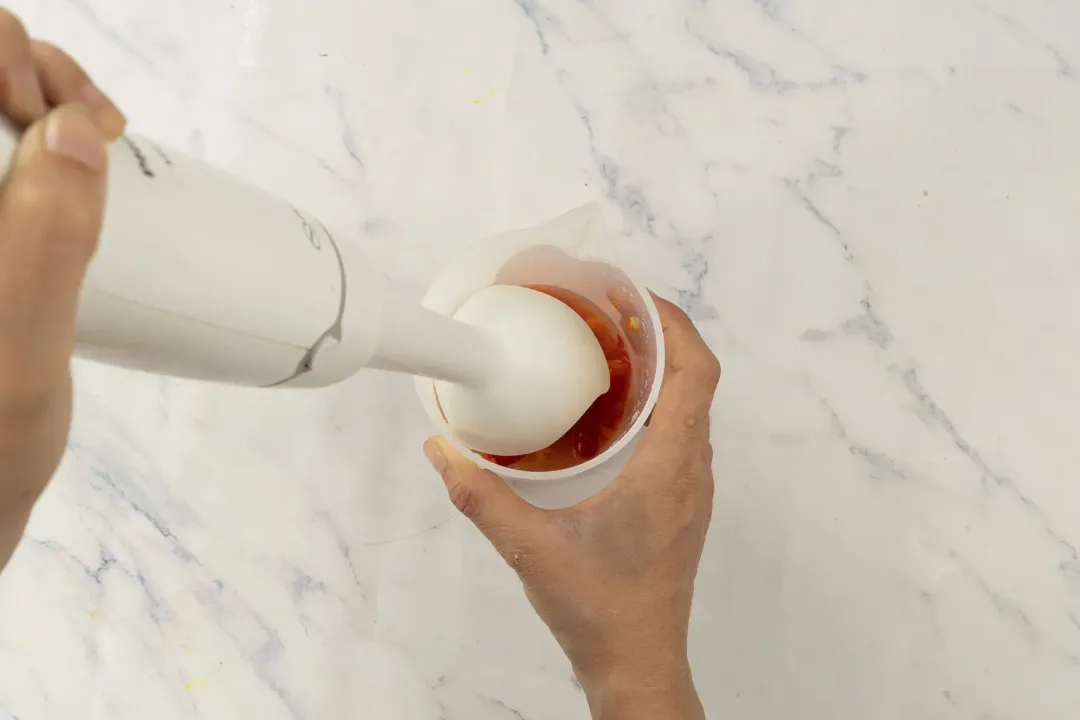 4
In a small pan, melt the 1 tsp butter, then add in 1/4 tsp paprika, 1/4 tsp garlic powder, and 2 tsp Worcestershire sauce.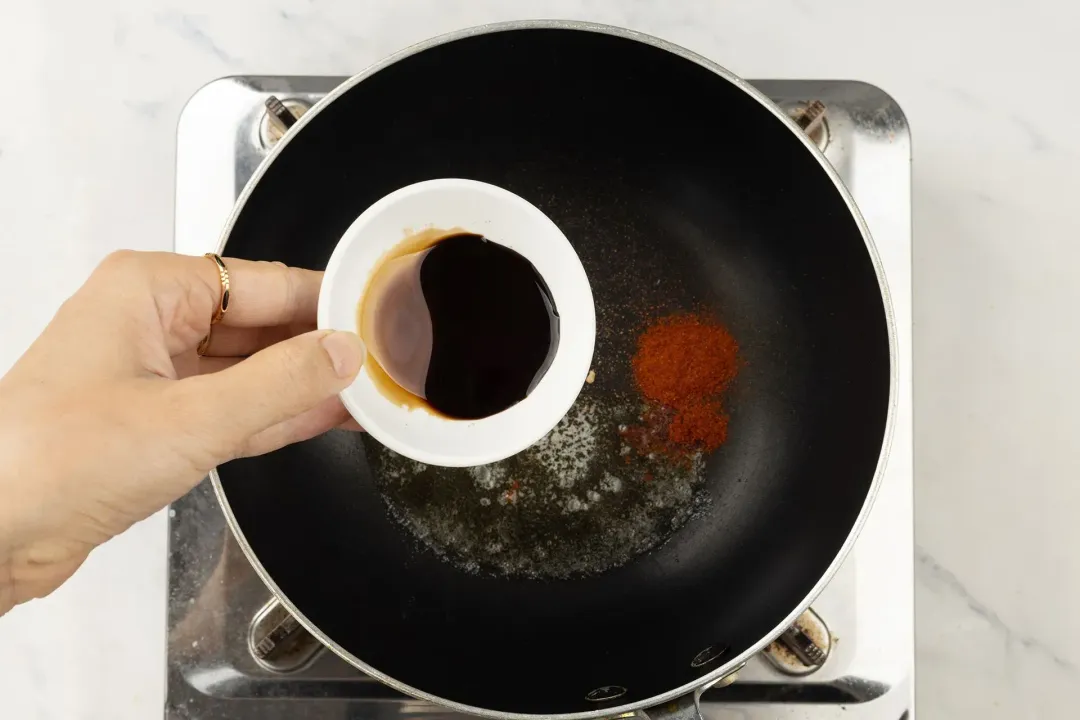 5
Strain the blended mixture through a fine-mesh sieve to create a smooth sauce.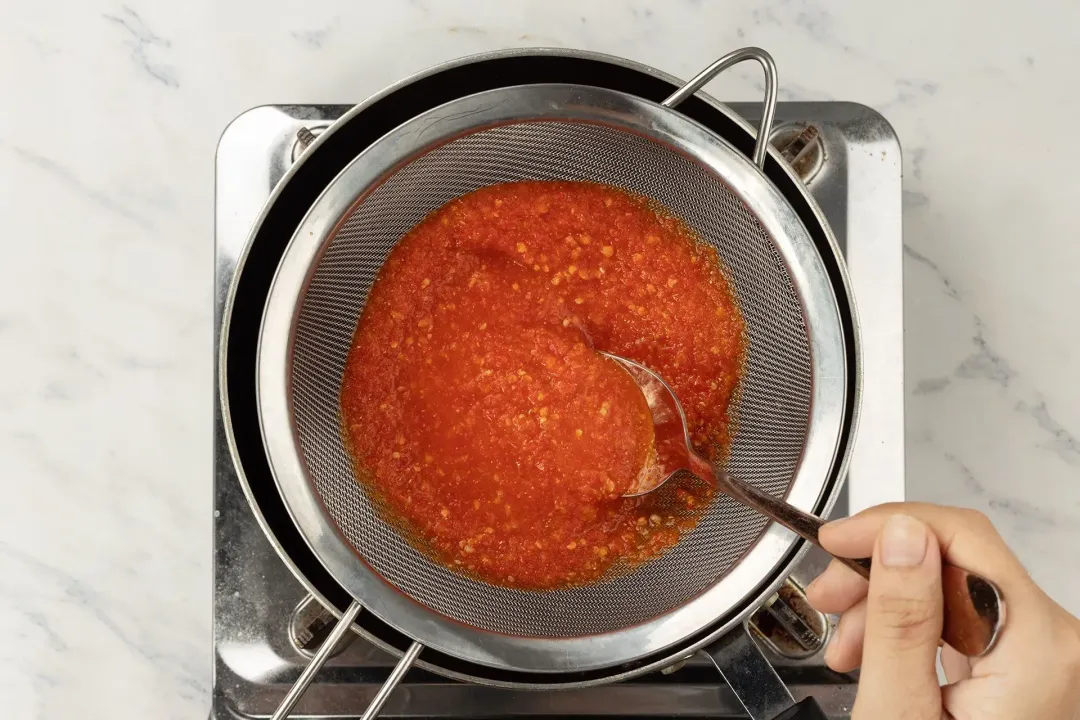 6
Pour the butter mixture into the chili sauce and stir to incorporate. Keep the sauce in a food container. Store the buffalo sauce in the fridge for up to 2 months.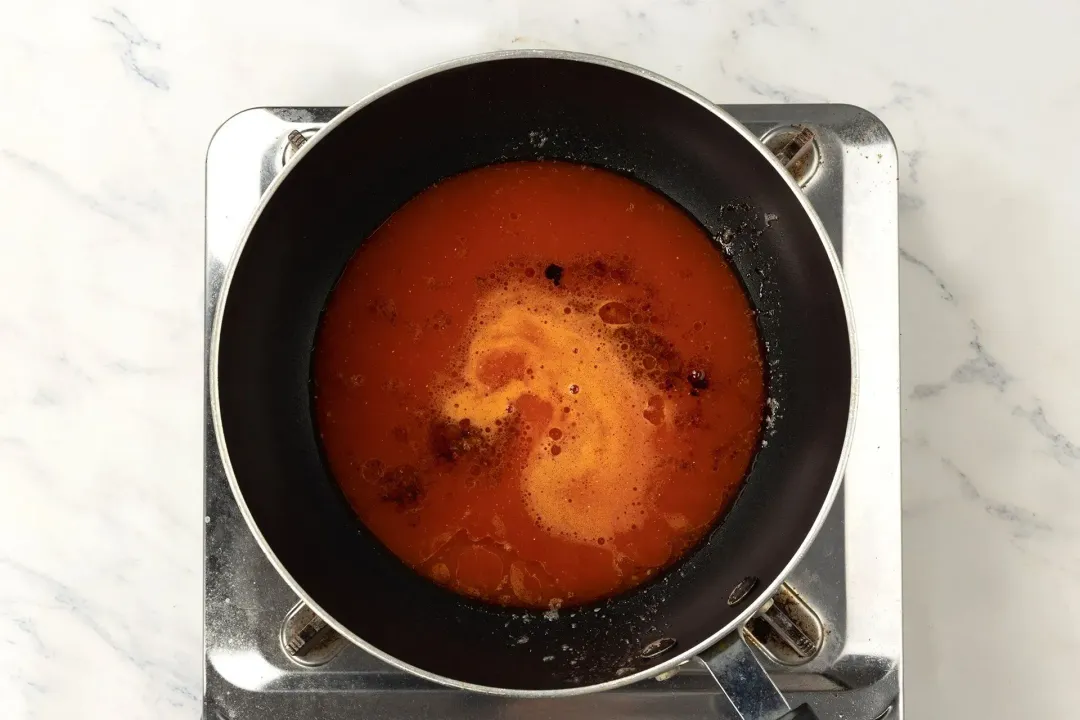 NUTRITION
Nutrition Facts
Buffalo Sauce
Amount Per Serving (1 serving)
Calories 13
Calories from Fat 5
% Daily Value*
* Percent Daily Values are based on a 2000 calorie diet.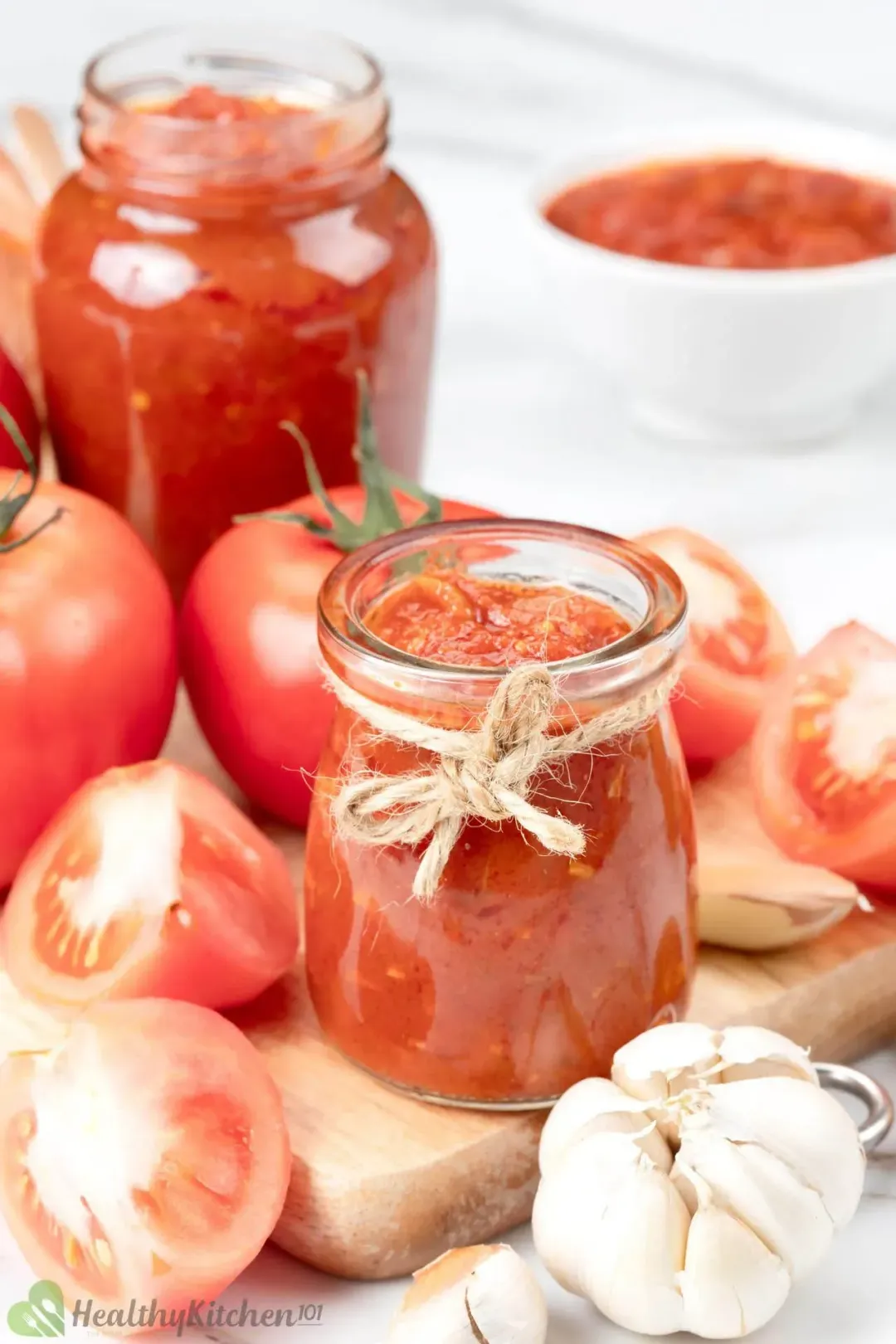 Tomato Sauce
Head Chef, Culinary Consultant
Tuyet Pham is an award-winning Saigonese chef who believes that joy is the secret ingredient to delicious food. At Healthy Recipes 101, Tuyet personally tests and simplifies every recipe, ensuring maximum flavor with minimal effort. With a background at prestigious French restaurants P'TI Saigon and Le Corto, Tuyet knows how to make every dish exceptional.
Writer, Author
Luna Regina is an accomplished writer and author who dedicates her career to empowering home cooks and making cooking effortless for everyone. She is the founder of HealthyKitchen101.com and HealthyRecipes101.com, where she works with her team to develop easy, nutritious recipes and help aspiring cooks choose the right kitchen appliances.
Nutrition Reviewer
Lizzie Streit is a Minneapolis-based dietitian and founder of It's a Veg World After All. She completed her MS in Human Nutrition from Drexel University, and is an expert in culinary nutrition, recipe development, and nutrition communications. Lizzie's philosophy is centered around making nutrition recommendations, and especially the advice to eat more vegetables, approachable and realistic. She is excited to be working with the team at Healthy Recipes 101 to ensure that their recipes are both nutritious and delicious.
This sauce is the perfect balance of heat and flavor, with just the right amount of tanginess to complement any dish.