Today's healthy club sandwich recipe is one of the easiest recipes here on HealthyRecipes101.com. It takes minimal effort and less than 20 minutes to make. Whether you want to create picnic memories or perk up your National Sandwich Day (November 3) dining, this sandwich will do the trick.
Before we start cooking, here are some interesting facts about today's dish.
What Is a Club Sandwich?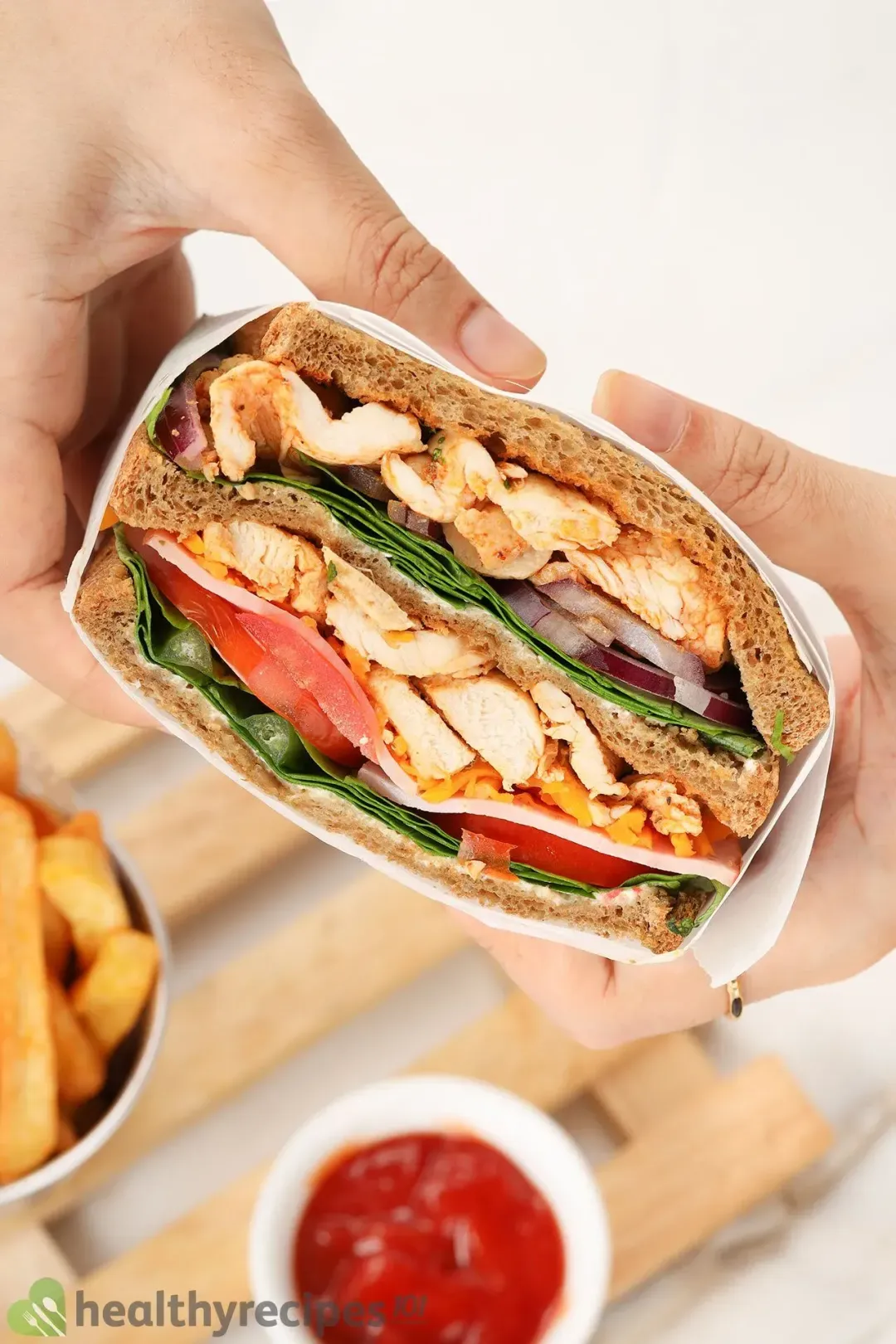 A club sandwich often consists of sliced cooked chicken or turkey, cured meat, lettuce, and tomato sandwiched between toasted bread. The bread can sometimes be spread with a mayonnaise-based sauce.
The name "club sandwich" indicates that the sandwich may have been invented in a club. In fact, it is believed that this sandwich originated at the Union Club of New York City.
Is a Club Sandwich Healthy?
Yes, our club sandwich recipe is healthy. Here are a few tweaks we made to up this recipe's nutrition: 
Lowering saturated fat: Sandwiches tend to be high in fat as they are slathered in mayonnaise and butter. We've decided to use as little butter as possible and substitute Greek yogurt for mayonnaise.
Monitoring the sodium content: Sandwiches often contain high-sodium ingredients such as salt, mayonnaise, cheese, cured meat, and bread. It's best to minimize these ingredients to keep sodium levels low.
Reducing calories per serving: Excess calories are stored in the body as fat, which is one the reasons you gain weight. One club sandwich contains about 480 calories, which is enough to keep your body functioning properly without going overboard.
Steering you away from snacks: Our sandwiches are packed with low-calorie vegetables and lean chicken breast, so you can stay full for a long time. This will decrease your cravings and prevent you from snacking.
Want to know how many calories you should consume or how much fat and sodium you should take in per day? Check out our healthy eating guidelines for all the useful information.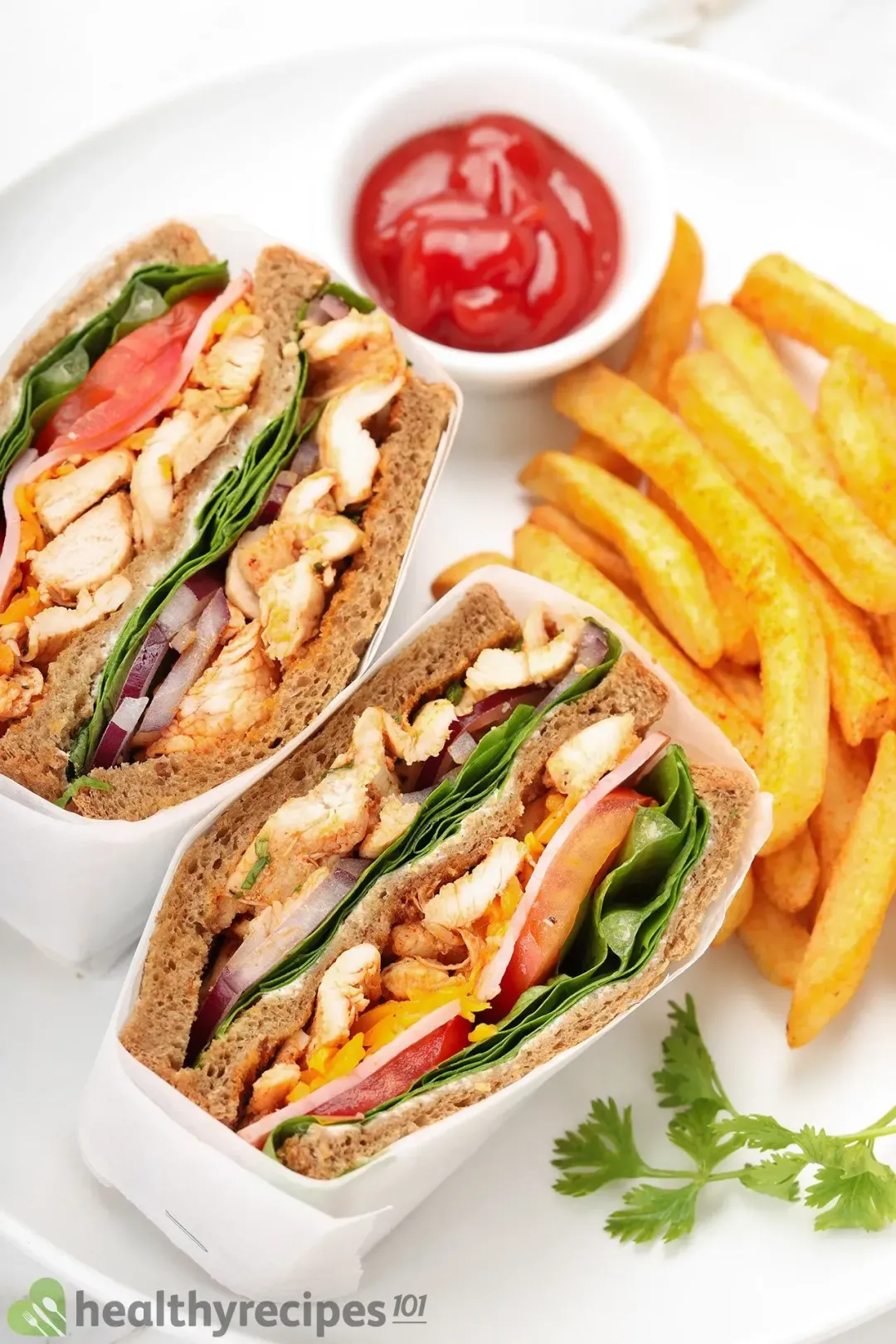 Club Sandwich Ingredients
Here is a quick look at the ingredients in our club sandwich recipe:
Chicken breast: In our humble opinion, boneless, skinless chicken breast is the best cut of chicken for sandwiches. Season it lightly with salt, black pepper, paprika, and dried oregano.
Cured meat: We're using ham for this recipe, but you can use bacon or turkey ham if you prefer.
Bread: We're using whole wheat bread. We will spread unsalted butter onto the bread slices before toasting them.
Vegetables: We've chosen lettuce, red onion, and tomato. We're also using coriander to give the club sandwiches a fresh and herby flavor.
Dairy: We're spreading Greek yogurt onto the bread to mimic the rich flavor of mayonnaise. We'll also add cheddar cheese to give the sandwiches a sharp and savory taste.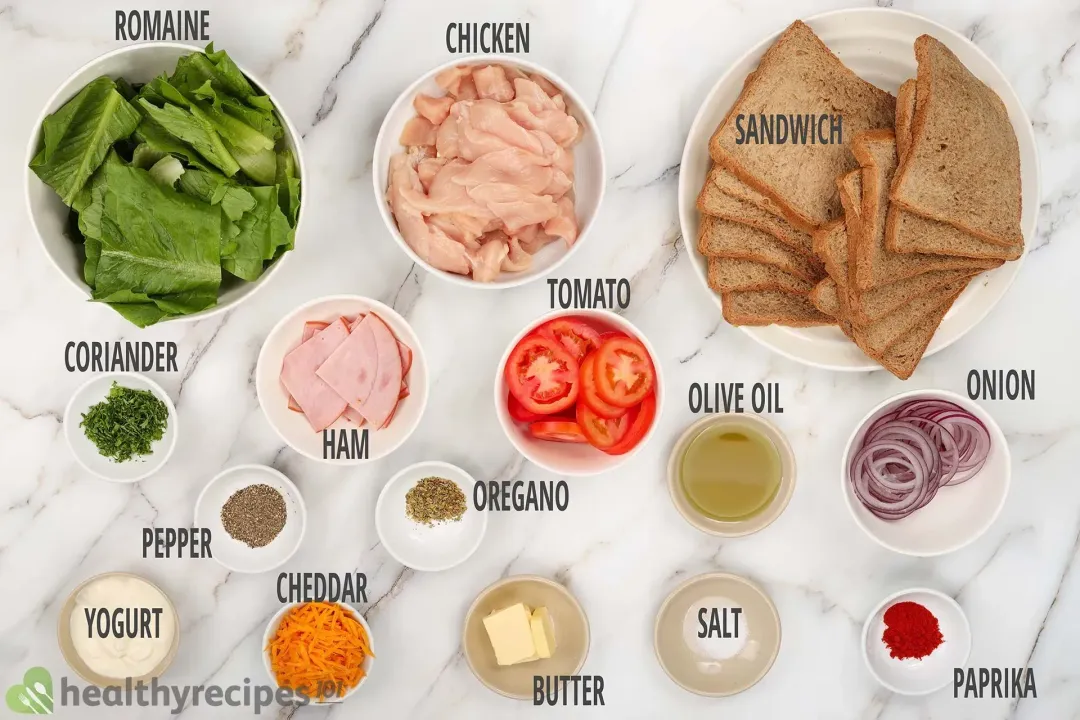 How to Make a Club Sandwich
Start by toasting the bread in a preheated oven for 3 minutes. If you have a toaster, simply insert the sliced bread into the toaster and wait for a couple of minutes.
Once your sandwich slices are golden brown, transfer them to a plate and set them aside while you cook the chicken. Simply place the chicken and its seasonings in a cast iron skillet and cook for about 3 minutes.
When the chicken is done, you can start assembling your club sandwich by layering all the ingredients between the bread slices.
Bonus Tips
Here are a few tips to help you up your sandwich game:
Wooden cocktail toothpicks or skewers can be a great garnish for a sandwich. They help keep all the fillings intact and prevent the sandwich from falling apart.
But did you know, they can also help you cut your sandwich in half with ease?
Simply pierce the opposite corners of your sandwich with 2 toothpicks or skewers about 2 inches apart. Then, make a diagonal cut between the 2 toothpicks.
Each toothpick will keep each half of the sandwich in place, resulting in a neatly-beautiful cross section.
If you are looking for another healthy sandwich recipe, don't hesitate to check out our Monte Cristo sandwich or chicken salad sandwich and give them a try at the next cook-out.
How to Store and Reheat Leftover Club Sandwiches
1. How to Store
These sandwiches are the best lunch for you to pack and bring along as they're light and neat. If you want to save in the morning, you can make them the night before.
You can cut the sandwiches in half and wrap each portion in parchment paper and keep them in the fridge. The next morning, put them in your lunch box and bring them with you.
Keep in mind that these sandwiches contain fresh vegetables, such as tomatoes and lettuce. Though they can last up to 2 days in the fridge, they may become soggy and won't be as good.
2. How to Reheat
Since sandwiches are usually served warm, wrapping them in parchment paper allows you to reheat them safely in the microwave. It will only take 1 to 2 minutes to heat them all the way through.
What to Serve With Club Sandwiches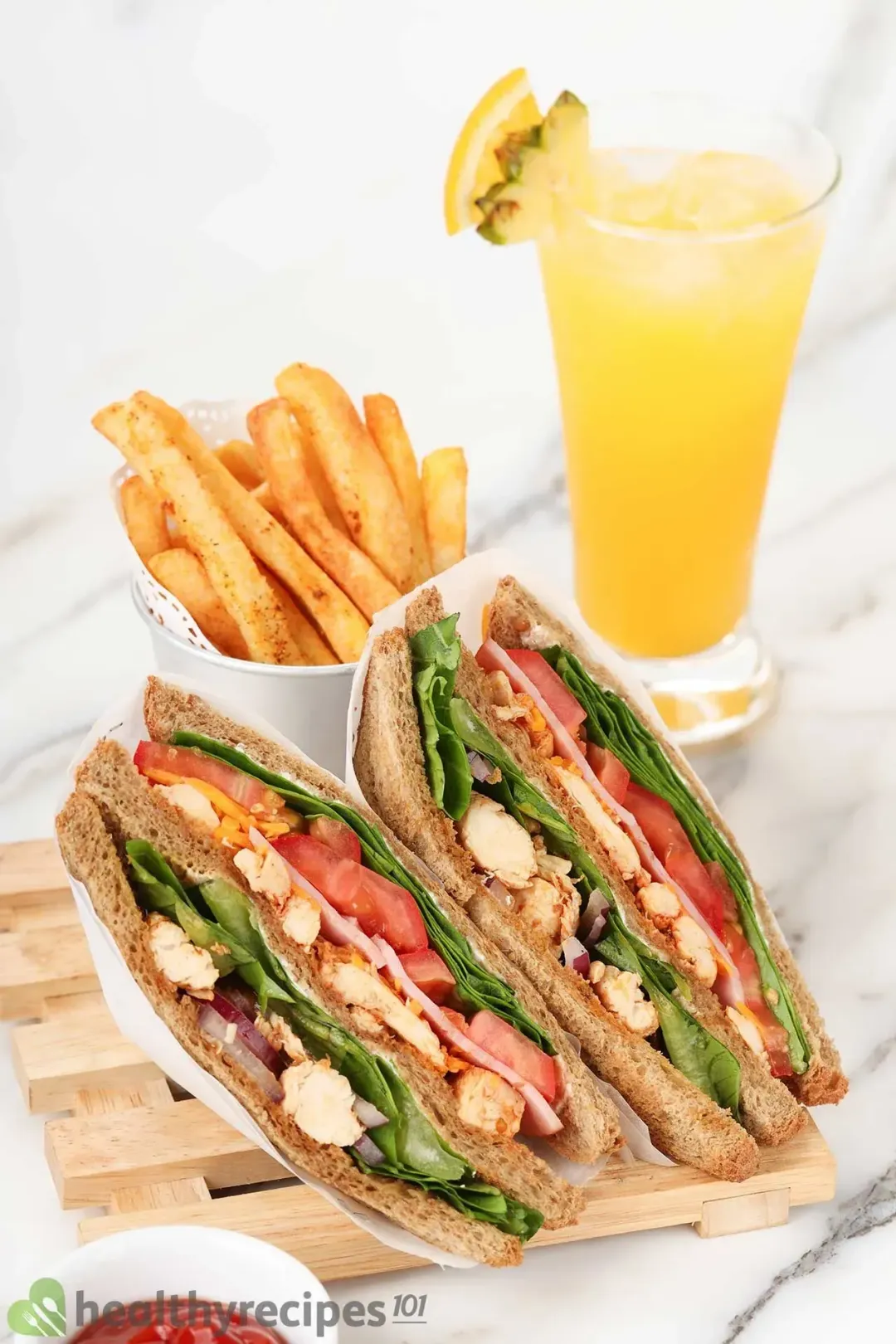 Today's pick for side dishes are our very own, healthy, air-fried french fries and orange pineapple juice. These delicious sides will ensure you have a satisfying meal that will keep you full throughout the day.
More Sandwiches to Make Ahead and Take to Places
Ground Chicken Burgers: they are perfect for brunches, picnics, or outdoor hangouts. Want to enjoy them indoors? That works too. We like to plate them up, but you can sure create a little station for your crowd to mix and match.
With our Buffalo chicken sandwich recipe, you can take a delicious eat anywhere. This simple sandwich cooks chicken thighs in a signature Buffalo sauce and puts them in between the buns with fresh lettuce to make a filling meal.
Club Sandwich
Today's club sandwich recipe is showing you how to make a quick and healthy lunch in less than 20 minutes. Here are the ingredients.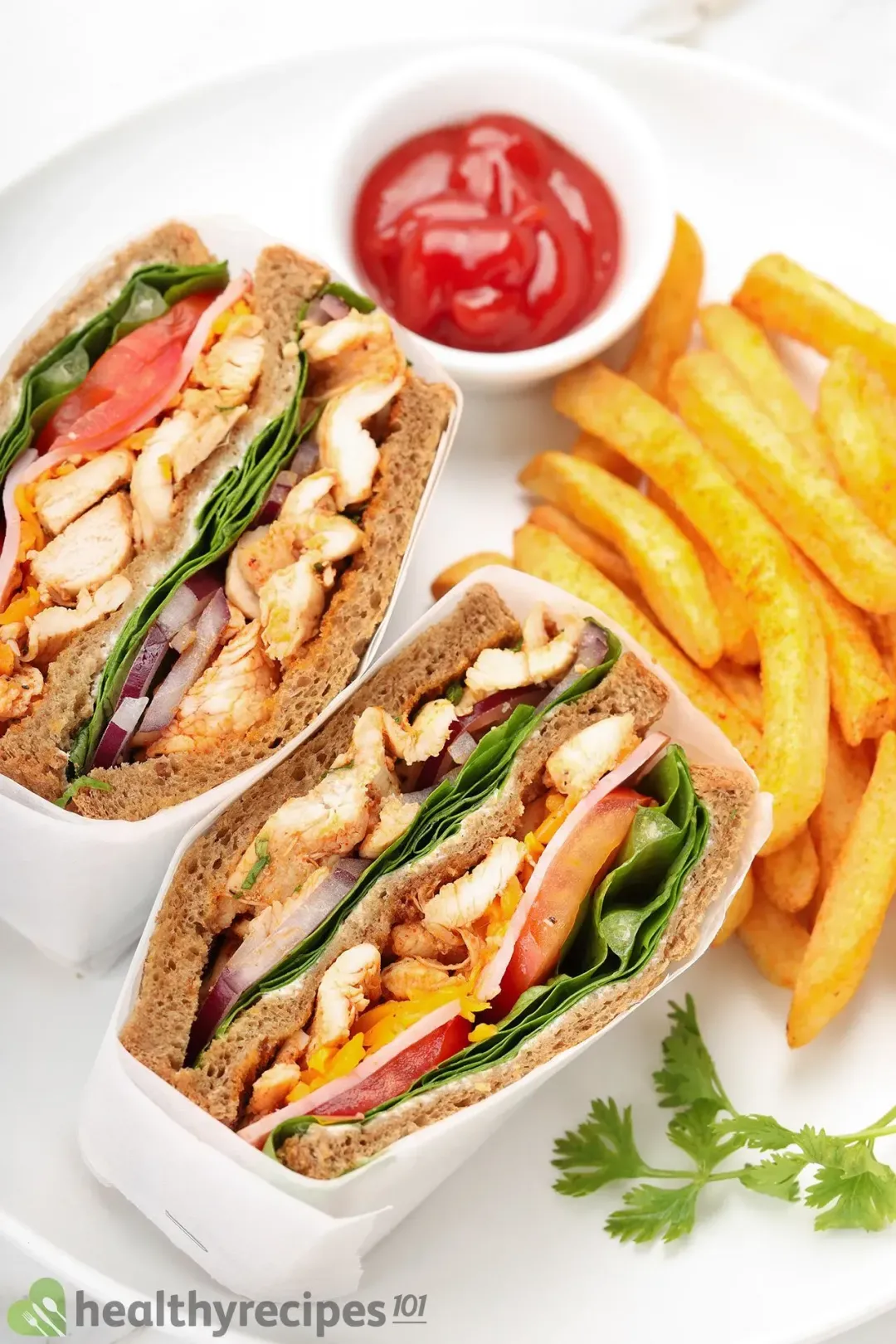 cook TIME

6 mins

prep TIME

10 mins

total TIME

16 mins
COURSE

Main Course

CUISINE

American

SERVINGS

CALORIES

481 kcal
INGREDIENTS
17 oz

skinless boneless chicken breast

(thinly sliced)

12 slices

sprouted wheat bread

4 oz

tomato

(thinly sliced)

1 oz

red onion

(thinly sliced)

1 oz

cheddar cheese

(shredded)

4 tbsp

plain Greek yogurt

2 tbsp

coriander

(chopped)
INSTRUCTIONS
1
Preheat the oven to 390°F.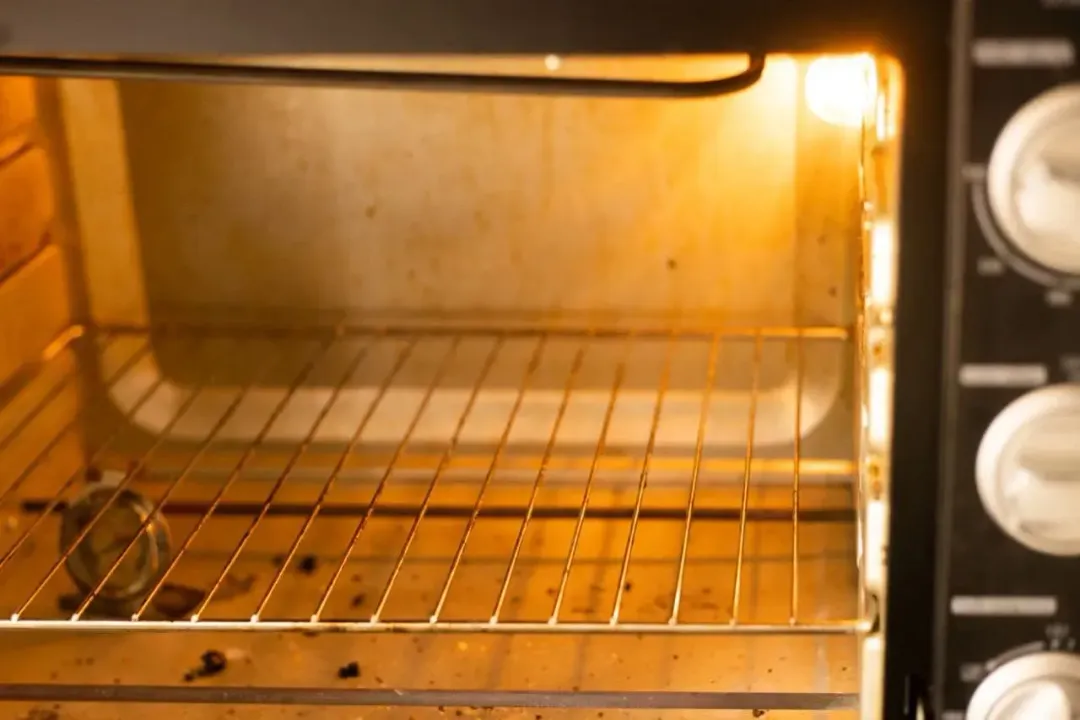 2
Toast the bread: Spread 2 tbsp unsalted butter evenly on 12 slices of sprouted wheat bread.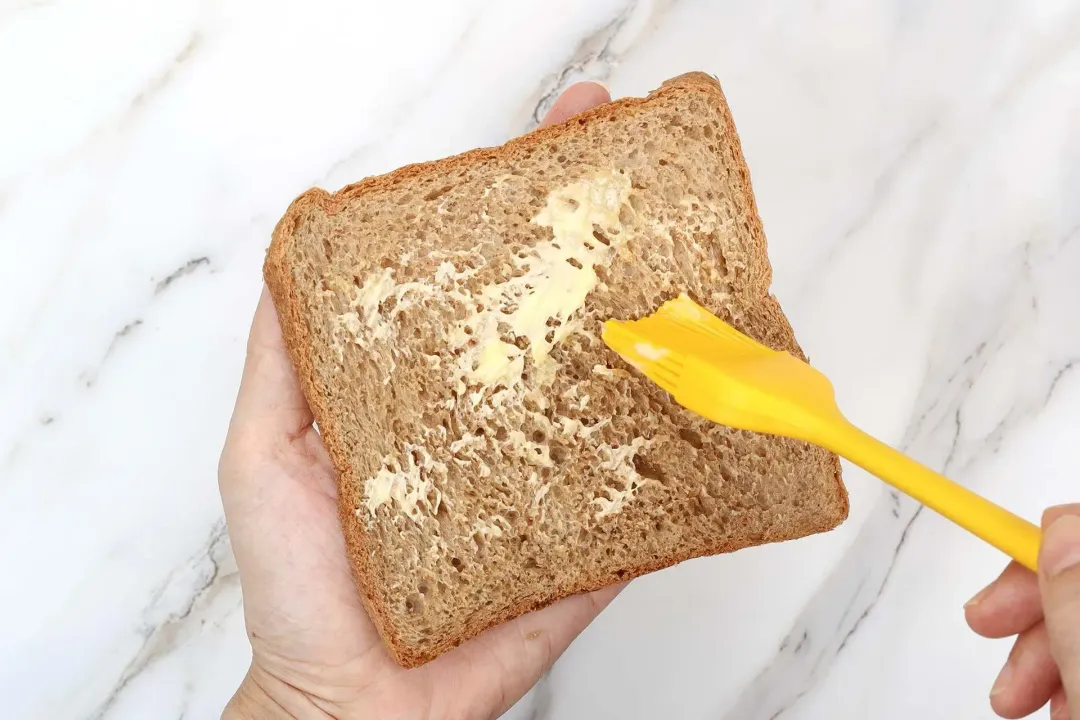 3
Bake the bread: Put them on a baking rack and bake on the bottom shelf of the preheated oven for 3 minutes. Remove from the oven and set aside.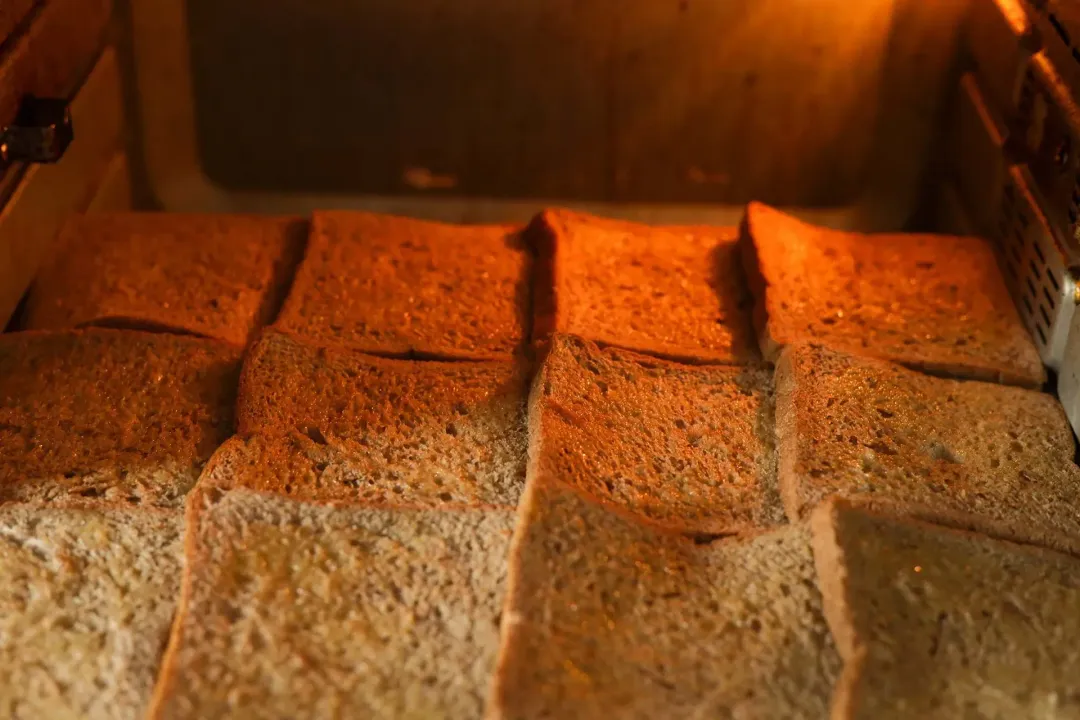 4
Cook the chicken: In a cast iron skillet on medium heat, add 17 oz skinless, boneless chicken breast, 2 tbsp olive oil, 1/4 tsp salt, 1/2 tsp black pepper, 1 tsp paprika, and 1/2 tsp oregano. Cook for 3 minutes, stirring occasionally.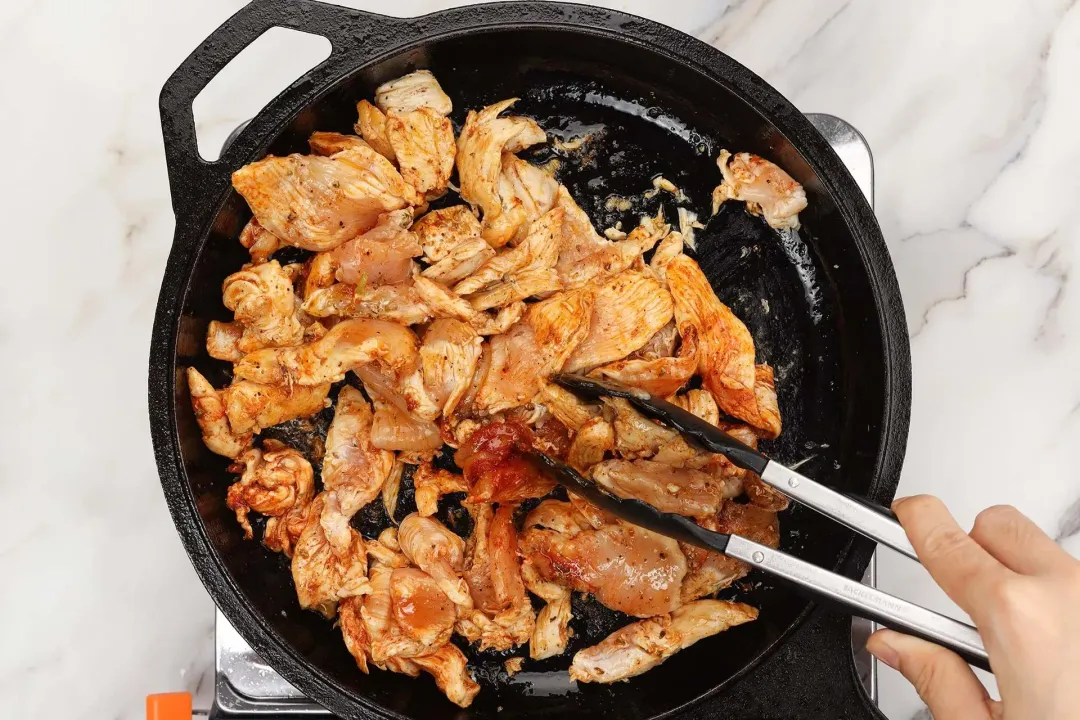 5
Assemble the sandwiches: Build each sandwich in this order: A slice of bread, Greek yogurt, romaine lettuce, sliced tomato, ham, cheddar cheese, cooked chicken, another bread slice, yogurt, romaine lettuce, red onion, chicken, coriander, and top it off with a final bread slice. Repeat with the remaining ingredients and you will have 4 sandwiches in total.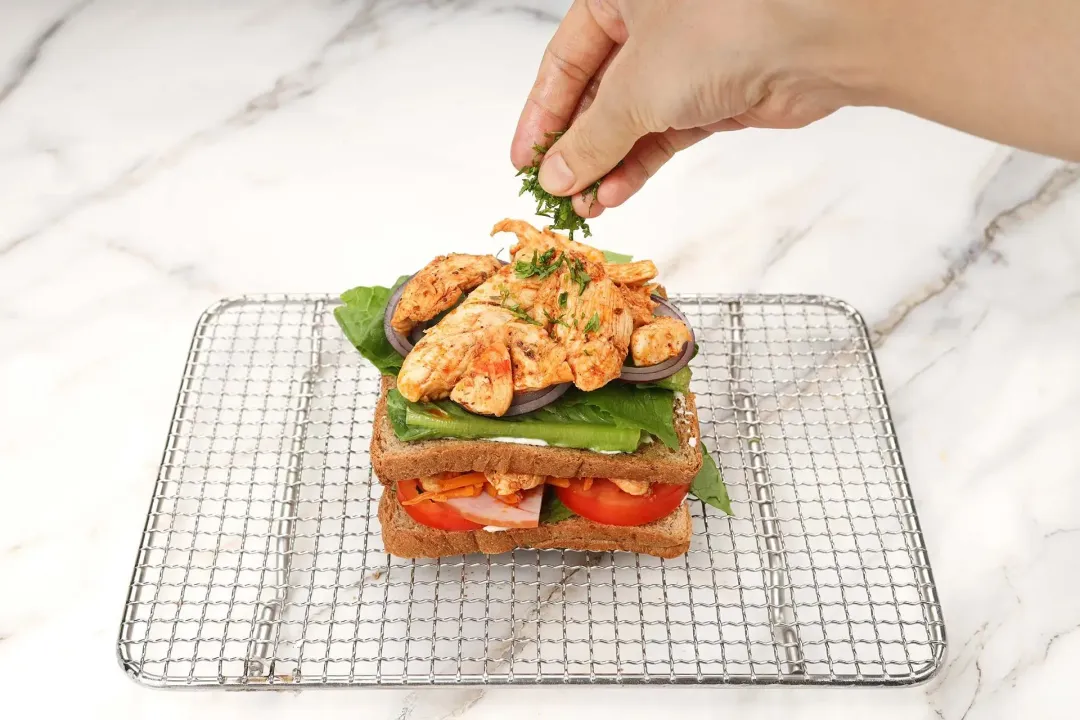 6
Garnish and serve: Press down firmly to pack all the ingredients together. Garnish by piercing cocktail toothpicks into the sandwiches and cutting them in half diagonally. If you're packing these sandwiches to go, cut them in half and wrap each portion in parchment paper.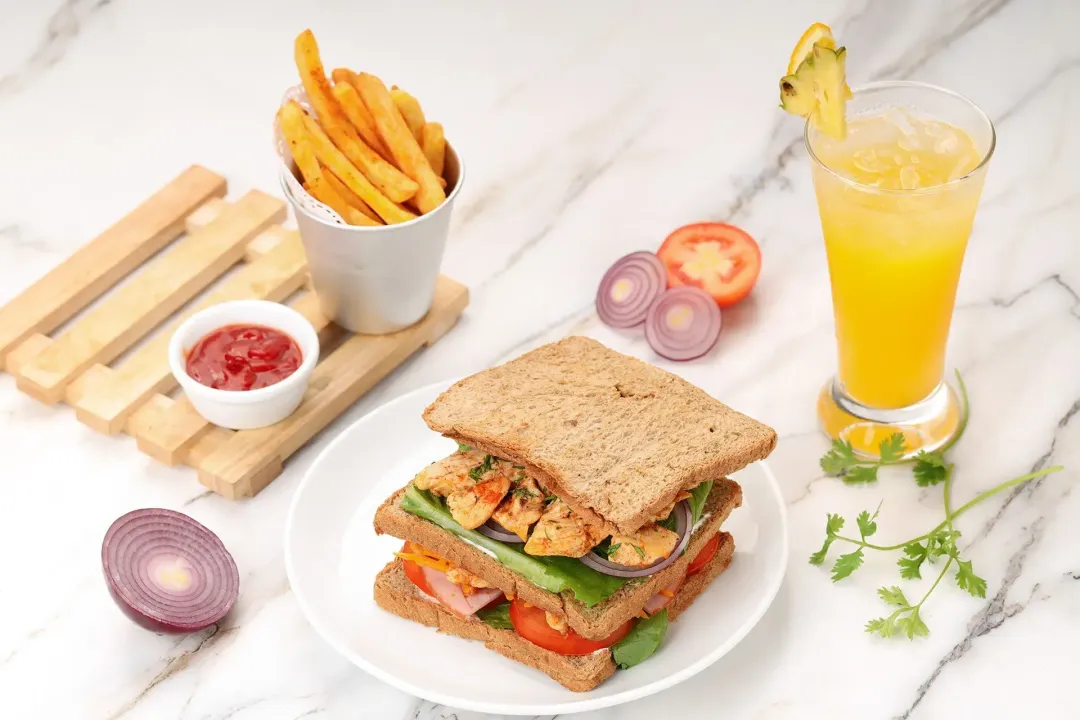 NUTRITION
Nutrition Facts
Club Sandwich
Amount Per Serving (1 serving)
Calories 481
Calories from Fat 180
% Daily Value*
* Percent Daily Values are based on a 2000 calorie diet.
Keywords: Club Sandwich, Club Sandwich Recipe
Previous Recipe
Chicken And Potatoes
Chicken And Potatoes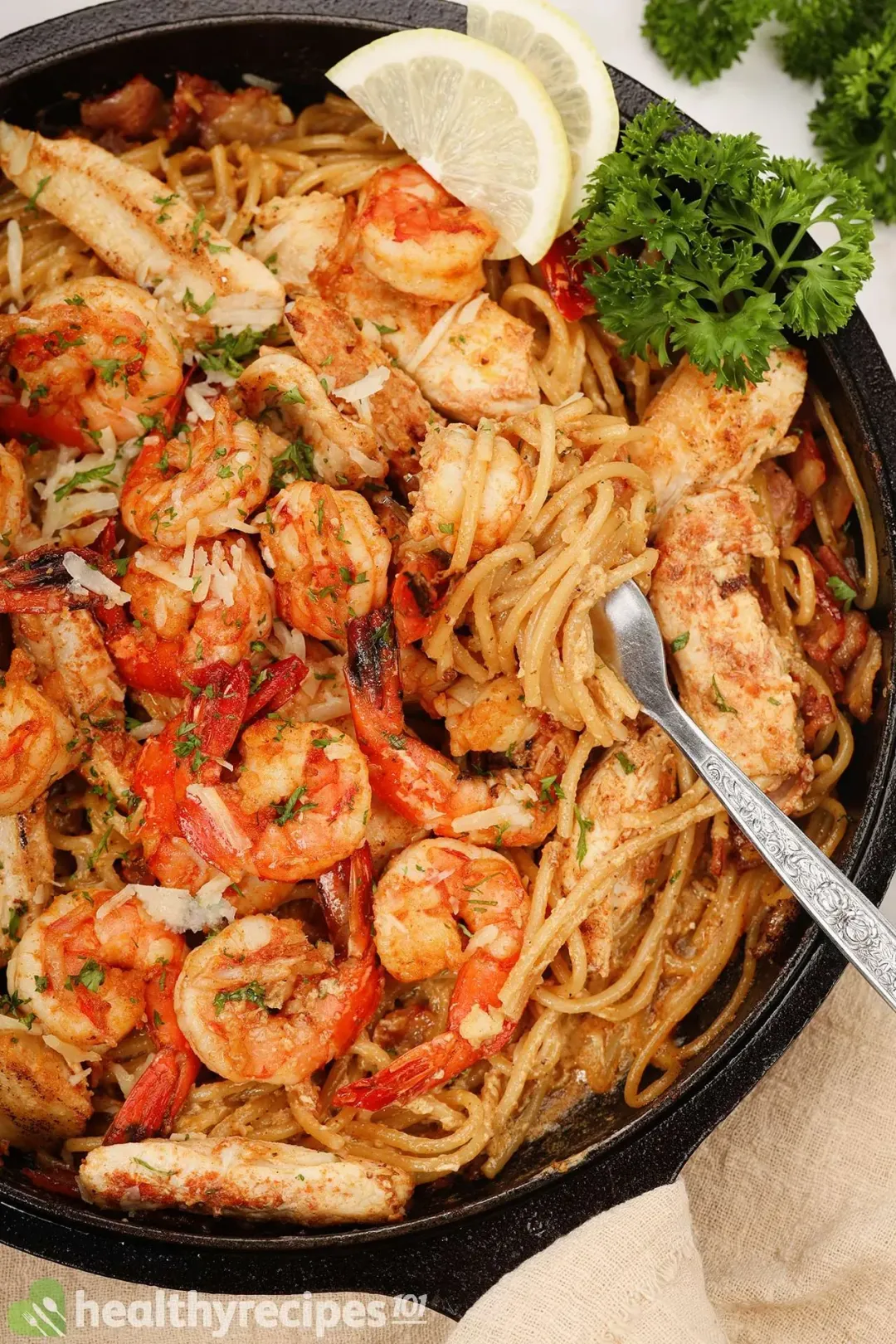 Next Recipe
Chicken and Shrimp Carbonara
Chicken and Shrimp Carbonara
Head Chef, Culinary Consultant
Tuyet Pham is an award-winning Saigonese chef who believes that joy is the secret ingredient to delicious food. At Healthy Recipes 101, Tuyet personally tests and simplifies every recipe, ensuring maximum flavor with minimal effort. With a background at prestigious French restaurants P'TI Saigon and Le Corto, Tuyet knows how to make every dish exceptional.
Writer, Author
Luna Regina is an accomplished writer and author who dedicates her career to empowering home cooks and making cooking effortless for everyone. She is the founder of HealthyKitchen101.com and HealthyRecipes101.com, where she works with her team to develop easy, nutritious recipes and help aspiring cooks choose the right kitchen appliances.
Nutrition Reviewer
Lizzie Streit is a Minneapolis-based dietitian and founder of It's a Veg World After All. She completed her MS in Human Nutrition from Drexel University, and is an expert in culinary nutrition, recipe development, and nutrition communications. Lizzie's philosophy is centered around making nutrition recommendations, and especially the advice to eat more vegetables, approachable and realistic. She is excited to be working with the team at Healthy Recipes 101 to ensure that their recipes are both nutritious and delicious.
A great sandwich as it is. Delicious and easy to make!