With today's French onion chicken recipe, you will be able to knock up an authentic and exquisite French signature—no need to revisit those fancy restaurants.
Our chefs pan-sear chicken breasts until the outside is slightly charred and the inside is still juicy, then simmer them in the mix of caramelized onion and red wine sauce. It makes an intriguing feast for your eyes and taste buds.
Is This Chicken Healthy?
Our chefs have worked extremely hard to ensure this French onion chicken is healthy, nutritious, and diet-appropriate.
We chose chicken breast, one of the leanest cuts of chicken, for today's protein-dense main course. Specifically, one serving of French onion chicken provides you with 44.3 g of protein, up to 89% of the recommended daily value.
Onion also plays a crucial role in the impressive nutrition profile of this French-style chicken dish. This vegetable is jam-packed with antioxidants, which bring many unexpected health benefits.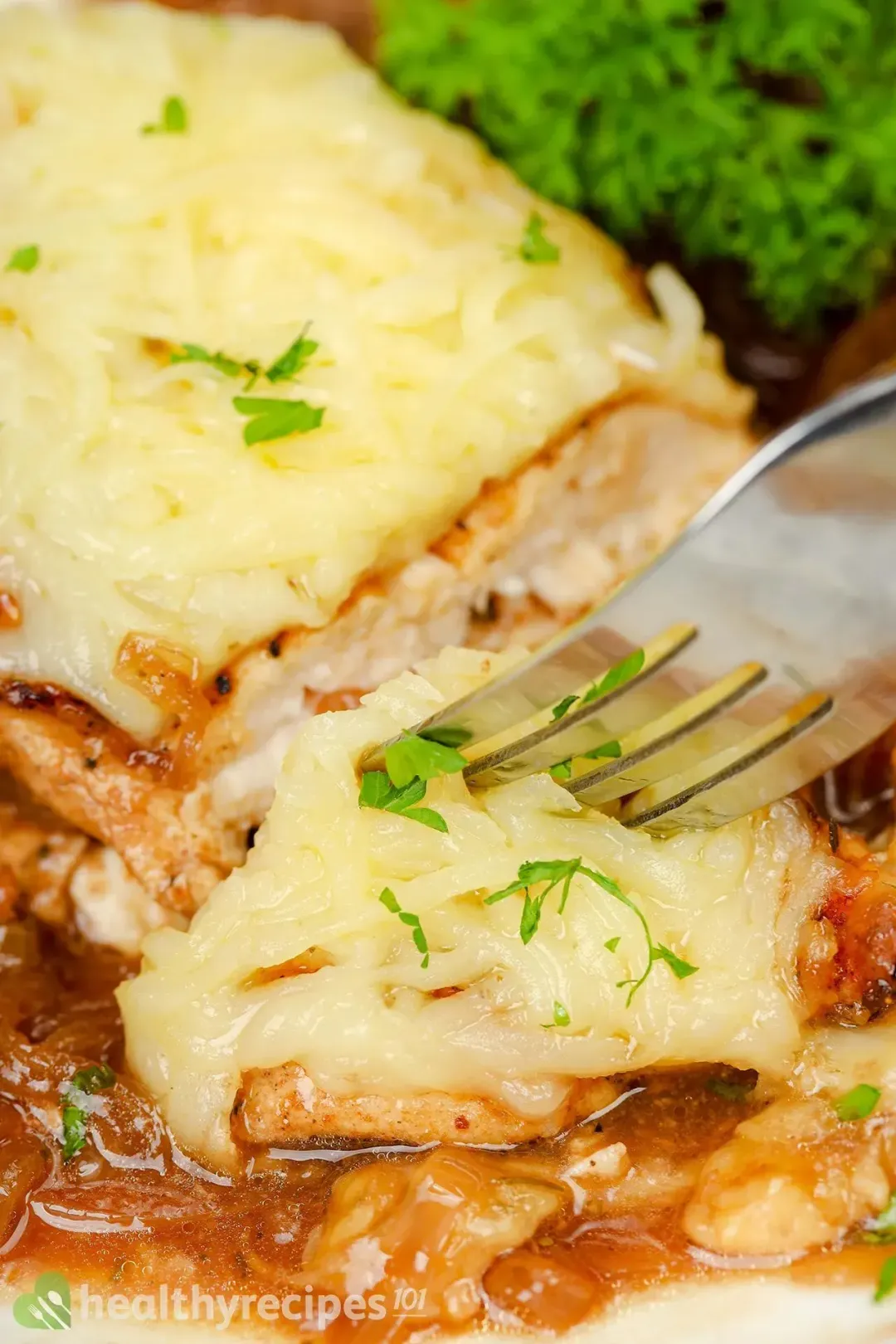 Offering tons of health advantages, each serving of French onion chicken contains only 466 calories with 7.9 g of saturated fat and around 582 mg of sodium—worth trying if you're a healthy-lifestyle dieter.
Main Ingredients
The list of ingredients includes:
Chicken: Apart from being an impressive lean protein source, chicken breasts are also easy to season and cook. Their simplicity pairs excellently with any spices that you wish to sprinkle on. A tip for perfectly-cooked chicken breast: butterfly the breast to attain a uniform thickness, allowing the heat to distribute more evenly.
Onion: Sweet onions (yellow onion and Vidalia onion) with less pungency and more sweetness are our go-to choices for cooking. 
Mozzarella cheese: This simple cheese possesses a delicate flavor profile and intriguing texture—savory with a hint of tanginess and a stringy texture.
Red wine: Wine is a crucial ingredient in most French-style dishes. Full-bodied Cabernet Sauvignon gets our vote with its richness and complexity. Our chefs describe its multidimensional flavor as 'fruity notes from cherry and plum with a warm, spicy aftertaste'. 
Butter: Caramelized onion without butter will taste less appealing and inviting. We recommend cooking the onions on low heat and stirring them occasionally to prevent burning.
Chicken broth: This versatile liquid features in tons of our recipes, from pasta and casserole to soups and stews. 
Gravy mix: To reduce the amount of added sodium, you can opt for the reduced-sodium gravy mix instead of the regular one.
Spices: To mix up the flavor of chicken, our chefs go with a blend of garlic powder, salt, pepper, and paprika.
Herbs: Take one bite into the saucy chicken breasts and you will notice subtle traces of black pepper and mint derived from bay leaf. We also incorporate dried thyme into the sauce for extra depth and flavor—earthy and slightly citrusy.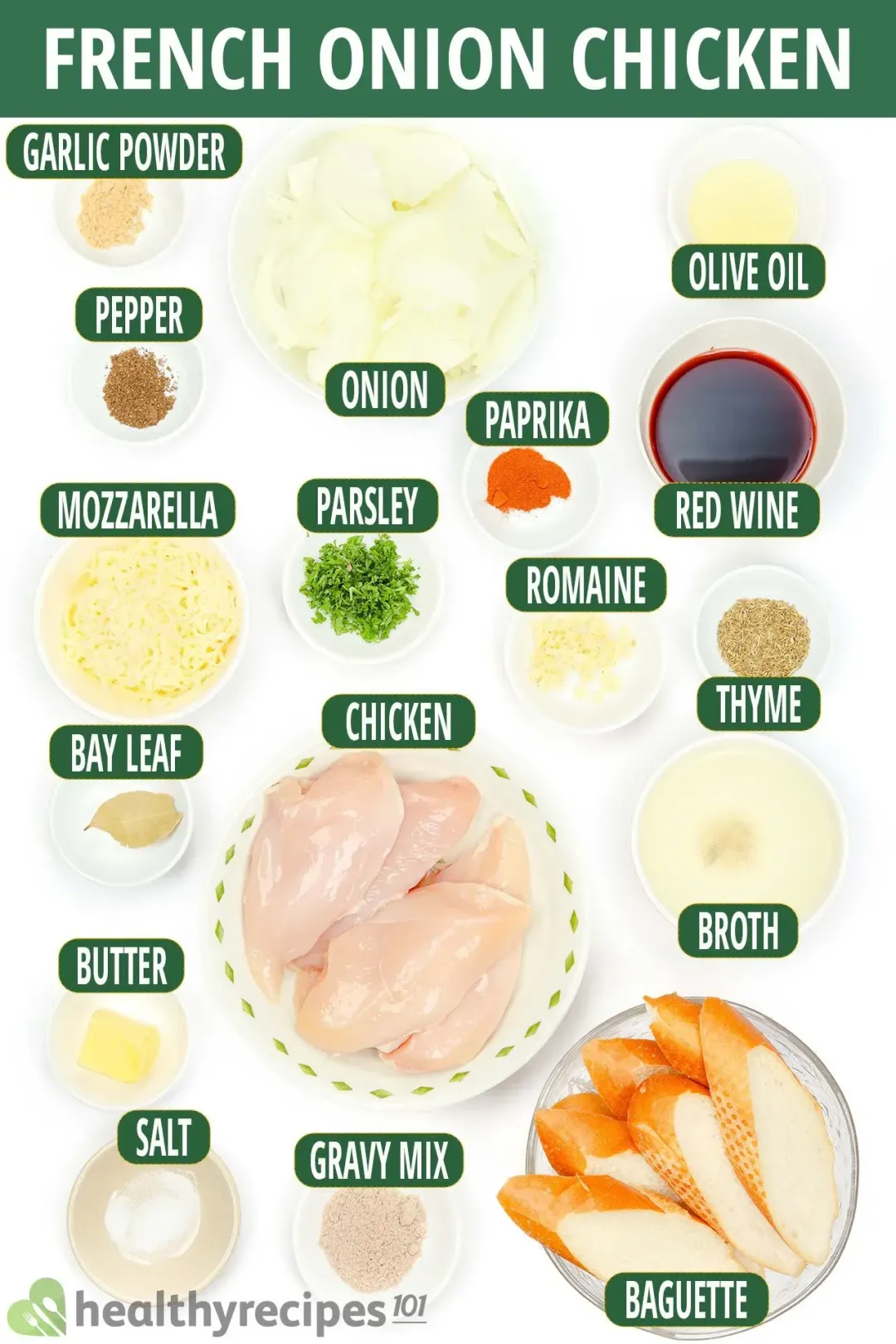 Types of Onions that Work Best for French Onion Chicken
Yellow onion is a natural ingredient, especially for French-style specialties. Due to its high sulfur content, raw yellow onion has a sharp flavor with a sweet aftertaste. When cooked, its pungency mellows, becoming sweeter and more palatable.
For those who love a more intense sweetness, our chefs suggest using Vidalia onion as a substitute.
How to Store and Reheat Leftovers
1. How to Store
We suggest separating the leftover chicken and the sauce before refrigerating to better retain their quality. Place both in two different airtight containers and keep them in the fridge. They will last from 2 to 3 days if stored properly.
Freezing is also a great storage option if you plan to make the meal far ahead of time. However, we suggest removing the layer of fresh mozzarella cheese from your leftover chicken since dairy products are not suitable for freezing.
Remember to store the chicken and sauce in two freezer-safe Ziploc bags and put them in the freezer. They will keep well for up to 1 month.
2. How to Reheat
Place your refrigerated leftovers on a microwave-safe plate covered with plastic wrap. Microwave at 'high' until hot, about 2 minutes.
For frozen food, it's necessary to properly thaw them in the fridge before reheating.
What to Serve With
Here are some refreshing salad pairings for your French onion chicken: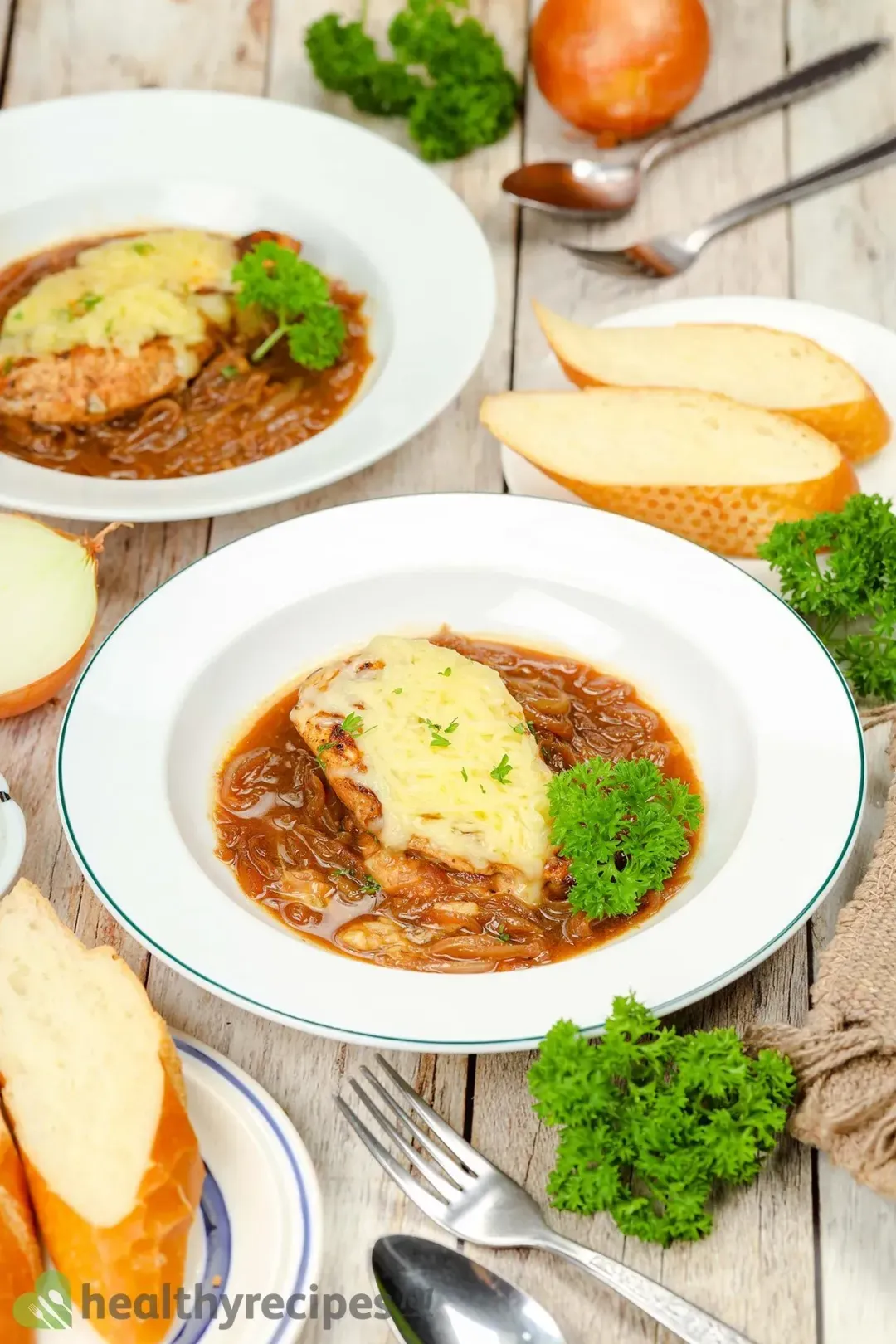 Stews and Stew-Like Chicken Pots
Our Chicken Fricassee recipe adds a beautiful touch to the French classic, that is the special garlicky white wine sauce in a healthier form. It's a pan of juicy chicken thighs with tender, flavorful vegetables.
This dish embraces the colorful diversity of Caribbean cuisine, with flavors ranging from a deep sweetness to subtle notes of spicy and savory. The divine combination of chicken drumsticks and hearty veg comes together quickly, yielding a comfort food with downright irresistible flavors.
How to Make French Onion Chicken
Our French onion chicken promises an easy-to-put-together main dish that tastes incredibly delicious. With succulent chicken breasts, caramelized onion, spices, and herbs simmered in red wine sauce, this French-style chicken is a showstopper for any dinner party.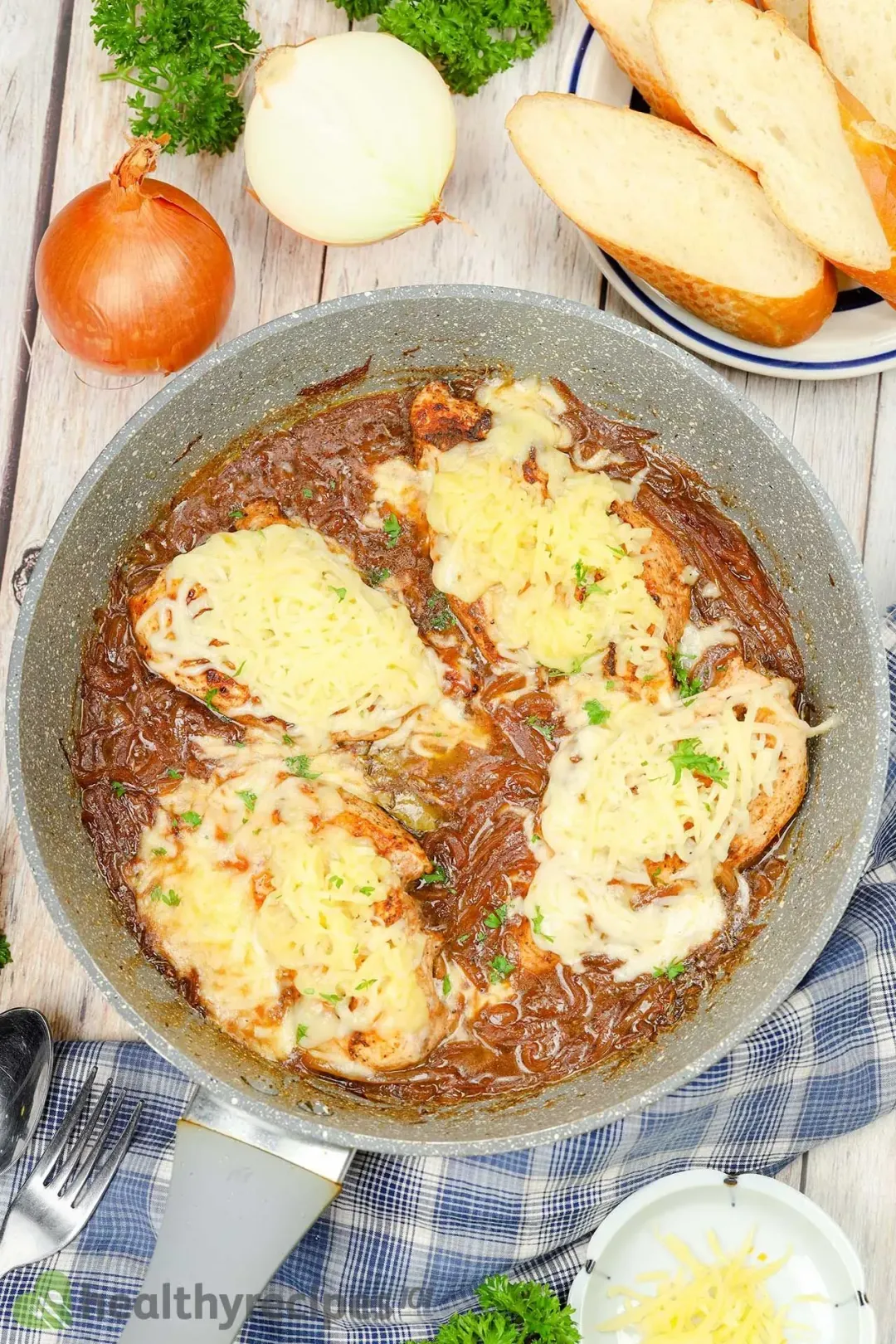 cook TIME

45 mins

prep TIME

10 mins

total TIME

55 mins
COURSE

Main Course

CUISINE

French

SERVINGS

CALORIES

466 kcal
INGREDIENTS
22 oz

skinless boneless chicken breast

4 oz

French baguette

(sliced)

3 oz

mozzarella cheese

(grated)

1 cup

unsalted chicken broth
INSTRUCTIONS
Prep:
1
Place the chicken breast on a cutting board. From the long side of the chicken breast, slice the meat in half in a sawing motion, but leave about 1/4 inch so that the two pieces are still intact. Set it aside and repeat with the remaining pieces.
2
Half the onion lengthwise, then slice off the root and head. Grip the half by the side and make 1/8-inch slices across the half.
4
Place the serrated knife at a slight angle and cut the French baguette crosswise into smaller pieces, about 1 inch thick.
Cook:
1
Marinate the chicken breasts: On a large platter, add 22 oz skinless boneless chicken breast, 1/2 tsp garlic powder, 1/2 tsp pepper, and 1/2 tsp paprika. Gently massage the seasonings onto both sides of the chicken breasts.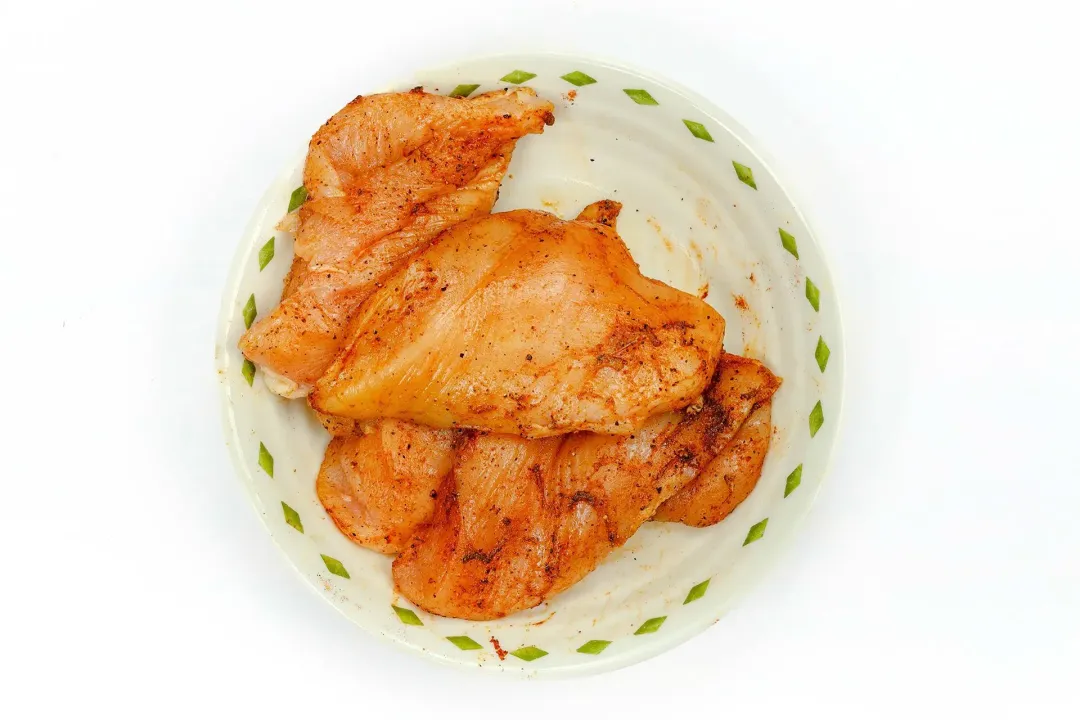 2
Pan-sear the chicken breasts: Place a large non-stick pan over medium heat. Add 1 tbsp olive oil and the well-seasoned chicken breasts to the pan. Pan-sear each side for 3 minutes and 30 seconds (7 minutes in total). Remove from the heat.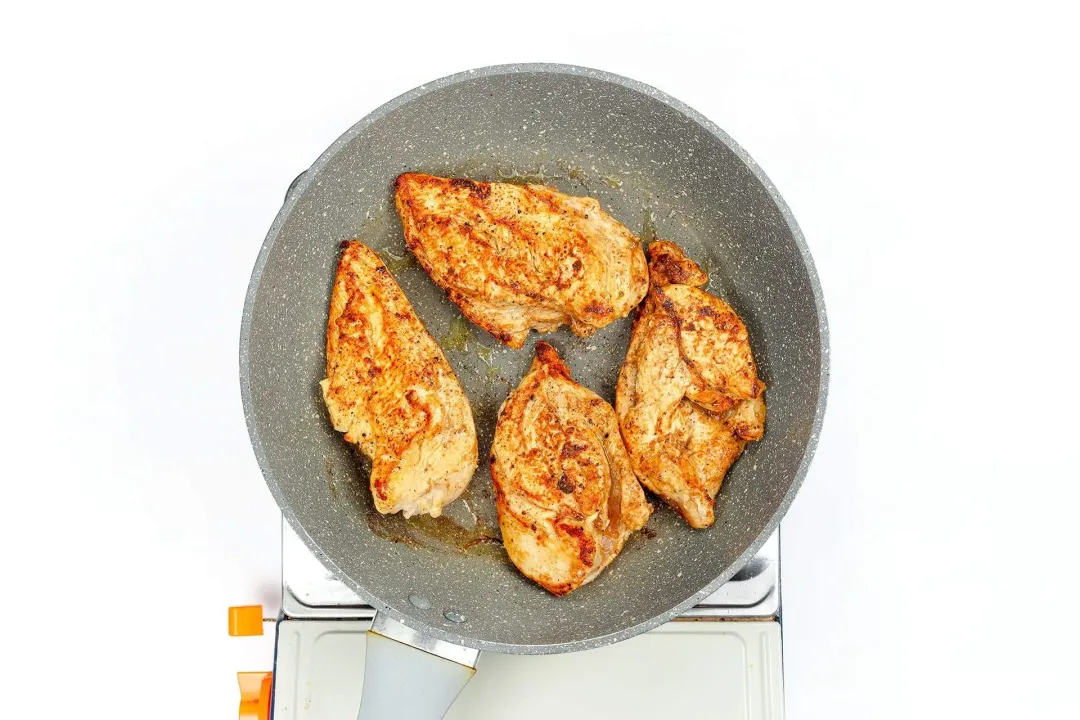 3
Sauté the onion: Add 2 tbsp unsalted butter and 12 oz sliced onion to the same pan. Sauté the onion for 20 minutes on low heat. Stir evenly every 2 minutes to ensure the onion is cooked evenly.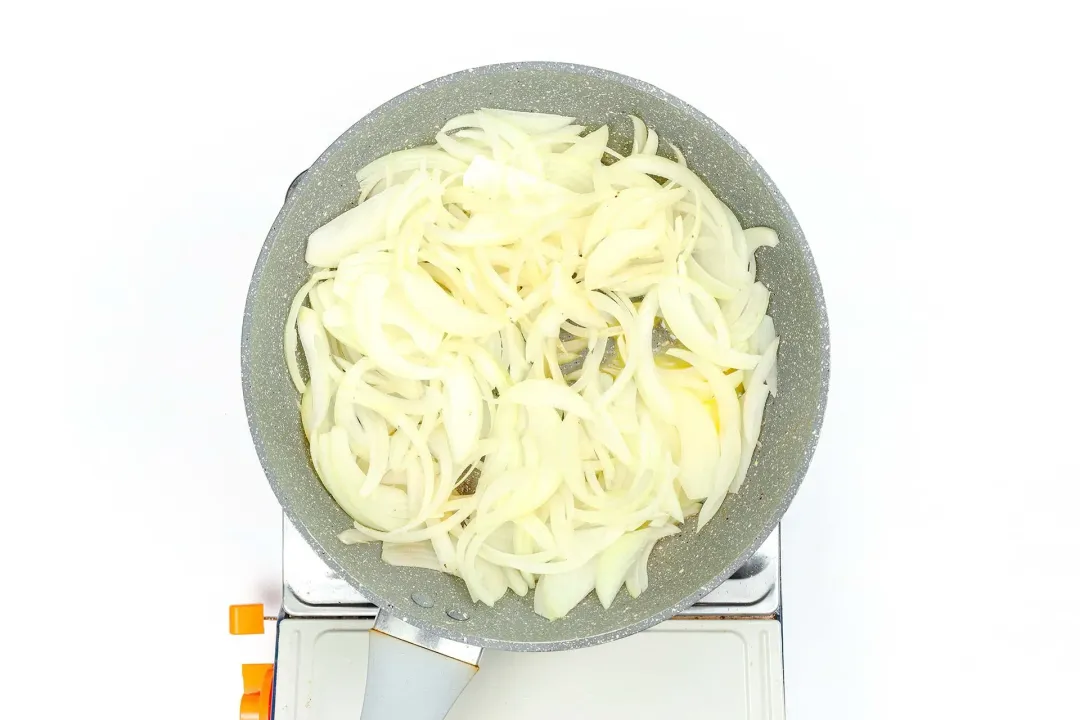 4
Incorporate the red wine: To the sautéed onion, pour in 3 fl oz red wine and let them simmer for another 5 minutes.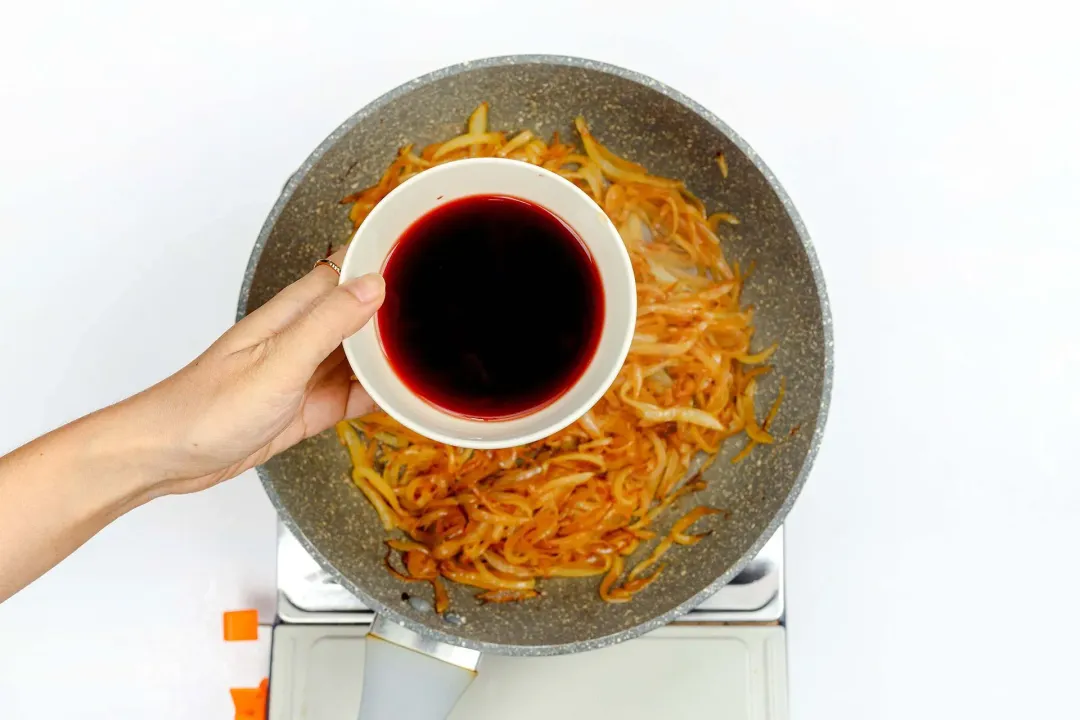 5
Combine the herbs and liquid: Add 1 cup unsalted chicken broth, 2 tsp brown gravy mix, 1/4 tsp salt, 1 bay leaf, and 1 tsp dried thyme into the pan. Stir frequently.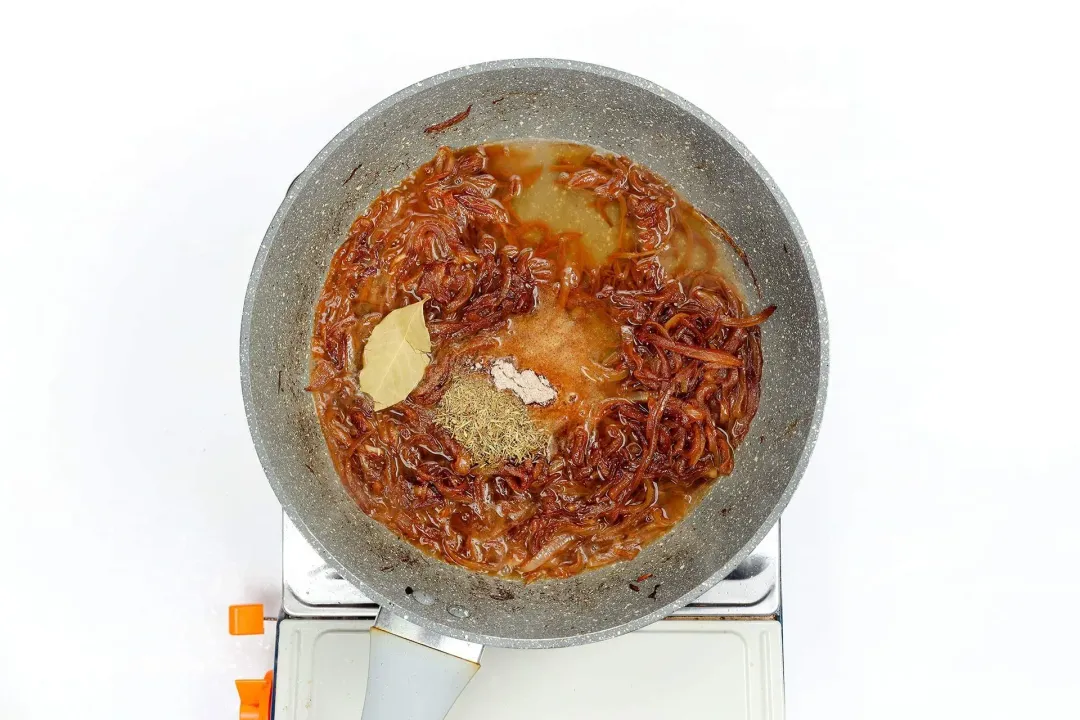 6
Add the cooked chicken breasts: Return the pan-seared chicken to the non-stick pan. Simmer the chicken in the sauce on low heat for 5 minutes.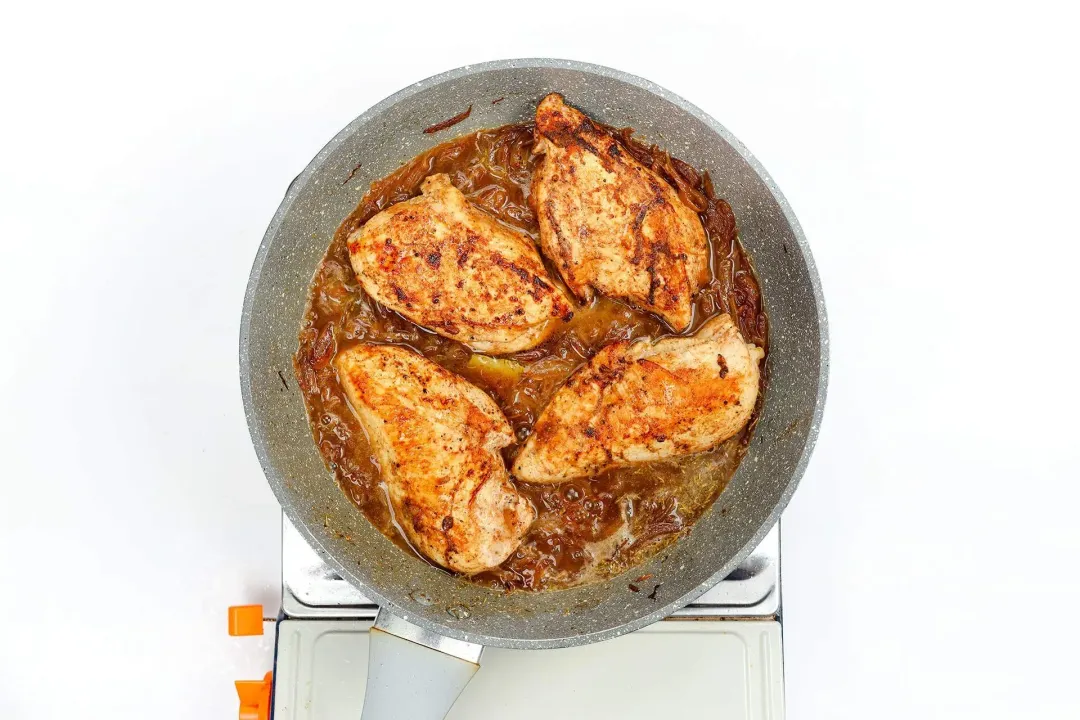 7
Add the cheese: Using 3 oz fresh mozzarella cheese, add an even layer of cheese on top of each chicken breast. Cook the chicken for 3 more minutes until the cheese has melted.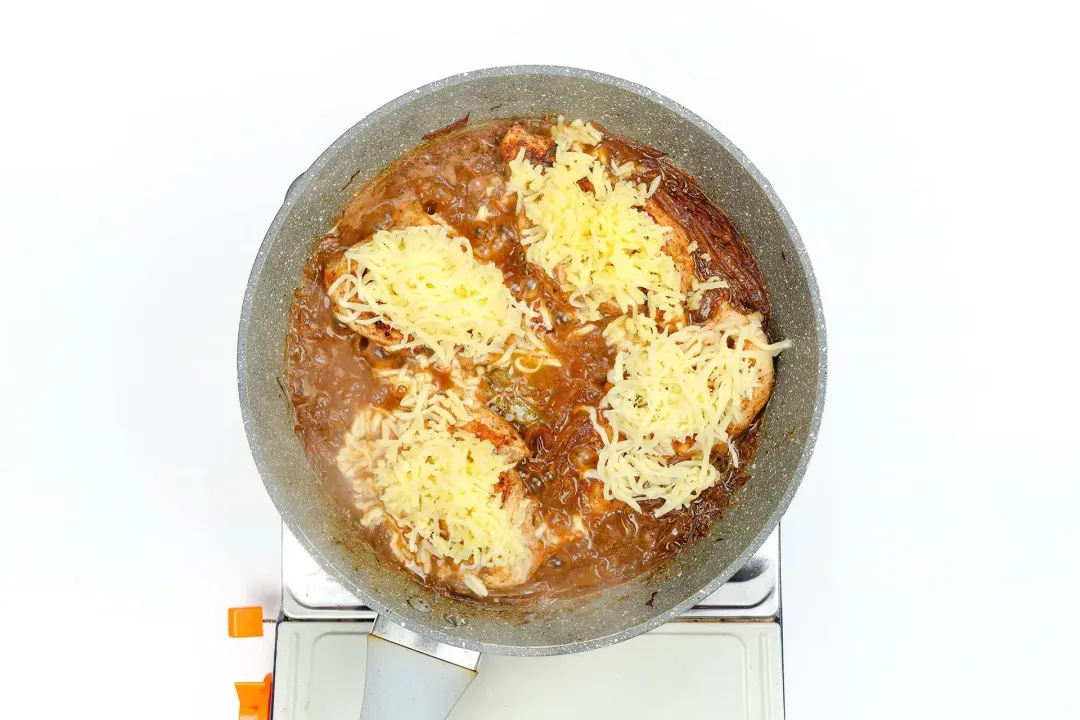 8
Air-fry the French baguette: Place 4 oz French baguette in the air-fryer basket. Air-fry them at 375 ℉ for 4 minutes.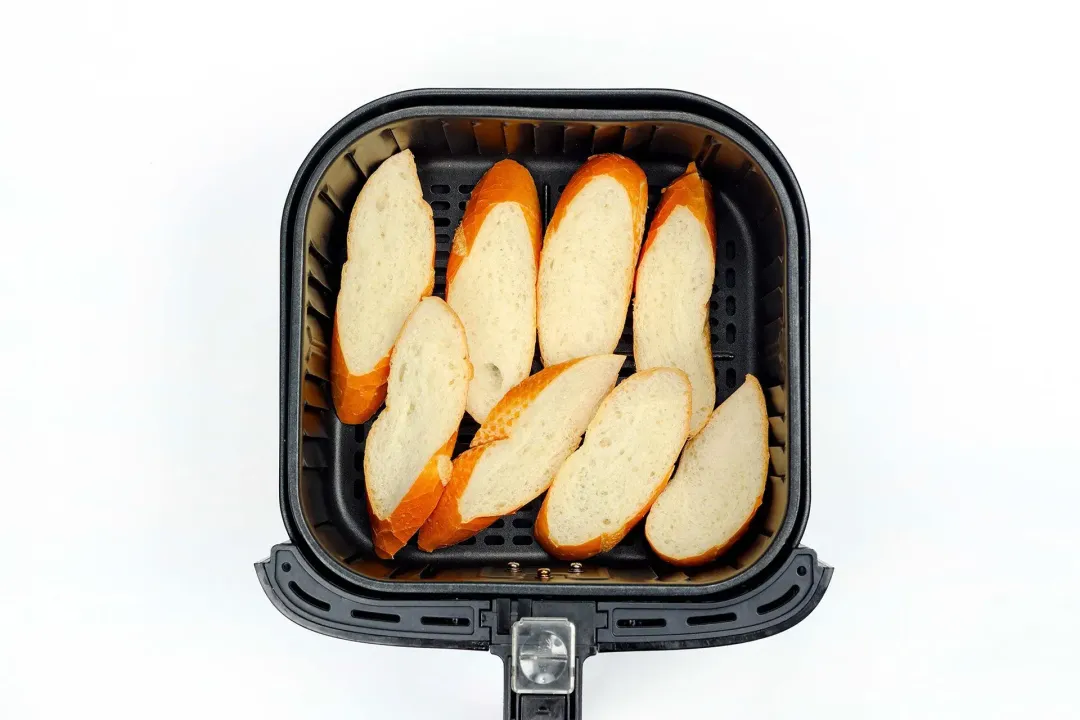 9
Garnish and serve: Transfer your desired portion onto a serving plate. Garnish with 2 tbsp chopped parsley. Enjoy your French onion chicken with air-fried baguette!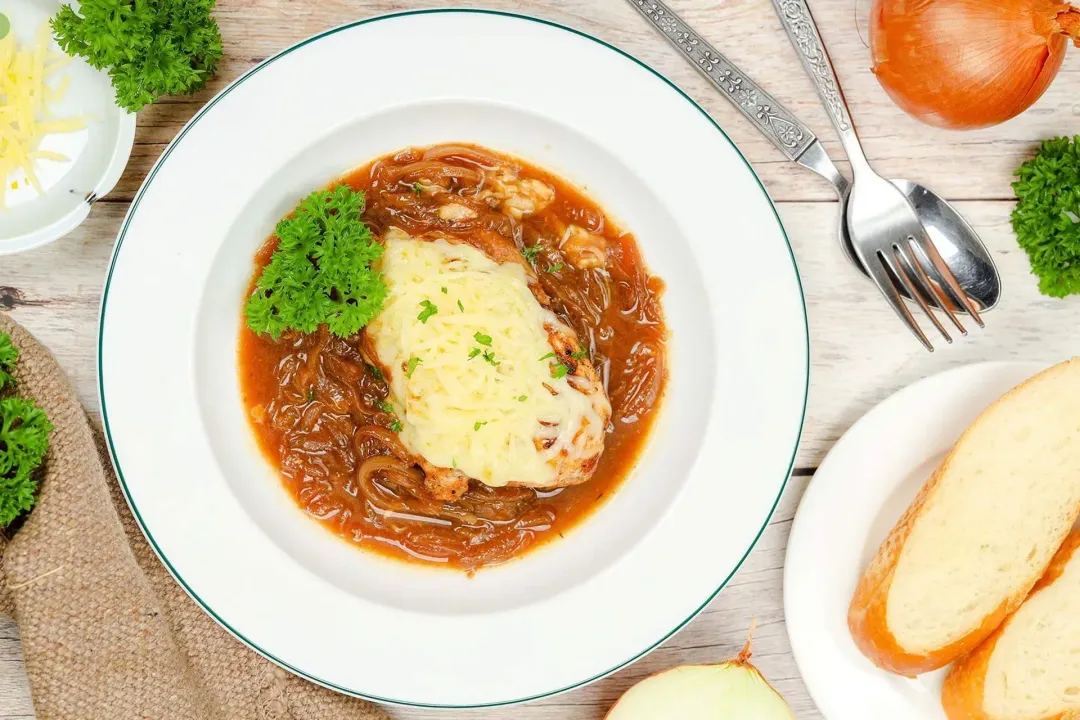 NUTRITION
Nutrition Facts
How to Make French Onion Chicken
Amount Per Serving (1 serving)
Calories 466
Calories from Fat 167
% Daily Value*
* Percent Daily Values are based on a 2000 calorie diet.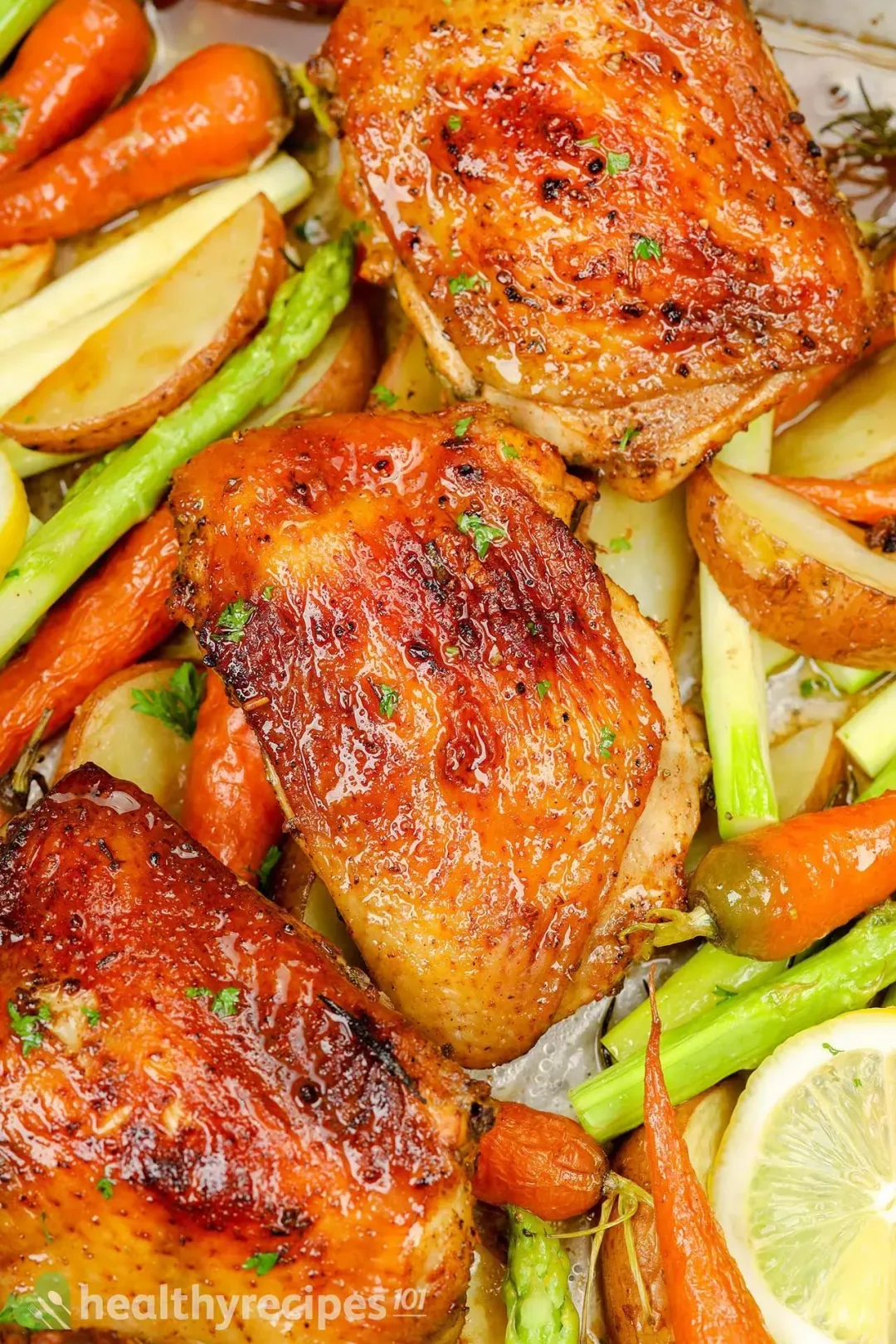 Previous Recipe
Rosemary Chicken
Rosemary Chicken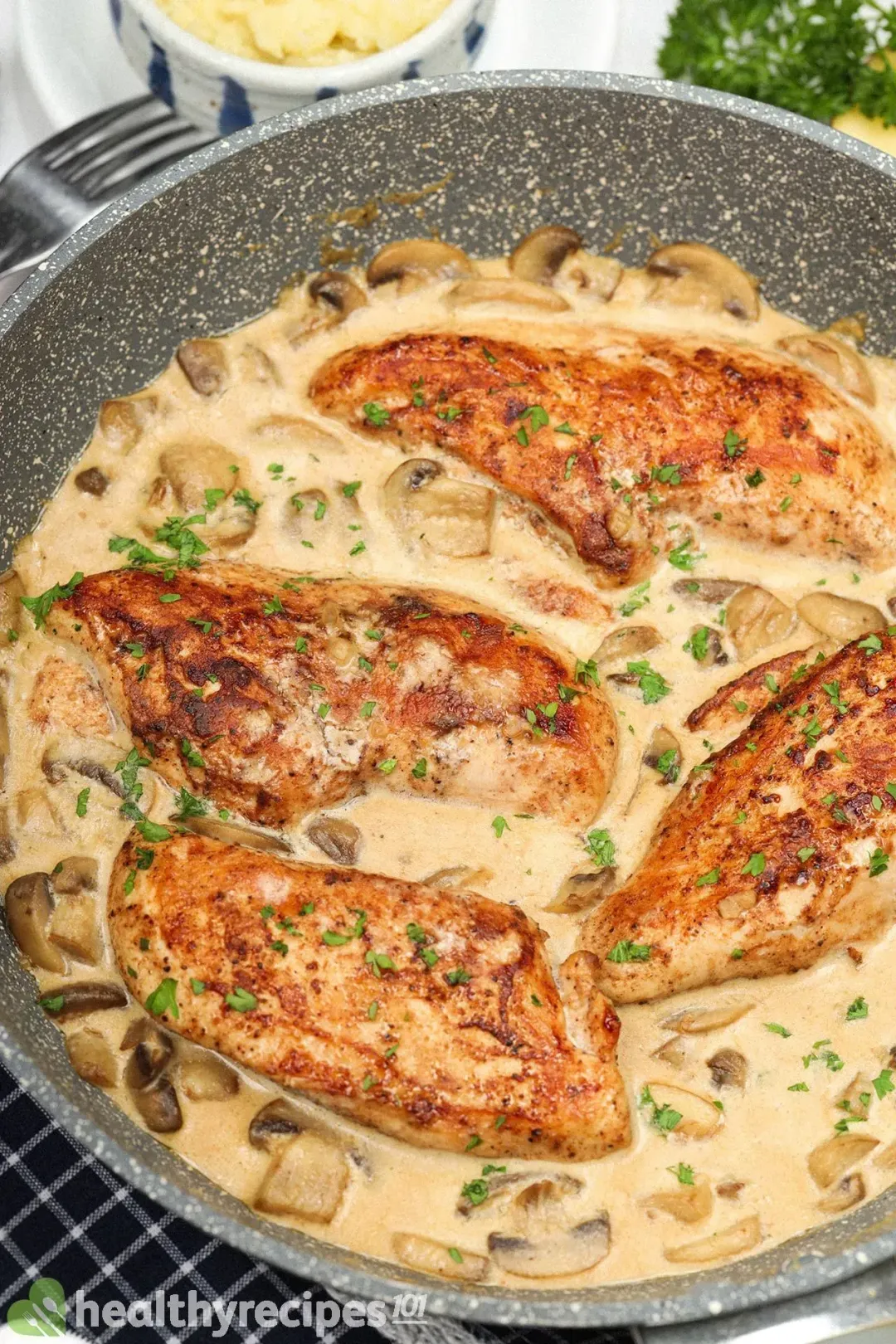 Next Recipe
Mushroom Chicken
Mushroom Chicken
Head Chef, Culinary Consultant
Tuyet Pham is an award-winning Saigonese chef who believes that joy is the secret ingredient to delicious food. At Healthy Recipes 101, Tuyet personally tests and simplifies every recipe, ensuring maximum flavor with minimal effort. With a background at prestigious French restaurants P'TI Saigon and Le Corto, Tuyet knows how to make every dish exceptional.
Writer, Author
Luna Regina is an accomplished writer and author who dedicates her career to empowering home cooks and making cooking effortless for everyone. She is the founder of HealthyKitchen101.com and HealthyRecipes101.com, where she works with her team to develop easy, nutritious recipes and help aspiring cooks choose the right kitchen appliances.
French onion chicken, a classic dish. Delicious!!