While you are tired of repeating essentials for everyday meals, or browsing the internet for a National Stuffed Mushroom Day (Feb 4) treat, why not try something new like this stuffed mushrooms recipe? They can become a next favorite staple on your family dinners for good reason. 
Stuffed mushrooms come in a bite-size but have a spectrum of flavor and texture from protein, vegetables, to dairy. They are also versatile enough so that you can stuff anything in the mushroom cap. In case you don't know what to go for, the combination of sausage, onion, and cheese is always a signature.
Before we jump to how to make these little goodies, let's start with some interesting facts about mushrooms.
Are Mushrooms a Vegetable?
Mushrooms are sometimes classified as vegetables but botanically, they are not plants. Mushrooms, lacking some key defining characteristics of vegetables such as leaves, roots, and seeds, belong to another kingdom-fungi.
However, the United States Department of Agriculture considers mushrooms a member of the vegetable family. The reason for this categorization is that mushrooms share the same nutritional features as vegetables.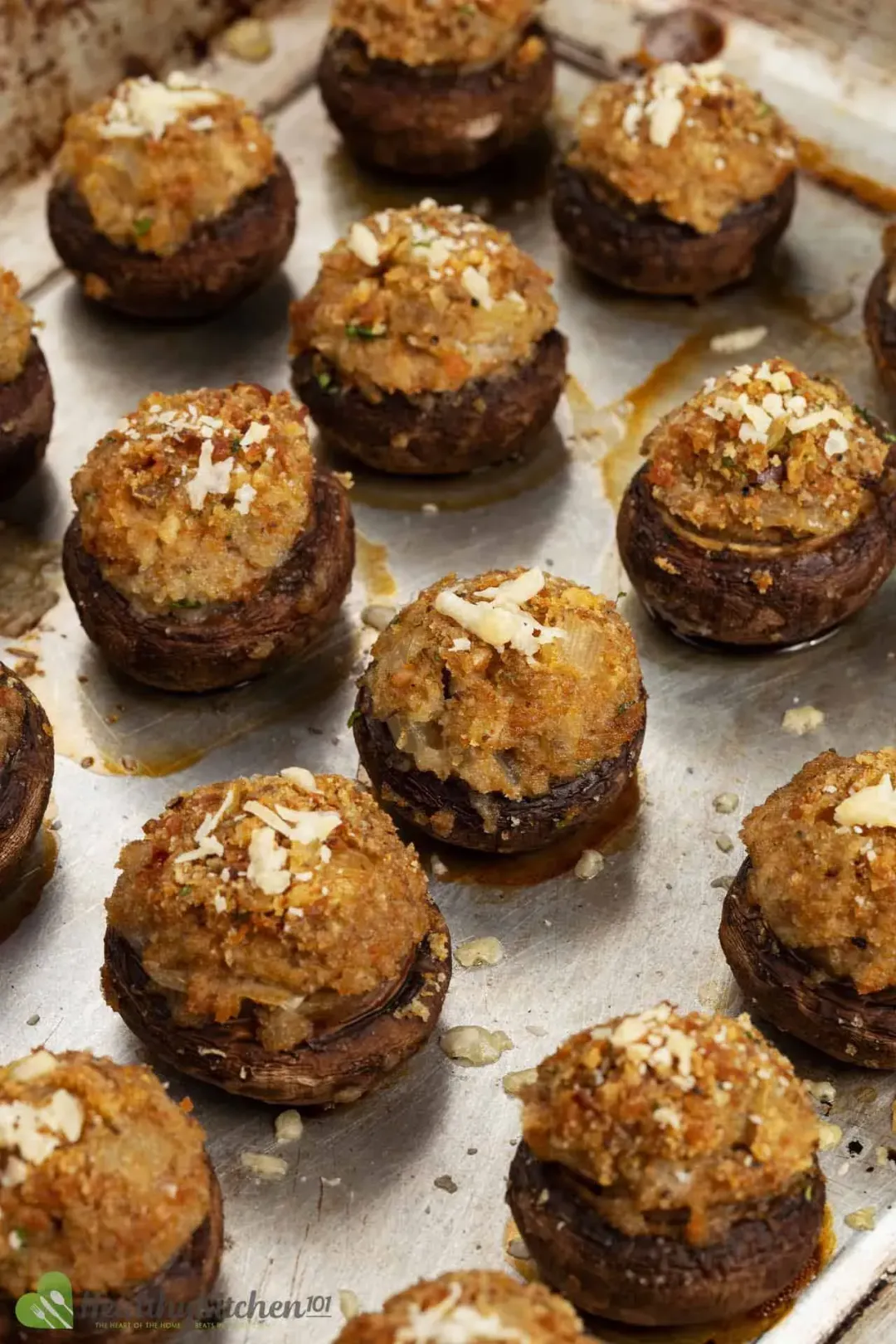 According to a study published in the U.S. National Library of Medicine National Institutes of Health, mushrooms create a nutrient bridge across core food groups-meat, plants, and grains.
Mushrooms are delicious with a uniquely meaty mouthfeel making them a great addition to your diet, especially vegetarian. There are also thousands of edible mushrooms coming in all different sizes, shapes, and colors.
Different Types of Mushrooms
There are more than a thousand different types of mushrooms, making it impossible to cover all in an article. We can discuss some of the most popular types in the market. 
1. White Mushrooms
Button mushrooms or white mushrooms are the most common type of mushrooms, about 90 percent of mushrooms we eat belongs to this category. White mushrooms have a milder taste in comparison to other types, making them great for making soup and baked dishes.
2. Cremini Mushrooms
Cremini is a mature version of white button mushrooms. This means cremini mushrooms have a firmer texture and a browner appearance. People use cremini frequently in soup and stew since they can hold up liquid well while still retaining the uniquely earthy flavor.
3. Shiitake Mushrooms
Shiitake means "oak fungus" in Japanese, which implies where you can find this kind of mushroom in the forest. Shiitake can be easily identified with their signature "umbrella-shaped" cap and woody flavor. 
Indeed, their dried counterparts are more popular thanks to the intensive aroma. The distinctive taste of shiitake is best described as meat, which makes it the favorite element in many Asian stir-fries and soups.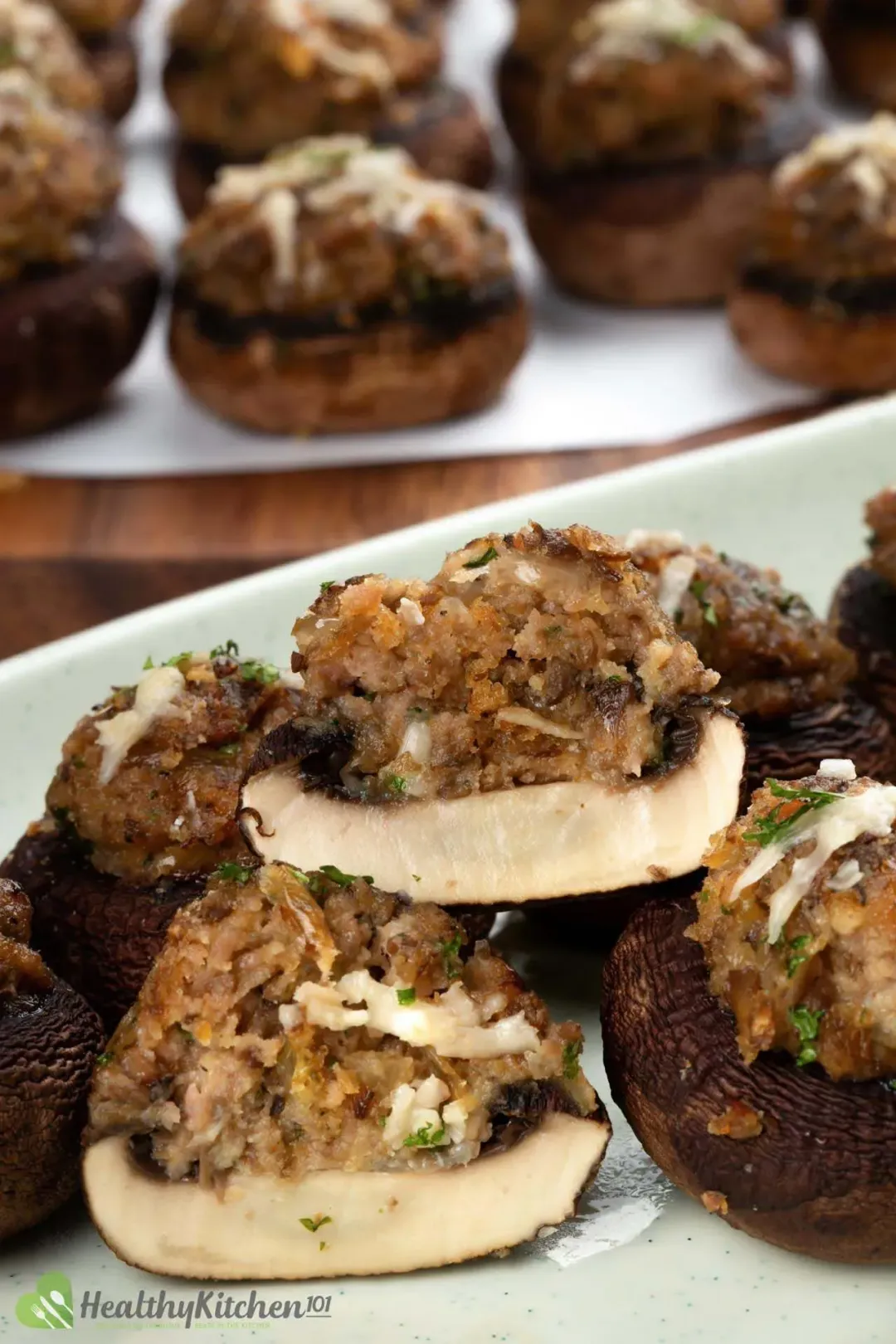 Are Mushrooms Healthy?
Mushrooms are not calories-dense like other types of fruits and vegetables, but they are a powerhouse of vitamins, minerals, and other nutrients. They are also low in calories, low in fat and sodium, and free from cholesterol.
Some of the impressive health benefits from mushroom include:
Include some cancer-fighting properties: There are some essential anti-inflammatory compounds available in mushrooms, including ergothioneine and selenium. They help to protect the body from free radicals damage that can cause some serious conditions like cancer or heart diseases.
Assist to strengthen your bones: Mushrooms are one of the few foods rich in vitamin D, which is important for building strong bones and improving the immune system.
Help lower cholesterol: As mentioned above, mushrooms, in general, are cholesterol-free, but they contain a good amount of chitin and beta-glucan. They are types of fiber that helps keep cells from sticking to blood vessel walls, reduce cholesterol, and maintain healthy blood pressure.
If you feel inspired by those benefits and want to combine more mushrooms in your diet, check out our calzone recipe. This Italian oven-baked fold pizza is created to be a healthier alternative to the original one.
Ingredients for Stuffed Mushrooms
When it comes to ingredients in the stuffed mushrooms recipe, there a variety of additions you can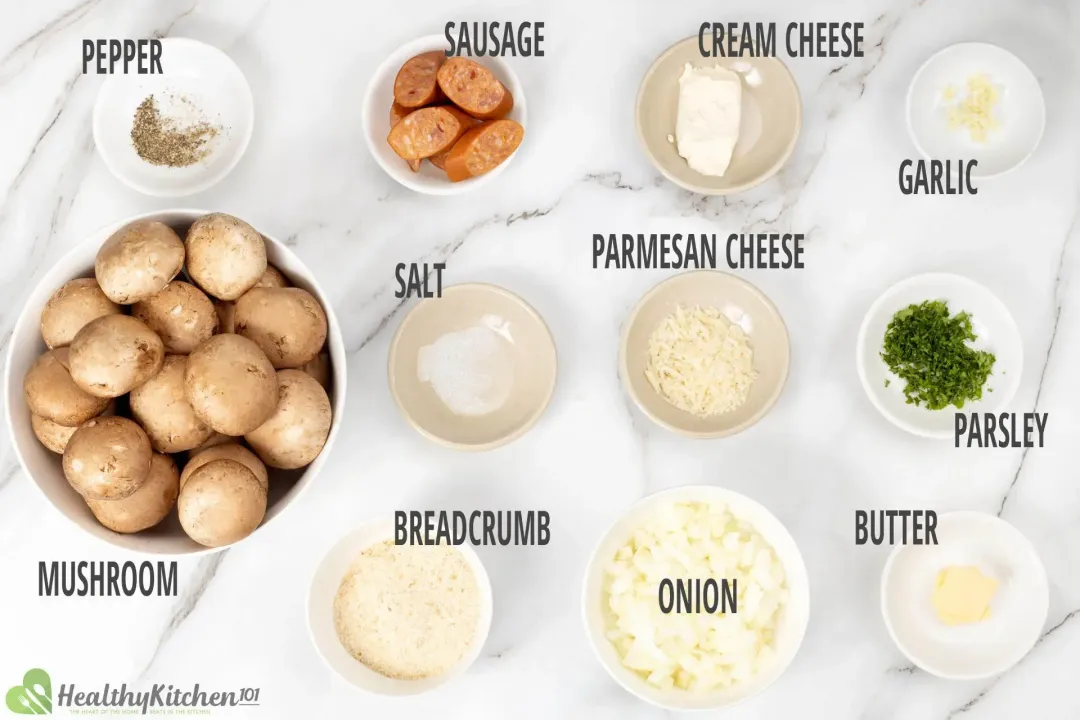 1. Mushrooms
The regular white button or cremini are the most used mushrooms for stuffed mushroom recipes.
These types have a mild flavor which can pair nicely with the savory filling of sausage and cheese. Apart from that, they often come into the bite-size but provide a generous cavity for adding stuff filling.
Protip: Choose mushrooms of the same size so that they can be cooked evenly at the same time.
2. Cheese
We use two types of cheese in this stuffed mushroom recipe: cream cheese and parmesan cheese.
Cream cheese complements the strong flavor of sausage and also acts as a binder in the dish. Parmesan cheese, on the other hand, is flavorful and melts nicely in the oven. You can try other cheeses like feta or goat cheese, the alternative is endless.
3. Sausage
A variety of sausages from mild, spicy, to sweet sausages, work well in the filling mixture. Just break them up using a knife or a blender so that each bite of your stuffed mushrooms is full of this mouthwatering savory protein.
4. Breadcrumbs
No stuffed dishes can be complete without a bit of breadcrumb. The bread soaks up all the broth and blends the flavor from other ingredients in the filling. This ensures the stuffed mushrooms finish perfectly moist and flavorful in every bite.
5. Garlic
Mushroom is the star in the show so that you want to combine some herbs that can complement their flavor. Sauté garlic with a splash of olive oil is useful to caramelize the sharp flavor while still bringing out the naturally sweet taste of this herb.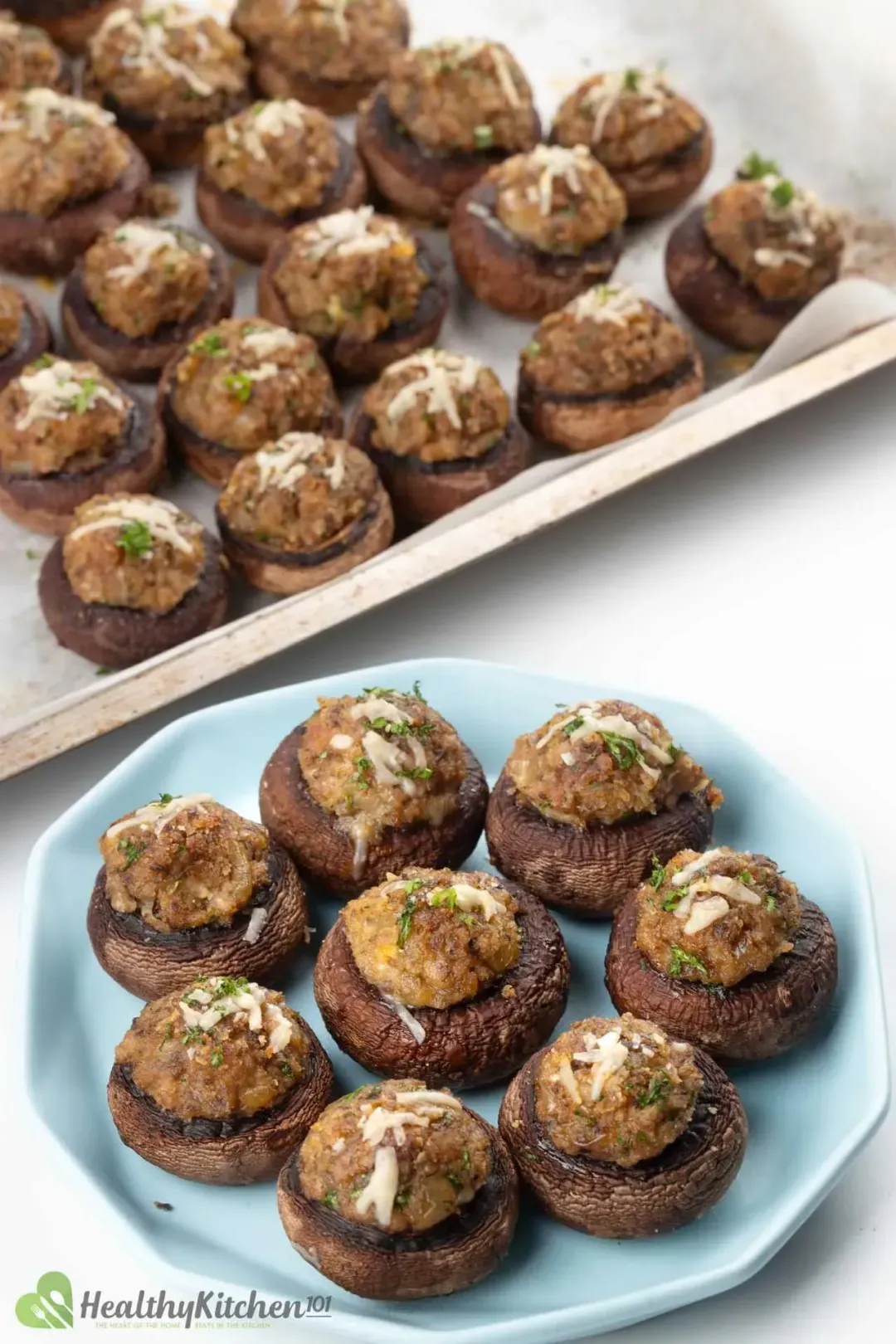 How Long to Cook Stuffed Mushrooms
Our 2-inch-wide stuffed mushrooms need to be baked at 375°F for about 18 minutes. The mushrooms are done when the cheese melted on the filling for an irresistible golden brown top while the caps are tender throughout.
If your mushrooms have smaller or bigger sizes, adjust the cooking time a bit to ensure that the dish comes out tender and tasty from the oven.
How Long Do Stuffed Mushrooms Last in the Fridge?
If you properly store these little goodies, they can last for up to 3-5 days. To ensure the best storage conditions, keep your stuffed mushrooms in the airtight container within 2 hours of cooking.
Can You Freeze Stuffed Mushrooms?
Of course, you can. However, you need to freeze them before baking. The filling doesn't hold well in the freezer and could split apart when defrosting. 
To freeze the mushrooms, place them in an airtight container and store them in a freezer. This way they can stay fresh for up to 3 months.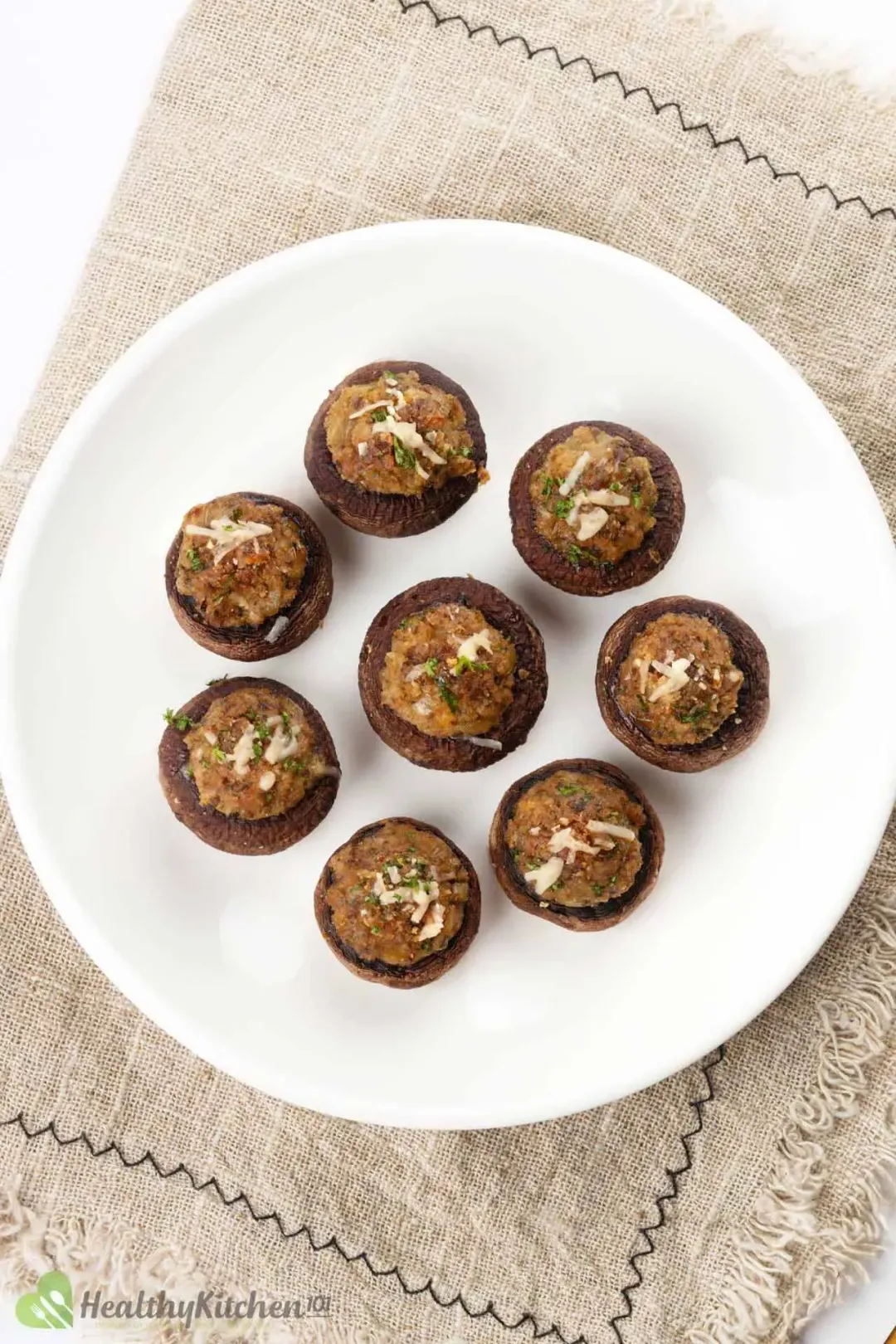 More Delicious Mushroom Recipes
Stuffed Mushroom
Today's stuffed mushrooms recipe is formulated to give you an easy, quick, and nutrition-dense side dish that can be made in 30 minutes.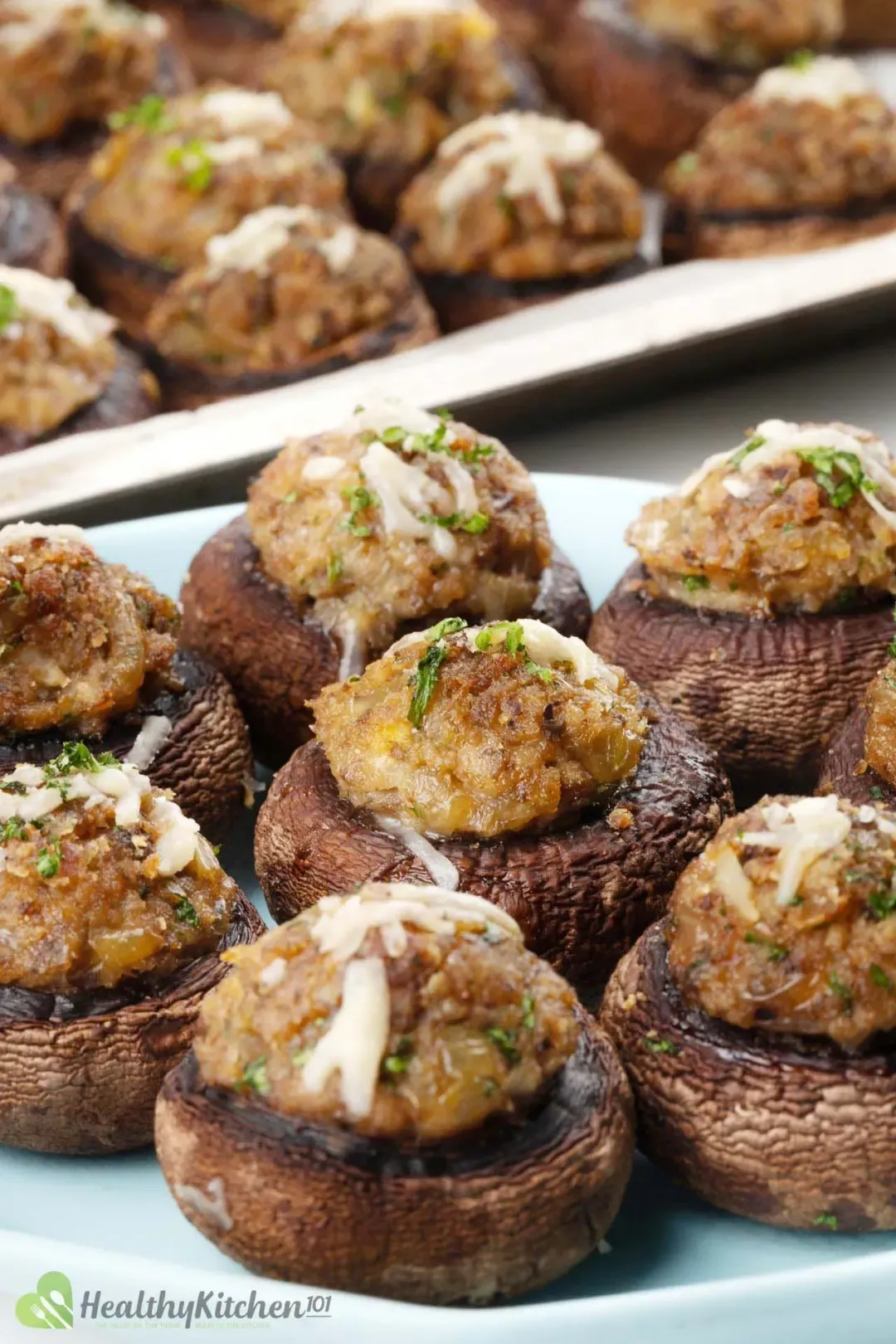 cook TIME

25 mins

prep TIME

5 mins

total TIME

30 mins
COURSE

Side Dish

CUISINE

American

SERVINGS

CALORIES

156 kcal
INGREDIENTS
0.25 oz

parmesan cheese

(divided)
INSTRUCTIONS
1
Preheat the oven to 375°F.
2
Wash 20 oz cremini mushroom then remove the stems from the mushroom caps.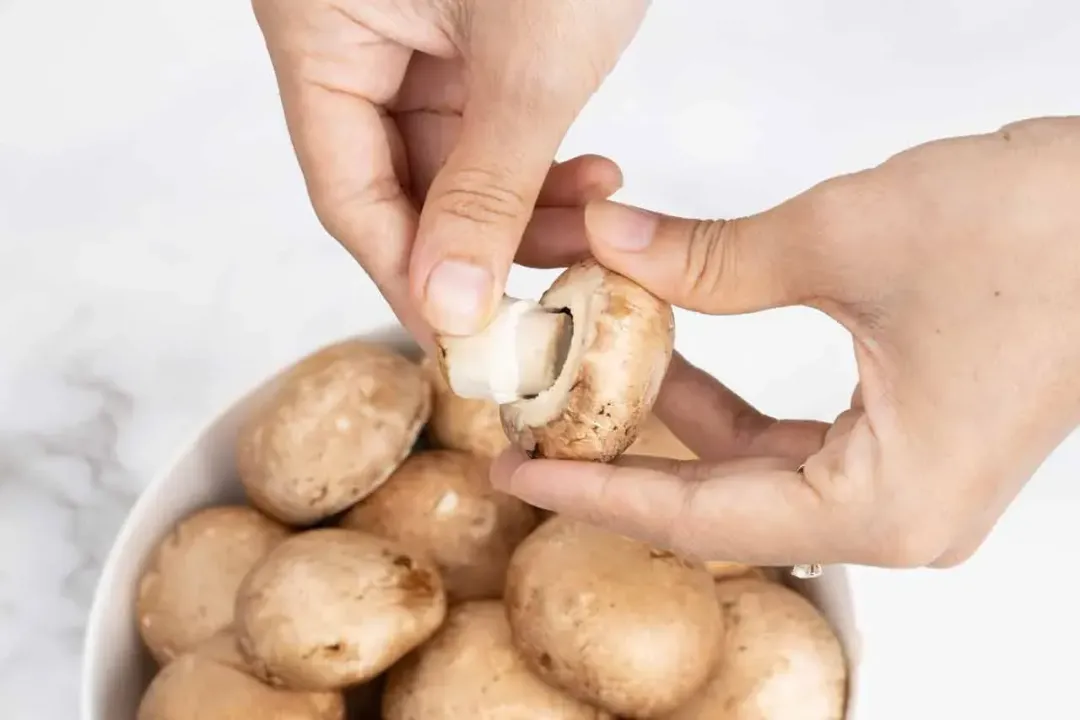 3
Blend the stem in a blender. Set aside. Then blend 2 oz sausage in the same blender. Transfer in a small bowl.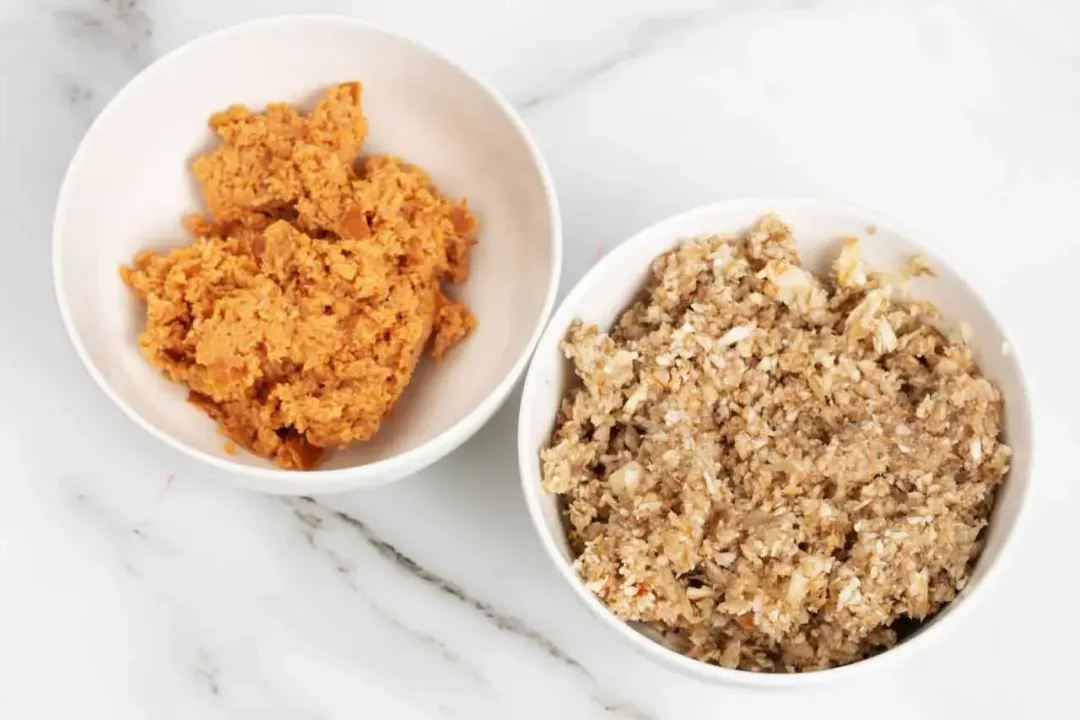 4
Heat 1/2 tbsp butter in a large skillet over medium heat. Add 1/4 tsp garlic, 4 oz onion, and mushroom stem to the skillet. Stir fry until all the moisture disappears (about 5 minutes). Set aside to cool down.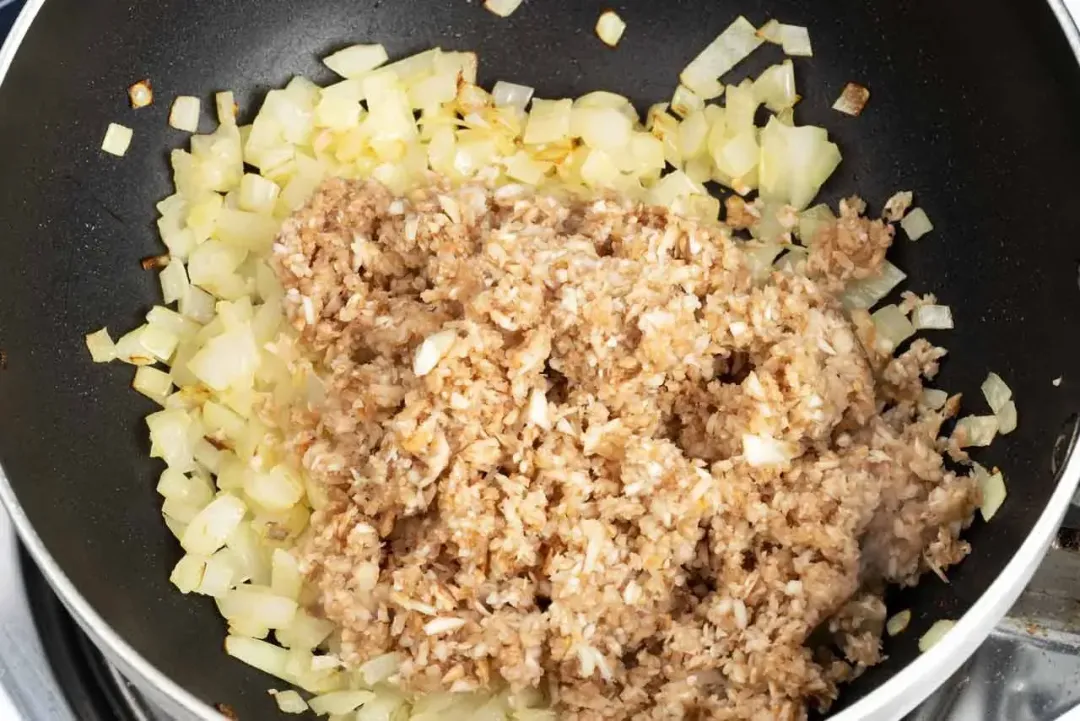 5
In a large bowl, combine the mushroom mixture with 0.25 oz cream cheese, 1.5 oz bread crumbs, sausage, half of the parmesan cheese (0.125 oz), 2 tbsp parsley, 1/8 tsp salt, and 1/8 tsp pepper. Stir well until you have a thick mixture.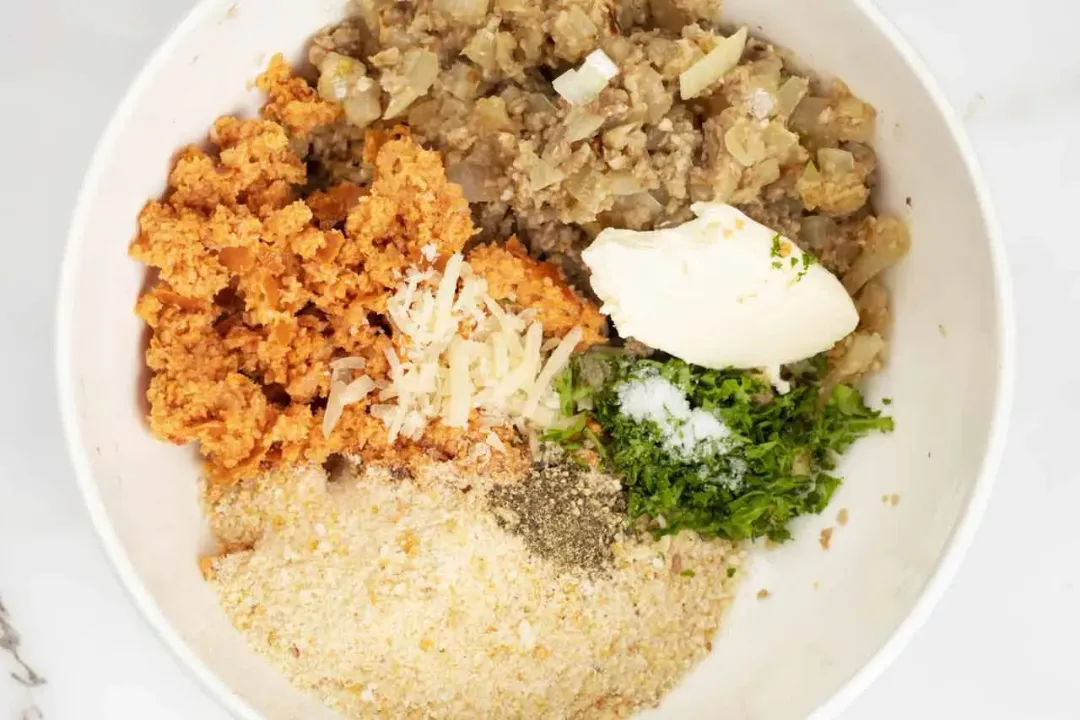 6
Using a small spoon, fill each mushroom cap with a generous amount of stuffing.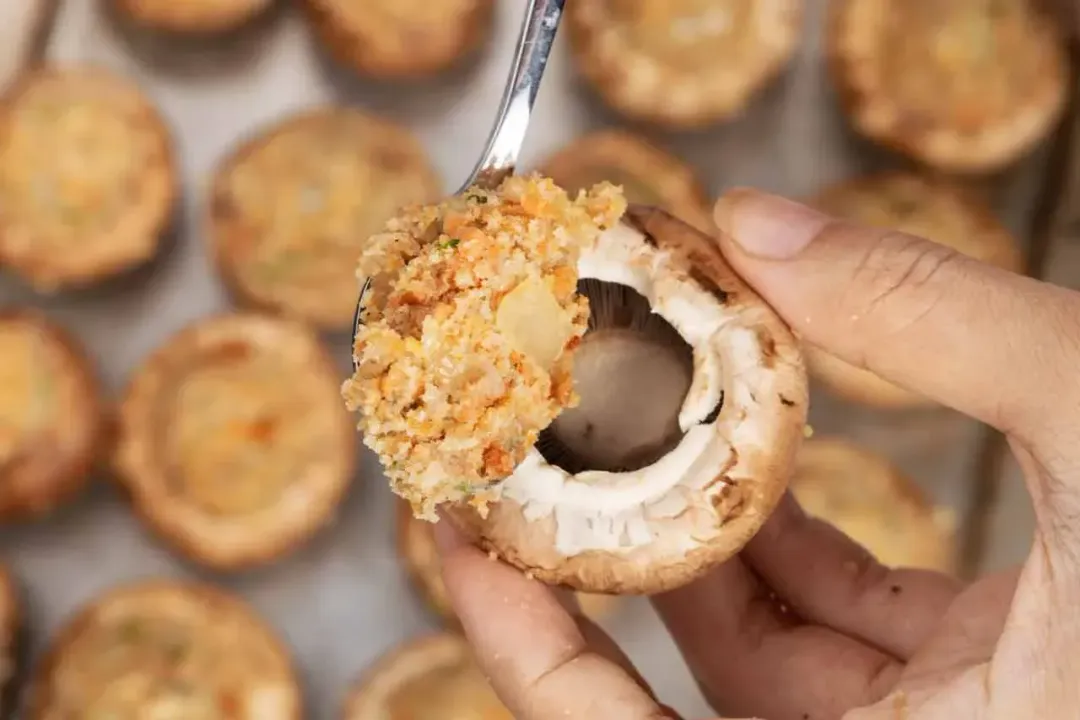 7
Arrange the mushroom caps on a baking sheet. Bake for 15 minutes in the preheated oven.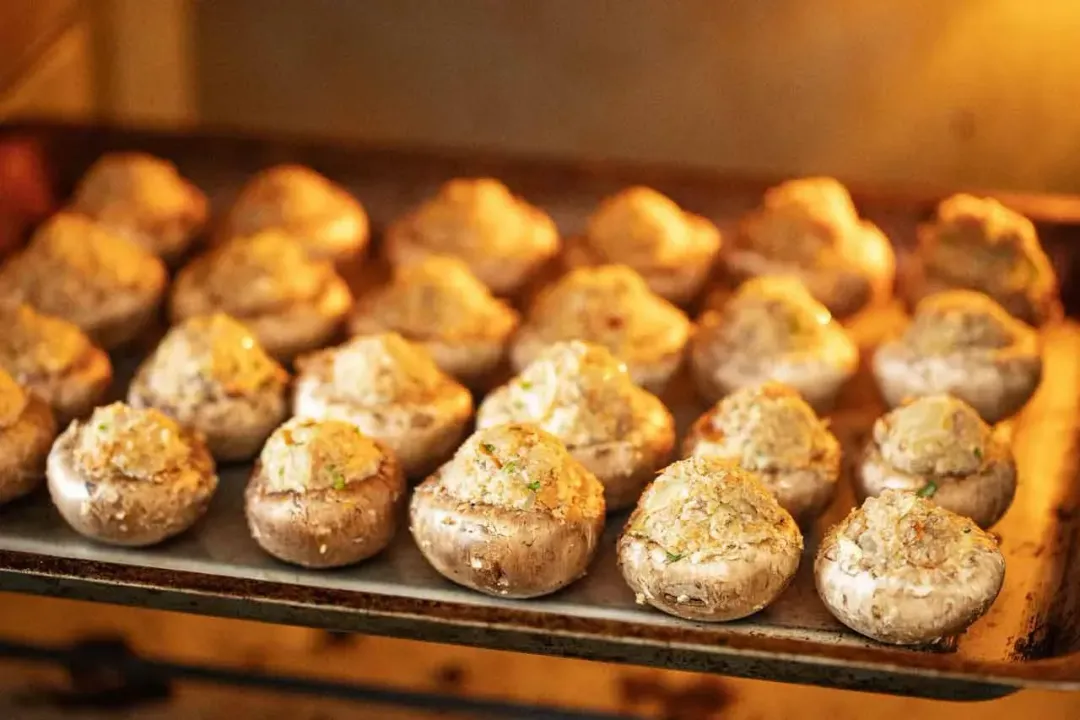 8
Then sprinkle with the remaining parmesan cheese (0.125 oz), on top of the mushroom cap, bake for another 3 minutes until the cheese is melted and the mushrooms are deliciously tender.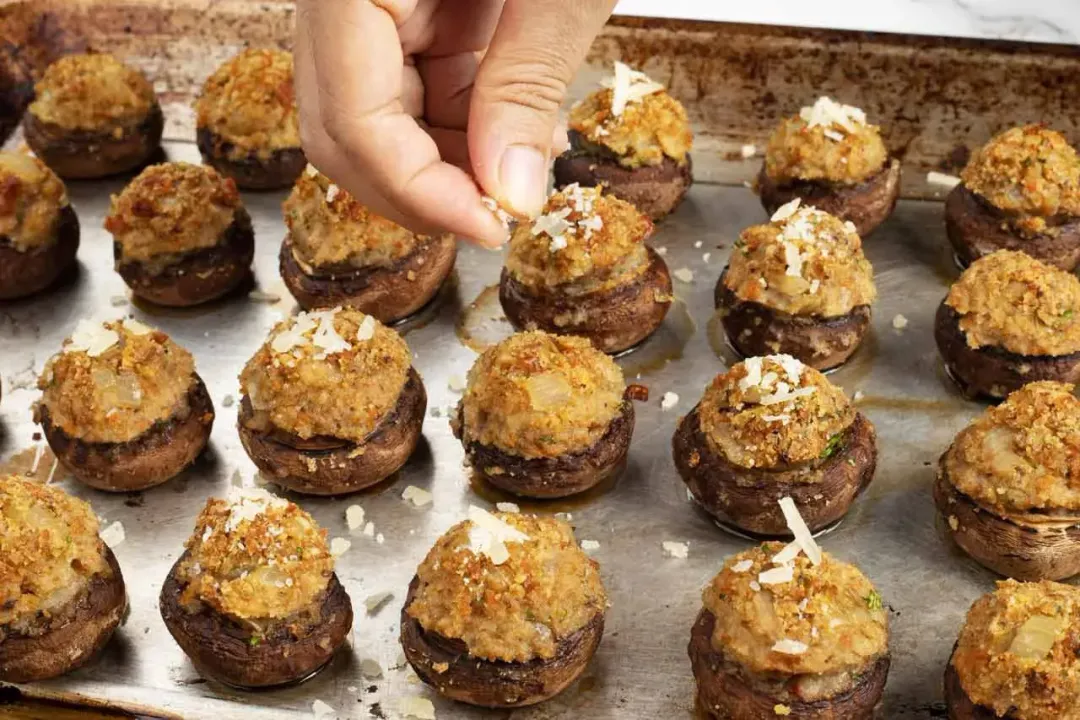 9
Serve while the mushrooms are still hot.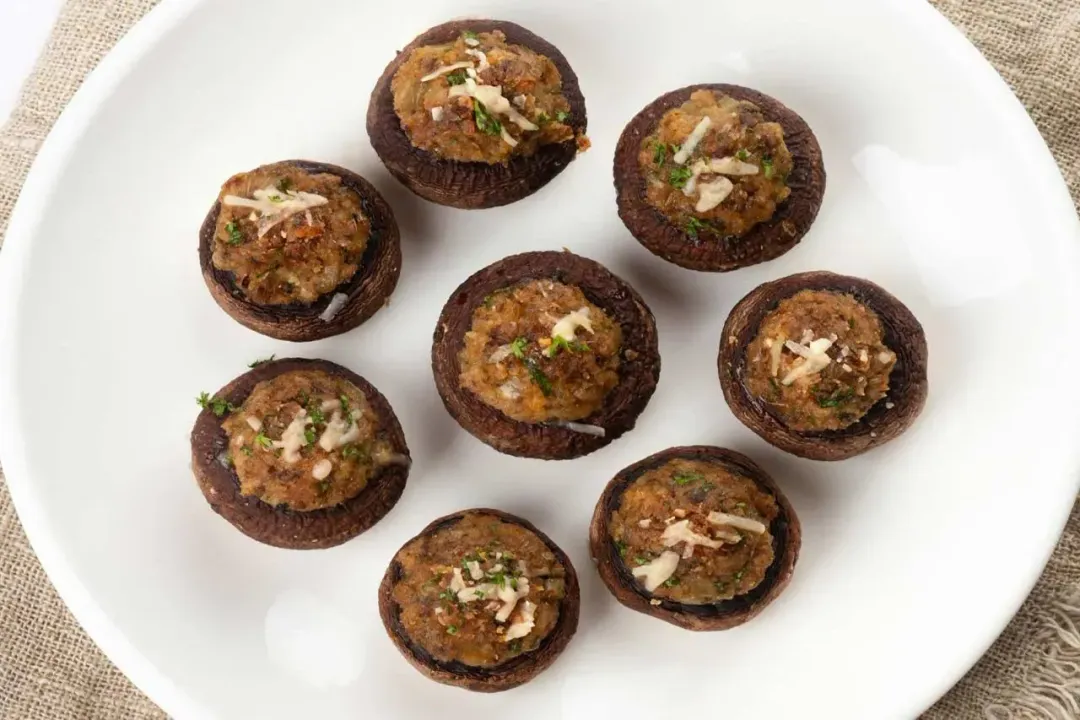 NUTRITION
Nutrition Facts
Stuffed Mushroom
Amount Per Serving (1 serving)
Calories 156
Calories from Fat 63
% Daily Value*
* Percent Daily Values are based on a 2000 calorie diet.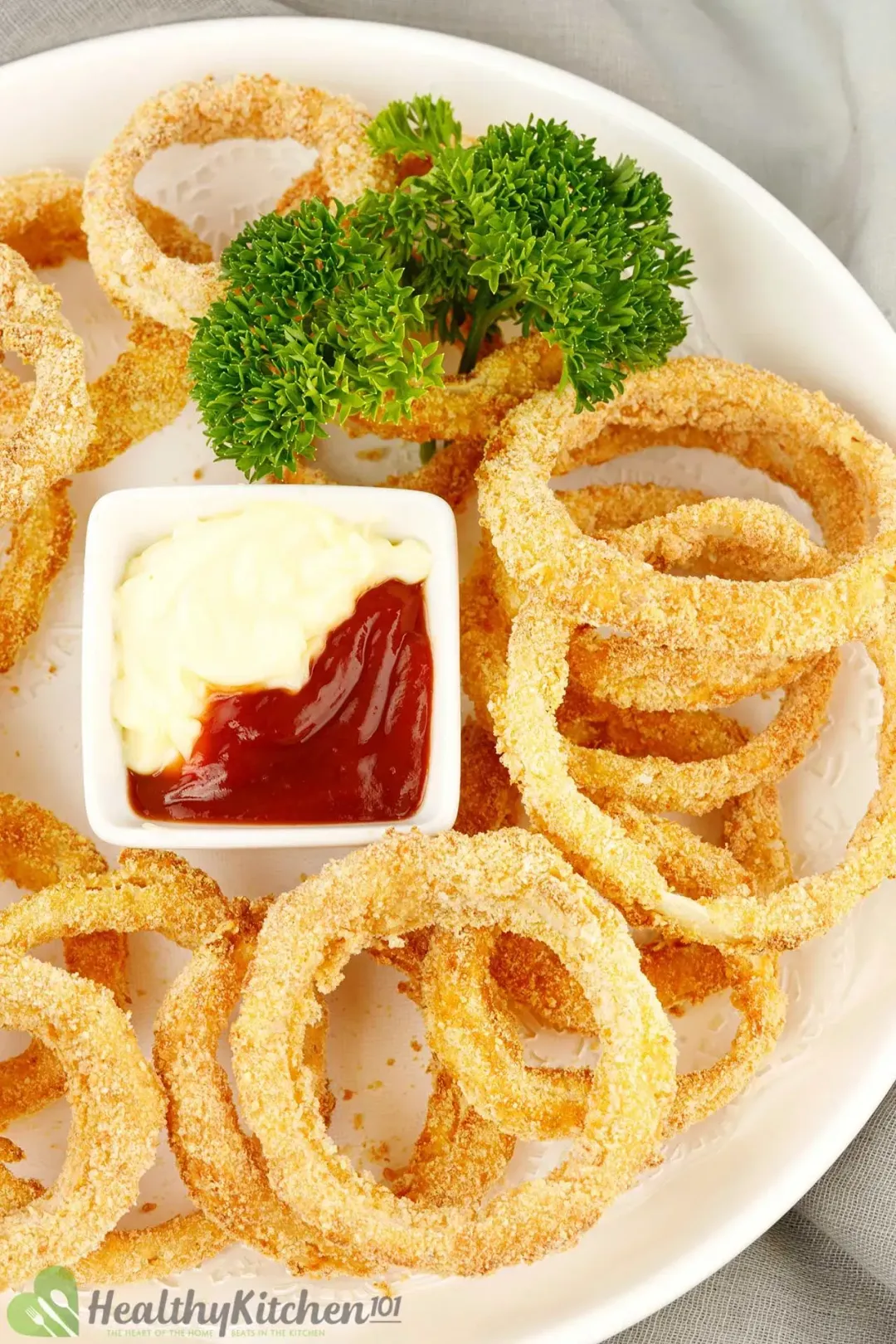 Previous Recipe
Air Fryer Onion Rings
Air Fryer Onion Rings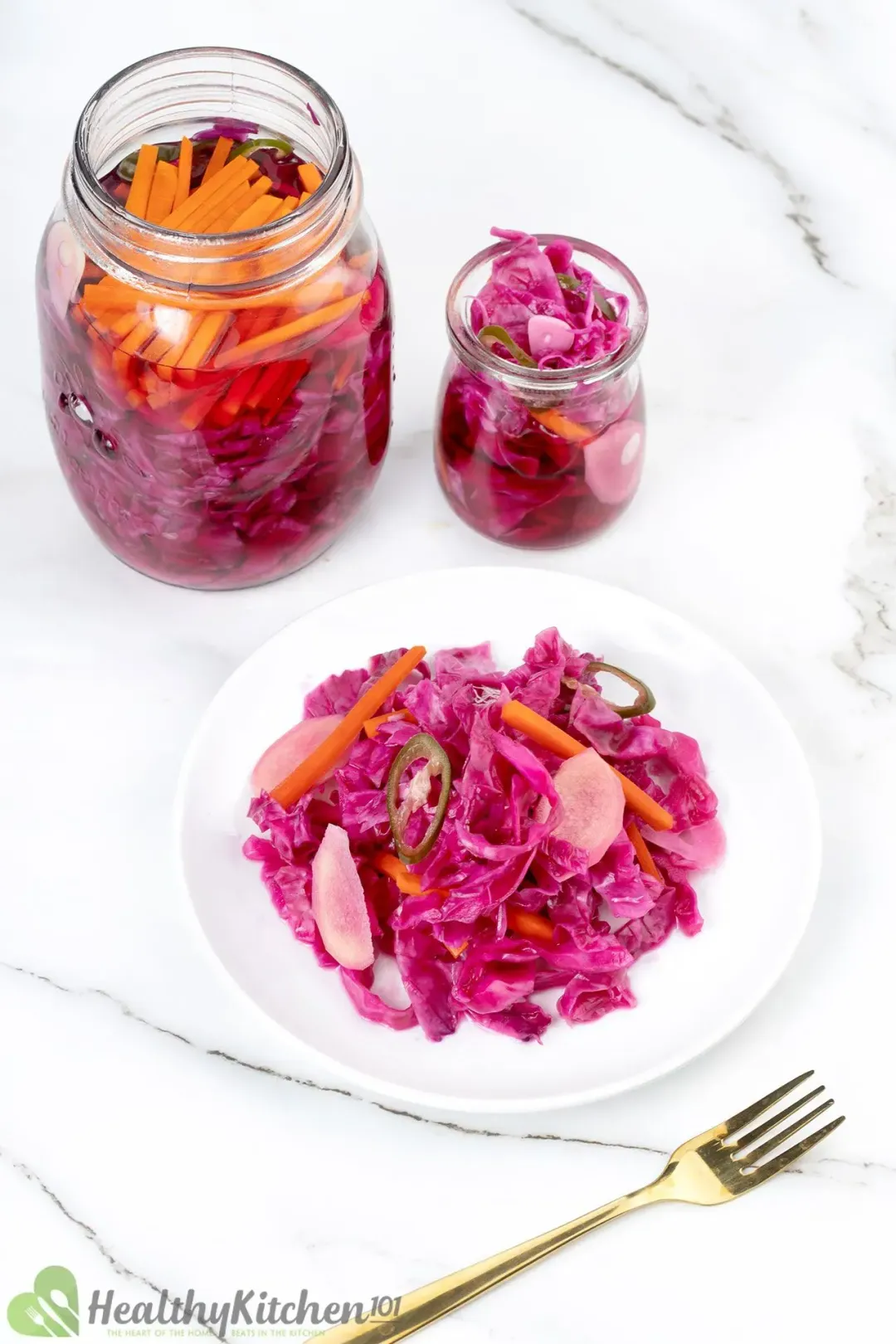 Next Recipe
Pickled Cabbage
Pickled Cabbage
Head Chef, Culinary Consultant
Tuyet Pham is an award-winning Saigonese chef who believes that joy is the secret ingredient to delicious food. At Healthy Recipes 101, Tuyet personally tests and simplifies every recipe, ensuring maximum flavor with minimal effort. With a background at prestigious French restaurants P'TI Saigon and Le Corto, Tuyet knows how to make every dish exceptional.
Writer, Author
Luna Regina is an accomplished writer and author who dedicates her career to empowering home cooks and making cooking effortless for everyone. She is the founder of HealthyKitchen101.com and HealthyRecipes101.com, where she works with her team to develop easy, nutritious recipes and help aspiring cooks choose the right kitchen appliances.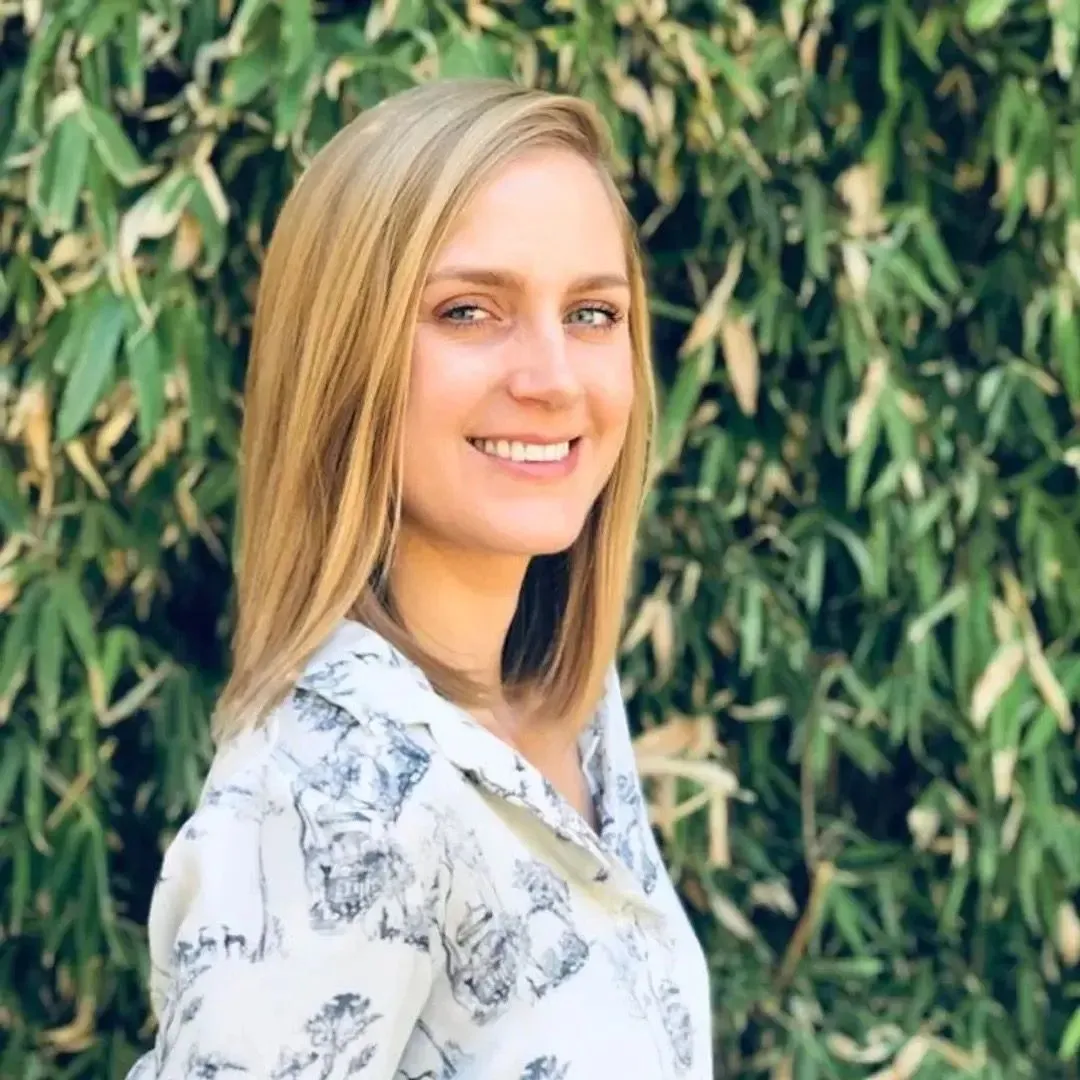 Nutrition Reviewer
Emily Rogers is a California-based Registered Dietitian Nutritionist who specializes in Public Health Dietetics. She has had an eclectic career working as a health educator, nutrition counselor, recipe developer, clinical dietitian and outpatient dietitian. Emily is currently a full-time Public Health Nutritionist with the County of Orange where she teaches Nutrition Education and Community Nutrition courses.
These stuffed mushroom recipes are a tasty and easy appetizer for any occasion. Perfect for entertaining or a quick snack.