This green machine juice recipe can help you increase the amount of vegetables you eat with minimal effort. Juicing greens is an effortless practice that you can rely upon to provide nutrients and minerals.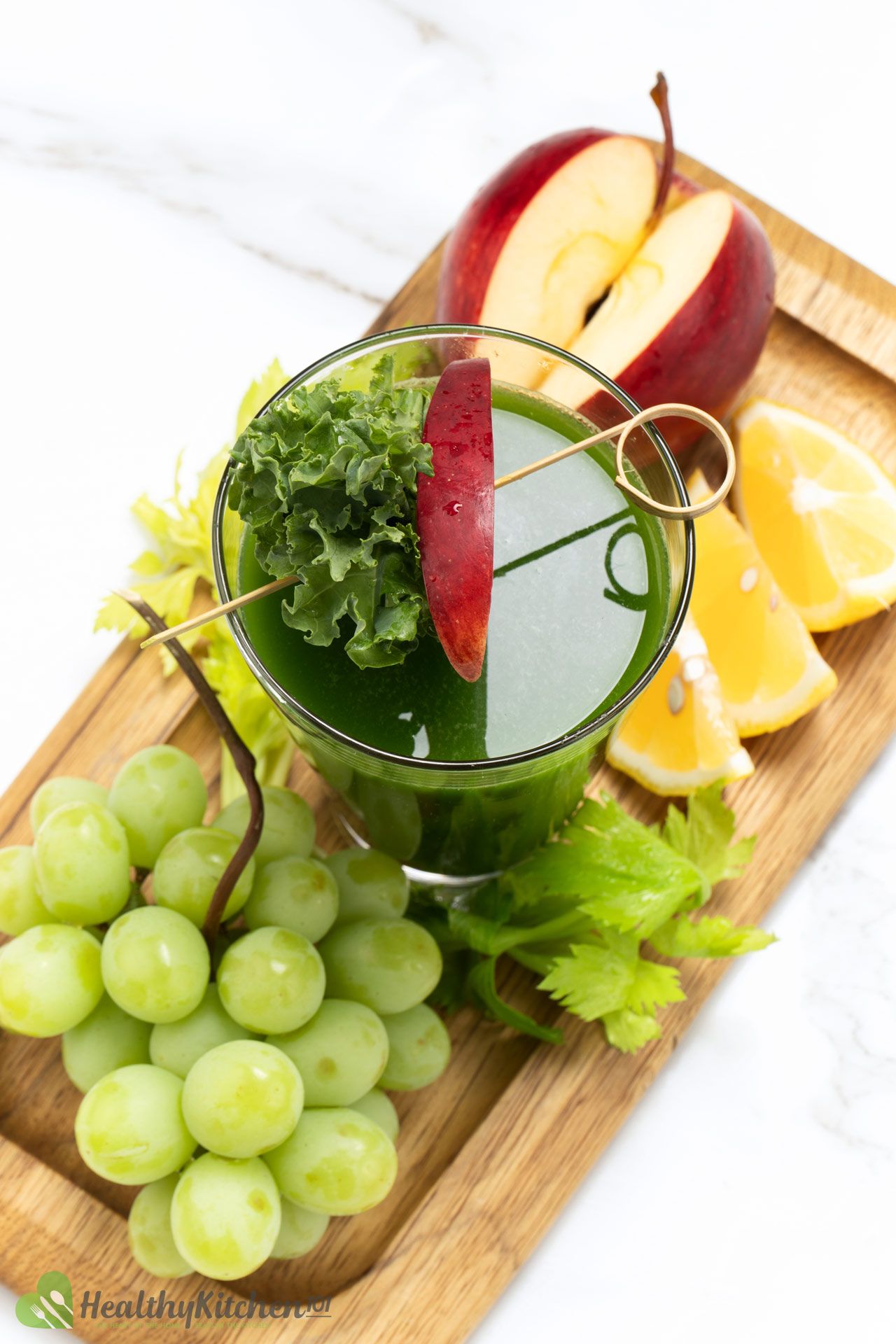 But unlike whole veggies, vegetable juice lacks fiber. So whenever you can, eat your fruits and vegetables whole for better-rounded nourishment.
We've included other sweet flavors to make this beverage extra delicious, more palatable, and much easier to enjoy. It's a mix of grape, apple, and coconut juices that create a tasty and healthy blend.
Read on to learn the benefits of green machine juice and how to prepare and safely include it in your diet.
Is Green Machine Juice Healthy?
It's in the name; green machine juice delivers plenty of nutritional goodness.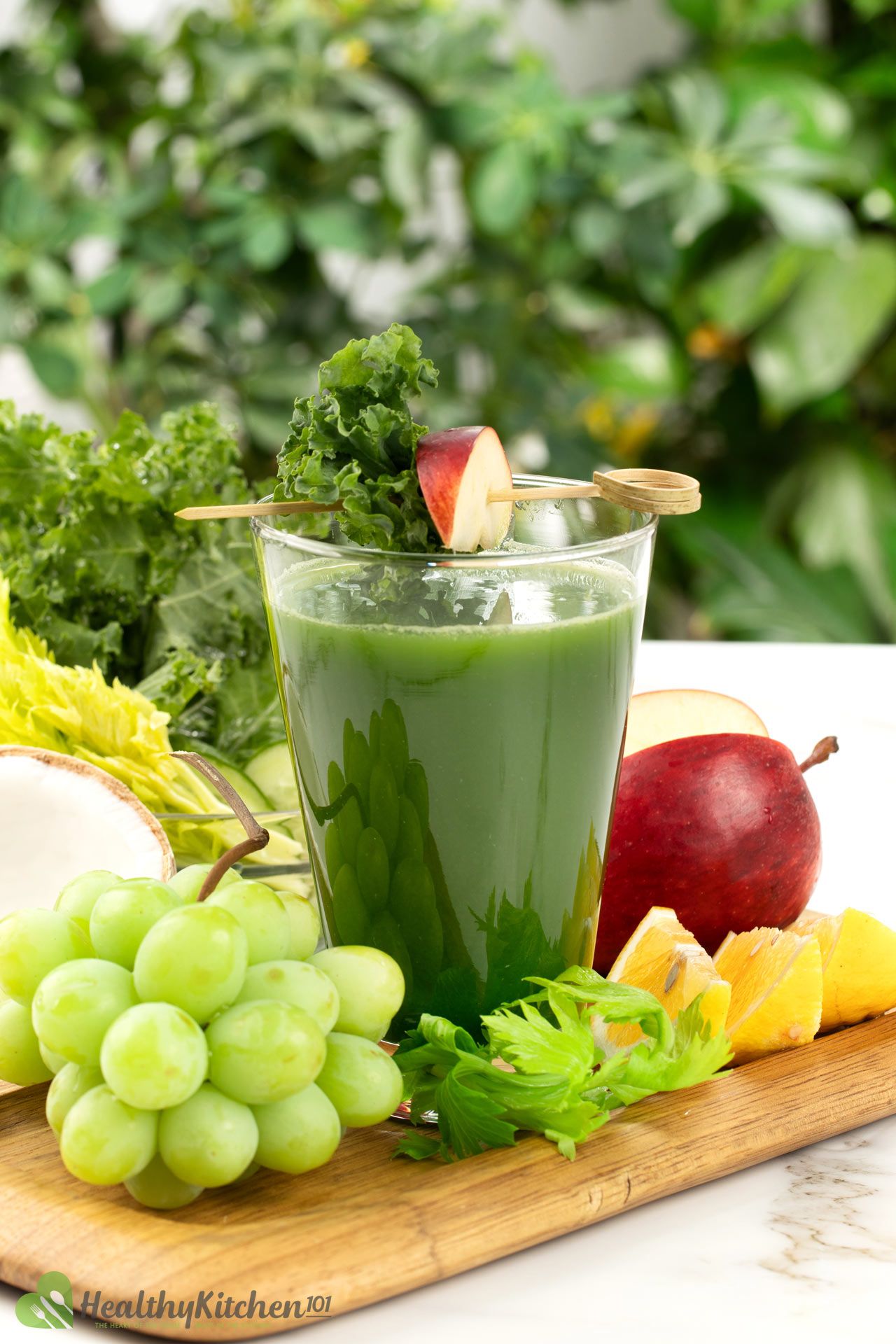 It's infused with kale, celery, and cucumber juices. All three are nutrient-dense, creating a drink that will help boost your daily intake of vitamins and minerals.
1. Fights High Blood Pressure
But it also helps with more serious health issues. Over one in every three adults in the US has a higher than normal blood pressure— and some don't even know they're fighting it.
Some healthy habits that help counteract this are exercising and limiting sodium in your diet. Kale, cucumber, and celery juices have each been shown to lower blood pressure when consumed.
This may be due to their alkaline properties and high potassium. These features help ease tension in blood vessels, making this drink excellent for the DASH (Dietary Approach to Stop Hypertension) diet.
2. Less Sugar
Adding sugar may seem to counteract the purpose of this drink. But you can enjoy it in moderation and still maintain a healthy diet.
Added sugar in this recipe takes up only 16-25% of your daily sugar limit.
Less sugar means fewer calories and less time burning them off. And anything that helps to fight unhealthy weight gain is right in our books!
Green Machine Juice Ingredients
1. Kale, Cucumber, & Celery Juices
Our green machine juice contains kale, cucumber, and celery juices as a base. Though highly nutritious, there's no denying that it's difficult to down them straight.
Thus we've included some fruit juice.
2. Apple, Grape, & Lemon Juices
Apple and green grape juices give this drink natural sweetness. They impart a fresh, fruity element that makes it more enjoyable.
You can have your green machine juice with just the above-mentioned ingredients. But we also appreciate the addition of lemon juice which can brighten up any drink without drastically altering its flavor.
3. Ginger
Ginger is also a spicy ingredient that adds peppiness to our green machine juice. With even fewer amounts than in this recipe, you can still achieve a gingery essence that boosts the flavor.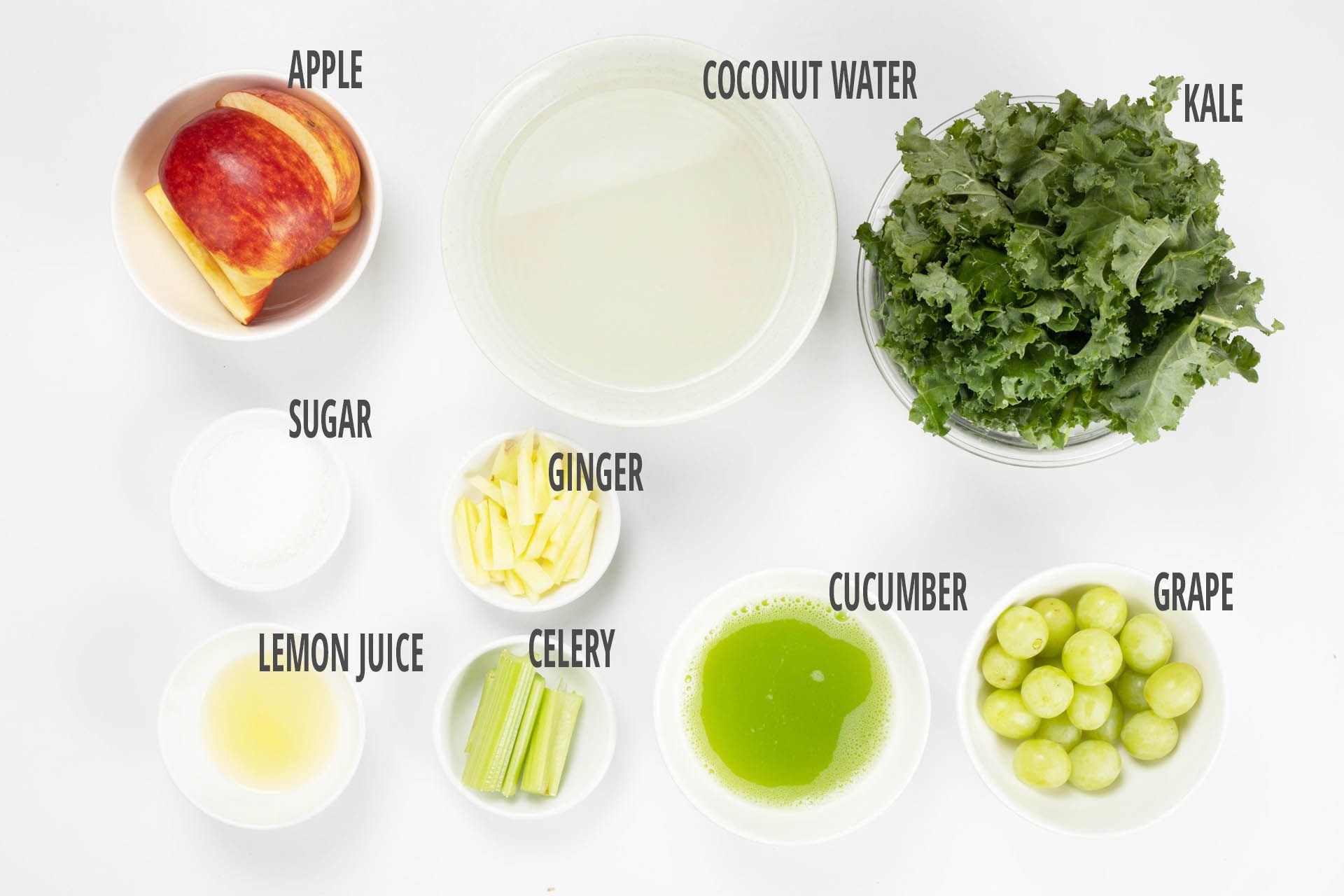 4. Coconut Water
Adding coconut water is a great way to improve taste without piling on excessive calories. Its subtle flavor carries a tropical essence that you can't replace.
You can omit it, though, and still end up with a pleasant beverage. Or try one of our other vegetable drinks that uses fewer ingredients to achieve another healthy and delicious drink.
5. Sugar
You can also skip the sugar, which is the only refined element in this drink. Leaving it out will reduce your sugar intake and you'll still have significant sweetness from the fruit juices.
How to Make This Green Machine Juice Recipe
Start by washing all the fresh ingredients. Then, chop apples, ginger, and celery into chunks that will fit into your feed chute.
Place them in a bowl and add them one by one into the juicer. Collect all the juice in a pitcher and add sugar.
Next, stir until the sugar dissolves. Pour the juice into glasses and enjoy your healthy green machine juice.
When to Drink This Green Juice for Detox
Detox drinks are considered to be drinks that help your body get rid of toxins. Many people claim that green juices can do this.
Others anecdotally recommend drinking green machine juice in the morning (before eating anything) to help boost metabolism. However, there's no scientific research to back this theory.
Some drink it throughout the day and experience benefits. So you can have it at a convenient time for you and adjust it to suit your routine.
Keep in mind that our bodies already have their natural detox system, thanks to the liver's 24-hour work ethic.
However, sometimes toxins accumulate in our bodies and there are ways to assist the body in detoxifying. Drinking plenty of water is one of them.In this green machine juice recipe, kale's anti-inflammatory properties can also help your body block certain harmful substances. Consuming it can thereby help you detoxify.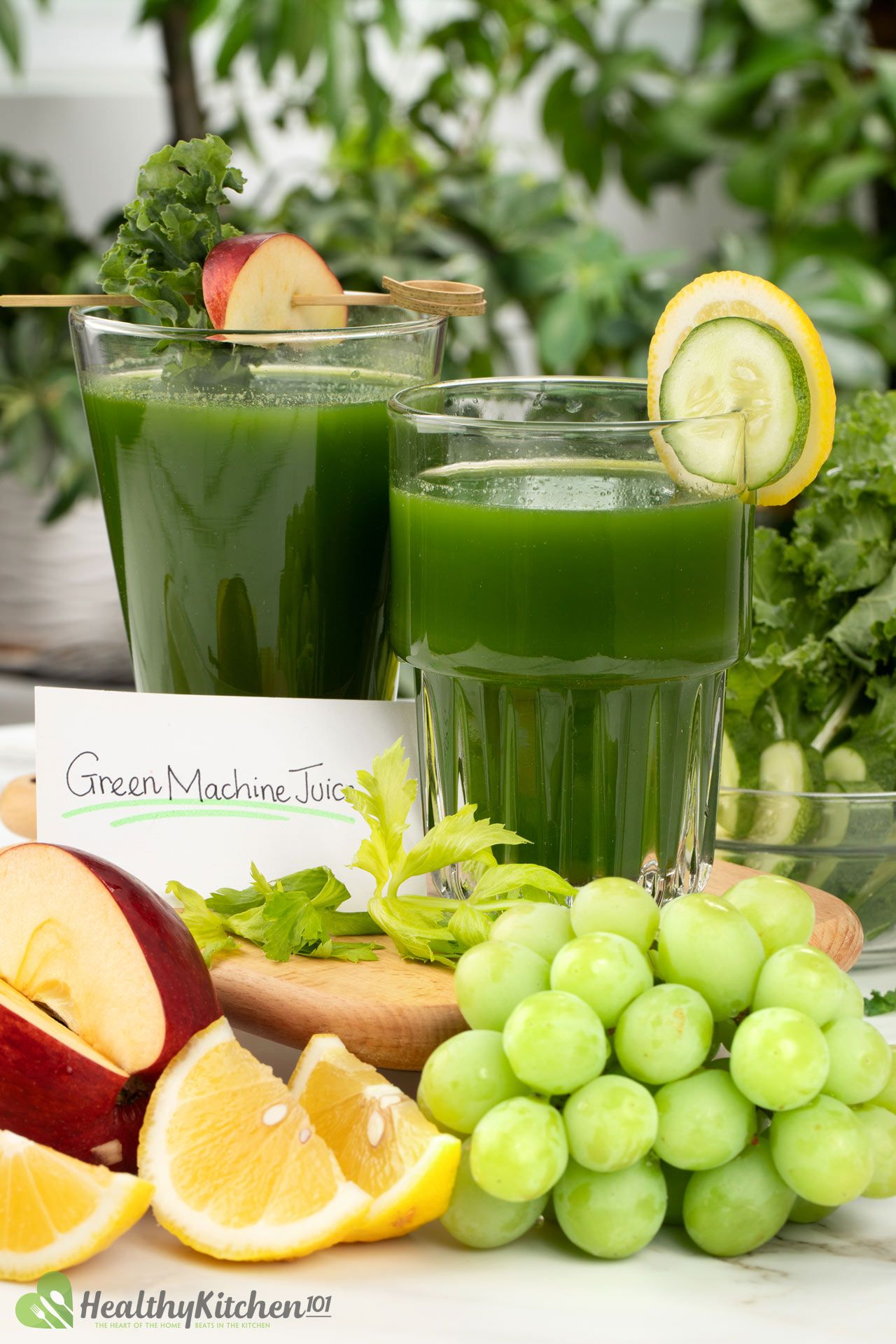 Just avoid drinking too much of it, as this may also have adverse effects such as kidney stones.
How Much Green Machine Juice Should I Drink a Day?
You can aim to drink an eight fluid ounce serving of green machine juice a day. It will help you complete almost 50% of some of your vitamin intakes, like vitamin C.
You can take it up to two servings if you like. But keep in mind that the added sugar eats up a significant chunk of your daily sugar limit.
Reducing or completely removing it can help you healthily consume more than one serving of this green machine juice.
You can also alternate between this juice and our simple green juice and add variety to your health regimen.
How Long Does Green Machine Juice Last in the Fridge?
Green machine juice can last for up to three days in the refrigerator. Storing it in a mason jar or any airtight container is ideal for ensuring that it stays fresh.Avoid leaving it out at room temperature for more than two hours before putting it back in the refrigerator. Heat and light exposure will rapidly decrease nutrient content, leaving your homemade fruit/vegetable drink tasting bland and much less nutritious.
To try out similar drinks, please check out our healthy and delicious green juice recipes.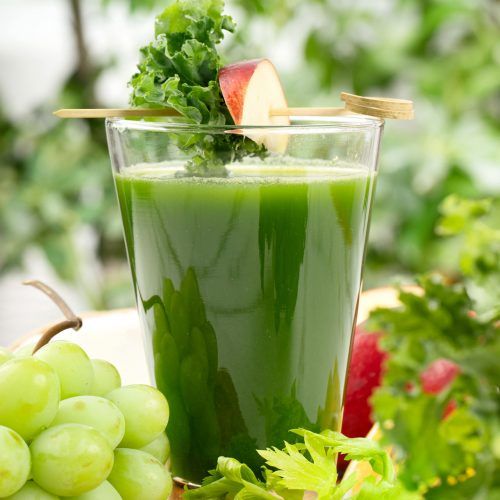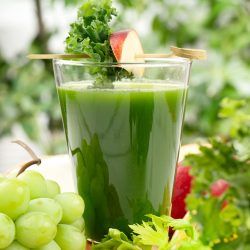 Green Machine Juice Recipe
Print
RATE
This green machine juice recipe is a nutrient-dense beverage for quick replenishment and refreshment. Serve it warm or cold and enjoy it in the morning before having breakfast.
Ingredients
4

oz

kale

3 1/2

fl oz

cucumber juice

from 4 oz cucumber

1

oz

celery

4

fl oz

apple juice

from 5.3 oz apples

4

oz

green grapes

1

oz

ginger

2

tbsp

lemon juice

1 1/2

cups

coconut water

2

tbsp

sugar
This post may contain links to Amazon or other partners; Purchases made via these links may benefit us at no additional cost to you. Read our Affiliate Disclosure.
Instructions
Wash kale, cucumber, celery, apples, grapes, and ginger under running water.

Core apples and cut into medium pieces. Slice cucumber ends off and peel, then chop into medium pieces. Cut celery stalks into smaller pieces, similar to cucumber. Peel and slice ginger.

Run kale, cucumber, celery, apple, grapes, and ginger through a juicer. Collect the juice in a pitcher.

Add lemon juice and coconut water. Stir to mix.

Add sugar and stir until it dissolves. Serve.
Nutrition
Nutrition Facts
Green Machine Juice Recipe
Amount Per Serving (1 serving)
Calories 100
Calories from Fat 5
% Daily Value*
Fat 0.6g1%
Sodium 114mg5%
Potassium 539mg15%
Carbohydrates 23g8%
Protein 2g4%
Vitamin A 2912IU58%
Vitamin C 42mg51%
Calcium 77mg8%
Iron 1mg6%
* Percent Daily Values are based on a 2000 calorie diet.
Hello! All photos and content are copyright protected. Please do not use our photos without prior written permission. Thank you!