It's simplicity itself to make a homemade refreshing tropical fruit juice with this guava juice recipe. Now, there's no need to worry about guava juice that is drinks that give off a guava aroma but are loaded with artificial colors and sweeteners.
Use our recipe on its own or as a platform for other variations. If you're feeling creative, you could also blend in spices and other favorite complementary ingredients.
Benefits of Guava Juice
Guava is a popular tropical fruit and very common ingredient in juices, jams, rums, jellies, and more. Nowadays, it's cultivated in many tropical and subtropical regions.
Guava has an impressive nutritional profile — it's even richer in vitamin C than oranges, and richer in potassium than bananas. It can also be very reasonably priced, and is often known as "the poor man's apple".
Guava is also known for being carotenoid-rich. Some of the especially impressive benefits of carotenoids include:
Improves eye health.
Improves cardiovascular health.
Reduces inflammation, which helps protect against heart disease.
Increases antioxidants, thus better protecting the body's cells from free radicals.
Prevents the growth of cancer cells, including lung cancer and skin cancer.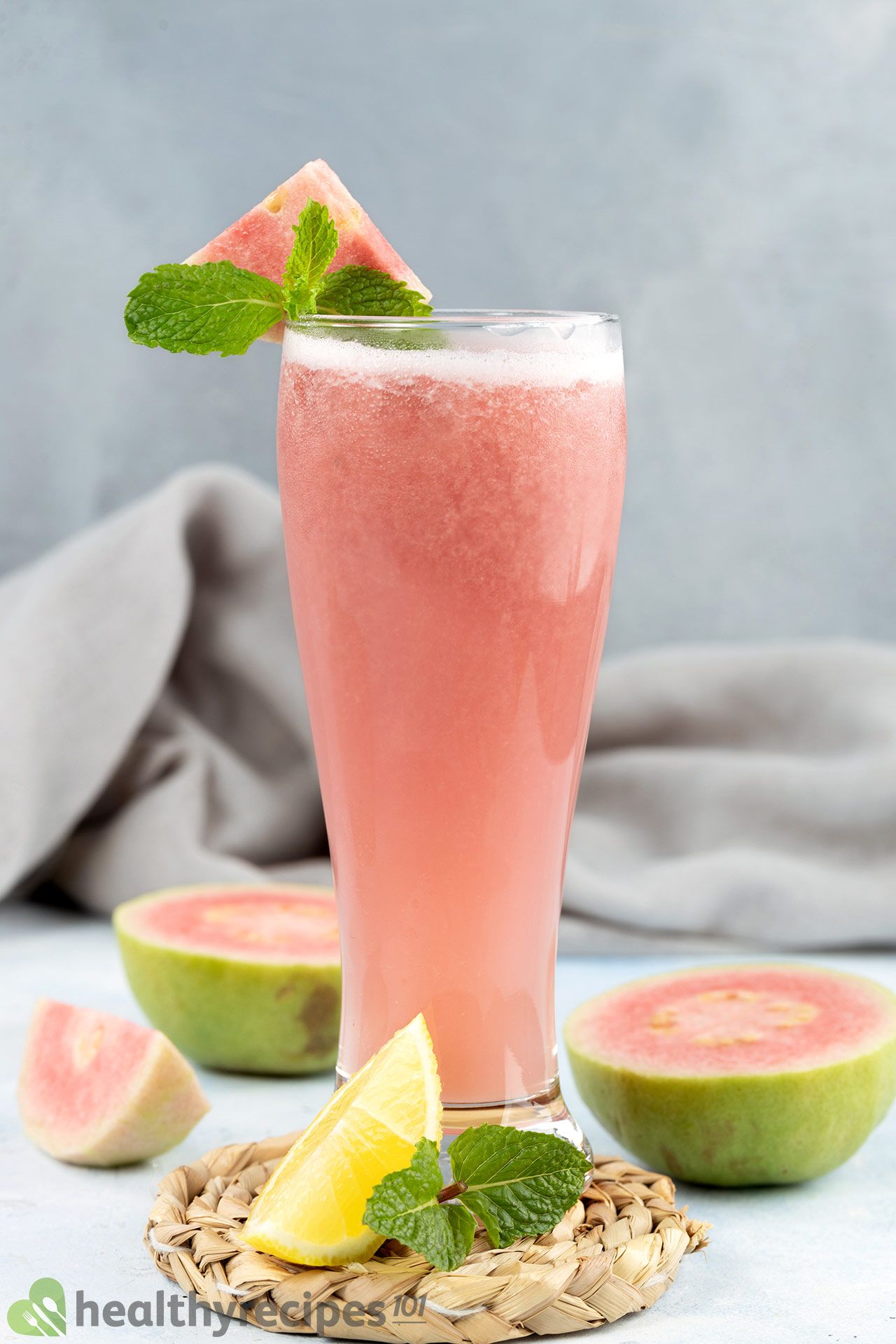 Types of Guava That You Can Use
Guava is low in acidity and rich in antioxidants. Although red guava is the choice for today's recipe, there are not many great differences in texture and flavor across all the varieties.
Whichever variety of guava you use, please be sure to purchase the ripe fruits with soft flesh so they produce more liquid when juicing.
1. Red Guava (or Pink Guava)
Red guava, also known as pink guava, is a popular tropical fruit in Florida and specifically Miami. You might have been familiar with this variety — they're plump or pear-shaped fruits with pink flesh and smooth, edible yellow skin.
The red guava flesh contains dozens of small edible seeds. When fully ripe, these fruits can give juicy pulps with a pleasantly sweet fragrance.
While their flesh matures from light pink to a deep red color, the skin changes from dark green to light green, and then yellow before they're picked. Carotenoid, an organic pigment present in red guavas, is said to be responsible for its distinct pink hue.
Red guava's aromatic skin is firm when immature, and both the skin and pulp gradually soften as the fruit ripens. Their juicy pulp makes an excellent option for jams, marmalades, and flavorings.
In comparison to white guavas, red guavas produce more pulp. They also have a higher antioxidant level, more pigment content, and bioactive compounds.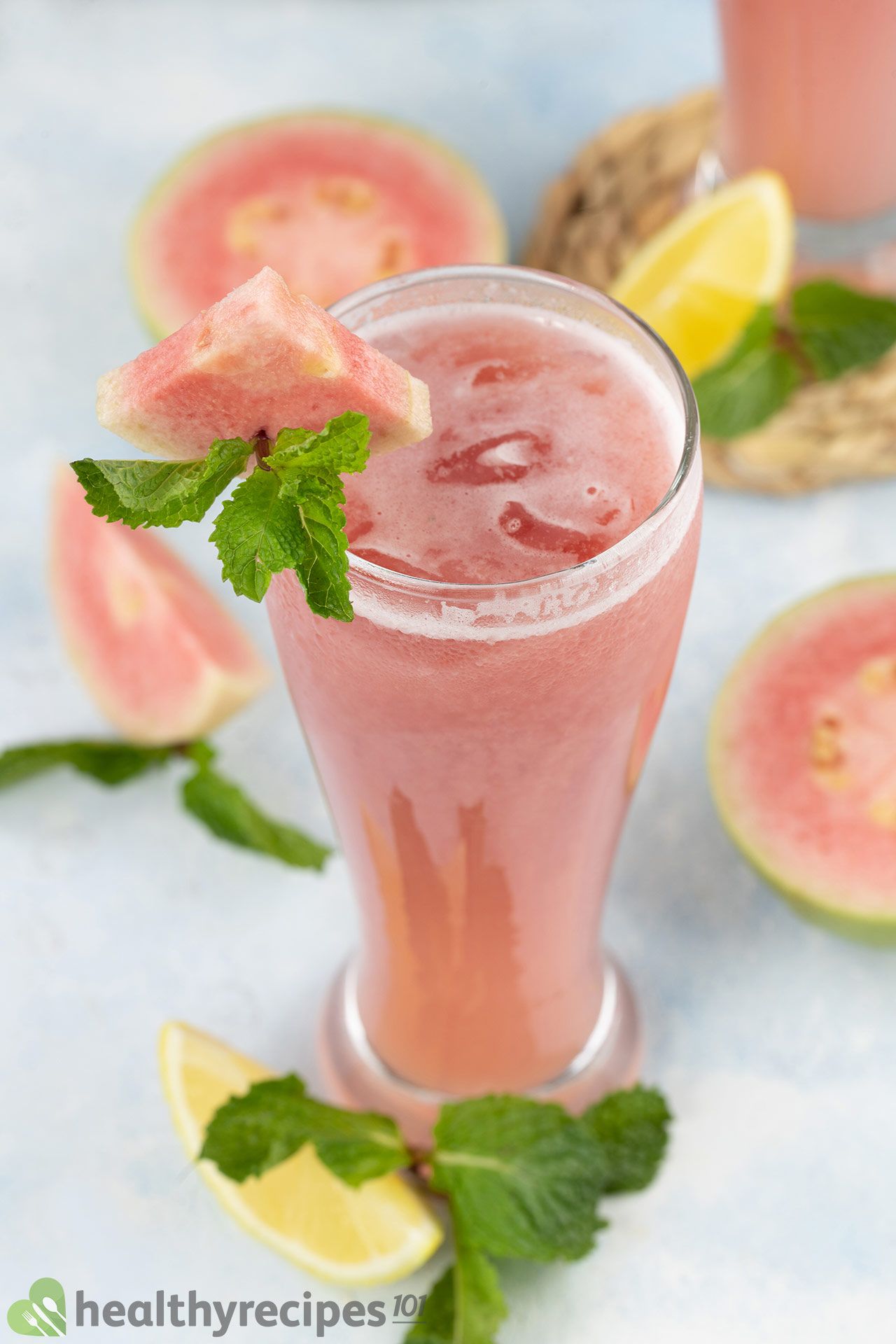 2. Yellow Guava (or White Guava)
Yellow guava, or white guava, is most popular in California and Mexico — to the point that it's also known as Mexican white guava. Unlike red guava, yellow guava doesn't contain enough pigment to have its flesh color change, so it remains yellowy white — just like the name indicates.
Yellow guava is moderately sweet with a more tannic-tasting skin. Thanks to being richer in vitamin C, it also comes with an added hint of tartness and acidity.
While the red variety is the favorite choice for drinks and products with fruity flavors, yellow guava is mostly used as a complementary ingredient.
If you are looking for other options besides guava juice, you could also consider pear juice as it delivers identical freshness and a tropical vibe, but with slightly more sweetness.
We also have this soursop juice recipe – offers an exotic nutrient-packed drink to get you through the day.
How to Make Guava Juice
Juicing guava at home brings a ton of benefits. Plus, it's only 4 simple steps, as shown below.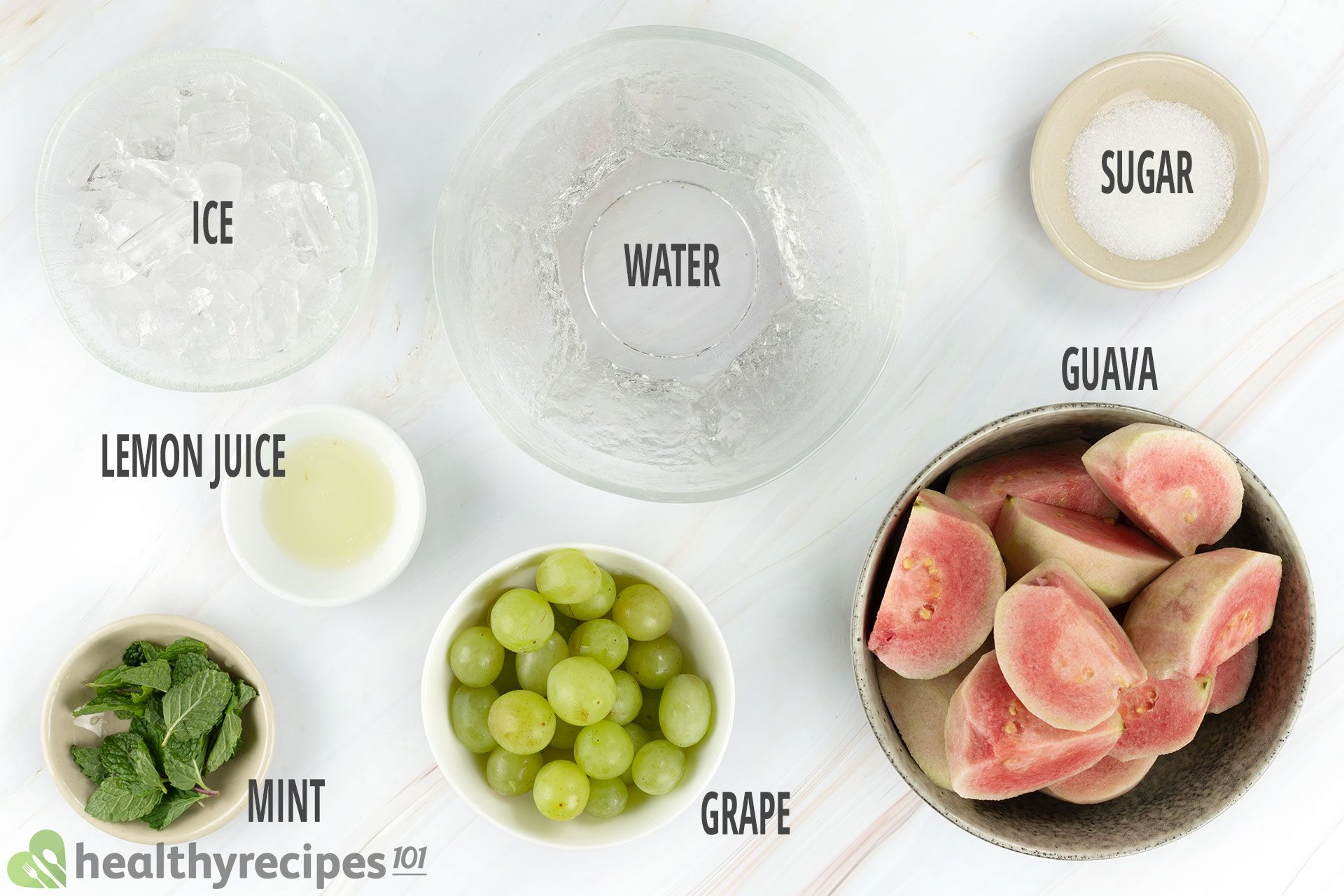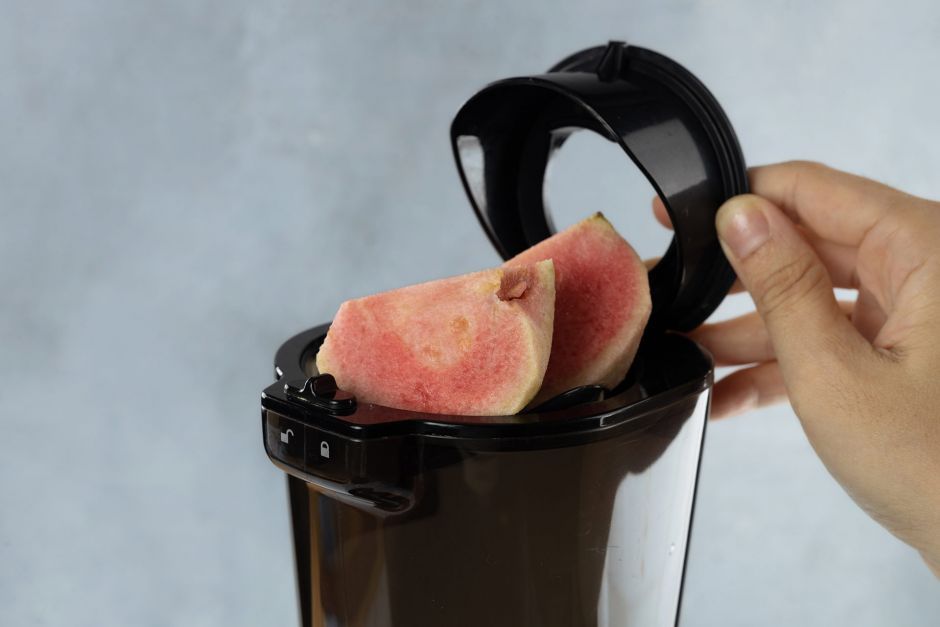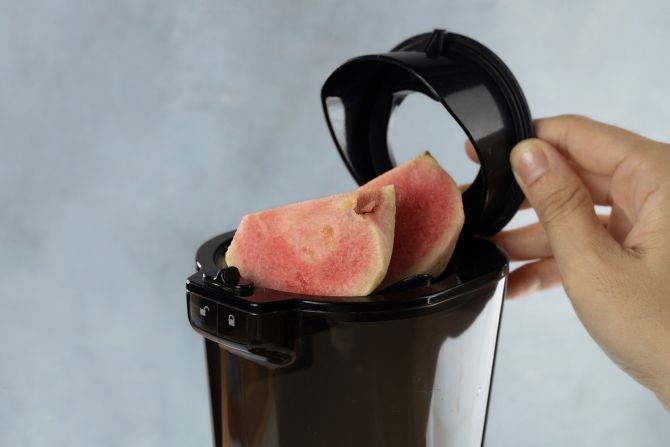 Run guava, green grapes, and mint leaves through a juicer.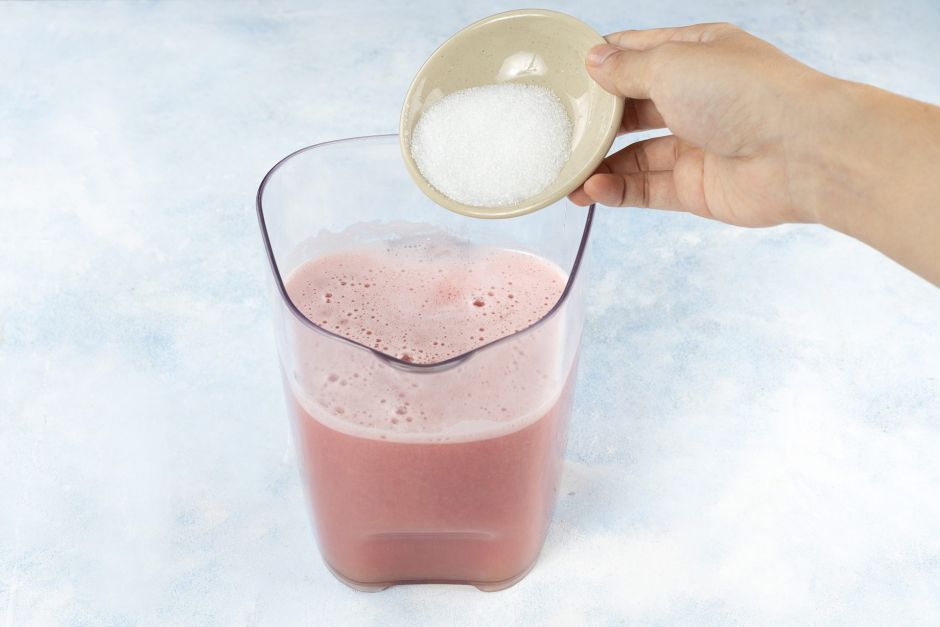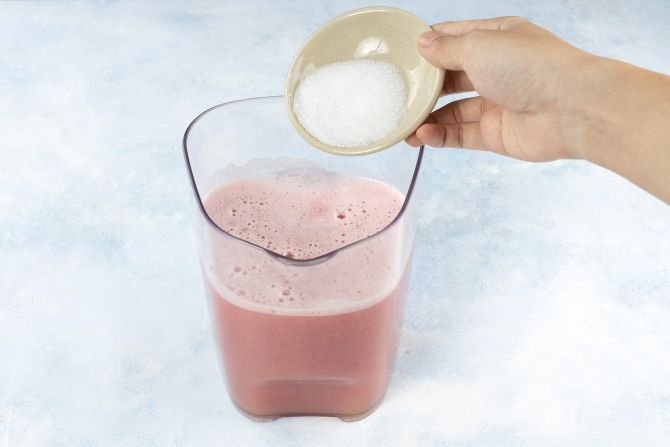 Add lemon juice, sugar, and water in the guava juice.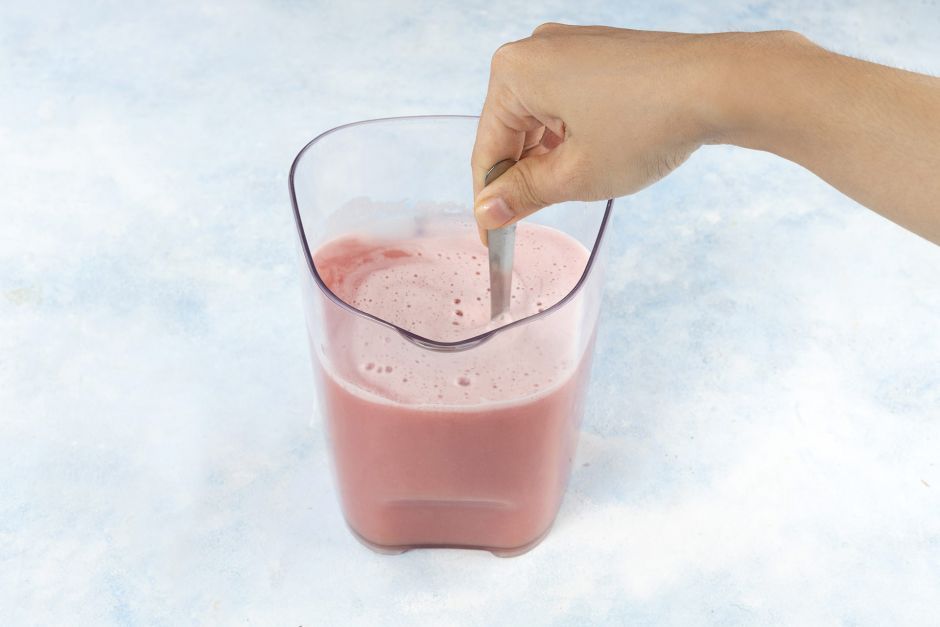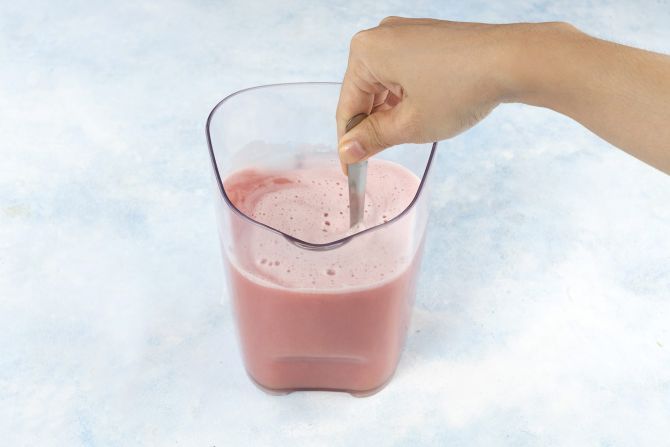 Stir to combine.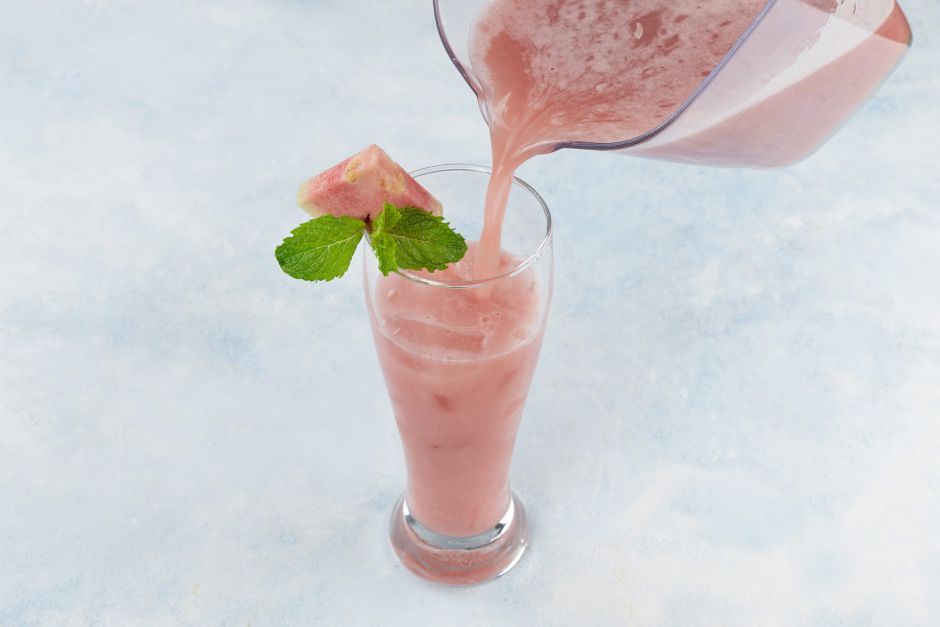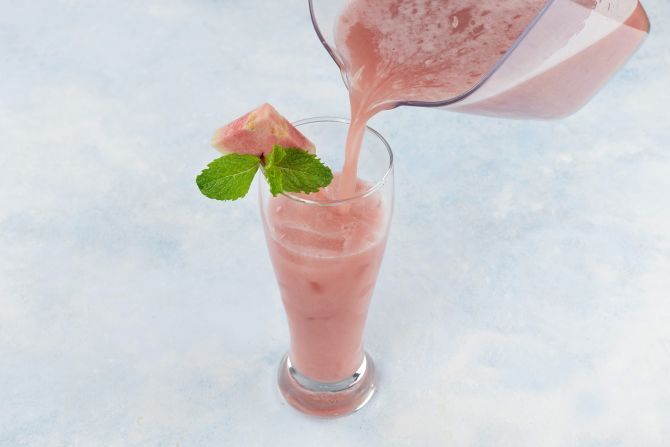 Garnish and serve.
What Fruit Can Go with This Guava Juice?
Guava is a very forgiving fruit in juices. It pairs best with tropical fruits and acidic fruits, including apples, bananas, kiwi, mango, orange, pineapple, plum, strawberries, and coconuts.
Guava juice is best served chilled over ice cubes. You can also try adding ginger, honey, or a pinch of cinnamon to help spice things up.
1. Strawberries
Strawberries are loved the world over. They are versatile and work well in many different dishes, sweet or savory.
Aside from basic homemade juices, strawberry and guava can also complement a little liquor. Brandy, champagne, rum, sake — feel free to choose for yourself!
2. Pineapple
When combined, pineapple and guava create a true blast of tropical flavor. They make a sweet, sour, and refreshing taste combination.
You can easily make an ombre guava cocktail out of pineapple-infused rum or piña colada. Also, consider combining mint leaves and kosher salt to make a mouth-watering welcome drink at summer parties!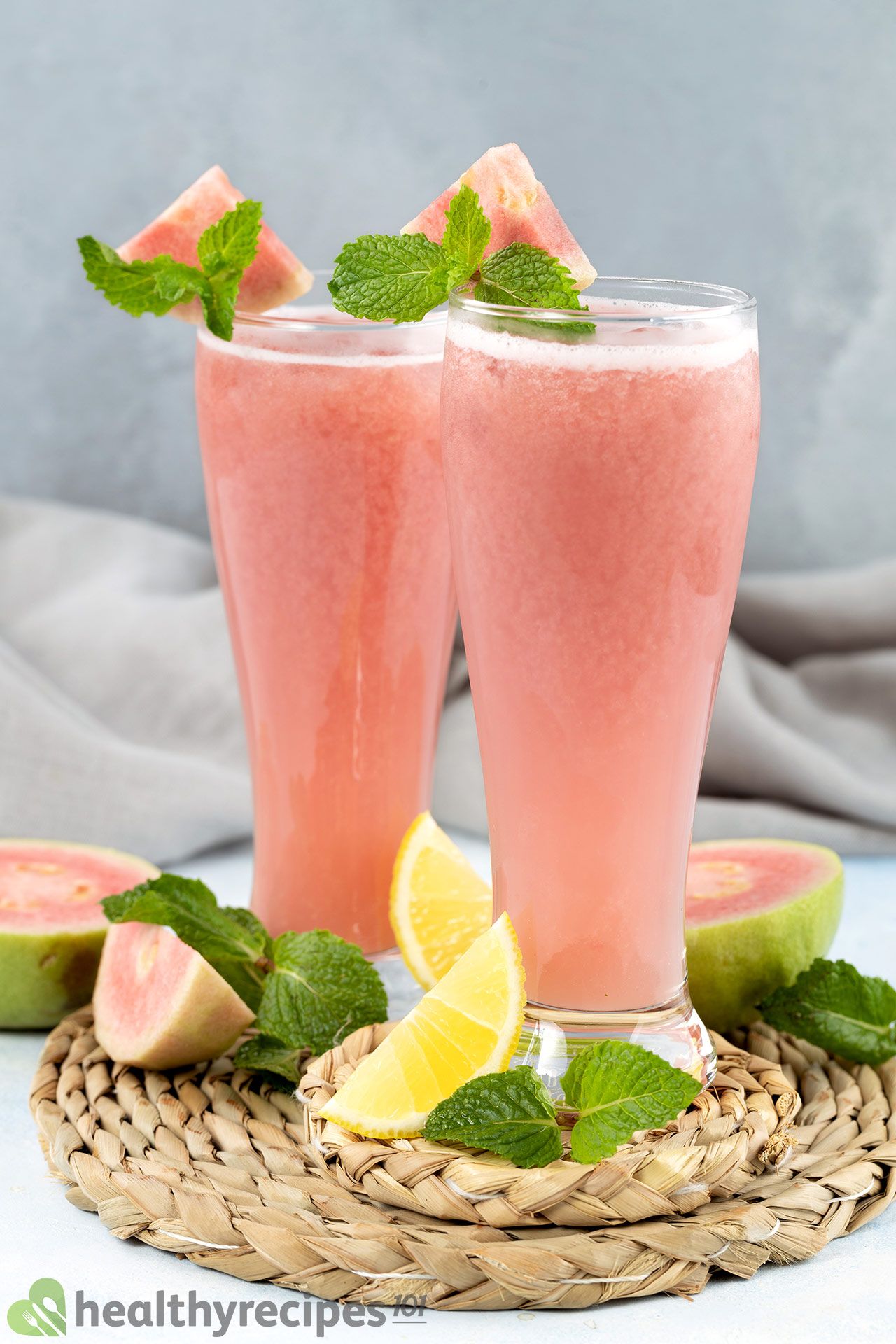 How Long Does Guava Juice Last?
Guava juice can last up to a week in the fridge. This can be prolonged if the pulp is removed before juicing.
Apart from how it's stored, enzymes and bacteria are the two factors that affect freshness the most. So what else is added to the juice can make a big difference.
Most bacteria are neutrophiles — they grow the most at a neutral pH (around 7). Therefore, juices that contain high-acid fruits (with pH of 4.6 or below) are the least to be prone to spoilage.
Check out our healthy juice roundup for more delicious drinks.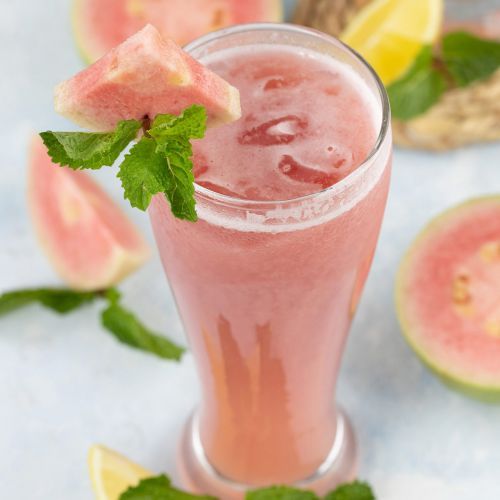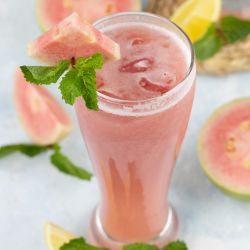 Guava Juice Recipe
It's simplicity itself to make a homemade refreshing tropical fruit juice with this guava juice recipe. Now, there's no need to worry about drinks that give off a guava aroma but are loaded with artificial colors and sweeteners.
Ingredients
24

oz

guavas

rinsed

1

cup

water

2

tsp

lemon juice

1

tbsp

sugar

2

tbsp

mint leaves

2

cups

ice cubes

6

oz

green grapes

rinsed
Instructions
Run 24 oz guavas, 6 oz green grapes, and 2 tbsp mint leaves through a juicer.

Add 2 tsp lemon juice, 1 tbsp sugar, and 1 cup water to the guava juice.

Put 2 cups ice cubes into serving glasses. Pour the guava juice over. Garnish with mint leaves and a small slice of guava (optional). Enjoy it chilled.
Nutrition
Nutrition Facts
Guava Juice Recipe
Amount Per Serving (1 serving)
Calories 150
Calories from Fat 15
% Daily Value*
Fat 1.7g3%
Sodium 13mg1%
Potassium 807mg23%
Carbohydrates 36g12%
Protein 5g10%
Vitamin A 1196IU24%
Vitamin C 391mg474%
Calcium 46mg5%
Iron 1mg6%
* Percent Daily Values are based on a 2000 calorie diet.