This Instant Pot Mississippi pot roast recipe recreates what you love with a few healthy twists.
Born and raised in the warmth of traditional meals like this one, we have nothing but love and respect for traditions. As modernists, we also wish to appreciate the values of the past and weave them into our current methods, making them more relevant and accessible.
Following the healthy eating movement, today we're sharing a healthier way to recreate the succulent staple. We tried our best to preserve the flavors that you're familiar with, so you can recall and savor your memories.
What Is a Mississippi Pot Roast?
If you've had a regular pot roast before, this Mississippi version certainly won't let you down.
For starters, it has a tender piece of chuck eye cooked down in a savory, succulent broth. Different from a regular roast, the broth is seasoned with gravy mix and ranch dressing, which adds richness and intensifies the beef's flavors.
There are also green pepperoncini peppers swimming in the broth. They may look like ghost peppers — one of the world's hottest chilis, but they're green and have a rather mild heat.
Is Mississippi Pot Roast Healthy?
Were the staple healthy, we needn't have to get ourselves into business.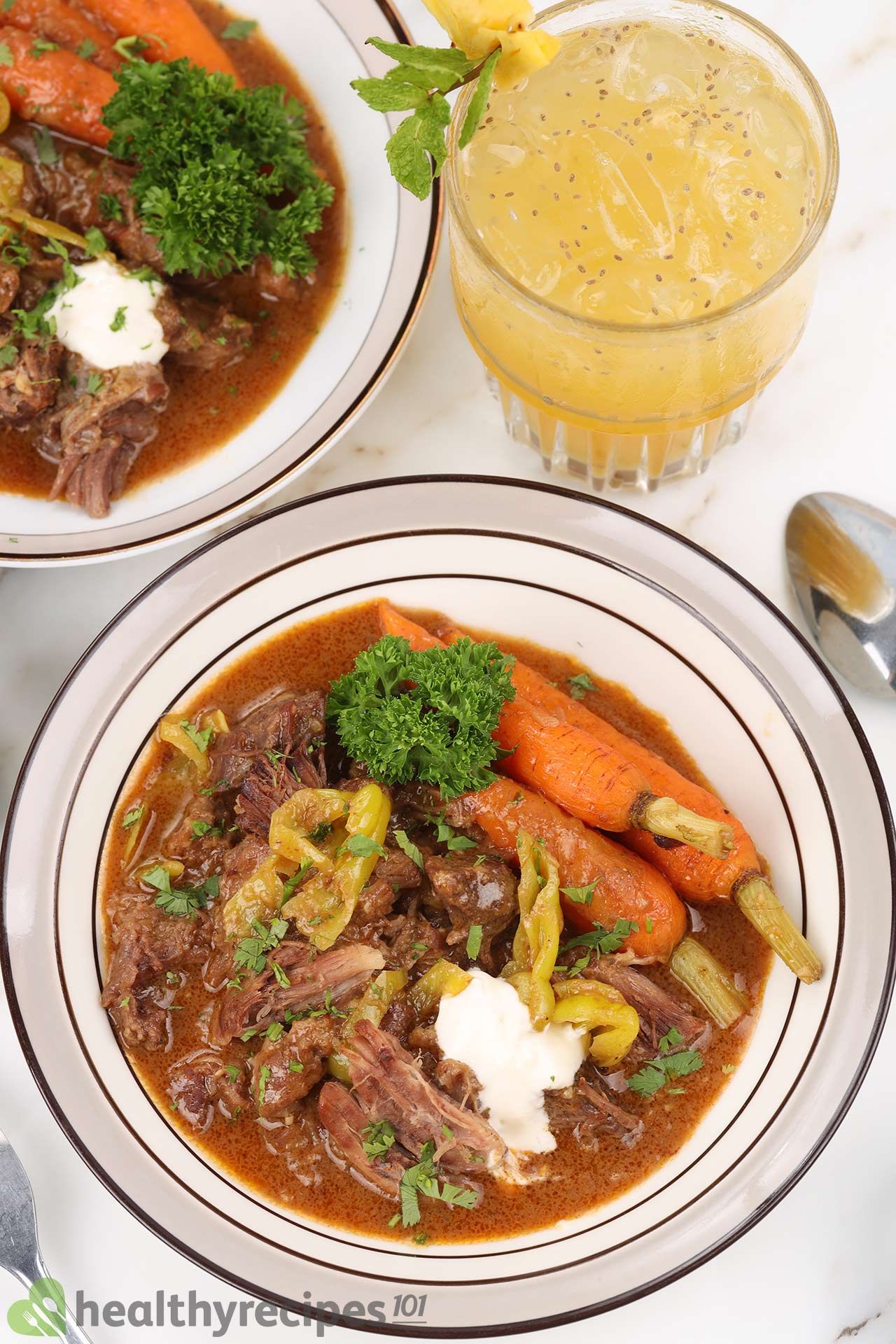 First of all, we saw a lot of salt, butter, and ranch dressing going into the pot from many recipes online. These ingredients contain plenty of sodium and saturated fats, which the USDA recommends us to limit.
We, therefore, had to take measures. We held back on the salt and the butter, and made the dressing from scratch so its nutritional profile looks better than the commercial counterpart.
We'll go into further detail on how to make it from scratch in the next section. For now, you can rest assured that each serving of this dish complies with our own healthy eating guidelines.
What Do You Need to Make It?
Let's go shopping.
1. Selecting the Best Cut of Beef
We've mentioned before how cheap, tough cuts fit great in a pot roast. The same rules apply for this one. No matter how tough, they'll turn tender under the pressure of the Instant Pot.
Tough cuts are typically the ones away from the belly, which see a lot of the animal's movements. Beef chuck, shoulder, brisket, and beef round are all good options.
For the sake of keeping the saturated fat low, we specifically asked for a lean chuck eye and the outer fat trimmed off.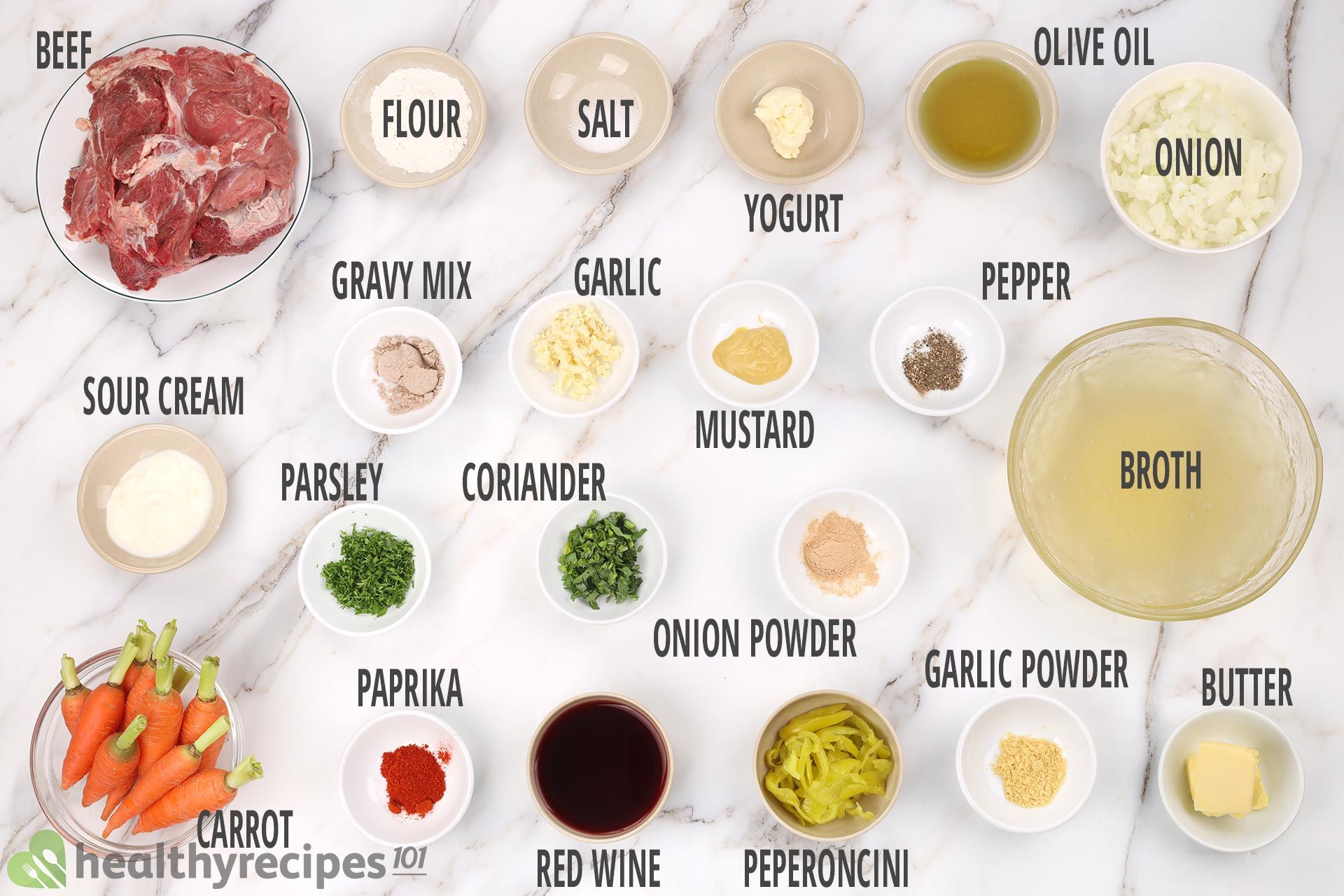 2. Getting Jarred Pepperoncini Peppers
You've got to find pepperoncinis or what you'll be cooking up isn't an authentic Mississippi eat. We found ours at Walmart, swimming in pickle juice in a jar.
You can use fresh pepperoncinis if that's what you have on hand, but you're missing out without the tang from the pickle juice. But that's okay, because 2-3 tablespoons of white vinegar is a quick fix.
3. Making the Roast Gravy
The original recipe calls for only a few ingredients: butter, ranch dressing mix, gravy mix, and broth.
The ranch dressing is really easy to make at home. All it needs is sour cream, Greek yogurt, herbs, and spices. All are available in most supermarkets.
For the gravy mix, we used our favorite "brown gravy mix" by Knorr, which you can purchase from Walmart. To make sure you don't get the wrong product, we have included a link to it in the ingredients section below.
We also have a link to the unsalted chicken broth, but sometimes, we prefer our own homemade broth. It's done by hours of simmering roasted chicken bones, onions, carrots, and celery for hours, and it's amazing.
Although there are no vegetables in the original recipe, we think it's a crime not to have some. We added carrots, onions, and garlic, which introduced lots of flavors to the pot.
Finally, we added an ingredient that, my mom told me, is the secret to a thick gravy: flour. It's not much, but it sure made a difference.
With the ingredients gathered, you're now ready to cook.
How to Make Mississippi Pot Roast in an Instant Pot
First of all, sear the chuck eye to get the caramelization going, which adds plenty of flavors to the broth. We also added the flour at this stage — they're easier to incorporate into the broth later on.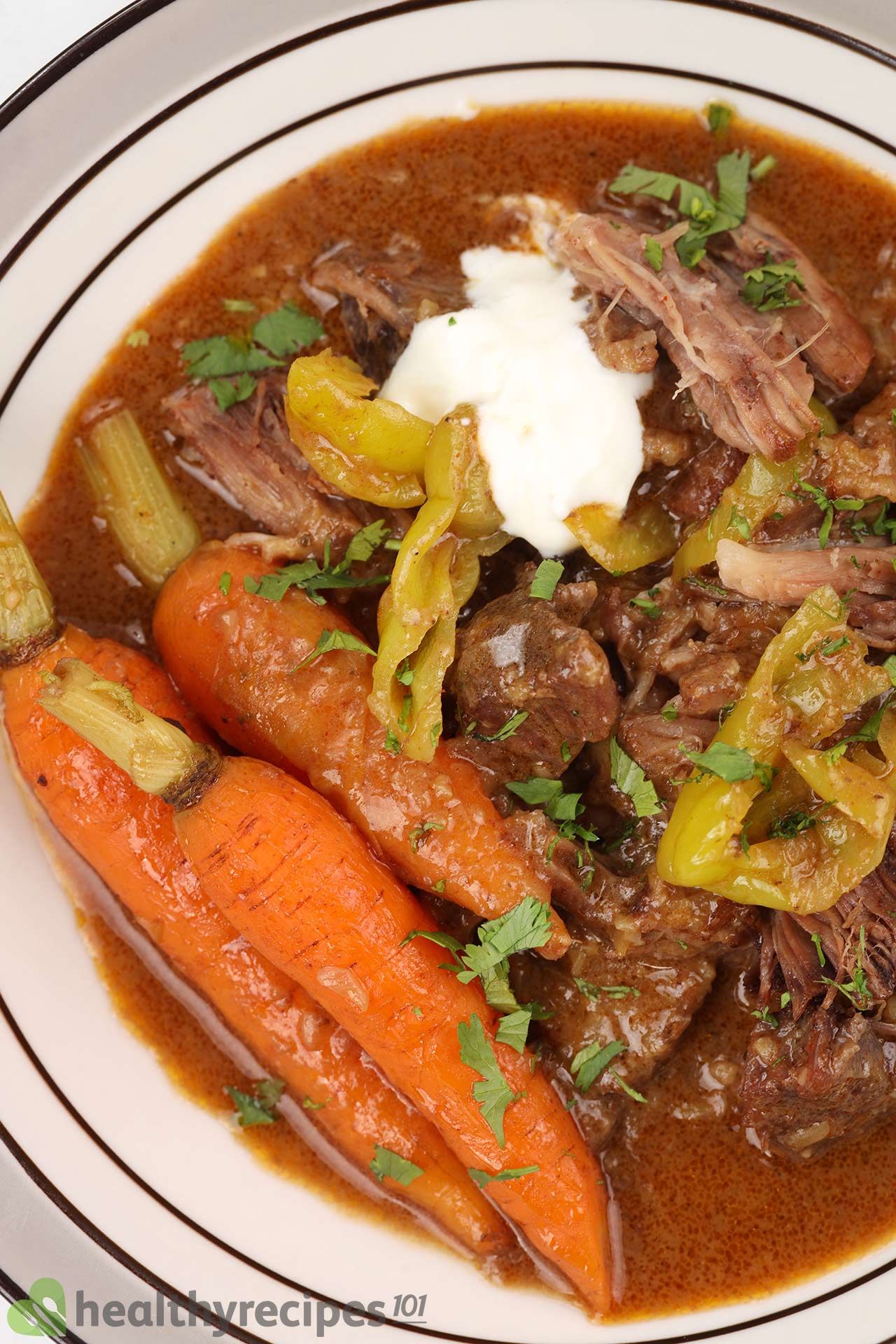 Then, set the chuck eye aside and cook the aromatics in butter until they're fragrant and translucent. When it's done, glaze the pot with red wine, and scrape the bottom to release those wonderful flavors.
Next, add the chuck, wine, broth, and seasonings to pressure-cook for 40 minutes.
The original recipe adds the peppers in too, but we didn't want to have mushy peppers. You can also add the Greek yogurt at this point, but we thought it'd look better on the beef in the end.
After 40 minutes, release the pressure and add the carrots to pressure-cook them for another 15 minutes. Trust us, you don't want to add the carrots along with the beef and have mushy carrots on your plate.
Finally, place the chuck eye in a bowl and tear it apart while reducing the broth. Add sour cream, pepperoncini and cook for another minute before plating the gorgeous, satisfying stew.
Here's a recap: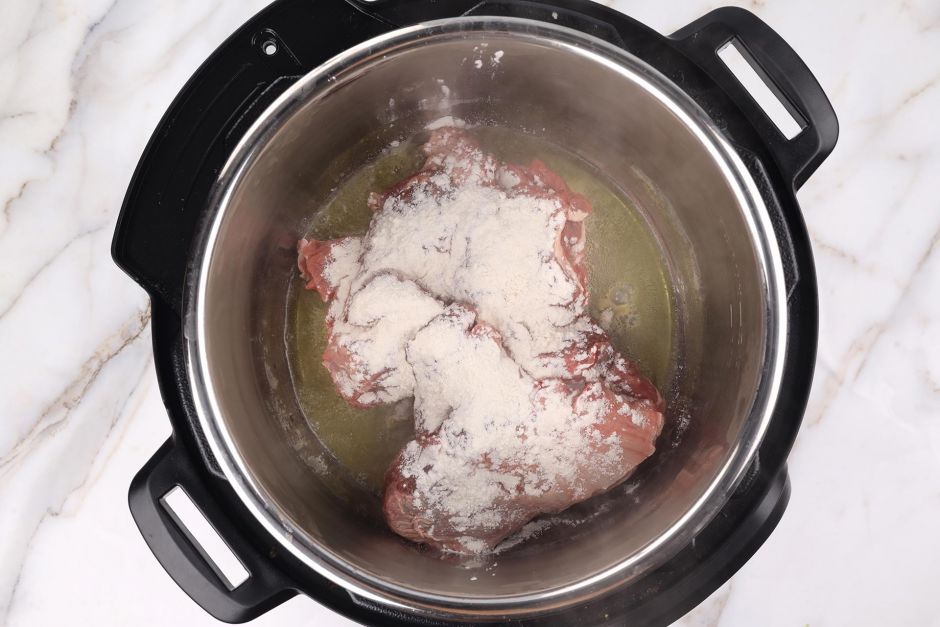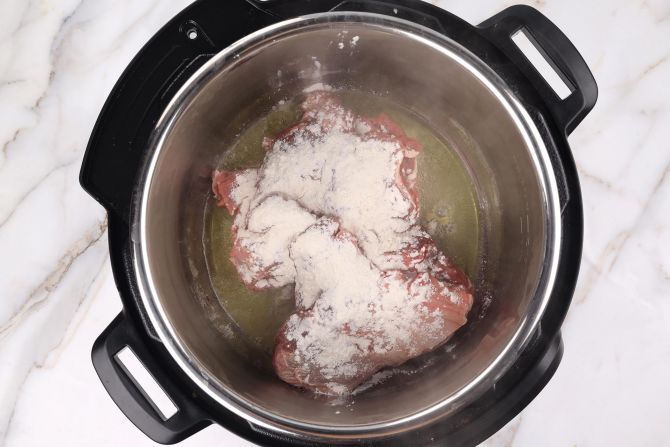 Sear the beef and add the flour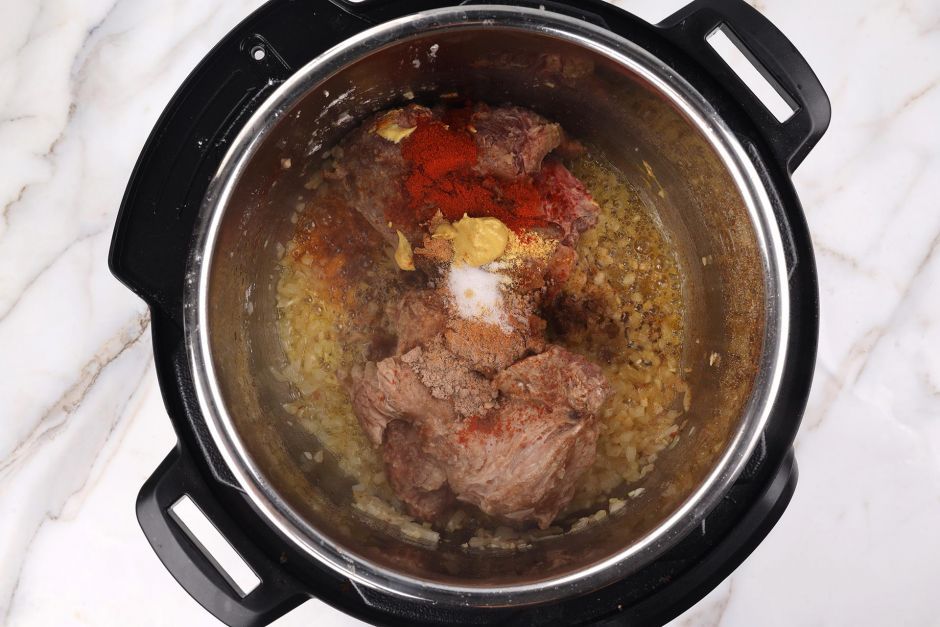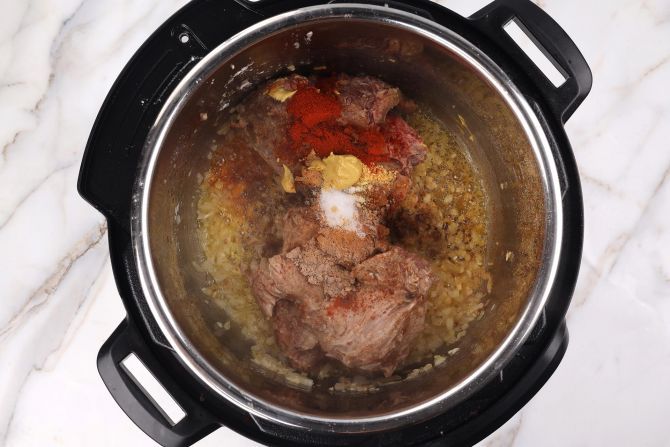 Set the beef aside and cook the aromatics with seasonings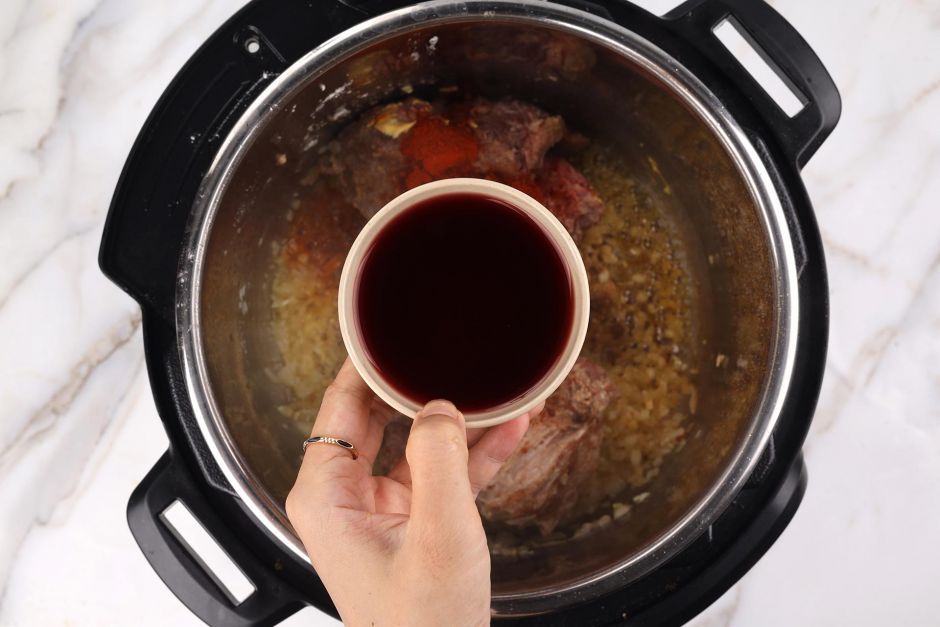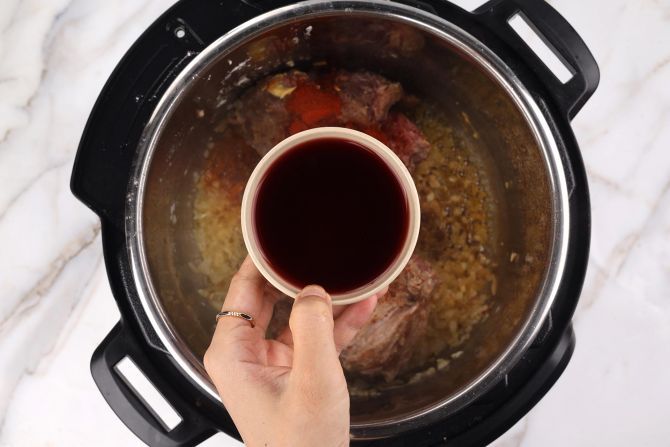 Glaze the pot with red wine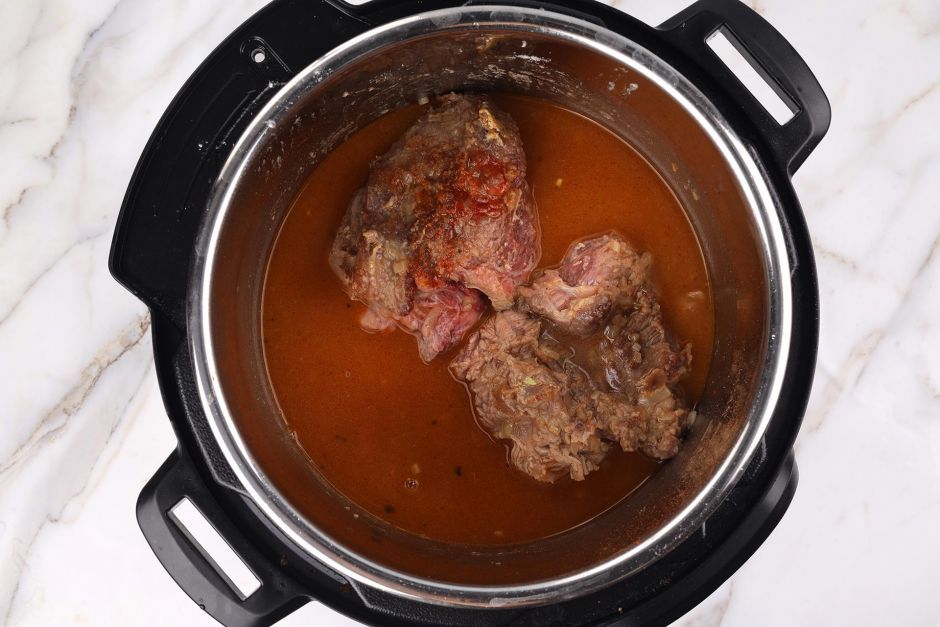 Add broth and pressure-cook the beef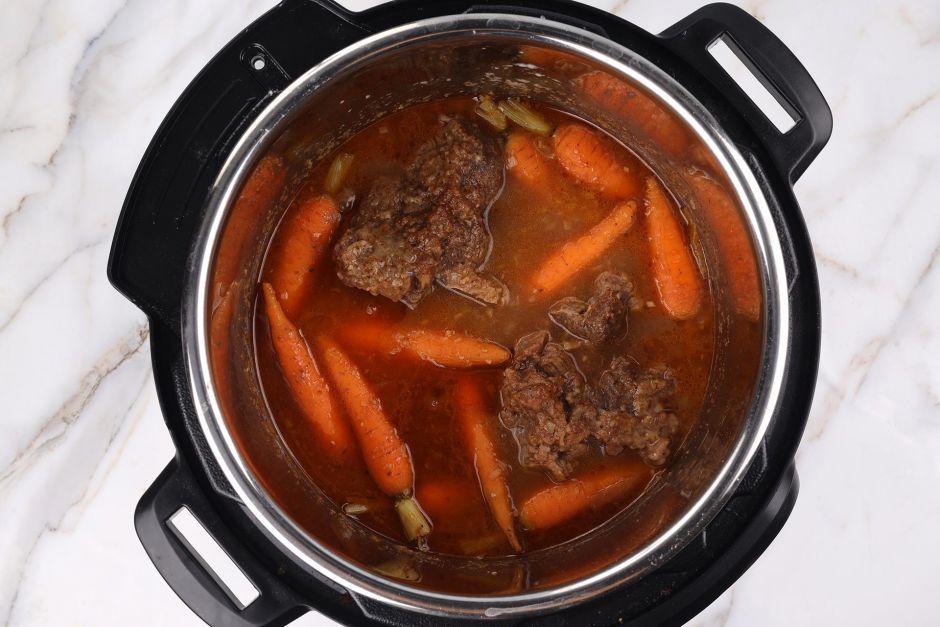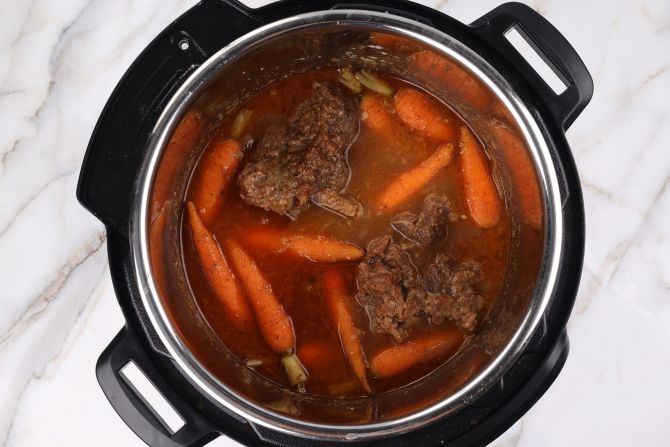 Release the pressure and add the carrots to cook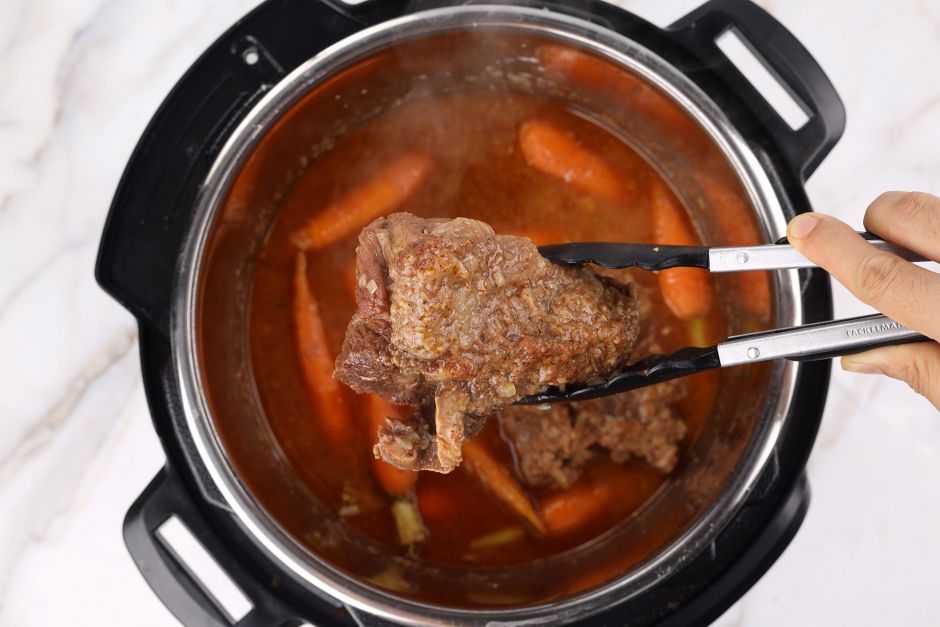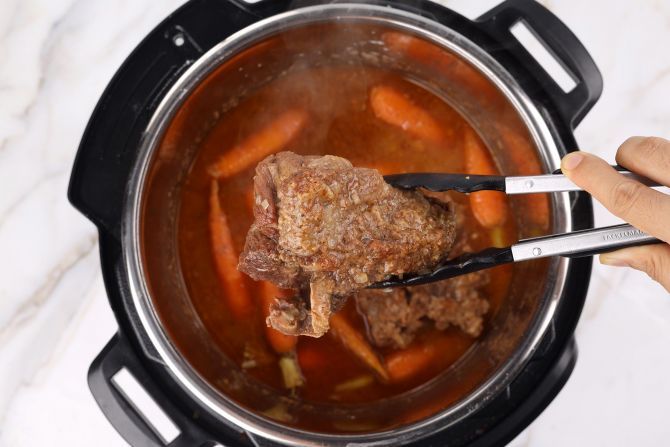 Tear the beef in a bowl and reduce the broth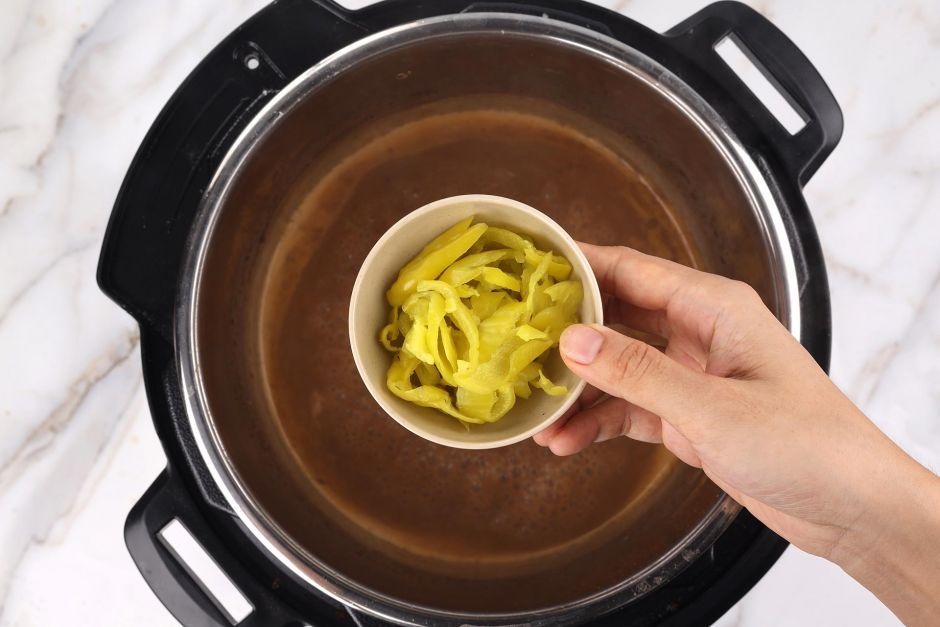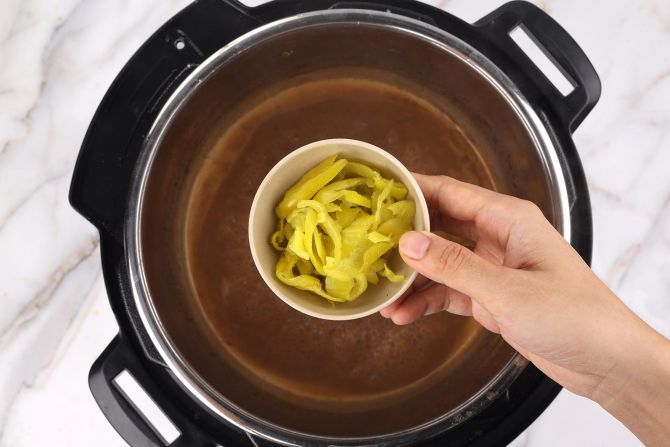 Add sour cream and pepperoncini to the broth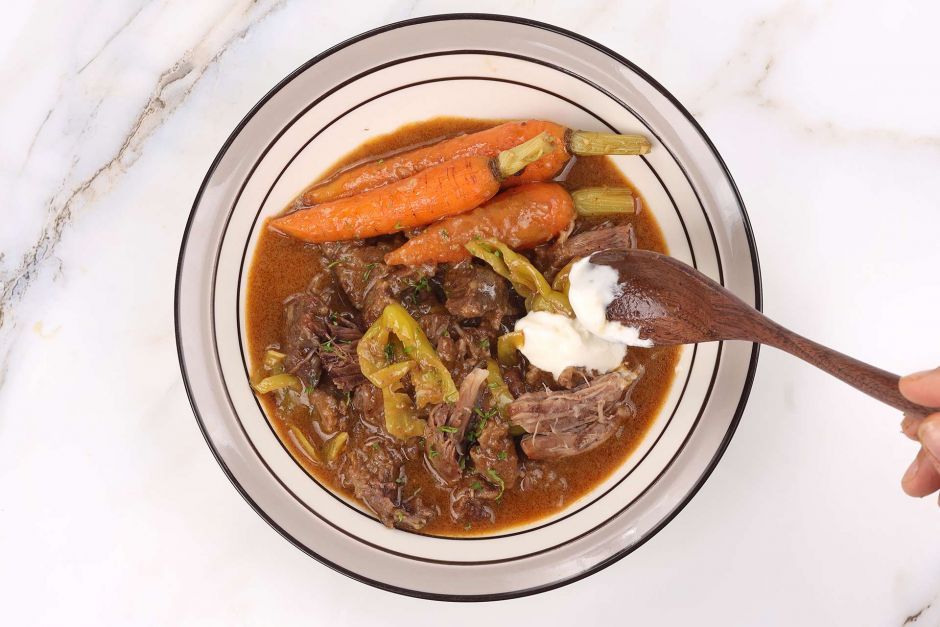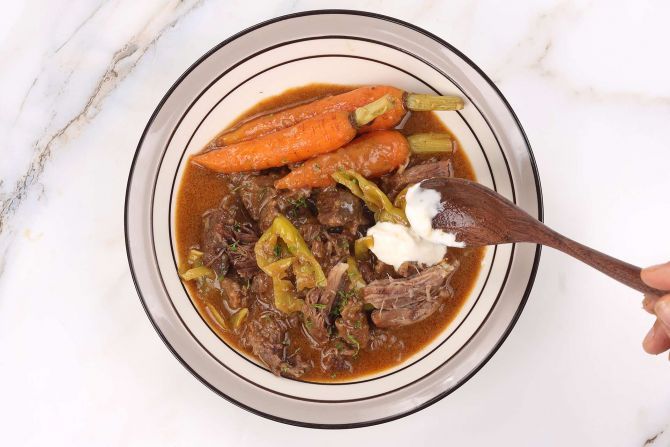 Plate with beef, gravy, Greek yogurt, and herbs
For the ingredients and measurements, refer to our Instant Pot Mississippi pot roast recipe card.
Jump to Recipe
What to Serve With Mississippi Pot Roast
Traditionally, the torn beef and gravy goes on top of creamy mashed potatoes, and this is exactly what we served ours with.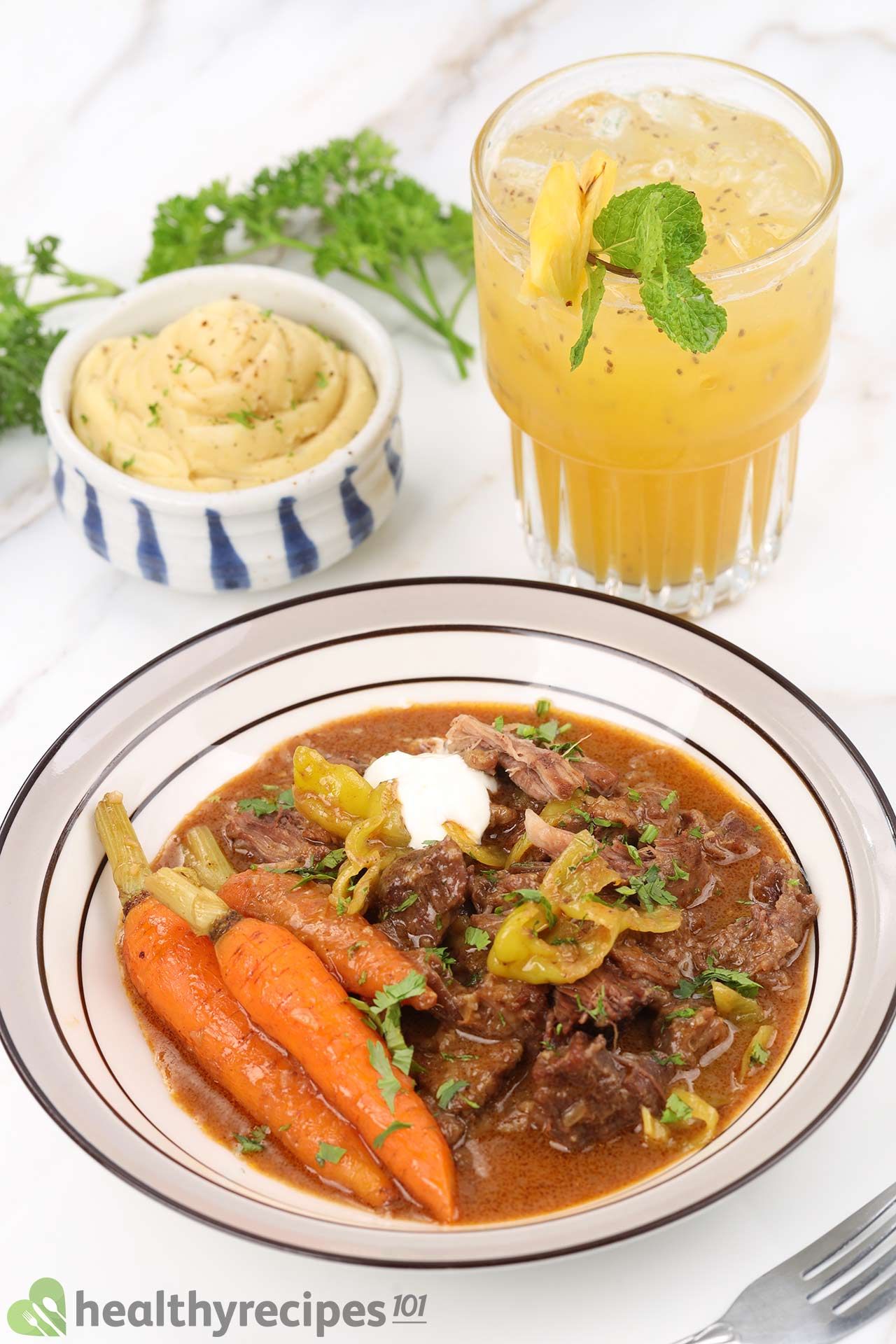 To complete the meal, nothing's easier and more refreshing than a glass of juice. We chose pineapple juice, bringing plenty of vitamins and minerals.
Together, the meal contains:
Nutritional values in this table vary somewhat to those below due to different app calculations. Read more...
In case you are now craving more healthy instant pot dishes, our easy instant pot dinner ideas is a lovely option.
How to Store Beef Chuck
Soft, tender, and saucy, the roasted beef freezes and thaws well. We stored the leftover roast inside airtight, microwave-friendly containers and reheated it in the microwave.
If you don't own a microwave, allow the stew to thaw a little bit, and remove it from the container. Place it into a pot and heat it over medium heat until bubbling.
But Wait, There's More!
When it comes to making delicious meals out of instant pot beef, the possibilities are endless. We have plenty of ideas for you to get started: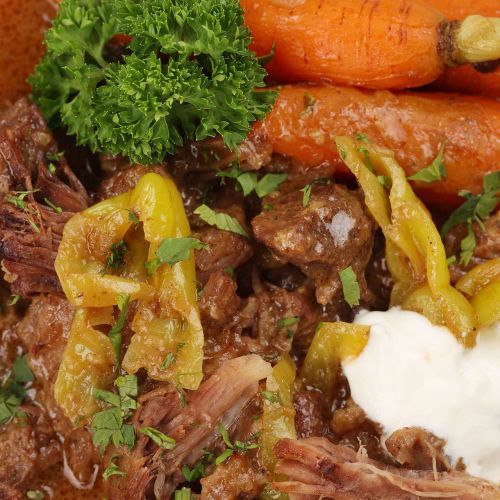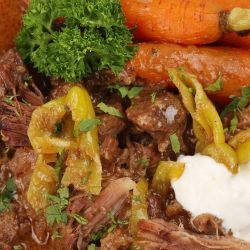 Instant Pot Mississippi Pot Roast Recipe
This Instant Pot Mississippi pot roast recipe makes an affordable, juicy, satisfying meal. Set the timer and be off to whatever task you have on your list — it won't burn.
Ingredients
24

oz

lean chuck eye

outer fat trimmed off

3

tbsp

olive oil

3

tbsp

all-purpose flour

1

tbsp

unsalted butter

4

oz

onions

chopped

1

tbsp

garlic

minced

1/4

tsp

ground black pepper

1/4

tsp

salt

1/2

tsp

onion powder

1/2

tsp

garlic powder

1 1/2

tsp

brown gravy mix

1/2

tsp

paprika

1/2

cup

red wine

2

cups

unsalted chicken broth

8

oz

baby carrots

1

tbsp

sour cream

1

oz

pepperoncinis

with some juice

1

tbsp

plain Greek yogurt

2

tbsp

parsley

finely chopped

2

tbsp

coriander

finely chopped
Instructions
Select the "sauté" mode and heat 3 tbsp olive oil. Sear the beef for 7 minutes (3.5 minutes each side), and stir in 3 tbsp all-purpose flour.

Set the beef aside and add 1 tbsp butter, 4 oz onions, and 1 tbsp garlic to the pot. Stir around for 4 minutes or until the onions turn translucent. Add the beef back along with 1/4 tsp ground black pepper, 1/4 tsp salt, 1/2 tsp onion powder, 1/2 tsp garlic powder, 1 1/2 tsp brown gravy mix, 1/2 tsp paprika, and 1 tsp traditional Dijon mustard.

Glaze the pot with 2 tbsp red wine. Scrape the bits stuck to the bottom of the pot with a wooden spoon to release all of the flavors.

Add 2 cups unsalted chicken broth, close the lid, and select the "meat/stew" mode or manually cook the beef for 40 minutes. While it's cooking, make the mashed potatoes and juice.

Place a piece of kitchen cloth onto the valve and release the pressure. Add 8 oz baby carrots in and cook for another 15 minutes on "meat/stew" mode.

Release the pressure again, place the beef and carrots into a bowl, and reduce the gravy for 15 minutes on "sauté" mode. Meanwhile, tear the beef apart with one fork in each hand.

Add 1 oz pepperoncinis and 1 tbsp sour cream to the pot, and stir to combine. Cook for another minute, then turn off the heat.

Serve: place the shredded meat onto the mashed potatoes, and drizzle the whole thing with the rich gravy. Dollop 1 tbsp Greek yogurt on top, and sprinkle with fresh herbs.
Nutrition
Nutrition Facts
Instant Pot Mississippi Pot Roast Recipe
Amount Per Serving (1 serving)
Calories 456
Calories from Fat 216
% Daily Value*
Fat 24g37%
Cholesterol 128mg43%
Sodium 551mg24%
Potassium 870mg25%
Carbohydrates 16g5%
Protein 38g76%
Vitamin A 8125IU163%
Vitamin C 7mg8%
Calcium 80mg8%
Iron 5mg28%
* Percent Daily Values are based on a 2000 calorie diet.