Today's air fryer empanadas recipe introduces a healthier way to make one of the most popular Latin American street foods. It's also the perfect recipe we've crafted for National Empanada Day (April 8). Without using excess oil, the air fryer creates a crispy outside layer while leaving the filling tender and juicy.
Empanadas come in various styles depending on their country of origin. Whether fried or baked, there are endless possibilities for fillings. Either way, this delectable pastry will invoke feelings of comfort and familiarity whenever you have them.
What Are Empanadas?
Empanadas are a Spanish/ Latin American savory pastry turnover made of dough and filled with various ingredients. The filling varies from protein to vegetables which are seasoned well before being baked or fried to golden brown perfection.
Are Air Fryer Empanadas Healthy?
Our air fryer empanadas are relatively healthy.
First, air frying, in comparison to deep-frying, significantly reduces the calories and saturated fat intake. This is a great health benefit as there is ample vidence that consuming too much oily food causes health problems like stomach pain, weight gain, and diabetes.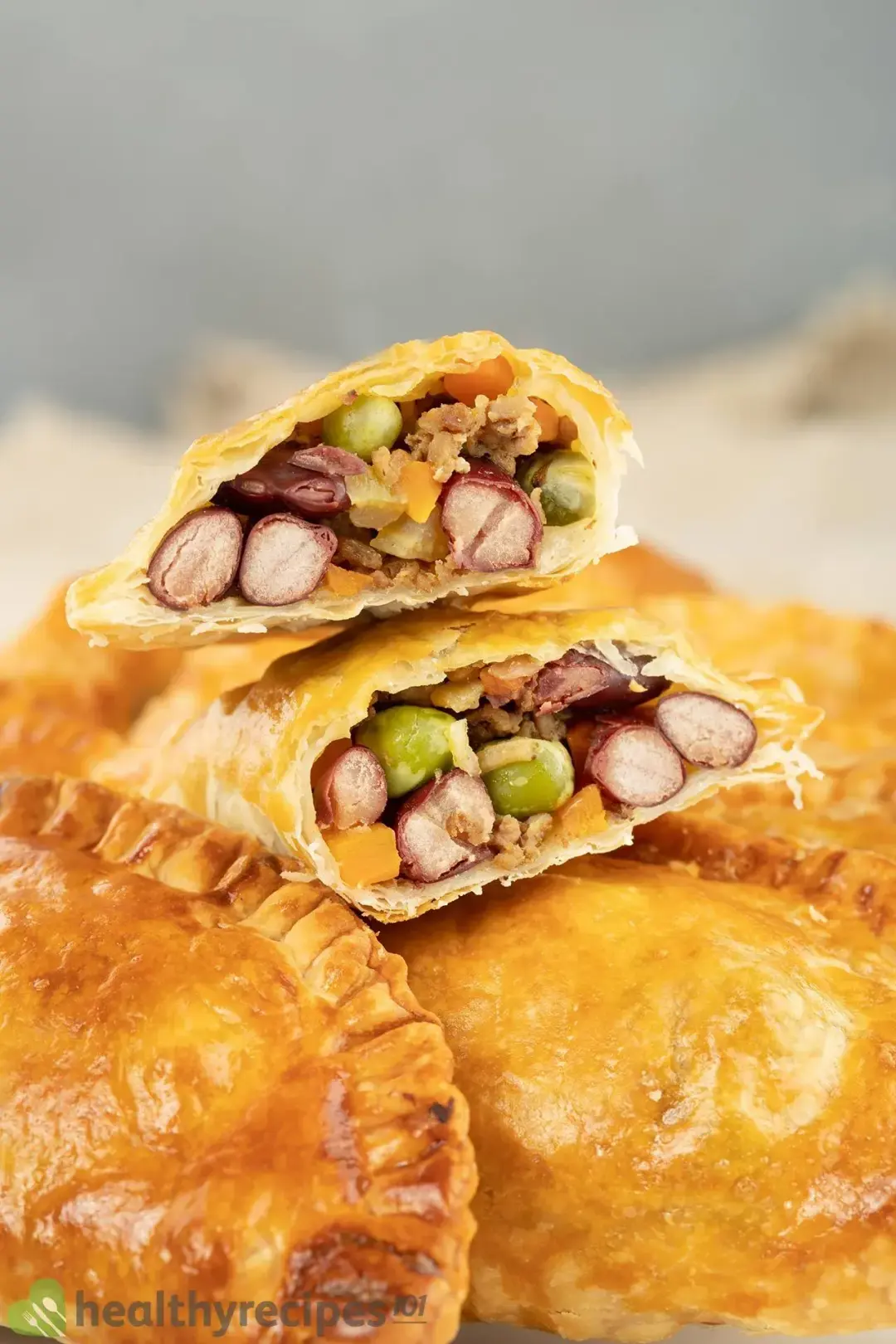 Furthermore, the main nutritional content of our air fryer empanadas recipe is carefully calculated, accounting for calories, sodium, and saturated fat. As a result, this recipe makes a wholesome, fulfilling meal with a nutritional value that is in line with the USDA's Dietary Guidelines.
If you happen to be looking for another healthy turnover recipe, check out our calzone  and these homemade air fryer pizza rolls. This Italian pastry is best served hot with salad for a light lunch or dinner.
Air Fryer Empanadas Ingredients
Different cultures put their own spin empanadas; thus, the ingredients list varies from country to country. However, there are a few unifying elements that every tasty empanada includes:
Protein: Beef is the most common meat used for empanadas filling, but you can also substitute it for other types. Note that if you use chicken or turkey for the filling, you may need to add some extra olive oil and seasoning to keep the dish from being dry and bland.
Vegetables: You can go with any vegetables your heart desires. Onion and carrot give a sense of sweetness, while pulses like beans and peas offer a great dose of healthy carbohydrates.
Spices and Seasoning: The meat and vegetables are seasoned with salt, pepper, and herbs to give them the ultimate, savory flavor.
Dough: This comes down to personal preference. Besides the original empanada dough, the dish can also be made with pie, pizza, or bread dough.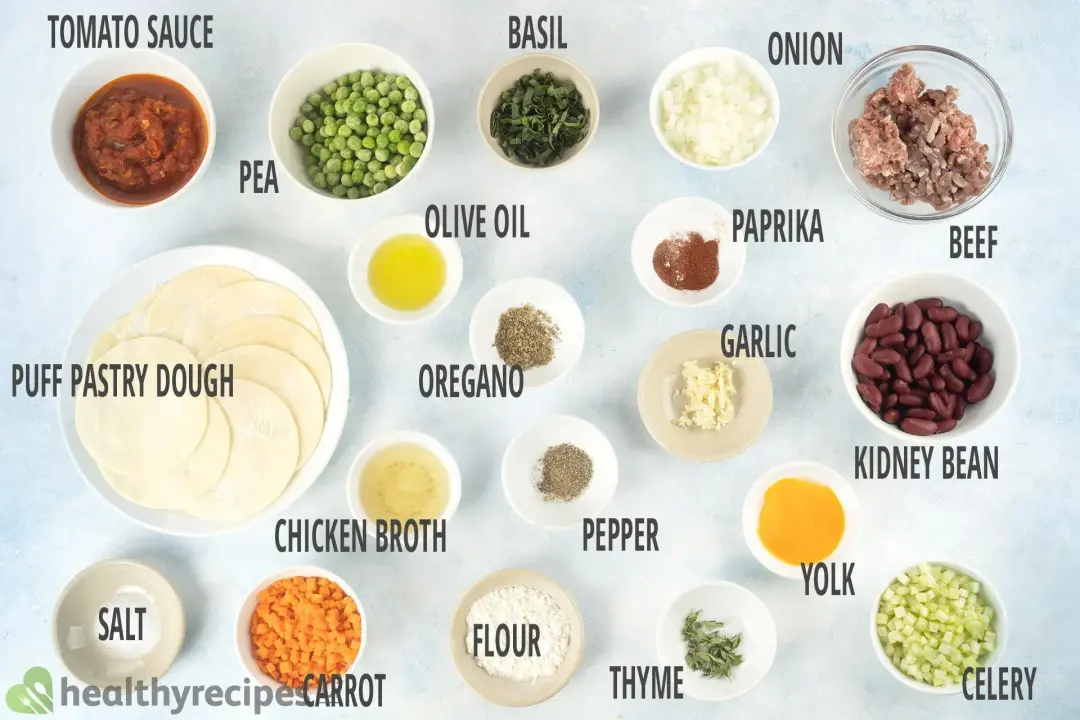 What Kind of Dough Is Used for Air Fryer Empanadas?
You may notice that the classic empanada dough has quite similar ingredients to pie crust: flour, butter, salt, egg, and water. The dough is made by adding butter, rolling it out, and folding it over repeatedly.
Once baked, this creates thin layers sandwiched with melted butter, resulting in flaky, melt-in-mouth puff pastry. 
If you don't have enough time to make empanada dough at home, here are some alternatives that can be bought at the local supermarket:
Pre-Rolled Pie Crust: This variety is one of the most common options for empanada dough. Note that it might turn out a bit sweeter than the original pastry pockets.
Crescent Rolls: You can press and roll them out until they reach the desired thickness level.
Empanada Dough Discs: The good news is that there is no need to seek out specialty stores; empanada wrappers can easily be found in most frozen food aisles. The store-bought versions are already made into a round shape and come ready to cook, saving you the time and hassle of making them yourself.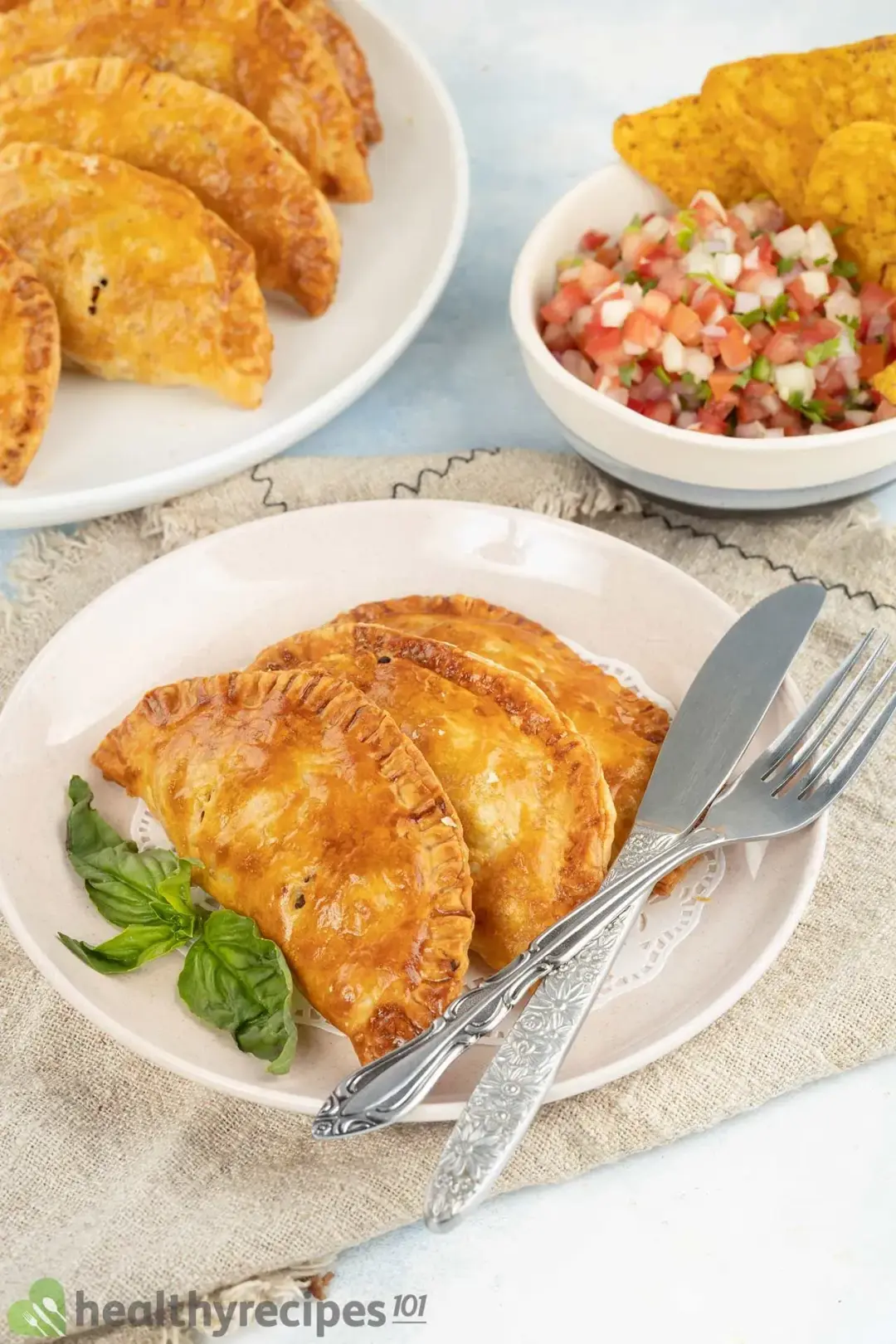 How to Make Empanadas in an Air Fryer
With the ingredients gathered in your kitchen, this is how to make empanadas:
For detailed instructions and timing, please go to the recipe card at the bottom of the article.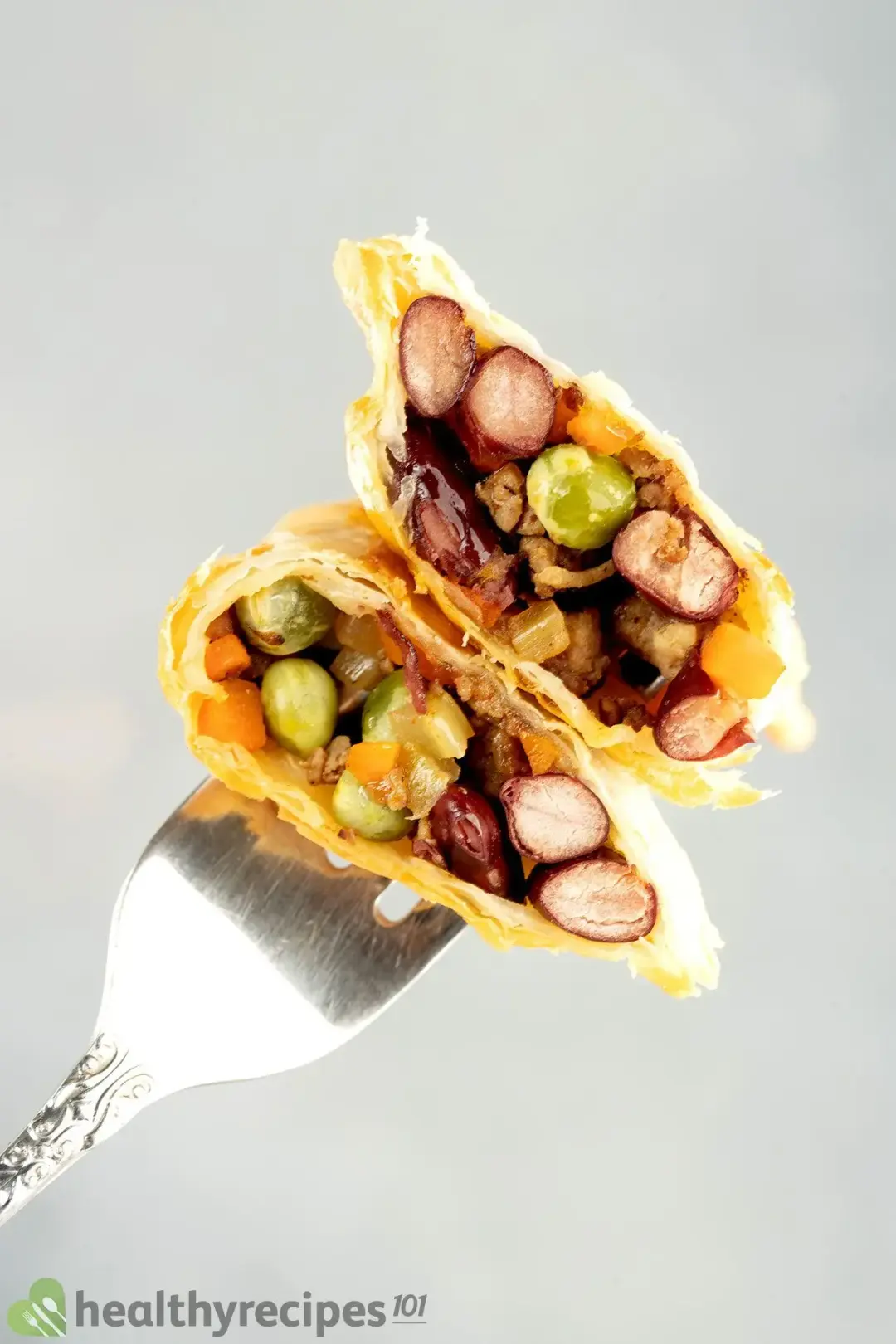 How to Store and Reheat Empanadas
1. Store
Leftover empanadas should be kept in an airtight container or a Ziplock bag and placed in the refrigerator for up to 4 – 5 days. Cooked empanadas can also be kept in the freezer for up to 2 months. And there is no need to thaw them before cooking, they can go right from the freezer into the oven.
2. Reheat
Air fryer empanadas can be reheated either in an air fryer or in the oven. To do so, place the pastry on a baking sheet for a few minutes until warmed through and crisp again on the outside.
Check out our healthy air fryer dinner roundup for more delicious tasty recipes.
What to Serve with Empanadas
You can find many types of empanadas from different countries around the world. Some empanadas come in small sizes and are great as appetizers or snacks. Many countries in Latin America have a bigger version that can be served as the main dish.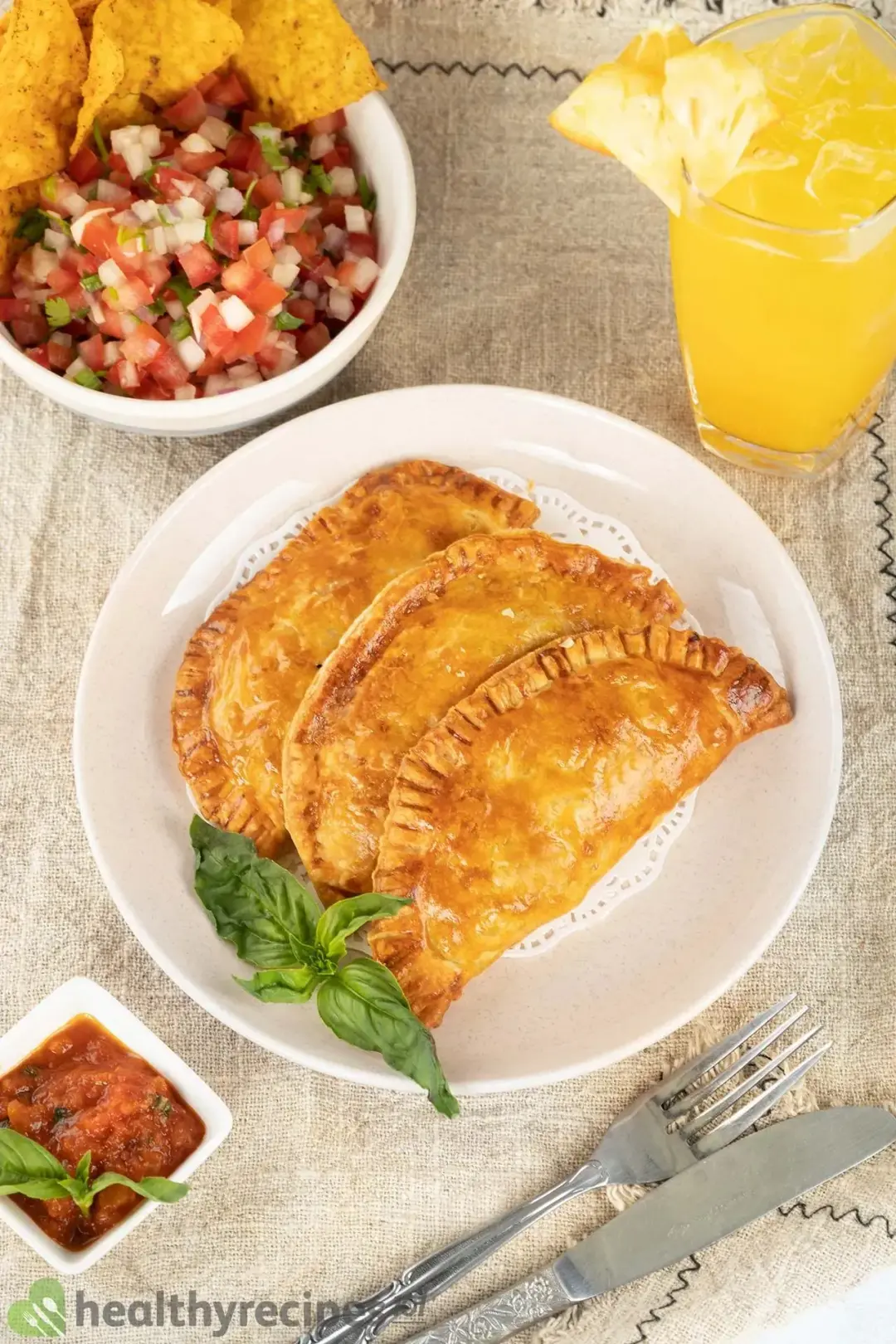 We prefer to side empanadas with pico de gallo and orange pineapple juice. Pico de gallo is full of fresh and juicy bites that add to the nutritional value as well as the taste. The juice rounds it all off and refreshes your palate, getting it ready for the next bite.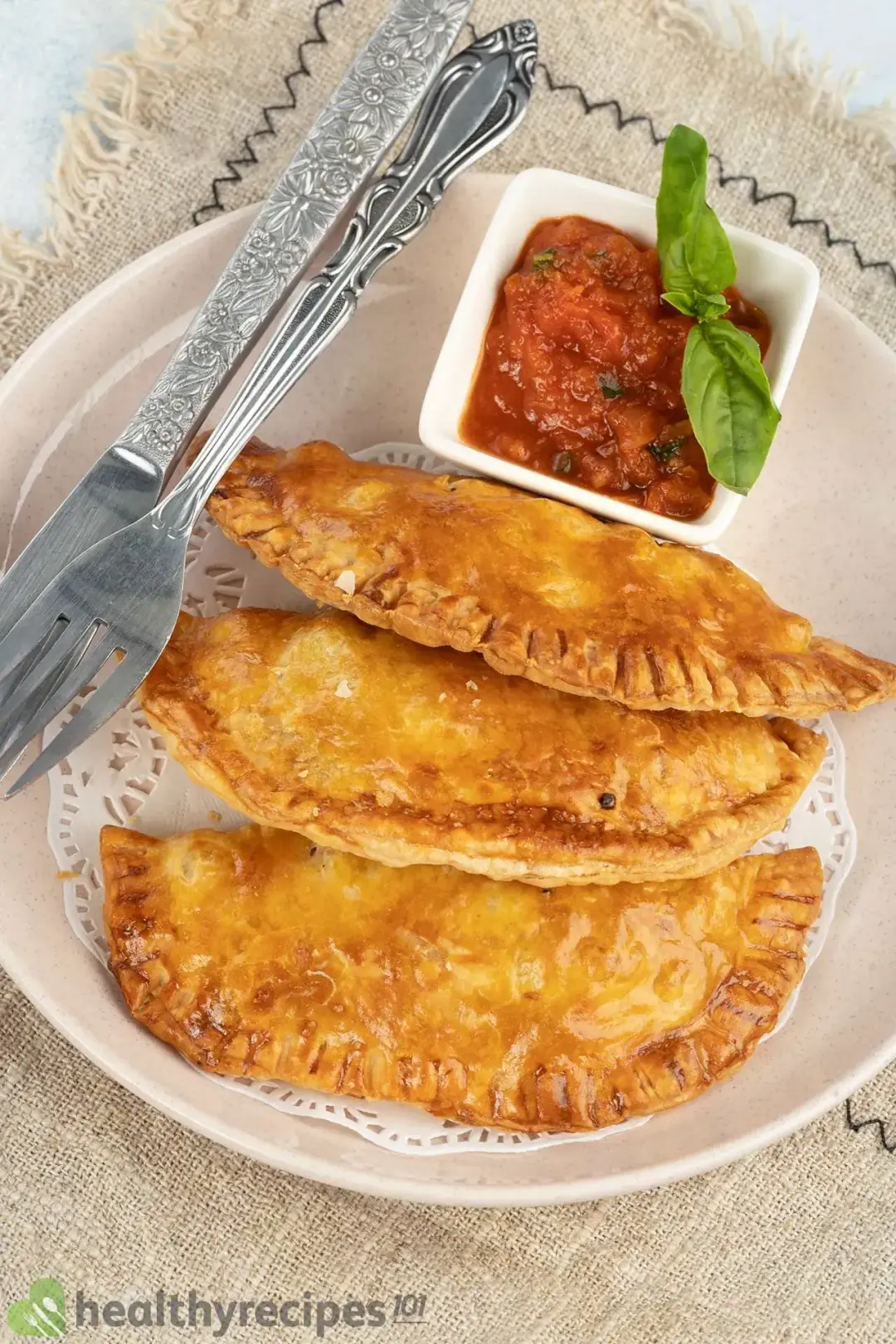 Air Fryer Empanadas Recipe
If you want to have a healthier version of classic empanadas, look no further than this air fryer empanadas recipe. The pastry, packed with freshly made beef filling, comes with no extra grease.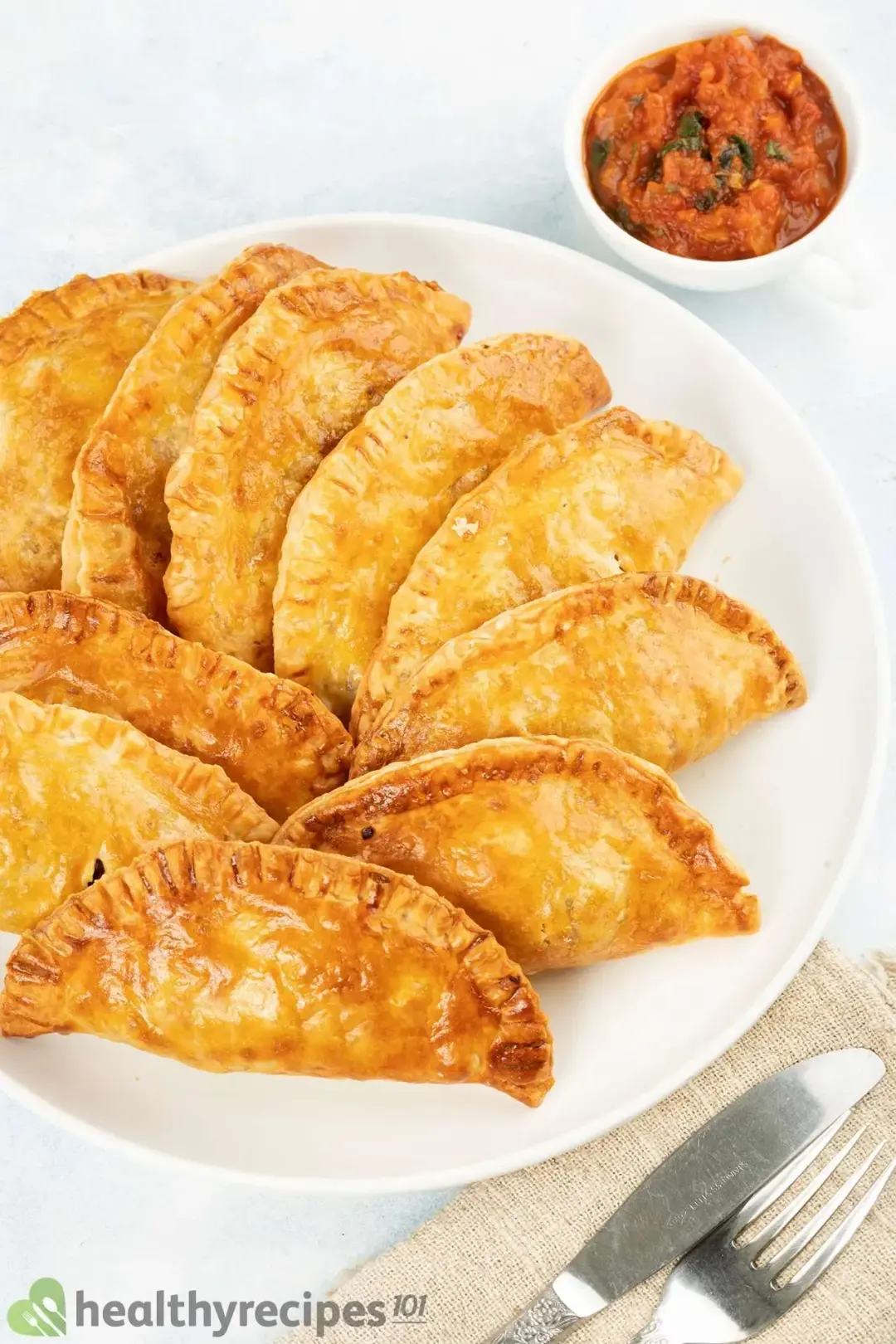 cook TIME

25 mins

prep TIME

20 mins

total TIME

45 mins
COURSE

Dinner, Lunch, Main Course

CUISINE

Latin American

SERVINGS

servings

CALORIES

452 kcal
INGREDIENTS
2 tsp

olive oil

3 oz

onion (chopped)

1 tsp

garlic (chopped)

2 oz

celery (chopped)

3 oz

carrot (chopped)

6 oz

85% lean ground beef

4 oz

frozen peas (thawed)

4 oz

unsalted dark red kidney beans

0.5 tsp

oregano

1 tsp

thyme

0.3 tsp

paprika

0.3 tsp

ground pepper

0.3 tsp

salt

8 oz

puff pastry dough

2 tbsp

all-purpose flour

1

large egg yolk

0.5 cup

homemade tomato sauce

2 tbsp

unsalted chicken broth

2 tbsp

basil
INSTRUCTIONS
Make the filling:
1
Heat the olive oil in a large skillet over medium heat. Add in onion and garlic and sauté until soft and fragrant (about 1 minute)
2
Add in celery and carrot, stir fry for another 2 minutes. Then add ground beef to the skillet and cook until no longer pink, 1 minute.
3
Add peas, kidney beans, oregano, thyme, paprika and season with salt and pepper. Stir fry for an additional 2 minutes.
Assemble:
1
Divide the dough into 8 equal parts.
2
Roll each piece of dough on a lightly floured surface until you have a circle of 5 inch in diameter, depending on how big you want it to be .
3
Add the meat filling to the center of each pastry . Fold the dough over to enclose the filling. Use a fork to press and seal the edges closed.
4
Brush each empanada with egg wash until coated.
5
Poke a small hole in the surface of the empanada so that the moisture can escape while baking.
Bake:
1
Place empanadas in the air fryer's basket, cook at 360°F for 10 minutes. Flip empanadas and continue cooking for another 3 minutes. Then remove from the air fryer.
Make the sauce:
1
In a saucepan, cook tomato sauce over medium heat. Add chicken broth and bring to the boil. Remove from heat.
2
Blend the sauce with a hand blender until smooth. Garnish with basil.
Serve:
1
Serve empanadas hot with tomato sauce for dipping.
NUTRITION
Nutrition Facts
Air Fryer Empanadas Recipe
Amount Per Serving (1 serving)
Calories 452
Calories from FDA
% Daily Value*
* Percent Daily Values are based on a 2000 calorie diet.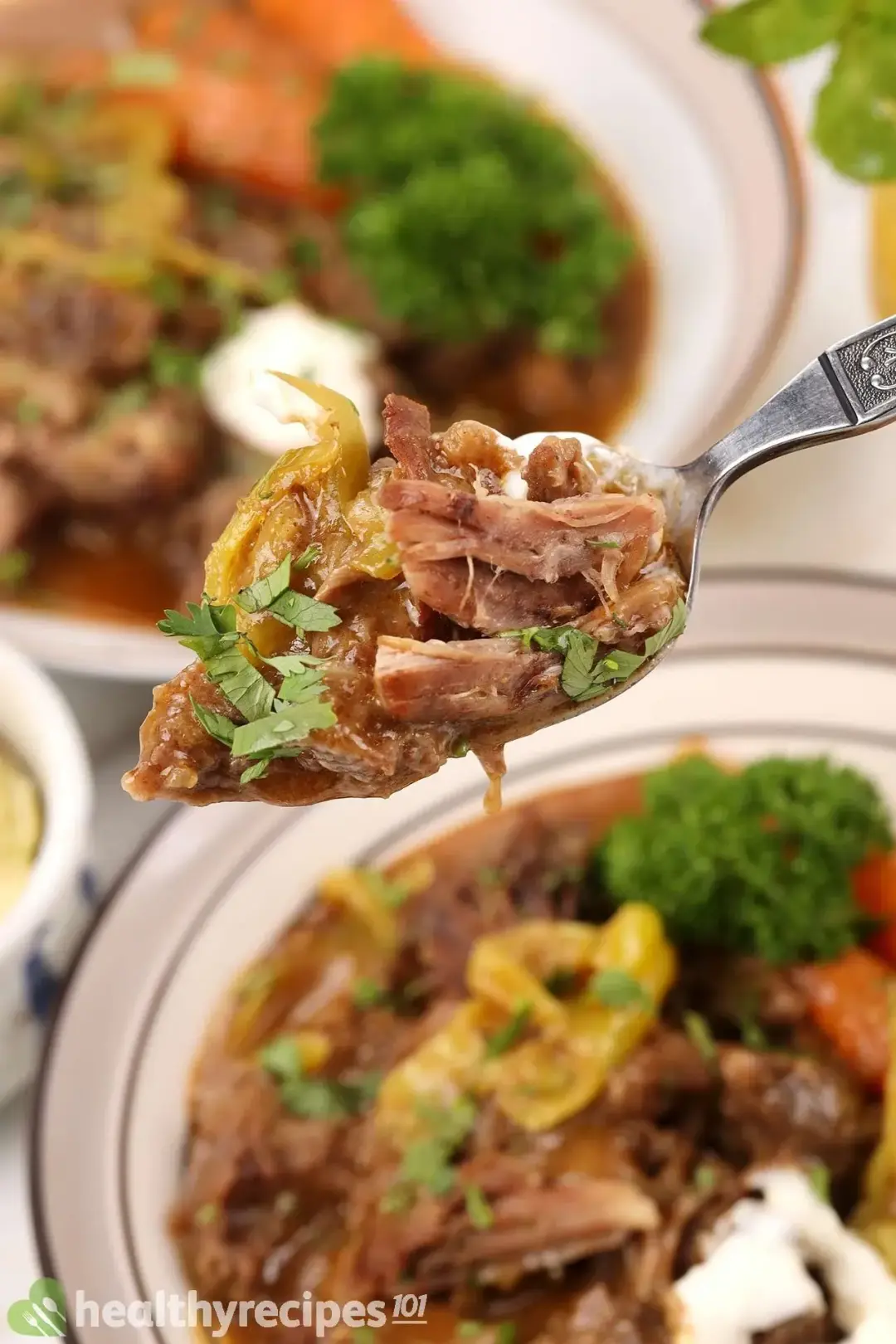 Previous Recipe
Instant Pot Mississippi Pot Roast
Instant Pot Mississippi Pot Roast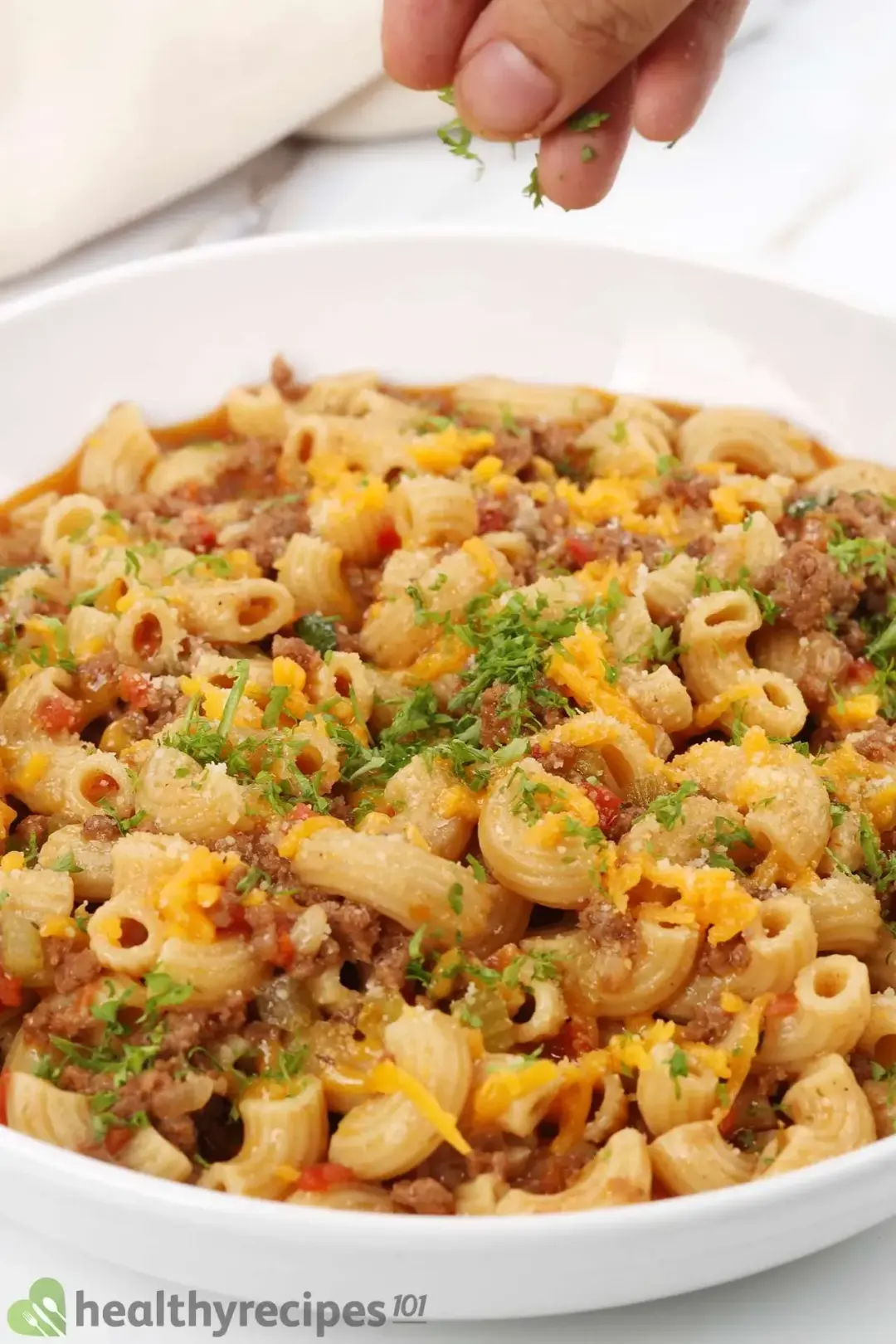 Next Recipe
Instant Pot Goulash
Instant Pot Goulash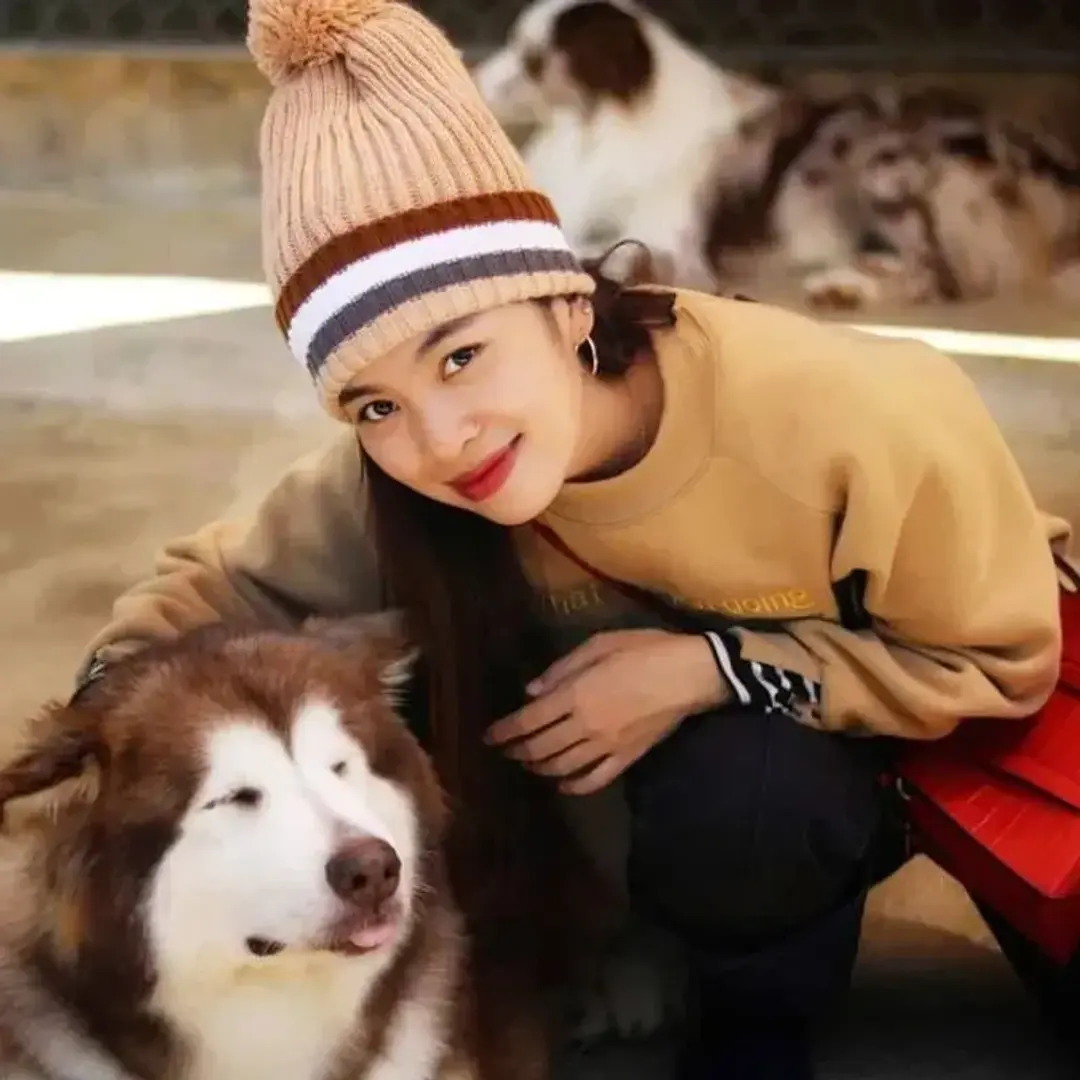 Professional Chef
Tuyet Pham is an award-winning Saigonese chef who believes that joy is the secret ingredient to delicious food. At Healthy Recipes 101, Tuyet personally tests and simplifies every recipe, ensuring maximum flavor with minimal effort. With a background at prestigious French restaurants P'TI Saigon and Le Corto, Tuyet knows how to make every dish exceptional.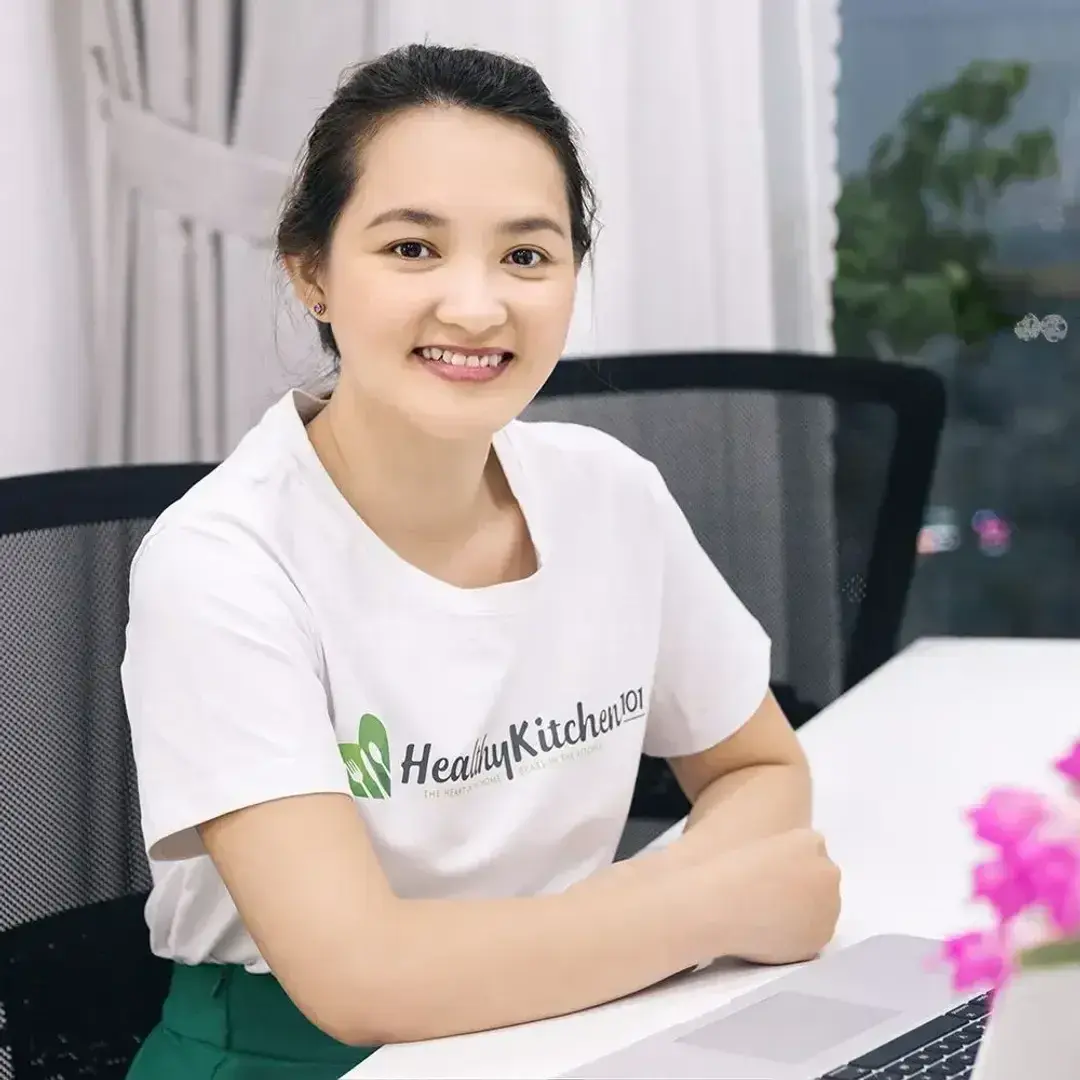 Founder
Luna Regina is an accomplished writer and author who dedicates her career to empowering home cooks and making cooking effortless for everyone. She is the founder of HealthyKitchen101.com and HealthyRecipes101.com, where she works with her team to develop easy, nutritious recipes and help aspiring cooks choose the right kitchen appliances.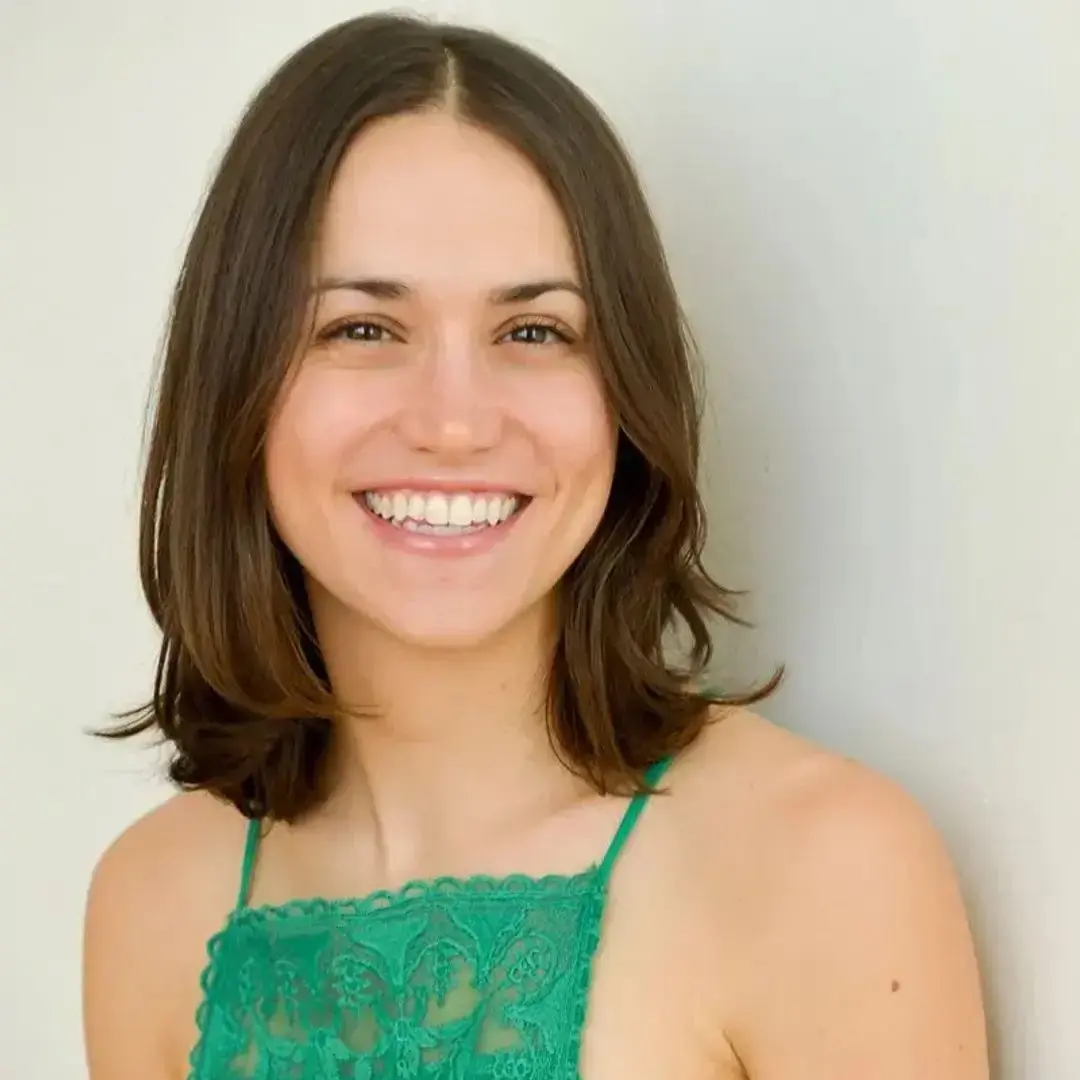 Nutrition Reviewer
Lizzie is a Minneapolis-based dietitian and founder of It's a Veg World After All. She completed her MS in Human Nutrition from Drexel University, and is an expert in culinary nutrition, recipe development, and nutrition communications.
Comments/ Reviews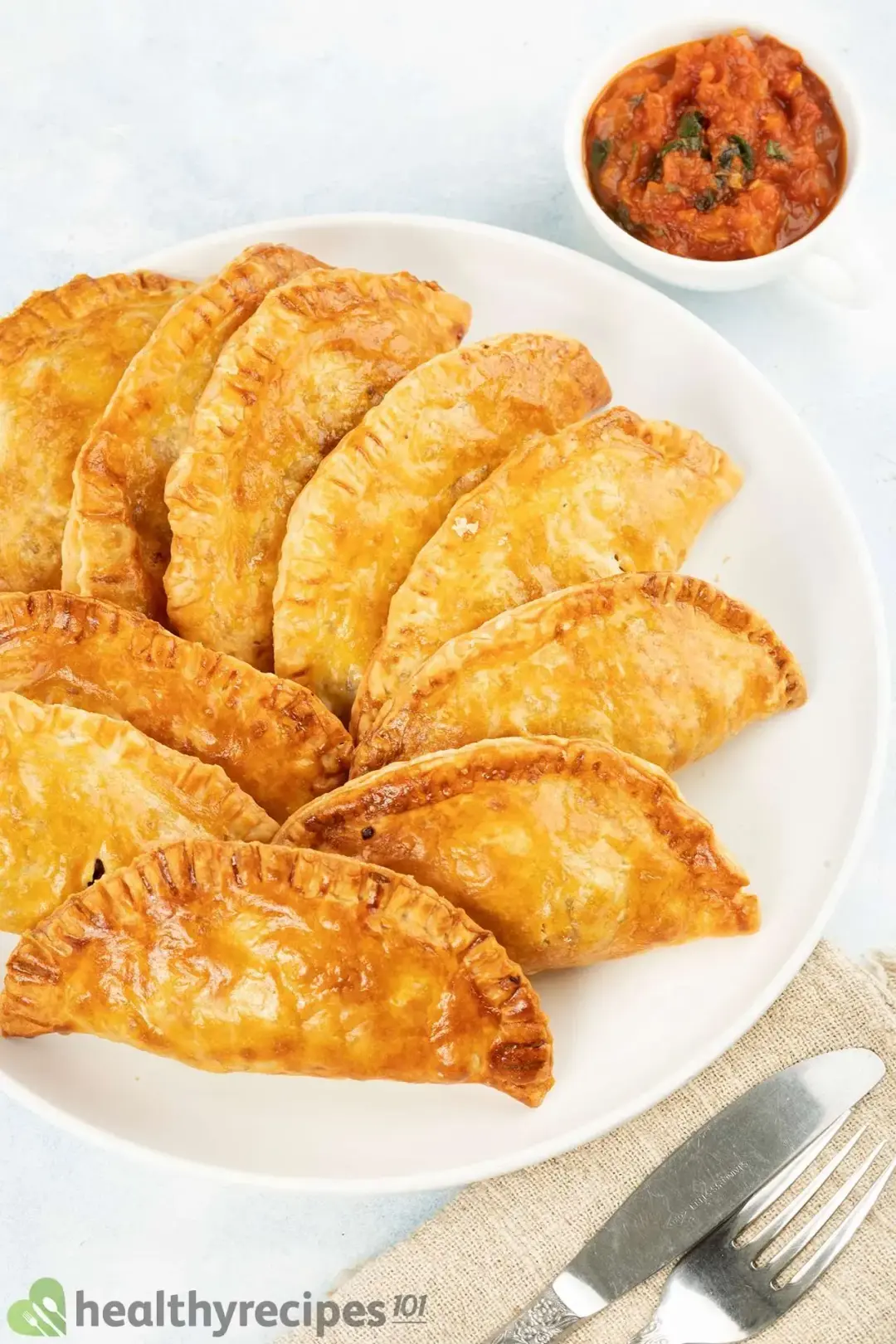 Air Fryer Empanadas Recipe