Our Instant Pot shredded chicken recipe creates juicy, flavorful chicken shreds to put in tacos or soups.
Say goodbye to dry, rubbery chicken because this recipe will up your game forever. We'll show you the foolproof way to make perfect shredded chicken breast using your Instant Pot or any other multicooker.
Click here to jump straight to our Instant Pot shredded recipe card for the ingredients list. Alternatively, read on to learn more about this dish.
Is Shredded Chicken Healthy?
The most often-used cut for shredded chicken is chicken breast, which is also the leanest cut compared to other parts. It contains very little saturated fat, the "bad" type of fat that the USDA recommends limiting.
Less fat means less calories. If you're interested in building muscle, shredded chicken is a tasty option to up your protein intake.
Besides saturated fat and calories, the USDA also suggests that we should cut out as much added sugar and sodium from our diet as possible.
Our Instant Pot shredded chicken recipe requires no added sugar. To keep the meat tasty and the sodium at an acceptable level, we add just the right amount of salt.
As a result, each serving of our dish has a healthy amount of calories and nutrients. To see what we mean by "a healthy amount", check out our dietary guidelines.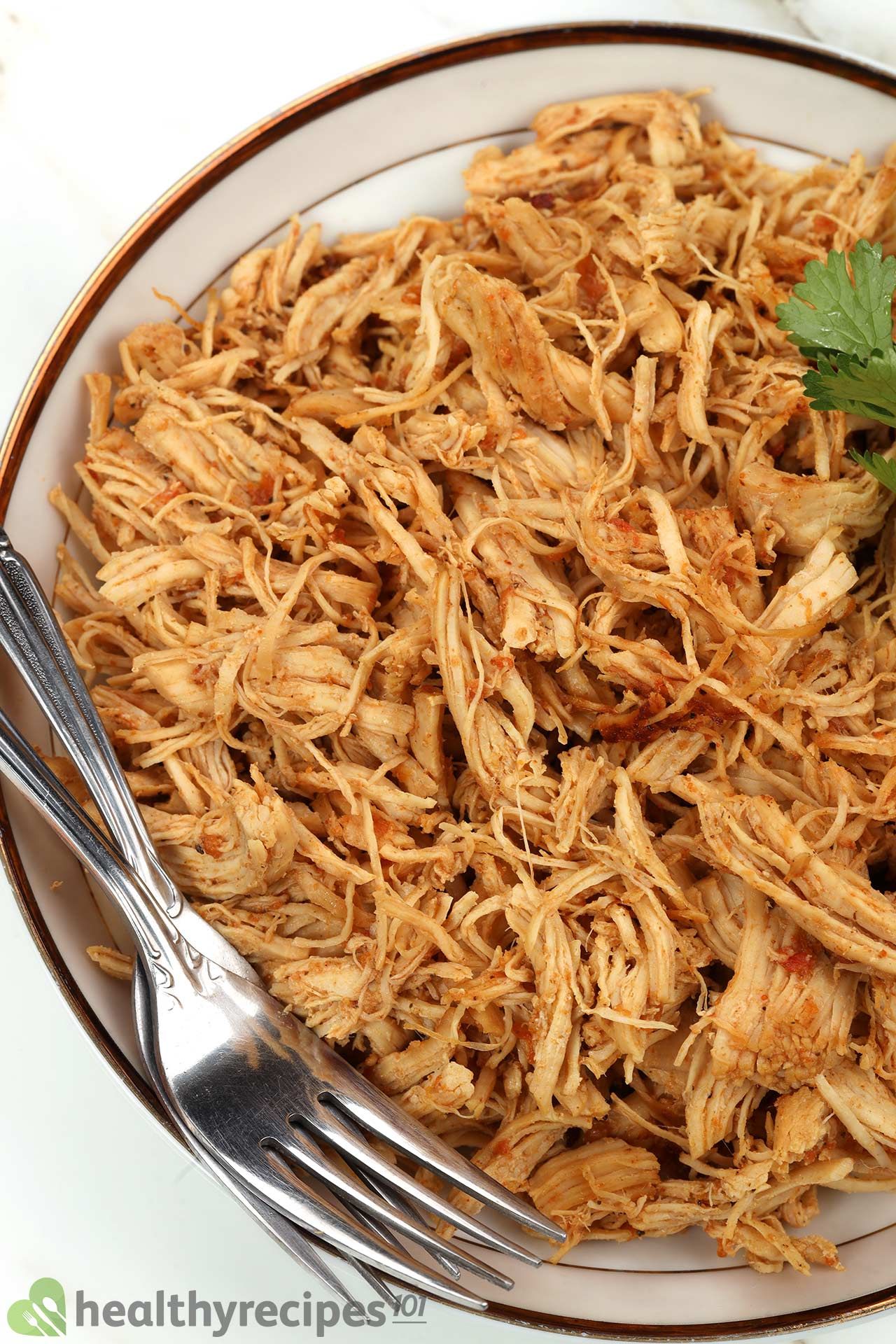 What Type of Chicken Is Best for Shredding?
As mentioned, chicken breasts are the most popular choice, usually skinless and deboned. In fact, they're so good we made a few more instant pot chicken breast recipes you'll love. Chicken breast tends to turn out dry when not properly cooked, so shredding it is the easiest way to make it more enjoyable.
Other cuts like drumsticks, wings, or thighs make for great shreds too, but they taste even better when cooked using other methods. Their bones also make them less convenient to work with, another reason why they're usually not the first choice for shredded chicken.
Shredded Chicken Seasoning
Since we're putting the shredded chicken in tacos, we used a selection of Mexican seasonings.
Our first choice was cumin, THE must-have in most Mexican recipes when seasoning chicken. It helps give the meat that signature, unforgettable fragrance.
Then we added chili powder and paprika for an enticing color and a little kick.
We also added a squeeze of lime juice to tenderize the meat and give it a citrusy fragrance. The citrus also adds a freshness that lifts the dish.
Don't forget to add those stalwart seasoning staples: salt, pepper and garlic powder.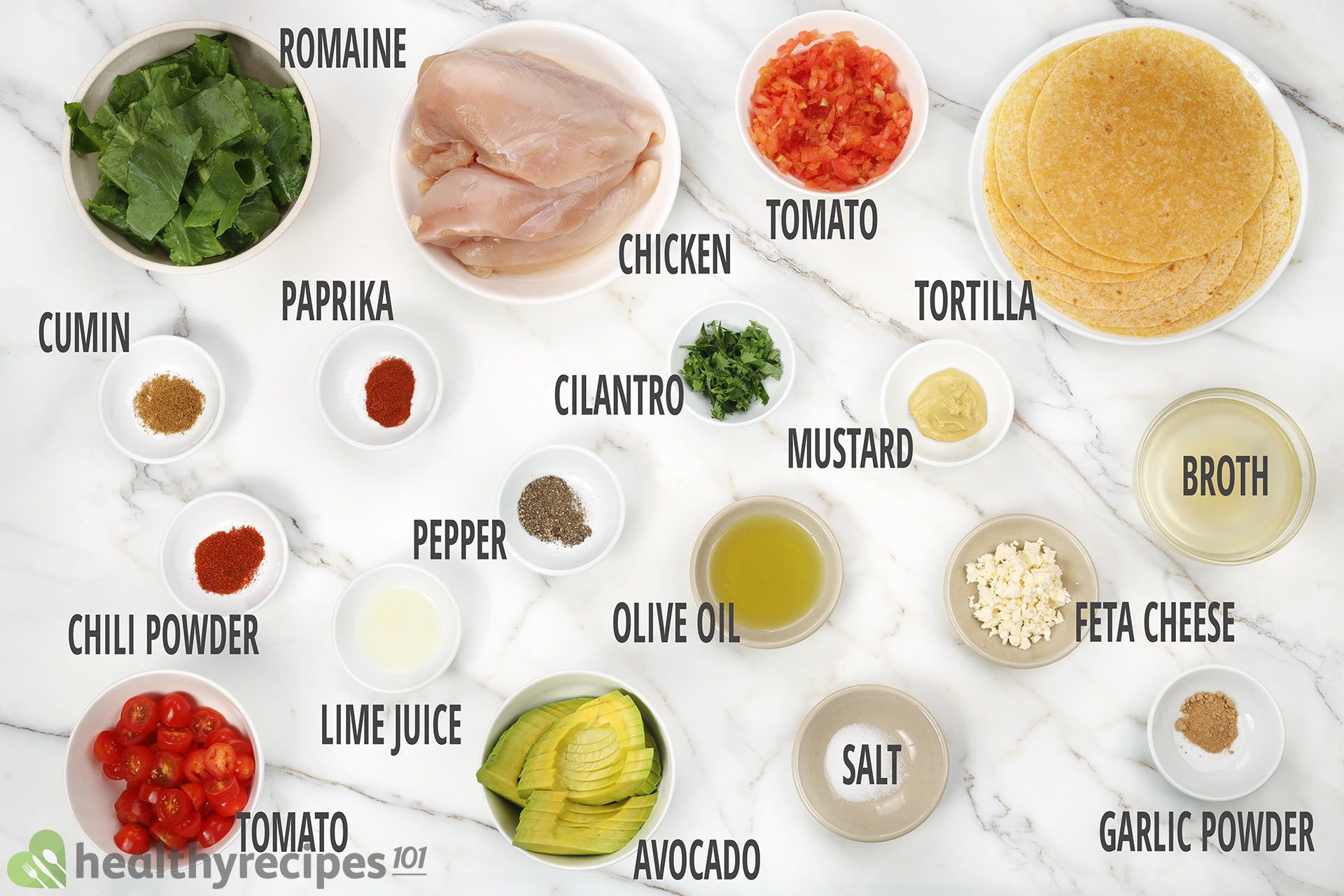 The last ingredient is yellow mustard. We felt that a hint of pungency makes a world of difference, but we appreciate not everyone's a fan of mustard.
That's the seasonings ready, now let's get the chicken perfectly cooked.
How to Make Shredded Chicken in an Instant Pot
There are two main important steps that decide whether your shredded chicken turns out good or not as good:
The seasoning must take place right before the searing, not after, or the powders won't release all of their flavors.
The chicken needs to be seared until both sides are golden brown. Nothing substitutes or compares to this caramel flavor.
So what you'll do first is rubbing the chicken really thoroughly, then searing it in the "Sauté" mode. We seared ours for 7 minutes, 3 and a half on each side.
Then, add tomatoes and broth, and close the lid. Make sure everything is tightly sealed, then cook the chicken for 10 minutes by selecting the "steam" mode.
Then, place a kitchen rag on top of the steam valve and release the pressure. Shred the chicken using two forks.
Reduce the liquid to help the meat soak up more concentrated goodness. We did so by selecting the "Sauté" mode one more time, and constantly stirring everything in the pot until all of the liquid had evaporated.
Since we're serving the meat inside soft tacos, you can use the hands-free cooking time to get the tortillas and toppings ready. The tortillas can be baked in a 375°F oven for 3 minutes, and the toppings quickly chopped, or sliced.
Here's a quick summary: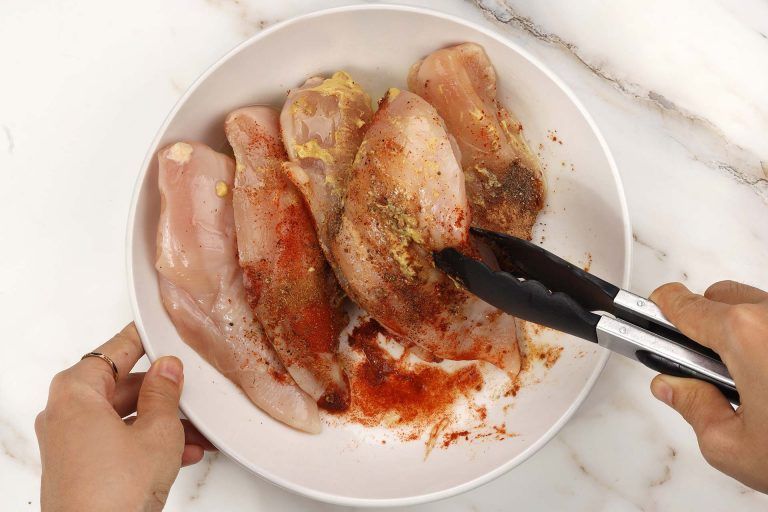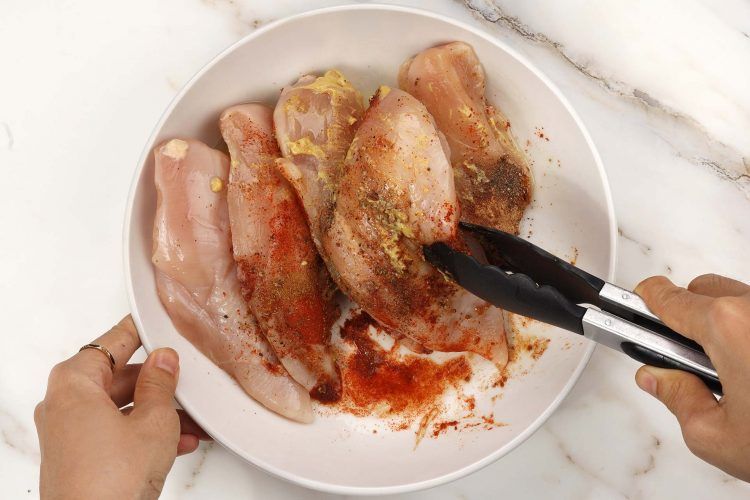 Season the chicken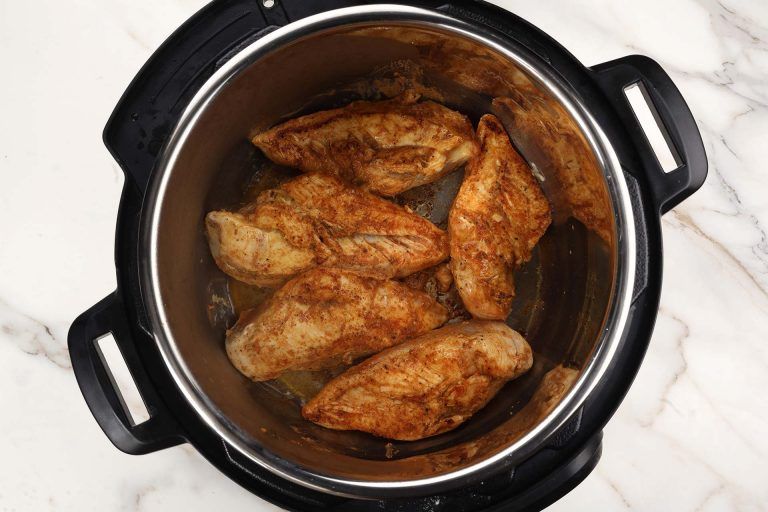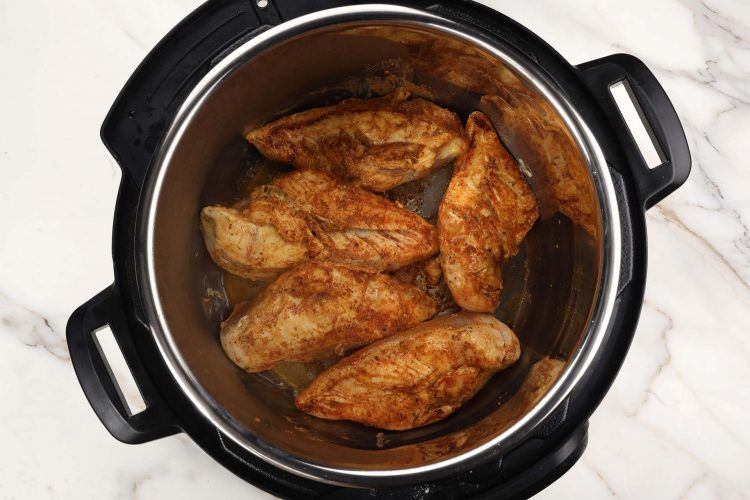 Sear the chicken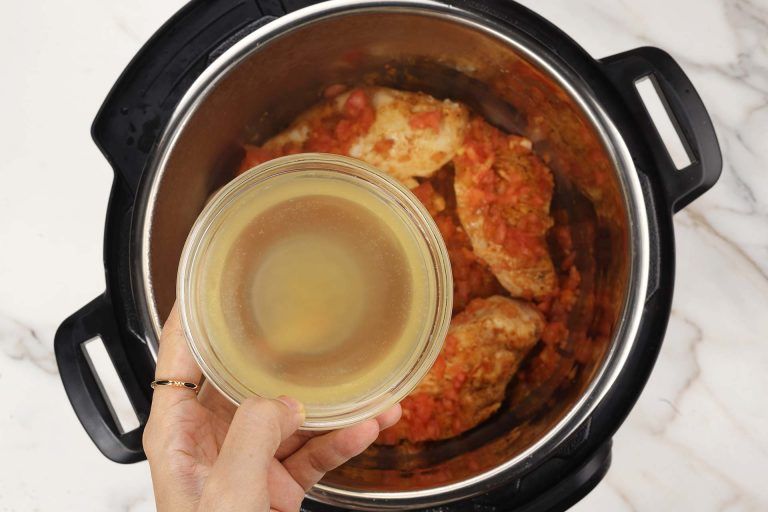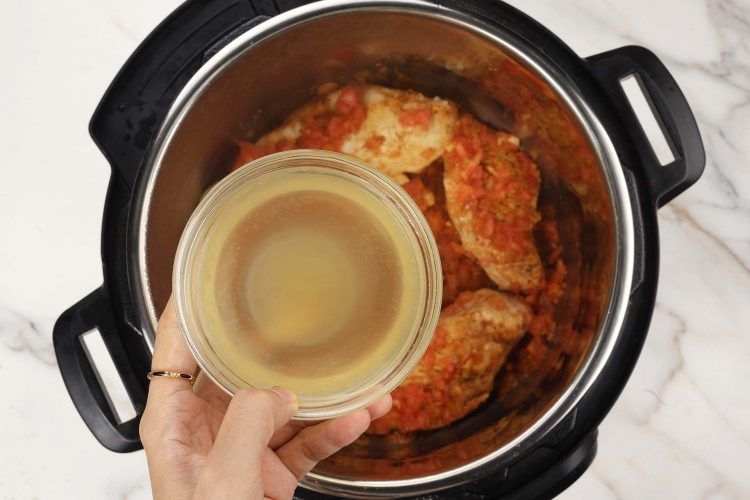 Add tomato and broth, pressure-cook (prep tortillas and toppings while waiting)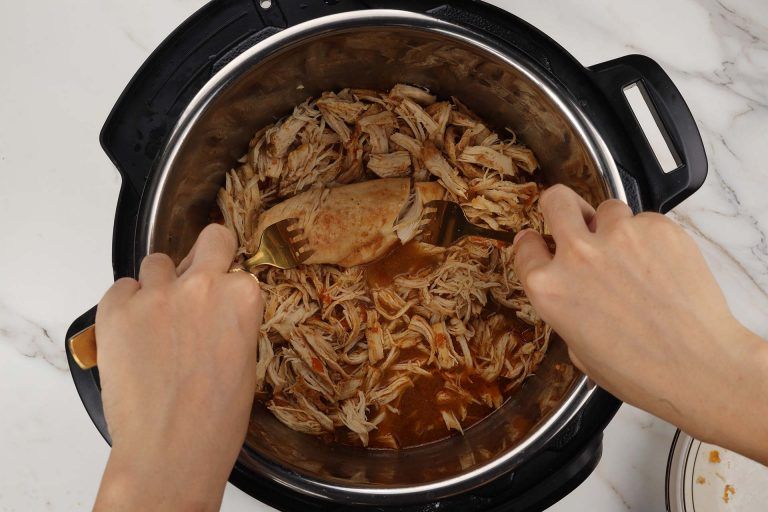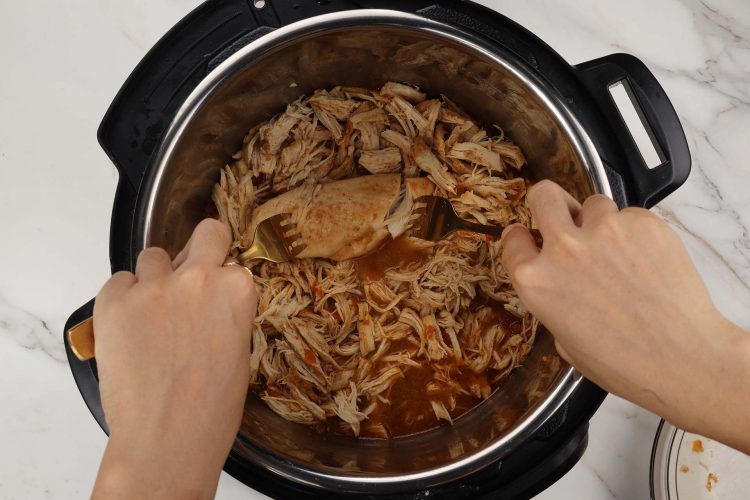 Shred the chicken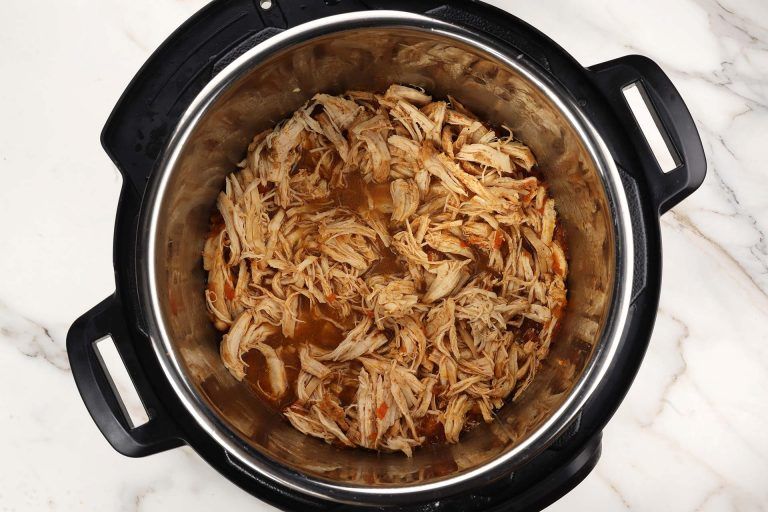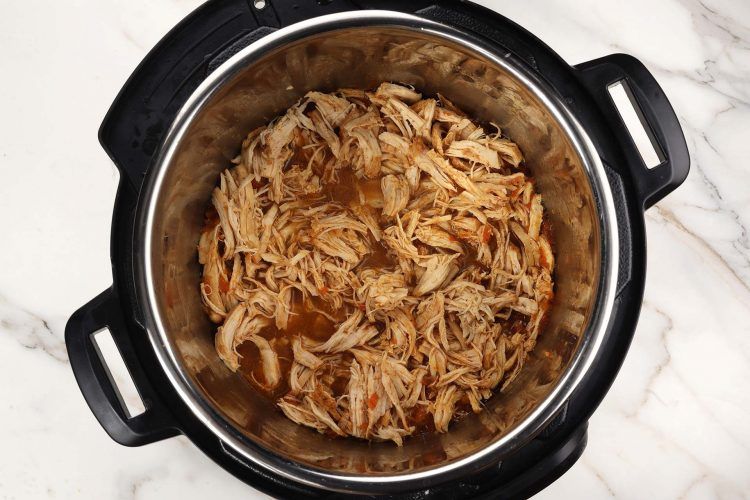 Reduce the broth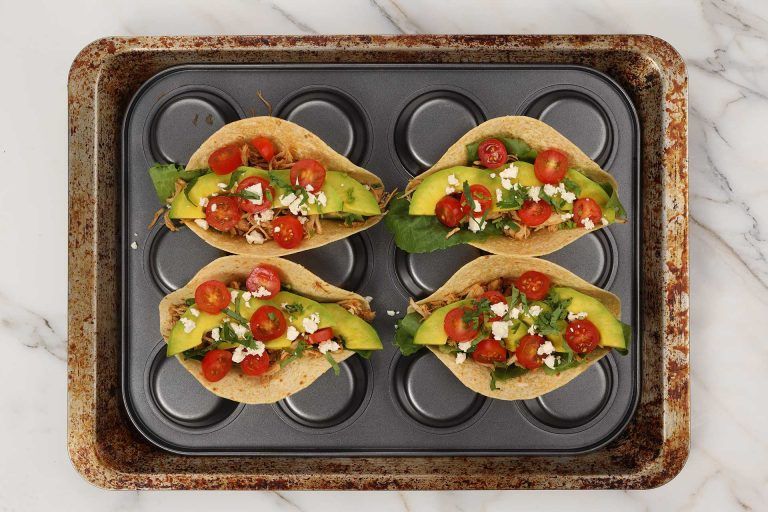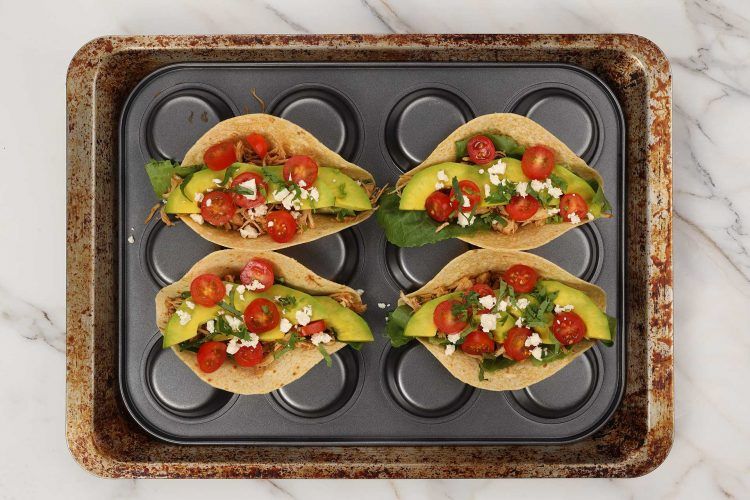 Assemble and serve
For the full ingredients list, refer to our Instant Pot shredded chicken recipe down below.
If you enjoy shredded meat, you'll probably love our Instant Pot Shredded Beef Recipe. It features tender shredded beef bathed in a savory, decadent broth that's succulent.
Can I Use Frozen Chicken for Shredded Chicken?
Yes you can. Any frozen meat will be cooked-through under the pressure of the Instant Pot.
To cook frozen chicken in the Instant Pot, rub it thoroughly with seasonings then sear it inside the pot. You need to give it a little bit more time as the oil temperature can be lowered.
After about 4 minutes of searing the first side, you need to check whether or not that side is golden. If not, give it some more time and give the other side the exact same cooking time.
As both sides are equally golden, proceed to add the broth and other ingredients to cook as we instructed.
How Long Does Instant Pot Shredded Chicken Last?
Cooked chicken lasts for 4-5 days in the fridge and up to 6 months in the freezer. To maximize its shelf life, make sure to place it in air-tight containers or sealable bags before storing.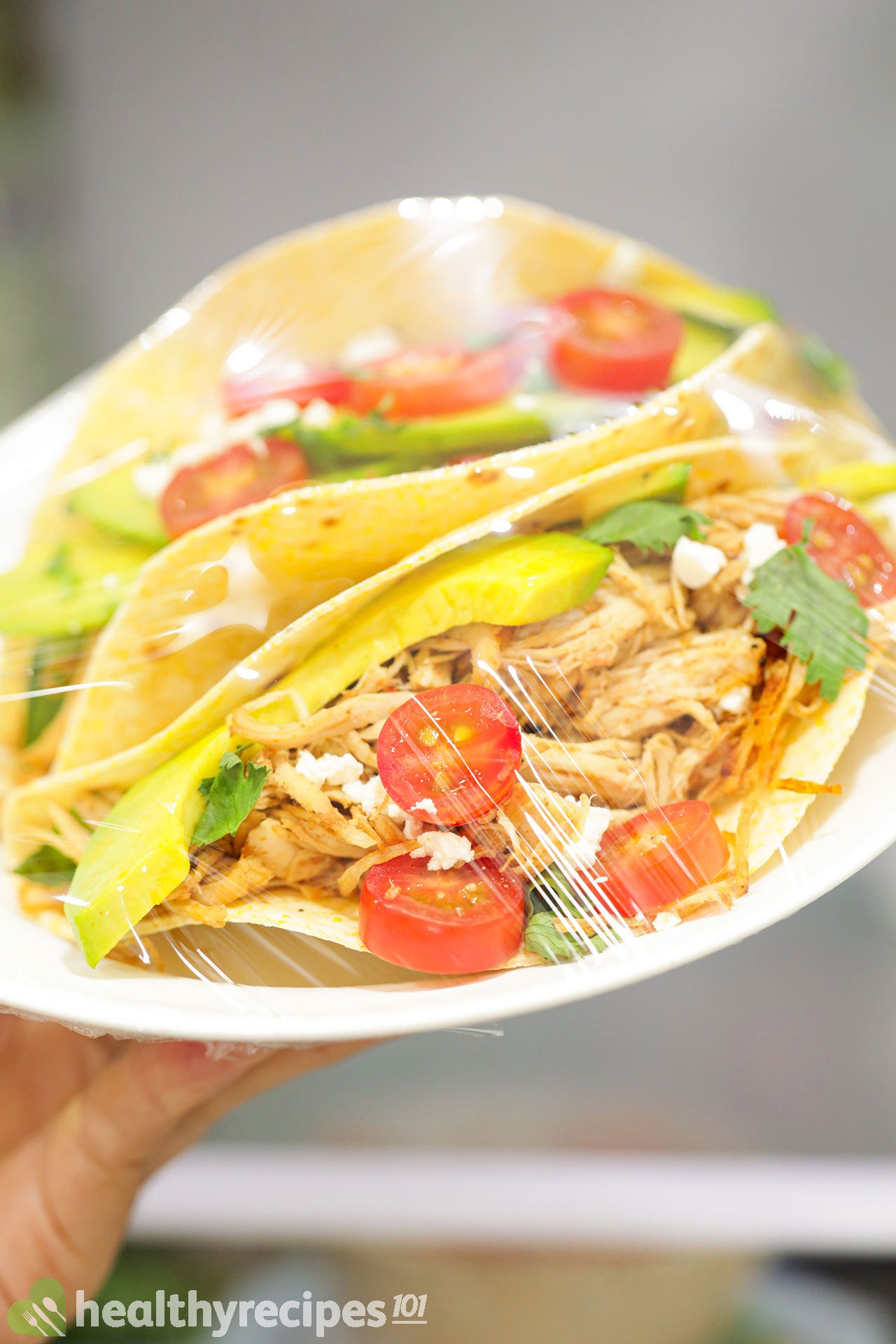 What to Make With Shredded Chicken
If you don't fancy chicken tacos, you can always make a delicious soup with this shredded chicken.
All you need is plenty of broth, red kidney beans, corn, shredded cabbage, chopped tomatoes, and tomato paste. Cook them along with the chicken breast, and after 10 minutes, you'll have a wholesome soup that goes well with warm bread or tortilla strips.
For a wider selection of instant pot dishes, don't miss out this collection on the instant pot dinner recipes that we've carefully sorted out for you!
What to Serve With Instant Pot Shredded Chicken
Since we're making chicken tacos, we couldn't help but choose pico de gallo, the salad that works with every taco. The fresh and tangy veggies just complete the crunchy tortillas with tender chicken and creamy avocado inside.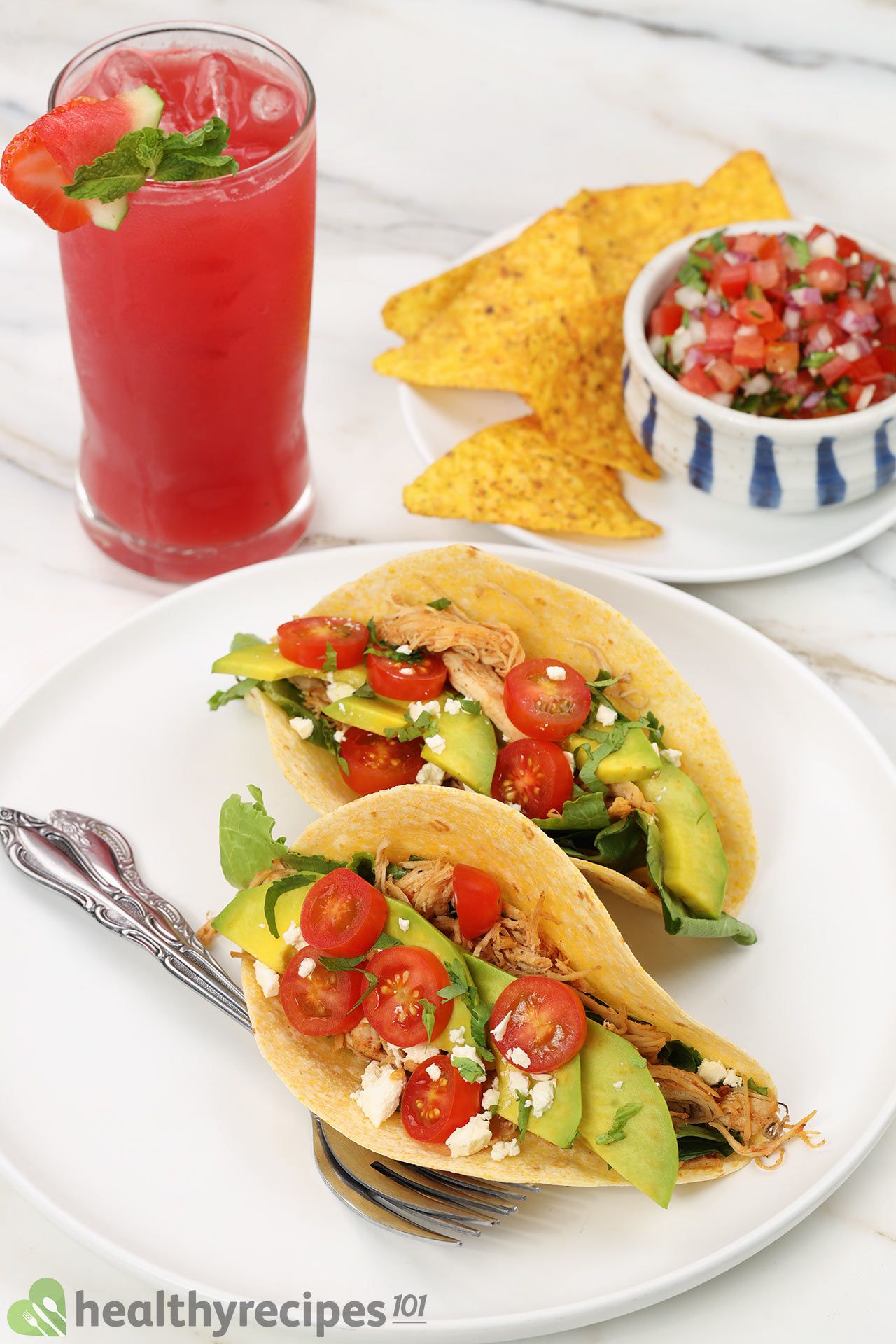 To round up the meal, we concocted one of our gorgeous drinks: watermelon strawberry juice. Its gentle sweetness really is just what the meal needs.
Nutritional values in this table vary somewhat to those below due to different app calculations. Read more...
If you're interested in other chicken recipes as healthy as this one, we've got some seriously delectable ones: collection of delicious chicken recipes and best amazing chicken thigh roundup.
But Wait, There's More!
There are so many ways to whip up delicious meals with tortilla and Instant Pot that it'd be a shame not to learn a few more. We have lots of ideas you may love: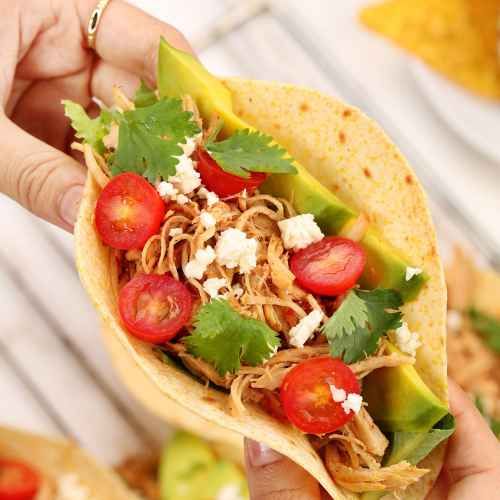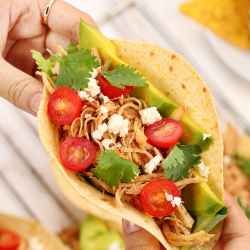 Instant Pot Shredded Chicken Recipe
Our Instant Pot shredded chicken is an easy way to get moist, flavorful chicken shreds every single time. Sit back while your Instant Pot does the magic!
Ingredients
24

oz

skinless boneless chicken breast

1/2

tsp

salt

1/4

tsp

ground black pepper

1

tsp

lime juice

1/4

tsp

cumin

1/4

tsp

chili powder

1/4

tsp

garlic powder

1/4

tsp

paprika

2

tbsp

olive oil

divided

1/2

cup

tomatoes

finely chopped

1/2

cup

unsalted chicken broth

2

oz

romaine

roughly chopped

4

oz

cherry tomatoes

halved

6

oz

avocado

sliced

2

tbsp

cilantro

roughly chopped

0.5

oz

feta cheese
Instructions
Place chicken breast in a large bowl. Add salt, pepper, lime juice, cumin, chili powder, garlic powder, paprika, mustard, and 1 tbsp olive oil. Rub the meat to season thoroughly.

Select the "Sauté" mode and add in the remaining oil. Wait for the oil to get hot, then add the chicken. Cook each side for 3 and a half minutes (7 in total).

Add chopped tomatoes and stir for about 1 minute. Add the broth, seal the lid, turn the steam handle to "sealed", select the "steam" mode, and set the timer to 10 minutes. Meanwhile, bake the tortillas in your oven at 375°F for 3 minutes. Cut the vegetables and crumble the feta if you haven't.

Place a cloth on top of the valve to prevent hot air from getting everywhere. Release the pressure by turning the steam handle to "venting". Shred the chicken using two forks.

Select the "Sauté" mode again and cook for about 15 minutes or until all of the liquid evaporates. Stir continually to avoid food getting stuck to the bottom.

Assemble the tortillas and serve. Use more vegetables than the called-for amounts, if desired.
Nutrition
Nutrition Facts
Instant Pot Shredded Chicken Recipe
Amount Per Serving (1 serving)
Calories 484
Calories from Fat 189
% Daily Value*
Fat 21g32%
Cholesterol 125mg42%
Sodium 502mg22%
Potassium 950mg27%
Carbohydrates 33g11%
Protein 43g86%
Vitamin A 1710IU34%
Vitamin C 14mg17%
Calcium 46mg5%
Iron 2mg11%
* Percent Daily Values are based on a 2000 calorie diet.