Boost your vision and cardiovascular health using this carrot apple ginger juice recipe that makes a reviving, low-calorie beverage. With only 4 ingredients, you can work towards a nutrient-rich, nourishing diet.
Did we mention that it contains no refined sugars? Just like our simple apple juice, we didn't add any sugar to this drink. It's a pure, crisp beverage enriched with natural flavors of carrot, apple, and ginger.
Read on to find out more about its health benefits, whether ginger is really a herb, and how to juice your own beverage.
Is Ginger an Herb?
Ginger's properties are many and indefinite, sometimes being grouped as a spice or vegetable.
Herbs are liberally referred to as plants for medicinal or flavoring purposes. But Botanists define them as plants without a woody stem, that bear seeds and die after flowering.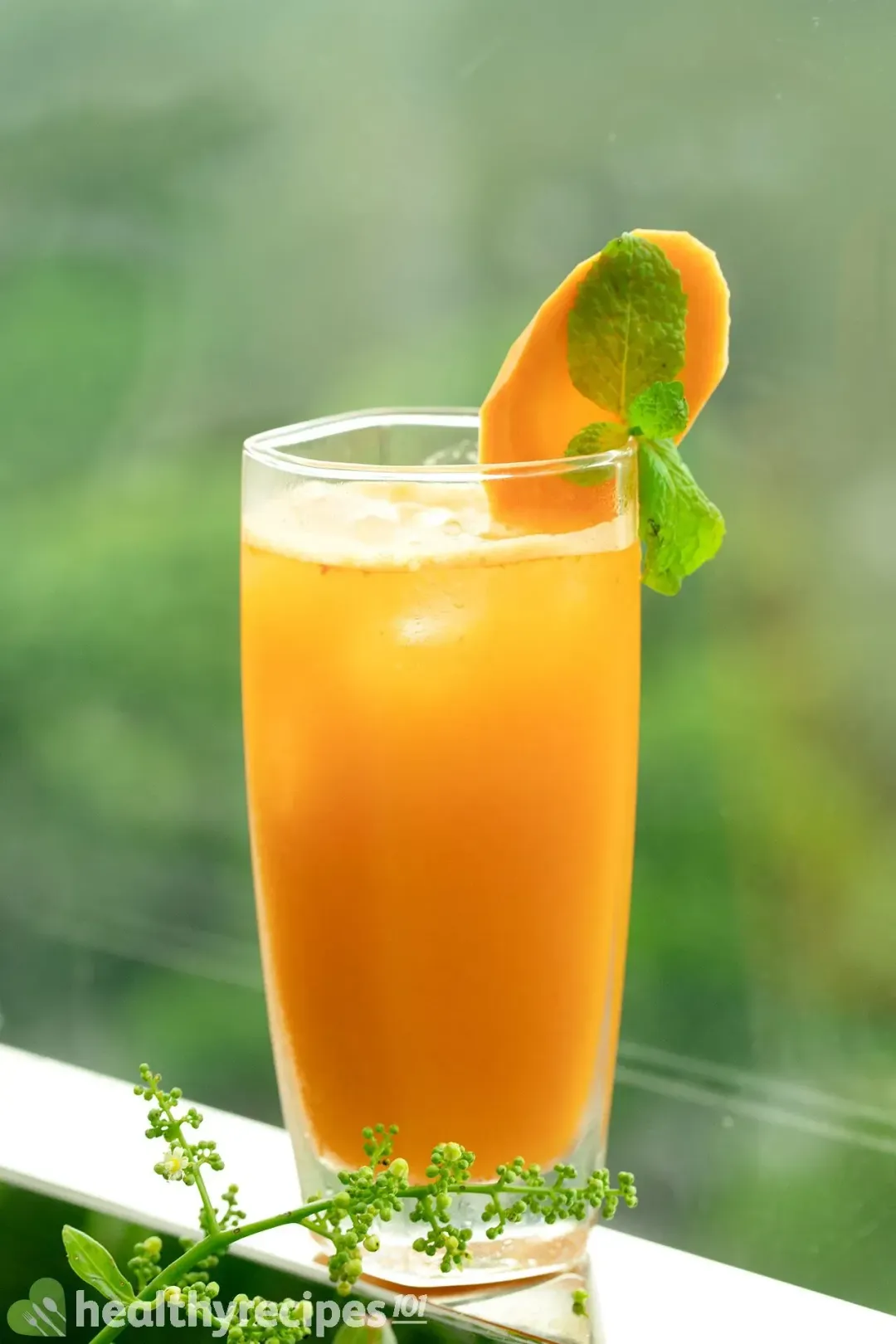 Ginger has the edible portion, the underground stem (rhizome), which sprouts and shoots to produce a new plant. And though "herb" derives from the Latin word "herba" meaning a green plant, ginger's fragrance, flavor, and digestion-aiding features earn its herbaceous essence.
Check out our ginger juice round-up to know more about ginger. For more delicious juice recipes, check out our best healthy juice recipes.
Healthy Benefits
This carrot apple ginger juice recipe is as good as it gets, wholly celebrating natural ingredients with zero added sugar. Each component gives health benefits that include protecting the eyes, heart, and body weight.
1. For Eye Health
Carrots and their by-products are known for eye-fortifying health. Carrot juice seeps nutrition in the form of body-boosting vitamin C and sodium-regulating potassium.
But it's most known for vitamin A that improves eye health. Increasing consumption of vitamin A-rich foods has been linked to a lower risk of eye cataracts and blindness.
Carrot juice, however, is multi-faceted as it also provides heart-promoting benefits along with apple juice, a component of this recipe.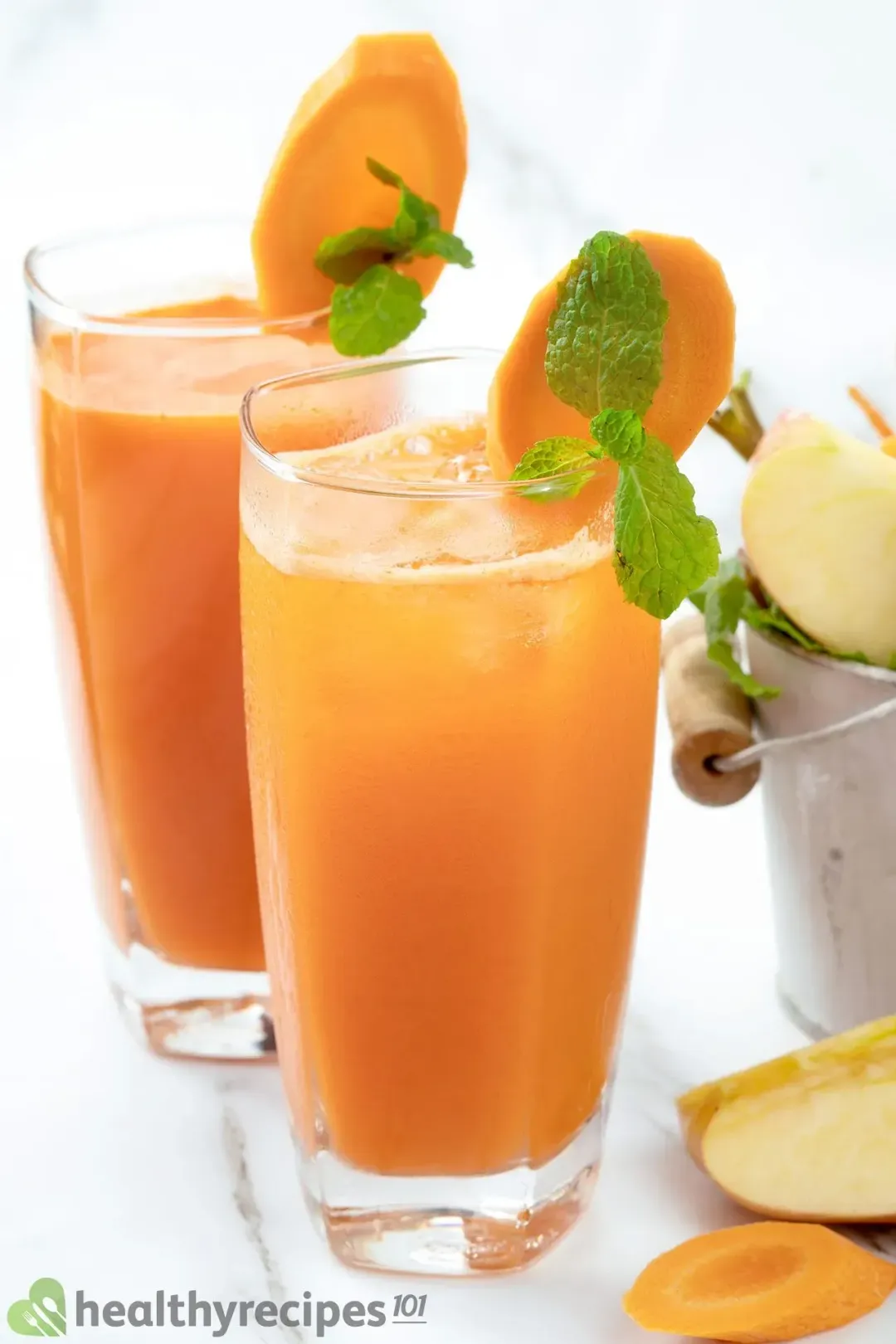 2. For Heart Health
Apple juice is dense with polyphenols that provide antioxidant benefits thought to improve digestion and diabetes, among other conditions. Their key benefit is heart health.
They may lower the risk of heart diseases by preventing cholesterol build-up in your arteries. In one study, drinking apple juice caused bad cholesterol to grow more resistant to oxidation.
More studies are needed to back this presumption. But it may be beneficial to drink apple juice to boost antioxidant activity.
How Long Does This Juice Last?
Carrot apple ginger juice can last from 48 hours to 3 days in the refrigerator. Unlike store-bought juices, this homemade beverage contains no preservatives meaning it has a significantly shorter shelf life.
That's not entirely bad news, as it signifies a cleaner beverage you can enjoy more frequently due to no additives. When storing, keep it in an airtight container that limits air exposure.
Also, avoid keeping it at room temperature for more than 2 hours. The less light, heat, and air your drink encounters, the fresher it'll taste, and the longer it can last.
As an added bonus, you can also store it long-term— up to 3 months in the freezer. If you plan on freezing it, use an airtight, freezer-safe jar for the juice, leaving about an inch of space to allow for expansion.
Ziploc bags are also an excellent means for short and long term storage. They're airtight and will likely occupy less space (but be mindful that they are single use plastics).
When ready to use, leave the drink to that in the refrigerator or at room temperature. Once defrosted, taste the drink to make sure it still holds flavor and is all good before serving.
Calories
Our carrot apple ginger juice contains 83 calories per (6oz) serving, slightly less than a typical beverage with similar ingredients. Though it may have equal calories to a similar serving amount of soda, it provides significantly more nutrients per calorie.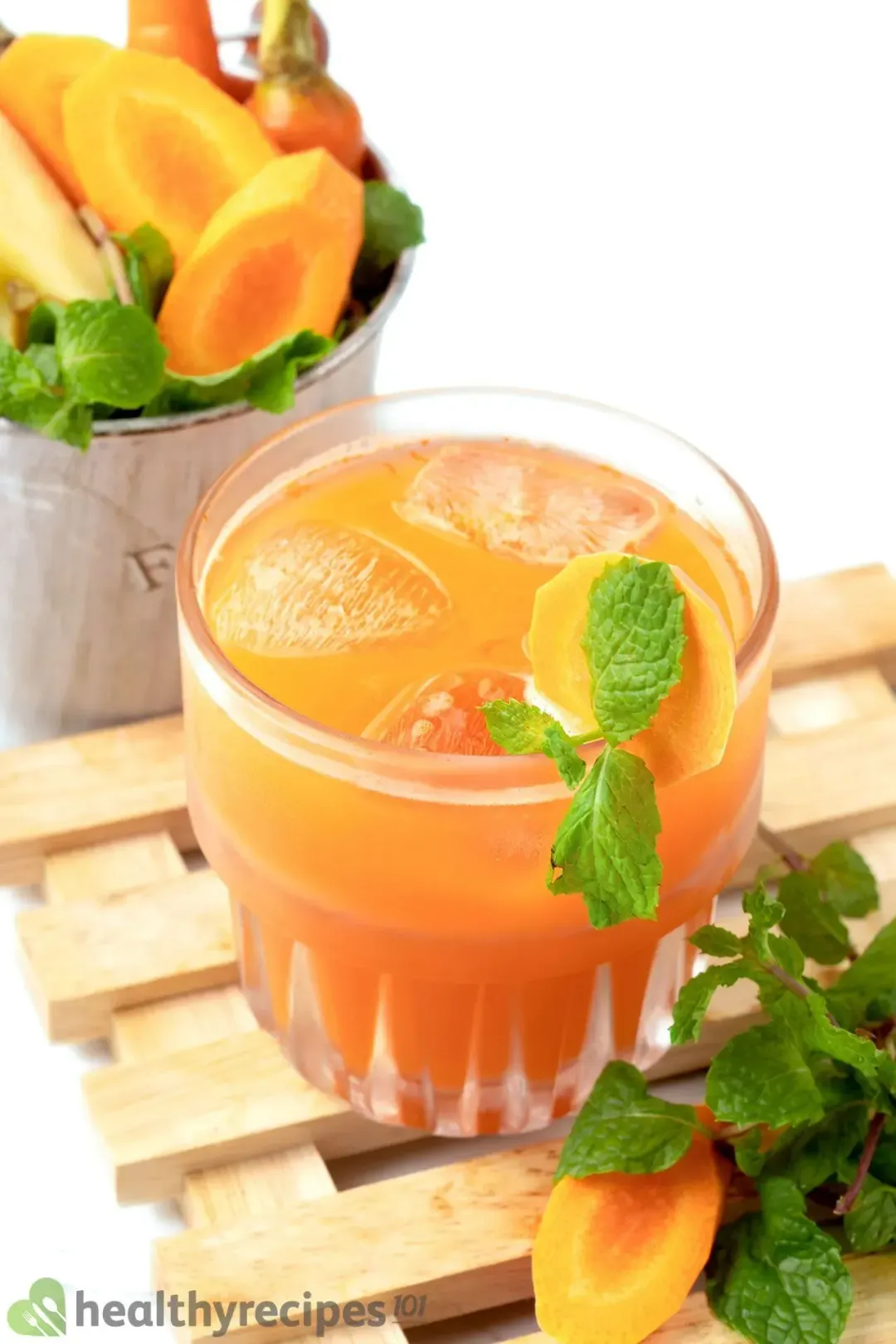 So, you're better off swapping milkshakes and empty-calorie beverages for this quick and healthy drink.
Still, don't feel restricted. If you want to add sugar, one to two teaspoons per serving is safe enough to stay within healthy guidelines.
We don't see sugar as the enemy. But, less sugar amounts to fewer calories, making this drink an excellent option for adding into a healthy routine. To try out other juices, check out our recipes for apple juice or carrot juice roundup that explore more options.
Carrot Apple Ginger Juice
Our carrot apple ginger juice is a delicious drink that uses fresh elements to create a salubrious beverage with warming ginger flavors for the cooler weather. Serve it with or without ice for a refreshing experience.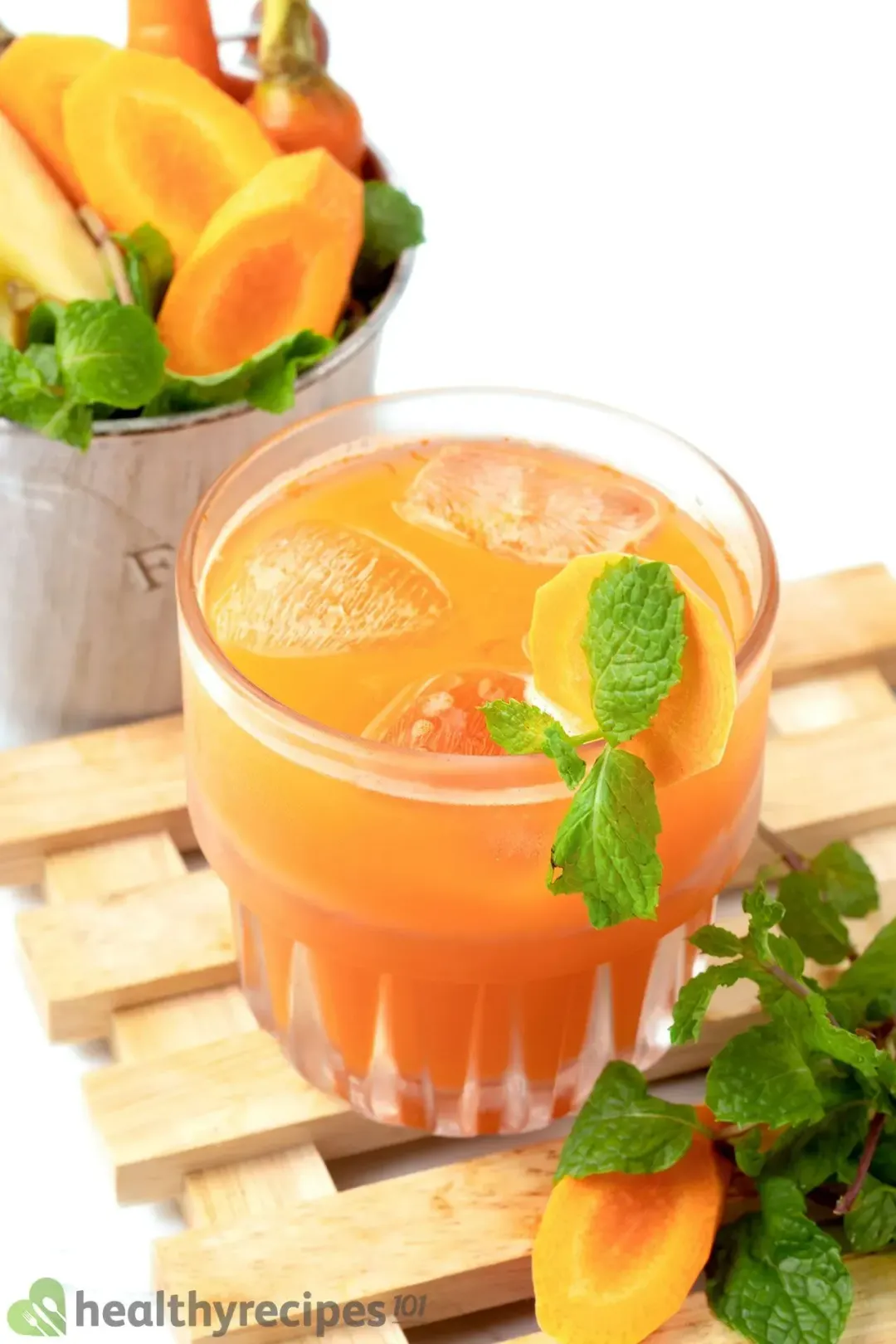 prep TIME

8 mins

total TIME

8 mins
COURSE

Beverage

CUISINE

American

SERVINGS

CALORIES

83 kcal
INGREDIENTS
8 fl oz

carrot juice

(from 18 oz carrots)

16 fl oz

apple juice

(from 20 oz fresh gala apples)

2 tbsp

ginger juice

(about 1/2 oz ginger or a 1-inch knob)

3 tbsp

peppermint leaves

(fresh, for garnish)
INSTRUCTIONS
1
Mix 8 fl oz carrot juice, 16 fl oz apple juice, and 2 tbsp ginger juice in a large pitcher.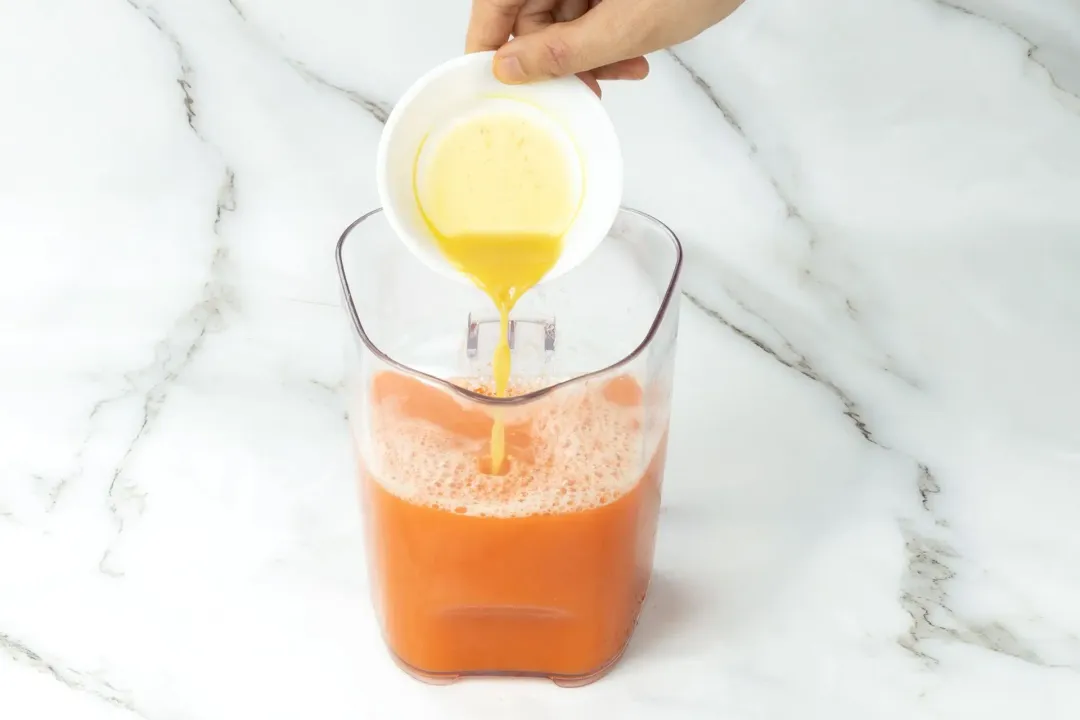 2
Stir until well combined.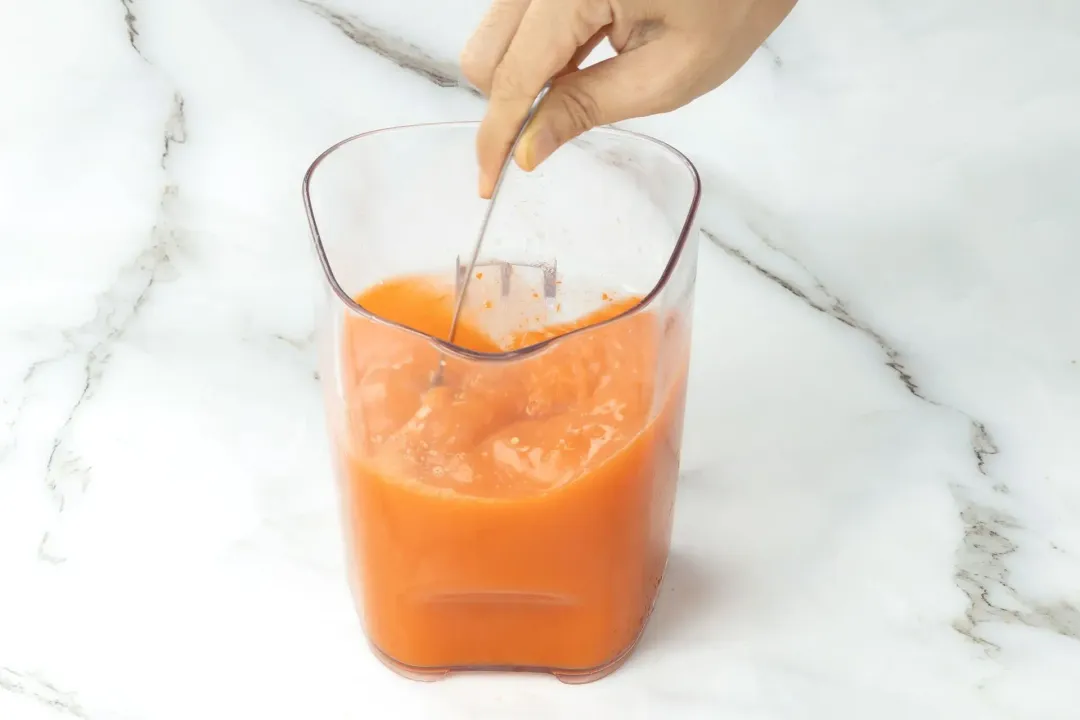 3
Pour into 4 glasses over ice. Garnish with mint leaves and serve with ice.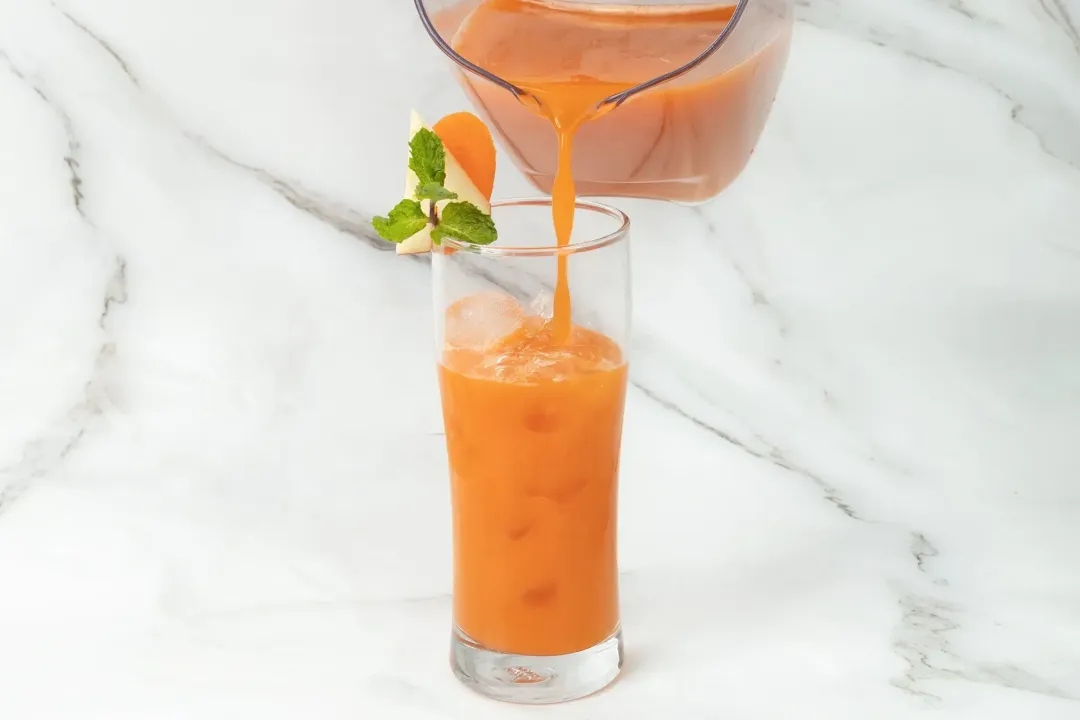 NUTRITION
Nutrition Facts
Carrot Apple Ginger Juice
Amount Per Serving (1 serving)
Calories 83
% Daily Value*
* Percent Daily Values are based on a 2000 calorie diet.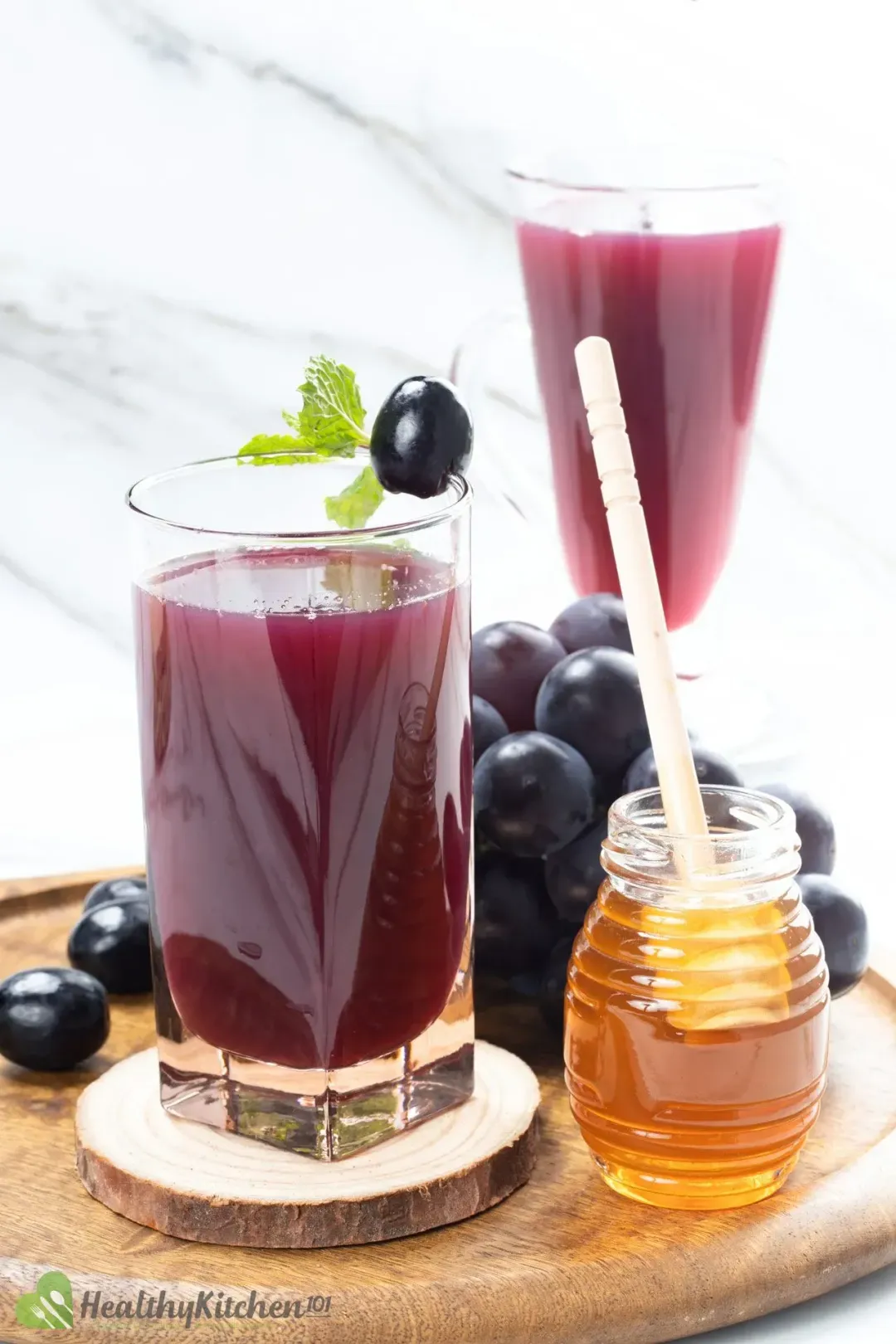 Previous Recipe
Apple Cider Vinegar and Grape Juice
Apple Cider Vinegar and Grape Juice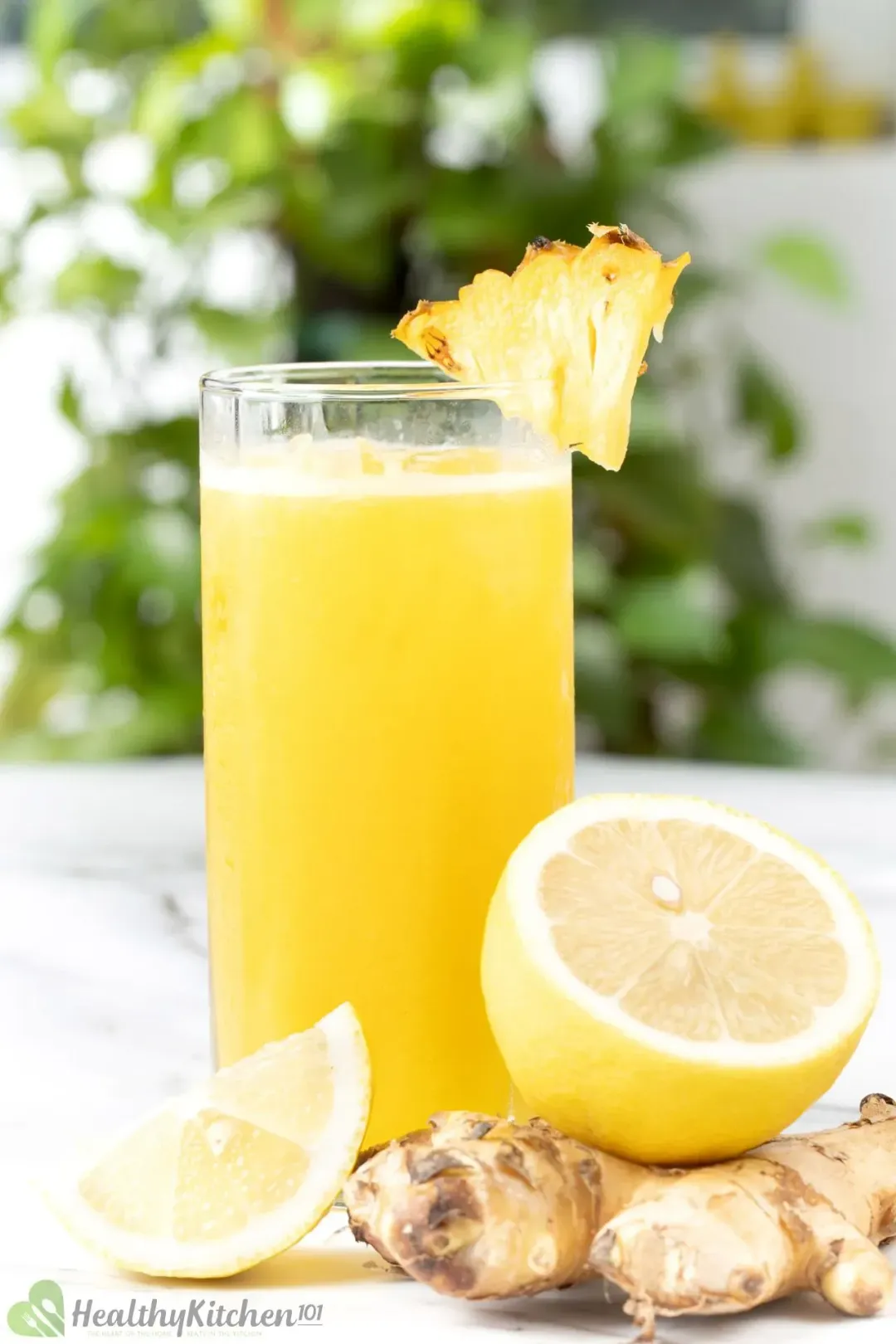 Next Recipe
Pineapple Mango Juice
Pineapple Mango Juice
Such a pretty, fun smoothie and I love the ginger in it.