Ingredients in a vodka and orange juice recipe (Screwdriver) are surprisingly simple— vodka and orange juice (and sugar). It's quick, foolproof, and you can experiment and try its other varieties if you have the time.
What Is Vodka and Orange Juice Called?
If you are at a bar, chances are you will see the name "screwdriver" or "screwdriver cocktail" on the menu. It's an alternative name for the vodka and orange juice cocktail we're making today.
But don't worry, no screwdrivers are involved in the making of your drink!
What Is a Screwdriver Drink?
Legend says that the name came about decades ago. Oil workers in the Persian Gulf needed to have some fun, but apparently, outside working hours wasn't enough.
They ended up sneaking vodka into their orange juice when no one was looking.
If you think that name is odd, wait till you hear about the drink to "die dreaming," a Latin-American mix.
With no spoon lying around, they stirred their drinks with what they had on hand— a screwdriver. Poof! The screwdriver cocktail was born.
Is Vodka and Orange Juice Good for You?
Most alcoholic drinks are not considered to be within a healthy diet when consumed in excess.
However, it has been a part of our lives, even a habit to some. Crossing it out of our daily life to pursue a healthy diet, although possible, would not be at all easy.
We try to make cocktails recipes with a moderate amount of added alcohol. They may not be the healthiest drinks, but at least they don't contain as much alcohol as those at your typical bar.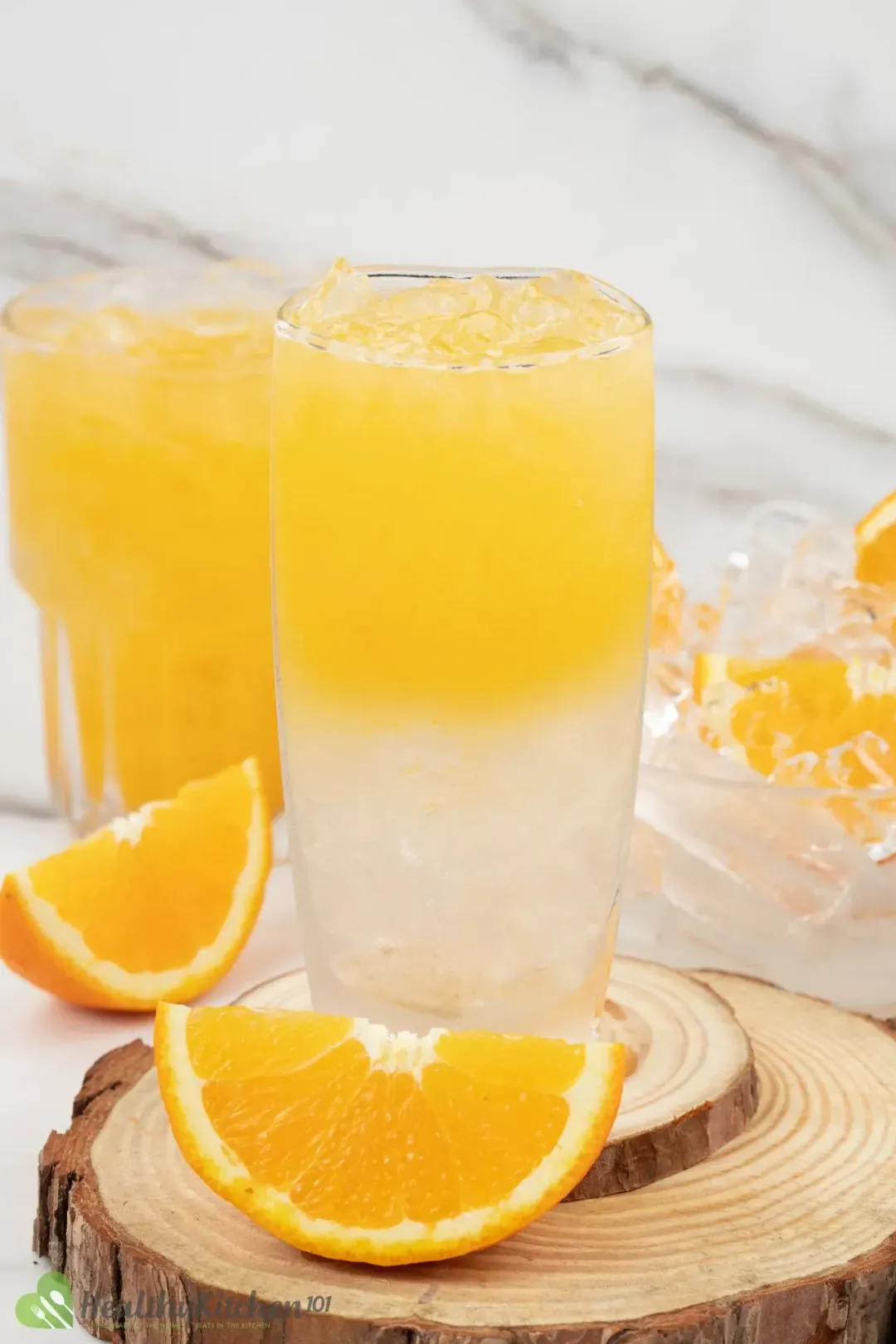 If you prefer a non-alcoholic drink to boost your daily vitamin C intake, check out one of our best antioxidant drinks using pomegranate or this very refreshing and cooling fruit juice with pineapple.
1. How Much Vodka per Day Is Safe?
Alcohol in general is considered "empty calories", meaning it gives lots of calories, but they don't satisfy your hunger. It's something to enjoy a little of, not something to indulge in or to fill your empty stomach with.
For your healthy consumption of alcohol, we made our cocktails adhere to the USDA's guidelines. According to the USDA's guidelines, men should not exceed two drinks per day and women can have up to one.
Also, one drink, per USDA standards, includes 1.5 oz of 80-proof spirits.
2. How Many Calories Are in This Cocktail?
Our vodka and orange juice recipe yields 178 calories per serving. To many people's surprise, the calories mainly come from the vodka.
One gram of alcohol gives seven calories, and 1.5 fluid ounces of 80 proof vodka yields 98 calories. It takes up about half of the calories in this drink.
How to Make a Screwdriver
Despite the backstory, you don't need a screwdriver to stir vodka into your drink. A cocktail shaker is more professional and makes a better drink.
You can also find ways to juice oranges in our article on the best orange juice recipes.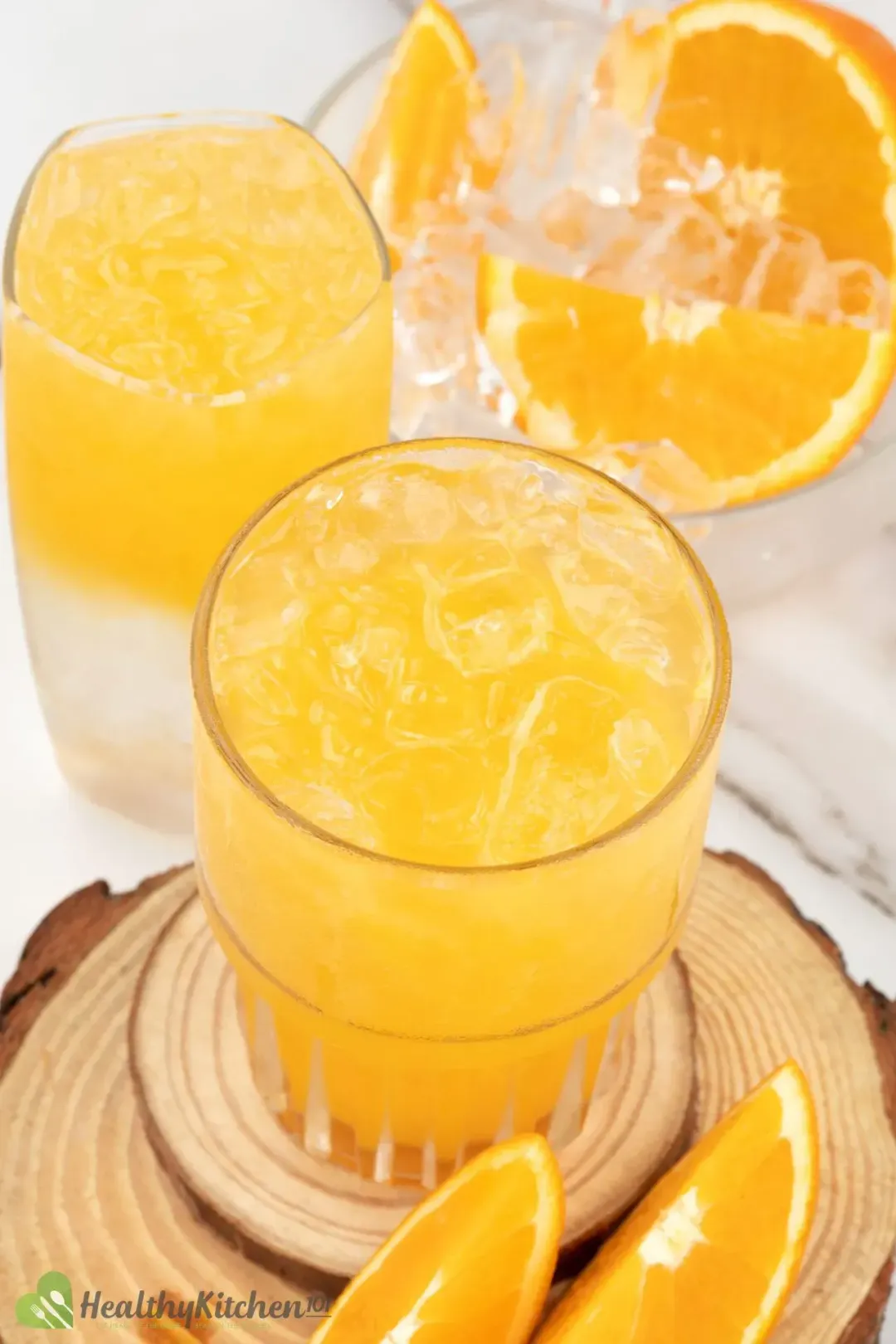 First, pour the vodka, orange juice, and sugar into your shaker. Then load the shaker halfway through with ice, close the lid, and start shaking vigorously for 5 minutes.
After that, fill your serving glass with clean ice and strain the cocktail in.
If you don't have a shaker, first stir the sugar with the orange juice in a large pitcher until dissolved. Add vodka, stir to incorporate, and divide the cocktail into serving glasses topped with ice.
Tips for Making Vodka and Orange Juice Cocktail
1. Using a Cocktail Shaker
Besides making you look more professional, using a cocktail shaker helps to cool down the liquid much faster. There's no need to wait or stir the drink to get it to cool as you would otherwise.
First, add the liquids to your shaker, one serving at a time. Then load the shaker halfway with crushed ice (the best kind) or any other kinds you have.
Grab a serving glass and top it with fresh ice. Strain the liquid in (save the ice for the next serving) and make another one.
2. Peel Orange Then Squeeze
Orange peel is great for decorations. Plus, it adds a distinct aroma to your cocktail.
To get as many possibilities for peel shapes as possible, it is best to peel them as whole fruits. They are also easier to hold.
If you find this section obvious, consider it a reminder instead of a tip. Once you slice the orange in half, there is no turning back.
What Goes Well with Vodka besides Orange Juice
There is a book named "Vodka: How a colorless, odorless, flavorless spirit conquered America" by Victorino Matus, and it's true. Vodka is so versatile that it can go with a lot of different drinks.
Here are some more ideas for other cocktail recipes with the main ingredients being vodka and juice only. These can help out with a fun Friday night.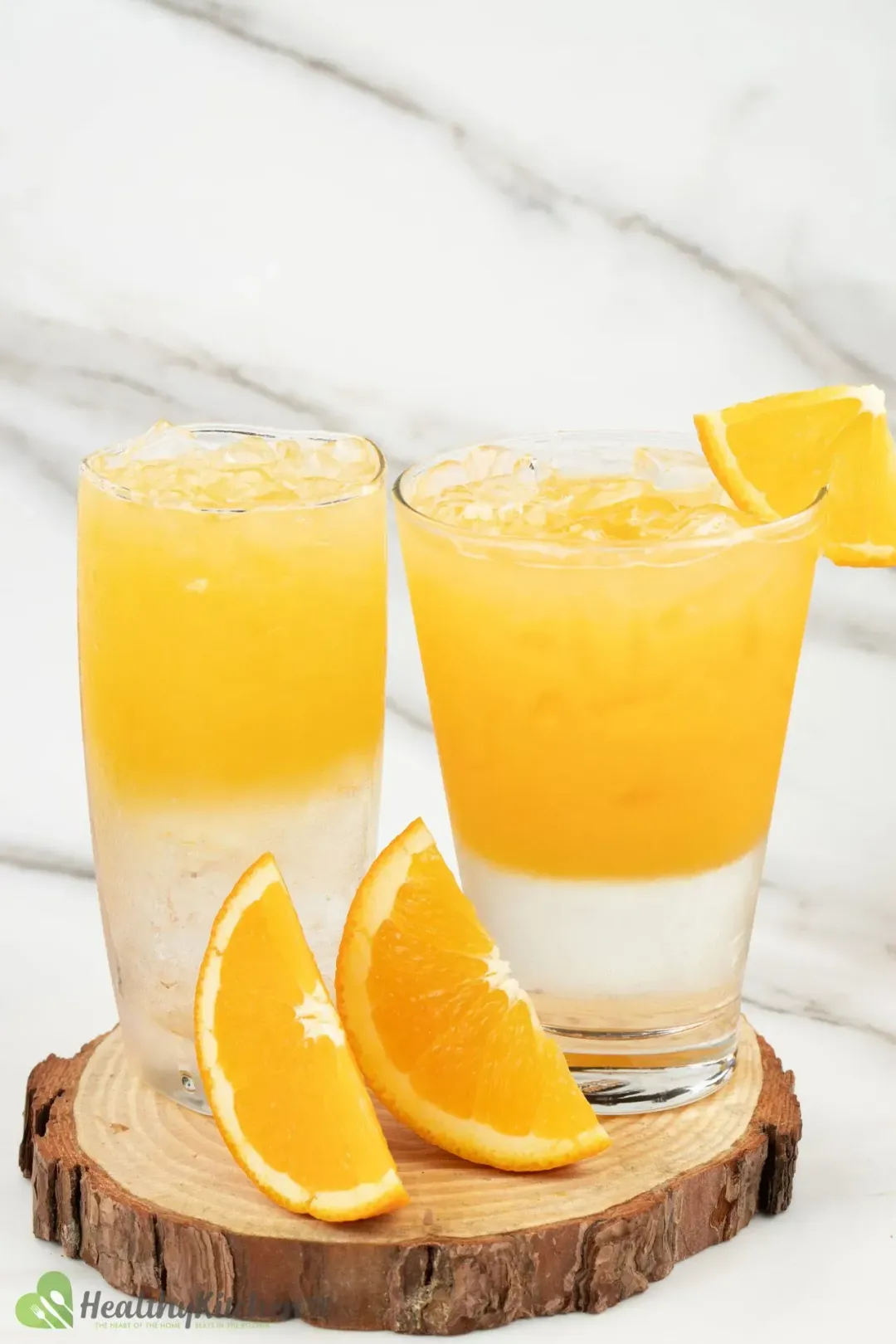 1. Appletini
If an apple a day keeps the doctor away, you may want to consider a tipsier alternative.
To make an appletini, mix 1 part vodka to 1 part apple juice. Add lemon juice and maple syrup to taste.
2. Bloody Mary
Putting the horror backstory and the unique taste aside, a "bloody mary" is rich in vitamin C, an antioxidant.
As expected, a bloody mary comprises 1 part vodka, 5 parts tomato juice, lime juice, and Worcestershire sauce to taste.
3. Caipiroska
This lime-vodka cocktail is straightforward. Crush one lime and two teaspoons of sugar with a spoon in a glass, then add 50 ml vodka.
We also have another suggestion using rum or this non-alcoholic cocktail to give you delicious drinks using orange juice.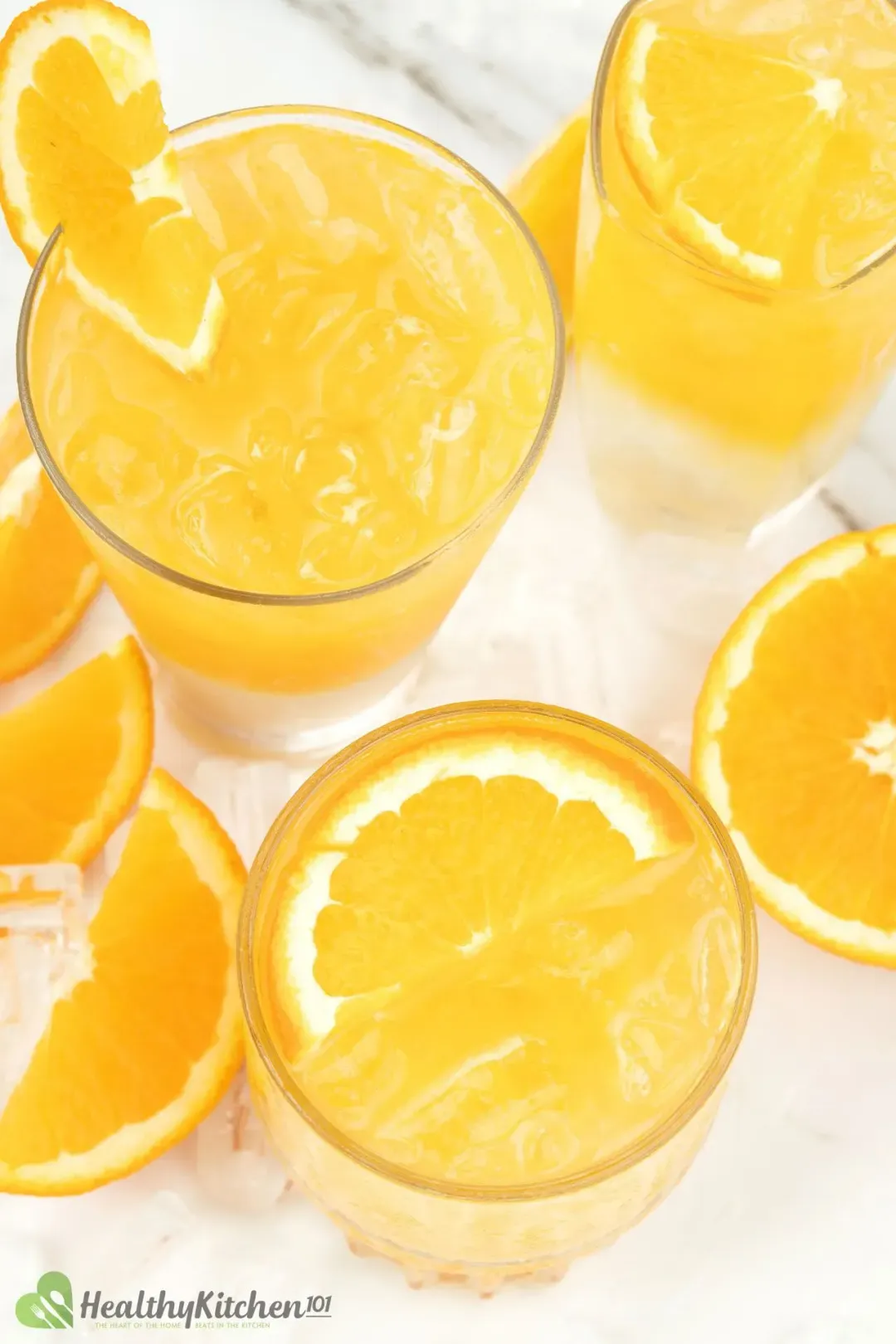 Vodka and Orange Juice Recipe (Screwdriver)
This vodka and orange juice cocktail is foolproof and can't-be-simpler. You can juice your own oranges if you have time or get store-bought juice.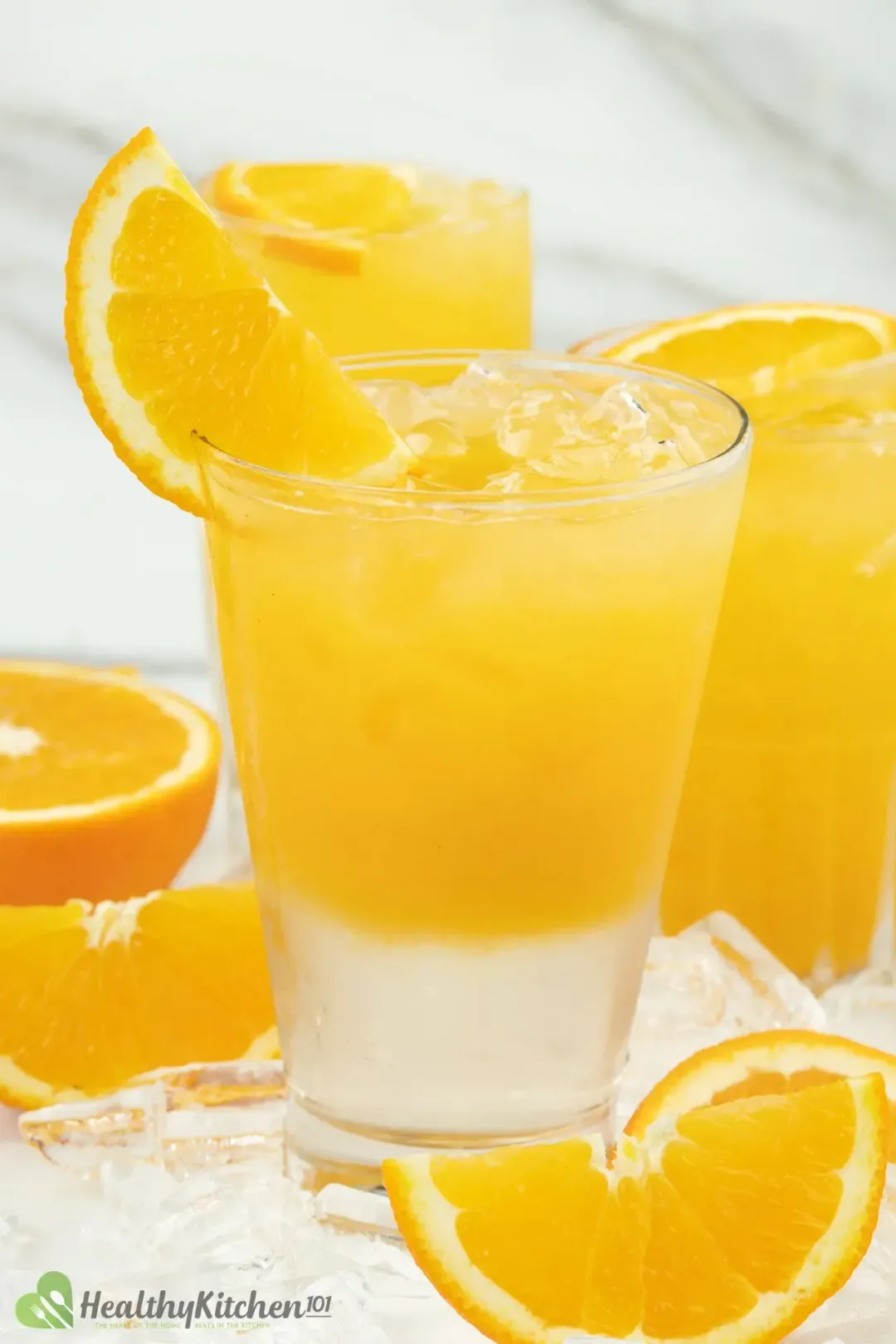 prep TIME

5 mins

total TIME

5 mins
COURSE

Beverages

CUISINE

American

SERVINGS

CALORIES

178 kcal
INSTRUCTIONS
1
In a shaker, pour in all your ingredients and some ice, and shake. Or stir the liquid ingredients and sugar in a pitcher to combine.
2
Top serving glasses with ice. Pour the cocktail in and serve.
NUTRITION
Nutrition Facts
Vodka and Orange Juice Recipe (Screwdriver)
Amount Per Serving (1 serving)
Calories 178
Calories from Fat 2
% Daily Value*
* Percent Daily Values are based on a 2000 calorie diet.
Keywords: homemade Vodka and Orange Juice Recipe, How to make Vodka and Orange Juice Recipe, Vodka and Orange Juice Recipe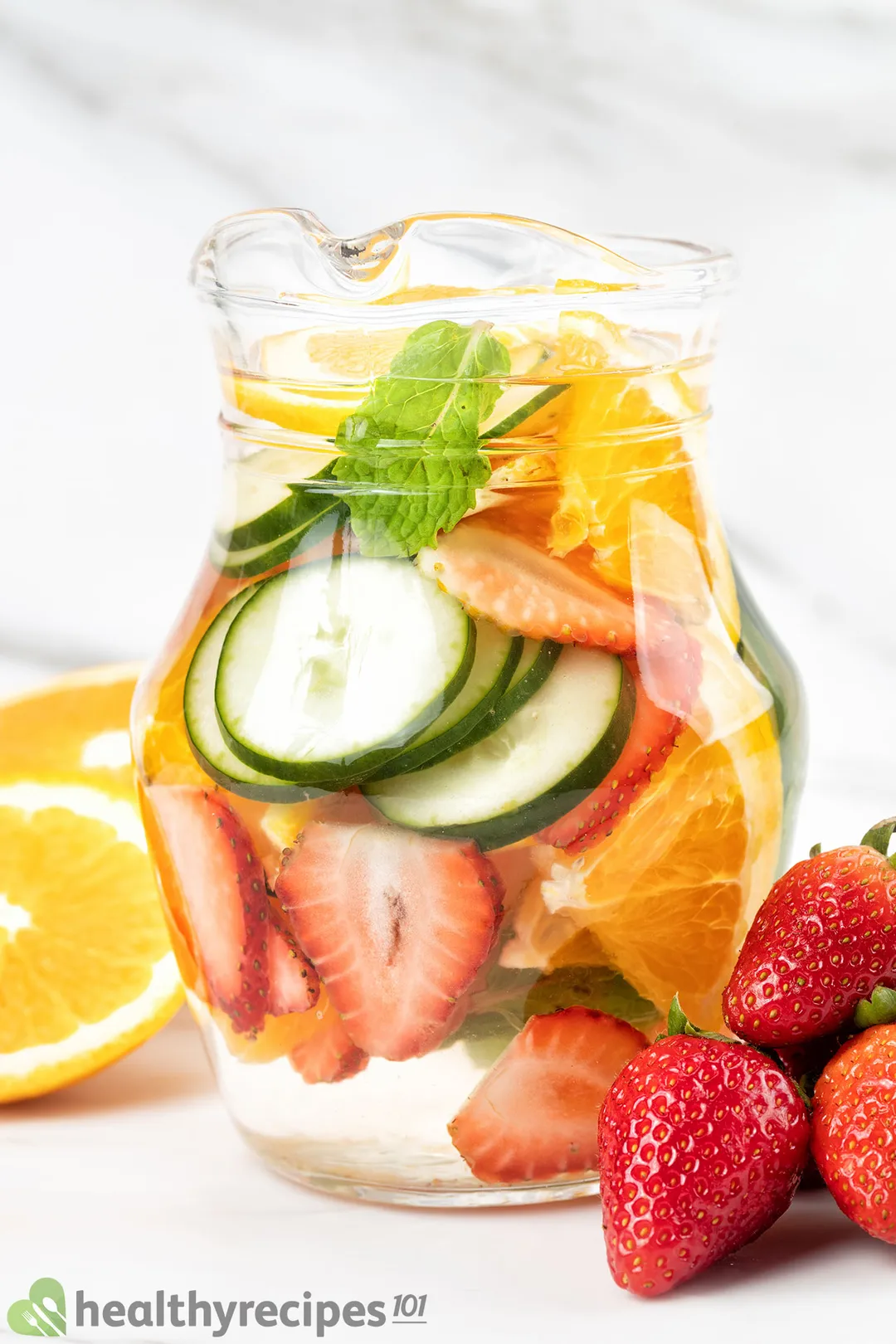 Previous Recipe
Cucumber Water
Cucumber Water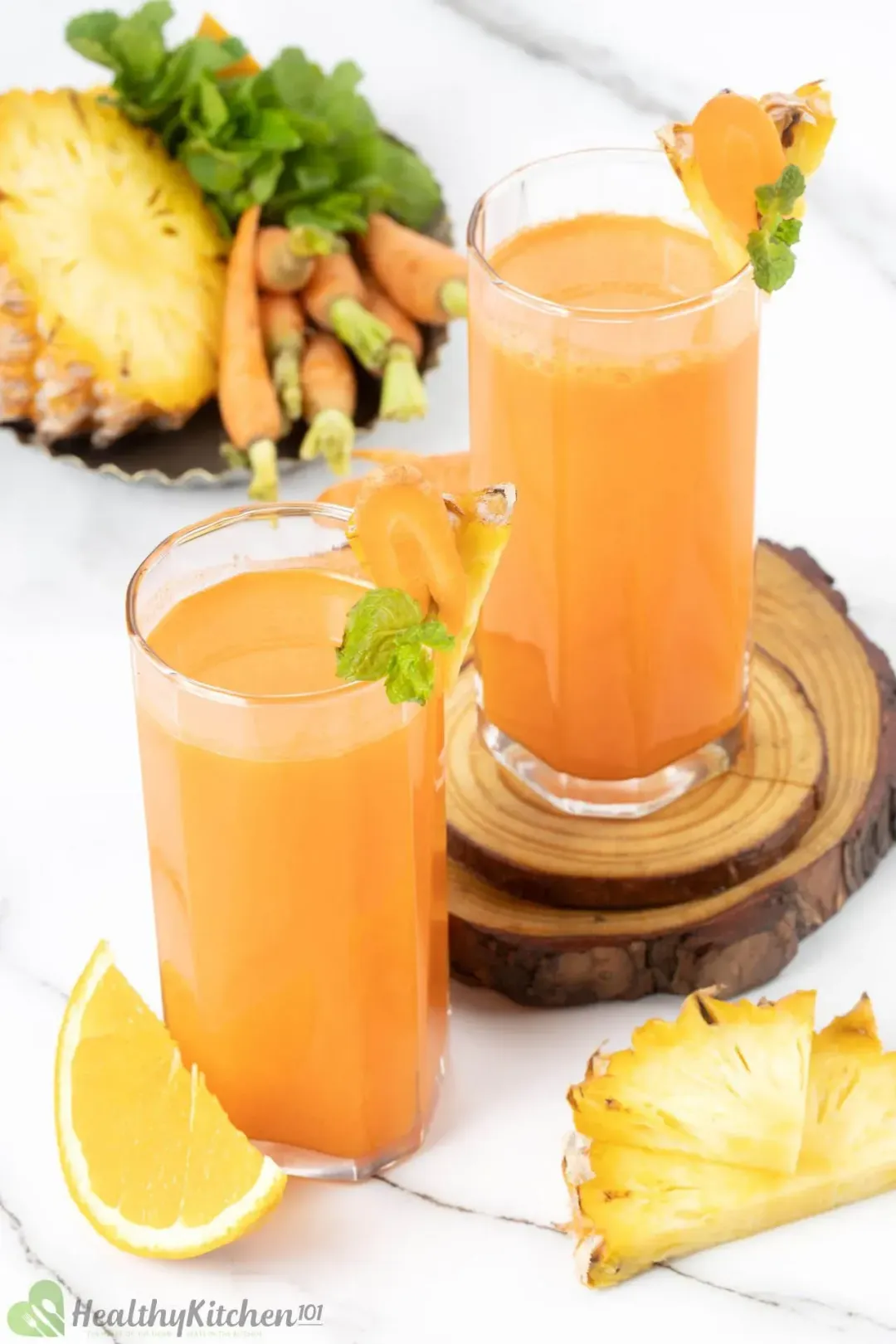 Next Recipe
Carrot Orange Pineapple Juice
Carrot Orange Pineapple Juice
Head Chef, Culinary Consultant
Tuyet Pham is an award-winning Saigonese chef who believes that joy is the secret ingredient to delicious food. At Healthy Recipes 101, Tuyet personally tests and simplifies every recipe, ensuring maximum flavor with minimal effort. With a background at prestigious French restaurants P'TI Saigon and Le Corto, Tuyet knows how to make every dish exceptional.
Writer, Author
Luna Regina is an accomplished writer and author who dedicates her career to empowering home cooks and making cooking effortless for everyone. She is the founder of HealthyKitchen101.com and HealthyRecipes101.com, where she works with her team to develop easy, nutritious recipes and help aspiring cooks choose the right kitchen appliances.
Nutrition Reviewer
Lizzie Streit is a Minneapolis-based dietitian and founder of It's a Veg World After All. She completed her MS in Human Nutrition from Drexel University, and is an expert in culinary nutrition, recipe development, and nutrition communications. Lizzie's philosophy is centered around making nutrition recommendations, and especially the advice to eat more vegetables, approachable and realistic. She is excited to be working with the team at Healthy Recipes 101 to ensure that their recipes are both nutritious and delicious.
This cocktail tastes amazing! Thanks for the recipe!