This pina colada recipe will show you how to make this quintessential summer drink at home using very few ingredients.
Before we get into the recipe, let's take a closer look at the drink itself.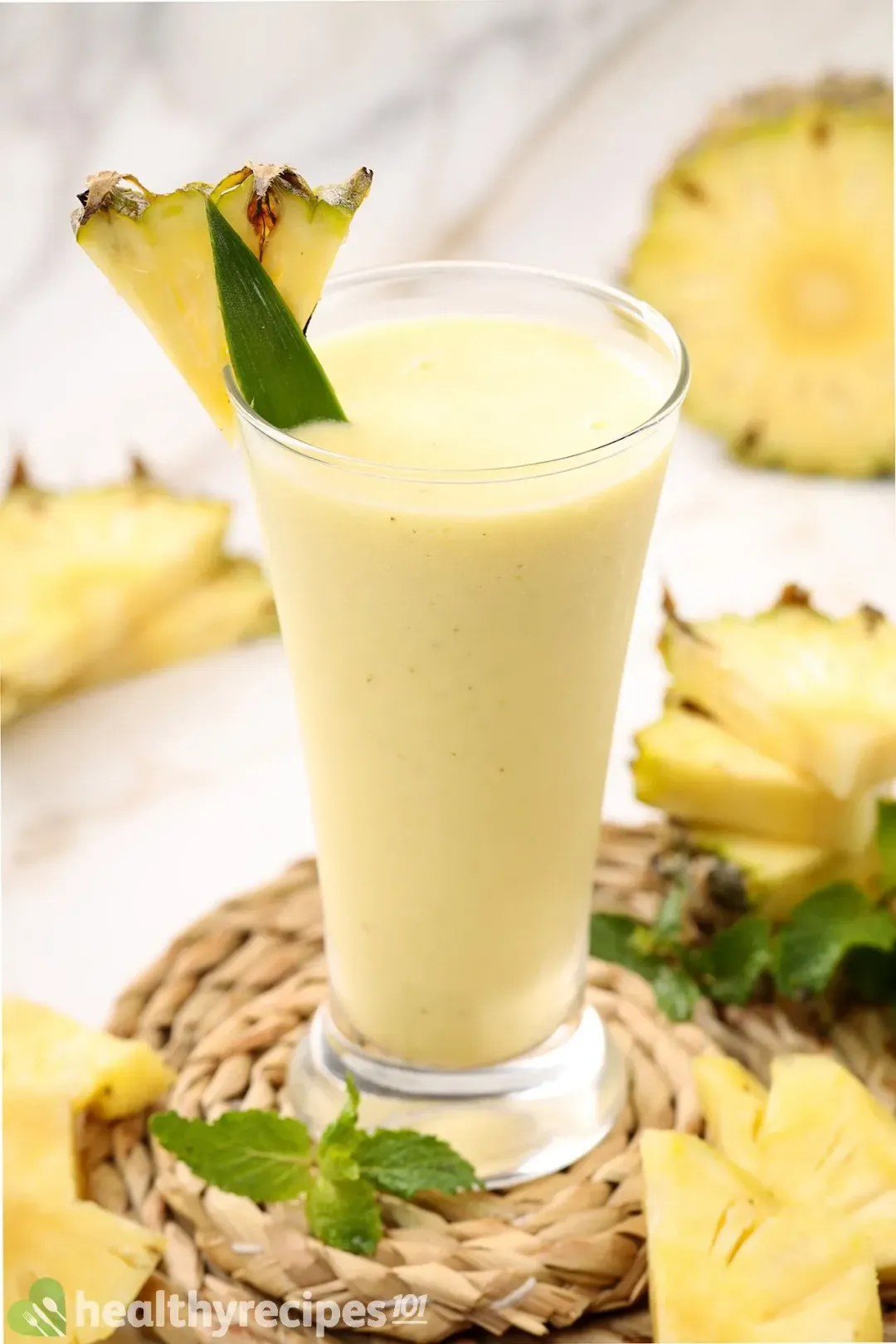 What Is a Pina Colada?
Pina coladas are tropical cocktails prepared with rum, coconut cream or coconut milk, and pineapple juice. The drink is mixed or shaken with ice to make it cool and feel more refreshing.
An interesting fact is that the proper spelling of this drink is "piña colada." However, the letter "ñ" isn't available on many keyboards so the name is commonly known as "pina colada."
The meaning of this drink literally translates to "strained pineapple." It refers to fresh pineapple that has been juiced and filtered before being added as an essential component of the drink.
In modern pop culture, the drink gained worldwide popularity thanks to Rupert Holmes' 1979 hit "Escape (The Piña Colada Song)". There is also a National Piña Colada Day celebrated on 10 July in the U.S.
Are Pina Coladas Healthy?
Cocktails and alcoholic drinks in general are not regarded as healthy due to the presence of alcohol. It's high in calories (7 calories per 1 gram of alcohol), lacks vitamins, and has been shown to do more potential damage than good.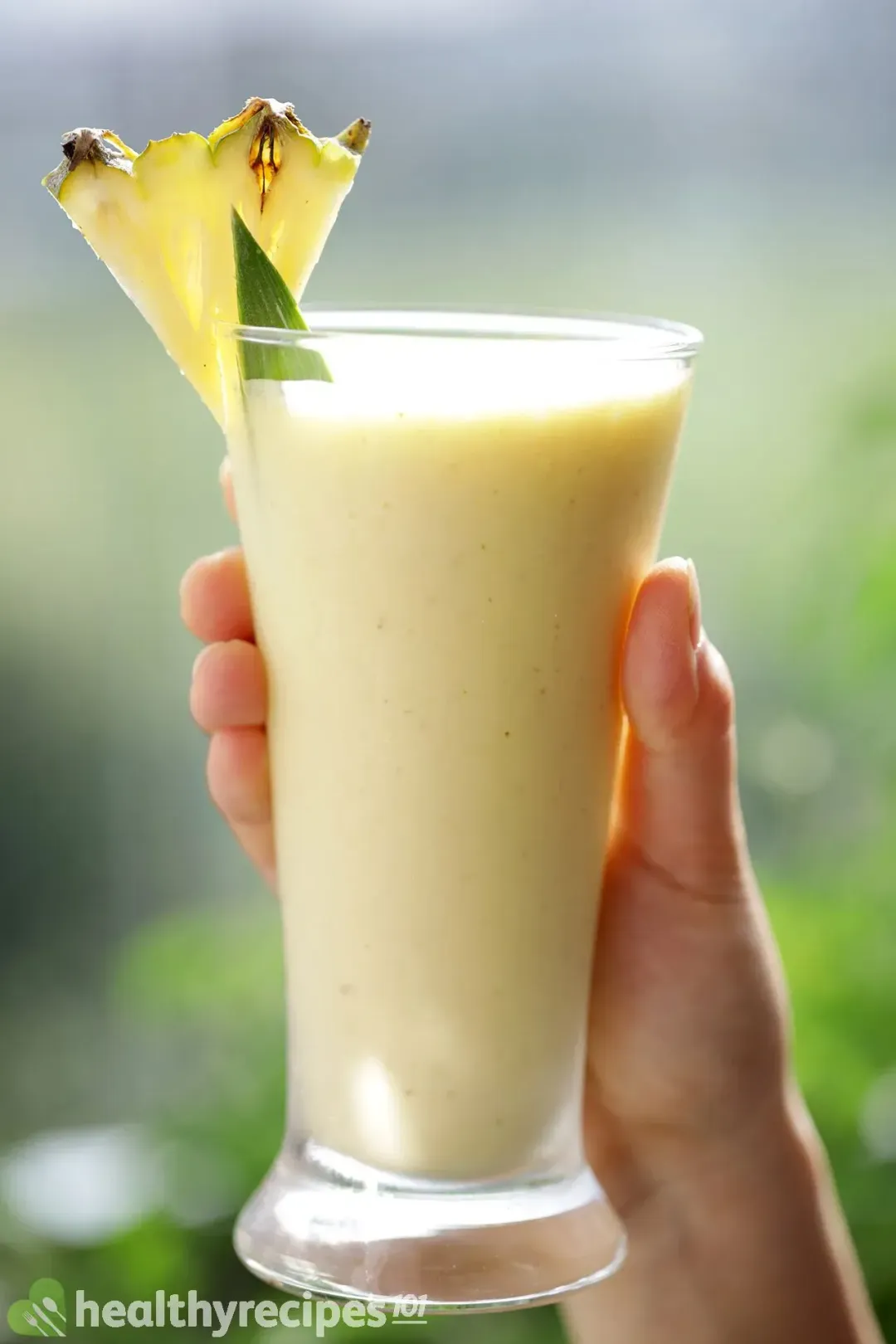 However, knowing how much people love cocktails and can't live without them, we've been attempting to make healthier versions of the classics. The beverages we've been working on, including this one, adhere to the USDA's alcohol consumption recommendations.
According to the guidelines, adults should consume no more than one drink containing 1.5 fl oz of 80 proof alcohol each day.
Thus, although this pina colada recipe is not a particularly nutritious beverage, it is healthier than many other variations. Each serving contains less than 0.5 fl oz distilled rum, but still tastes like one from a bar.
Main Ingredients for Our Pina Colada
Our pina colada recipe only requires a few ingredients:
Pineapple: We're using both frozen pineapple and fresh juice for this recipe. The frozen fruit doubles as a replacement for ice as it mimics the slushy texture of blended ice.
Coconut milk: Not to be confused with coconut cream, coconut milk is mildly rich, which won't be overpowering in a cocktail. It also has a regular milk consistency — perfect for blending.
Mint: You can use any type of mint you want for this recipe: spearmint, peppermint, chocolate mint, it's up to you.
Rum: There are many types of rum available and it can be confusing to pick. We'll give you a few suggestions later.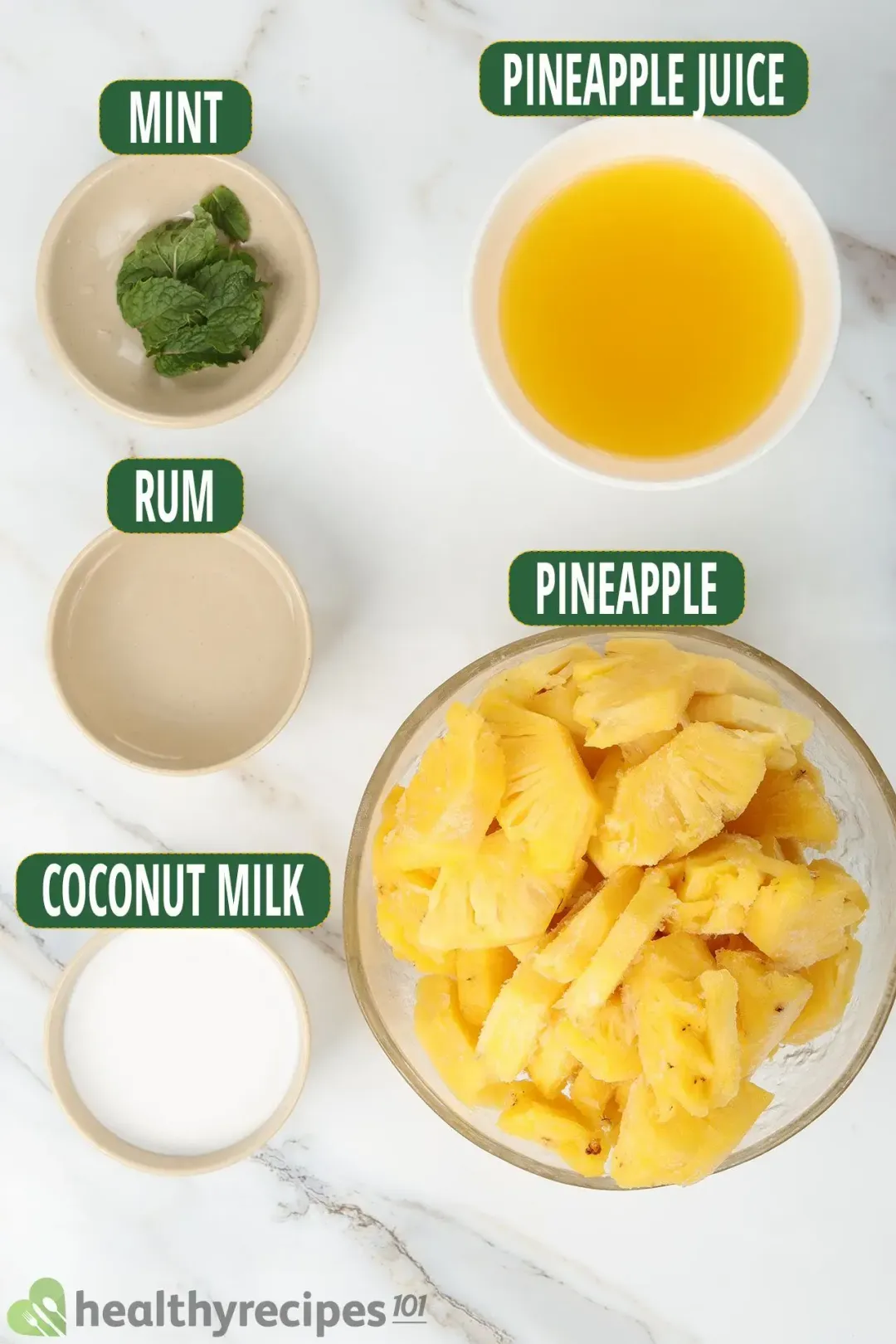 Are Pina Coladas Gluten-Free?
Before we answer this question, let's find out what gluten is.
Gluten is a general term that refers to a group of proteins called "prolamins." These proteins are naturally found in certain types of grains, processed foods and beverages, including bread, beer, pasta, etc.
Although gluten-related diseases such as celiac disease are quite rare, there has been an increasing number of dieters engaging in a gluten-free diet.
If you're following this diet, our pina colada recipe is safe for you as it is gluten-free.
All the ingredients we use for this recipe don't contain gluten, including the distilled alcohol. If you're gluten-intolerant, don't worry — this cocktail won't give you any digestive problems!
Rest assured that most cocktails, including pina coladas, are gluten-free. That being said, if you're drinking at a bar and concerned whether the cocktails contain gluten, you can kindly ask your bartender before you order and they will tell you.
Best Rum for Pina Coladas
You can simply use regular white rum like we do for this pina colada recipe, or you can spice it up a bit with flavored rum:
Malibu coconut rum: It's a coconut-flavored liqueur that would be a great addition to your pina coladas.
Bacardi: You can use their coconut rum for this recipe. Or, try the "superior white rum" with a hint of flowery, fruity notes and a smooth flavor — perfect for mixing cocktails.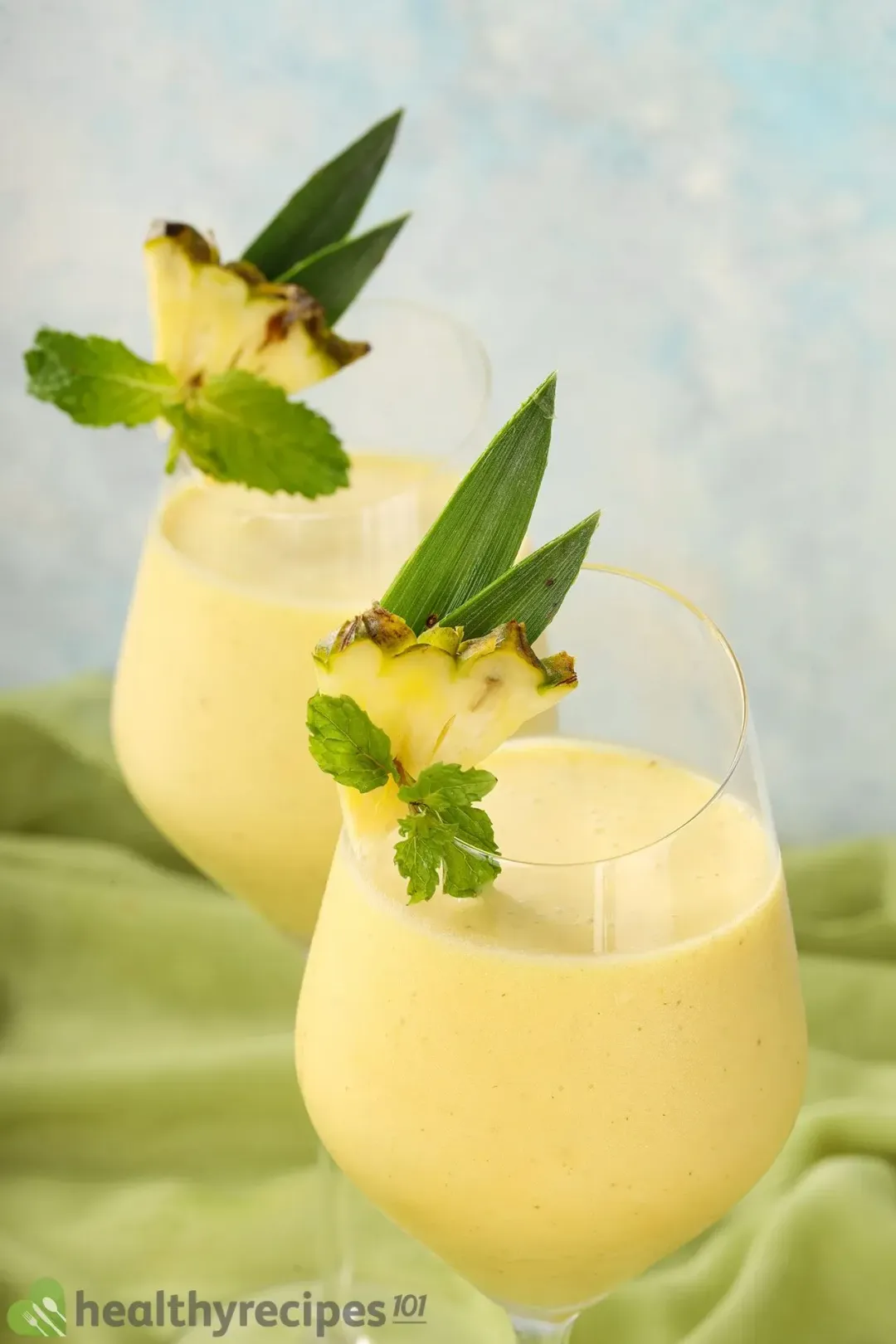 A good rule of thumb is to pick your favorite white rum within your budget.
You may be wondering if you can use dark rum. The answer is yes! The mild ones that have a sweet, caramel flavor would be a better fit for this pina coladas recipe.
We wouldn't recommend smoky rum as it may not suit the tropical vibe of your pina colada.
In terms of price, it's good to find a balance: don't pick rums that are too expensive because you won't be using a lot to make a cocktail. You shouldn't pick cheap ones either or else it'll make your drink smell like bad alcohol.
How to Make Pina Coladas
The most time-consuming step in this pina coladas recipe is preparation of a whole pineapple. Check out our rum and pineapple juice recipe to see how to peel a pineapple with ease.
Once the pineapple is peeled and cut, measure all the liquid ingredients. After that, you can proceed with the recipe: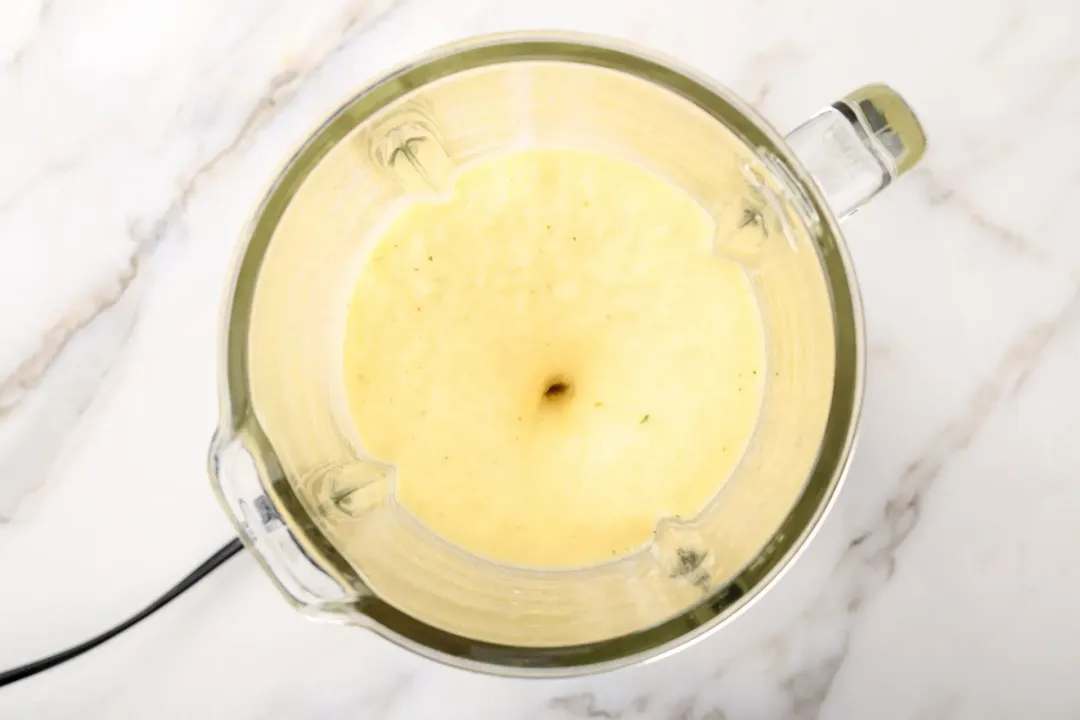 Blend the drink.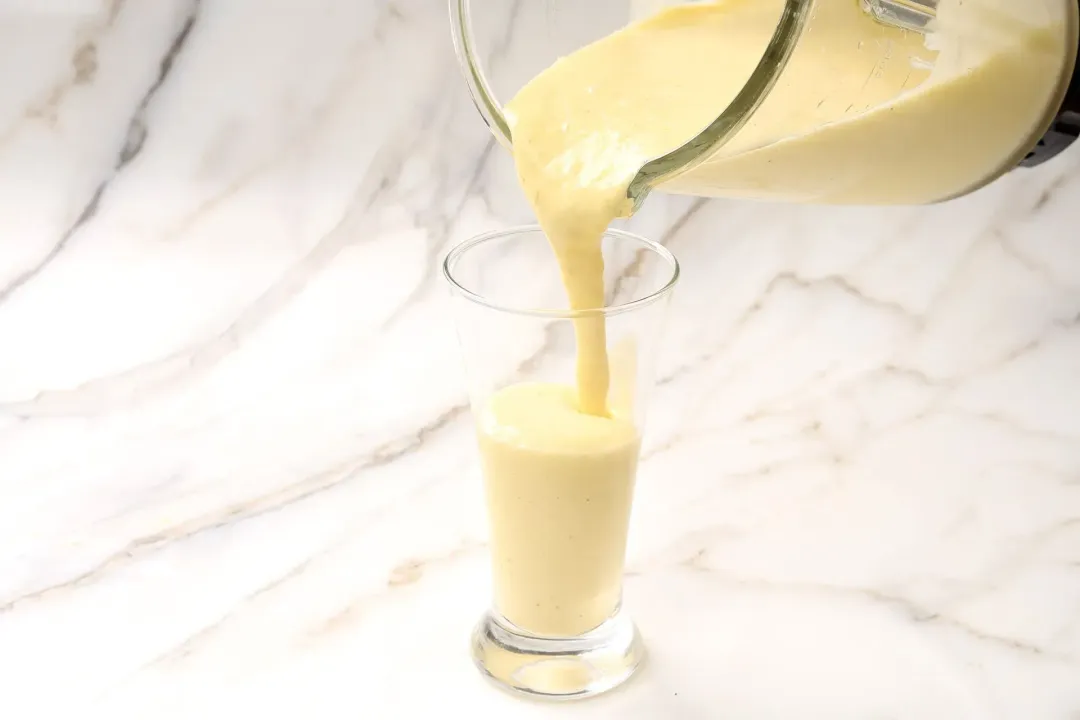 Garnish and serve.
What Occasion Is Best For Pina Colada?
You don't need to wait for a special occasion to drink this fruity, tropical cocktail. Since it's one of the most popular alcoholic beverages in the world, you can order it at almost any bar you go to or make it yourself and enjoy it with friends at a house party.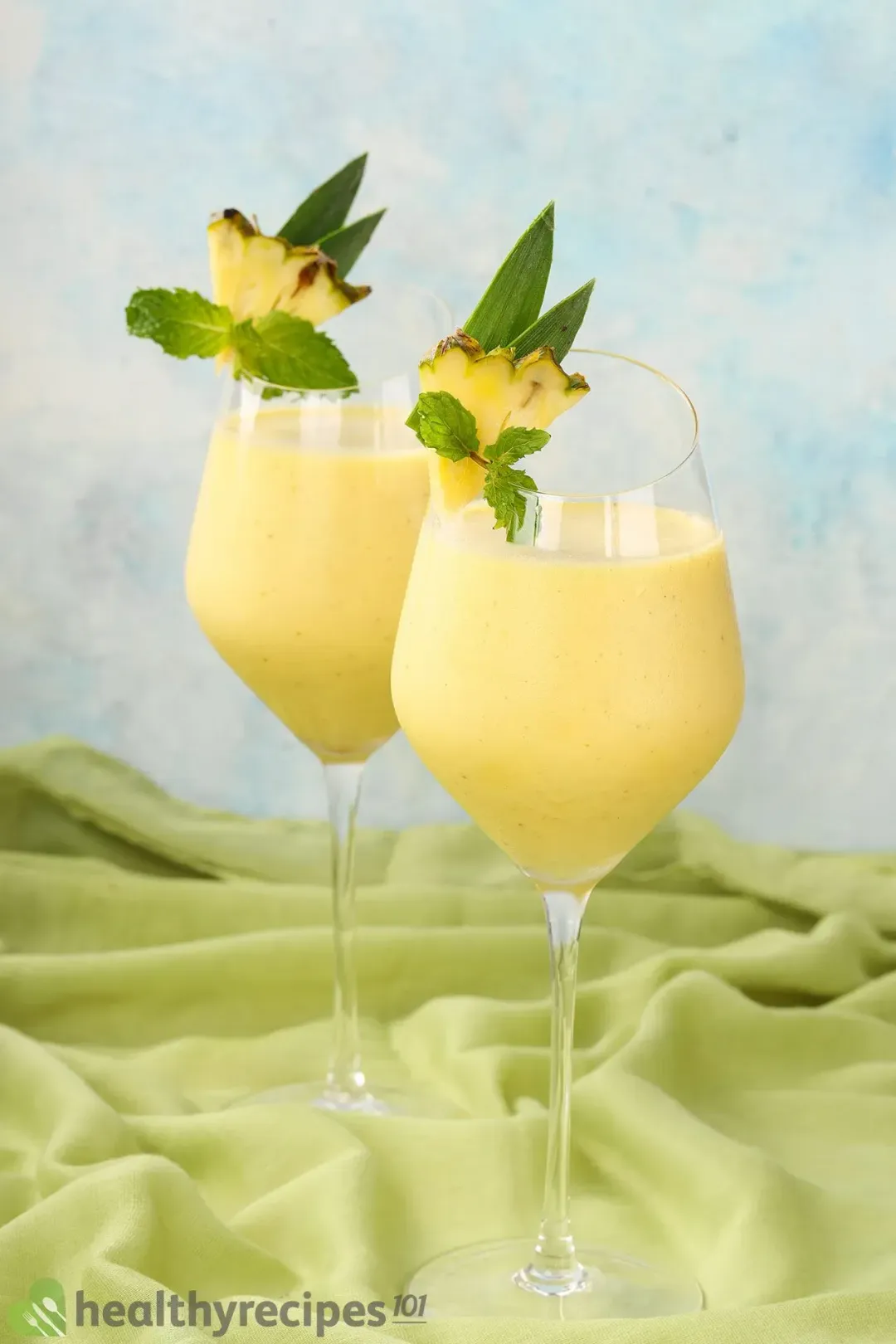 Pina Colada
This pina colada recipe only needs five ingredients and 10 minutes to make. All you have to do is blend everything together and your cocktail is done.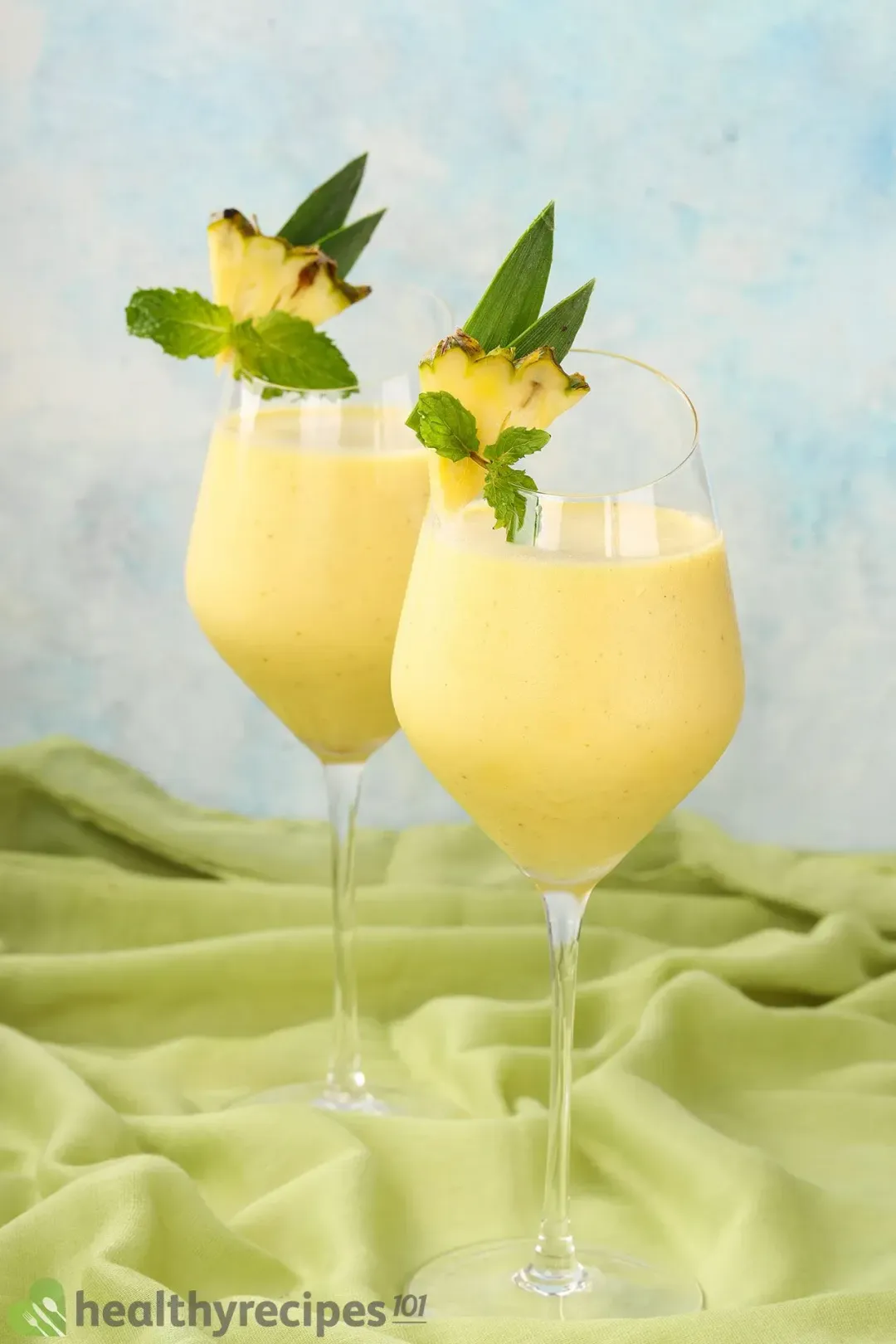 prep TIME

5 mins

total TIME

3 mins
COURSE

Beverage

CUISINE

Puerto Rican

SERVINGS

CALORIES

143 kcal
INGREDIENTS
20 oz

pineapple

(peeled, core removed, frozen)
INSTRUCTIONS
1
Blend the drink: In a blender, combine 20 oz frozen pineapple, 4 fl oz pineapple juice, 2 fl oz white rum, 1/4 cup coconut milk, and 3 mint leaves. Blend until completely smooth.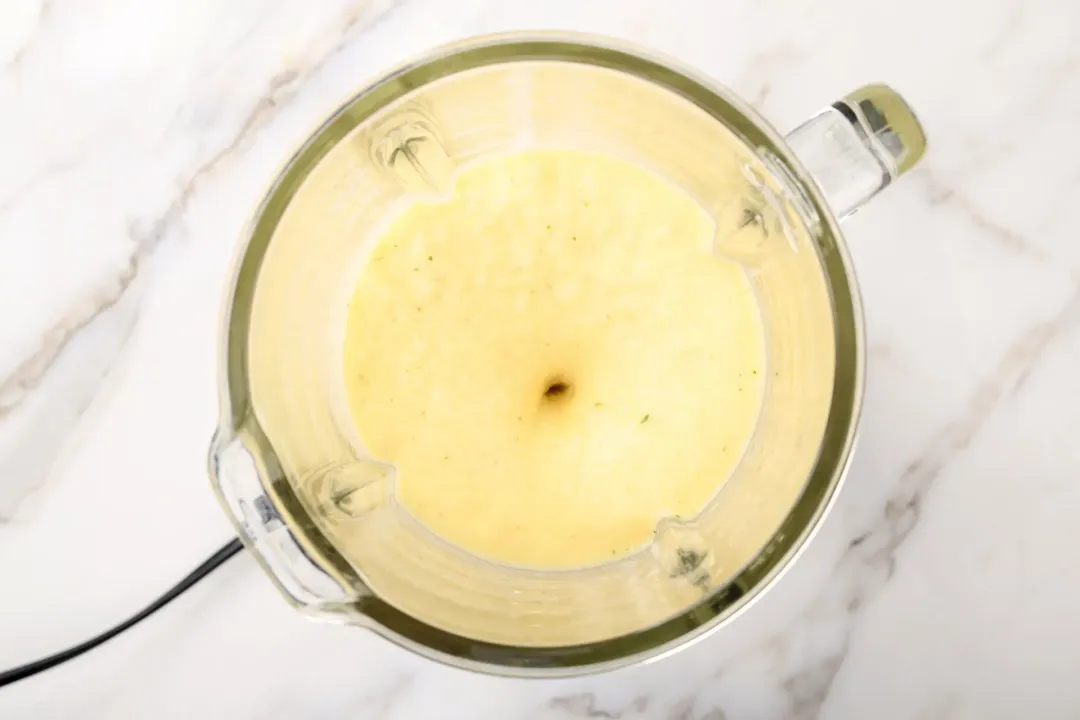 2
Garnish and serve: Divide and pour into four medium glasses. Garnish with a mint leaf on each glass and serve.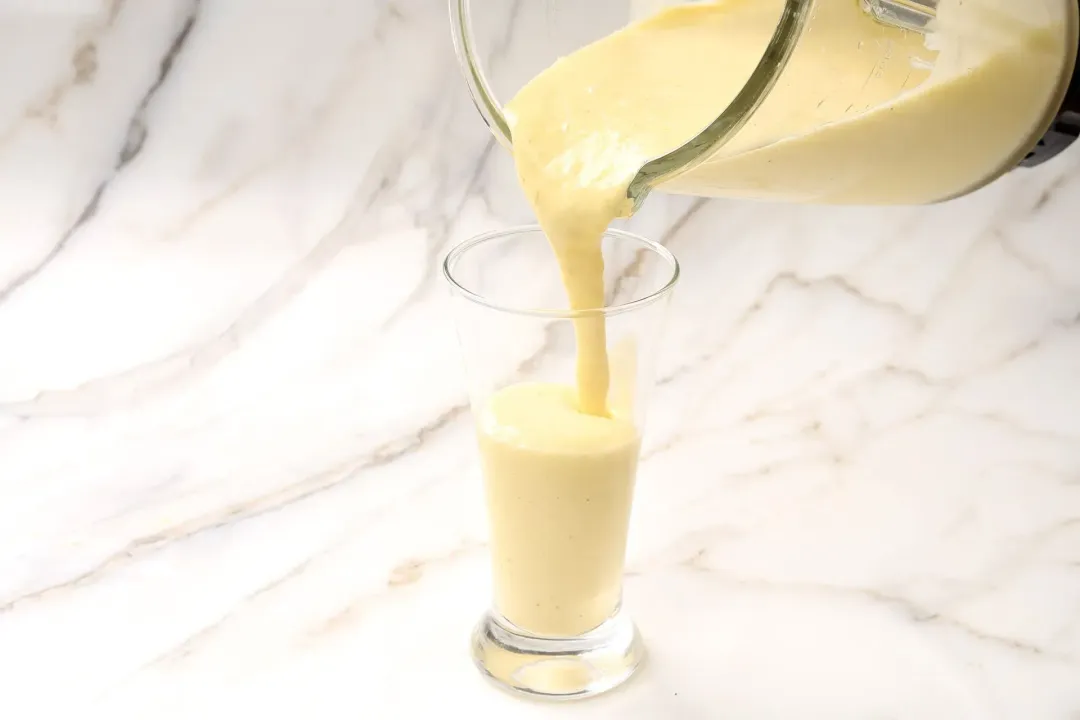 NUTRITION
Nutrition Facts
Pina Colada
Amount Per Serving (1 serving)
Calories 143
Calories from Fat 27
% Daily Value*
* Percent Daily Values are based on a 2000 calorie diet.
Keywords: how to make pina colada, pina colada, pina colada recipe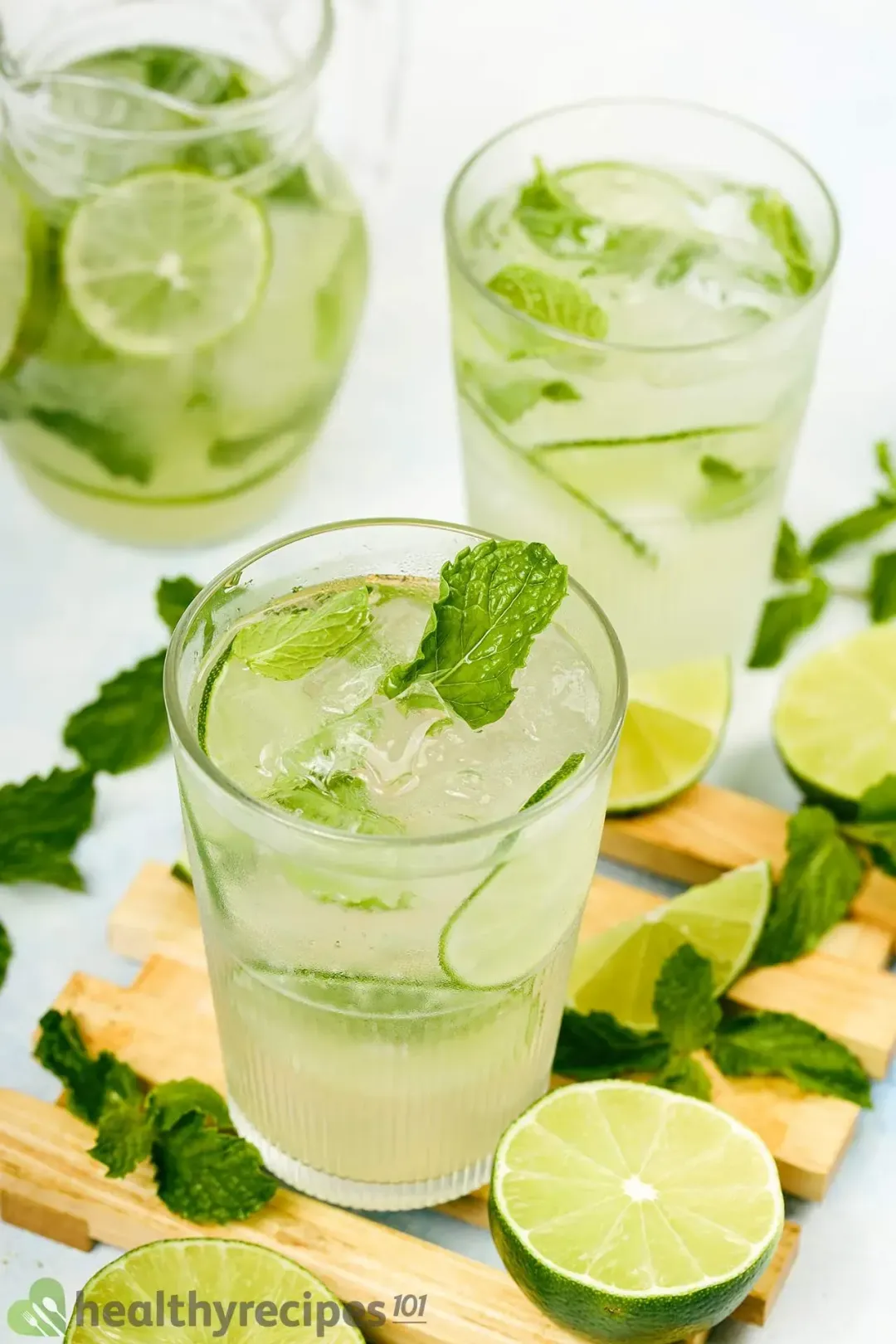 Mojito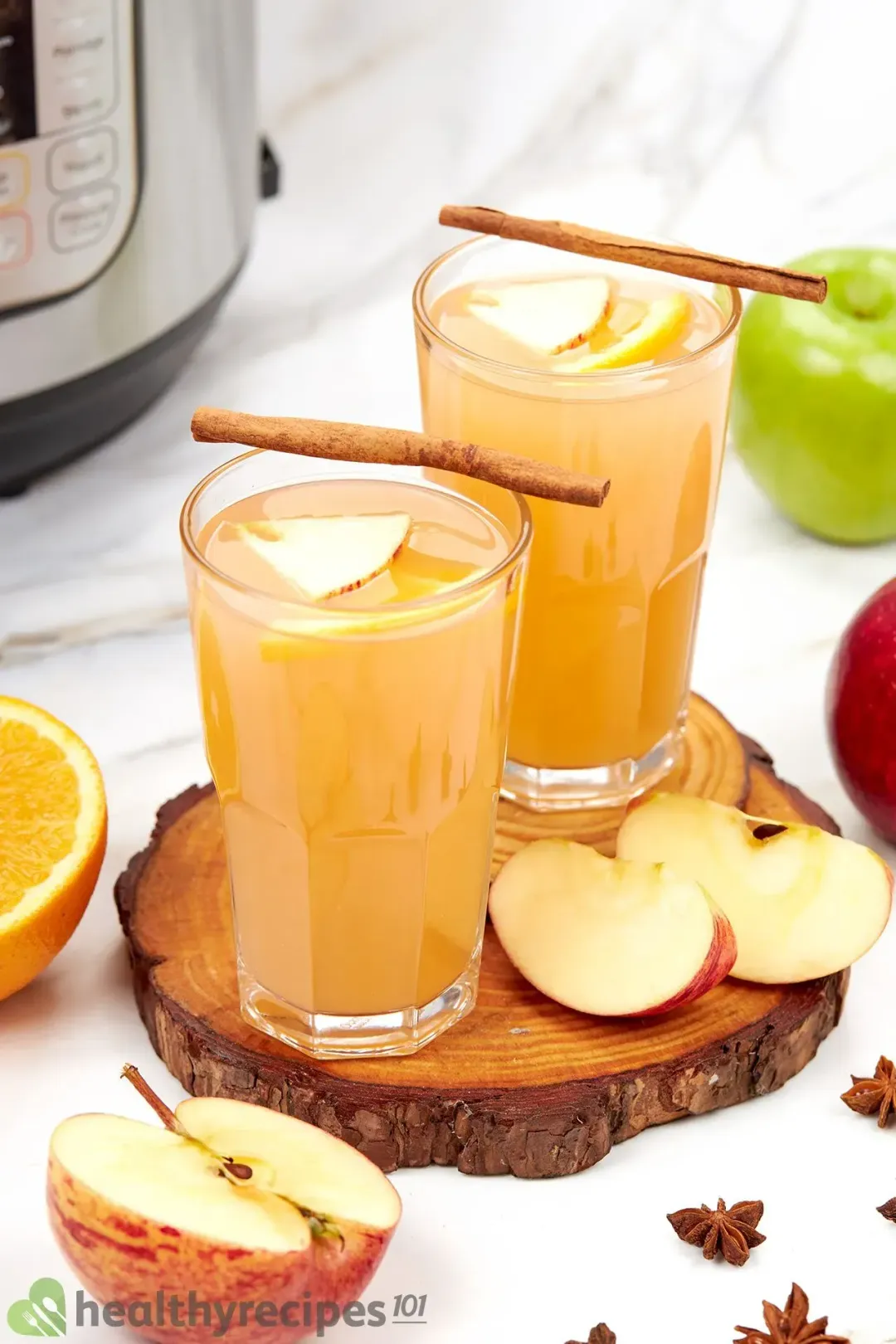 Next Recipe
Instant Pot Apple Cider
Instant Pot Apple Cider
Head Chef, Culinary Consultant
Tuyet Pham is an award-winning Saigonese chef who believes that joy is the secret ingredient to delicious food. At Healthy Recipes 101, Tuyet personally tests and simplifies every recipe, ensuring maximum flavor with minimal effort. With a background at prestigious French restaurants P'TI Saigon and Le Corto, Tuyet knows how to make every dish exceptional.
Writer, Author
Luna Regina is an accomplished writer and author who dedicates her career to empowering home cooks and making cooking effortless for everyone. She is the founder of HealthyKitchen101.com and HealthyRecipes101.com, where she works with her team to develop easy, nutritious recipes and help aspiring cooks choose the right kitchen appliances.
Nutrition Reviewer
Natalie Butler is a registered dietitian nutritionist with a passion to help others live their best life through food, fitness, safer beauty and a healthy lifestyle. She has expertise with a variety of diets and diseases and believes that there is no one-size-fits-all approach for health.
With its tropical flavors, this was like being on vacation every time I take a sip!