Our refined-sugar-free apple juice recipe will help you make a refreshing beverage without any added sugar.
We did consider "sugar-free apple juice" as the title, but if only that was true. Fruits come with natural sugar, so there is no such thing as a sugar-free fruit juice.
In other words, this recipe of ours will make you a tasty beverage without refined (or added) sugar!
"Why not get store-bought?" you might be wondering. As health enthusiasts, we don't want any of the preservatives and possibly artificial sugar to enter your system.
Plus, this juice is really quick and easy to make. It's definitely better than canned/bottled juice, health-wise and taste-wise.
You can skip to the recipe by clicking on the button above. Or, stay for a while to find out more about this added-sugar-free juice.
Is This Juice Good for You?
Juicing fruits means you're stripping away the insoluble fiber from the fruit, making sugar-free apple juice less nutritious than the whole fruit. But on the bright side, you're left with a still-pretty-nutritious drink that's more appealing.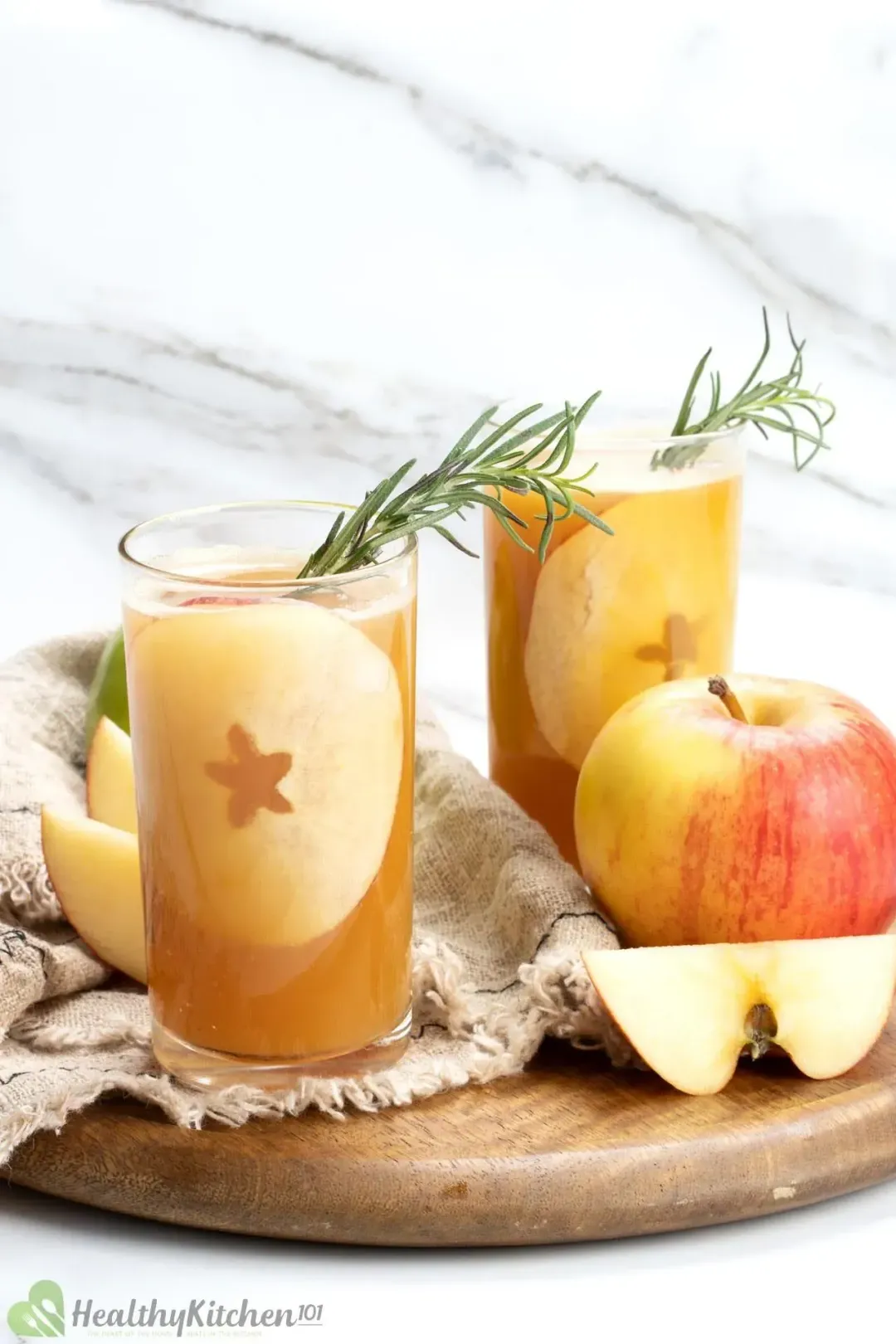 A large majority of the nutrients in apple juice is vitamin C. This is an antioxidant that boosts your immune system's performance and plays a vital role in the body as well.
Besides vitamin C, there are a large number of vitamins and minerals in the juice, in varying amounts.
Most importantly, you can't adjust the taste of apples to your liking, but you can with the juice. It'll be more likely for you to include the juice in your routine, hence getting a daily dose of vitamins from it.
What Happens if You Drink It too Much?
Although beneficial, consuming a lot of apple juice can pose several health risks.
This is important and needs to be said: overconsuming juice is much easier than overeating whole fruits. Think about it: you are likely to stop after one apple, but you can gulp down the juice yield of two with ease.
This is because when you eat, your stomach expands, which signals your brain to cause the sensation of fullness. This also happens with drinking liquid, but it's digested much faster, which makes you want to drink more.
So, as you do drink, you're consuming loads of sugar (in the fruit juice) while there's nothing to stop you. This can result in blood sugar spikes, weight gain, and, in the long run, possibly obesity.
All of this can be prevented if you just drink moderately. Our refined-sugar-free apple juice recipe happens to have portions that are both moderate and super tasty without added sugar!
What Is the Difference Between Apple Juice and Apple Cider?
It's clear what "apple juice" is, but how about "apple cider"? Hint: it's not apple cider vinegar.
Cider is a type of soft alcohol that's brewed from apples. Sources say other fruits are brewed to make cider as well, but the one from apples tastes best.
So, apple cider is shortened to "cider" on most bar menus.
Cider is typically 2.5%-13% absolute alcohol by volume, depending on the regulation of the country where it's made. No matter the variation, cider is lighter than beer.
Unlike wine, which is also made from a fruit (grapes), cider has a large portion of apple juice. The beverage is, therefore, fragrant with apples and has a sweet note to it, making it favored by many.
In regards to alcoholic beverages in general, the USDA doesn't encourage consuming them, cider included. However, if one were to drink, less than 14 grams of pure alcohol per day is recommended for women, and 28 grams for men.
How to Make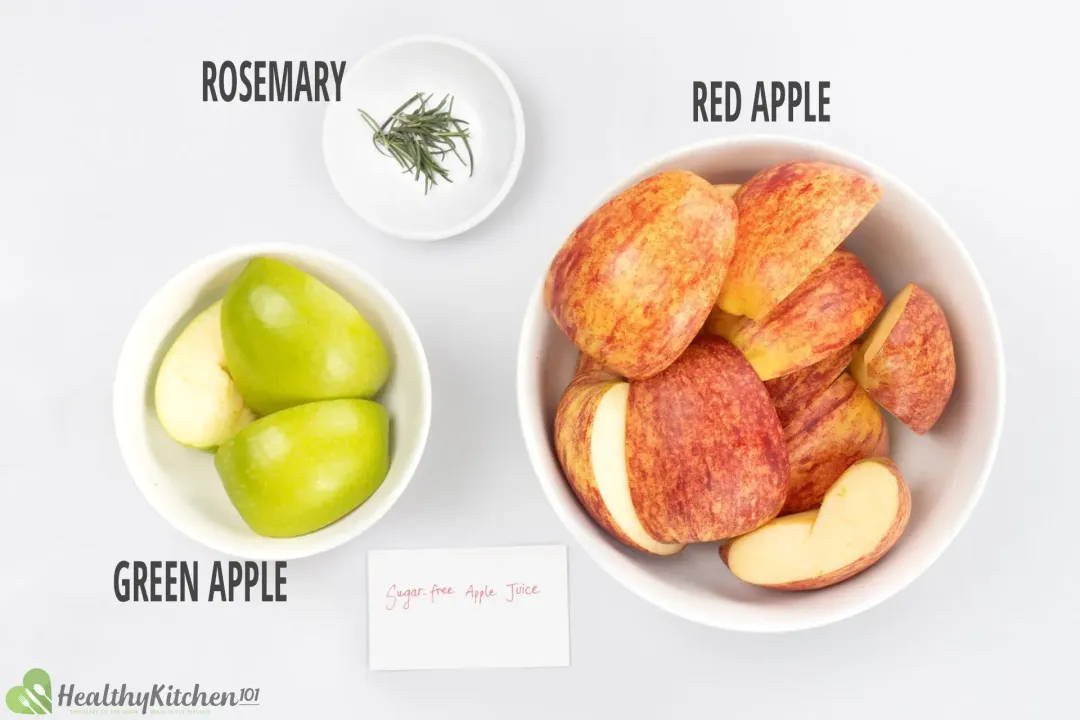 Our refined-sugar-free apple juice recipe is as simple as it should be. Add apples to a running juicer, collect the juice, and you're done.To make the juice's flavor profile more balanced, we used both green and red apples. It should be not too sweet like red apples, but rather have a tang instead.
Also, when serving, we added a sprig of fresh rosemary to the serving glass. Its aroma complements the juice really well.
Check out our healthy juice roundup or apple juice recipes for more delicious drinks.
How Long Does It Last in the Fridge?
Apple juice can last 3-5 days in the fridge. To make it last as long as possible, store the juice in an airtight container/glass covered with plastic wrap.
However careful you might be, the juice will turn brown once juiced. This is due to oxidation of the fruit cells, similar to how sliced apples darken in time.
Can You Freeze This Juice?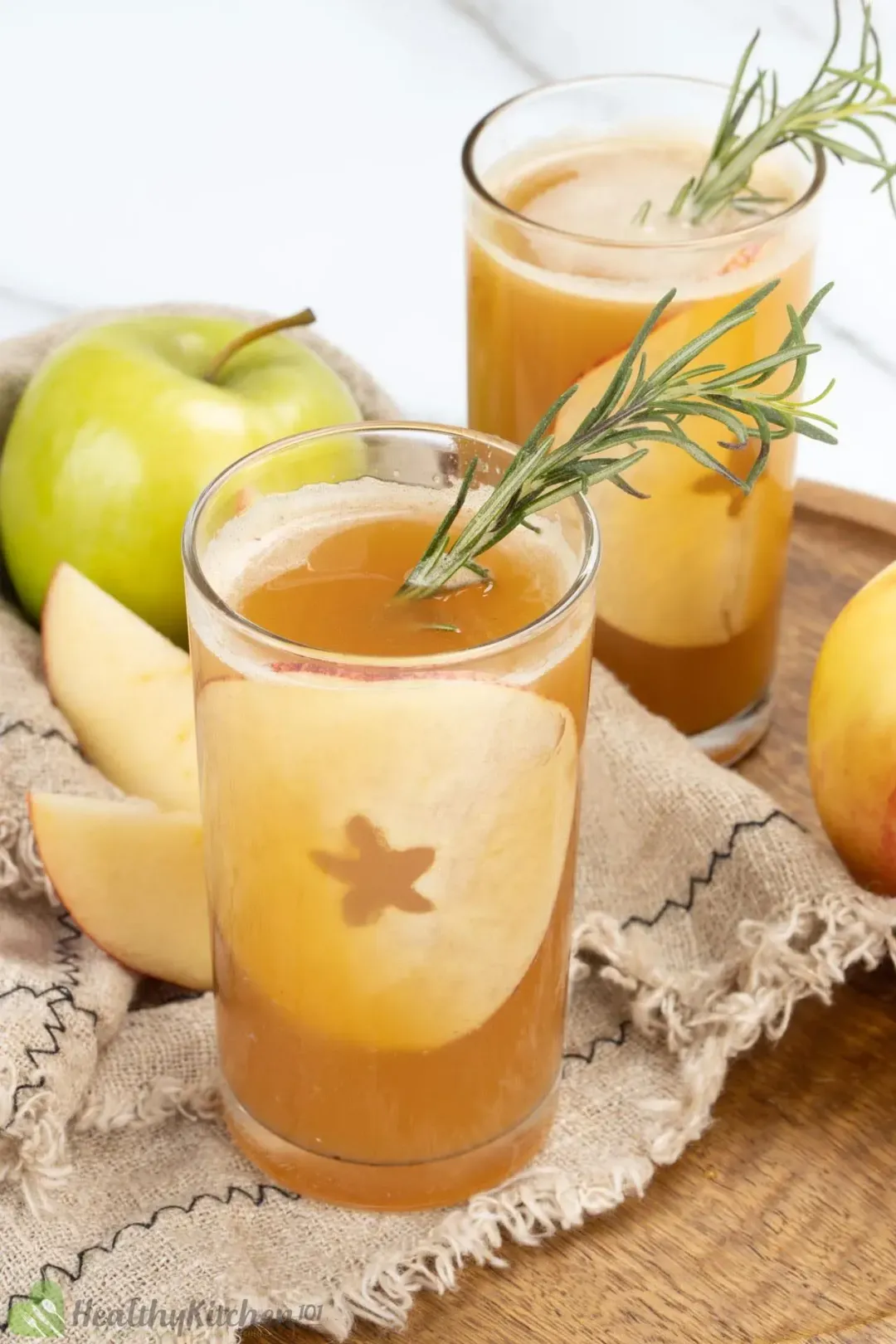 Yes, you can. In fact, you can make a large batch of juice and keep it in the fridge for daily use.
To do so, we recommend dividing your juice portions and placing them into Ziploc bags. It's easier than freezing a large block of juice, only to use a small part.
Check out our pear juice recipe for another refreshing homemade drink!
Refined-Sugar-Free Apple Juice
Our refined-sugar-free apple juice recipe is super easy. All you need to do is juice the apples and add rosemary.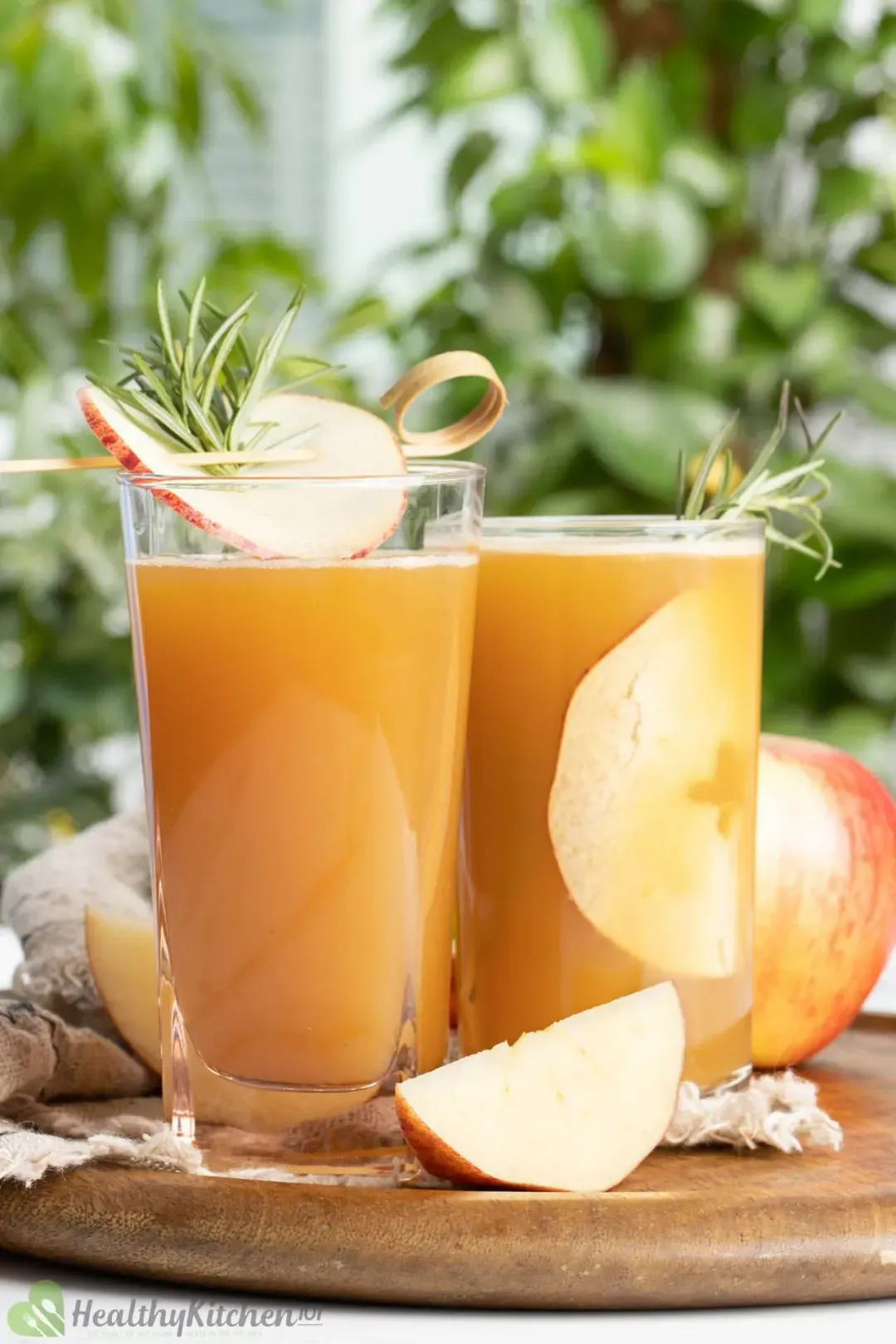 prep TIME

5 mins

total TIME

5 mins
COURSE

Beverage

CUISINE

Global

SERVINGS

CALORIES

83 kcal
INGREDIENTS
20 fl oz

red apple juice

(from 25 oz red apples)

4 fl oz

green apple juice

(from 5 oz green apples)
INSTRUCTIONS
1
Juice 25 oz red apples and 5 oz green apples.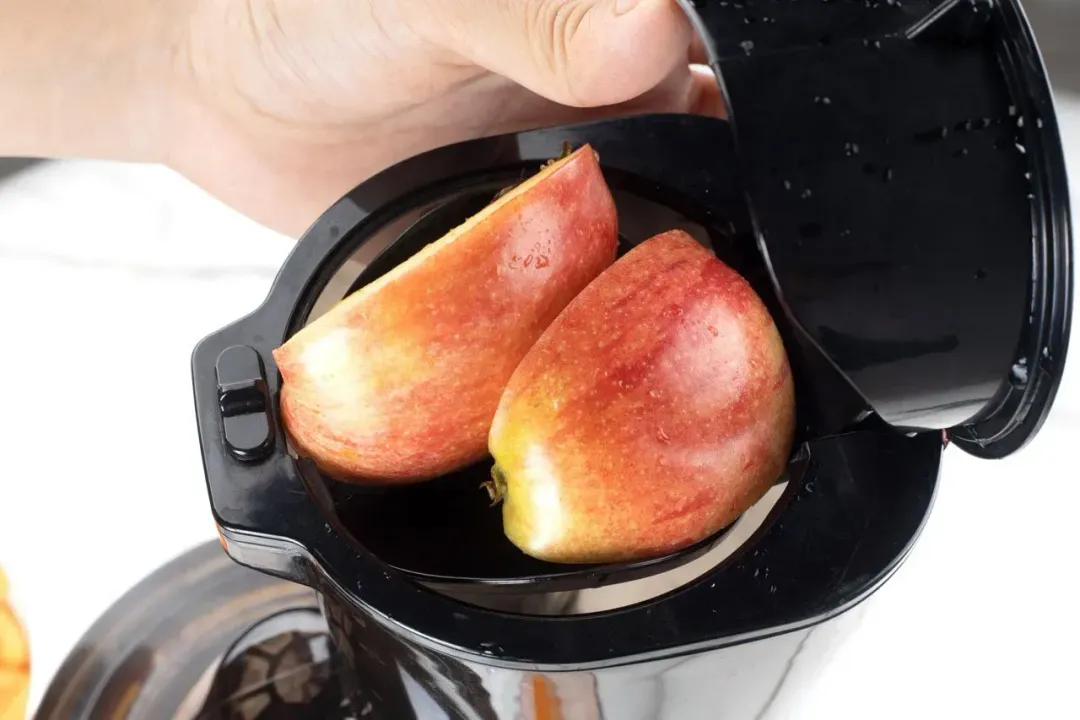 2
Serve with ice. Add rosemary sprigs for fragrance.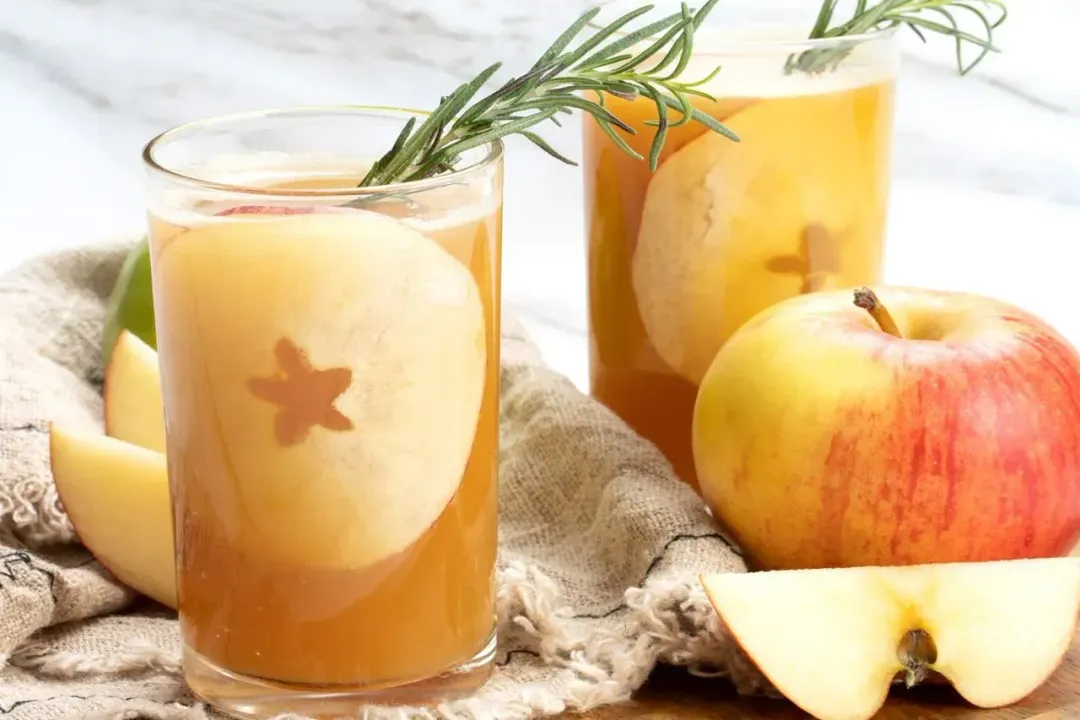 NUTRITION
Nutrition Facts
Refined-Sugar-Free Apple Juice
Amount Per Serving (1 serving)
Calories 83
% Daily Value*
* Percent Daily Values are based on a 2000 calorie diet.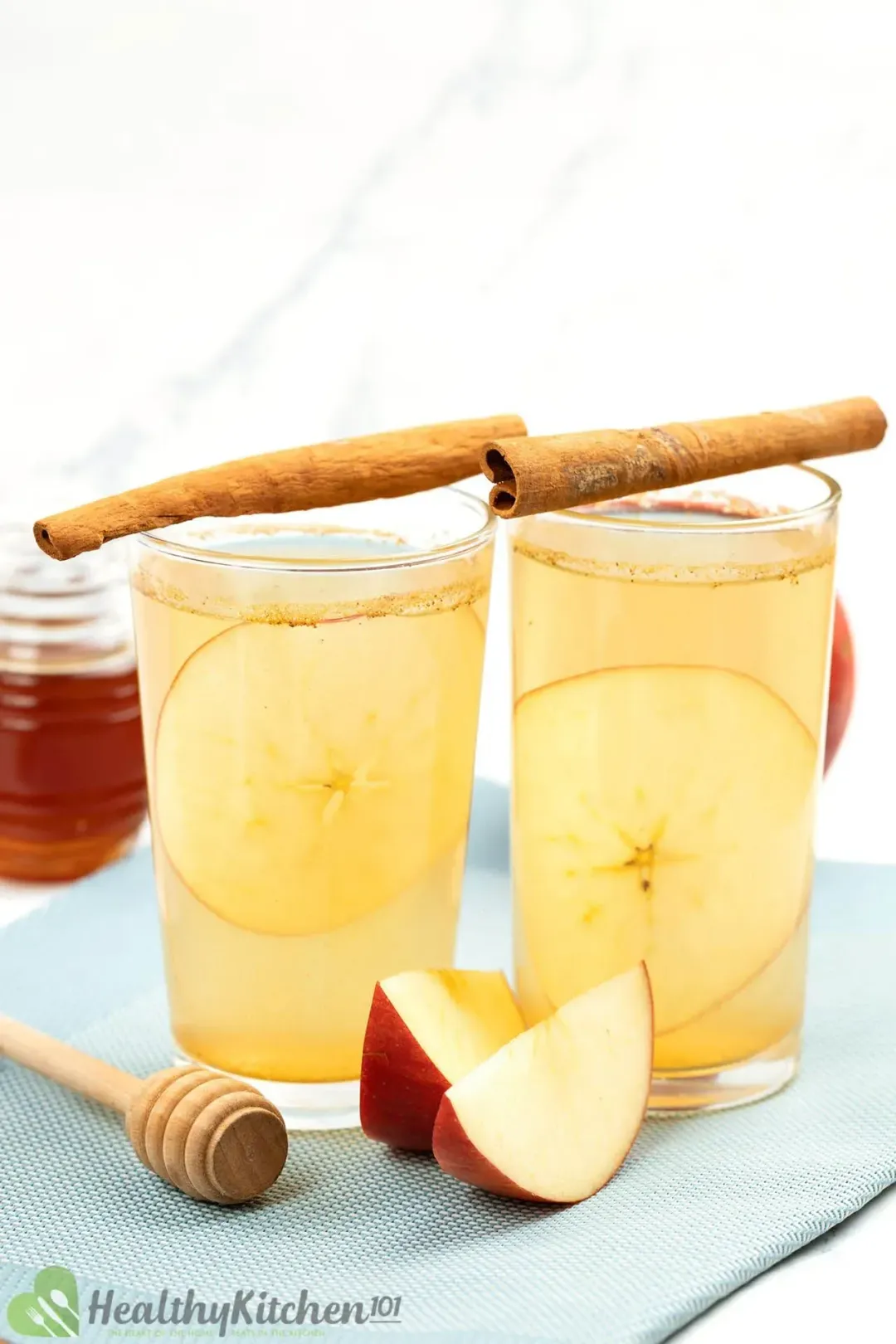 Previous Recipe
Apple Cider Vinegar and Honey
Apple Cider Vinegar and Honey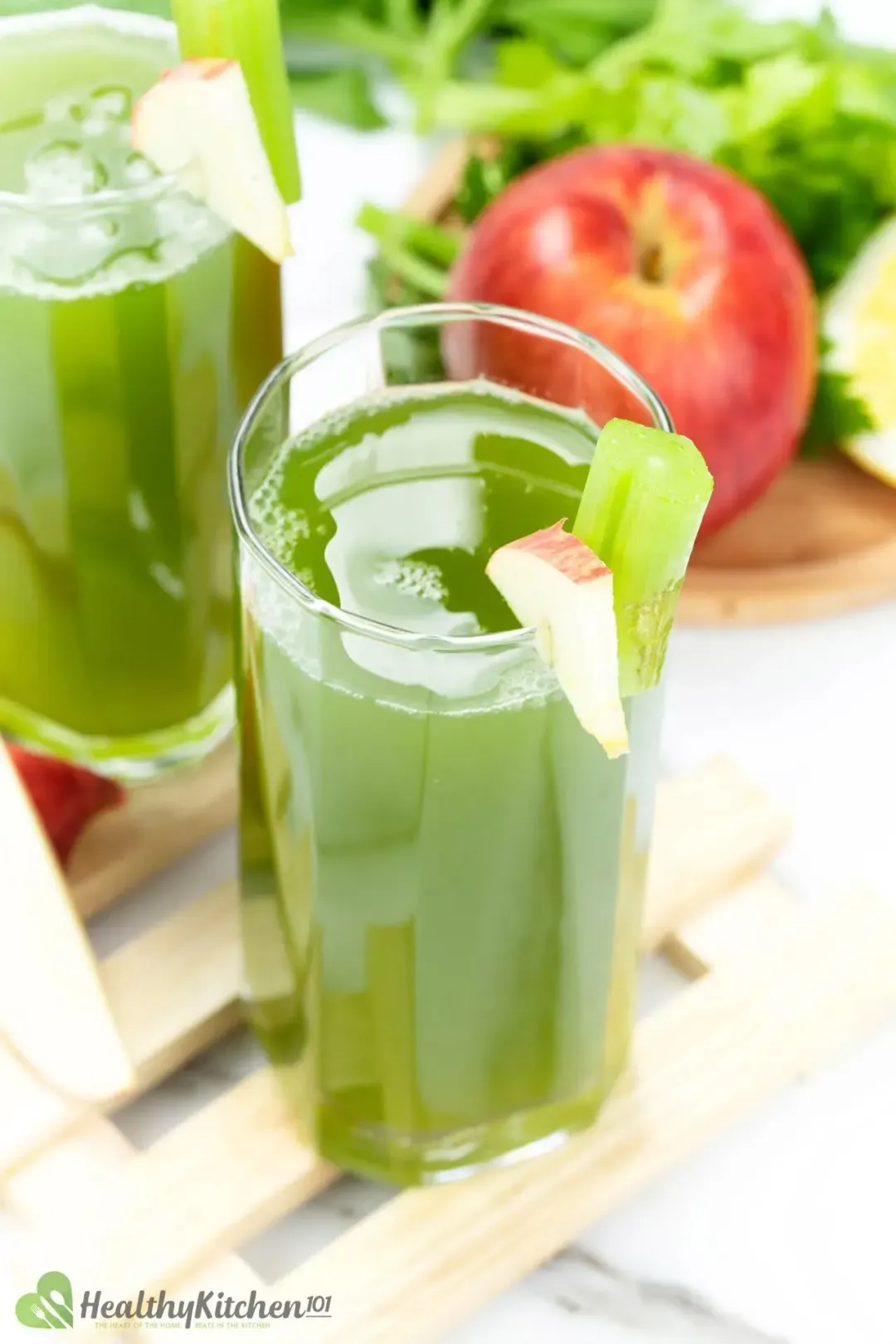 Next Recipe
Apple Celery Juice
Apple Celery Juice
Head Chef, Culinary Consultant
Tuyet Pham is an award-winning Saigonese chef who believes that joy is the secret ingredient to delicious food. At Healthy Recipes 101, Tuyet personally tests and simplifies every recipe, ensuring maximum flavor with minimal effort. With a background at prestigious French restaurants P'TI Saigon and Le Corto, Tuyet knows how to make every dish exceptional.
Writer, Author
Luna Regina is an accomplished writer and author who dedicates her career to empowering home cooks and making cooking effortless for everyone. She is the founder of HealthyKitchen101.com and HealthyRecipes101.com, where she works with her team to develop easy, nutritious recipes and help aspiring cooks choose the right kitchen appliances.
It is really tasty juice, I hate sugar!

very well explain a topic, I am wondering if you had added a topic on Nutrition, anyways I love your blogs and blogs from shop.stoiafoods.com