We're excited to share this healthy apple celery juice recipe with you. It's a nourishing drink made from basic, readily available ingredients.
We've added some lemon juice and spearmint to our apple and celery juice to give it more zest. Both add vibrant flavor, cooling aroma, and increased health benefits.
And the blend of sweet apple essence makes celery juice more palatable. Given that celery juice holds so much nutrition, there's no excuse not to drink it!
This article explains the health benefits of apple celery juice. Read on to learn how to juice apples and celery and store the juice for extended periods.
Healthy Benefits
Apple and celery juice is a healthy drink. The sweet and sour combination of ingredients makes a stimulating drink supported by nutritional elements.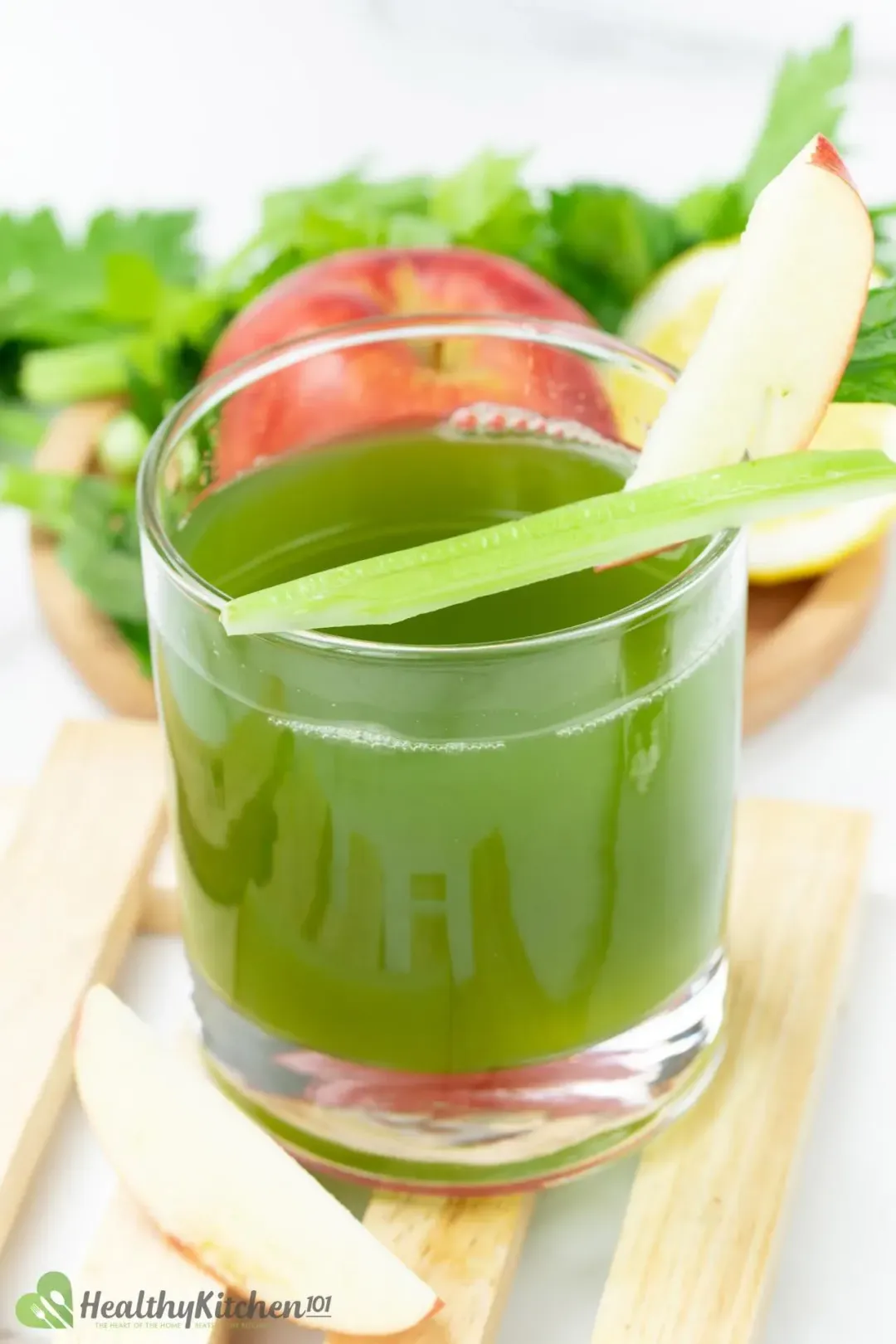 Our recipe stands out for its lemon and mint that add zest and coolness. It'll have you sipping healthy calories in your quest to combat the summer heat.
1. Heart-Healthy
Apple juice is high in polyphenols and may reduce the risk of heart attacks.
One experiment showed how it inhibits LDL oxidation. The oxidation of lipids and proteins is a precursor to oxidized cholesterol (when cholesterol breaks down).
As cholesterol deposits cake the artery walls, they pose the risk of developing clogged arteries (atherosclerosis) and high blood pressure. Drinking apple juice could act against this and promote your heart health.
2. Fights High Blood Pressure
Celery juice, too, has an impressive nutrient profile. It's rich in electrolytes and vitamins A, C, and K.
It also has antihypertensive properties. One 2019 study showed a notable decrease in blood pressure after administering celery juice to people with hypertension.
It even proved more effective than a low-sodium diet. So drinking celery juice from time to time could be a smart way to lower the risk of hypertension.
3. Cognitive Health
Adding spearmint makes this drink more refreshing. It may enhance cognitive health, too, boosting your mood and mind.
4. Less Sugar
You can also enjoy sugar in moderation. Our apple celery juice recipe contains 13% of the recommended daily added sugar intake per serving.
Therefore, it's a sweet but light treat that doesn't overdo it.
How to Juice Apples and Celery
It's easy and takes only a few minutes to juice apples and celery.
Start by washing the apples thoroughly before coring and cutting them into chunk-sized pieces. You don't have to peel them when juicing.
Run them through a juicer funnel and collect the liquid in a pitcher. Then, pour apple juice through a fine-mesh sieve to obtain clear juice.
Consider mixing it with other less sweet juices to make a balanced drink like in this green drink recipe with cucumber juice, or this other celery juice recipe with carrot juice.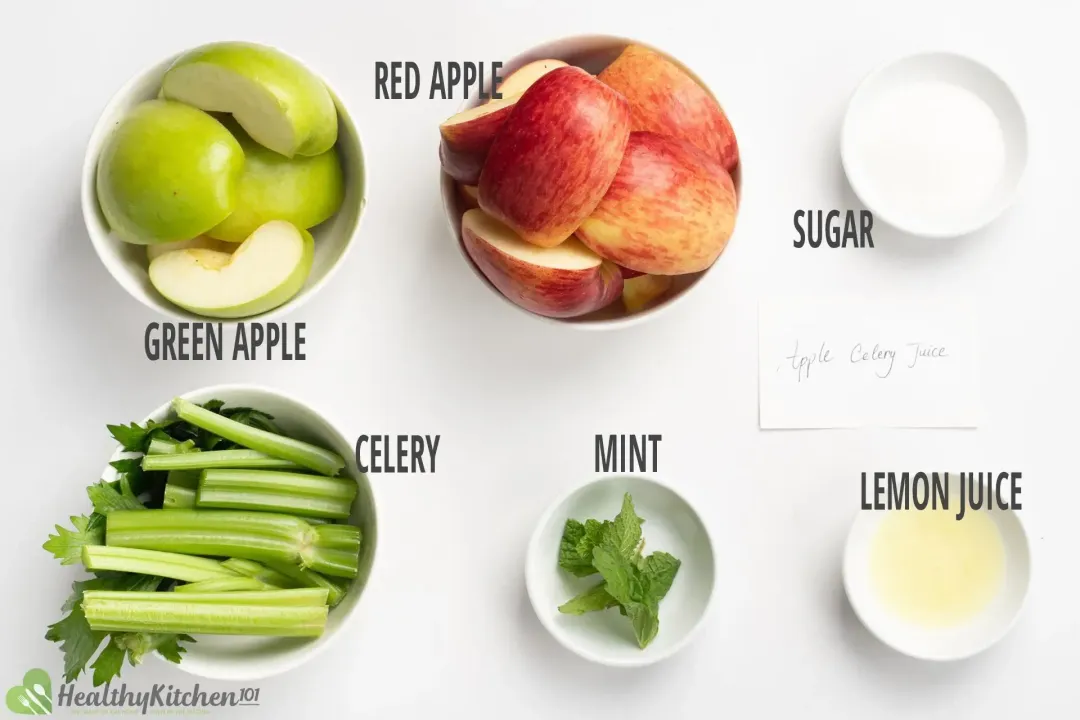 To juice celery, start by thoroughly washing both the stalks and leaves. Cut the base off the celery bunch to get a cleaner rinse for each stalk.
Then, cut the stalks lengthwise in half. Run the pieces through a juicer and collect the juice in a pitcher.
Enjoy it warm or cold. You can also enjoy it with other fruit/vegetable juices that add flavor and nutrition to plain celery juice.
How Long Does This Juice Last?
Apple celery juice can last for up to three days in the refrigerator. Unlike most store-bought drinks, homemade juices don't undergo pasteurization to extend their shelf life.
Storing it for any longer could result in a drink with significantly less nutrients and little taste.
Another option involves storing it in the freezer. You can keep apple celery juice frozen for up to three months.
And though nutrients decline with prolonged storage, freezing helps retain them at a better rate than at higher temperatures.
To ensure proper storage, transfer the juice into a freezer-safe, airtight container before keeping it in the freezer.
If you want more delicious drinks, check out this healthy juice recipes or best apple juice roundup might be of help.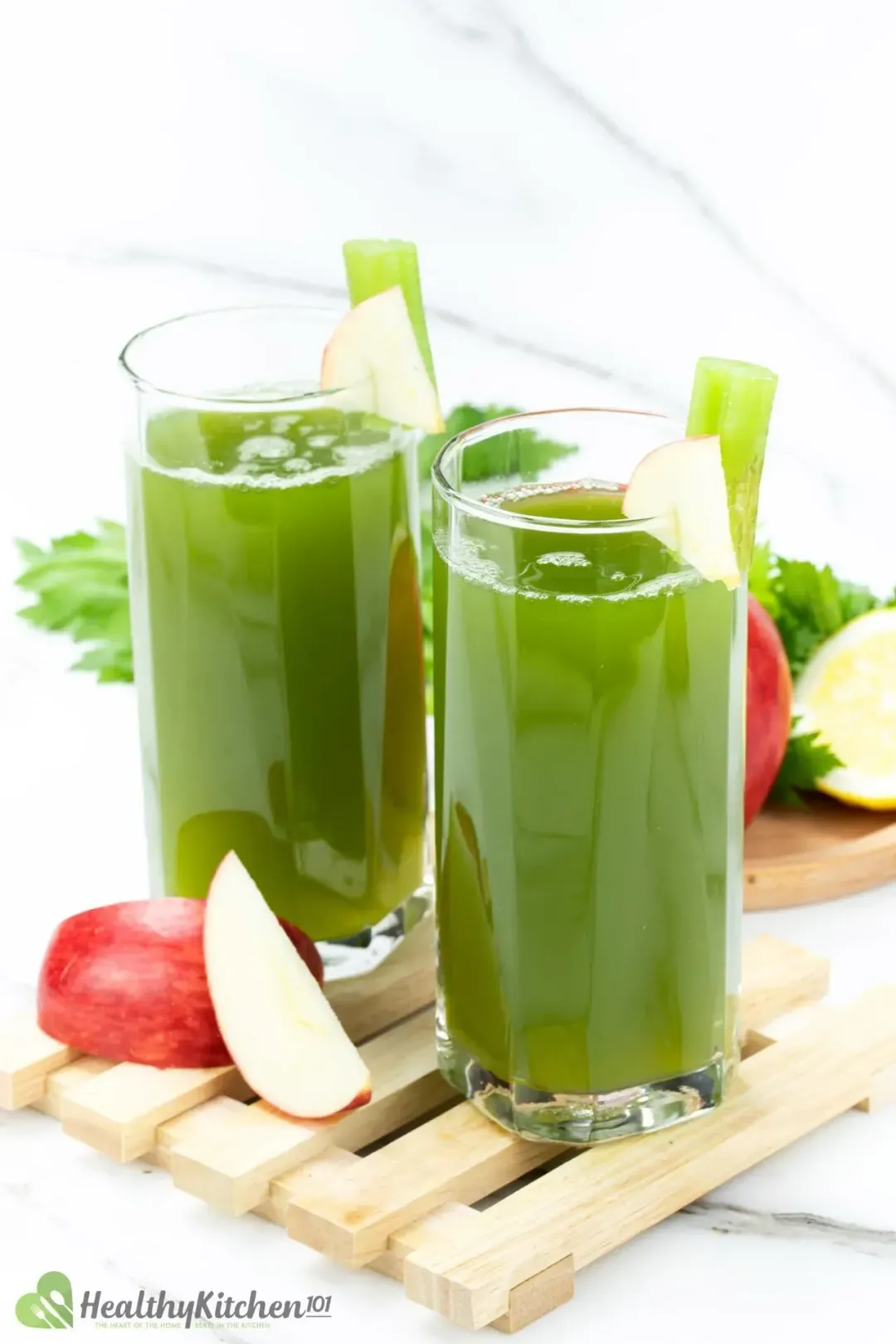 Calories
This apple celery juice contains only 87 calories per serving. That's an impressively low amount of calories considering all the valuable nutrients.
Most of the calories come from carbohydrates in the form of sugars. And given that we've limited the added sugar, it's a negligible amount that effectively sweetens this beverage.
A small amount of protein also makes up the overall calories for this drink. Consuming it can steadily contribute to your daily protein intake.
Protein is excellent for building muscles and reducing appetite. To bump up the nutrition and protein, pair this drink with a light salad.
The sweet flavors pair well with a leafy dish. It completes a fulfilling, balanced meal with plenty of nourishment.
To conclude, apple celery juice's profile makes it appropriate for low-calorie diets. You can frequently have it as a simple appetizer too.
The best part is you don't have to worry about piling calories. You can nourish and refresh at a fraction of the calorie cost compared to higher-calorie sodas.
And feel free to use it for different occasions. Apple celery juice is your ultimate versatile drink that is always healthy, kid-friendly, and plain delicious!
You can also try out another celery juice recipe using pineapple or view all our recipes with celery juice here.
Apple Celery Juice
This apple celery juice recipe is a low-calorie, low-sugar beverage that's excellent for both kids and adults. Make it in under ten minutes and serve it cold for the best summer experience.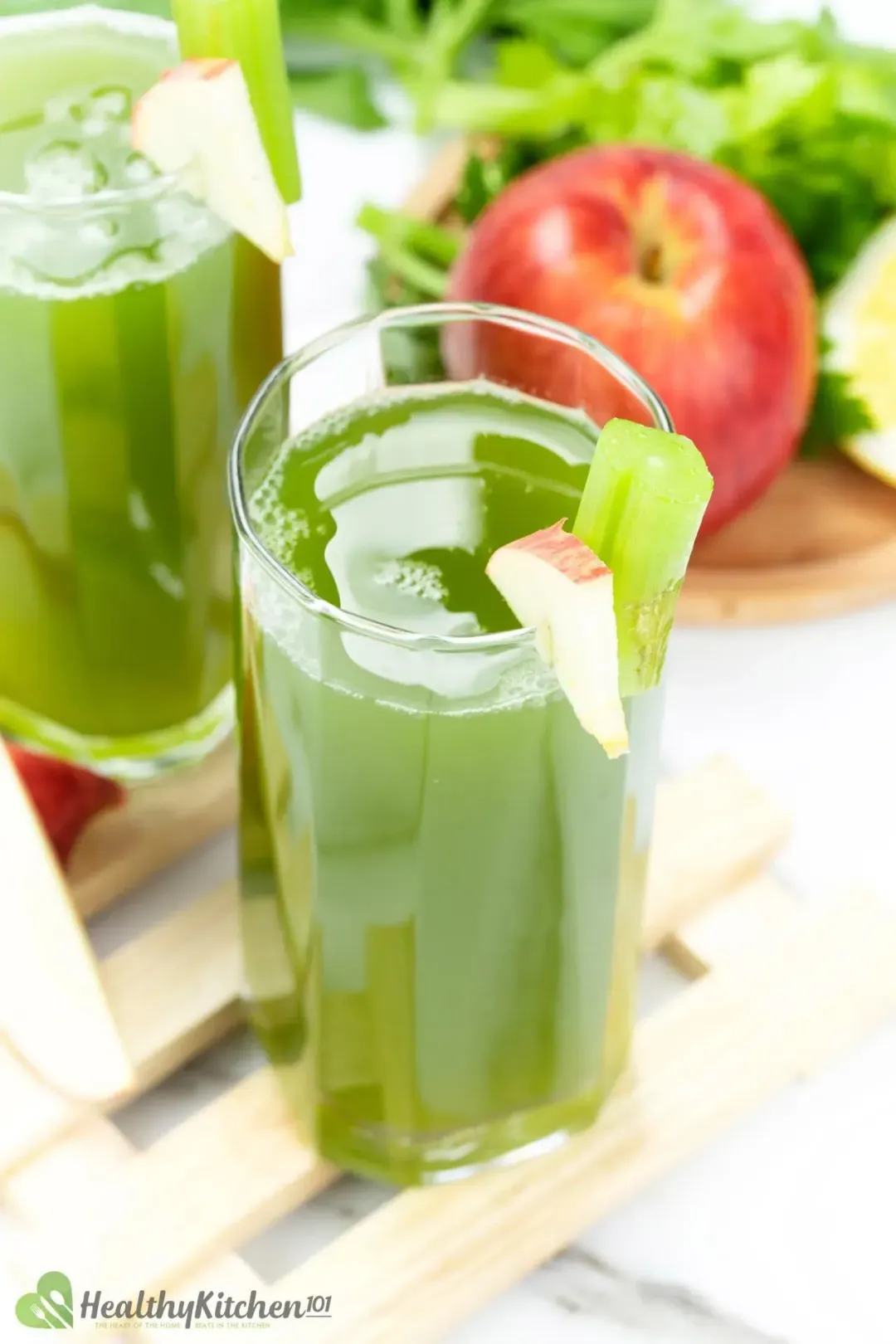 prep TIME

10 mins

total TIME

10 mins
COURSE

Beverage

CUISINE

American

SERVINGS

CALORIES

87 kcal
INGREDIENTS
4 fl oz

celery juice

(from about 3 oz celery stalks)

8 fl oz

green apple juice

(from about 10 oz apples)

12 fl oz

red apple juice

(from about 15 oz apples)

6

spearmint leaves

(fresh)
INSTRUCTIONS
1
Rinse vegetables and fruits. Drain well.
2
Core apples and cut into chunks. Run apple pieces (10 oz apples, 15 oz apples) through a juicer to extract apple juice.
3
Pour apple juice through a fine-mesh strainer to get a clear juice.
4
Run 3 oz celery stalks through the juicer to extract celery juice. In a pitcher, combine apple juice, celery juice, lemon juice, and 1 tbsp sugar. Stir until sugar dissolves.
5
Pour the drink into 4 glasses over ice. Garnish with mint leaves. Serve.
NUTRITION
Nutrition Facts
Apple Celery Juice
Amount Per Serving (1 serving)
Calories 87
Calories from Fat 1
% Daily Value*
* Percent Daily Values are based on a 2000 calorie diet.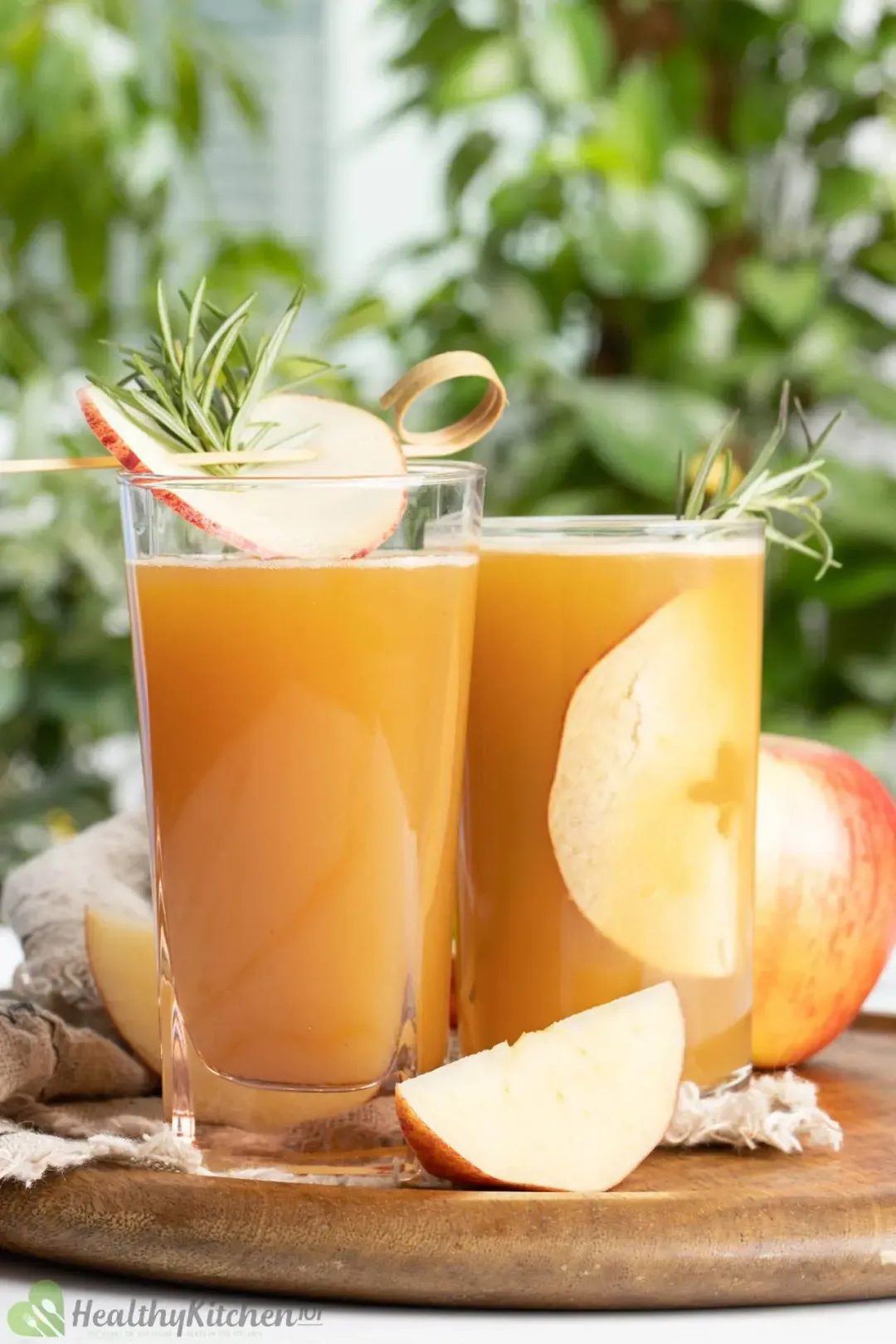 Previous Recipe
Refined Sugar-Free Apple Juice
Refined Sugar-Free Apple Juice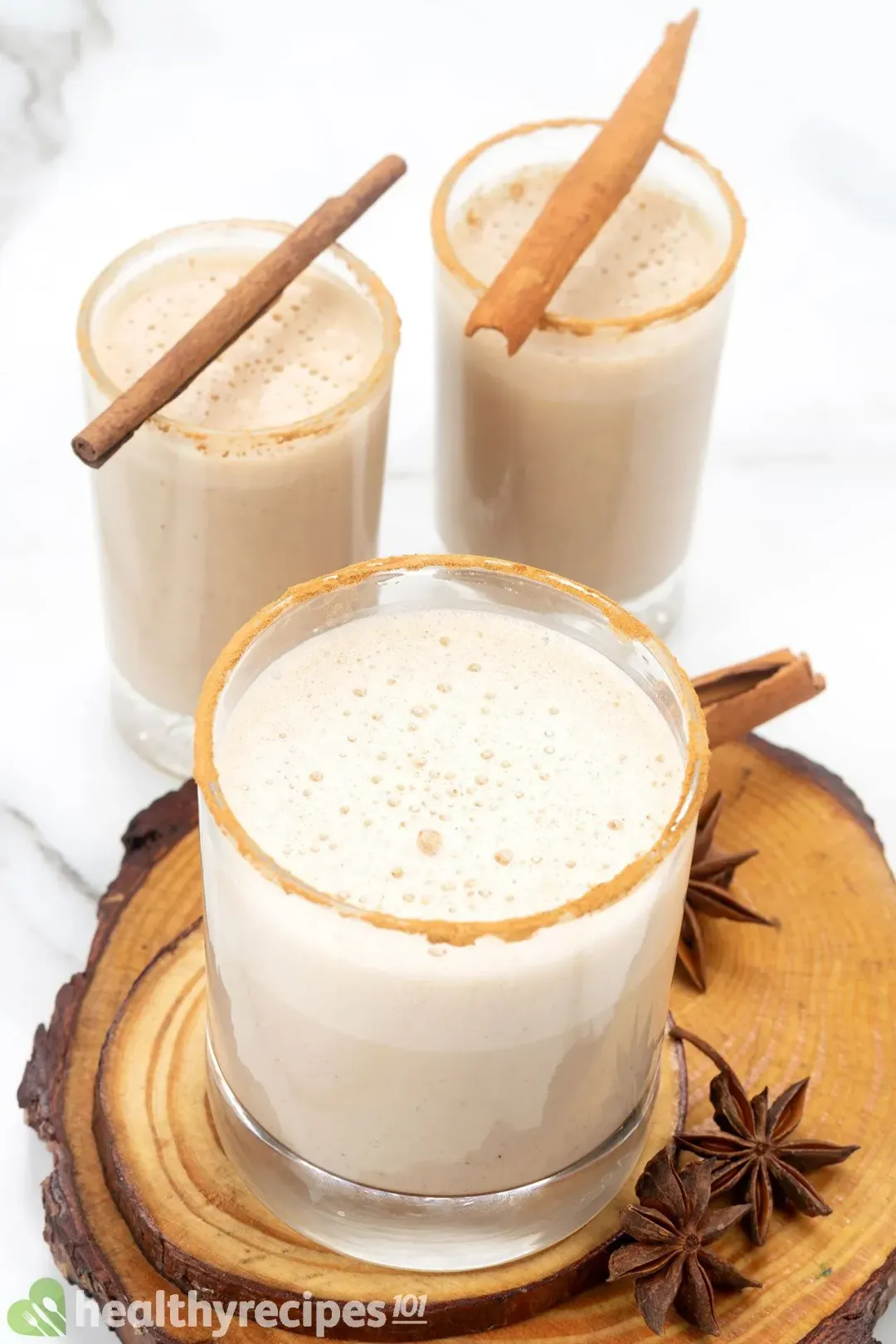 Eggnog
I've been drinking celery apple juice for sale 6 days now I love it every morning trying to do it twice a day and it's been helping me detox and keep my blood sugar down

So glad you loved it, Josephine!

I made this drink this morning and drank it on an empty stomach and I immediately felt the benefits of it. It motivated me to start more juicing to feel great. I'm very excited
Thank you…..Bea

I'm glad it works for you, Beatrice!

Refreshing combo! Love the apple-celery juice.