Are you looking for a tried-and-true watermelon jungle juice recipe? This may be the right one to add to your list.
It's a lava-red blend of delicious juices: watermelon, lemon, coconut. Add rum and vodka, crush some ice for chilled refreshment— and just like that, you can easily make a cocktail on a budget.
This quirky cocktail stands out for its low-sugar, low-calorie profile. You won't find a nearer-to-healthy watermelon jungle juice recipe out there.
Read on to learn exactly how you can prepare it.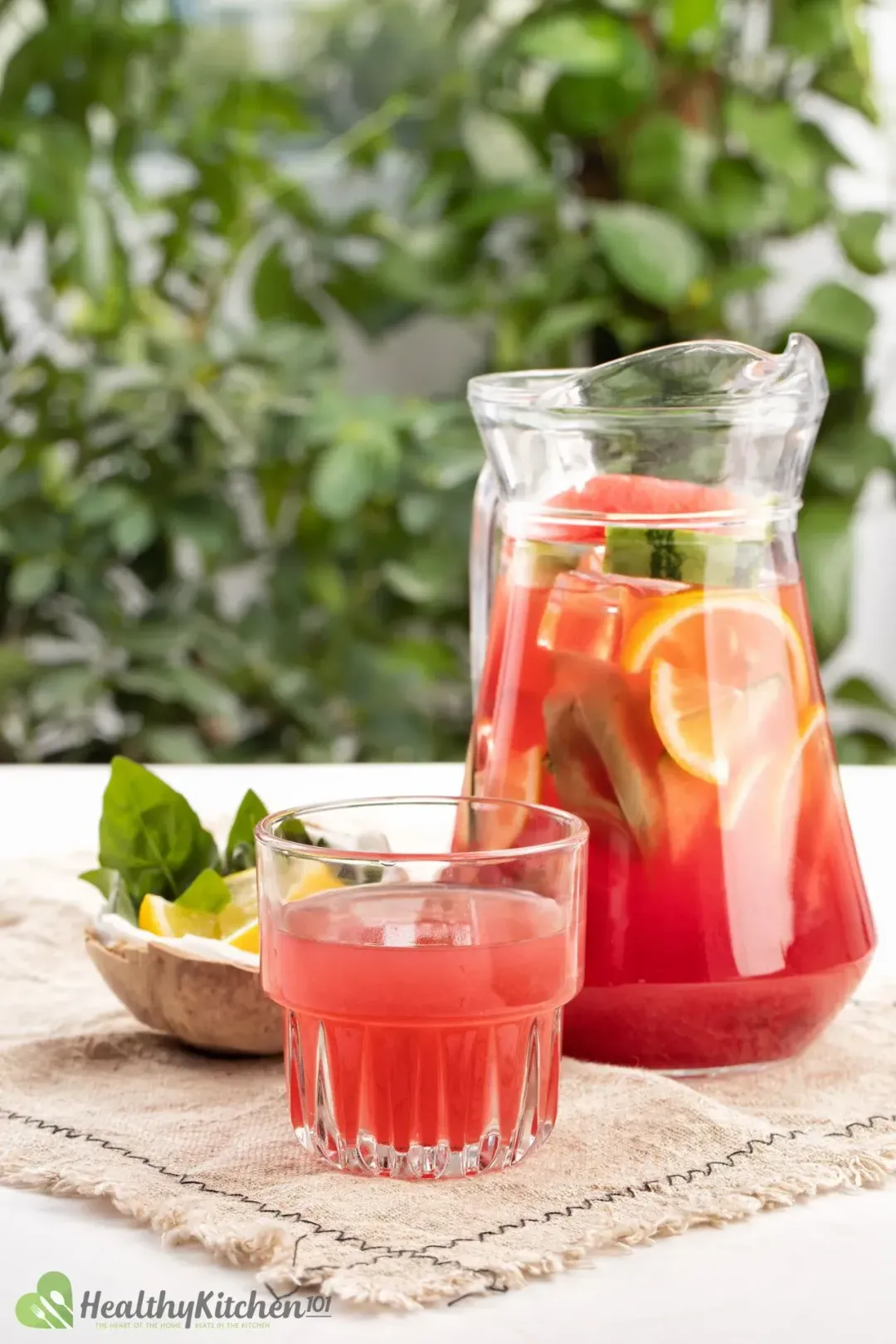 Is Our Recipe Healthy?
Our watermelon jungle juice is a mix of liquor, fruit juices, and sugar for a balanced finish.
Adding fruit juice usually gives the impression that a drink is healthy. But consuming them, even straight, can contribute to ingesting large amounts of sugar and calories.
Let's take a look at why this watermelon jungle juice is not fooling us (or you).
1. Alcohol
Excessive alcohol consumption can be unhealthy. When you moderate your alcohol intake, you may avoid its adverse effects.
The most effective measure is to drink moderate amounts. The USDA recommends, at most, 1.5 oz/day for women and 3 oz/day for men when it comes to liquor.
Moderating your alcohol intake can help you avoid a rough morning-after headache. It can also help to tackle more serious issues like bloating, fatigue, and slurred speech, to name a few.
In extreme cases, it leads to liver damage. That's why we've limited alcohol in this drink to only 1 oz per serving, which is within the recommended guidelines.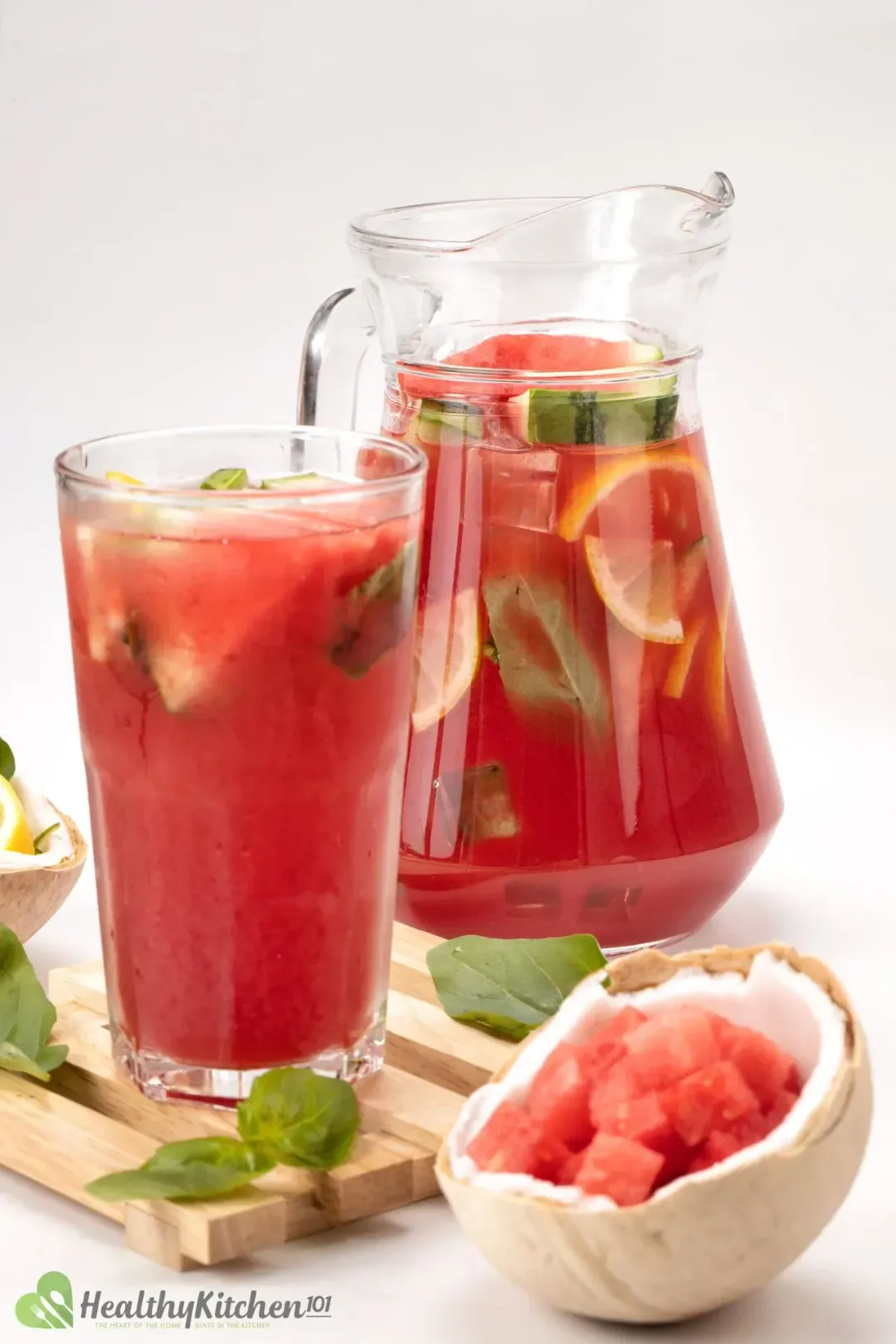 2. Sugar
Another element of concern in any diet is sugar. Sugar is often termed an enemy, a villain, and in some cases— the devil.
But, is sugar really the bad guy?
Not really. There's no doubt that you can enjoy sugar in a healthy diet.
The abuse of sugar, however, can land you in some trouble.
Though it doesn't directly cause them, consuming too much sugar may contribute to diabetes and obesity. Try to limit sugar intake to less than six teaspoons/day for women and nine teaspoons/day for men.
Have it in moderation like we did by adding only 3/4 of a teaspoon per serving. Just like with alcohol, you can enjoy sugar in moderation and stay on top of your health.
Using these same guidelines, we made another alcoholic fruit drink that you also can enjoy and incorporate into a healthy diet.
How to Make
Start with fresh ingredients. Homemade and freshly squeezed juices help balance the strong liquor flavor to create a more refreshing drink.
Plus, they have no preservatives, creating a crisp, more "natural" beverage.
To find out how to extract and use watermelon juice, read our article on all our delicious jungle juice recipes. It's a guide that can help you learn more ways to juice watermelons and enjoy them in healthy recipes.
Next, pour your best rum and vodka into a pitcher. Add watermelon and lemon juices, coconut water, and sugar.
Then, stir until the sugar has completely dissolved.
Ready your glasses and pour in the mixture. Top with some crushed ice for a cold, quenching drink.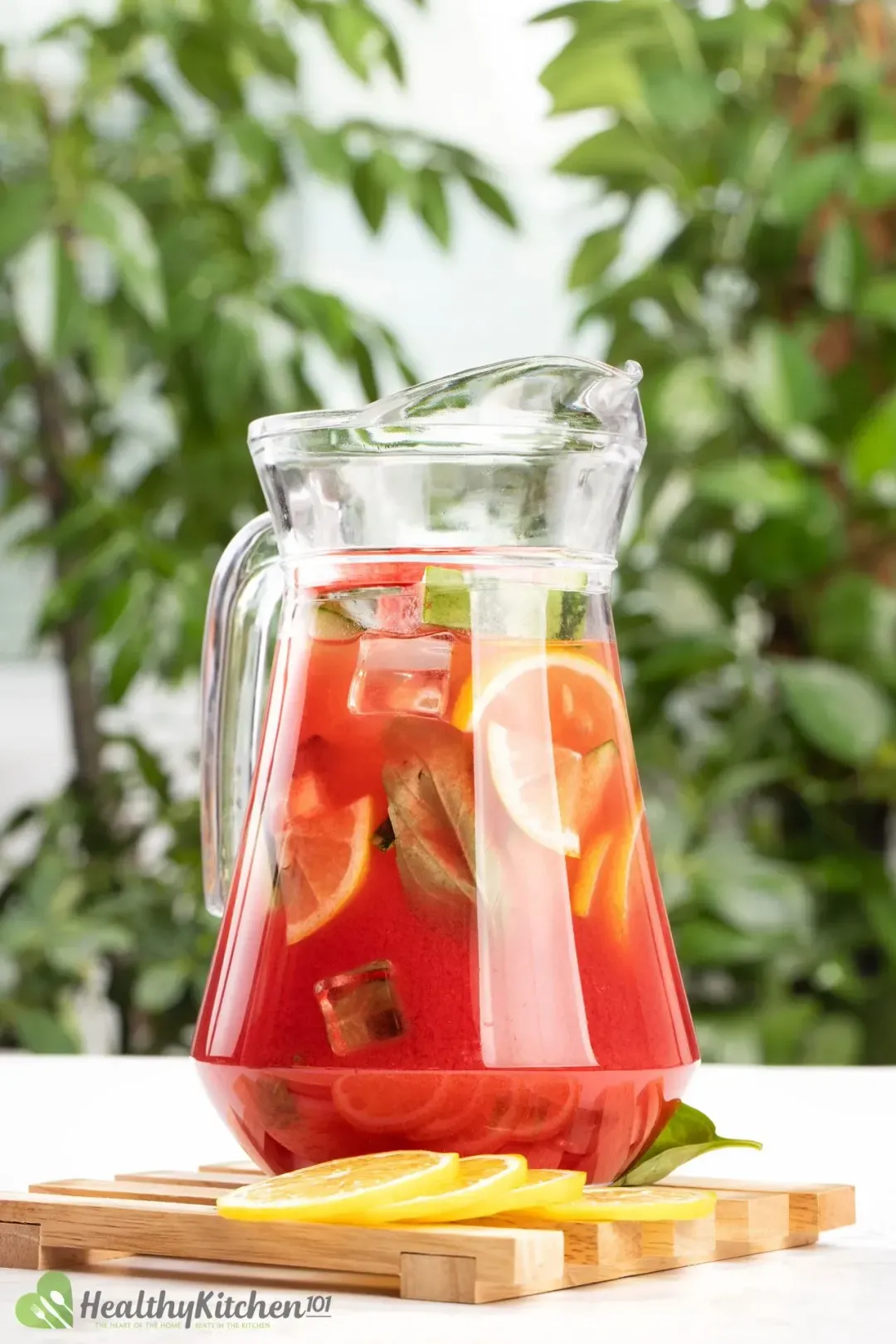 Finish with a fresh basil garnish (and fruit pieces, if desired) and serve the drink immediately.
A few ingredient substitutions can also result in one of the best punch drinks for a party crowd. It's a shamrock green, lethal drink that you'll want to serve at your next gathering!
Can Jungle Juice Get You Drunk?
What looks like a harmless, colorful drink can end up being your worst cocktail. Watermelon jungle juice masquerades as a harmless beverage due to its fruity grandeur but it is still alcoholic.
Yes, you can enjoy it in moderation and come out unscathed on the other side. But drinking copious amounts and numerous servings can throw you off balance, causing drunkenness and the dreaded hangover.
Drink plenty of water whenever you drink alcohol. It helps to hinder its effects by slowing down impairment and keeping you hydrated.
Try to avoid binge drinking too, and space out your drinks to give your liver time to manage the alcohol.
We also have a large collection of healthy juice recipes for your reference. Come check them out. For more watermelon juice ideas, have a look at our healthy watermelon juice roundup.
How Long Does It Last in the Fridge?
You don't want to keep your jungle juice for more than three days in the refrigerator.
Yes, it contains vodka, which can last up to 10 years, and rum, which goes bad within roughly six months. But homemade fruit juices, also in this drink, only last up to three days.
Their nutrient content quickly depletes, causing the mixture to spoil. So, keep watermelon jungle juice in an airtight container to retain nutrients while storing it.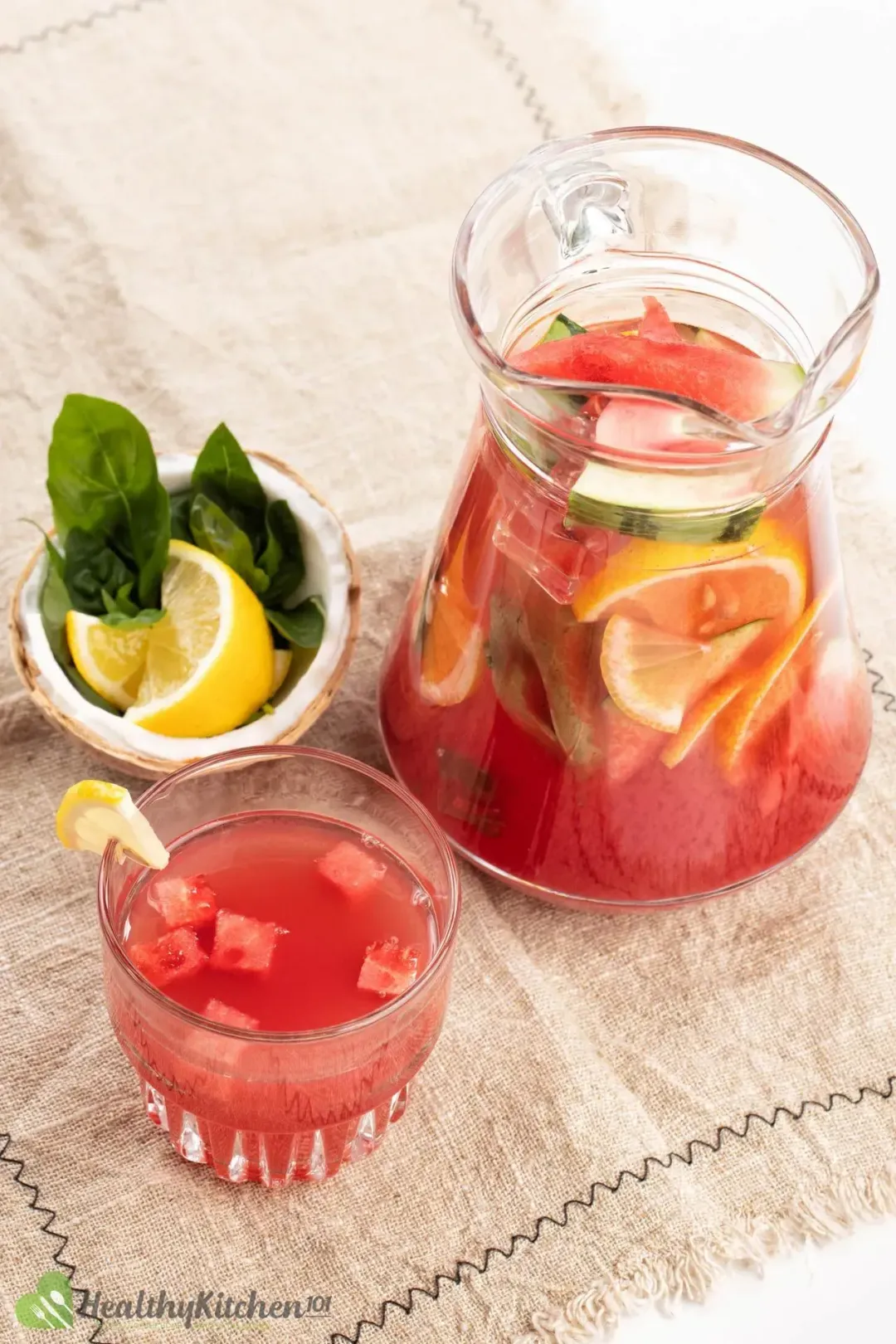 For lengthened storage, keep it in the freezer for up to 3 months. When ready to use, leave it to defrost at room temperature until it has thawed.
The taste will not be as fresh, but you can still enjoy it without noting much of a difference.
Calories
This watermelon jungle juice recipe contains 128 calories per serving. A traditional jungle juice recipe— straight from the frat house— usually has 230 to 250 calories per serving.
That's a whopping 50% fewer calories! It demonstrates that shaving off unnecessary sugar and alcohol amounts helps to reduce calories and carbs.
It's also good practice to read the label to check for calories in a drink before buying (or making) it. In this case, you can further reduce sugar and alcohol amounts (50% is enough) to achieve a much healthier beverage.
Watermelon Jungle Juice
This watermelon jungle juice recipe is a succulent punch for a fun party. Serve it on the rocks for a refreshing feel.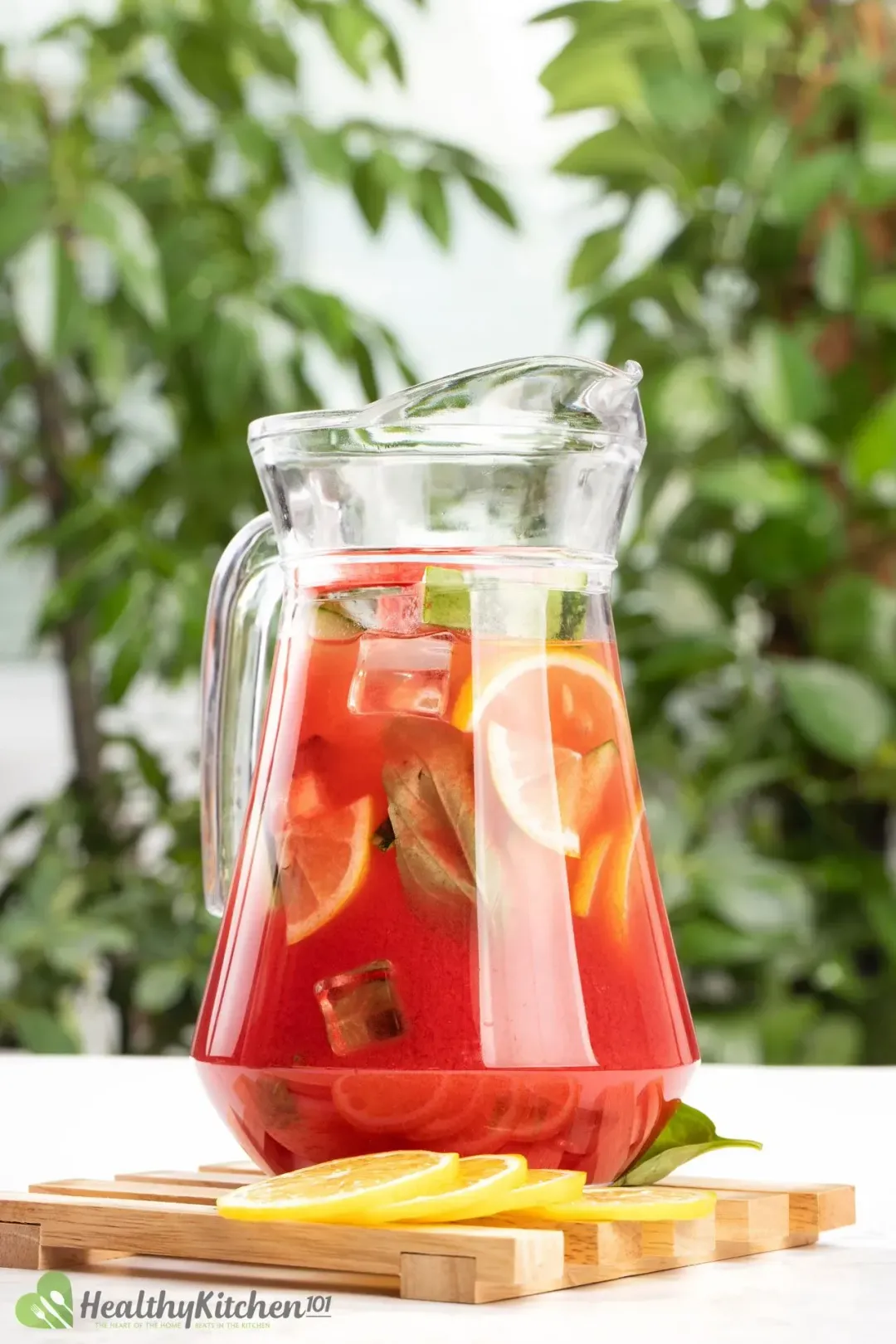 prep TIME

5 mins

total TIME

5 mins
COURSE

Beverage

CUISINE

American

SERVINGS

CALORIES

128 kcal
INGREDIENTS
20 fl oz

watermelon juice

(fresh)

1 tbsp

lemon juice

(fresh)

2 fl oz

80-proof white rum
INSTRUCTIONS
1
In a large pitcher, combine 20 fl oz watermelon and 1 tbsp lemon juices, 1/2 cup coconut water, 1 fl oz rum, and 1 fl oz vodka. Add 1 tbsp sugar and stir until it dissolves.
2
Add 8 basil leaves to the pitcher. Serve over ice.
NUTRITION
Nutrition Facts
Watermelon Jungle Juice
Amount Per Serving (1 serving)
Calories 128
Calories from Fat 3
% Daily Value*
* Percent Daily Values are based on a 2000 calorie diet.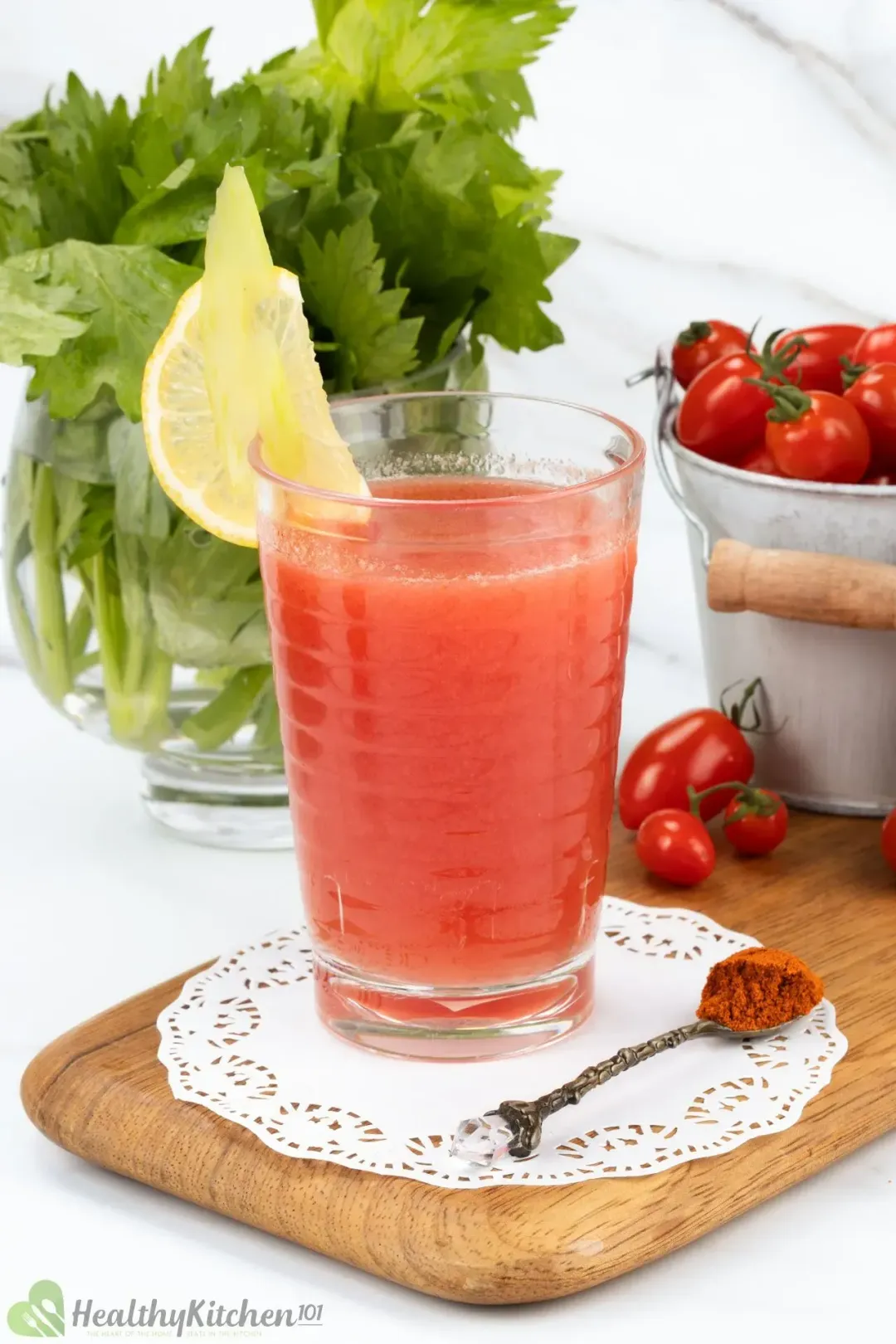 Previous Recipe
Vodka and Tomato Juice (Bloody Mary)
Vodka and Tomato Juice (Bloody Mary)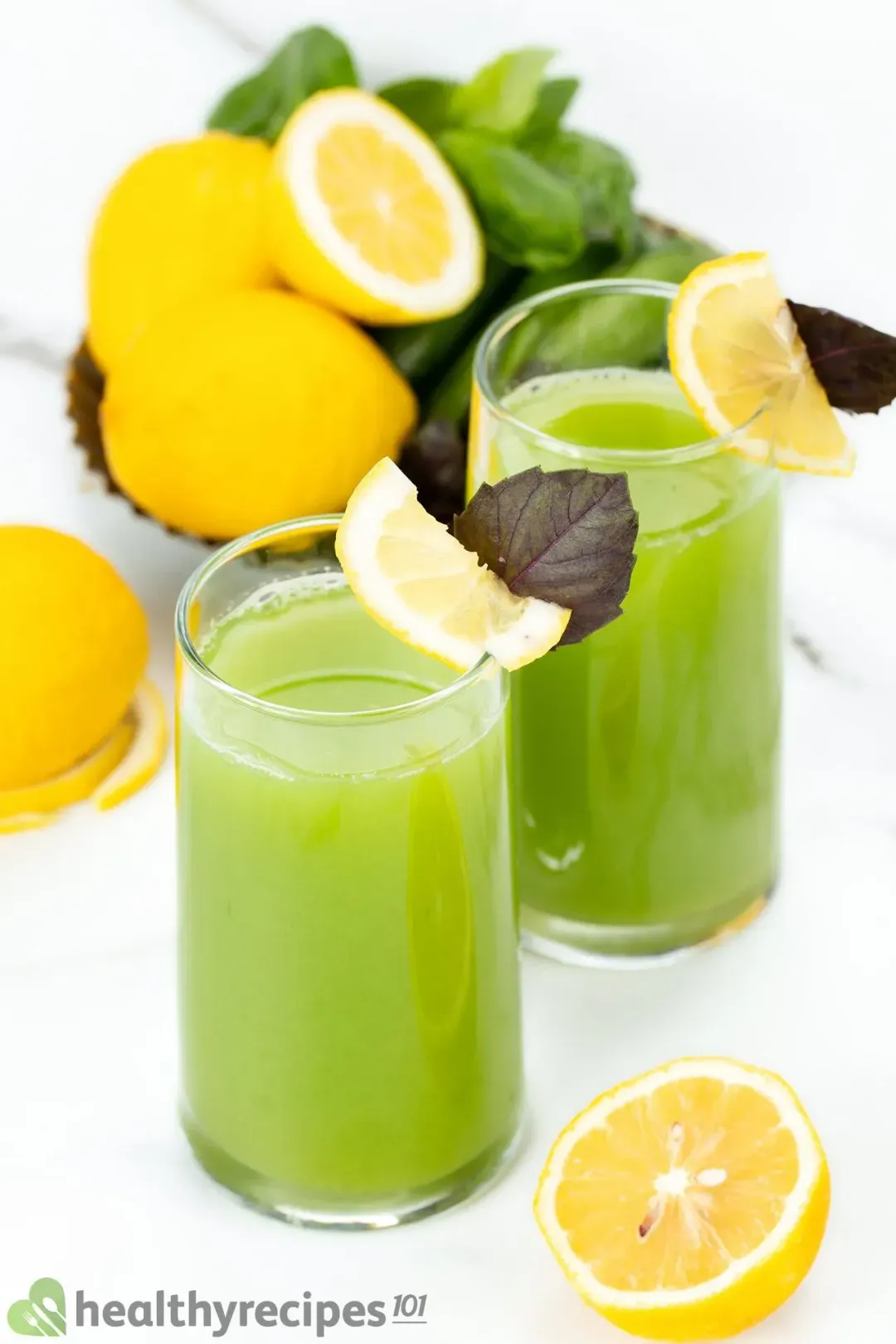 Next Recipe
Cucumber and Lemon Juice
Cucumber and Lemon Juice
I made this over the weekend everyone loved it!