Our green jungle juice recipe is a simple and delicious cocktail. It's a party punch that can liven up a day and a crowd.
This version is yet another jungle juice recipe with fruit. All you need to prepare it is your best vodka, cordial, and choice of fruit juice. We're going with lemon and orange juices, club soda for a fun fizz, and sugar for a sweet, balanced finish.
It also has moderate amounts of sugar and alcohol to help you watch your health. Read on to learn about green jungle juice, whether it's healthy, and how to prepare your own cocktail.
Is Our Recipe Healthy?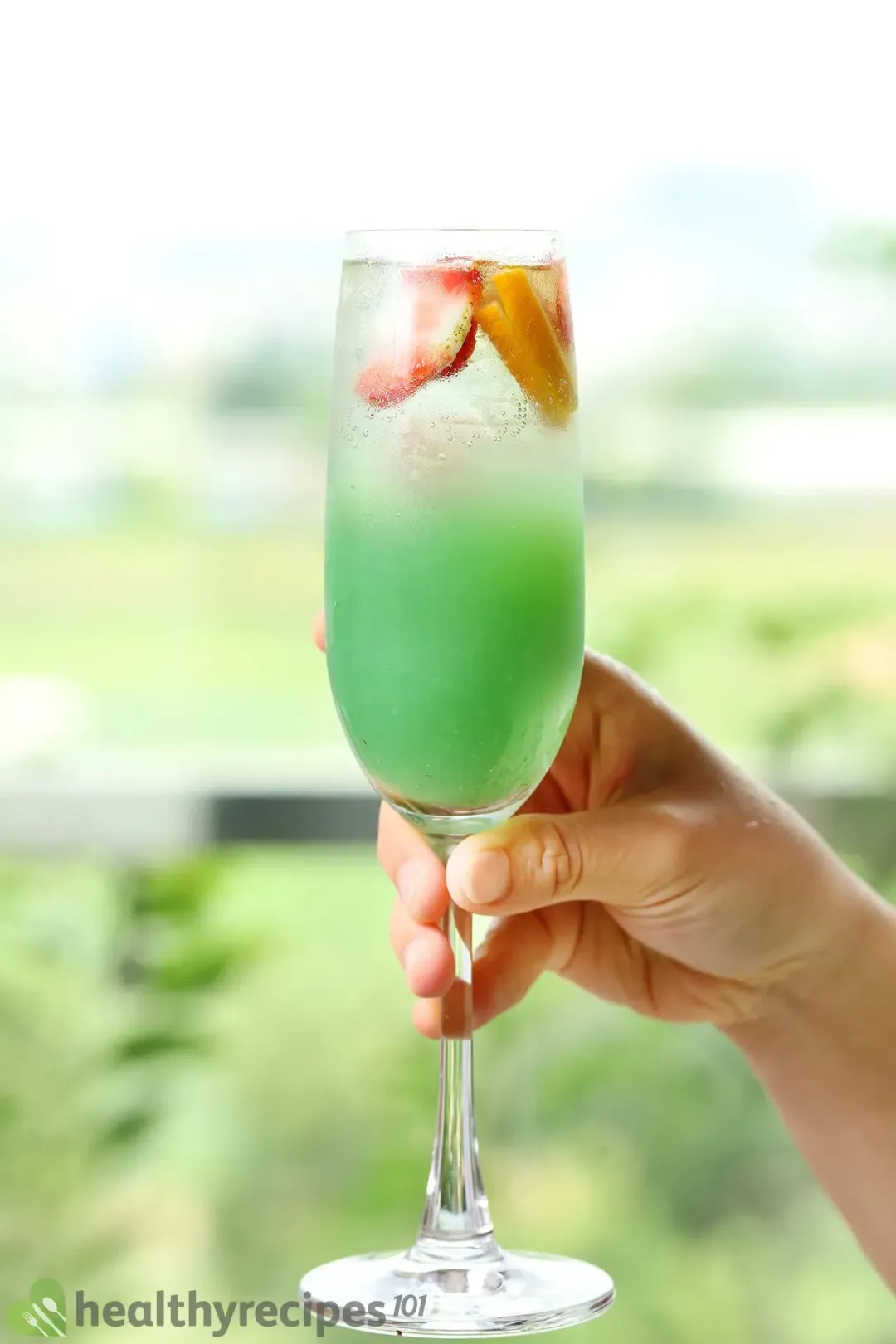 Alcoholic drinks are not exactly health-friendly. But this green jungle juice recipe keeps your body and health in mind by limiting alcohol and sugar to moderate amounts.
1. How Much Alcohol Is in This Juice?
It contains 1.5 fl oz of alcohol per serving, which is within the USDA guidelines for moderate alcohol consumption.
It's easy to lose track of your alcohol intake, leading to adverse effects like waking up to a severe headache after a night of drinking.
Fortunately, you can counteract this by drinking plenty of water (that, and a wholesome breakfast dish).
But never mind the hangover; excessive drinking can also result in long-term sickness. It could contribute to liver disease, high blood pressure, and depression.
So what's the best way to avoid these health risks? Drink alcohol in moderation or cut it completely from your diet.
You can either have alcohol or a healthy lifestyle. Thankfully, this recipe gives you the option to maintain both.
2. How Much Added Sugar Is in This Drink?
Added sugar itself doesn't cause obesity or diabetes. But consuming too much of it may contribute to the development of both conditions.
Thus, it's important to limit it in your diet.
Our juice contains one teaspoon of added sugar per serving, which is well within the recommended daily added sugar limit.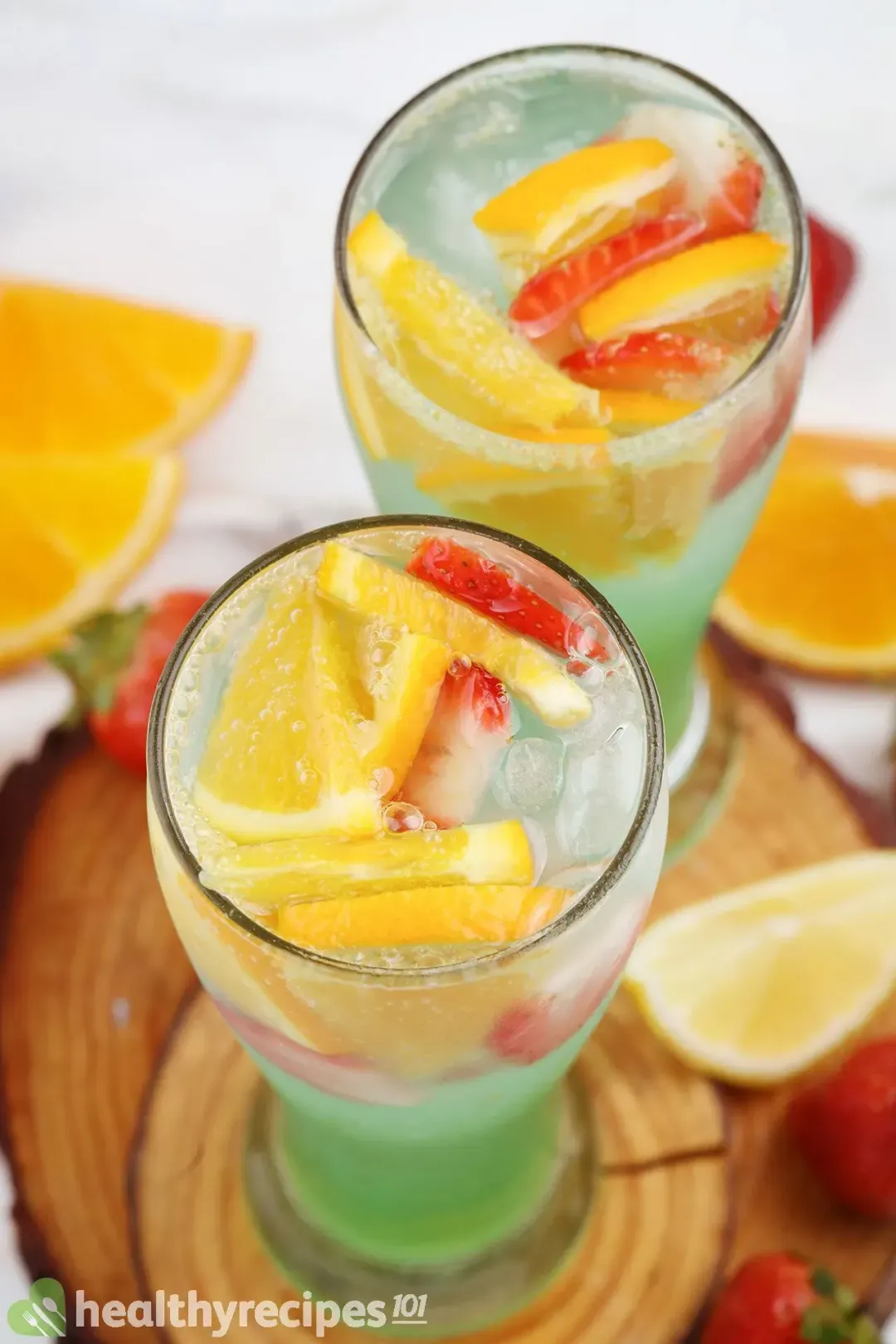 What Is Green Jungle Juice Made of?
A basic jungle juice recipe begins with fruits, juice, and some liquor. Each drink mainly differs based on these elements.
1. Rum, Blue Cordial
Our recipe includes rum and blue cordial liquor as an alcoholic base. Rum gives it a bitter-sweet essence while the cordial imparts citrus flavor and a bright color.
2. Lemon & Orange Juices
For a more refreshing taste, we've added lemon and orange juices. They give a vibrant citrus quality that combines to make a sweet, yet bitter drink.
Omitting both ingredients will produce a less zesty beverage. And we love fruits for their unique, natural taste that makes a bitter drink more palatable.
3. Sugar
Adding sugar is also a great way to bring the flavors together to create a delicious balance. But don't hesitate to reduce the amounts to suit your preferred taste.
4. Club Soda
Club soda brings an appreciable bubble and fizz to our green jungle juice, helping to make it the ultimate refreshment for scorching hot days.
5. Fresh Fruits
Lastly, you can elevate this brightly colored beverage even more with some fresh fruit slices. Simply slice them into neat pieces and add them to your glass of green jungle juice.
If you would like to see more healthy beverage options, see our collection of healthy juice recipes.
How to Make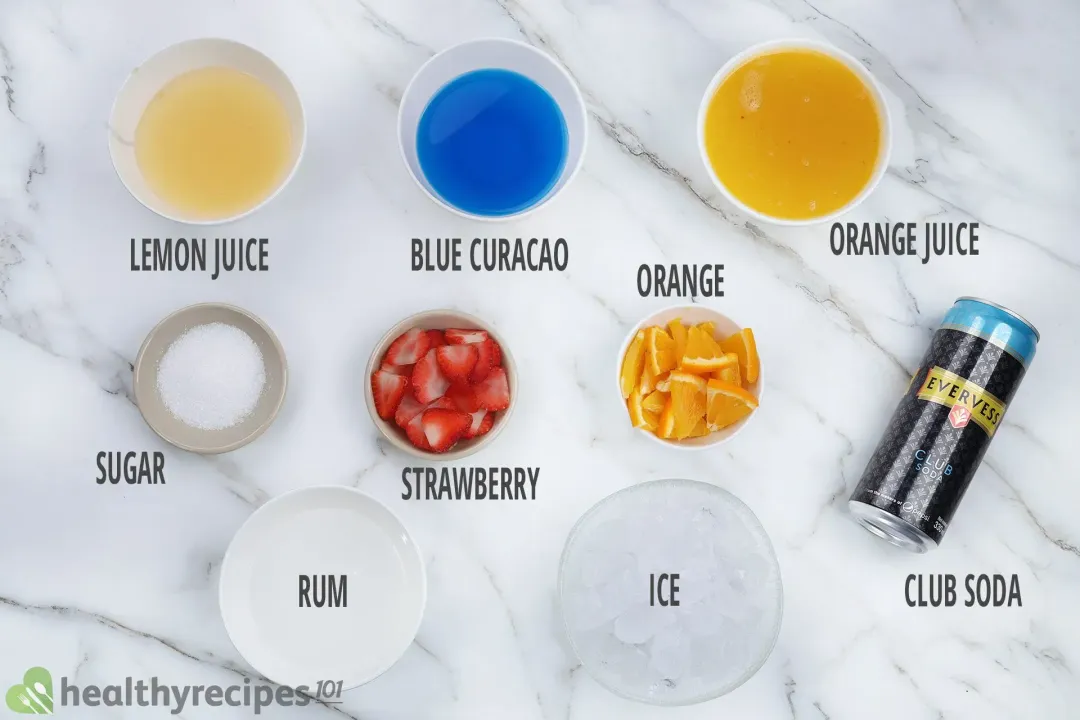 Start by washing all the fruits thoroughly, and pick strawberries and some oranges for slicing. Cut them into neat, thin slices and set them aside.
Combine rum, cordial, club soda, and freshly-squeezed orange and lime juices in a large pitcher (about 34 oz). Add sugar to the mixture and stir to dissolve.
To serve, pour into cocktail glasses. Garnish them with fresh fruit slices, and enjoy your green jungle juice with or without ice.
If you put white rum in place of dark rum, you can end up with a blue party juice recipe. Or if you're curious to try other flavors, we've got you covered with this list of homemade jungle juice recipes. It'll guide you on how to prepare each drink and shed light on other properties of jungle juice.
How Long Does It Last in the Fridge?
Jungle juice can last up to 3 days in the refrigerator. That's because it contains homemade orange juice, which loses nutrients quicker compared to store-bought varieties.
You may wonder whether the alcohol content causes it to extend its storage period. It's true, liquor like rum and whiskey should be consumed within 6 to 8 months after being opened.
To store safely, keep it tightly sealed in a cool, dark place. Place it upright to prevent contact with the bottle cap and avoid corrosion.
However, though the main component in jungle juice is alcohol, adding fruit juices can cause it to spoil quicker. The safest approach is to consume it within three days.
Just make sure to use an air-tight container to prevent oxidation and quick spoilage.
Calories
This green jungle juice contains 204 calories per serving, whereas typical jungle juice can range from 230 to 250 calories per serving.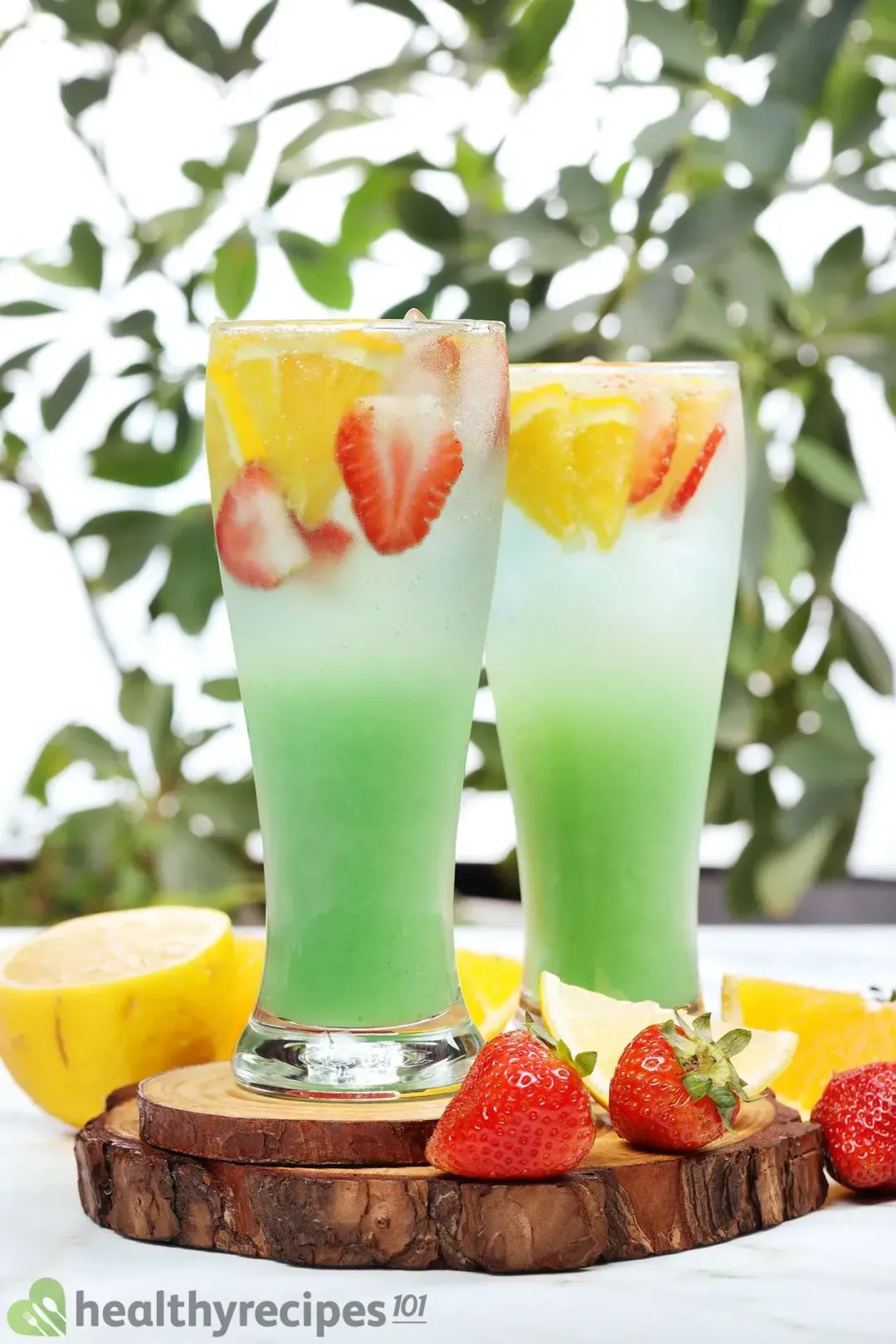 The most significant difference in ours is the restriction of sugar and alcohol. Together, both ingredients constitute 72% of the calories in this beverage.
That's a large percentage, even if we've made sure to limit the amounts. But you can reduce them further to shave off more calories, making your drink safer to consume.
To have perfectly rum and juice every time, have a look at our Mojito Recipe.
Green Jungle Juice
This green jungle juice recipe is a fun punch with fruit and liquor citrus flavors that will excite a crowd. Serve it on the rocks for an even more refreshing experience.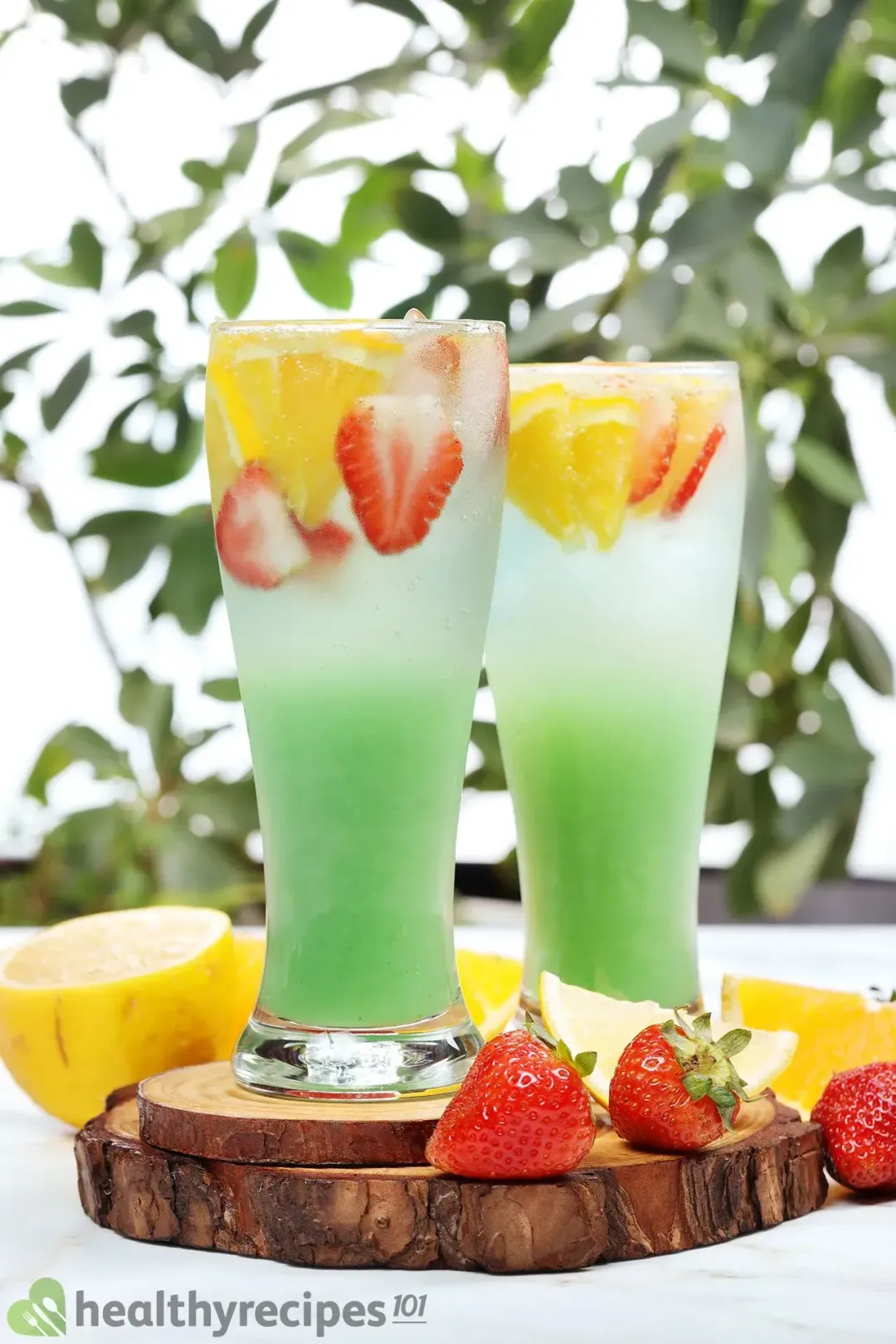 prep TIME

5 mins

total TIME

5 mins
COURSE

Beverage

CUISINE

American

SERVINGS

CALORIES

204 kcal
INGREDIENTS
10 fl oz

orange juice

(from about 12 oz fresh navel oranges)

3 fl oz

80-proof dark rum

4 fl oz

lemon juice

(fresh)

2 oz

strawberry slices

(fresh)

3 oz

navel orange slices

(fresh)
INSTRUCTIONS
1
Wash fruits and pat them dry with a kitchen towel. Slice the 2 oz strawberries and 3 oz oranges. Set aside.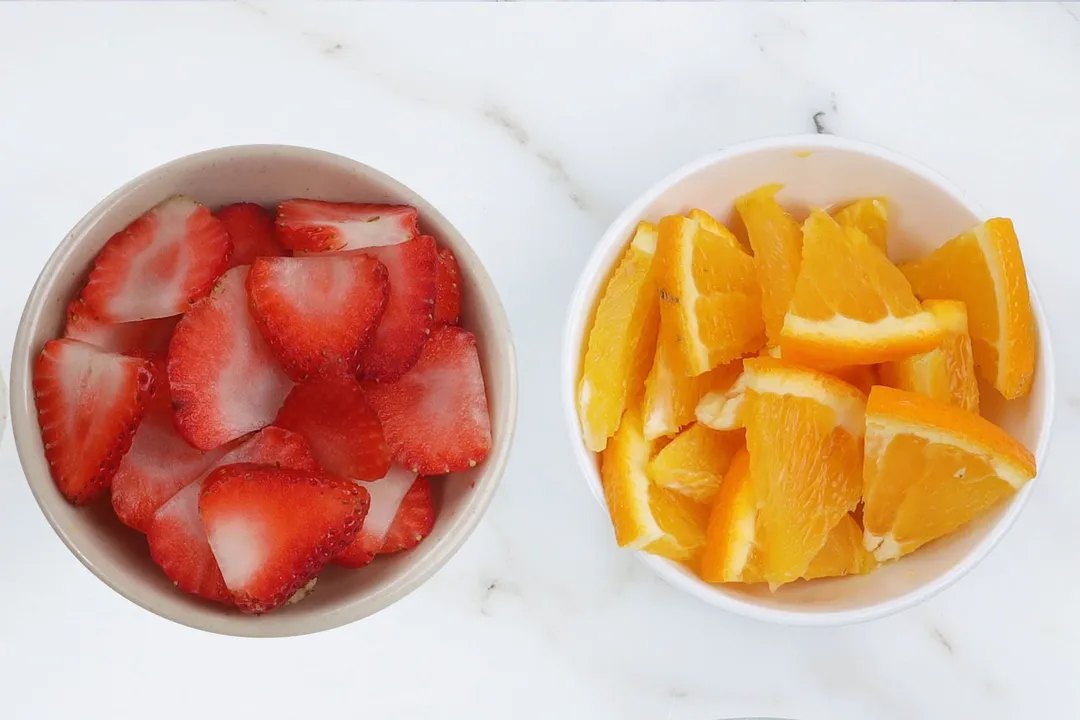 2
In a large pitcher, combine 3 fl oz rum, 3 fl oz blue cordial, 10 fl oz orange juice, 5 fl oz club soda, 4 fl oz lemon juice, and 4 tsp sugar. Stir to combine. Add the sliced fruits to the pitcher.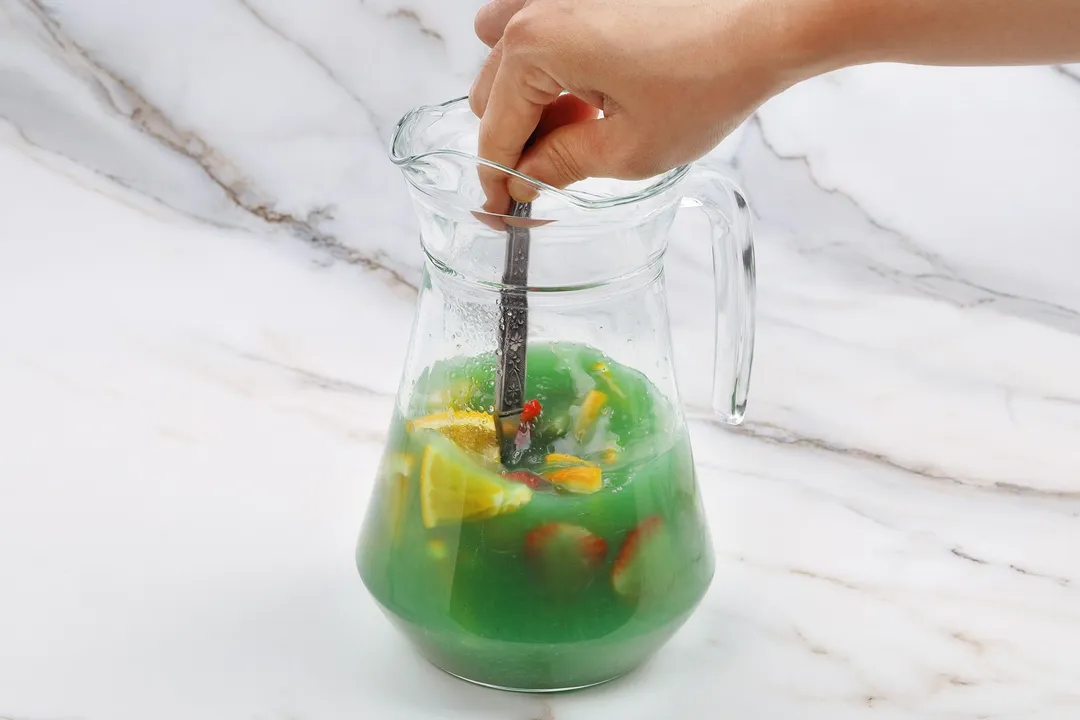 3
To serve, divide into four glasses filled with ice. Top each glass with the green jungle juice, along with strawberry and orange pieces.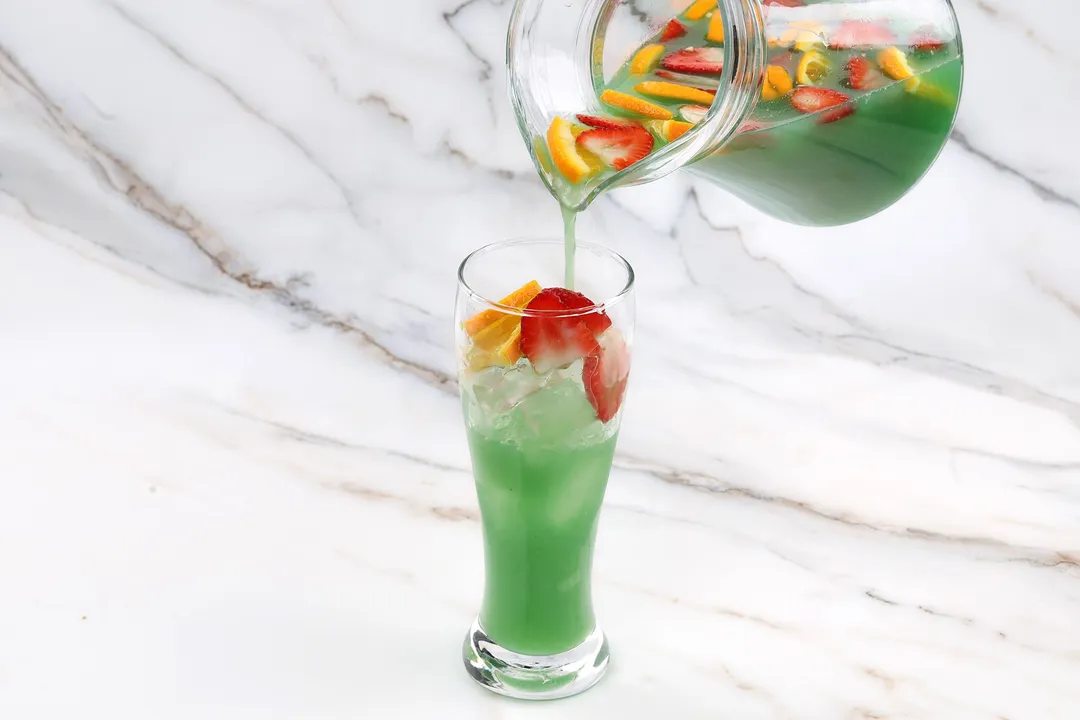 NUTRITION
Nutrition Facts
Green Jungle Juice
Amount Per Serving (1 serving)
Calories 204
% Daily Value*
* Percent Daily Values are based on a 2000 calorie diet.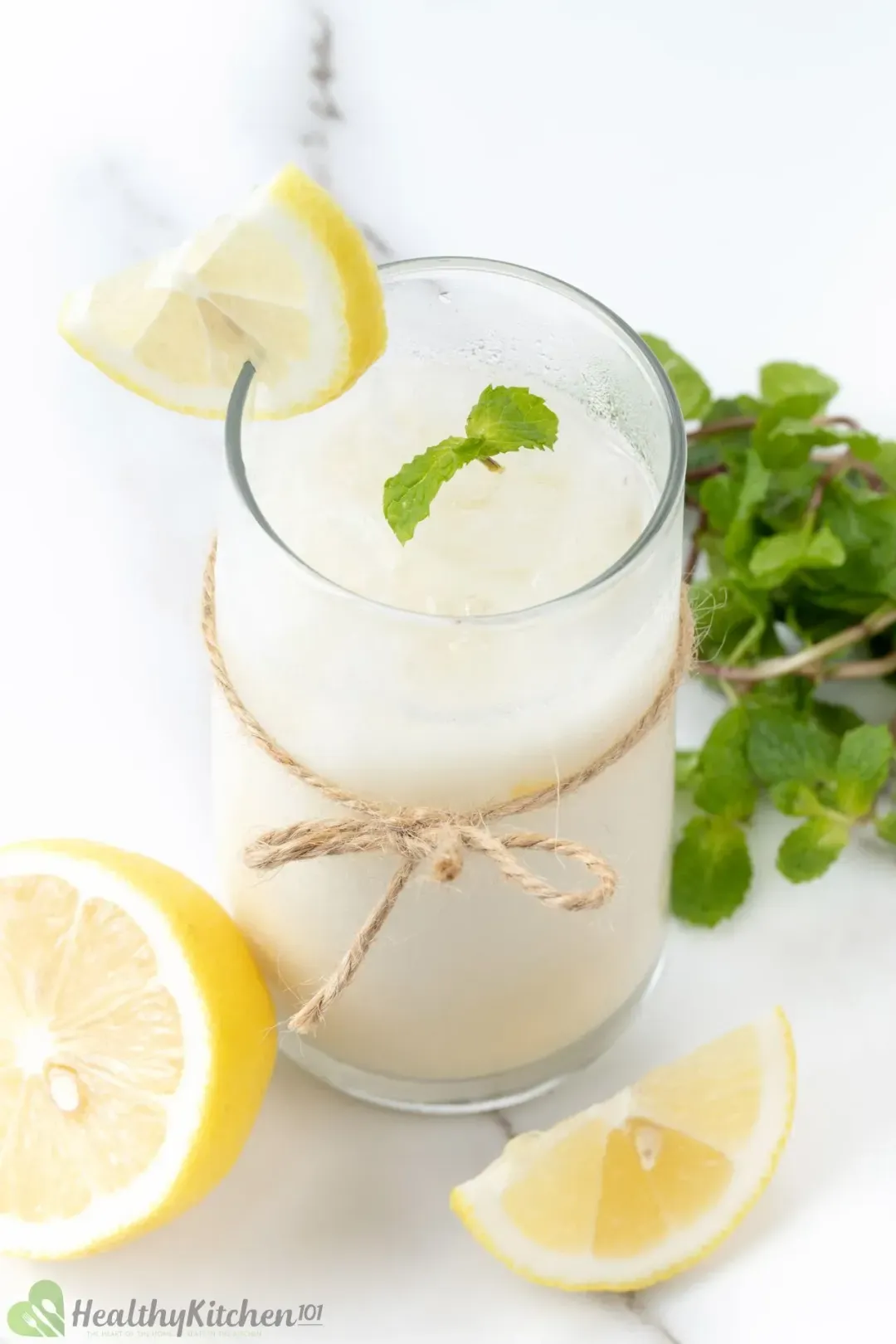 Previous Recipe
Milk and Lemon Juice (Buttermilk)
Milk and Lemon Juice (Buttermilk)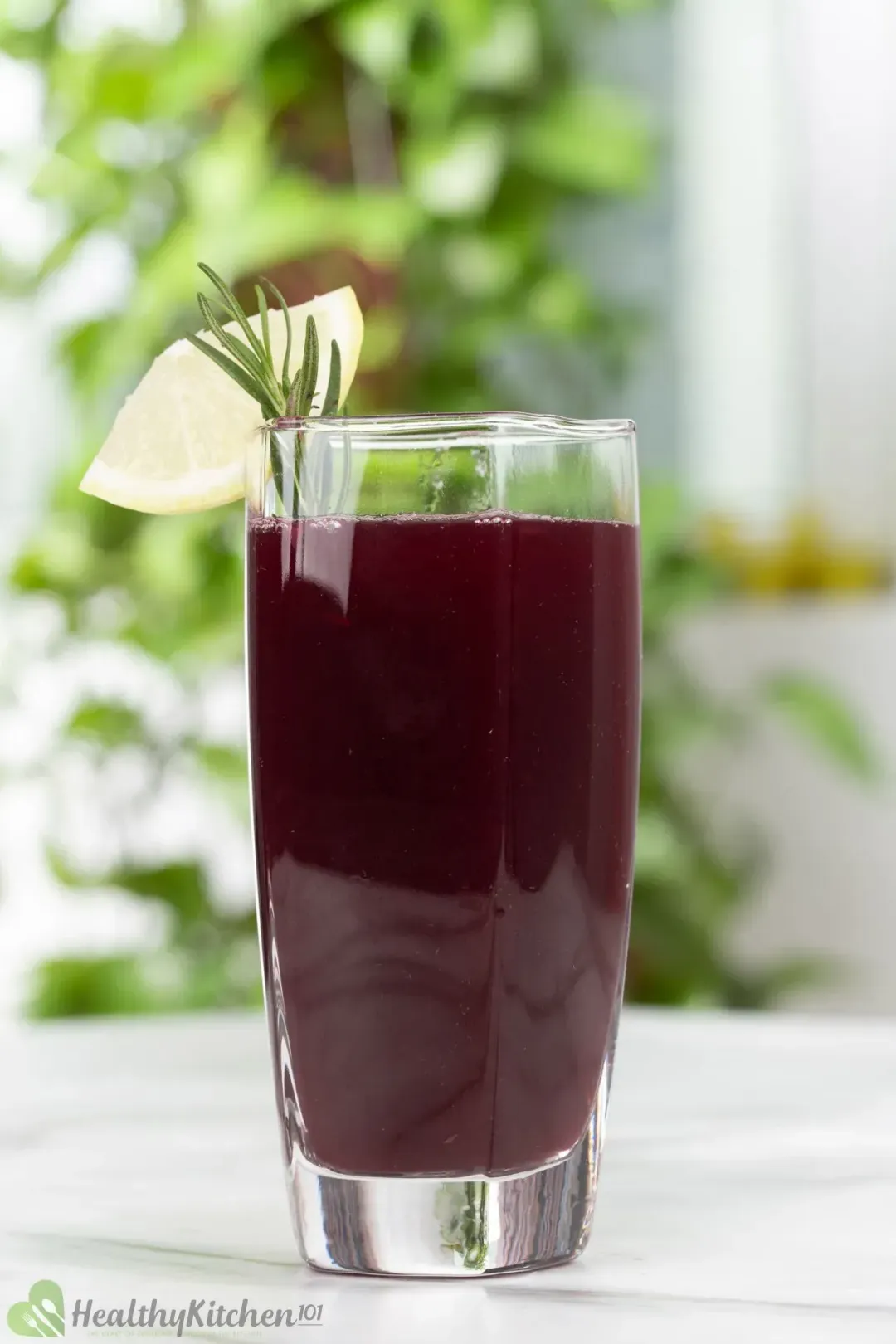 Next Recipe
Pomegranate Blueberry Juice
Pomegranate Blueberry Juice
Writer, Author
Luna Regina is an accomplished writer and author who dedicates her career to empowering home cooks and making cooking effortless for everyone. She is the founder of HealthyKitchen101.com and HealthyRecipes101.com, where she works with her team to develop easy, nutritious recipes and help aspiring cooks choose the right kitchen appliances.
Nutrition Reviewer
Lizzie Streit is a Minneapolis-based dietitian and founder of It's a Veg World After All. She completed her MS in Human Nutrition from Drexel University, and is an expert in culinary nutrition, recipe development, and nutrition communications. Lizzie's philosophy is centered around making nutrition recommendations, and especially the advice to eat more vegetables, approachable and realistic. She is excited to be working with the team at Healthy Recipes 101 to ensure that their recipes are both nutritious and delicious.
I'll be making this for Christmas Eve and I'm excited! Is there something I can use in place of club soda?

Yes, you can use seltzer in similar amounts. Have a merry Christmas!

Do you have any modifications on how to
make this without alcohol? It sounds really
good!

Sure! You can simply omit the alcohol to end up with a punch. 🙂