Today's best beet juice recipes come with health benefits that are backed by science. A lot of studies show that beet juice increases your energy levels and your overall health.
Beet juice can also help you lose weight and reduces the effects of premature aging on your skin. However, it's essential to choose the right recipe.
It's best to have your own beet juice recipes ready at home. Store-bought ones are often packed with inorganic or toxic ingredients, as well as high amounts of sugar and sodium.
This article will help you find out how to make a delicious beet juice that fits your fitness goals. We start by discussing beet juice benefits, then move on to telling you how you can achieve them through different recipes.
We'll also discuss possible side effects of drinking beet juice and answer essential questions, such as how much of it you can drink each day.
Beet Juice Benefits
Beet juice has plenty of benefits. Let's explore the most significant:
1. For Tiredness
Beet juice is a good solution if you feel tired all the time because its micronutrients can combat the causes of your tiredness.
Potassium. 100g of beets contain 9% of your RDI of potassium. This electrolyte contributes to nerve and muscle health. Low potassium levels lead to tiredness and weakness, so a glass of this juice can replenish your potassium levels and help you feel refreshed.
Iron. Iron deficiency is a common cause of tiredness. However, the iron in beets can help you fight fatigue in the context of a well-rounded diet.
Magnesium. Magnesium has a significant role in brain health, thus helping you fight the effects of stress and anxiety. When you're stressed, your body releases a stress hormone called cortisol that affects your sleep quality and tires you out because you're always in fight-or-flight mode. But as magnesium eases these symptoms, it can help you feel more rested.
Copper. Copper deficiency is associated with severe anemia and fatigue. Luckily, this juice can restore your copper levels.
2. For Weight Loss
Beet juice can help you lose weight, as long as you're putting in some effort. As such, you have to stick to a healthy diet and exercise. That said, beet juice is helpful for weight loss because it contains: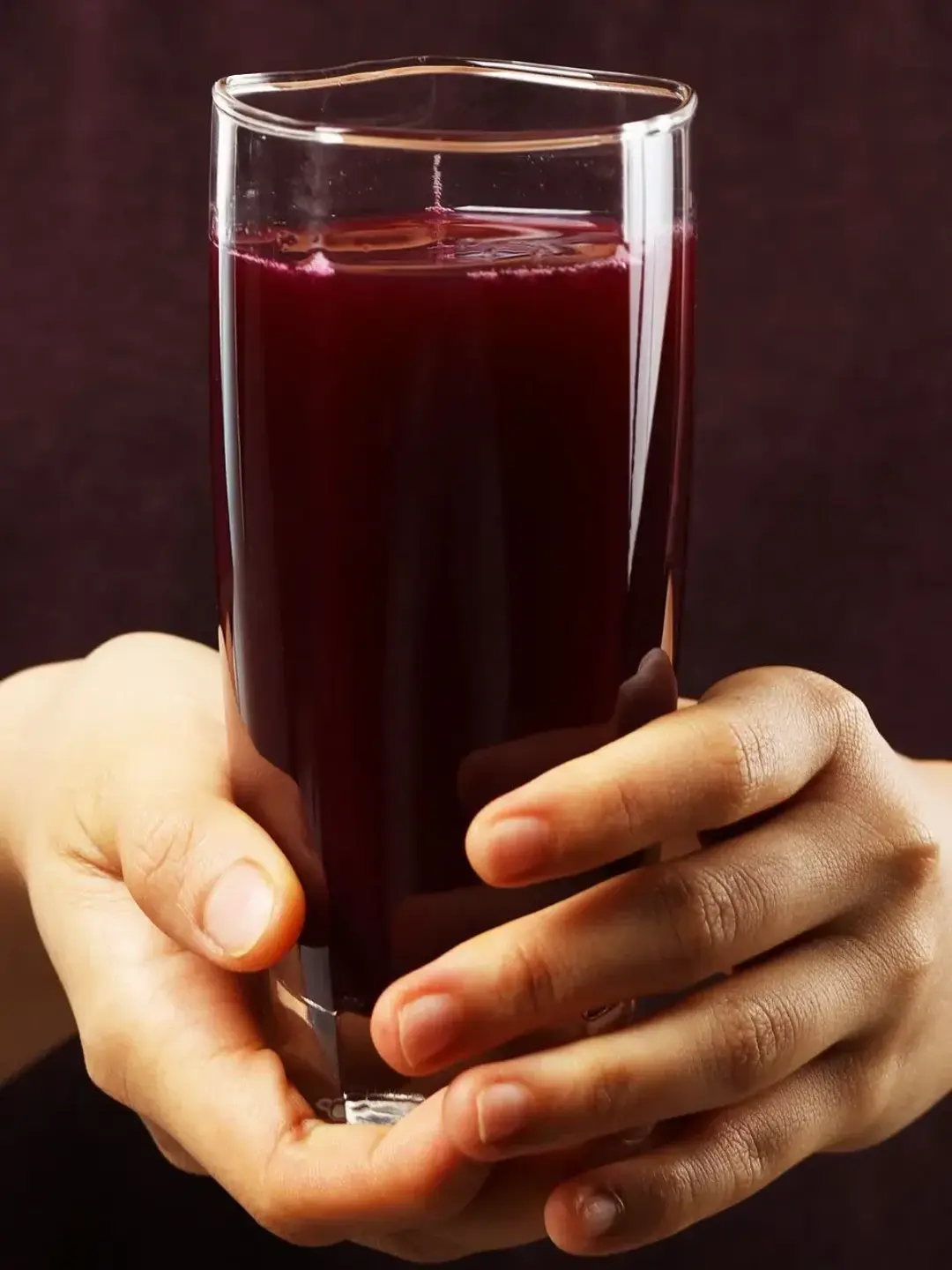 Just 43 calories. A 43-calorie 100-g snack is considered low-calorie. If you prepare your juice from 100g of beets and 100g of water, for instance, you'll get a nutritious drink that has half as many calories as a can of soda.
11% of the daily recommended fiber intake. Prepare your juice without removing the pulpy part, and the fiber in it will help you feel satiated for longer. As such, you can drink a beet juice smoothie after your workouts or instead of breakfast to lose more weight.
3. For Skin
Beet juice is good for your skin because it contains:
Betalains. These antioxidants speed up your immune system so that you can fight various viral and bacterial skin infections. As such, you'll be less prone to acne or allergies.
Zinc. This mineral is involved in protein and DNA synthesis so that it speeds healthy cell growth in your body. Therefore, it can prevent premature aging, including wrinkles or saggy skin.
How to Make Beet Juice
Choose a beet juice recipe that helps you stick to your health and fitness goals. You should also take your pre-existing health issues into account, and ask for your doctor's advice before making your choice.
In the meantime, here's what you can opt for:
1. Beet Juice for Weight Loss
If your purpose is to lose weight, you shouldn't add too many items into your beet juice so as not to increase your caloric intake by a lot.
However, you can include low-calorie options that speed up your metabolism, such as lemon or cranberry juice. These fruits contain a lot of vitamin C, which accelerates your metabolism and has fat-burning properties.
You can also add some spinach or kale juice. These veggies are low-calorie but packed with fiber that keeps your belly full for longer.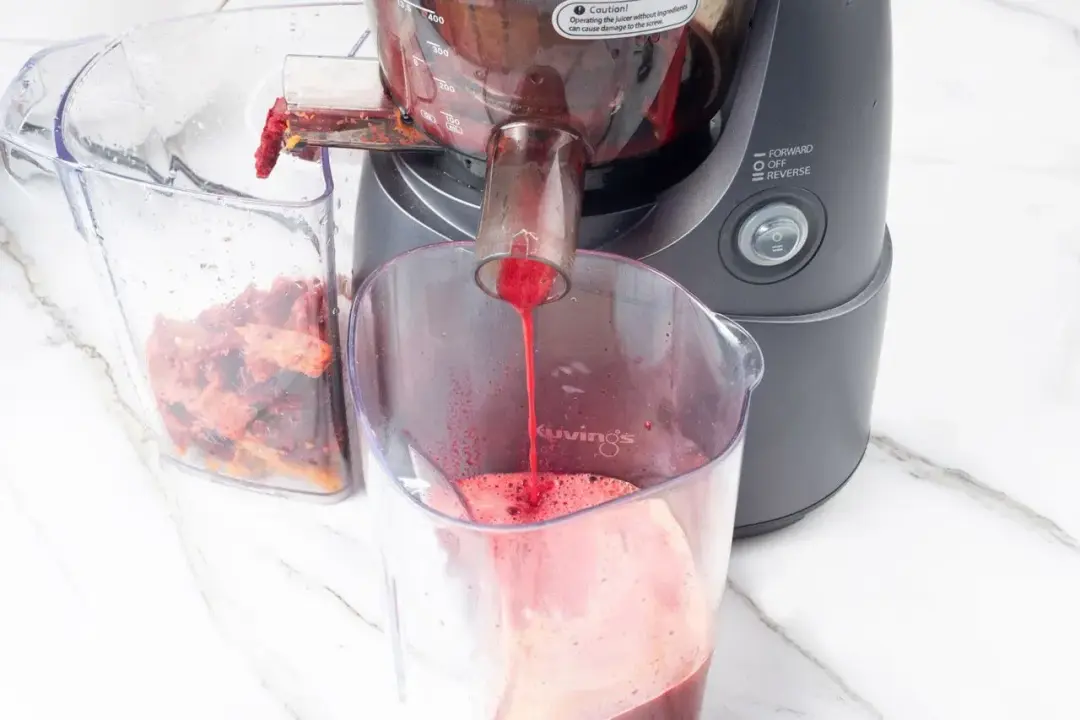 2. For Skin Health
Likewise, adding more items that contribute to your skin health can also increase the curative properties of beet juice for your skin.
As such, you can add:
Cucumber juice to flush out more toxins. Cucumbers contain a lot of water and electrolytes that keep your kidneys in top shape.
Mango juice. Research shows that skin problems such as acne appear because of poor gut health. Conversely, mango juice is rich in fiber and antioxidants that restore the health of your intestinal flora.
3. For Exercise Performance
Beet juice is shown to increase your exercise performance in terms of stamina and oxygen output. But if you need to have more energy before your workouts, add some broccoli or radish to your juice. If you want to reduce muscle recovery time, Brazil nuts are a good addition.
Easy And Delicious Beet Juice Recipes
1. Best Recipe: Beet Juice Recipe (4 servings)
Firstly, this recipe will guide you through a flavor combination journey, from mildly sweet to brightly sweet, then rich and earthy. Thus, this refreshing beet juice is great to have in the morning to wake your body up from the inside out.
Ingredients:
8 oz beet
10 fl oz watermelon juice 
6 oz red grapes 
6 basil leaves
1.5 tbsp sugar
2 tbsp lemon juice
2 cups ice
Instructions:
Run the beet, watermelon juice and grapes through the juicer together with basil
Whisk the juice mixture with lemon juice and sugar.
Pour the juice over ice cubes. Serve and enjoy.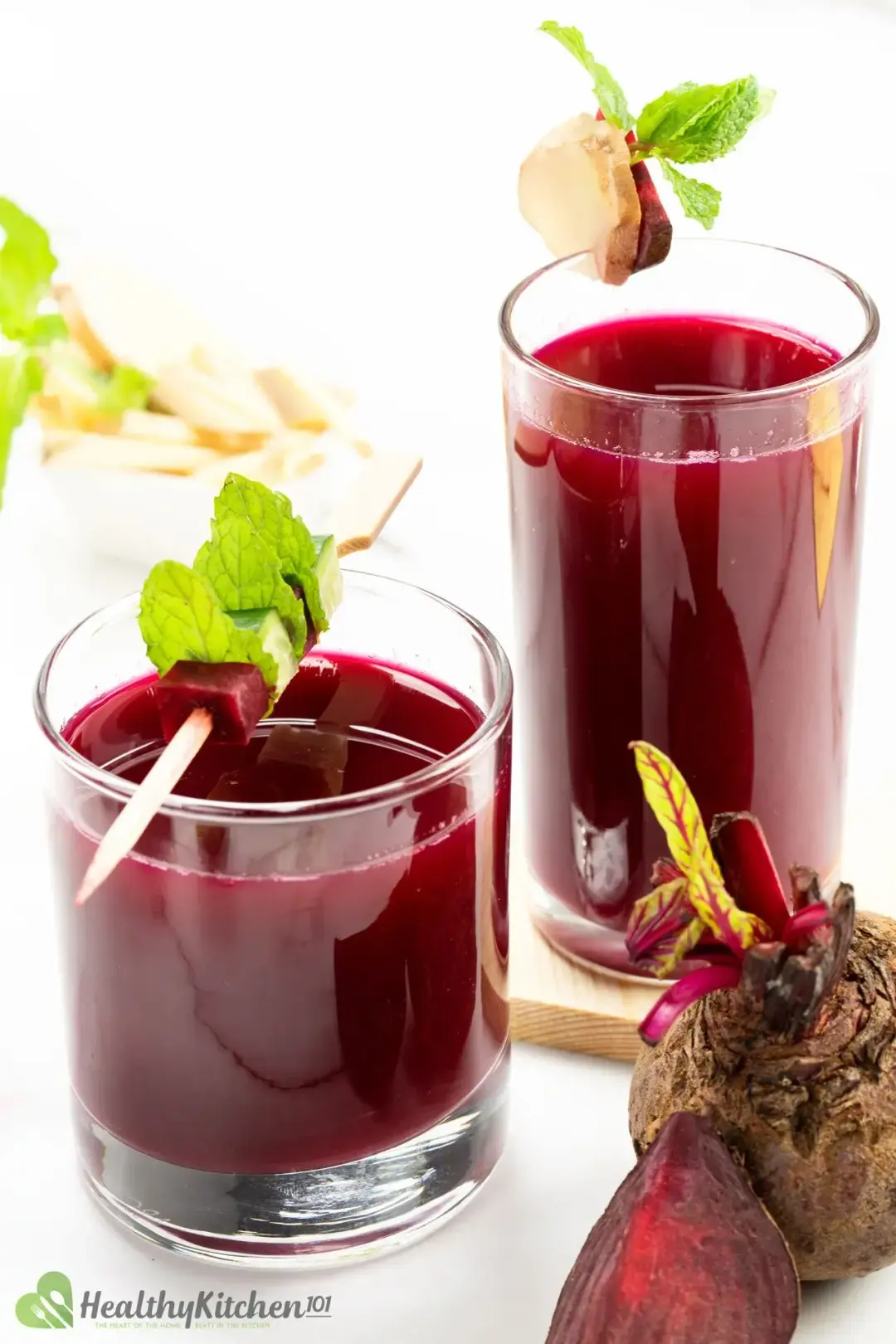 2. Carrot Beet Juice (4 servings)
Believe it or not, this carrot beet juice recipe is one you can take little sips of throughout a busy day. In fact, it's a combination of different flavors from earthy to zingy and sweet. Feel free to increase the amount of carrot or pineapple juice going into the juice to ease the tartness if you're sensitive to ginger.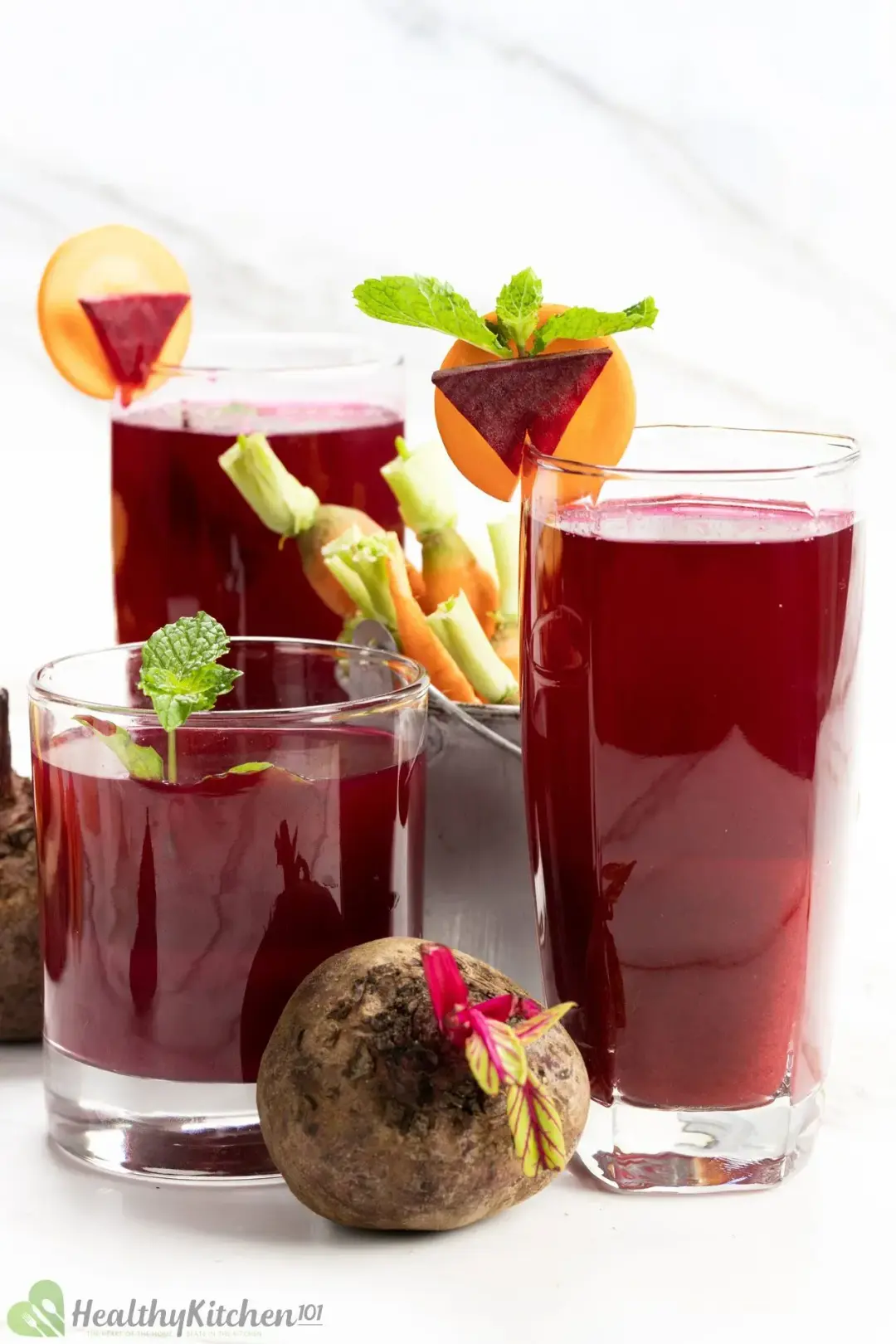 Ingredients:
4 oz beet
6 oz carrot
1/2 oz ginger
6 mint leaves
5 oz pineapple
2 tbsp lemon juice
2 tbsp sugar 
1 cup ice
Instructions:
Juice together beet, carrot, ginger, mint, and pineapple.
Whisk lemon juice and sugar into juice mixture.
Pour the juice into serving glasses and serve with ice cubes.
3. Beet Carrot Apple Juice (4 servings)
Beet carrot apple juice gives you a quick and easy solution to consume various types of fruits and vegetables after big meals. Don't forget to lend a spicy kick to it by putting a small amount of grated ginger into the juicer.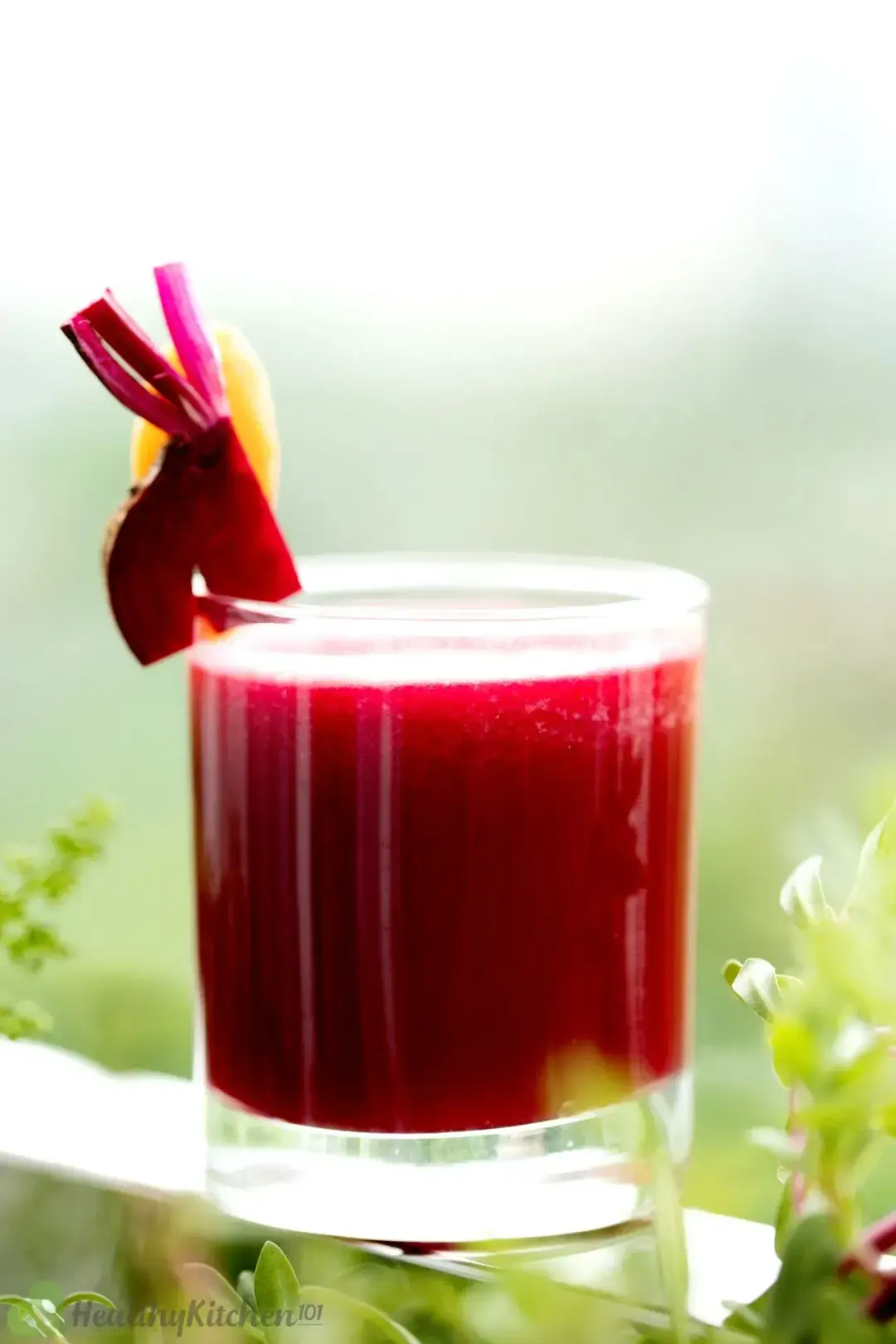 Ingredients:
8 oz beets
1/4 oz ginger
3/2 cup apple
1 cup carrot
2 tbsp honey
2 tbsp lemon juice
Instructions:
Juice apple, carrot, ginger, and beet together.
Whisk the mixture with lemon juice and honey until dissolved.
Pour into smaller serving glasses. Chill in the fridge for a couple of minutes or serve right away.
4. Ginger Beet Juice (4 servings)
In this ginger beet juice recipe, beet, celery, lemon, and cucumber blend together beautifully with the sweetness of the green grapes and the spiciness of the ginger. Consequently, this drink is a nice choice to stimulate the natural detoxifying process in your body.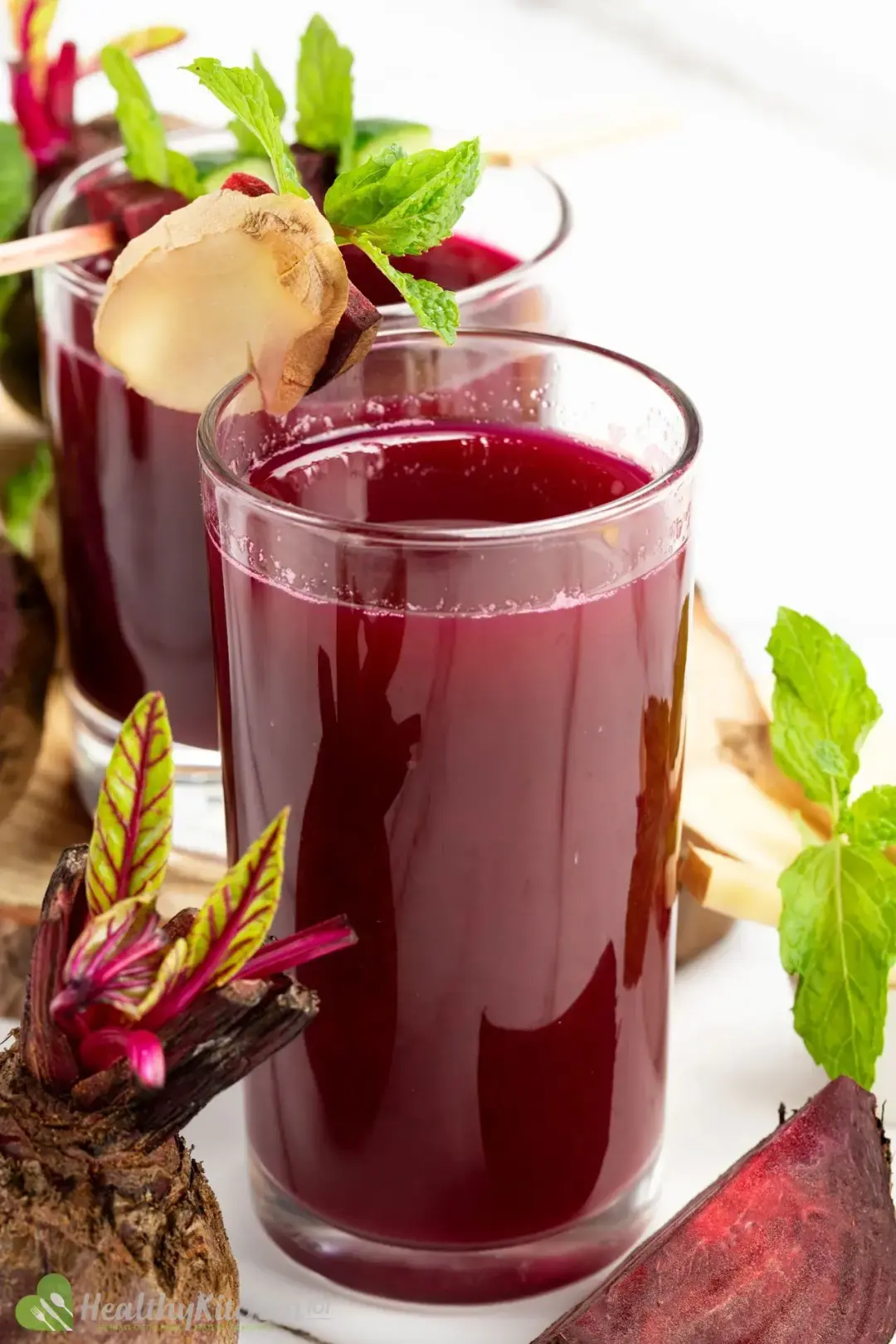 Ingredients:
6 oz beet
1 oz ginger
2 oz celery
8 oz green grapes
10 oz cucumber
1 tbsp lemon juice
2 tbsp sugar
2 cup ice cubes
Instructions:
Run beet, ginger, celery, green grapes, and cucumber through a juicer.
Whisk the above mixture with lemon juice and sugar until completely dissolved.
Pour over ice cubes and serve.
5. Orange Beet Juice (4 servings)
This orange beet juice is a fulfilling wellness juice that's loaded with antioxidants, vitamins, and minerals. Above all, pomegranate, beet, and orange create a wonderfully sweet and earthy flavor combination.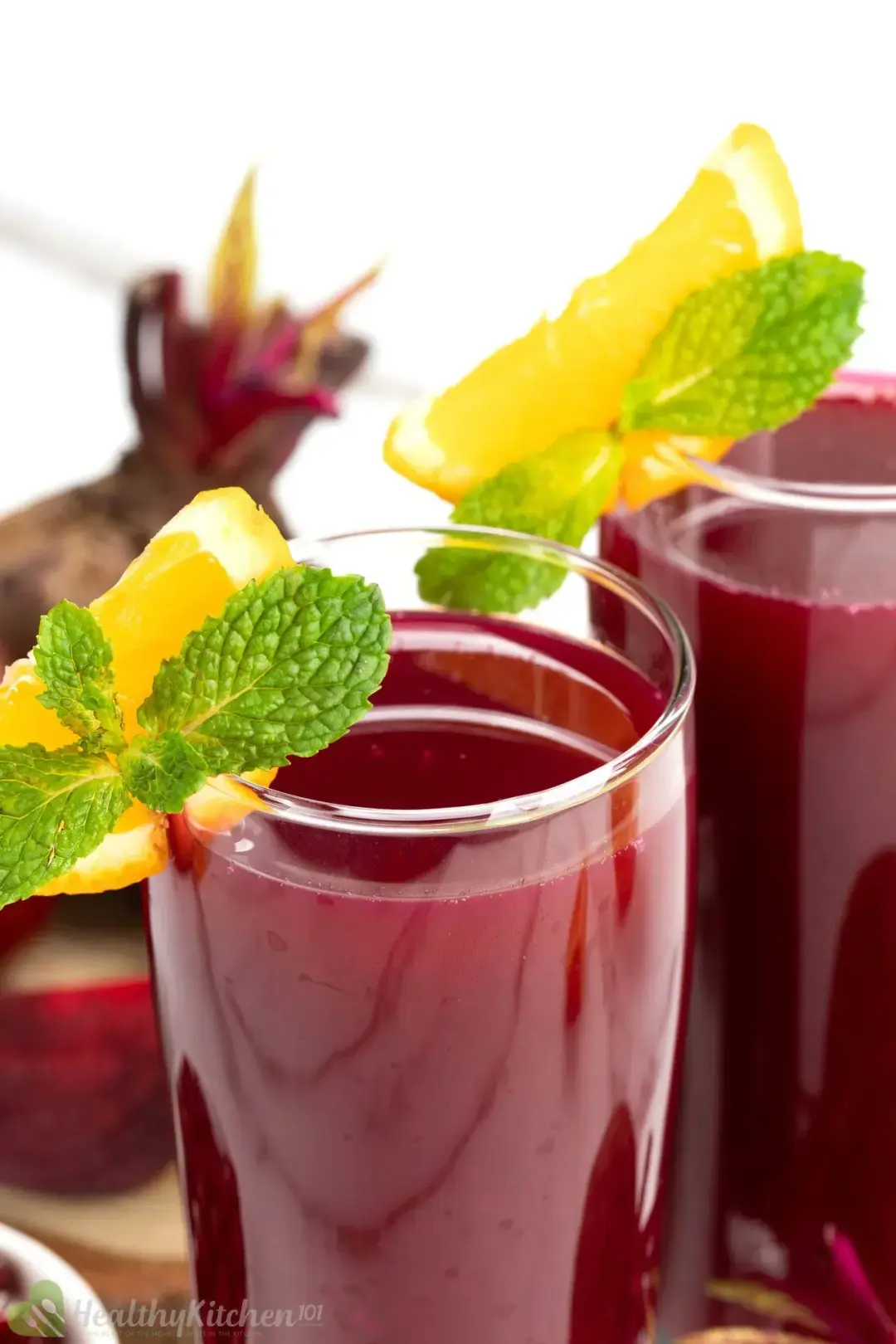 Ingredients:
6 oz pomegranate
8 oz beet
6 mint leaves
1 tbsp sugar
2 cup ice cubes
10 oz orange juice 
Instructions:
Quarter the pomegranate, detach all the seeds from the membrane. 
Put all pomegranate seeds in a cheesecloth, take the corners and gather them into a punch. Place a large bowl underneath and squeeze the cloth to extract the juice.
Run beet, pomegranate juice and mint leaves through the juicer. Whisk in orange juice and sugar.
Divide the juice into servings, pour it over ice cubes, and serve.
6. Beet Carrot Ginger Juice (2 servings)
This beet carrot ginger juice is earthy in taste as it's prepared with red beets and carrots. But surprising not— you'll find a tarty sweet aftertaste as the small apples added a satisfying and pleasant flavor to the juice.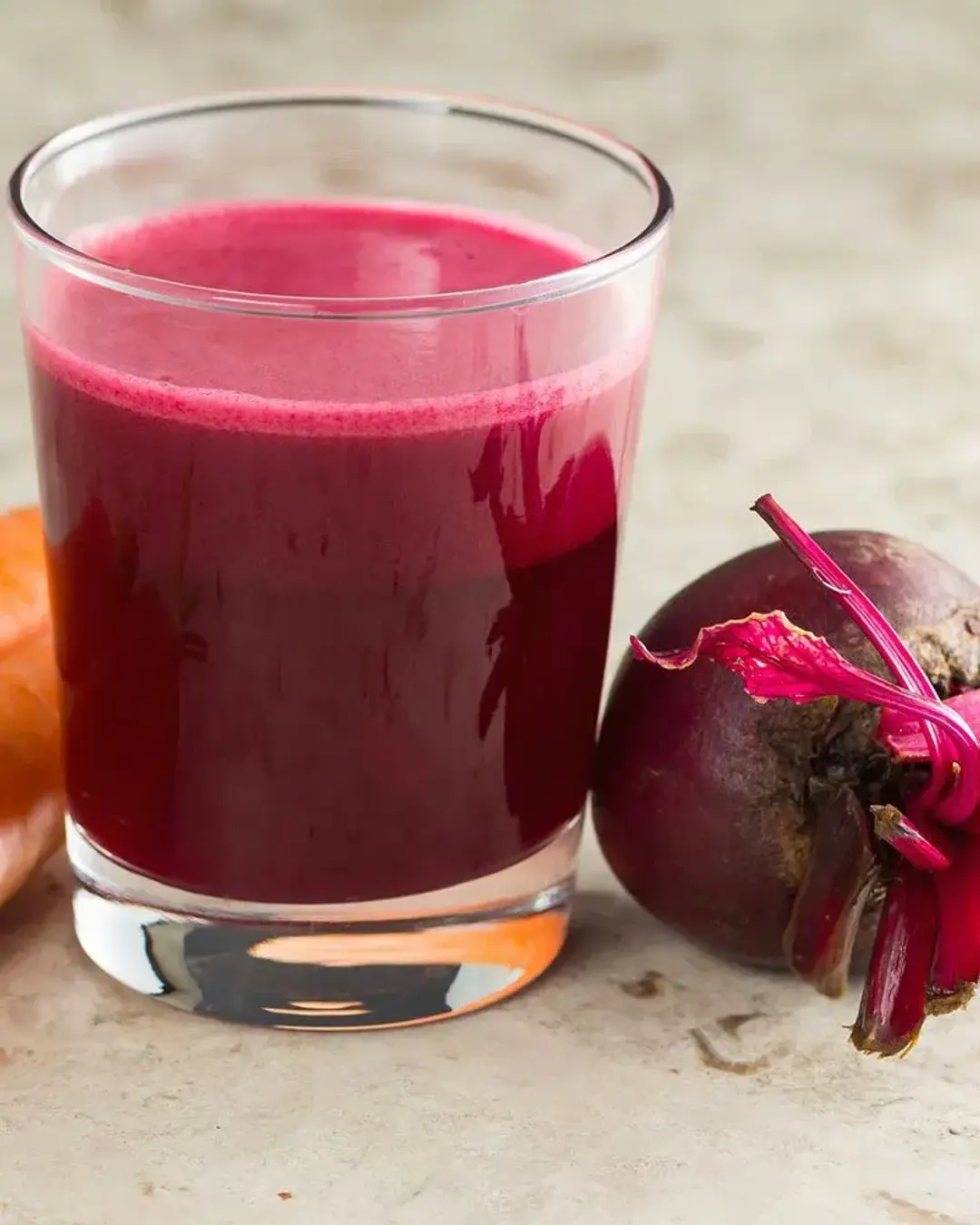 Ingredients:
2 red beets
6 carrots
1-2 small apples
1-inch knob of fresh ginger, skin removed
Instructions:
Rinse all the ingredients, drain well. Peel the carrots, red beets. Peel apples if desired (its skin is edible).
Roughly chop the ingredients and run them through the juicer one by one.
Whisk juice mixture one last time. Add ice cubes and serve.
7. Beet Carrot Apple Ginger Juice (1 serving)
This beet carrot apple ginger juice recipe is simple and can be processed without the need for a juicer. Moreover, it's packed with plenty of health benefits from the whole range of root vegetables: beet, carrot, and ginger. Finally, apple juice finishes it off to create a nicely balanced juice.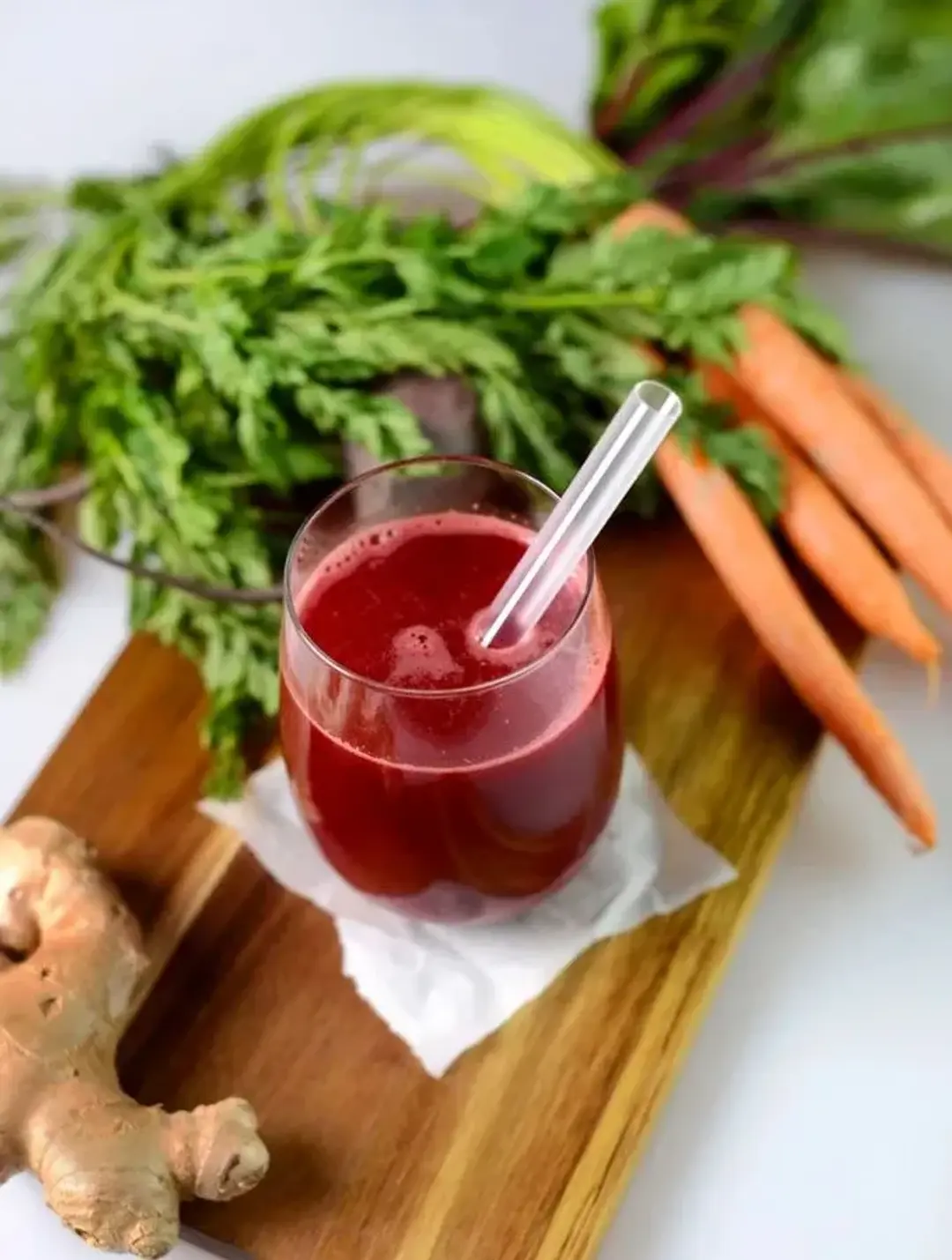 Ingredients:
1 medium beet, rinsed, peeled, and quartered
1 medium apple, peeled, cored, and quartered
1 tbsp fresh ginger, peeled and grated
3 whole carrots, rinsed and peeled
1/4 cup apple juice, unfiltered (optional)
Instructions:
Blend all ingredients until smooth. Add some apple juice to get it moving if needed. 
Place a fine mesh strainer over a large bowl. Pour the juice over the strainer. Use a spatula or a large spoon to press the pulp down to squeeze out as much juice as possible.
Discard pulp, pour the juice into serving glasses. Keep it in the fridge for a couple of minutes to chill if desired.
8. Beet Apple Carrot Lemon Ginger Juice (1 serving)
Since apples are well-known detoxifiers, they play an important roll in this beet apple carrot lemon ginger juice. Besides, apple also neutralizes the strong earthy flavor of beets, carrots, and ginger, and blends in nicely with the lemon juice.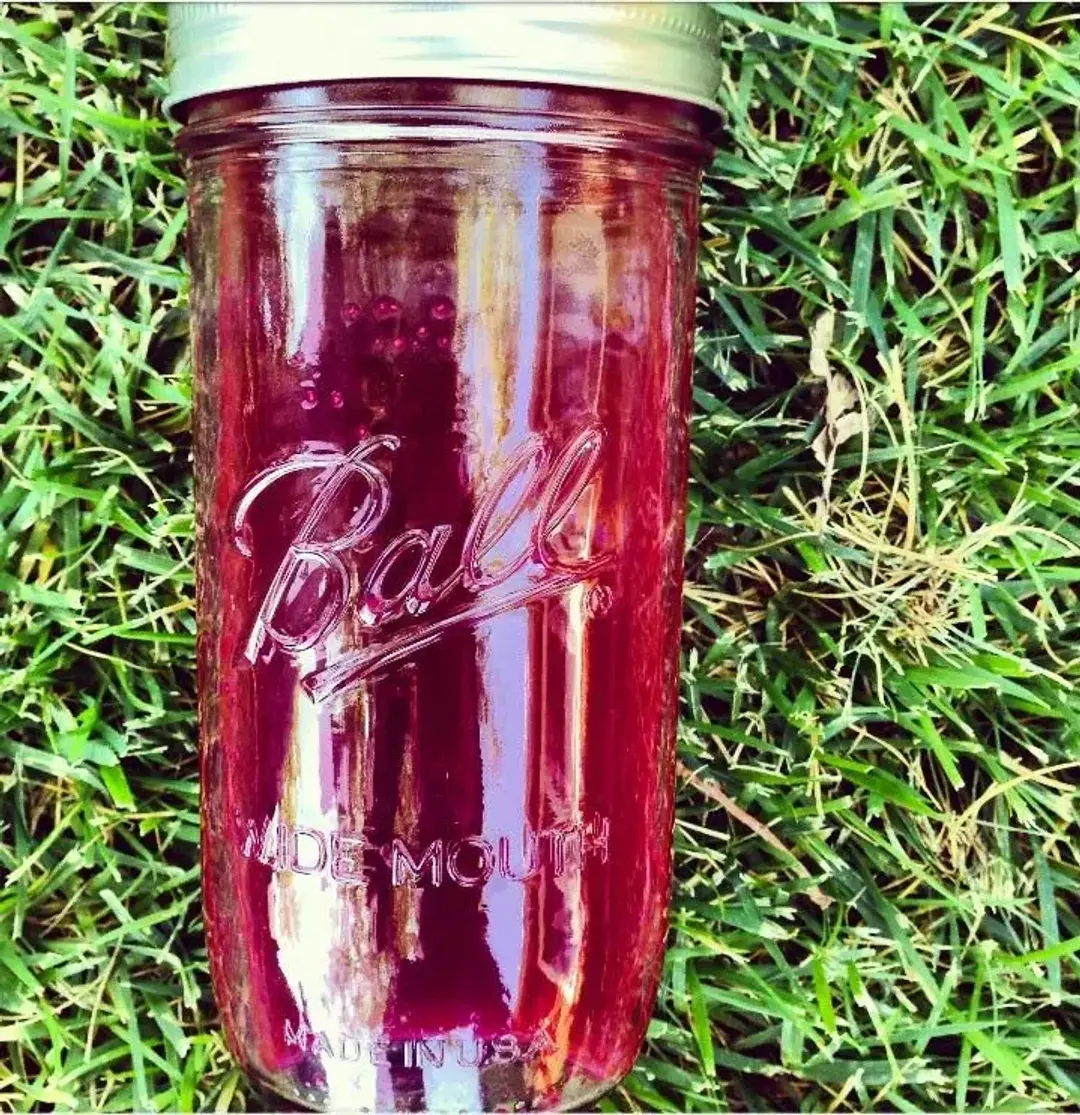 Ingredients:
1 large or 2 medium beets, peeled and cut into wedges
2 large carrots, washed, peeled, and chunked
1 large apple, core removed, cut into wedges
1-inch knob of fresh ginger, peeled
½ lemon
Instructions:
Wash and peel the beets. Remove both ends of the beets and cut them into chunks.
Peel the ginger. Wash and chop the apples into chunks, remove its core. Peel and chop the carrots and the lemon. Cut the lemon into 2 wedges. 
Run everything through the juicer.
Pour the juice into serving glasses and enjoy. Chill the leftovers in the fridge.
9. Beet Apple Lemon Ginger Juice (2 servings)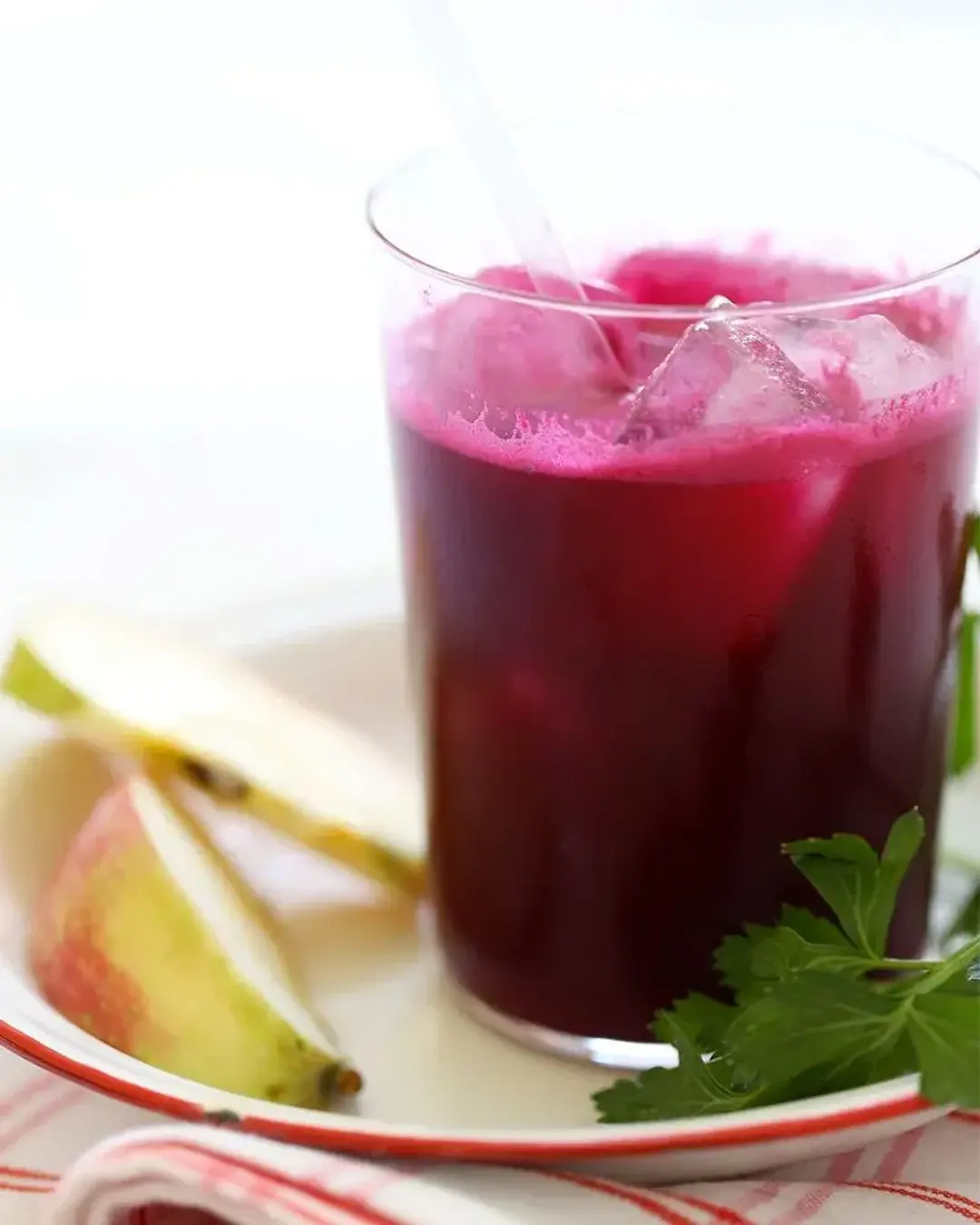 This beet apple lemon ginger juice is the next great way to incorporate fruits and vegs into your meals. Beets, apple, lemon, parsley, and ginger are juiced together to create a body-cleansing juice with vibrant flavors. It's best to serve this after heavy meals to nourish your taste buds.
Ingredients:
2 large beets, washed and peeled
3-4 large apples
2-inch knob of fresh ginger, washed and peeled
Juice of 1 lemon
organic parsley
Instructions:
Place all the ingredients above in the juicer and juice them away.
Pour the juice mixture over ice. Chill in the refrigerator for a while or serve immediately.
10. Beet Lemon Ginger Juice (2 servings)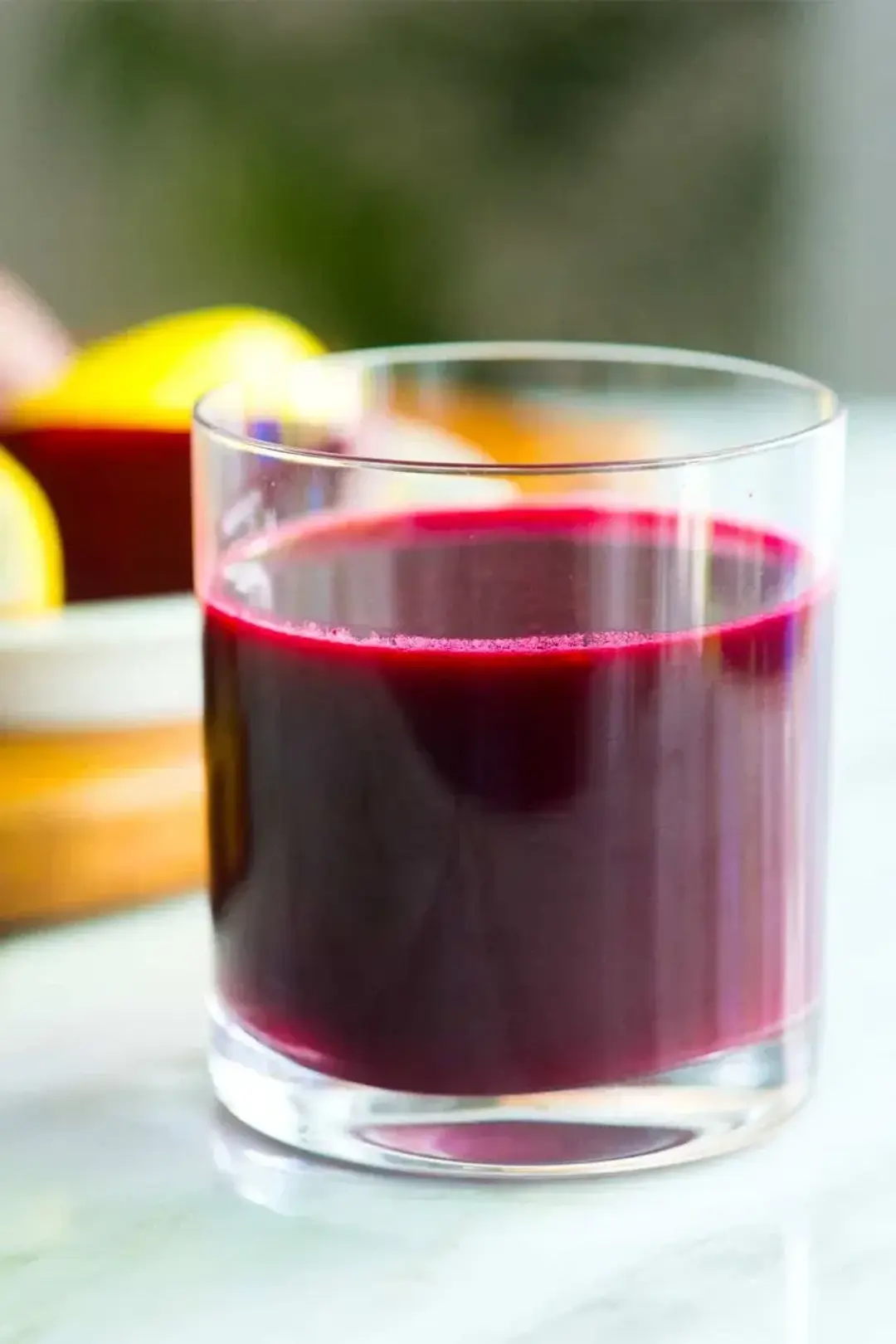 Beet lemon ginger juice is a naturally sweetened drink with organic beet, fresh lemon, cucumber. With the support of a nice zingy hint from ginger, the juice tastes refreshingly earthy. Moreover, there are no additional sweeteners needed in this recipe!
Ingredients:
2 medium beets, peeled, both ends removed
1 medium seedless cucumber
1-inch knob of fresh ginger, washed and scrubbed
1 medium lemon
Instructions:
Roughly chop the beets and cucumber. Grate the ginger.
Peel the lemon and cut it into wedges. Remove seeds if there's any.
Push everything through the juicer, alternate the ingredients between each other, be careful not to push all chops of one kind into the juicer at once.
Stir the juice. Chill or serve immediately.
Beet Juice Nutrition
After reading the last two sections, you know what to add to beet juice depending on the benefits you want to reap.
Now, let's see some other nutritional advantages of beet juice:
1. Carbs
A glass of beet juice contains 15g of carbs according to Medical News Today. Therefore, we believe this juice isn't a good addition to your keto diet.
However, the naturally occurring sugars and carbs in beet juice do have a positive influence on your health. Unlike processed carbs, natural carbs increase your feeling of satiety and stabilize your glycemic index.
2. Calories
A glass has about 60 calories. However, the recipe you're using influences the end calorie count in your glass.
For instance, if you're using 100g of beets with 100g of water, your juice can have as little as 43 calories. If you sieve the pulpy part, your beet juice can end up with 20-30 calories.
Even though beet juice is a low-calorie snack, you shouldn't use it as a water substitute. Hence, if your goal is weight loss, replace one of your snacks for it, or incorporate it into intermittent fasting.
3. Potassium
According to the USDA, 100g of beets contain 9% of your necessary intake of potassium. This mineral is extremely important to your heart and brain health, but under 2% of Americans consume enough potassium.
According to Healthline, potassium is essential for healthy muscles, healthy nerve function, and proper hydration. Potassium decreases the risk of high blood pressure, strokes, kidney stones, and osteoporosis.
If you have these health issues, consider adding more potassium-rich food items to your beet juice, such as avocado, bananas, or spinach.
Is Beet Juice Good for You
We already discussed some positive effects of beet juice on your health. You now know this juice can help you lose weight, feel less tired, and have better skin. We also looked at the benefits of potassium in beet juice for your overall health.
In fact, beet juice itself has been the subject of various scientific studies that show its efficiency in treating several illnesses:
Lower blood pressure. One study found that drinking a glass of this juice every day can lower your blood pressure because beets are rich in nitrates. These nitrates expand your blood vessels so that your blood flow is improved.
Increased physical performance. Apparently, two cups per day can help increase your stamina and breathe easier during your workouts.
Increased cognitive function. The improved blood flow caused by the concentration of nitrates in beet juice affects your brain health as well. So, as more blood reaches your brain, you can stay sharper and prevent the effects of aging.
Decreased risk of cancer. Recent research suggests that the betalains in beet juice can fight incipient cancers because they're strong antioxidants.
Decreased risk of birth defects. Beet juice contains folic acid, which is a type of vitamin B that helps keep fetuses healthy. Folic acid eliminates the risk of birth defects like spina bifida, as well as the risk of premature delivery.
Can You Drink Everyday?
Yes, you can drink it every day. In fact, most of the studies we've cited so far in this article required participants to drink one or two cups every day for the duration of the study.
However, make sure you're not drinking much more than that. Drinking this juice in excess can lead to weight gain, diarrhea, and kidney stones.
Beet Juice Side Effects
Beet juice is considered a healthy drink, with no known drug interactions, although you might experience some side effects.
The oddest and also the most innocuous side effect of drinking this juice daily is called beeturia. Beeturia is caused by the nitrates in beet juice that turn your urine pink or purple. As long as this condition passes, it's nothing to worry about.
A more dangerous side effect is lowering your blood pressure too much. Since beet juice decreases blood pressure, if you drink too much juice or already have very low blood pressure, you might experience some negative effects. These include feelings of dizziness and headaches.
While moderate amounts of beetroot juice can help prevent kidney stones, too much juice can actually cause them because they're packed with oxalates. These substances crystalize in your urine if you drink too much juice. 
Some people also experience stomach distress from over-consumption of this juice.
Beet juice has some very rare side effects, too. Although the probability of experiencing these issues is low, you should still take them into account.
For instance, beet juice can trigger an allergic reaction. So, if this is your first time eating beetroot, start with just half a glass. If you experience rashes or trouble breathing, call your doctor immediately.
Another very rare side effect is an amassing of metal ions in your liver. However, this can only happen if you drink extreme quantities of beet juice.
As you can see, this juice is a safe drink with minor side effects as long as you drink it in moderation.
FAQ
We discussed the benefits and side effects of drinking beet juice, but you might still have some questions. Let's see if we can clear everything up before moving onto the recipe part.
1. Is Drinking Beet Juice Dangerous?
Drinking beet juice isn't dangerous if you don't have kidney stones and your blood pressure is normal. The most common side effect of this juice is beeturia, a normal condition in which your urine turns pink because of the nitrate content in beets.
Otherwise, beet juice doesn't interfere with any known medications and it's unlikely to trigger allergic reactions in the majority of people.
2. How Much Is Safe?
In some studies, participants drink up to four glasses per day without experiencing any side effects. In addition, these studies follow the effect of beet juice on athletes' recovery times after strenuous exercises.
In fact, for normal people, one or two glasses per day are perfectly safe and help you reap all the benefits of this drink.
3. What Does Beet Juice Taste Like?
Because beets are roots, it's no wonder that beet juice has a strong earthy taste. So if you can't handle it, add some apple or carrot juice to the mix to dilute and sweeten it.
4. When Should I Drink?
The right time to drink beet juice depends on your fitness and health goals. As such, you can drink:
First thing in the morning, if you want to feel more energetic and clear-headed.
During your snack-time, if you want to lose weight.
Before your workouts to stay hydrated and to increase your performance.
After your workouts to reduce your muscle recovery time.
Anytime during the day if you want to lower your blood pressure, increase your cognitive function, or have a healthy pregnancy.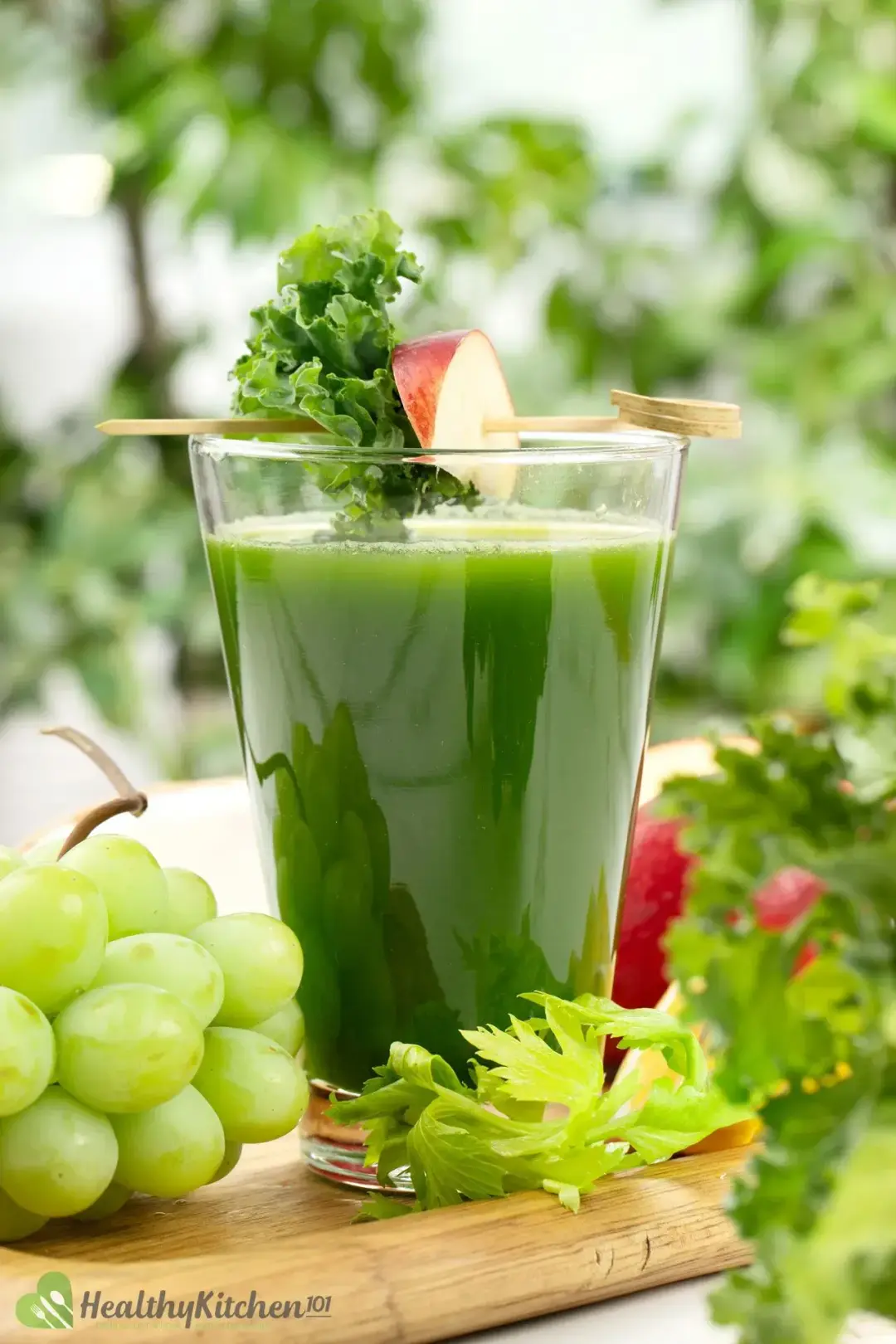 Previous Recipe
Top 10 Green Juice Recipes
Top 10 Green Juice Recipes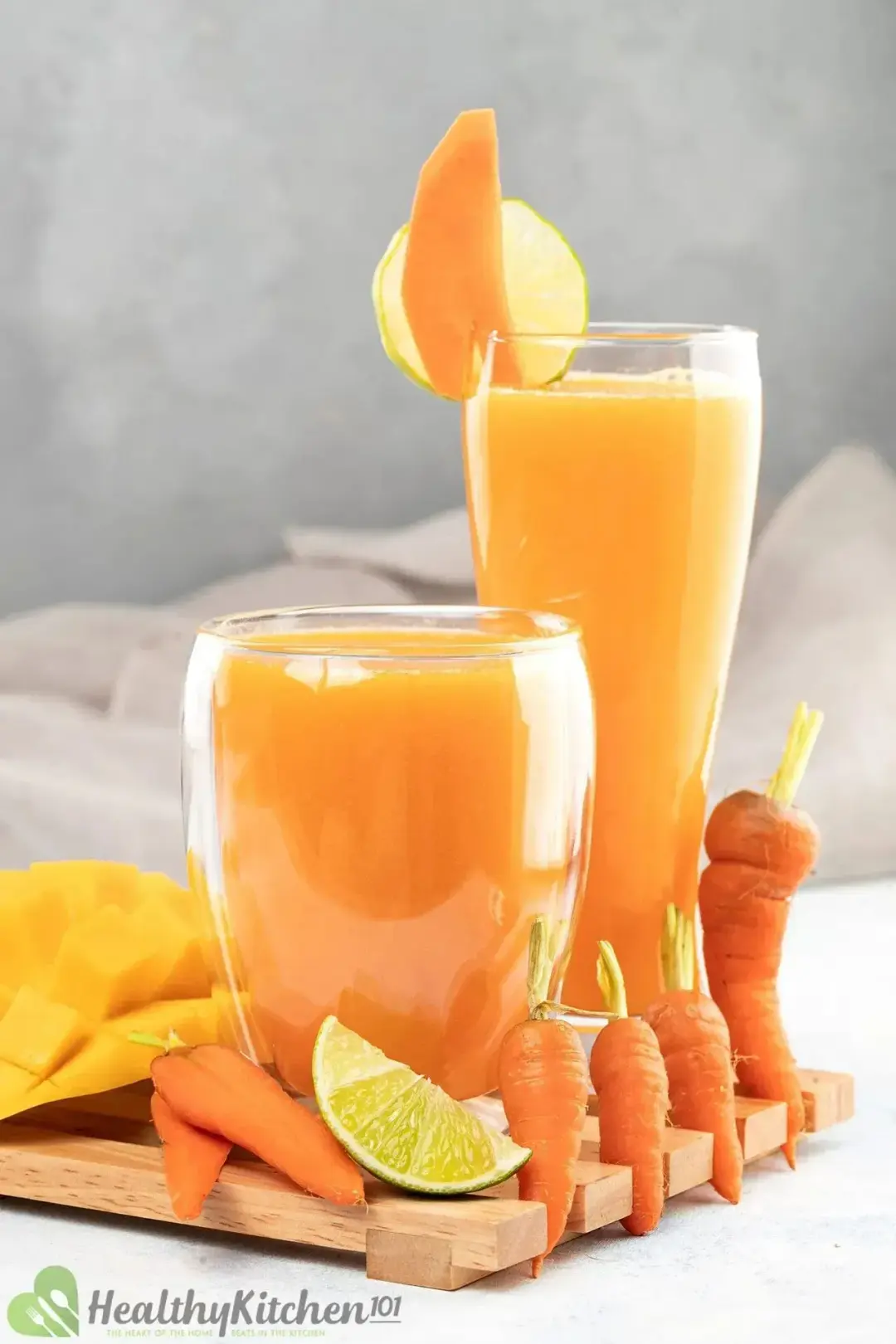 Next Recipe
Top 10 Best Carrot Juice Recipes
Top 10 Best Carrot Juice Recipes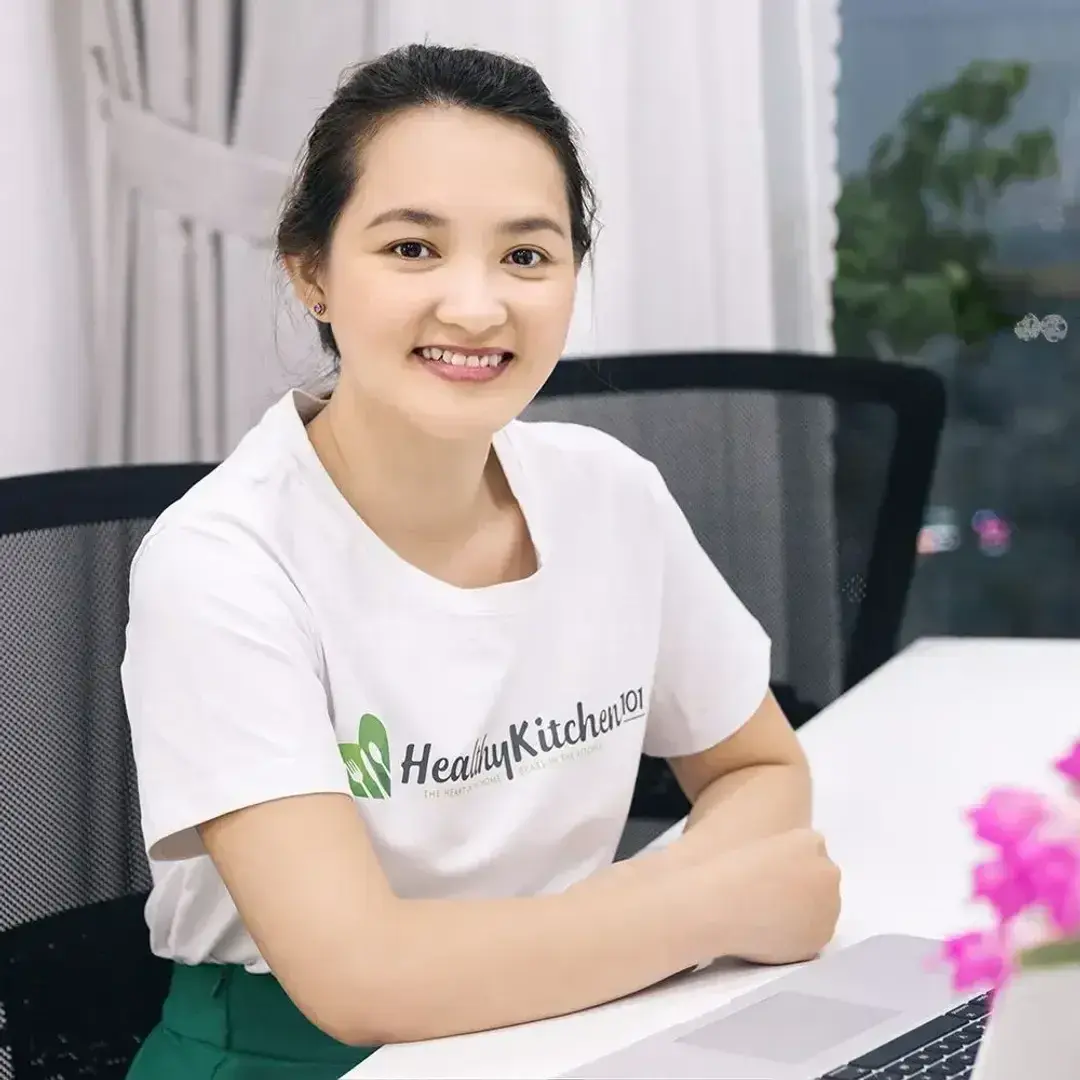 Luna Regina
Luna is the founder and chief recipe developer of Healthy Recipes 101. Apart from cooking, she also loves reading, programming, exploring the outdoors, and collecting useless facts about everything.