Are you searching for a new, exciting way to add some flavors and nutrients to your diet? Look no further than these beet juice recipes! They come with amazing health benefits and a gorgeous fuchsia hue that captivates the eyes at first sight. Plus, It's always best to have your own juice ready at home. Store-bought ones are often packed with inorganic or toxic ingredients, as well as high amounts of sugar and sodium.
Easy, Delicious, and Healthy Beet Juice Recipes
1. Beet Juice Recipe
This beet juice takes you on a flavor combination journey that moves from an earthly sweetness and fresh lightness to zingy citrus, with a few specks of ginger spice to make things interesting. Made with beet, cucumber, and lemon, it's a delightful beverage that offers not only pretty flavors but also great nutrients to help aid digestion and stimulate the body's natural detoxifying process. 
Go to Recipe
2. Carrot Beet Juice
This carrot beet juice is a refreshing and invigorating drink that is packed with nutrients and health benefits. It features beet, ginger, carrot juice, pineapple juice, and lemon juice, all of which are rich in vitamins, minerals, and antioxidants that can help to boost your immune system, improve your digestion, and support your overall health and wellness. It's also a great source of natural energy, making it the perfect choice for anyone who wants to stay hydrated and nourished throughout the day.
Go to Recipe
3. Beet Carrot Apple Juice
Whether you're looking for a nutritious way to start your morning, or simply want to enjoy a delicious and healthy drink, this beet carrot apple juice is an excellent choice that is sure to satisfy. It's a vibrant blend of beet, carrot, and apple, with some lemon juice and ginger to lend a delectable flavor kick. Have a glass of this drink ready on hand for a quick health boost any time you want.
Go to Recipe
4. Beet Pineapple Juice
This beet juice recipe comes with a delightful tropical twist that will have your taste buds shimmer with joy. It includes pineapple, beet, and cucumber, with some fresh ginger for that subtle spicy kick. These four ingredients come together in a blink of an eye, so no matter how hectic your days get, whipping up a glass or two won't be too much of a problem.
Go to Recipe
5. Ginger Beet Juice
In this ginger beet juice recipe, beet, celery, lemon, and cucumber blend together beautifully with the sweetness of the green grapes and the spiciness of the ginger. Consequently, this drink is a nice choice to stimulate the natural detoxifying process in your body.
Go to Recipe
6. Beet Orange Juice
This beet orange juice is a fulfilling wellness juice that's loaded with antioxidants, vitamins, and minerals. Even better, pomegranate, beet, and orange create a wonderfully sweet, bright, and earthy flavor combination that will have you savoring every sip.
Go to Recipe
7. Beet Berry Juice
Beat the summer heat with this delicious, vibrant juice that's made from strawberries, beets, red apples, and lemons. It's a sweet, tangy, and zesty beverage that supplies your body with a much-needed health boost and pampers your taste buds with gorgeous flavors. 
Go to Recipe
8. Kale Beet Juice
Kale and beet may not sound like a very appealing combo at first, but give it a try and you'll be surprised. The leafy green imparts a softly grassy taste that melds wonderfully into the beet's rich, earthy sweetness. This recipe also includes some pineapples to mellow out any harsh flavor edges from the two main ingredients, so even if you're not a fan of veggies, you'll still find this beverage quite enjoyable.
Go to Recipe
9. Beet, Pear, & Ginger Juice
Here's another unexpected yet undeniably delicious beet combo you shouldn't miss out on. As the name suggests, this recipe requires only three ingredients and they come together with absolute ease. The pear provides a delicate sweetness that lightens the overall taste of the juice and somehow makes the beet's earthy taste much more palatable. Start your morning with a glass of this juice for a guaranteed sunshiney rest of the day.
Go to Recipe
10. Golden Beet Juice
It's hard to imagine beet in any other color but the deep fuchsia we're so familiar with, but if you're in the mood for some experimenting, give golden beet a try. This variety still offers the same earthy taste as its red counterpart but is less intense and with a more emphasized sweetness. 
When juiced, it produces a beautiful, vibrant yellow hue that feels like you've captured sunshine in a glass. This recipe pairs the vegetable with carrots, oranges, and turmeric for a bright and vibrant symphony of flavors that will have your taste buds dancing with joy.
Go to Recipe
Beet Juice Nutrition Facts
First of all, let's explore some other nutritional advantages of beet juice:
A glass of beet juice contains 15g of carbs according to Medical News Today. The naturally occurring sugars and carbs in beet juice have a positive influence on your health. Unlike processed carbs, natural carbs increase your feeling of satiety and stabilize your glycemic index.
A glass of beet juice has about 60 calories. However, the recipe you're using influences the end calorie count in your glass of beet juice. For instance, if you're using 100g of beets with 100g of water, your juice can have as little as 43 calories. If you sieve the pulpy part, your beet juice can end up with 20-30 calories.
Even though beet juice is a low-calorie snack, you shouldn't use it as a water substitute. Hence, if your goal is weight loss, replace one of your snacks for it, or incorporate it into intermittent fasting.
According to the USDA, 100g of beets contain 9% of your necessary intake of potassium. According to Healthline, potassium is essential for healthy muscles, healthy nerve function, and proper hydration. Potassium decreases the risk of high blood pressure, strokes, kidney stones, and osteoporosis.
Beet Juice Health Benefits
Beet juice has plenty of benefits. Let's explore the most significant:
For Tiredness
Beet juice is a good solution if you feel tired all the time because its micronutrients can combat the causes of your tiredness.
Potassium: 100g of beets contain 9% of your RDI of potassium. This electrolyte contributes to nerve and muscle health. Low potassium levels lead to tiredness and weakness, so a glass of beet juice can replenish your potassium levels and help you feel refreshed.
Iron: Iron deficiency is a common cause of tiredness. The iron in beets can help you fight fatigue in the context of a well-rounded diet.
Magnesium: Magnesium has a significant role in brain health, thus helping you fight the effects of stress and anxiety. When you're stressed, your body releases a stress hormone called cortisol that affects your sleep quality and tires you out because you're always in fight-or-flight mode. But as magnesium eases these symptoms, it can help you feel more rested.
Copper: Copper deficiency is associated with severe anemia and fatigue. Luckily, beet juice can restore your copper levels.
Moreover, according to this study, two cups of beet juice per day can help increase your stamina and breathe easier during your workouts.
For Weight Loss
Beet juice can help you lose weight, as long as it's part of a healthy diet in conjunction with exercise. That said, beet juice is helpful for weight loss because it contains:
Low calories: As mentioned above, beet juice is relatively low in calorie. If you prepare your beet juice from 100g of beets and 100g of water, for instance, you'll get a nutritious drink that has half as many calories as a can of soda.
Fiber: Beet juice offers 11% of the daily recommended fiber intake. Prepare your beet juice without removing the pulpy part, and the fiber in it will help you feel satiated for longer, therefore reducing the need for snacking.
For the Skin
Beet juice is good for your skin because it contains:
Betalains: These antioxidants speed up your immune system so that you can fight various viral and bacterial skin infections. As such, you'll be less prone to acne or allergies.
Zinc: This mineral is involved in protein and DNA synthesis so that it speeds up healthy cell growth in your body. Therefore, it can prevent premature aging, including wrinkles or saggy skin.
For the Heart
One study found that drinking a glass of beet juice every day can lower your blood pressure because beets are rich in nitrates. These nitrates expand your blood vessels so that your blood flow is improved.
For the Mind
Increased cognitive function. The improved blood flow caused by the concentration of nitrates in beet juice affects your brain health as well. So, as more blood reaches your brain, you can stay sharper and prevent the effects of aging.
For Pregnant Women
Beet juice may also help decrease the risk of birth defects. Beet juice contains folic acid, which is a type of vitamin B that helps keep fetuses healthy. Folic acid eliminates the risk of birth defects like spina bifida, as well as the risk of premature delivery.
Can You Drink Beet Juice Every Day?
Yes, you can drink beet juice every day. In fact, most of the studies we've cited so far in this article required participants to drink one or two cups of beet juice every day for the duration of the study.
However, make sure you're not drinking much more than that. Drinking beet juice in excess can lead to weight gain, diarrhea, and kidney stones.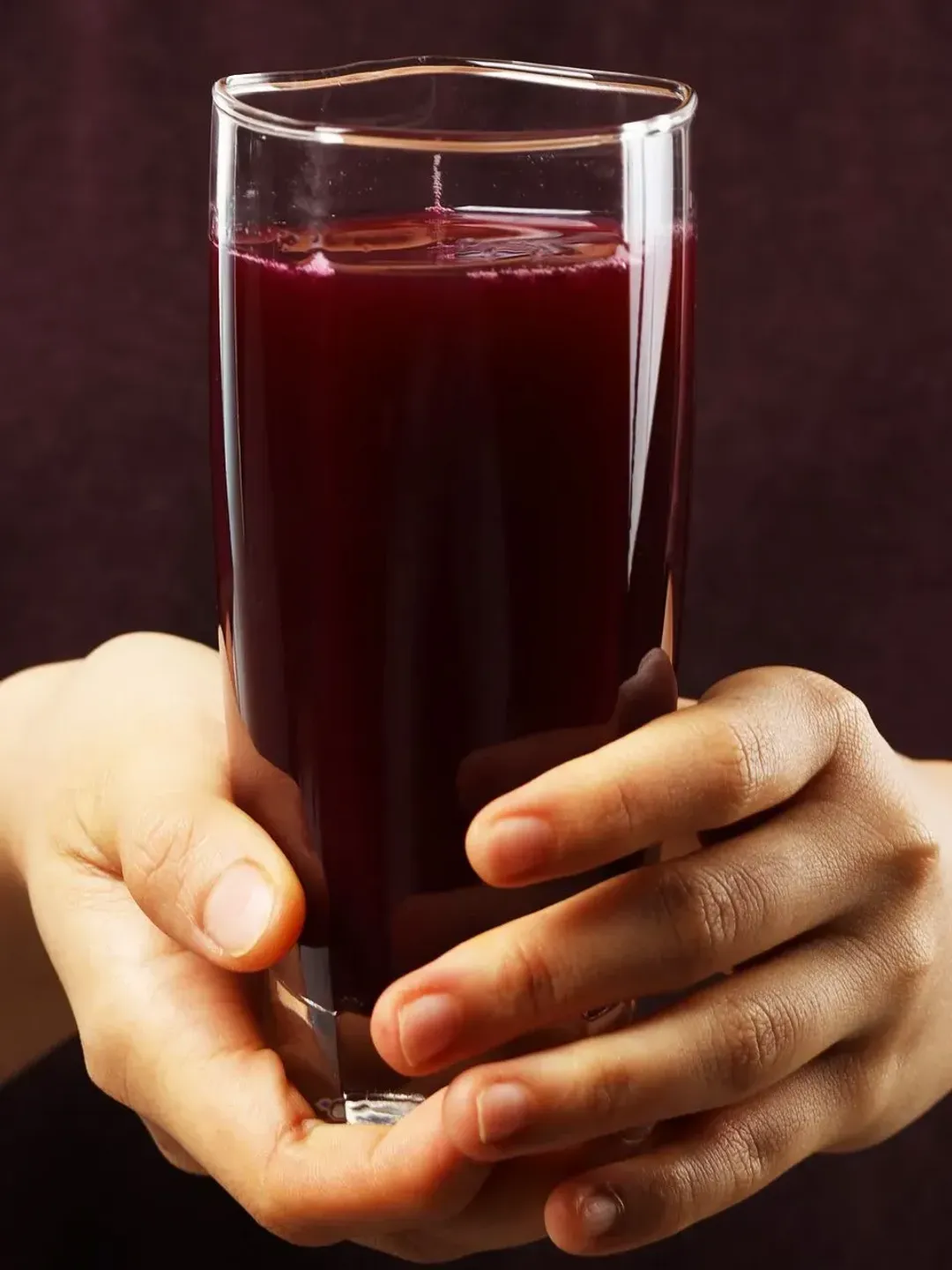 Beet Juice Side Effects
Beet juice is a relatively safe drink with minor side effects as long as you drink it in moderation. It's considered a healthy drink, with no known drug interactions, although there are certain side effects to consider:
The oddest and also the most innocuous side effect of drinking beet juice daily is called beeturia. Beeturia is caused by the nitrates in beet juice that turn your urine pink or purple. As long as this condition passes, it's nothing to worry about.
A more dangerous side effect is lowering your blood pressure too much. Since beet juice decreases blood pressure, if you drink too much beet juice or already have very low blood pressure, you might experience some negative effects. These include feelings of dizziness and headaches.
While moderate amounts of beetroot juice can help prevent kidney stones, too much beet juice can actually cause them because they're packed with oxalates. These substances crystalize in your urine if you drink too much beet juice. 
In some rare cases, beet juice can also trigger an allergic reaction. So, if this is your first time eating beetroot, start with just half a glass. If you experience rashes or trouble breathing, call your doctor immediately.
FAQ
What Does Beet Juice Taste Like?
Because beets are roots, it's no wonder that beet juice has a strong earthy taste. When juiced, you might detect hints of sweetness peeking through. Depending on the accompanying ingredients, the juice may also have some citrus or tart notes.
When Should I Drink Beet Juice?
The right time to drink beet juice depends on your fitness and health goals. As such, you can drink beet juice:
First thing in the morning, if you want to feel more energetic and clear-headed.
During your snack time as a healthy, low-carb alternative to regular snacks.
Before your workouts to stay hydrated and increase your stamina.
After your workouts to reduce your muscle recovery time.
Anytime during the day if you want to lower your blood pressure, increase your cognitive function, or a health boost in general.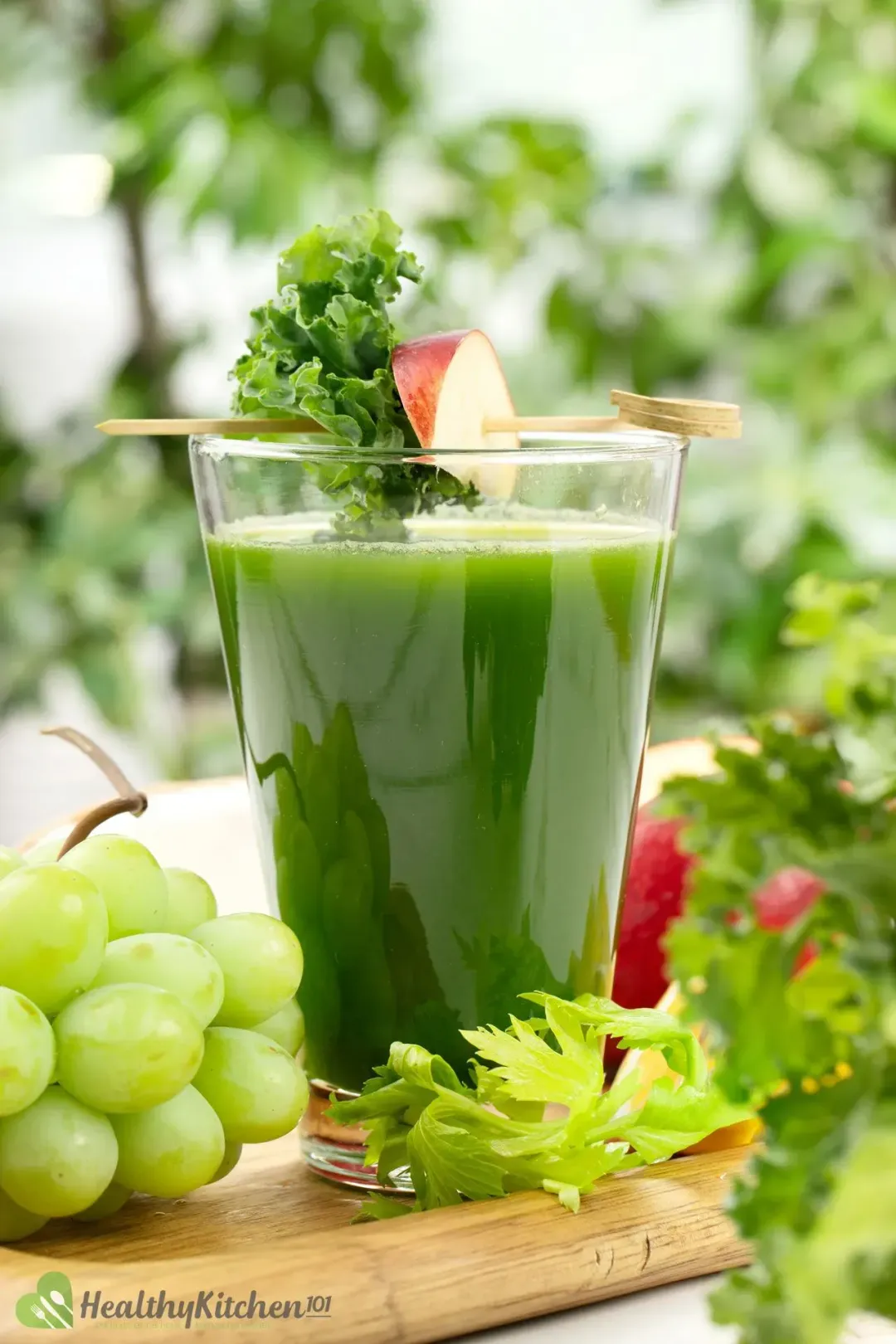 Previous Recipe
Top 10 Green Juice Recipes
Top 10 Green Juice Recipes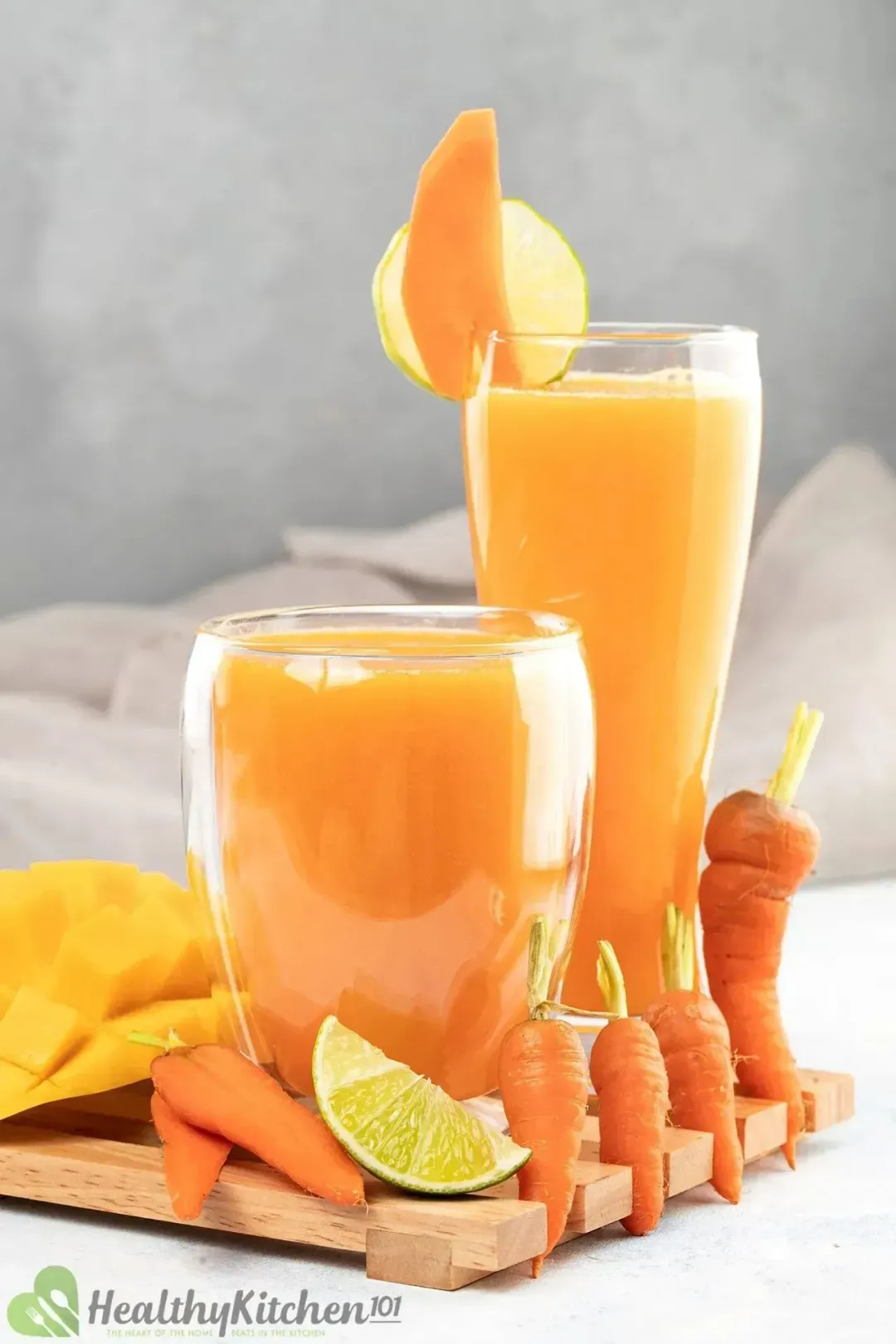 Next Recipe
10 Best Carrot Juice Recipes
10 Best Carrot Juice Recipes
Writer, Author
Luna Regina is an accomplished writer and author who dedicates her career to empowering home cooks and making cooking effortless for everyone. She is the founder of HealthyKitchen101.com and HealthyRecipes101.com, where she works with her team to develop easy, nutritious recipes and help aspiring cooks choose the right kitchen appliances.
Comments/ Reviews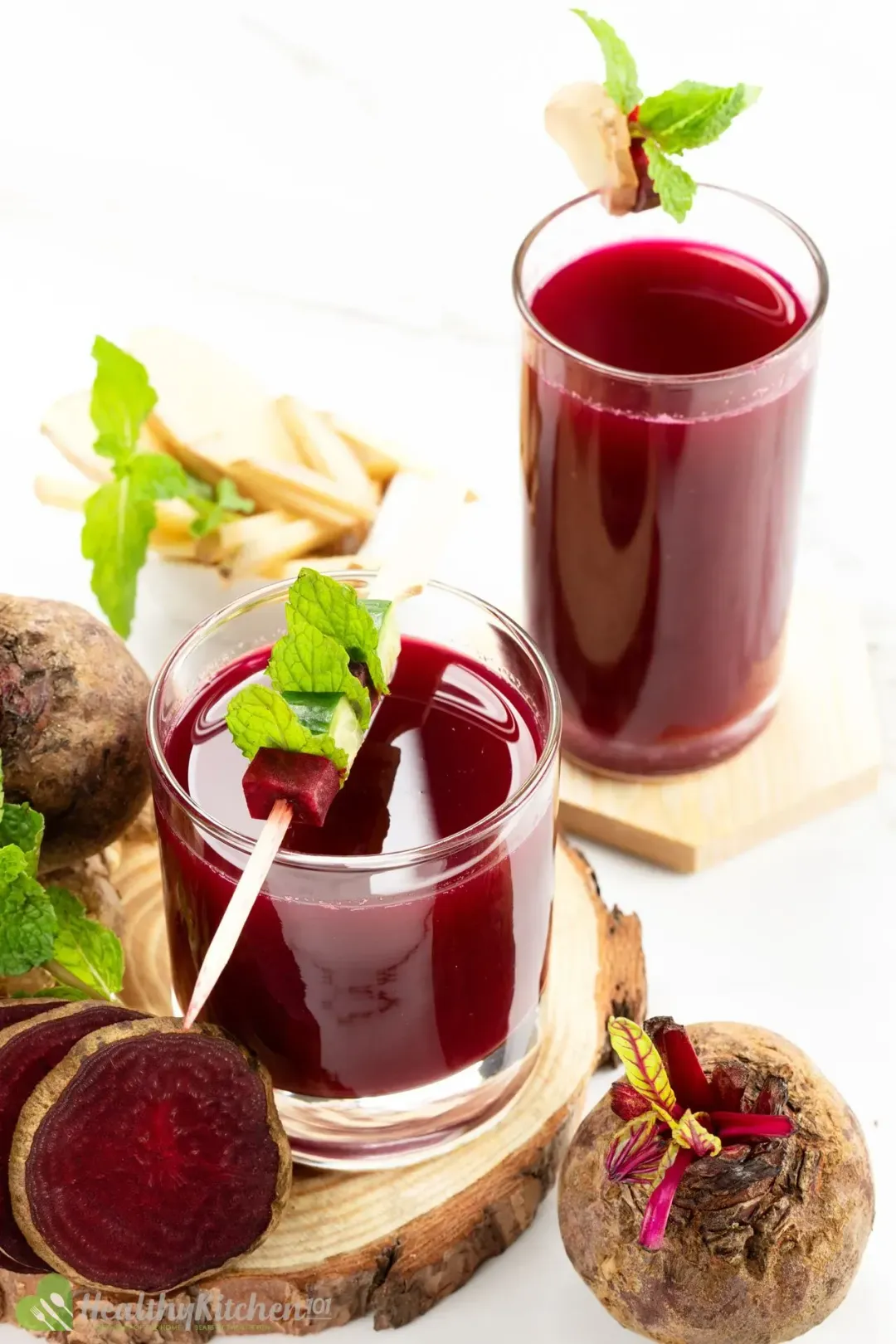 It was delicious and benefit, I will do it again.

Boost the health with a vibrant glass of beet juice!

Nutritious and earthy beet juices.