This ginger beet juice recipe only requires 6 fresh ingredients, a few minutes, and a juicer to make. Why buy a drink at the store when you can make it cleaner and quicker at home?
In this recipe, beet and ginger are sweetened with green grapes and sugar. We add a bit of lime juice to balance out the sweetness and lift another level, making it a wonderful, energizing morning quencher.
Is a Beet a Fruit or Vegetable?
Botanists define a vegetable as the edible part of a plant, including leaves, stalk, flower, and root. In the case of beet or beetroot, there are both leaves and roots.
Beets range in size and color, but the majority of beets you will find at the grocery store fall into 4 categories:
Red beets: red is the type that we are most familiar with. This deep-red veggie offers a nice crunchy texture and sweet flavor in its fresh form. They can also be stored for a relatively long time. Although you might lose a bit of tenderness with time, the roots increase in sweetness the longer they are stored.
Chioggia beets: these have a unique red-and-white-ringed flesh and turn pink once cooked. If you want to maintain the bright stripe on the flesh, a little tip that works is to coat slices in lemon juice or vinegar.
Golden beets: as the name suggests, these beets have a golden color, and are also more mellow in taste compared to their peers. However, their yellow-hue can intensify nicely while roasting, making them perfect for adding color to roasted or salad dishes. 
Sugar beets: with a turnip-like appearance, sugar beets have an off-white color with a conical shape. The sucralose level of this variation is extremely high so it's mostly grown for commercial purposes, especially sugar production.
Our recipe today uses red beets as they are the most widely available and have fantastic health benefits.
Is Ginger Beet Juice Good for You?
Yes. Like other juices, this ginger and beet juice contains most of the vitamins, minerals, and plant chemicals found in the produce's raw form, sans the fiber.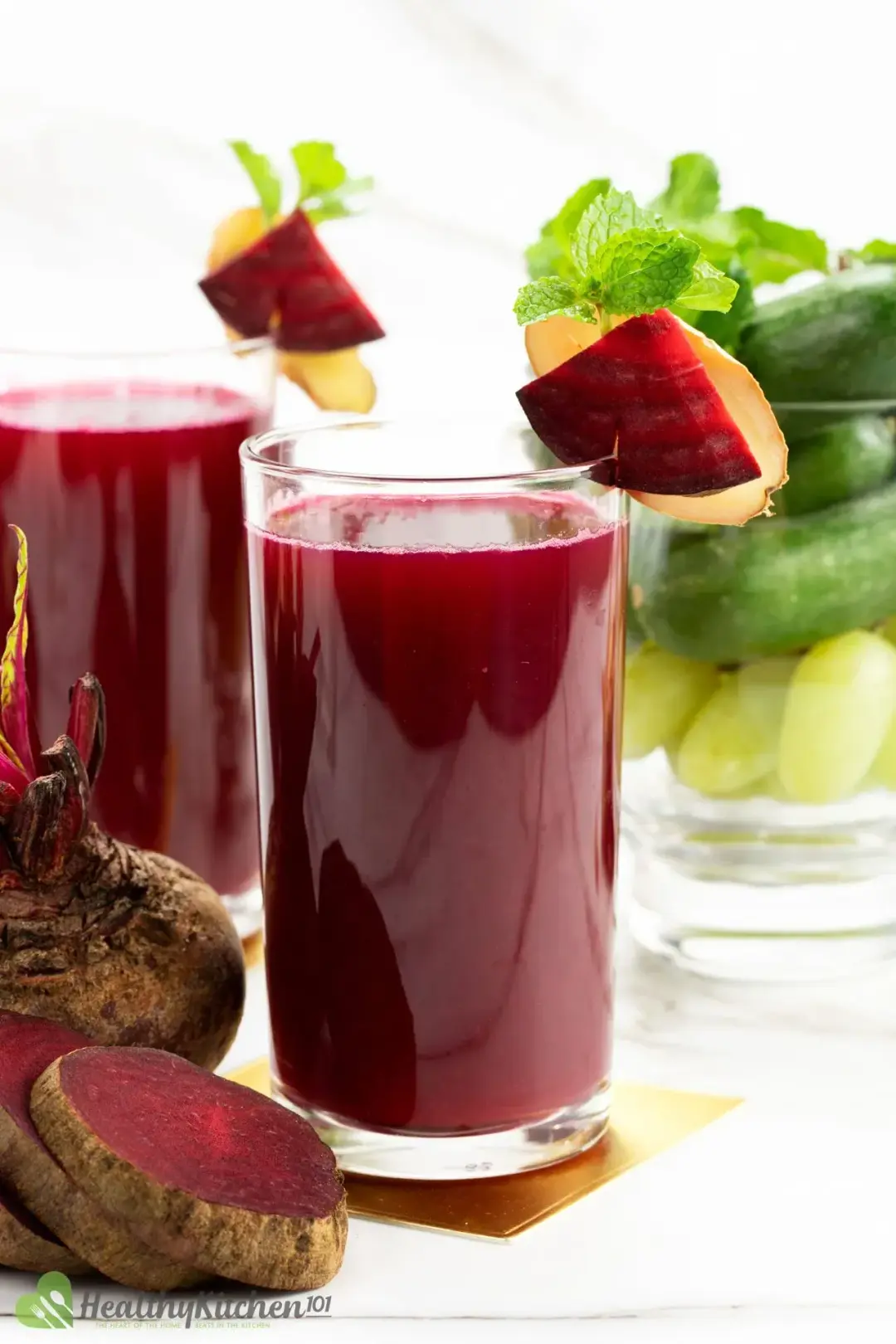 Beets are low in calories but packed with a variety of nutrients, including:
Betaine: a type of antioxidant which causes the red or orange color for many fruits and vegetables. Antioxidants play an important part in protecting cells from oxidative damage.
Nitrates and folate: one cup of beets contains nearly 40% of your DV for folate. Nitrates in beets transform into nitric oxide— a component that can widen the blood vessels and help lower blood pressure.
Potassium: an essential micronutrient that we need to maintain bone and muscle health. One study showed that people who consume about 4,000 mg of potassium a day have a 49% lower risk of facing heart diseases compared to those who only absorb 1,000 mg per day.
Along with the beets, our juice contains ginger which has been used in both cooking and medicine for thousands of years. Here are some of its most notable benefits:
Improves the immune system: gingerol, a compound that creates the sharp flavor in ginger, helps to fight the flu and colds, and supports your immunity.
Lowers cancer risk: a recent study revealed that ginger has antioxidative and anti-inflammatory effects. This root veggie has potential when it comes to treating degenerative disorders, cardiovascular disorders, and cancer.
Now you know how good it is for you, let's go over how to make this lip-smacking ginger beet juice recipe.
How to Make Ginger Beet Juice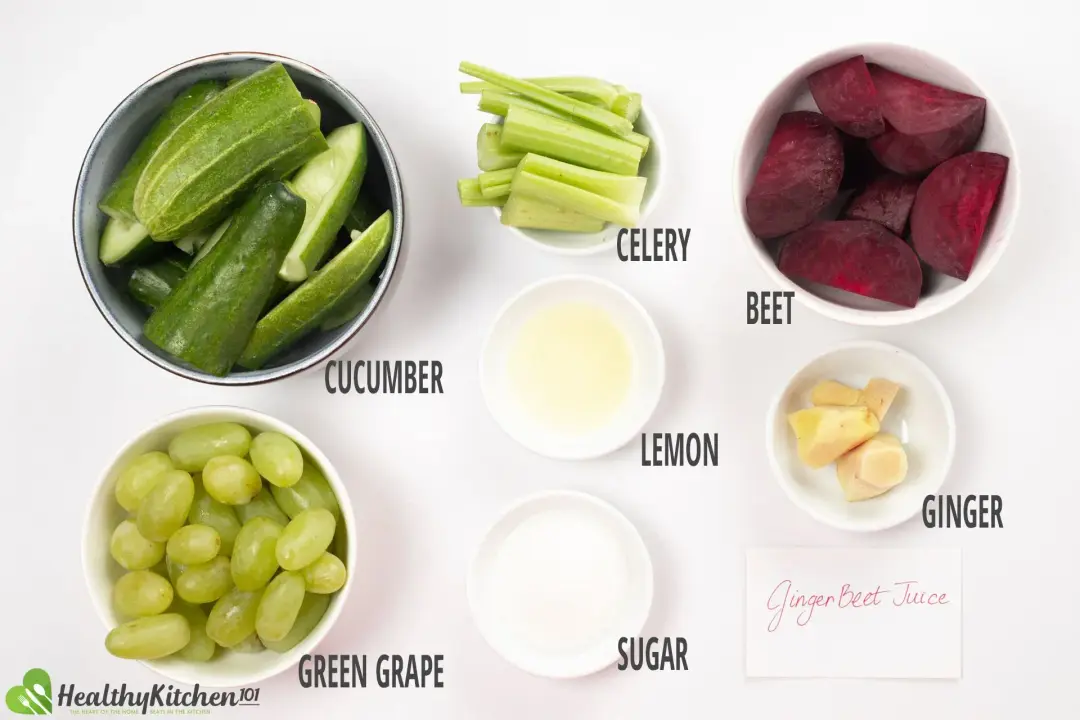 Step 1: Juice
Feed green grapes, cucumber, beets, celery, and ginger into a juicer. 
Step 2: Pour the liquid into a pitcher
Transfer the liquid into a large pitcher.
Step 3: Add lemon juice and sugar
Add lemon juice and sugar. Use a spoon to stir until all the sugar has dissolved.
Step 4: Serve
Serve the juice over ice for added refreshment.
Do You Peel The Ginger and Beets Before Juicing?
To peel or not to peel, that is the question. Fruits and vegetables often have the highest concentration of nutrients just below or in the skin, so in most cases, you should keep the skin intact if possible. 
However, root vegetables like ginger and beet offer a natural earthy taste that not everyone enjoys. Peeling the outer skin can help to reduce the earthiness.
For more healthy drinks to put into your collection, check out beet juice roundup or top ginger juice recipes might be of help.
How Long Does Ginger Beet Juice Last?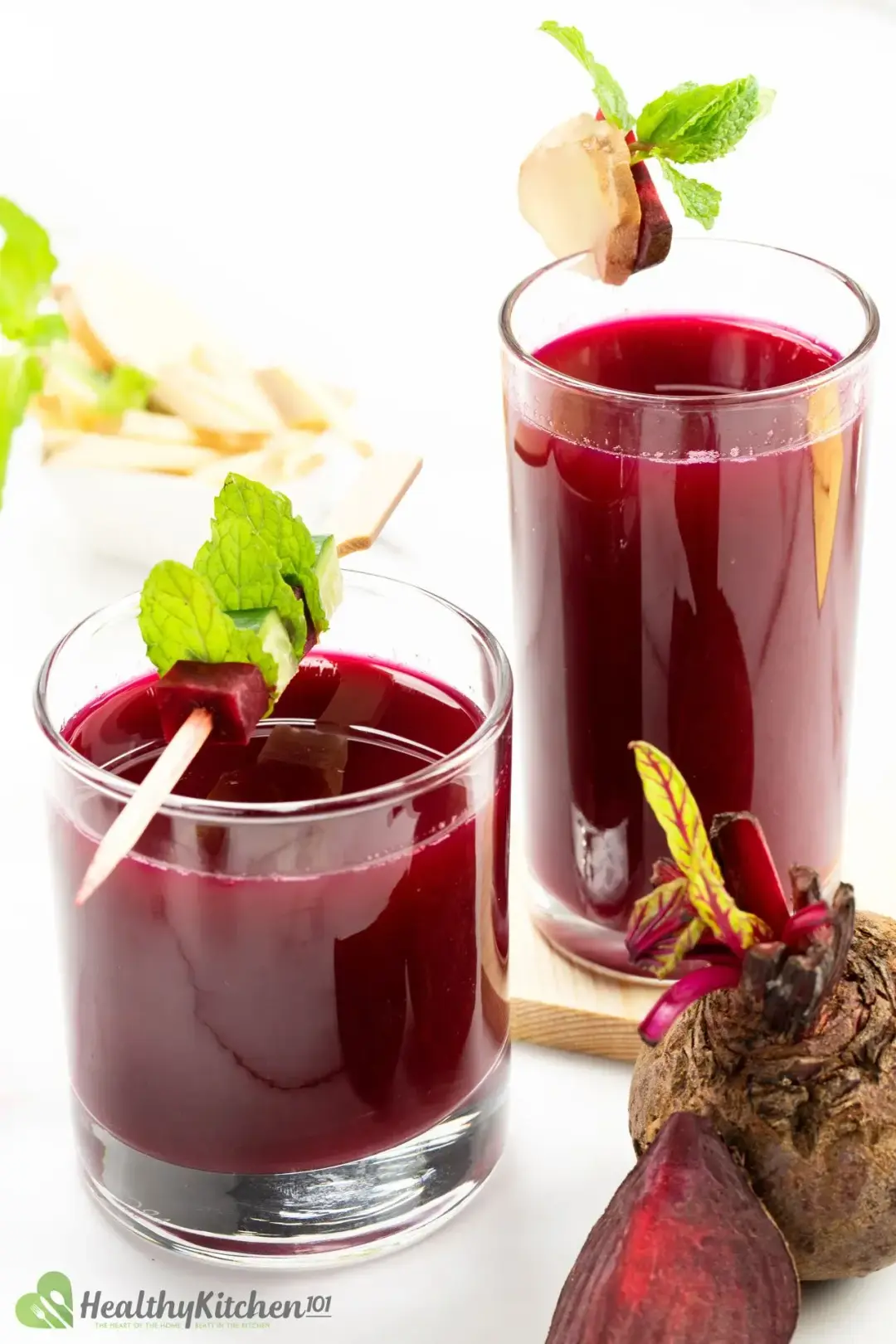 The shelf life of ginger beet juice depends on the temperature it is exposed to. At room temperature, it's best to consume the drink within the first 2 hours.
If you store the juice properly in the refrigerator, it can last for up to 2 days without altering the quality or flavor. We recommend using a glass jar with a tight-fitting lid, and as little air in the container as possible.
If you are in the mood for more healthy juice recipes, our carrot orange ginger juice and pineapple ginger juice recipes are some other great options.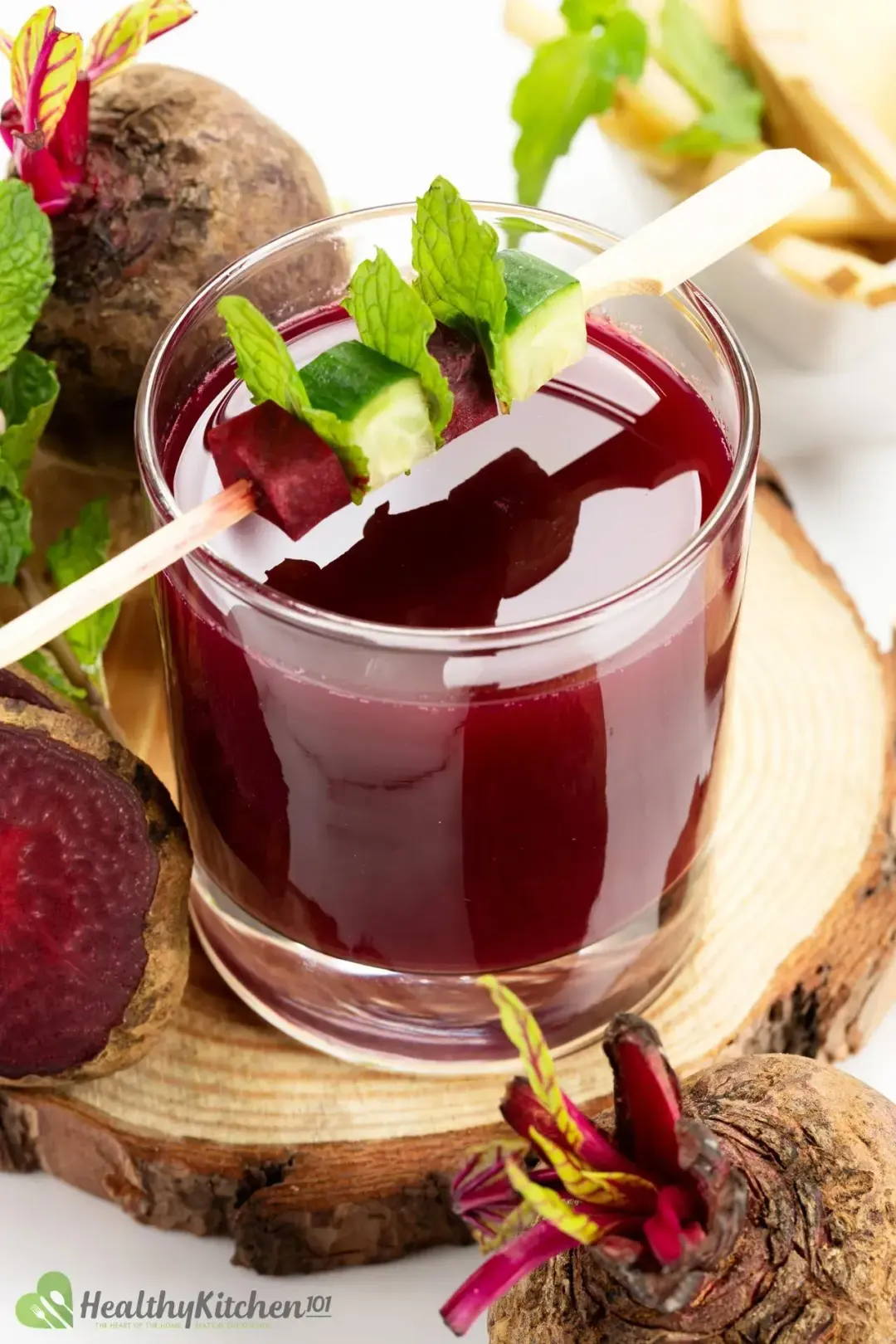 Ginger Beet Juice Recipe
Whether you are craving a refreshing drink or need a healthy dose of nutrients, our ginger beet juice recipe is an easy solution.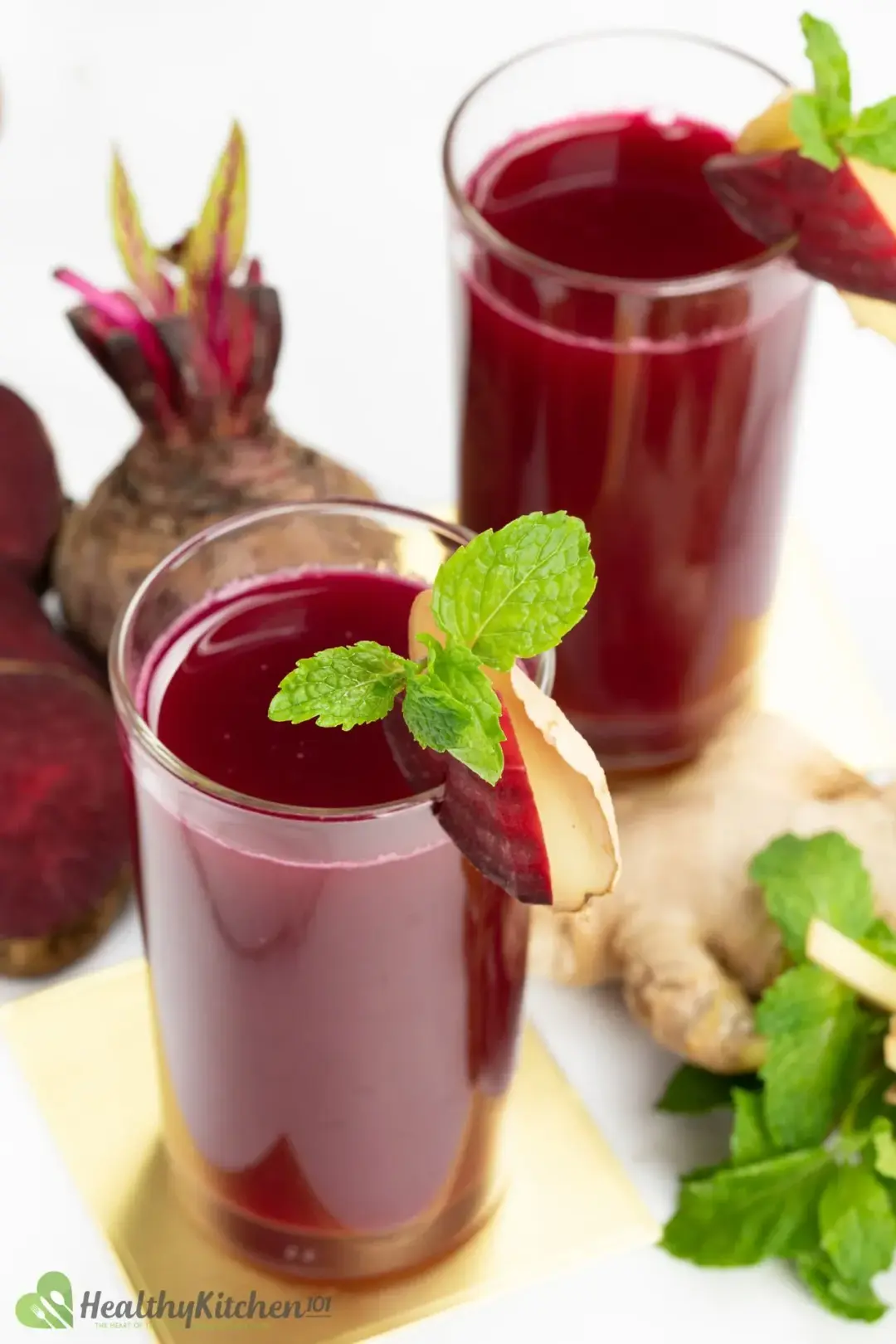 prep TIME

5 mins

total TIME

5 mins
COURSE

Beverage

CUISINE

American

SERVINGS

servings

CALORIES

96 kcal
INGREDIENTS
6 oz

beets

1 oz

ginger

8 oz

green grapes

16 oz

cucumber

2 oz

celery

1.5 tsp

lemon juice

1 tbsp

sugar
INSTRUCTIONS
1
Feed green grapes, cucumber, beets, celery, and ginger into a juicer.
2
Transfer the liquid into a large pitcher.
3
Add lemon juice and sugar. Use a spoon to stir until all the sugar has dissolved.
NUTRITION
Nutrition Facts
Ginger Beet Juice Recipe
Amount Per Serving (1 serving)
Calories 96
Calories from FDA
% Daily Value*
* Percent Daily Values are based on a 2000 calorie diet.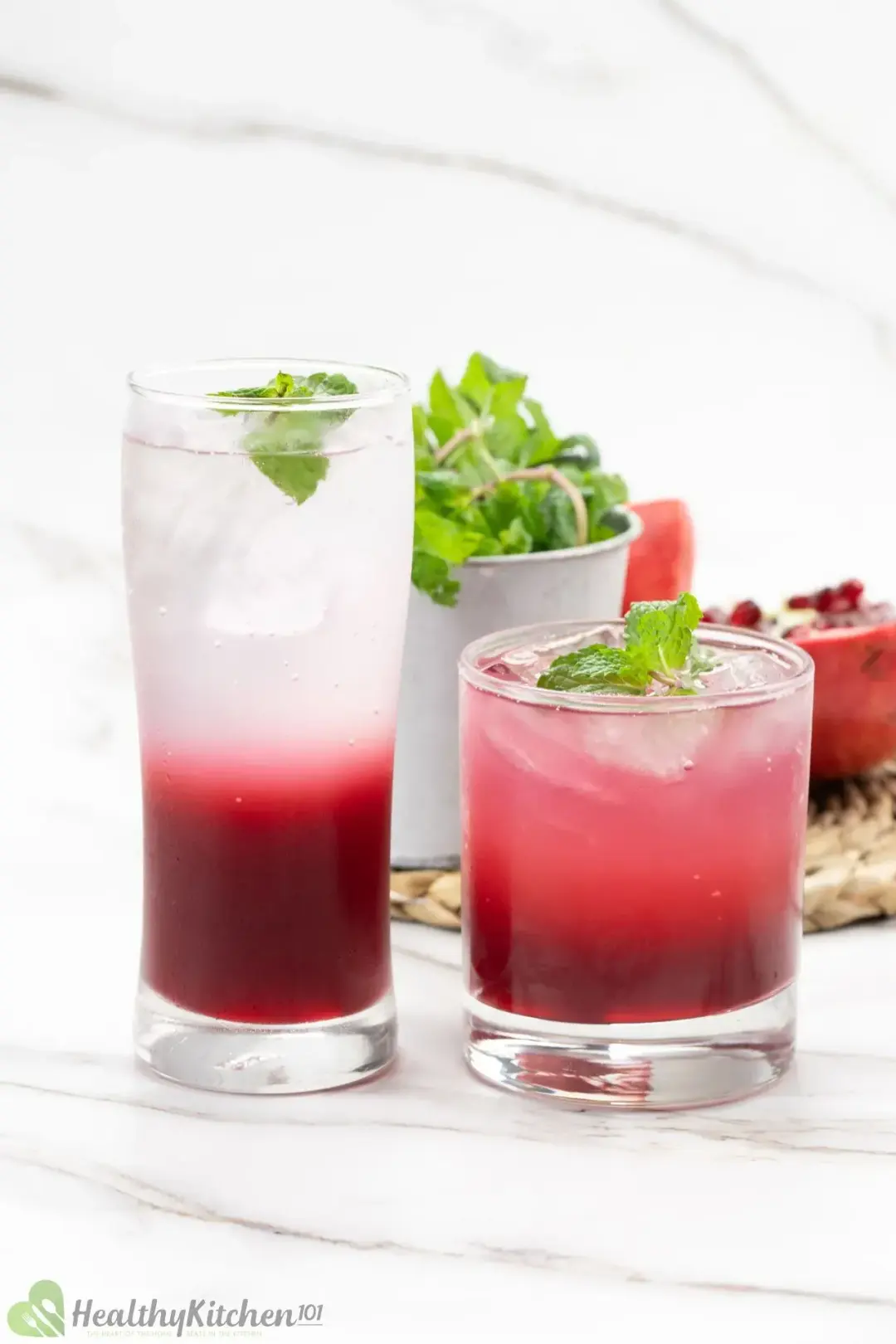 Previous Recipe
Sugar-Free Pomegranate Juice
Sugar-Free Pomegranate Juice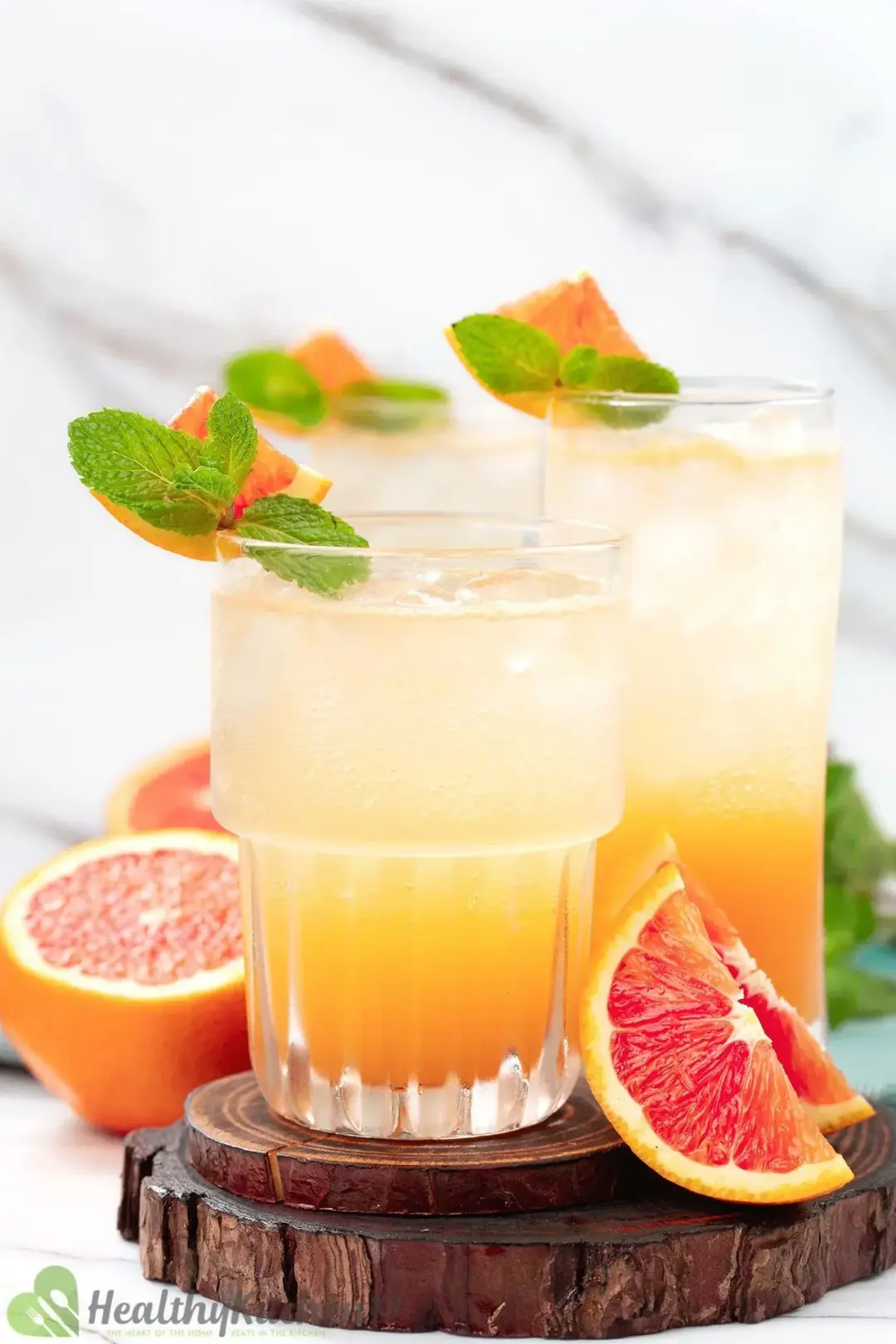 Next Recipe
Vodka and Grapefruit Juice (Greyhound Drink)
Vodka and Grapefruit Juice (Greyhound Drink)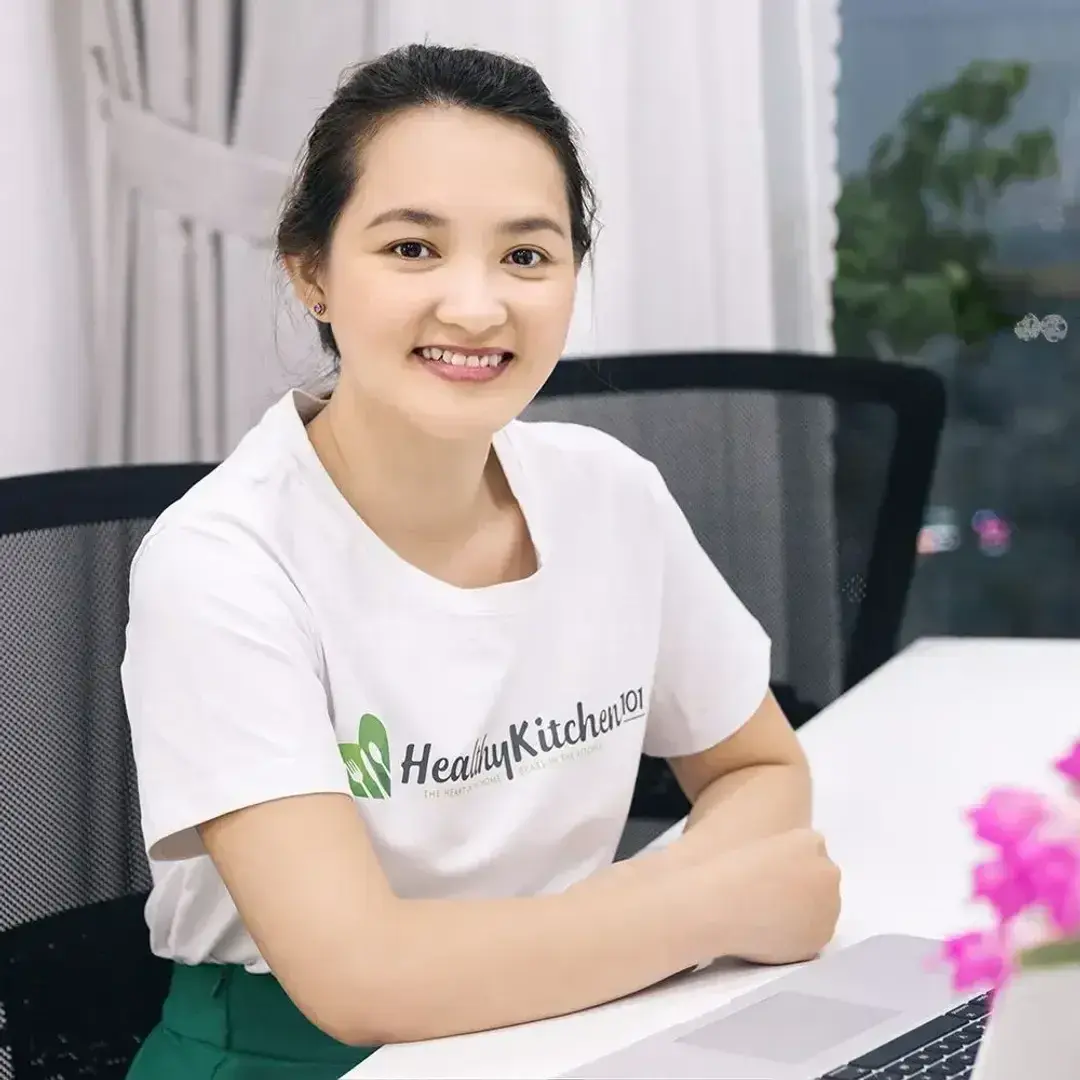 Writer, Author
Luna Regina is an accomplished writer and author who dedicates her career to empowering home cooks and making cooking effortless for everyone. She is the founder of HealthyKitchen101.com and HealthyRecipes101.com, where she works with her team to develop easy, nutritious recipes and help aspiring cooks choose the right kitchen appliances.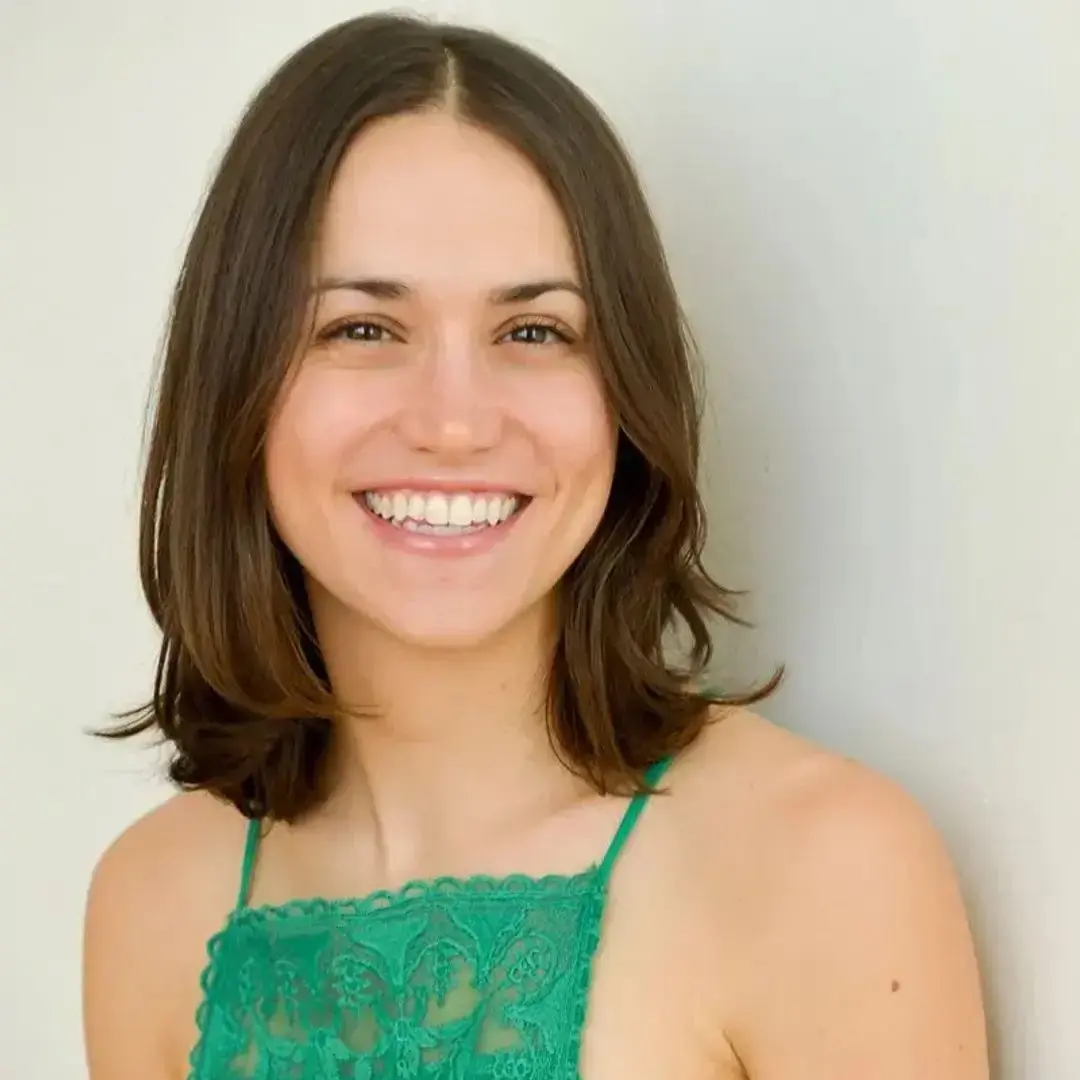 Nutrition Reviewer
Lizzie is a Minneapolis-based dietitian and founder of It's a Veg World After All. She completed her MS in Human Nutrition from Drexel University, and is an expert in culinary nutrition, recipe development, and nutrition communications.
Comments/ Reviews