Has your plate been devoid of fruits or vegetables lately? Our kiwi banana smoothie recipe might be able to help. Make yourself a smoothie! It takes just minutes, tastes great, and provides you with a plethora of nutrients in their purest form.
Today's recipe combines two of everyone's favorite fruits with kale. The fruits effectively mask the taste and texture of the greens so even if you dislike kale, you won't have a problem with this smoothie.
Ingredients for Kiwi Banana Smoothie
Our kiwi banana smoothie recipe calls for the two fruits, plus kale, milk, ice, honey, and some mint leaves for garnish.
1. Types of Kiwi You Can Use
There are two major kiwi categories: 'hardy' and 'fuzzy.' While fuzzy kiwis have fur on their brown skin, hardy kiwis have green, smooth, and edible skin similar to apples. They're both ideal for smoothies, but we suggest reserving the hardies for eating.
Because we're making a sweet smoothie, it's important to select ripe fruits — unripe kiwi fruit will make your smoothie sour. If you press it with your thumb, a ripe kiwi should give a little while a young kiwi will feel stiff.
If you've accidentally gotten an unripe one, place it in a brown bag along with a banana or apple. These fruits release a gas that can help ripen the ones around them. Leave the bag on the counter for a few days and repeat the test.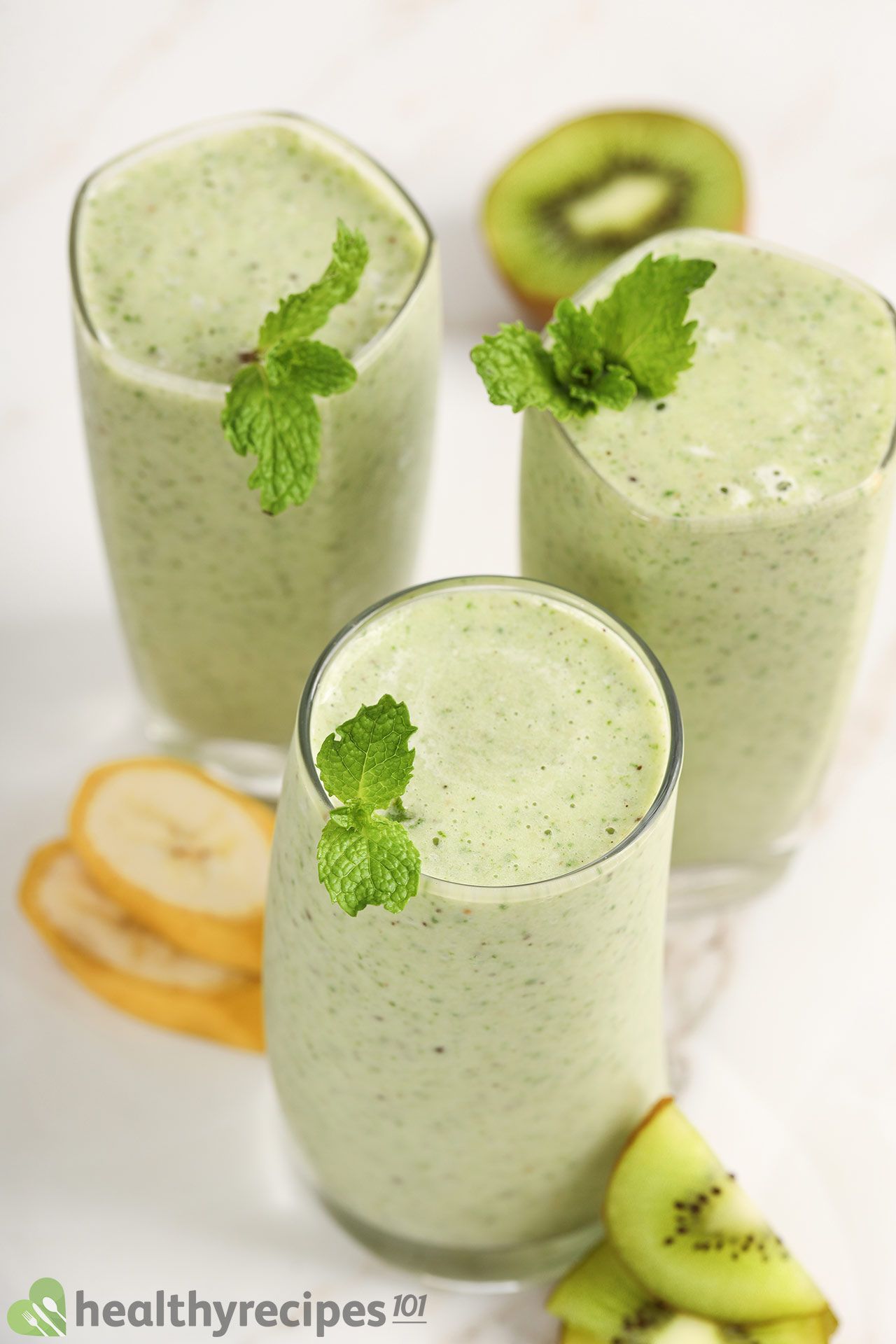 2. Banana
We went for good ol' ripe, yellow bananas. If yours have gone a bit dark on the outside due to prolonged refrigeration, do not discard them. They may not look appealing, but their sugar content is so high that you might not need any extra sweeteners.
3. Kale
Rinsed kale with the stems removed is okay for kiwi banana smoothie, but if you want things done more quickly, buy frozen kale.
You can also add some spinach for additional nutrients. A handful won't alter the texture or taste.
4. Milk
Without this ingredient, your blender will have a hard time grinding the ice and the smoothie won't hit that perfect creamy consistency. You can use any type of milk you prefer — whole, half and half, skimmed, soy, or nut milk all work great.
5. Ice
Some blenders grind soft ice like ice nuggets smoothly but can't quite handle crescent ice or other hard types. If that's what you've got, wrap it up in a cheese cloth or thin towel and give it some good whacks with your rolling pin.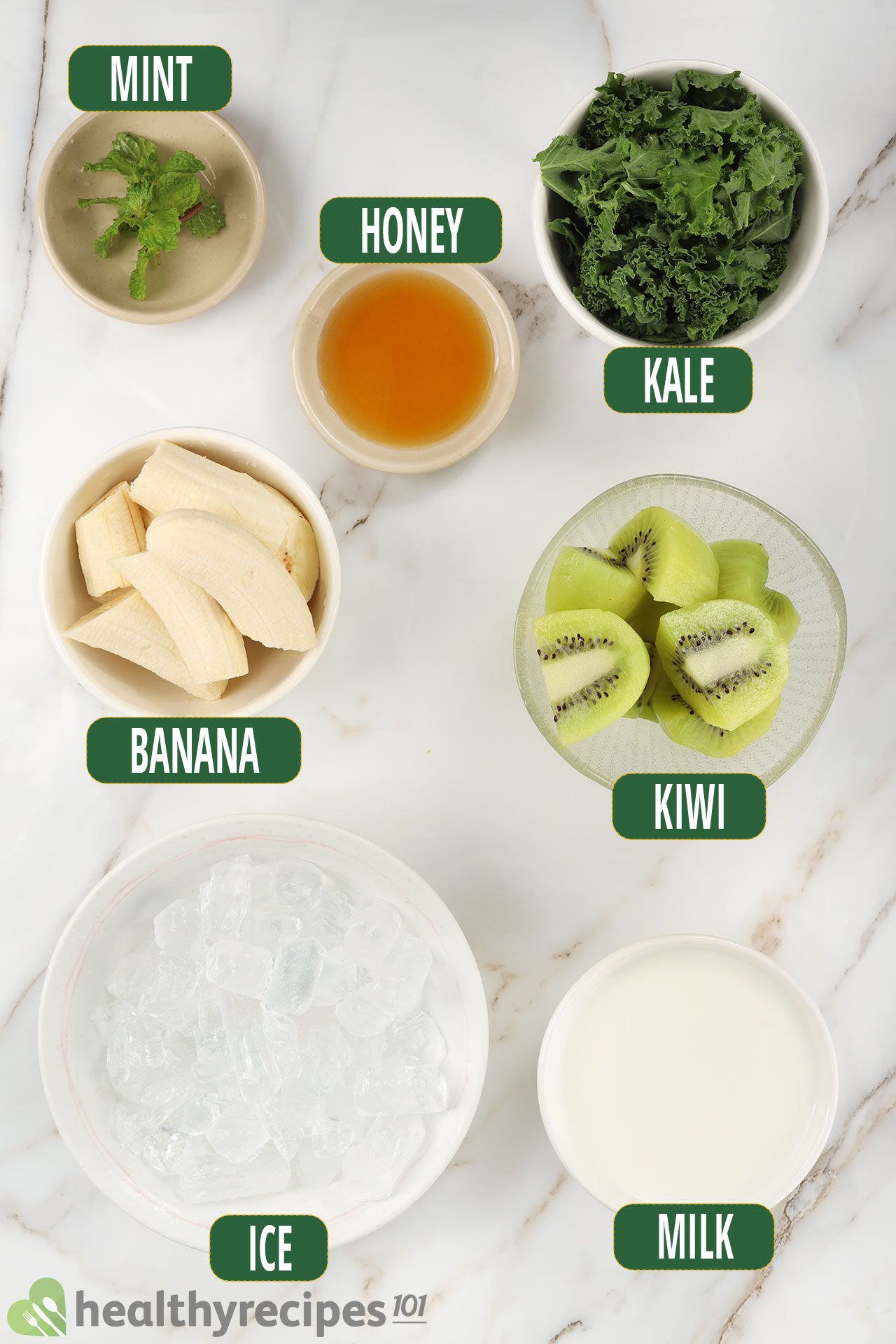 Prepping the Ingredients for Kiwi Banana Smoothie
Peelers don't work on kiwis. Instead, you want to slice both of the fruits' ends just enough to expose the flesh. Squeeze the spoon between the flesh and skin, then run it around the fruit to scoop the flesh out neatly.
For bananas, simply peel them like normal and break or slice them up.
If you have time and a hankering for ice cream, cut the fruits into chunks, spread them out on a tray, and freeze. Blend the frozen fruit cubes with some milk and kale, and you'll have a healthy yogurt bowl!
For the best result and a healthy nutritional profile, we suggest sticking to the proportions on our 'Kiwi Banana Smoothie Recipe' card included at the bottom.
How to Make Kiwi Banana Smoothie
Once you've gotten the ingredients prepped, add them all to the blender and blend until smooth.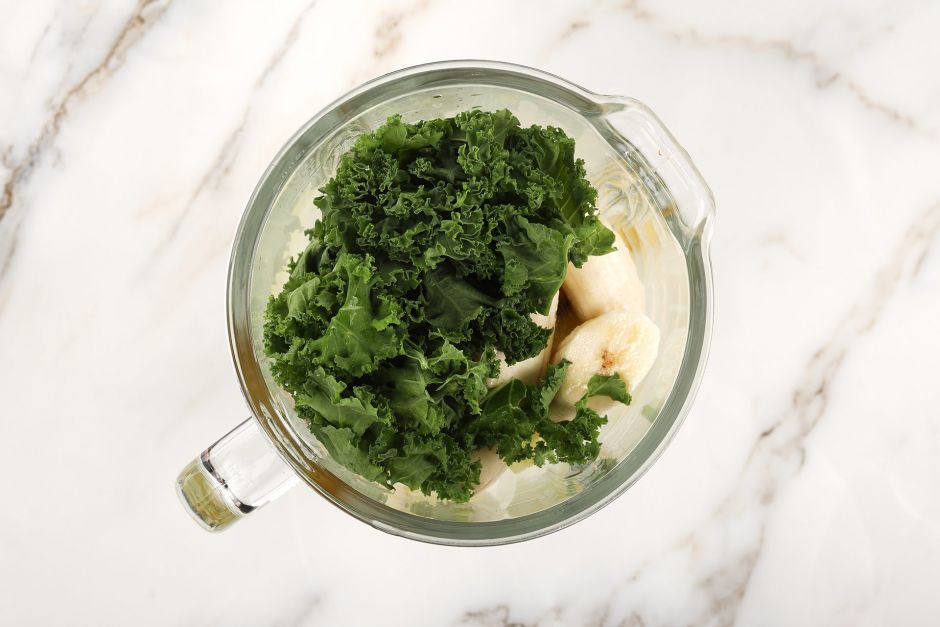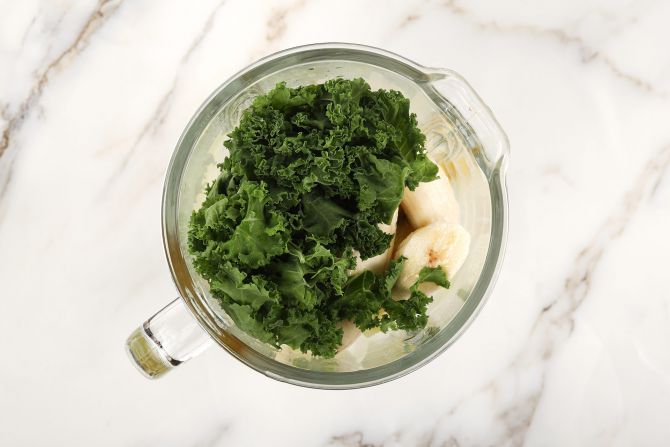 Blend ingredients.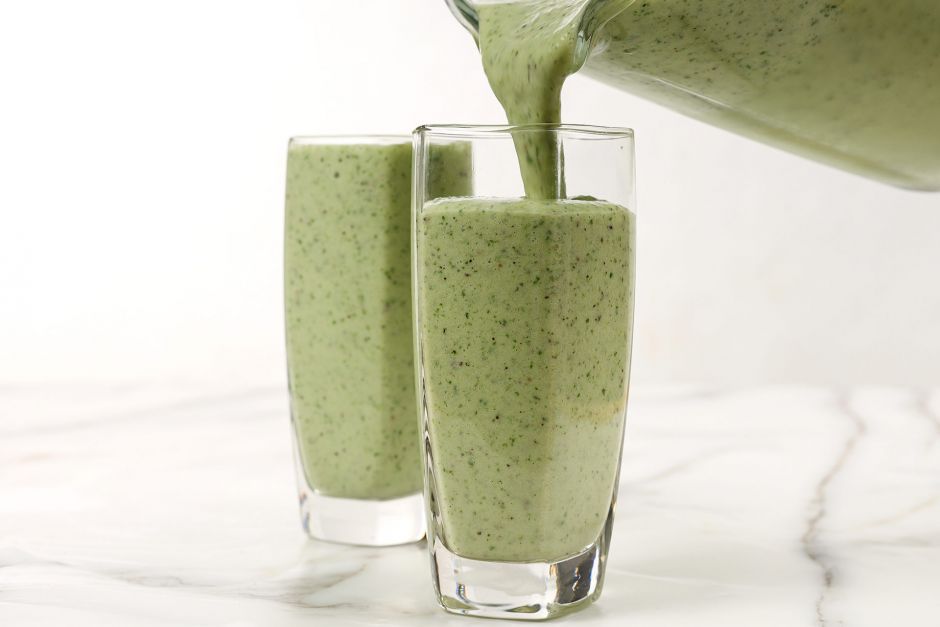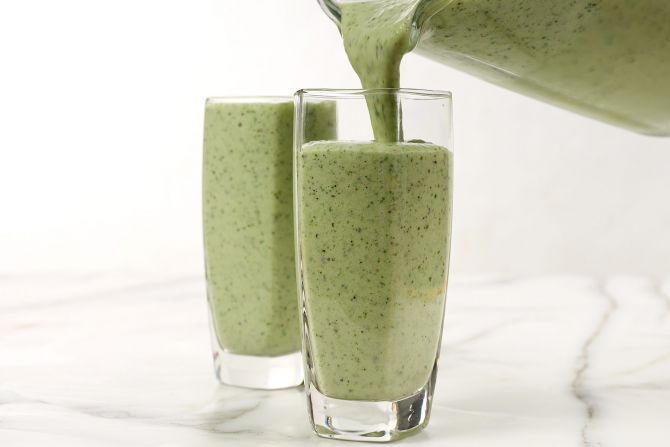 Pour the smoothie into serving glasses.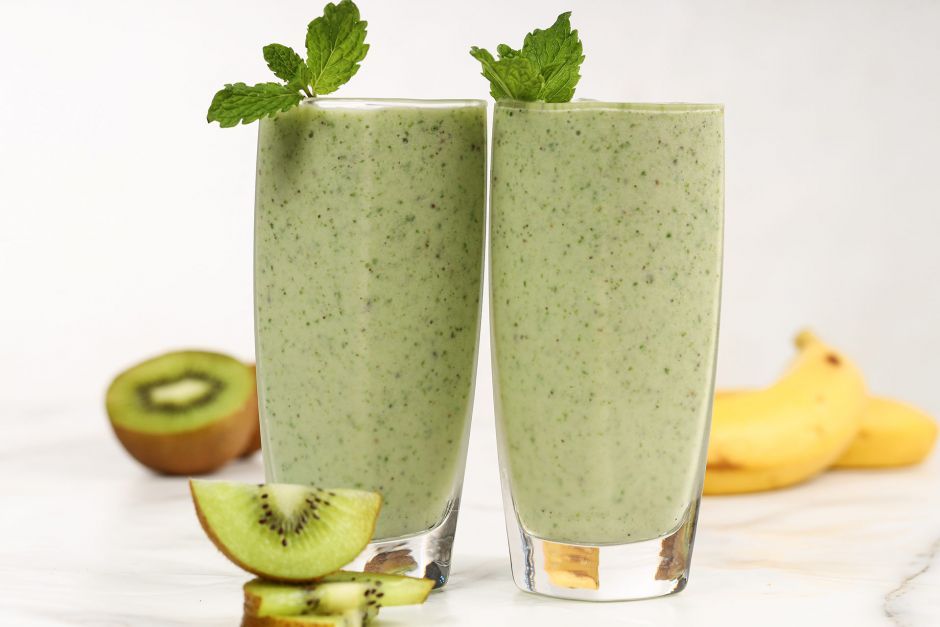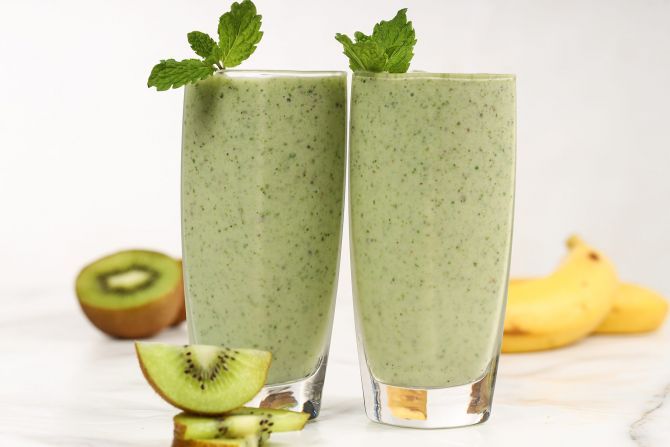 Garnish with mint leaves and enjoy.
Is Kiwi Banana Smoothie Healthy?
Kiwis and bananas are nutrient-dense foods; they're high in vitamins C, K, and E, plus folate and minerals such as calcium, potassium, magnesium, and phosphorus. The addition of kale adds to the nutritional profile good amounts of vitamins A, K, C, manganese, and more.
When making our smoothies, we try to avoid adding excessive amounts of sugar or sweeteners that contain sugar (honey, for instance). One serving of this smoothie contains just 9 g of added sugars, well within the limit suggested by the USDA.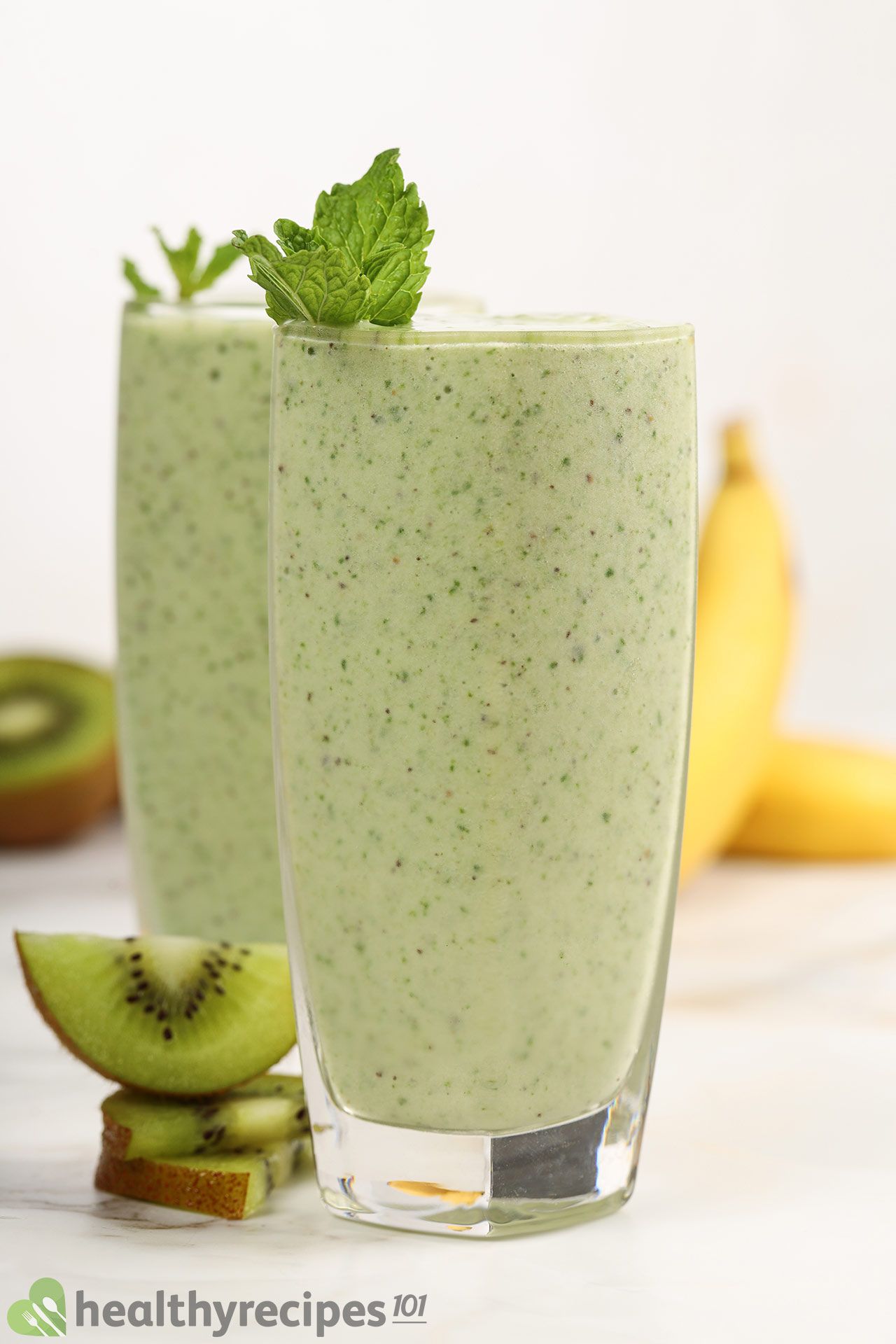 More Delicious Smoothie Recipes You Can Try: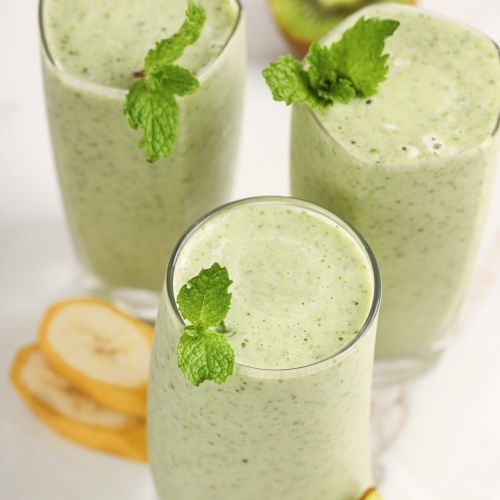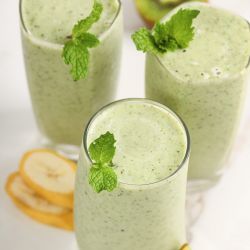 Kiwi Banana Smoothie Recipe
Our kiwi banana smoothie recipe makes a sweet, tangy smoothie that's chock full of nutrients. It's a delicious health boost that's easy to incorporate into your diet.
Ingredients
10

oz

kiwi

peeled and halved

8

oz

bananas

sliced

1

oz

kale

chopped

2

cups

ice

1

cup

whole milk

2

tbsp

honey

8

mint leaves

or baby mint leaves for garnish
Instructions
Put into the blender 2 cups ice, 10 oz kiwi, 8 oz bananas, 1 oz kale, 2 cups ice, 1 cup whole milk, and 2 tbsp honey. Close the lid and blend until smooth.

Pour the smoothie into serving glasses.

Garnish with mint leaves and enjoy.
Nutrition
Nutrition Facts
Kiwi Banana Smoothie Recipe
Amount Per Serving (1 serving)
Calories 167
Calories from Fat 27
% Daily Value*
Fat 3g5%
Cholesterol 6mg2%
Sodium 39mg2%
Potassium 556mg16%
Carbohydrates 36g12%
Protein 4g8%
Vitamin A 990IU20%
Vitamin C 80mg97%
Calcium 116mg12%
Iron 1mg6%
* Percent Daily Values are based on a 2000 calorie diet.