Our simplistic mean green juice recipe is another healthy vegetable juice from our recipes. You can make it in just 7 minutes, enjoy it with friends, and store it for quick drinking later.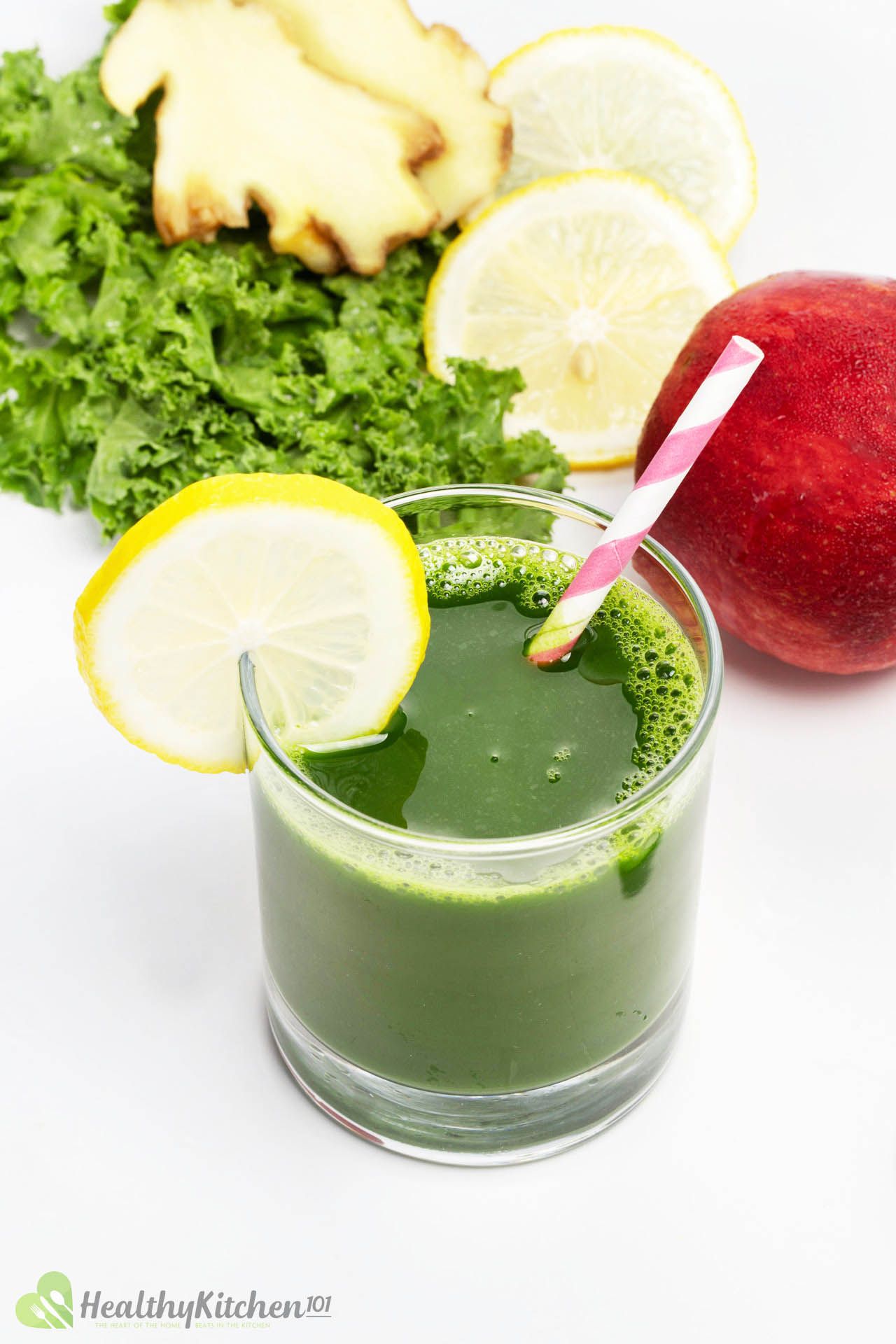 Juicing your veggies is a quick, fun way to get a blend of essential nutrients. However, don't neglect your whole vegetables (and fruits).
You still need fiber in your diet, which you lose when you juice your greens. But you can use this delicious mean green juice recipe as a quick, healthy addition to your diet, saving you time and promoting better choices.
Our only disclaimer is that you don't hold us responsible if you can't get enough of it!
What Is Green Juice?
Green juice is a beverage made from green vegetables such as kale and spinach. It's the ultimate healthy drink that boasts many vitamins and minerals.
People anecdotally refer to green juices as detox drinks. Their high nutrient content and antioxidant activity imply that they can clean out your system.
But scientists aren't as eager to jump aboard the detox train. That's because the liver does an excellent job of detoxifying your bloodstream; green juices may only play a partial role.
You can enjoy straight green juice if you like. Or you could add apple, lemon, or orange juices to the drink for those who prefer a sweeter, palate-friendly taste.
Whichever produce you choose to add, try to keep your ingredients natural and unrefined. That means less added sugar and using fresh instead of bottled juices.
Also, limit added fruit juice to reduce overall sugar content. This ensures that your green juice will be a gut-boosting, go-to beverage that you can count on for adequate nourishment.
Is Mean Green Juice Healthy?
Mean green juice is an unequivocally healthy drink; at least ours is. Though you can't use it to replace your dietary vegetables, you can benefit from its "quick" nutrients.
1. Fights High Blood Pressure
If you have a juicer, you can juice cucumber, kale, and celery to provide you with plant compounds. Consuming each of these juices has been shown to lower blood pressure in patients with hypertension.
This is beneficial mainly since over one out of every three adults in the US has a higher than normal blood pressure. Hypertension is often termed the "silent killer" because it manifests with no symptoms.
The best way to prevent it is to limit sodium and increase potassium in your diet. That, exercising, and including healthy drinks like this one could help fight against high blood pressure.
Implementing it in your routine can significantly contribute to promoting a healthier diet and lifestyle.
2. Less Sugar
Though this recipe includes added sugar in this recipe, we've ensured that you have it in moderate amounts. At only one and a half teaspoons per serving, you're well within the recommended daily sugar limit.
Eating moderate amounts of sugar will help to lower the risk of obesity, diabetes, and heart diseases, among many other health-compromising conditions.
Mean Green Juice Ingredients
Our mean green juice recipe employs cucumber, kale, and celery juices as a base. Other ingredients you can use for your own green juice are swiss chard and mint to add greater variety of flavor.
The taste of green vegetable juices is usually mild, sometimes bitter. So we've included lemon and apple juices for a zesty punch and sweet essence.
They tie the flavors together wonderfully to make this drink more enjoyable.
Similarly, ginger (in this recipe) brings a bang of flavor and fragrance. If you're not a ginger fan, you can omit it and still relish the taste of a less peppy drink.
Also, added sugar has an impressive way of balancing the flavors in almost any drink. For that reason, we couldn't help but sneak it in (though in small amounts).
You will taste the difference if you leave the sugar out. Yet you can omit it and still enjoy mean green juice with apple juice's natural sweetness.
How to Make Mean Green Juice
Start with some fresh produce for a crisp, refreshing finish. Wash all the fruits and vegetables thoroughly.
Next, slice cucumbers. Halve and core the apples, and proceed to cut them into pieces to fit into your juicer chute.
Cut the celery into similar sizes as the apple pieces.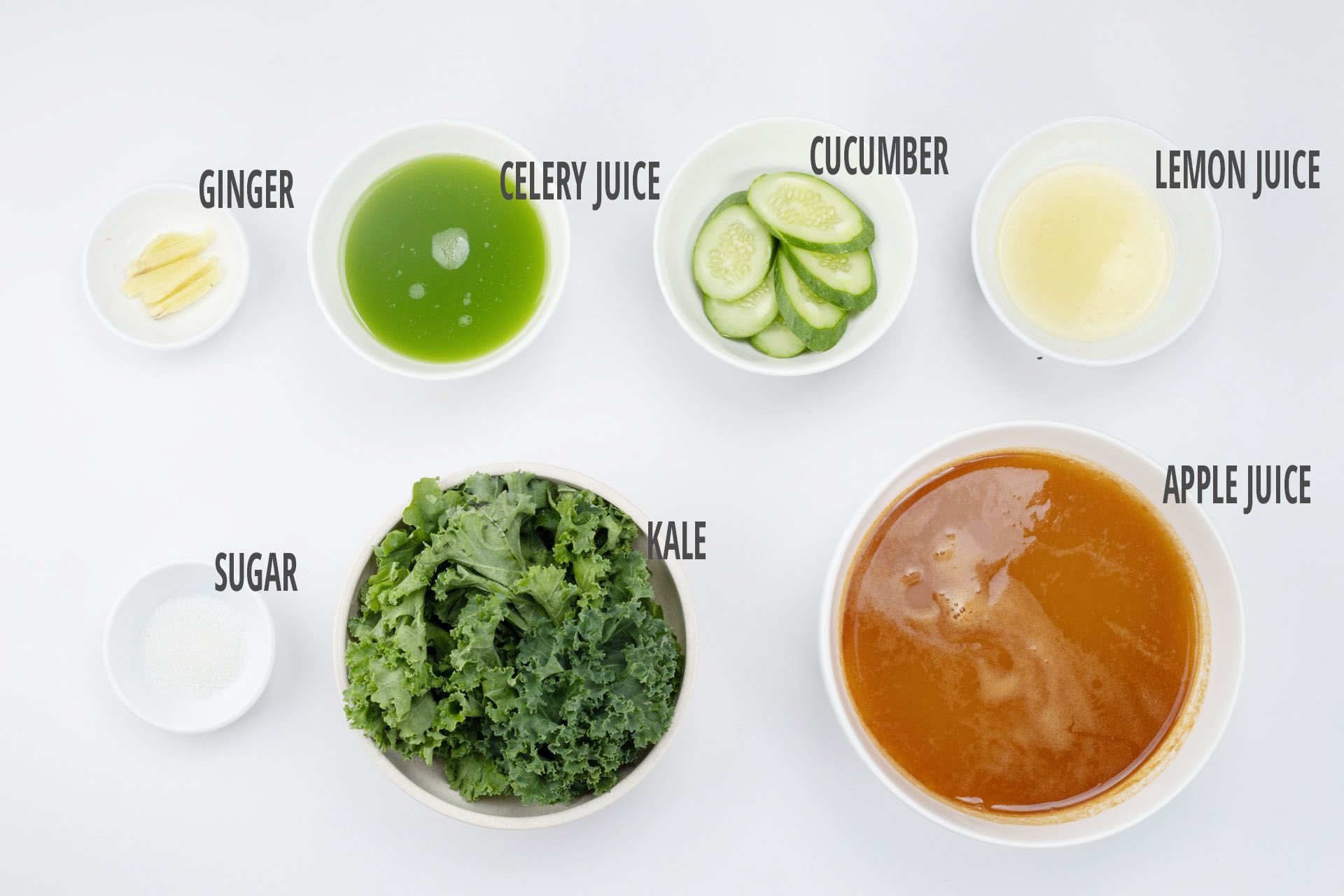 Peel the ginger and slice it. Then, run all prepared ingredients, including kale, through the juicer.
Collect the juice in a pitcher and add lemon juice and sugar. Stir until the sugar has dissolved.xt
Serve your drink in glasses or mason jars and enjoy it with or without ice.
How Long Does Mean Green Juice Last?
This drink is best enjoyed immediately. But it can last for up to three days in the refrigerator.
If you decide to store it, avoid keeping it at room temperature for longer than two hours.
Homemade green, vegetable, and fruit juices have a shorter shelf life than store-bought varieties. That's because they have no preservatives, so their nutrient content quickly decreases.
For best storage conditions, keep the juice in an airtight jar and limit its exposure to air.
Calories in Mean Green Juice
This mean green juice recipe contains 107 calories per serving. That's an impressively low amount, considering store-bought brands have 120 to 140 calories per serving.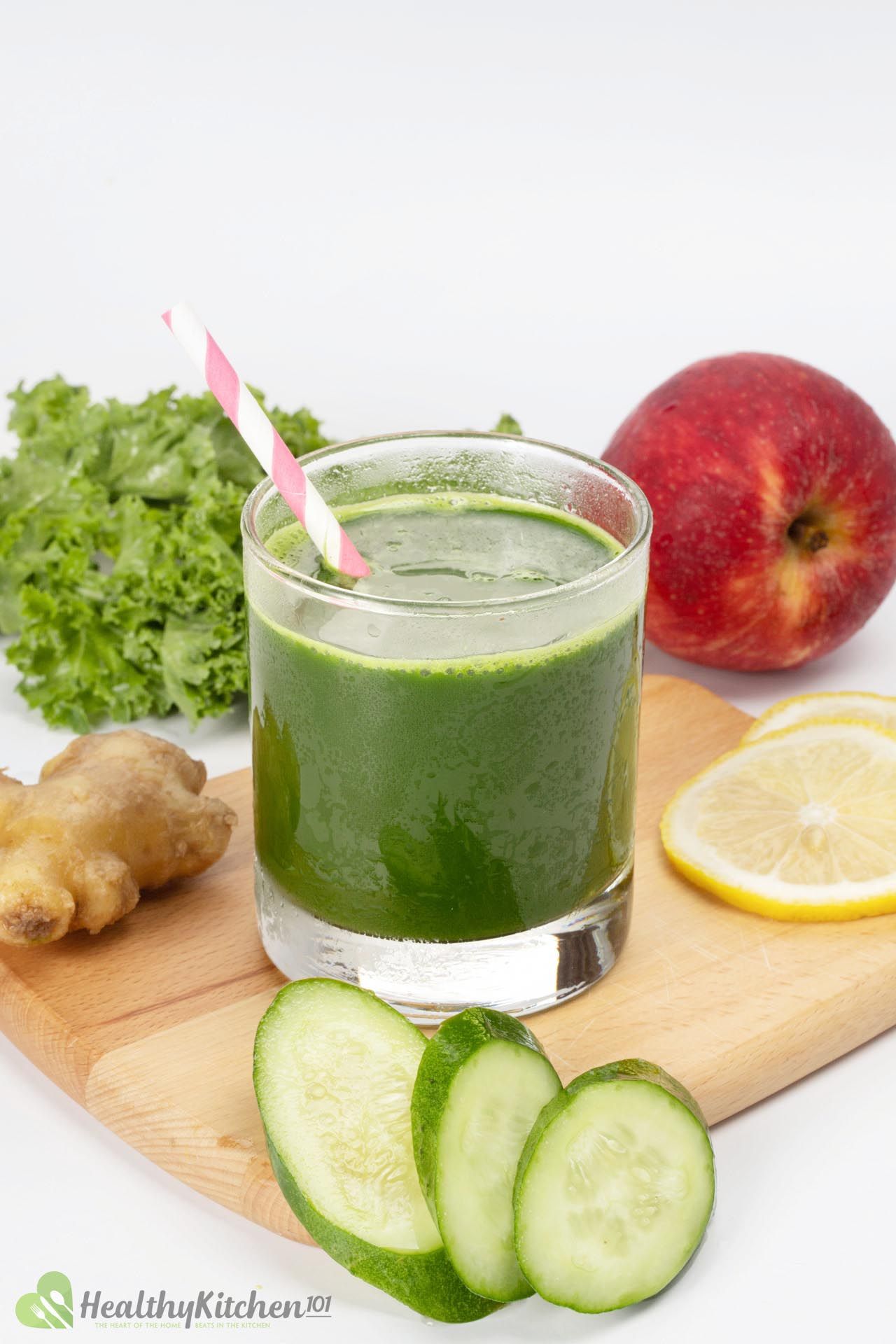 Its low calories are owing to less sugar; thus, you can enjoy it in low-carb diets too.
We have plenty of options If you'd like to add another green machine juice to your diet. Or check out our list of the top 10 best green juice recipes which are delicious and ultra-nourishing.
Together with this beverage, you'll have excellent choices that contribute to a healthy juicing routine.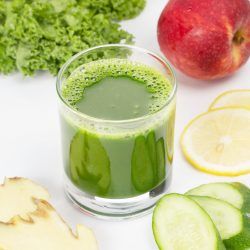 Healthy Mean Green Juice Recipe
Print
RATE
This mean green juice recipe is a simple, quick way to start your day. Juice the freshest ingredients and enjoy it immediately.
Ingredients
1

fl oz kale juice

from 2 oz kale

2

fl oz cucumber juice

from 2 oz cucumber

4

fl oz celery juice

from 3 oz celery stalks

24

fl oz apple juice

from 32 oz apples

1/4

oz

ginger

3

tbsp

lemon juice

1/2

tbsp

sugar
This post may contain links to Amazon or other partners; Purchases made via these links may benefit us at no additional cost to you. Read our Affiliate Disclosure.
Instructions
Wash kale, cucumber, celery, and apples. Peel and core apples and cut them into pieces that fit into your juicer. Cut celery into similar size pieces and slice cucumbers and ginger.

Run kale, cucumber, celery, apple, and ginger through the juicer. Collect the juice in a pitcher.

Add lemon juice and sugar. Stir until sugar dissolves.

Pour into glasses/mason jars. Serve.
Nutrition
Nutrition Facts
Healthy Mean Green Juice Recipe
Amount Per Serving (1 serving)
Calories 107
Calories from Fat 2
% Daily Value*
Fat 0.2g0%
Sodium 40mg2%
Potassium 372mg11%
Carbohydrates 26g9%
Protein 1g2%
Vitamin A 1416IU28%
Vitamin C 25mg30%
Calcium 48mg5%
Iron 1mg6%
* Percent Daily Values are based on a 2000 calorie diet.
Hello! All photos and content are copyright protected. Please do not use our photos without prior written permission. Thank you!