When life gives you lemons, have a look at this honey and lemon juice recipe before making lemonade. It is a better alternative.
Is Our Recipe Healthy?
Lemonade has been known to be a refreshing beverage and a good source of vitamin C. Although its vitamin C content is far less than orange juice, the drink still has an irresistible and irreplaceable charisma.
Vitamin C is an antioxidant possessing many beneficial properties.
For starters, vitamin C boosts your immune system by reducing oxidative stress. Oxidative stress is a common factor in causing severe diseases like cancer, diabetes, metabolic disorders, and more.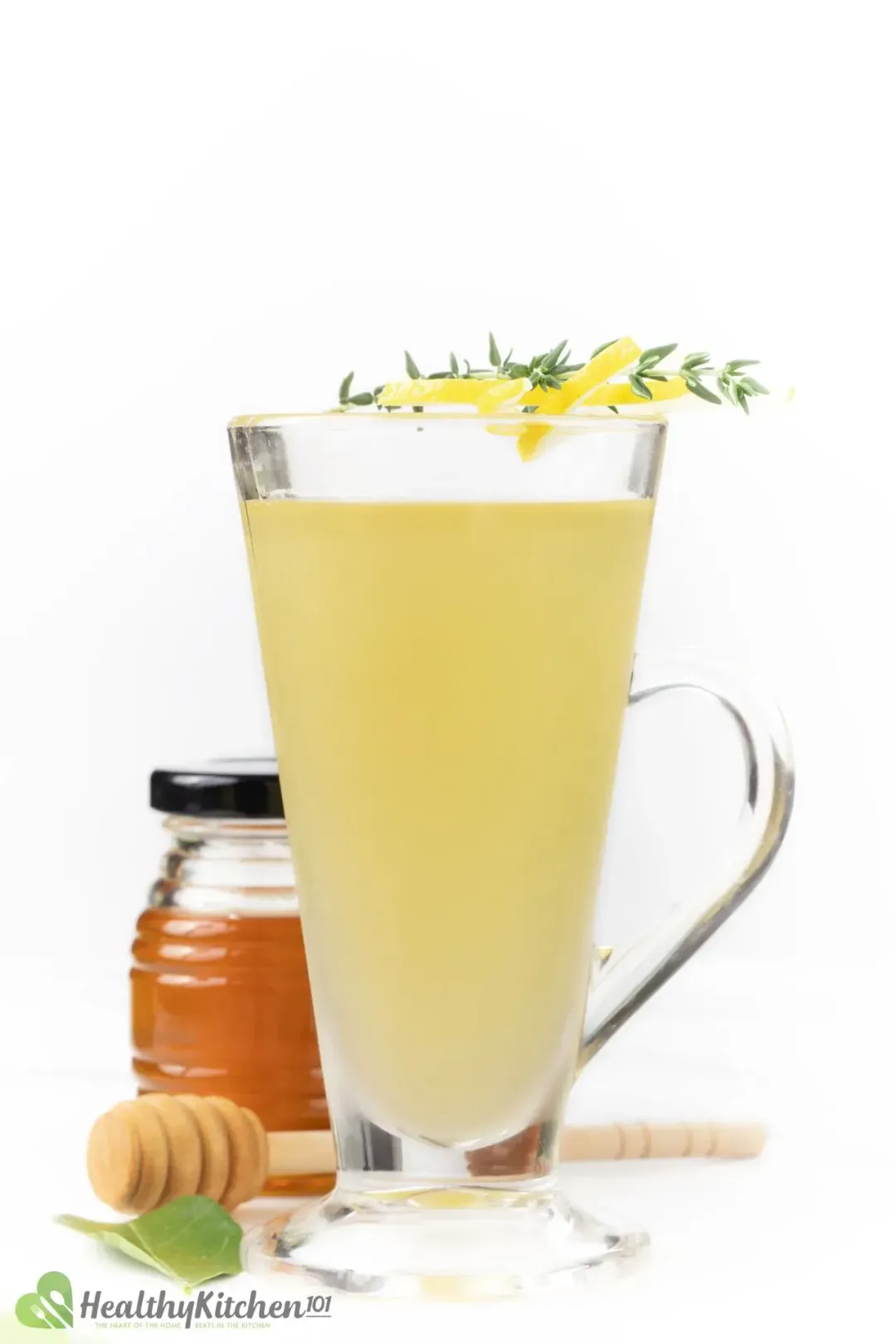 This immune-boosting nutrient also promotes heart health by lowering cholesterol levels and easing oxidative damage on the blood vessels.
Last, but not least, vitamin C may also prevent anemia by aiding iron absorption. It is a condition derived from lack of blood cells, and iron deficiency is a common cause, according to Healthline.
Lemons are also famous for citric acid, which gives lemons their zingy tanginess, and can prevent kidney stones. One study pointed out that citric acid creates a less favorable environment for the disease's development.
Does This Juice Promote Weight Loss?
There is a myth about whether or not drinking lots of lemon juice promotes weight loss. The soluble fiber in lemons— pectin— is thought to expand in our digestive system, preventing us from overeating.
Pectin indeed behaves like so in our guts. However, to have pectin in our system, we need to digest whole lemons, not just the juice.
Another study suggests that polyphenols extracted from the peel of lemons can potentially promote weight loss. However, the study's subjects were mice, and there is yet to be a related study on humans with similar results.
So far, what we can be sure about concerning weight loss is this: intake calorie < burned calorie. Exercise regularly, regulate your food intake, and no myth can shake your belief.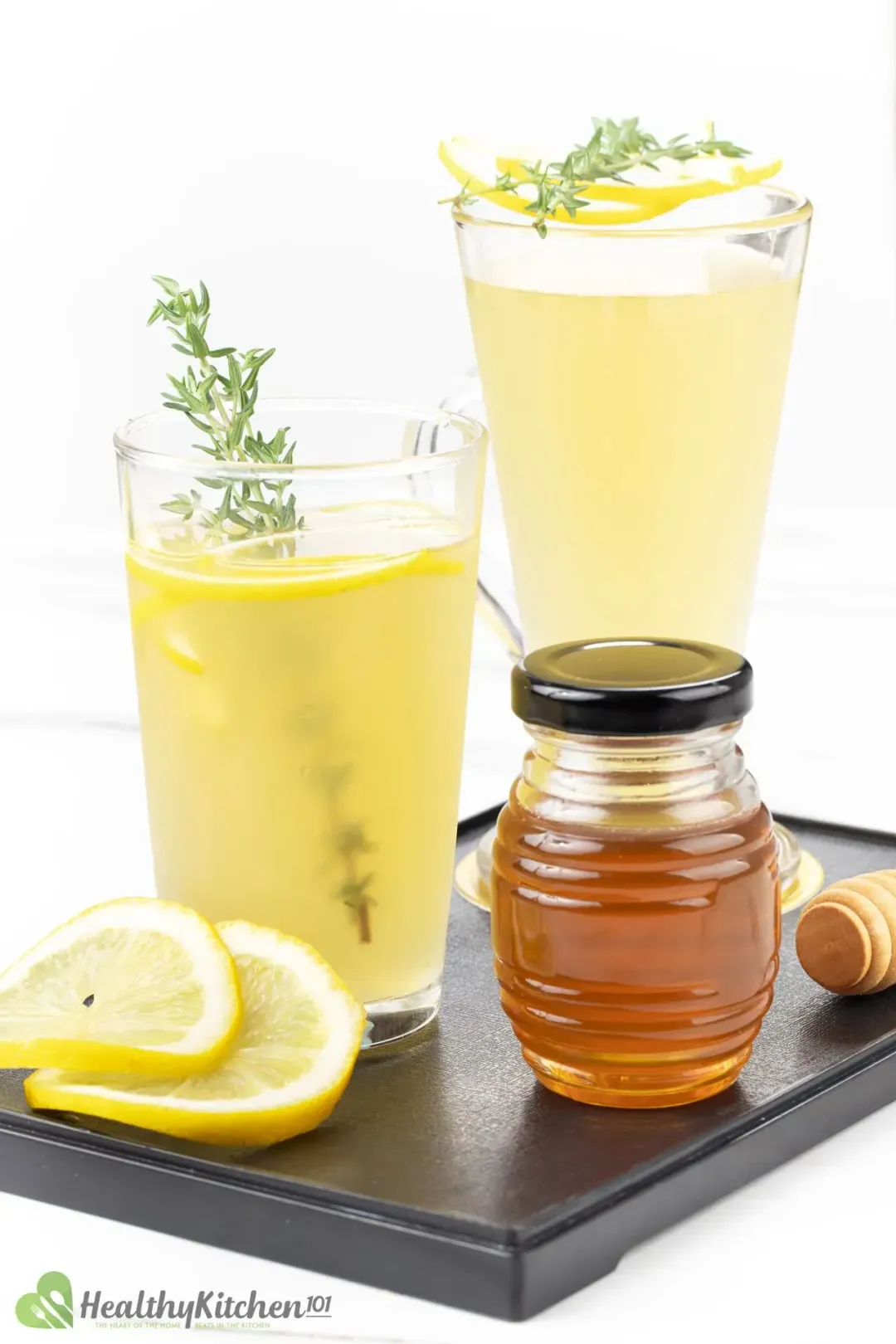 Calories
Each serving of this honey and lemon juice recipe provides around 67 calories. Most of the calories come from honey, as lemon juice contains almost zero carbohydrates.
This is to say the 67 calories come from honey. It is seemingly a lot, but in fact, it is within our calculation.
Each serving only has 17.5 grams of added sugar (from honey), entirely within allowance:
| Daily Calories | Calories from Added Sugar (10%) | Daily Recommended Added Sugar |
| --- | --- | --- |
| 2000 | 200 | 51 grams |
| 2100 | 210 | 54 grams |
| 2700 | 270 | 70 grams |
How to Pick Juicy Lemons
When it comes to selecting the best fruits, people can come up with really clever tricks. Here are a few tips we found helpful:
Choose heavy fruits: The one to yield more juice is heavier. Pick up a bunch of the same size, then select the heaviest one.
Big fruits aren't the juiciest: Big fruits can also have thick pits rather than juicy pulp. This is where the next trick comes in.
Press to tell thick pith: Gently apply pressure to the fruit with your thumb and middle finger/index finger. Feel the resistance, and you can tell whether the rind is thick or not.
Bright lemons mean ripe lemons: Riper citruses tend to appear brighter in color. Avoid those with green or darkened spots, and select the brightest of them all.
Here's a bonus tip to get the most juice out of lemons: Roll them on the cutting board. The pressure helps to squeeze out juices from hard-to-reach spots, resulting in more juice for you.
Make The Taste Better
Have a look at our perfect drink for hot summer days and you can tell how creative one can get with lemons. It's even added to milk to create a rich, tangy, sweet beverage— buttermilk with lemon.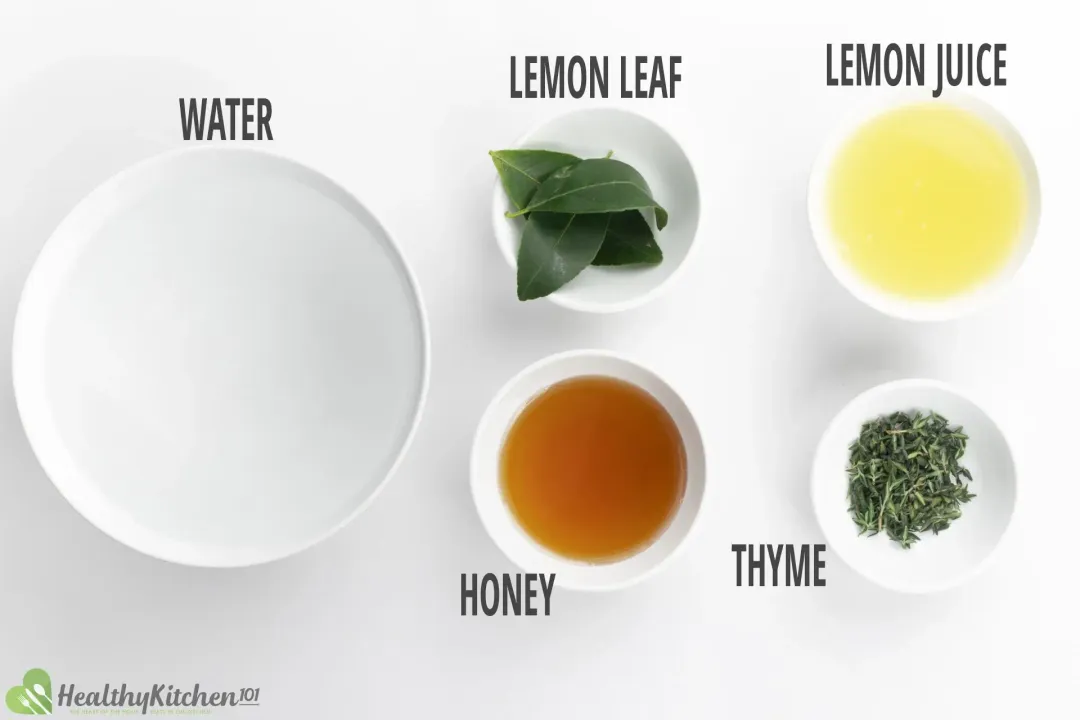 If you'd like to try more delicious drinks, we suggest this refreshing lemon cucumber juice, our classic sweet lemonade, or this list of perfect lemonade recipes to choose from.
Let's see other stuff you can add to honey lemon juice:
1. Mint Leaves
Lemon juice and mint leaves are almost an inseparable combo. Mint adds a cooling sensation to any drinks, making this honey lemon juice recipe even more refreshing.
2. Lemongrass
Not only sharing similar names, lemons and lemongrass also complement each other in a drink. You can even turn the stalk of lemongrass into environmental-friendly straws!
3. Thyme
Thyme often appears in recipes for savory dishes, but did you know it adds a fantastic twist to beverages? Just add one sprig or two to the drink, and people will be stunned by how clever it is.
How Long Can You Keep It?
In our experience, lemonade stays edible within 24 hours or longer. Even better, it rarely turns dark when left for too long.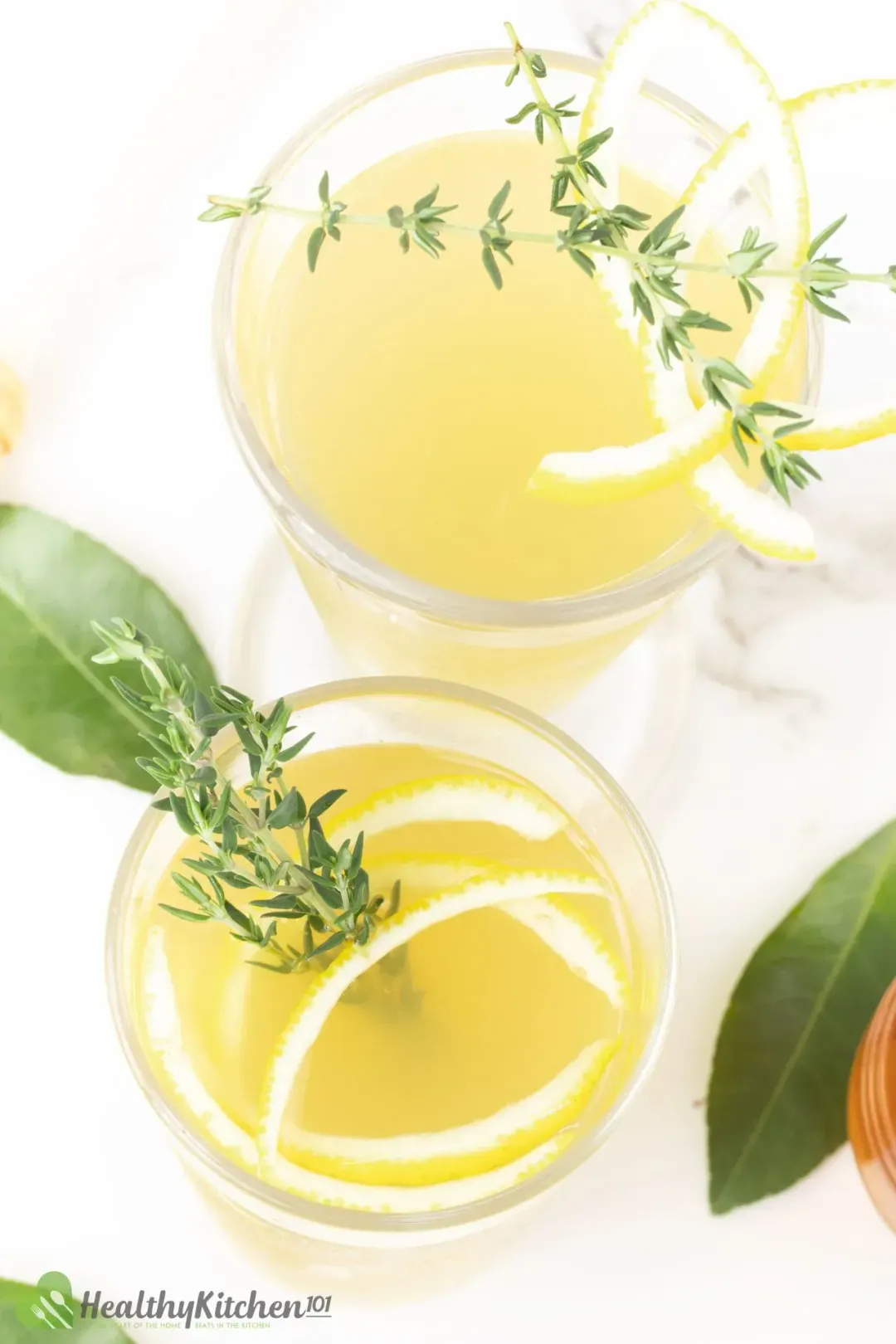 Make sure to do the following to store your drink properly:
Wash your hands thoroughly before juicing to eliminate any present bacteria, which might spoil your drink. Make sure to clean the glass/cup/container to hold the drink, too.
Using an airtight container can reduce exposure of the juice to air. This reduces the chance of airborne bacteria getting to your juice.
If you use a glass or cup, cover it with cling wrap and allow the wrap to touch the juice. This removes the air in the glass/cup and hence, reduces the chance of bacterial contamination.
Check out our: best delicious juice recipes for more delicious drinks.
Honey and Lemon Juice
This honey and lemon juice recipe takes only 5 minutes and two steps, but the result is *chef's kiss*. Add lemon juice or reduce honey so it fits your preference.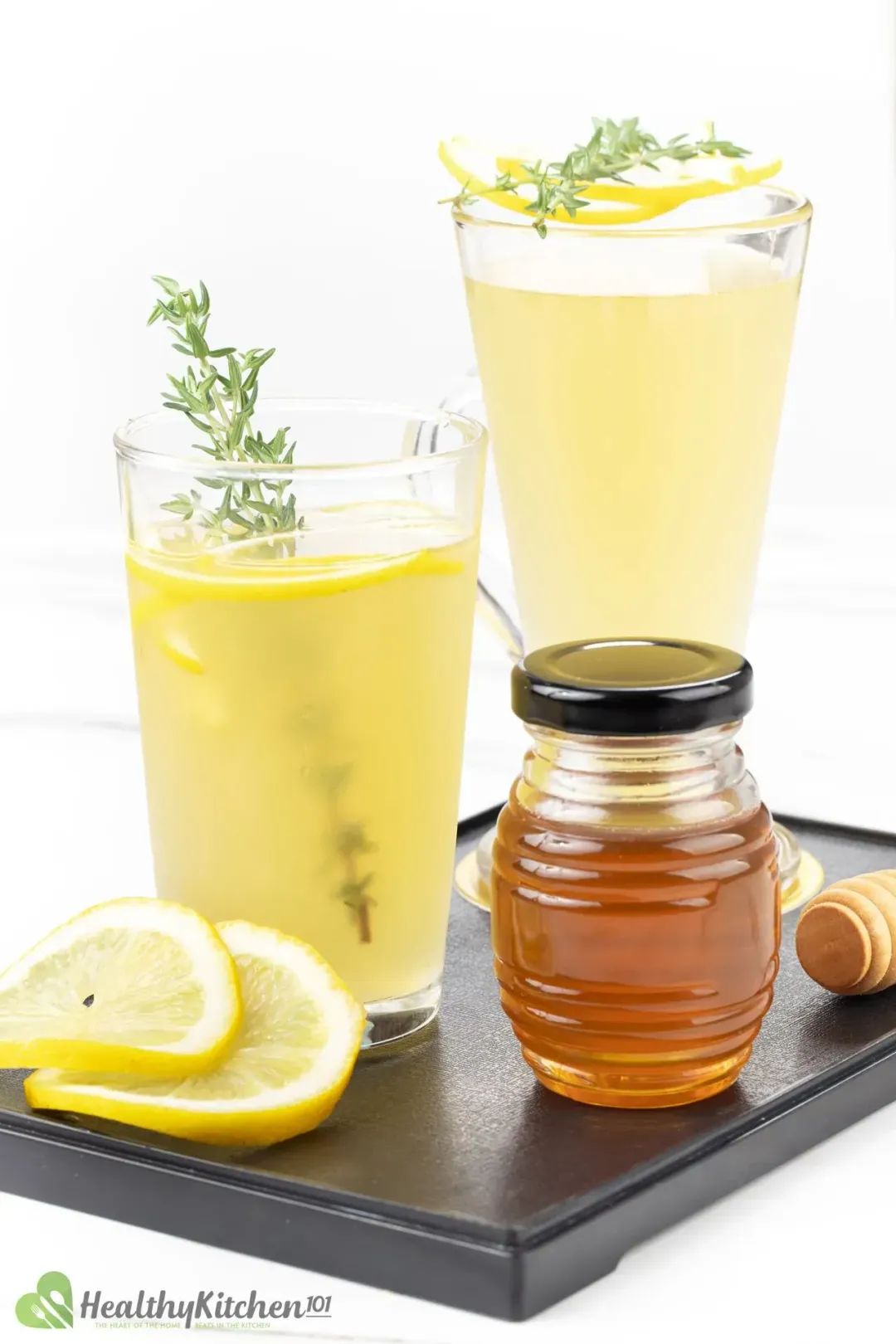 prep TIME

5 mins

total TIME

5 mins
COURSE

Beverage

CUISINE

Global

SERVINGS

CALORIES

67 kcal
INGREDIENTS
3

lemon leaves

((garnish))

1 tbsp

thyme

(4-5 fresh sprigs)
INSTRUCTIONS
1
Mix 2 1/2 tbsp lemon juice, 4 tbsp honey, and 1 1/2 cup water in a serving pitcher.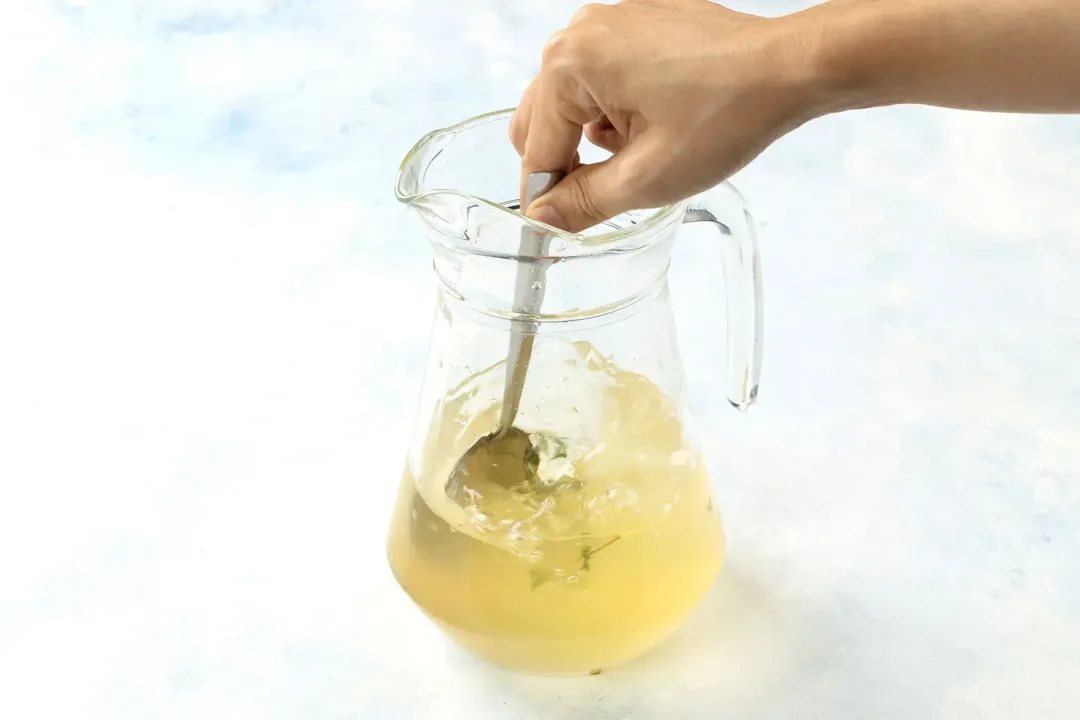 2
Pour lemon juice into serving glasses. Garnish with lemon leaves and thyme to serve.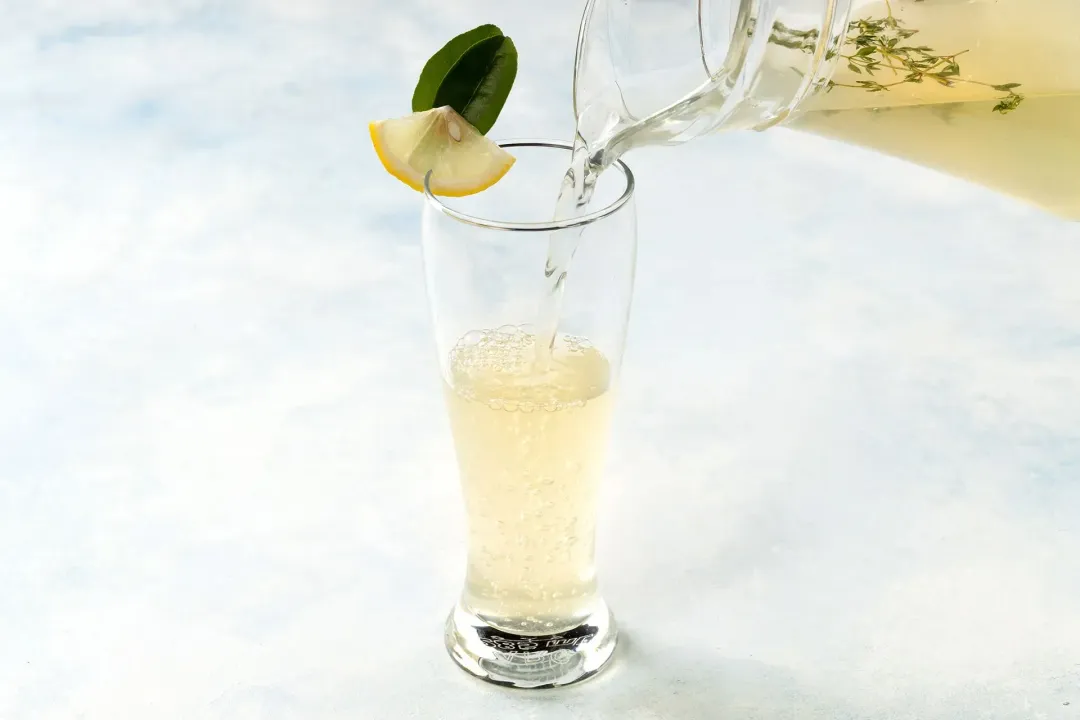 NUTRITION
Nutrition Facts
Honey and Lemon Juice
Amount Per Serving (1 serving)
Calories 67
% Daily Value*
* Percent Daily Values are based on a 2000 calorie diet.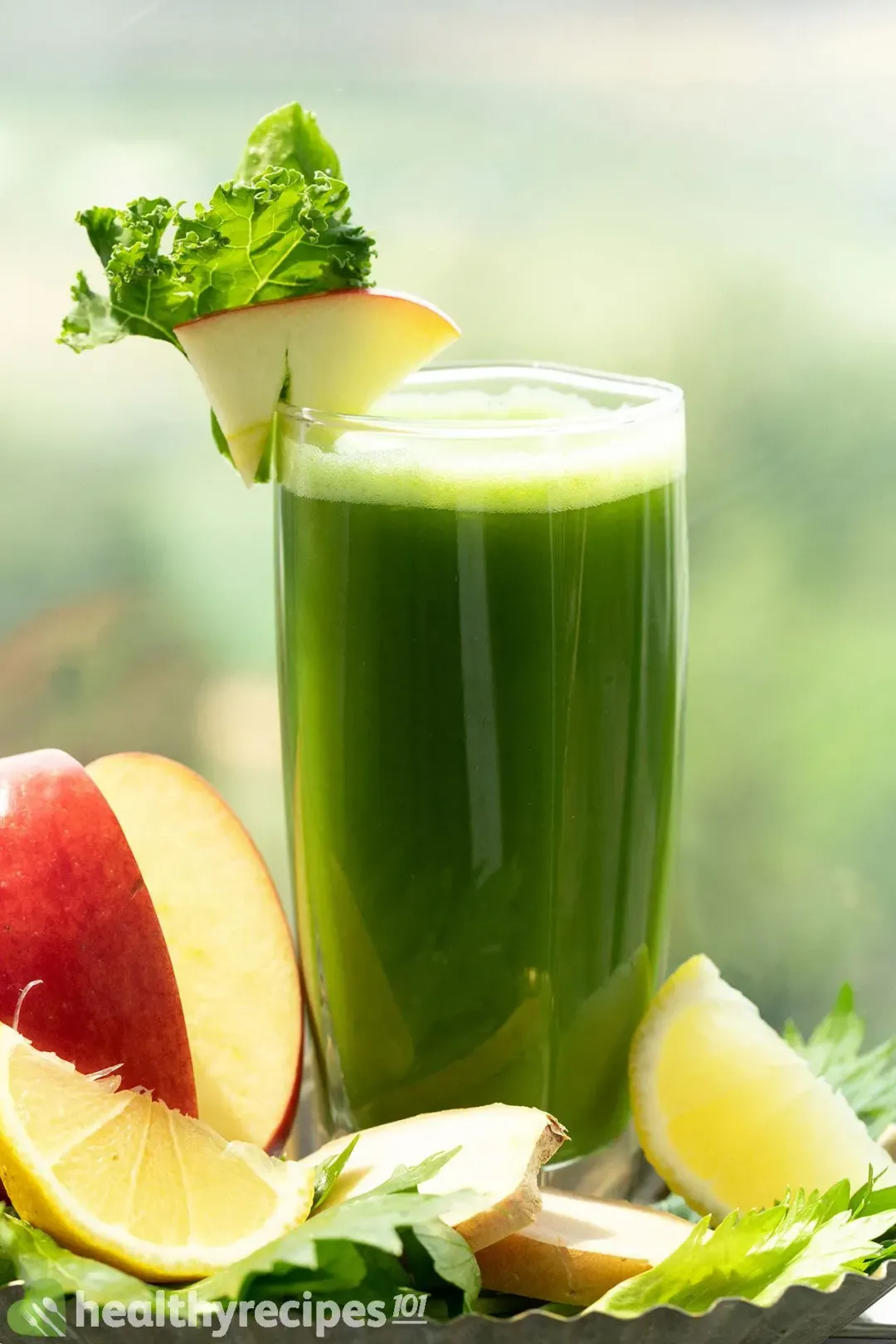 Previous Recipe
Mean Green Juice
Mean Green Juice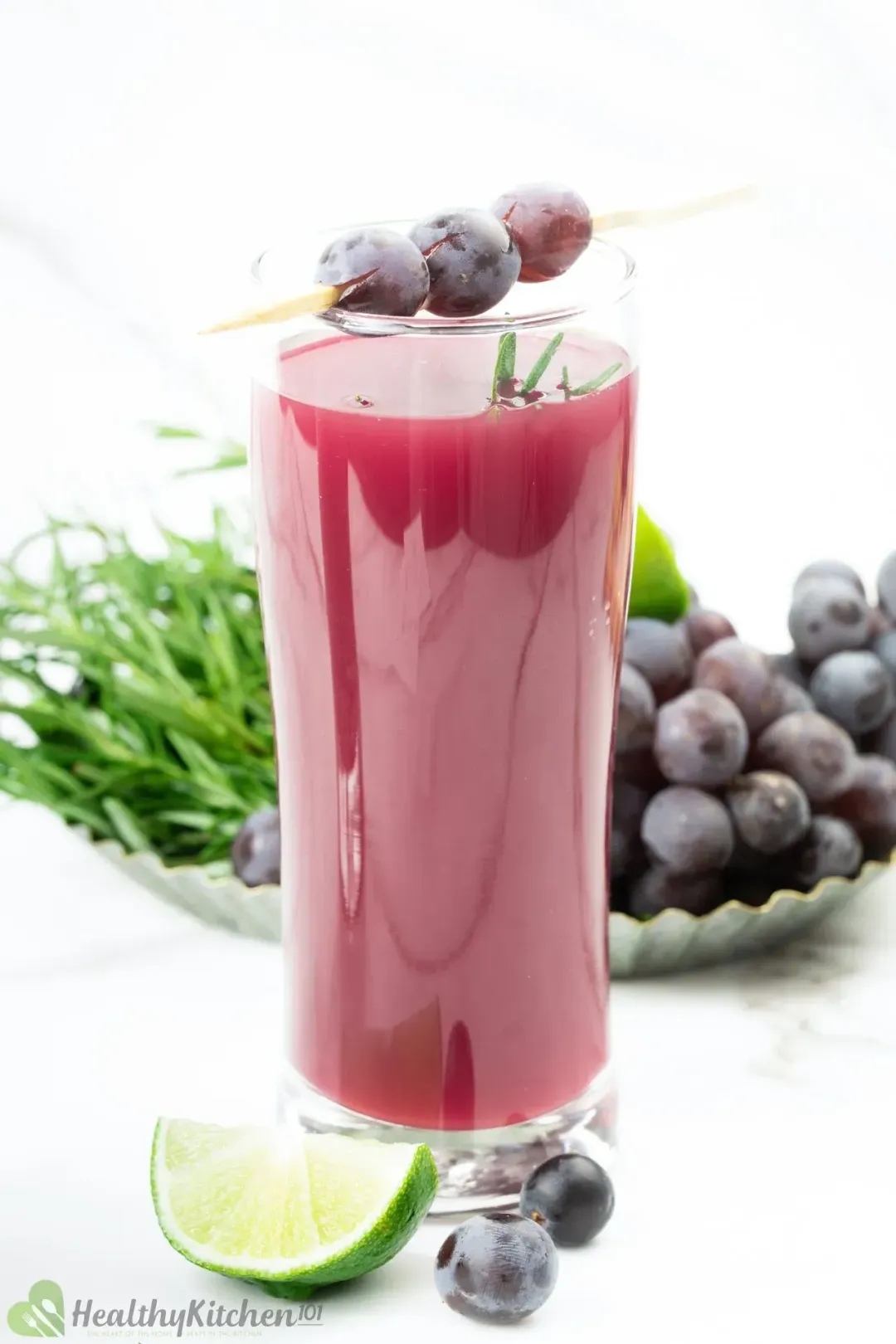 Next Recipe
Concord Grape Juice
Concord Grape Juice
Head Chef, Culinary Consultant
Tuyet Pham is an award-winning Saigonese chef who believes that joy is the secret ingredient to delicious food. At Healthy Recipes 101, Tuyet personally tests and simplifies every recipe, ensuring maximum flavor with minimal effort. With a background at prestigious French restaurants P'TI Saigon and Le Corto, Tuyet knows how to make every dish exceptional.
Writer, Author
Luna Regina is an accomplished writer and author who dedicates her career to empowering home cooks and making cooking effortless for everyone. She is the founder of HealthyKitchen101.com and HealthyRecipes101.com, where she works with her team to develop easy, nutritious recipes and help aspiring cooks choose the right kitchen appliances.
Nutrition Reviewer
Lizzie Streit is a Minneapolis-based dietitian and founder of It's a Veg World After All. She completed her MS in Human Nutrition from Drexel University, and is an expert in culinary nutrition, recipe development, and nutrition communications. Lizzie's philosophy is centered around making nutrition recommendations, and especially the advice to eat more vegetables, approachable and realistic. She is excited to be working with the team at Healthy Recipes 101 to ensure that their recipes are both nutritious and delicious.
Love this recipe! I'm lactose intolerant so dairy free drinks are my go-to.

It looks and sounds delicious, will definitely try it.
Florida Honey Market-FL

Lovely, feel free to let me know if you enjoy it!

What is the pH of 8 ounces of this drink?