This salmon meuniere recipe is a classique take on the French staple and our pick for International Women's Day (March 8).
Salmon can be prepared in many ways, but if you want a fancy meal done in minutes and with simple steps, make salmon meuniere. We'll help you make moist fillets in a flour coating, drenched in an extra tasty sauce.
This will be served with well-seasoned, tender potatoes cooked in under 10 minutes. We'll be using a microwave — a really impressive cooking tool we often neglect.
So, to get straight to the "how-to" section, click "jump to recipe" to get there in seconds. Or, if you've got spare minutes, learn more about:
Why it's called "meuniere";
What "salmon meuniere Botw" is;
Why our version is healthy;
Tips on how to prepare it;
What to serve with it.
What Is "Meuniere"?
You have probably seen salmon meuniere before — salmon fillets with a crisp flour coating in a glossy sauce. "Meuniere" or "Meunière" means "a miller's wife", which explains the flour and how the dish got its name.
After being dredged in flour and fried, the fillet is served with meuniere sauce, which is a mixture of lightly browned butter, parsley, and lemon juice. The light coating and fragrant sauce preserve the flavors of salmon, which makes for a truly high-end delicacy.
What Is "Salmon Meuniere BOTW"?
You've also probably seen this phrase popping up when searching for "salmon meuniere recipe". We dug around a little to clear up any confusion, and here's what it means.
"BOTW" or "Zelda: Breath of The Wild", is a game where players explore the land of Hyrule, build their strength, and fight evil. To get stronger, players can collect equipment and concoct elixirs/cook dishes, one of which is "hearty salmon meuniere".
The health-restoring item requires one "Tabantha Wheat", one "Goat Butter", and one "Hearty Salmon". This resembles what the real-life version calls for, and we think it's educational for gamers to know about dishes and cooking.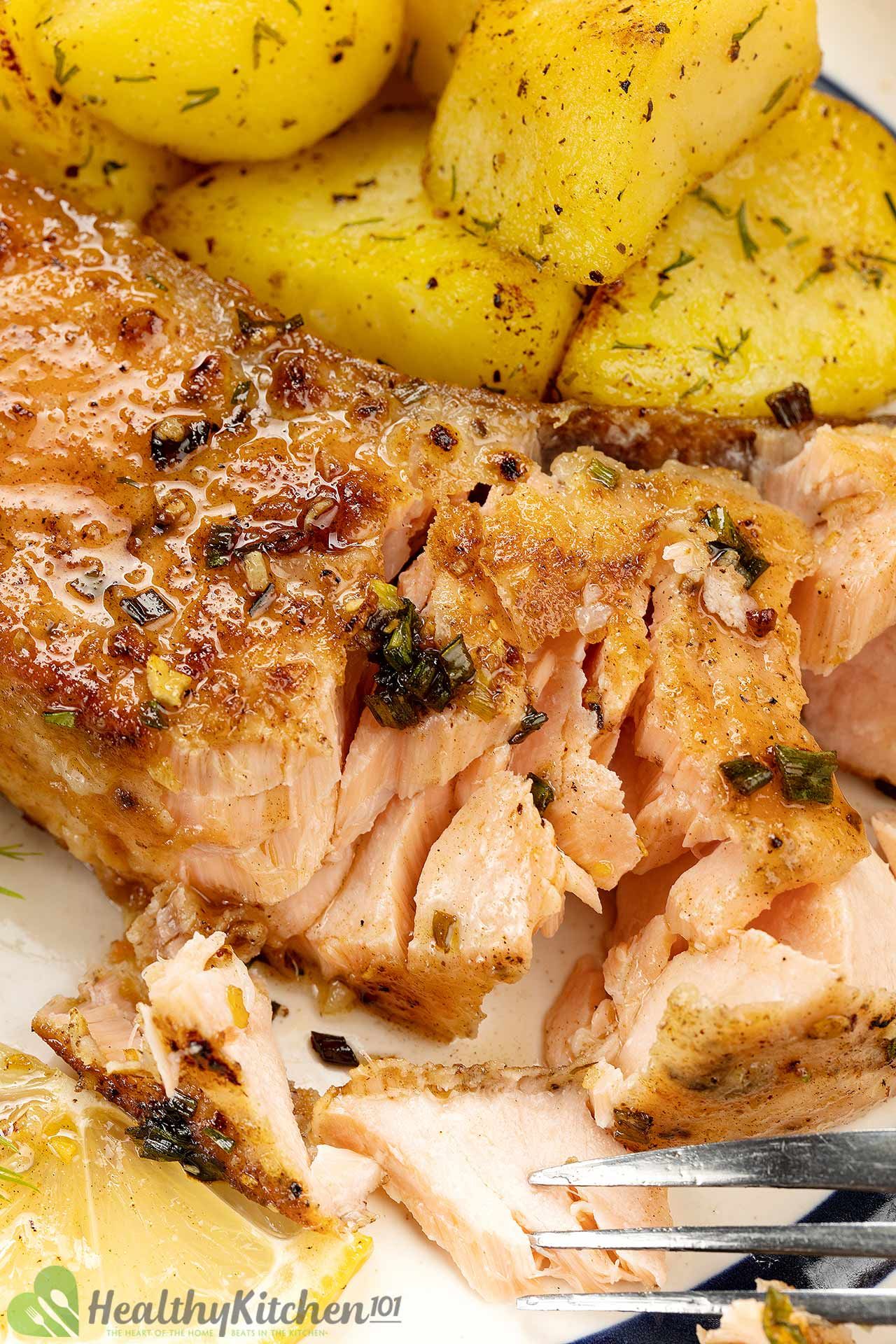 As for why the phrase comes up on google search, we guess that it's because it's more popular than the original dish. The more a term is Googled, the higher up on the search results page it appears.
Anyway, let's leave that to the gamers and stick to what we know best, like the dish's nutritional values.
If you're a big fan of salmon, this healthy salmon roundup might be of help.
Is Salmon Meuniere Healthy?
Salmon is the richest source of DHA — omega-3, a good fat that is rare in nature. By having a slice of salmon once in a while, you are doing the heart a great favor.
However, that's not to say the dish itself is always healthy.
When it comes to dishes prepared with butter (salmon meuniere included), the amount of butter should be carefully monitored. Butter is more than 50% saturated fat in mass, which is alarming because saturated fat is bad for the heart.
Many salmon meuniere recipes online don't hold back on the butter, but we do. Each serving of our recipe only yields 9 grams of saturated fat, 30-38.7% of what the USDA recommends daily.
But don't worry, this won't diminish your enjoyment of the dish. We guarantee that the sauce is really tasty. After all, making healthy food taste awesome is our motto.
Here's a short list of quick and healthy takes on salmon:
Is Salmon High in Cholesterol?
There is 51mg of cholesterol per 100g of salmon. We couldn't tell if this is high or low, so we looked it up and it's somewhat an open question.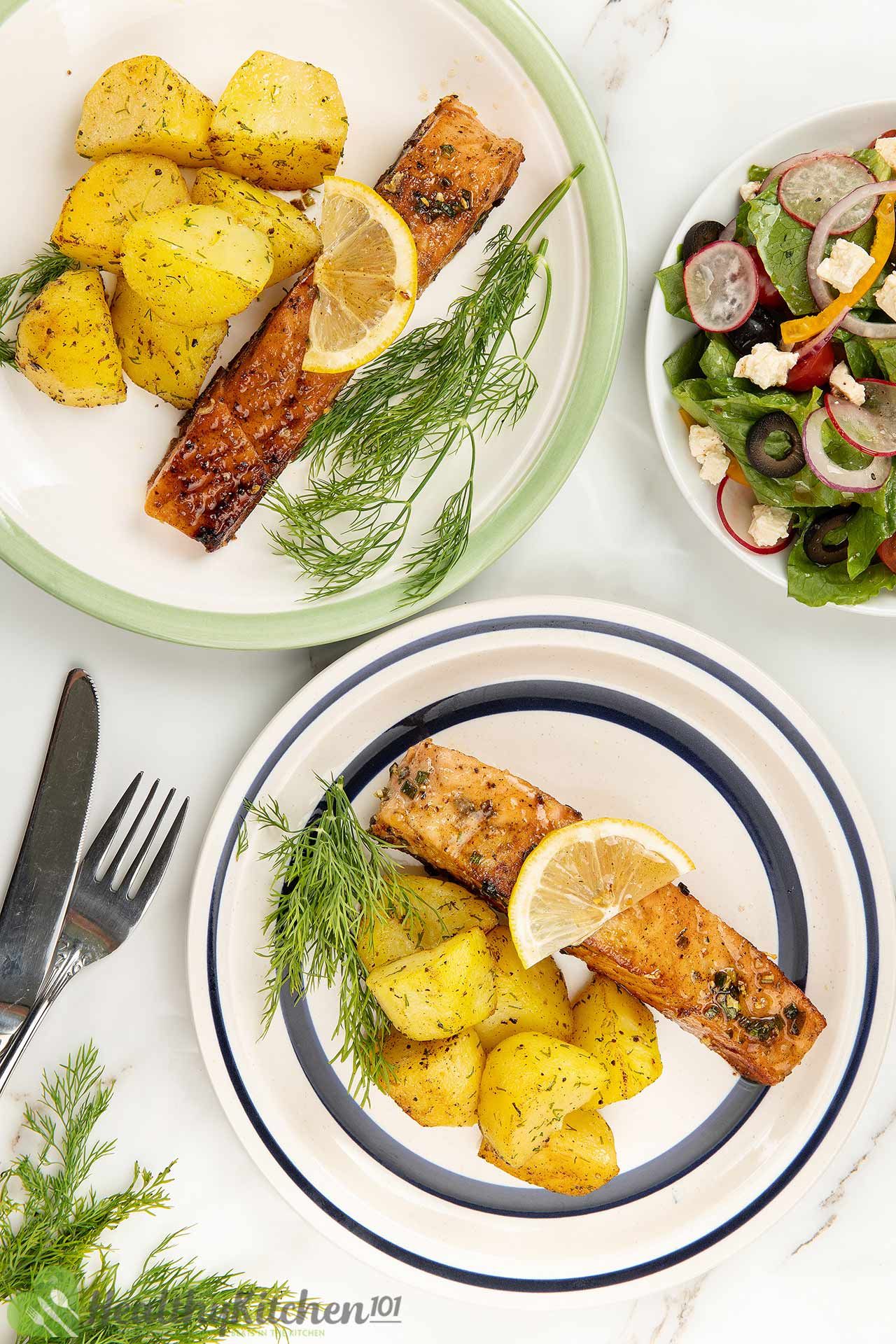 We began by turning to the USDA's dietary guidelines, on which we base our own guidelines, and saw no cholesterol recommendations. We then searched the American Heart Association's website, which doesn't offer any official guidance either.
Turns out, the theory that "dietary cholesterol does the body harm" lacks solid evidence, and is still being researched. Blood cholesterol levels are far more complicated than a simple "you eat, you gain" kind of equation.
While that's up for debate, we know for sure that salmon is high in omega-3, which is proven to aid in balancing cholesterol levels. Plus, it has much less saturated fat compared to pork or beef, something that the USDA's guidelines recommend us eating less of.
The bottom line is that, while containing cholesterol (whose health impact debatable), salmon is high in omega-3, a substance that is heart-healthy. So it should not be feared, but rather, consumed in moderation.
How to Prepare Salmon Meuniere
First, we give the fillets an even flour coating on all sides. Then, we heat a neutral oil (like canola) in a skillet, and fry both sides of the fillets until golden brown.
Some people choose to cook salmon in butter, since butter is the base of the sauce anyway. Butter has a low burning point, and we don't want to run the risk of burning the sauce, so we're going to use oil instead.
Next, we make the signature meuniere sauce.
Sauce for Salmon Meuniere
In the same skillet, we add butter and minced garlic and cook over a medium heat. We want to stir everything to mix the excess flour with the melted butter to form a thick sauce.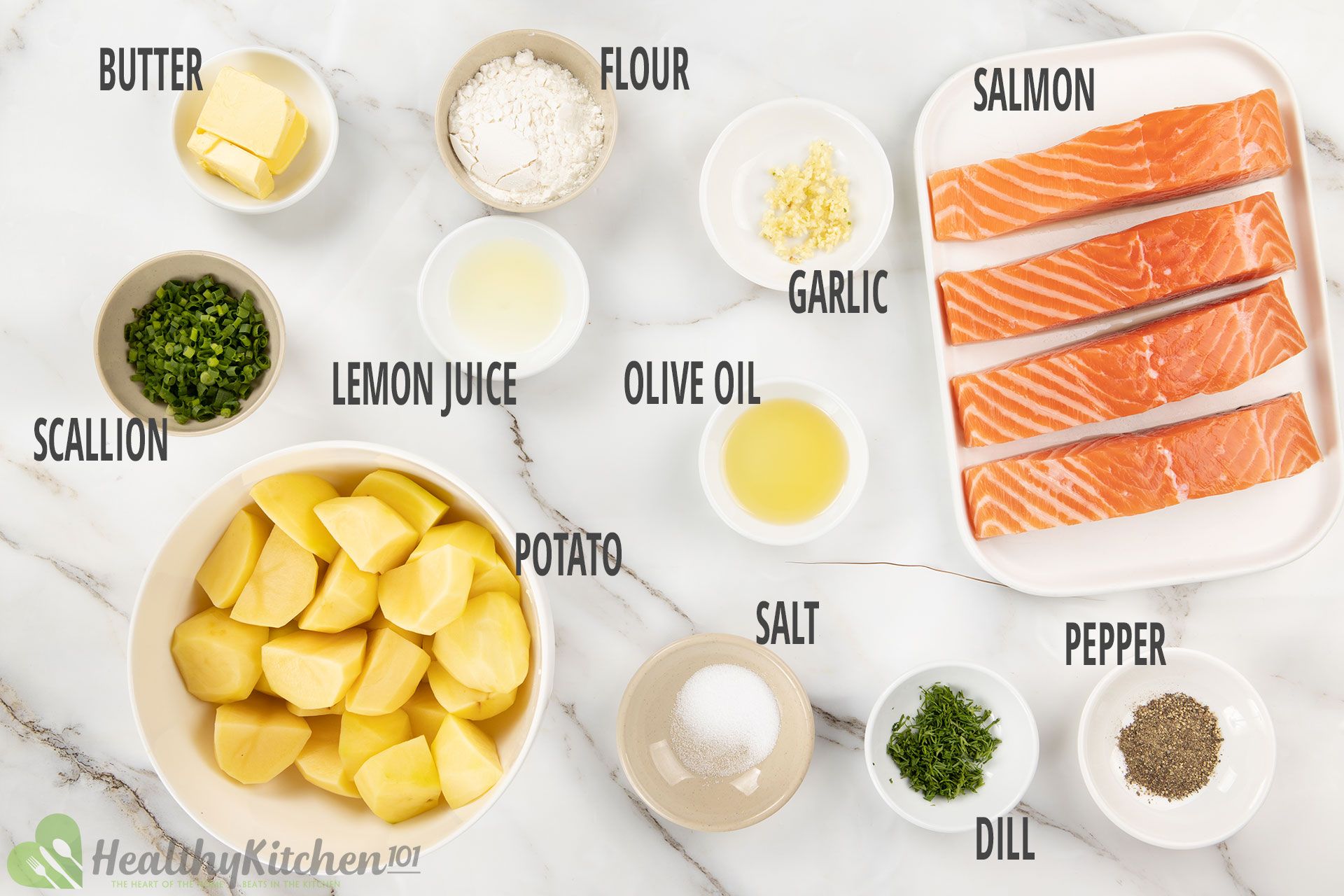 As the sauce thickens, we add squeezed lemon juice and then turn off the heat to preserve the freshness. We sprinkle some scallions on top of the sauce and leave it to cook in the residual heat.
If you'd like to try out other sauces, you can have a go at the following:
How to Make Salmon Meuniere – Summary
To follow our salmon meuniere recipe: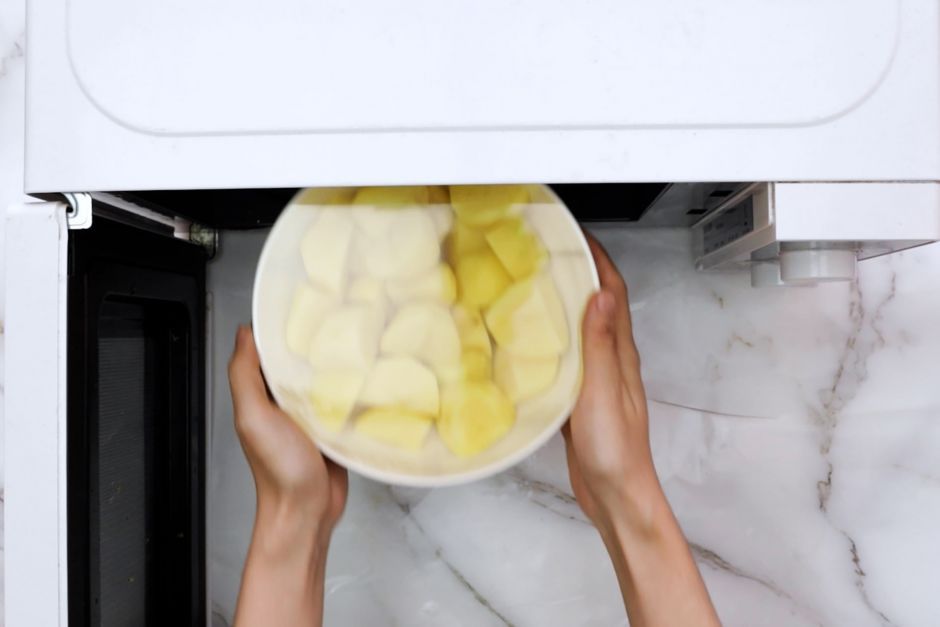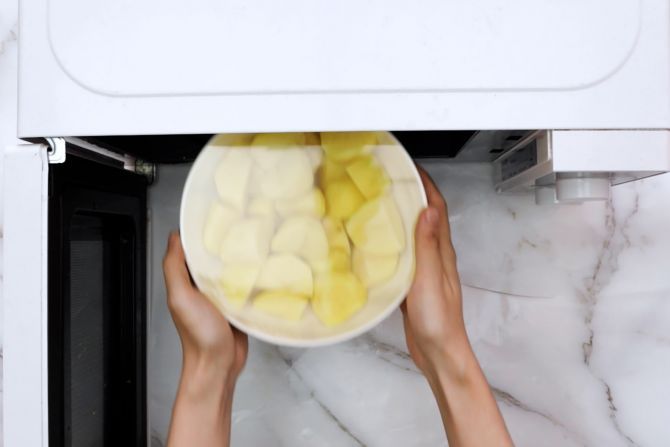 Microwave the quartered potatoes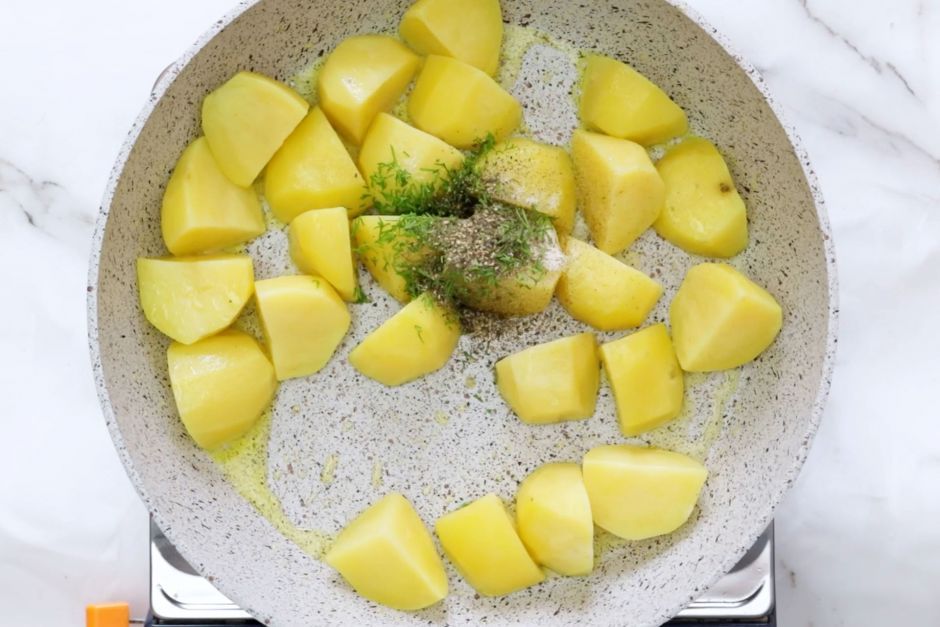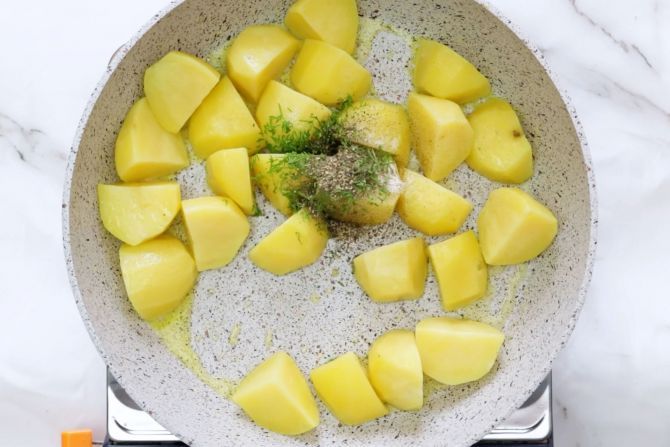 Cook the potatoes with butter and seasoning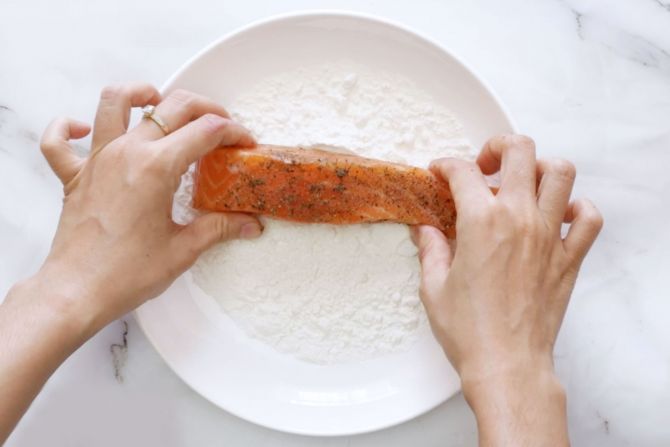 Season the fillets and flour them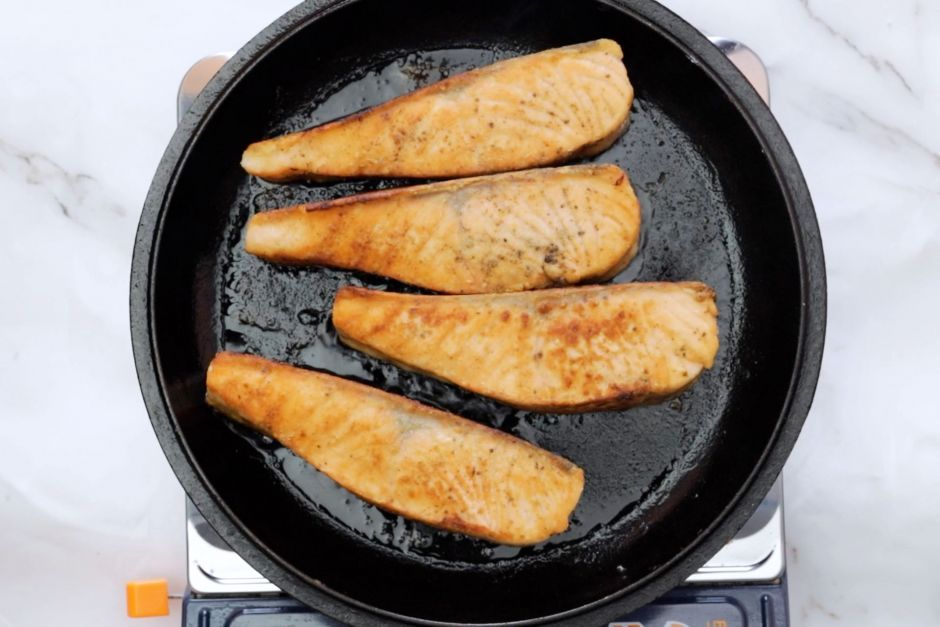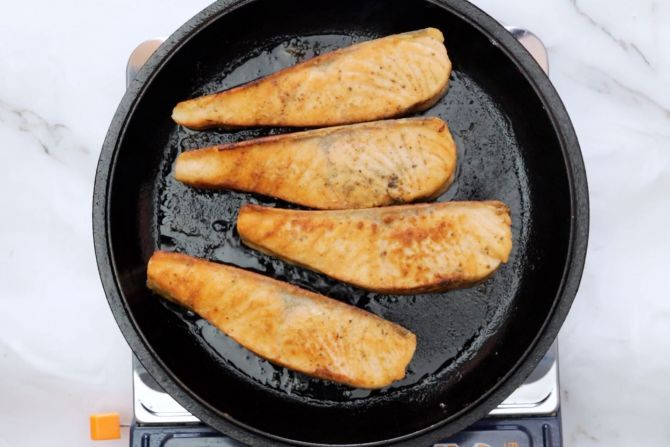 Fry the fillets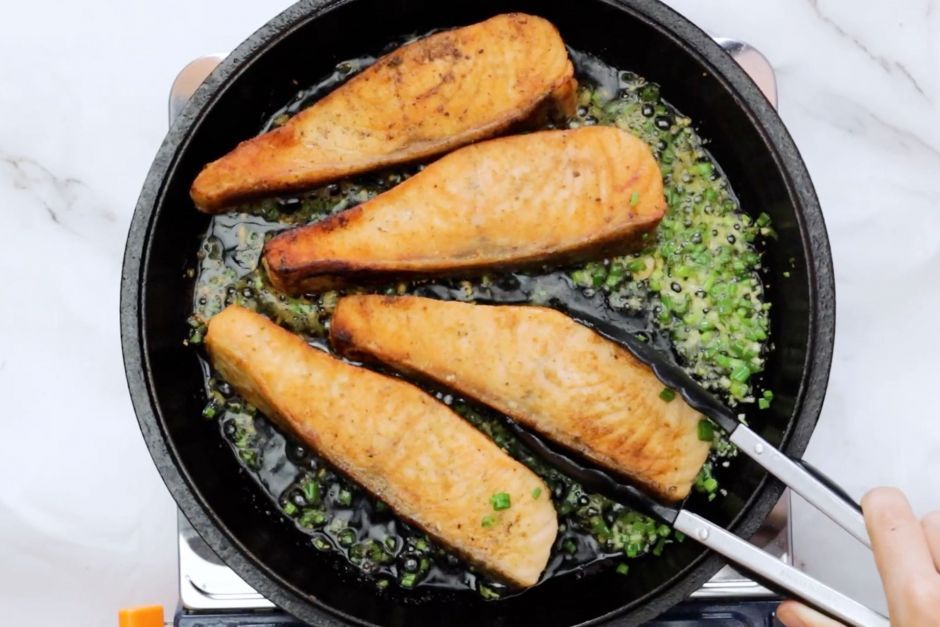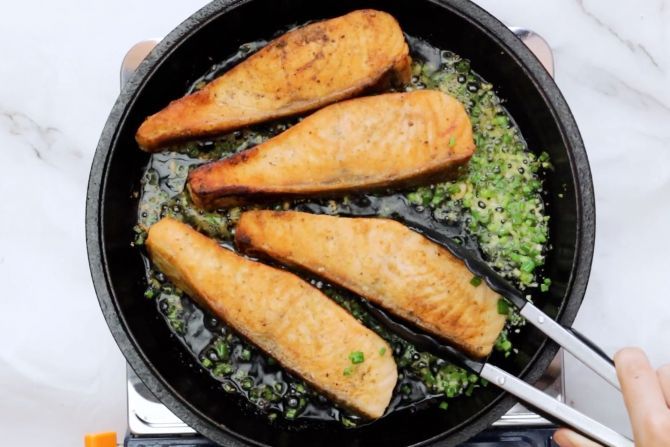 Add butter, garlic, lemon juice, and scallions to the fillets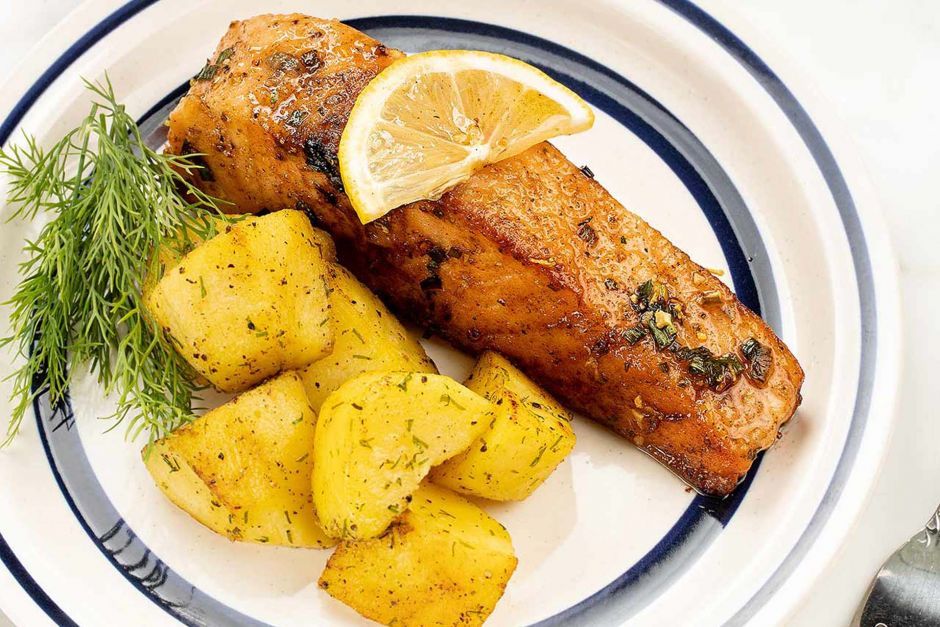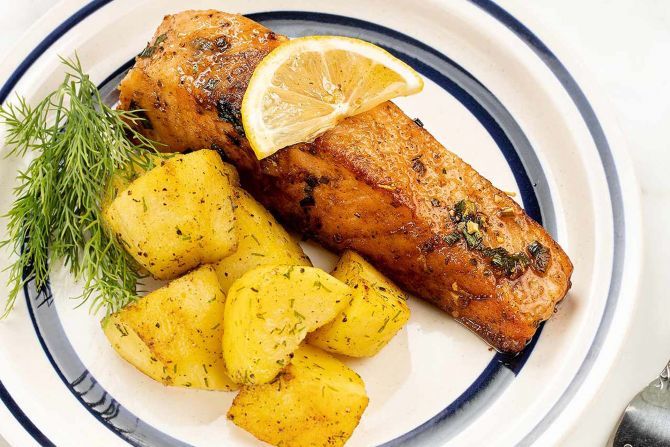 Serve
Tips for Making Salmon Meuniere
One thing we particularly love about cooking salmon is it's really simple. But we've got some tricks up our sleeves to make salmon meuniere even easier to prepare:
When you flour, make sure to shake the fillets vigorously to get a really thin coating. We don't want excess flour to burn in the pan and darken the sauce.
Right before you microwave the potatoes, put some oil in the skillet, place it on the stove, and turn it on. This means that by the time you finish coating the fillets, the oil will be hot and ready to fry.
Use a timer so you don't need to supervise the pan.
That said, you can adopt these tips in various recipes. Apply them when cooking similar dishes and still get a nutritionally dense dinner at the end of the cook.
In some cases, you'll have to add a generous coating of blackening spice. You can also check out this easy salmon dish with a sweet and savory miso sauce for even more preparation tips.
How Long Does It Last?
Cooked fish lasts for a maximum of 4 days in the fridge, and 2 months in the freezer, according to the USDA. To store leftovers, we encourage you to cover it with plastic wrap/put it in an airtight container before refrigerating.
As it's super quick to do, we recommend having freshly cooked salmon rather than heated leftovers. You can prep ingredients beforehand (make potato salads, cut up herbs, etc.) to save even more time whipping up the dish.
Looking for another awesome recipe for dinner parties? Check out another one of our quick-cooking weeknight dishes or how poaching salmon in water can create an extra pleasant dinner.
What to Serve with Salmon Meuniere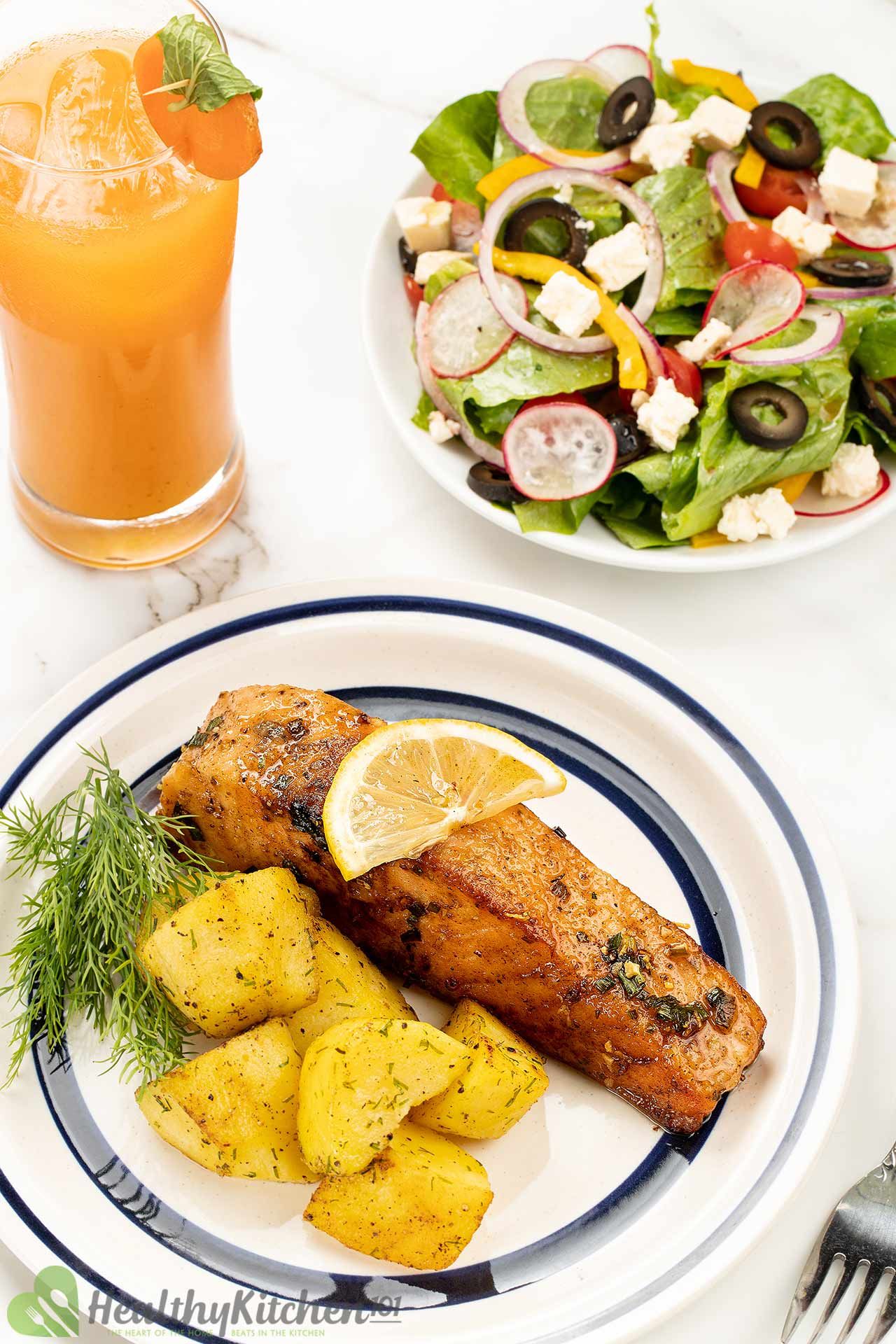 We've got the proteins, good fats, and carbohydrates from the added potatoes, so it's only natural to get some salad. We recommend a Greek salad and a drink:
Nutritional values in this table vary somewhat to those below due to different app calculations. Read more...
Altogether, they make a complete meal with complementary components: savory, tangy, creamy, and sweet. You can go for other salads as well, as long as they're fresh.
One of our many favorite ways to enjoy seafood includes a small serving of mashed potatoes, while this roasted salmon steak goes with a light broccoli salad.
Check out these recipes for more ideas: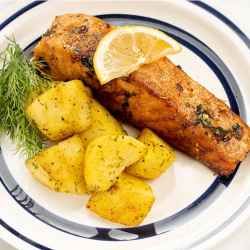 Salmon Meuniere Recipe
Here is our recipe for salmon meuniere, super easy and quick. You only need a bowl, a pair of tongs, and a skillet in terms of equipment.
Ingredients
24

oz

boneless salmon

thawed

20

oz

baby potatoes

quartered and peeled

4

tbsp

unsalted butter

divided into 2

1/2

tsp

salt

divided in 2

1

tsp

ground black pepper

divided in 2

1

tbsp

dill

finely chopped

1/4

cup

all-purpose flour

1

tbsp

olive oil

1

tbsp

lemon juice

1

tsp

garlic

minced

2

tbsp

scallion

finely chopped
Instructions
Place 20 oz potatoes in a bowl, cover with plastic wrap, and microwave for 7 minutes.

Carefully take the potatoes out and remove the plastic wrap (it's hot). Melt 2 tbsp of butter in a skillet. Add the potatoes, 1/4 tsp salt, 1/2 tsp pepper, and 1 tbsp dill. Stir well and cook for 8 minutes.

Rub the salmon fillets with 1/4 tsp salt and 1/2 tsp black pepper. Place 1/4 cup flour in a large dish. Use your hands to coat all sides of the fillets in flour. Shake to remove excess flour.

Add 1 tbsp olive oil to the skillet and turn the heat to medium. When it's hot (it sizzles when you drop in some flour), gently place the fillets into the skillet to cook. If you feel like you're crowding the pan, do this in batches. They need 3 minutes on both sides (6 minutes in total).

Add 2 tbsp of butter, 1 tbsp of lemon juice, 1 tsp garlic, 2 tbsp scallions, and stir to cook for 2 minutes.

Serve: place one fillet on each serving dish, and divide the potatoes evenly across the dishes. Garnish with more dill, if desired.
Nutrition
Nutrition Facts
Salmon Meuniere Recipe
Amount Per Serving (1 serving)
Calories 485
Calories from Fat 207
% Daily Value*
Fat 23g35%
Cholesterol 118mg39%
Sodium 449mg20%
Potassium 1235mg35%
Carbohydrates 29g10%
Protein 41g82%
Vitamin A 327IU7%
Vitamin C 15mg18%
Calcium 39mg4%
Iron 2mg11%
* Percent Daily Values are based on a 2000 calorie diet.