Packed with nutrients, today's salmon avocado recipe has many health benefits. And with salmon and avocado on the same plate, the layers of flavors just keep coming!
Is Salmon Avocado Healthy?
This salmon avocado recipe is a great healthy option for salmon lovers.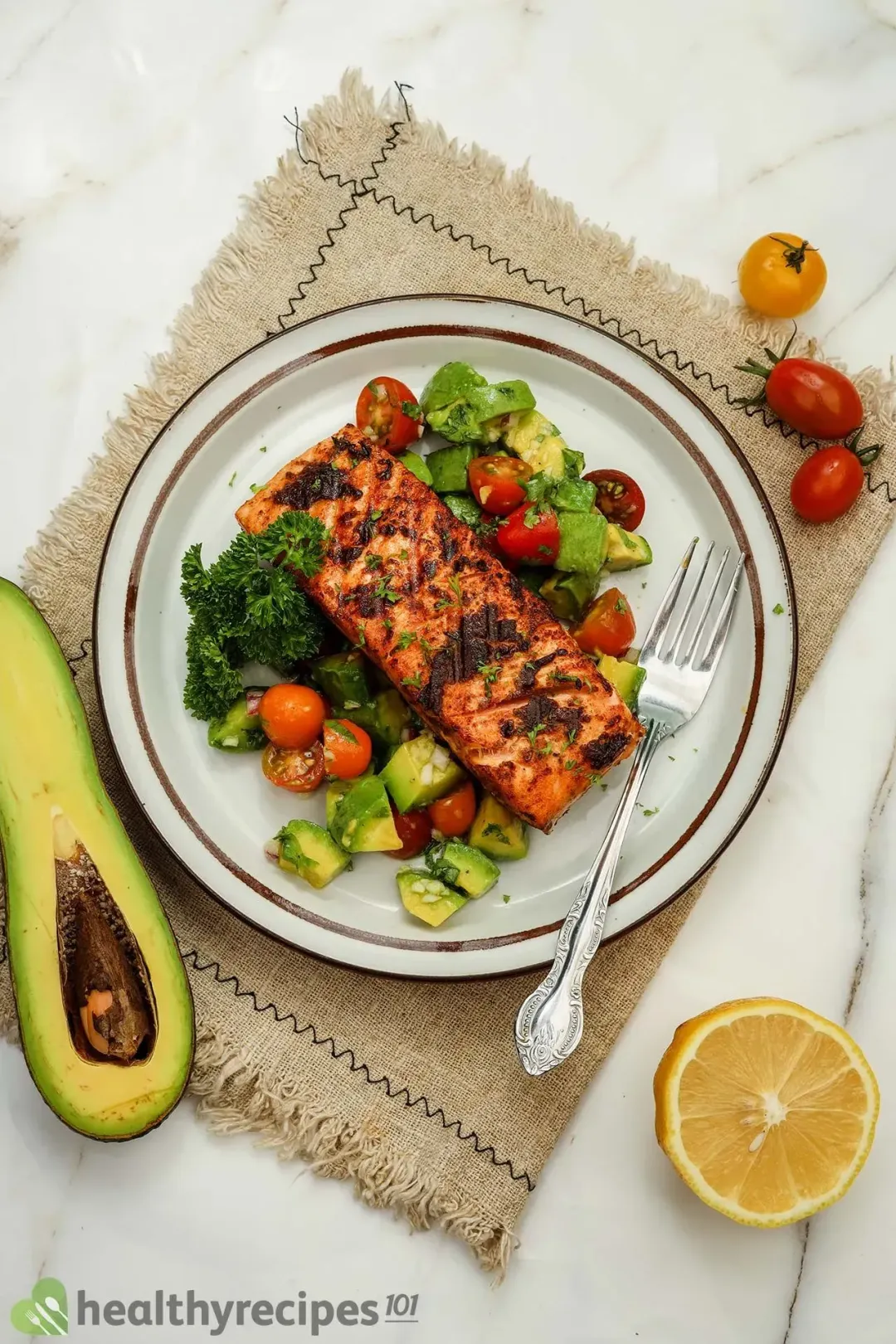 The fish is a powerhouse of nutrients, with an impressive array of health benefits.
Salmon is full of protein and a great source of omega-3 fatty acids, minerals, and antioxidants. Thanks to all those nutrients, salmon may support bodily functions in many ways including reducing the risk of certain illnesses and positive effects on mental health.
Avocado and cherry tomato served alongside salmon also provide loads of nutritional value. They both contain an abundance of antioxidants, which can help reduce the risks of cancer and promote heart health. These two fruits also help improve skin health and help to promote weight loss.
Overall, the dish contains 489 calories per serving. The saturated fat and sodium levels are also reasonable at 6.1 g and 546.9 mg in each serving. This dish has an astounding amount of protein with 43.6 g, making it a healthy choice for fish lovers.
Ingredients for Salmon Avocado
We divide this dish into two main components, the salmon and the salad.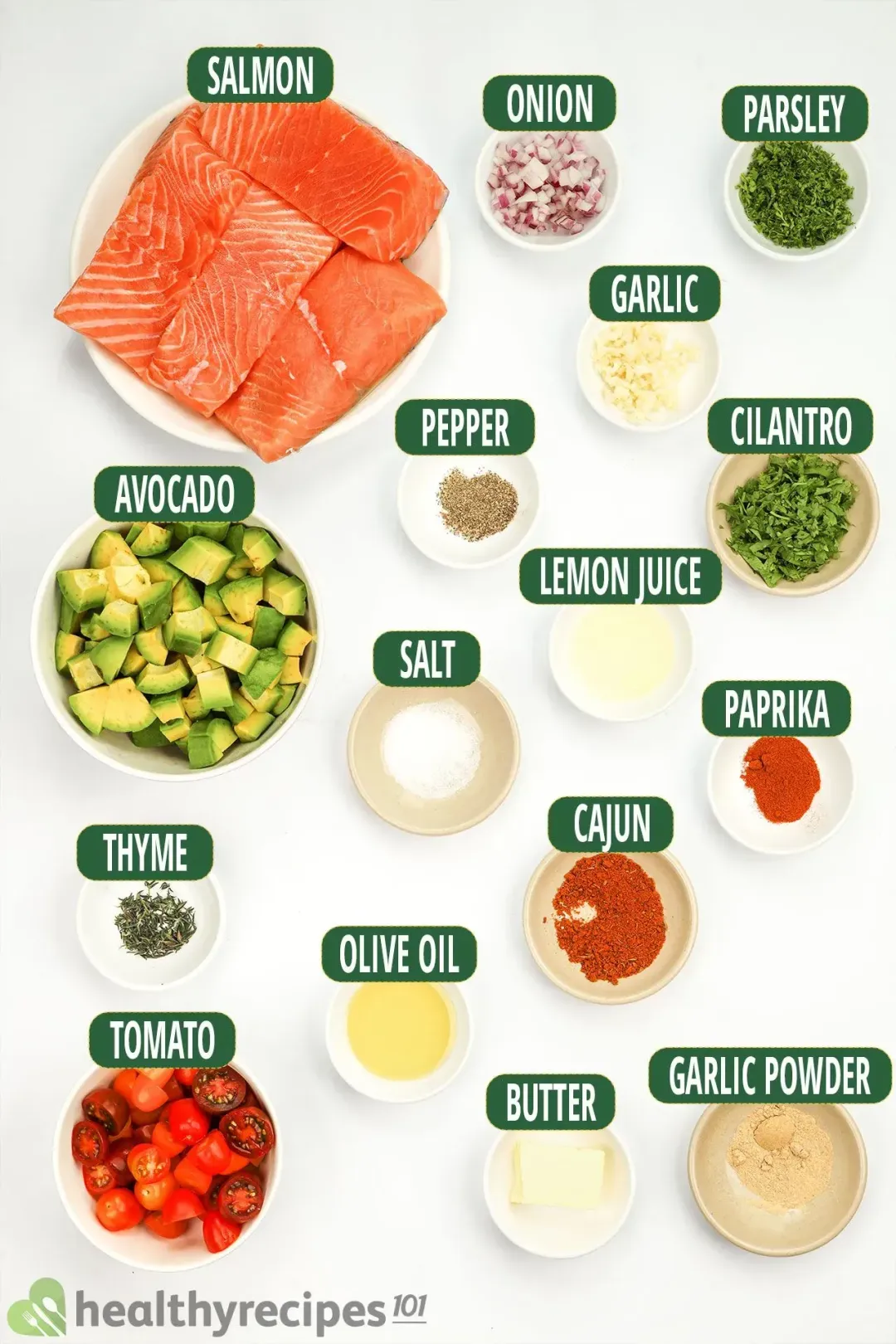 1. For the Salmon 
In this recipe, we use sockeye salmon. As the second fattiest salmon, it has a firm texture and rich flavor.
To further enhance the flavor of salmon, we use an array of spices. Salt, pepper, thyme, garlic powder, paprika, and Cajun seasoning provide different layers of flavors that complement the natural taste of salmon.
2. For the Salad 
This salad strikes a great balance between the textures of multiple ingredients: creamy avocados, soft cherry tomatoes, and crunchy red onions. The preparation process is also very easy, all you need to do is dice the avocados, halve the cherry tomatoes, and chop the red onions and cilantro.
The ingredients are combined with a simple dressing. It includes common herbs and spices like cilantro, garlic, lemon juice, olive oil, salt, and pepper. After mixing the salad thoroughly you'll have a delicious fresh salad to go with the salmon.
Lastly, garnish the dish with some chopped parsley.
Tips for Cooking Perfect Salmon
1. Don't Rinse the Salmon
It may seem like a no-brainer to wash or rinse raw food before cooking to remove bacteria. However, this is a common misconception.
According to the USDA, rinsing raw fish may worsen the risk of contamination. When you rinse fish under running water, it may remove bacteria from particular spots but it may also spread the bacteria to other areas on the fish. Also, splashing water can spread bacteria to the sink and other kitchen surfaces.
The USDA also recommends that the best way to remove bacteria from raw food is to cook it to a certain temperature depending on the food. This rule also applies to meat and poultry.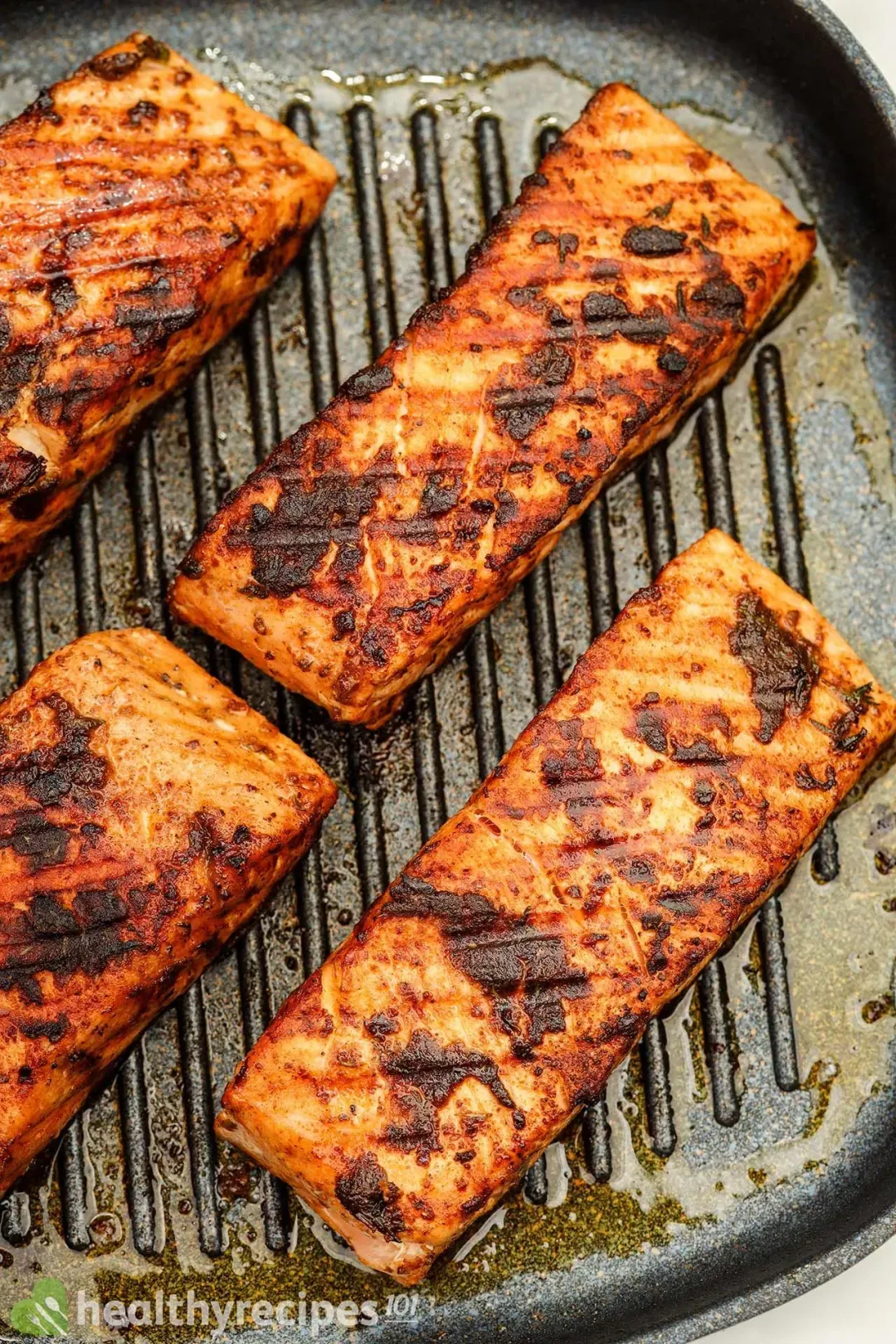 2. Don't Remove the Skin
You may feel like removing the skin from the salmon before cooking. However, salmon is sold with the skin on for a few reasons.
Firstly, the skin is crispy and packed with flavors when cooked. It also contains a high concentration of omega-3 fatty acids. If you remove the skin, you may miss out on these two valuable things that make salmon great.
Secondly, the skin can act as a barrier to protect the flesh from the hot pan. When you cook salmon skin side down, the skin will crispen and protect the delicate flesh from breaking. Moreover, it will be easier to flip the fish with a spatula on the skin side.
3. Don't Overcook Your Salmon
Cooking salmon perfectly may require some practice but we're going to give you some pointers on how to tell when your salmon is perfectly done.
The first way is to pay attention to the color of the fish. Perfectly cooked salmon will be pinkish on the outside and translucent pink on the inside.
You can also prick the filet with a fork or your finger and see if the flesh separates easily. If it does, the filet is cooked.
Or you may use a cake tester, a fork, or a chopstick and insert it into the thickest part of the filet. Immediately press it lightly beneath your bottom lip, if it's warm, you're good to go.
Another option is to check the temperature. If it's 145°F, the flesh is cooked perfectly.
How to Store and Reheat Leftovers
This dish contains two components: salmon and avocado salad and we advise you to store them separately.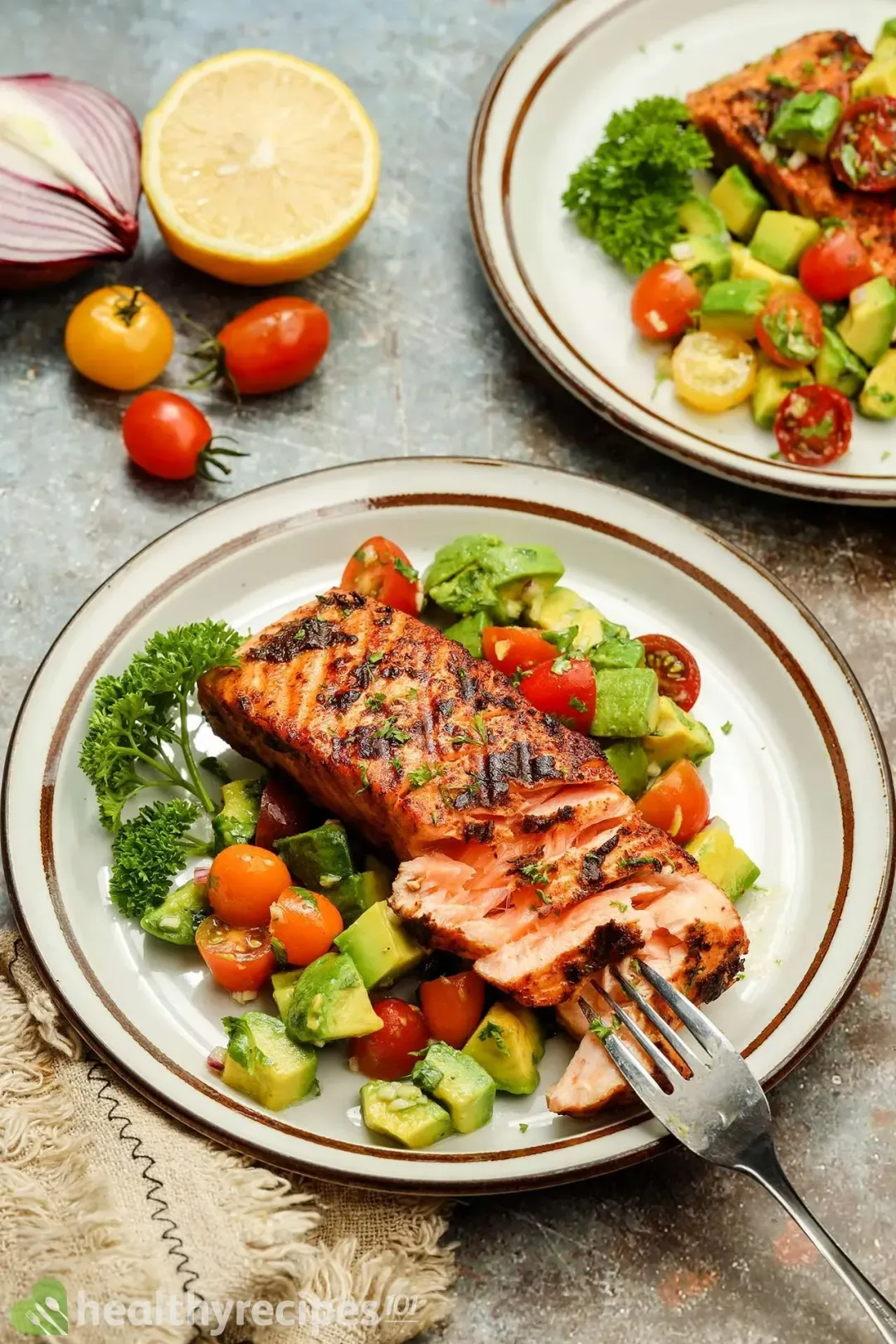 1. For Leftover Cooked Salmon
Leftover cooked salmon should last in the fridge for 3-4 days if stored in an airtight container or wrapped in aluminum foil or plastic wrap. In the freezer, it should last for up to 3 months in airtight containers or freezer bags.
2. For the Leftover Salad
You can store avocado tomato salad in the fridge for 2-3 days in an airtight container. However, that only applies to undressed salad. Dressed salad may wilt in a few hours due to the acidity of the lemon juice in the dressing.
We advise you not to freeze the salad because it contains a lot of water. The salad will therefore become mushy when you take it out to thaw.
What to Serve With Salmon Avocado
Salmon avocado is a balanced dish that contains both protein and vegetables. We suggest completing the meal with a fun side dish and a refreshing drink.
1. Air Fryer Potato Wedges
These potato wedges are fluffy, tasty, and fun to eat. They're also easy to make as you only need to cook them in the air fryer after a little preparation. Dipping them in ketchup will add more flavor.
2. Watermelon Juice
Finally, we finish the meal with a refreshing watermelon juice. This sweet and nutritious drink is fun and easy to make, perfect for a hot summer.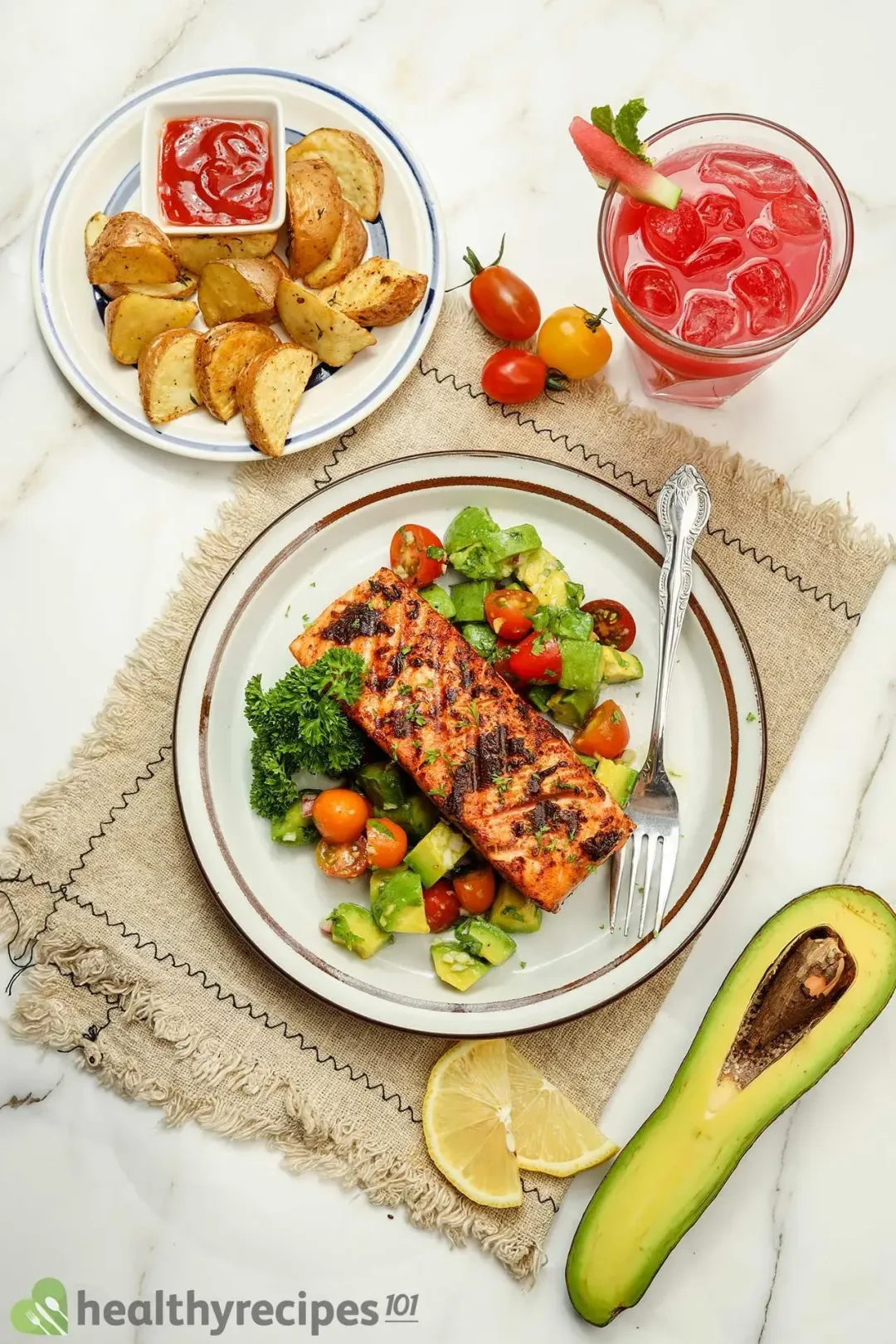 Salmon Ideas to Try
If you still have a few filets on hand, save them and try our salmon Meuniere. It's French, but the cooking isn't at all tedious. In 20 minutes we cooked both the potatoes and the floured fish to perfection, and we made sure not to leave any tips and tricks unsaid.
In case you prefer something a little elaborate and worth the while, give our stuffed salmon a try. The pocketing, the filling as well as the preparation all require great attention to detail, but as promised, it's got all the goodness and won't disappoint. We're afraid you might need to clear the schedule a bit, but again, that's how you know it's worthwhile.
Lots of tasty salmon ideas can be found in our list of fancy salmon recipes.
How to Make Salmon Avocado
Today's recipe of grilled salmon avocado is packed with nutrients and provides a lot of health benefits. With salmon and avocado on the same plate, you will be satisfied with many layers of flavors.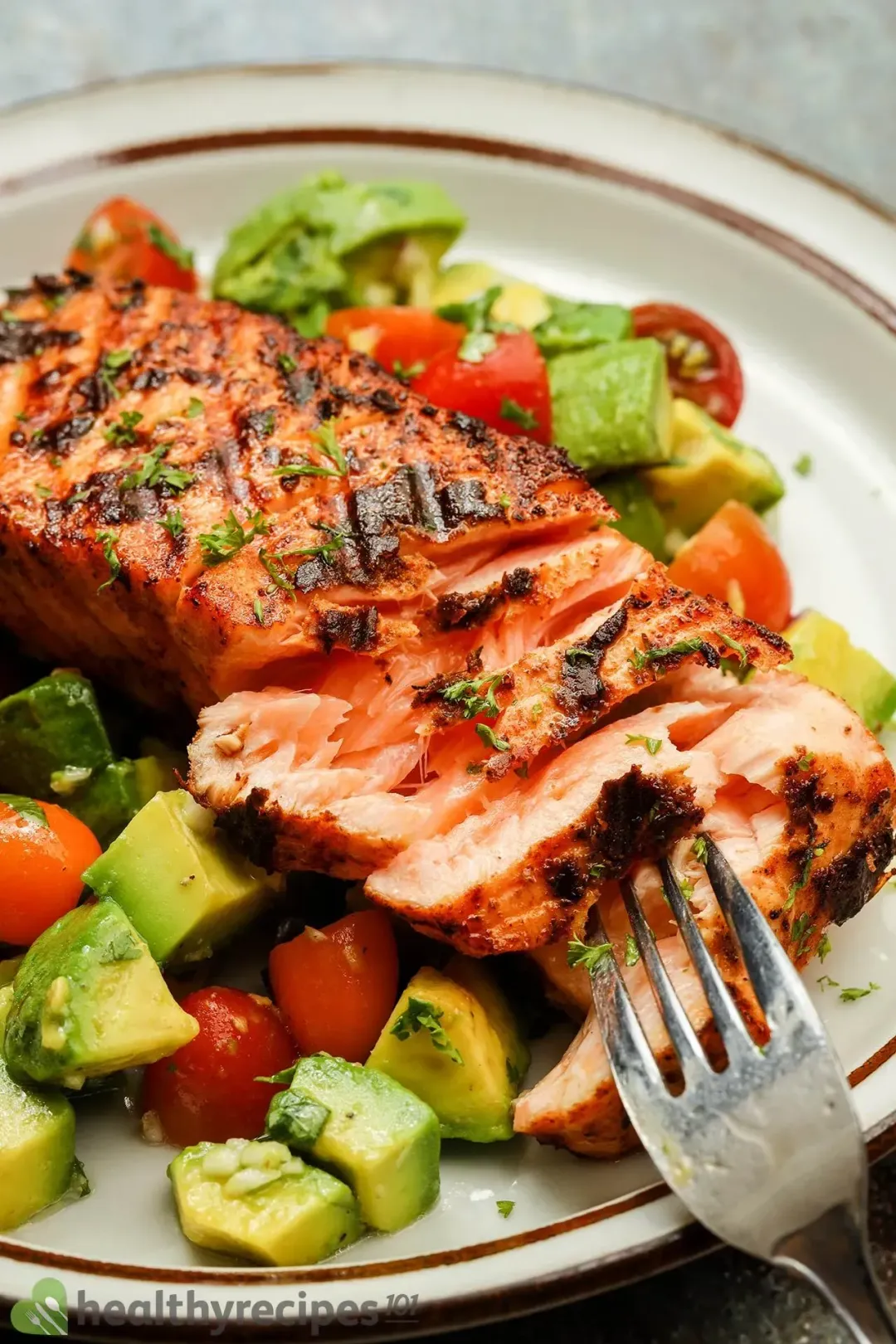 cook TIME

20 mins

prep TIME

10 mins

total TIME

30 mins
COURSE

Main Course

CUISINE

Global

SERVINGS

CALORIES

489 kcal
INGREDIENTS
6 oz

cherry tomato

(all three colors, cut in half)

1/4 cup

cilantro

(chopped)

1 1/4 tsp

Cajun seasoning
INSTRUCTIONS
1
Season the salmon with 1 tsp thyme, 1/4 tsp salt, 1/4 tsp pepper, 1/2 tsp garlic powder, and 1 1/4 tsp Cajun seasoning. Let it sit for 5 minutes.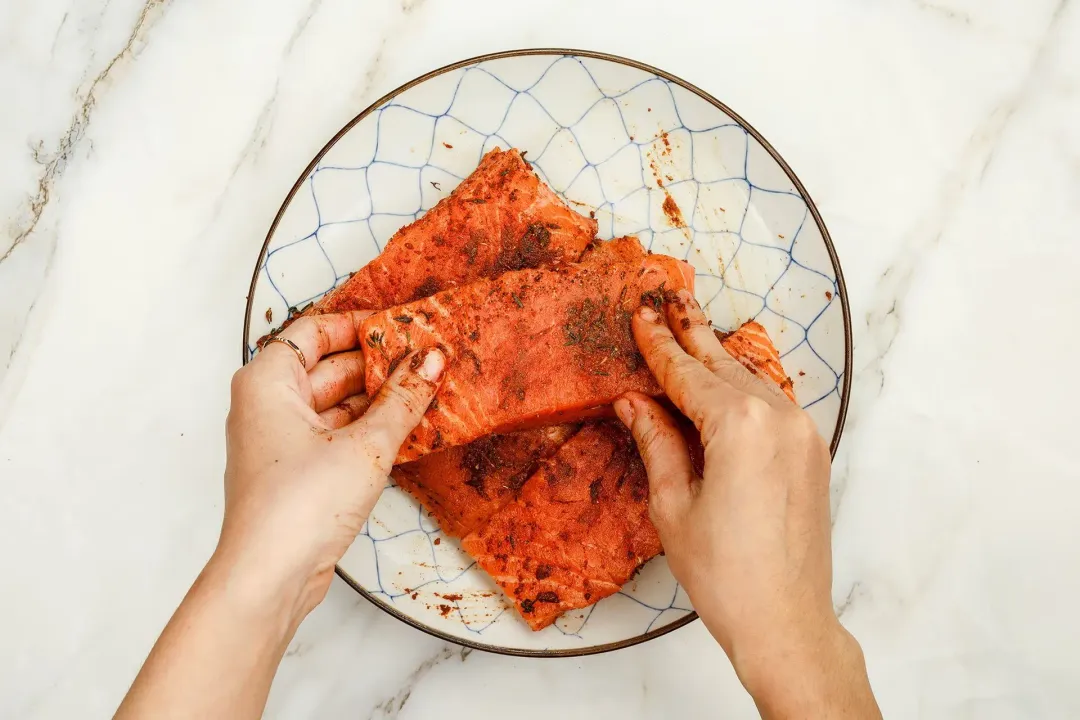 2
Put cubed avocados, halved cherry tomatoes, chopped red onions, cilantro, garlic, lemon juice, salt, pepper, and 1 tbsp olive oil into a mixing bowl. Mix the salad thoroughly and carefully.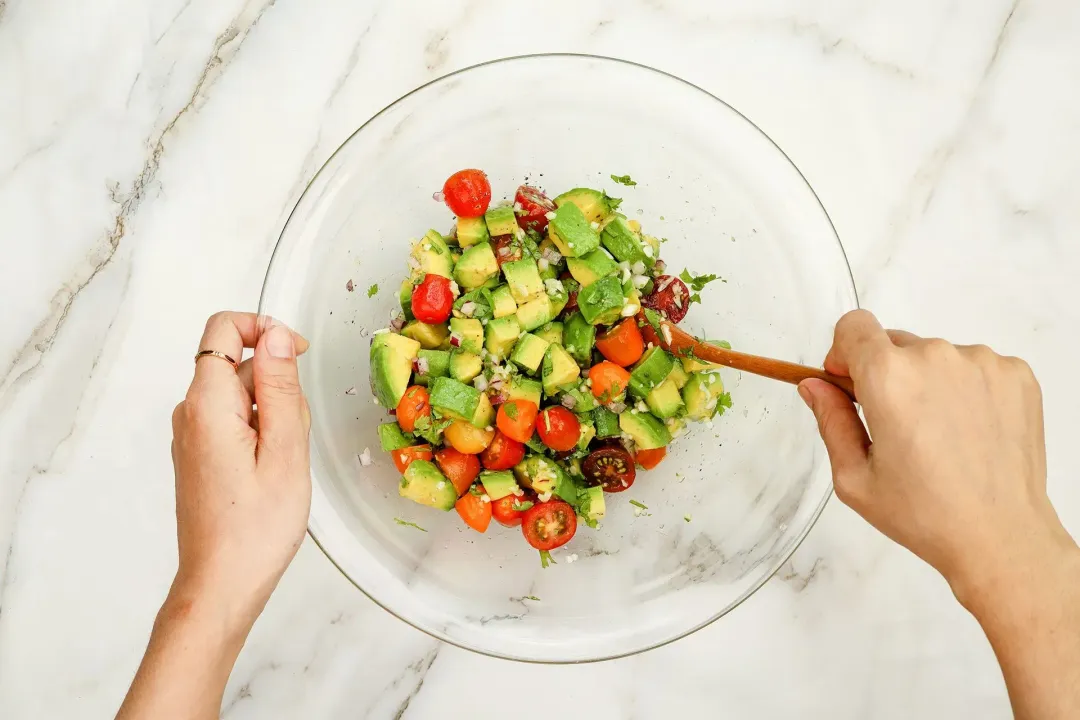 3
Put a pan on high heat and add 1 tbsp olive oil. Place the salmon skin-side down on the pan and add 1 tbsp of unsalted butter on top of each salmon fillets. Sear all sides for 12 minutes or until perfectly cooked.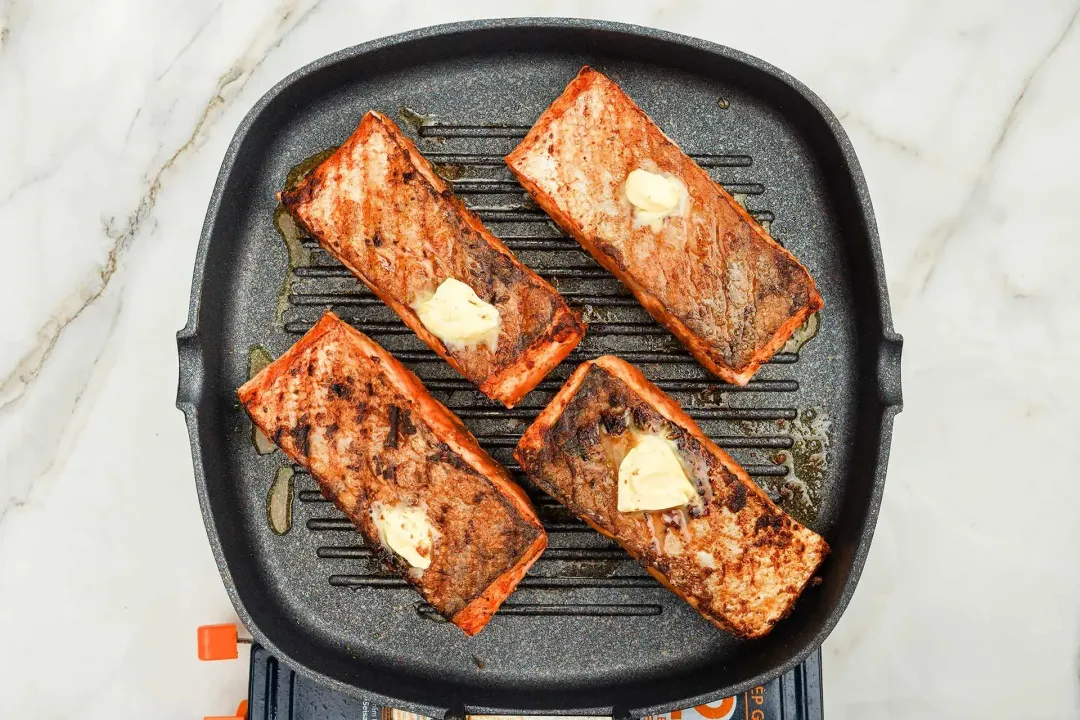 4
Take it off the heat. Serve the salmon with the salad and garnish with parsley. Enjoy.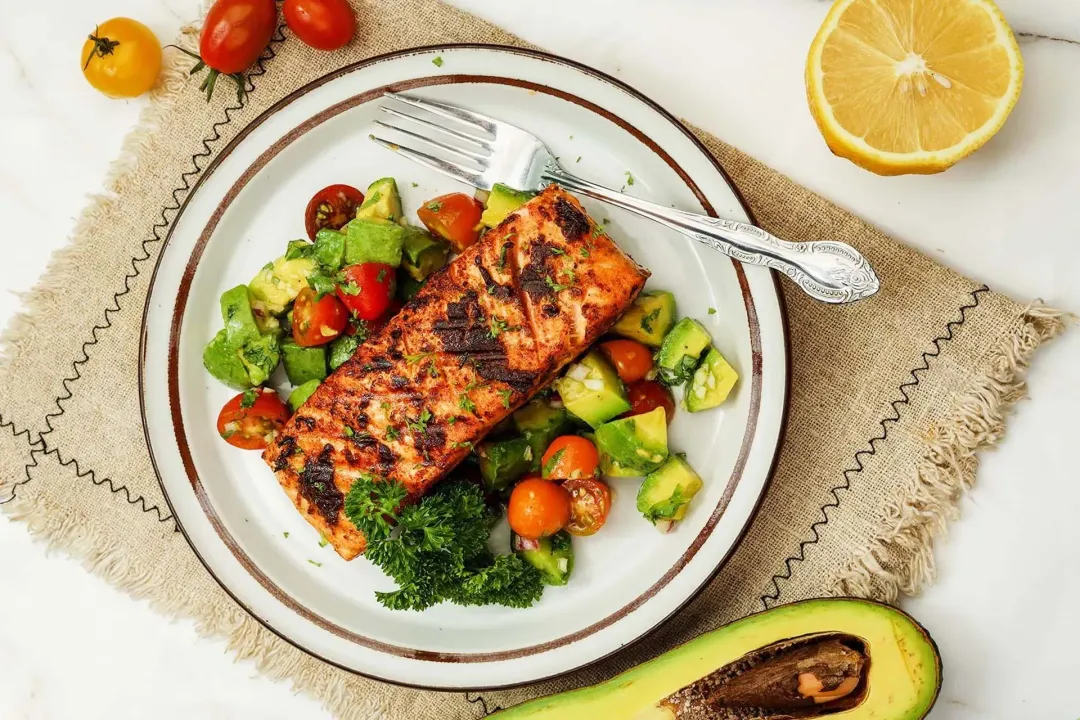 NUTRITION
Nutrition Facts
How to Make Salmon Avocado
Amount Per Serving (1 serving)
Calories 489
Calories from Fat 288
% Daily Value*
* Percent Daily Values are based on a 2000 calorie diet.
Keywords: how to make salmon avocado, salmon avoacdo, salmon avocado recipe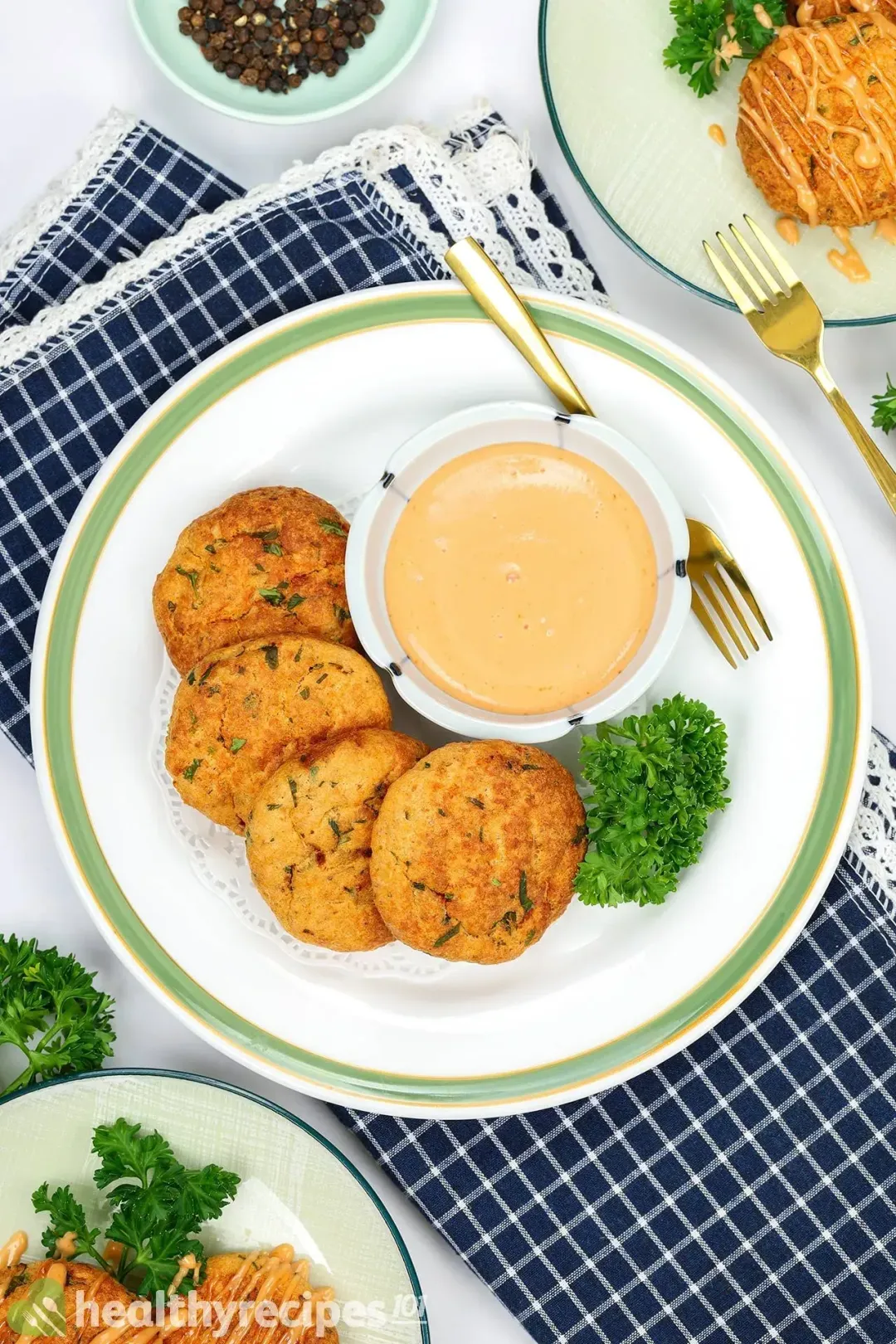 Previous Recipe
Air Fryer Salmon Patties
Air Fryer Salmon Patties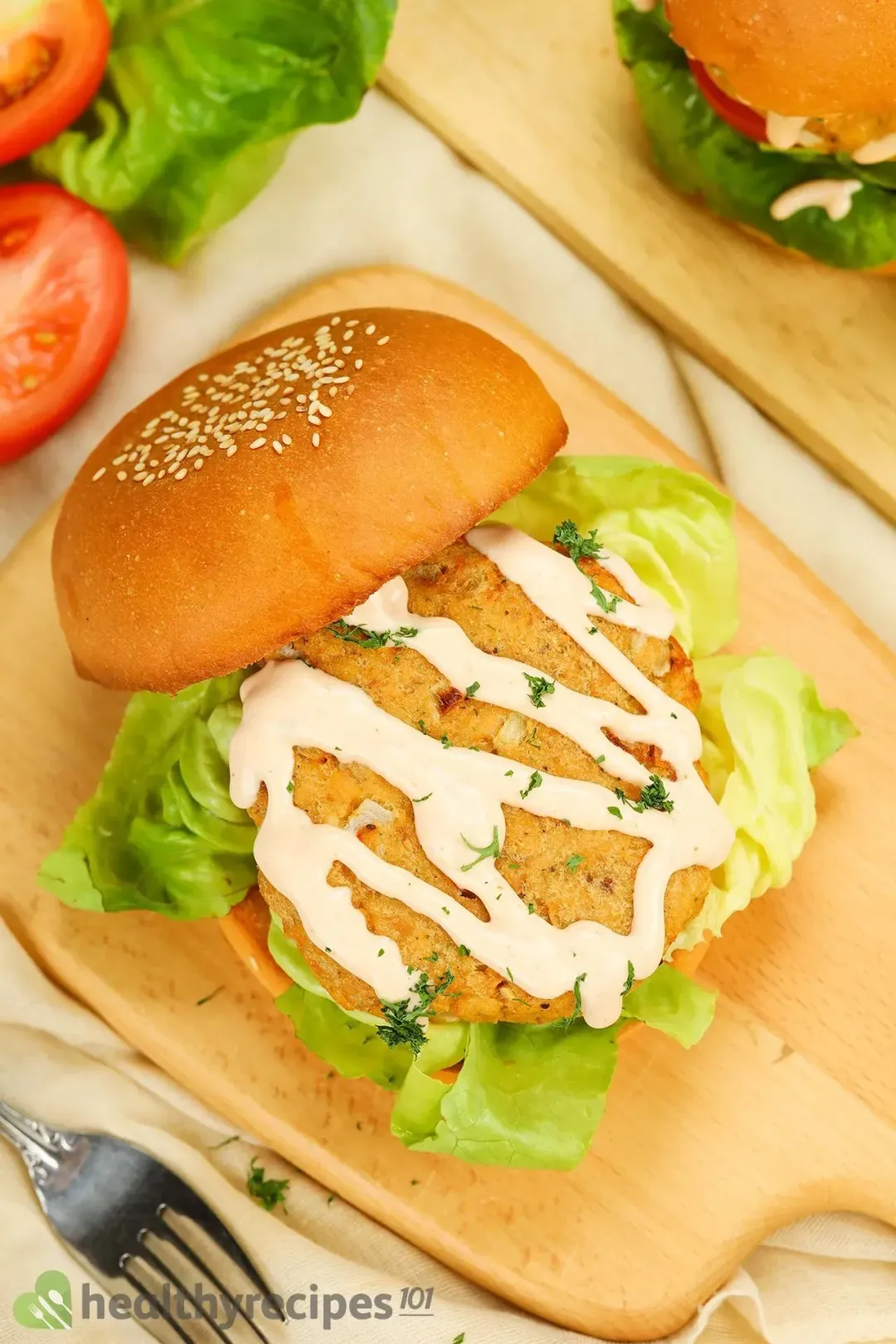 Next Recipe
Canned Salmon Burger
Canned Salmon Burger
Head Chef, Culinary Consultant
Tuyet Pham is an award-winning Saigonese chef who believes that joy is the secret ingredient to delicious food. At Healthy Recipes 101, Tuyet personally tests and simplifies every recipe, ensuring maximum flavor with minimal effort. With a background at prestigious French restaurants P'TI Saigon and Le Corto, Tuyet knows how to make every dish exceptional.
Writer, Author
Luna Regina is an accomplished writer and author who dedicates her career to empowering home cooks and making cooking effortless for everyone. She is the founder of HealthyKitchen101.com and HealthyRecipes101.com, where she works with her team to develop easy, nutritious recipes and help aspiring cooks choose the right kitchen appliances.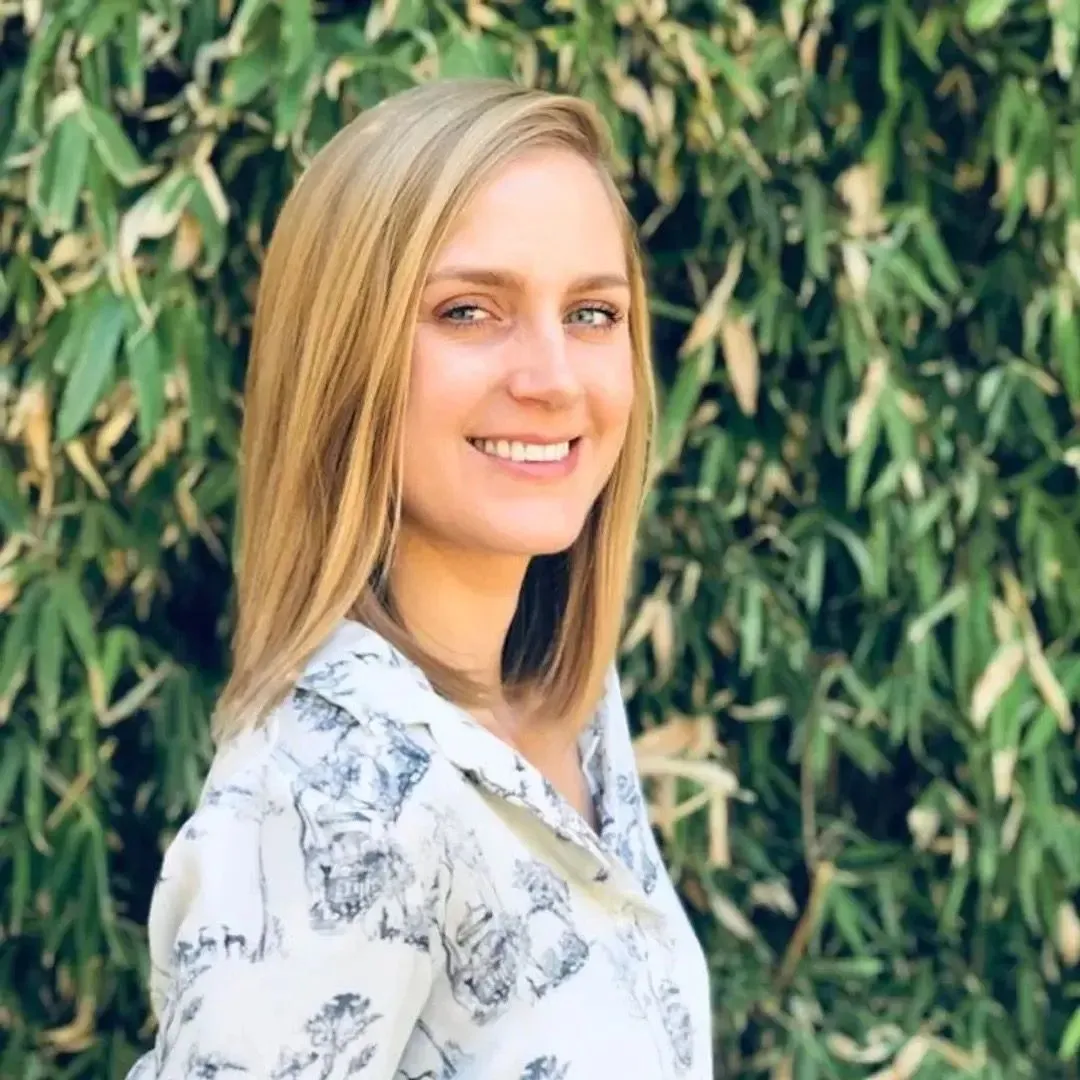 Nutrition Reviewer
Emily Rogers is a California-based Registered Dietitian Nutritionist who specializes in Public Health Dietetics. She has had an eclectic career working as a health educator, nutrition counselor, recipe developer, clinical dietitian and outpatient dietitian. Emily is currently a full-time Public Health Nutritionist with the County of Orange where she teaches Nutrition Education and Community Nutrition courses.
This salmon looks so perfectly crispy. I love avocado and I love salmon, too.