Our salt and pepper shrimp recipe is perfect if you're looking for an easy yet restaurant-quality dish. The chewy shrimp, with their crunchy coating, are tossed in a garlicky salt and pepper mixture. The dish is a real crowd pleaser!
What is Salt and Pepper Shrimp?
Salt and pepper shrimp is a popular dish that comes from Cantonese cuisine. You can easily find it at any Chinese restaurant.
The shrimp are lightly battered and fried to a golden, crispy texture. The salt and pepper mixture is then sprinkled over the shrimp at the end of the cooking process for the distinct aroma and spicy-salty taste.
The dish has a few equally popular cousins, like salt and pepper chicken, salt and pepper ribs, salt and pepper squid, or salt and pepper tofu.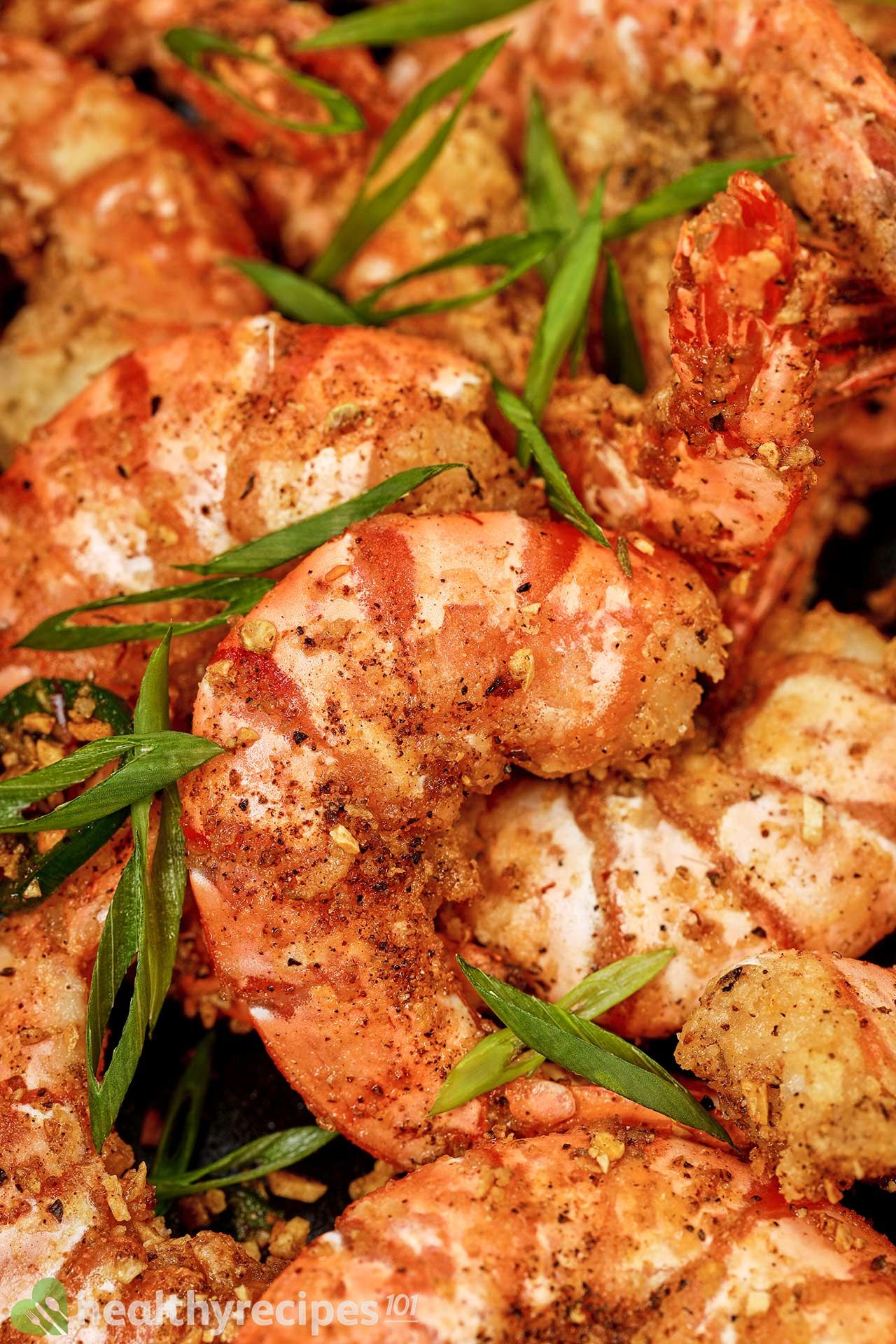 Is This Salt And Pepper Shrimp Recipe Healthy?
The short answer is yes, our salt and pepper shrimp is healthy.
Shrimp, the main ingredient in the recipe, is an excellent source of vitamins and minerals, including iodine, selenium, and vitamin B12. Besides, this seafood is low in calories and high in protein. In 3 ounces of raw shrimp, there are up to 11 grams of protein and only 60 calories.
Each serving of this recipe contains approximately 500 calories, leaving plenty of room for side dishes. We also made sure that the amount of sodium and saturated fat, while contributing well to the overall taste, was within our healthy limits (486 mg and 0.9 g, respectively).
If you're looking for more healthy shrimp recipes, check out our X recipe and Y recipe. They are both straightforward and make for delicious treats at home.
Ingredients You'll Need
Large shrimp are ideal for this salt and pepper shrimp recipe since they don't overcook and remain chewy once fried in hot oil. Also, remember not to peel the shrimp for this dish. Once deep-fried, the shell offers a crispy exterior that is edible if you fry the shrimp properly.
There are two important factors for creating the irresistible crunchy coating for the shrimp: the shell-on and the coating. First of all, pat the shrimp with kitchen paper to remove all the excess water. Then coat the shrimp evenly and generously in cornstarch.
We tried a more complex version by adding a touch of garlic powder, giving the coating more flavor. Add-ins for the coating can vary depending on the chef or home cook.
Any pepper variant: white, black, or a combination will work in this recipe. You can prepare this key seasoning with any pepper type you have in the spice cabinet as long as it's still fresh and of high quality.
Making the famous salt and pepper mixture is actually very easy: In a small pot over medium-low heat, dry roast the seasoning mixture of salt, ground pepper, and Cajun seasoning. Slowly stir until the salt turns slightly yellow and the spices are fragrant. Adjust the heat as needed so as not to burn them.
Remove the skillet from the heat and now you have your own salt and pepper mixture. You can prepare the spice mixture in bulk, store it in a jar, and use it in whatever "salt and pepper" recipe you want to try.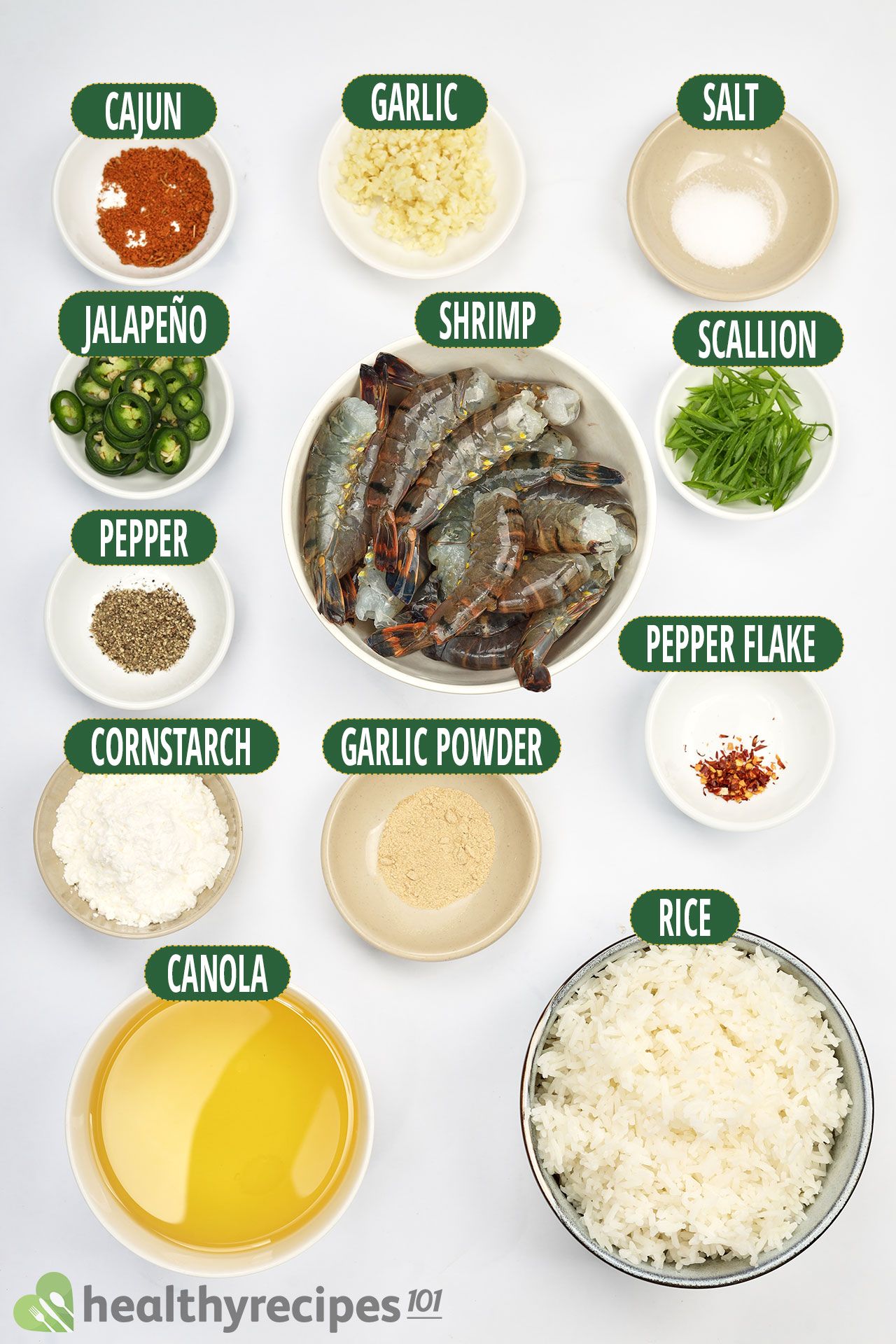 How to Make Salt and Pepper Shrimp
Though having the look and taste of a fancy restaurant dish, our recipe is quick and simple to make.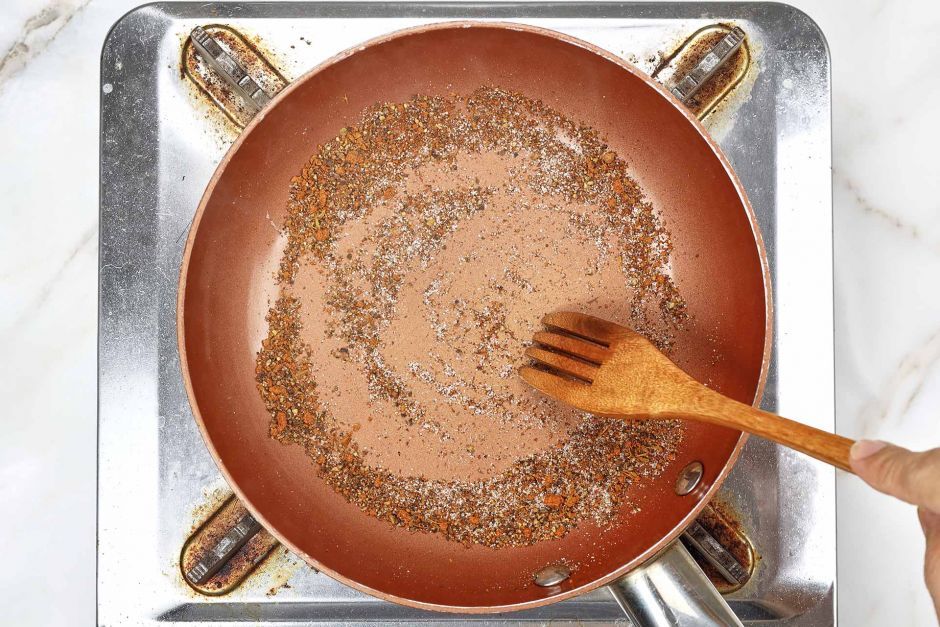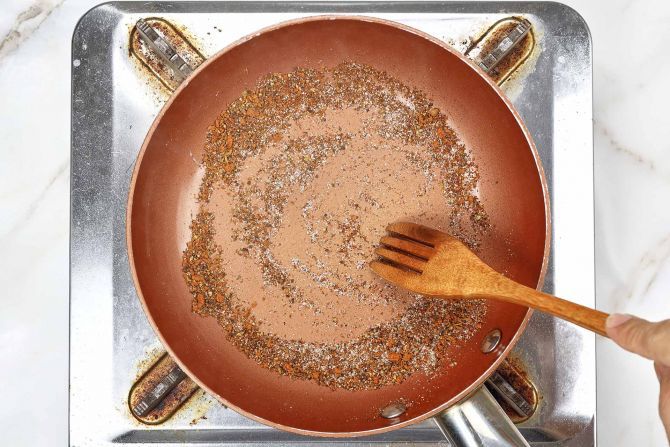 Dry roast the salt and pepper mixture.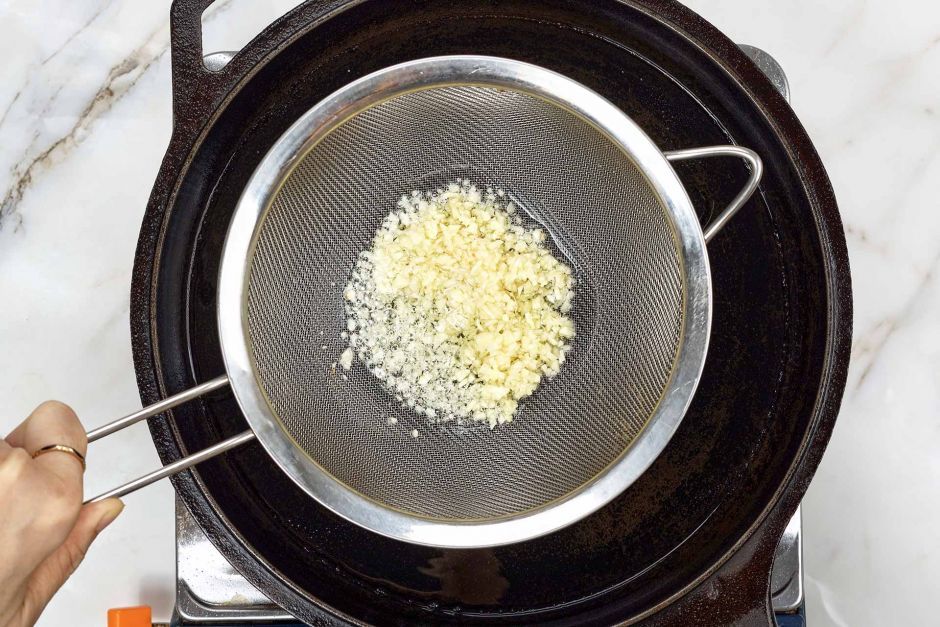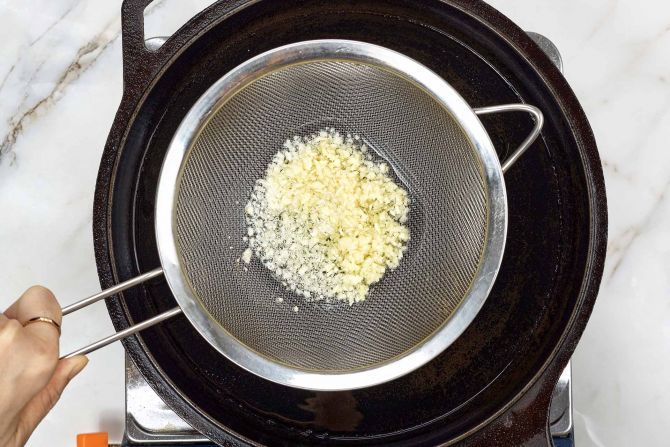 Fry the garlic in a skillet. Set aside.
Dip the shrimp into the batter mixture.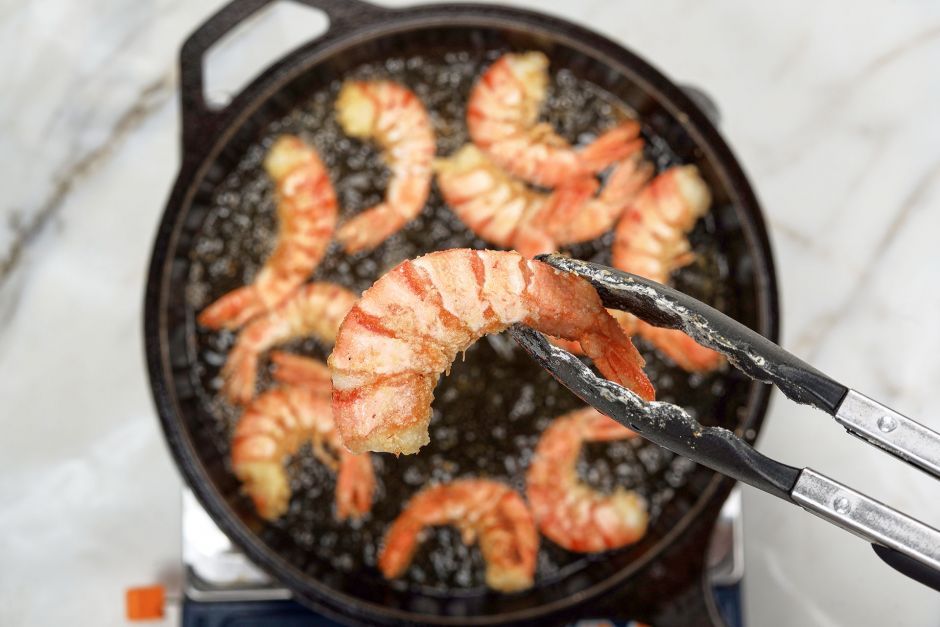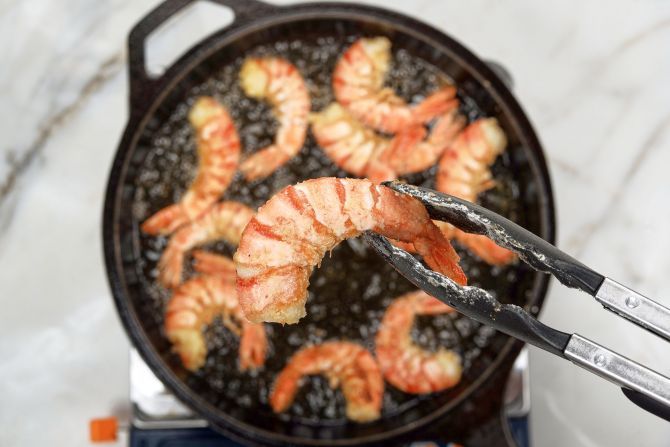 Fry the shrimp in hot oil until golden brown. Set aside.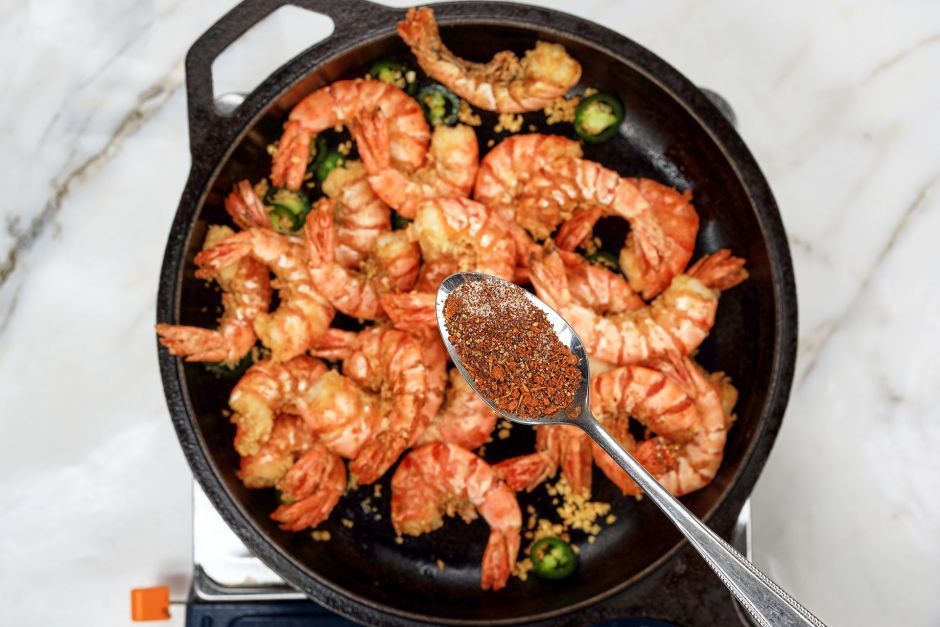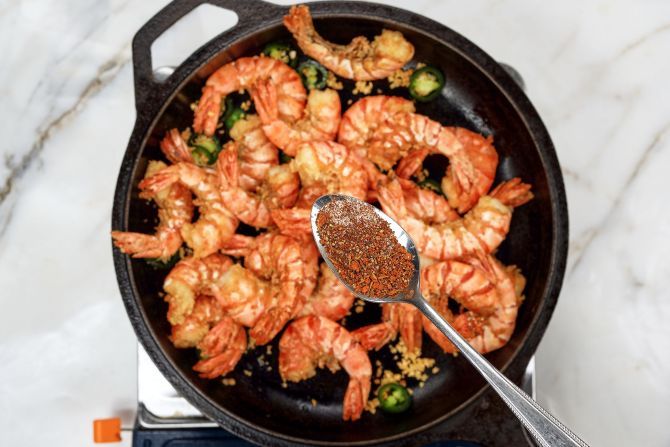 Stir together the spices, shrimp, and salt and pepper mixture.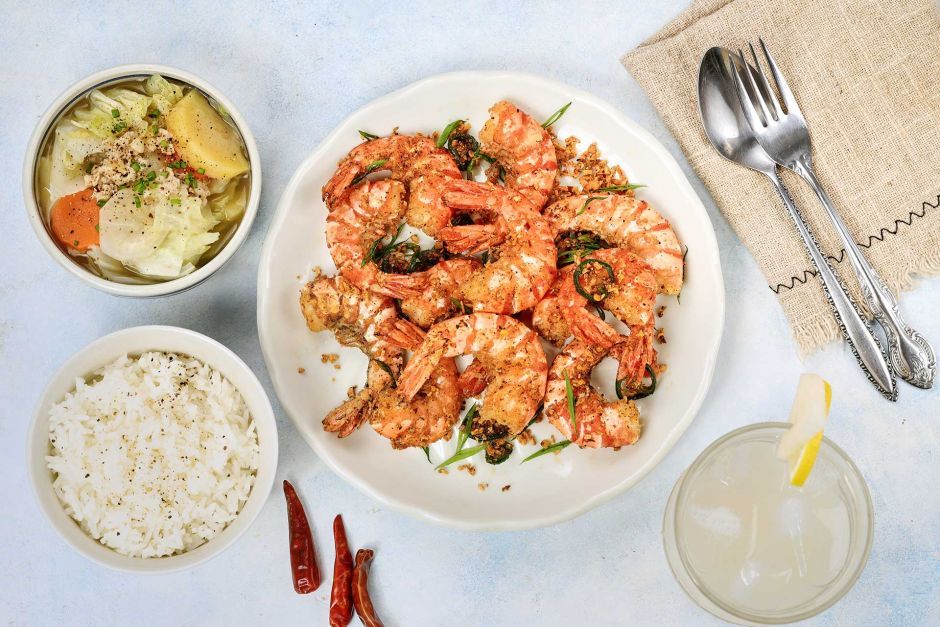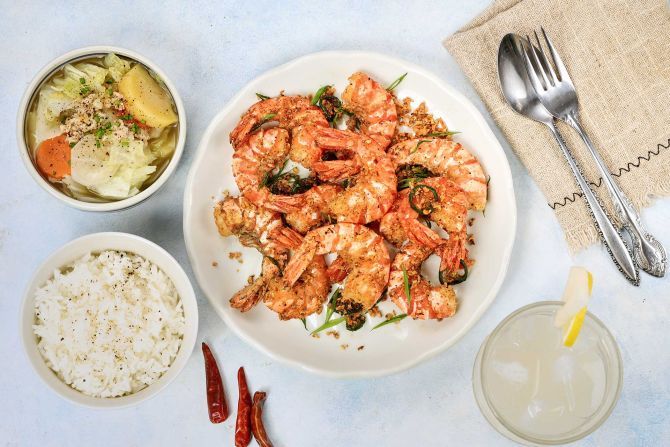 Garnish and serve the dish immediately.
Jump to Recipe
Storage and Reheat
Leftover salt and pepper shrimp should be stored in an airtight container or Ziplock bag in the refrigerator for up to 3 – 4 days. To maximize the dish's shelf life, keep it in the freezer for about 3 months. Once ready to use, simply thaw the shrimp in the fridge overnight.
You can either reheat the shrimp in the air fryer, oven, or skillet. For the best results, we recommend warming the dish in the oven or air fryer with a spray of oil, so that you still get that crispy exterior.
What to Serve with Salt and Pepper Shrimp
Our salt and pepper shrimp are savory and delicious when served with warm steamed rice or noodles. We paired the shrimp with cabbage potato soup and pear juice for a flavor-packed and nutritious meal.
Alternatively, you can serve the dish as an appetizer or finger food. Without a doubt, these wholesome shrimp will disappear quickly at your parties!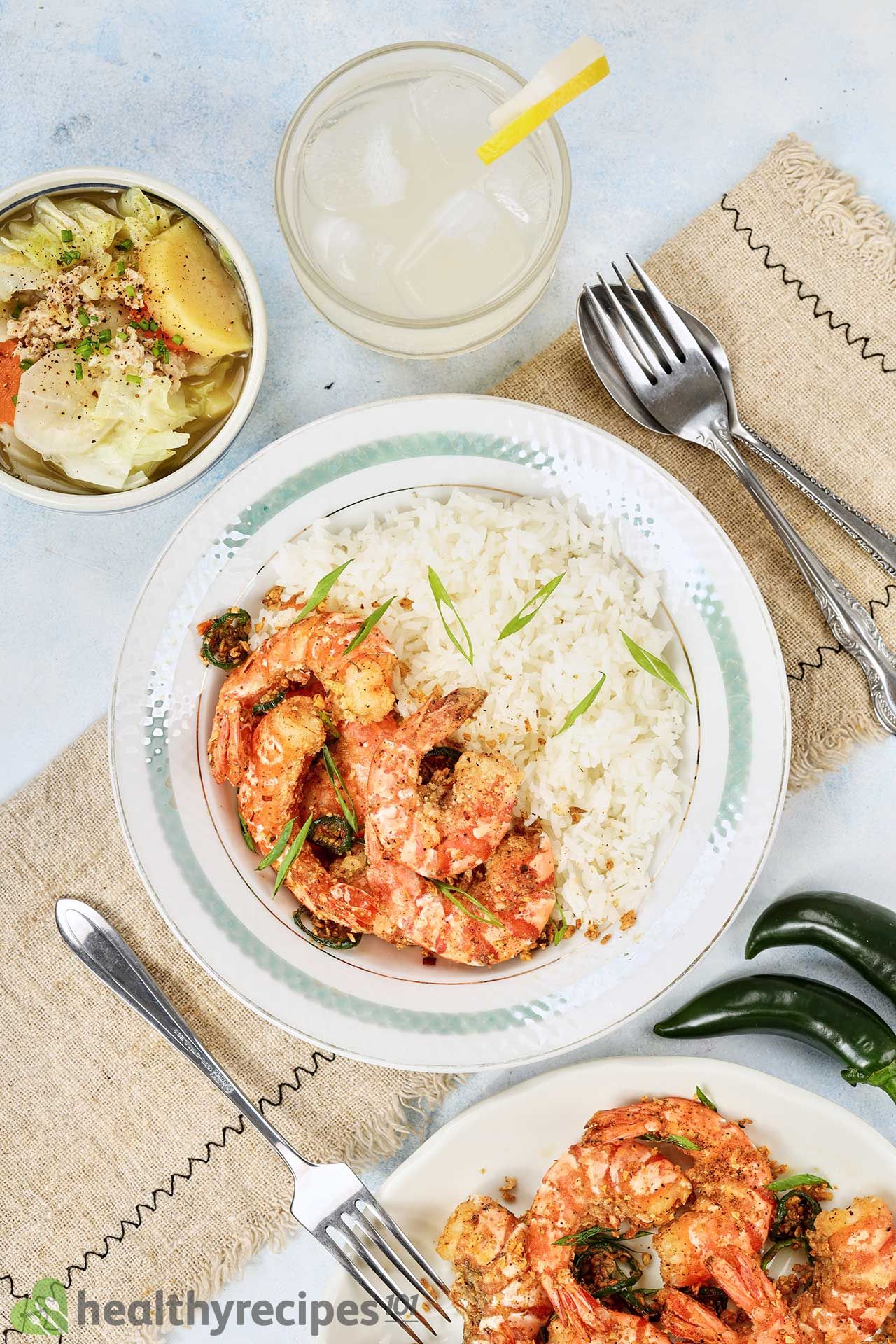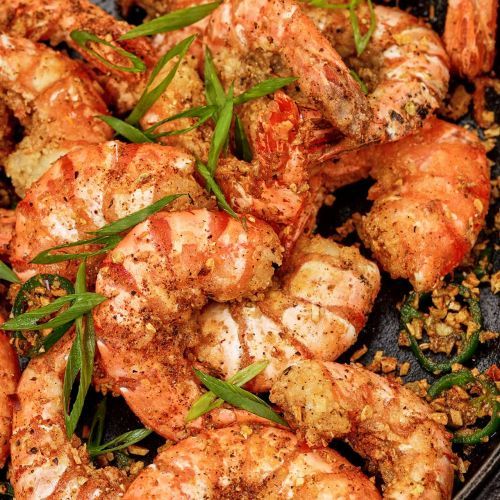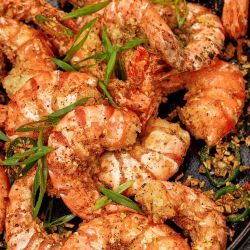 Salt and Pepper Shrimp
Our salt and pepper shrimp recipe makes a classic Cantonese dish with simple ingredients. The dish is packed with protein and ultimately delicious.
Ingredients
26

oz

raw peel-on shrimp

head removed

1/4

tsp

salt

1 1/2

tsp

Cajun seasoning

1/2

tsp

ground pepper

1

cup

canola oil

*

2

tbsp

garlic

minced

4

tbsp

cornstarch

1/2

tsp

garlic powder

0.5

oz

jalapeno

sliced

2

tbsp

scallion

sliced

1/4

tsp

pepper flakes

3 1/2

cups

medium-grain cooked rice
Instructions
In a skillet over low heat, dry roast 1/4 tsp salt, 1 1/2 tsp Cajun seasoning, and 1/2 tsp ground pepper for 30 seconds or until the mixture is fragrant. Carefully transfer the mixture to a small bowl and set aside.

Heat 1 cup canola oil in a skillet over medium heat. Fry the garlic in a fine mesh strainer until just golden brown, and set aside to drain on excess oil.

In a large bowl, coat 26 oz shrimp with 4 tbsp cornstarch and 1/2 tsp garlic powder.

Quickly lay the coated shrimp in the skillet of hot oil and fry the shrimp in batches, cooking each side for 1 – 2 minutes or until golden brown. Transfer the shrimp to a paper towel-lined plate.

In another skillet, heat 1/2 tbsp canola oil over medium heat. Add fried garlic, 0.5 oz jalapeno, fried shrimp, and the seasoning mixture. Stir fry everything for about 1 minute and take off the heat.

Sprinkle over 2 tbsp scallion and 1/4 tsp pepper flakes. Serve with hot rice.
Nutrition
Nutrition Facts
Salt and Pepper Shrimp
Amount Per Serving (1 serving)
Calories 0
* Percent Daily Values are based on a 2000 calorie diet.