This honey walnut shrimp recipe recreates the Hong Kong staple with a healthy twist.
What Is Honey Walnut Shrimp?
This crunchy, sticky treat originates in Hong Kong and was introduced to America in the late 1900s. Juicy prawns are battered and fried to perfection, tossed with sugar-coated walnuts, and brought together in a sticky sweet sauce. It is to be served immediately after cooking so the crispness is maintained, allowing a variety of textures in every bite.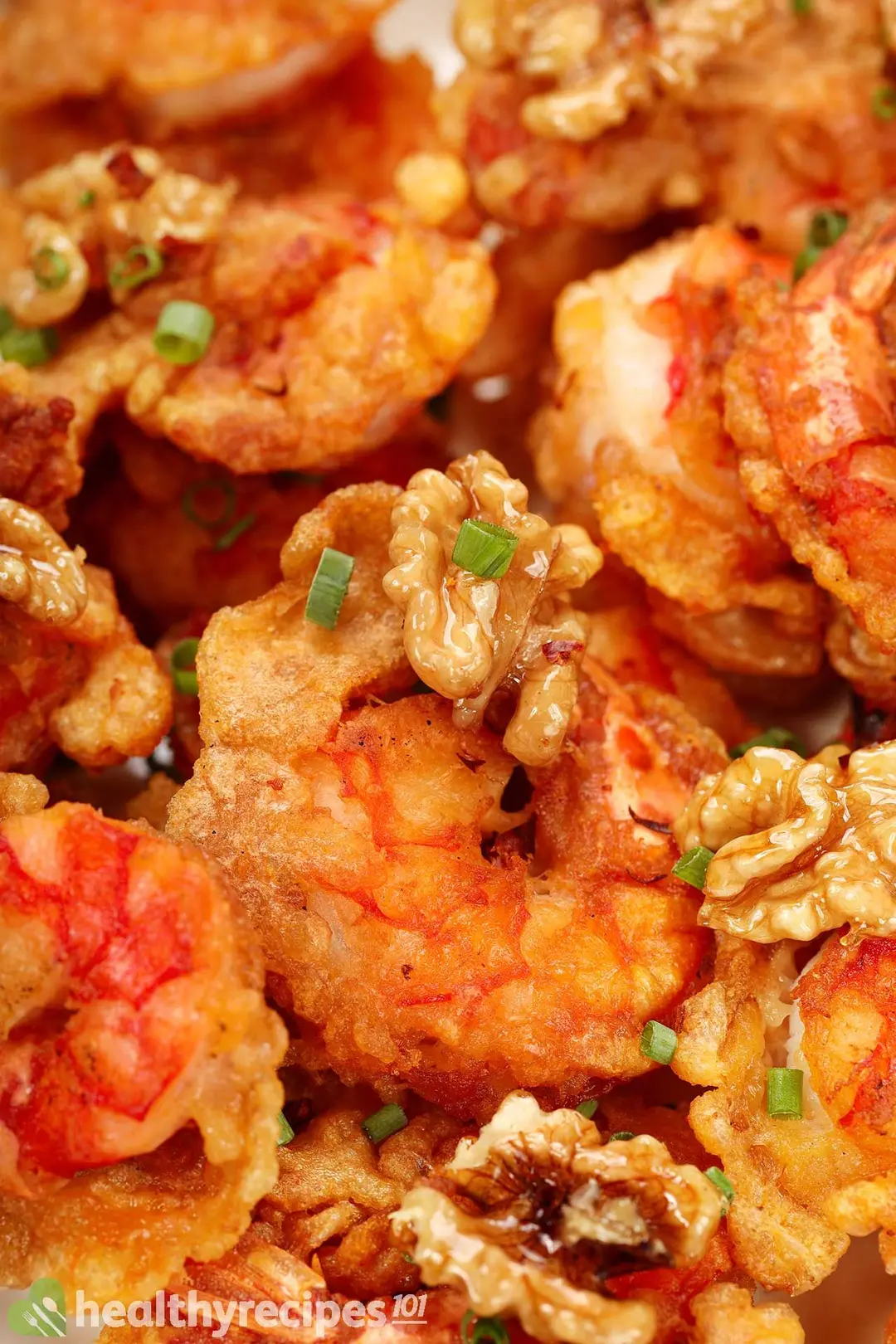 To make the glossy walnuts, sugar is first heated with water until dissolved, then walnuts are added and cooked until the sugar water thickens. The walnuts are then transferred to a baking sheet, and as they cool, the sugar hardens to form a glossy, crunchy, sweet coating.
Some restaurants brown the sugar mixture before adding the walnuts, giving a delicious caramel flavor. Our honey walnut shrimp recipe takes the classic, simpler path instead.
Is Honey Walnut Shrimp Healthy?
The USDA suggests that calories from added sugar shouldn't exceed 10% of the total calories for the day. Although honey walnut shrimp sounds like a sugary dish, each of its servings contains only about 9 g, just 1.8% of a 2000-calorie diet.
Keep in mind that 2000 is just an example — daily calorie intake can vary depending on age, sex, and active level. You can learn more in the USDA's guidelines.
They also have similar recommendations for calories, sodium, and saturated fats. We followed the guidelines strictly, made necessary adjustments, and came up with the following nutritional profile:
507 calories
1.9 g saturated fats
528 mg sodium
You can have a look at our guidelines to understand these numbers better.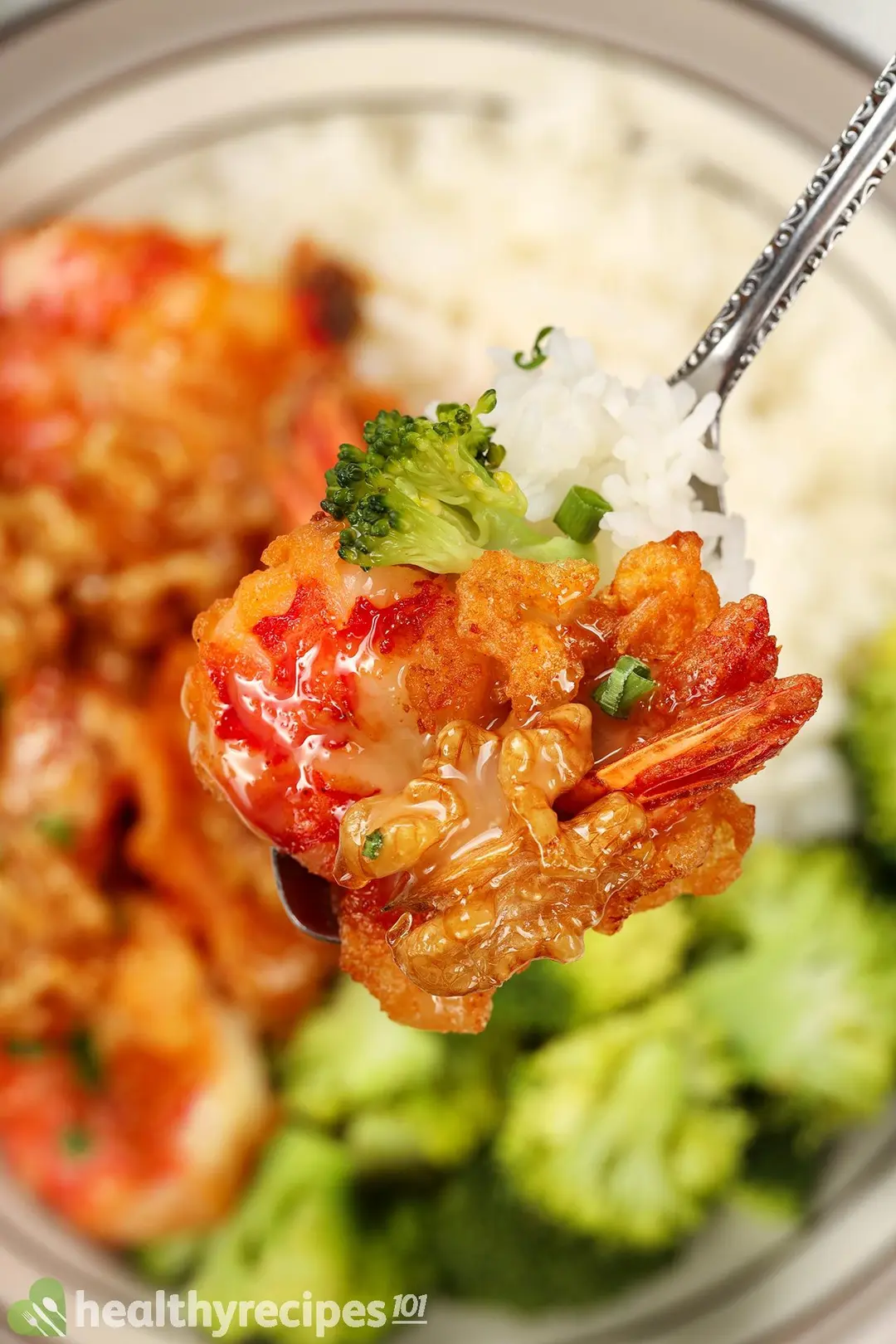 Honey Walnut Shrimp Ingredients
Let's take a look at the components, starting with the sauce:
1. Honey Walnut Shrimp Sauce
We started off with some mayo for its tantalizing richness. It can, however, be substituted with Greek yogurt.
Next, the signature sweetness that you can only find in sweetened condensed milk. We replaced a part of it with honey, for the small amount of micronutrients it yields.
Finally, we give the sweet, creamy sauce some balance with lime juice and salt. The sticky sauce can be used right away without cooking.
2. Shrimp Options
Go for fresh shrimp if you prefer, but we personally find frozen peeled shrimp the more convenient option. You can also go for pre-cooked shrimp that's then flash-frozen and packaged — once battered, they need just 3 minutes over medium-high heat.
In terms of size, again, it all boils down to preference. We chose medium shrimp, as the larger variety is also more expensive.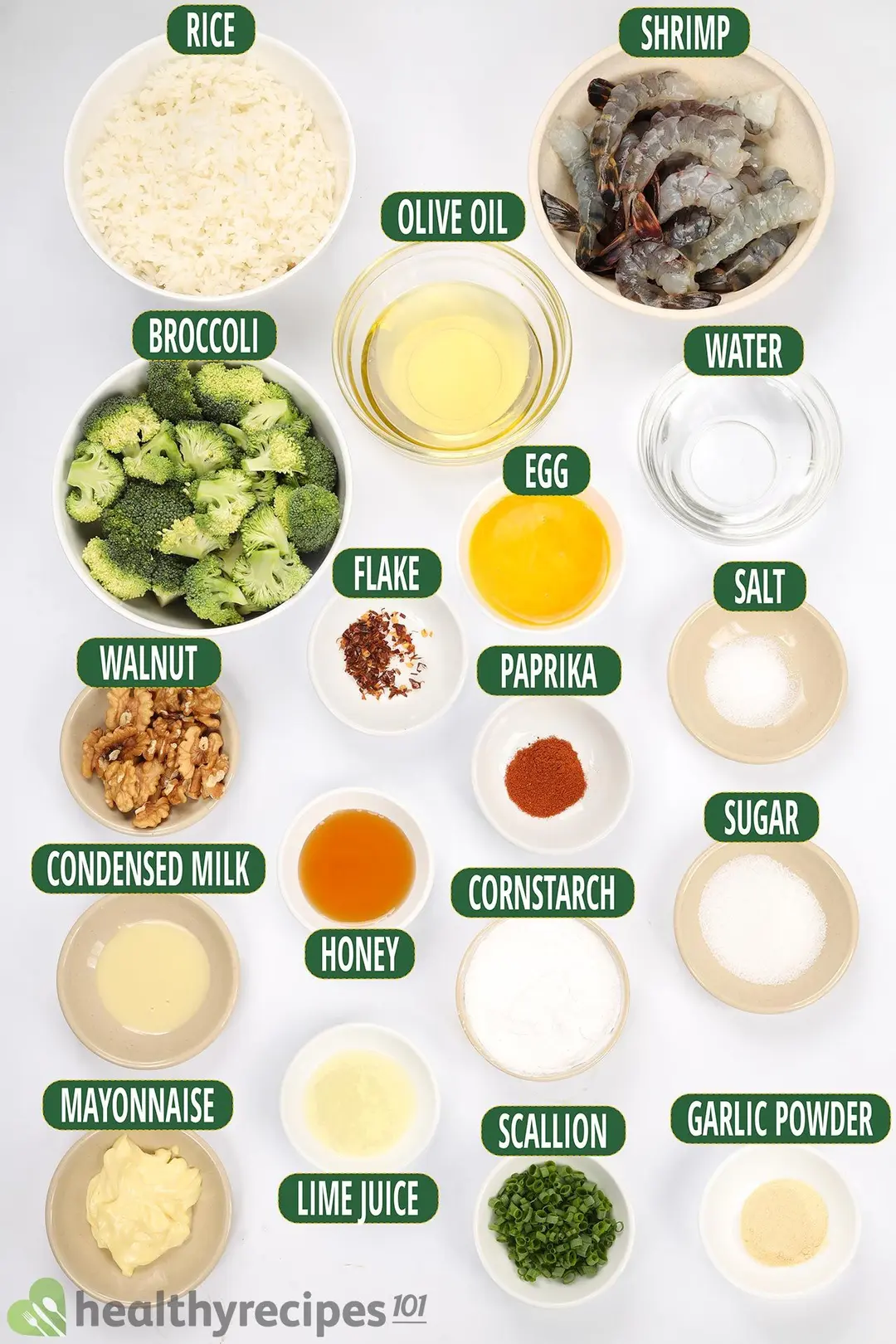 3. Side Veg
With the sauce being particularly concentrated, the dish would be quite overwhelming without some cooked veg. We went for broccoli, but anything that turns tender and juicy when cooked will work just fine.
To save time, we shot our broccoli in the microwave on medium for about 4 minutes (details in the recipe card). Alternatively, you can steam yours for about 10 minutes — steaming retains more nutrients than boiling.
 How to Make Honey Walnut Shrimp
Once the ingredients are ready:
Microwave the broccoli.
Make the sauce.
Make the sugar mixture.
Add the walnuts and reduce.
Make the batter and coat the shrimp.
Fry the shrimp.
Plate and enjoy.
Remember to have cooked rice on hand as soon as the shrimp is finished. We recommend that you reheat refrigerated rice or have the rice cooker going before starting the above steps.
For more information, refer to our honey walnut shrimp recipe at the bottom of this article.
How to Store and Reheat the Leftover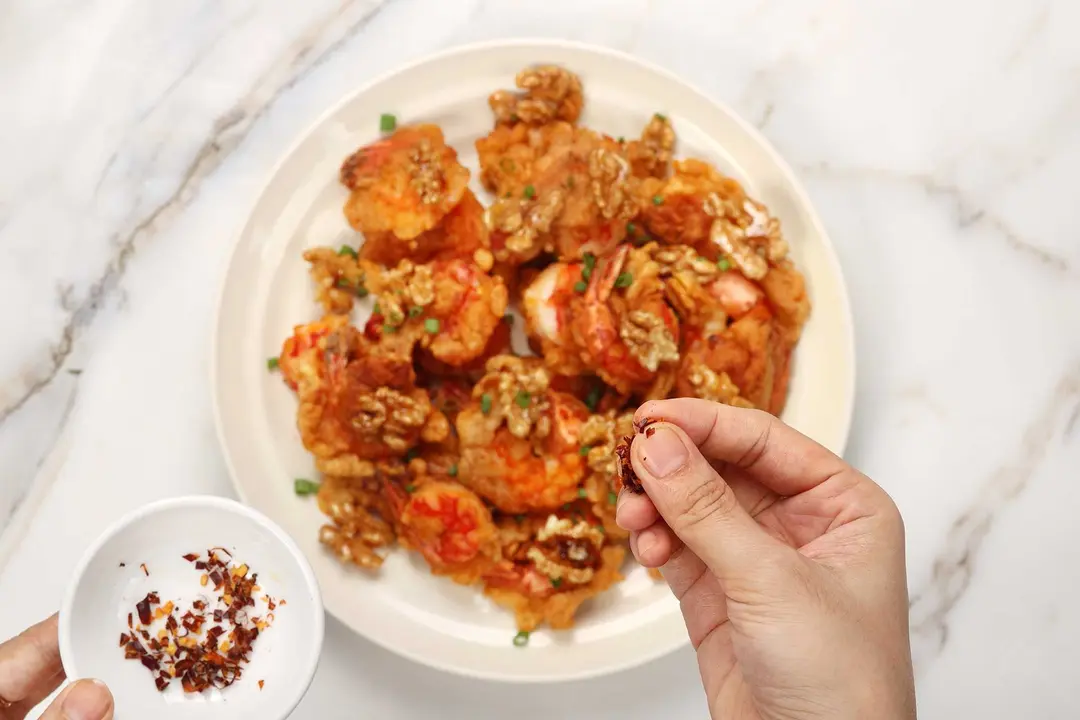 The shrimp and walnut can be kept in the fridge for 4 days or in the freezer for 3 months. Either way, the crisp coating will turn soft and there's no way to prevent this from happening.
If you find this unacceptable, make just enough and leave no leftovers. Otherwise, keep the leftovers in a container of choice, seal it tight, and store away. We often put away dry dishes like this one in an air-tight container and those with liquids like soups in Ziploc bags.
The broccoli, rice, and sauce are best kept in the fridge for up to 5 days. They should never be stored in the freezer.
To reheat, either microwave the shrimp and walnuts or stir them in a saucepan with some water over low heat until heated through. Reheat the broccoli and rice in the same manner. The sauce needn't be reheated.
What to Serve With Honey Walnut Shrimp
Nothing's better than a simple tangy salad like our Greek salad to pair with this sweet, sticky shrimp. It and our cucumber and lemon juice are the perfect sides to enjoy with this delicious Hong Kong staple.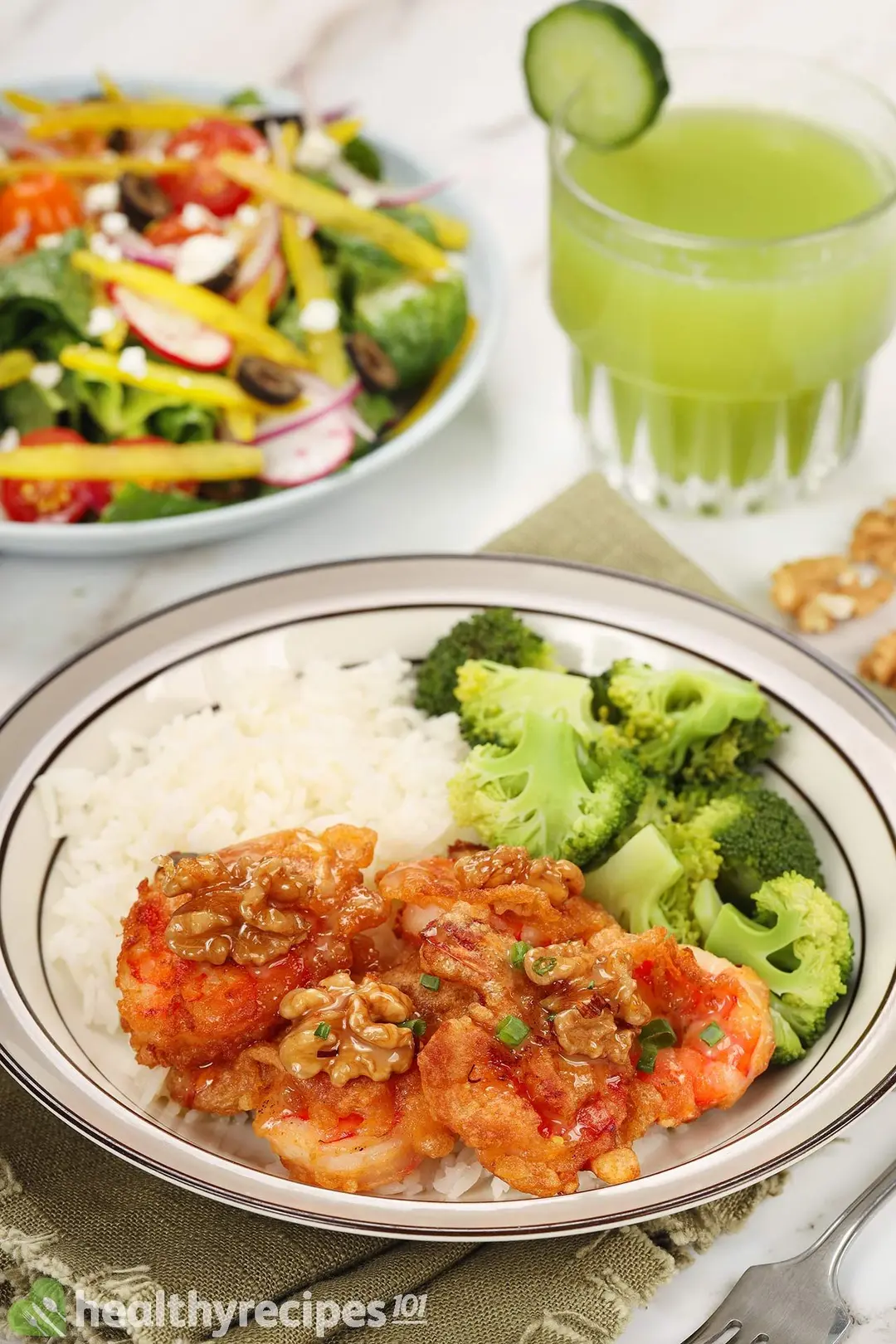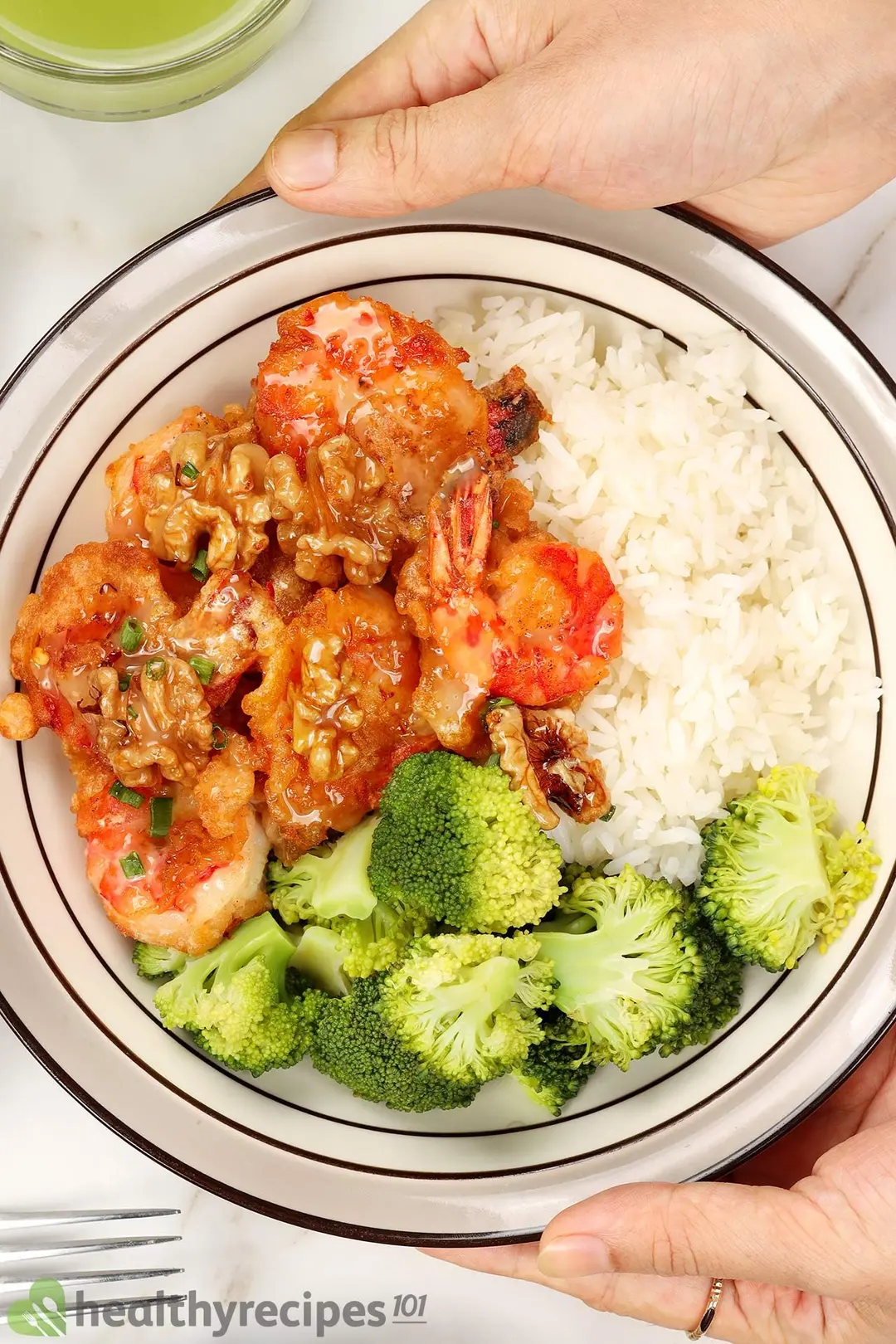 Honey Walnut Shrimp Recipe
Our honey walnut shrimp recipe makes a delicious rice filler in 25 minutes. It's crispy on the outside, coated in a flavorful sauce, and juicy on the inside.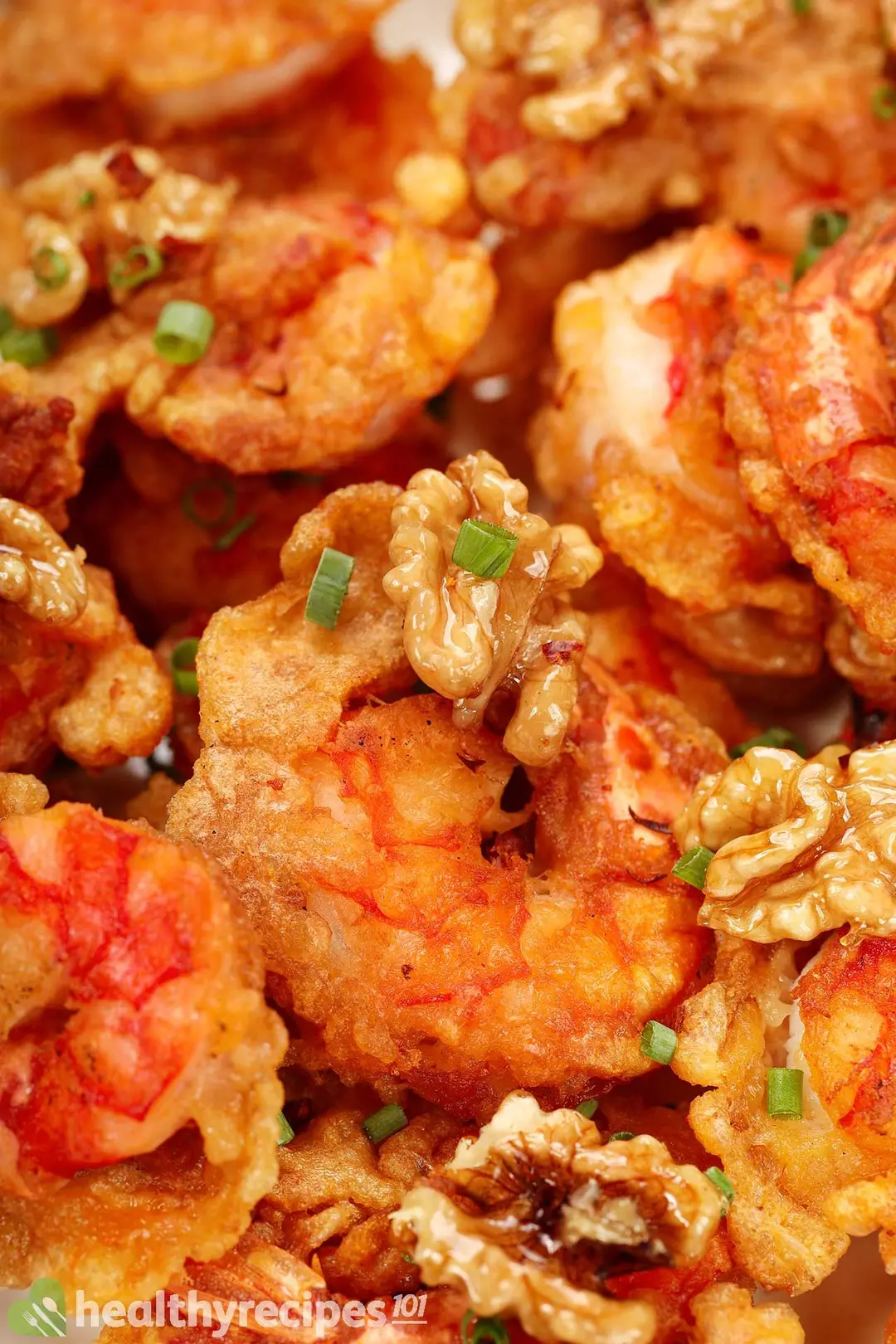 cook TIME

18 mins

prep TIME

7 mins

total TIME

25 mins
COURSE

Main Course

CUISINE

Hong Kong

SERVINGS

servings

CALORIES

507 kcal
INGREDIENTS
9 oz

peeled shrimp from 18 oz whole shrimp

6 oz

broccoli cut into florets

2 tbsp

Japanese mayonnaise

1 tbsp

honey

1 tbsp

lime juice

0.5 tbsp

sweetened condensed milk

0.5 tsp

salt divided

0.5 cup

water

1 tbsp

granulated sugar

1 oz

walnuts

1

medium egg

0.3 cup

cornstarch

0.5 tsp

garlic powder

0.5 tsp

paprika

0.5 cup

olive oil *

2 tbsp

scallion chopped

0.5 tsp

red pepper flakes

3 cups

cooked medium-grain rice
INSTRUCTIONS
1
Place 6 oz broccoli into a bowl. Cover it with plastic wrap, then microwave on medium for 4 minutes. Shock in cold water afterwards and leave to dry.
2
Meanwhile, mix together 2 tbsp mayonnaise, 1 tbsp honey, 1 tbsp lime juice, 1/2 tbsp sweetened condensed milk, and 1/4 tsp salt (save the remaining for the batter). Set aside.
3
Scoop out 1 tbsp water and set aside. Pour the remaining into a saucepan along with 1 tbsp granulated sugar, then heat the mixture over medium heat until the sugar dissolves.
4
Add 1 oz walnuts and stir constantly until the mixture thickens like so. Line a baking tray with parchment, then use a heat-resistant spatula to scrape the walnut mixture onto it. Spread the walnuts out and leave them to cool.
5
In a bowl, stir together 1 tbsp water, 1 medium egg, 1/3 cup cornstarch, 1/2 tsp garlic powder, and 1/2 tsp paprika. Coat 9 oz peeled shrimp in this mixture.
6
Heat 1/2 cup olive oil in a dry pan over low heat (to prevent splashing). Add a drop of the batter into the oil, and wait for it to float to the top. When it does, the oil's ready so gently place the battered shrimp into the hot oil and fry for 7 minutes (flip halfway). Once they're done, place them on top of some kitchen paper towel to get rid of excess oil.
7
Plate the shrimp, the sugar-coated walnuts, and sprinkle 2 tbsp scallion and 1/2 tsp red pepper flakes on top. Transfer the sauce into one large bowl or individual dipping bowls. Enjoy with 3 cups of cooked rice.
NUTRITION
Nutrition Facts
Honey Walnut Shrimp Recipe
Amount Per Serving (1 serving)
Calories 507
Calories from FDA
% Daily Value*
* Percent Daily Values are based on a 2000 calorie diet.
Note:
(*) The whole amount is needed for the frying process, but only a part of it will end up in the final product, and we have calculated nutritional values based on that amount. What actually ends up being consumed is 1 tsp.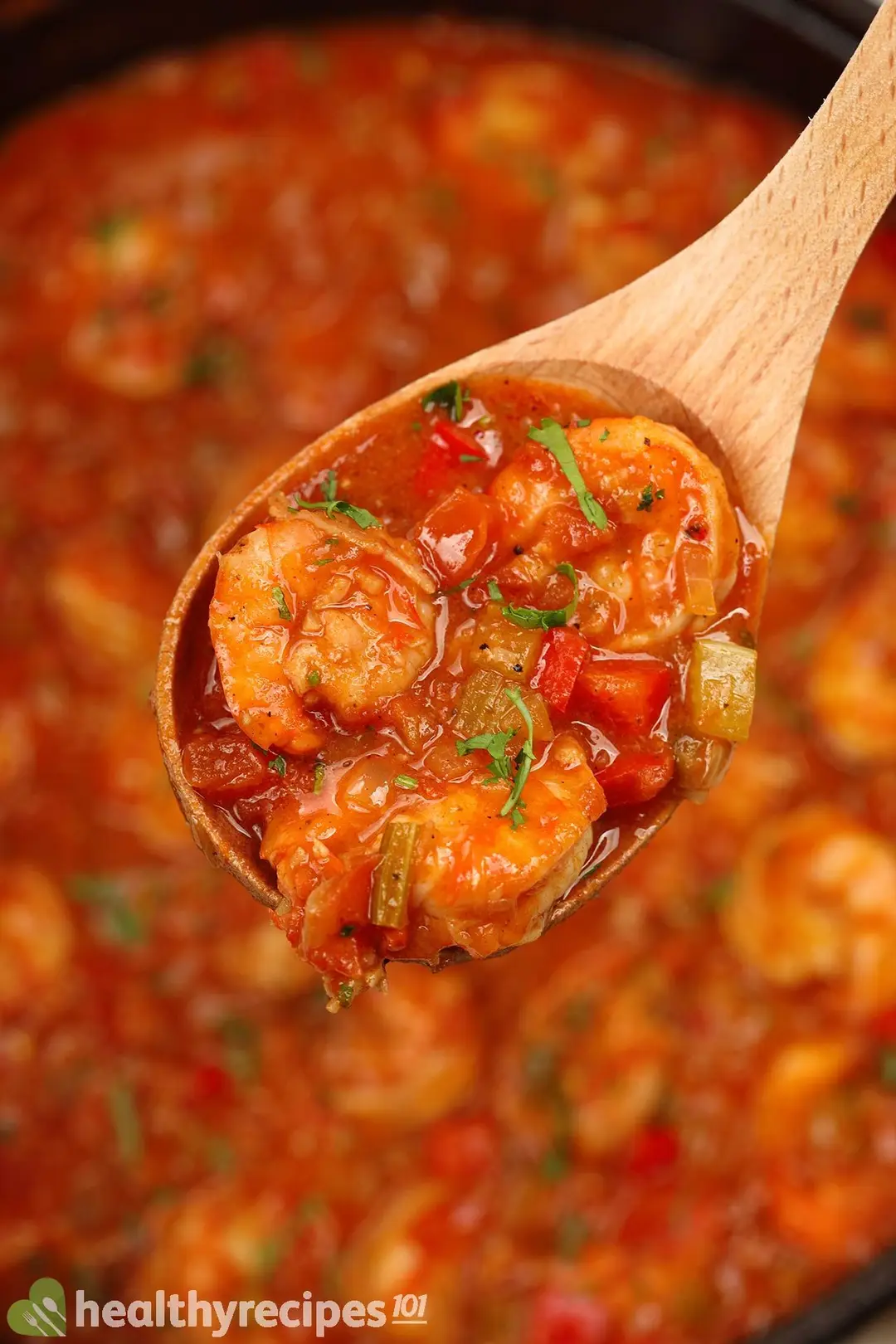 Previous Recipe
Shrimp Creole
Shrimp Creole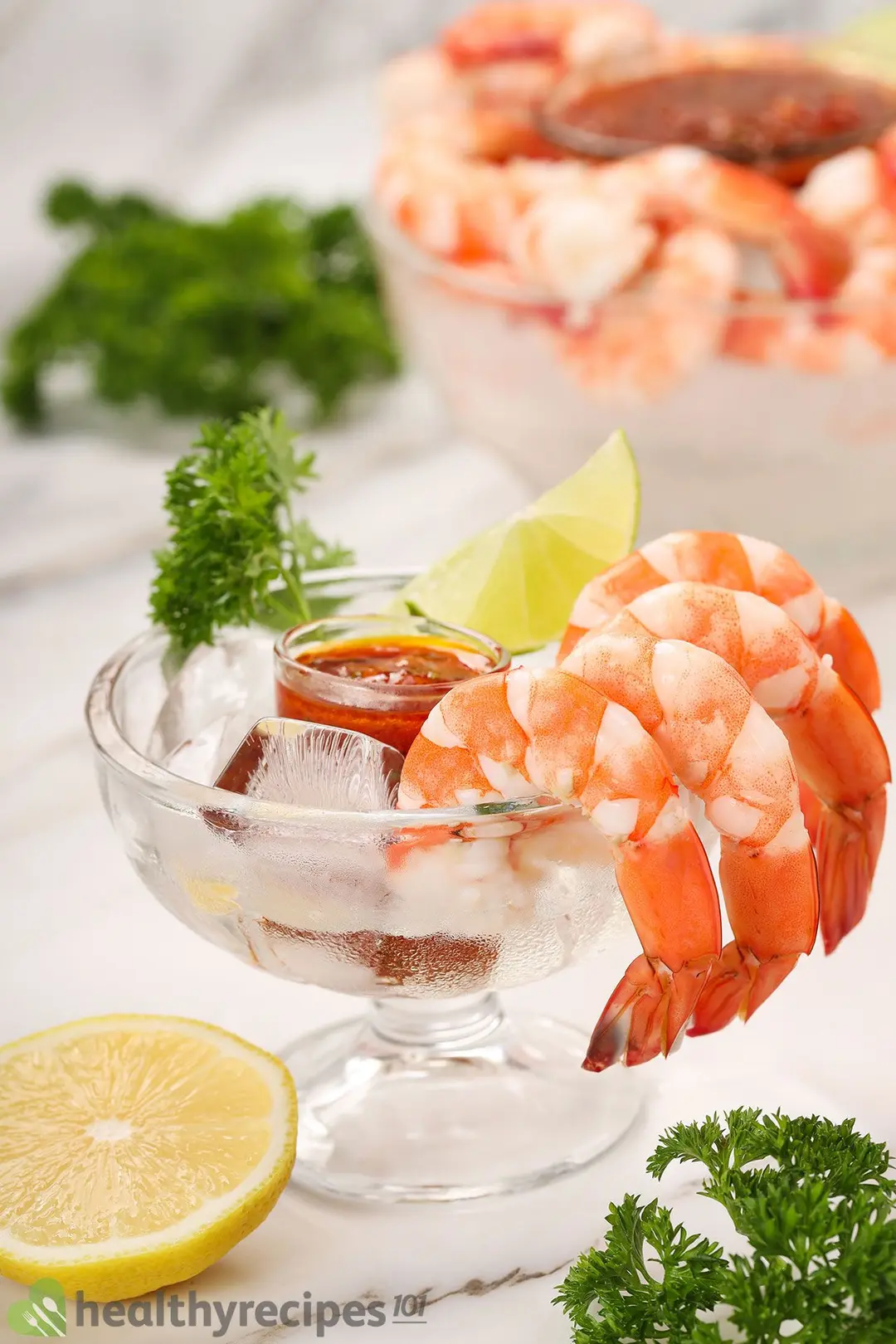 Next Recipe
Shrimp Cocktail with Red Sauce
Shrimp Cocktail with Red Sauce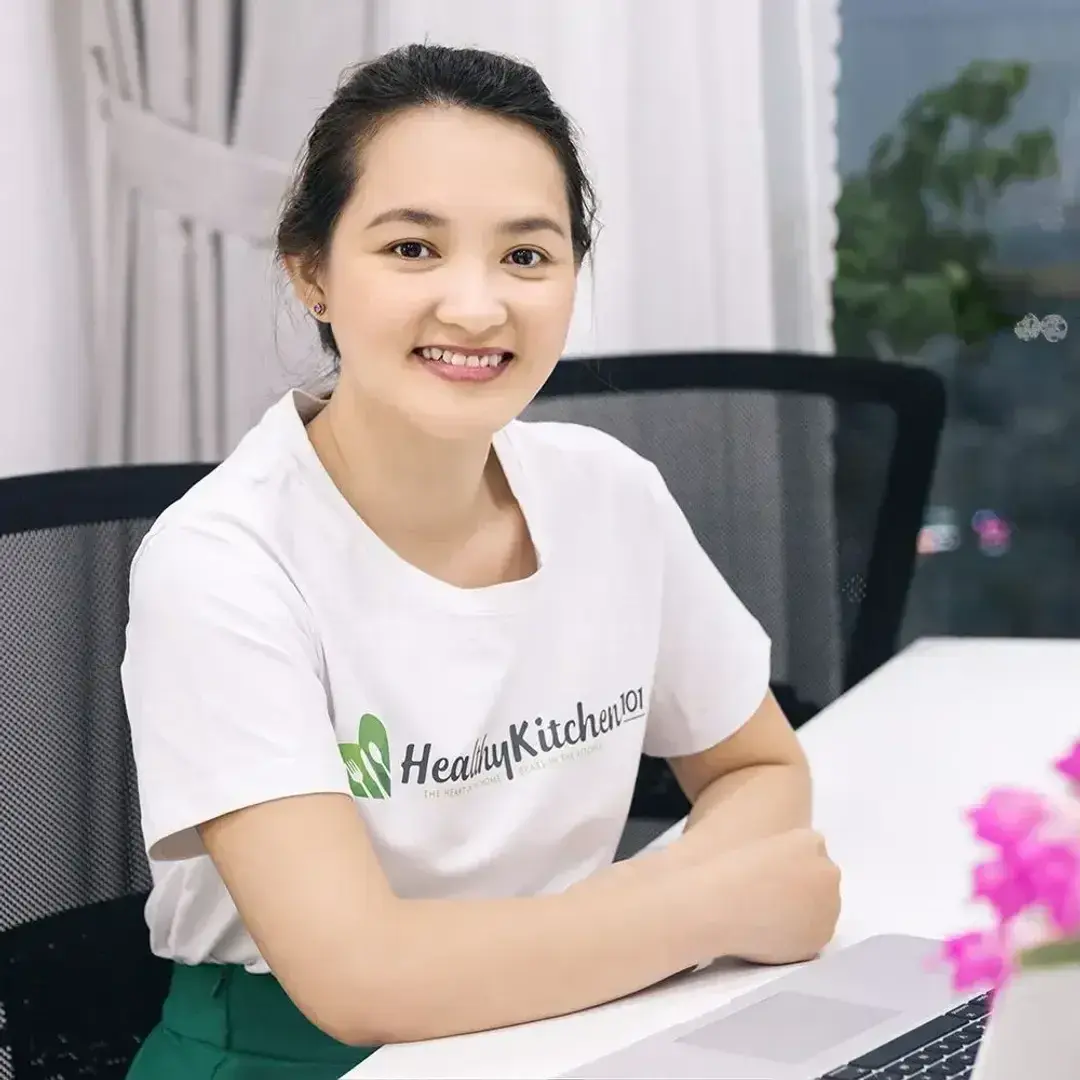 Luna Regina
Luna is the founder and chief recipe developer of Healthy Recipes 101. Apart from cooking, she also loves reading, programming, exploring the outdoors, and collecting useless facts about everything.