Today's shaking beef recipe is an easy guide to one of the most popular menu items at Vietnamese restaurants. It's a delicious dish that's loaded with juicy, well-marinated, medium-rare steak served on a bed of fresh lettuce, perfect for any occasion.
What Is Shaking Beef?
Shaking beef is a savory-sweet Vietnamese stir-fry beef dish, also known as "bo luc lac" in Vietnamese. It consists of marinated cubed beef steak sautéed quickly in melted butter with onion and garlic.
Shaking beef isn't commonly served in weekday meals in Vietnam. It's more of a delicacy to treat guests on special family occasions.
This dish gets its name from the constant shaking of the wok or pan while browning the beef on high heat. It's a favorite dish of many Vietnamese people as you can get both the succulent, well-seasoned steak, and the crunchy, fresh lettuce in every bite.
The special "shaking" technique produces evenly browned steak while keeping it juicy on the inside. It's also a brilliant way to avoid leaving burnt bits on the wok/frying pan after cooking (deglazing a frying wok of shaking beef is just a cakewalk!)
Today's shaking beef is served Vietnamese-style as it's made into a steak salad on a bed of Carol lettuce. Sometimes, it's also served alongside a hot bowl of white rice with an optional dipping sauce on the side.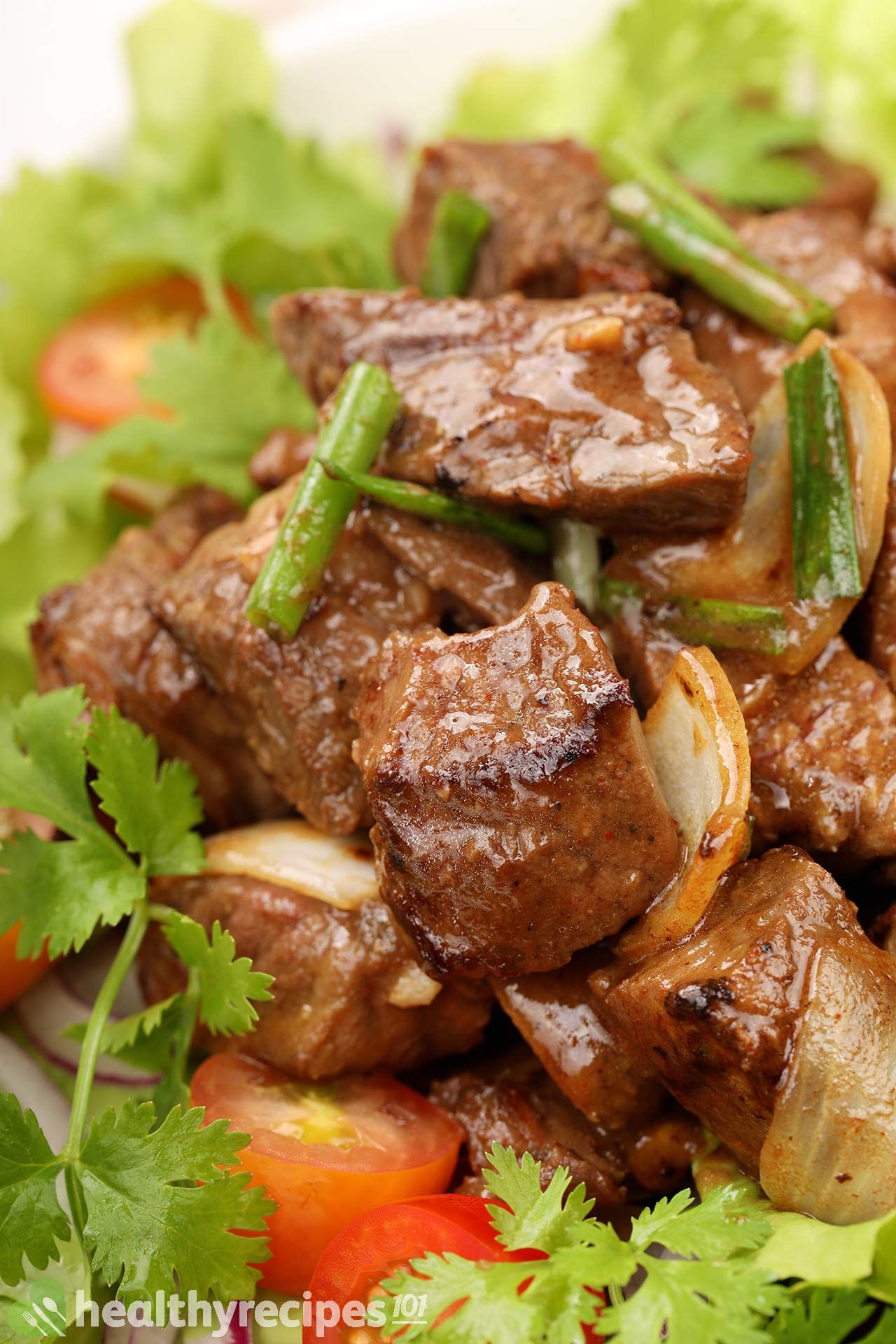 Is Shaking Beef Healthy?
This shaking beef is a protein-rich and low-carb dish. ​​Each serving provides 461 calories, 15 grams of carbs, and 46 grams of protein (the beef accounts for nearly 44 grams).
Beef tenderloin, the star of today's recipe, is the most tender cut of beef. It's a lean cut with just 6.5 grams of fats per 4-oz serving (consisting of only 2.2 grams of saturated fats).
A 4-oz serving of beef tenderloin provides 38% of the recommended daily intake of Vitamin B3 (Niacin), an organic compound that helps convert food to energy in your body and aids your digestive system.
Although quite pricey, it's a perfect choice for high-heat grilling and provides a great source of low-fat protein that may help maintain lean muscle mass.
In general, this shaking beef is a healthy choice for family meals and is also kid-friendly. You can best serve this as a main meal during either lunch or dinner.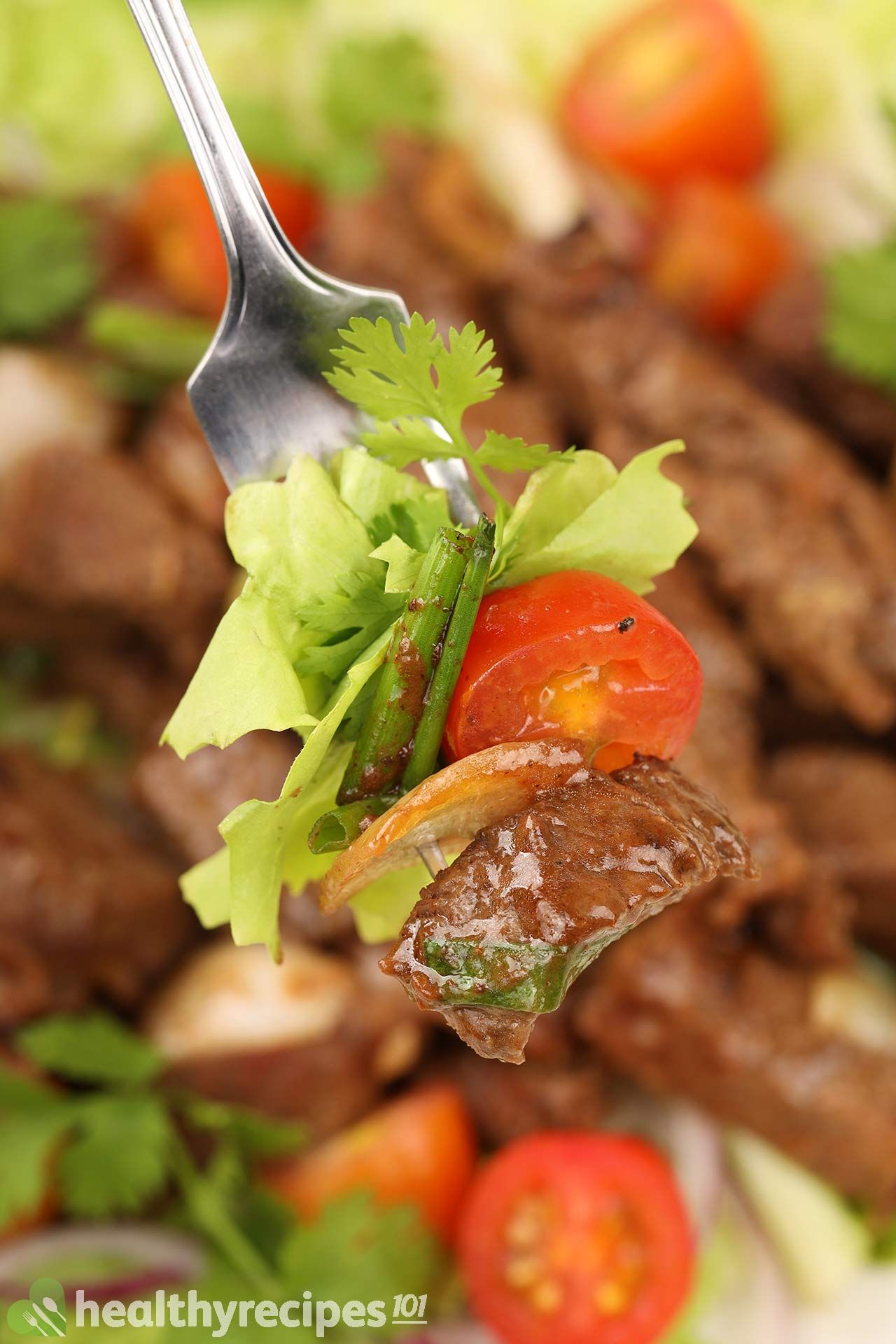 What Type of Beef Is the Best for This Recipe
To ensure juiciness and tenderness, we chose beef tenderloin for today's recipe. That being said, you can use any steak cut that's convenient for your taste and budget.
Of course, an expensive and good-quality steak cut like filet mignon, rib eye, or sirloin always works best for any beef dish (which is the go-to choice of high-end restaurants' chefs). But when making a home-cooked dish, less expensive ones such as flank steak or sirloin strip can still bring out quite a great result, only chewier.
No matter what type of beef cut is chosen, the number one rule of thumb when making shaking beef is not overcooking it. Medium rare is the best — or at least medium or medium-well, just not well-done.
Browning beef is quick work. We performed it twice in this recipe — once with olive oil and yellow onion for 3 minutes, the other with melted butter and scallions for only 30 seconds.
The cooking time may vary according to the type of skillet used and its ability to take on the heat, but in general, we'd suggest no more than 5 minutes of browning to prevent a well-done, or worse, overcooked steak.
This shaking beef also benefits from the marinade of pepper, garlic, honey, brown sugar, soy sauce, oyster sauce, fish sauce, rice vinegar, paprika, garlic powder, sriracha, and cornstarch. A short 10-minute marinating process is enough to tenderize the beef and lend it more flavor, thus producing a juicier and tastier steak.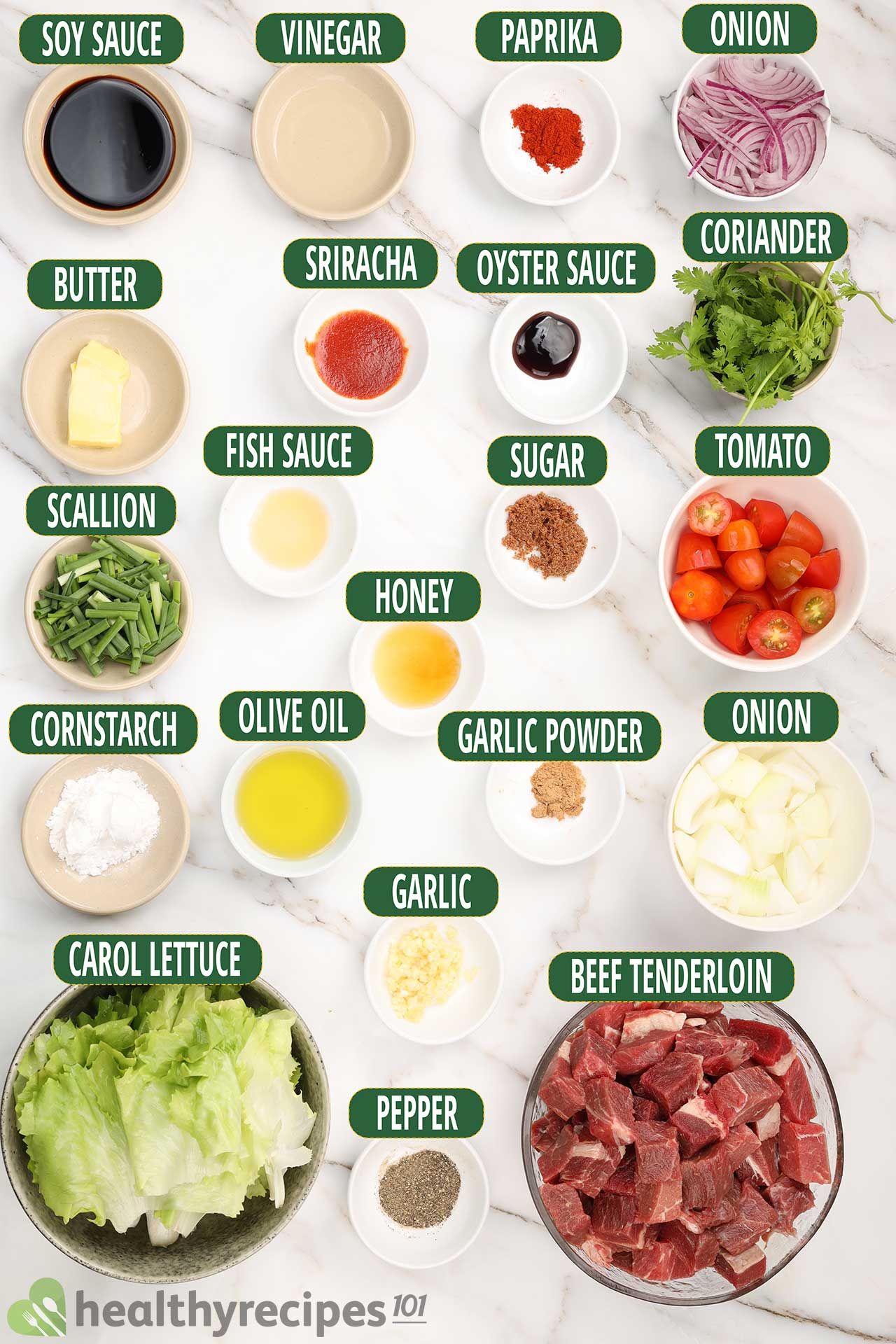 How to Make Shaking Beef
This shaking beef recipe is an easy guide to one of the most popular menu items at many Vietnamese restaurants — and can now be made at home in a few simple steps: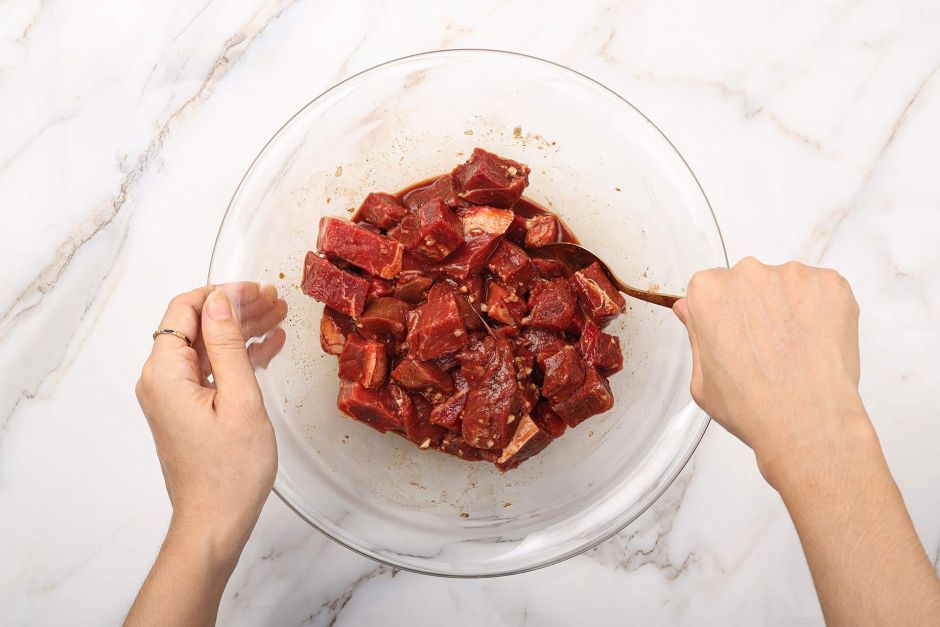 Marinate the beef tenderloin.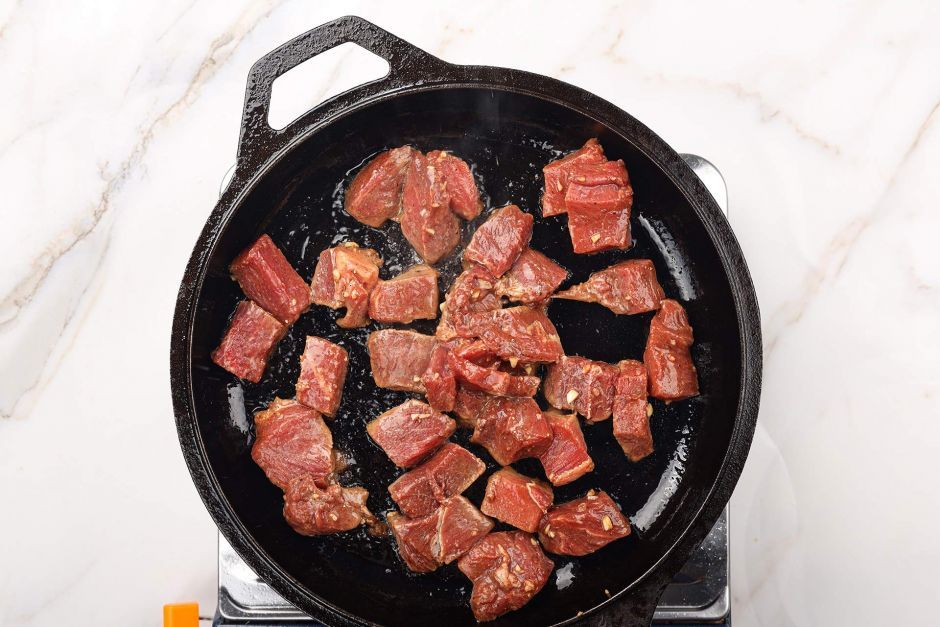 Add half of the marinated beef cubes in an even layer.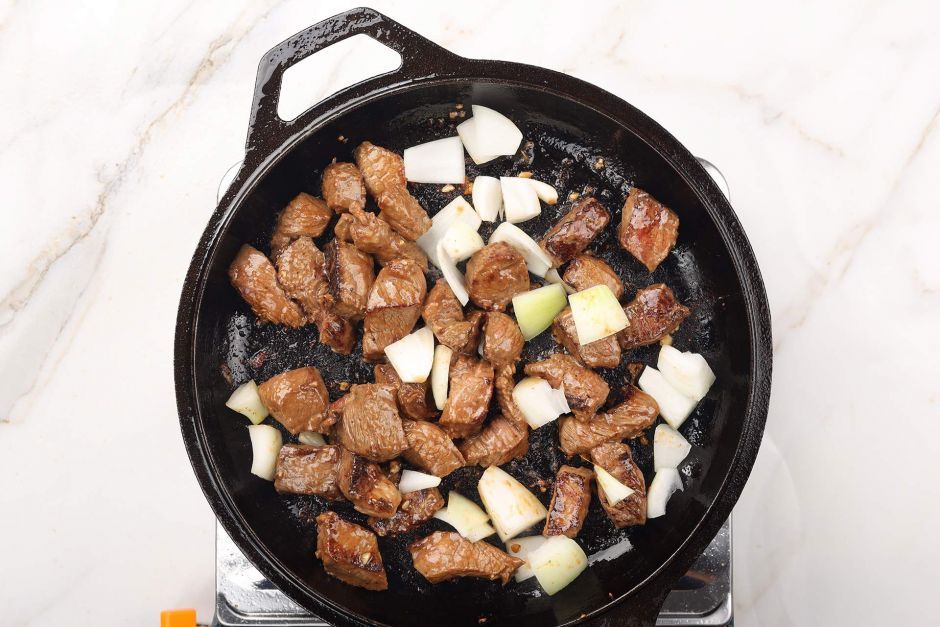 Add half the yellow onion and keep stirring for 3 minutes.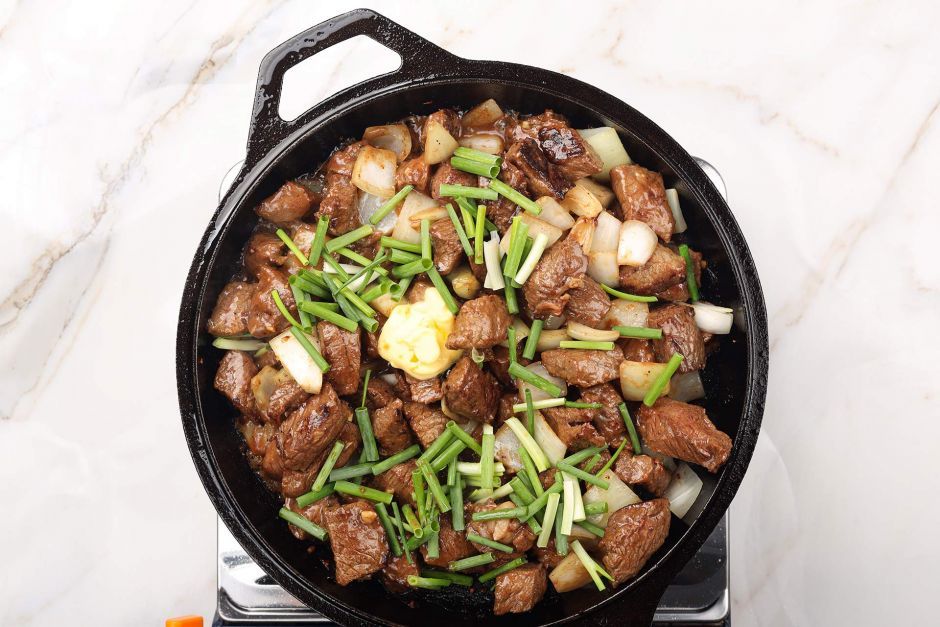 Combine the 2 portions of beef in the wok. Add butter and scallions, stir for 30 seconds.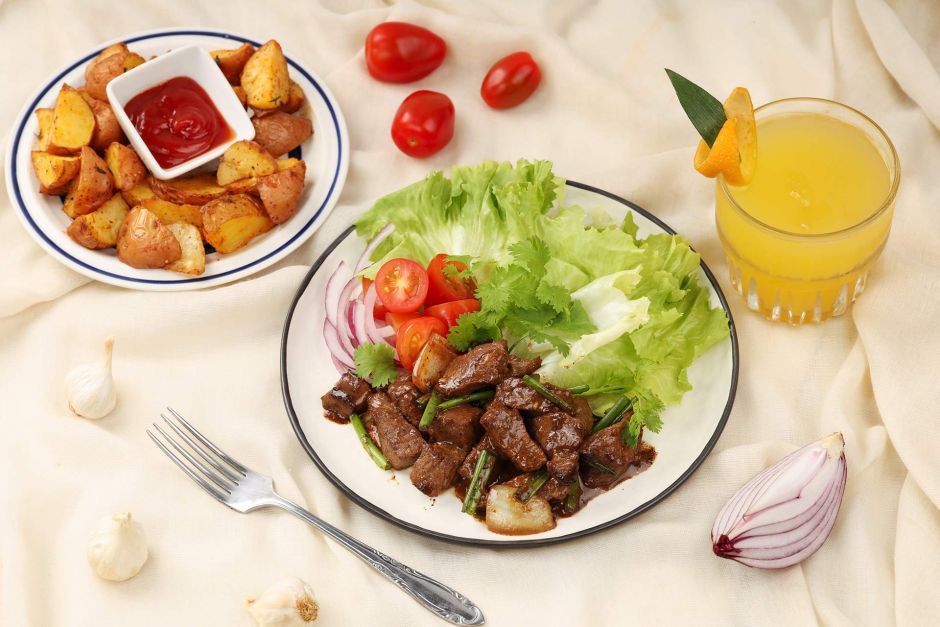 Garnish, and serve over a bed of Carol lettuce.
Jump to Recipe
Cooking Tips
Have all the ingredients prepped and ready to combine before cooking
Stir-frying is always a nonstop process — and it's more strict for shaking beef. Be sure that all of the ingredients are readily prepared and placed somewhere close by before you start.
Move the frying pan constantly
Once you've started, it's a nonstop process of shaking the pan. A simple pause midway can easily lead to burnt steak as it's working on intense heat. Yes, it's tough to work with, so just try your best to maintain the movement and keep stirring to avoid burning and unevenly cooking the steak.
It takes effort with a few minutes of shaking, but the result will be beyond rewarding.
Don't overcrowd the frying pan
We all know an overcrowded frying pan means uneven cooking. If you want to double the recipe to make a big meal, brown the beef in batches.
Check out our healthy beef stir-fry and chicken teriyaki stir-fry for more delicious stir-fry meals.
How to Store and Reheat Leftover Shaking Beef
If properly stored, the leftover shaking beef can last 2-3 days in the fridge and 3 months in the freezer. Remember to let it cool down to room temp before transferring to airtight containers or freezer-friendly Ziploc bags.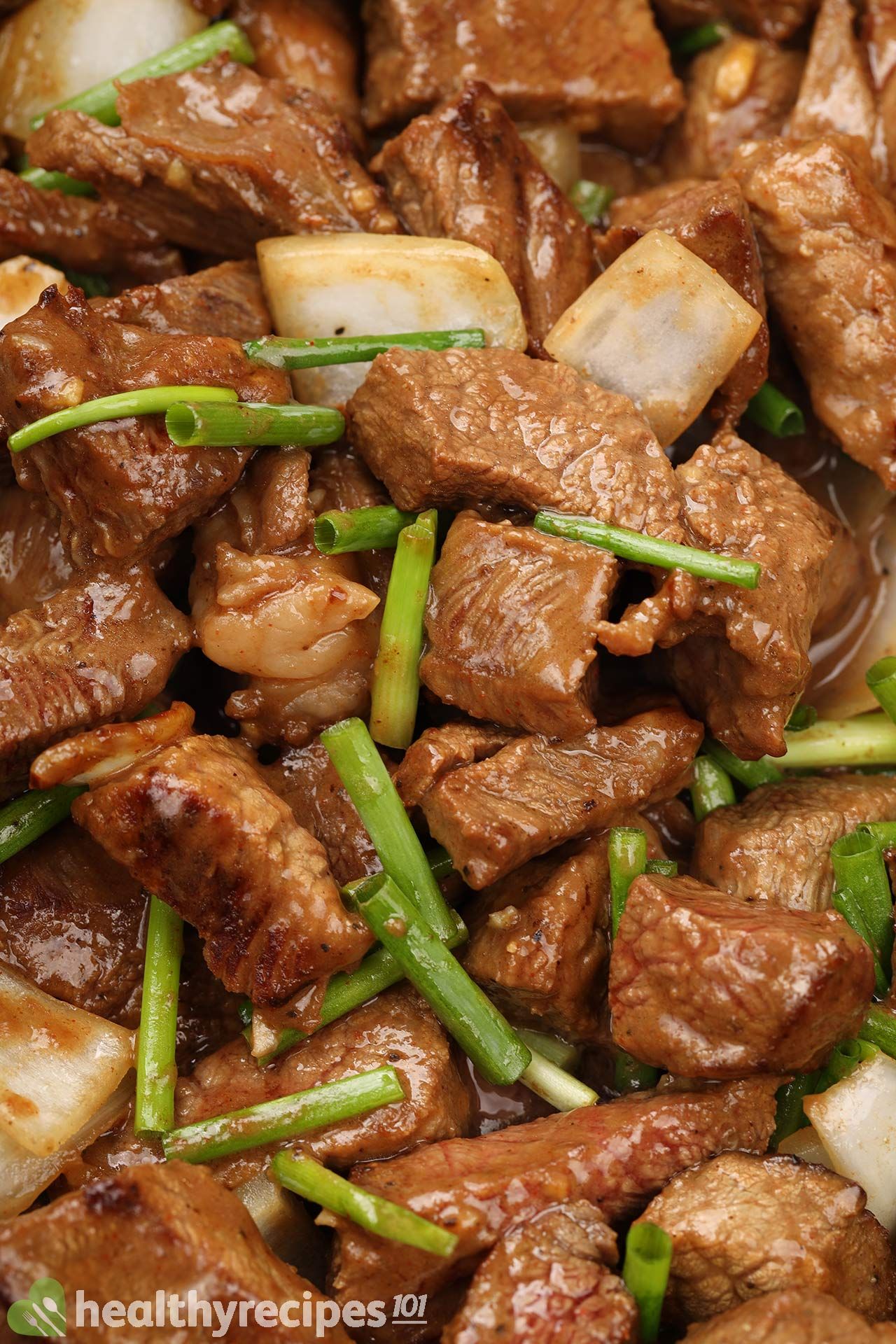 For the frozen portions, thaw them in the fridge overnight before reheating the next day.
You can reheat the leftover shaking beef covered in the microwave or on the stove over medium heat for 2 minutes. Be careful not to cook the beef further to well-done — you just need to warm it through and wake the flavors up.
What to Serve With Shaking Beef
There are many ways to enjoy shaking beef. You can either serve it as a steak salad on a bed of fresh greens topped with cherry tomatoes and red onions like this recipe or with a savory dipping sauce and a bowl of steamed rice or noodles on the side.
For an easy, tasty, and hearty meal, we recommend the following side dishes to pair it with:
Air fryer potato wedges: A tasty treat made quickly in the air fryer to incorporate a great source of carbs and create balanced flavors for our meal. This finger food takes just 20 minutes of cooking. The ketchup that goes along with it can also be used for shaking beef. Convenient in two ways!
Orange pineapple juice: This 5-ingredient orange pineapple juice is a perfect choice to add robust and fruity flavors to round off today's meal with shaking beef as the main. It's overflowing with nutrients and is family-friendly and kid-friendly as well.
Nutritional values in this table vary somewhat to those below due to different app calculations. Read more...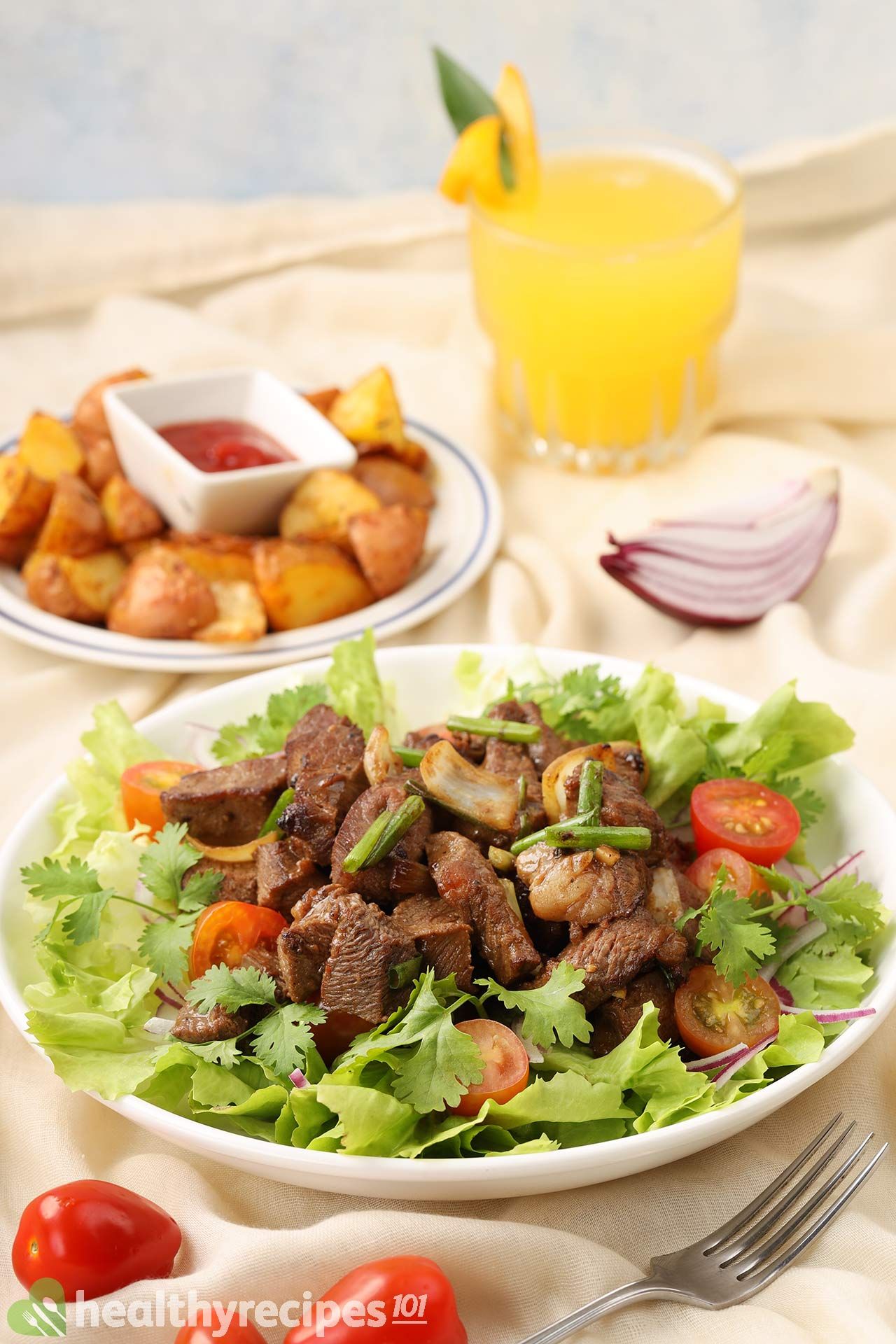 But Wait, There's More!
Besides this tasty shaking beef recipe, we also have several amazing others that we would like you to try. They're easy to follow and strictly comply with our guidelines: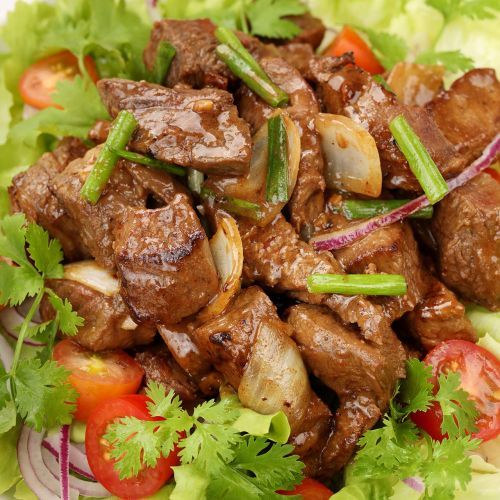 Shaking Beef Recipe
Today's shaking beef recipe is an easy guide to one of the most popular menu items at Vietnamese restaurants. It's a delicious dish that's loaded with juicy, well-marinated, medium-rare steak served on a bed of fresh lettuce, perfect for any occasion.
Ingredients
28

oz

beef tenderloin

cubed

1/2

tsp

ground black pepper

1

tbsp

garlic

minced

1/2

tbsp

honey

2

tsp

brown sugar

2

tbsp

reduced-sodium soy sauce

1/2

tsp

oyster sauce

1/2

tsp

Thai fish sauce

1

tbsp

rice vinegar

1/2

tsp

paprika

1/2

tsp

garlic powder

1

tsp

sriracha

1 1/2

tbsp

cornstarch

2 1/2

tbsp

olive oil

divided

4

oz

yellow onion

divided

1

tbsp

unsalted butter

0.5

oz

scallions

chopped (cắt khúc)

4

oz

Carol lettuce

4

oz

cherry tomatoes

halved

2

oz

red onions

0.25

oz

coriander

chopped
Instructions
Marinate 28 oz beef tenderloin with 1/2 tsp ground black pepper, 1 tbsp minced garlic, 1/2 tbsp honey, 2 tsp brown sugar, 2 tbsp reduced-sodium soy sauce, 1/2 tsp oyster sauce, 1/2 tsp fish sauce, 1 tbsp rice vinegar, 1/2 tsp paprika, 1/2 tsp garlic powder, 1 tsp sriracha, and 1 1/2 tbsp cornstarch for 10 minutes. Set aside.

Divide the marinated beef, 2 1/2 tbsp olive oil, and 4 oz yellow onion into 2 equal portions.

Preheat a large wok or skillet over high heat until very hot.

Add half the olive oil. When it begins to smoke, add half of the marinated beef cubes in an even layer. Sear for 30 seconds, shake, and toss the wok continuously.

Add half the yellow onion and keep stirring for 3 minutes until the beef cubes are nicely charred and medium-rare.

Set the browned beef aside and repeat the searing with the remaining portions of beef, olive oil, and onions.

Combine the 2 portions of beef in the wok.

Add 1 tbsp unsalted butter and 0.5 oz chopped scallions. Shake and stir vigorously for 30 seconds to allow the butter to melt with the meat.

Remove beef from the heat. Serve over 4 oz Carol lettuce, 4 oz cherry tomatoes, and 2 oz red onions. Garnish with 0.25 oz chopped fresh coriander and enjoy with side dishes of choice.
Nutrition
Nutrition Facts
Shaking Beef Recipe
Amount Per Serving (1 serving)
Calories 461
Calories from Fat 207
% Daily Value*
Fat 23g35%
Cholesterol 134mg45%
Sodium 530mg23%
Potassium 910mg26%
Carbohydrates 15g5%
Protein 46g92%
Vitamin A 561IU11%
Vitamin C 12mg15%
Calcium 74mg7%
Iron 4mg22%
* Percent Daily Values are based on a 2000 calorie diet.