Beef broth is a soup staple for many, but that's not all this versatile ingredient is good for. These recipes with beef broth offer other amazing ways to add its rich and warming taste to various dishes, creating a complex flavor base that instantly enhances their qualities.
With beef broth's endless potential, we had no difficulty gathering a diverse selection of dishes. Beyond classic comfort foods like soups and stews, there are also rice, pasta, pies, and even stir-fries. Check them out for some ideas to switch things up and bring unparalleled excitement to your weeknight meal rotations.
20 Easy and Delicious Recipes With Beef Broth to Make For Dinner
This dish is also known as Beef Burgundy. It's made by simmering beef in a rich red wine sauce, along with various veggies and herbs. This results in fall-apart tender meat infused with a deeply savory and fragrant taste that never fails to impress.
Got an Instant Pot? Make this dish in a jiffy with our Instant Pot Beef Bourguignon Recipe.
Go to Recipe
With heart-warming taste, simple ingredients, and easy cooking steps, this braised beef ragu is a comfort food dream come true. Braised in ragu, the beef soaks up a savory richness that's decadent yet also soothing. The soft pappardelle brings a tender mouthful of beautifully harmonized flavors you won't want to miss out on.
If you're on a time crunch and don't have time for a full-on braising dish, check out our Vegetable Beef Ragu Recipe.
Go to Recipe
Nostalgia can be so comforting and wholesome, especially when it comes in the form of a rich, savory, and heart-warming vegetable beef soup. The beef broth is cooked to a gravy-like consistency and infused with various herbs, laying a complex flavor base that enhances the beef and veggies' already stellar tastes. Cook up a pot to fill your nights with coziness that only homemade food can bring.
Go to Recipe
Skip the takeout lines and make the classic Mongolian beef right in the comfort of your kitchen. This recipe is a simple throw-together that you can cook in just 15 minutes, creating a dish full of beautiful sweet, savory, and mildly spicy flavors.
Did you know you can also make this dish with an Instant Pot? Head over to our Instant Pot Mongolian Beef Recipe for another way to cook and enjoy this delectable dish.
Go to Recipe
Bulgogi is a classic Korean dish made by grilling thin, marinated slices of meat on a barbecue or stove-top griddle. This spin-off recipe simplifies the process and cooks ground beef in a skillet instead then serve them over a rice bowl with additional veggies. It makes a super-easy casual dinner that still packs a whole lot of flavors and nutrients.
You can also make this dish with beef chuck, check out our Beef Bulgogi Recipe.
Go to Recipe
Explore the wonders of New Orleans cuisine with this Cajun beef gumbo. With a seamless blend of diverse ingredients, ranging from savory meat and intense condiments to fragrant aromatics, this dark stew is packed with beautiful and complex flavors. Combined with the rich and luscious texture, each spoonful is nothing short of heavenly.
Go to Recipe
The idea of making gravy from scratch seems tiring, but you'll be surprised to find out how easy it actually is. With this recipe, it only takes six ingredients and 15 minutes. You can quickly whip up a rich and savory sauce that accompanies all sorts of dishes, from biscuits and mashed potatoes to roasted turkey, chicken, and whatever else your heart desires.
Go to Recipe
Like a much-needed hug, this herb and beef stew emanates a warmth that immediately wraps you up in comfort. The meat is cooked to tender perfection, then smothered in a luscious, herb-infused liquid that melts everything together with an aromatic touch. Served over a bed of steamy rice, each bowl is wonderfully filling and makes an excellent main course for all those cold winter nights.
Go to Recipe
Cooking chili with a crockpot does take quite a while, but every single second is worth it once you taste just how good it is. Simmered in the pot for a long time, the flavors meld seamlessly into one another and the beef just becomes so much more juicy and tender. Hearty and full of comfort, it's the perfect cure for all those winter blues.
Go to Recipe
With savory beef and tender pasta smothered in a tangy-sweet cheese sauce, this dish is exactly what homemade food dreams are made of. Even better, you'll only need 30 minutes and minimal effort to put it together—a perfect go-to for any occasion.
Go to Recipe
The name says it all—this dish is a dreamy mash-up of the beloved French onion soup and the Italian classic risotto. With the best of both worlds combined, this dish carries the caramelized sweetness of the soup and the rice's distinct chewy lusciousness. Who needs to go to the restaurant when you've got something like this cooking up in the kitchen?
Go to Recipe
This ramen noodle soup is simply comfort in a bowl. The beef broth and Asian condiments combination create a mildly savory and umami base. The cooked steak, tender noodles, and aromatic veggies then layer the dish with cozy, exquisite, and hearty flavors—perfect for those days when you just need something warm and soothing.
Go to Recipe
Ah yes, pot pies, where do we even start with this wondrous comfort food? We could go on for hours about their beautiful and crumbly golden crust, the savory and rustic filling that practically melts in your mouth with each bite, or even the enticing warmth they bring after sitting in the oven. The list goes on and on!
Go to Recipe
Your kitchen will be redolent of wholesome nostalgia upon cooking beef stroganoff. With succulent beef, earthy mushroom, and tender noodles drenched in a creamy, garlicky sauce, this dish is perfect proof that food doesn't always need to be glamorous to take your breath away.
Go to Recipe
This recipe gathers everything you love in a classic lasagna and turns it into a heart-melting, soul-soothing soup. Each spoonful drips with delectable flavors from savory beef, tangy cheese, vibrant sauce, and fragrant herbs. It's a great alternative for when you don't have time to bake a whole pan of lasagna, but still crave all the goodness it has to offer.
Go to Recipe
Meatballs are pretty irresistible on their own, but let them simmer in a hearty broth and see how much better this beloved classic can get. The meat becomes extra succulent and soaked with intense, warming flavors. Serve it with pasta or toasted bread for a simple, wholesome meal that helps you wind down after a long, busy day.
Go to Recipe
With healthful ingredients, simple steps, and a short cook time, this beef stir fry truly is a lifesaver for all those busy days and nights. It delivers a splendid array of flavors and comes together in 30 minutes with barely any effort. Just prepare the ingredients, toss them into a pan, and voilà!
Go to Recipe
Barbacoa is a Mexican dish made by slow-cooking seasoned meat until it becomes fall-apart tender and thoroughly drenched in flavors. The simmering gives the meat an intense taste that makes it an excellent filling for various dishes, such as tacos, quesadillas, enchiladas, soups, etc.
You can also make this dish with an Instant Pot. Check out our Instant Pot Barbacoa Recipe for more details.
Go to Recipe
This is yet another easy way to turn Chinese takeouts into your very own delicious, healthy homemade staples. Much like stir-frying, this method also doesn't take any longer than half an hour. Cooked with the Instant Pot, the beef becomes utterly tender and juicy while also given the chance to really soak up the sauce's sweet and savory goodness.
Go to Recipe
What started out as a way to utilize leftovers has now turned into a go-to feel-good food that many turn to when they want that homey warmth. This quintessential Britain comfort food is a rich and flavorful meat stew topped with creamy mashed potatoes and baked to a golden perfection. Whether you aim to impress or destress, it's a fantastic choice either way.
Go to Recipe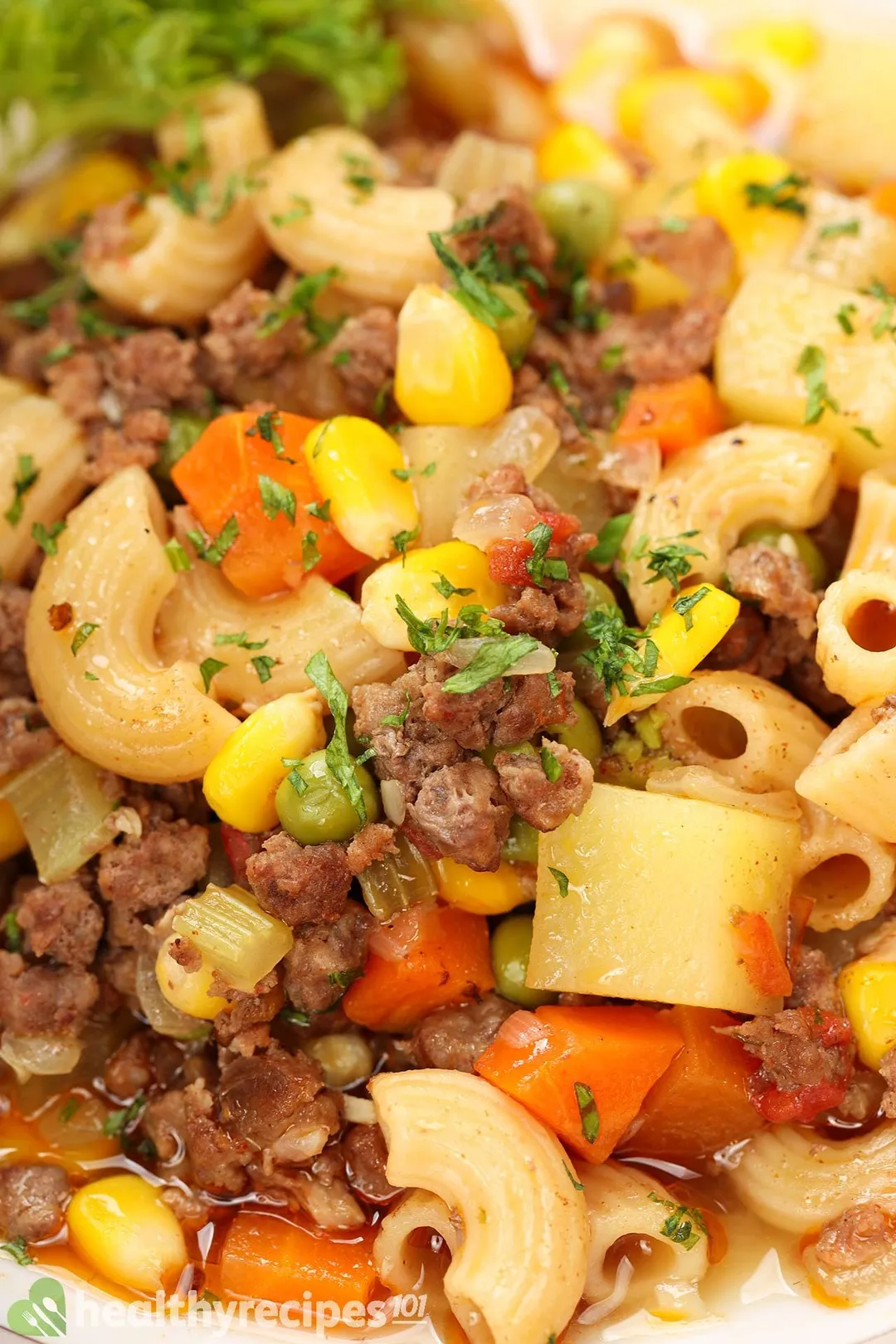 Previous Recipe
Ground Beef Breakfast Recipes
Ground Beef Breakfast Recipes
Writer, Author
Luna Regina is an accomplished writer and author who dedicates her career to empowering home cooks and making cooking effortless for everyone. She is the founder of HealthyKitchen101.com and HealthyRecipes101.com, where she works with her team to develop easy, nutritious recipes and help aspiring cooks choose the right kitchen appliances.
Comments/ Reviews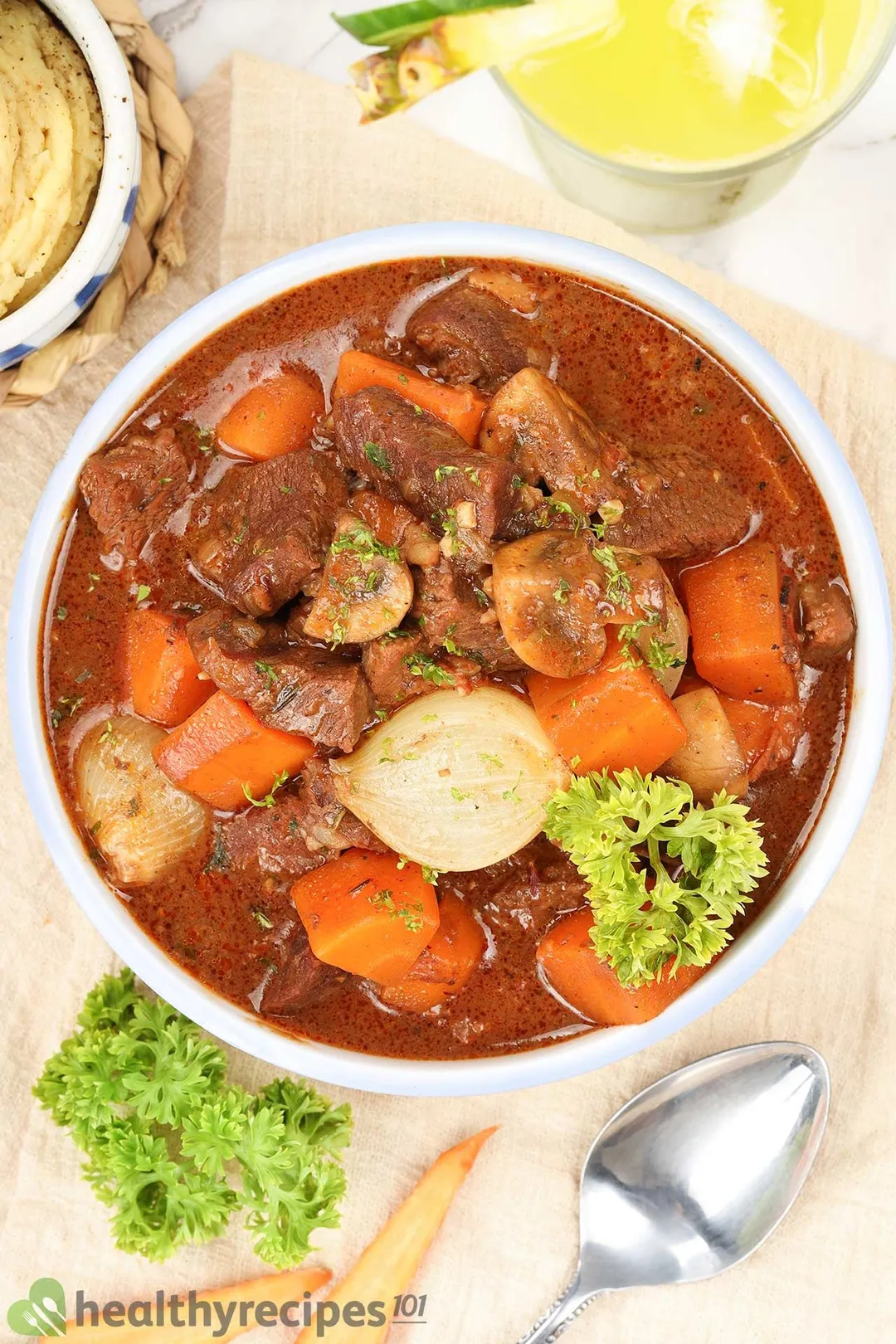 Made bourguignon, not fast but nothing worth doing is. It was wonderful!