Our shrimp toast recipe is easy and quick to make at home. The ingredient list is also incredibly simple, consisting mainly of shrimp, bread, and spices.
Despite the delicate appearance, shrimp toast offers a great flavor spectrum: the natural sweetness from the fresh seafood, saltiness from the seasoning blend, and a nutty hint from sesame seeds. The texture is light and irresistible with a crunchy exterior and soft interior.
Each bite of this toast is packed with flavor. The dish is an awesome appetizer for parties or a great light snack to stave off your fast-food cravings.
What Is Shrimp Toast?
Shrimp toast is considered a classic Chinese or Hong Kong dish. At its core it is a harmonious fusion of shrimp paste and toast. The paste (shrimp and other proteins) is popular in Chinese cuisine and the toast was introduced by the West.
The slices of bread are spread with well-seasoned shrimp paste before getting a layer of panko and being deep-fried until wonderfully crispy.
Originally, the dish was served as an afternoon treat in Hong Kong. The toast has since become popular in Chinese restaurants overseas as well.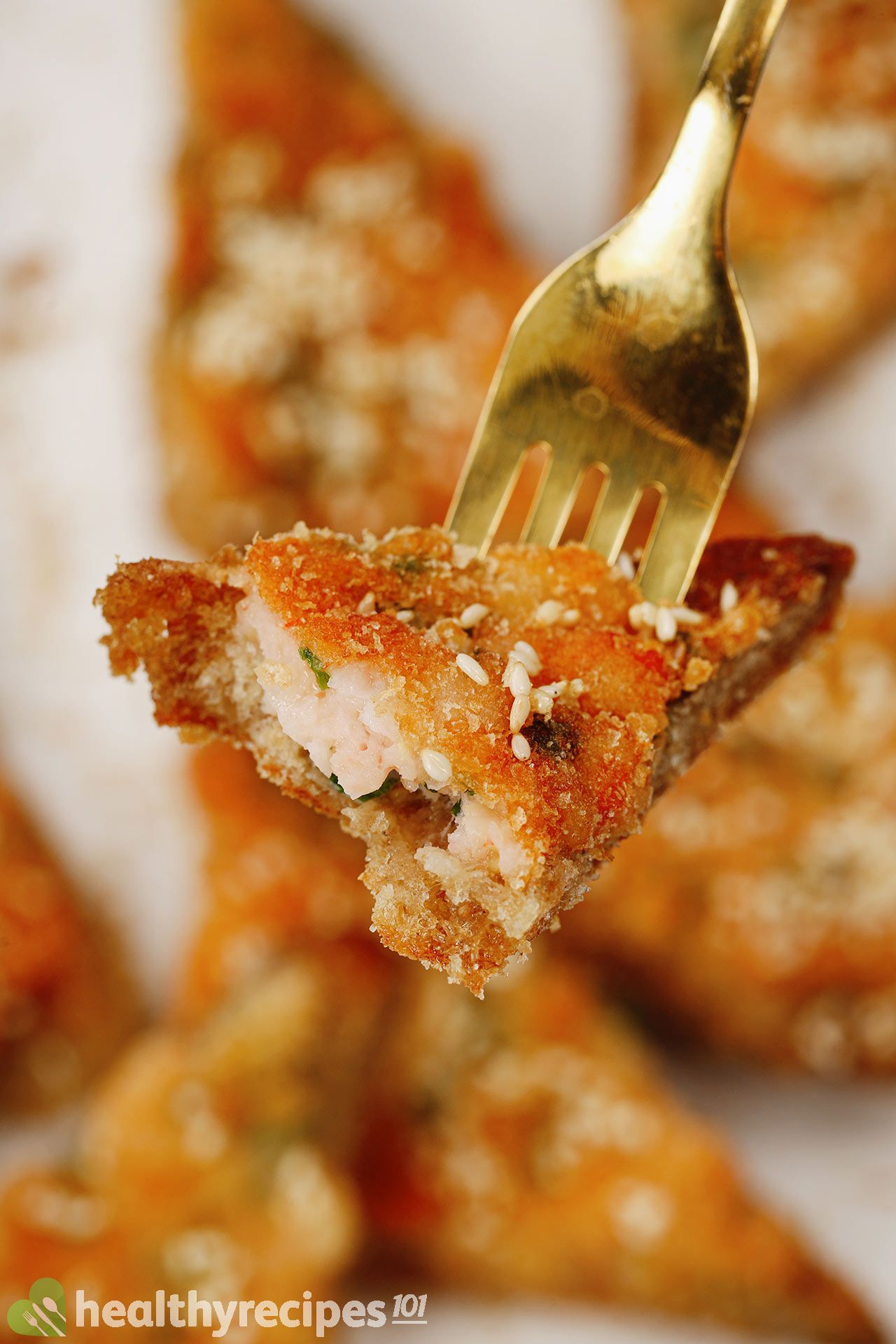 Is Our Shrimp Toast Recipe Healthy?
Yes, our shrimp toast recipe is healthy.
Instead of the traditional deep-frying method, we gave it a healthier twist by shallow-frying the toast with less oil. This helps reduce the fat content to a mere 0.9 g of saturated fat per serving.
We also added a minimal amount of salt (⅛ teaspoon for 12 slices). It's enough to complement the shrimp taste but keep the sodium content at a moderate 260 mg.
Calories
Each 3-slice serving of our recipe contains only about 245 calories. This is impressively low for a fried dish with protein included. In other words, you can munch on these flavorful snacks without feeling guilty.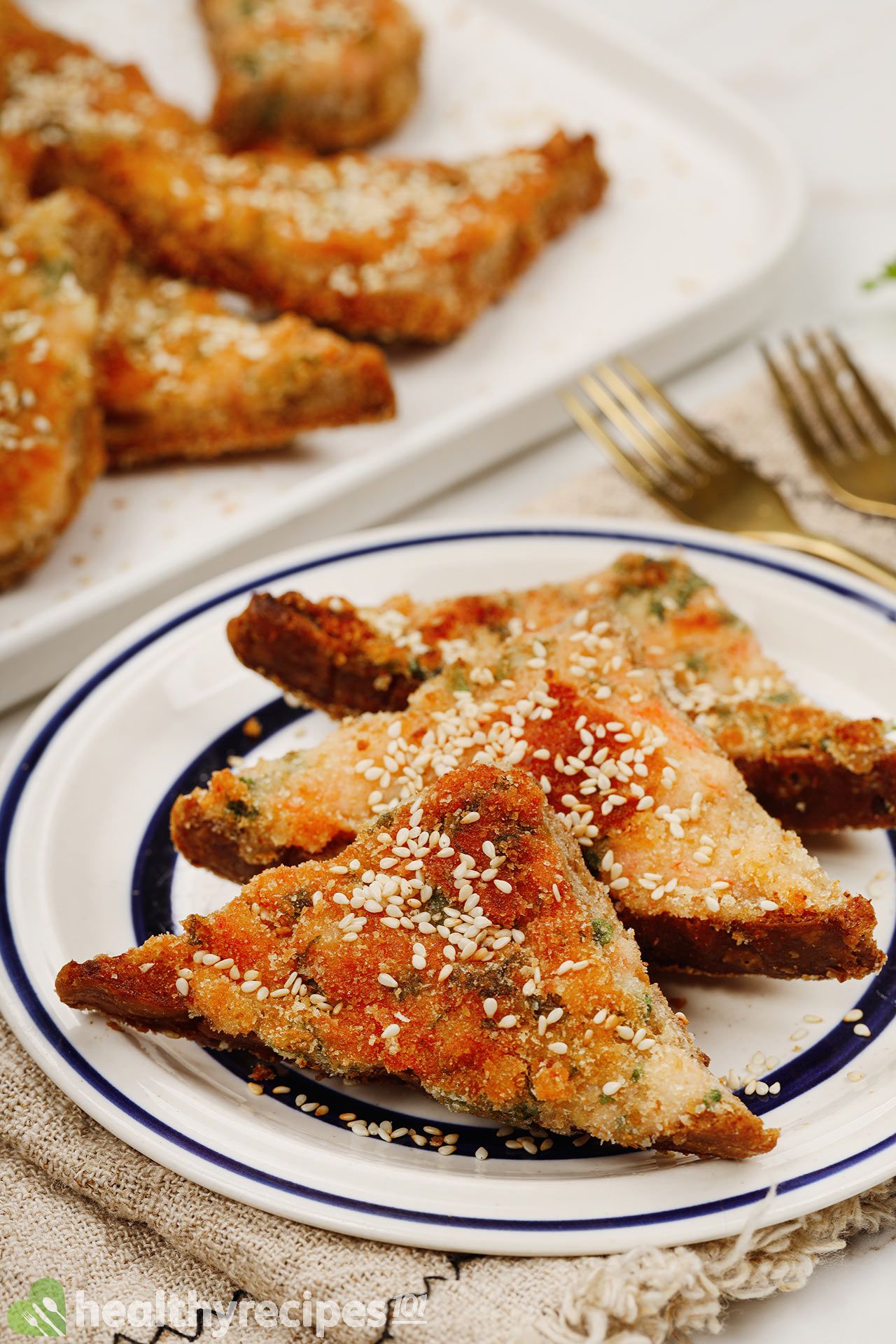 Ingredients for Shrimp Toast
Here's what you need to make this recipe:
1. Shrimp
The freshness of shrimp will determine the end product's quality. We went with raw shrimp with the shells on them and spent the extra minutes deveining, peeling, and preparing them.
This way, the toast gets more flavor and texture. It might be more convenient to buy frozen shrimp, but they make the toast less chewy and juicy.
2. Bread
Shrimp is important, but bread matters too. We recommend choosing thick, dense, high-quality bread.
Thanks to its solid consistency, this type of toast will not absorb much oil while frying. Instead of a greasy mess, the result will be a crispy exterior. The taste of sprouted bread is quite mild, making it a perfect base to hold the shrimp paste's flavor.
Though this recipe calls for sprouted bread, you can experiment with other variants such as regular white sandwich, sourdough bread or halved baguettes.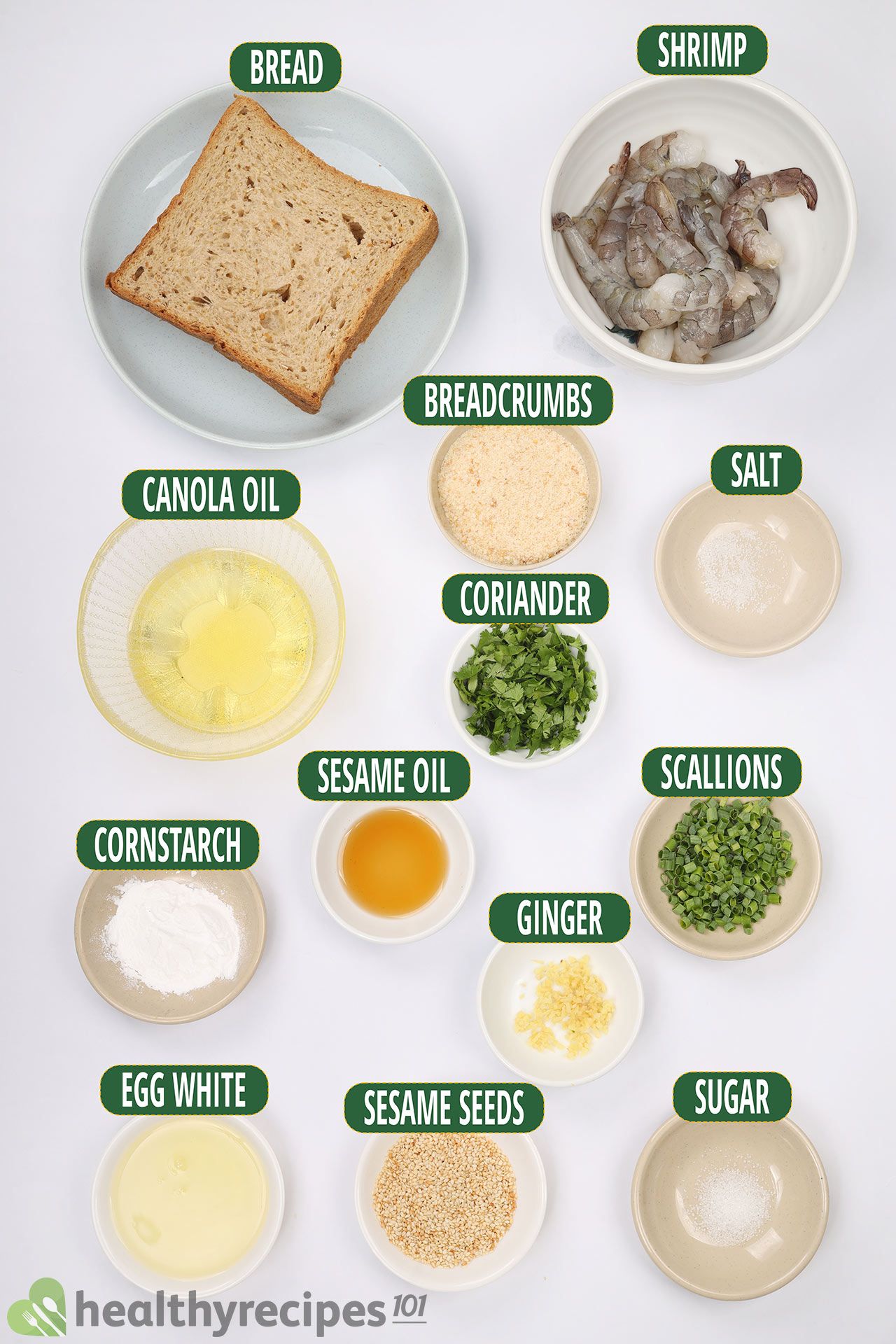 3. Spices
The other spices and seasonings in the shrimp paste are probably already in your pantry. If not, though, you can easily find them in any Asian supermarket.
Ginger and coriander are popular spices in Asian cuisine. They help to reduce the fishiness of shrimp, so don't skip them. A touch of sesame oil, salt, and sugar are the only seasonings the paste really needs. Simplicity is best!
4. Sesame Seeds
Classic Chinese-style shrimp toast calls for the bread to be coated in sesame seeds. The nutty layer provides another dimension to the dish but if you skip it, you'll still get crispy and delicious toast.
How to Make Shrimp Toast
Shallow frying doesn't require a lot of oil — just enough to cover the lower surfaces. You can use sesame seeds to test the frying temperature. Drop a few seeds into the pan and if they start to sizzle, it's time to add the toast.
Here's how we made the shrimp toast, illustrated: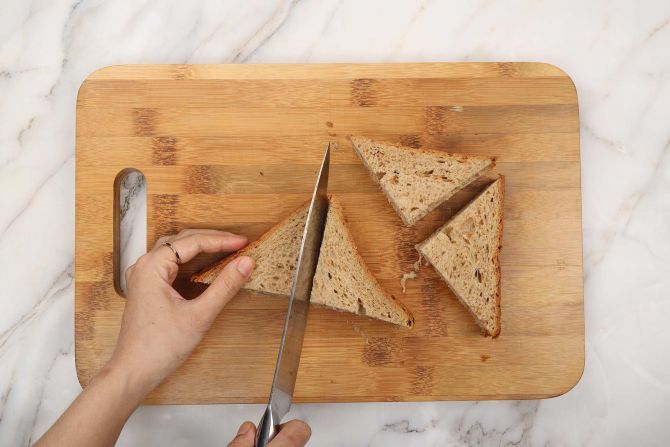 Quarter the sandwich bread.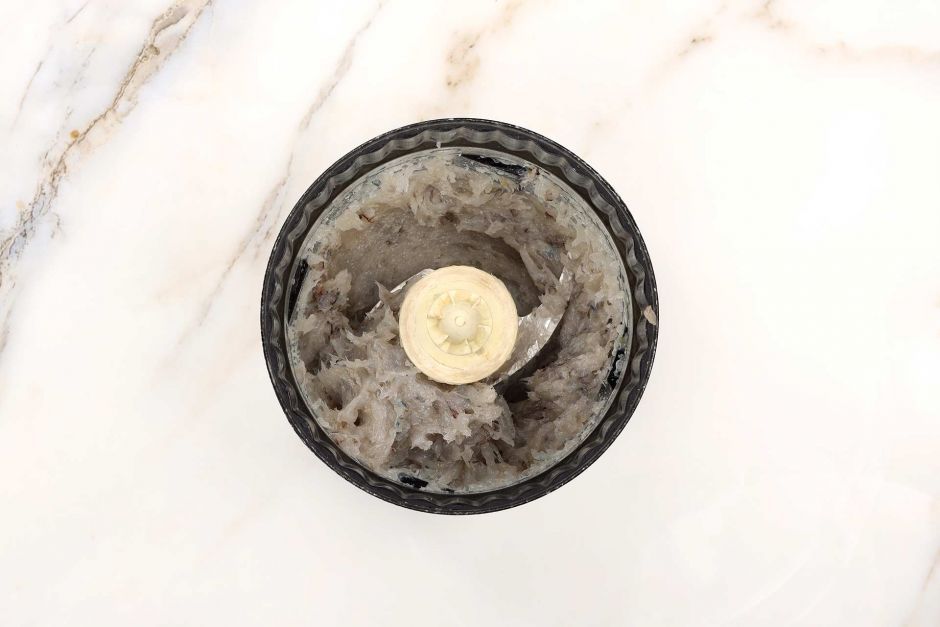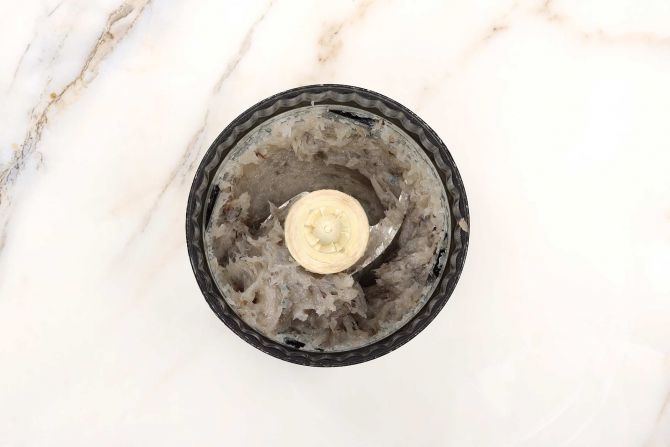 Blend the shrimp.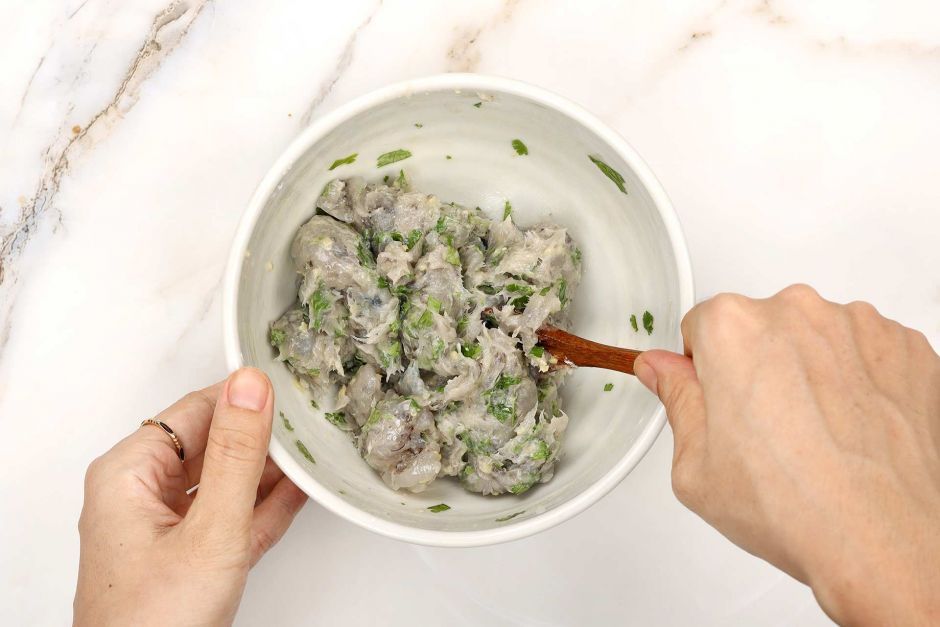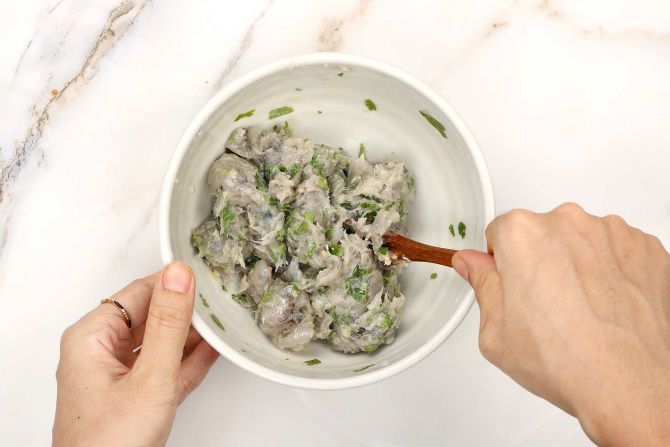 Season the shrimp paste.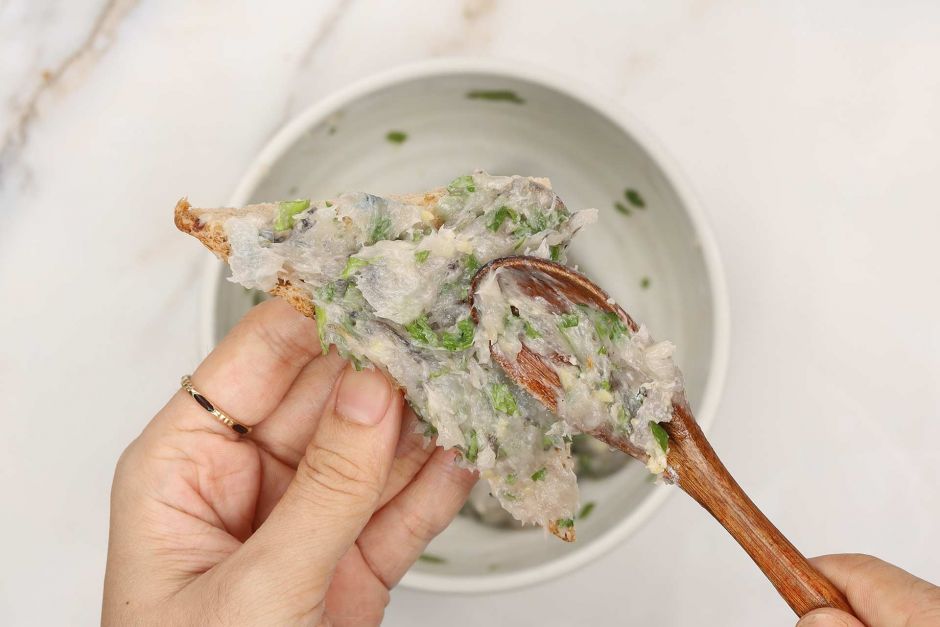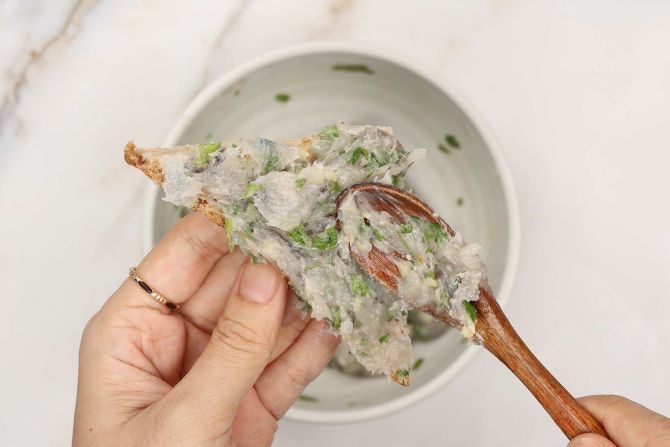 Assemble the toast.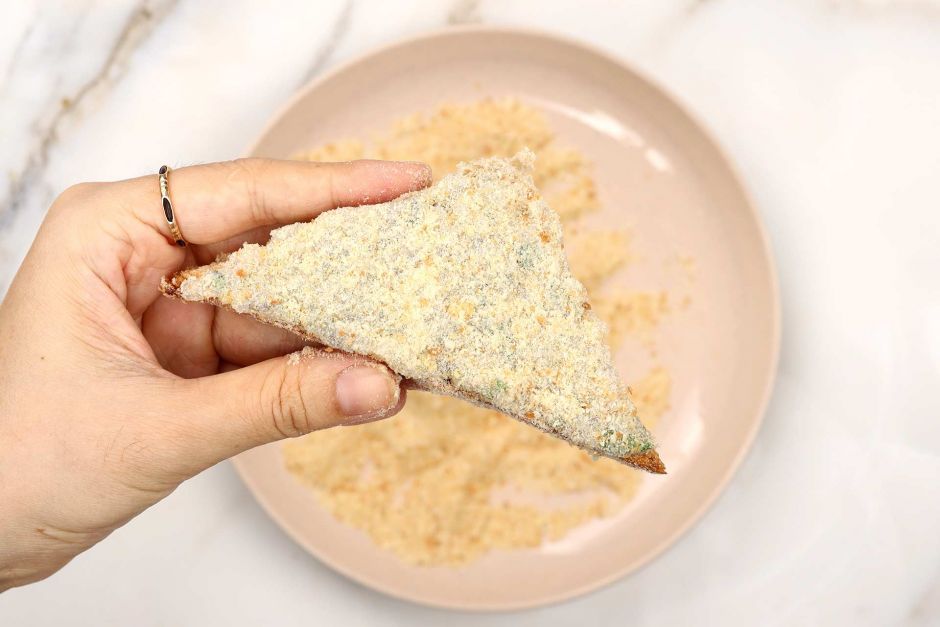 Bread the toast.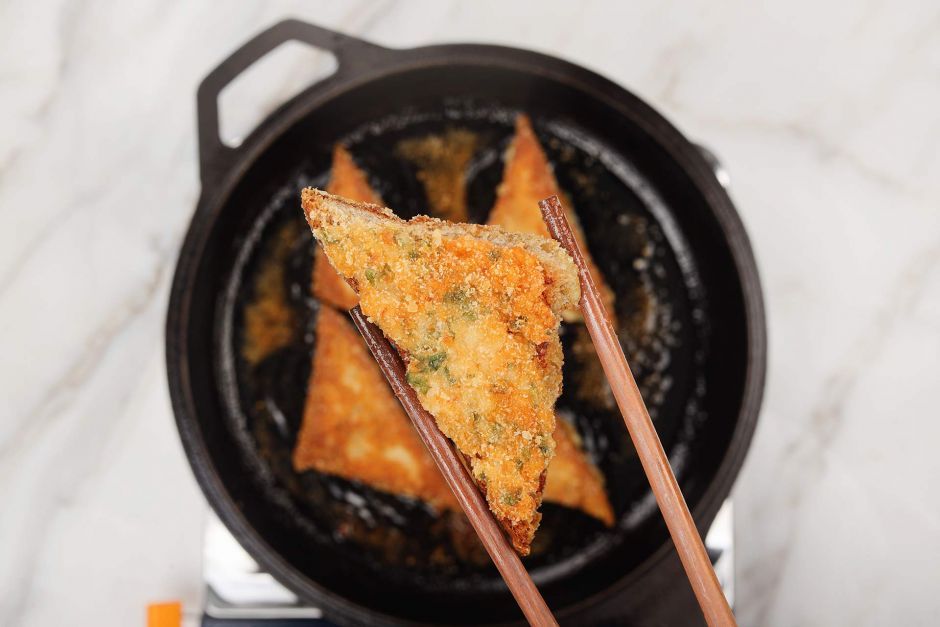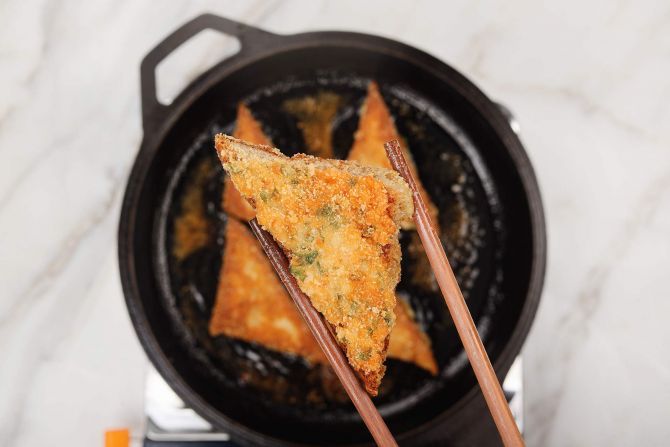 Fry the breaded toast.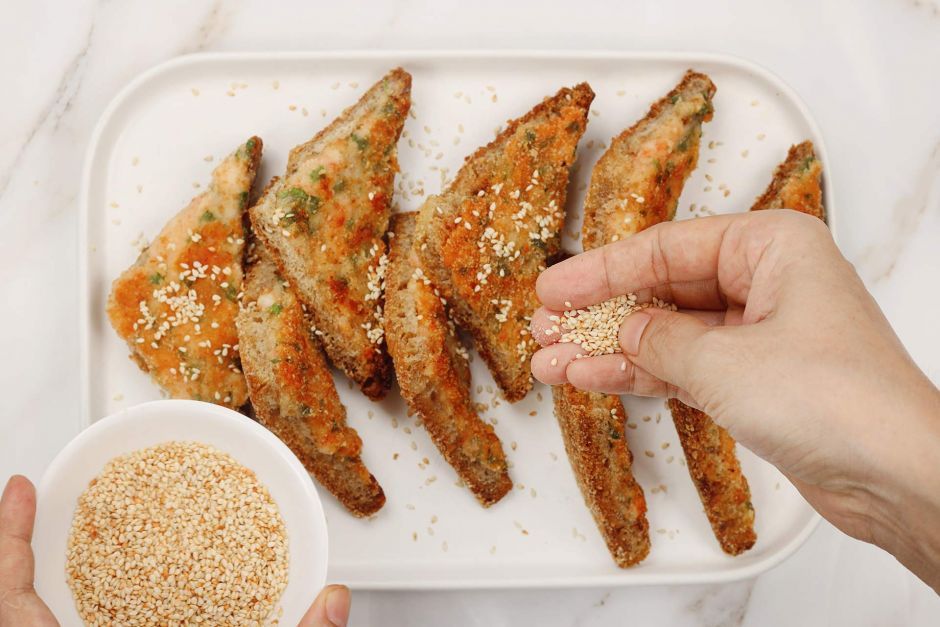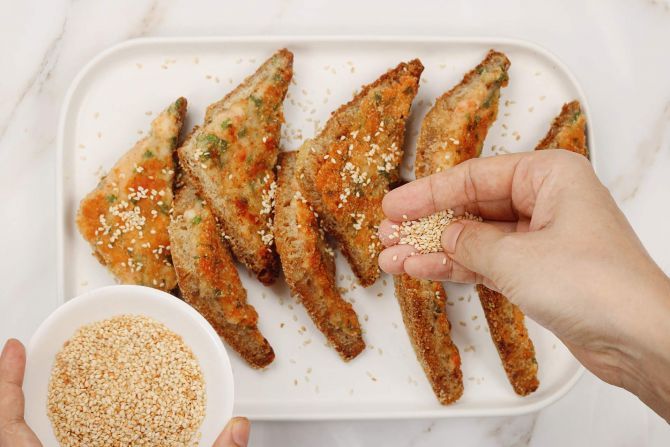 Sprinkle with sesame seeds and serve.
We don't suggest spreading the shrimp over the toast until you're ready to cook, as moisture from the paste will make the bread soft and soggy.
How to Store and Reheat Shrimp Toast
To store the fried shrimp toast slices, it's best to keep them in an airtight container or wrap them in plastic wrap. Refrigerated toast can be kept for 3–4 days, and frozen toast can be kept for up to 2 months.
Like any fried food, this recipe is best enjoyed hot after cooking. If you want to reheat the toast to its original texture, bake it in the oven at 350°F for 3-5 minutes or quickly fry it until the toast is warm and golden.
What to Serve With Shrimp Toast
Besides serving the shrimp toast as an appetizer, you can also try pairing it with a fresh salad. The juiciness of crispy fried toast matches perfectly with the clean taste of salad. The whole combination is balanced in both taste and texture.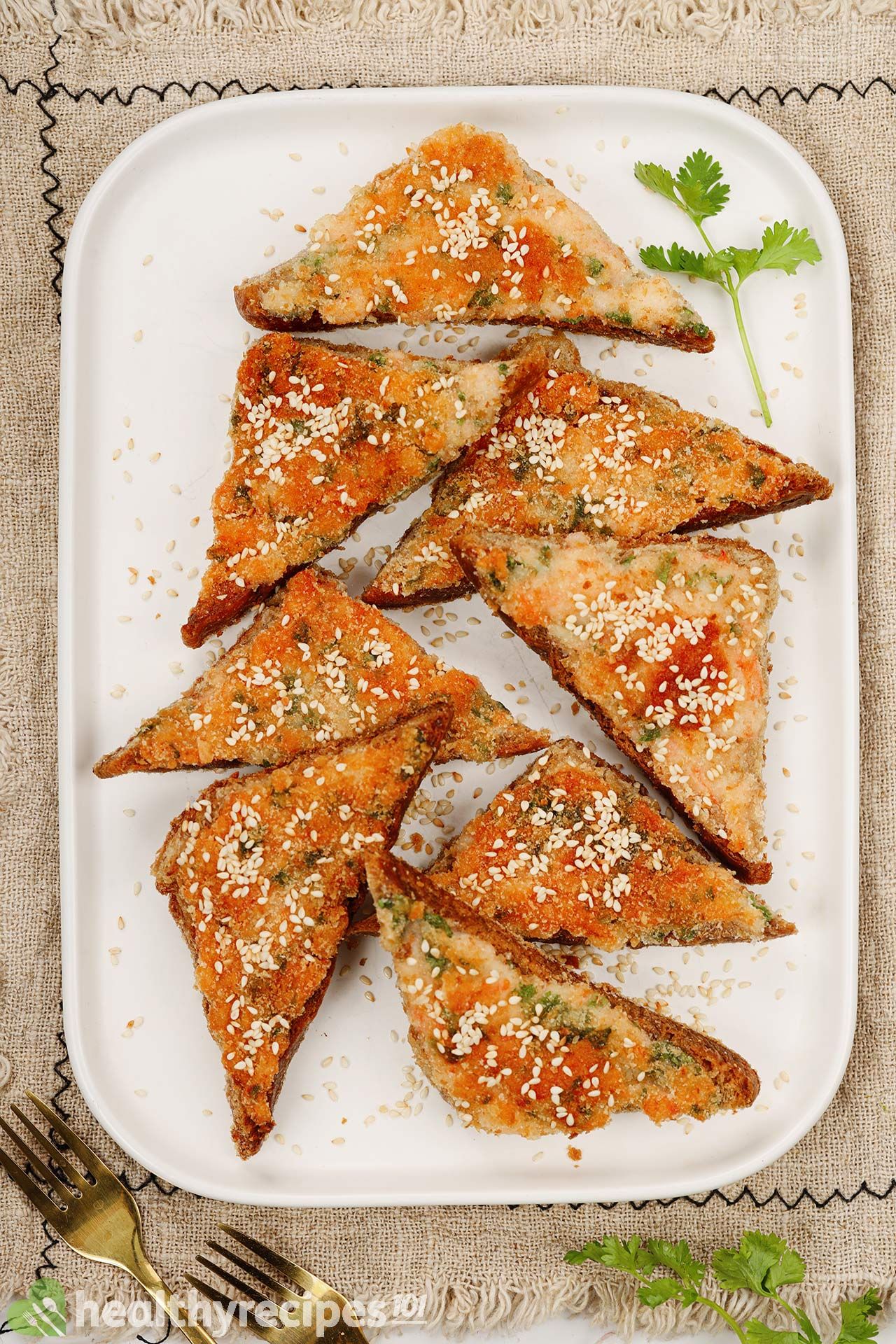 Love This Recipe? There's More!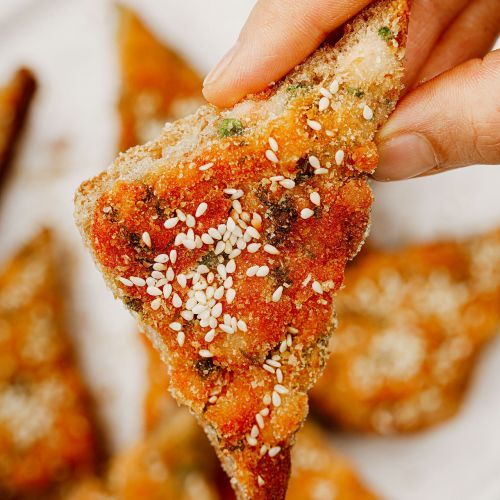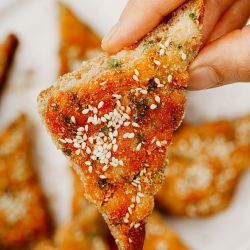 Shrimp Toast Recipe
Our shrimp toast recipe is the perfect intro to this popular Asian snack. With a crunchy exterior and flavorful shrimp, the dish is fabulous for entertaining.
Ingredients
6

oz

peeled and deveined shrimp

equal to 10 oz raw shrimp, cold

3

slices

sprouted wheat bread

0.5

oz

coriander

chopped

1

tsp

ginger

chopped

1/4

tsp

sugar

1/2

tsp

sesame oil

1/8

tsp

salt

1

tbsp

cornstarch

1

large egg white

1/4

cup

plain panko breadcrumbs

1/4

cup

canola oil

(*)

2

tbsp

sesame seeds
Instructions
Cut 3 slices of white bread into quarters. Set them aside.

Put 6 oz cold shrimp into a blender and blend on medium-high speed until they turn into a fine, sticky paste.

Combine 0.5 oz coriander, 1 tsp ginger, 1/4 tsp sugar, 1/2 tsp sesame oil, 1/8 tsp salt, and 1 tbsp cornstarch into the blender and mix until well combined.

Spread the shrimp paste onto one side of the toast. Make sure it reaches all the way to the edges.

Dip the toast in egg white, then bread it with 1/4 cup breadcrumbs.

Heat 1/4 cup canola oil over medium-low heat and fry the toast, 1 minute on each side or until the bread is golden and the shrimp paste is well cooked.

Line a plate with a kitchen paper towel and transfer the toast slices to the plate. Sprinkle with 2 tbsp sesame seeds and serve the shrimp toast hot.
Nutrition
Nutrition Facts
Shrimp Toast Recipe
Amount Per Serving (1 serving)
Calories 247
Calories from Fat 90
% Daily Value*
Fat 10g15%
Cholesterol 114mg38%
Sodium 269mg12%
Potassium 243mg7%
Carbohydrates 15g5%
Protein 16g32%
Vitamin A 239IU5%
Vitamin C 1mg1%
Calcium 87mg9%
Iron 1mg6%
* Percent Daily Values are based on a 2000 calorie diet.