This sweet and sour shrimp recipe makes exactly what you're looking for: a Chinese delicacy with balanced flavors. The sweet and tangy sauce is an exceptional rice killer — a brilliant way to cook shrimp.
Like many tasty Chinese dishes, it demands quite a lot of ingredients and effort. Still, we highly recommend you give it a try because that's exactly what makes it so tasty and worthwhile.
What Is Sweet and Sour Shrimp?
Sweet and sour shrimp is a saucy mix of batter-fried shrimp, bell peppers, pineapples, and onions. As the name implies, the thick sauce is a balance of sweetness, sourness, and saltiness all derived from staple Chinese seasonings and tropical fruits.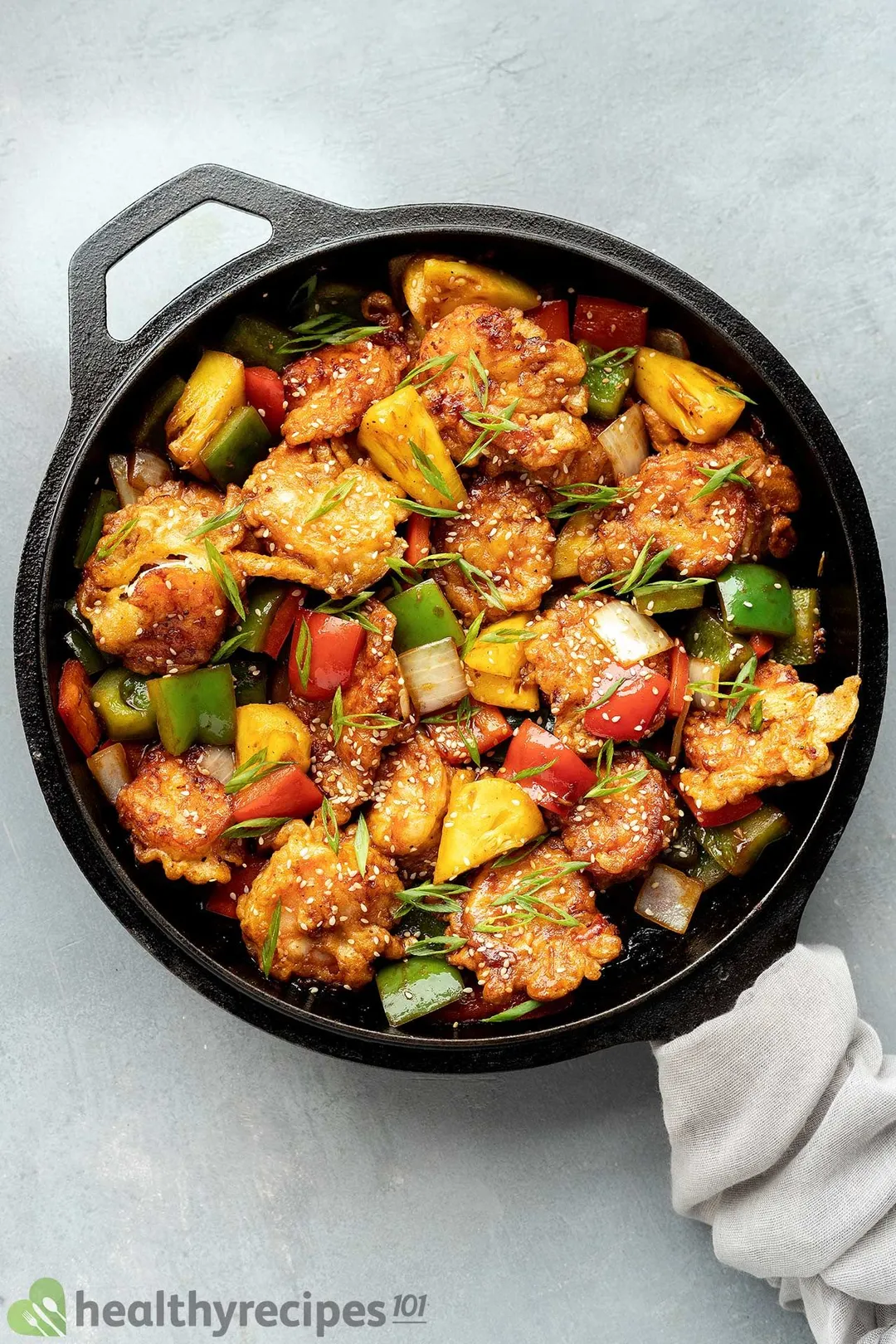 To make the dish, you need to batter the shrimp, fry them, sauté the veg, add the sauce, then toss everything with the fried shrimp. The shrimp will absorb the sauce and wilt a little but will still be slightly crunchy if served right away.
You can also switch things up a bit by making this dish with chicken instead of shrimp, check out our Sweet and Sour Chicken Recipe.
For this reason, it shouldn't be left out for too long (or worse, overnight in the fridge). There's a correct way to store the leftovers, which we'll mention in a later section.
Is Our Sweet and Sour Shrimp Healthy?
The dish is a balanced meal with shrimp, veggies, and rice, giving you plenty of protein, carbs, and various micronutrients. Shrimp also contains small amounts of healthy fats like omega 3 and 6, which positively impact your health.
Still, when not carefully handled, batter-fried shrimp can be high in calories and contain high levels of acrylamide, a cancer-promoting substance. We accounted for the oil's calories and also fried the shrimp just briefly to limit acrylamide buildup.
This dish is typically high in sodium so we had to use each seasoning neither excessively nor insufficiently. As a result, we kept the sodium content of one serving to a comfortable 572 mg, about 25% of the daily recommended limit.
The sauce is also sweetened with sugar, another flavoring that needs to remain within limits. Still, the amount is relatively minimal (1/8 tsp per serving), leaving plenty of room for sweet treats you might have throughout the day.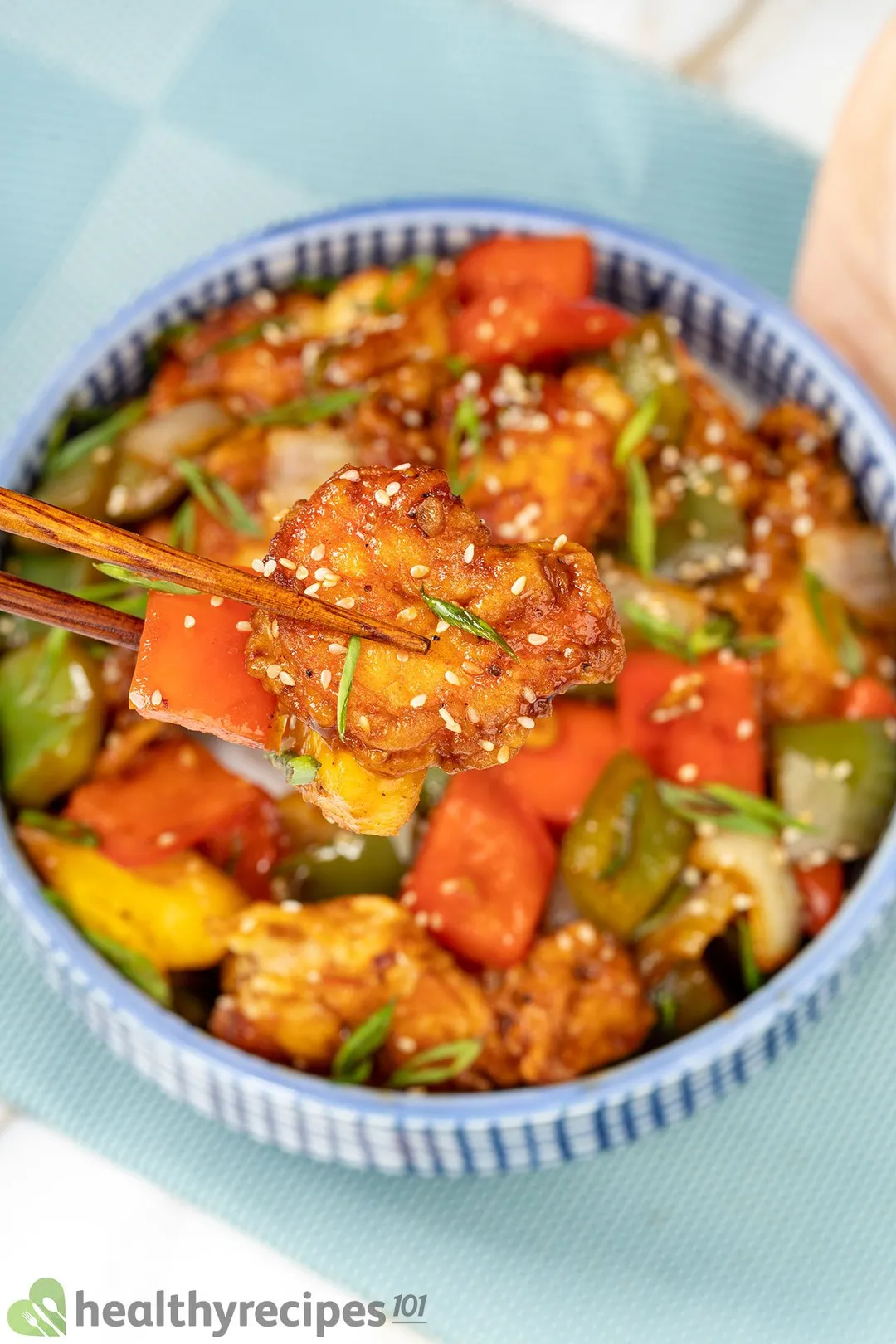 Sweet and Sour Shrimp Calories
Each portion of this dish yields 506 calories, including the content of the main components, the oil each shrimp soaks up, and the rice. We try to be strict about our energy intake, so we often keep the main dishes in the neighborhood of 500 calories for easier management.
To learn more about our idea of a healthy diet, have a look at our guidelines.
The Batter for Shrimp
Ours is a basic batter with flour, cornstarch, egg, and water. Thinning out the batter to the right consistency and adding to it some cornstarch makes it crispier when fried. Refer to our recipe for the best ratio and result.
We don't season our batter as it will later absorb the sauce flavors.
The Sweet and Sour Sauce for Shrimp
The sauce of this sweet and sour shrimp recipe is composed of four main components and a few extra ones. We'll show you how you replace the extras with alternates you might already have.
The main components:
Soy sauce — basic salt can't come close to the umami flavor and fantastic scents from this traditional sauce. We're using the Kikkoman brand's reduced-sodium type to control the sodium level better.
Ketchup is important for its sharp, acidic taste, beautiful red color, and thick consistency.
Brown sugar — the sweet part of the dish's name. It also has a certain nuttiness from the natural molasses, adding a depth of flavor to the sauce.
Sesame oil is one of the staple fragrances of Chinese dishes. It comes in a toasted version too, which smells stronger, but we prefer the regular type.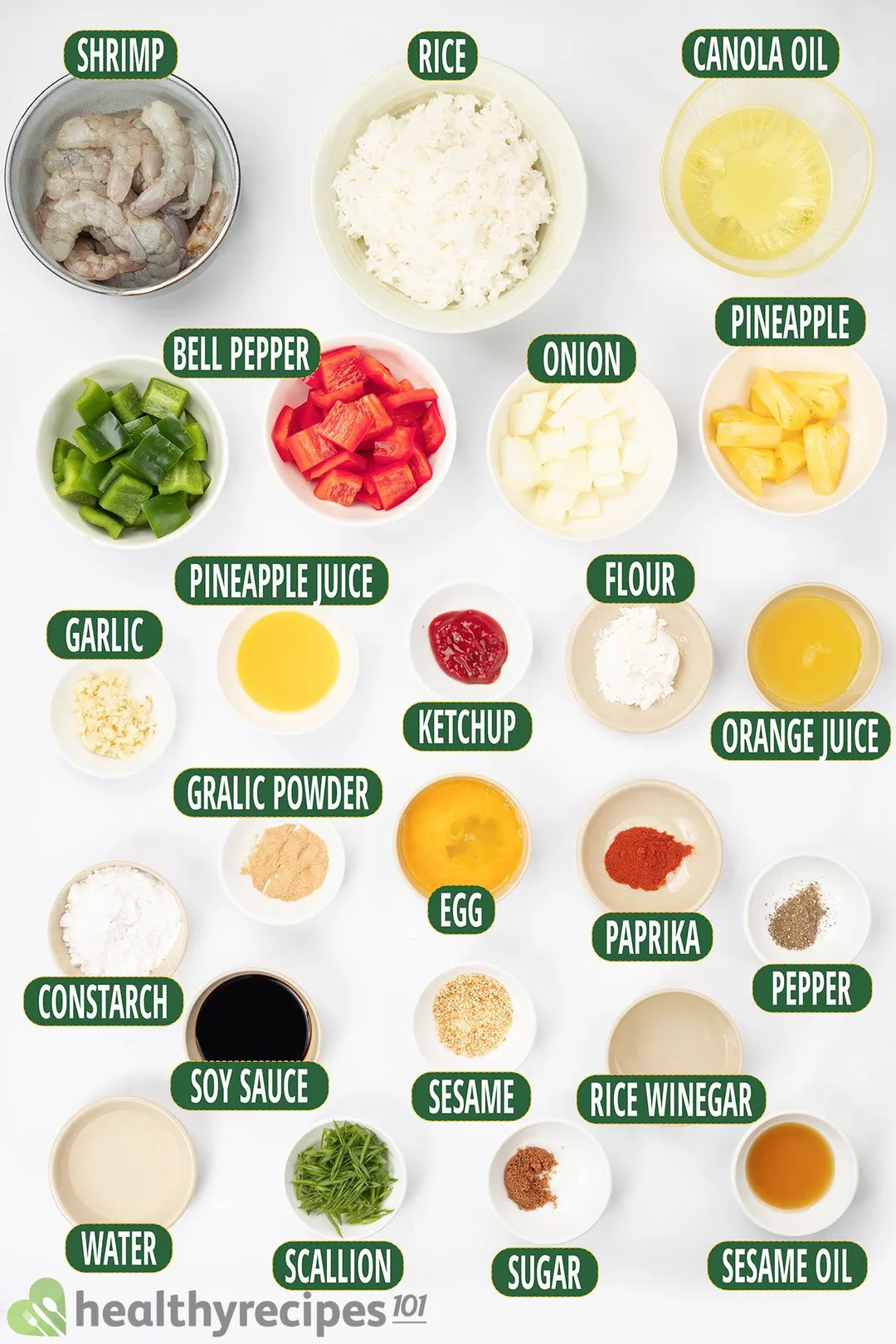 The additionals:
Rice vinegar increases the sour taste's sharpness. You can use double the amount of lime instead if you prefer (Don't add extra ketchup, as it increases sodium levels).
Pineapple juice and orange juice lend the sauce a fruity aroma and some sweetness. You can realistically use any sweet-tangy fruit juice you have on hand or use an alternative sweetener (amount in recipe card).
Garlic powder adds plenty of deep flavors to the dish. The sauce won't taste as delicious when you skip this ingredient, but it's not bad either.
Paprika is great for that tantalizing heat. Feel free to use anything that gives the dish some heat, like dried pepper flakes, dried chilis, or fresh chilis.
How to Make Sweet and Sour Shrimp
Here's a short version of the preparation. The full instructions and ingredient list are in our sweet and sour shrimp recipe card at the bottom.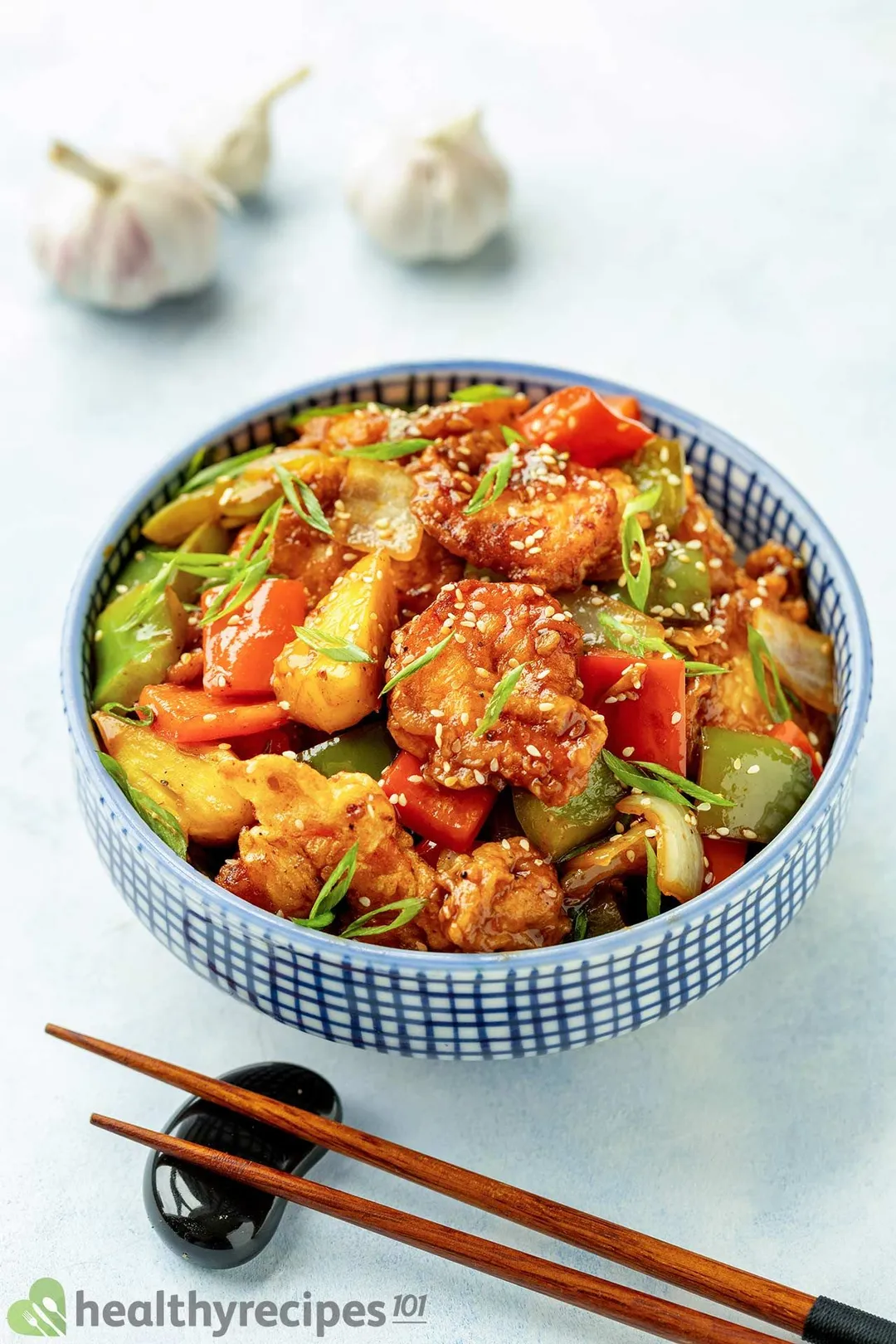 A few things to keep in mind:
You want to serve the dish right away, so be sure to cook or reheat some rice before frying the shrimp.
The dish works with shrimp of all sizes. We picked small shrimp, as they were the cheaper option at the market.
The oil level should be shallow, but if you're not comfortable with this kind of frying, feel free to use more oil. The dish's nutritional profile should remain roughly the same.
It's important to skim the batter bits, as these can darken the oil when cooked for too long. You can use a slotted spoon, skimming spoon, or a regular spoon. Just make sure the spoon is dry or the oil will splash.
Don't toss all of the shrimp with the sauce if you're not eating it all. Portion the two out, and toss together only the ones you're going to eat.
How to Store and Reheat Leftovers
Since the shrimp doesn't last longer than 4 days and the vegetables can't be frozen, it's best to keep both in the fridge and eat within this time frame. Remember to store them in separate containers.
To reheat, bake or air-fry the shrimp for 4 minutes at 400°F in a preheated oven/air fryer. Meanwhile, pour the vegetables and sauce into a saucepan and simmer over medium heat. Toss the two together once hot.
What to Serve With Sweet and Sour Shrimp
We can think of no better option than this hearty cabbage soup to pair with the flavorful shrimp and veg sauté. The soup is also freezer-friendly, a good choice for make-ahead meals.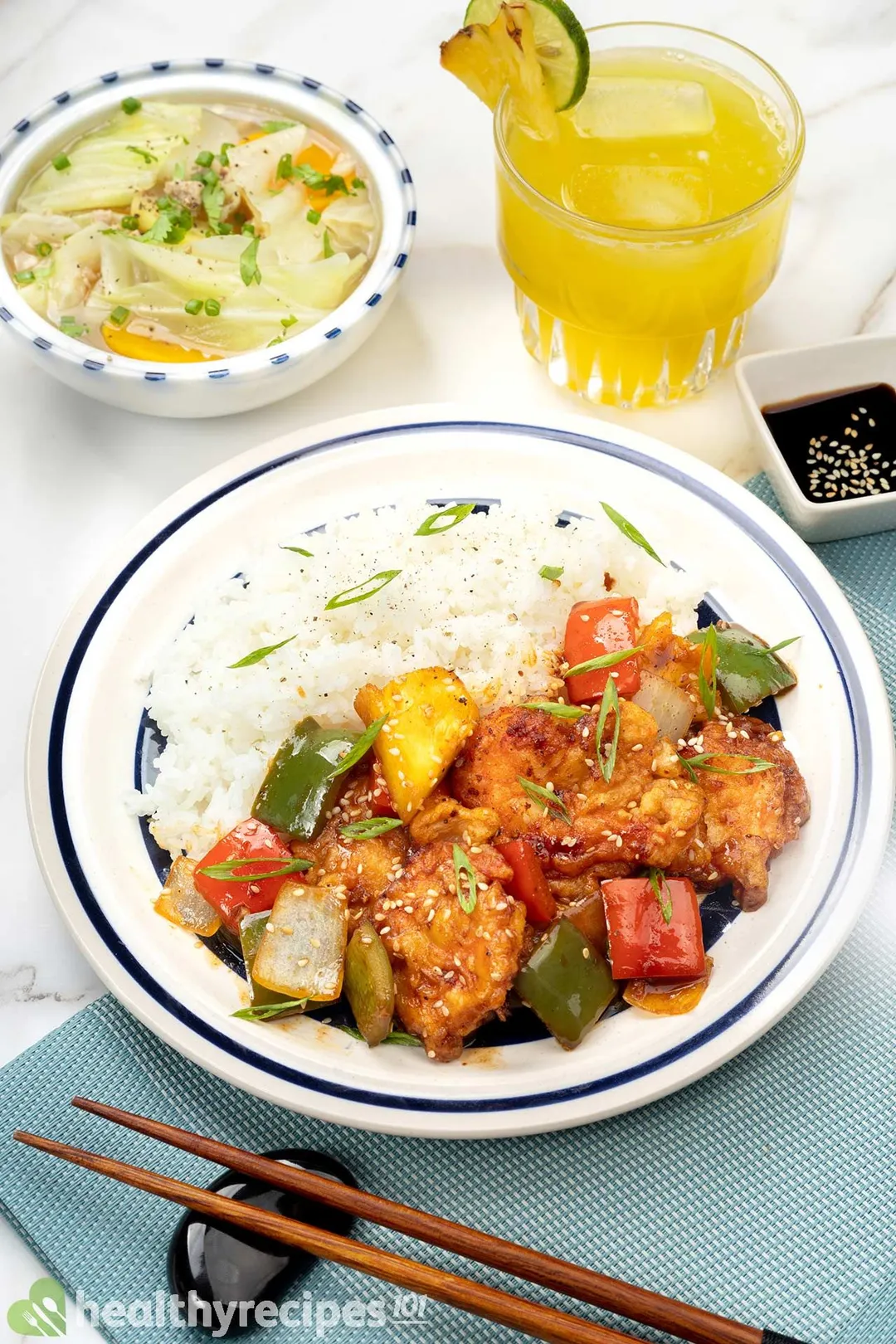 Finally, we complete these two with a chilled glass of tangy, aromatic pineapple ginger juice. Since ginger is often used in Chinese cuisine, this beverage ties it all together nicely.
These Shrimp Recipes Are Also Worth the Try!
Sweet and Sour Shrimp
This sweet and sour shrimp recipe is a quick way to turn shrimp into a delicious meal. It takes just 25 minutes from start to finish.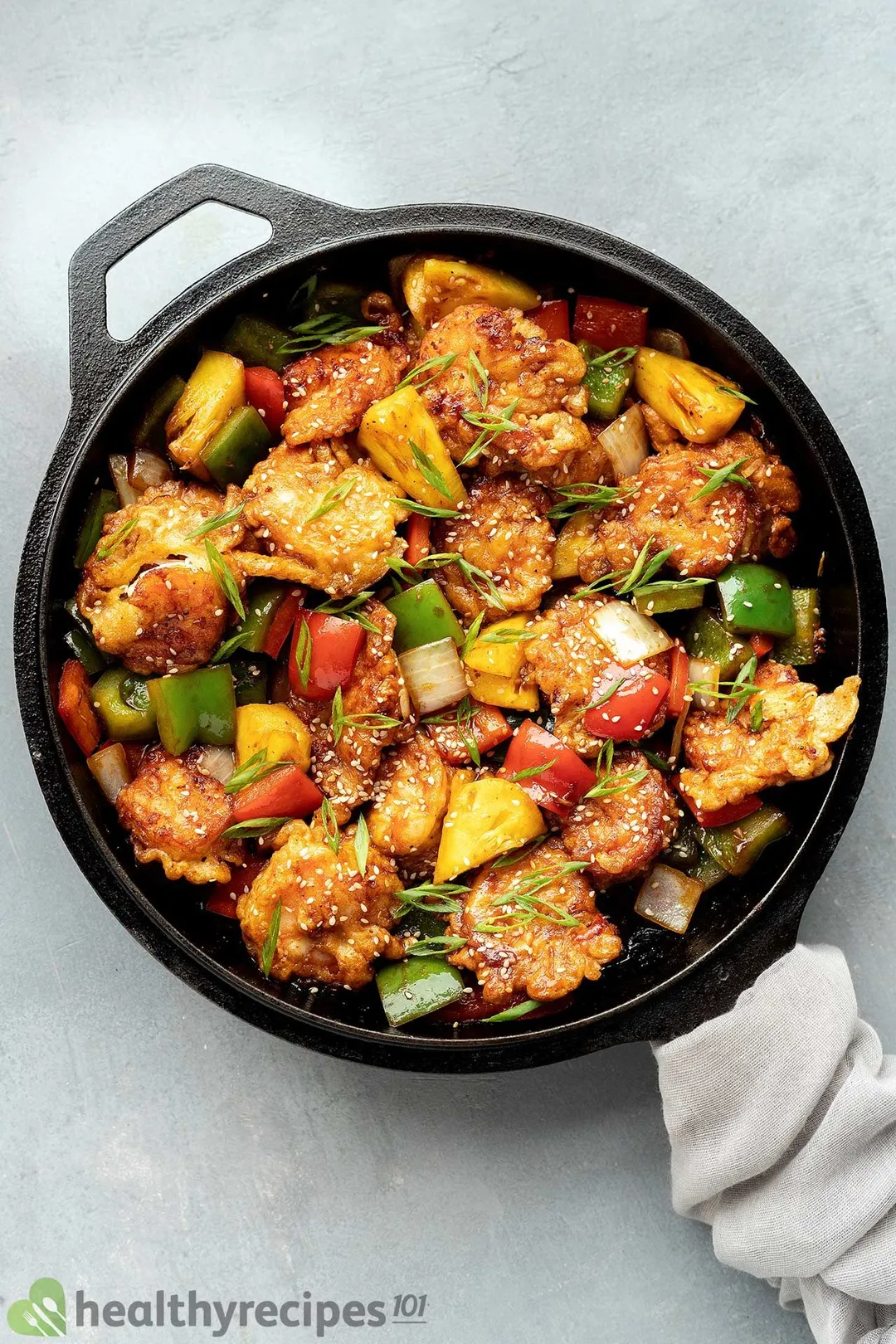 cook TIME

20 mins

prep TIME

5 mins

total TIME

25 mins
COURSE

Main Course

CUISINE

Chinese

SERVINGS

CALORIES

506 kcal
INGREDIENTS
9 oz

peeled shrimp

(from 18 oz whole)

2 1/2 tbsp

reduced-sodium soy sauce

2 tbsp

orange juice

(from about half an orange)

2 tbsp

pineapple juice

(from about 2 oz pineapple)

1/4 tsp

ground black pepper

2 oz

pineapple

(cut into chunks)

4 oz

red bell peppers

(about a medium, cut into chunks)

4 oz

green bell peppers

(about a medium, cut into chunks)

2 oz

onion

(about half a medium, cut into chunks)

1 tbsp

garlic

(about 3 cloves, minced)

1/2 tbsp

sesame

(toasted)

2 tbsp

scallion

(chopped)

3 cups

cooked medium-grain rice
INSTRUCTIONS
1
Place 1/3 cup cornstarch in a bowl and scoop out 1 tsp to save for later. Add to the bowl 2 tbsp all-purpose flour, 2 tbsp water, and 1 egg, whisk it all together.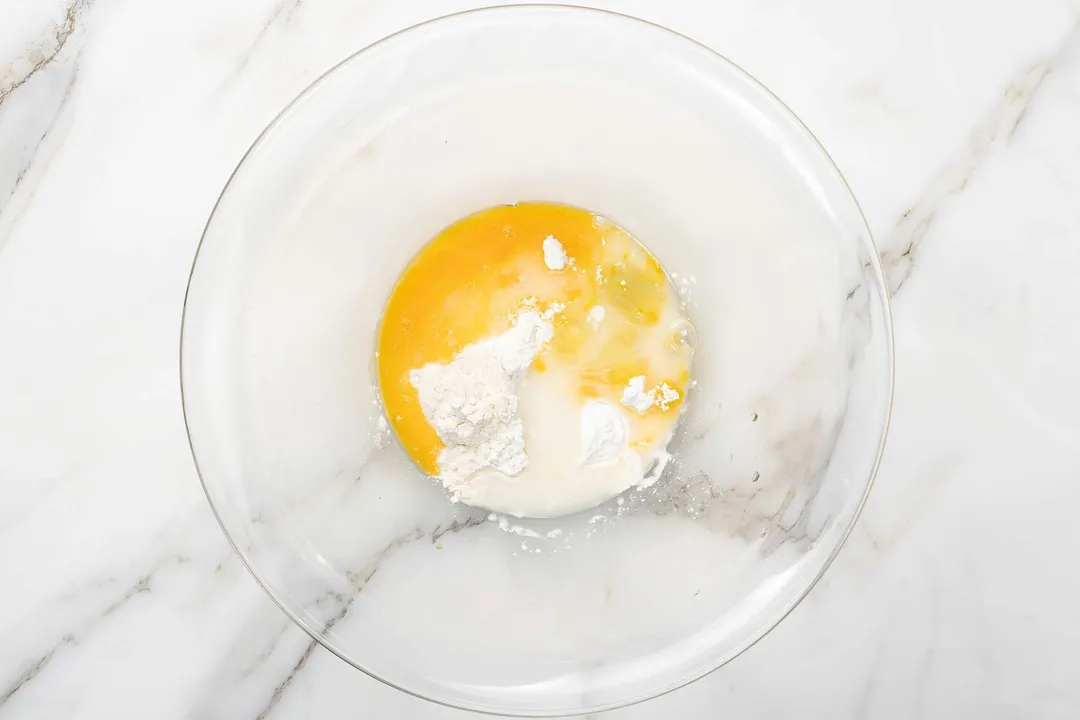 2
Then add 9 oz worth of peeled shrimp and mix to coat them evenly.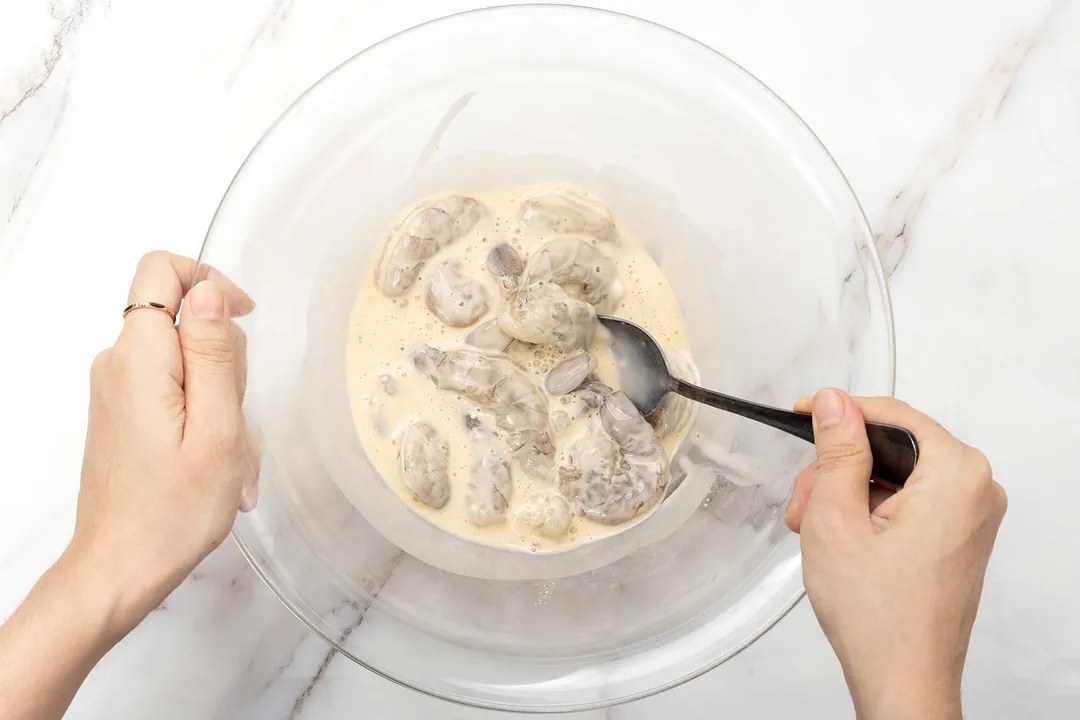 3
In another bowl, mix the 1 tsp cornstarch you saved earlier with 2 1/2 tbsp soy sauce, 2 tbsp rice vinegar, 2 tbsp pineapple juice, 2 tbsp orange juice, 1 tbsp ketchup, 1/2 tbsp sesame oil, 1 tsp paprika, 1/4 tsp ground black pepper, 1/2 tsp brown sugar, and 1/2 tsp garlic powder. Set aside. The fruit juices can be replaced with 1 tbsp honey if necessary.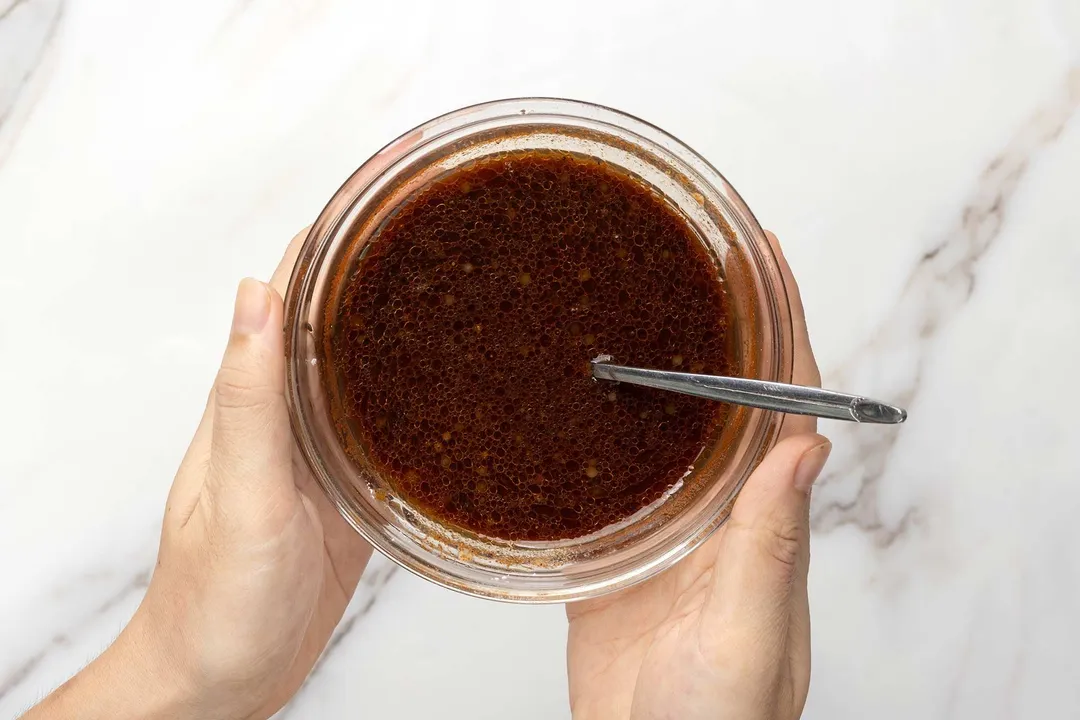 4
Heat 1/2 cup canola oil in a saucepan over low heat. Drizzle a few drops of batter into the oil; when the batter floats to the top sizzling, the oil's hot and ready. Fry the battered shrimp, 2 minutes per side.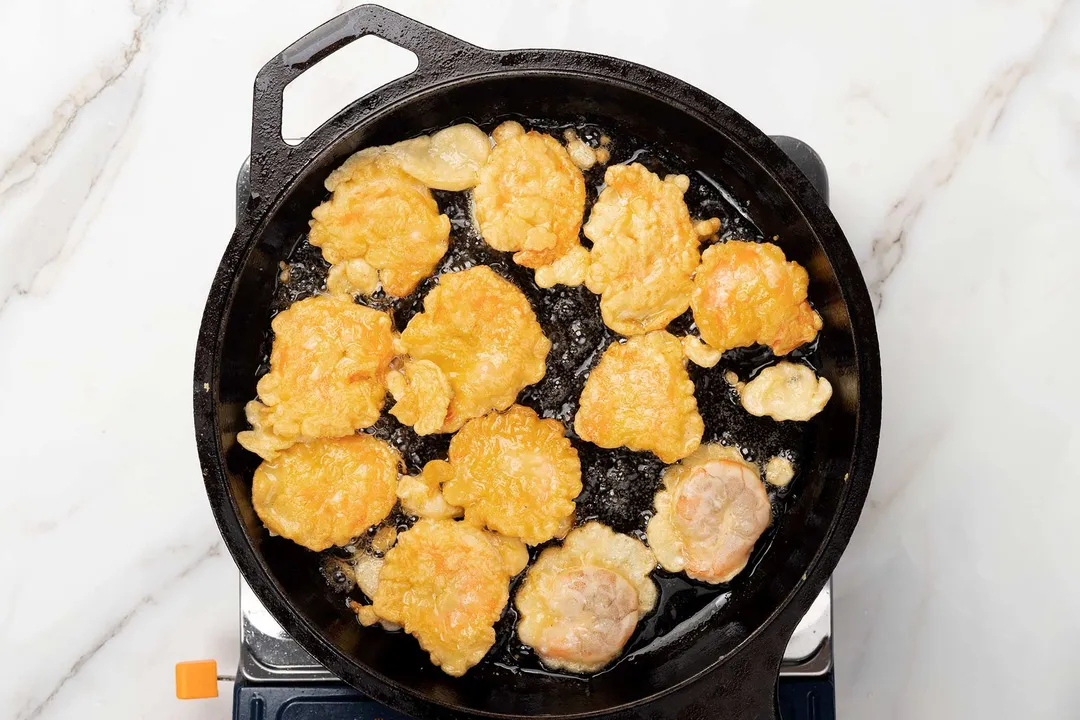 5
Place them on a cooling rack or on a dish lined with blotting paper.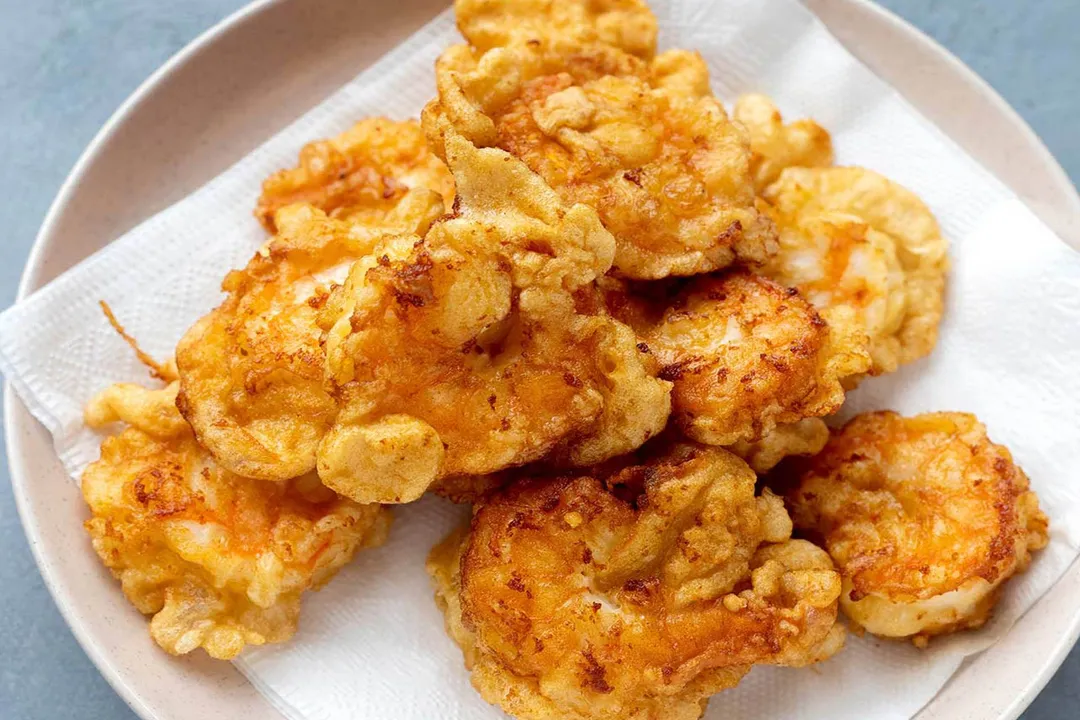 6
Skim all of the batter bits out of the oil, and pour it into a small bowl to save for later, leaving about 1 1/2 tbsp in the saucepan. Turn the heat to medium and sauté 1 tbsp minced garlic for about 30 seconds. Add 4 oz red bell peppers, 4 oz green bell peppers and 2 oz onions to sauté for about 3 minutes.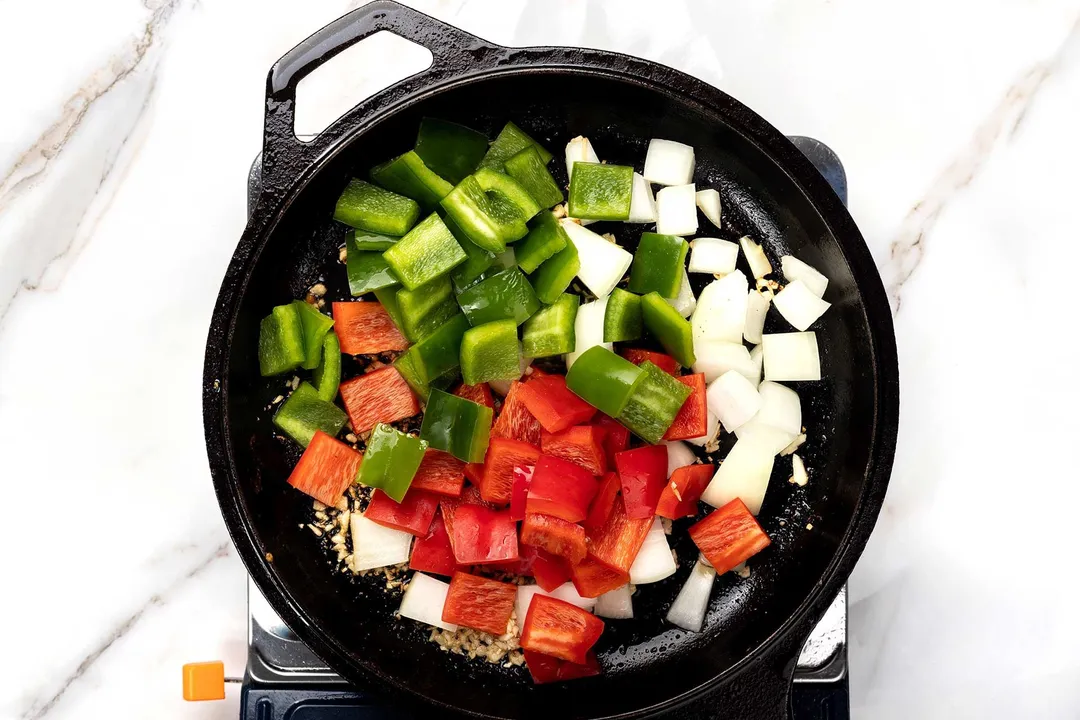 7
Pour in the sauce you prepared earlier, stir around for a minute until it thickens a little.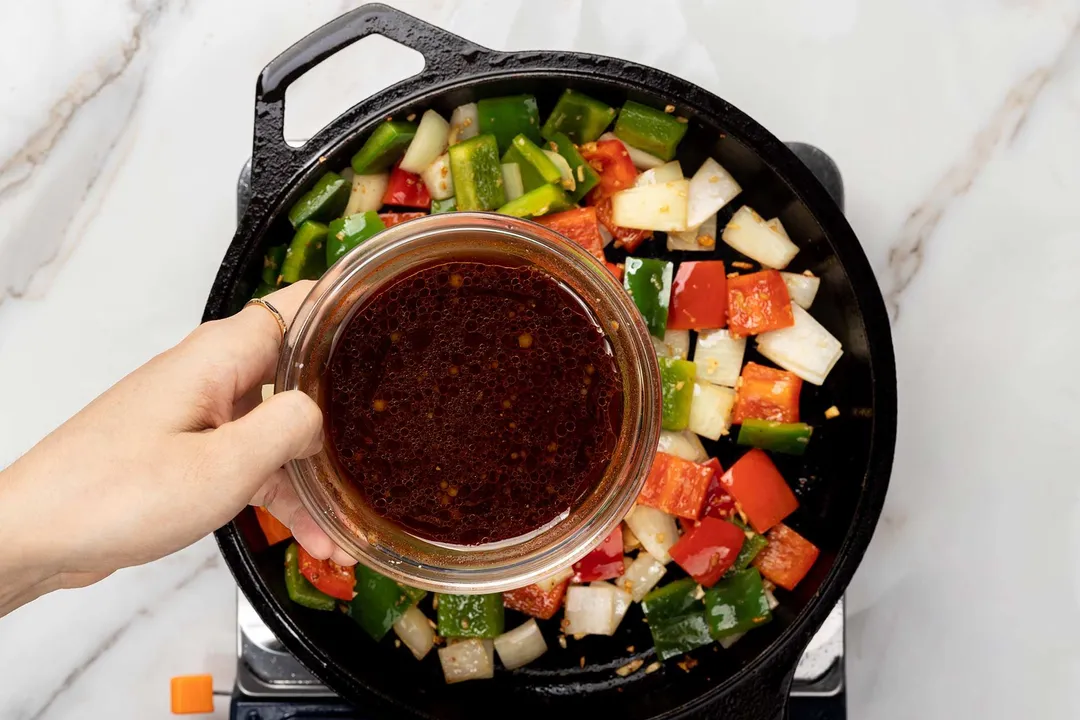 8
Add 2 oz pineapple and the shrimp. Stir gently to coat and turn the stove off.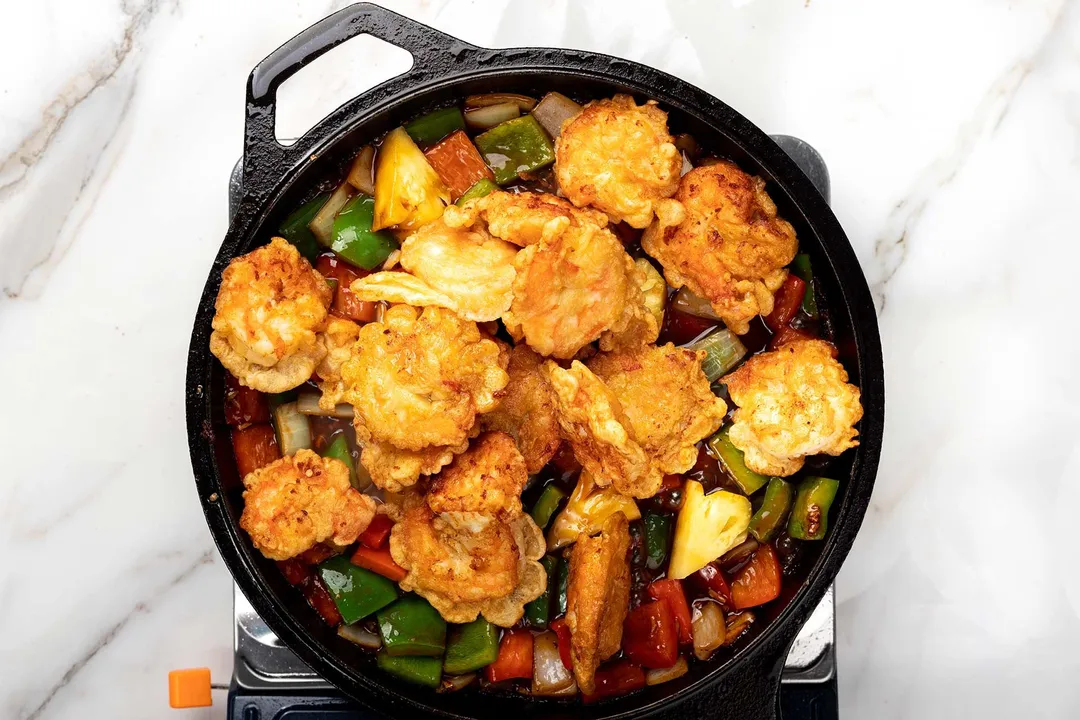 9
Sprinkle 2 tbsp chopped scallions and 1/2 tbsp toasted sesame seeds on top.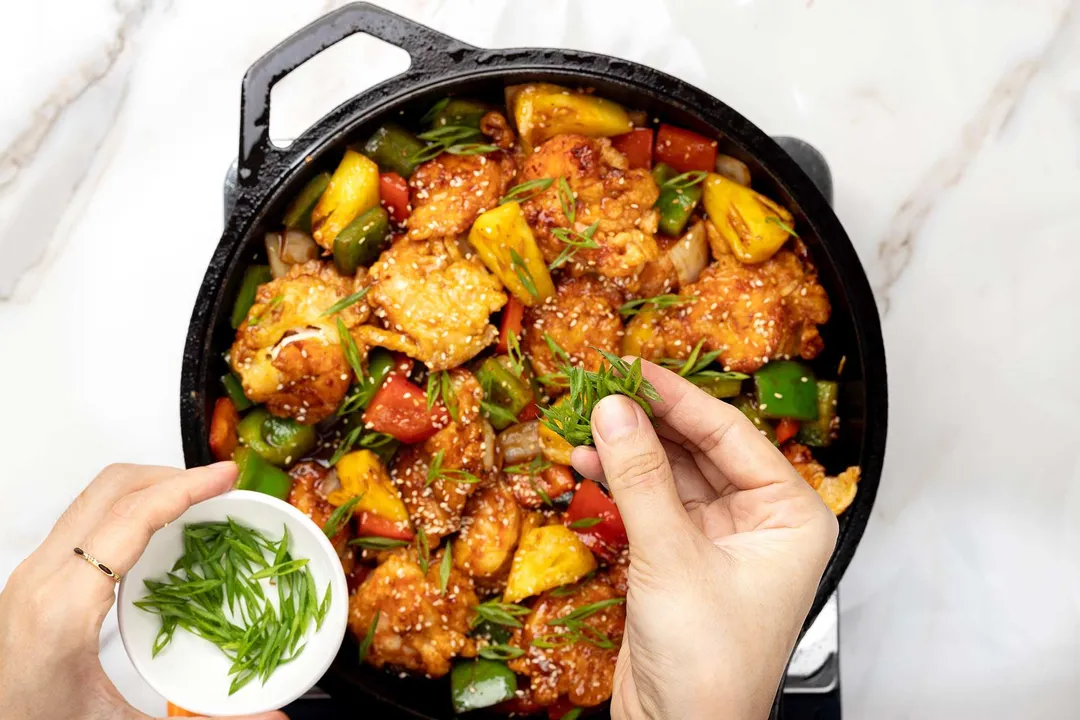 10
Enjoy with 3 cups cooked medium-grain rice.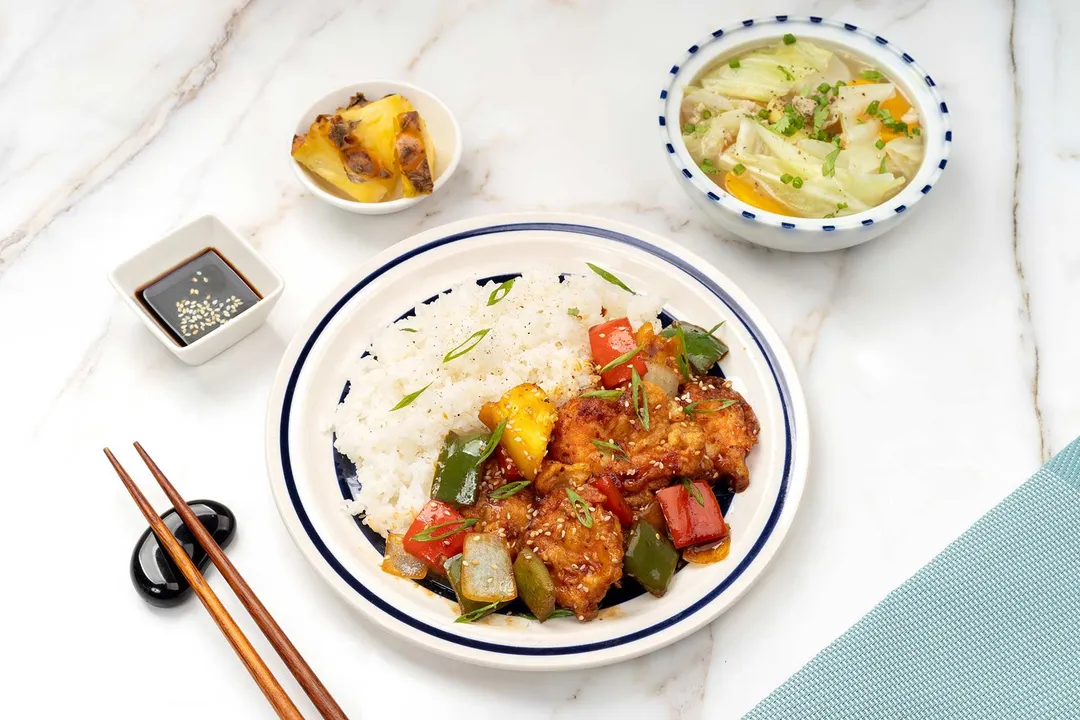 (*) Only part of these ingredients will end up in the final product, and we have calculated nutritional values based on that amount. Half a cup of oil is needed for the cooking process, but what actually ends up being consumed are 2 tablespoons of canola oil, including 1 1/2 tablespoons used to sauté the garlic later on.
NUTRITION
Nutrition Facts
Sweet and Sour Shrimp
Amount Per Serving (1 serving)
Calories 506
Calories from Fat 108
% Daily Value*
* Percent Daily Values are based on a 2000 calorie diet.
Keywords: Sweet and Sour Shrimp, Sweet and Sour Shrimp Recipe, how to make sweet and sour shrimp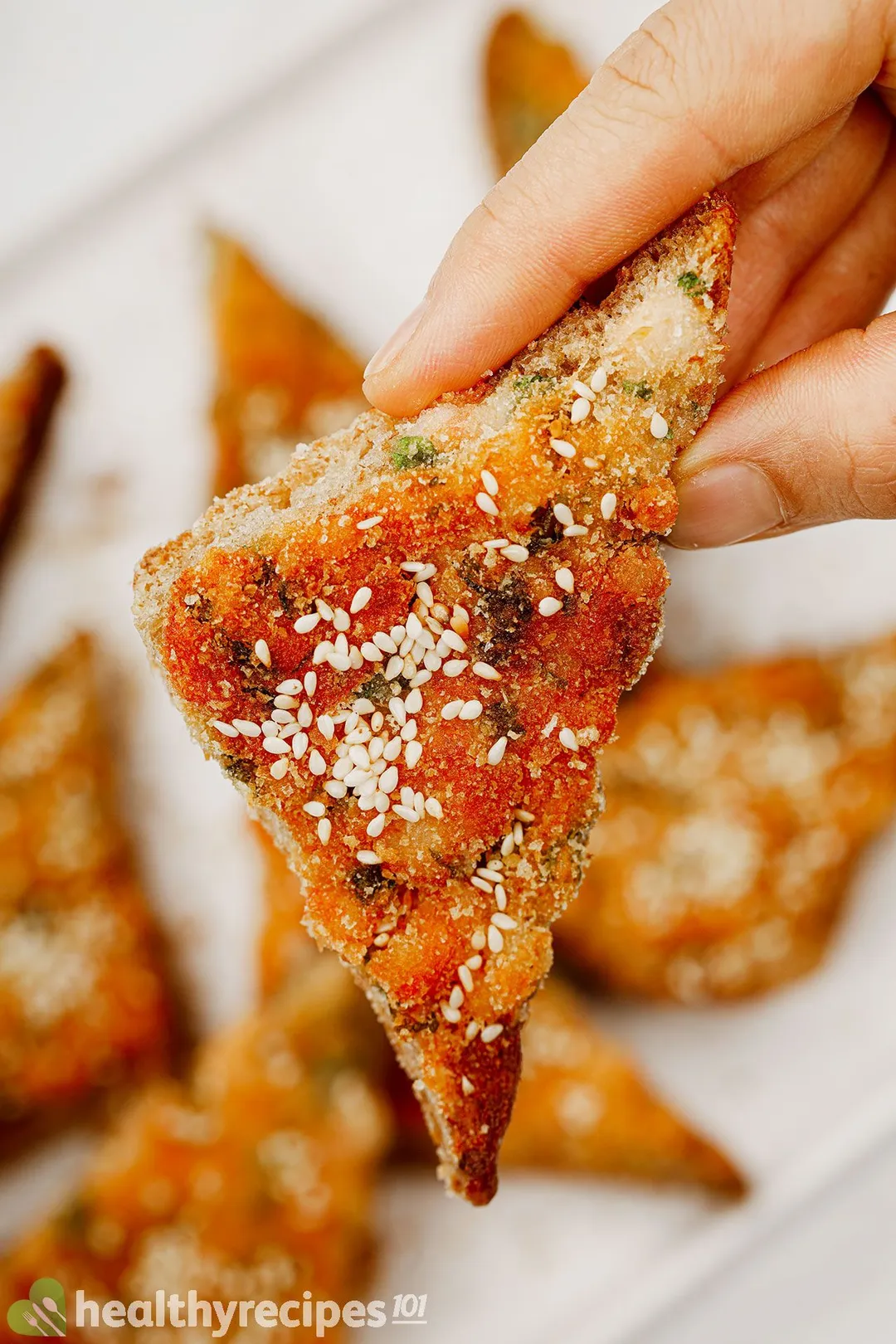 Previous Recipe
Shrimp Toast
Shrimp Toast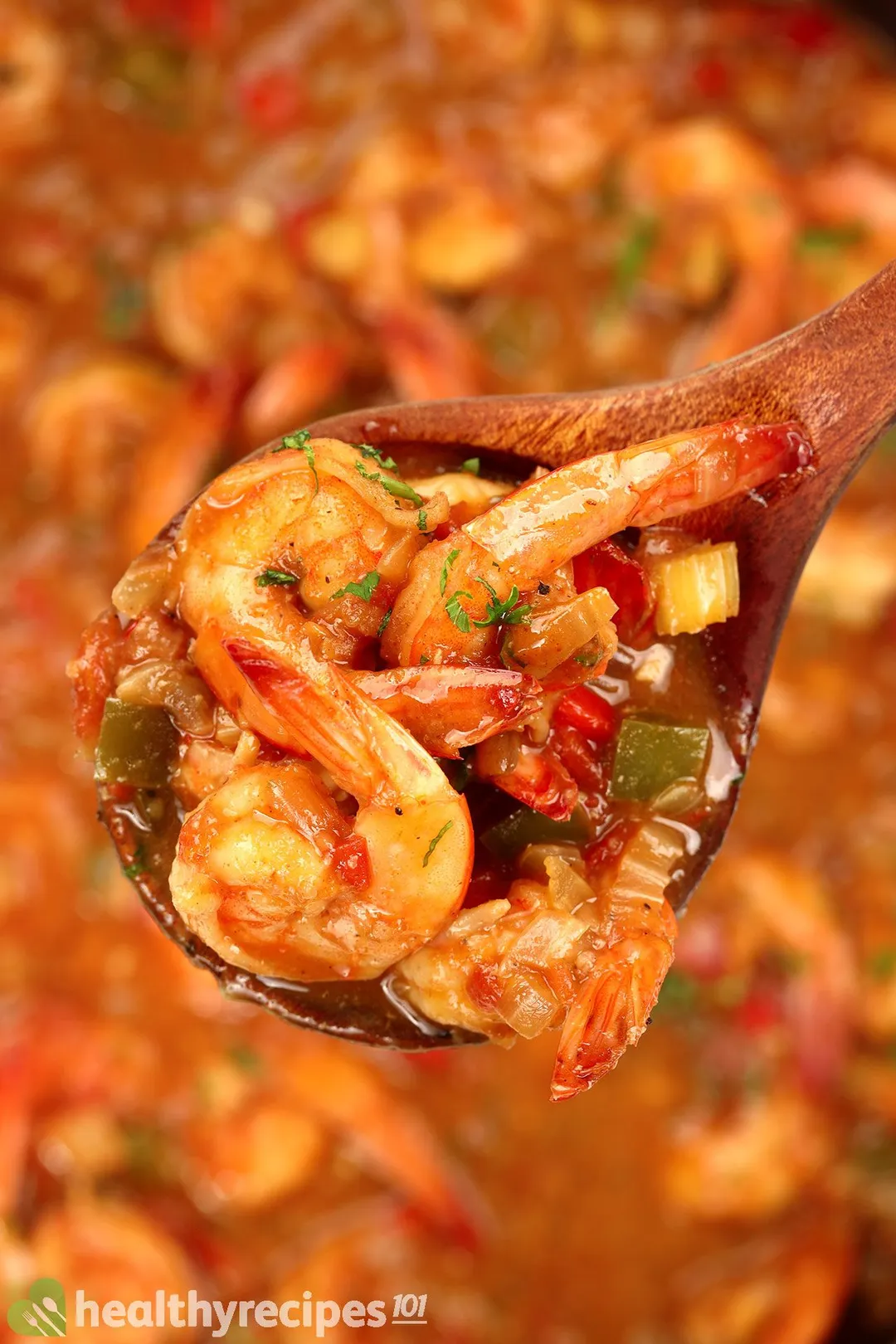 Next Recipe
Easy Shrimp Etouffee
Easy Shrimp Etouffee
Head Chef, Culinary Consultant
Tuyet Pham is an award-winning Saigonese chef who believes that joy is the secret ingredient to delicious food. At Healthy Recipes 101, Tuyet personally tests and simplifies every recipe, ensuring maximum flavor with minimal effort. With a background at prestigious French restaurants P'TI Saigon and Le Corto, Tuyet knows how to make every dish exceptional.
Writer, Author
Luna Regina is an accomplished writer and author who dedicates her career to empowering home cooks and making cooking effortless for everyone. She is the founder of HealthyKitchen101.com and HealthyRecipes101.com, where she works with her team to develop easy, nutritious recipes and help aspiring cooks choose the right kitchen appliances.
Nutrition Reviewer
Lizzie Streit is a Minneapolis-based dietitian and founder of It's a Veg World After All. She completed her MS in Human Nutrition from Drexel University, and is an expert in culinary nutrition, recipe development, and nutrition communications. Lizzie's philosophy is centered around making nutrition recommendations, and especially the advice to eat more vegetables, approachable and realistic. She is excited to be working with the team at Healthy Recipes 101 to ensure that their recipes are both nutritious and delicious.
Sure to satisfy your cravings for something tangy and delicious.