Today's shrimp Francese recipe features battered shrimp tossed in a lemony, buttery sauce. It tastes phenomenal, but it is super easy to make.
The original version was made with chicken instead of shrimp and used to be a very popular dish in the upper state of New York. Diners would receive one or two huge chicken breast cutlets with a generous amount of the golden, buttery sauce graciously spooned over the top. I personally think it's an exaggeration, but I've heard that at the time, it never ceased to make people gasp in awe.
Although the dish has 'France' in its name, it has nothing to do with France. It was brought to New York by Italian immigrants, so it can be considered a cross between Italian and American cuisines.

Is Our Shrimp Francese Healthy?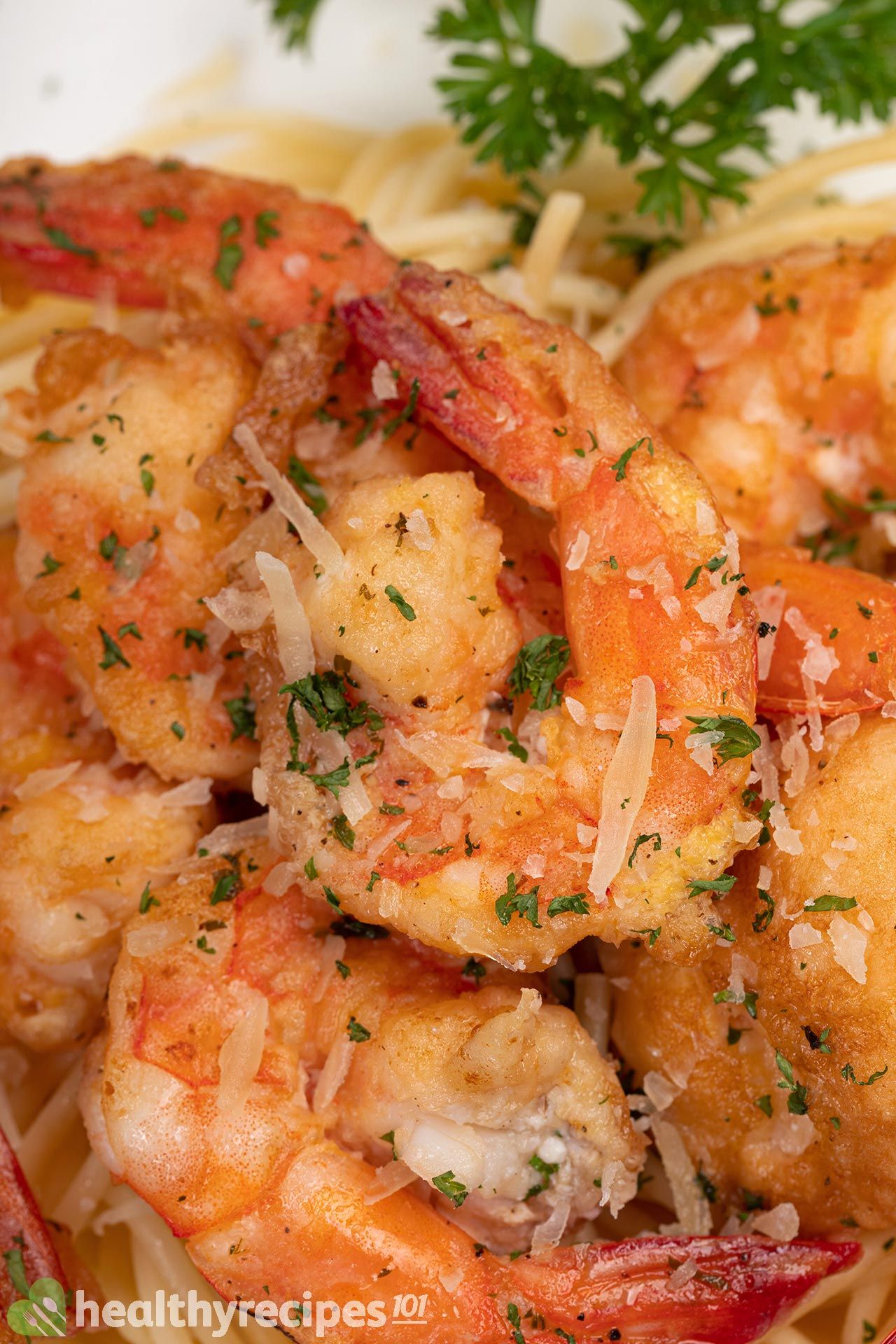 Involving deep-frying and lots of butter, shrimp Francese gives the impression of being unhealthy. Some say deep-fried foods are even linked to cancer and while we are well aware of the possible risks, we still think that our shrimp Francese can be included in a healthy diet.
1. Deep-Fried Foods Have Been Misunderstood
There's this substance in deep-fried foods called acrylamide, produced when starch and proteins are cooked in hot oil for too long. Findings have found that this substance can raise the risk of cancer in animals.
While that sounds pretty scary, deep-fried foods are not the only foods that contain acrylamide, because it is also a byproduct of the Maillard reaction. It's the kind of process that makes your food brown, smoky, and much more flavorful. Caramelized onions, toasted breads, BBQ meats with grill marks, etc. all have a little acrylamide in them.
Picking on deep-fried foods alone is, hence, kind of unfair.
Instead, we choose moderation. You can certainly have French fries, chips, or other foods you like once in a while, just don't have too much. There's no recommended limit on acrylamide yet, but since fried foods are high in calories, regulating your calorie intake may help limit your acrylamide intake.
2. Grease Isn't The Problem
Like proteins and carbohydrates, fats are nutrients. Our bodies need fats to function properly, and fats are considered the body's clean energy. Hence, it is not unhealthy to once in a while indulge in a dish high in fats.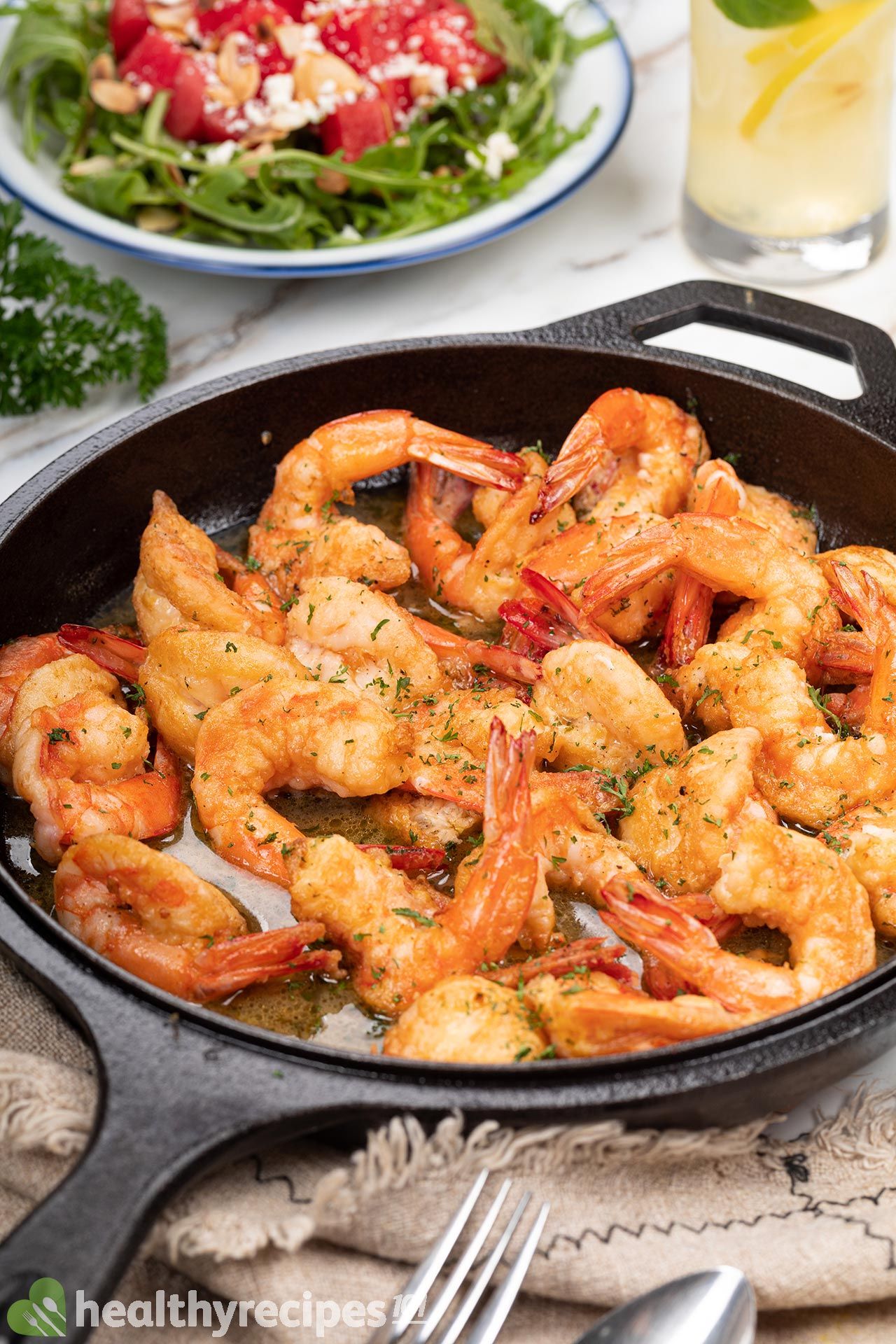 What we should be concerned about here is which type of fats, the amount, how often, and whether we pair this with other nutrient-dense options.
Shrimp Francese contains butter and oil, most of which are saturated fats, a.k.a the bad kind of fats. Avoiding them completely is a big step towards healthy eating, but to some people, such restraint can make their diet less enjoyable.
We think it's a pretty big cost, so instead of avoiding delicious foods, we simply avoid having too much of them. And at Healthy Kitchen 101 we have the necessary tools to make sure that each serving of our recipes contains no more than the amount we believe is moderate.

Ingredients for Our Shrimp Francese Recipe
You'll need shrimp, butter, white wine, lemon juice, chicken broth, eggs, flour, and several seasonings.
We also serve this dish with cooked spaghetti, so you should purchase and cook some yourself beforehand. You can use spaghetti or your favorite type of pasta.
Unlike how meats are traditionally breaded, our shrimp has only two layers of coating: all-purpose flour and beaten eggs. Due to the lack of breadcrumbs, it won't turn out as crispy but considering how the sauce will soften the coating anyway, these two alone are enough.
The sauce is made with just white wine, butter, lemon juice, chicken broth, and seasonings, all simmered together in the pan. It is that simple.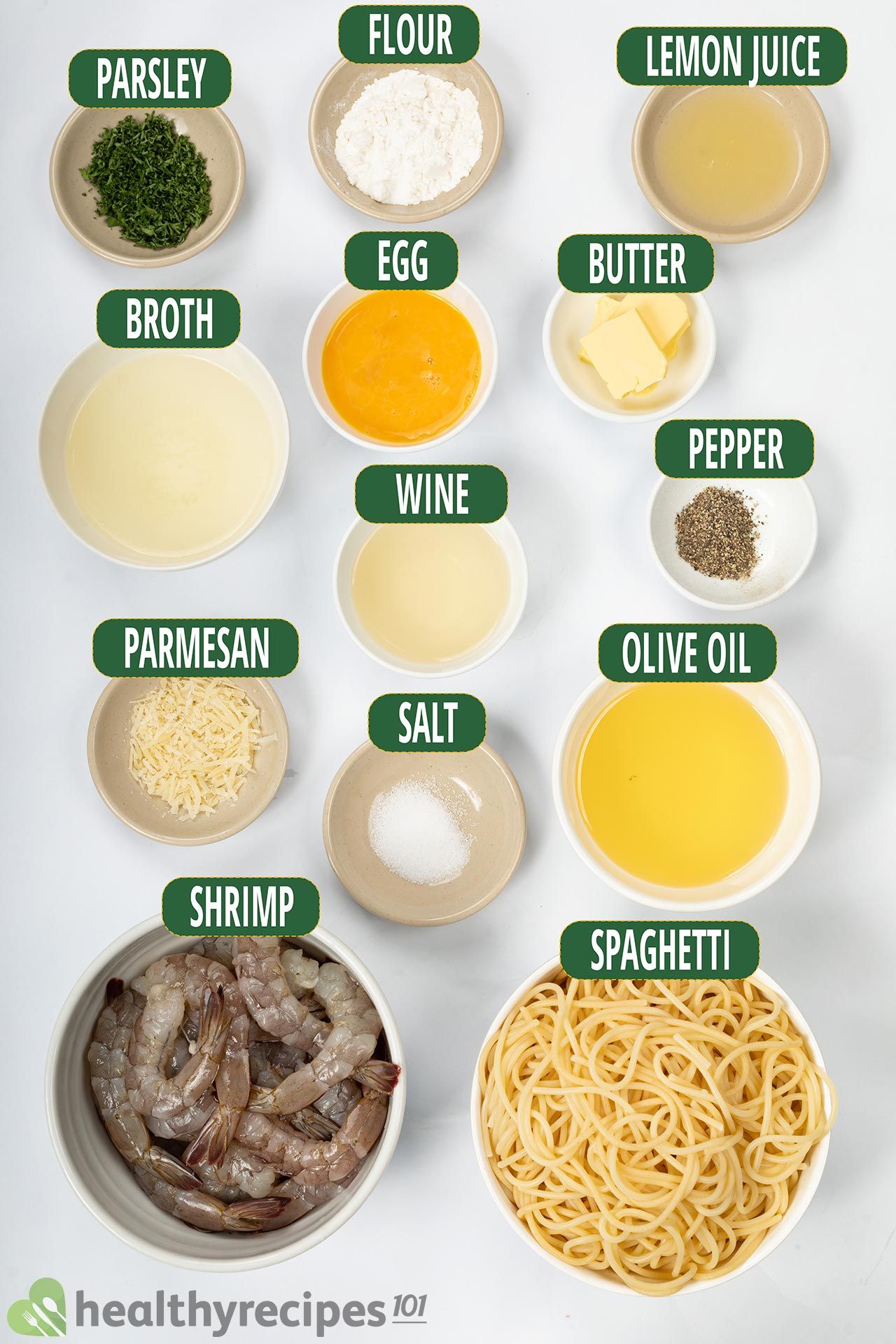 How to Make Shrimp Francese
Although it is not particularly necessary, we found that butterflying the shrimp creates more surface area for the flour to stick to. But don't worry, if you choose to skip this step, the dish will still taste awesome.
Before battering the shrimp, heat some oil over medium heat to frying temperature. We used a small saucepan so there was no need to add a lot of oil.
Dip a pair of chopsticks into the oil, and gather the flour, eggs, and shrimp near the saucepan. When the chopsticks sizzle, use one hand to coat one shrimp in flour, another to dredge it over the eggs, and gently drop it into the oil.
Repeat with the other shrimp, and once they're done, remove them from the oil and place them onto some paper towels to blot off excess oil.
Once the shrimp is fried, all there's left to make is the sauce. Heat the ingredients in a skillet until the sauce is slightly thickened.
Finally, toss the shrimp with this sauce, and enjoy.
Here's the entire process:
Butterfly the shrimp (optional).
Heat a pot of oil over low heat, and meanwhile, coat the shrimp in flour and eggs.
When the oil's hot, fry the battered shrimp.
Simmer white wine in a pan to reduce.
Add chicken broth, butter, and other seasonings. Simmer.
Add the shrimp and toss with the sauce.
Enjoy.
Measurements and precise timing are mentioned in the 'Shrimp Francese Recipe' card at the bottom of this article.

How to Store and Reheat the Leftovers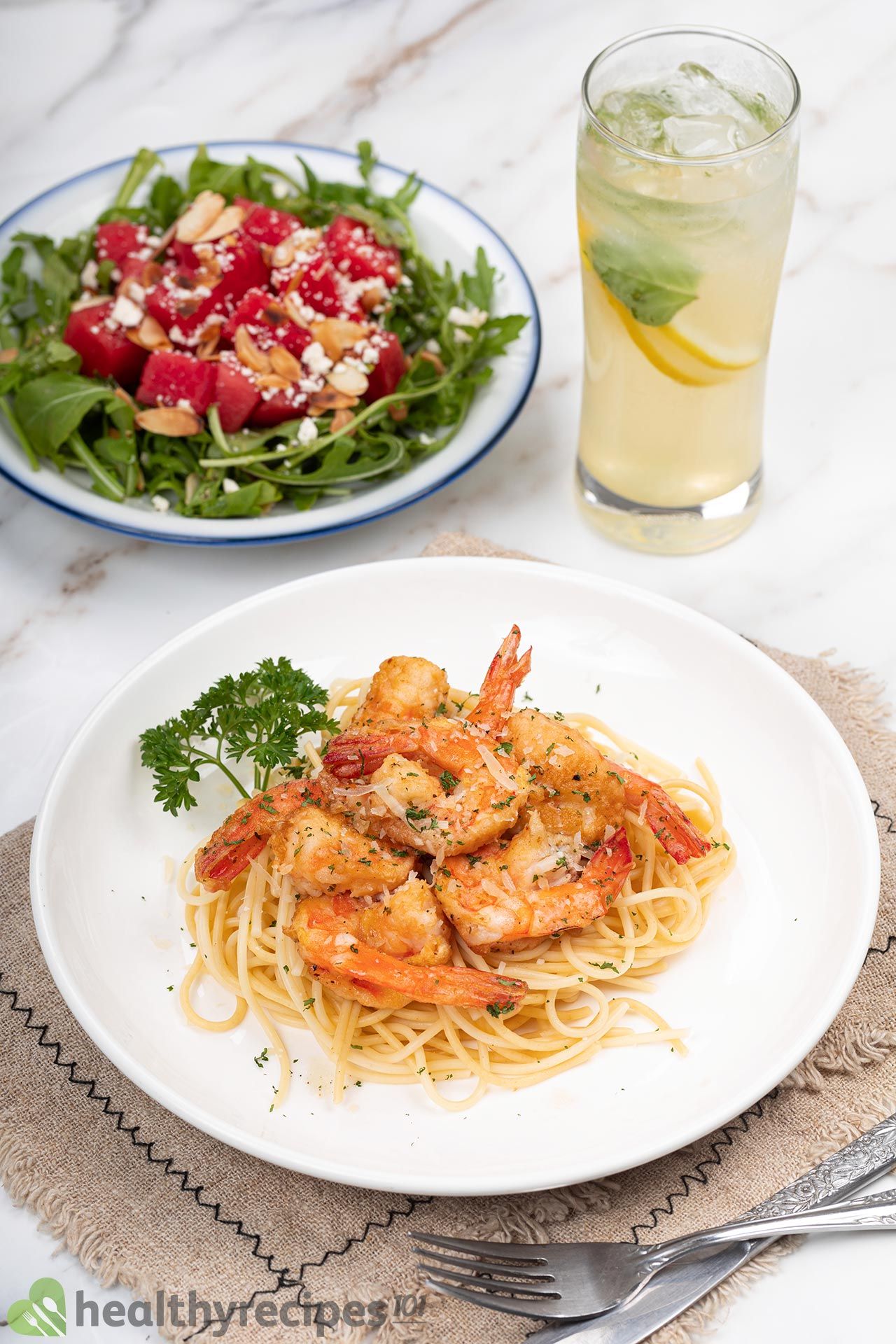 The best way to store this dish is to keep the fried shrimp in an air-tight container, and the sauce in another one. Both can be refrigerated for 4 days. To consume, place all into a saucepan and cook over medium heat until heated through.
Still though, reheating will the flour coating a chewier texture. If possible, we suggest you make just enough to consume in one sitting.

What to Serve with Shrimp Francese
Shrimp Francese clearly lacks some freshness, so we serve it with our watermelon arugula salad and lemonade. Both of them have the necessary freshness to balance out the shrimp's rich sauce, rounding off the meal perfectly:
Shrimp Francese
Watermelon Arugula Salad
Lemonade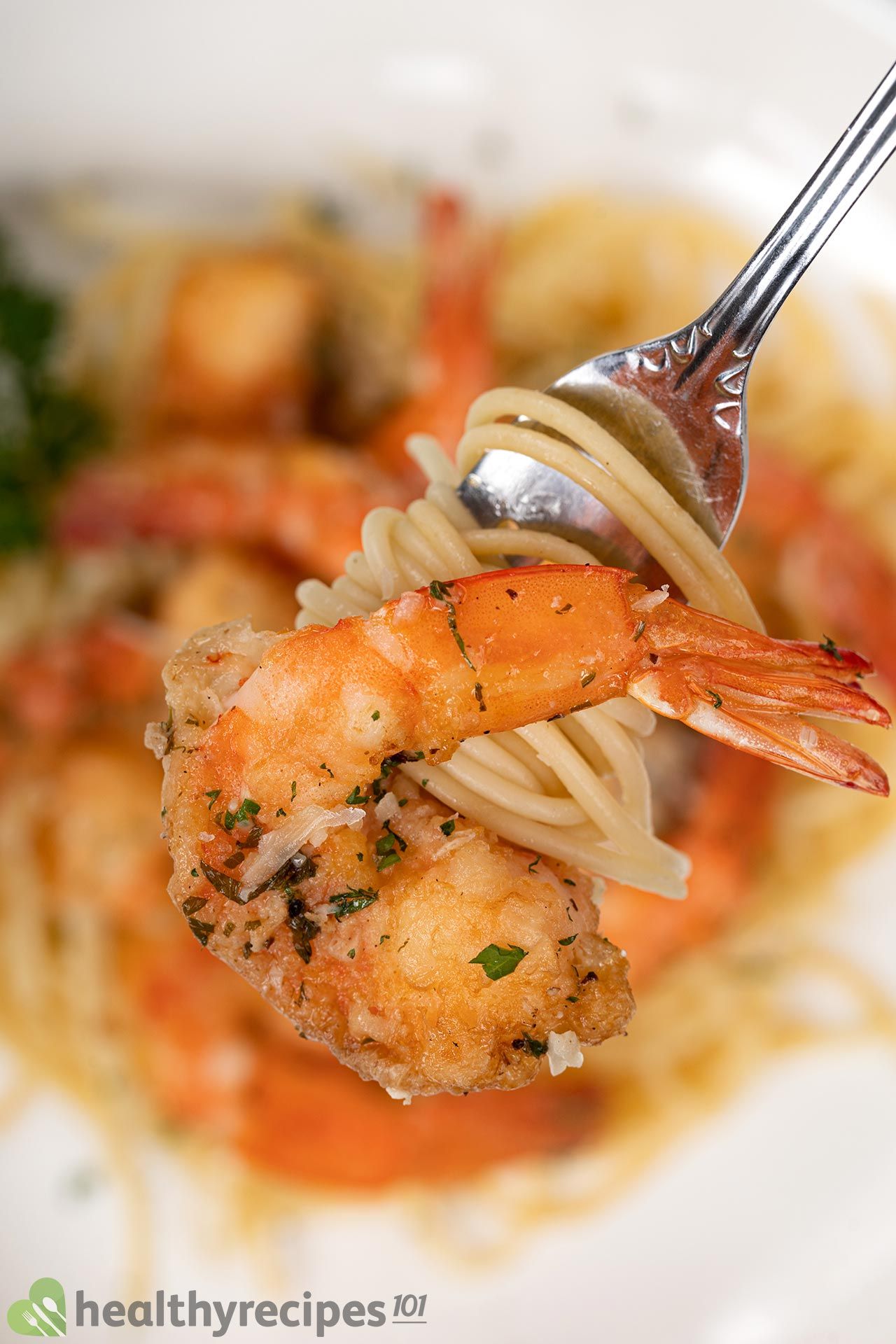 Previous Recipe
Shrimp Mei Fun
Shrimp Mei Fun
Next Recipe
Shrimp Pasta Salad
Shrimp Pasta Salad
Luna Regina
A writer and entrepreneur, Luna's day doesn't start at the computer keyboard, but in the kitchen.
Half of her working hours are spent on mixing ingredients for her recipes. The other half involve working with the tech team to research and test the tools and appliances that promise to make kitchen work effortless and mess-free. From a kitchen knife or water filter to the Instant Pot, if it can help save time and effort for the home cook, Luna and her team are on it.
Luna's extracurricular pastimes include camping, travel, and photography.