Our pan seared shrimp recipe is one of the best ways to make a delicious meal full of shrimp and vegetables, very quickly.
Pan Searing — A Classic but Powerful Technique
Today we'd like to make a shout out to a classic cooking method we've lived with for thousands of years, pan searing. It may look like just another way to heat up food on a cooking surface, but its true beauty lies in the texture it creates: a brown crust coating a juicy interior. The technique requires your full attention, but it is cake once you've learned the basics and it doesn't take much time.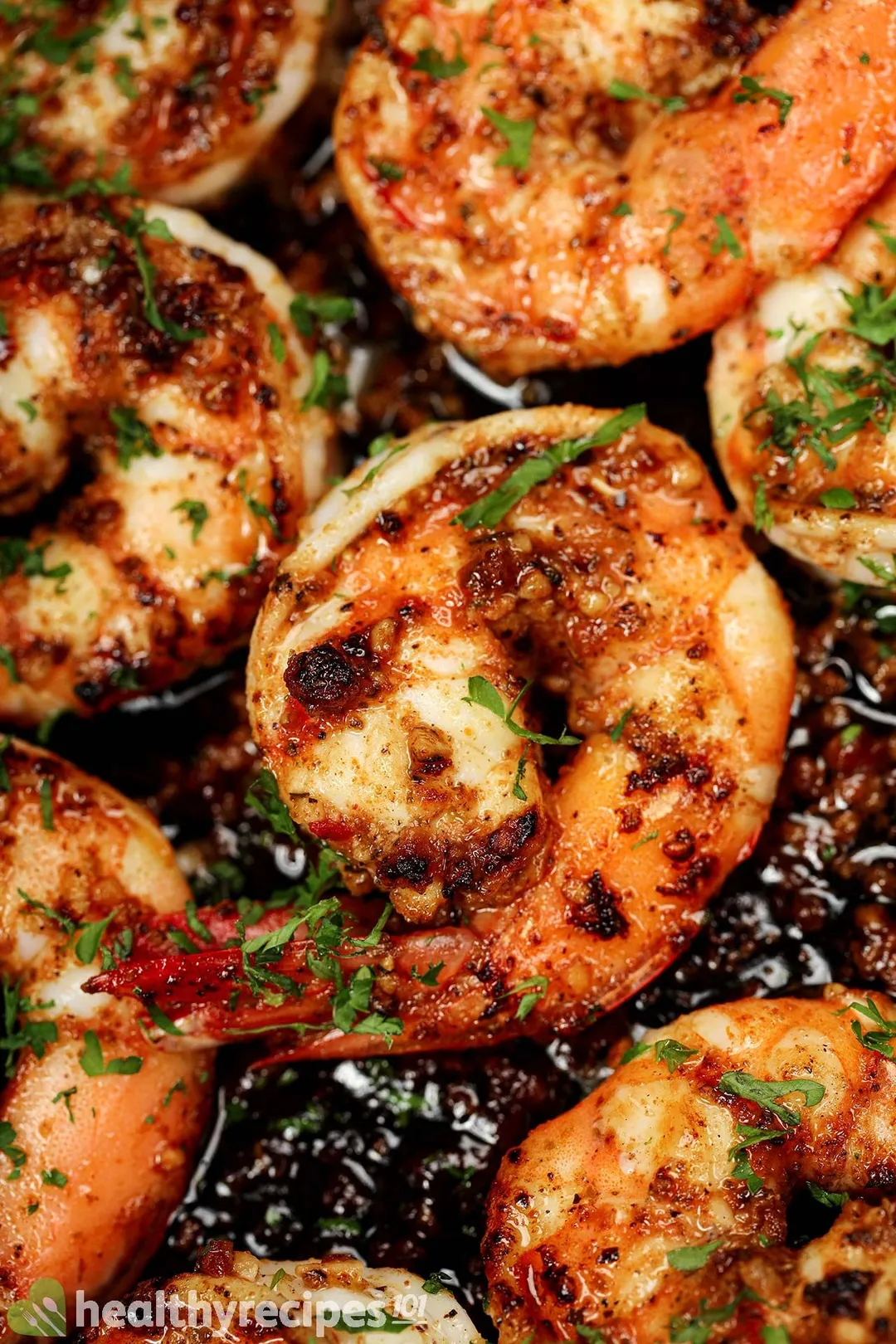 The star ingredient for today's searing session is shrimp, caramelized on the outside but juicy on the inside, and smothered in intense spices. It's cooked along with potatoes and asparagus, also pan-seared to add a crisp exterior to the tender middle.
Beyond the shrimp, we also pan-seared other types of protein such as chicken and salmon, and the result rarely disappoints.
What Makes Our Pan Seared Shrimp Healthy?
Healthy eating should not be a complex idea, but as defined by the USDA, it starts with sufficient intake of nutrients.
Today's meal features shrimp, a healthy protein with omega 3 fatty acids that positively benefit the body. Within shrimp there are loads of micronutrients such as selenium, choline, some B vitamins, zinc, vitamin E, and many more.
The potatoes and asparagus add some complex carbs, fiber, and micronutrients to the meal, such as vitamin C, vitamin K, potassium, magnesium, manganese, phosphorus, etc. Like shrimp, they are defined as nutrient-dense foods.
An important aspect of healthy eating also involves moderation. We use USDA dietary guidelines when creating dishes to ensure they not only taste good, but also contain no more than 500 calories, 13 g saturated fats, and 600 mg sodium per serving.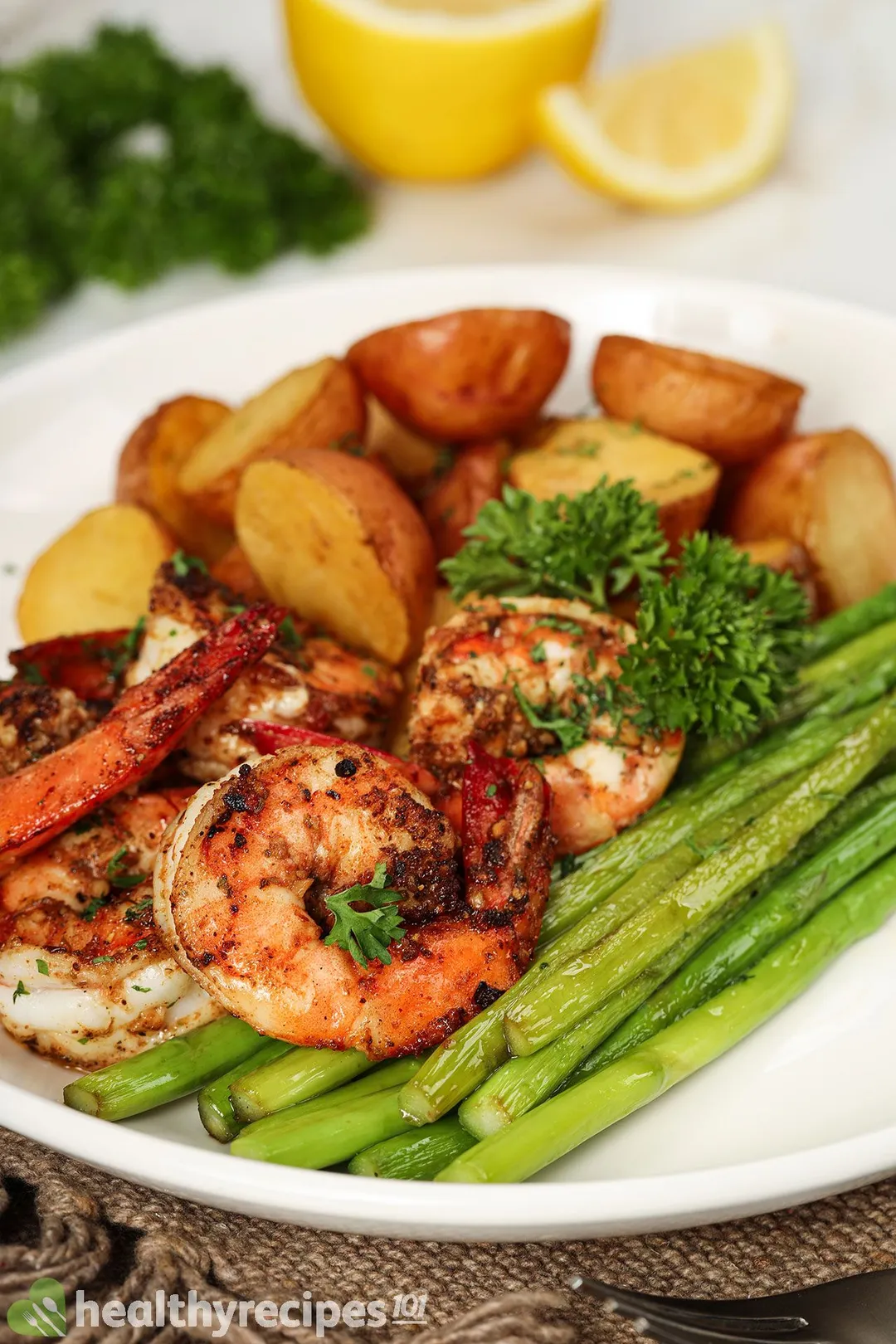 Ingredients for Our Pan Seared Shrimp
For our pan seared shrimp recipe, you'll need peeled shrimp, olive oil, butter, garlic (or garlic powder), several spices, and some vegetables:
If you follow our recipes, you may have noticed that we often peel our shrimp but leave the tail on. This is intentional and not for presentation only; the tail contains a tiny saltiness and umami flavor that should make your dish even more flavorful.
The technique itself brings out plenty of flavor already, so you can get away with just garlic powder (or fresh, or both) and Italian seasoning. But if you're a fan of spicy food, like us, do as we do and add a greater variety of heat and spice — cayenne, Cajun, paprika, and any others you like. These spices also create the inviting red shade that makes these shrimp look even more appetizing.
Butter pairs phenomenally well with seafoods in general, but its low smoking point makes it an unideal fat for searing. That's why we also use olive oil, which may not have the highest smoking point of all, but is good enough to get the shrimp properly seared.
We chose to add potatoes and asparagus for the vegetables. Any kind of potatoes will work, but we just felt like using baby potatoes, as less prep is required. You could also choose snap peas if you're not a big fan of asparagus, or any other veggie that's green and remains firm after searing.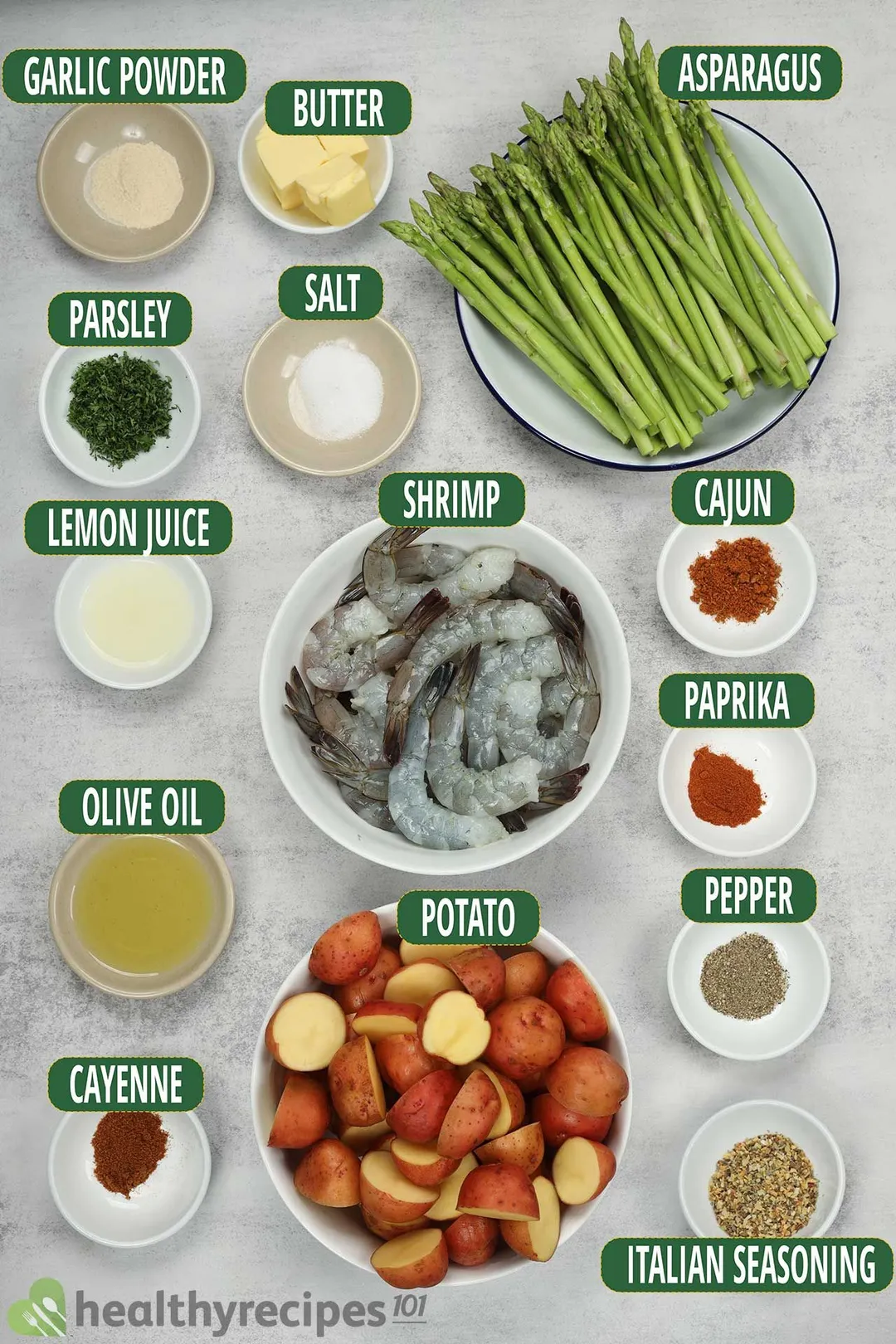 How We Made Our Pan Seared Shrimp
Without the veg, we could have just seared the shrimp along with the seasonings, because this technique is that quick. Since we also wanted the vegetables seared, the cooking process involved an extra step.
First, we added the potatoes to a large bowl and microwaved them, as searing is not an effective method for dense foods or foods that take longer to cook. Without pre-cooking, the potatoes could end up browned on the outside, but pretty raw on the inside.
While the potatoes were microwaving, we marinated the shrimp with seasonings. Details of how much of each and how long can be found in our 'pan seared shrimp recipe' card at the bottom of this article.
Once the shrimp was marinating, we cooked the asparagus in butter and olive oil, and set it aside. At which point the potatoes were also finished, so we added a little more oil and butter, and seared the potatoes until they were just blistered.
We then set both of the veg aside and added some more oil and butter to sear the marinated shrimp.
Searing thicker meat cuts requires at least two cooking stages: browning the outside with intense heat and slowly cooking the inside with low heat. Timing for the two depends on how thick the meat is, and if we're talking inches, the meat may have to finish the second stage in the oven.
Because shrimp are smaller, the first stage is all it takes. You just need some intense heat and a watchful eye.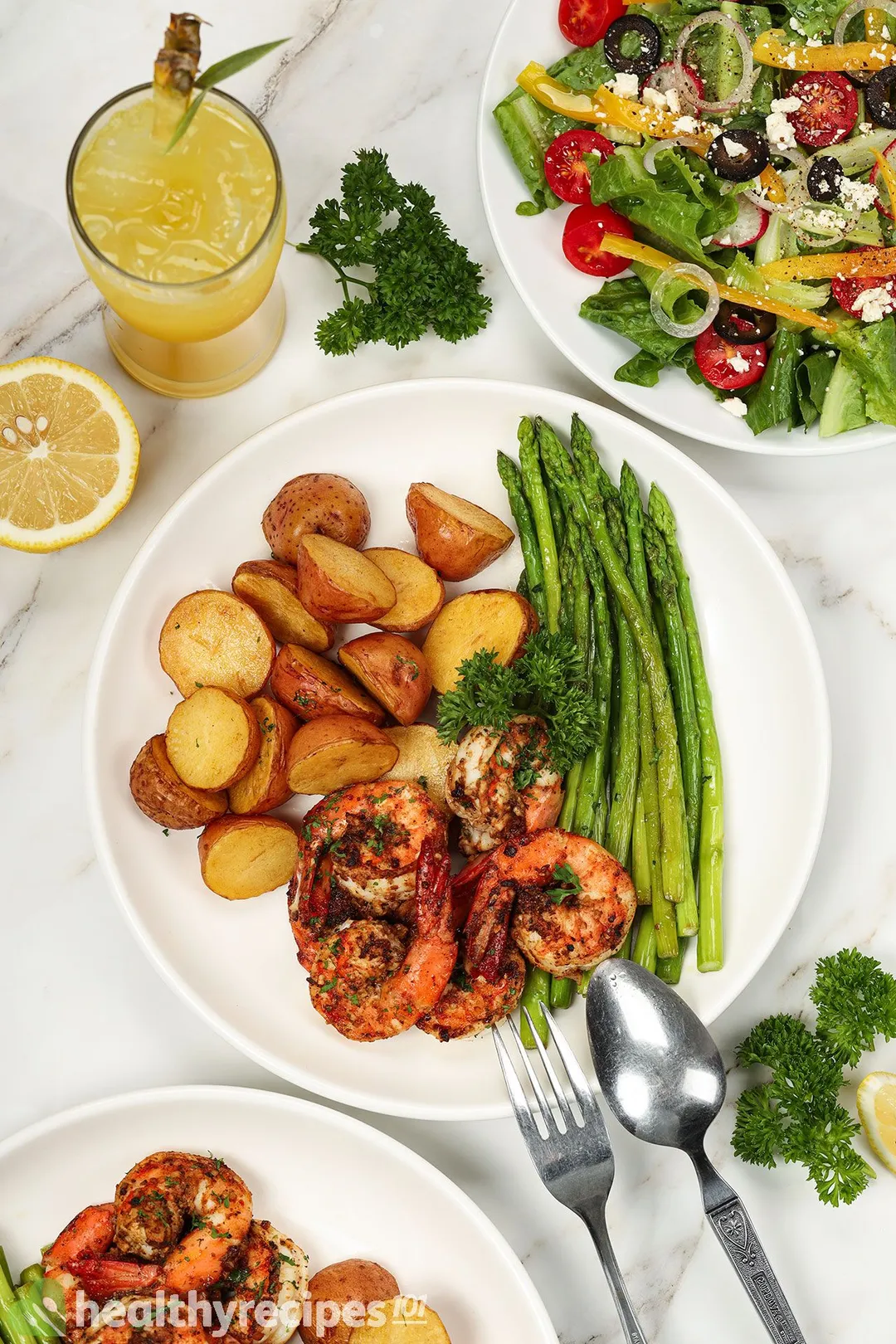 Ours took about 4 minutes but yours can take longer or shorter depending on the heating capabilities of your stove. We recommend that you inspect the searing side every 30 seconds and flip whenever necessary to prevent burning.
Here's the entire process, illustrated:
Microwave the potatoes.
Marinate the shrimp.
Cook the asparagus.
Sear the potatoes.
Sear the shrimp
Mix with cilantro and enjoy.
Storage and Reheating
The cooked shrimp and veggies can be placed into an airtight container and kept in the fridge for about 4 days, or in the freezer for about 3 months. Reheat them in a saucepan along with a splash of water over medium heat, and for a bit longer if they're frozen, until heated through.
What We Serve It With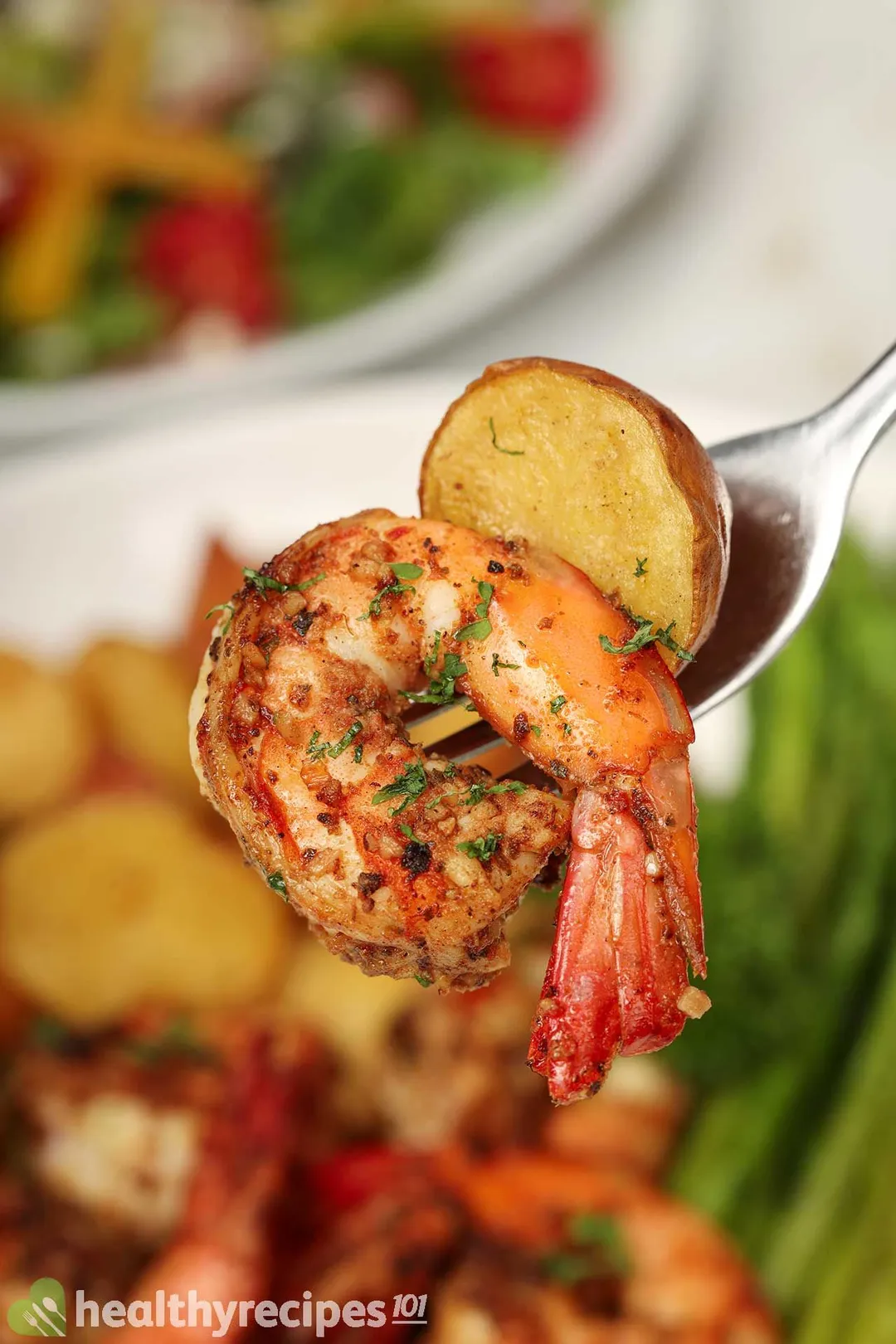 The robust flavor of the shrimp pairs wonderfully with a tangy salad, like our Greek salad. If you need a drink, our pineapple ginger juice is a summery sweet-tart treat with a warm undertone.
Pan Seared Shrimp
Greek Salad
Pineapple Ginger Juice
Check Out Some More Shrimp Dishes
Pan Seared Shrimp
Our pan seared shrimp recipe is a quick yet flavorful way to get a delicious meal. It features pan seared shrimp, soft, blistered potatoes, and tender asparagus.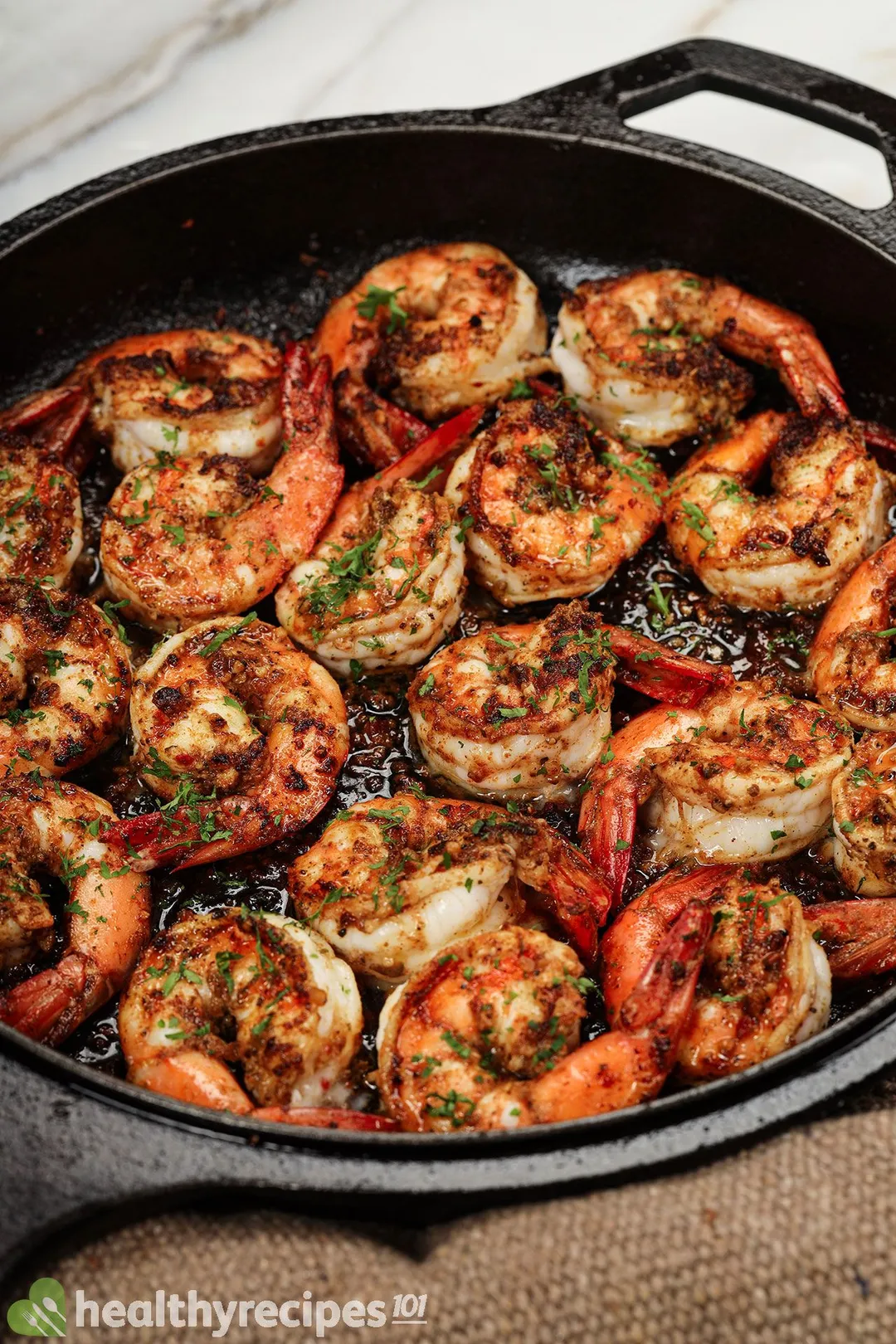 cook TIME

25 mins

prep TIME

5 mins

total TIME

30 mins
COURSE

Main Course

CUISINE

Global

SERVINGS

CALORIES

481 kcal
INGREDIENTS
13 oz

peeled shrimp

(from 26 oz whole shrimp)

28 oz

baby potatoes

(halved)

12 oz

asparagus

(woody ends trimmed)

4 tbsp

unsalted butter

(each tablespoon separated)

1/2 tsp

ground black pepper

2 tbsp

olive oil

(divided in half)
INSTRUCTIONS
1
Place 28 oz baby potatoes into a large bowl, cover with plastic wrap, and microwave on medium power for 15 minutes.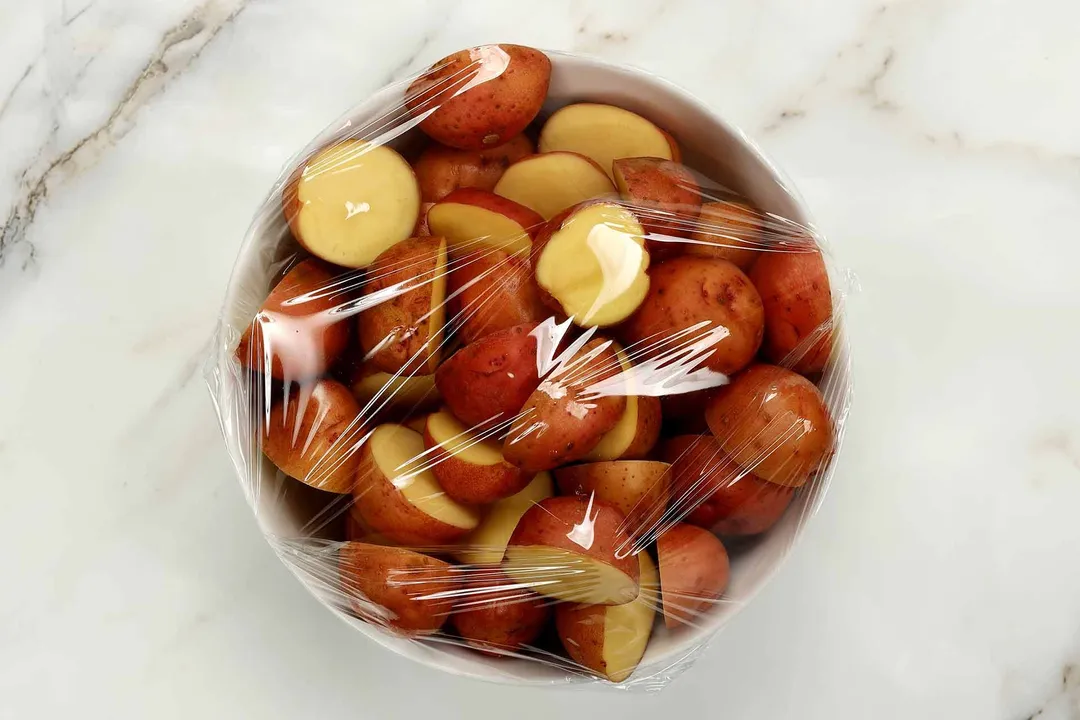 2
In another bowl, mix 13 oz shrimp with 1 tbsp Italian seasoning, 1 tbsp lemon juice, 1/2 tsp garlic powder, 1/4 tsp Cajun seasoning, 1/2 tsp cayenne powder, 1/2 tsp paprika, 1/2 tsp ground black pepper, and 1/4 tsp salt. Set aside.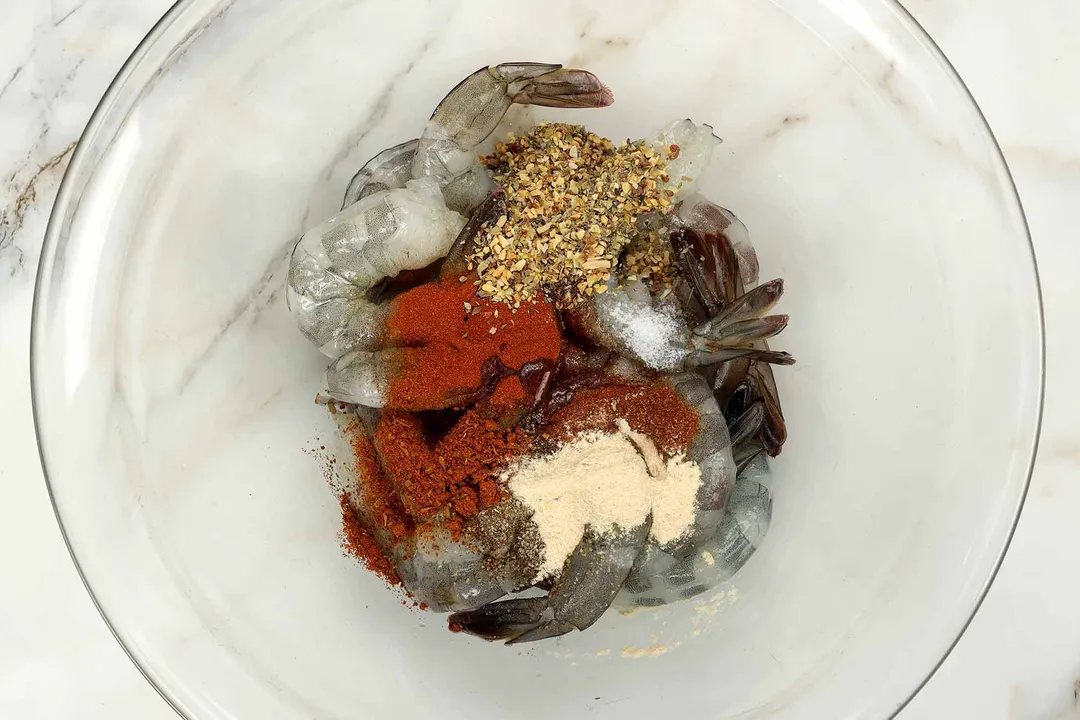 3
Heat 1 tbsp olive oil in a non-stick skillet over medium heat. Add 1 tbsp butter along with 12 oz asparagus and stir until soft. Set aside.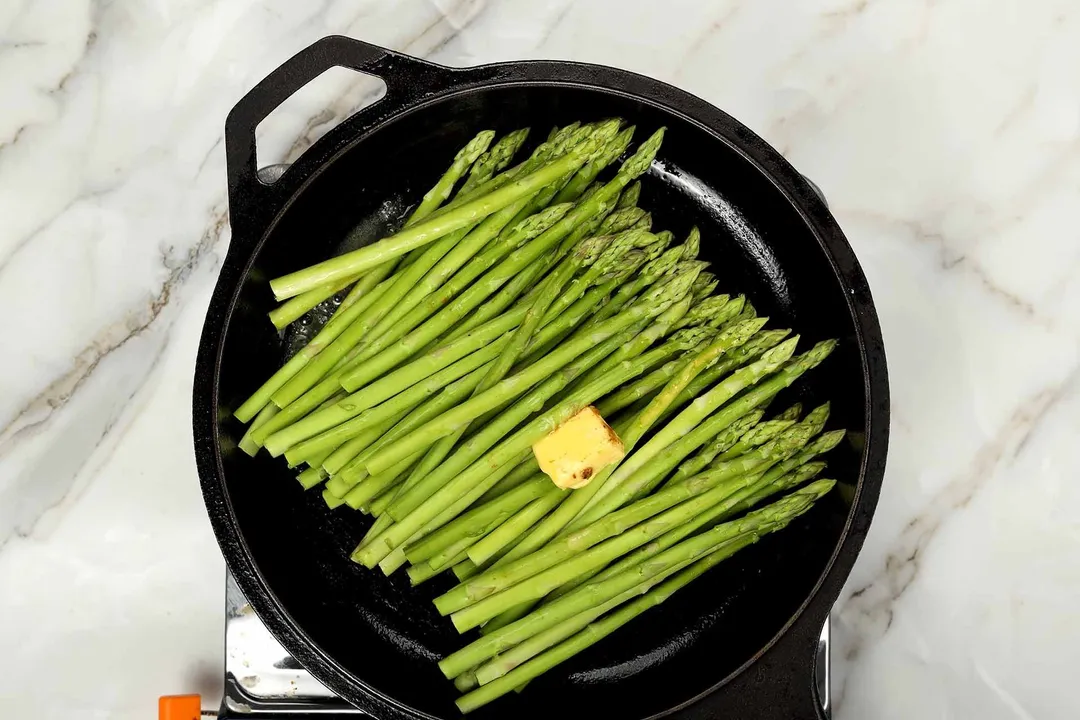 4
Carefully retrieve the potatoes from the bowl. In the same skillet add another 1 tbsp olive oil and 2 tbsp butter. Add the potatoes and leave them to sear for a solid 4 minutes or until they're all slightly blistered. Season with 1/4 tsp salt, and set aside.
5
Add the marinated shrimp along with the remaining butter (1 tbsp). Turn the heat to medium-high and sear both sides for 2 minutes each or until they're beautifully browned. Turn off the heat.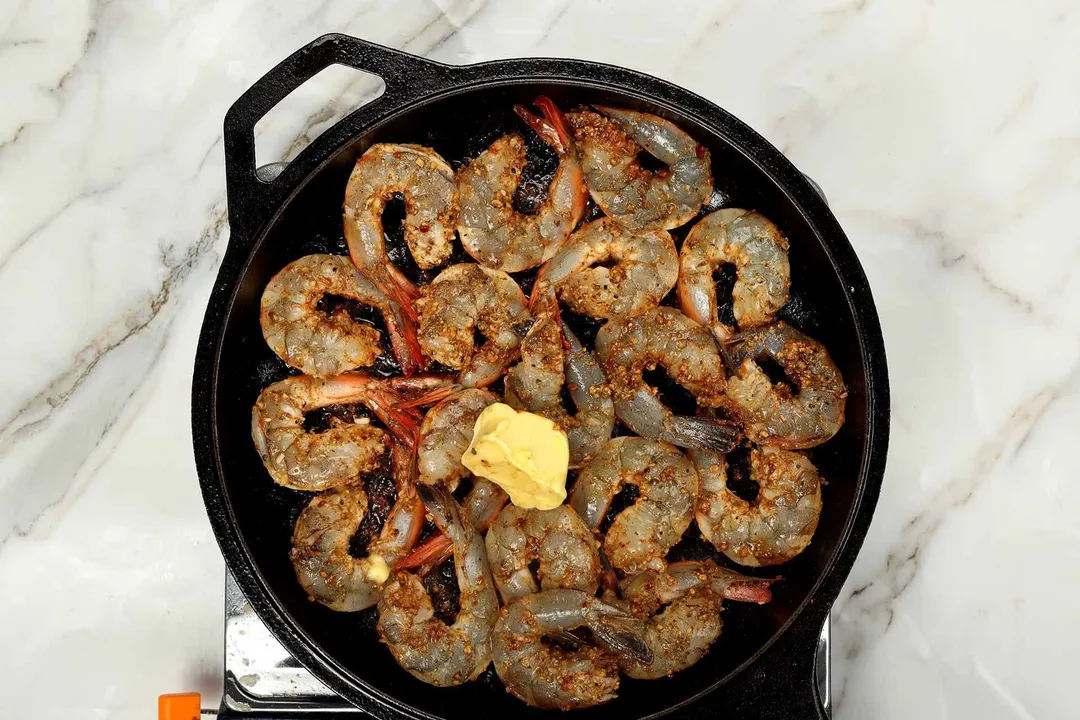 6
Sprinkle 2 tbsp chopped parsley on top, and enjoy with the cooked vegetables.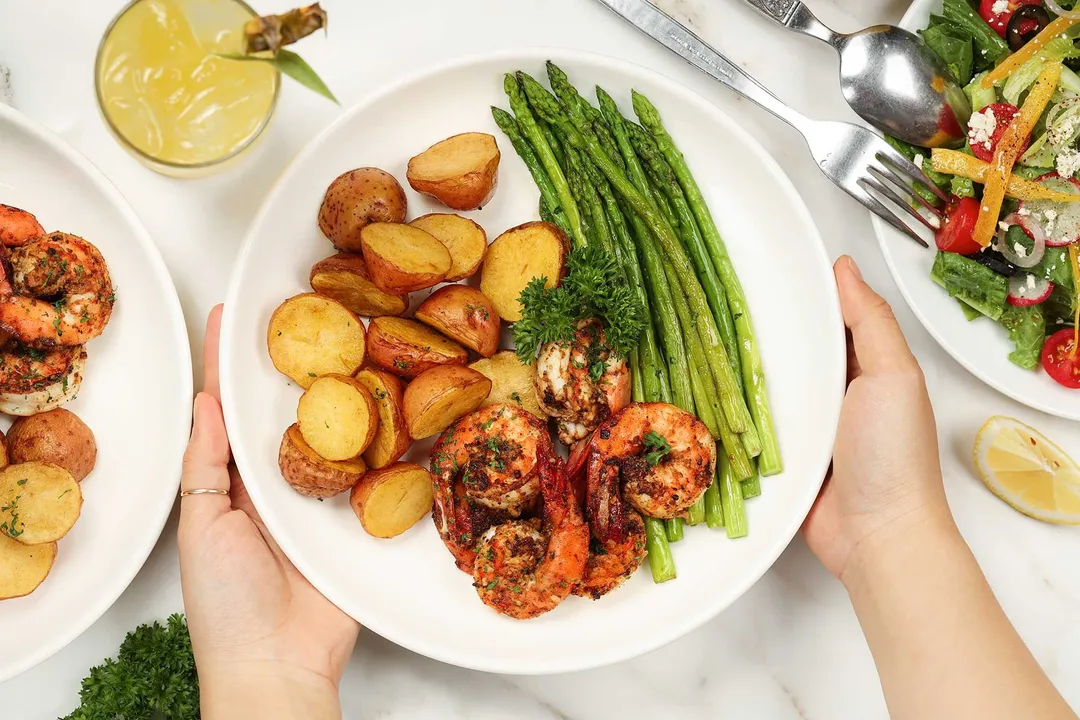 NUTRITION
Nutrition Facts
Pan Seared Shrimp
Amount Per Serving (1 serving)
Calories 481
Calories from Fat 180
% Daily Value*
* Percent Daily Values are based on a 2000 calorie diet.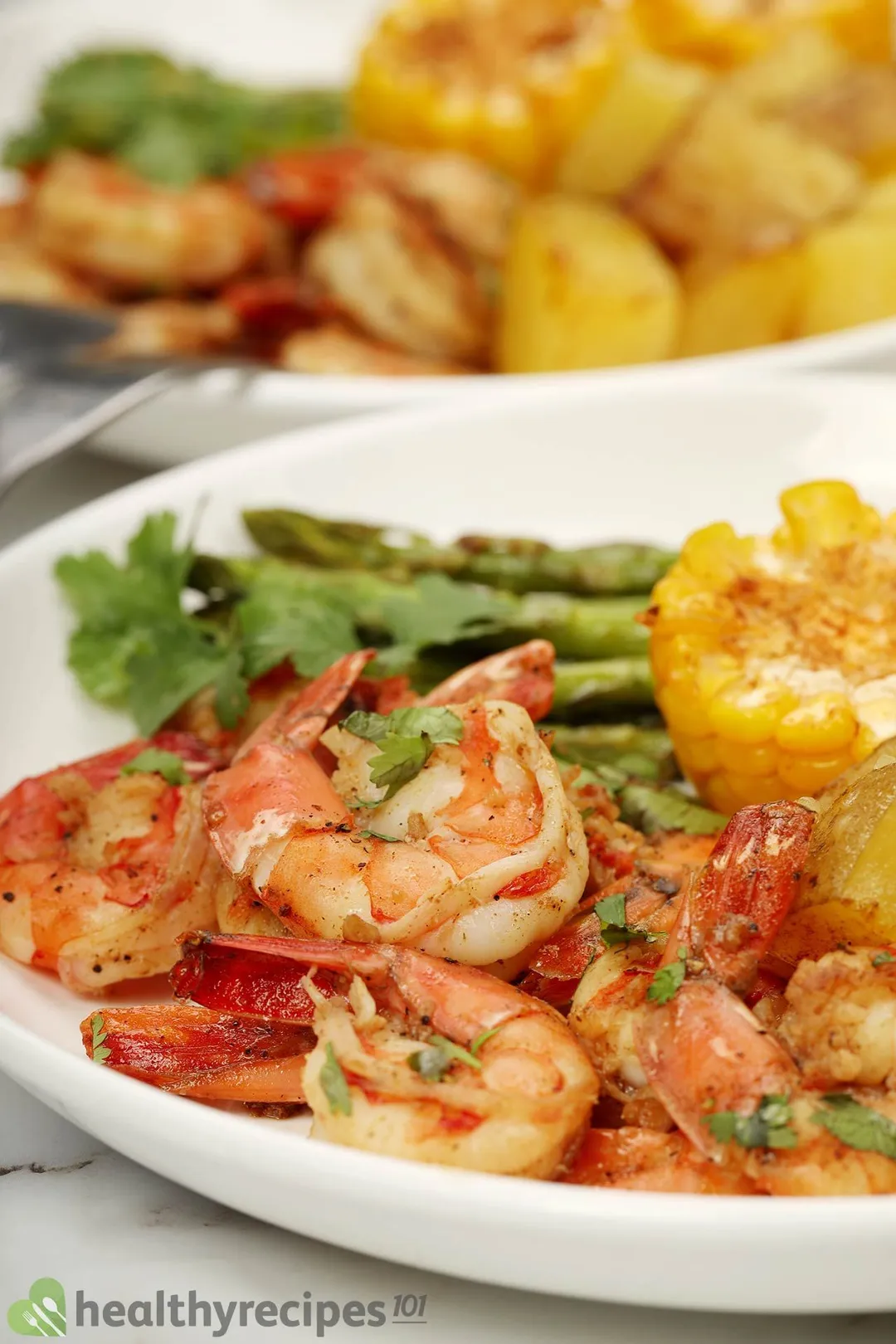 Previous Recipe
Tequila Lime Shrimp
Tequila Lime Shrimp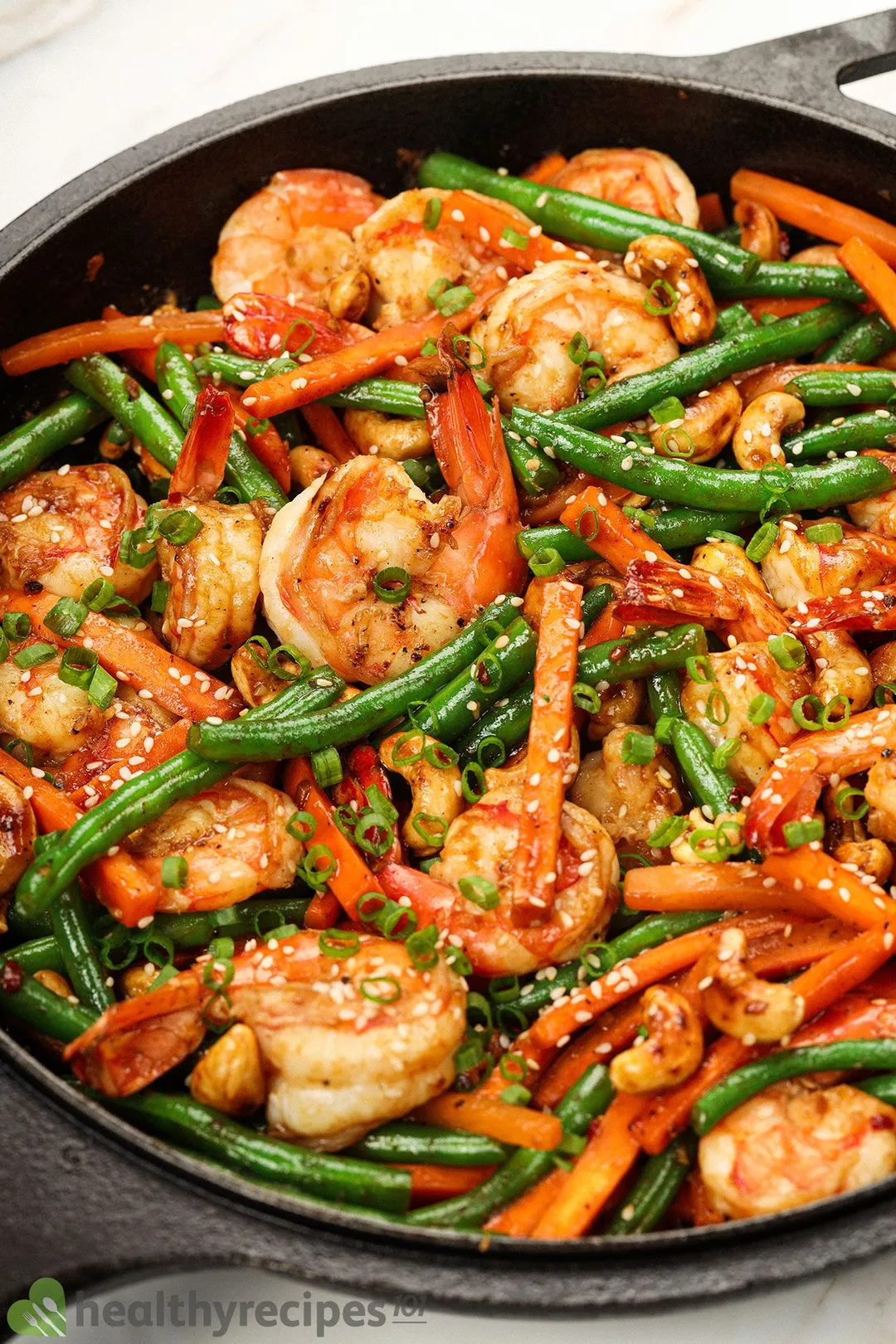 Cashew Shrimp
Head Chef, Culinary Consultant
Tuyet Pham is an award-winning Saigonese chef who believes that joy is the secret ingredient to delicious food. At Healthy Recipes 101, Tuyet personally tests and simplifies every recipe, ensuring maximum flavor with minimal effort. With a background at prestigious French restaurants P'TI Saigon and Le Corto, Tuyet knows how to make every dish exceptional.
Writer, Author
Luna Regina is an accomplished writer and author who dedicates her career to empowering home cooks and making cooking effortless for everyone. She is the founder of HealthyKitchen101.com and HealthyRecipes101.com, where she works with her team to develop easy, nutritious recipes and help aspiring cooks choose the right kitchen appliances.
Nutrition Reviewer
Natalie Butler is a registered dietitian nutritionist with a passion to help others live their best life through food, fitness, safer beauty and a healthy lifestyle. She has expertise with a variety of diets and diseases and believes that there is no one-size-fits-all approach for health.
Thank you for sharing, Luna. These flavors are just what I need in my kitchen

Savor the succulent flavors of pan-seared shrimp with this recipe!