This 35-minute shrimp quiche recipe makes everything from scratch.
Shrimp Quiche — Rich, Soft, and Filled With Crisp Shrimp
When shrimp is cooked just right, it's hard not to fall in love with its texture. The natural crispness holding together the firm, yet juicy interior is truly divine.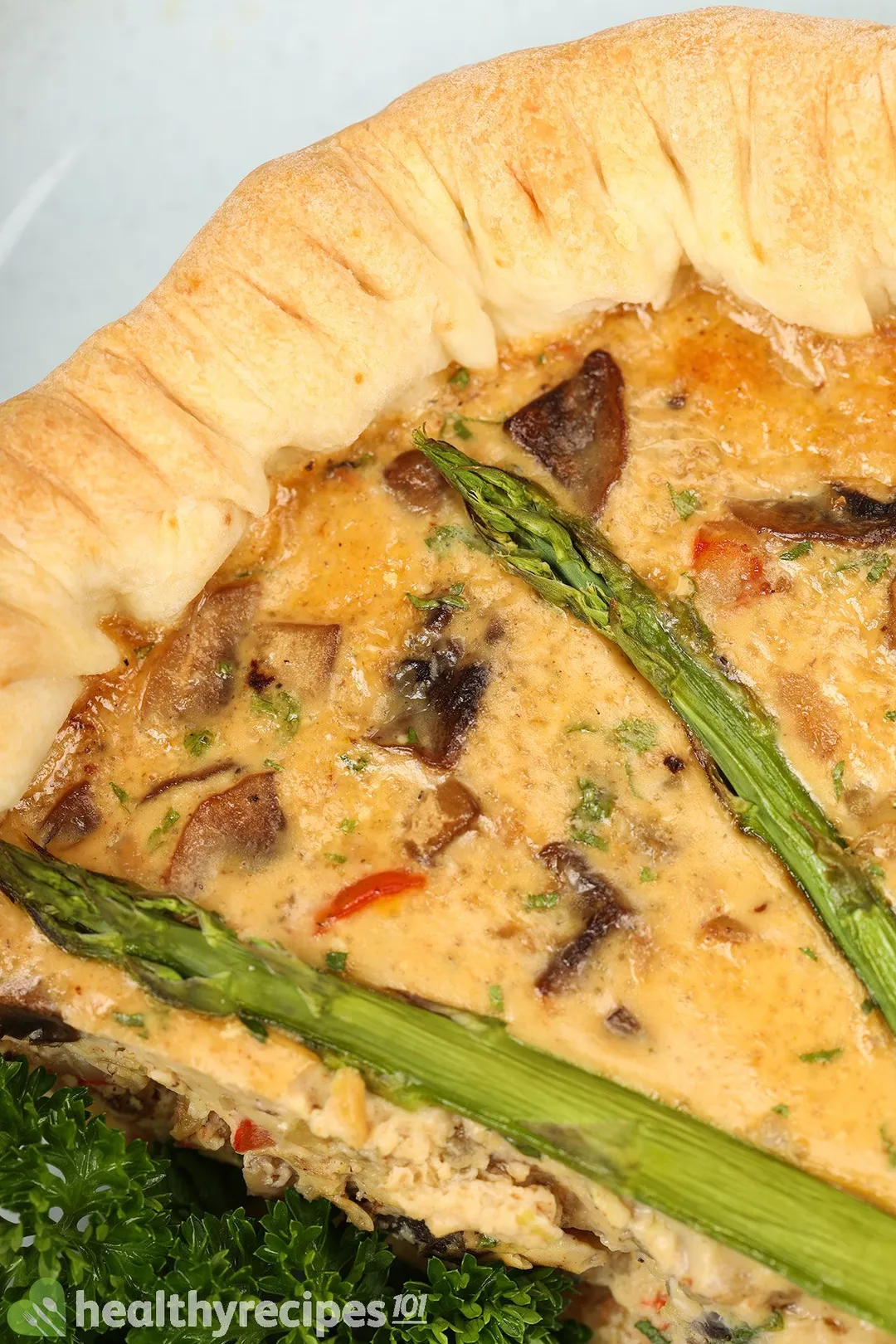 Today's shrimp quiche recipe is all about this delectable protein. It's cooked with seasonings and mushrooms, mixed with eggs, milk, and cream, and all nestled within the flaky, crumbly crust. The ingredients are easy to find, and the seasonings are probably already in your pantry.
If you've made this and loved it as much as we do, don't hesitate to check out this Broccoli Quiche Recipe.
Ingredients for This Shrimp Quiche
The filling for this shrimp quiche recipe includes eggs, milk, cream, shrimp, mushrooms, asparagus, aromatics, and basic seasonings. We also make the crust from scratch, which needs just four ingredients.
1. The Filling
Flash-frozen shrimp have a texture that's comparable to fresh shrimp. If you're all about convenience, peeled shrimp are also a good choice.
The shrimp should be cut into small pieces, just so they distribute more evenly across the quiche. We prefer larger pieces to preserve their delicious texture.
Once chopped, the shrimp are cooked with butter, aromatics, button mushrooms, and a generous amount of paprika, salt, and pepper. This flavorful filling is then mixed with eggs, milk, and cream, then baked in the oven with the crumbly crust. For a nutritious boost, we add some asparagus on top as well.
2. Substituting Yogurt for Heavy Cream?
We often use yogurt if the dish has a tangy-creamy flavor profile. Our quiche doesn't, so we wouldn't recommend yogurt in place of heavy cream.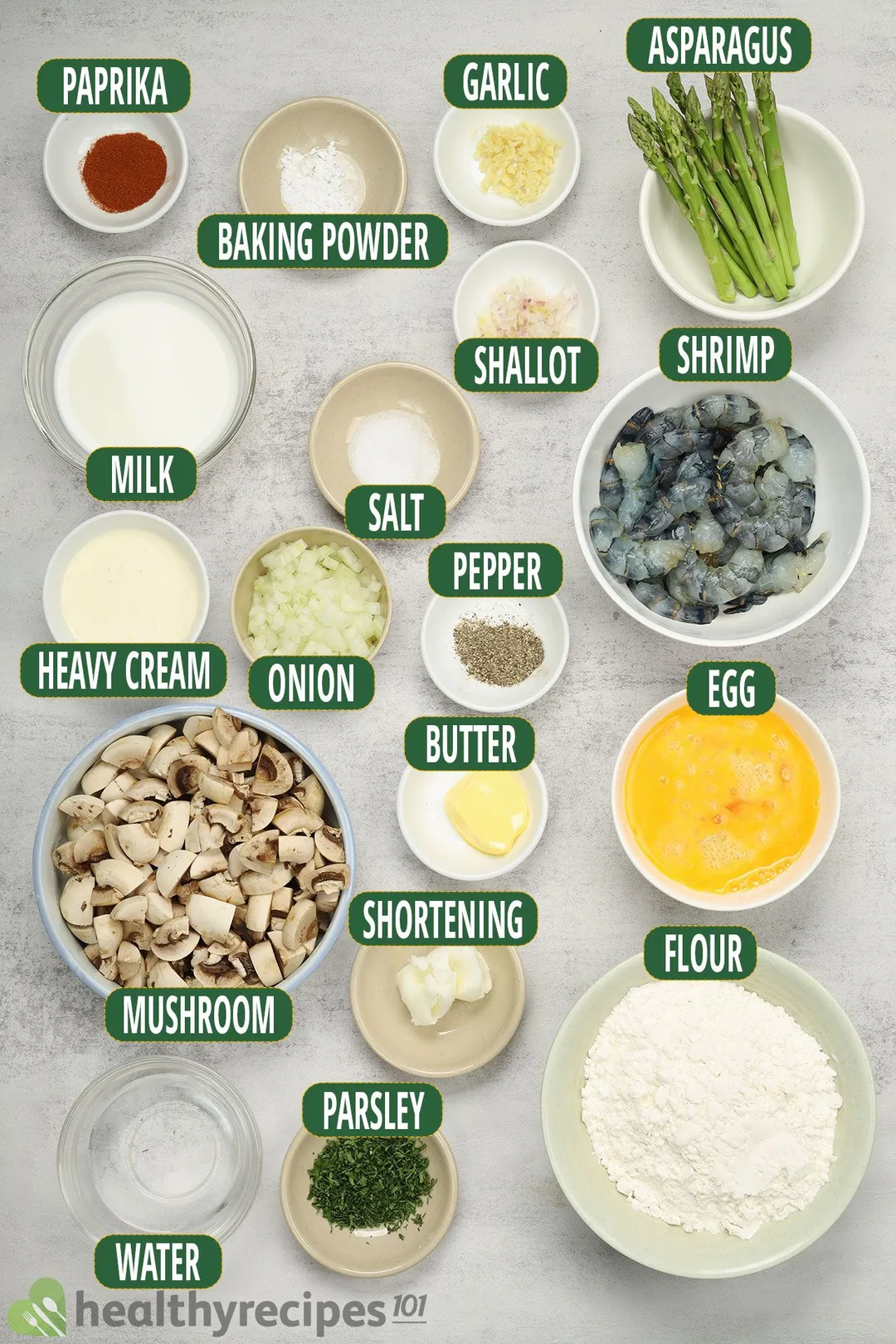 3. The Flaky Crust
All-purpose flour, shortening, water, and baking powder are all the crust asks for.
Although often neglected, shortening is a healthier alternative to butter that also makes the crust crumbly. Brands like Crisco sell plant-based shortenings, which are awesome for vegetarian dishes such as fruit tarts.
The crust is usually seasoned with salt, but we don't want to add more sodium to your meals. There are lots of seasonings in the filling already, more than enough for a delicious flavor profile.
How Healthy Is This Shrimp Quiche?
Quiche itself is a nutritious dish, as it's made with plenty of nutrient-dense ingredients such as eggs, meat, and different kinds of vegetables. When made with shrimp, it also comes with some healthy fats.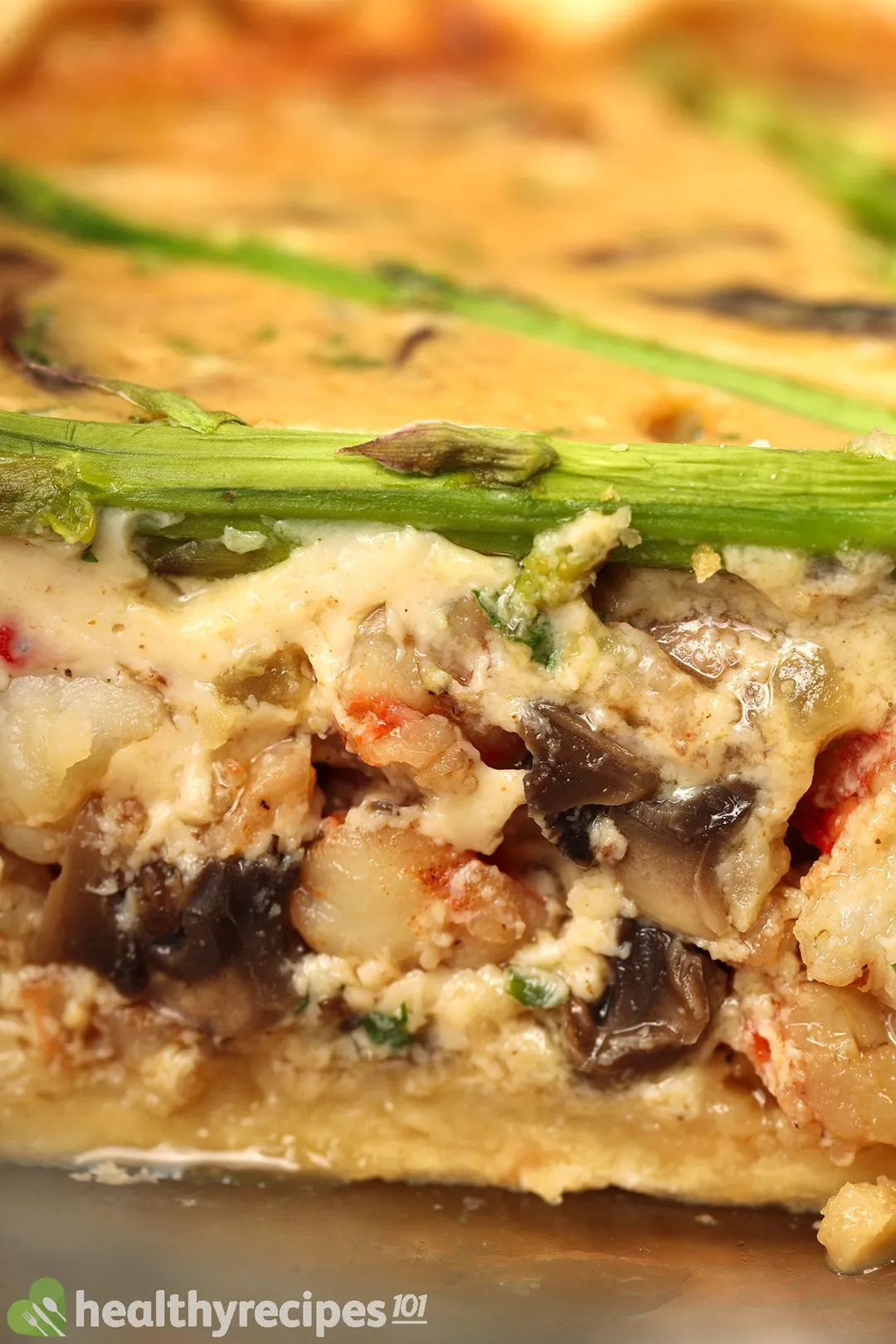 On the other hand, dishes with a lot of dairy tend to contain high levels of saturated fats and calories. To combat this, we use shortening to make the crust and we also keep the portions reasonably sized, so you can easily keep your intakes within the recommended limits. You can take a look at the nutritional label at the bottom of this article, as well as our guidelines for more information.
How to Make Shrimp Quiche
First, we make the pie crust by mixing the ingredients to form a dough, letting it rest, then rolling it out into a flat sheet. It's then gently transferred into a round baking dish, trimmed, and baked just until it's firm and holds the filling better.
Some people tend to tear the dough sheet while transferring. We suggest using this technique:
Roll the dough sheet onto your rolling pin;
Gently lift the rolling pin and hover it over the baking dish;
Unroll the dough over the baking dish, gently.
The filling is also easy: first aromatics, then shrimp, seasonings, and mushrooms all go into the pan and are cooked briefly. All is allowed to cool before the egg-milk mixture is added. Everything is then baked together with the pre-baked crust.
Details on measurements are listed in our 'shrimp quiche recipe' card at the bottom of this article.
Storage and Reheat
Any leftover portions can be placed into containers and kept for about 4 days in the refrigerator, and 3 months in the freezer. Suitable containers include air-tight containers and sealable bags. In slices, the quiche can also be wrapped in plastic wrap and placed in the fridge.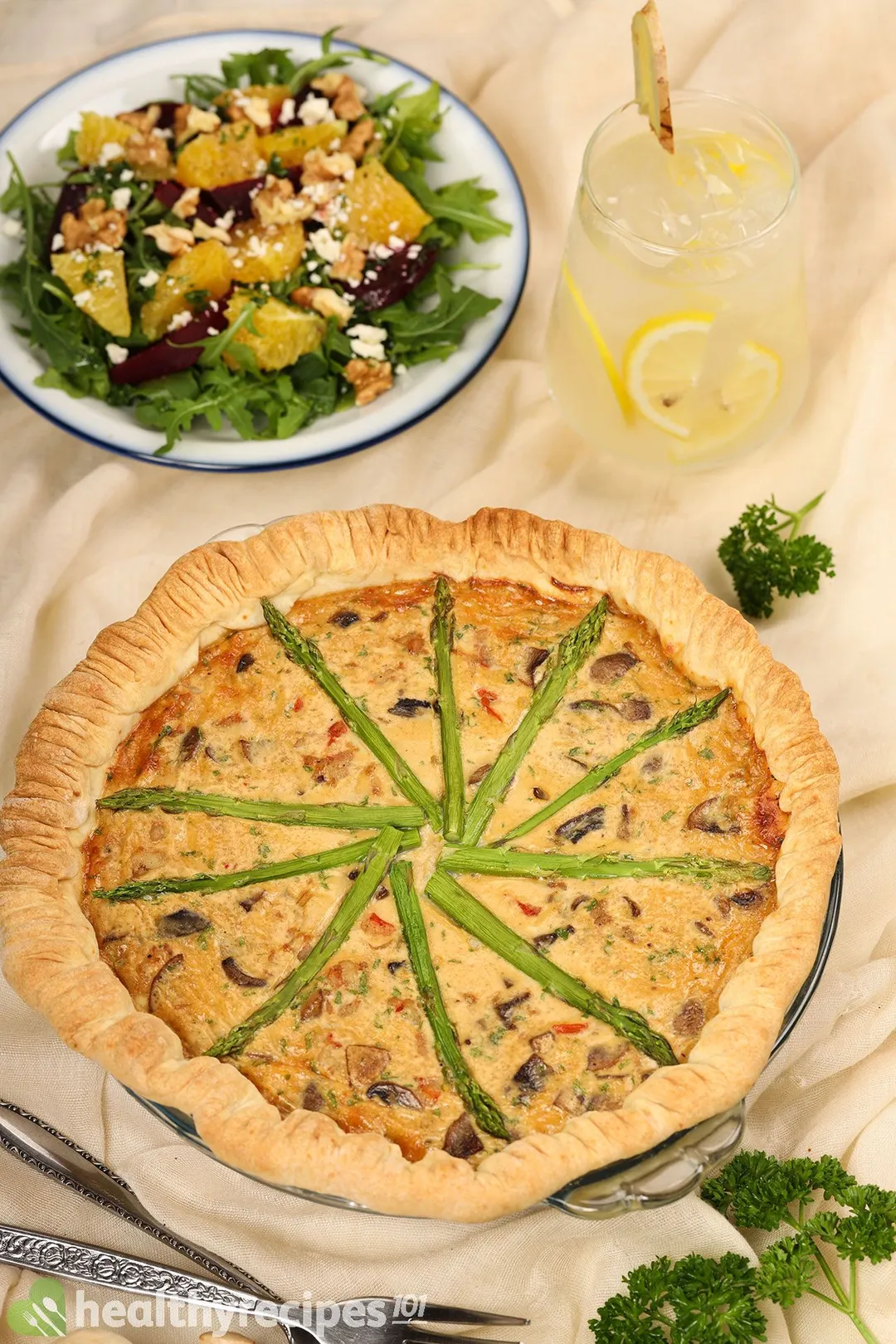 To reheat, transfer the quiche into an oven-safe container/ baking dish, then microwave on medium for 2-4 minutes, or bake. Each slice requires a temperature of 325°F for 10 minutes, if frozen, and for 5 minutes, if kept in the fridge.
Shrimp Quiche's Pairings
Both rich and savory, all the quiche needs is a fresh salad to cleanse the palate in between bites. We suggest our Beet and Feta Cheese Salad with cooked beets, feta cubes, and bright orange segments, all tossed with arugula, lemon vinaigrette, and topped with walnuts. Finally, everything is tied together with our ginger lemonade, refreshing and super herbal.
Shrimp Quiche
Beet And Feta Cheese Salad
Ginger Lemonade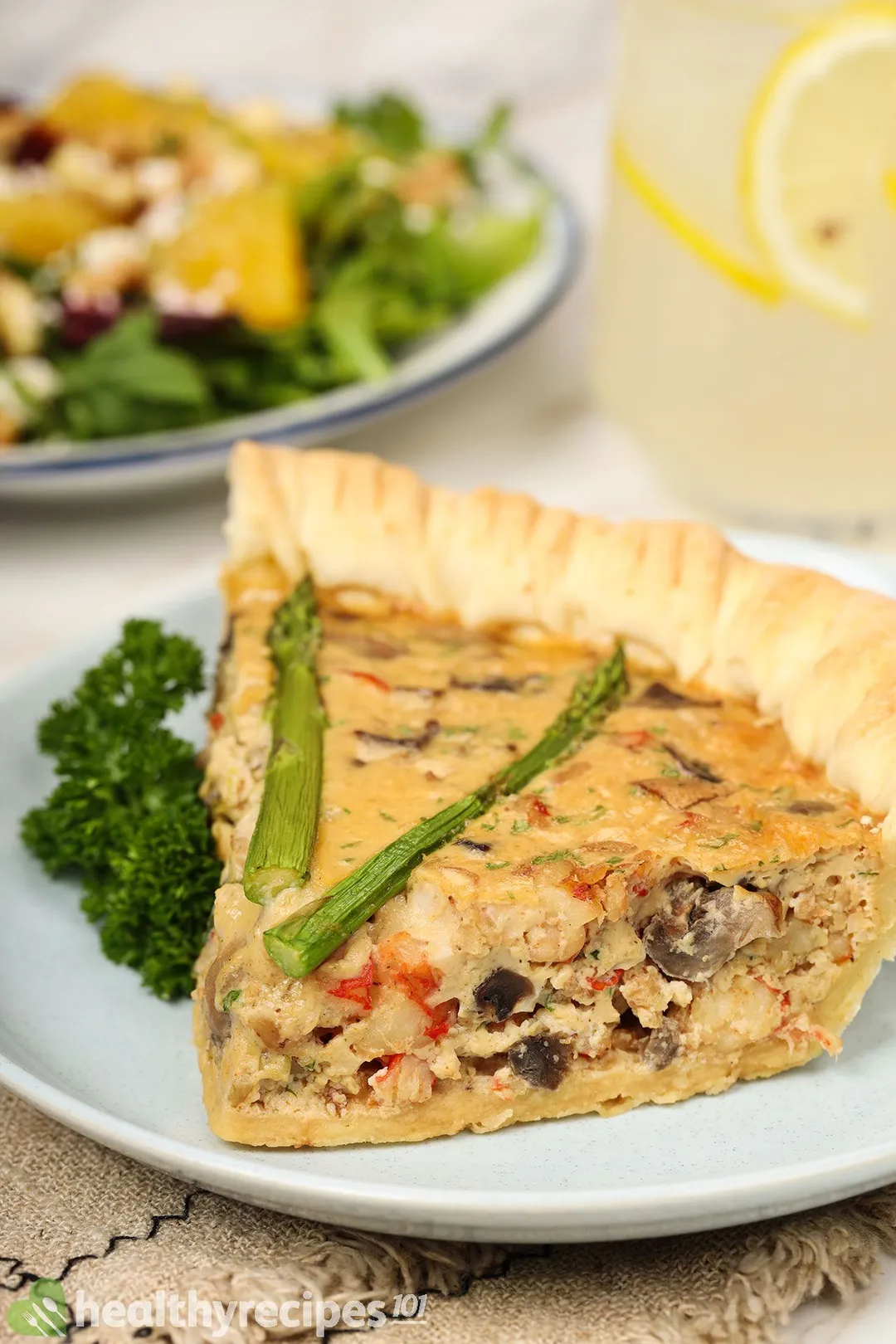 You'll Probably Enjoy These Too
Got an oven and a whole lot of shrimp? Make the most of them with these Baked Shrimp Recipes.
Shrimp Quiche
This shrimp quiche recipe is a 35-minute recipe for an easy, tasty dinner, lunch, or breakfast. It can be premade and reheated for a fuss-free meal.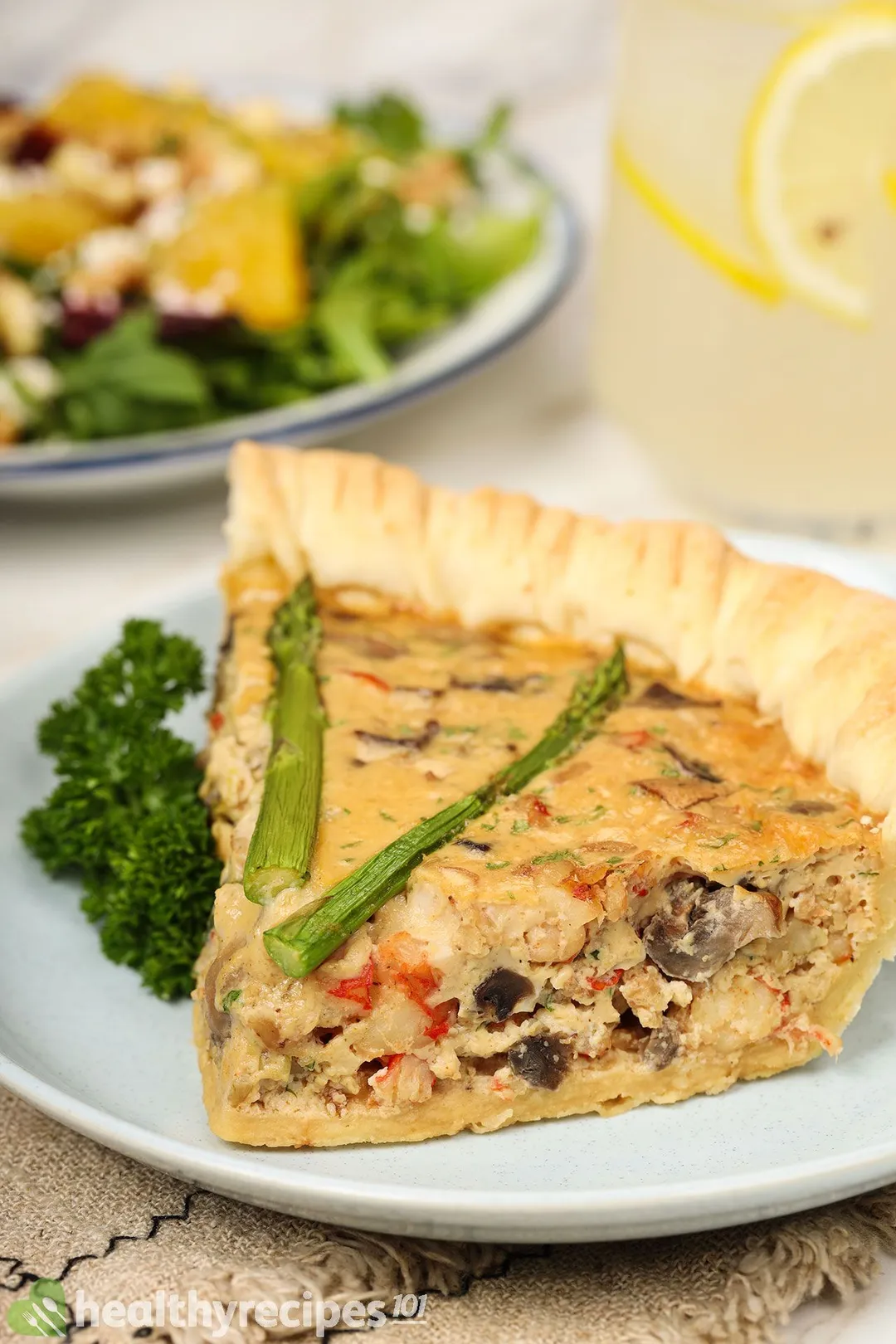 cook TIME

30 mins

prep TIME

5 mins

total TIME

35 mins
COURSE

Main Course

CUISINE

American

SERVINGS

CALORIES

487 kcal
INGREDIENTS
10 oz

peeled shrimp

(from 20 oz whole shrimp)

8 oz

white mushrooms

(quartered)

2 oz

asparagus

(trimmed ends)

1 1/2 cup

all-purpose flour

1 tbsp

vegetable shortening

1 tbsp

shallot

(finely chopped)

1/2 tsp

ground black pepper
INSTRUCTIONS
1
In a large bowl, sift in 1 1/2 cup all-purpose flour, and use a tablespoon to scoop out 2 tbsp flour to save for later. Mix in 4 tbsp water, 1 tbsp shortening, and 1/4 tsp baking powder.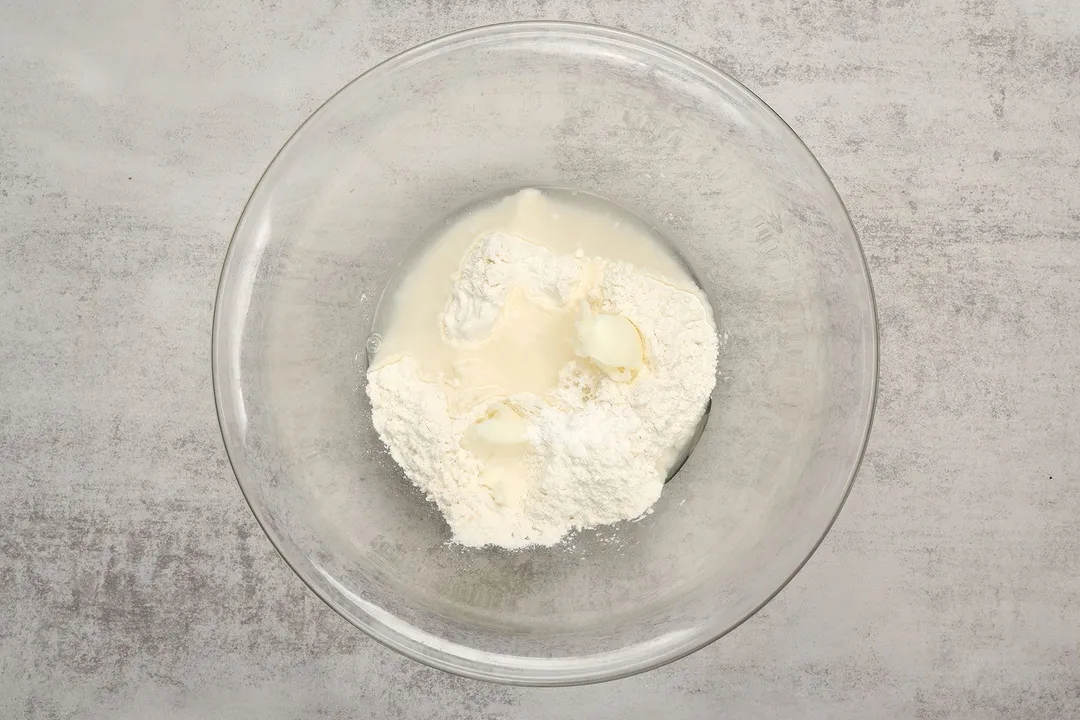 2
Knead until the dough is smooth.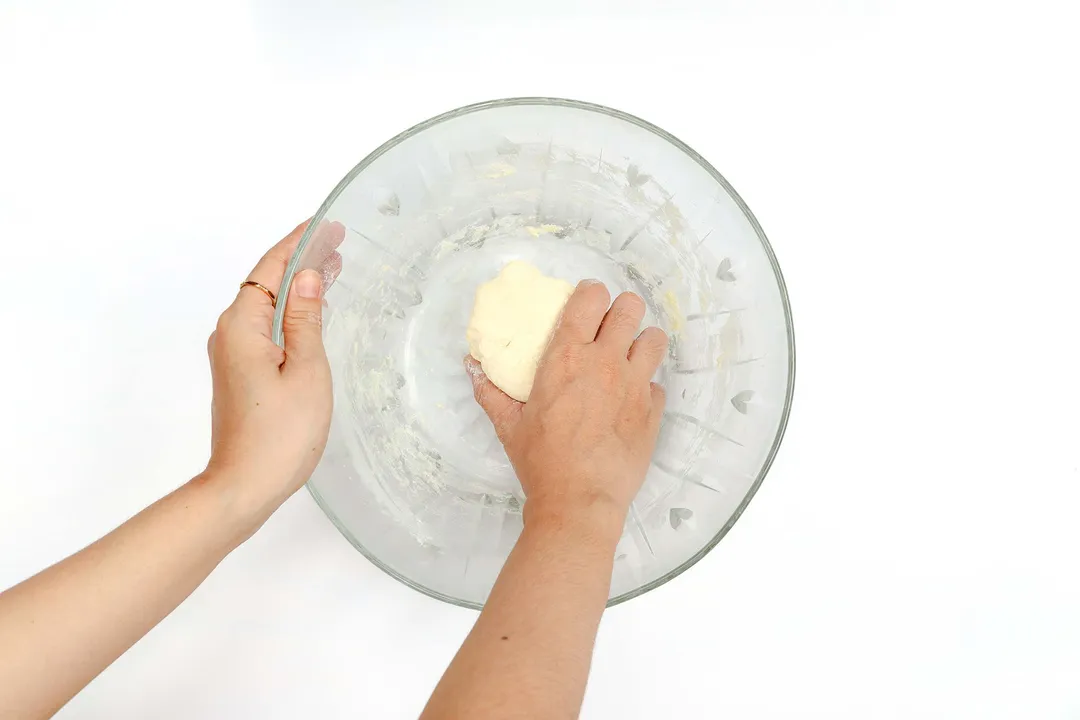 3
Then cover with a towel and allow to rest for 10 minutes.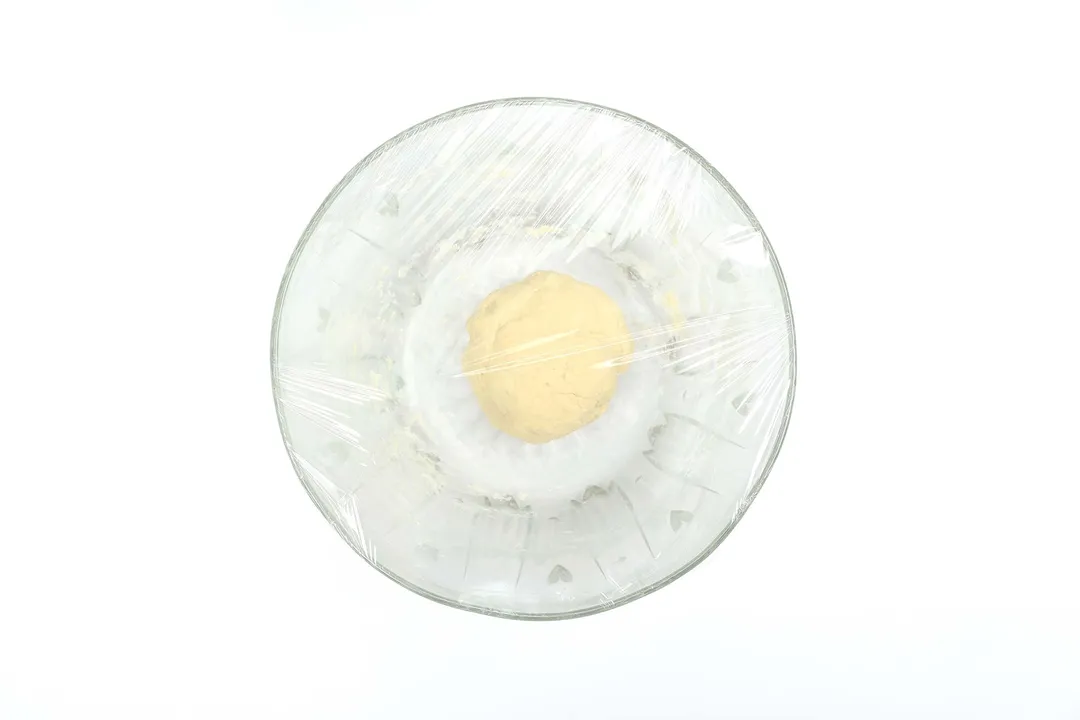 4
Chop 10 oz peeled shrimp into cubes.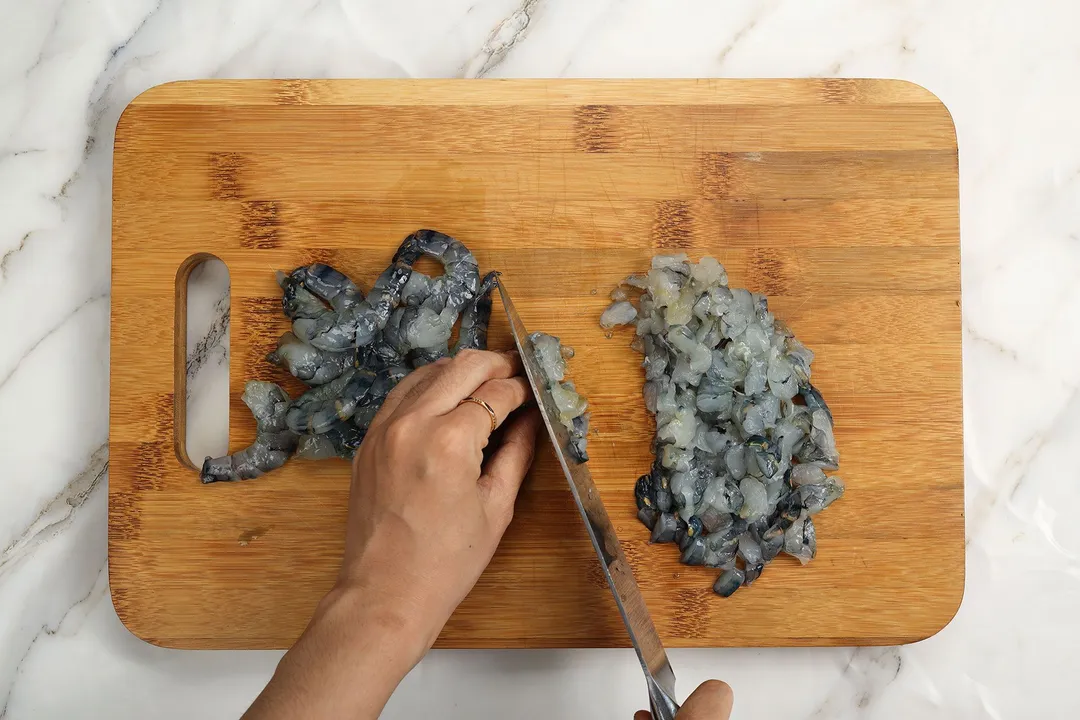 5
Preheat the oven to 400°F.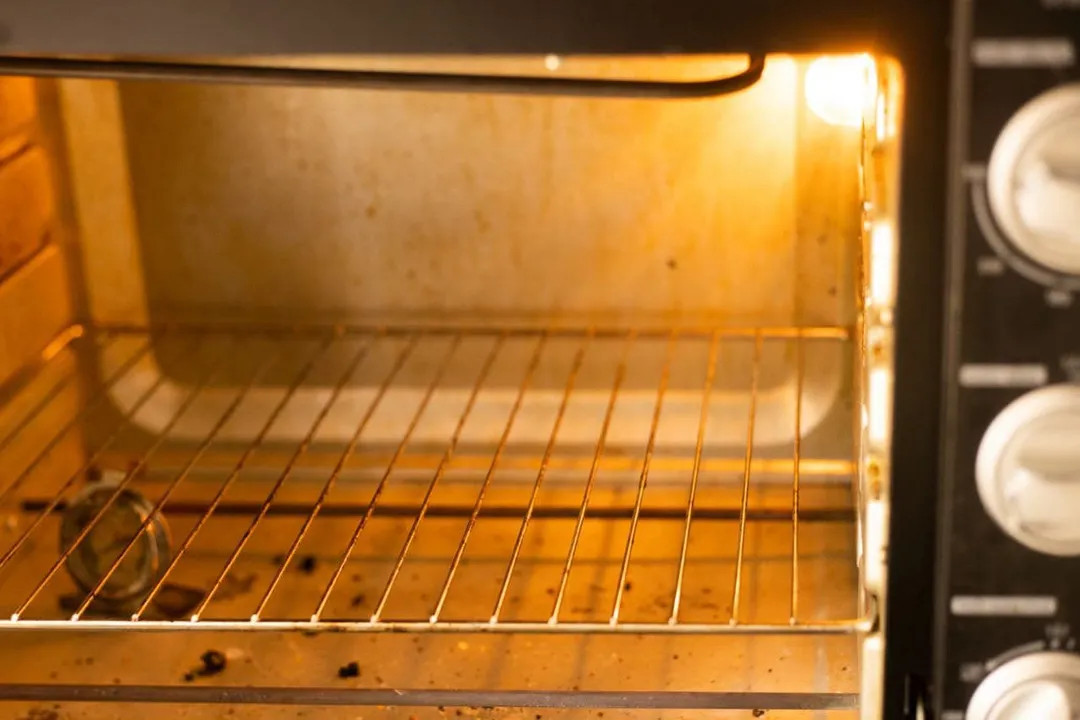 6
Dust a working surface and a rolling pin with the flour you saved earlier.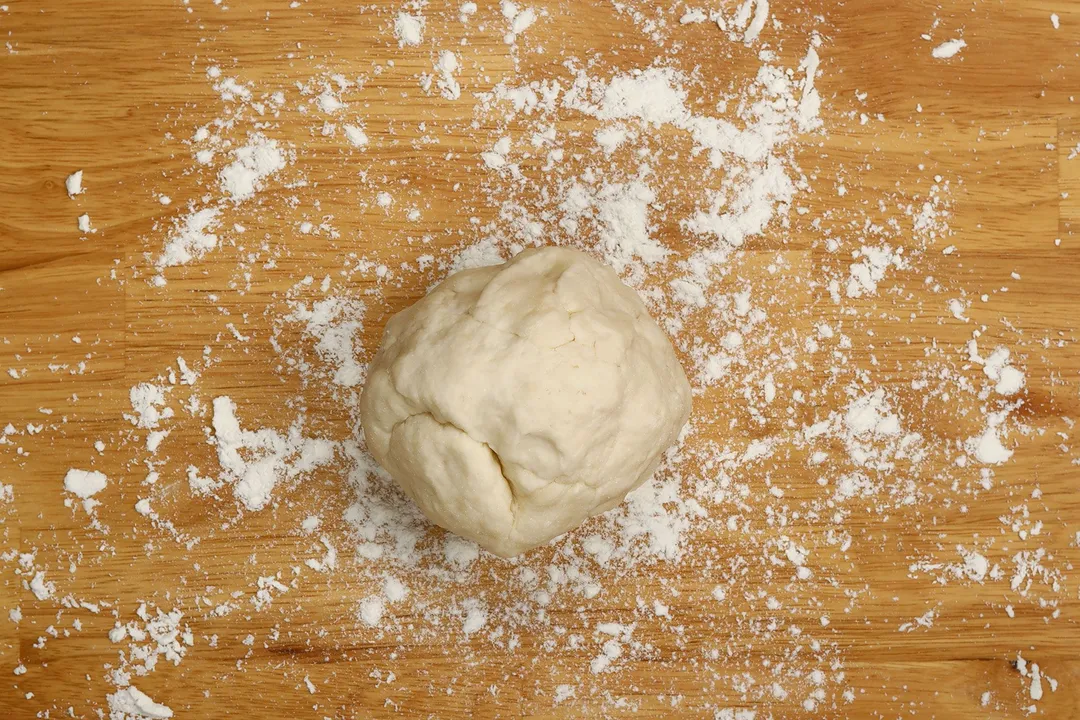 7
Then roll the dough until it's 1-2 mm thick.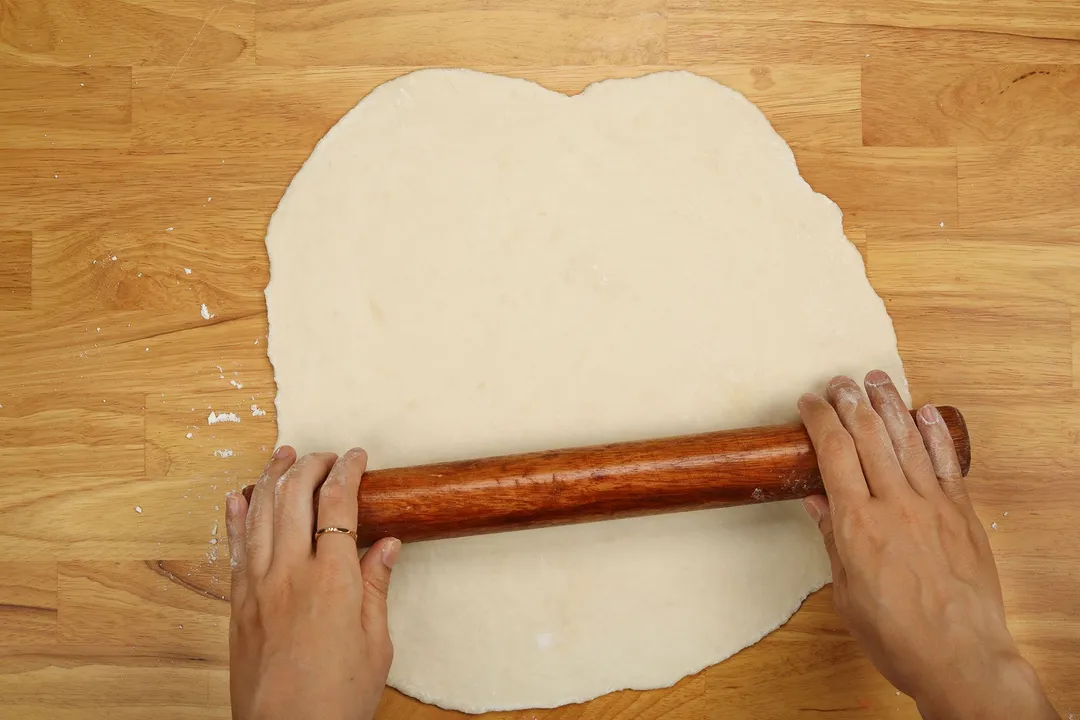 8
Roll the flattened dough onto the rolling pin, then transfer it into a round baking dish (ours is 1.5 inches high, 9 inches in diameter).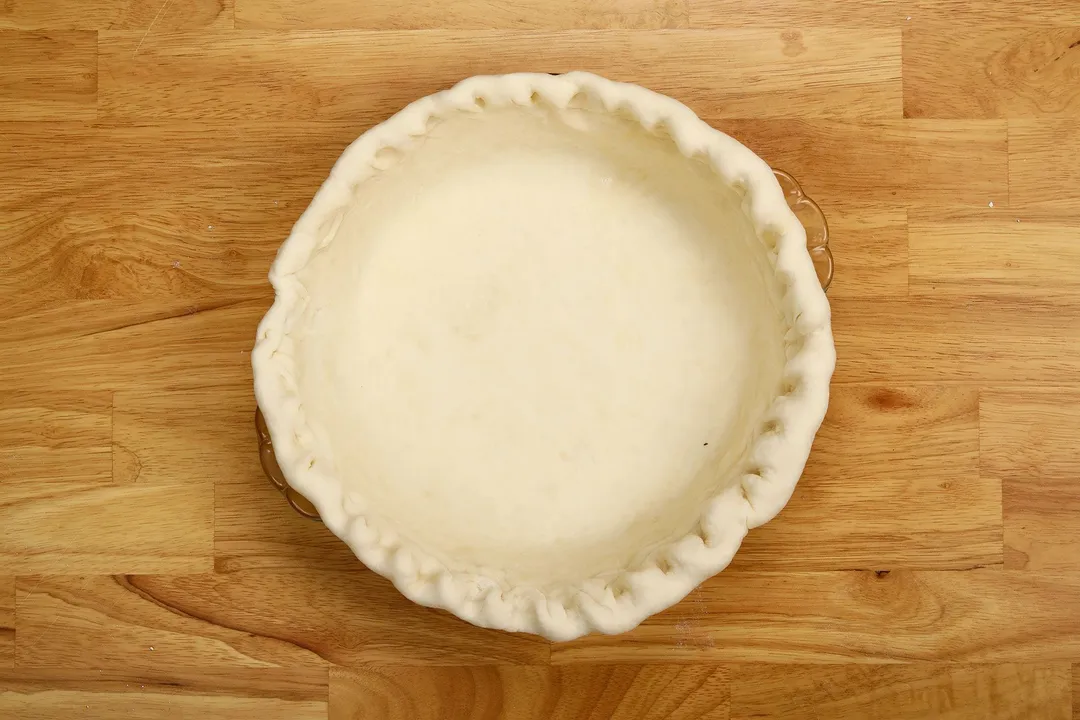 9
Trim the edges, then use a fork to press down the sides as well as poke holes in the bottom, like so.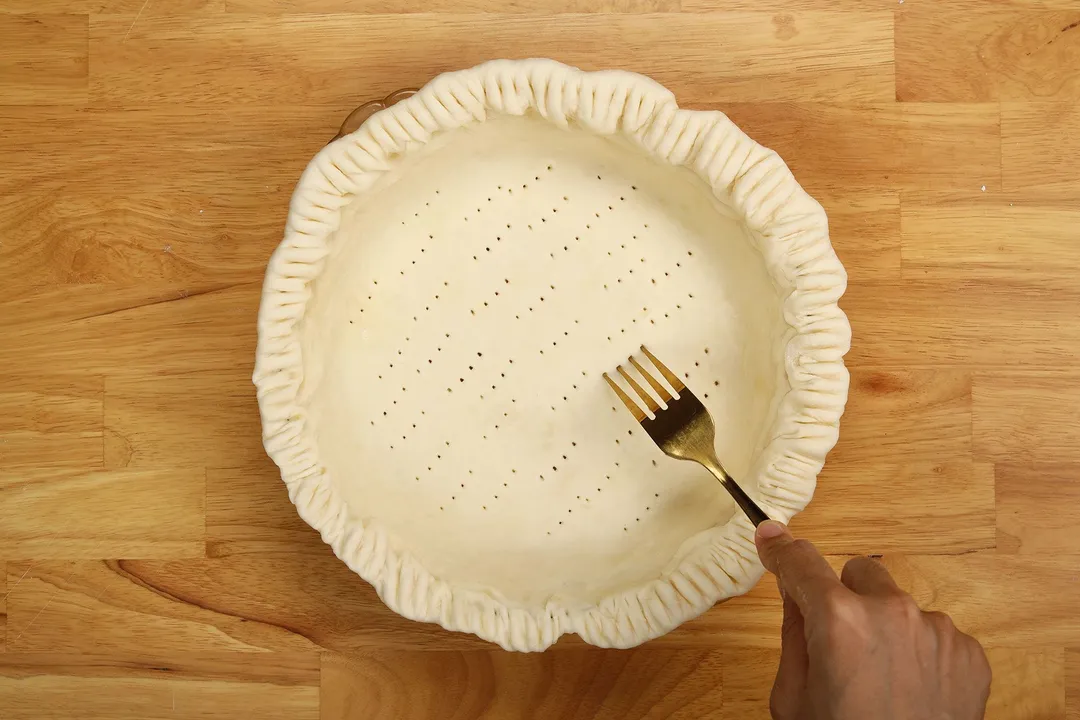 10
Bake in the preheated oven for 10 minutes.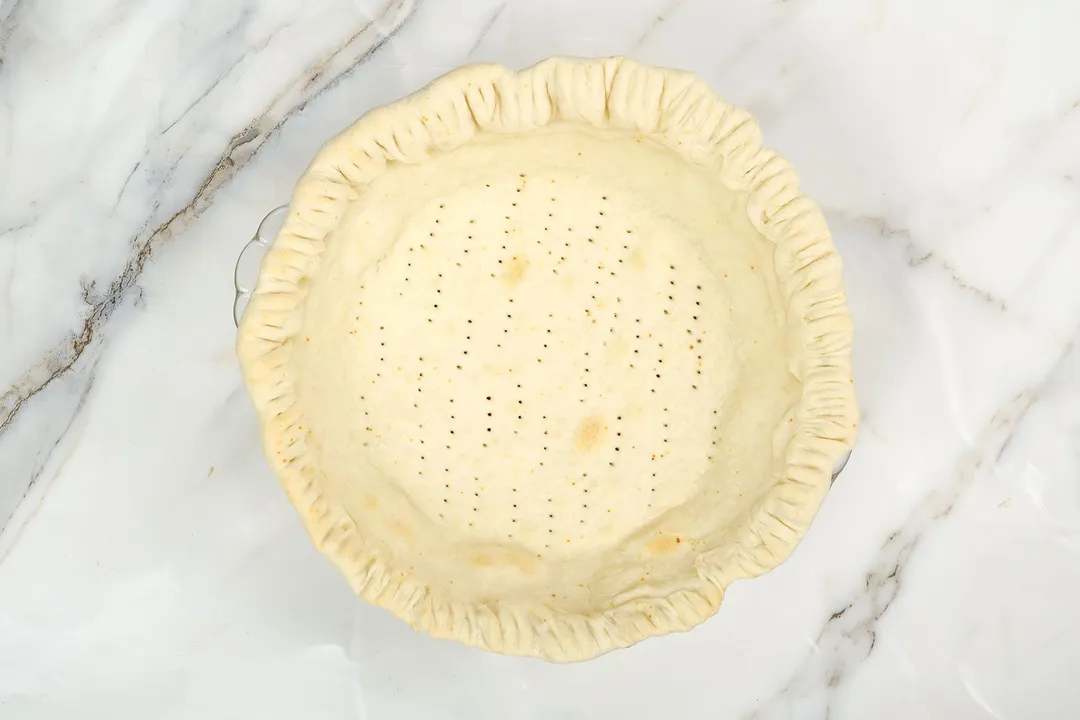 11
Heat a non-stick skillet over medium heat. Add 1 tbsp unsalted butter, 1/2 tbsp garlic, and 2 oz onions and stir until the onion becomes translucent (about 2 minutes).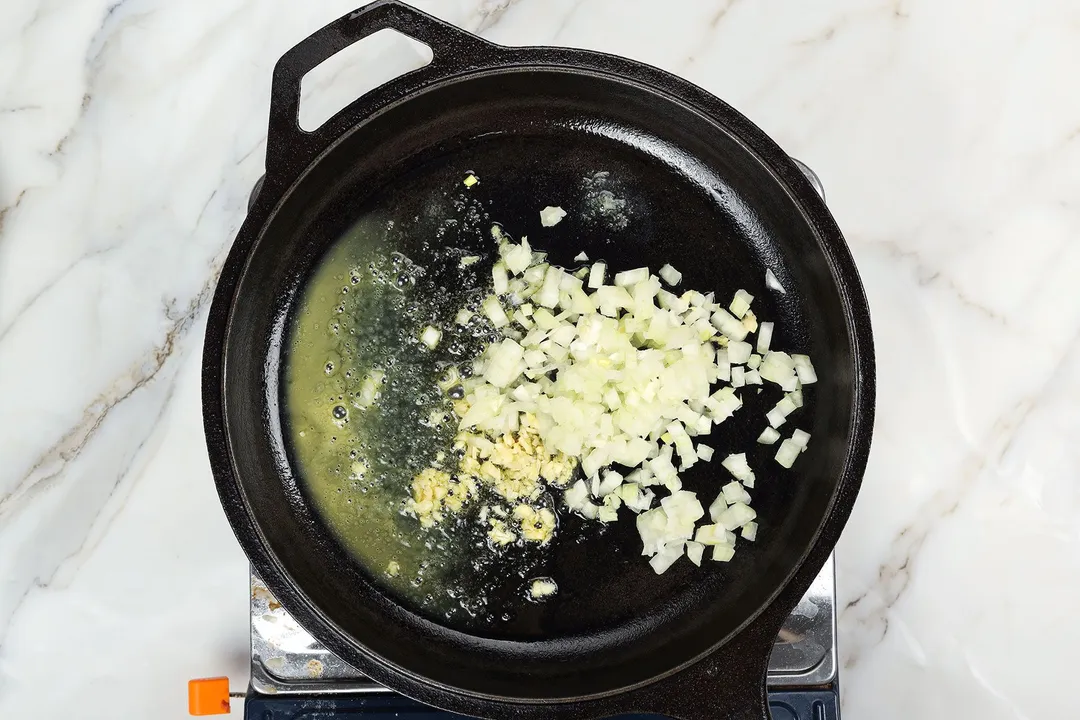 12
Add the chopped shrimp along with 1/2 tsp paprika, 1/2 tsp ground black pepper, and 1/2 tsp salt and turn the heat on high. Stir until the shrimp turns red on the outside (about 1 minute).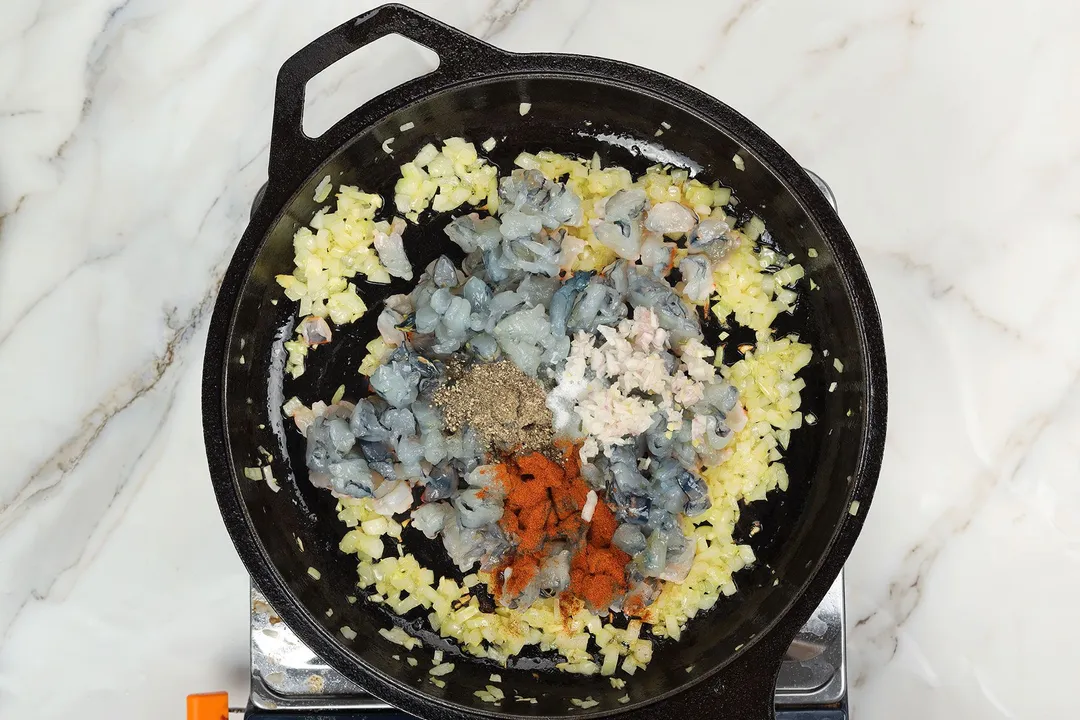 13
Add 8 oz mushrooms and continue to stir, until the mushrooms are softened and shiny. This takes about 2-3 minutes. Transfer the filling to a bowl and let it cool, possibly in front of a fan.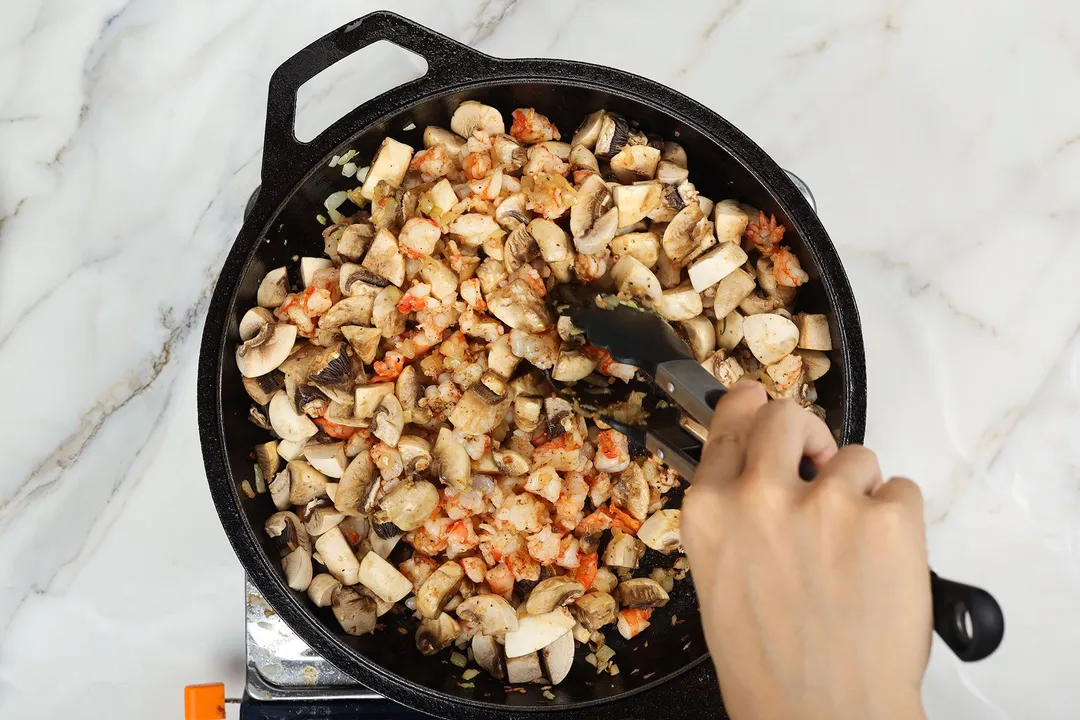 14
Whisk in the bowl 3 medium eggs, 1/2 cup whole milk, 4 tbsp heavy cream, and 2 tbsp parsley.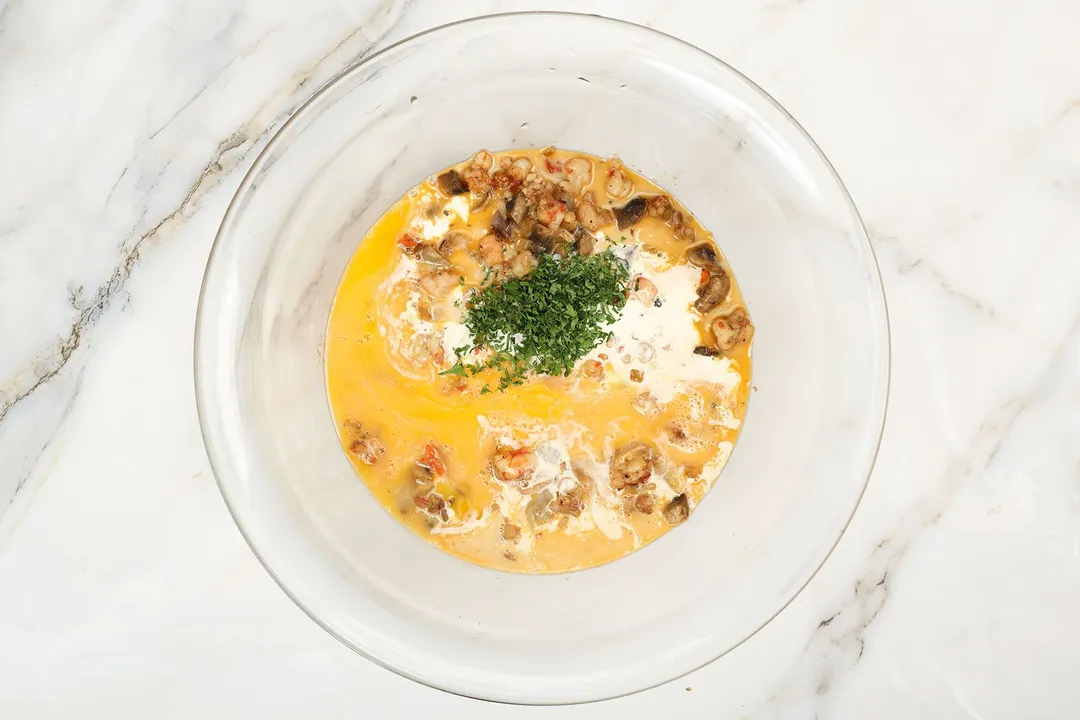 15
Gently transfer the wet filling into the pre-baked crust.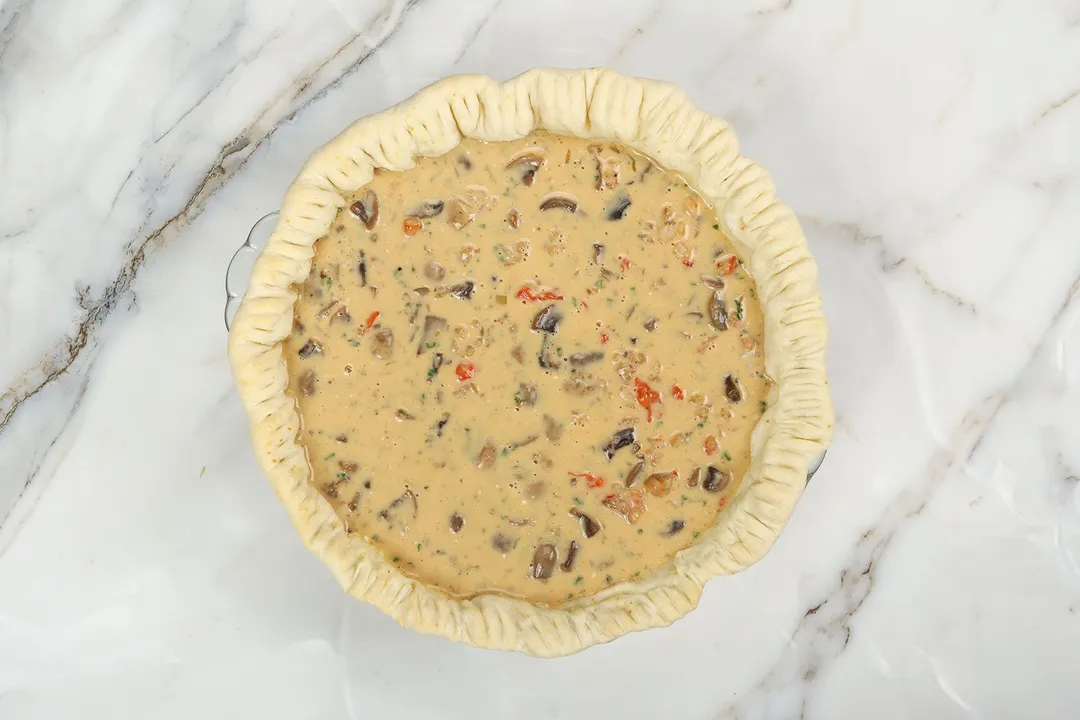 16
Arrange 2 oz asparagus on top, like so.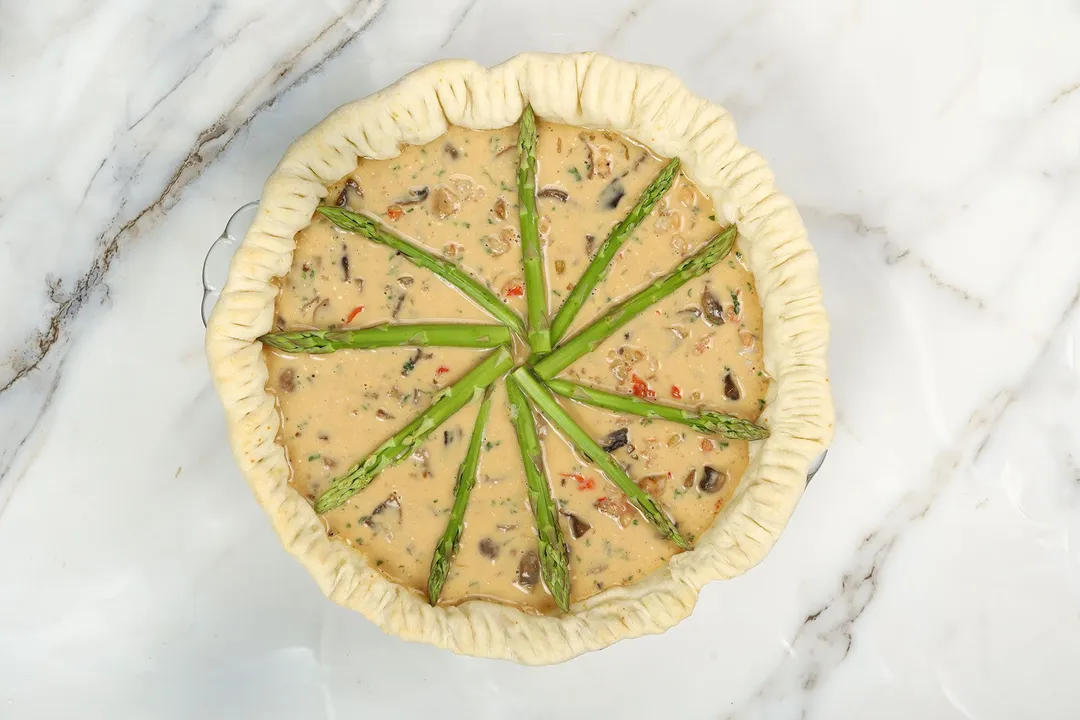 17
Bake in the oven, on the bottom rack, for 25 minutes, at the same temperature.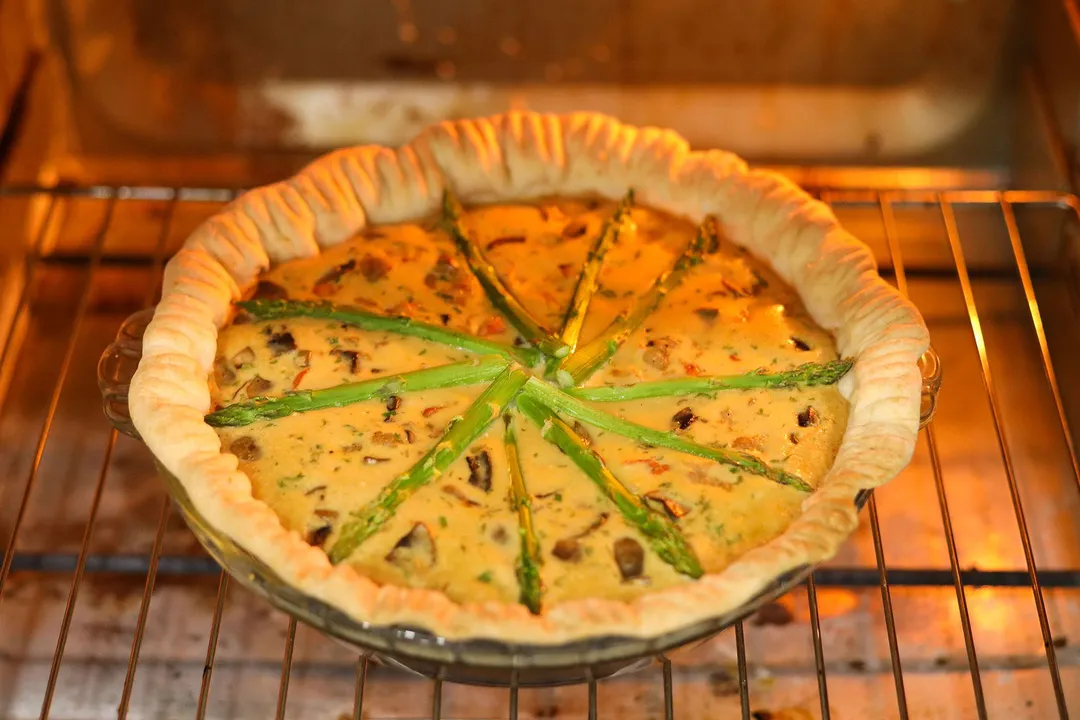 18
Allow to cool for 5 minutes, then serve the quiche, a quarter for each serving.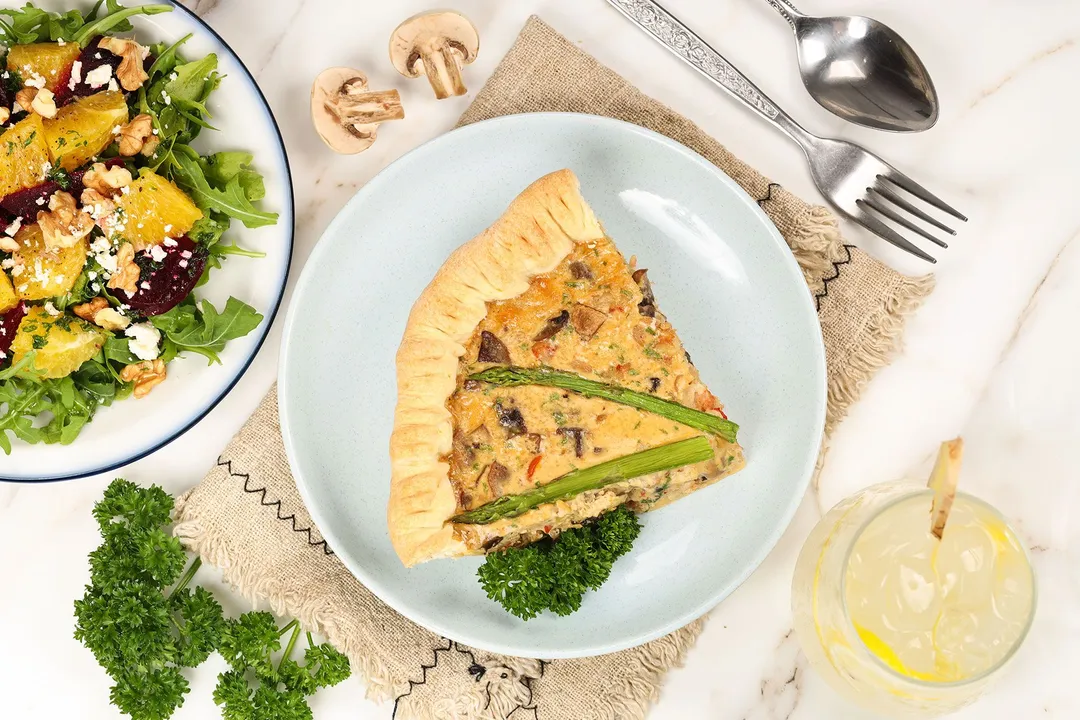 NUTRITION
Nutrition Facts
Shrimp Quiche
Amount Per Serving (1 serving)
Calories 487
Calories from Fat 153
% Daily Value*
* Percent Daily Values are based on a 2000 calorie diet.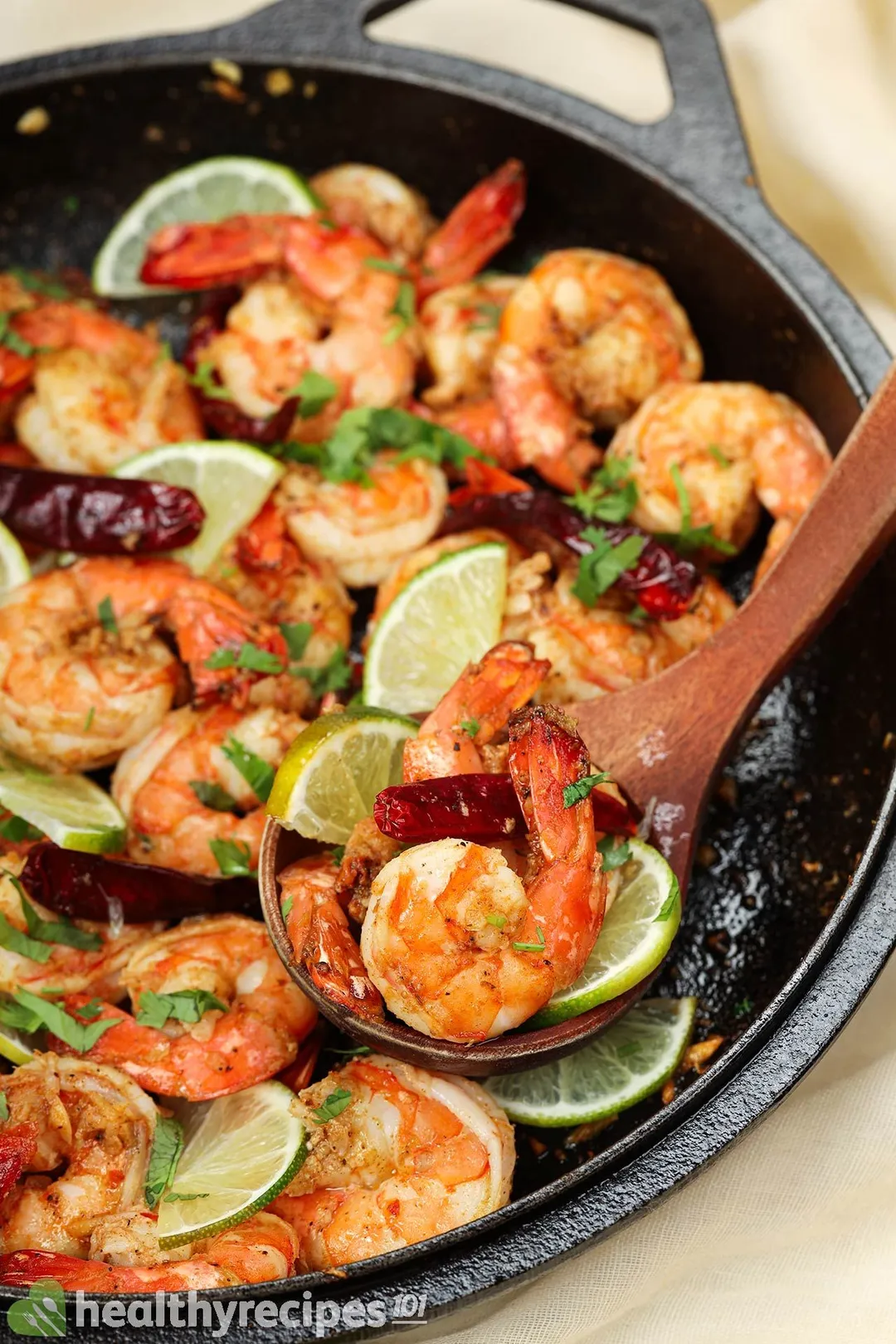 Previous Recipe
Chili Lime Shrimp
Chili Lime Shrimp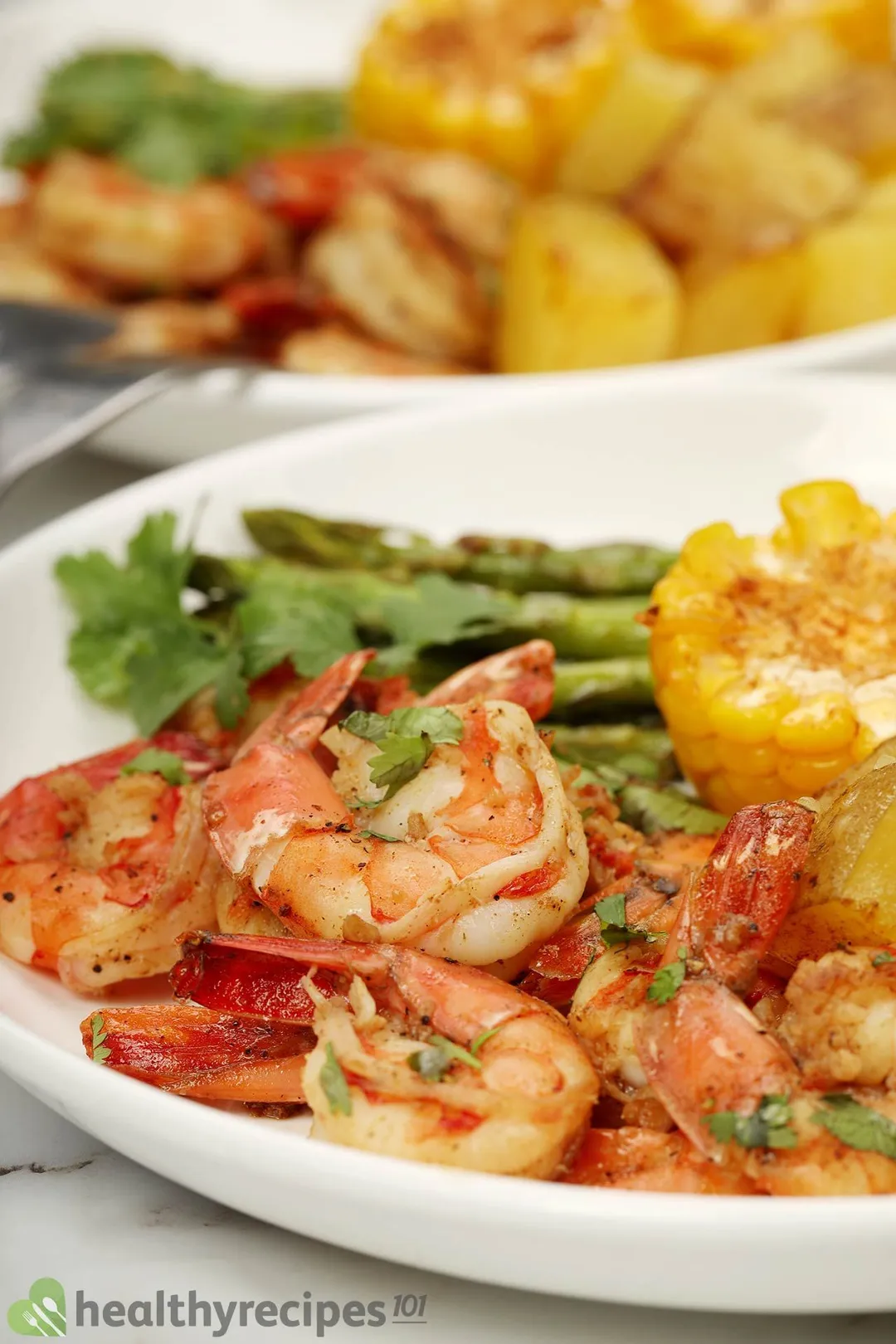 Next Recipe
Tequila Lime Shrimp
Tequila Lime Shrimp
Head Chef, Culinary Consultant
Tuyet Pham is an award-winning Saigonese chef who believes that joy is the secret ingredient to delicious food. At Healthy Recipes 101, Tuyet personally tests and simplifies every recipe, ensuring maximum flavor with minimal effort. With a background at prestigious French restaurants P'TI Saigon and Le Corto, Tuyet knows how to make every dish exceptional.
Writer, Author
Luna Regina is an accomplished writer and author who dedicates her career to empowering home cooks and making cooking effortless for everyone. She is the founder of HealthyKitchen101.com and HealthyRecipes101.com, where she works with her team to develop easy, nutritious recipes and help aspiring cooks choose the right kitchen appliances.
Nutrition Reviewer
Natalie Butler is a registered dietitian nutritionist with a passion to help others live their best life through food, fitness, safer beauty and a healthy lifestyle. She has expertise with a variety of diets and diseases and believes that there is no one-size-fits-all approach for health.
This quiche was a hit with my family! It had the perfect balance between savory ingredients like bacon, cheese, and garlic along with those delicious shrimps to give flavor.