Today's shrimp casserole recipe introduces a delicious combination of plump shrimp, cheese, mushrooms, fresh veggies, and rice - all baked to creamy perfection.
This comfort food can be served either at a get-together of close friends or as a regular weeknight dinner. It's loaded with protein-rich items and all the creamy goodness from cream and cheese, making it a simple, enjoyable, family-friendly meal.

Is Shrimp Casserole Healthy?
Containing protein-rich shrimp, white rice, and a generous amount of cheese spread on top, this shrimp casserole is full of flavors and high in protein, carbs, and fat. Although the nutritional value remains within a healthy range, if you plan to lose weight, this dish may not be the best choice in your diet.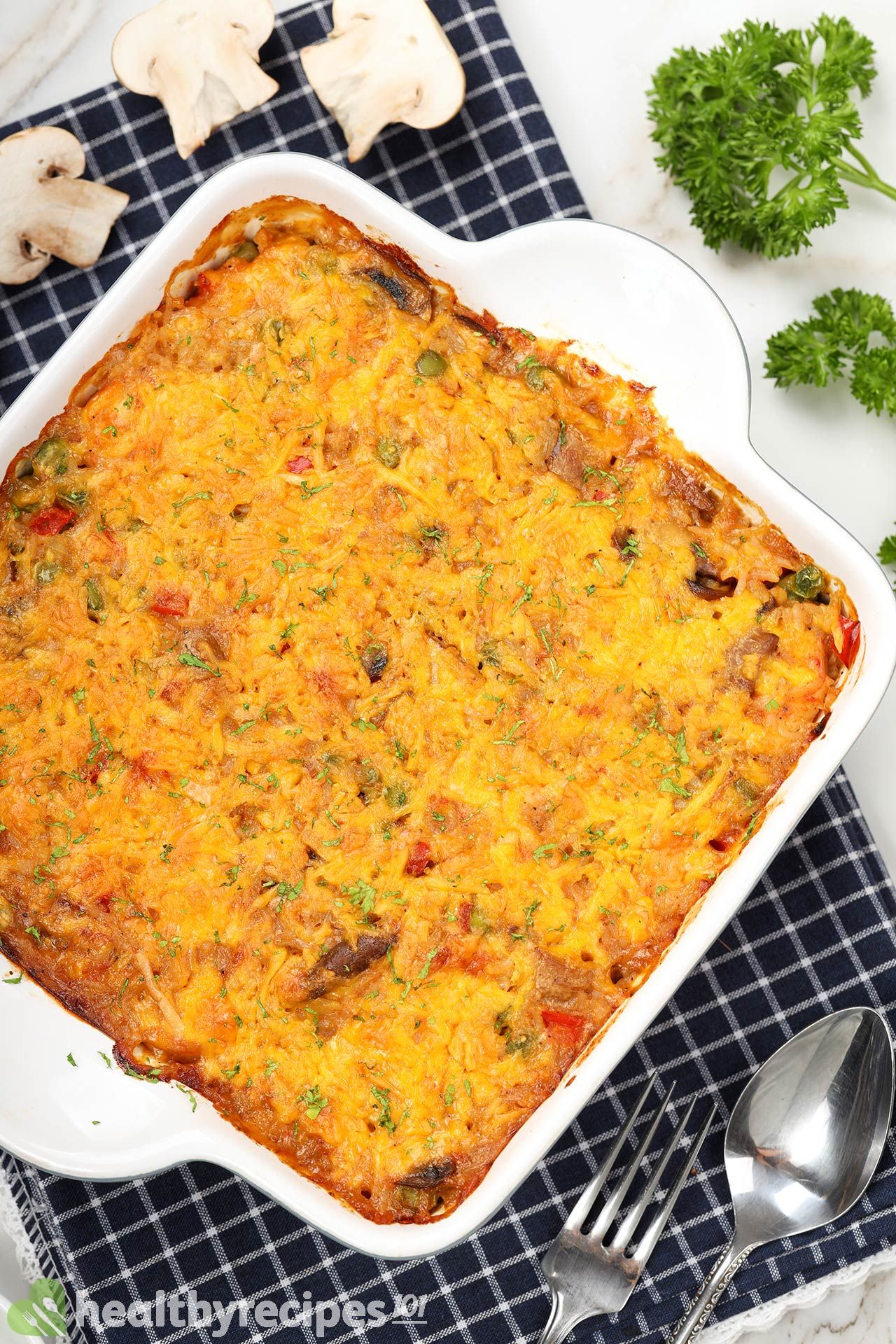 As butter contains lots of saturated fat, we used only a tablespoon of unsalted butter in this recipe. The amount of cheddar cheese is also restricted to 2.5 ounces, which translates to 0.625 ounces per serving — enough to preserve the creamy and luscious consistency for this dish.
On the whole, one serving of this shrimp casserole yields 496 calories and 8.7 grams of saturated fat, which are reasonable amounts for a delicious and comforting main dish. We do not recommend substituting any of the cheddar cheese and heavy cream, as we would have to sacrifice the characteristic creaminess and richness of this dish.

Ingredients for Shrimp Casserole
The main ingredient we used in this recipe is peeled and deveined, medium-size shrimp with tails removed.
First, we sauté the shrimp in melted butter, garlic, and onion to give it a buttery and tangy kick of flavor. The tenderly cooked shrimp are then swaddled in rice and melted cheddar cheese in a baking casserole.
 You can use either mild or sharp cheddar cheese for this shrimp casserole.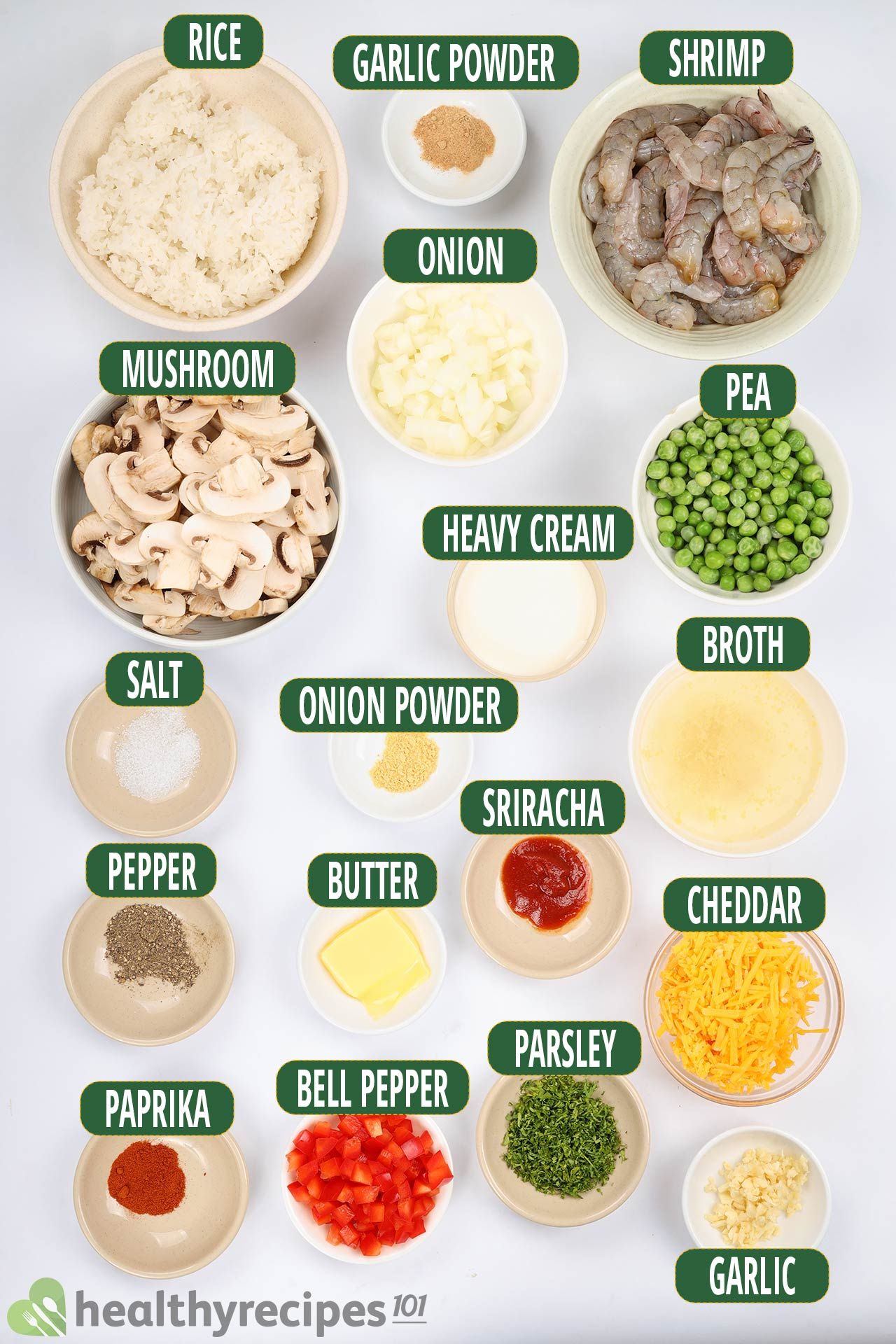 For the spices, we added a mix of pepper, onion powder, salt, garlic powder, paprika, and Sriracha when sautéing the shrimp. ​​These spices lend another layer of herby flavors to this dish.
While the combo of pepper, paprika, and Sriracha adds a mild heat to the overall flavor, garlic powder and onion powder are aroma enhancers. Feel free to personalize the flavor profile of this dish with your favorite seasonings to suit your taste.
Besides shrimp, rice, and melted cheese on top, you'll also find mushrooms, red bell peppers, and green peas dotted in the casserole — not too much, but just enough to add more texture and extra nuttiness to our dish.

How to Make Shrimp Casserole
This shrimp casserole recipe is a simple guide to a delicious combination of shrimp, cheese, mushrooms, fresh veggies, and rice in a creamy casserole. Here are all the steps to take to bring this comfort food to your table:
Step 1: Sauté garlic and onion in melted butter over medium heat.
Step 2: Add the mushrooms and sauté until golden and tender.
Step 3: Add the shrimp and the spice blend to the skillet. Stir for 2 minutes.
Step 4: Add the red bell pepper and green peas. Sauté for 2 minutes.
Step 5: Add chicken broth and heavy cream. Stir until it's slightly thickened.
Step 6: Remove everything to a mixing bowl and let it cool. Preheat the oven to 390℉.
Step 7: Stir the cooked rice into the mixing bowl. Toss to combine.
Step 8: Pour the mixture of shrimp and rice into a baking dish. Spread out evenly.
Step 9: Sprinkle shredded cheddar cheese on top.
Step 10: Bake for 20 minutes.
Step 11: Garnish with parsley and serve hot.

How to Store and Reheat a Casserole
Leftover shrimp casserole can be stored in airtight containers in the fridge for up to 3 days. For such a creamy casserole dish, we do not recommend freezing. It will mess up the stringy texture of the melted cheese and make the rice mushy when reheated.
In a word, it's best to estimate the serving size of this shrimp casserole before cooking so you won't leave redundant portions out for too long.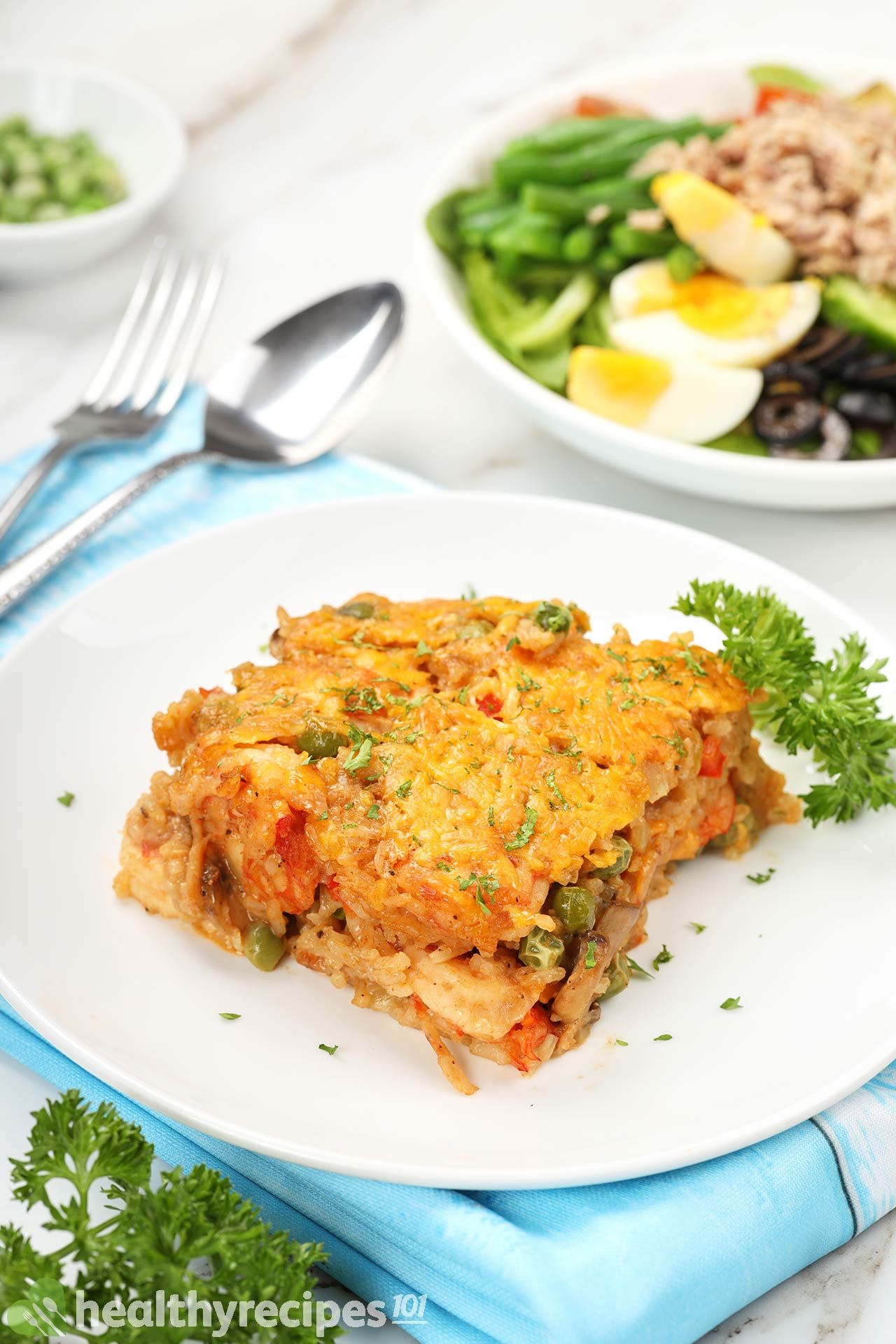 You can reheat leftover portions of this shrimp casserole in the oven or the microwave. A few minutes will be enough to warm them through and wake up the flavors.

What to Serve With Shrimp Casserole
Although our shrimp casserole can make quite a fulfilling meal as-is, we believe it could get more appetizing when paired with a veggie salad. For today's meal, the chosen side dish is Nicoise salad.
Nicoise salad is an aesthetically pleasing composed salad with different flavors, textures, and colors to balance the richness and creaminess. It includes cherry tomatoes, tuna, eggs, potatoes, cucumbers, green beans, and black olives, arranged in groups on a bed of fresh romaine lettuce.
Nicoise salad is best enjoyed with a tangy, savory vinaigrette on the side, highlighting the fanciness of French cuisine.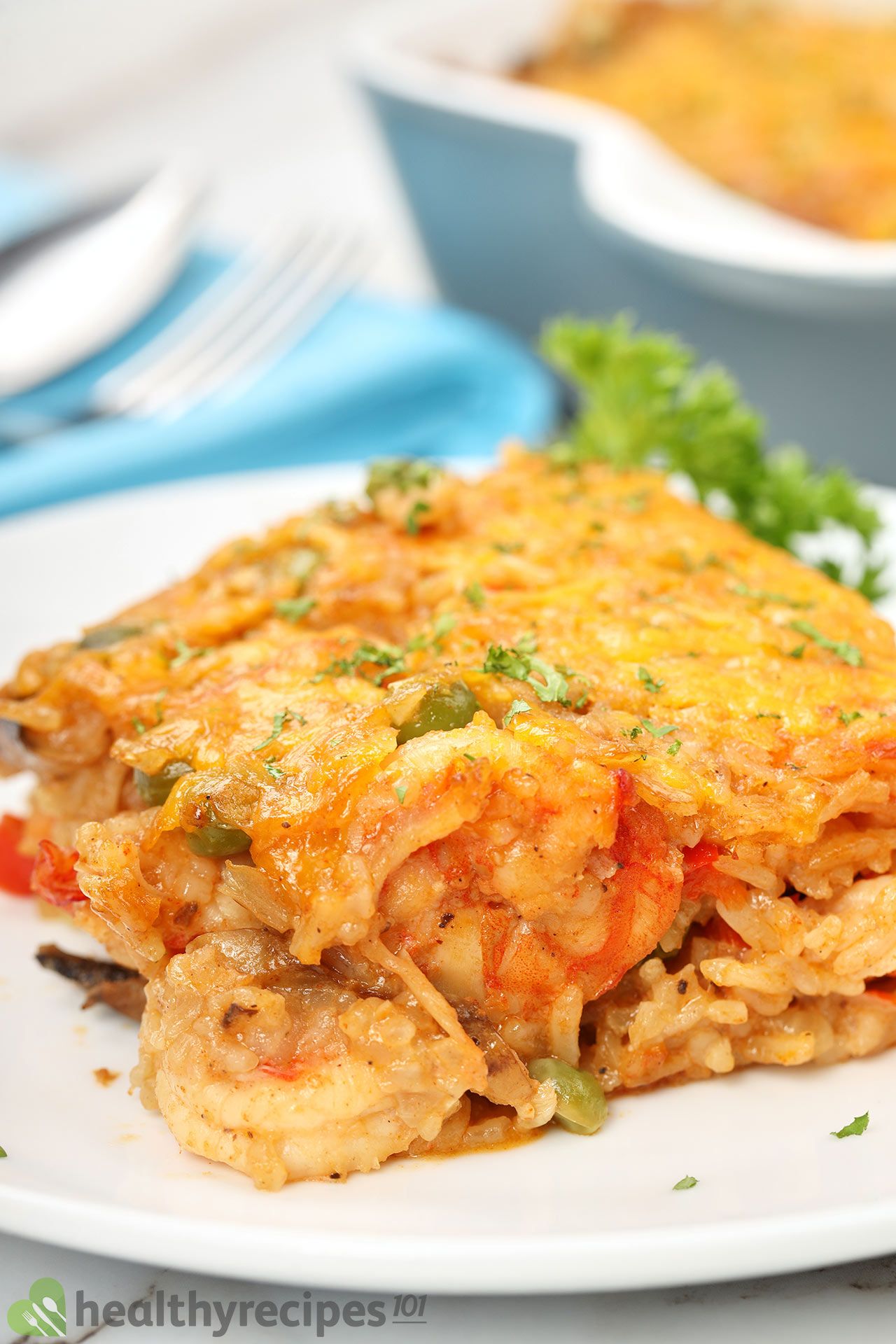 Previous Recipe
Shrimp Lo Mein
Shrimp Lo Mein
Next Recipe
Grilled Shrimp
Grilled Shrimp
Luna Regina
A writer and entrepreneur, Luna's day doesn't start at the computer keyboard, but in the kitchen.
Half of her working hours are spent on mixing ingredients for her recipes. The other half involve working with the tech team to research and test the tools and appliances that promise to make kitchen work effortless and mess-free. From a kitchen knife or water filter to the Instant Pot, if it can help save time and effort for the home cook, Luna and her team are on it.
Luna's extracurricular pastimes include camping, travel, and photography.