Whether you're looking for something light and refreshing, creamy and indulgent, or a protein-packed meal replacement, you can find it in this collection of the best banana smoothie recipes. With these tasty flavor combinations and creative modifications, you can whip up a healthy treat that will keep you energized all day. .
Reasons to Love Banana in Your Smoothie
Bananas are high in potassium and fiber, which helps your body regulate fluid levels, reduce bloating, and improve digestion. They also contain antioxidants like vitamin C and glutathione, which are important for healthy skin and warding off early aging symptoms.
Bananas add a natural sweetness to your smoothie without the need for added sugars. Additionally, bananas contain essential nutrients that help stabilize blood sugar levels, allowing you to stay energized throughout the day without experiencing major crashes.
35 Banana Smoothie Recipes We Absolutely Adore
1. Banana Smoothie
Banana smoothies can be more than just a simple blend of banana, ice, and dairy. This recipe adds a fragrant twist with the use of vanilla, cinnamon, and almond that enhances the drink's delectable sweetness without completely altering its original taste.
Whip up a glass whenever you need something simple and familiar that still offers a bit of excitement.
Go to Recipe
2. Mango Banana Smoothie
If you love all things tropical, you'll surely enjoy this mango banana smoothie. With a vibrant sweetness and a rich, creamy texture, it brings a burst of flavors that will brighten your taste buds with every sip.
Whatever the season, rest assured that this smoothie will instantly take you straight onto summer holidays, where it's all blue skies and sunshine.
Go to Recipe
3. Strawberry Banana Smoothie
Strawberry and banana is a match made in smoothie heaven. Their sweet, fragrant notes meld perfectly into one another, creating a gorgeous, irresistible vibrancy.
This recipe also includes some oranges, which add a tangy flicker that really brightens the overall taste. Plus, it's loaded with fiber, vitamins, and minerals that keep you nourished with every creamy, delicious sip.
Go to Recipe
4. Orange Banana Smoothie
Orange and banana seems like an odd combination, but give it a try and you'll be blown away by how well they work together.
The bright, tart orange brings a spectacular contrast to the banana's sweet taste, creating a smoothie with beautiful flavor layers. Additionally, this smoothie is packed with amazing essential nutrients, most notably vitamins A and C.
Go to Recipe
5. Watermelon Banana Smoothie
Watermelon and banana is a formidable combination for combating the summer heat. The watermelon brings a light taste that balances out perfectly with the banana's creamy texture and fragrant sweetness.
It's refreshing and hydrating yet also quite satisfying—a perfect choice for all those hot days when you just need something quick and cooling.
Go to Recipe
6. Peach Banana Smoothie
This peach banana smoothie is a summer medley that will have your taste buds sing with joy. The peach's delicate sweetness and floral aroma harmonize perfectly with the banana's vibrant sweetness.
Whether you're looking for a quick breakfast on the go or a mid-afternoon pick-me-up, this smoothie is sure to hit the spot. Plus, it's packed with vitamins and nutrients that will keep you energized and ready to take on the day.
Go to Recipe
7. Cherry Banana Smoothie
Rich, tropical bananas meld flawlessly with darkly sweet cherries in this gorgeous smoothie that you can make in just five minutes.
The combination of flavors creates a delectable and vibrant beverage that tastes just like a fruity dessert, but with no added sugar and lots of essential nutrients. You can also add powders and seeds to give it an extra boost of protein.
Go to Recipe
8. Avocado Banana Smoothie
With avocado and banana as the main ingredients, this smoothie is an ultra-creamy, luscious drink that melts with delight onto your taste buds. It's softly sweet with a nutty undertone—a combination that will surely hit the spot if you like your smoothies light but still flavorful.
Not only is this smoothie tasty but it's also packed with nutrients. Avocados are loaded with heart-healthy monounsaturated fats and fiber, while bananas are a great source of potassium and vitamin C. With this smoothie, you can obtain these amazing nutrients all in one quick, simple, and delicious go.
Go to Recipe
9. Banana Pineapple Smoothie
This smoothie is a tropical delight that takes you straight to sunny holidays by the beach. The pineapple brings a sweet, tangy taste that perfectly complements the banana's honey-sweet notes.
We also included some strawberries, orange juice, and spinach to give the drink a flavor complexity, keeping it endlessly interesting as well as packed with nutrients.
Go to Recipe
10. Mango Pineapple Banana Smoothie
With mango, pineapple, and banana as the main ingredients, this smoothie is a true tropical paradise. It has a vibrant sweetness that bursts like sunshine with each sip and a light, pleasant tang—all enhanced by a delectably creamy texture that makes your taste buds sparkle with joy.
Beyond the delicious taste, this smoothie is also a powerhouse of vitamins, so if you're looking for that daily health boost, give this a go!
Go to Recipe
11. Banana Papaya Smoothie
Papaya is a tropical fruit with bright orange flesh that's fragrantly sweet and incredibly thick and creamy. Blending it with bananas and orange juice gives you a satisfying drink with a beautiful hue and an equally beautiful taste.
And obviously, it's also loaded with antioxidants and other nutrients that will keep you both satiated and nourished. Give it a try to add another healthy and delicious drink to your smoothie recipe arsenal.
Go to Recipe
12. Berry Banana Smoothie
This berry banana smoothie is a beautiful collision of summer flavors, all blended into a purply, frosty beverage.
Strawberries and blueberries bring that sweet-tart goodness that goes perfectly with the bananas' saccharine tropical base. Feel free to include any other berry varieties for a more complex taste, such as raspberries, blackberries, or cranberries.
Go to Recipe
13. Raspberry Banana Smoothie
This raspberry banana smoothie is the perfect blend of sweet and tart, with just the right amount of creaminess to make it feel indulgent. It comes together in just five minutes and three simple steps, so you'll have a delicious, nutritious drink ready to go in no time.
Whether it's breakfast, a midday snack, or a post-workout pick-me-up, this toothsome smoothie is the perfect choice for quenching your thirst and getting that much-needed health boost.
Go to Recipe
14. Blueberry Banana Smoothie
Melt away those hot summer days with this blueberry banana smoothie. The blueberry gives it a sweet-tart burst that when coupled with the drink's frosty nature, is incredibly refreshing.
This recipe also includes a scoop of vanilla ice cream, making it a feel-good dessert that also offers great health benefits.
Go to Recipe
15. Dragon Fruit Banana Smoothie
This gorgeous, vivid magenta smoothie offers so much more than just an eye-catching appearance. The blend of dragon fruits and bananas creates a sweet drink with fragrant, floral notes and a velvety, thick consistency.
Furthermore, with a high content of antioxidants, fiber, and minerals, it's also a powerhouse of nutrients that keeps you nourished and energized throughout the day.
Go to Recipe
16. Apple Banana Smoothie
Fall in love with this apple banana smoothie that gives you the wholesome comfort of a classic apple pie—sans all the hassle of actually making one.
This smoothie features apples, bananas, milk, Greek yogurt, and cinnamon. Blended together, they become a creamy, sweet-tart drink with a mildly spicy yet soothing undertone that pulls at your heartstrings with every sip.
Go to Recipe
17. Banana Almond Butter Smoothie
Start your mornings nourished and energized with this banana almond butter smoothie. It's a creamy, slightly sweet, and nutty blend of frozen bananas with almond butter, almond milk, cinnamon, vanilla, and non-dairy yogurt. These ingredients barely require any preparations, so you'll have a drink ready to go in no time.
Go to Recipe
18. Banana Oatmeal Smoothie
Some mornings are so hectic and busy that even cereals won't cut it. If you want something quick, easy, and ready to go for those days, give this smoothie a try. It's a creamy, filling, and nutritious blend of bananas, oats, and other smoothie essentials.
With simple ingredients and minimum preparations, it comes together in a blink of an eye and can be consumed just as quickly.
Go to Recipe
19. Peanut Butter Banana Smoothie
This smoothie requires only six simple, pantry-staple ingredients and comes together in a whirl of a blender. It has that rich, nutty sweetness and a velvety smooth texture reminiscent of a decadent chocolate milkshake—but with a decent amount of essential nutrients and no added sugar! Kids and adults will absolutely love this drink, whether it's for breakfasts, light snacks, or any spontaneous cravings.
Go to Recipe
20. Banana Peanut Butter and Date Smoothie
Every sip of this smoothie feels like biting into an indulgent, decadent dessert. The bananas and dates provide a natural sweetness that makes this drink sugar-free but also enjoyable. Meanwhile, the peanut butter brings a pleasant nutty undertone and enhances the creamy texture. The combination is simple and delightful, yet also wonderfully unique.
Go to Recipe
21. Peanut Butter Strawberry Banana Smoothie
We honestly just can't get enough of peanut butter and banana, so here's another smoothie recipe. This one adds strawberries for an additional sweet-tart taste. Coupled with bananas and peanut butter, it carries that nostalgic taste from your childhood staple PB&J. 
Even better, it only requires five minutes and four ingredients to make, so no matter how hectic your days get, you shouldn't have any trouble whipping up a quick glass for a nutritious flavor boost.
Go to Recipe
22. Chocolate Banana Smoothie
Curb your chocolate cravings while still sticking to a healthy diet with this chocolate banana smoothie. The ingredients are carefully selected and proportioned so that each serving still offers a reasonable amount of calories, fats, sugar, and various essential nutrients. 
However, keeping this smoothie healthy doesn't necessarily mean sacrificing the taste. The frosty blend of dark chocolate, cocoa powder, banana, milk, vanilla, honey, and ice creates out-of-this-world delicious flavors. You can even amp it up with a bit of peanut butter to lace the rich sweetness with an exciting nutty undertone.
Go to Recipe
23. Banana Cinnamon Smoothie
Frozen bananas, milk, and vanilla ice cream give this smoothie that typical creamy and sweet banana smoothie taste. However, with cinnamon and nutmeg added, it has a hint of warmth that wonderfully tantalizes the taste buds without completely overwhelming the base flavors. If you've been looking for a subtle and easy way to switch up your banana smoothies, this is it!
Go to Recipe
24. Coffee Banana Smoothie
Why choose between coffee and a smoothie to start your mornings when you can have both in one go? This smoothie is a rich and bittersweet blend of bananas, coffee, dark chocolate, cocoa powder, and milk, with some ice to create that frosty goodness. This combination is not only an instant pick-me-up for all those morning crankiness but also a fantastic energy boost to power you throughout the day.
Go to Recipe
25. Pumpkin Banana Smoothie
This pumpkin banana smoothie is simultaneously a celebration of fall and a wave of goodbye to summer. Made with bananas, pumpkin purée, pumpkin spice, maple syrup, cinnamon, and Greek yogurt, it offers a charming mix of nutty sweet taste and heartfelt warmth. It's perfect for those warm, late August mornings when fall is creeping in, but you're not quite ready for a pumpkin-spiced latte just yet.
Go to Recipe
26. Banana Chai Smoothie With Vanilla
In the mood for something new and different? This banana chai smoothie might just do the trick. It's a blend of bananas, avocados, brewed chai tea, almond milk, nut butter, vanilla, and seeds. The combination of ingredients gives you a unique drink with a sweet, nutty taste and a warming, cinnamon-like undertone that contrasts surprisingly well with the smoothie's frosty nature.
Go to Recipe
27. Blue Spirulina Smoothie
This smoothie gets its vibrant, eye-catching blue hue from blue spirulina—a highly nutritious blue-green algae that offers various health benefits. It's a dreamy, creamy blend of bananas, peaches, pineapples, and oat milk, giving you a vividly sweet drink with a bright tropical flair. 
This recipe is entirely vegan, requires only a handful of ingredients, and also leaves a lot of room for adjustments. Feel free to throw in some leafy greens, nuts, or other fruits, or use a different milk variety to customize it to your liking.
Go to Recipe
28. Vanilla Matcha Smoothie
Matcha's versatility stretches beyond lattes and milk teas. This antioxidant-rich green tea powder is also an excellent addition to smoothies, giving them a distinguish and subtly grassy undertone. In this recipe, it's blended with frozen bananas, vanilla extract, nut milk, and other essentials to create a creamy, frosty drink with exquisite flavors and a gorgeous aroma. Give it a try for a taste of something new and different that might just become your next staple.
Go to Recipe
29. Kale Banana Smoothie
Eating your greens doesn't always have to feel like such a chore, not with this kale banana smoothie. The leafy green's slightly bitter, earthy taste is largely masked by the banana's vibrant sweetness and the yogurt's tangy touch. You'll still detect a faint undertone, but it'll be a whole lot more pleasant and enjoyable—perfect for both adults AND kids!
Go to Recipe
30. Kiwi Banana Smoothie
Kiwi, banana, and kale come together in a frosty swirl of sweet, tart, and subtly earthy flavors with this smoothie. It's a relatively uncommon combination, but hey, that's why smoothies are so fun. Throw away your hesitations and give it a try. Who knows, you might discover yet another marvelous addition to your smoothie rotation.
Go to Recipe
31. Spinach Banana Smoothie
Creamy, light, and rejuvenating, this spinach banana smoothie is the perfect morning fuel to keep you nourished and energized throughout the day. With spinach and banana as the main ingredient, it's packed with vitamins, minerals, fiber, and other nutrients that can benefit your body in various ways.
In addition to being healthy, this smoothie also tastes exquisite. Spinach has a mild, grassy scent that goes surprisingly well with the banana's candy-like sweetness, altogether creating a drink with soft, fragrant flavors that will keep you coming back for more.
Go to Recipe
32. Strawberry Spinach Banana Smoothie
This smoothie is the perfect way to kickstart your day with a burst of fruity goodness and lots of essential nutrients. The sweetness of the bananas balances out the tartness of the strawberries, while the subtly grassy spinach adds a nutritious boost of vitamins and minerals. Want to sneak some greens into your diet? This is the way to do it!
Go to Recipe
33. Banana Smoothie Bowl
Take your smoothie game to the next level with this luscious, creamy, and utterly delightful smoothie bowl. It has the usual soft, sweet flavor base and an ice-cream-like texture, but with a tahini twist that imparts a nutty sesame hint to make things a lot more interesting. 
The highlights, of course, are the toppings that scatter the surface and bring absolute joy with each spoonful. This recipe uses sliced bananas, blackberries, toasted oats, sesame seeds, and roasted almonds but feel free to customize it to your liking. That's the beauty of smoothie bowls, they offer unlimited creativity at every turn.
Go to Recipe
34. Peanut Butter Banana Popsicles
Another fun and exciting way to enjoy banana smoothies is by turning them into popsicles. This turns the frosty beverage into frozen delights that cool you off with every bite. Whether you're lounging by the pool or having a picnic in the park, these sweet, nutty popsicles are the perfect summer treats to have on hand.
Go to Recipe
35. Pineapple Banana Popsicles
If deeply sweet popsicles aren't really your thing, you might find these pineapple banana popsicles to be more up your alley. Made with fresh pineapples, frozen bananas, pineapple juice, and coconut milk, they offer a bright, creamy, and bursting fruity taste. Each bite brings that tropical paradise feeling of a classic piña colada, transporting you to carefree summer vacations in a blink of an eye.
Go to Recipe
What Goes Well With Banana in A Smoothie 
1. Fruits 
The combination of bananas and other fruits can provide diverse textures and flavors for your smoothie while also offering multiple sources of vitamins, minerals, and antioxidants.
Tropical fruits (such as mango, pineapple, kiwi, and papaya): Tropical fruits have a sour-sweet, juicy, fruity flavor that complements the mellow flavor of bananas in a smoothie. They are also very nutrient-rich and can add a boost of vitamins A and C to your drinks.
Berries (such as blueberries, strawberries, and raspberries): Berries are classic summertime favorites that add textures and sweet-tart tones to the mellow banana flavor. They provide natural antioxidants, plus an extra dose of vitamins and dietary fiber to your drinks when combined with bananas.
Avocado: This fruit provides more than just a beautiful creamy texture for your smoothie. By blending in some avocado flesh into your smoothie you can take advantage of its healthy fats, plus some vitamin B6 for good measure.
2. Vegetables
Spinach: Spinach has a mild flavor that complements the sweetness of bananas in a smoothie. It's also rich in vitamins and minerals which help support healthy digestion and heart health.
Carrots: The naturally sweet taste of carrots helps balance out the creaminess of bananas, creating a well-rounded flavor profile. Carrots are rich in fiber and beta-carotene, making them a healthy addition to any smoothie!
Kale: The robust flavor of kale enhances bananas' sweetness without overpowering them. Kale is also packed with essential nutrients like iron, magnesium, and vitamin K.
Sweet potatoes: Sweet potatoes add a delicious hint of sweetness that pairs perfectly with ripe bananas. They're also high in fiber, vitamin A, and many other key nutrients.
3. Liquids
Milk: This adds a smooth, creamy texture to a banana smoothie as well as providing essential nutrients like calcium, vitamin D, and protein. 
Yogurt: A dollop or two will enhance the creamy texture of your smoothie and add probiotics for gut health. It also brings a slightly tangy taste that meshes quite well with the inherent sweetness of the banana.
Orange juice: This provides an additional sweetness that plays off the natural flavors in your banana smoothie. Plus, it gives you extra vitamin C. 
Coconut milk: This wonderful ingredient creates an ultra-creamy texture in your smoothie and is a great option for dairy-free drinkers or those looking to cut back on their dairy intake.
Almond milk: Another non-dairy milk that gives your banana smoothie a silky smooth texture and somewhat nutty taste. It's also highly versatile and can be easily adjusted to different recipes.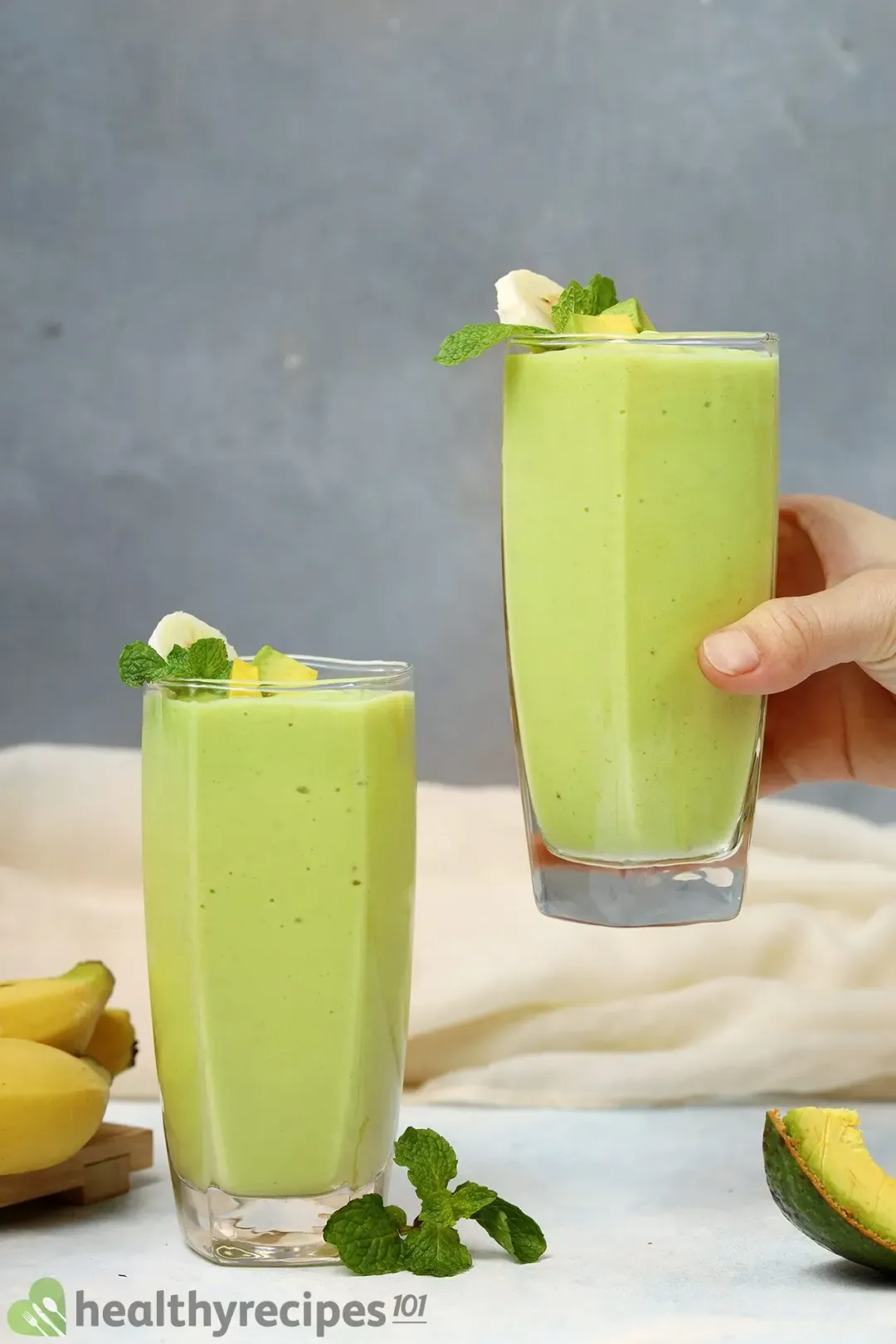 FAQ
1. Can You Freeze Banana to Use in A Smoothie? 
Yes, you can freeze bananas to use in a smoothie. Once frozen, the banana will become thicker and sweeter, which makes it ideal for adding to smoothies.
To freeze a banana, peel the skin off and cut it into chunks. Place the chunks on a parchment-lined baking sheet and freeze. It can stay good for up to 3 months. When you're ready to add it to your smoothie, blend the chunks with other ingredients until smooth.
2. What Should Not Be Mixed With Bananas? 
Alcohol should not be mixed with bananas. Bananas contain an enzyme called Bromelain which breaks down alcohol at a faster rate than usual, causing a person to become more quickly inebriated if consuming both together. Drinking alcohol with bananas can also contribute to the risk of developing gastritis — inflammation of the lining of the stomach — or ulcers.
3. How to Tell If A Banana Is Bad?
Here are different ways to check if a banana has gone bad:
Smell check: A bad banana will have a sharp, ammonia-like odor.
Appearance check: A bad banana will have brown or black spots on its skin and discoloration. Soft spots or deep cuts (which usually look like gashes and bruises on the banana skin) may also indicate that the fruit has spoiled because of damage to its skin during transportation or storage.
Texture check: Press down gently with your thumb; if it pushes in too much or leaves an indentation, the banana is bad. 
Look for mold: Any mold—white or black patches—indicate that the fruit has gone off and should not be eaten.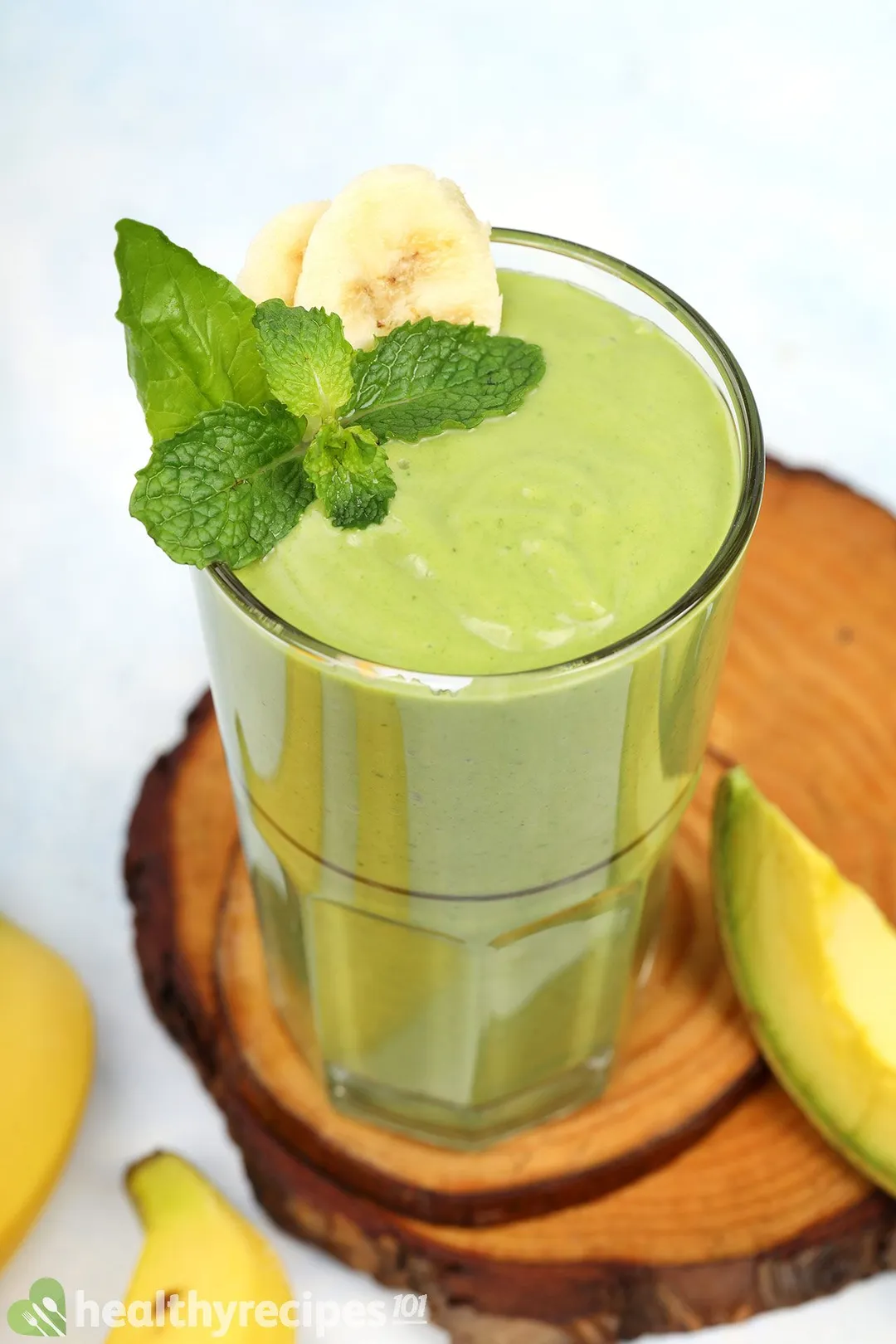 Previous Recipe
Healthy Smoothie Recipes
Healthy Smoothie Recipes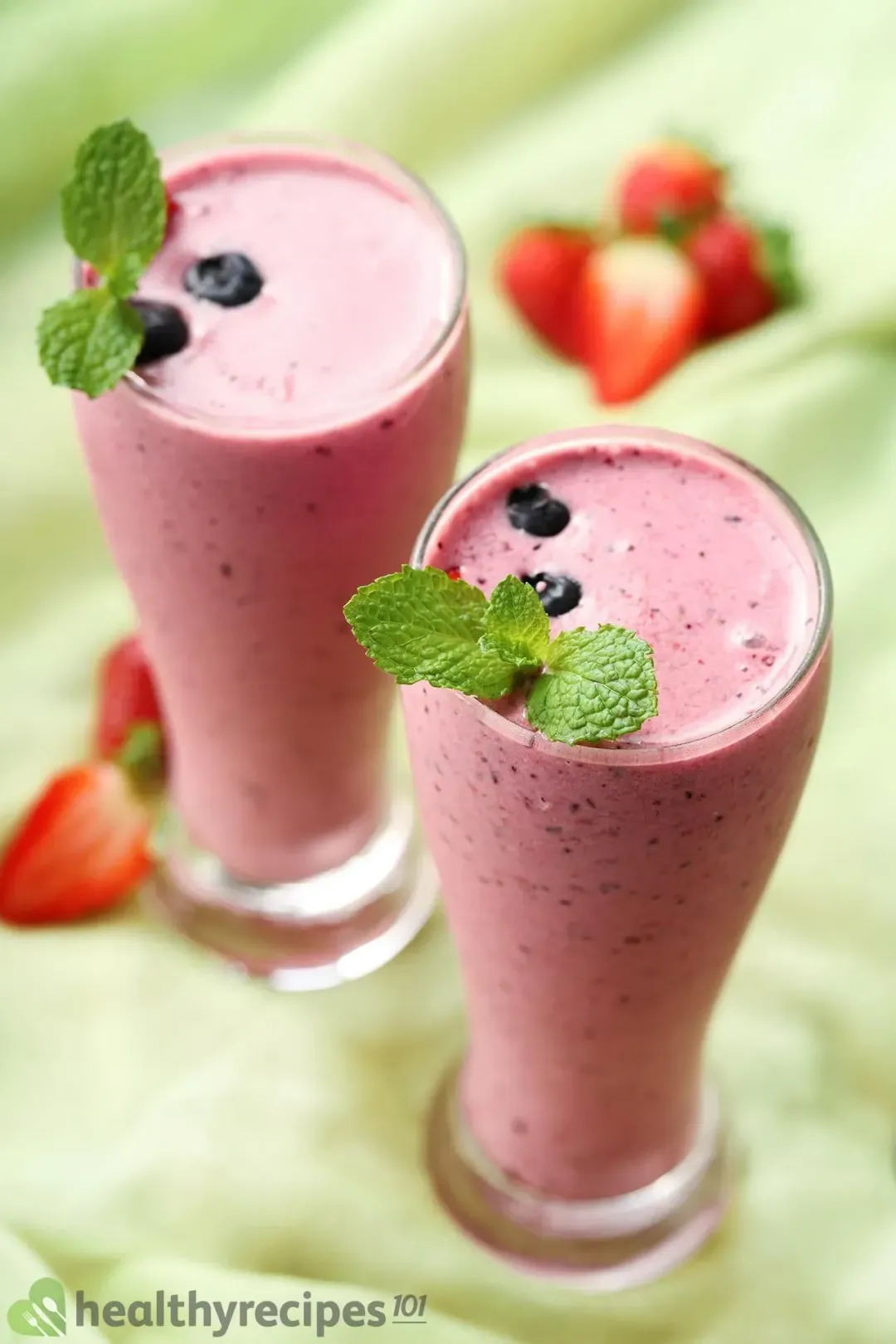 Next Recipe
Strawberry Smoothie Recipes
Strawberry Smoothie Recipes
Writer, Author
Luna Regina is an accomplished writer and author who dedicates her career to empowering home cooks and making cooking effortless for everyone. She is the founder of HealthyKitchen101.com and HealthyRecipes101.com, where she works with her team to develop easy, nutritious recipes and help aspiring cooks choose the right kitchen appliances.
Comments/ Reviews