With this tomato cocktail recipe, you will be able to make an amazing and refreshing beverage at home.
You only need a few simple ingredients that may already be available in your kitchen. And, it takes barely any effort to make this drink and clean up afterwards.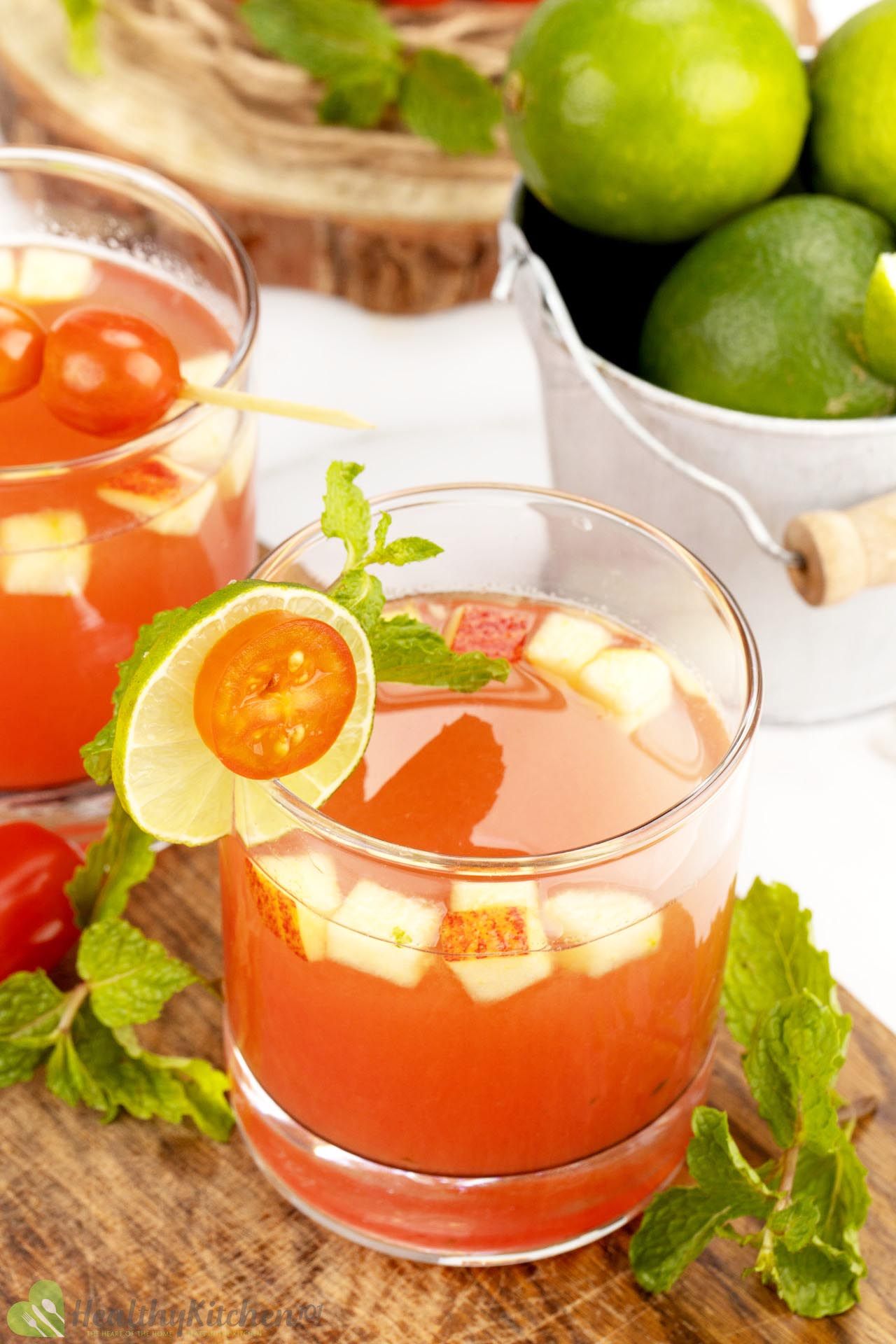 Before we start, let's learn some interesting facts about cocktails and tomatoes.
What Is a Cocktail?
The cocktail is a type of alcoholic beverage. The art of making cocktails is to find the perfect balance between the alcoholic base, fruity ingredients, and garnishes.
A cocktail is made by mixing alcoholic spirits (usually distilled alcohol such as gin, rum, vodka, etc.) with various ingredients. Besides distilled alcohol, beer, wine, or liqueurs can be used alternatively as a base.
Other ingredients in a cocktail recipe can either be fruit juice, peels or pieces of fruit, herbs, condiments, etc.
Can Cocktail Make You Drunk?
One of the purposes of mixing alcohol with fruit juice is to ease the harsh taste of the alcohol. That way the drink is more pleasant and enjoyable to light drinkers.
Although cocktails may seem lighter and easier to consume than unmixed liquors, they can still make you drunk.
When mixed into a cocktail, the alcohol may be diluted, but you're still drinking all of it. And, the more alcohol in the drink, the faster you get drunk.
So, pay attention to the amount of alcohol in the drinks you make to avoid drinking too much alcohol.
Is This Tomato Cocktail Healthy?
Alcoholic drinks are often linked to various healthy conditions, including liver damage and depression.
We follow USDA's dietary guidelines and reduce the amount of alcohol in today's cocktail. This will make the drink less harmful to the body.
Our tomato cocktail contains only 1 fl oz of 80 proof distilled spirit per serving.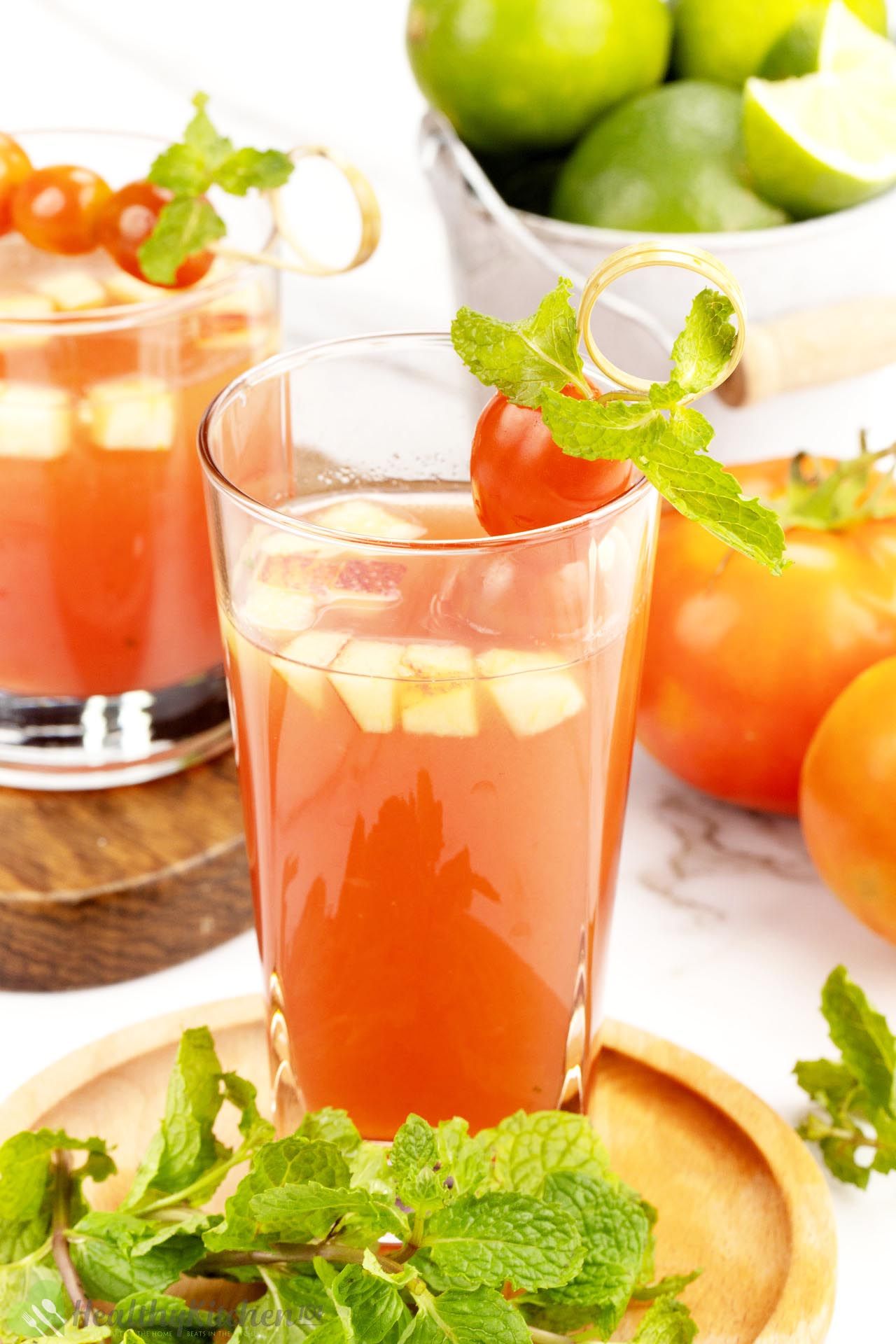 Keep in mind that this is the recommended amount of alcohol, don't consider this a "healthy" dose.
Apart from alcohol, this drink does contain some healthy ingredients, specifically tomato and spearmint.
1. Tomato
Tomato is the star of today's wholesome beverage.
It is a powerful dietary source of vitamins, minerals and antioxidants. This little red fruit is truly a natural wonder whenever it comes to promoting health.
It helps improve skin, eye, blood pressure and gives significant body-detoxified effects.
Tomatoes also contain lycopene, an incredible phytochemical. It is known as a beneficial and cancel-preventative carotenoid pigment.
If you're a tomato lover, we have a collection of Top 10 Tomato Juice Recipes just for you. This article has all the interesting facts about tomatoes and how to turn these juicy fruits into delicious, refreshing beverages.
2. Spearmint
Besides tomatoes, spearmint lends a fresh and herbal taste to this cocktail.
This herbaceous plant proves to be a great accompaniment thanks to its high concentration of scent and mentholated flavor. With antibacterial compounds for respiratory health boost and stress relief, it's also proven by scientists as an aid in digestion.
How to Make Tomato Cocktail
Here is a brief summary of our tomato cocktail recipe:
Step 1: Mix the drink.
Step 2: Divide the drink.
Step 3: Garnish and serve.
Full measurements will be available below.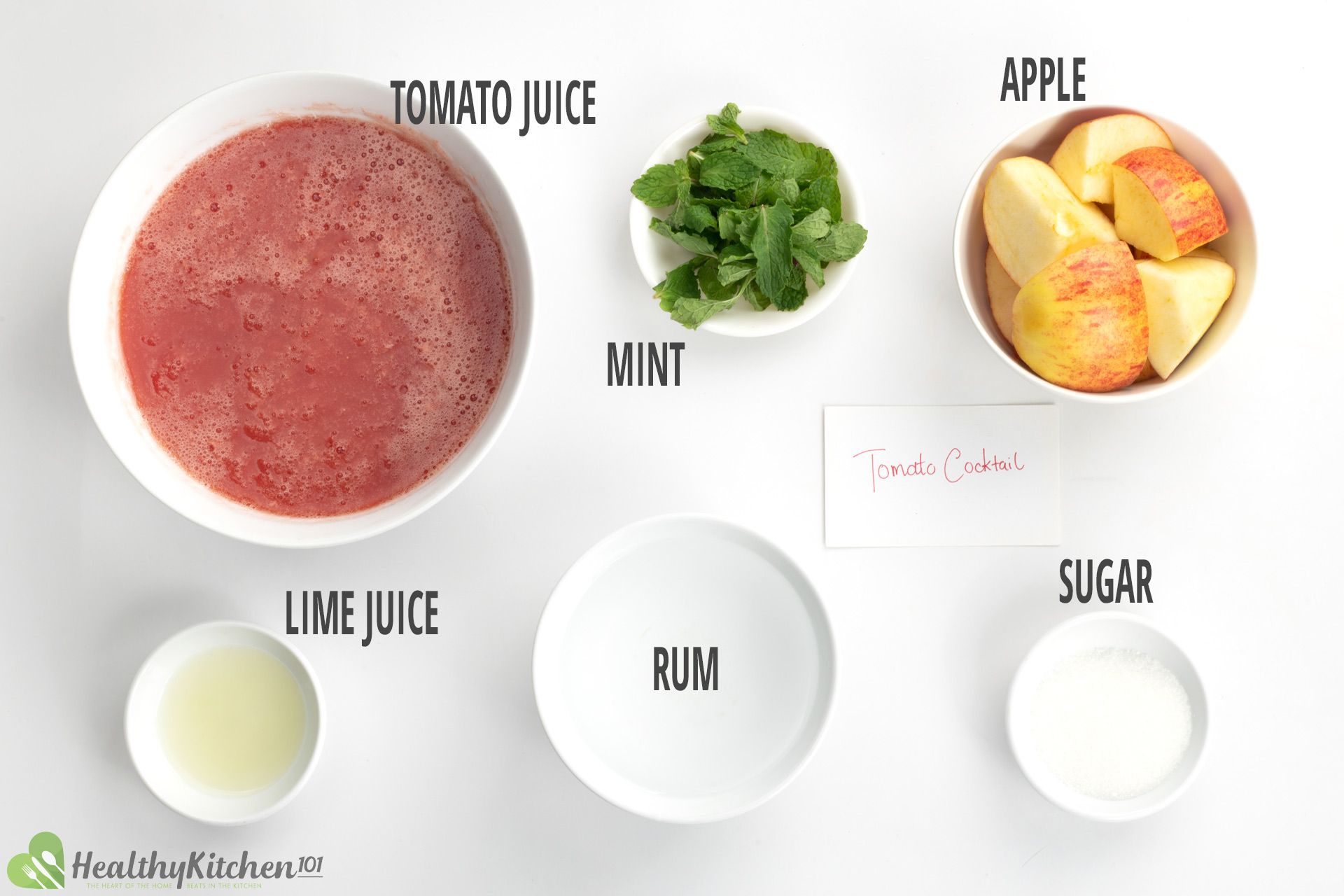 Tips for Making Tomato Cocktail
If you want to take this cocktail to the next level, we have some suggestions:
Use muddler to mash some of the apples: this will release the apple juice into the drink. The sweet taste of apple will enhance the overall taste of the cocktail.
Be creative with the garnish: besides mint, you can put a slice of apple and/or lime on the edge of the glass to give it more character.
Awake the power of the spearmint: this just means to slap the mint gently against the palm of your hand. The mint will release its natural oil and become fragrant.
How Long Does Tomato Cocktail Last?
Tomato juice can last for days in the refrigerator, but this tomato cocktail may not last that long. We reckon this cocktail can stay good for 2 hours once mixed.
You can keep it for longer if you want, but we will not guarantee the quality remains. Here's why: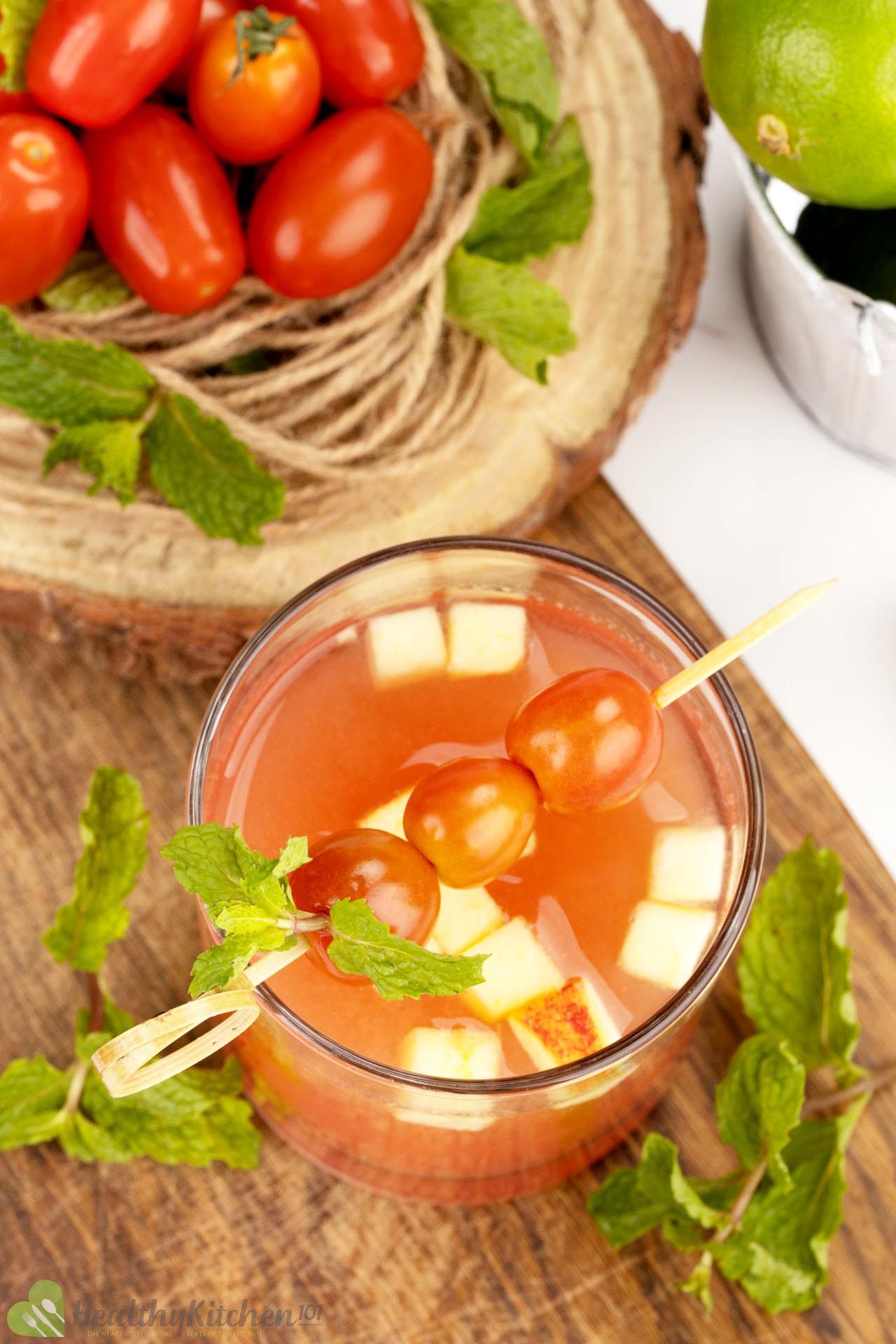 If you add ice too soon before serving, the ice melts and dilutes the drink, making it bland and tasteless.
This cocktail contains lime juice, and lime juice tends to become bitter after a few hours. Your drink will be left with an unwanted, unpleasant bitterness.
This drink also contains fresh apples. Although their taste won't be affected, they will be oxidized and lose their golden color.
If you plan to make this tomato cocktail in advance, we suggest leaving out lime juice, apples, ice, and mint. This will keep them from losing their colors and flavors.
You can mix the tomato juice with rum and sugar first because the flavor will not be changed over time.
But for now, let's get back to making this cocktail.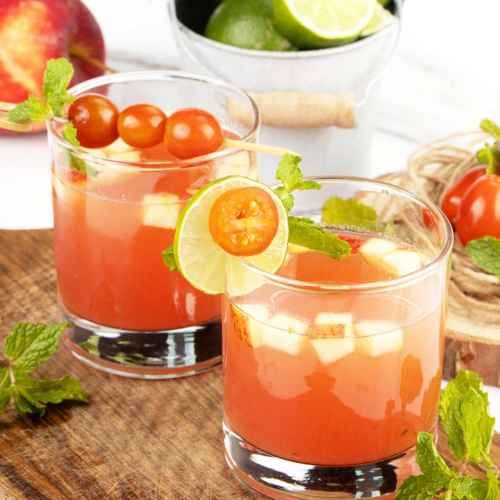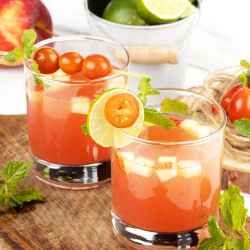 Tomato Cocktail Recipe
Print
RATE
This tomato cocktail recipe is perfect for lazing on a weekend brunch. It's simple and takes only 10 minutes to make. Let's begin.
Ingredients
2

cups

tomato juice

2

tbsp

lime juice

4

fl oz

80-proof white rum

2

tbsp

white granulated sugar

2

cups

ice

7

oz

apple

seeds and core removed, diced

4

tbsp

spearmint

about 30 leaves
This post may contain links to Amazon or other partners; Purchases made via these links may benefit us at no additional cost to you. Read our Affiliate Disclosure.
Instructions
Mix the drink: In a large bowl or pitcher, combine tomato juice, lime juice, white rum, and sugar. Mix well to dissolve.

Divide the drink: Pour the drink into 4 glasses.

Garnish and serve: Add ice to the drink. Top apples on top of the ice and garnish with a few sprigs of spearmint.
Nutrition
Nutrition Facts
Tomato Cocktail Recipe
Amount Per Serving (1 serving)
Calories 139
% Daily Value*
Sodium 21mg1%
Potassium 355mg10%
Carbohydrates 19g6%
Protein 1g2%
Vitamin A 791IU16%
Vitamin C 91mg110%
Calcium 32mg3%
Iron 1mg6%
* Percent Daily Values are based on a 2000 calorie diet.
Hello! All photos and content are copyright protected. Please do not use our photos without prior written permission. Thank you!