This Tuscan butter salmon recipe will help you recreate a dreamy, restaurant-quality dish in your own home and an ideal treat for National Italian Food Day (February 13).
Are you looking for salmon fillets bathed in rich spinach-cream sauce that absolutely melt in your mouth? If so, our Tuscan butter salmon recipe is just what you need.
Not only that, but the whole meal comes together quickly. Four servings of rich salmon with crisp salad and fresh juice can be ready in 45 minutes (or even quicker with pre-prepped ingredients).
If you're in a hurry, click here to get the full ingredient list. Or, spend some time and get to know this savory Italian staple.
What Is "Tuscan"?
Most people know about Italian food, but there's actually more to it. Italy hasn't always been unified, so its regions offer a lot of individuality.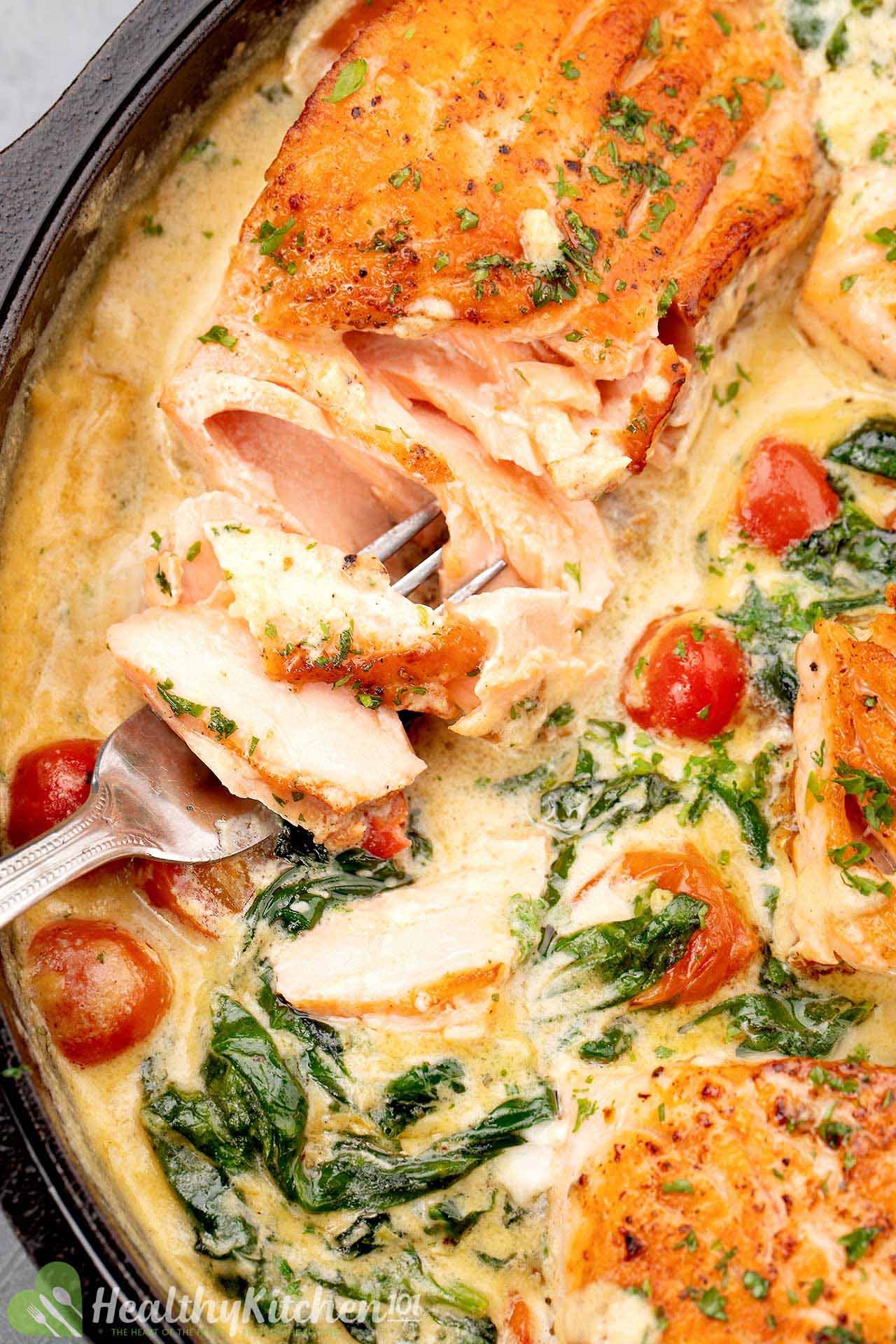 Therefore, each region in Italy has its own specialty cuisines, and the people in Tuscany are no exception.
Tuscan culinary philosophy is based on the idea of "cucina poverta", or "poor cooking." It means Tuscan meals are built upon inexpensive ingredients and can be created following simple steps.
This philosophy also influences the spice choices. Tuscan cuisine limits itself to only a few spices, so they need to be as fresh and high-quality as possible.
We tried to keep this spirit alive in our Tuscan butter salmon recipe by using just a few ingredients and keeping things simple. After the final tasting, we were all satisfied and full; no one held back!
We also have this delicious and healthy salmon recipes, dedicated to salmon lovers. The recipes are easy to follow and complied with our healthy eating standards.
Is Tuscan Butter Salmon Healthy?
Tuscan butter salmon is one of those dishes that is actually quite healthy if done right, even though it doesn't look the part.
First of all, our version is neither too salty nor too fatty. We took it easy on the salt, and kept our eyes on the butter and milk so the saturated fat doesn't exceed what's allowed.
Specifically, each serving of this Tuscan butter salmon recipe has less than 500mg sodium and 8g saturated fat. These come in at about 21.7% and 34%, respectively, of the USDA healthy eating guideline's daily recommendation on these nutrients.
Not only does this dish maintain reasonable levels of saturated fat and sodium, it also provides omega 3 from the salmon. Omega 3 fatty acids are highly recommended by experts, as they help to build a healthy body.
Also, cooked into the cream sauce is a handful of spinach, which packs immune-supporting vitamins C, and A, plus plenty of minerals.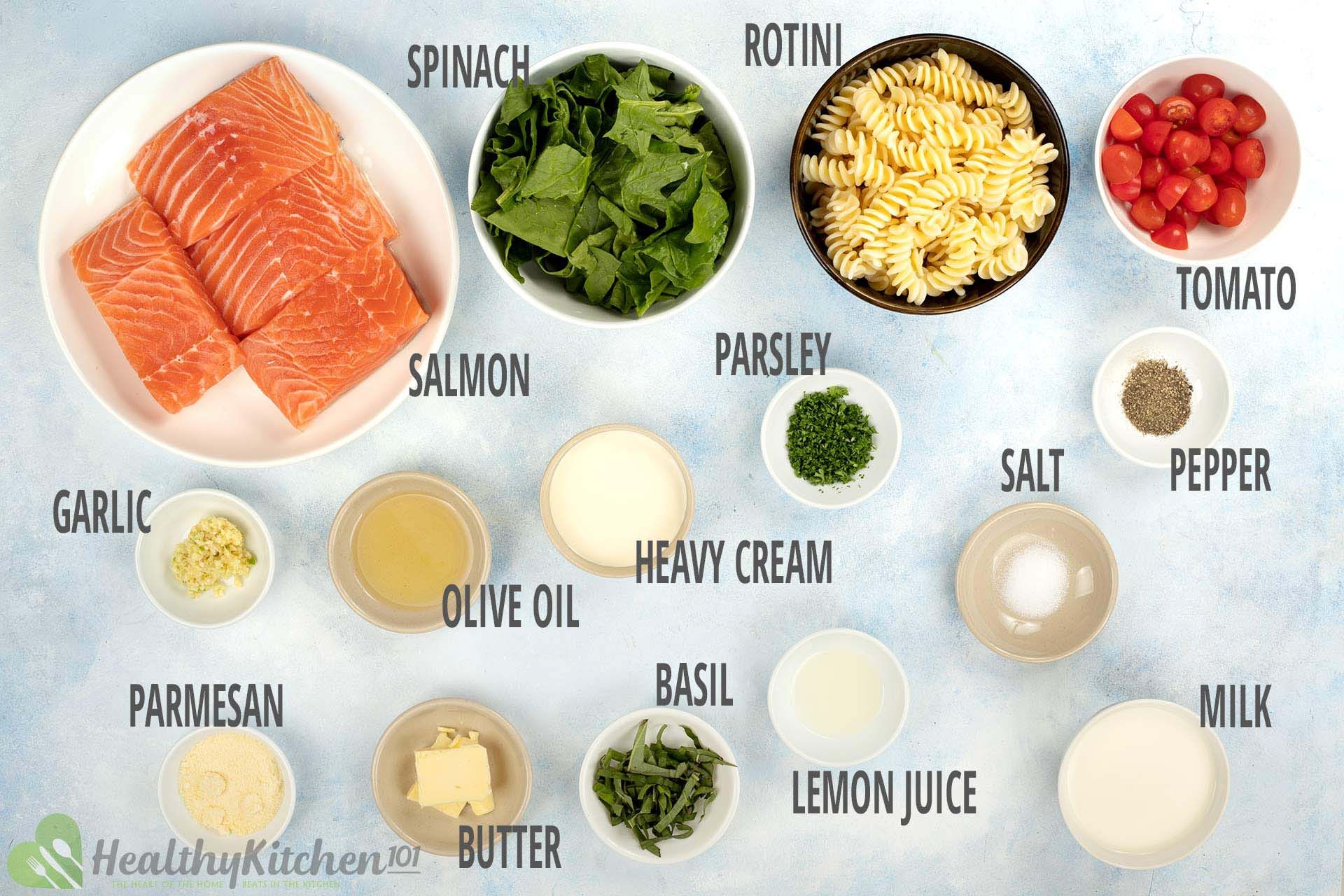 Finally, we chose to pair the dish with a salad and a glass of juice, giving you nothing but necessary nutrients.
If you fancy salmon and its impressive health benefits, here are a few from us to include in your meal plan:
How to Make Tuscan Butter Salmon
Here's an overview of our Tuscan butter salmon recipe: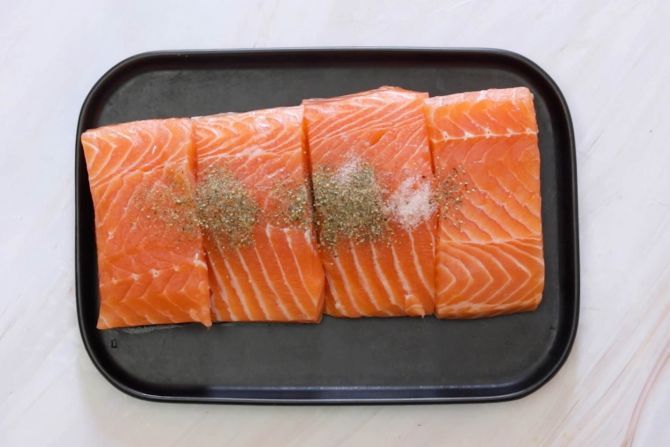 Season the fillets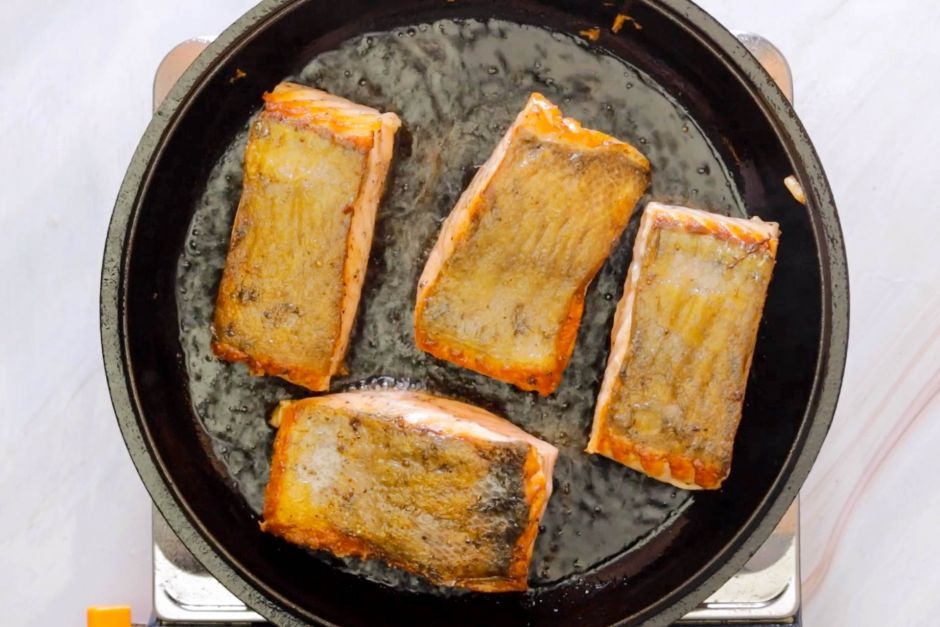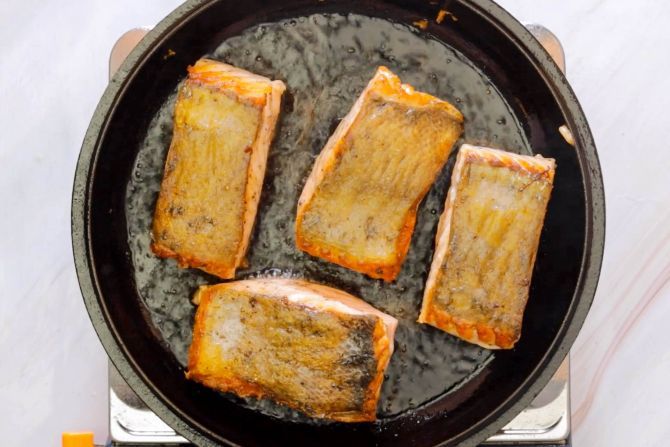 Sear the fillets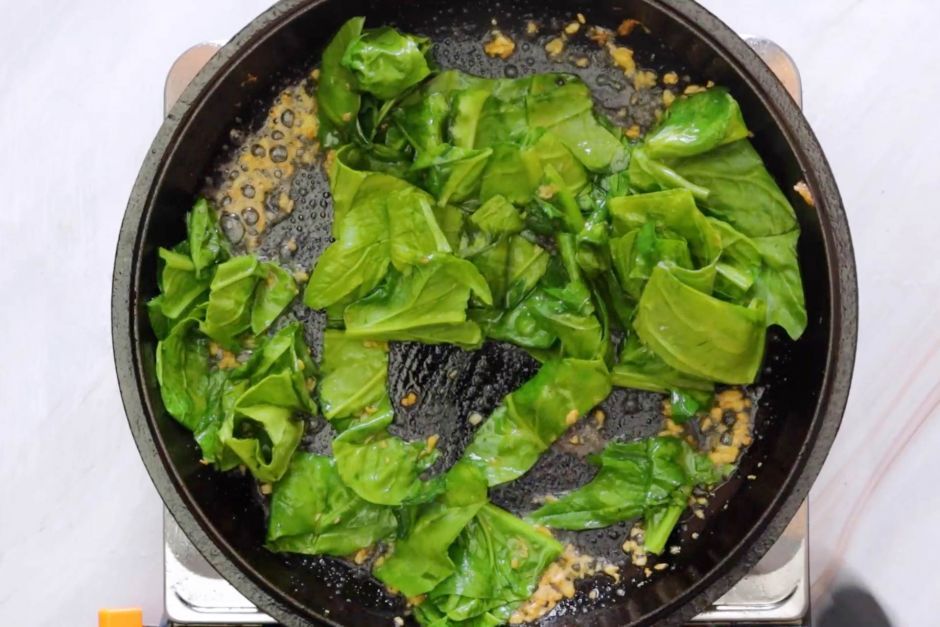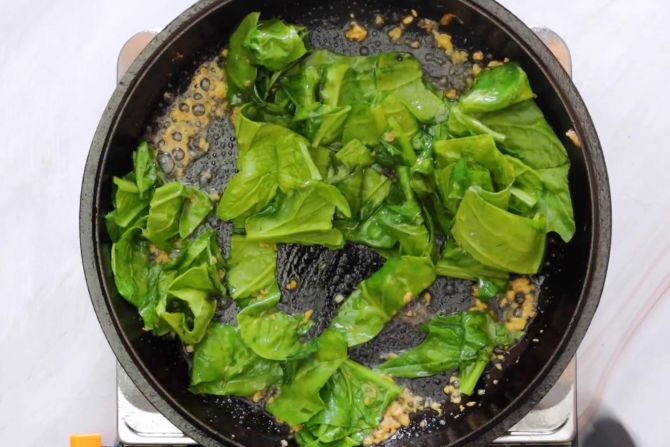 Take them out and cook the spinach with garlic and butter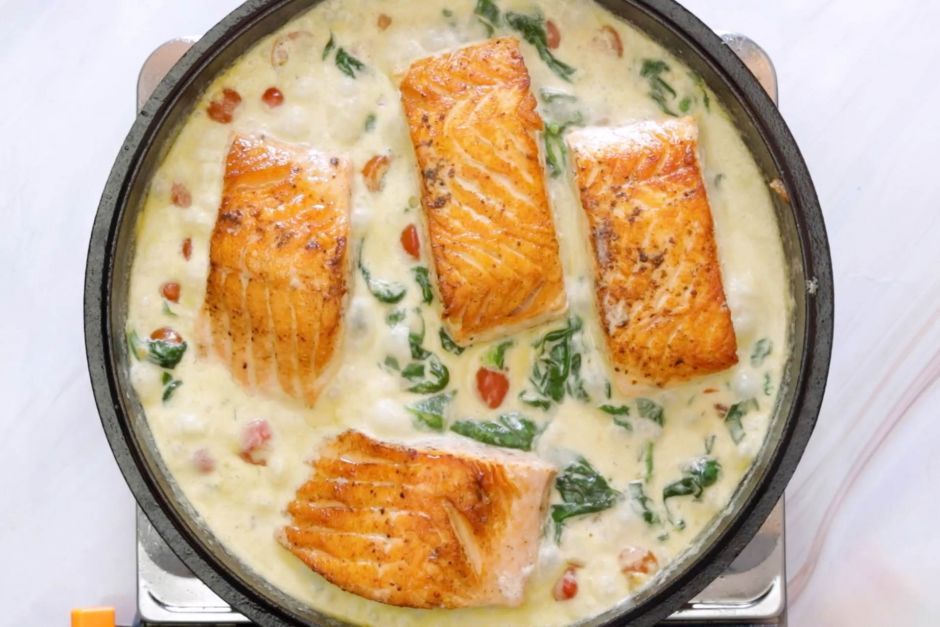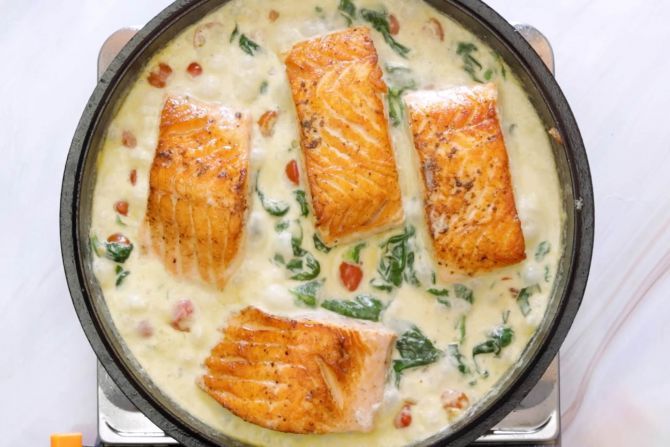 Add in cream sauce ingredients and seared salmon, and simmer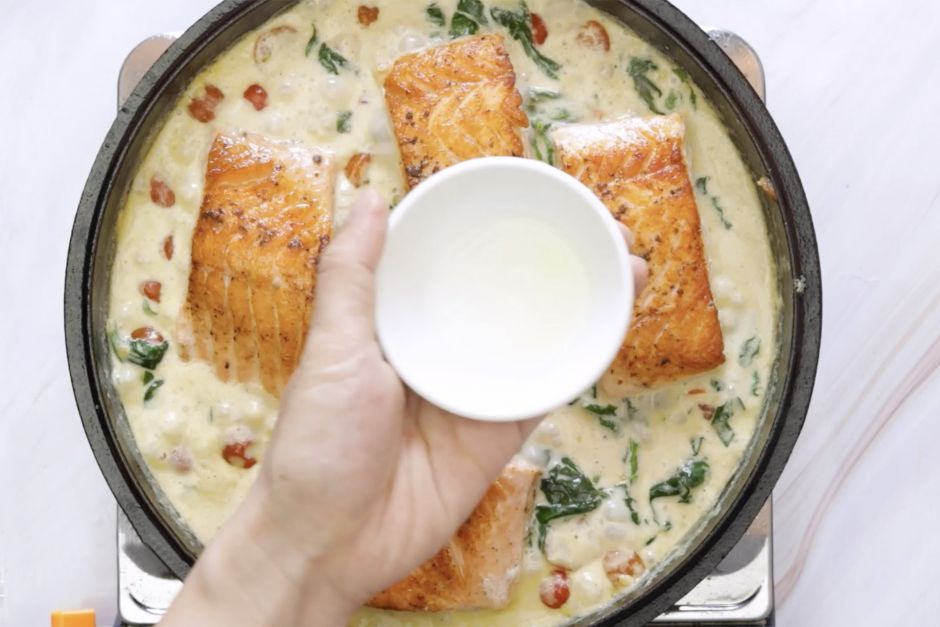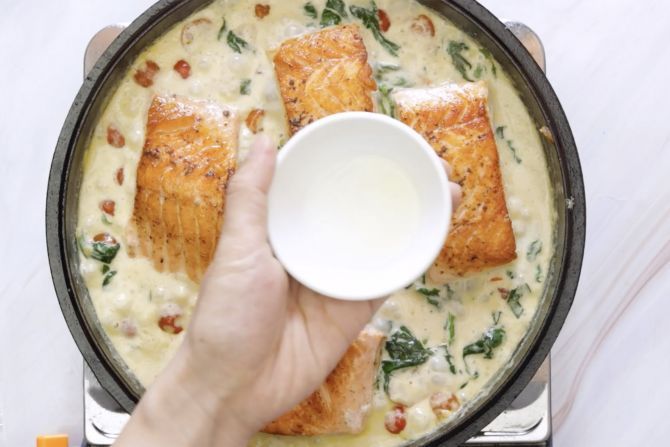 Add lemon juice in at the last minute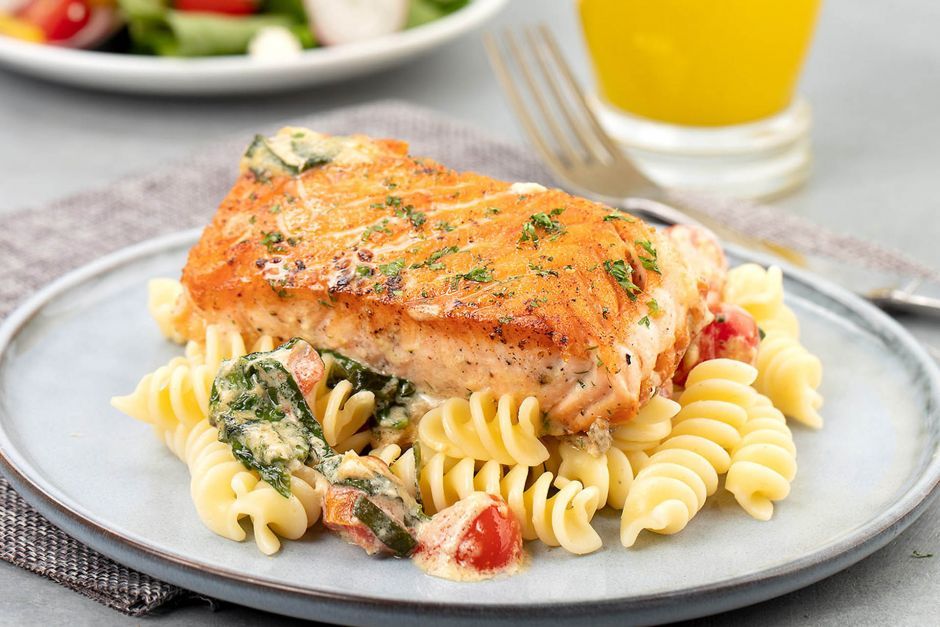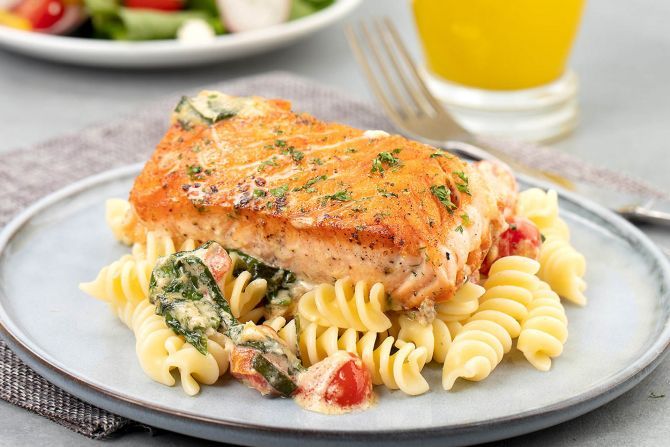 Sprinkle with parsley and serve
For a full, detailed version of this, refer to our recipe card down below.
How Do You Know if Salmon Is Done?
We have cooked plenty of salmon fillets, including salmon baked in puff pastry. Ending up with a perfectly cooked fillet is really easy, and here are the basic rules our chefs swear by:
Number one: either get fresh salmon, or thaw the fillets before cooking. It allows the salmon to cook evenly and helps you avoid a cooked-exterior-cold-center kind of situation.
Number two: sear the salmon skin first thing, then flip if necessary. This crisps up the skin, which makes it a lot more pleasing to eat.
If the dish doesn't require searing, it's best to remove the skin before cooking.
Number three: cook the fillets in a 350-360°F oven or over medium heat, and measure the inner temperature after about 10 minutes. Salmon fillets of different thickness cook differently, so this is the only way to be sure.
We don't mention rule #3 in our salmon recipes because we already tried and knew exactly when the salmon's cooked. Following our recipes, you need nothing but a timer.
Cooking Salmon Fillets Without Thawing
Sometimes, you don't have the time to thaw the fillets (or you simply forgot), and that's okay. There's still a work-around.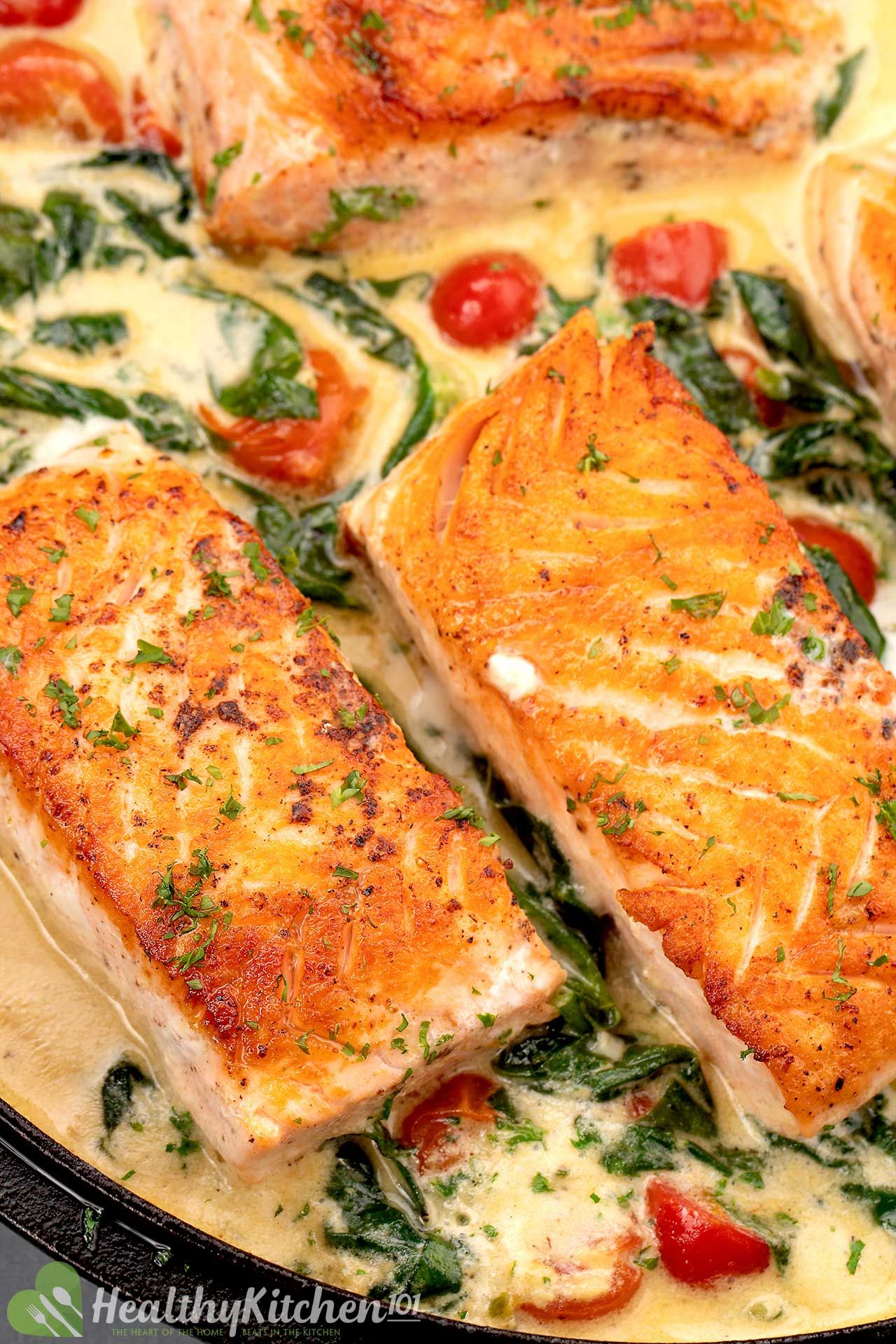 First, crank the oven to 400°F and take out your trusty baking dish. Place the frozen fillets in, cover the dish in foil to lock the moisture in, and bake for about 10 minutes.
The fillets will come out thawed or partially cooked, depending on their thickness. At this point, they're ready to be cooked however you want— sear, broil, bake, etc.
If you have a meat thermometer, stick it in the middle to make sure the temperature reaches 145°F as you cook. This is the safe temperature to which salmon needs to be cooked, according to the FDA.
How Long Does Tuscan Butter Salmon Last?
The USDA states that cooked fish can last for up to 4 days in the fridge, and 2 months in the freezer. We encourage you to wrap everything tightly before refrigerating, so no air that potentially carries bioaerosol gets in, maximizing the food's lifespan.
What to Serve with Tuscan Butter Salmon
Since the dish is filled with fats, we want a tangy, crisp salad to cut the richness. Nothing's easier and quick to make like our Greek salad.
When the meal's done, round it all up with a refreshing glass of juice. Celery's been the hype for packing antioxidants, so we mixed in pineapple juice and they're just meant to be.
If you're digging around for more delicious dishes, check out our recipe for Lomi Lomi salmon, this simple salmon croquette recipe, and one of the easiest ways to cook salmon.
Or learn a skill or two on cooking salmon patties and how to make a perfect meal for dinner parties using the following recipes.
Nutritional values in this table vary somewhat to those below due to different app calculations. Read more...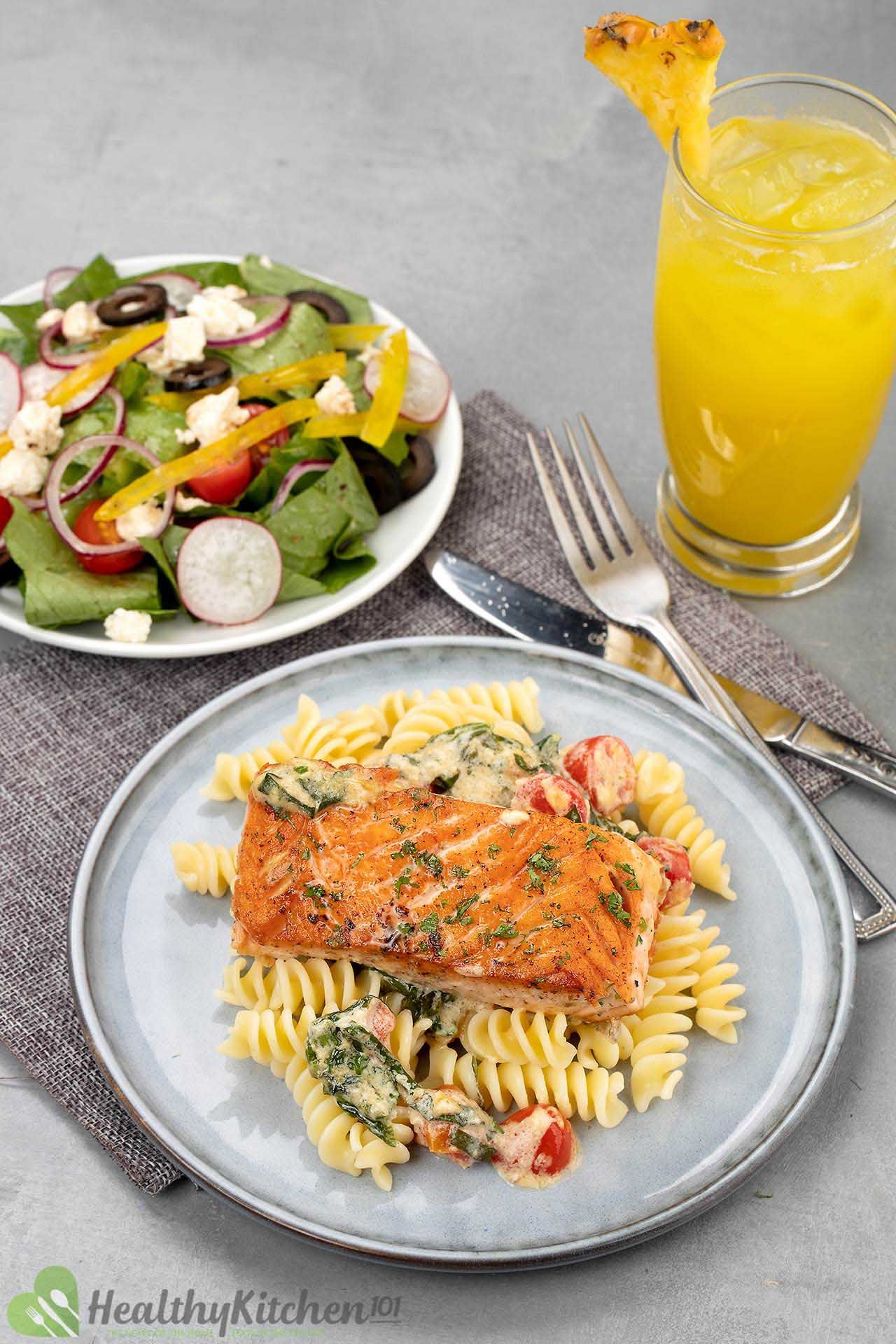 Delicious Salmon Dinners: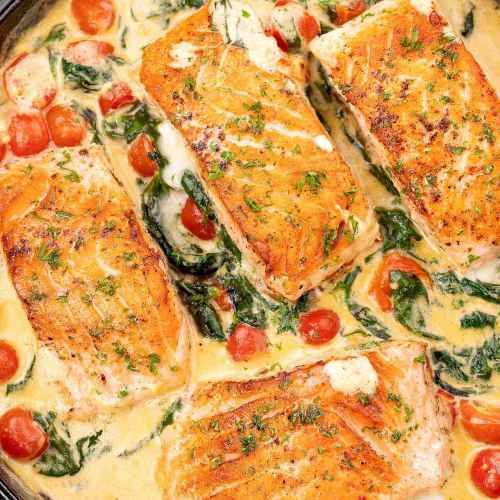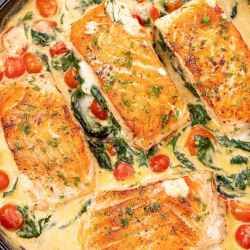 Tuscan Butter Salmon Recipe
This Tuscan butter salmon recipe will help you make a tasty meal in just a few simple steps. It's also quick to make, too.
Ingredients
20

oz

boneless salmon

4 fillets

1/2

tsp

salt

divided

1/2

tsp

ground black pepper

divided

1

tbsp

olive oil

1

tbsp

unsalted butter

2

tsp

garlic

minced

2

oz

spinach

1/2

cup

whole milk

1/4

cup

heavy cream

0.5

oz

parmesan cheese

grated

4

oz

cherry tomatoes

finely chopped

2

tbsp

basil

sliced

1

tsp

lemon juice

13.5

oz

cooked rotini

from around 2 cups dry rotini

1

tbsp

parsley

minced
Instructions
Rub 20 oz salmon fillets with 1/4 tsp salt and 1/4 tsp pepper.

Heat 1 tbsp olive oil in a large skillet. Sear the salmon fillets skin-side down for 2 minutes, then flip and cook for another 2 minutes.

Take the fillets out of the skillet and place them on a dish. Add 1 tbsp butter, 2 tsp garlic to the skillet and when it's fragrant, add 2 oz spinach to cook for 2 minutes.

Add 1/2 cup milk, 1/4 cup heavy cream, 1/4 tsp salt, 1/4 tsp pepper, 0.5 oz parmesan, 4 oz chopped tomatoes, and 2 tbsp basil. Stir around, and add the seared fillets in. Simmer for 5 minutes. This softens the tomatoes and allows the spinach, salmon to absorb flavors.

Drizzle in 1 tsp lemon juice and cook for 1 minute. We don't add lemon juice in too soon, as cooking it for a long time makes it bitter.

Serve: place cooked rotini in the middle of your serving plate. Put one fillet on top, and portion out the sauce and spinach to drizzle over. Sprinkle with parsley.
Nutrition
Nutrition Facts
Tuscan Butter Salmon Recipe
Amount Per Serving (1 serving)
Calories 491
Calories from Fat 189
% Daily Value*
Fat 21g32%
Cholesterol 103mg34%
Sodium 498mg22%
Potassium 783mg22%
Carbohydrates 34g11%
Protein 40g80%
Vitamin A 1893IU38%
Vitamin C 13mg16%
Calcium 118mg12%
Iron 2mg11%
* Percent Daily Values are based on a 2000 calorie diet.