Today's mango avocado salsa recipe offers you a chance to host a tropical flavor party right at home. The perfect combination of sweet mango, creamy avocado, and tangy vinaigrette will surprise your tastebuds.
Is Mango Avocado Salsa Healthy?
It sure is. 
This salsa was made to give you a healthy and refreshing side dish to enjoy. Each serving contains 235 calories and zero cholesterol. We also keep the saturated fat at only 2.6 grams per serving. Moreover, the dish provides loads of vitamins from all of the fresh fruits and vegetables. 
In this recipe, mango takes center stage with its health benefits. 
The antioxidants in mango may help reduce the risk of cancer. Vitamin C is one of those antioxidants which helps to enhance immune function. Vitamin K helps to prevent anemia and strengthen bones. 
Mango may also improve heart health, thanks to magnesium and potassium present in the fruit. Lastly, mango also contains fiber for digestive health and folate to improve immunity and support pregnancy.
Other fruits and vegetables in this recipe, such as avocado, jalapeño, and bell peppers, contain lots of wonderful, health-promoting nutrients as well, including antioxidants, vitamins, and minerals.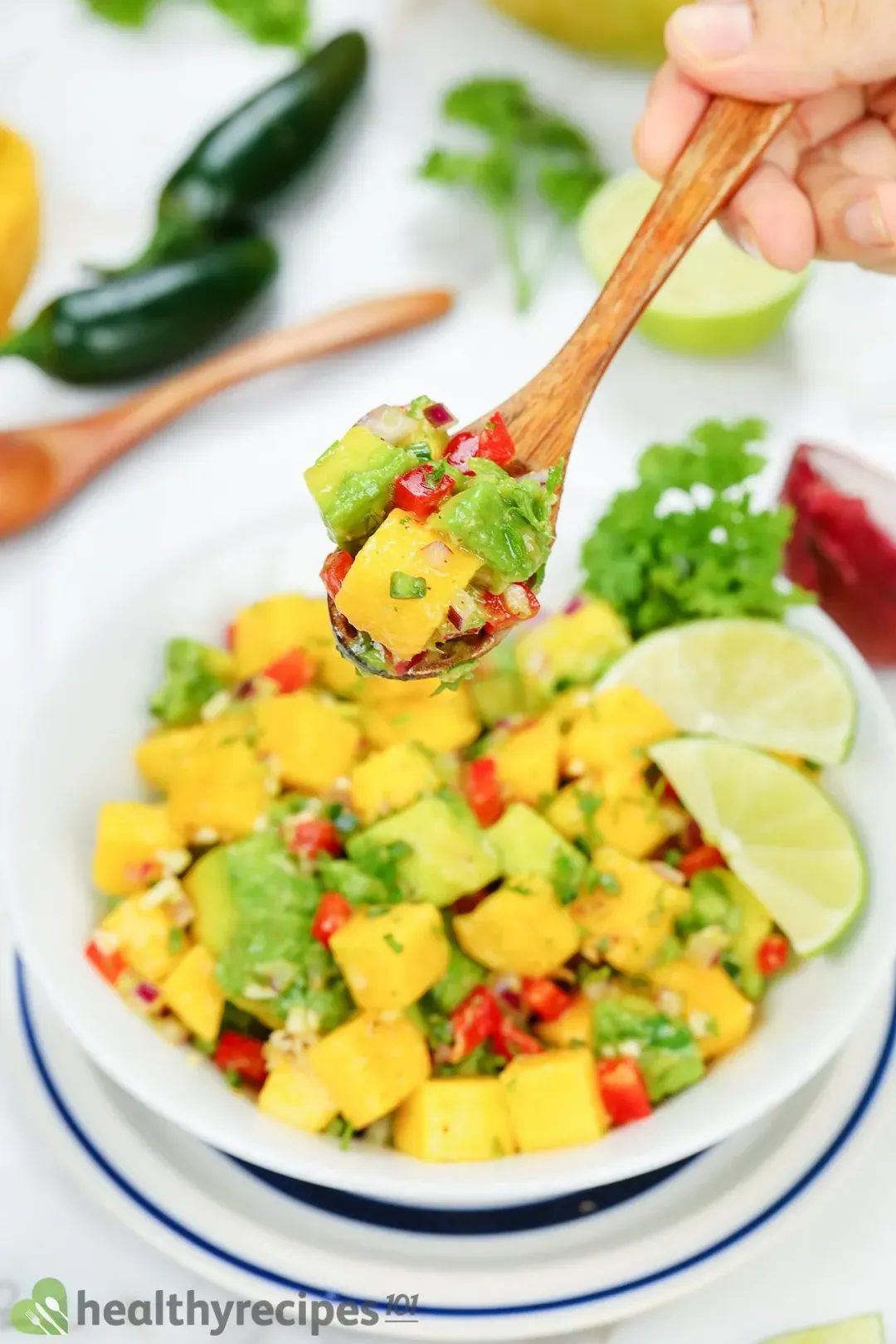 Ingredients for the Recipe
Salsa contains a variety of flavors and textures from many different ingredients. This dish is a combination of sweet, tangy, and spicy flavors from soft, crunchy, and creamy components.
We use mango, avocado, red bell pepper, red onion, and jalapeño for their contrasting textures, flavors, and colors. 
They all come together to create a tropical feast for the eyes as well as your tastebuds! 
There have been a lot of different versions of salsa over the years, so the sky's the limit. You could try other fruits or vegetables to achieve different flavor and texture combinations. Just note that any alterations will also affect the nutritional values for the recipe.
In this recipe, we decide to go with a lime vinaigrette. This dressing adds some acidity and olive oil's signature flavor.
You can substitute olive oil with any kind of oil. Vegetable oil or different types of nut oils are all viable options. Lime juice may be replaced by lemon juice or different types of vinegar.
Aside from the main components, we also added some herbs and spices to give this dish more flavor. In this recipe, we chose some familiar herbs like cilantro and parsley along with some salt and pepper for freshness and balance.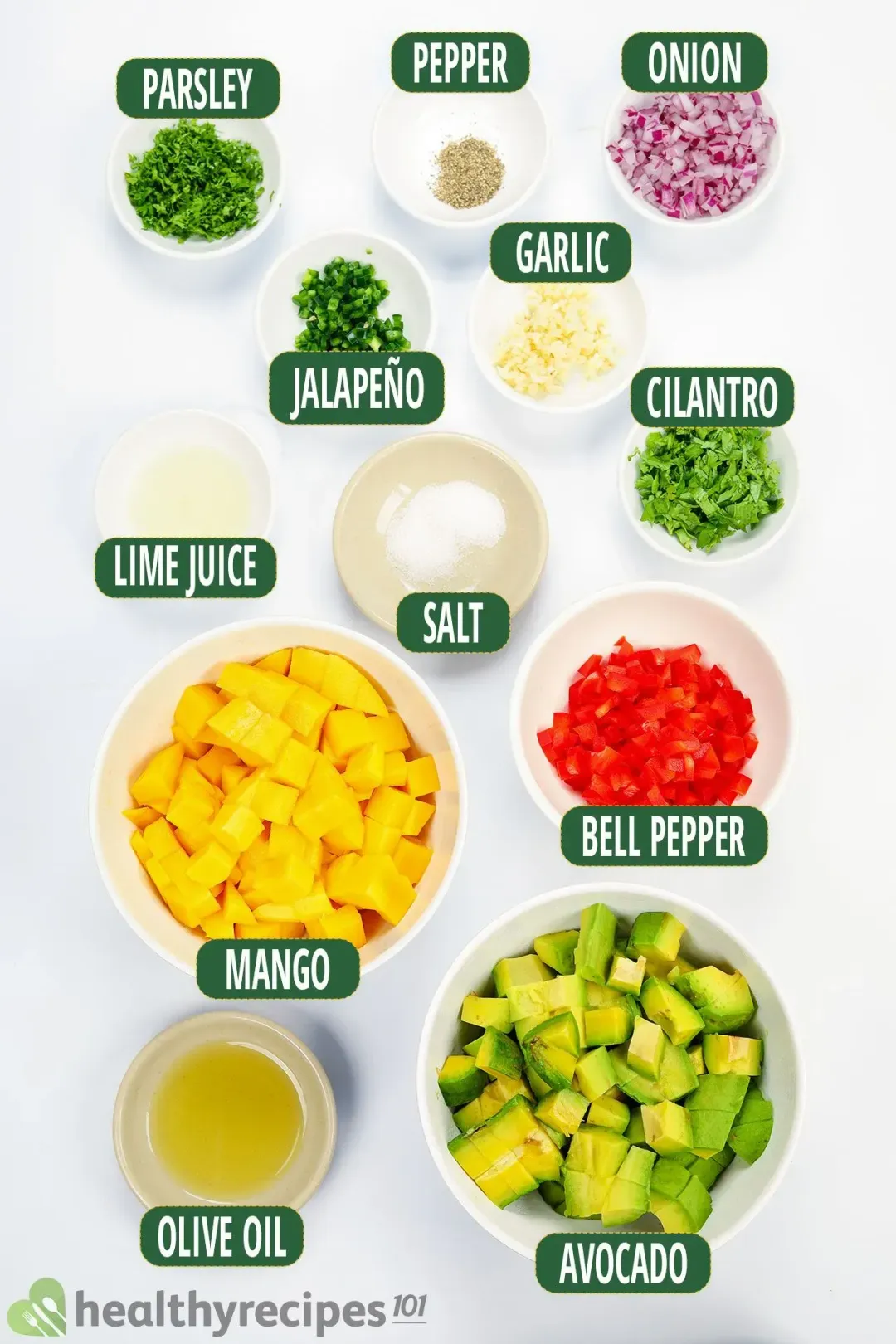 How to Prepare the Ingredients
There are multiple ways to make salsa: cooked, uncooked, blended, diced, and so on. Our recipe today will have you dice the ingredients so you can see the different components in the bowl.
Since we're not cooking the ingredients, it is important that they are fresh and thoroughly prepared. Be sure to wash and dry your fruits and vegetables carefully before chopping.
1. Peel and Cut the Mango
First of all, we need ripe mangoes to get the sweetness and soft texture. It's easy to know if a mango is ripe. Just apply pressure on the mango, if it gives a little, it's ripe.
Using a chopping board and sharp knife, slice off each side of the mango. Make sure to get as much flesh around the seed as possible. You will yield four pieces in total.
Place the pieces on the board with the flesh placed upwards. Use your knife to carefully cut parallel lines of desired thickness along the length of the mango. Turn the mango 90 degrees and cut lines perpendicular to the other lines. Be careful not to cut through the skin of the mango.
There are two ways you can get the flesh out. You can either use a spoon and simply scoop the flesh out. Or you can hold the piece and use your index and middle fingers to push and invert the skin. Then use a knife to cut off the mango cubes.
You should be careful with mango peel because it contains a substance that can potentially cause rashes or allergic reactions. 
2. Other Ingredients
Other fruit and vegetables should be cubed, diced, or chopped. 
You should remove the pit and peel the avocado before cubing it; be careful to not crush the flesh. 
Bell peppers, onion, and jalapeño should be chopped as well.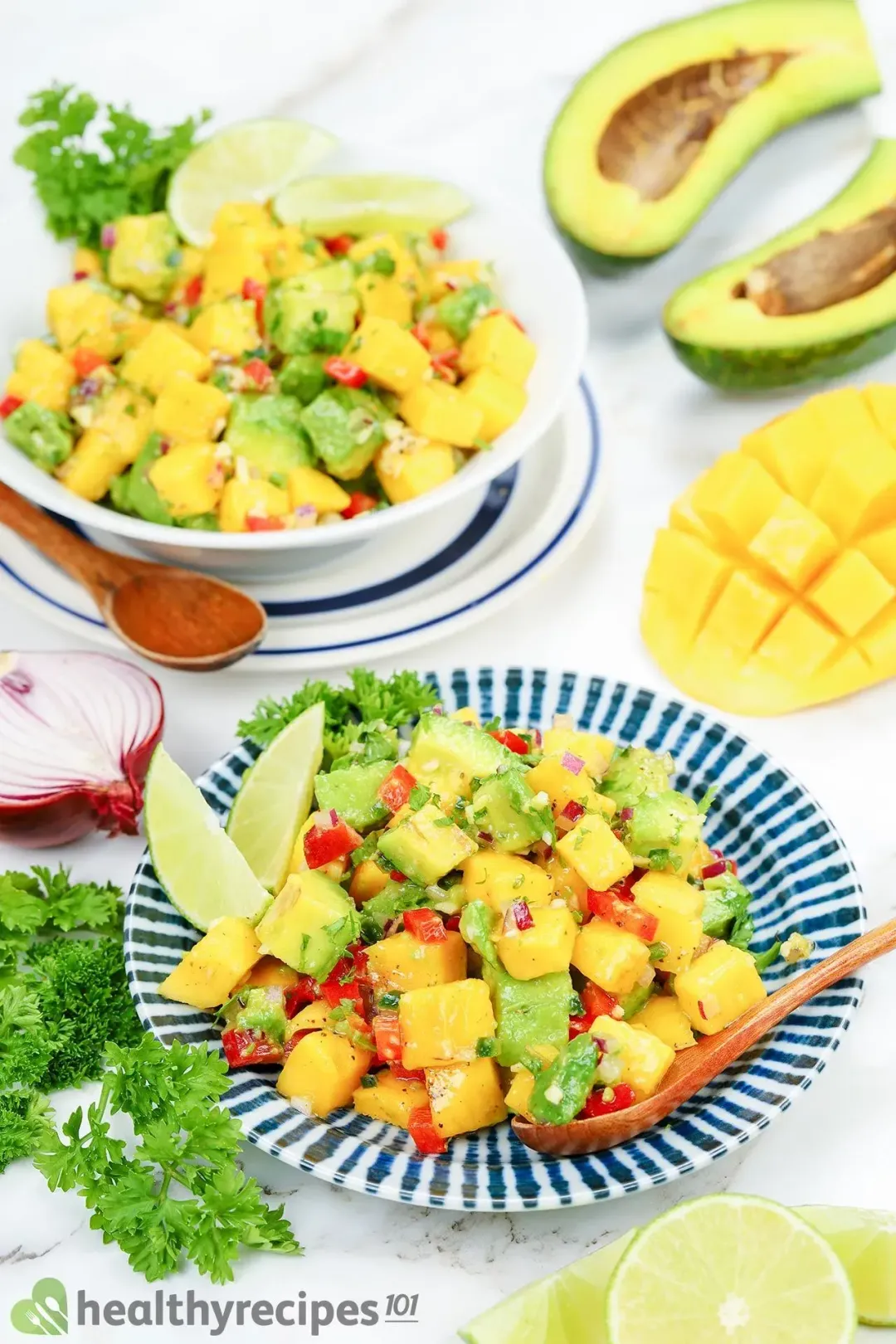 How to Serve Mango Avocado Salsa
Today's mango avocado salsa is great by itself as a dip or can go well with a lot of other dishes too. 
1. An Appetizer
Salsa and tortilla chips make a perfect combination. Tortilla chips are fried or baked and benefit greatly from a partnership with something more refreshing and fruity like today's mango avocado salsa.
You can also take it up a notch and cover the tortilla chips with melted cheese to make nachos. The cheesy goodness will go really well with the fruit, making the dish less heavy. However, you should pay attention to the calories, saturated fat, and salt in cheese.
2. With Main Dishes
This recipe may also be a great companion for a main dish. Almost any meat main or even plant-based alternatives can be made even better with the addition of our mango avocado salsa, as evidenced by this chicken with avocado salsa recipe. The fruity flavors of the salsa provide an interesting twist to the flavors you are used to.
A classic choice would be tacos; you can combine the starch from taco shells, your favorite protein, and this mango avocado salsa to make a full meal in the palm of your hand. Tacos and burritos often feature a filling folded or wrapped by corn or wheat tortillas. The salsa's role is to make the dish less heavy and add another layer of flavor.
3. Can You Make Spicy Mango Salsa?
Certainly. We use jalapeño in this recipe, which is a mild pepper. You can substitute jalapeño with hotter varieties such as habanero or serrano peppers. Keep in mind that replacing this ingredient will significantly alter the flavor of the dish.
You could also try adding more jalapeño to the dish and see how that turns out.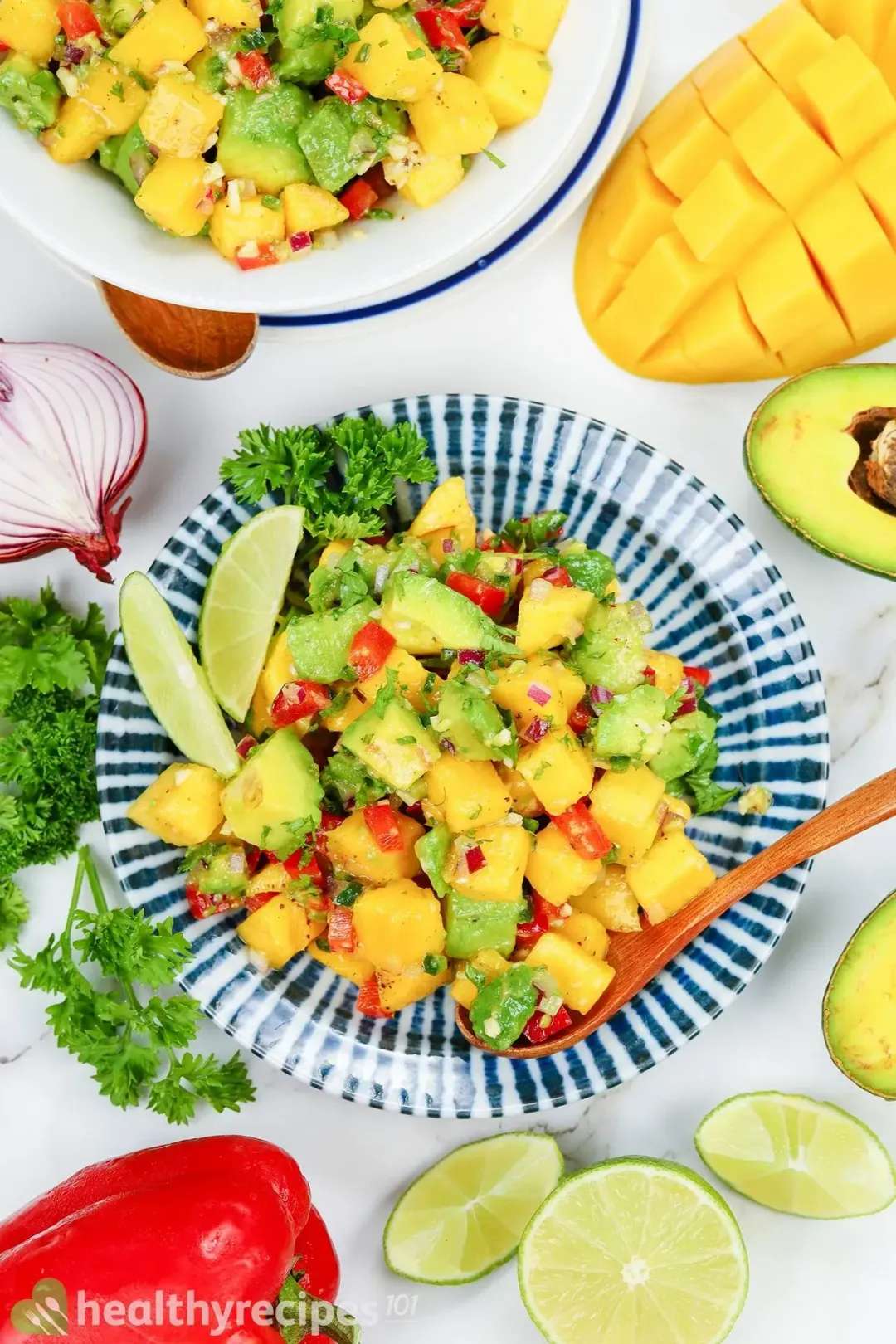 How to Store Leftover Salsa
Storing leftover mango avocado salsa can be tricky because the dish contains a lot of fruits and vegetables.
Mango avocado salsa can last in the fridge for up to five days when stored in an airtight container. However, it depends heavily on how often you open the fridge or the salsa container. The flavors can degrade quickly and the texture of the ingredients will start to get mushy the longer it stays in the fridge.
You can also try freezing salsa to help it last longer. The fruits and vegetables contain a lot of water so when you take them out and thaw them, the salsa can become mushy and watery. It will still have good flavor but may be more suitable mixed with something, rather than as a dip.
When the salsa has stayed in the fridge for more than five days or starts to develop a strange smell, just toss it out and make a new batch.
You May Also Like
How to Make Mango Avocado Salsa
Today's mango avocado salsa recipe offers you a chance to host a tropical party right at home. The perfect combination of sweet mango, creamy avocado, and tangy vinaigrette will surprise your tastebuds.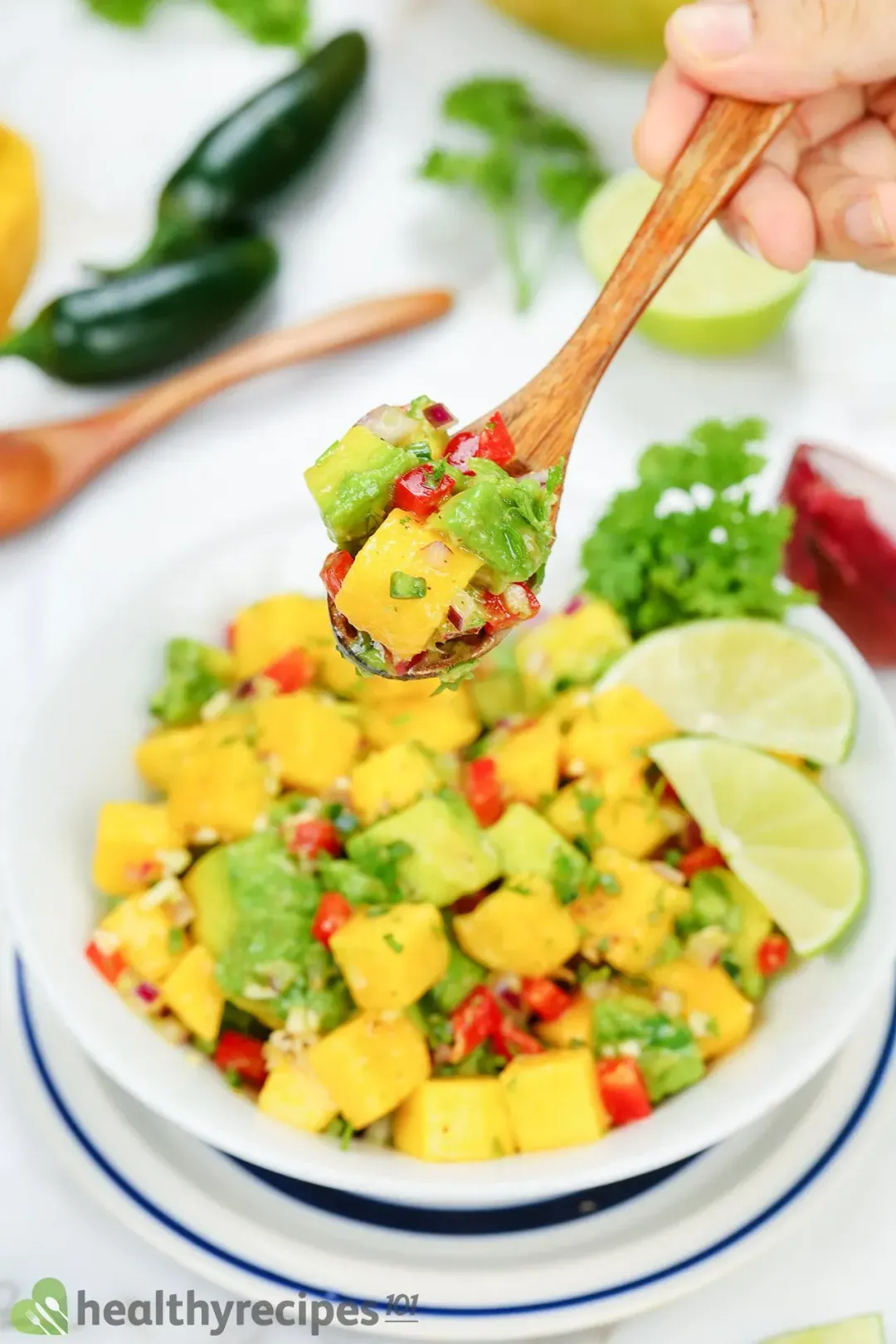 prep TIME

5 mins

total TIME

5 mins
COURSE

Side Dish

CUISINE

Global, Mexican

SERVINGS

CALORIES

235 kcal
INGREDIENTS
1/4 cup

cilantro

(chopped)

0.5 oz

jalapeño

(chopped)

2 oz

red bell pepper

(diced)
INSTRUCTIONS
1
Put all the prepared fruits and vegetables in a mixing bowl: 10 oz avocado, 10 oz mango, 1/4 cup cilantro, 0.5 oz jalapeño, 1 oz red onion, 2 oz red bell pepper. Add 2 tbsp olive oil, 1 tbsp lime juice, 1/2 tsp salt, and 1/2 tsp pepper.
2
Mix thoroughly and carefully to avoid crushing the fruits and vegetables.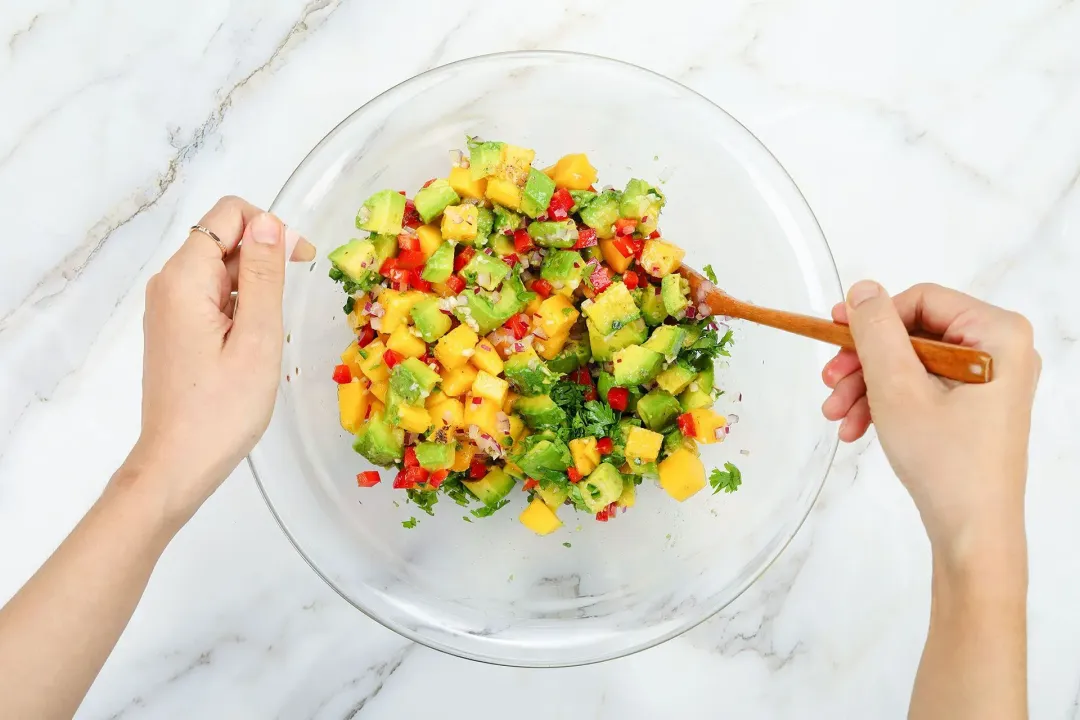 3
Serve, garnish with chopped parsley, and enjoy.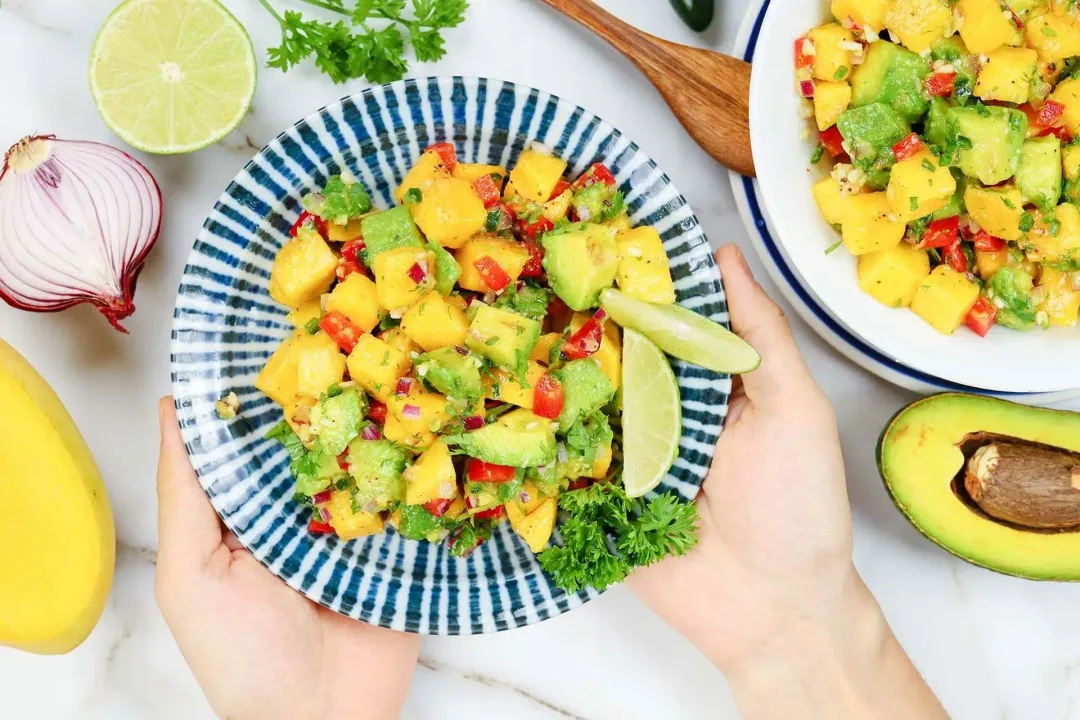 NUTRITION
Nutrition Facts
How to Make Mango Avocado Salsa
Amount Per Serving (1 serving)
Calories 235
Calories from Fat 162
% Daily Value*
* Percent Daily Values are based on a 2000 calorie diet.
Keywords: avocado mango salsa, how to make mango avocado salsa, mango avocado salsa, mango avocado salsa recipe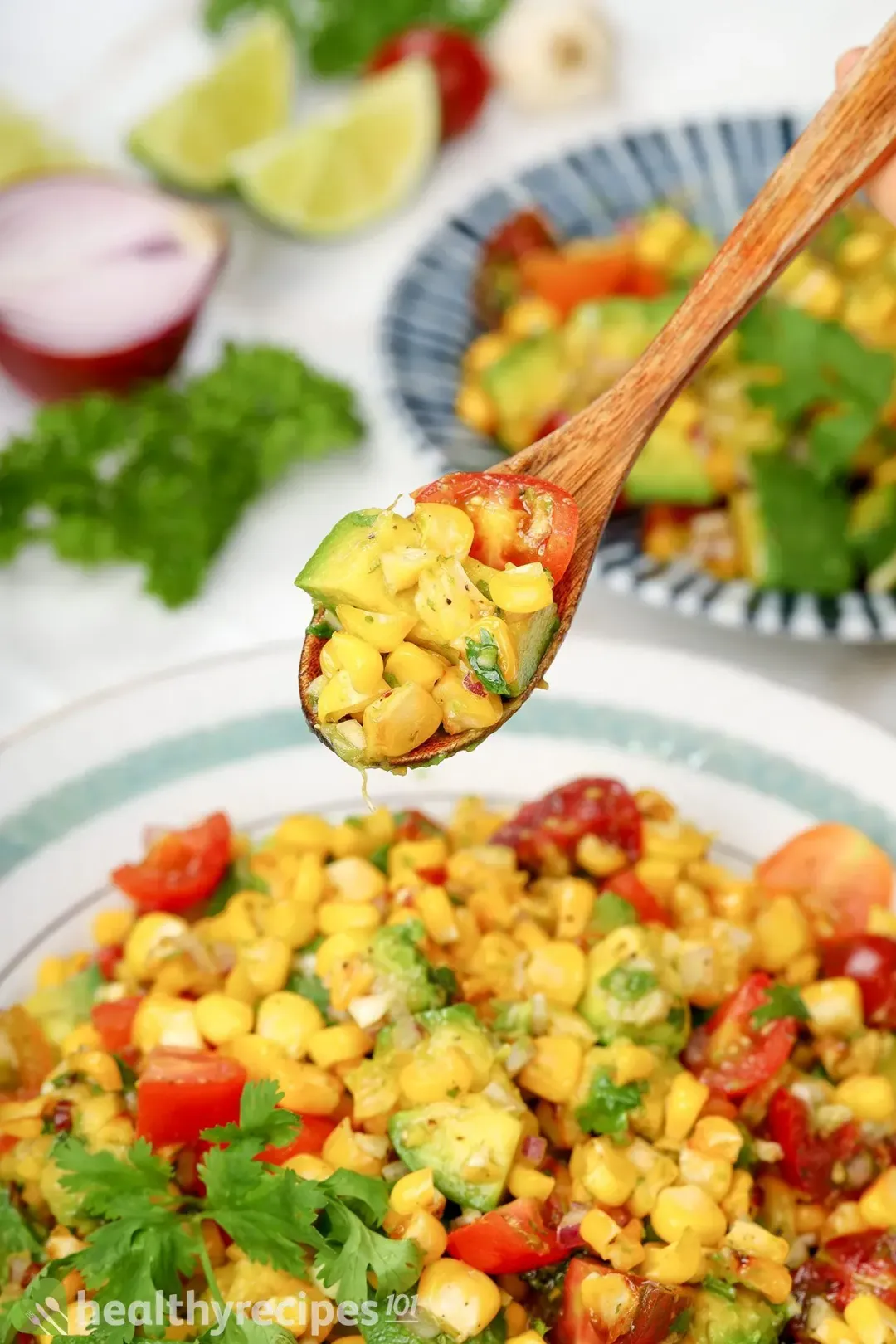 Previous Recipe
Avocado Corn Salad
Avocado Corn Salad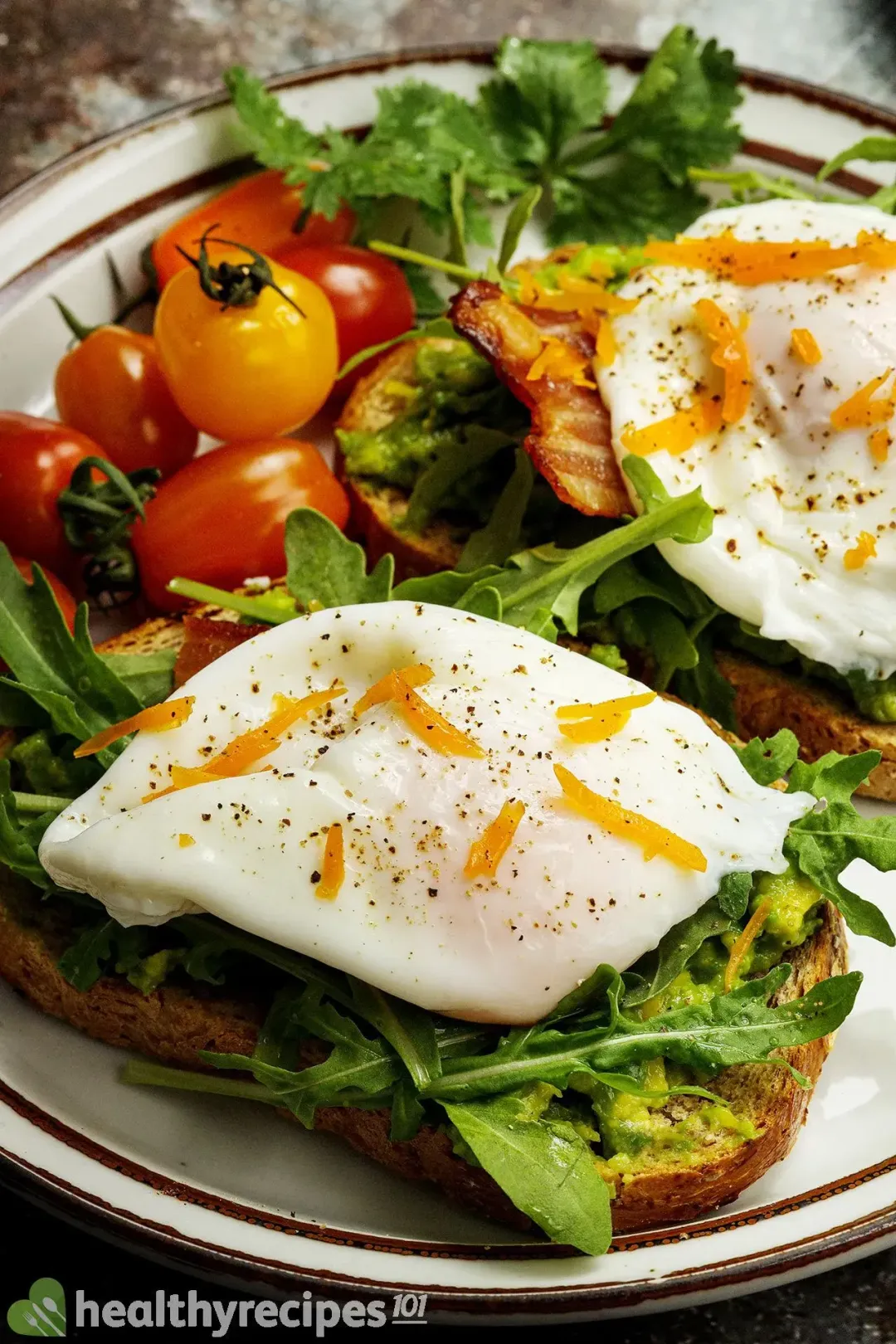 Next Recipe
Smashed Avocado on Toast
Smashed Avocado on Toast
Head Chef, Culinary Consultant
Tuyet Pham is an award-winning Saigonese chef who believes that joy is the secret ingredient to delicious food. At Healthy Recipes 101, Tuyet personally tests and simplifies every recipe, ensuring maximum flavor with minimal effort. With a background at prestigious French restaurants P'TI Saigon and Le Corto, Tuyet knows how to make every dish exceptional.
Writer, Author
Luna Regina is an accomplished writer and author who dedicates her career to empowering home cooks and making cooking effortless for everyone. She is the founder of HealthyKitchen101.com and HealthyRecipes101.com, where she works with her team to develop easy, nutritious recipes and help aspiring cooks choose the right kitchen appliances.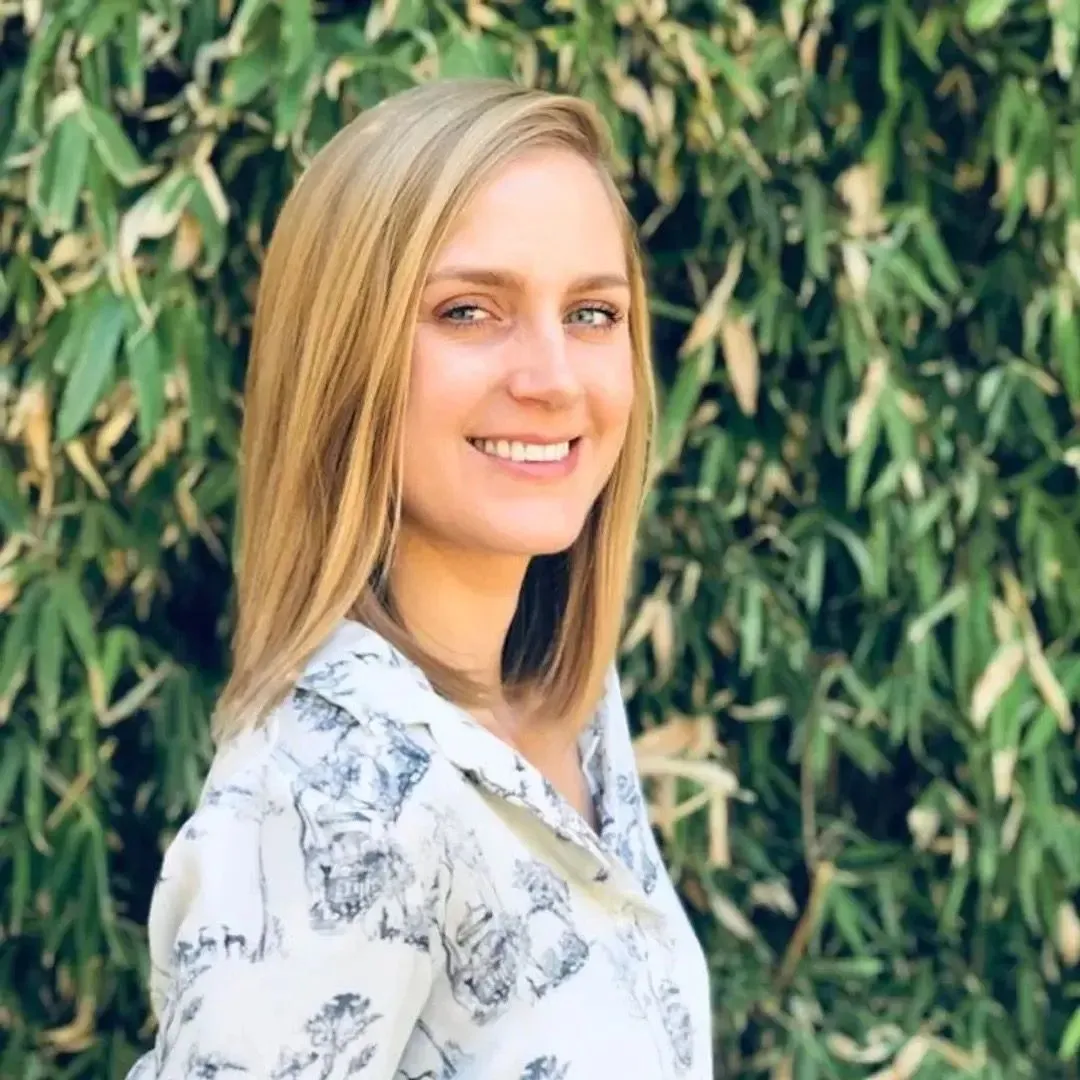 Nutrition Reviewer
Emily Rogers is a California-based Registered Dietitian Nutritionist who specializes in Public Health Dietetics. She has had an eclectic career working as a health educator, nutrition counselor, recipe developer, clinical dietitian and outpatient dietitian. Emily is currently a full-time Public Health Nutritionist with the County of Orange where she teaches Nutrition Education and Community Nutrition courses.
Amazing Salsa. Beautiful, and the flavor was delicious.