Sharing today's beef stroganoff recipe, we are bringing you another tasty option to make for weeknight dinners. You'll get golden-seared juicy strips of beef smothered in an incredibly indulgent and creamy mushroom gravy.
It's delicious, versatile, and super fulfilling with plenty of room for creativity, especially when being served over a nice soft bed of pasta!
What Is Beef Stroganoff?
Beef Stroganoff is a quick sauté of tender steak (or ground beef) with browned mushrooms tossed in a savory creamy sauce. This dish originated in Russia in the early 1800s.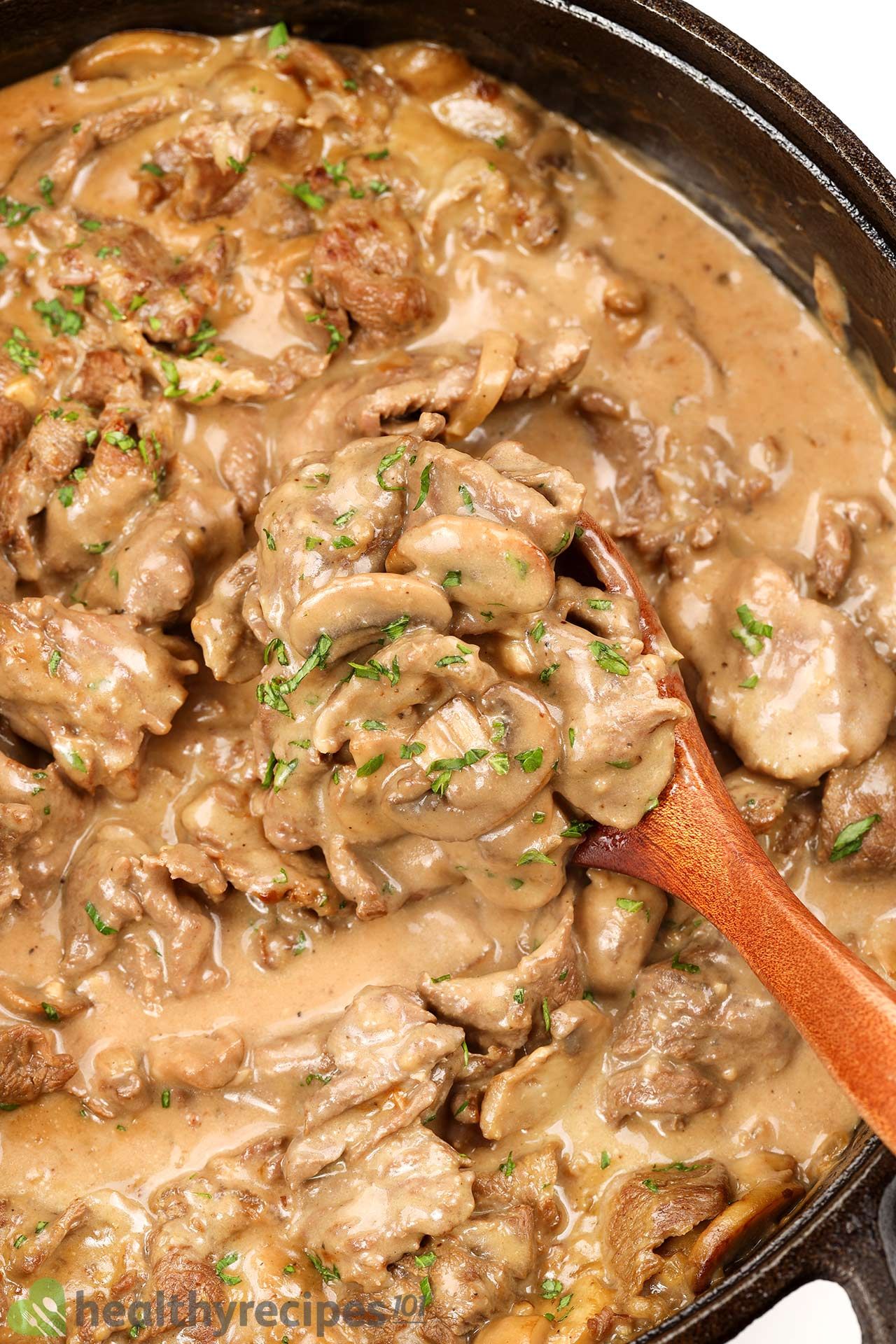 Is Beef Stroganoff Healthy?
We believe the answer is yes. A single serving of this beef stroganoff provides 495 calories and only 116.2mg of cholesterol.
Sirloin steak comes from the rear back of the cow that produces tender and flavorful cuts. They benefit from a short cooking time and have become the go-to choice for many grilling and quick stir-fry dishes.
Top sirloin, the star of today's recipe, is a lean beef cut with 12.5g of fats and 23.4g of protein per a typical 4-ounce cut. As we can see, it adds only a moderate amount of fat, with little saturated fat (5.07g), to your meals — in comparison to a 2,000-calorie diet that requires fewer than 14g of saturated fat per day.
The Best Beef Cuts for Stroganoff
Beef stroganoff is a fast-cooking dish, so don't try to cut the budget with discount meat; instead, let's opt for premium, quality lean fillets of beef. You'll want the beef cuts that are marbled with fat so they will cook to a juicy tenderness and infuse that wonderful beefy flavor into the mushroom gravy.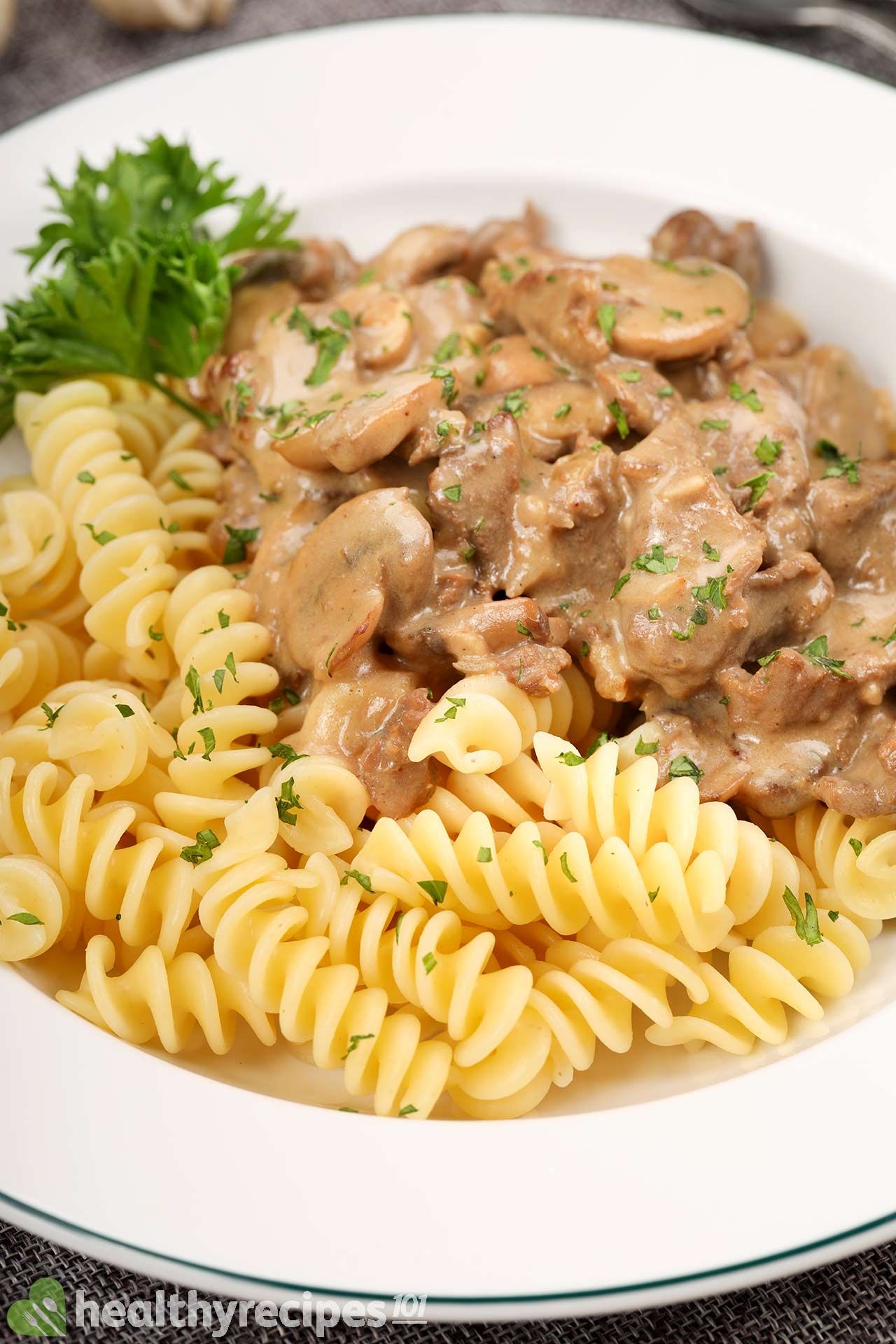 No matter what cut you opt for, always slice the steak against the grain to make sure it's juicy and tender when cooked.
To sum it up, the best beef cuts for beef stroganoff are:
Sirloin steak (either top or bottom is great)
Sirloin tips
Tenderloin
Ribeye steak
Filet mignon tips
Sauce for Beef Stroganoff
Our stroganoff sauce is a sour, creamy gravy made by cooking sautéed mushrooms in Worcestershire sauce, gravy mix, pepper, salt, mustard, garlic powder, chicken broth, sour cream, and heavy cream. The gravy is also thickened with flour so it glosses the juicy beef steak perfectly.
As beef stroganoff has traveled the world and entered many different cuisines, there are many variations of the sauce. Some recipes even have wine added to enhance the sauce with a more pronounced after-taste.
Regardless of the divergences, every stroganoff gravy has one feature in common: it's always flavored with humble ingredients to produce a rich, heart-warming infusion.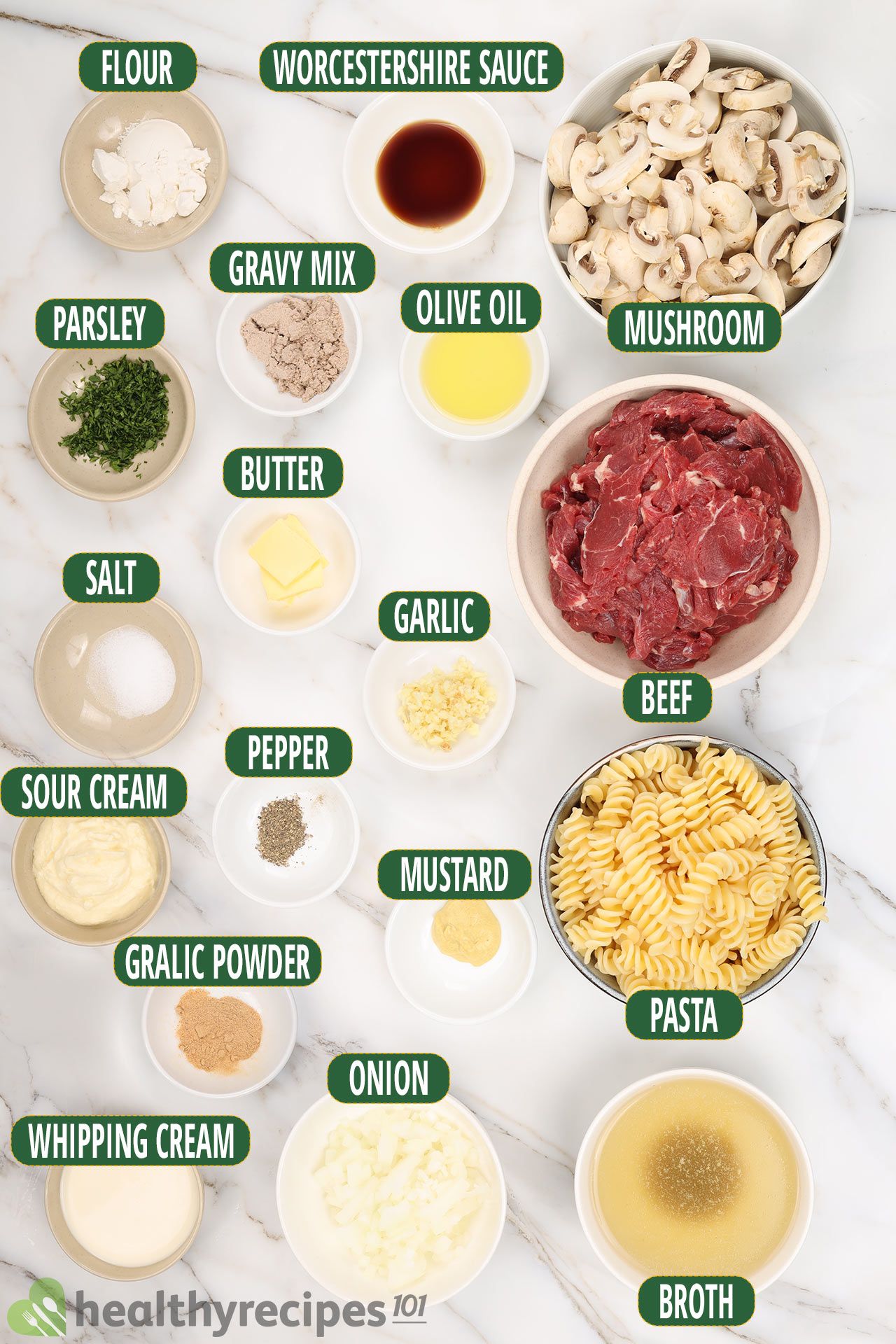 How to Make Beef Stroganoff
Our classic comforting beef stroganoff recipe takes a total of 30 minutes to prepare with simple, ready-to-find ingredients, and easy-to-follow steps on the stovetop: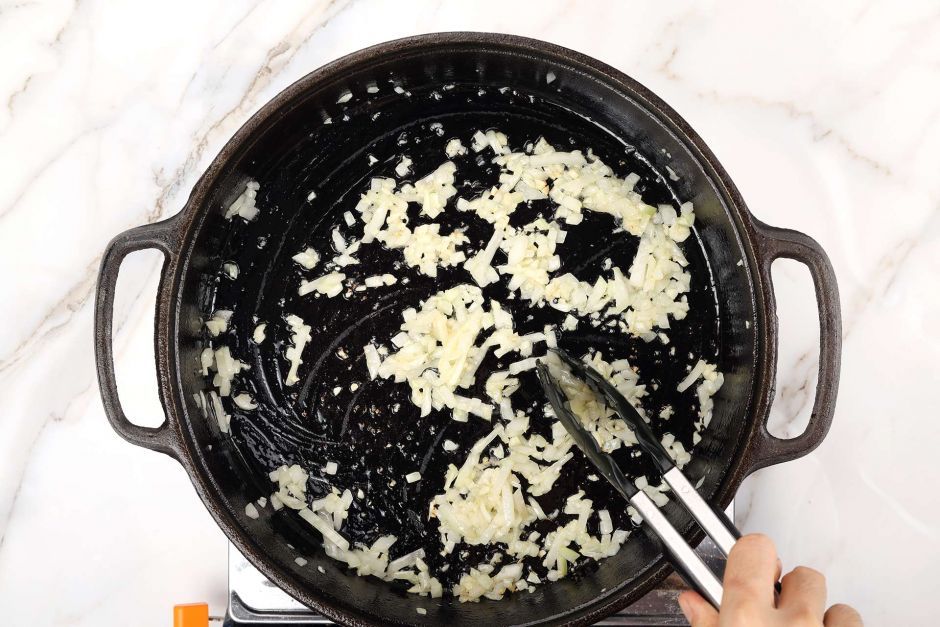 Sauté garlic and onion in heated olive oil until fragrant.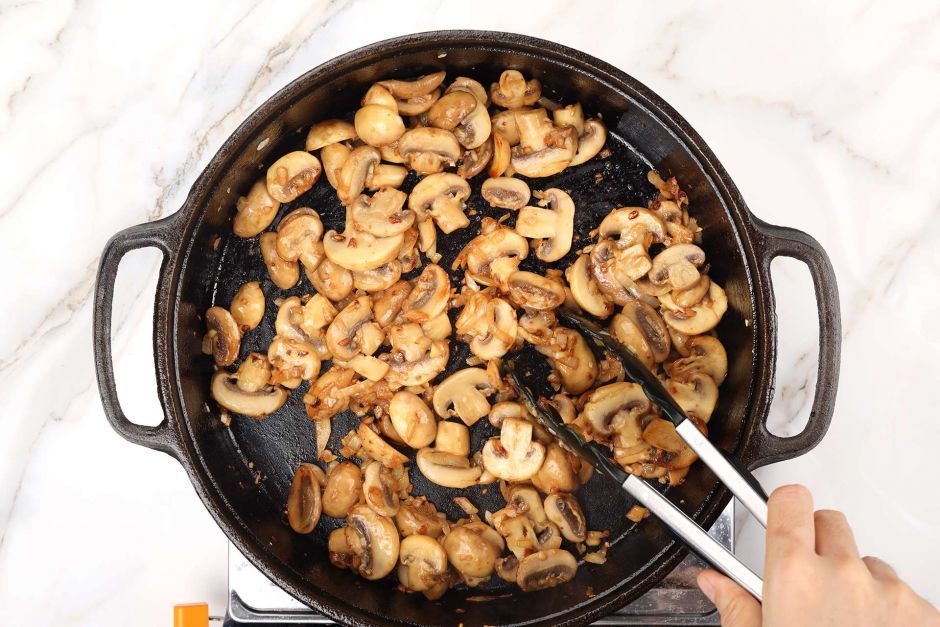 Sauté butter and sliced mushrooms for 4 minutes.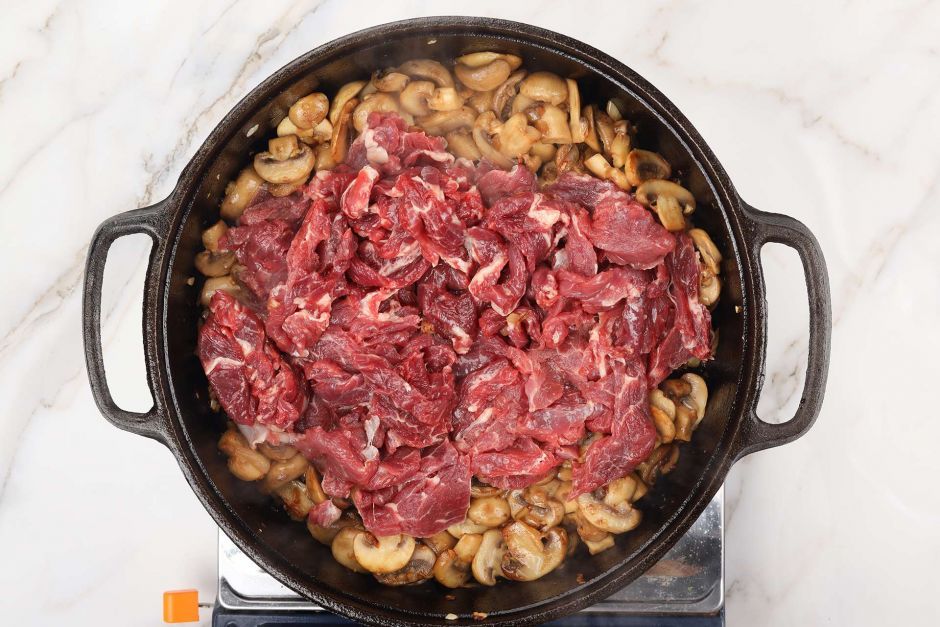 Add the sirloin in a single layer, brown both sides for 2 minutes.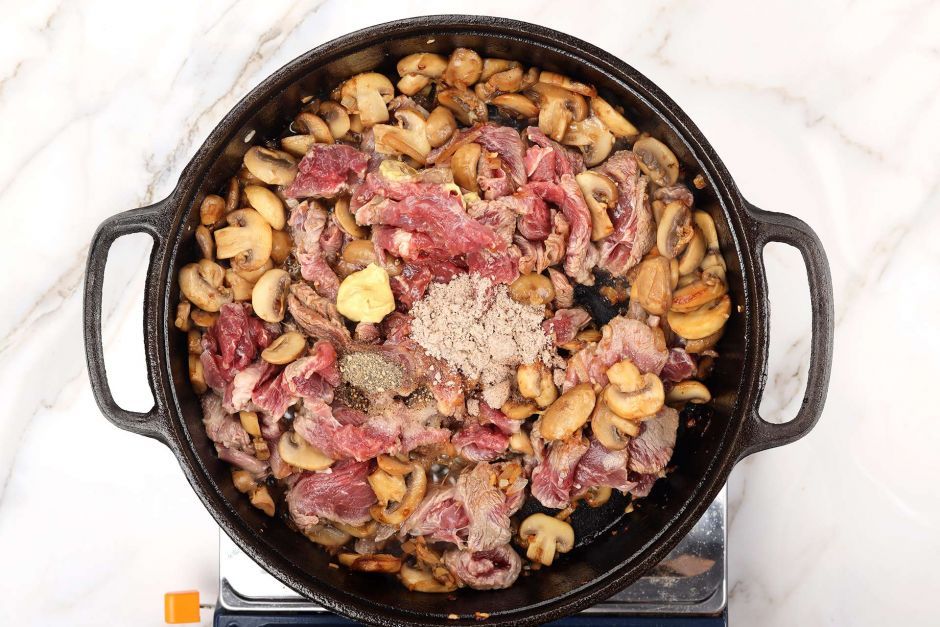 Stir in the ingredients for the stroganoff sauce.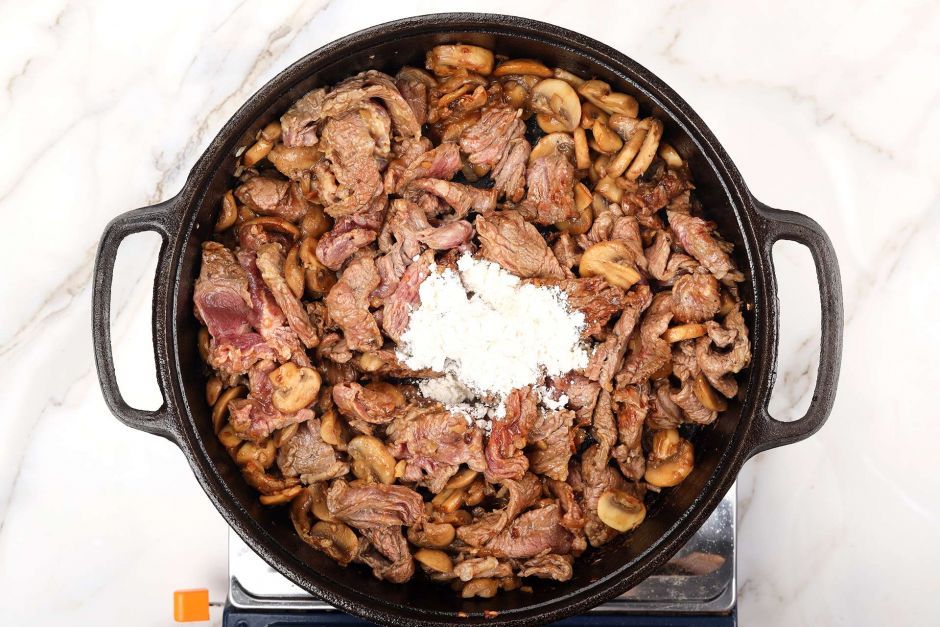 Add flour and stir constantly.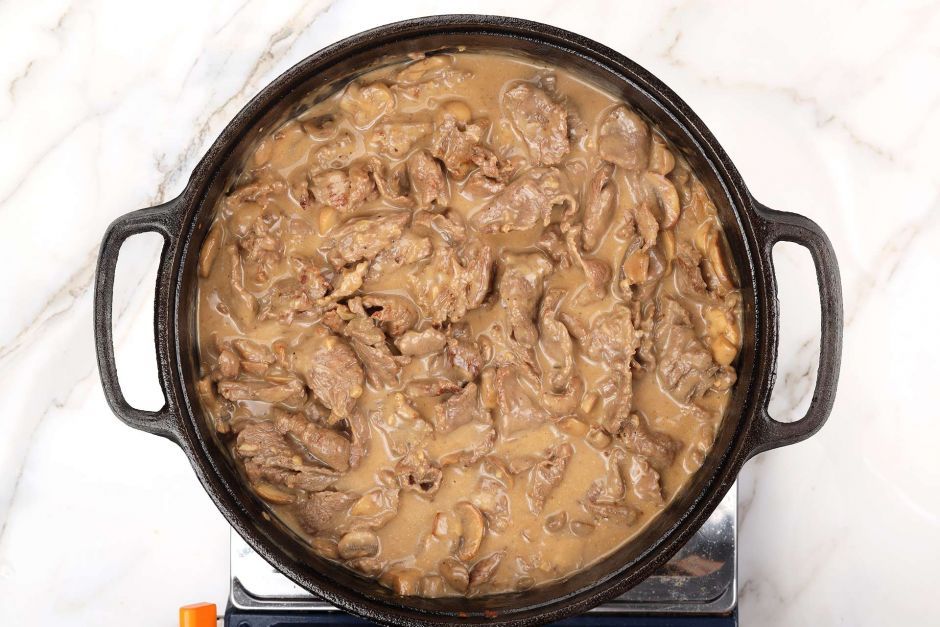 Add chicken broth, sour cream, and heavy cream. Simmer for 7 minutes.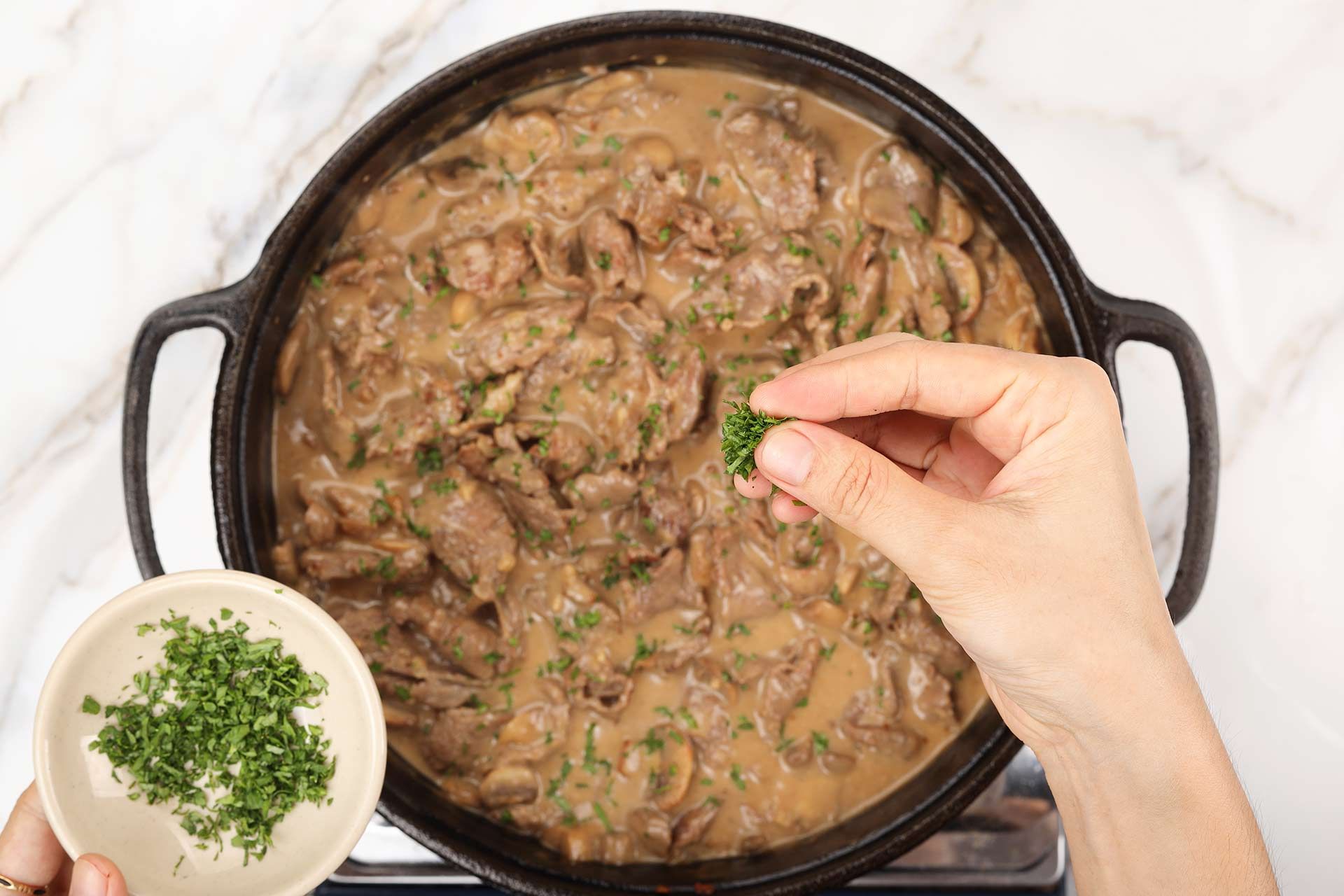 Garnish with parsley and serve hot over pasta.
Tips for Cooking
Our recipe follows the style of cooking everything in batches successively so the ingredients meld together in harmony. This is how we enhance the rich and complex flavor of beef stroganoff.
1. How to Thicken Beef Stroganoff
To get the desired consistency for the stroganoff gravy, you can either whisk in a cornstarch slurry or add extra cream to it while whisking constantly on the heat.
Stir in a cornstarch slurry:
Mix all-purpose flour or cornstarch with liquid (beef broth or water), following the ratio of 1 part starch to 2 parts liquid. Simply add a tablespoon of it at a time while the gravy is simmering until it reaches your desired thickness.
Leaving the skillet uncovered while simmering also helps evaporate the liquid to make it less watery.
It can be sour cream, Greek yogurt, or lactose-free sour cream. But be careful, as this extra amount will also add up on the total calories and fat for your dish.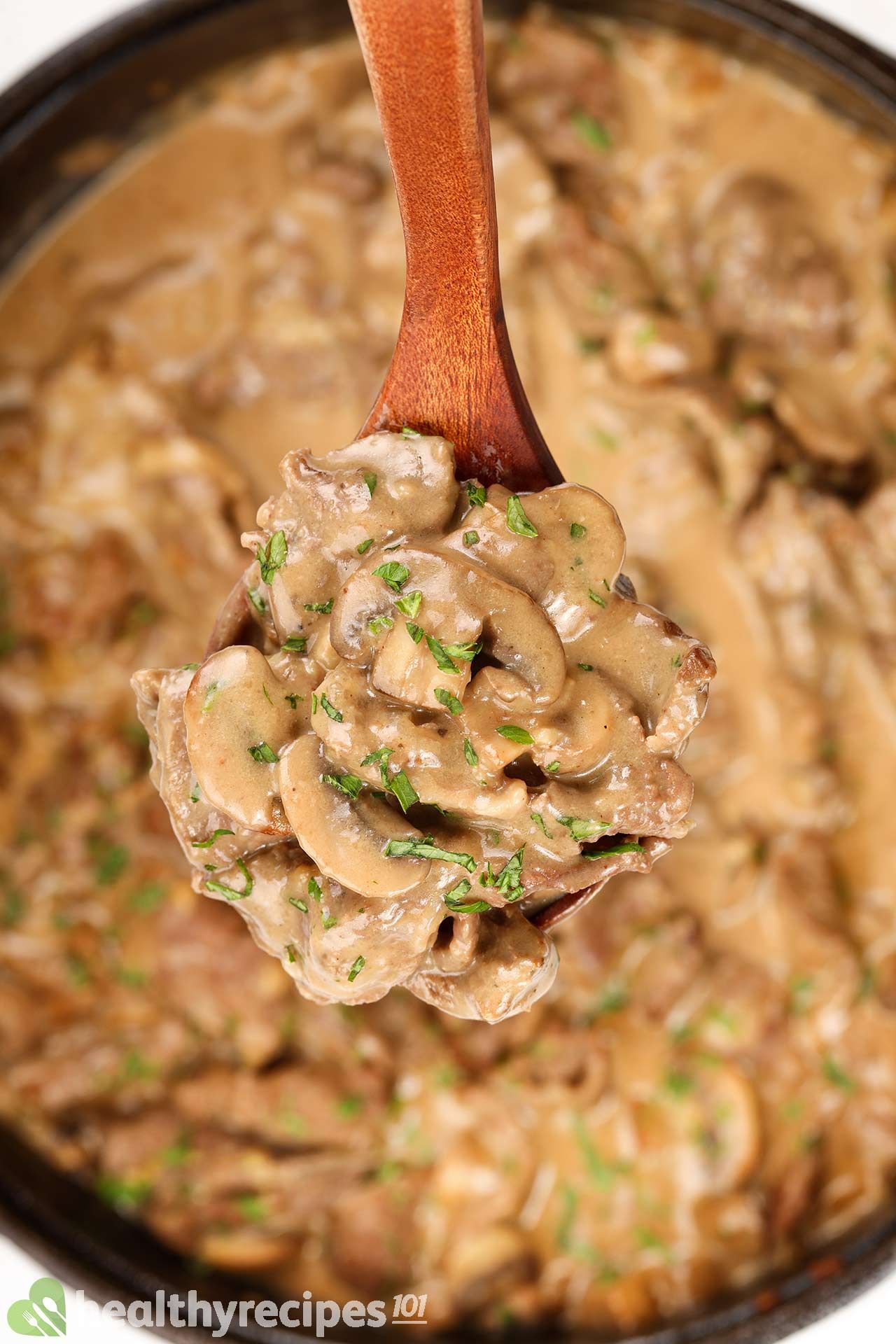 2. Customize It to Your Taste
Use ground beef instead of steak.
White mushrooms are our favorite, but just about any type of mushrooms will work for this recipe.
Some of the best stir-frying veggies to use are asparagus, bell peppers, and broccoli, or any combination of such.
To give the stroganoff a bit of a kick, sprinkle some red pepper flakes when finished.
Make it gluten-free: To make beef stroganoff gluten-free, swap gluten-free flour for all-purpose flour.
How to Store and Reheat Leftover
If you happen to have leftover beef stroganoff, it's good to know that it will keep well for 3-4 days in the fridge, making this dish meal-prep friendly for busy people.
Beef stroganoff will also freeze well. It will last for up to 3 months in the freezer and the mushroom gravy still won't separate or congeal.
From frozen, thaw the portions in the refrigerator overnight, then bake or microwave them covered the following day.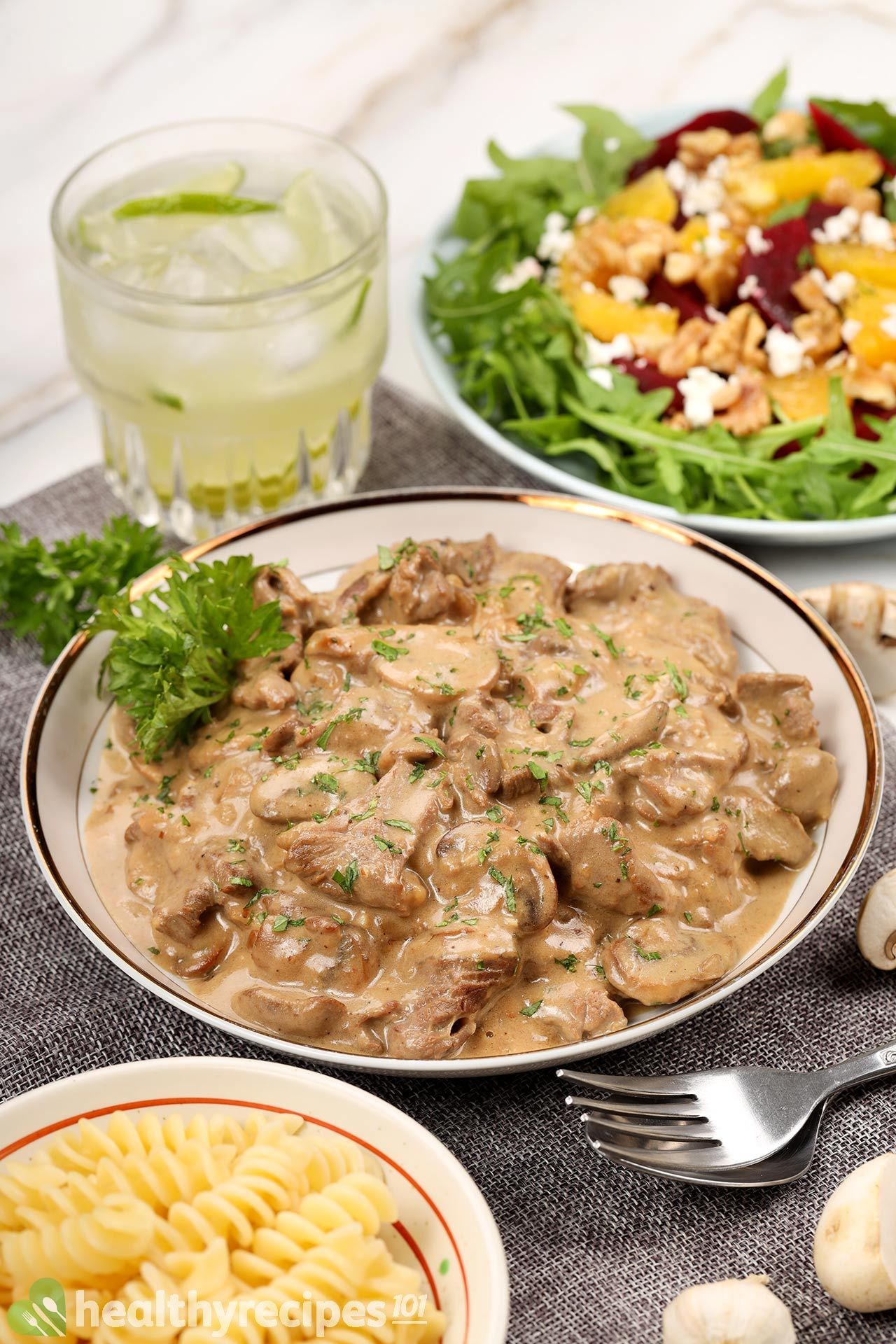 What to Serve With Beef Stroganoff
Although pasta is the authentic pairing of beef stroganoff, the options aren't limited to just that. Beef stroganoff can be served over any carb that soaks up the brown gravy, such as:
Steamed white rice.
Quinoa.
Polenta or creamy mashed potatoes.
Zoodles or whole wheat egg noodles.
Cauliflower rice or mash — for a low-carb alternative.
Stir-fried vegetables or leafy green salads.
Besides fusilli — our choice in today's recipe — you can also use pasta of any size and shape, such as tagliatelle, fettuccine, and rotini.
To create a square meal, we also added two tasty side dishes alongside this beef stroganoff:
Beet and feta cheese salad:
A medley of earthy and creamy tastes from the beetroot and feta cheese might just be what you need to balance this savory rich beef stroganoff. Don't forget the extra crunch from the walnuts and the juicy orange wedges.
Finally, this fresh lime juice drink will add a palatable, refreshing ending to our protein-rich meal. It takes just 10 minutes of whisking for a wonderful source of essential vitamins and minerals for your body!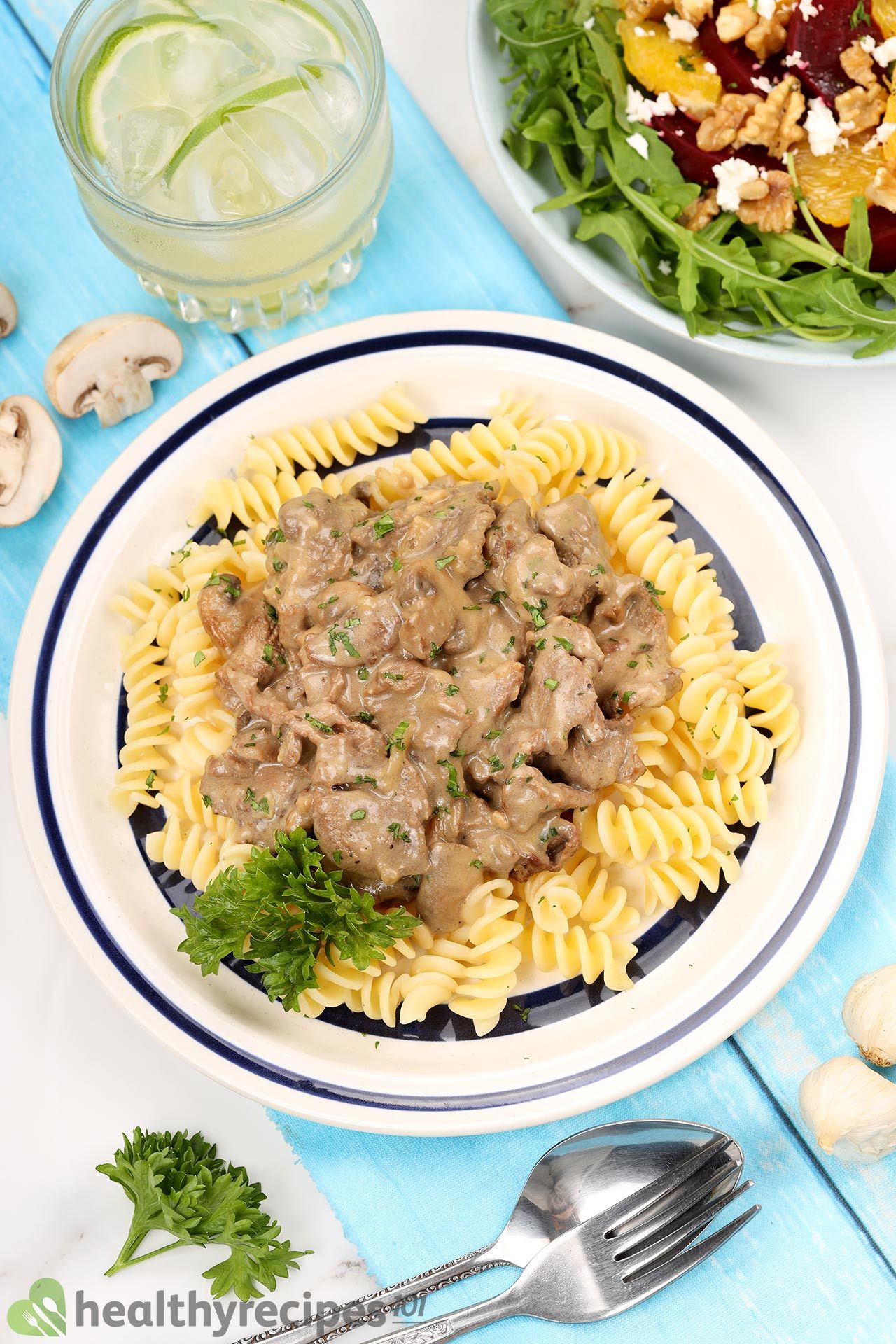 Some More Healthy and Tasty Beef Recipes You'll Love:
Beef can be a real craving sometimes. Check out these four beef recipes to plan your next days' menu with ease: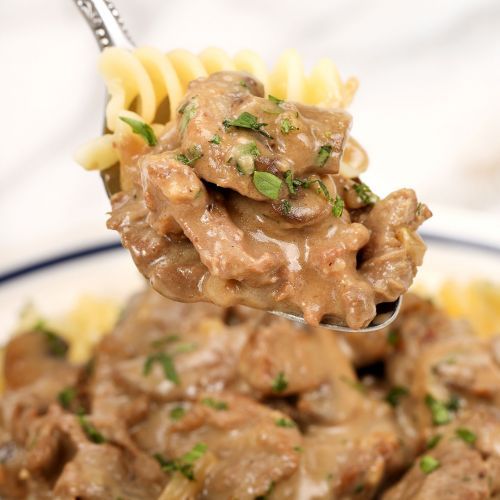 Beef Stroganoff Recipe
Sharing today's beef stroganoff recipe, we are bringing you another tasty option to make for weeknight dinners. You'll get golden-seared juicy strips of beef smothered in an incredibly indulgent and creamy mushroom gravy.
Ingredients
20

oz

sirloin steak

thinly sliced

1

tbsp

olive oil

2

oz

onion

finely diced

1

tbsp

garlic

minced

1

tbsp

unsalted butter

8

oz

white mushrooms

sliced

1/2

tbsp

Worcestershire sauce

1

tbsp

brown gravy mix

1/4

tsp

ground black pepper

1/2

tsp

salt

1

tsp

garlic powder

1 1/2

tbsp

all-purpose flour

1

cup

unsalted chicken broth

1/4

cup

sour cream

3 1/2

tbsp

heavy cream

2

tbsp

parsley

chopped

12

oz

fusilli pasta

cooked
Instructions
Heat 1 tbsp olive oil in a large skillet over medium heat. Sauté 2 oz diced onion and 1 tbsp minced garlic for 1 minute.

Add 1 tbsp unsalted butter and 8 oz sliced white mushrooms, sauté for 4 minutes until the mushrooms are soft and slightly browned.

Add 20 oz thinly sliced sirloin steak in a single layer, brown both sides for 2 minutes.

Stir in 1/2 tbsp Worcestershire sauce, 1 tbsp brown gravy mix, 1/4 tsp ground black pepper, 1/2 tsp salt, 1 tsp Dijon mustard, and 1 tsp garlic powder.

Add 1 1/2 tbsp all-purpose flour and stir constantly.

Add 1 cup unsalted chicken broth, 1/4 cup sour cream, and 3 1/2 tbsp heavy cream. Simmer for 7 minutes.

Garnish with 2 tbsp chopped parsley. Enjoy each serving hot over 3 oz cooked fusilli pasta.
Nutrition
Nutrition Facts
Beef Stroganoff Recipe
Amount Per Serving (1 serving)
Calories 495
Calories from Fat 180
% Daily Value*
Fat 20g31%
Cholesterol 116mg39%
Sodium 586mg25%
Potassium 831mg24%
Carbohydrates 36g12%
Protein 41g82%
Vitamin A 170IU3%
Vitamin C 6mg7%
Calcium 81mg8%
Iron 3mg17%
* Percent Daily Values are based on a 2000 calorie diet.