This Instant Pot goulash recipe brings another comforting, heart-warming, and appetizing meal to your table. And surprise not, it cooks in only half the time it usually requires on the stovetop!
What Is Goulash?
Goulash is a Hungarian national dish and is traditionally served as a thick soup or stew. People used to make goulash with meat (beef, veal, pork, lamb,…), root vegetables (carrots, celery, potatoes,…), and spices of choice seasoned on the go.
Nowadays, there are many variations of goulash. One of the most interesting facts about this dish is that it can be found in many areas around the world.
Aside from the original version, goulash also has American, Italian, and Polish versions. Each of them can be prepared very differently — but that can be saved for a discussion some other time.
Today's goulash is a spin on the authentic Hungarian recipe. It's somewhere between a pasta dish and a stew — leaning more towards the former with heaps of macaroni cooked together with the ground beef in the Instant Pot.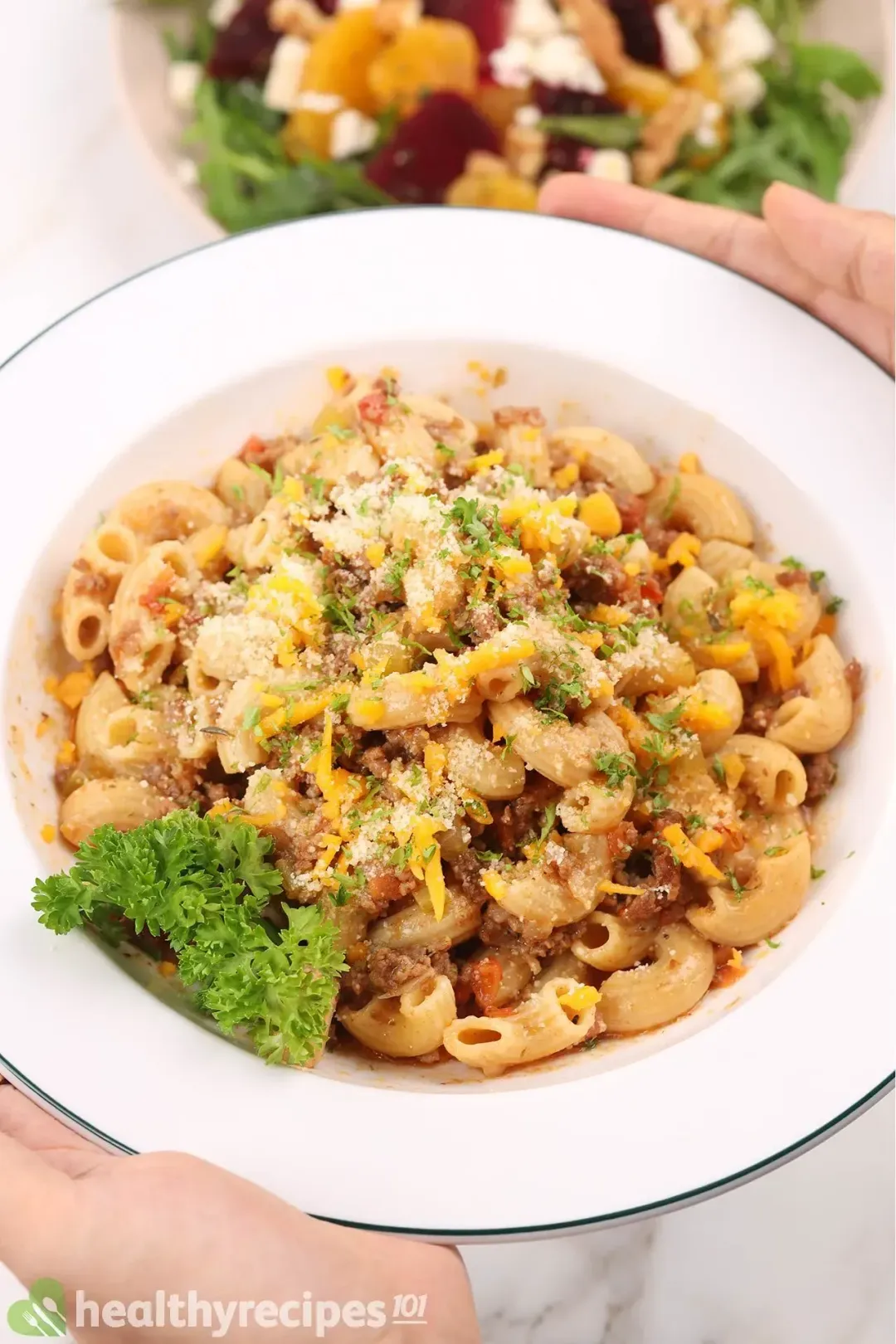 Hungarian Goulash vs American Goulash
The authentic Hungarian goulash is a comforting beef and veggie thick soup or stew that's seasoned with paprika and a spice mix. The American version of goulash, on the other hand, is a casserole dish made mainly with ground beef and pasta of all kinds.
Is Goulash Healthy?
Yes, it is. Besides lean ground beef, today's goulash recipe uses fresh produce, spices, and herbs to pack this dish with interesting flavors and loads of healthy protein, vitamins, and soluble fiber.
Instant Pot Goulash Ingredients
Beef: For this Instant Pot goulash recipe, our choice is 97% lean ground beef. Thanks to having very little fat, it doesn't require draining off any excess grease after sautéeing. The cleaning up is also easier as your pot won't get too dirty.
Pasta: Similar to other American-style goulash recipes, we play it safe by going for elbow macaroni. Aside from these narrow, short-length tubes, different shaped pasta such as penne or rigatoni can also be used for this recipe. Whatever type of pasta you choose, make sure that it comes in a comparable size with the chopped veggies and meat crumbles so you can get everything in one scoop.
Vegetables: For this Instant Pot goulash recipe, you're free to use whatever vegetables you have on hand. High-pressure cooking allows for more hands-off time and less labor required as everything comes together in one pot. There's no need to set different cooking times for each ingredient.
Spices and seasoning: For today's goulash, we believe paprika is the must-have item as it lends a marvelous smoky aroma to the beef. We also have thyme, bay leaf, oregano, and garlic to work together in the steaming process to create a unique, savory, and heart-warming flavor for the dish.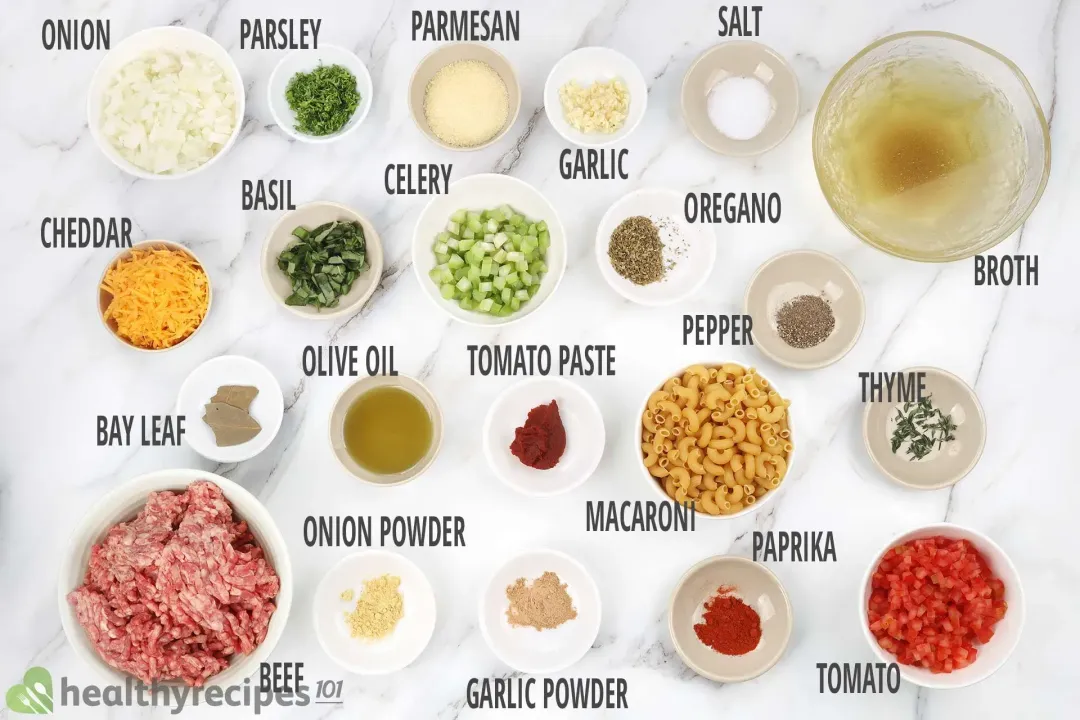 How to Make Goulash in an Instant Pot
Today's goulash is a spin on the authentic Hungarian recipe and is made as a pasta dish rather than a stew. For the complete Instant Pot goulash recipe, scroll down to the bottom of this post.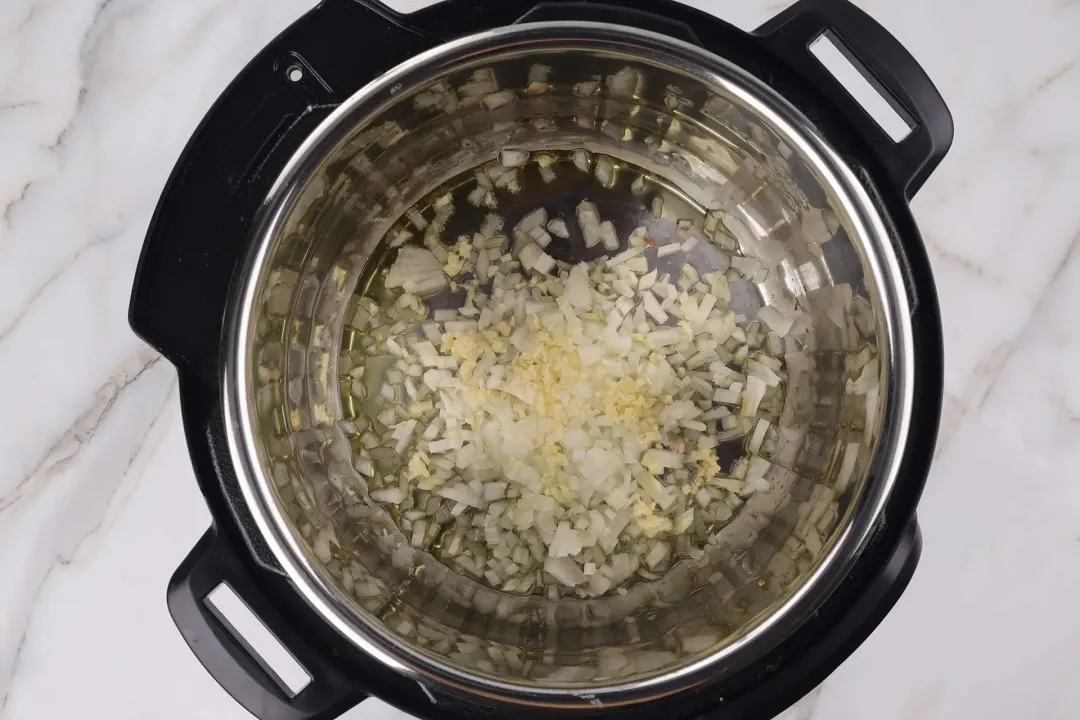 Sauté onion and garlic in olive oil on the "Sauté" setting.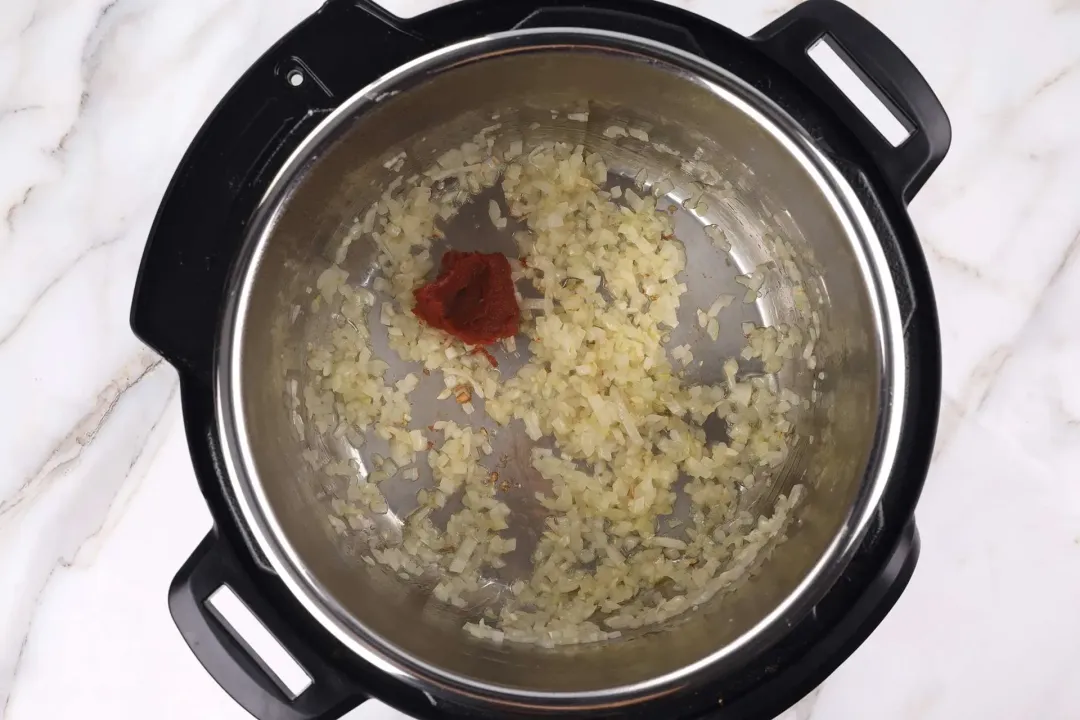 Stir in tomato paste.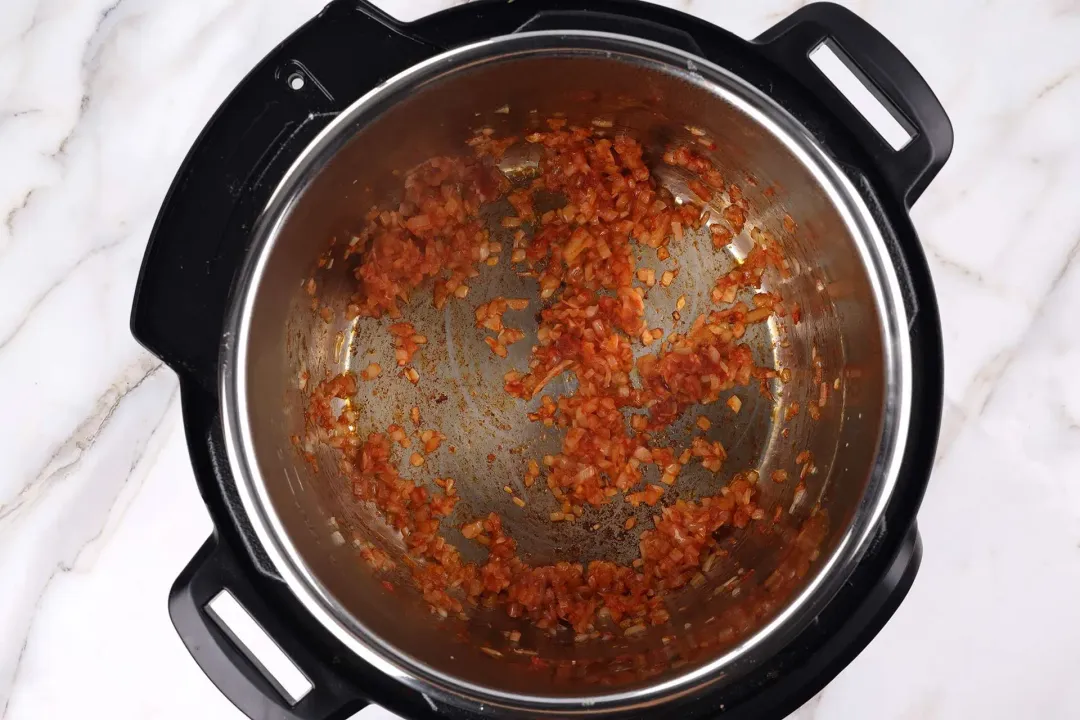 Add half of the chopped tomatoes.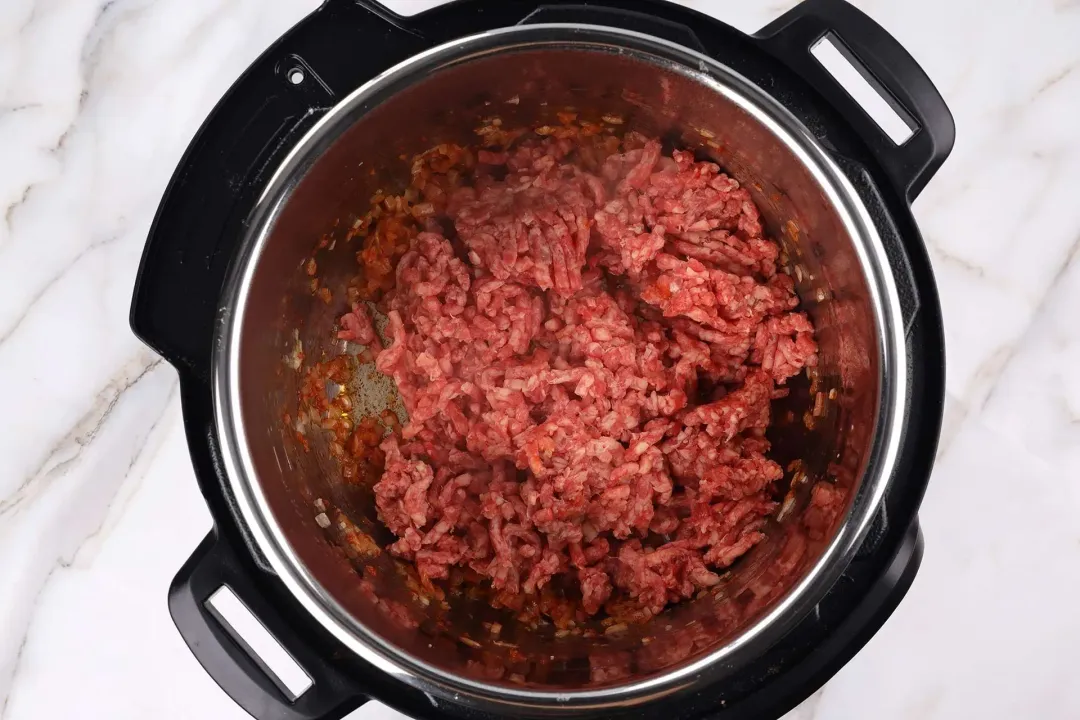 Add ground beef and quickly sauté until browned with no pink remains.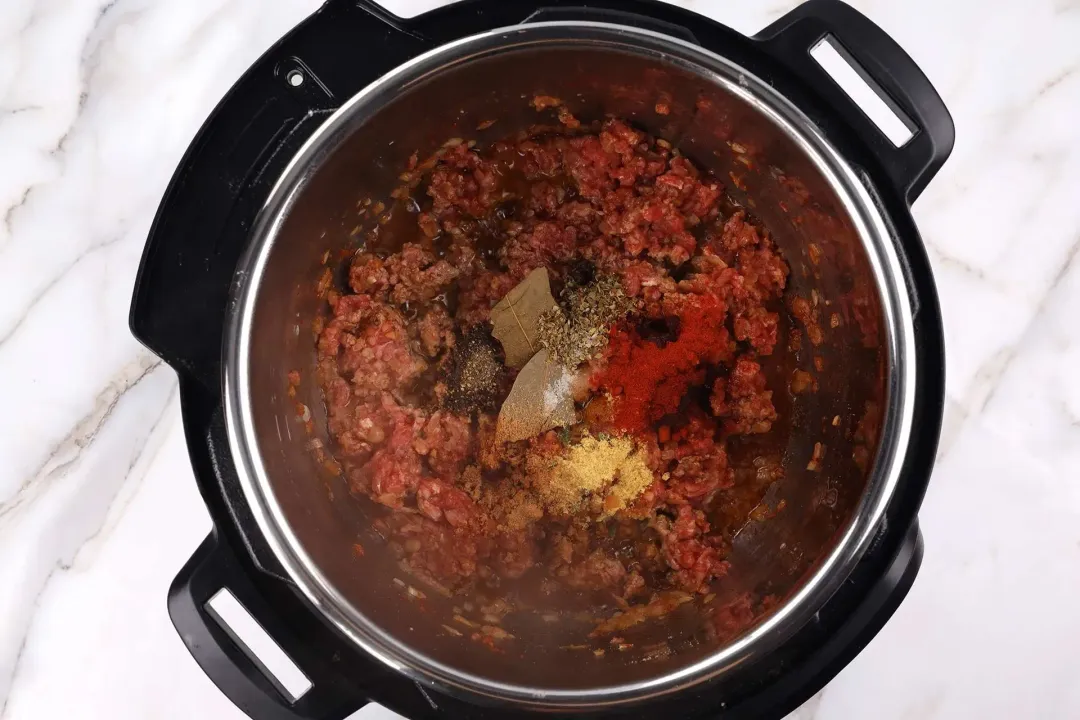 Add the spice mix.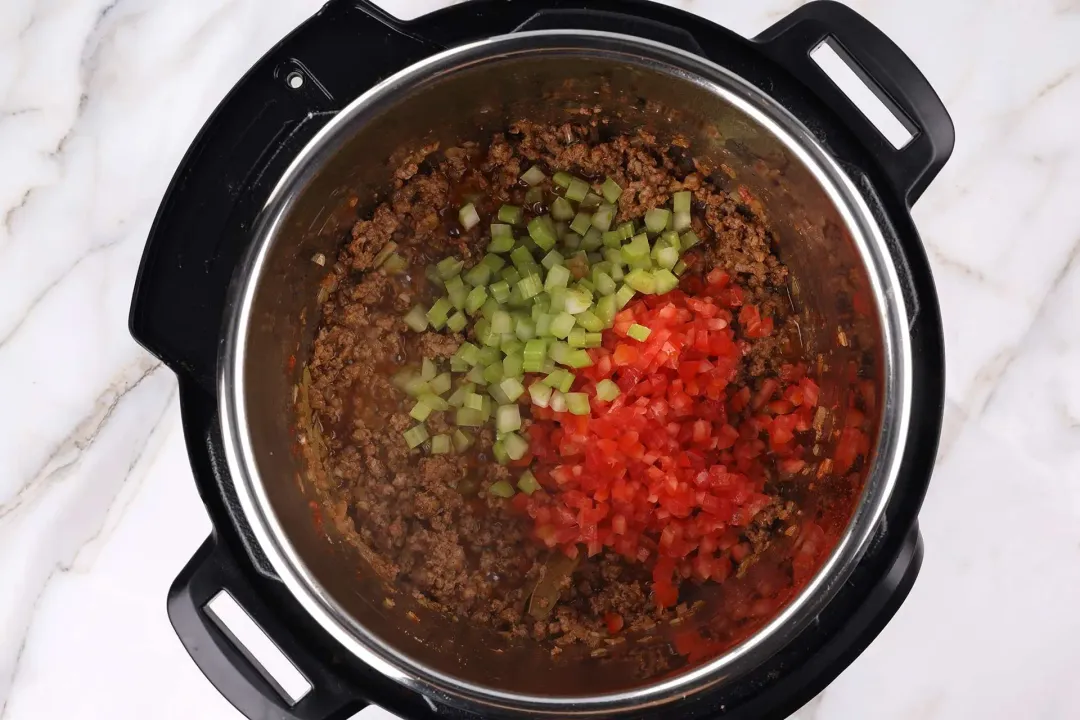 Add celery and the remaining chopped tomatoes.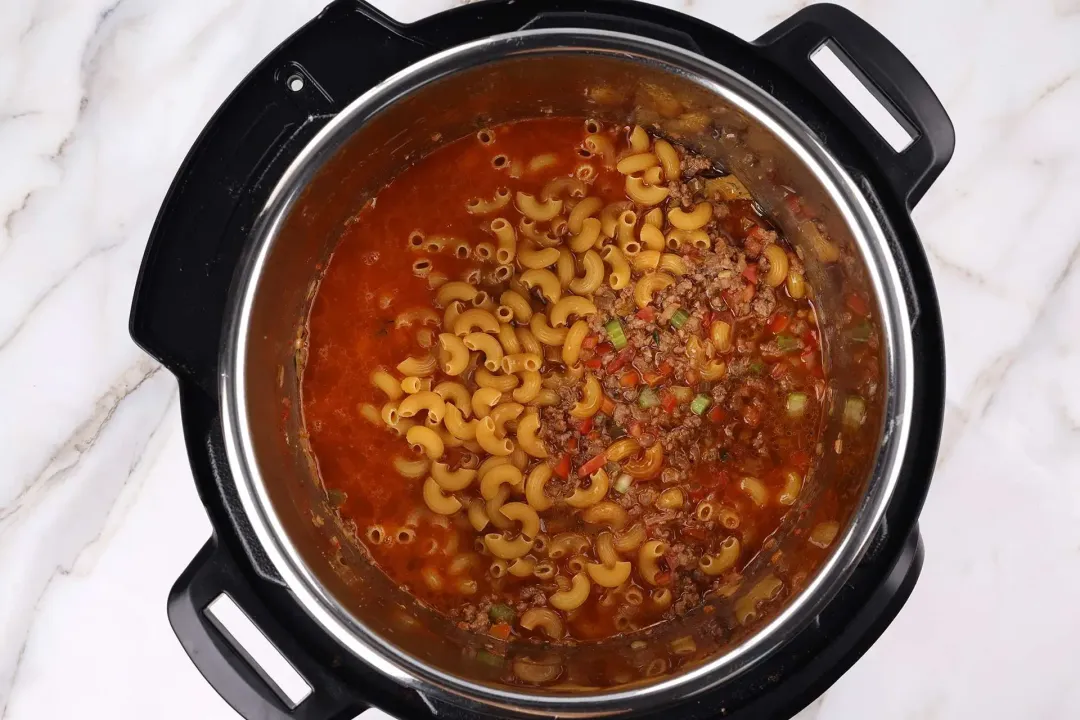 Stir in the macaroni and chicken broth, then remove the bay leaf. Cook on high-pressure on the "Meat/Stew" setting.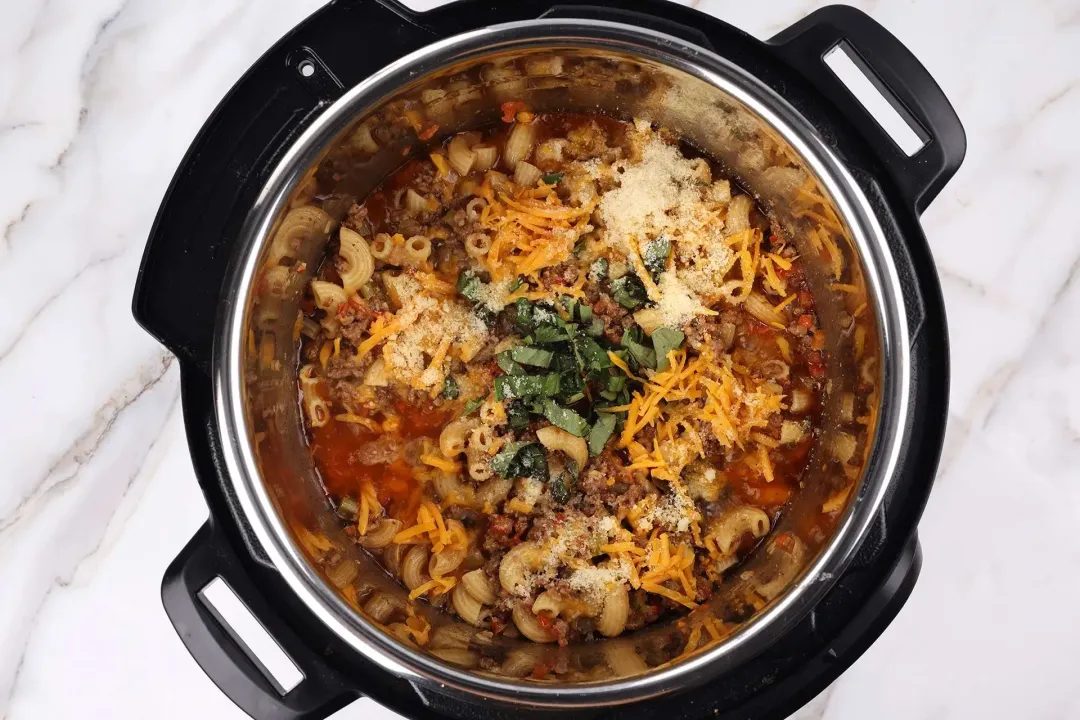 Quick-release the pressure. Stir in 2 types of cheese and basil.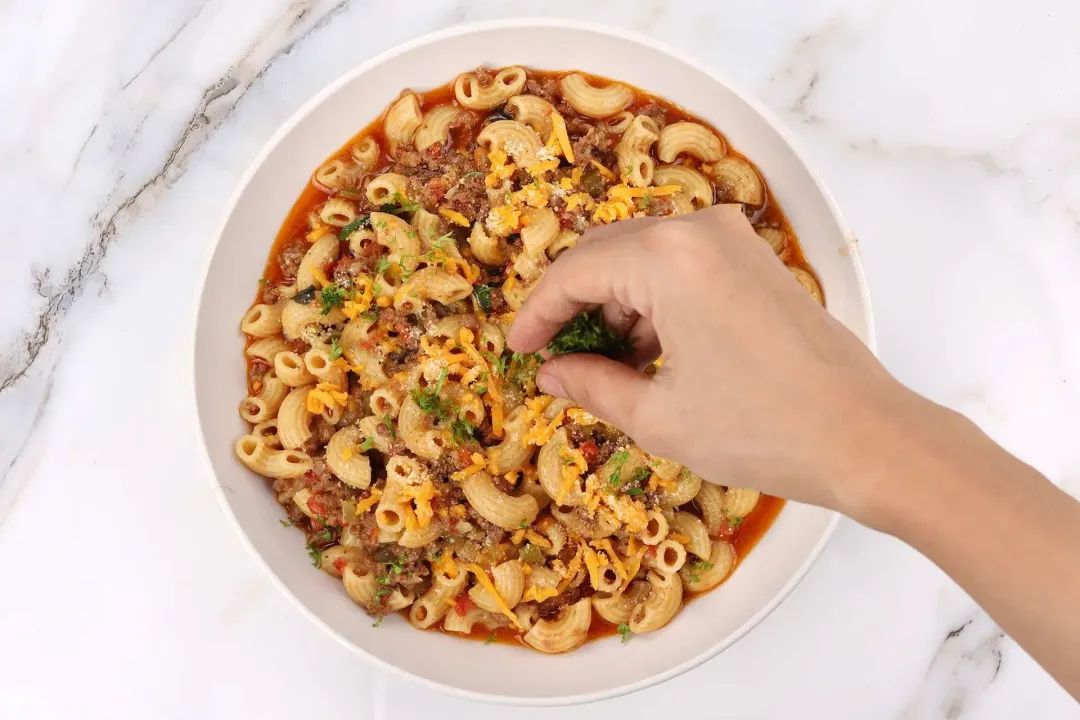 Top with the remaining cheese and fresh parsley before serving.
Tips for a Perfect Instant Pot Goulash
Use a wooden spoon to break up the ground beef and brown it evenly during sautéeing. As long as there are no pink remains, you're good to go.
Be careful not to overcook the beef, as you will need it to produce some grease at the bottom of the pot to prevent it from sticking to the ingredients that follow.
When stirring the macaroni in, make sure it's submerged in the broth so it can cook evenly without clotting into a tough and rubbery mass. If the macaroni is still too tough after cooking, put the lid back on and cook for an extra 1-2 minutes to further tenderize it. 
Finally, gently stir the cheese in to avoid mashing the pasta.
If you love simple macaroni recipe like this one, we also have macaroni salad and classic hamburger soup recipe that you may like.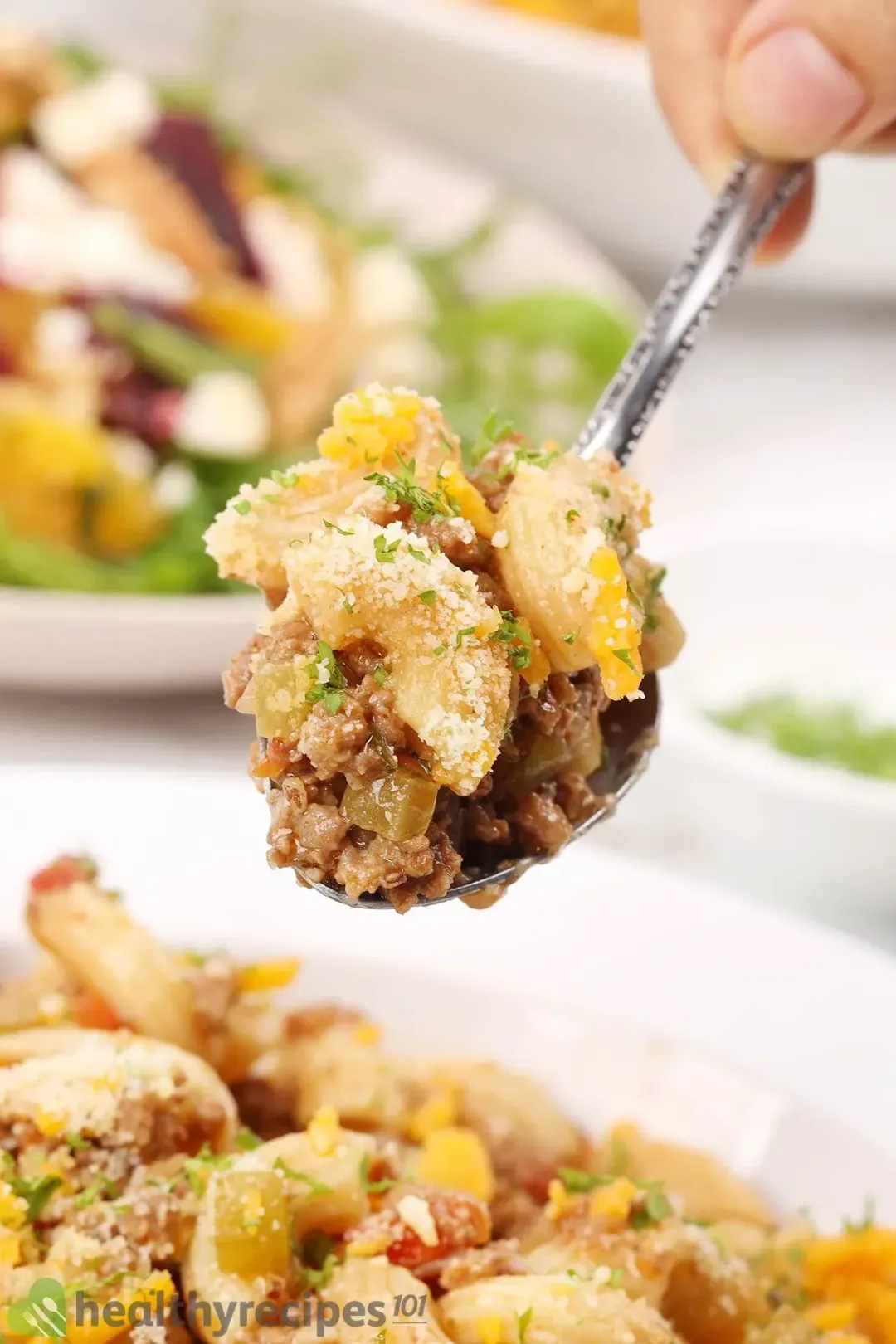 How to Store and Reheat Leftover Goulash
Leftover goulash can keep well for up to 4 days in the fridge or up to 3 months in the freezer. That's why this dish can make a perfect prep-ahead meal as you can cook it several days in advance.
To store: First allow it to cool down to room temperature. Next, divide the goulash into individual portions and transfer them to airtight containers or Ziploc freezer-safe bags with the extra air all squeezed out.
To reheat: Transfer the frozen goulash into the refrigerator to thaw overnight. On the next day, reheat the portions in the microwave on low heat or bring them to the stovetop to cook on medium heat for a few minutes.
What to Serve With Goulash
Regardless of the variation, goulash can either be enjoyed alone or with a light salad on the side. Alternatively, see below additional r side dishes that we believe can also complement our Instant Pot goulash:
Crusty bread
A fruit salad or green salad with a bright-flavored dressing
Spaetzle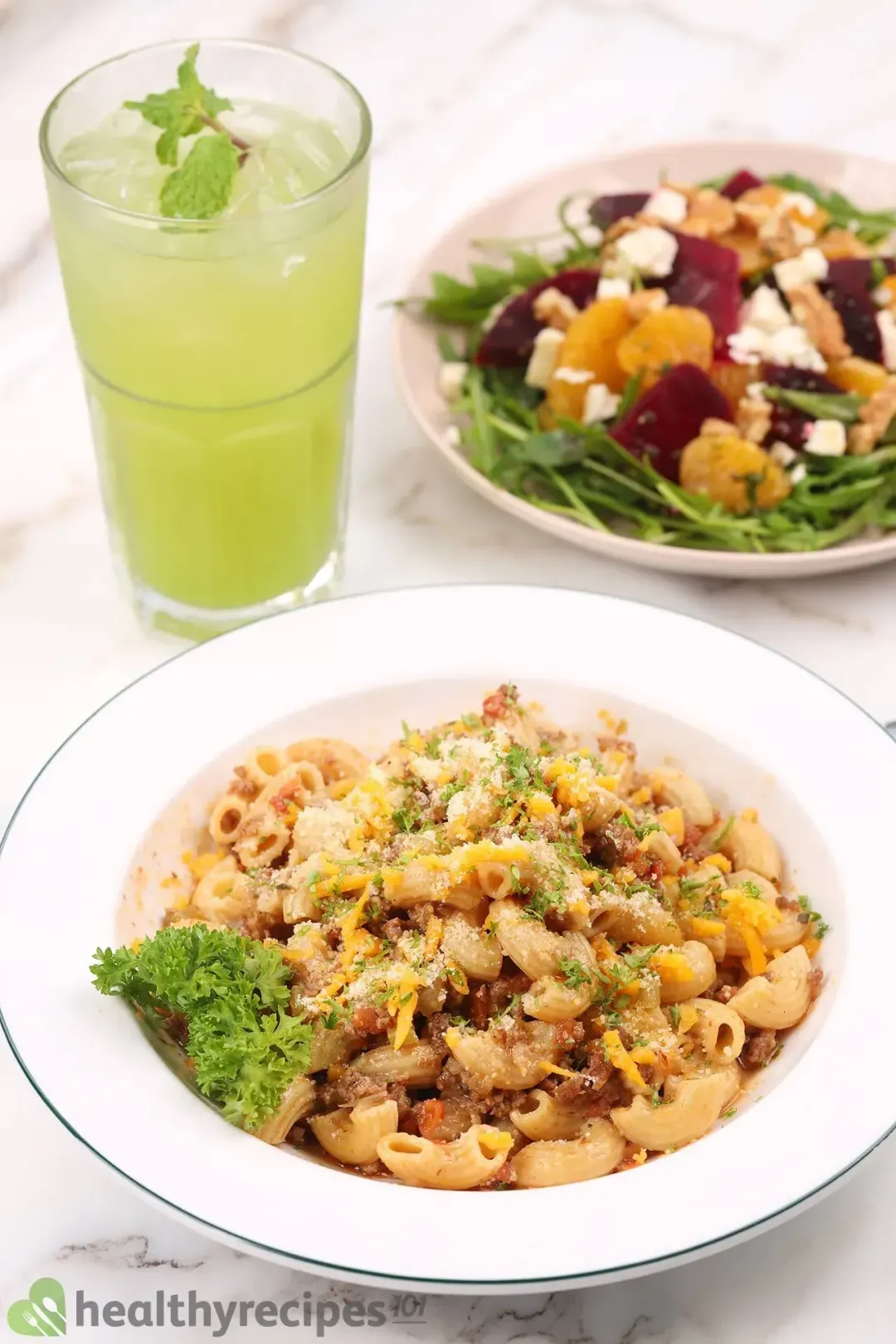 1. Beet and Feta Cheese Salad
Beet and feta cheese salad with plain boiled beets and sweet navel oranges deliver a beautiful sharpness and flavor contrast to our meal. This healthy salad also provides you with an essential boost of micronutrients and fiber.
2. Cucumber Lime Juice
Cucumber lime juice is a refreshing and low-calorie beverage to keep you hydrated while incorporating essential nutrients into your daily regimen. With a hint of mint, this drink acts as a cooling element during hot summer days, as well as a great addition to our goulash.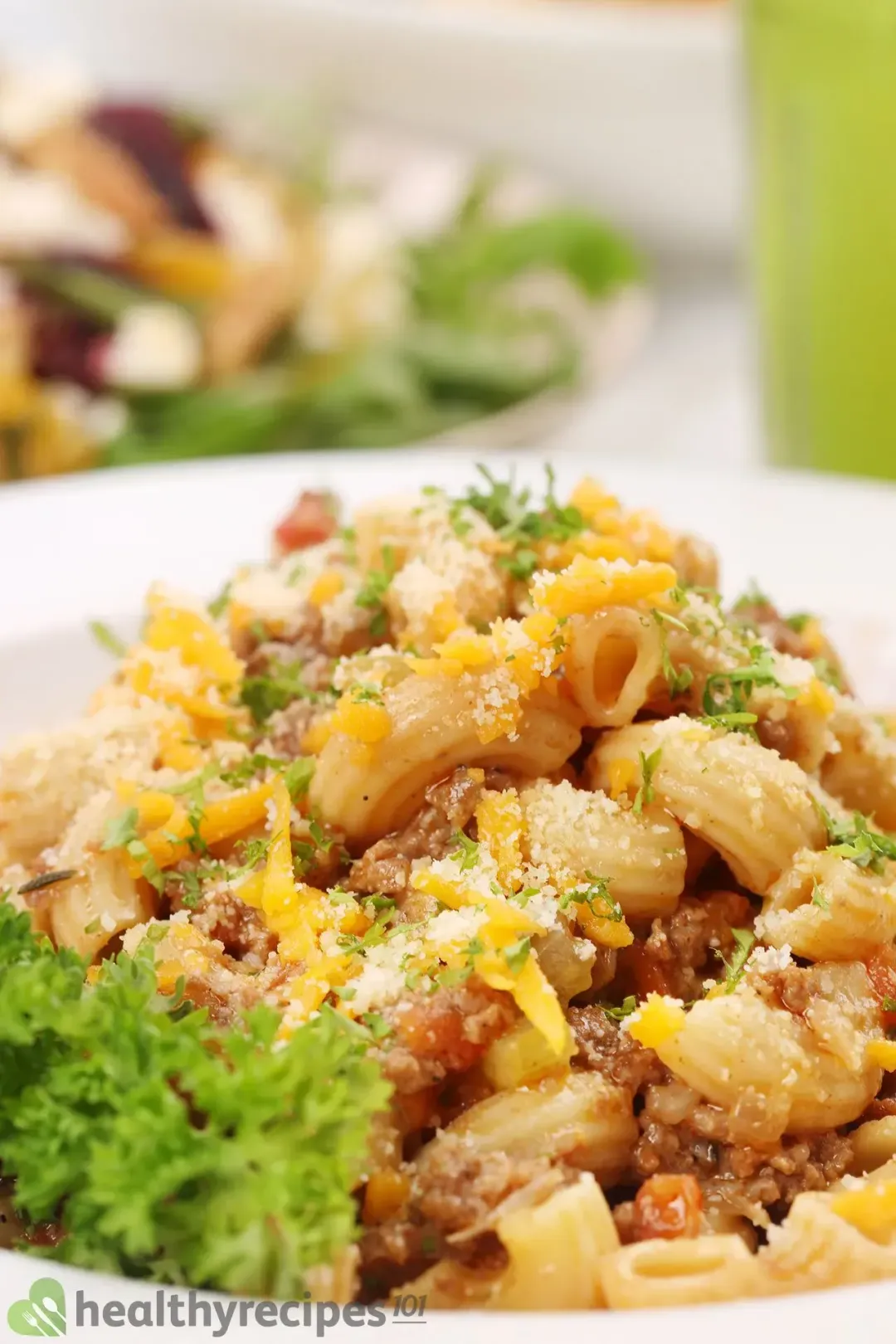 Upgrade Your Dinner Game with These Delectable Instant-Pot Beef Recipes
This recipe for Instant Pot Shredded Beef is a great way to make tender and flavorful beef in a fraction of the time it would take to cook it on the stove or in the oven. With just a few simple ingredients, you can have a delicious and versatile protein that can be used in a variety of dishes.
This recipe takes a classic comfort food dish to the next level by using ground beef mixed with breadcrumbs and seasonings to form patties that are cooked in a rich gravy. The Instant Pot makes the cooking process quick and easy, resulting in a delicious and satisfying meal.
Love Instant Pot beef recipes? Then you won't want to miss this extensive collection of flavorful dishes that are sure to satisfy your cravings!
Instant Pot Goulash
This Instant Pot goulash recipe brings another comforting, heart-warming, and appetizing meal to your table. And surprise not, it cooks in only half the time it usually requires on the stovetop!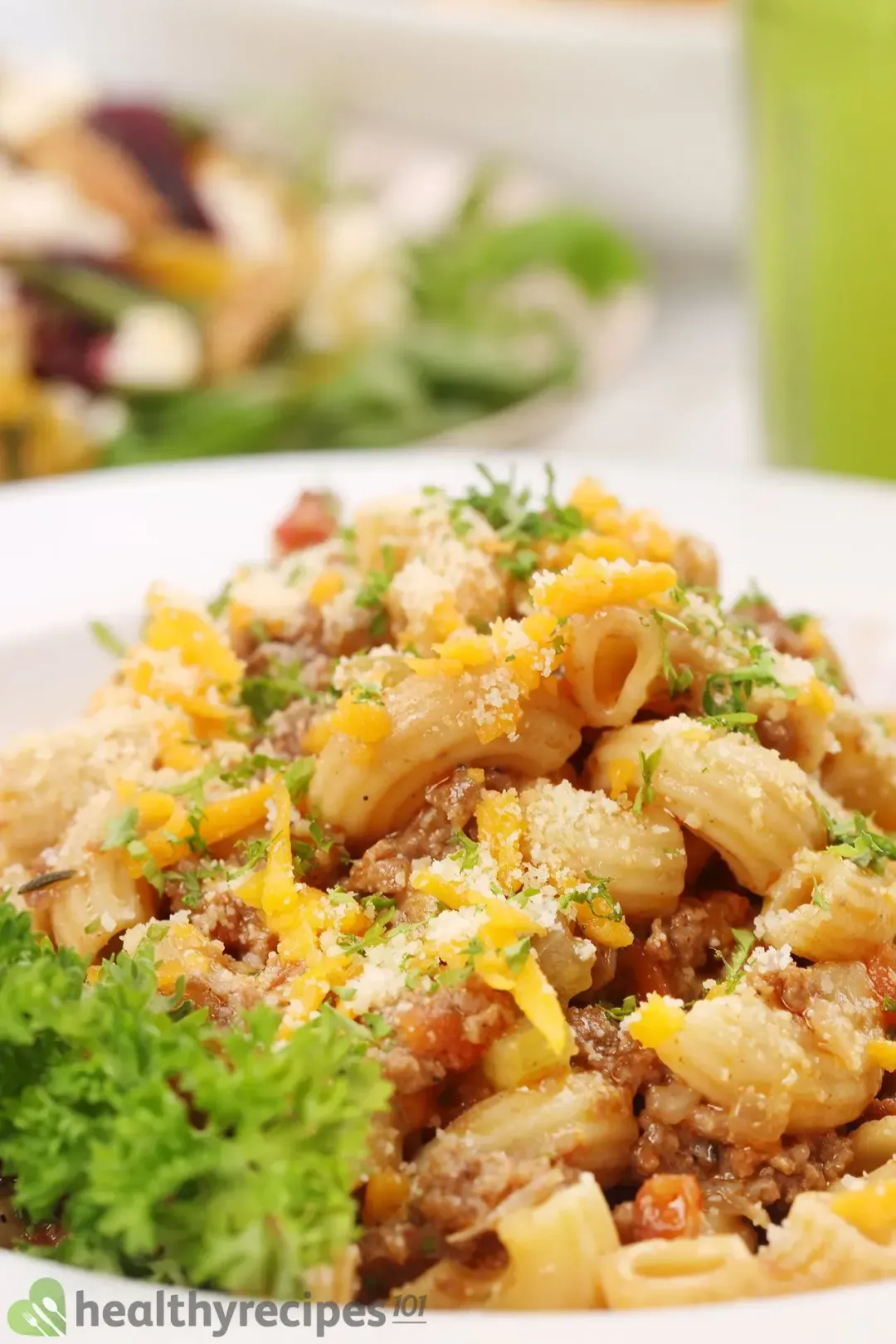 cook TIME

40 mins

prep TIME

10 mins

total TIME

50 mins
COURSE

Main Course

CUISINE

American, Hungarian

SERVINGS

CALORIES

490 kcal
INGREDIENTS
18 oz

97% lean ground beef

1 tbsp

Hunt's tomato paste

4 oz

tomatoes

(diced, divided)

1/4 tsp

ground black pepper

2 cup

unsalted chicken broth

4 oz

cheddar cheese

(grated, divided)

0.5 oz

Parmesan cheese powder

(divided)

2 tbsp

fresh basil

(chopped)

2 tbsp

fresh parsley

(chopped)
INSTRUCTIONS
1
Sauté 3 oz onion and 1 tbsp garlic in 1/2 tbsp olive oil on the "Sauté" setting for 3 minutes.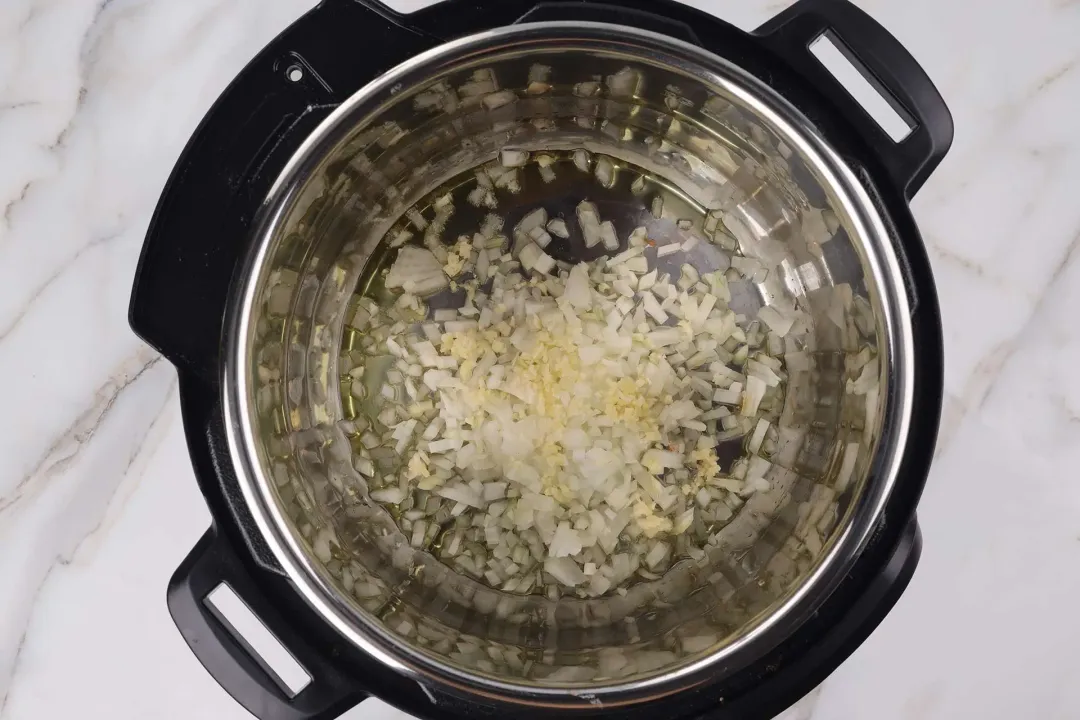 2
Stir in 1 tbsp Hunt's tomato paste.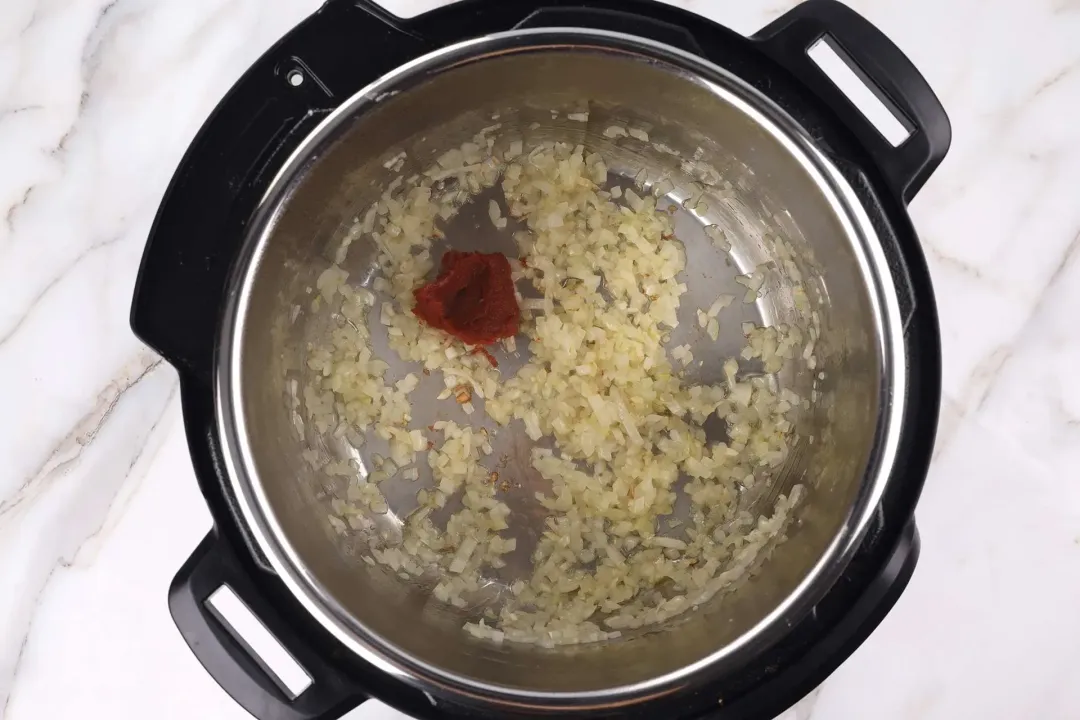 3
Add 2 oz chopped tomatoes. Stir for 2 minutes.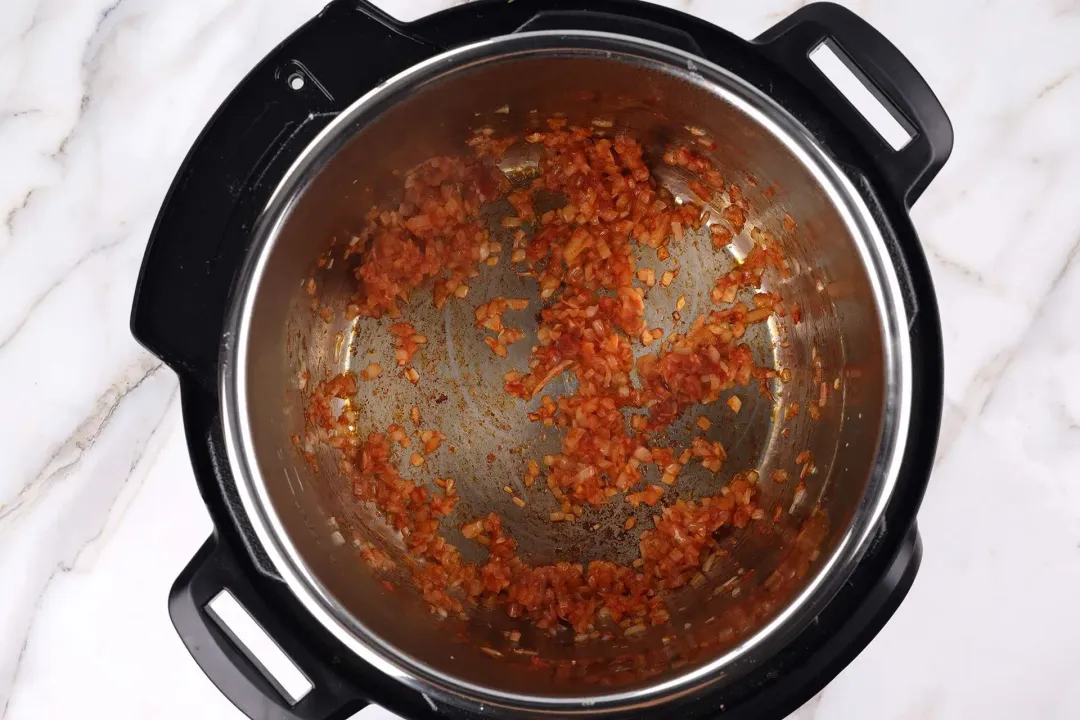 4
Add 18 oz ground beef and do a quick sauté for 4 minutes. Use a wooden spoon to break up the meat. Stir constantly until all the bits are well-browned (with no pink remains). Spoon off excess fat (if there's any).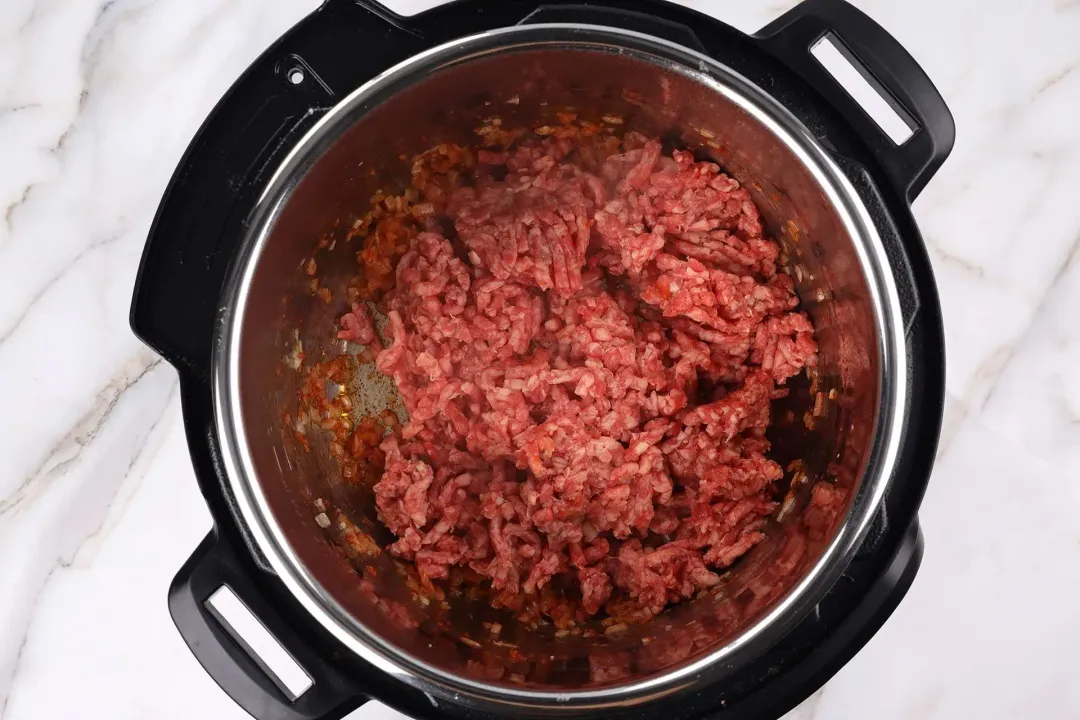 5
Add 1 tsp thyme, 1/2 tsp paprika, 1/4 tsp salt, 1/4 tsp ground black pepper, 1/2 tsp garlic powder, 1/2 tsp onion powder, 1 bay leaf, and 1 tsp oregano. Stir.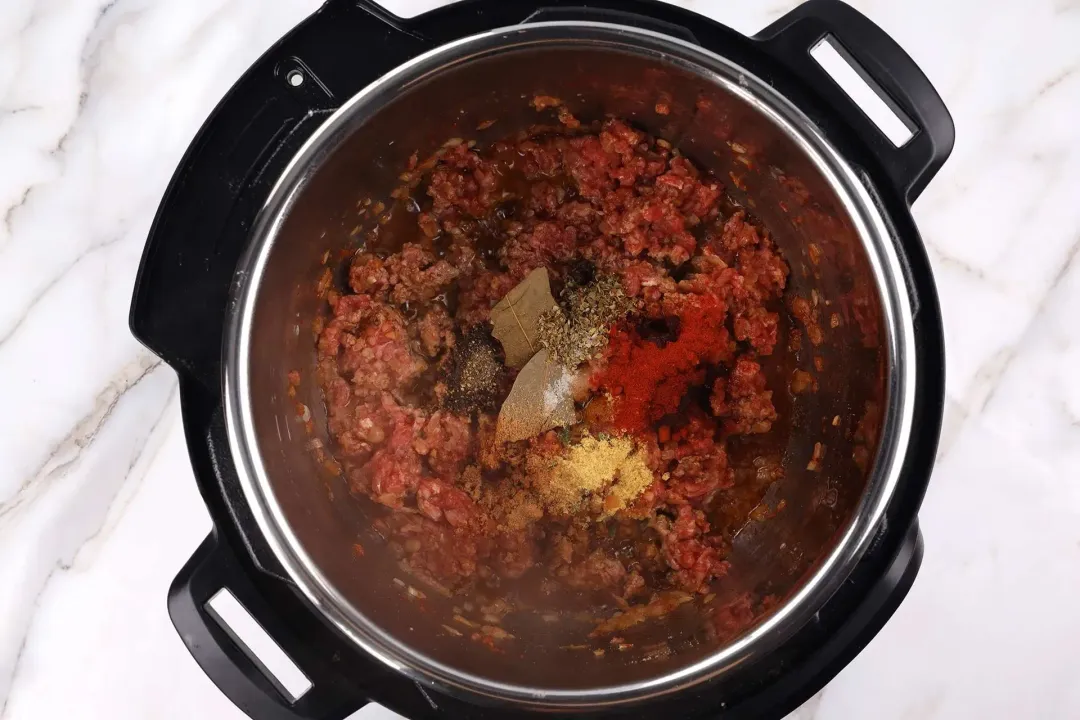 6
Add 2 oz celery and 2 oz chopped tomatoes to the pot.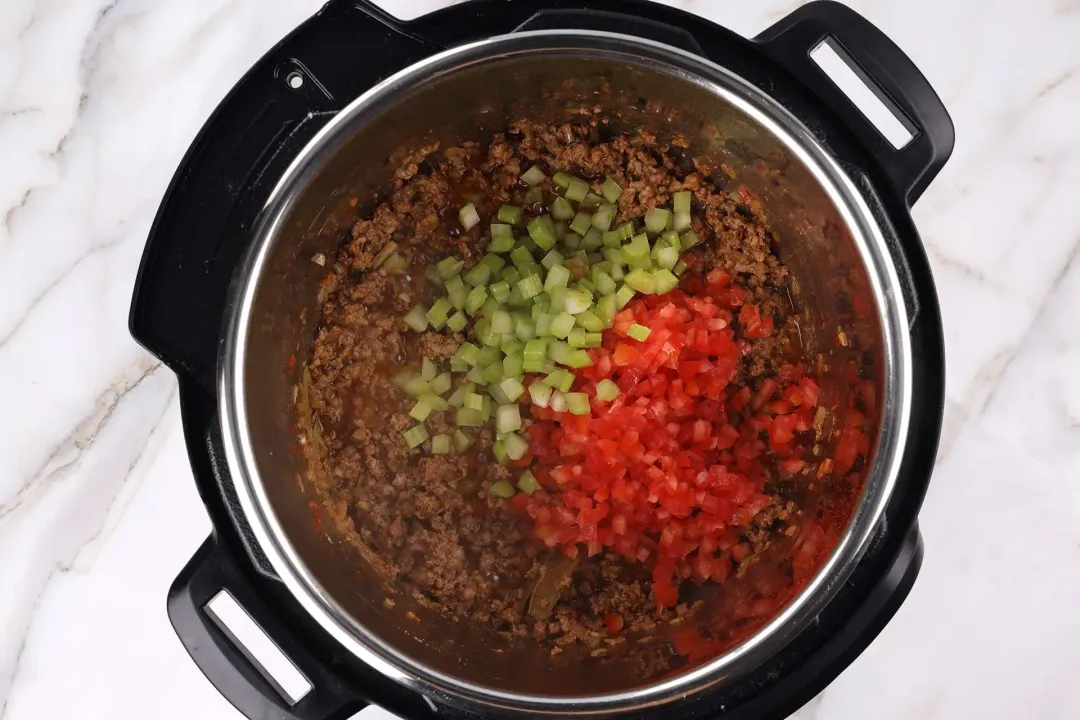 7
Stir in 6 oz macaroni and 2 cup unsalted chicken broth. Remove the bay leaf. Put the lid on, turn the valve to sealing position, and cook on high-pressure on the "Meat/Stew" setting for 12 minutes.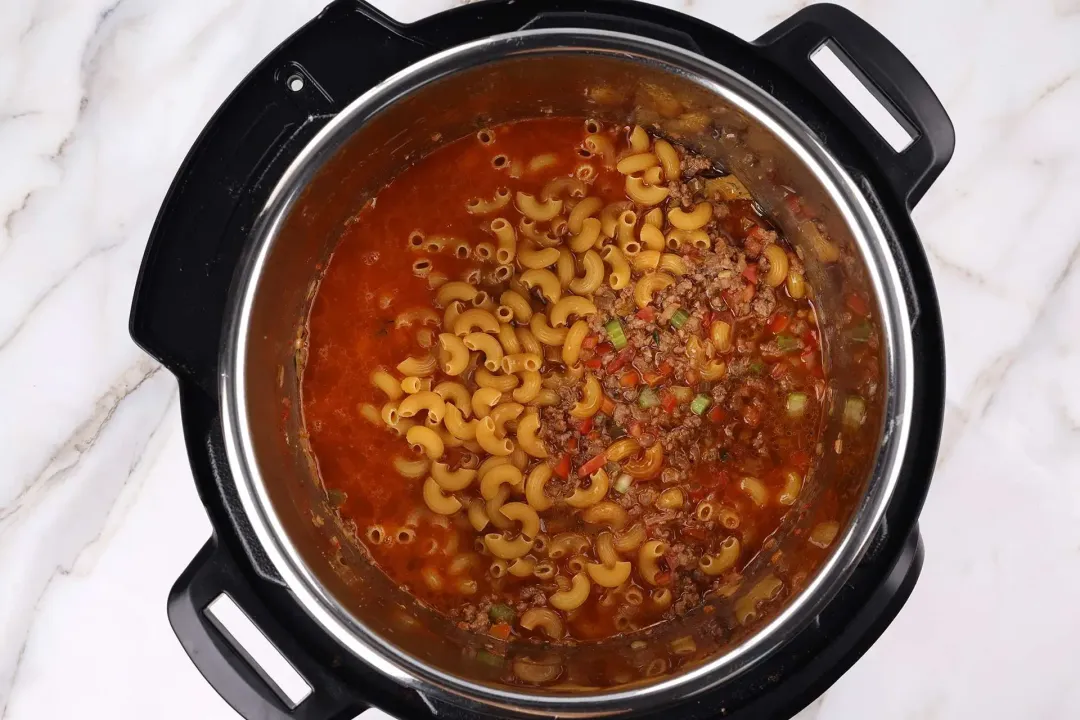 8
When the timer is up, perform a quick release of pressure, then carefully open the lid. Add 0.25 oz Parmesan cheese powder, 3 oz grated cheddar cheese, and 2 tbsp fresh basil to the Instant Pot. Gently stir everything together one more time, being careful not to break the macaroni.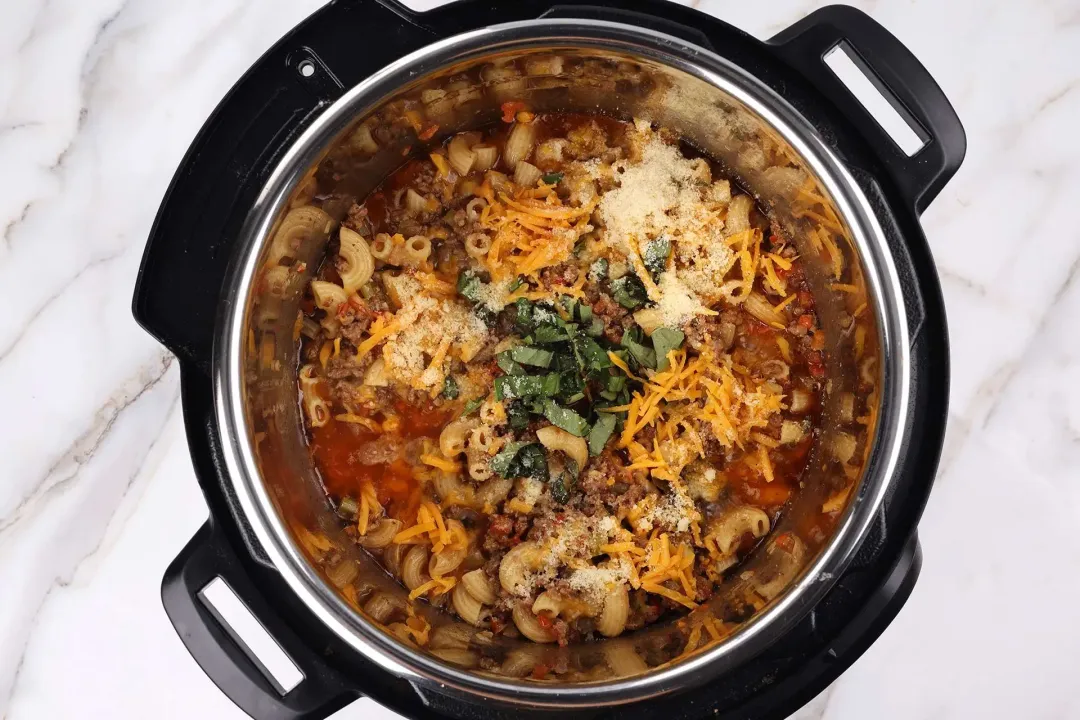 9
Serve the goulash in a bowl topped with 0.25 oz Parmesan cheese powder and 1 oz grated cheddar cheese. Garnish with 2 tbsp fresh parsley before serving.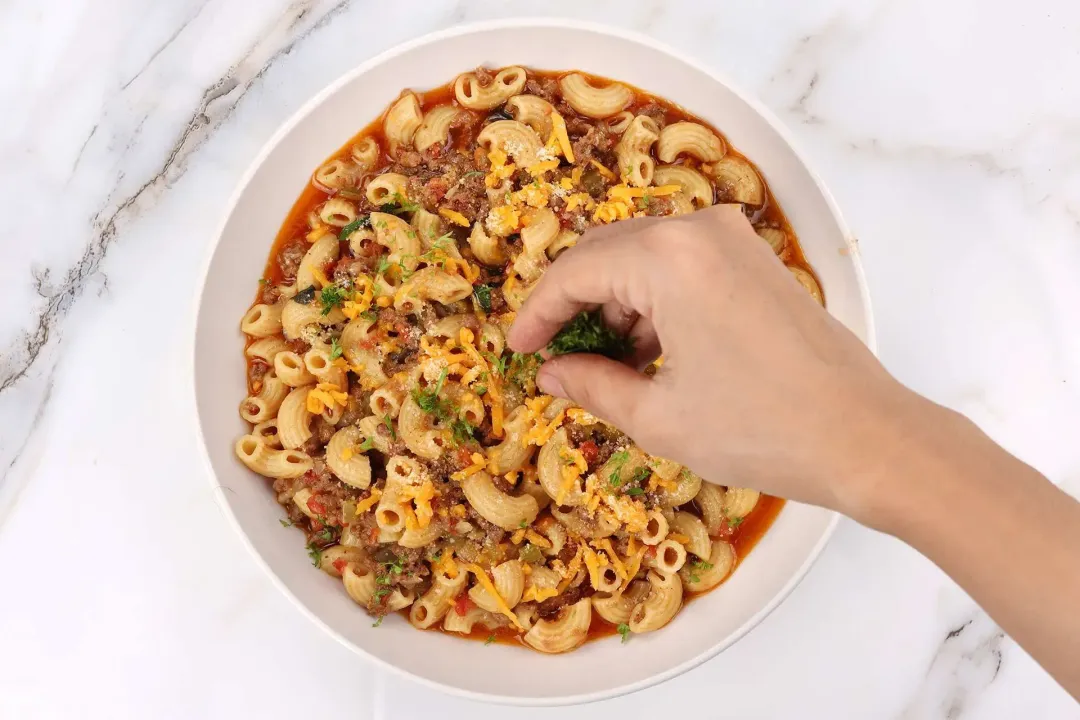 NUTRITION
Nutrition Facts
Instant Pot Goulash
Amount Per Serving (1 serving)
Calories 490
Calories from Fat 153
% Daily Value*
* Percent Daily Values are based on a 2000 calorie diet.
Keywords: goulash in instant pot, how to make goulash inan instant pot, instant pot goulash, instant pot goulash recipe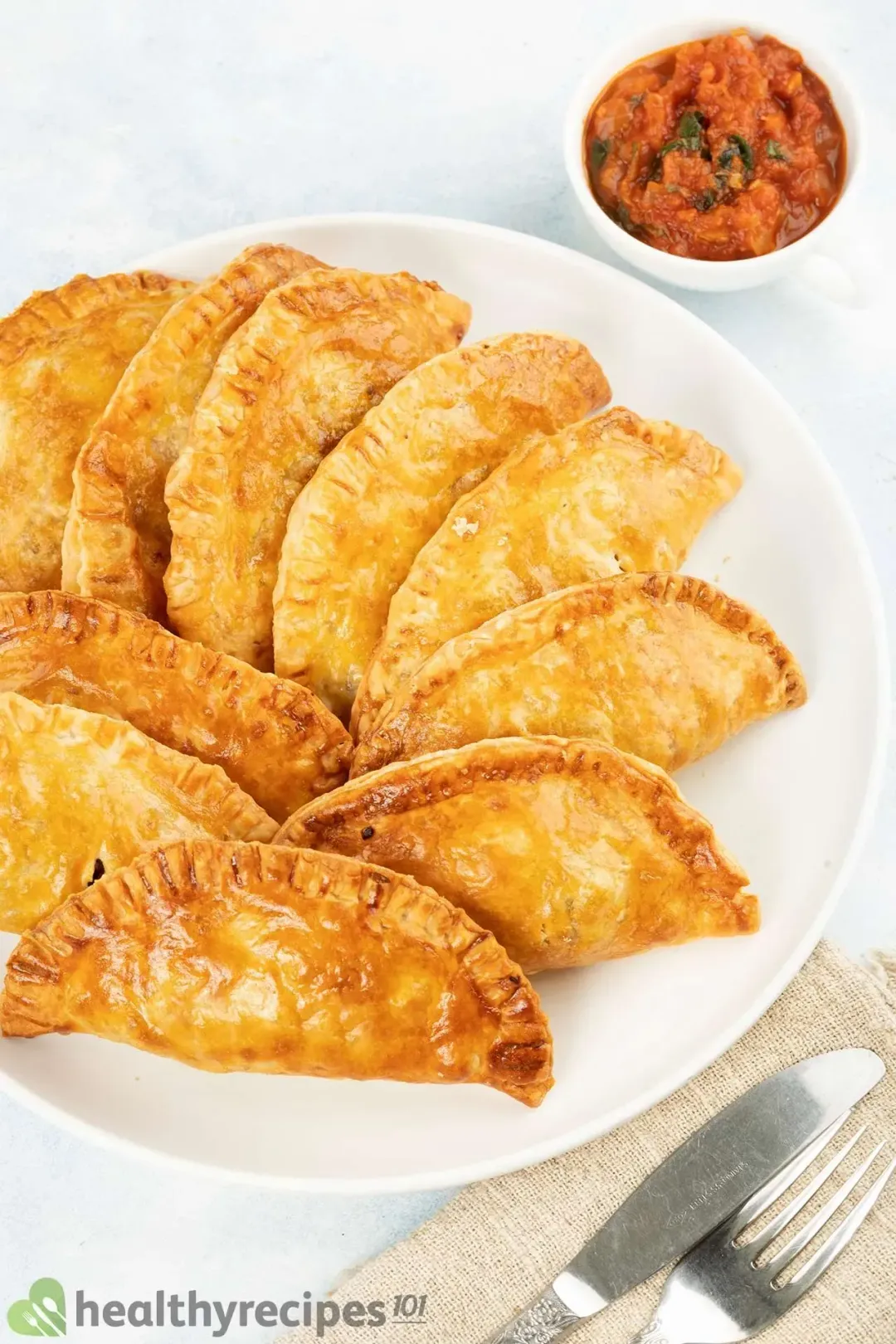 Previous Recipe
Air Fryer Empanadas
Air Fryer Empanadas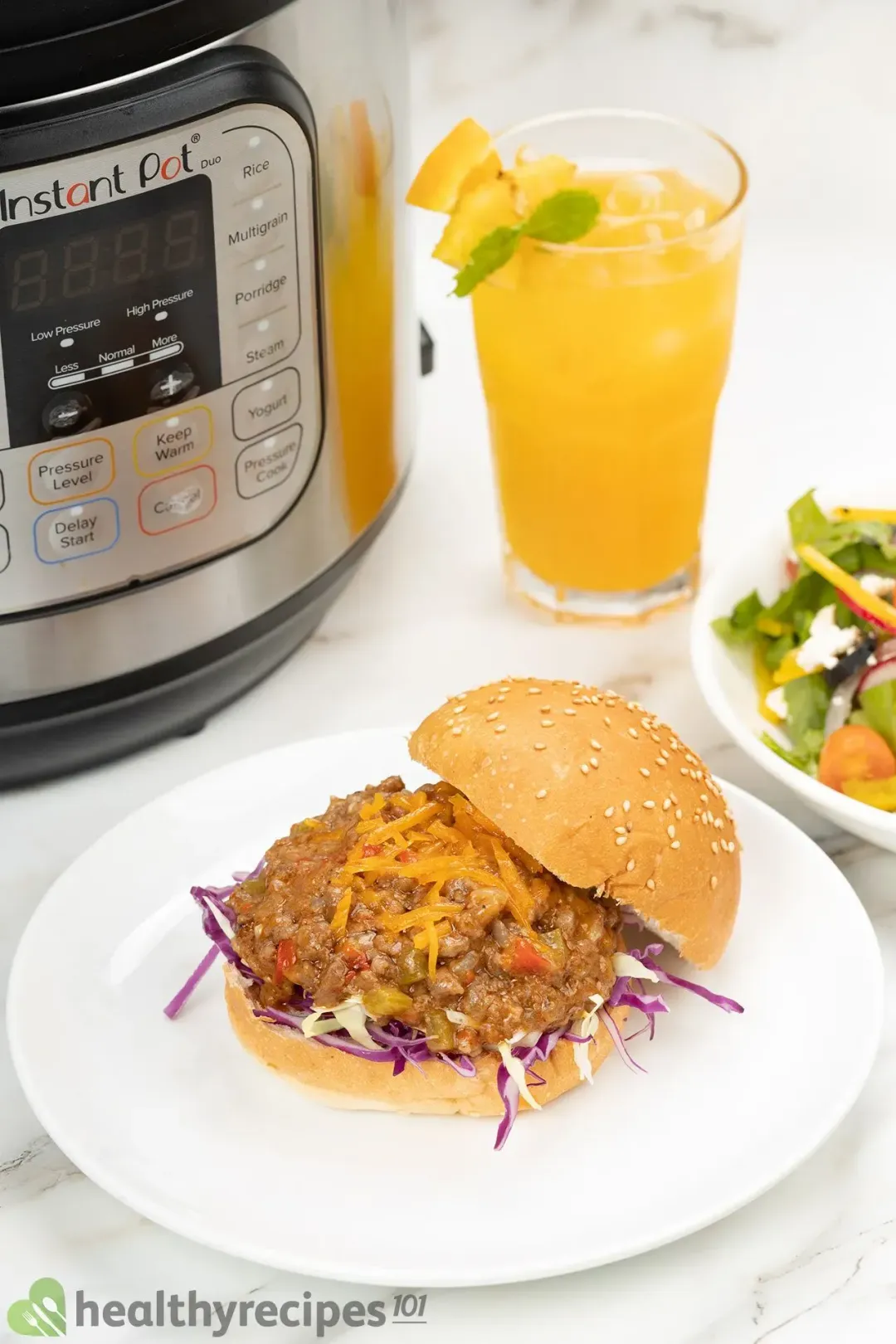 Next Recipe
Instant Pot Sloppy Joes
Instant Pot Sloppy Joes
Head Chef, Culinary Consultant
Tuyet Pham is an award-winning Saigonese chef who believes that joy is the secret ingredient to delicious food. At Healthy Recipes 101, Tuyet personally tests and simplifies every recipe, ensuring maximum flavor with minimal effort. With a background at prestigious French restaurants P'TI Saigon and Le Corto, Tuyet knows how to make every dish exceptional.
Writer, Author
Luna Regina is an accomplished writer and author who dedicates her career to empowering home cooks and making cooking effortless for everyone. She is the founder of HealthyKitchen101.com and HealthyRecipes101.com, where she works with her team to develop easy, nutritious recipes and help aspiring cooks choose the right kitchen appliances.
Nutrition Reviewer
Lizzie Streit is a Minneapolis-based dietitian and founder of It's a Veg World After All. She completed her MS in Human Nutrition from Drexel University, and is an expert in culinary nutrition, recipe development, and nutrition communications. Lizzie's philosophy is centered around making nutrition recommendations, and especially the advice to eat more vegetables, approachable and realistic. She is excited to be working with the team at Healthy Recipes 101 to ensure that their recipes are both nutritious and delicious.
Easy and delicious goulash recipe for busy nights.