There's probably nothing quite as irresistible as this sheet pan nachos recipe. Each bite is an exciting harmony of flavors and textures that burst on the taste buds. The dish contains layers of crispy tortilla chips, savory ground beef, and sweet veggies—all drenched in addictive melted cheddar. 
Even though it's loaded with various ingredients, this sheet pan nachos recipe actually comes together in around 30 minutes. It makes a perfect crowd-pleaser that you can quickly whip up to serve at any 'friends and family' gathering.
Is Sheet Pan Nachos Healthy?
It may not look like it, but with careful adjustments to the ingredients and their portions, sheet pan nachos can be relatively healthy. Each serving of our recipe contains approximately:
493 calories
9.1 g saturated fat
528 mg sodium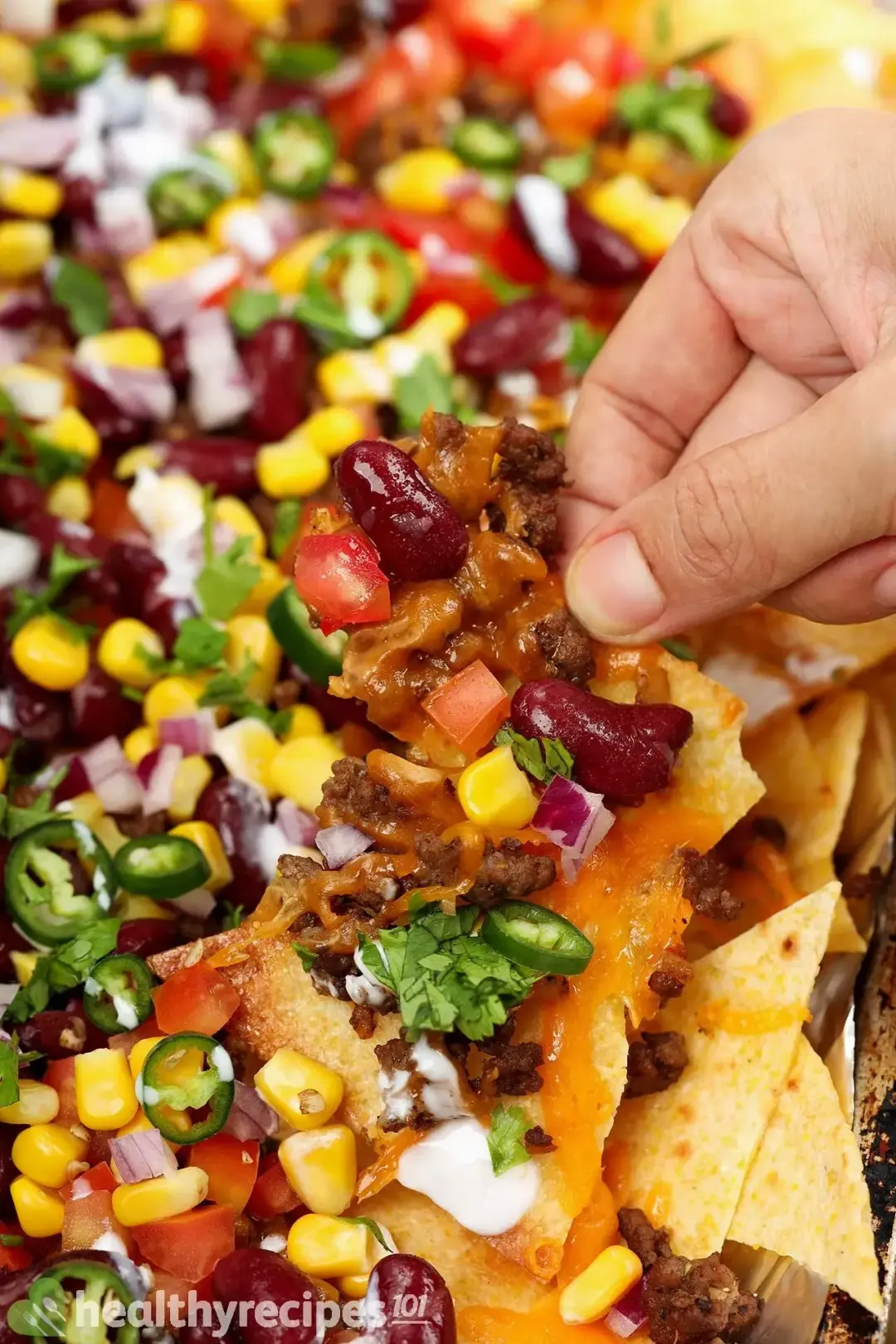 These amounts were measured to follow the standards set by our nutrition guidelines.
As far as individual ingredients go, this dish provides a good deal of protein thanks to the lean ground beef. Lean meat is preferred over processed meat because it's trimmed of visible fats and has vitamin B12, zinc, iron, and other nutrients.
We also included a hefty amount of tomatoes and kidney beans. This increases the dish's nutritional value by giving it some extra fiber, potassium, folate, and vitamins B6, C, and A.
Ingredients for This Recipe
We went with classic nachos ingredients for this dish. However, this recipe is entirely customizable, so you can add anything else as you desire—note, however, that this may change the dish's nutritional value.
Beef: Our recipe uses 85% lean ground beef. The beef is browned and baked to perfection so it tastes exceptionally savory when served with crispy chips and various veggies.
Tortilla: We used yellow corn tortilla because it has a sturdy and coarse texture that's suitable for chip-making. Whatever variety you use, make sure it's not too thin so that it can hold its shape well when baked.
Cheese: Cheddar melts quite nicely into the saucy and stringy texture that's often a feature of nachos. Low-fat cheddar might be harder to melt because they have less fat and oil, so opt for the regular kind if possible.
Greek Yogurt: This is a low-fat substitution for the sour cream often used in nachos. It has a similar thick and smooth consistency, accompanied by a tangy taste that works just as well as the cream.
Beans: We added red kidney beans to diversify the dish with their tender texture and slightly nutty taste. They can also be substituted with black beans.
Vegetables: We went with the nachos staples—tomatoes, corn, jalapeño, and red onions. You can customize this part to your liking and add other veggies as well.
Seasonings: Nachos are known to be bursting with flavor, so we seasoned the beef with robust spices like chili powder, ground cumin, black pepper, salt, paprika, and garlic powder.
Herbs and Aromatics: We used oregano, coriander, garlic, and onion to give the flavors a subtle kick and infuse the dish with an aromatic undertone.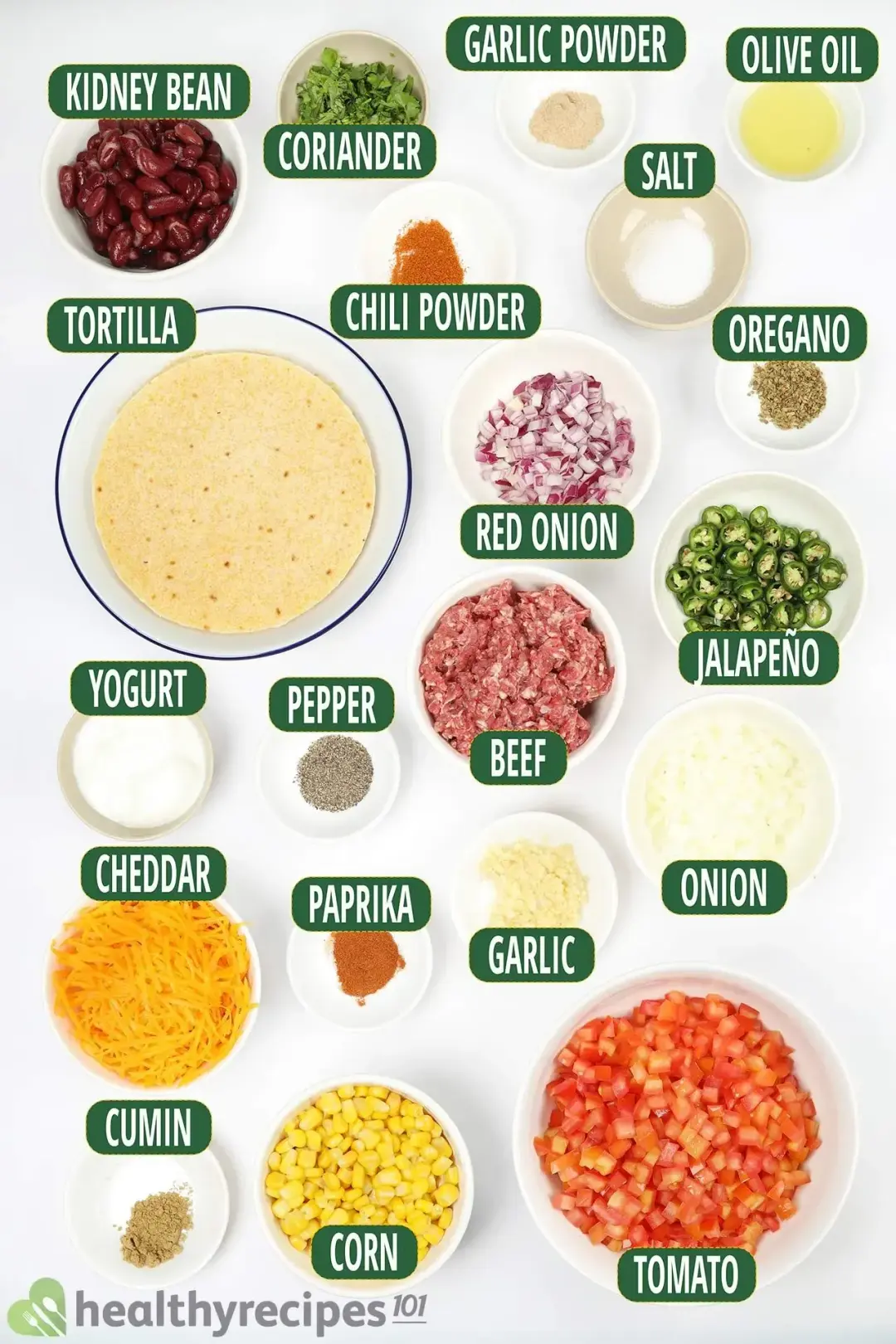 Sheet Pan Nachos Cooking Tips
This dish is pretty straightforward, but as usual, the cooking requires some attention to the details. Check out these tips to help the dish turn out exactly as you want:
To keep the nachos from sticking to the sheet during the baking process, make sure you line it with parchment paper or foil beforehand. The nachos should slide right off onto the plates, making the cleaning a lot easier.
A common issue when making nachos is soggy chips. This can easily be prevented by baking the chips with the cheese first, then adding the toppings later. The melted cheese will provide an extra layer that keeps the toppings' moisture from seeping into the chips.
Keep the Toppings at Room Temperature
Temperature is another important factor that influences the chips' crispiness. If you refrigerate the toppings, make sure to leave them at room temperature before piling them onto the warm chips.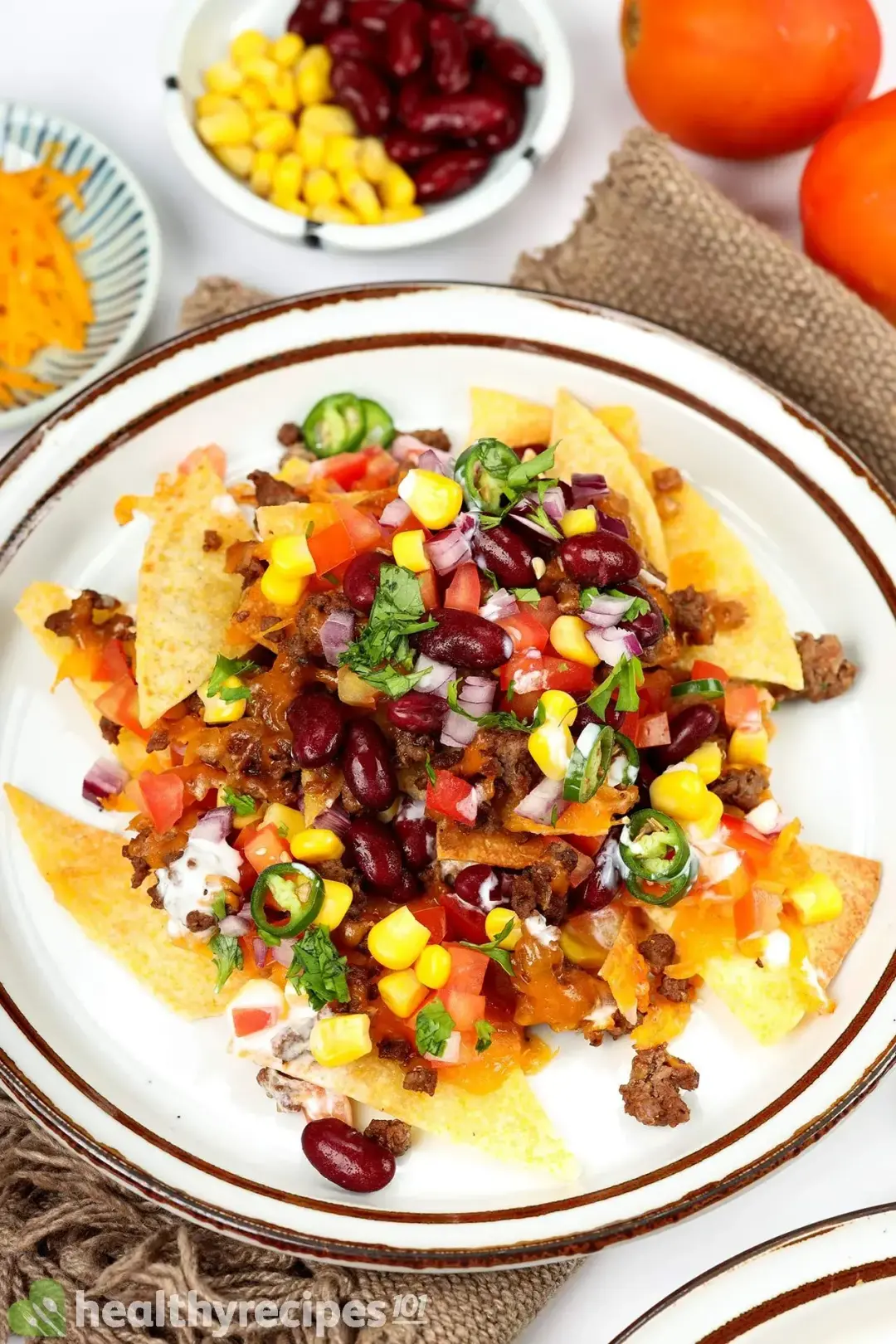 Higher temperatures don't necessarily mean crispier chips. Don't use the broiler when baking the nachos since it could potentially burn the dish.
Layer the Toppings Evenly
Don't make the mistake of dumping all the toppings onto the sheet pan all at once. Add one ingredient at a time so that there's a little bit of everything on the whole dish and you won't be left with just the chips towards the end of the meal.
How to Store and Reheat Leftovers
Nachos are meant to be eaten right away, so we recommend you eat this dish as soon as it is served. Leftovers should be kept in an airtight bag or container in the fridge for around 1 or 2 days.
Reheat it in the oven at 250°F for 5-10 minutes. If possible, separate the cold toppings like veggies or sauce and only bake the warm ones like beans and meat.
What to Serve With Sheet Pan Nachos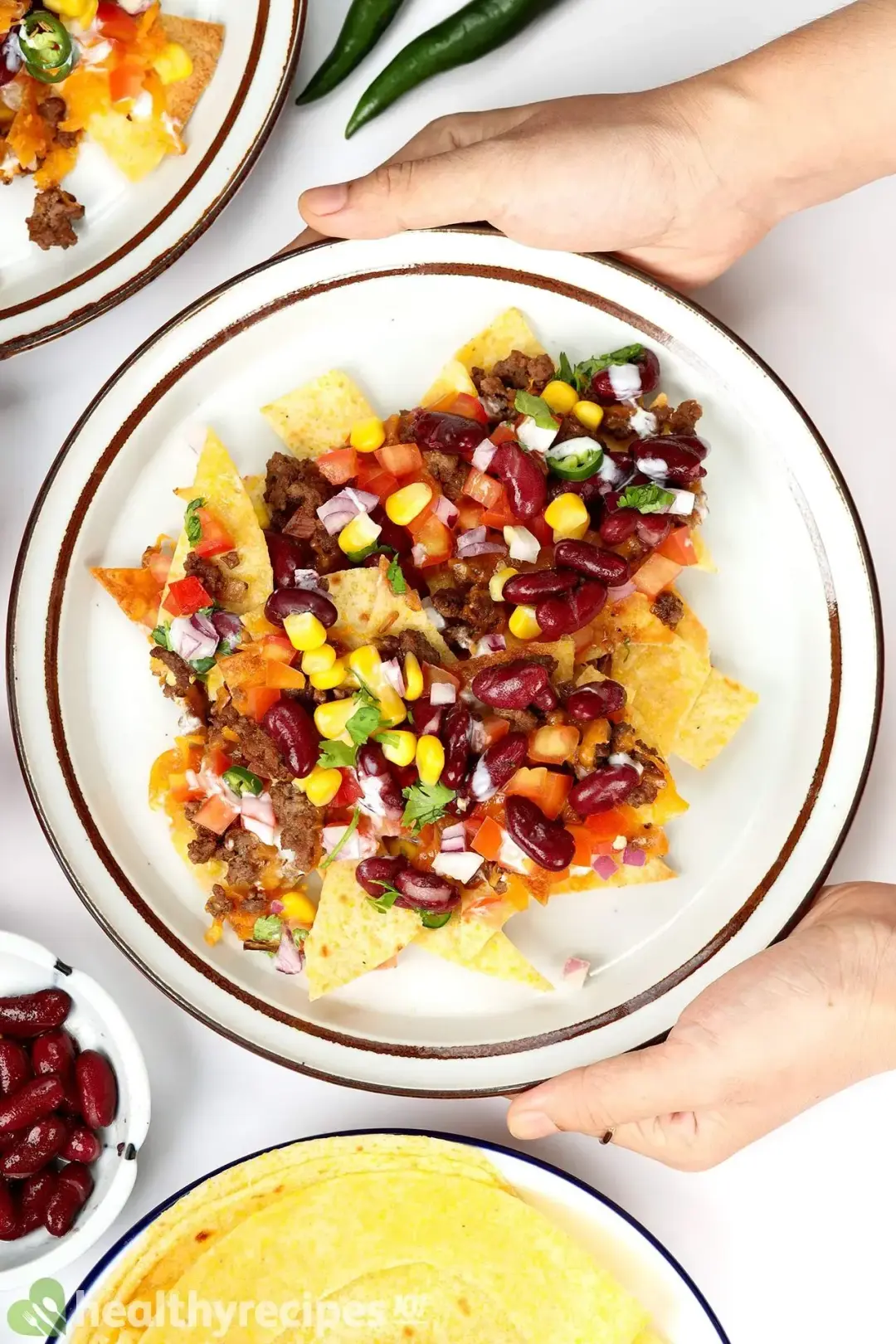 Even though nachos are often eaten as a snack food or appetizer, they can always be paired with a small side dish. Here are some simple throw-together dishes that you can serve alongside this sheet pan nachos for a crowd-pleasing light meal:
How to Make Sheet Pan Nachos
This sheet pan nachos recipe creates layers of crispy tortilla chips, savory ground beef, and sweet veggies—all drenched in addictive melted cheddar. It's an effortless crowd-pleaser that you can quickly whip up for any 'friends and family' gathering.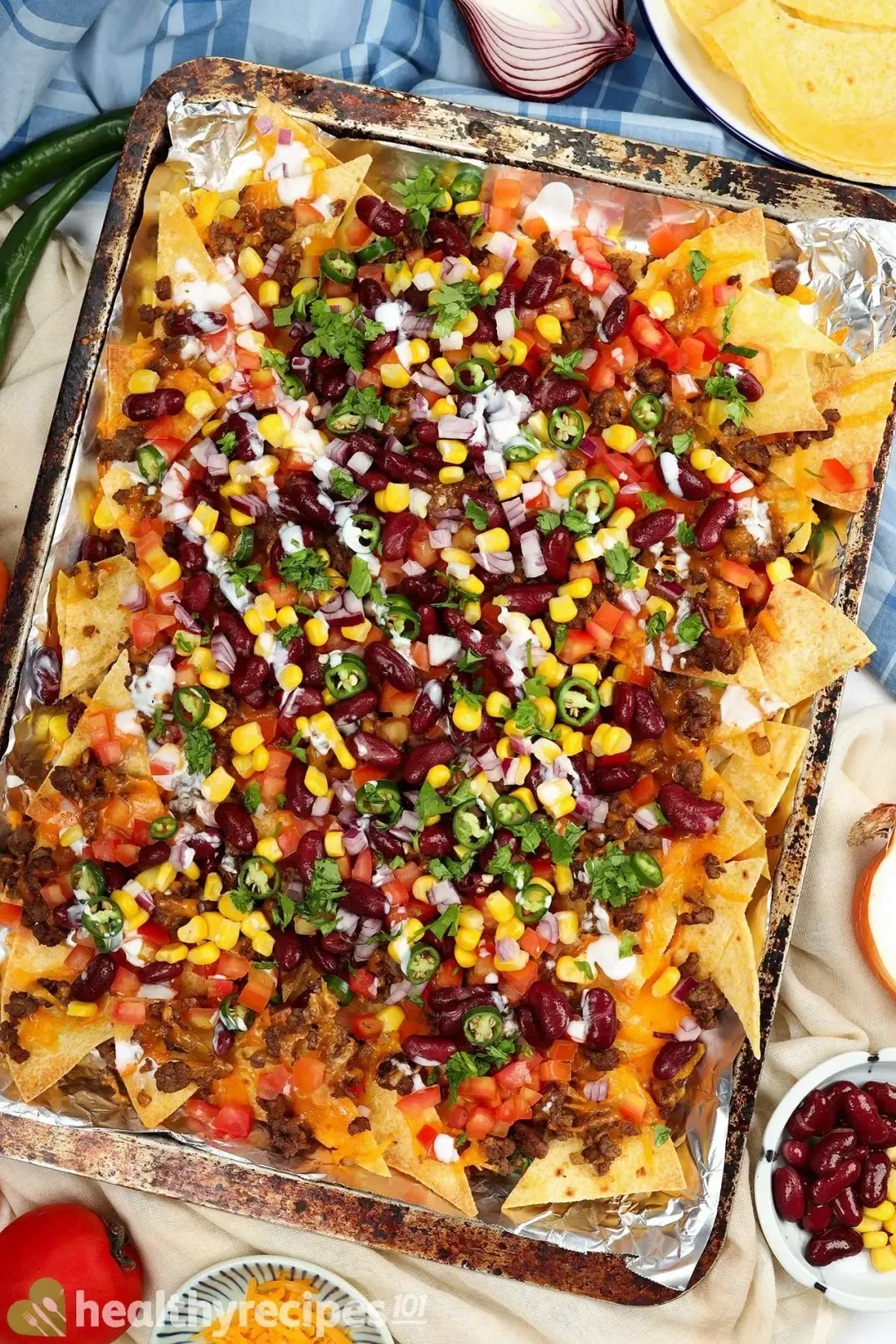 cook TIME

22 mins

prep TIME

10 mins

total TIME

32 mins
COURSE

Main Course

CUISINE

Mexican

SERVINGS

servings

CALORIES

470 kcal
INGREDIENTS
8 oz

85% lean ground beef

8

6-inch corn tortillas

4 oz

corn

6 oz

tomatoes (diced)

2 oz

red onions (diced)

2 oz

onions (diced)

1 oz

jalapeño (sliced)

2 tbsp

garlic (minced)

0.3 cup

coriander (chopped)

6 oz

unsalted dark red kidney beans

3 tbsp

plain Greek yogurt

3.5 oz

cheddar cheese (shredded)

1 tbsp

olive oil

0.5 tsp

dried oregano

0.5 tsp

salt

0.5 tsp

pepper

0.5 tsp

paprika

0.5 tsp

garlic powder

0.3 tsp

chili powder

0.5 tsp

ground cumin
INSTRUCTIONS
Prep:
1
Dice the Tomatoes: Slice the tomatoes, stack, then cut the slices into strips. Then, dice the strip into small cubes.
2
Dice the Onions: Halve the onion but leave the roots on then make thin slices. Next, slice each half horizontally then turn the onion towards you, and make downward slices to create diced pieces.
3
Mince the Garlic: Remove the peel. Trim off the end then thinly slice. Rock the knife back and forth over the sliced pile until finely minced.
4
Chop the Coriander: Cut off the stems, bunch the leaves together then chop with a rocking motion into small pieces.
Cook:
1
Preheat the oven to 370°F.
2
Cut and Bake the Tortilla Chips: Cut each tortilla into triangle chip pieces. Line the baking sheet with foil then bake the chips on the middle rack at 370°F for 10 minutes.
3
Sauté the Aromatics: In a pan over medium heat, sauté 2 oz onions and 2 tbsp garlic with 1 tbsp olive oil for 1 minute until fragrant.
4
Add the Beef: Add 8 oz 85% lean ground beef and sauté for 3 minutes until brown.
5
Add the Seasonings: Add 1/2 tsp dried oregano, 1/2 tsp salt, 1/2 tsp pepper, 1/2 tsp paprika, 1/2 tsp garlic powder, 1/4 tsp chili powder, and 1/2 tsp ground cumin to the beef then stir for 3 minutes until well-mixed.
6
Spread Onto the Sheet: Preheat the oven to 390°F to prepare for step 7.
7
Bake the Nachos: Put the sheet on the middle rack to bake at 390°F for 3 minutes.
8
Layer the Toppings: Remove the sheet when finished then layer with 4 oz corn, 6 oz unsalted dark red kidney beans, 6 oz tomatoes, 2 oz red onions, and 1 oz jalapeño.
9
Drizzle the Yogurt: Drizzle 3 tbsp plain Greek yogurt over the surface then garnish with 1/4 cup coriander.
10
Serve the Nachos: Transfer the nachos onto serving plates then serve.
NUTRITION
Nutrition Facts
How to Make Sheet Pan Nachos
Amount Per Serving (1 serving)
Calories 470
Calories from FDA
% Daily Value*
* Percent Daily Values are based on a 2000 calorie diet.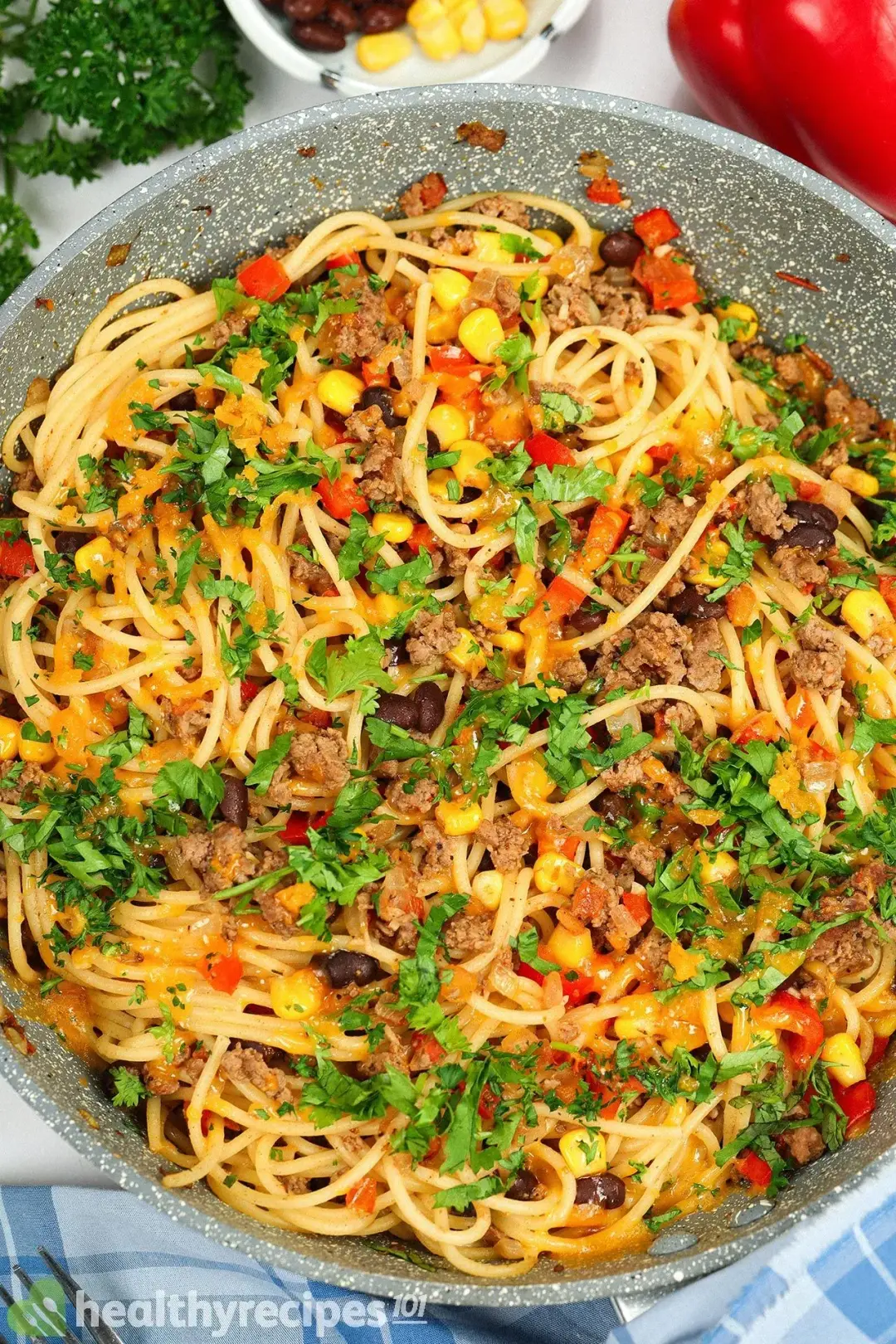 Previous Recipe
Southwestern Spaghetti
Southwestern Spaghetti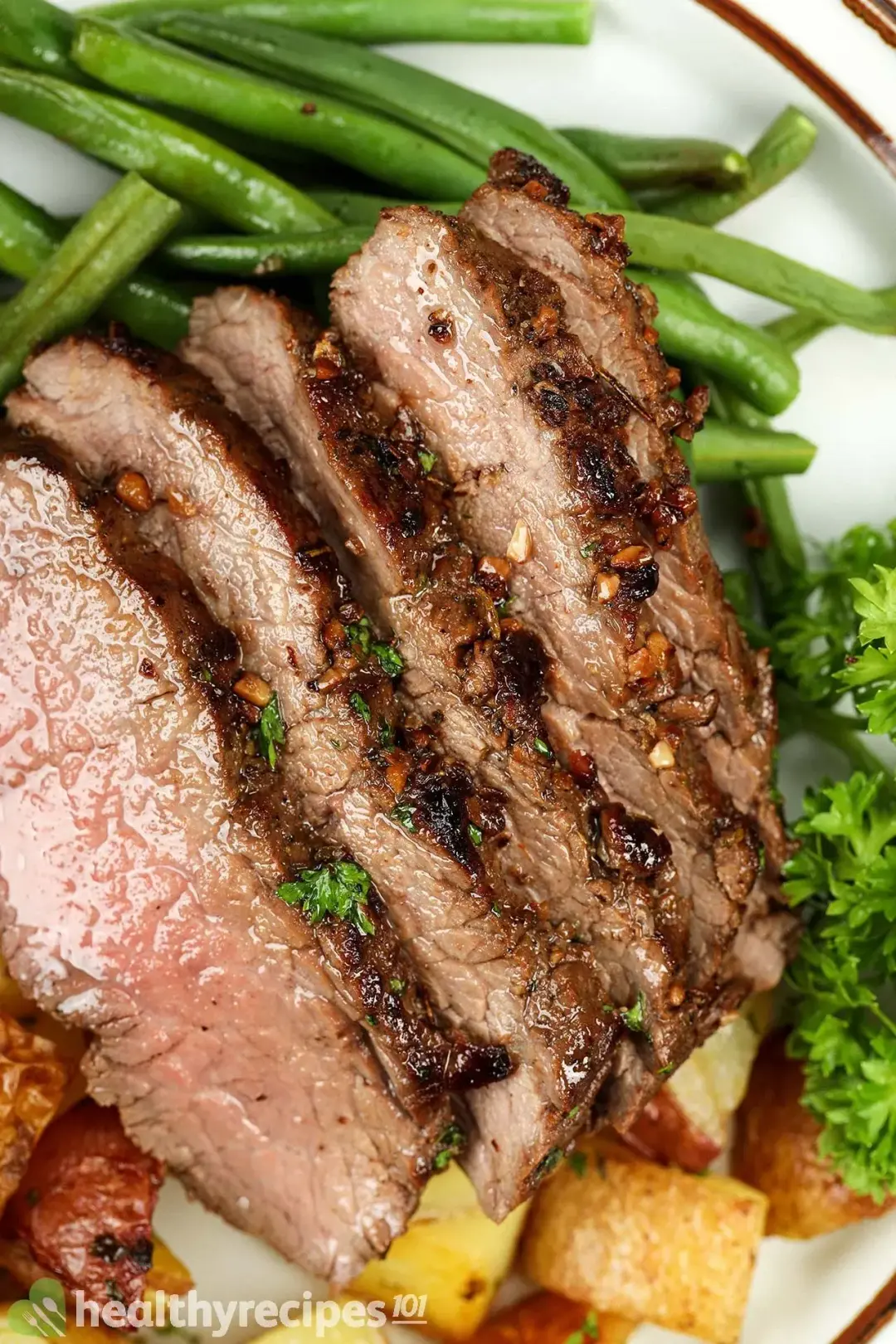 Beef Marinade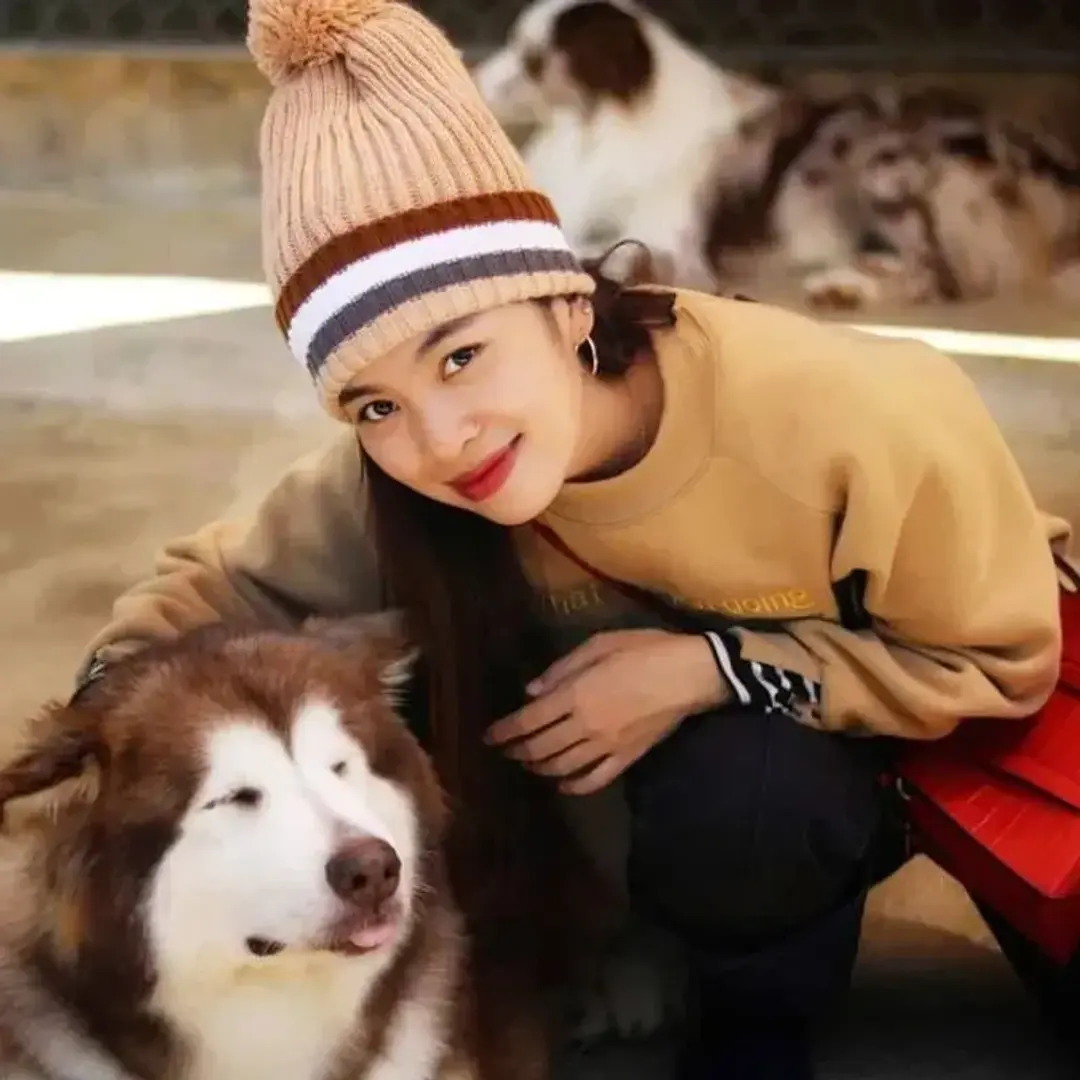 Professional Chef
Tuyet Pham is an award-winning Saigonese chef who believes that joy is the secret ingredient to delicious food. At Healthy Recipes 101, Tuyet personally tests and simplifies every recipe, ensuring maximum flavor with minimal effort. With a background at prestigious French restaurants P'TI Saigon and Le Corto, Tuyet knows how to make every dish exceptional.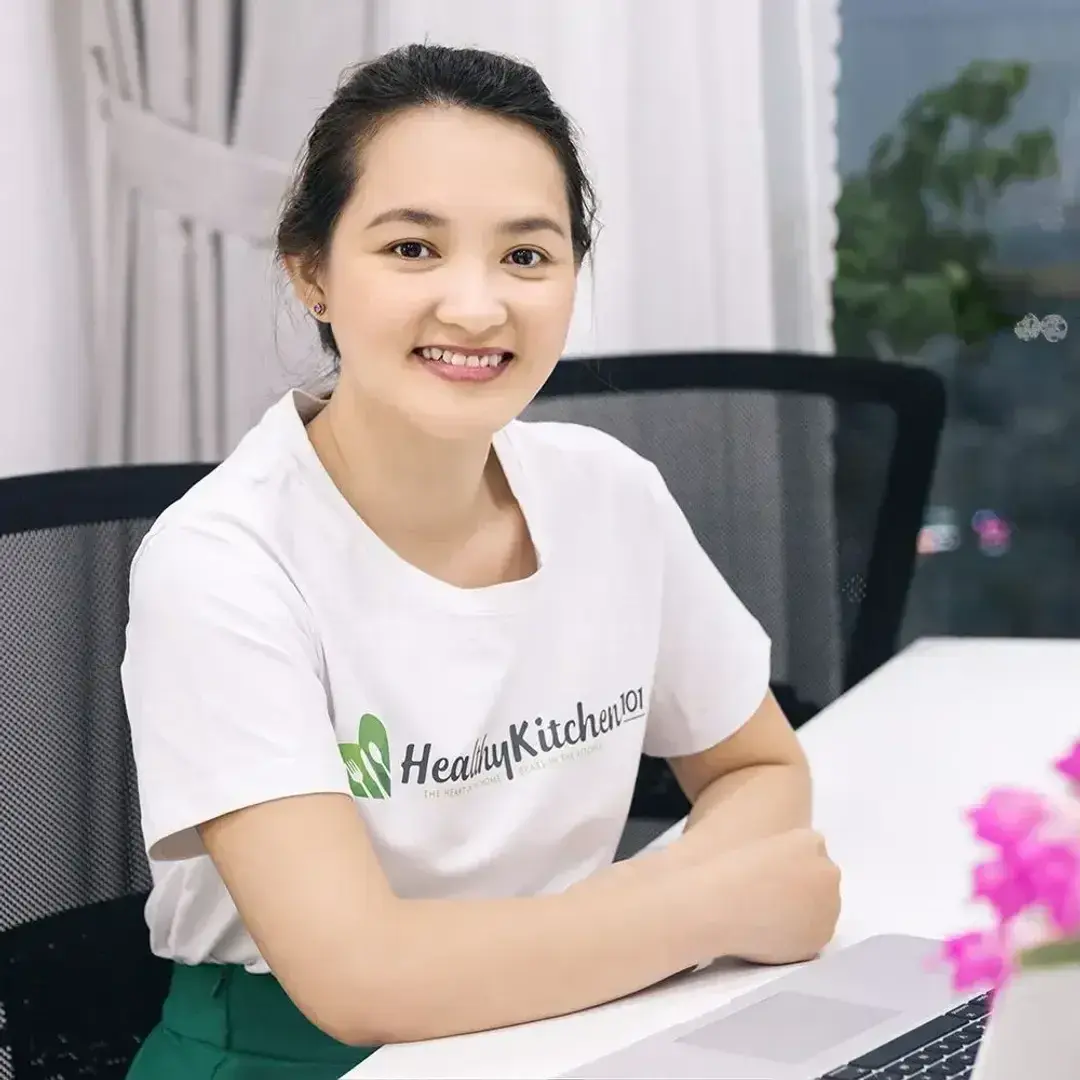 Founder
Luna Regina is an accomplished writer and author who dedicates her career to empowering home cooks and making cooking effortless for everyone. She is the founder of HealthyKitchen101.com and HealthyRecipes101.com, where she works with her team to develop easy, nutritious recipes and help aspiring cooks choose the right kitchen appliances.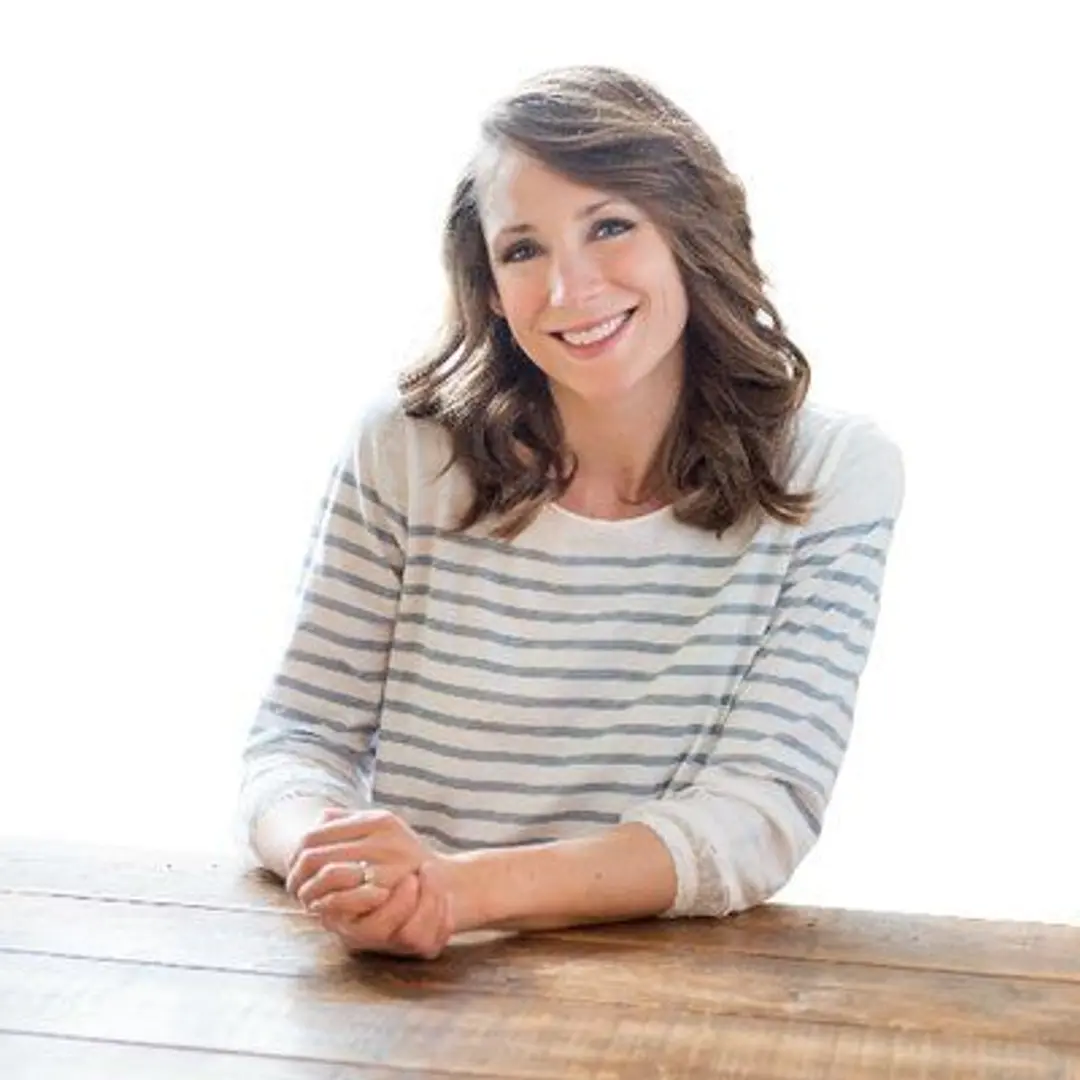 Nutrition Reviewer
Natalie is a registered dietitian nutritionist with a passion to help others live their best life through food, fitness, safer beauty and a healthy lifestyle. She has expertise with a variety of diets and diseases and believes that there is no one-size-fits-all approach for health.
Comments/ Reviews