This beef tomato recipe embraces the classic beauty of homemade food—simple and easy yet also comforting and flavorful.
The tender beef and colorful veggies are drenched in a savory sauce and stir-fried into a hearty mixture that warms the soul with every bite. Everything comes together effortlessly in less than 30 minutes, making it an ideal choice for busy weeknight dinners.
Is This Beef Tomato Healthy?
With a balanced mixture of meat and vegetables, this beef tomato is full of nutrients that make it a healthy dish.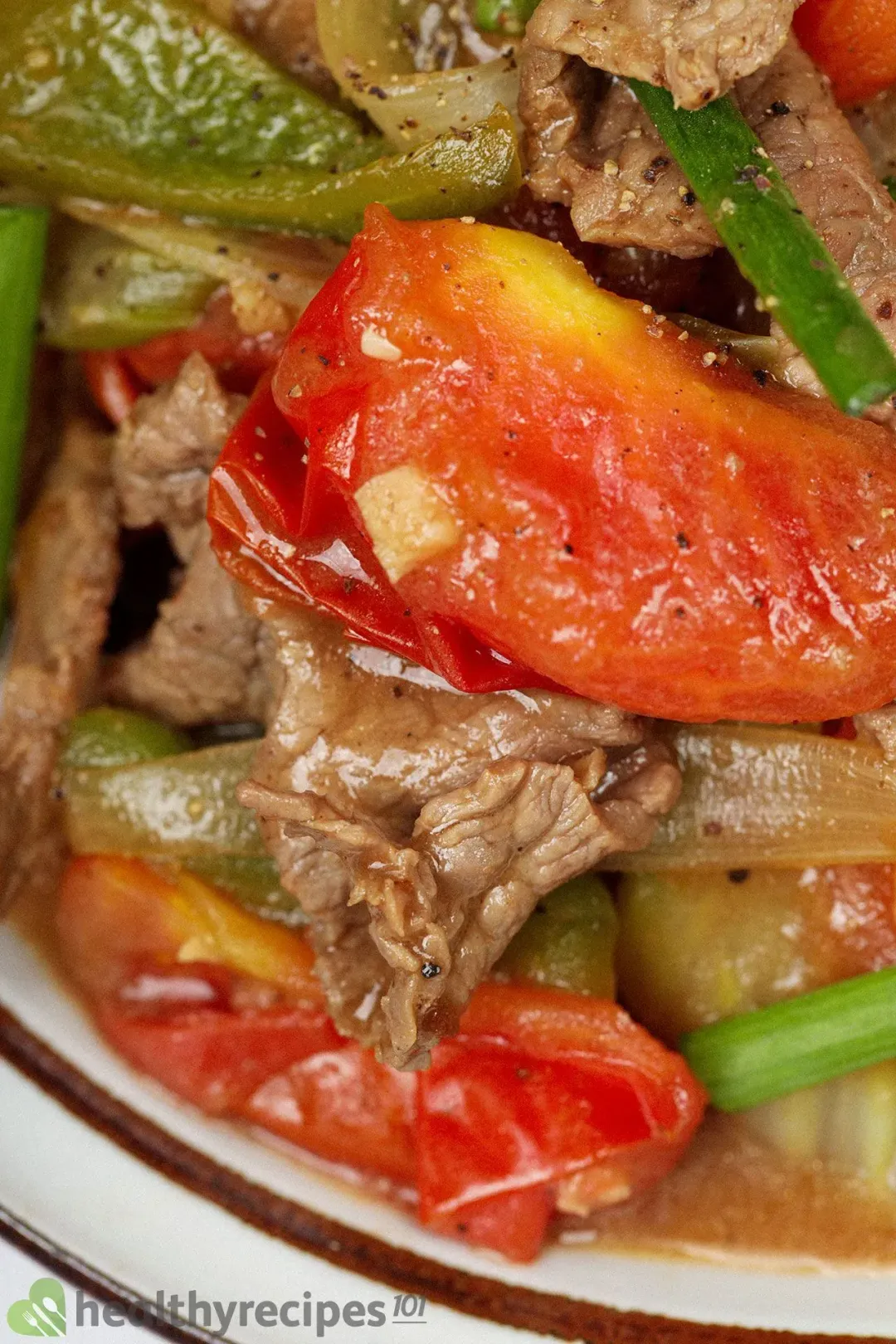 Firstly, the dish is loaded with protein since beef is the main ingredient. The meat is also a great source of vitamins B6 and B12, heme iron, zinc, selenium, and phosphorus. We opted for flank steak, which is a cut that's quite lean and low in fat.
This dish also has a high level of vitamin C, mostly thanks to the tomatoes. The fruit is also known for its rich lycopene content—an antioxidant that has been linked to a decreased risk of strokes.
Moreover, we also kept an eye on the ingredient amounts to make sure they follow our nutrition guidelines. As a result, each 468-calorie serving contains approximately 2.7 g saturated fat and 576 mg sodium.
Ingredients for Beef Tomato
True to the spirit of comfort food, the ingredients are simple and familiar. Here is what you'll need to put together this dish: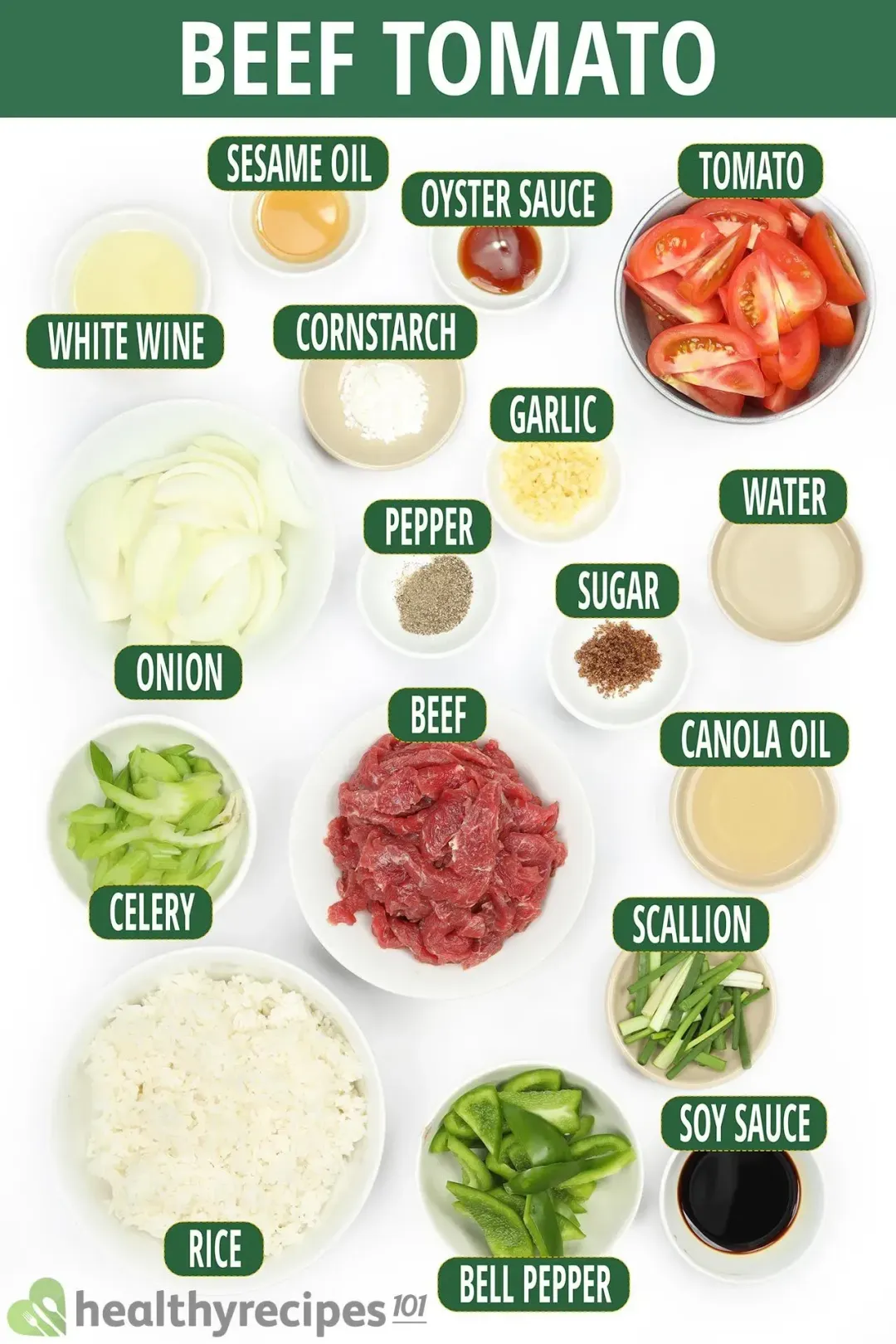 Beef: As the beef is stir-fried, we went with the cut most popular for this method—flank steak. It can be relatively chewy compared to other cuts but packs a whole lot of intense and savory flavor.
Tomatoes: The tomatoes' vibrancy in color and flavor plays a huge role in making this dish irresistible. We recommend using ripe ones not only for the sweet flavor but also for their firmness that holds up well when stir-fried.
Other Vegetables: Since the tomatoes are pretty tender, we went with onion, celery, and bell peppers for texture contrast. The bell peppers share a similar sweetness as the tomatoes while the onion and celery inject some flavor versatility with their peppery undertones.
Rice: Like most Asian dishes, we served this stir-fried beef with a side of white rice to make a filling main dish. Egg noodle is another good option.
Condiments: We went with some classic Asian staples like soy sauce, oyster sauce, and sesame oil. Additionally, we also added some brown sugar to deepen the sauce's flavor.
White Wine: The sauce has a small amount of white wine, which partially helps to tenderize the tough meat with its acidity. We went with Sauvignon Blanc for its incredible versatility and herbal notes that accentuate the savory flavors of both the sauce and the meat.
Cornstarch: This ingredient helps to soften the meat while also thickening the texture of the sauce.
Tips and Tricks for the Best Stir-fry
Stir-frying is relatively simple, but like all cooking methods, it requires some attention to the details. Take notice of these little tips that could significantly improve the quality of your dish:
Since flank steak can be tough, it's important to slice across the grains when you're cutting it to disrupt the muscle fibers and make them easier to chew. To identify these grains, look for lines that run lengthwise on the meat's surface.
Prepare the Ingredients in Advance
Stir-frying requires quick work and high heat, so make sure you have the beef and vegetables cut up and ready to go. The sauce should also be mixed in advance and given a quick re-stir before being added to the pan.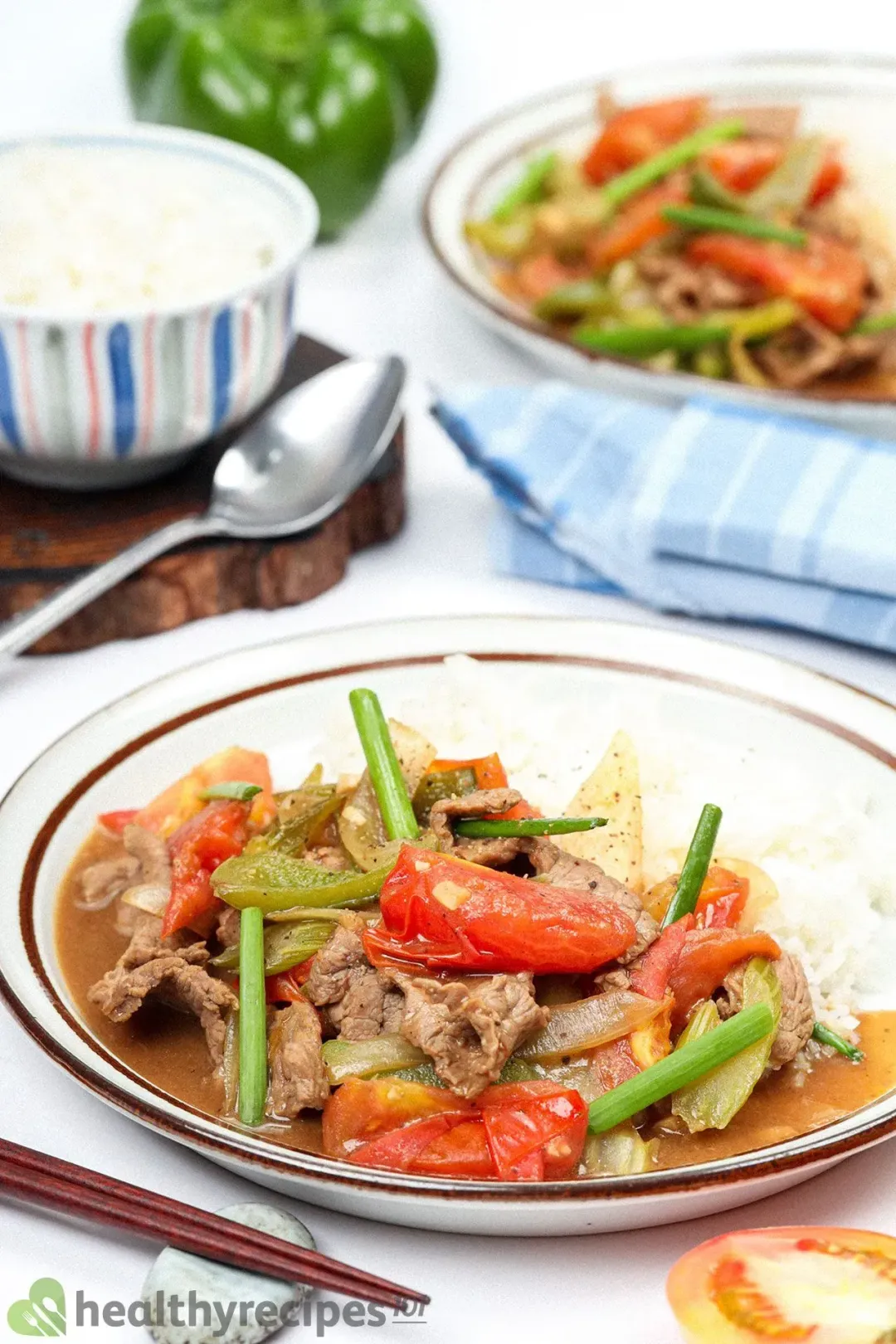 Use a Wok or Cast Iron Pan
Go for pans that retain heat well so that the food can brown quickly and evenly, resulting in a crispy exterior and well-cooked interior. A wok is most commonly used for stir-frying, but you can also use cast-iron skillets as well.
As the name suggests, stir-frying requires constant and rapid stirring. Therefore, there should be enough room for the ingredients to move around and have continuous heat contact or they might end up soggy. 
To avoid this, divide the food into multiple batches if you suspect it won't fit into the pan at once. Cook the beef first, then remove it and move on to the vegetable. You can give everything one quick stir together at the end.
Cut the veggies into large pieces instead of small ones. Not only will this give them a better mouthfeel, but the large size also helps to maintain the texture when cooked with high heat.
Moreover, make sure the pieces are approximately the same size. This will make the cooking process easier since they will be cooked at the same rate.
How to Store and Reheat Leftovers
This dish may last for 2 or 3 days when kept in airtight containers in the fridge. To reheat, place it in the microwave at full power for 1 minute or do a quick stir of the beef mixture on the stovetop. If possible, cook new rice for a better taste.
What to Serve With Beef Tomato Stir Fry
This beef tomato makes a perfect main for a simple and hearty Asian meal. Here are a few of our recommendations for side dishes to serve with it: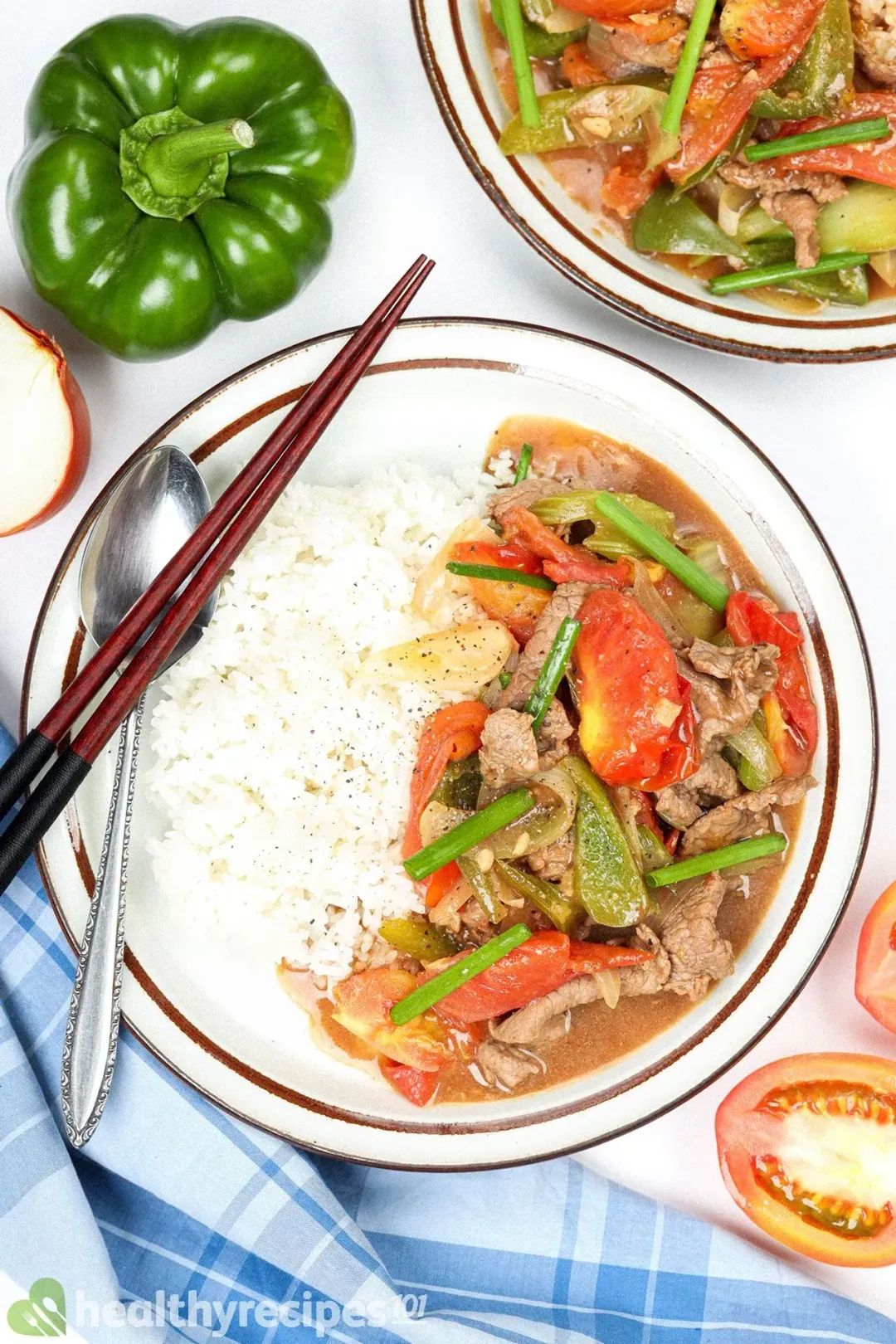 Impress Your Guests with These Gourmet-Inspired Beef Over Rice Dishes
This Beef Vindaloo recipe is a spicy Indian curry that's bursting with flavor. It's made with tender beef, potatoes, and a blend of aromatic spices that will warm you up from the inside out. Serve it with rice or naan bread for a satisfying meal.
Thai Basil Beef is a flavorful and aromatic dish that combines ground beef with fresh herbs, spices, and vegetables. This recipe from Healthy Recipes 101 is quick and easy to prepare, making it perfect for a weeknight dinner or a special occasion.
If you're a fan of one-pot meals that feature both beef and rice, our roundup is a must-see.
How to Make Beef Tomato Stir Fry
This beef tomato recipe comes together in less than 30 minutes, requiring very little effort while offering an impressive range of flavors and textures. It features tender beef and colorful veggies drenched in a savory sauce, all stir-fried into a hearty mixture that warms the soul with every bite.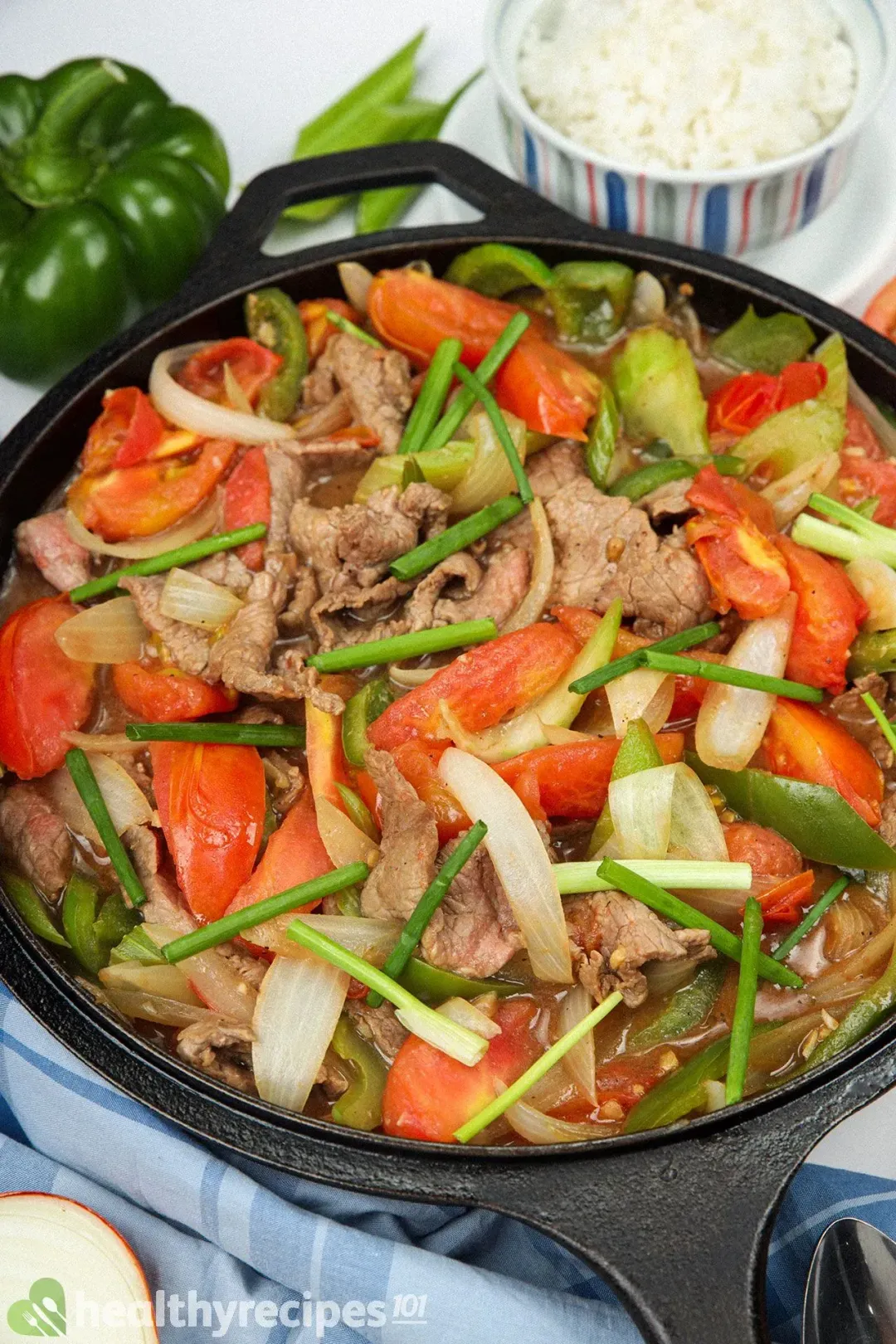 cook TIME

10 mins

prep TIME

15 mins

total TIME

25 mins
COURSE

Main Course

CUISINE

Chinese

SERVINGS

CALORIES

468 kcal
INGREDIENTS
12 oz

flank steak

(cut into strips)

10 oz

tomatoes

(cut into eighths)

4 oz

onions

(sliced into wedges)

4 oz

green bell peppers

(thickly sliced)

1/4 cup

scallions

(cut into thirds)

3 1/2 cups

cooked medium-grain rice

(from 1 3/4 cups uncooked)

3 tbsp

reduced sodium soy sauce
INSTRUCTIONS
Prep:
1
Cook the Rice: Rinse the rice then cook with the rice cooker, Instant Pot, saucepan, or any available appliance. Check the package for the specific cooking time and water amount. Most types of rice take from 15-20 minutes and follow the 1 cup rice to 2 cups water ratio.
2
Cut the beef into large strips.
3
Cut the tomatoes lengthwise into eights.
4
Slice the Onion: Halve the onion, then thickly slice each half into wedges.
5
Cut the Bell Peppers: Slice lengthwise around the core, discard the core, then cut each slice into large pieces.
6
Cut the Celeries: Separate the stalk, then cut off the head. Hold the knife diagonally and thickly slice the stalk into 1-inch pieces.
7
Mince the Garlic: Thinly slice the garlic cloves then chop in a rocking motion over the sliced pile a few times until the pieces are finely minced.
Cook:
1
Make the Sauce: In a small bowl, mix 1 fl oz water, 1/2 fl oz white wine, 1/2 tbsp sesame oil, 3 tbsp reduced sodium soy sauce, 1 tsp oyster sauce, 1 tbsp cornstarch, 1 tsp brown sugar, and 1/2 tsp pepper until well-combined.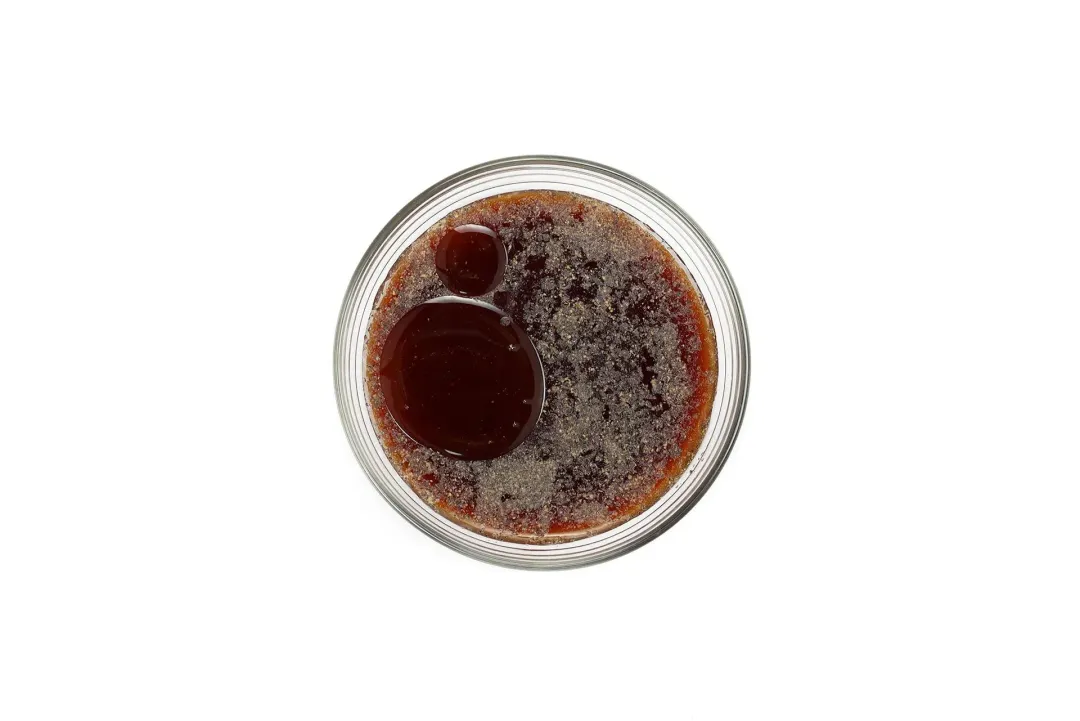 2
Stir-fry the Garlic: In a pan over medium heat, add 2 tbsp garlic and stir for 30 seconds until fragrant.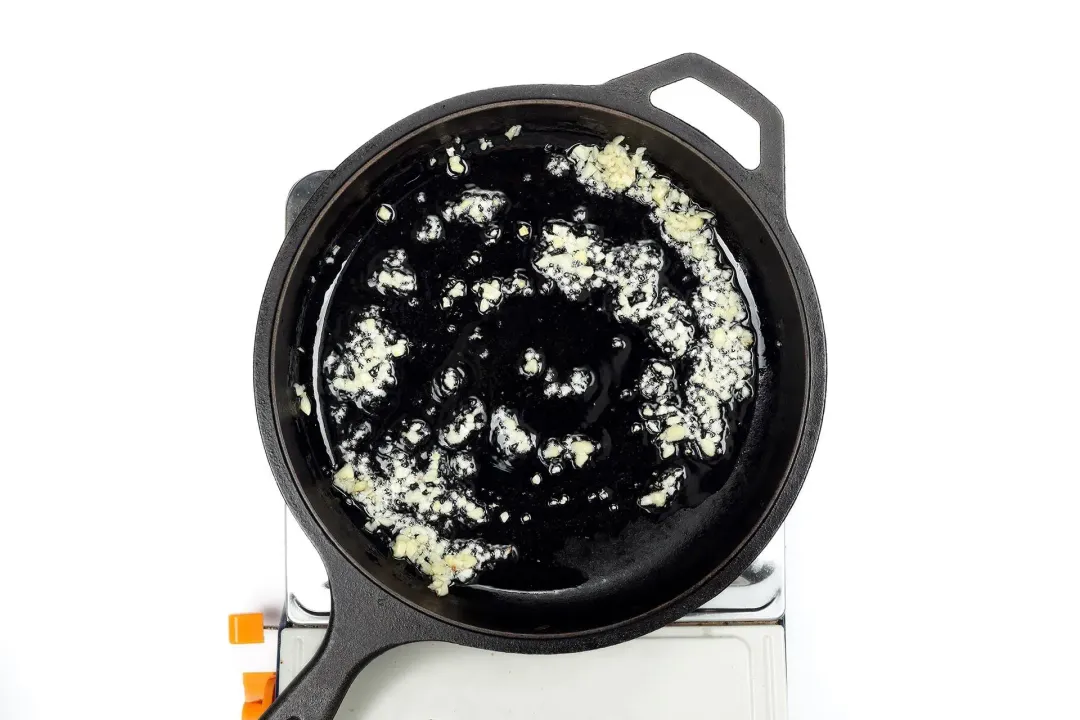 3
Stir-fry the Veggies: Turn the heat up to high then add 10 oz tomatoes, 4 oz onions, 4 oz green bell peppers, and 2 oz celery and stir-fry for 2 minutes.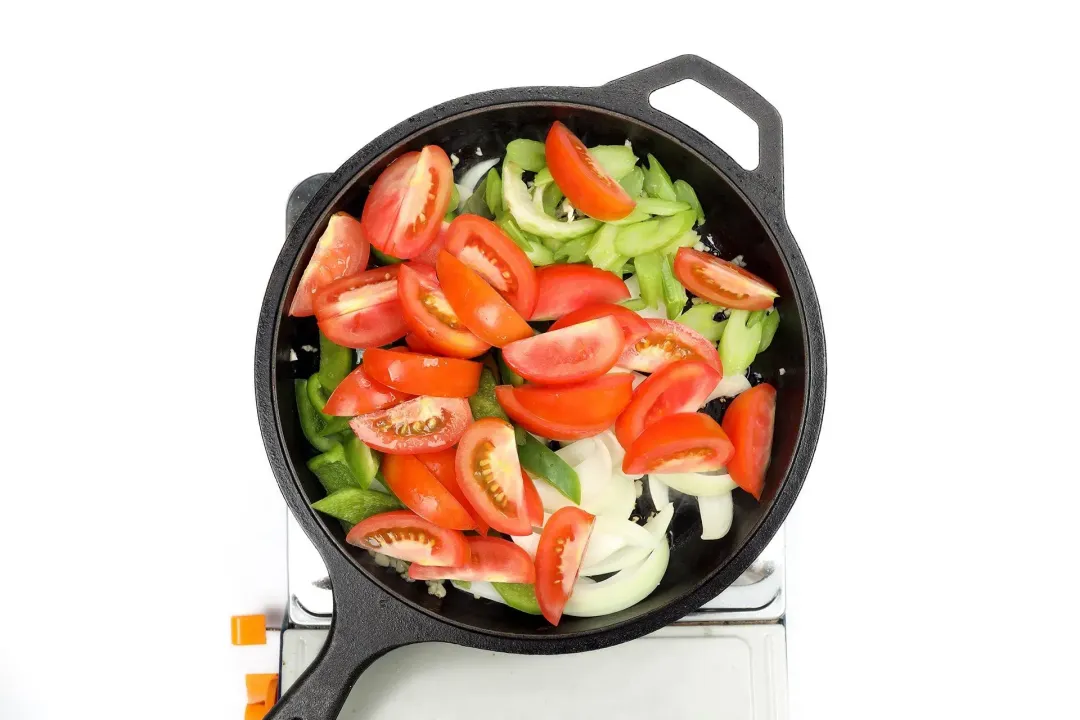 4
Add the Beef: Then add 12 oz flank steak to stir-fry over high heat for 4 minutes.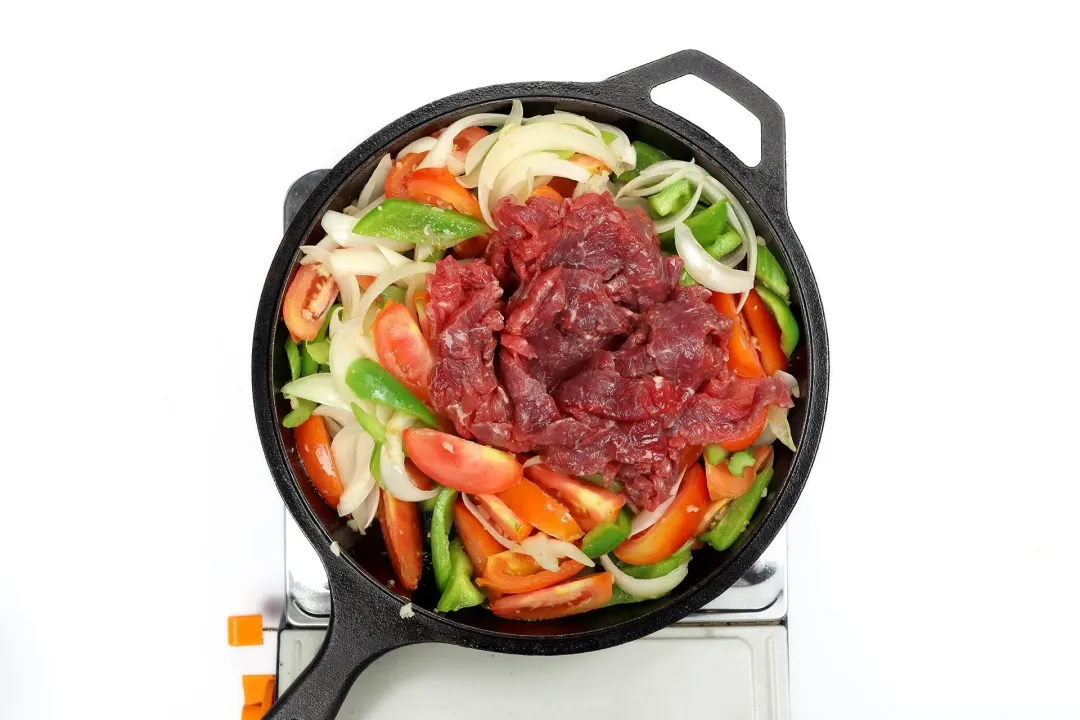 5
Add the Sauce: Add the sauce then stir-fry for another 2 minutes.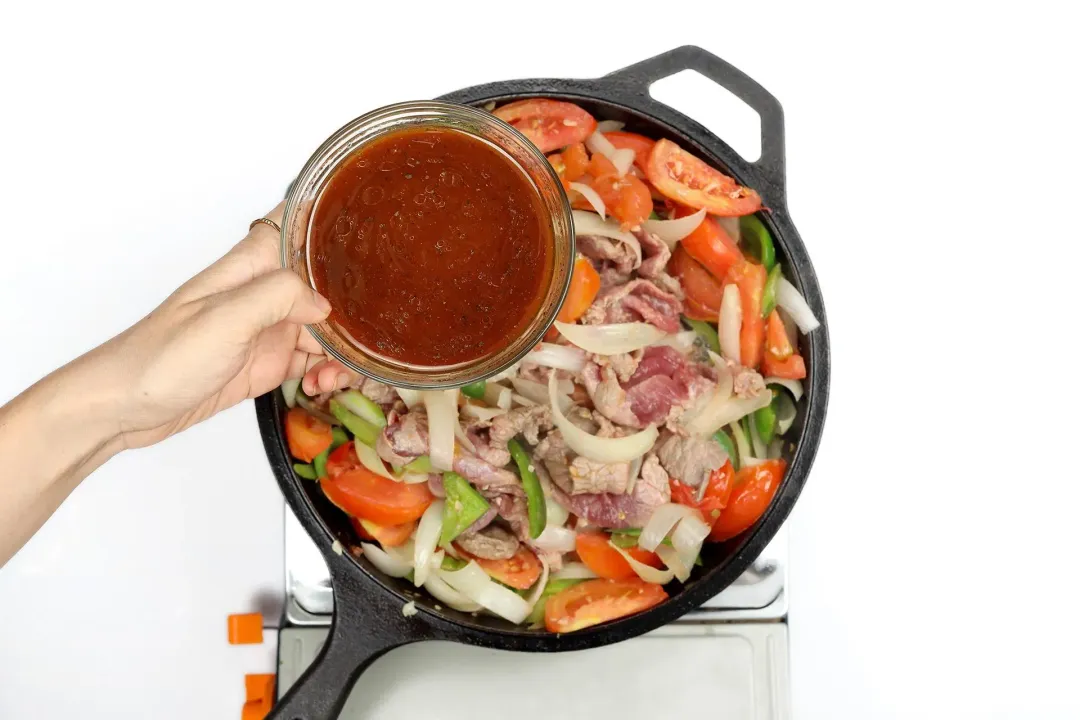 6
Add the Scallions: Add 1/4 cup scallions to stir-fry for another 1 minute.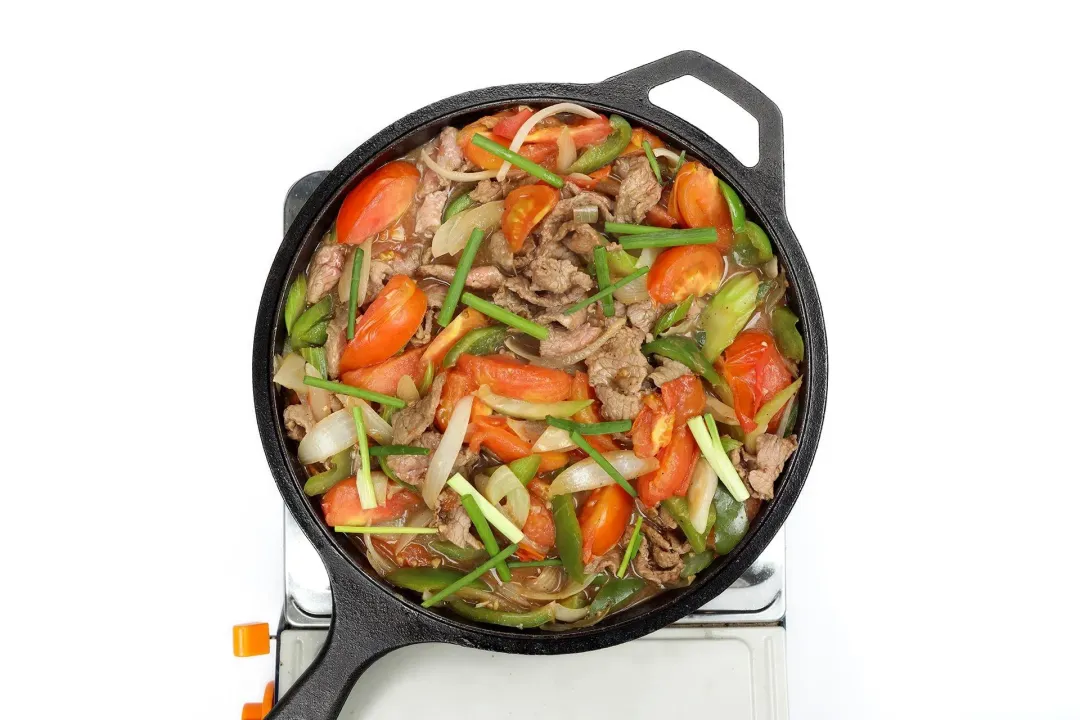 7
Serve: Take off the heat then serve over 3 1/2 cups cooked medium-grain rice.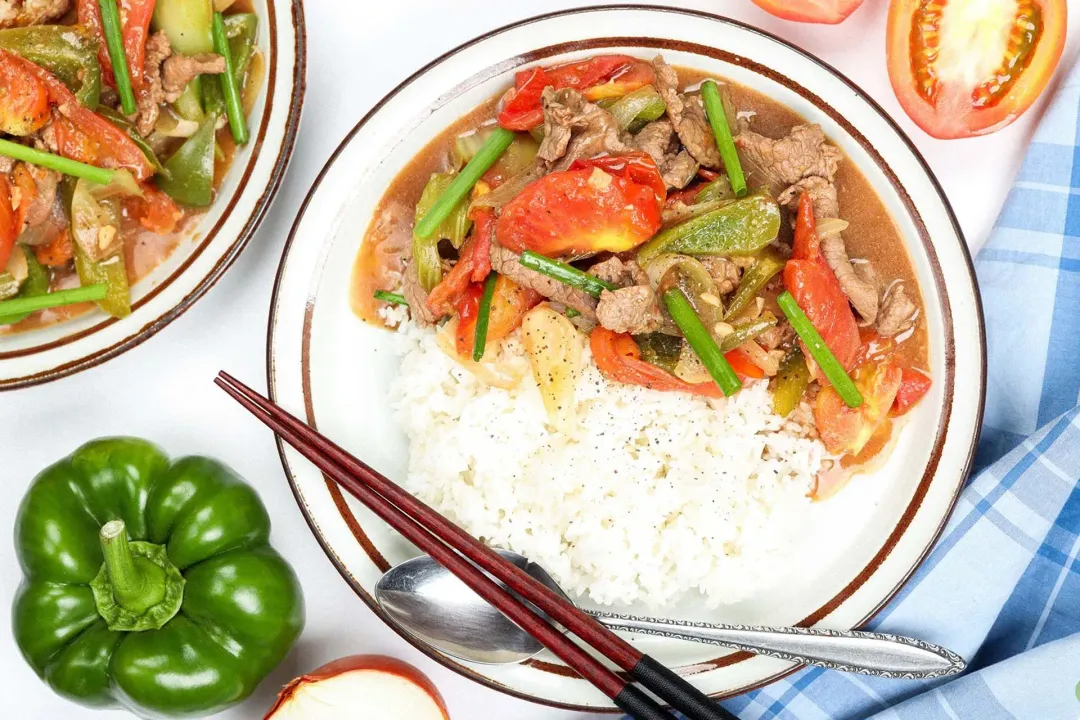 NUTRITION
Nutrition Facts
How to Make Beef Tomato Stir Fry
Amount Per Serving (1 serving)
Calories 468
Calories from Fat 122
% Daily Value*
* Percent Daily Values are based on a 2000 calorie diet.
Keywords: beef tomato, beef tomato recipe, beef tomato stir fry, how to make beef tomato stir fry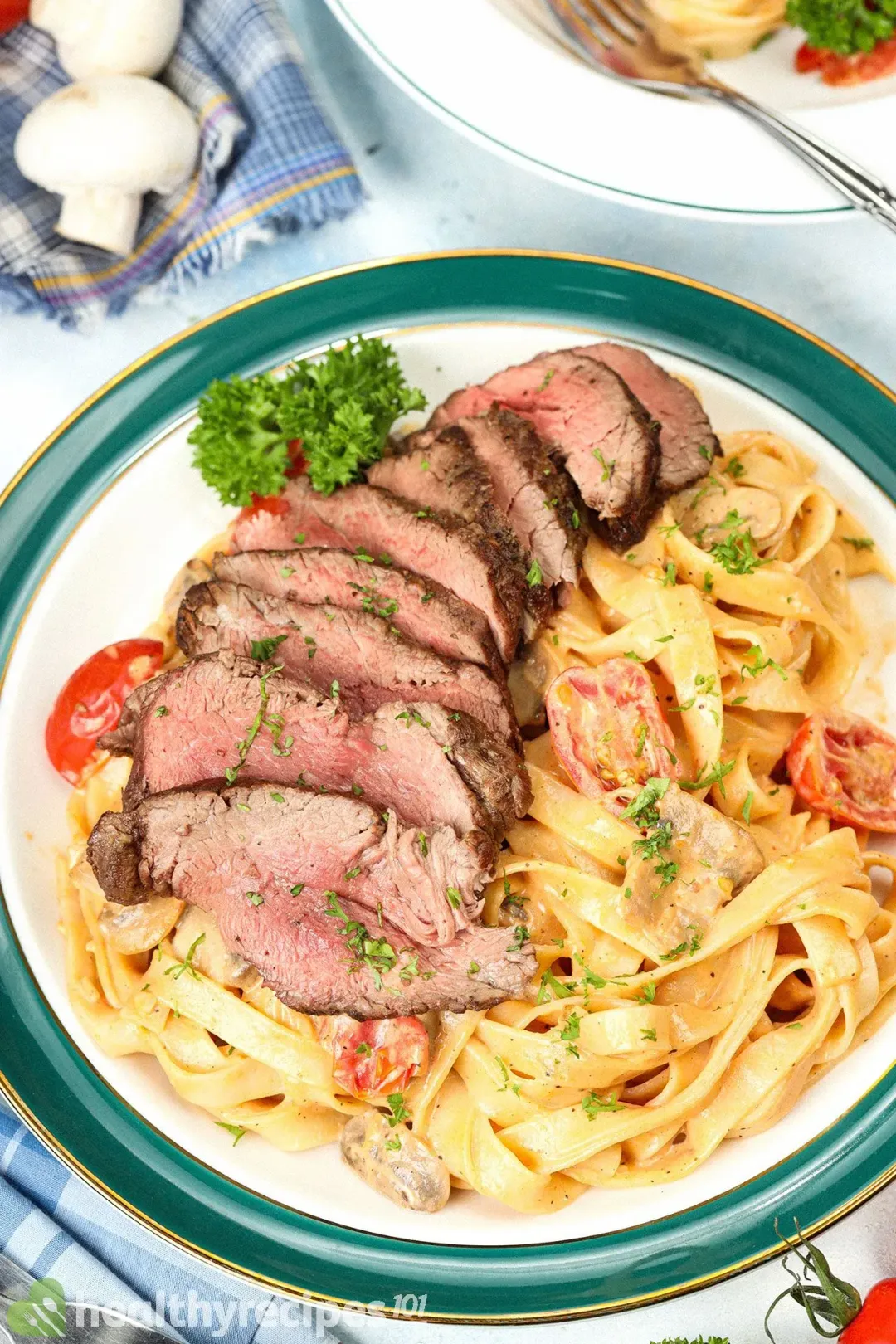 Previous Recipe
Creamy Steak Fettuccine
Creamy Steak Fettuccine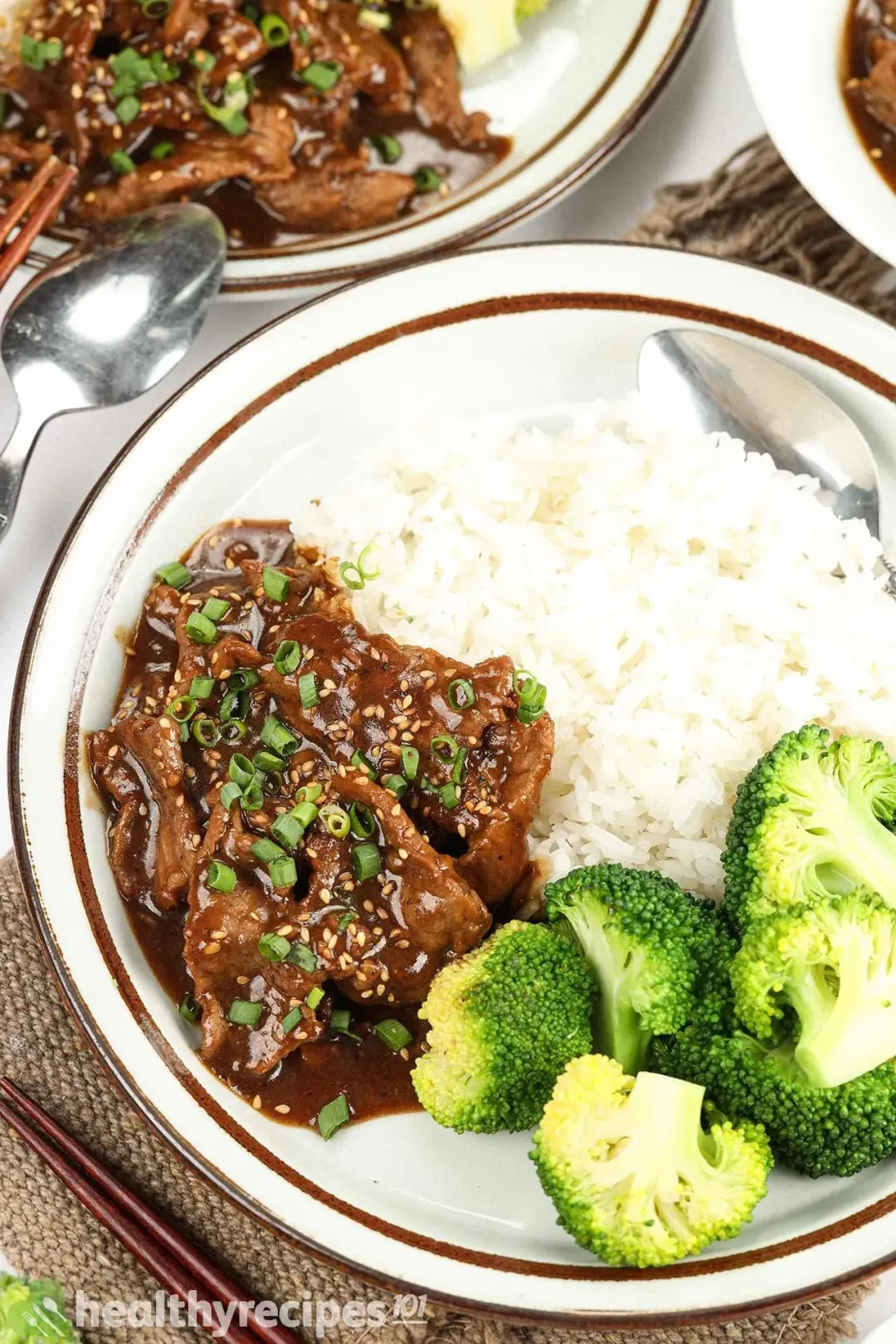 Beef Teriyaki
Head Chef, Culinary Consultant
Tuyet Pham is an award-winning Saigonese chef who believes that joy is the secret ingredient to delicious food. At Healthy Recipes 101, Tuyet personally tests and simplifies every recipe, ensuring maximum flavor with minimal effort. With a background at prestigious French restaurants P'TI Saigon and Le Corto, Tuyet knows how to make every dish exceptional.
Writer, Author
Luna Regina is an accomplished writer and author who dedicates her career to empowering home cooks and making cooking effortless for everyone. She is the founder of HealthyKitchen101.com and HealthyRecipes101.com, where she works with her team to develop easy, nutritious recipes and help aspiring cooks choose the right kitchen appliances.
Nutrition Reviewer
Natalie Butler is a registered dietitian nutritionist with a passion to help others live their best life through food, fitness, safer beauty and a healthy lifestyle. She has expertise with a variety of diets and diseases and believes that there is no one-size-fits-all approach for health.
This beef tomato had such an amazing flavor! The beef was juicy and tender, while the tomato added a burst of lovely acidity. It's definitely one of our favorite dishes.