This creamy steak fettuccine recipe offers a luscious dish of creamy pasta layered with juicy steak, earthy mushrooms, and sweet cherry tomatoes.
The ingredients seamlessly melt into one another, creating an incredible balance of diverse flavors. This complexity, something you'd only expect to find at restaurants, is now brought straight onto the dining table for a spectacular homemade meal.
Is This Recipe Healthy?
With carefully selected and moderated ingredients, this dish can be relatively healthy and good for an indulgent meal.
Each serving contains 497 calories, with approximately 7.3 g saturated fat and 535 mg sodium. These amounts comply with the standards set by our nutrition guidelines.
Nutrient-wise, this dish is loaded with complete protein, mainly thanks to the beef steak. Beef is also a good source of vitamins B12 and B6, along with minerals like zinc, heme iron, and phosphorus. Being mindful of the possible high-fat content in beef, we used flank steak—a cut that's relatively lean with little fat.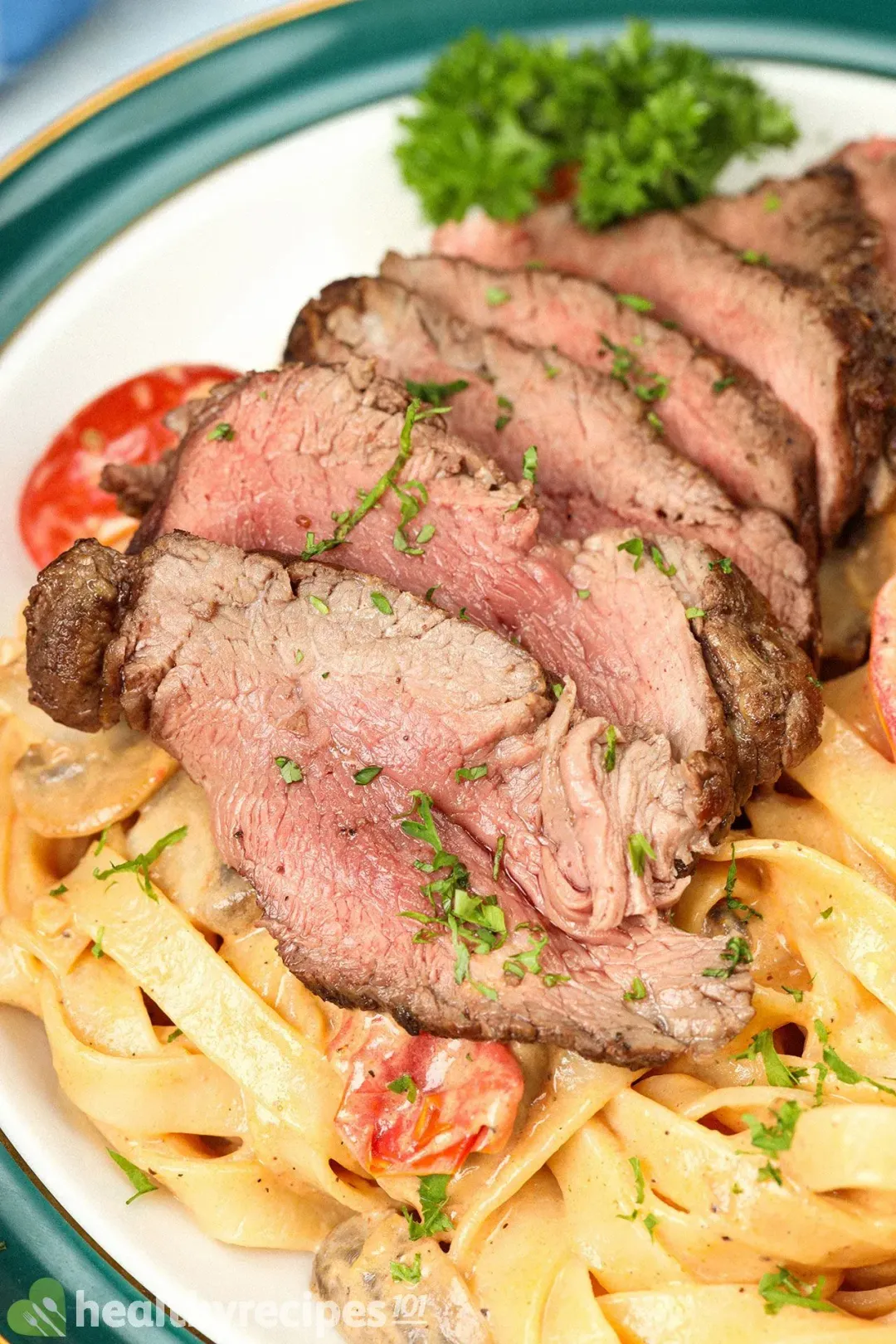 Our recipe also includes vegetables like white mushrooms and cherry tomatoes. These veggies bring a decent amount of fiber, selenium, phosphorus, and various vitamins. Cherry tomatoes, in particular, are known for having lycopene—a compound that may help lower the risk of strokes.
Main Ingredients
As we've kept things minimal and only focused on the essentials to highlight the natural taste of the steak and pasta, you can make this restaurant-worthy dish with ingredients that may already be available in your kitchen.
Beef: We used flank steak. This beef cut is well-loved for its intense beefy flavor. It does have a relatively chewy texture, so be sure to cut across the muscle grain to tenderize the pieces. For this recipe, we cooked the meat to be medium rare—soft meat with a bright red center. To achieve this level of doneness, you can use a meat thermometer to check for an internal temperature of 145 °F or take the hand test.
Pasta: As the name suggests, our recipe uses fettuccine. This ribbon pasta is a popular go-to for dishes with creamy sauces because of its flat and thick strands. If you don't have any on hand, substitute it with spaghetti or linguine.
Vegetables: We kept it simple and used cherry tomatoes and white mushrooms. The mushrooms may seem mild-flavored, but their earthy taste stands out quite nicely when paired with the savory beef and creamy sauce. The cherry tomatoes' delightful sweetness helps to complement the sauce, which has a tomato paste base.
Tomato Paste: We used tomato paste to infuse the dish with its signature sweet-sour taste. The flavors are quite concentrated and intense, however, so we only used 1 tablespoon to avoid overpowering the other ingredients.
Chicken Broth: As mentioned above, the paste can be quite strong, so we added some chicken broth to slightly dilute it. The broth also adds subtle warm flavors to the intense sauce.
Dairy Products: Heavy cream and milk were used to make the creamy sauce that defines this dish. They also give the sauce a luscious texture that clings nicely onto the pasta.
Seasonings: Since flank steak is generally quite flavorful, we only used salt and pepper for seasonings to enhance its natural taste.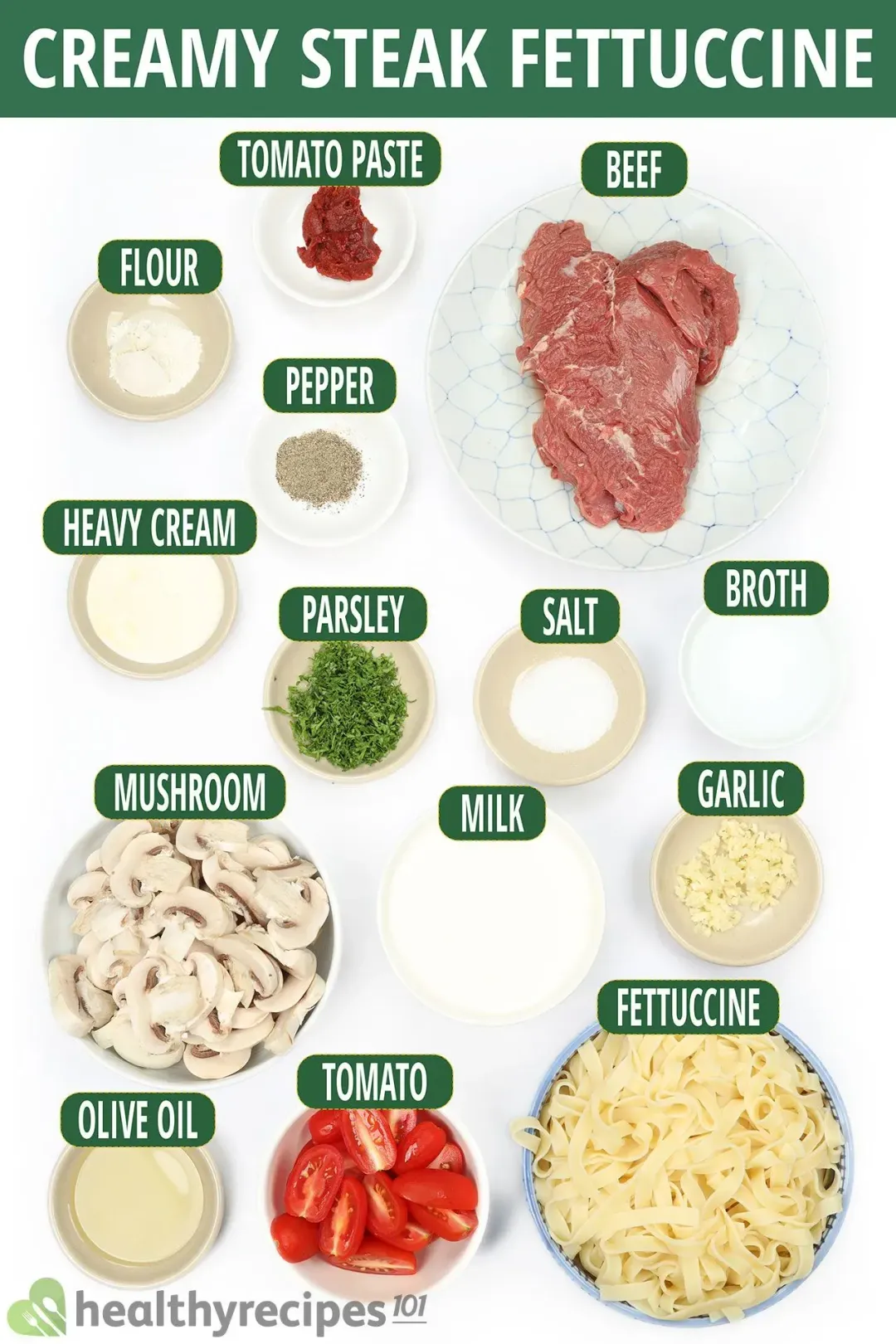 Tips for Cooking a Perfect Steak
Read up on these small steak-cooking tips that could make huge changes to the taste of your dish:
If you're using tougher meat cuts, like flank, skirt, or hanger, cut across the grains rather than parallel to shorten the muscle fibers. This makes the meat more tender and easier to chew. To identify these grains, look for lines that run lengthwise or crosswise along the surface.
Gently pat dry the steak with paper towels before placing it on the heat. The excess moisture will be removed, and the meat will brown better, with a crispy instead of soggy exterior.
The heat might not distribute evenly if the pan has too many ingredients. Cook the steak separately with no more than two pieces in the pan at a time.
Let the Steak Rest Before Serving
When the steak is taken off the heat, let it rest for 5-10 minutes to give the juice time to distribute evenly throughout the meat. If the meat is sliced immediately, this juice might spill out onto the plate, resulting in a loss of flavors and texture.
How to Store and Reheat Leftovers
This dish shouldn't be left for more than 2 days in the fridge. To reheat, you can simply microwave it at full power for 1 minute or give it a quick stir on the stovetop over medium heat.
Side Dishes
Since this creamy steak fettuccine already makes such a flavorful main dish, go for a fresh salad to lighten the palate. Here are some of our recommendations: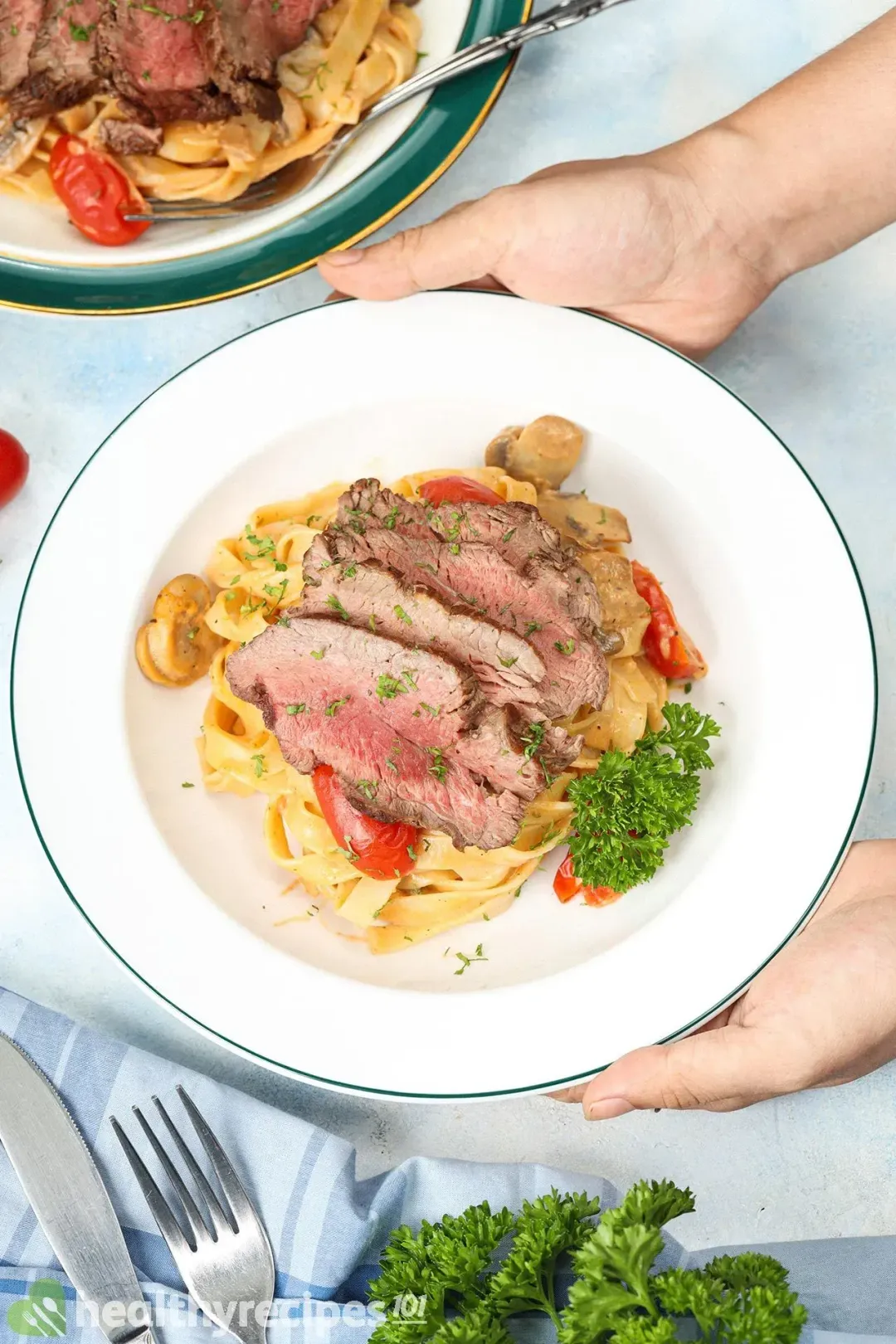 Try Something New Tonight with These Delicious Beef Pasta Ideas
This Mexican Spaghetti recipe is a delicious twist on traditional spaghetti. With the addition of spices such as cumin and chili powder, along with ground beef and diced tomatoes, this dish is sure to be a hit at your next family dinner.
This hearty and flavorful ragu is packed with veggies and tender chunks of beef. The sauce is made with a combination of crushed tomatoes, beef broth, red wine, and aromatics like onions and garlic. Serve over pasta or polenta for a filling and nutritious meal.
Whether you prefer creamy sauces or spicy flavors, our roundup of beefy pasta dishes has something for everyone.
How to Make Creamy Steak Fettuccine
This creamy steak fettuccine recipe offers a luscious dish of creamy pasta layered with juicy steak, earthy mushrooms, and sweet cherry tomatoes. It's a restaurant-worthy dish that comes together in less than an hour, making it an ideal main for almost any occasion.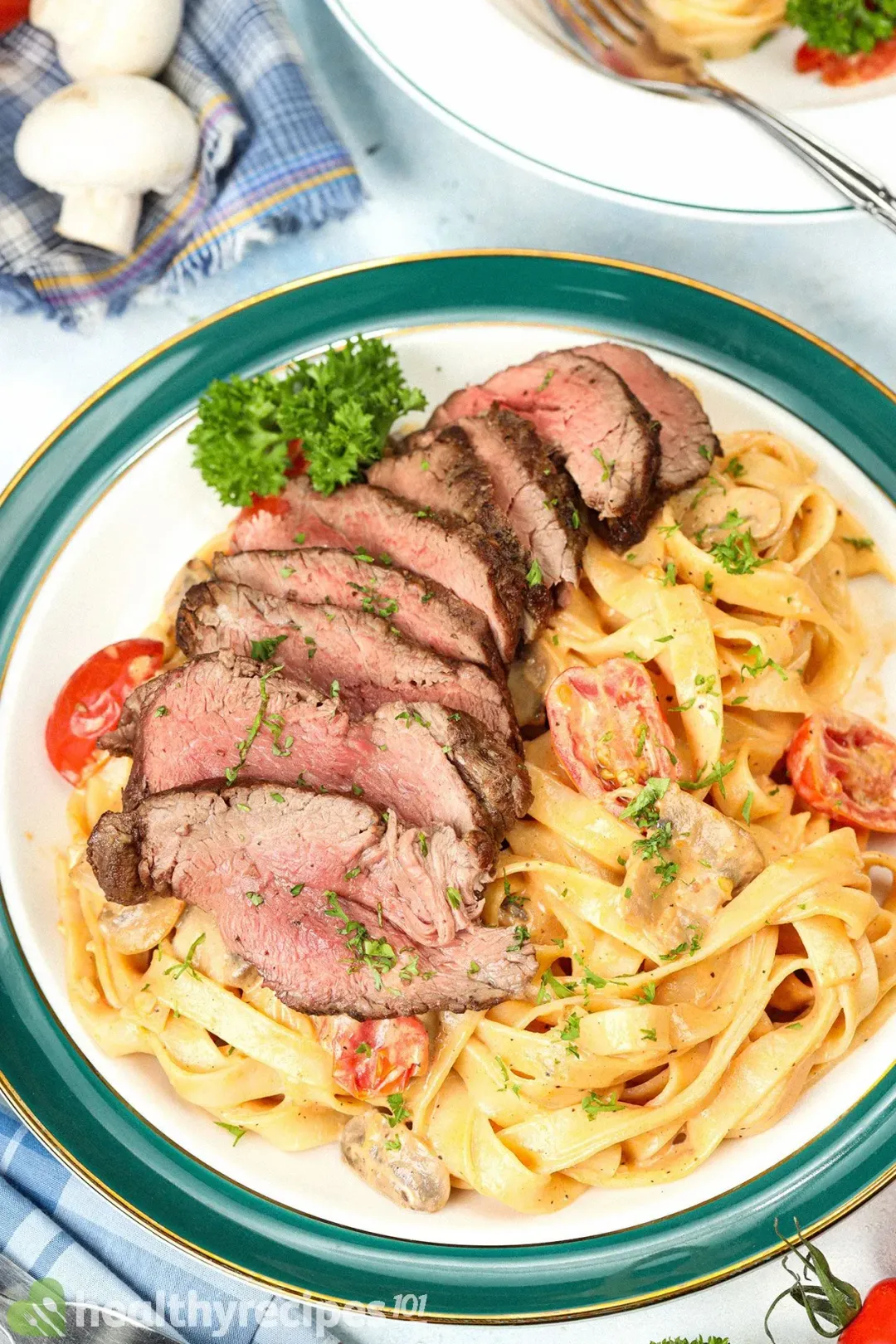 cook TIME

30 mins

prep TIME

15 mins

total TIME

45 mins
COURSE

Main Course

CUISINE

American

SERVINGS

CALORIES

479 kcal
INGREDIENTS
14 oz

cooked fettuccine

(from 7 oz uncooked)

6 oz

cherry tomatoes

(halved)

8 oz

white mushrooms

(sliced)

1 tbsp

Hunt's tomato paste

1/4 cup

unsalted chicken broth

2 tbsp

olive oil

(devided)

3/4 tsp

salt

(devided to 1/2 tsp, 1/4 tsp)

1/2 tbsp

all-purpose flour
INSTRUCTIONS
Prep:
1
Cook the Pasta: Check the package for specific instructions, then boil the water, add the pasta, and cook. Gently stir every few minutes until al dente then drain with a colander.
2
Slice the Tomatoes in Half.
4
Mince the Garlic: Thinly slice the peeled cloves. Rock the knife up and down over the sliced pieces, from left to right until they become finely minced.
5
Chop the Parsley: Remove the stems, then bunch the leaves together and thinly slice. Chop the parsley by rocking the knife up and down a few times until the leaves turn into fine pieces.
Cook:
1
Pan-sear the Steak: Turn the heat up to medium-high then down to medium as soon as the pan is hot, add 1 tbsp olive oil then add 16 oz flank steak to sear for 5 minutes on both sides. Season with 1/4 tsp salt and 1/4 tsp pepper while you cook.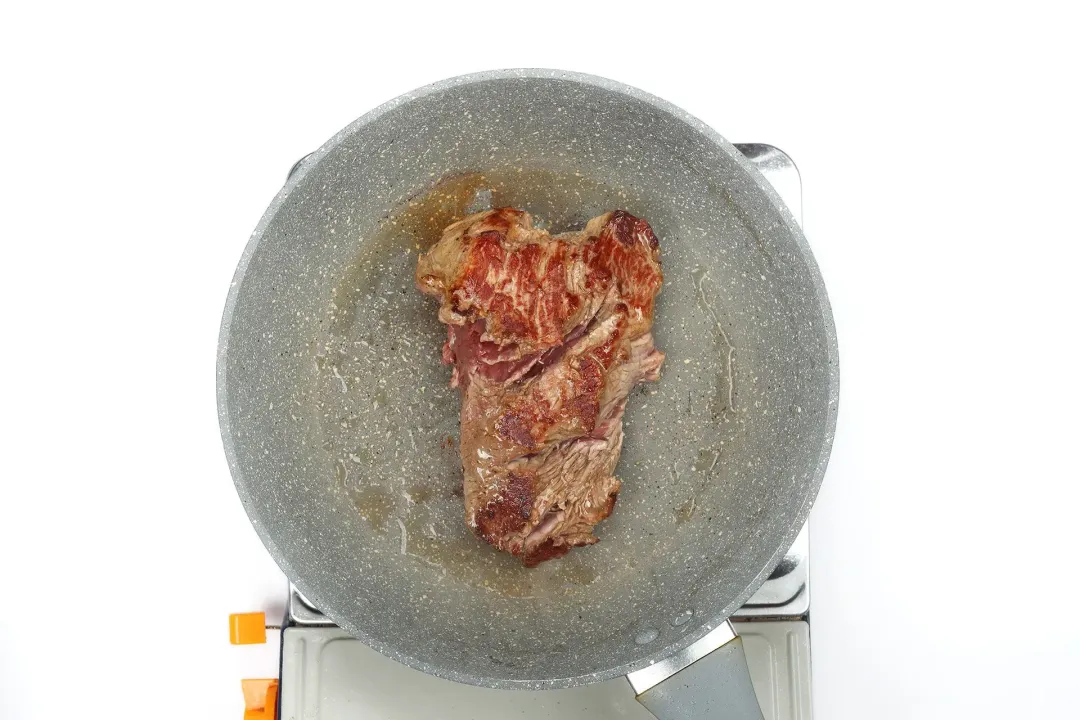 2
Air-fry the Steak: Remove the steak from the pan and put it in the air-fryer for 12 minutes at 375 °F.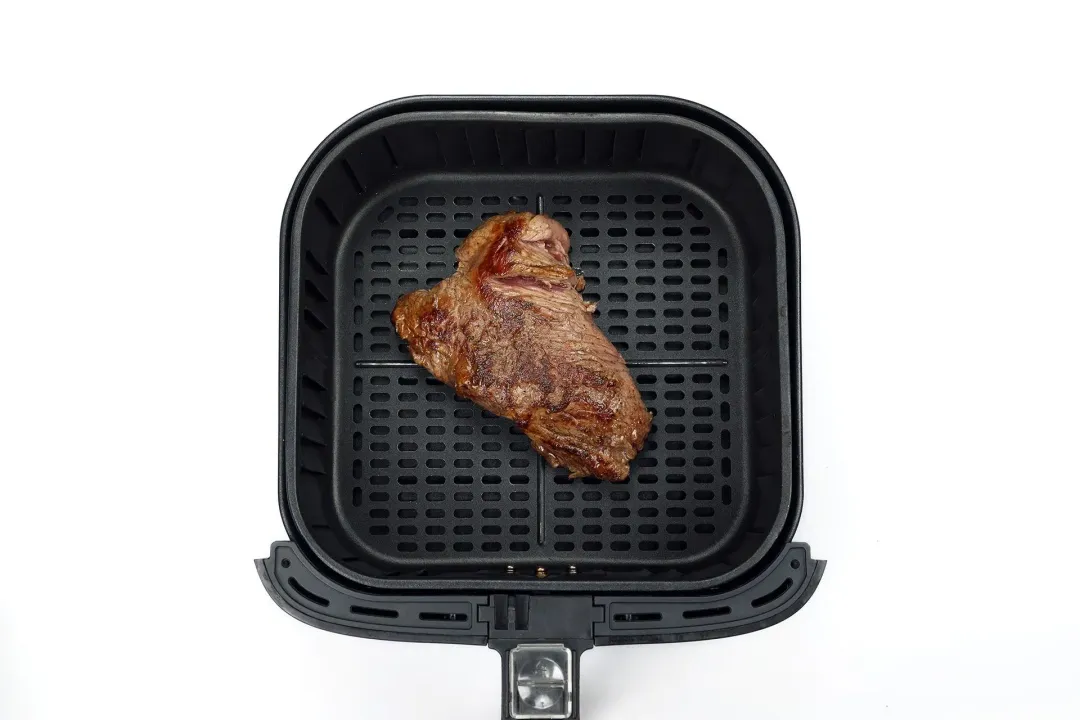 3
Sauté the Aromatics: Continue sautéing 1 tbsp garlic with 1 tbsp olive oil for 30 seconds until fragrant.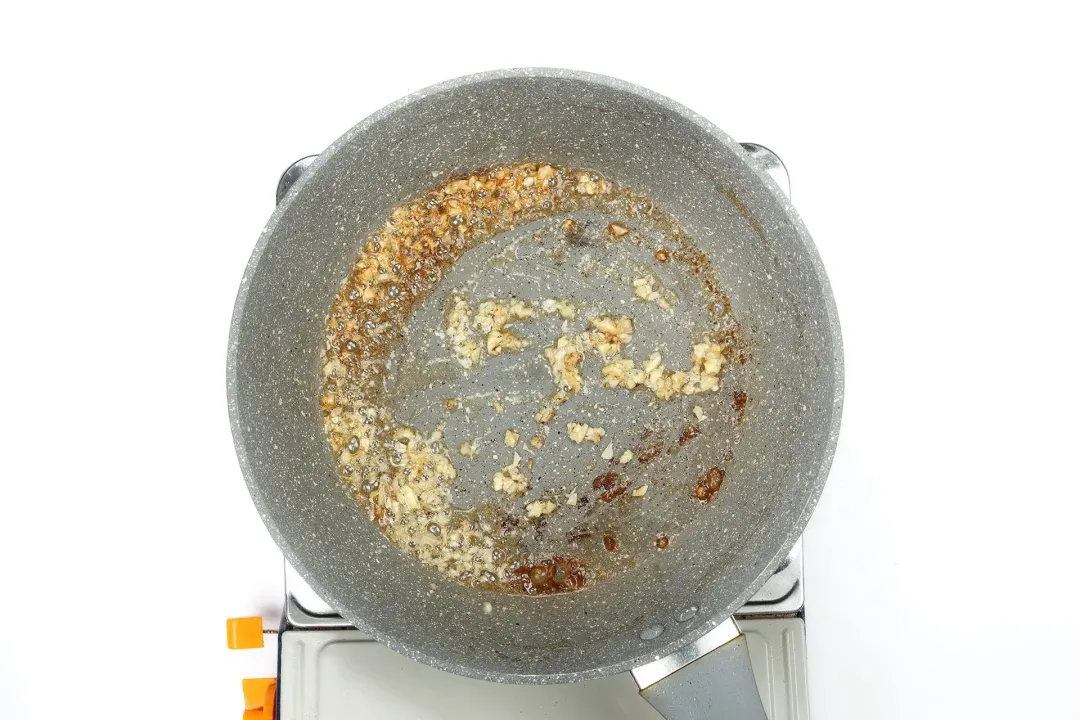 4
Sauté the Mushrooms: Add 8 oz white mushrooms and sauté for another 4 minutes until brown.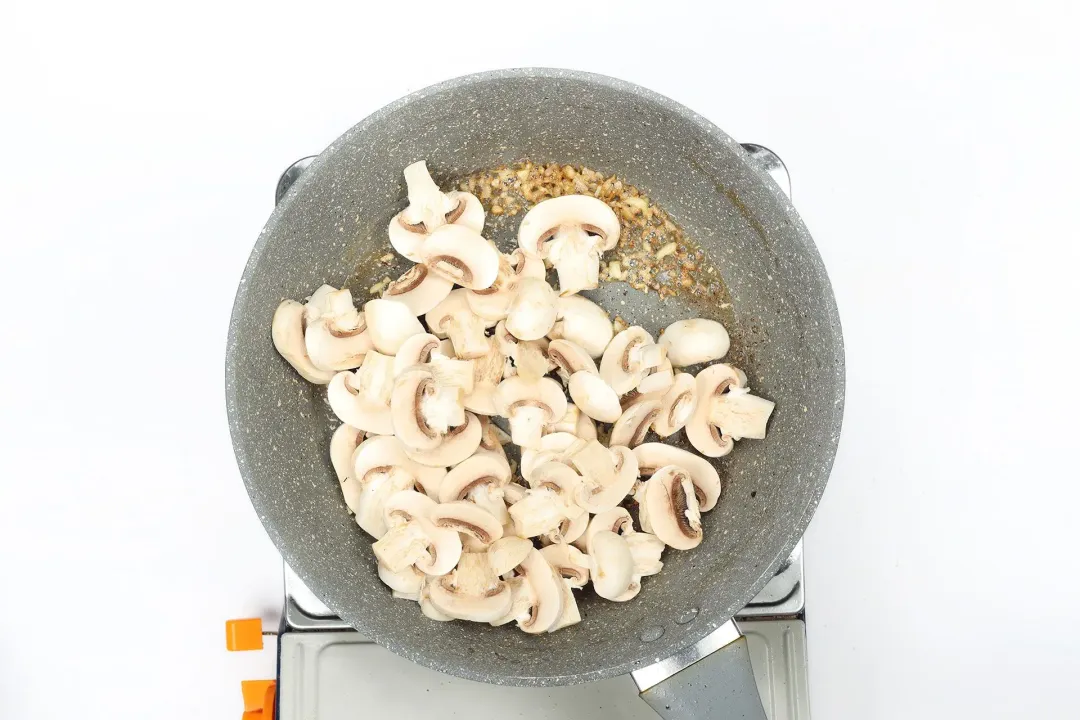 5
Add the Tomatoes & Paste: Add 6 oz cherry tomatoes and 1 tbsp Hunt's tomato paste to sauté for another 2 minutes.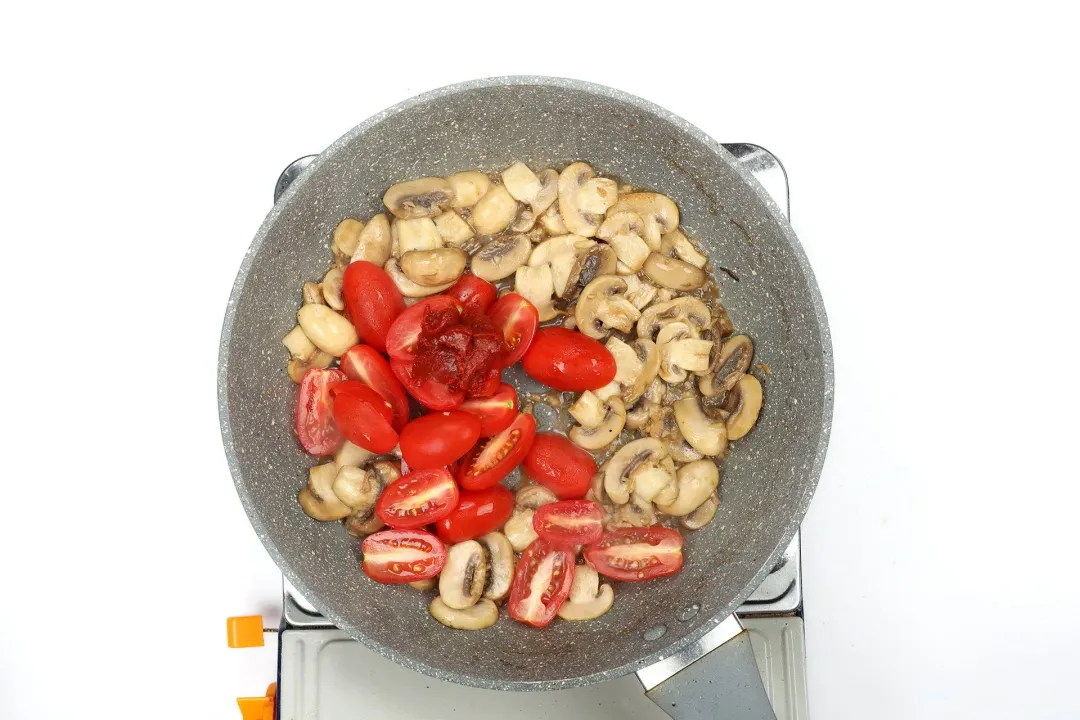 6
Add the Flour and Seasonings: Add 1/2 tbsp all-purpose flour, 1/2 tsp salt, and 1/4 tsp pepper, and stir until mixed well with the mushrooms and tomatoes.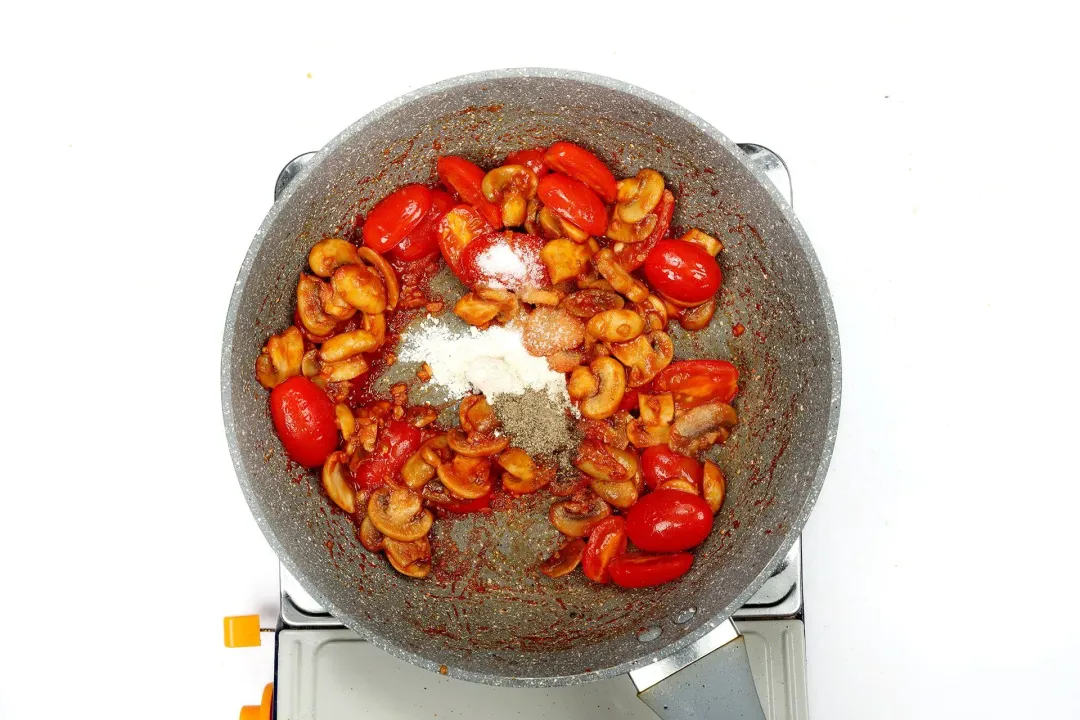 7
Add the Liquids: Add 1 cup milk, 3 tbsp heavy cream, 1/4 cup water, and 1/4 cup unsalted chicken broth to cook for another 4 minutes over medium heat.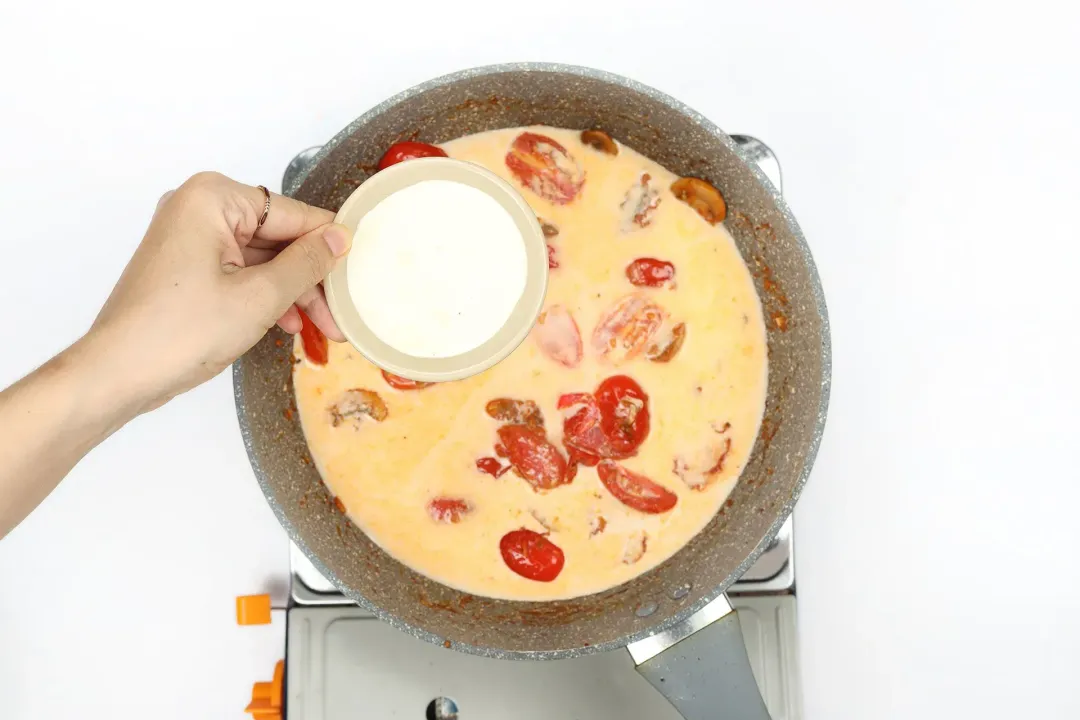 8
Add the Pasta: Add 14 oz cooked fettuccine and stir for another 2 minutes until everything is well-mixed.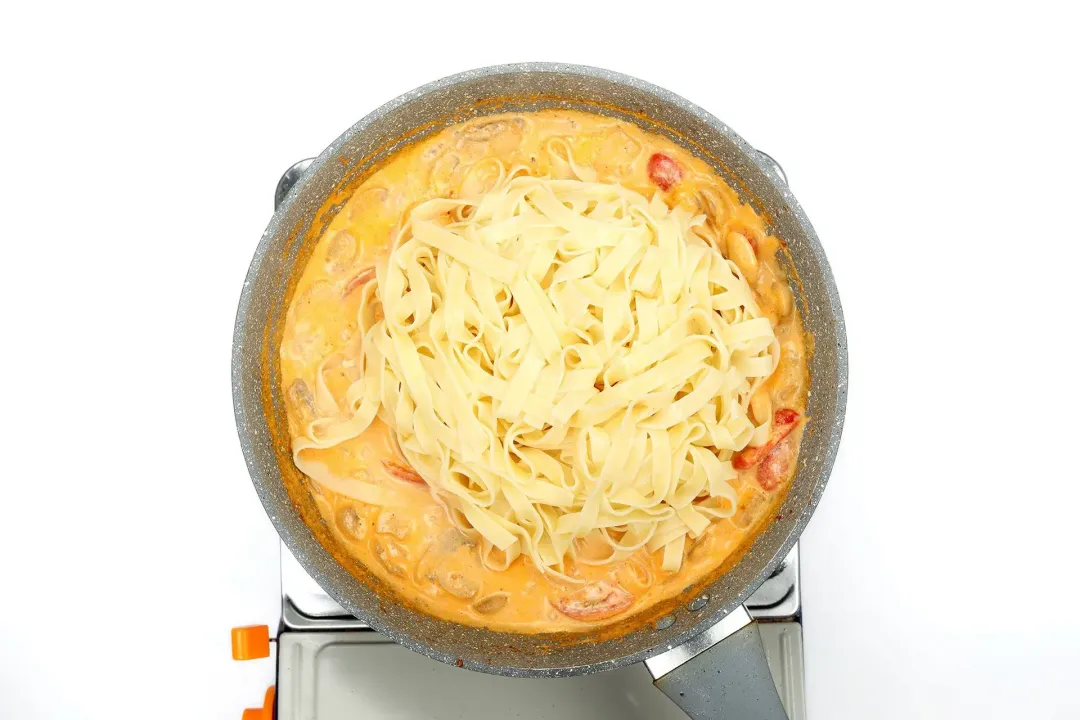 9
Slice the Steak, Garnish and Serve: Slice the steak into 1/5 inch-thick pieces. Transfer the beef and pasta onto serving plates, garnish with 2 tbsp parsley, and serve hot.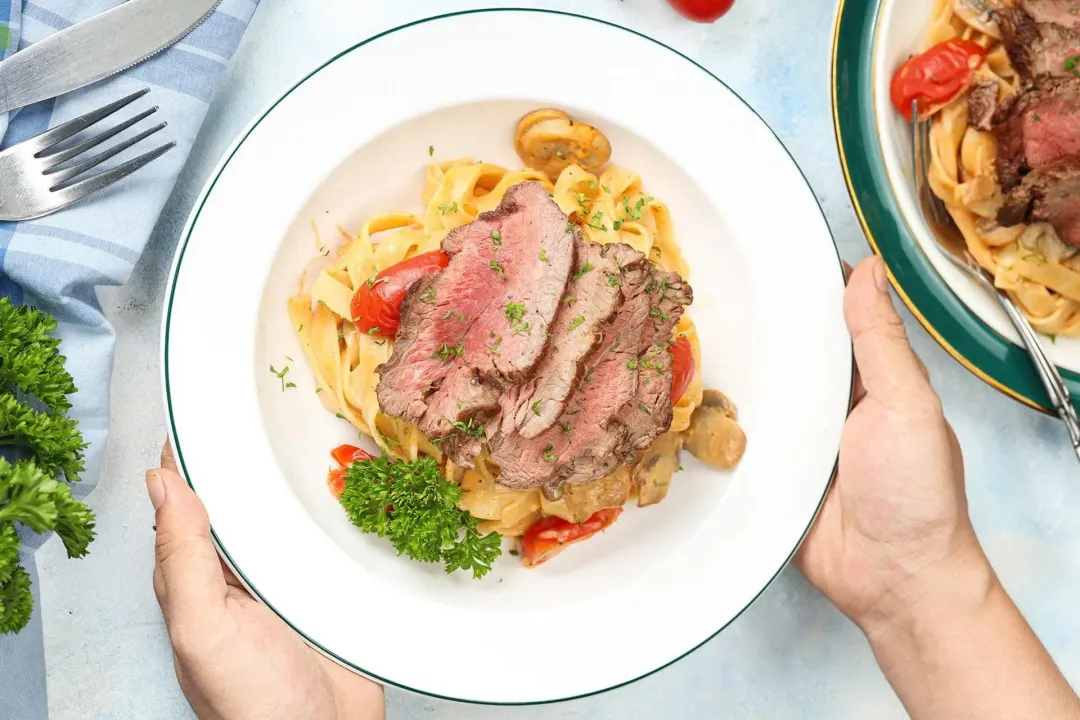 NUTRITION
Nutrition Facts
How to Make Creamy Steak Fettuccine
Amount Per Serving (1 serving)
Calories 479
Calories from Fat 180
% Daily Value*
* Percent Daily Values are based on a 2000 calorie diet.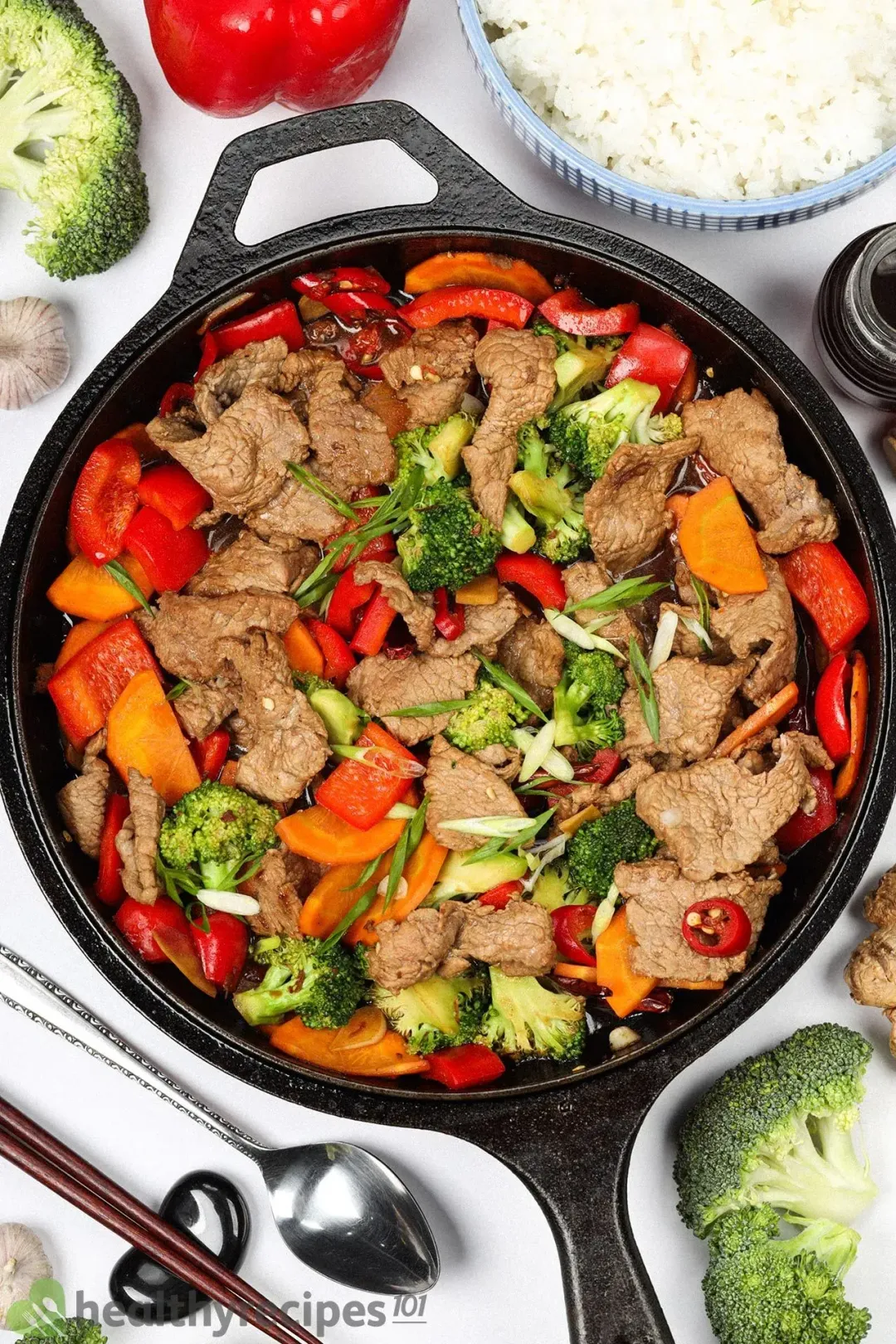 Previous Recipe
Hunan Beef
Hunan Beef
Beef Tomato
Head Chef, Culinary Consultant
Tuyet Pham is an award-winning Saigonese chef who believes that joy is the secret ingredient to delicious food. At Healthy Recipes 101, Tuyet personally tests and simplifies every recipe, ensuring maximum flavor with minimal effort. With a background at prestigious French restaurants P'TI Saigon and Le Corto, Tuyet knows how to make every dish exceptional.
Writer, Author
Luna Regina is an accomplished writer and author who dedicates her career to empowering home cooks and making cooking effortless for everyone. She is the founder of HealthyKitchen101.com and HealthyRecipes101.com, where she works with her team to develop easy, nutritious recipes and help aspiring cooks choose the right kitchen appliances.
Nutrition Reviewer
Natalie Butler is a registered dietitian nutritionist with a passion to help others live their best life through food, fitness, safer beauty and a healthy lifestyle. She has expertise with a variety of diets and diseases and believes that there is no one-size-fits-all approach for health.
I just made this steak fettuccine and it was absolutely delicious! The flavors were out of this world - so creamy, flavorful, and unforgettable. This is definitely a keeper recipe! Highly recommend to all steak lovers out there!

Rich and creamy steak fettuccine dish.