This healthy lasagna recipe may not be authentic, but it still makes delicious, hearty, comforting pasta. If you've never had this iconic Italian dish before, here are some interesting facts you may want to know.
What Is Lasagna?
"Lasagna" is a type of pasta. This flat, thin sheet of pasta is made with wheat flour, egg, olive oil, and salt.
Lasagna is also the name of an Italian casserole dish. This dish consists of thin pasta sheets stacked on top of each other with layers of various fillings in between.
Fillings for this classic Italian pasta casserole are often meat-based sauces like Bolognese, vegetables, and different types of cheese. Popular variations of this pasta casserole also include a type of sauce called bechamel which we will explain more about in the "Sauces" section below.
Is This Lasagna Recipe Healthy?
There's often a misconception that this baked Italian casserole contains nothing but carbs and fat from all the dairy. We're going to prove that it can be healthy, too.
First of all, this recipe adheres to our healthy eating guidelines. This means it contains a reasonable amount of calories, saturated fat, and sodium.
We want to prevent overconsumption of saturated fat and sodium as it can affect your health dramatically. For example, excess sodium intake can increase your blood pressure and the risk of heart disease.
In addition, our serving of lasagna contains lots of vital nutrients and minerals such as vitamin A, C, K, etc. These micronutrients play an important role in maintaining a healthy immune system and brain function.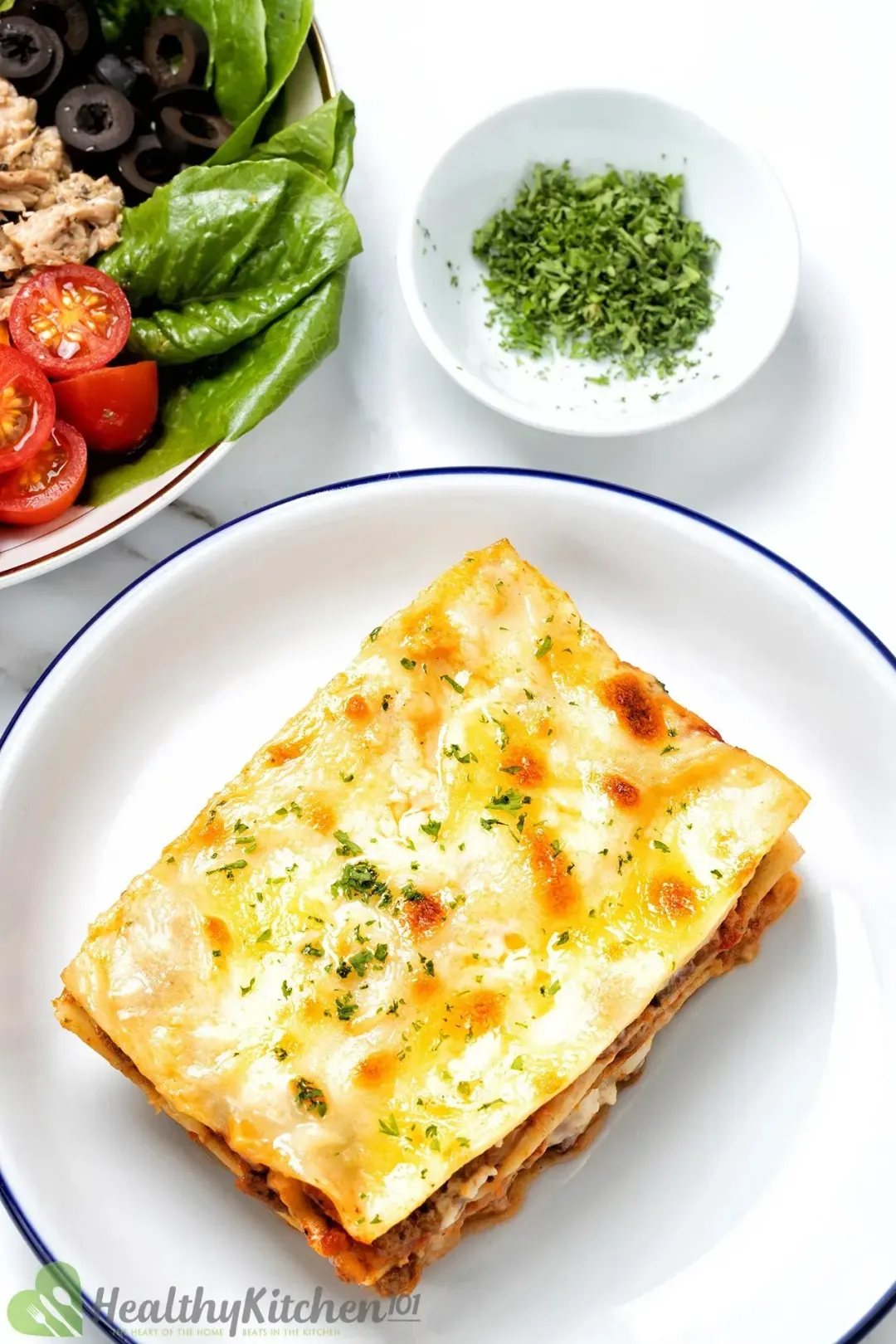 Lasagna Nutrition Facts
1. Calories
Our lasagna contains 495 calories per serving. By limiting the amount of dairy in the recipe, we have lowered the number of calories per serving.
This is just enough calories for your body to function properly. If you want a wholesome dinner, we suggest serving it with a side dish to make a 750-calorie meal.
We will discuss ideas for side dishes later.
2. Carbs
There are 46 g of total carbohydrates per serving. It may seem like a lot, but it's less than 20% of your recommended daily intake of carbs.
In addition, this amount of carbs contains 6.5g of dietary fiber. Since your body can't absorb or digest fiber, you consume about 40g of total carbs.
3. Protein
Today's lasagna contains almost 30g of protein per serving.
Since this dish contains lots of protein, it can help repair and strengthen muscle tissue after resistance exercises. Being high in protein and fiber means that one portion will keep you satiated for a long time as well.
Healthy Lasagna Ingredients
Here are the main ingredients for today's lasagna recipe:
Pasta: lasagna noodles. You can use the oven-ready lasagna sheets and skip the boiling process but we'll stick to the regular type for this recipe.
Water: to cook the pasta. You should preserve the pasta water to cook the Bolognese later.
Main protein: lean ground beef.
Seasonings: minced garlic, paprika, Italian seasoning, oregano, and garlic powder.
Vegetables: onions, bell peppers, carrots, tomatoes.
Condiments: tomato paste, tomato sauce, red wine, 
Spices: sugar, salt, and ground black pepper.
Dairy: unsalted butter, whole milk, parmesan, and mozzarella cheese
Herb: parsley, for garnish.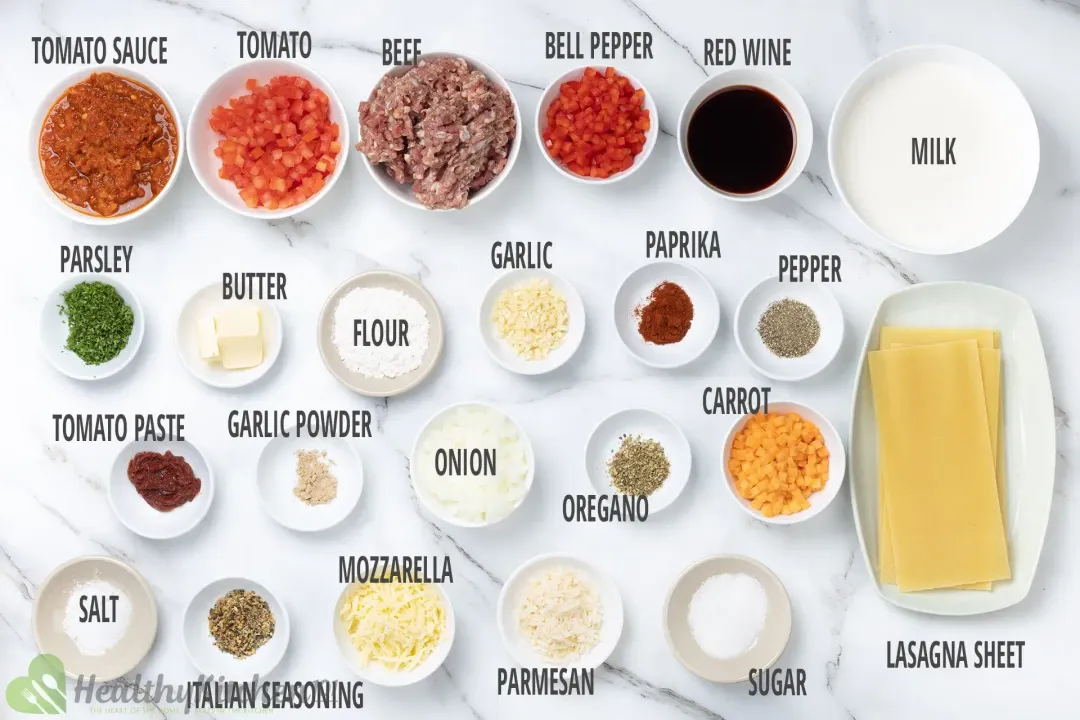 Sauces for Lasagna
As mentioned, there are two types of common sauces that go into this Italian pasta casserole: Bolognese and white sauce.
1. Bolognese Sauce
Bolognese is a type of meat-based tomato sauce. This fresh, tangy, flavorful sauce is packed with tomatoes, vegetables, ground meat, and all sorts of seasonings.
2. Bechamel Sauce (White Sauce)
Bechamel sauce, also known as white sauce, is a type of roux-based sauce. It is commonly made by whisking butter and flour with milk.
Seasonings for white sauce are simple, being just salt and pepper. Freshly ground nutmeg is sometimes added to the sauce to give it an extra rich flavor.
Although both sauces have different flavor profiles, when put in lasagna, they complement each other. Rich, creamy, fresh, tangy, and savory they create a burst of flavors in every bite. Our Cauliflower Lasagna Recipe is an excellent example of this.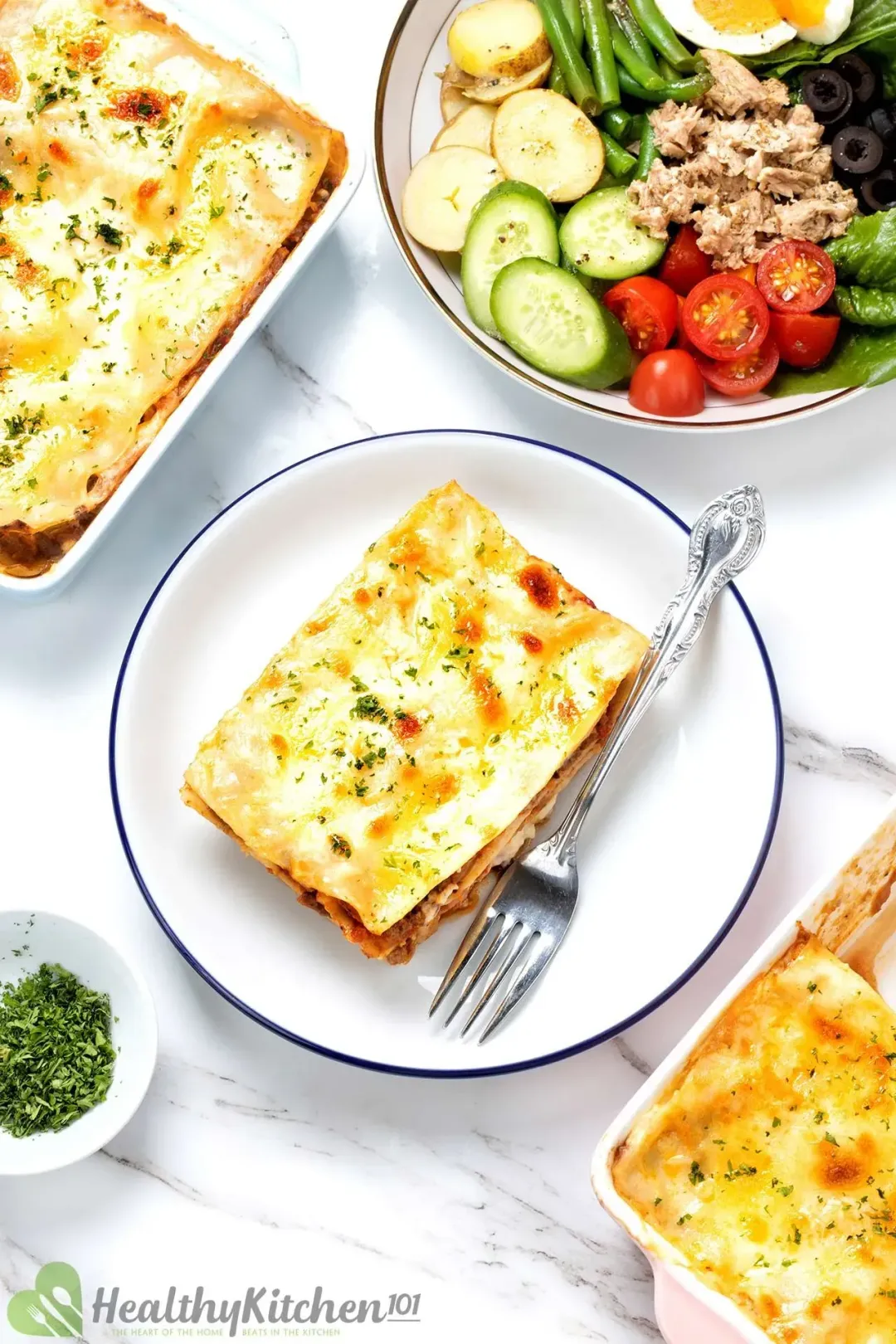 What Else Goes Well with Lasagna?
1. Other Types of Meat
Instead of ground beef, you can opt for either ground pork, chicken, or turkey. Look for 85% lean or higher to minimize your saturated fat intake.
2. Ricotta Cheese
Ricotta is a type of soft cheese with a creamy, moist texture. You can use it to replace the aforementioned white sauce.
3. Mushroom
Mushrooms are a great source of antioxidants, fiber, and protein. For today's recipe, we figured button mushrooms to be the best fit.
We highly recommend sautéing the mushrooms in a separate pan until caramelized before adding to the bolognese sauce. When caramelized, mushrooms give out an umami flavor and have a meat-like texture that will intensify your sauce.
Caramelized mushrooms can be a great substitute for ground beef to make a vegetarian/vegan version as well.
4. Pumpkin
Pumpkin may sound like an odd ingredient to find in a lasagna recipe. But, we insisted on giving it a try and maybe we'll change your mind.
Cut the pumpkin into chunks, ¼-inch thick, and lightly season with olive oil, salt, and pepper. Bake the pumpkin until golden brown or lightly charred on the outside and tender on the inside.
Add the cooked pumpkin to your pasta as a layer under the bolognese sauce. The sweet pumpkin and tangy tomato sauce create a pleasant, balanced harmony of flavors.
5. Shrimp
If you've never had shrimp lasagna before, you should give it a try.
Since shrimp will be the main protein, you no longer need ground beef in the bolognese sauce. Just make a simple tomato and vegetable sauce.
As for the shrimp, lightly season it with Italian seasoning, salt, and pepper, and sear until cooked on both sides. Add the cooked shrimp to the tomato sauce and add it to your pasta casserole.
6. Spinach
Adding spinach is a good way to sneak more fiber into your diet.
To prepare the spinach, cook in boiling water for 5 minutes. Remove with a slotted spoon, rinse with cold or running tap water.
Squeeze the spinach to wring the water out as much as possible. Roughly chop the spinach, add it to your white sauce or mix it with ricotta cheese, and place it between the layers.
How to Make Homemade Lasagna
Here's a brief summary of our healthy lasagna recipe:
It may sound complicated, but the cooking process is actually simple. We will give detailed instructions later.
How to Layer Lasagna
Start with a thin layer of bolognese sauce on the bottom of the baking dish.
Spread the white sauce on top of the meat sauce.
Lay the pasta sheet on top of the sauce.
Continue to add another layer of white sauce on top.
Finish off with grated parmesan and shredded mozzarella cheese.
How Long to Bake Lasagna
In today's recipe, we bake our lasagna at two different temperatures: 375°F and 430°F. Here's why:
1. At 375°F
At this temperature, we cover the baking dish with aluminum foil and bake for 20 minutes on the middle rack. This allows the pasta to cook all the way through.
Keep in mind that we've partially cooked the pasta before baking. If you don't pre-cook your pasta sheets, you should bake the casserole at 350°F for 30 to 40 minutes.
2. At 430°F
After the pasta is cooked, we add cheese on top of the lasagna and crank the heat up to 430°F. This high temperature allows the cheese to fully melt and caramelize quickly.
We also put the baking dish on the top rack instead of the middle to help it cook faster.
What to Serve with Lasagna
Lasagna can be served as is or accompanied by an appetizer or a side dish. Here are a few simple options for you to consider.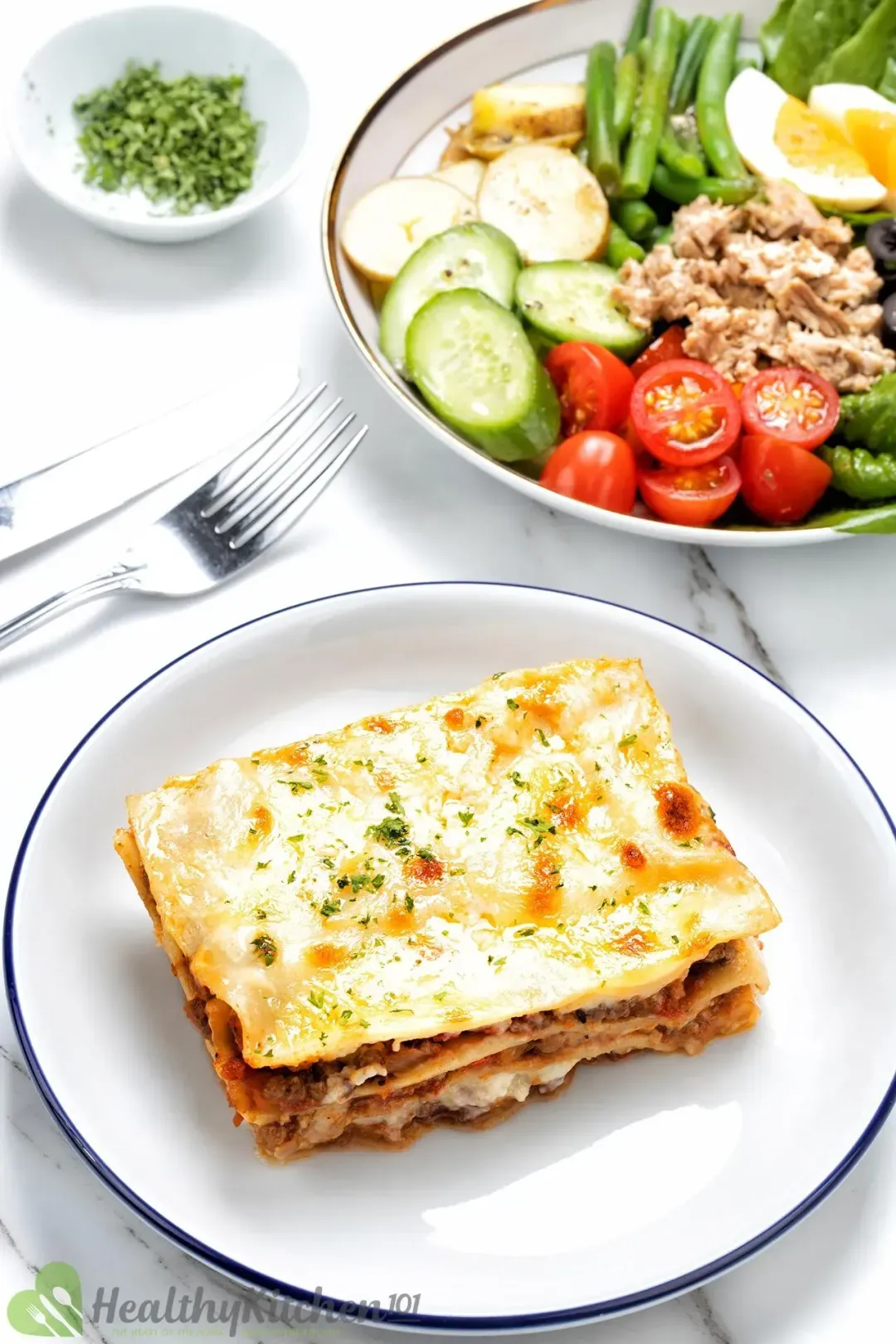 1. Salad
Our Italian pasta casserole is already a nutritious dish on its own, but it still doesn't contain enough fiber. We recommend serving with a side of salad to up the fiber intake.
A simple salad loaded with fresh vegetables and a tangy dressing will liven up your taste buds to enhance the overall experience.
2. Meal Plan with Lasagna
For today's meal plan, we suggest pairing lasagna with our Nicoise salad.
This salad is full of protein and fibrous vegetables. Along with the baked pasta, this protein-rich, high-in-fiber meal can help you maintain muscle and stay full for a long time.
The nutrition facts of this meal combination are as follows:
How to Freeze and Reheat Lasagna
Lasagna freezes well and can last up to one month in the freezer.
It would be best to divide the leftovers into serving portions before placing them in freezer-safe containers. This will allow you to take one serving out of the freezer and thaw it with ease.
You can defrost the pasta slowly in the fridge overnight or in the microwave for a few minutes.
Reheating is also simple. All you need to do is place it in the microwave and it will be ready in minutes.
Keep in mind that once thawed, the pasta will have a slightly different, rather mushy, texture. However, texture aside, the flavors remain, and it will still be thoroughly enjoyable.
In case you are now craving more healthy casserole, our top delicious casserole roundup is a lovely option.
How Long Does Lasagna Last?
If stored properly, your pasta casserole will last for up to 5 days in the refrigerator.
We recommend letting any leftovers cool completely before placing them in airtight containers and the fridge.
If you put the warm pasta in the container too early, it releases steam which is trapped inside the container. This creates an ideal, moist, and warm environment for bacteria to grow and spoil the food.
It's best to let the pasta come to room temperature, but no longer than 2 hours after cooking. The longer you leave the food out, the more bacteria will grow and affect the food.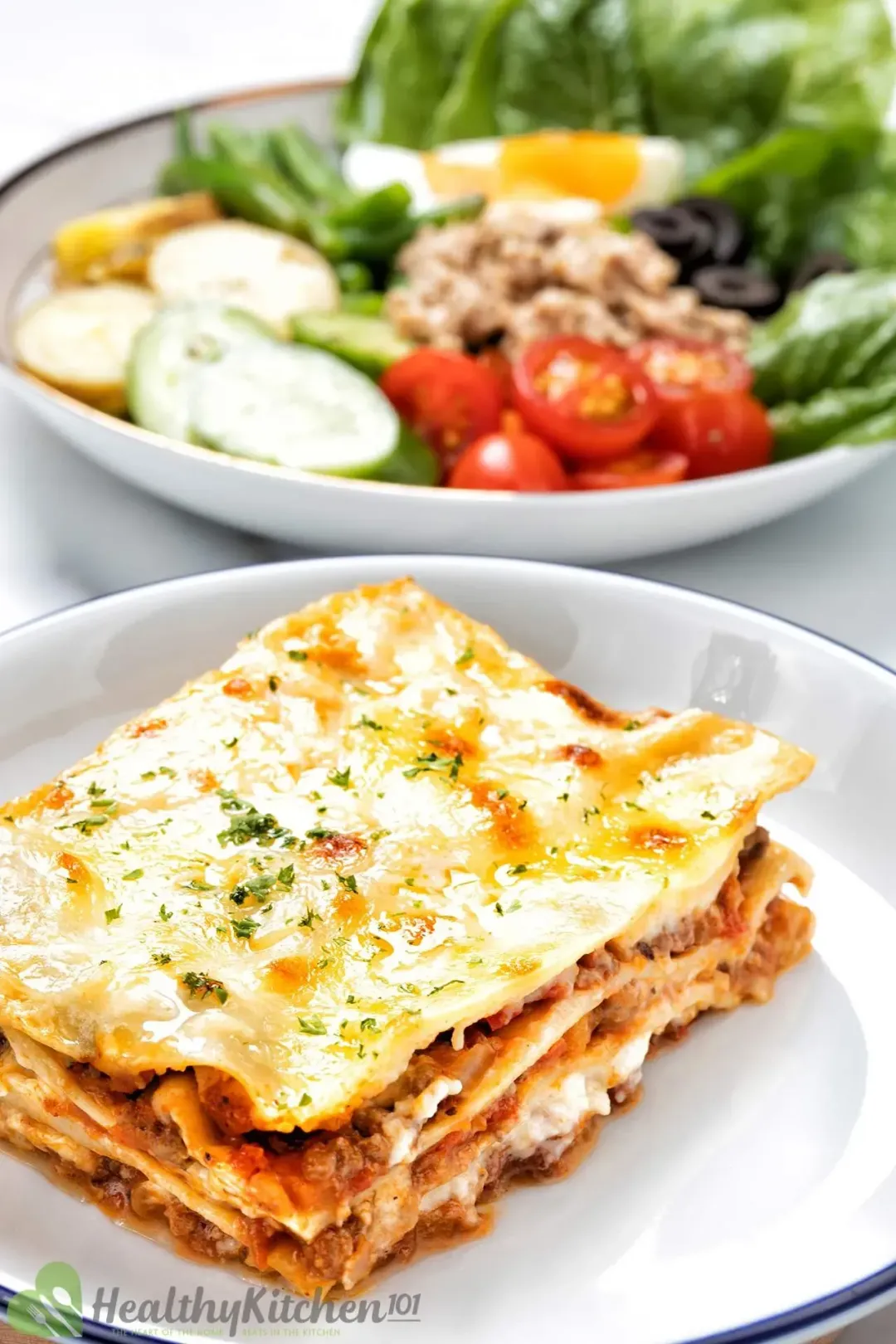 Expand Your Pasta Palate with These Mouth-Watering Beef Dishes
Take your taste buds on a trip to Asia with these flavorful beef noodles. Thinly sliced beef is marinated in soy sauce, ginger, and garlic before being stir-fried with vegetables and noodles in a savory sauce.
This spaghetti bolognese recipe is a classic Italian dish with a twist. Made with ground beef, tomatoes, herbs, and spices, it's a hearty and flavorful meal that's perfect for any occasion.
If you're a fan of tasty beef pasta recipes, then you're in luck! Check out this roundup of ours for even more delicious options.
Lasagna
This lasagna recipe may require lots of ingredients, time, and dedication, but we guarantee all your efforts will be rewarded.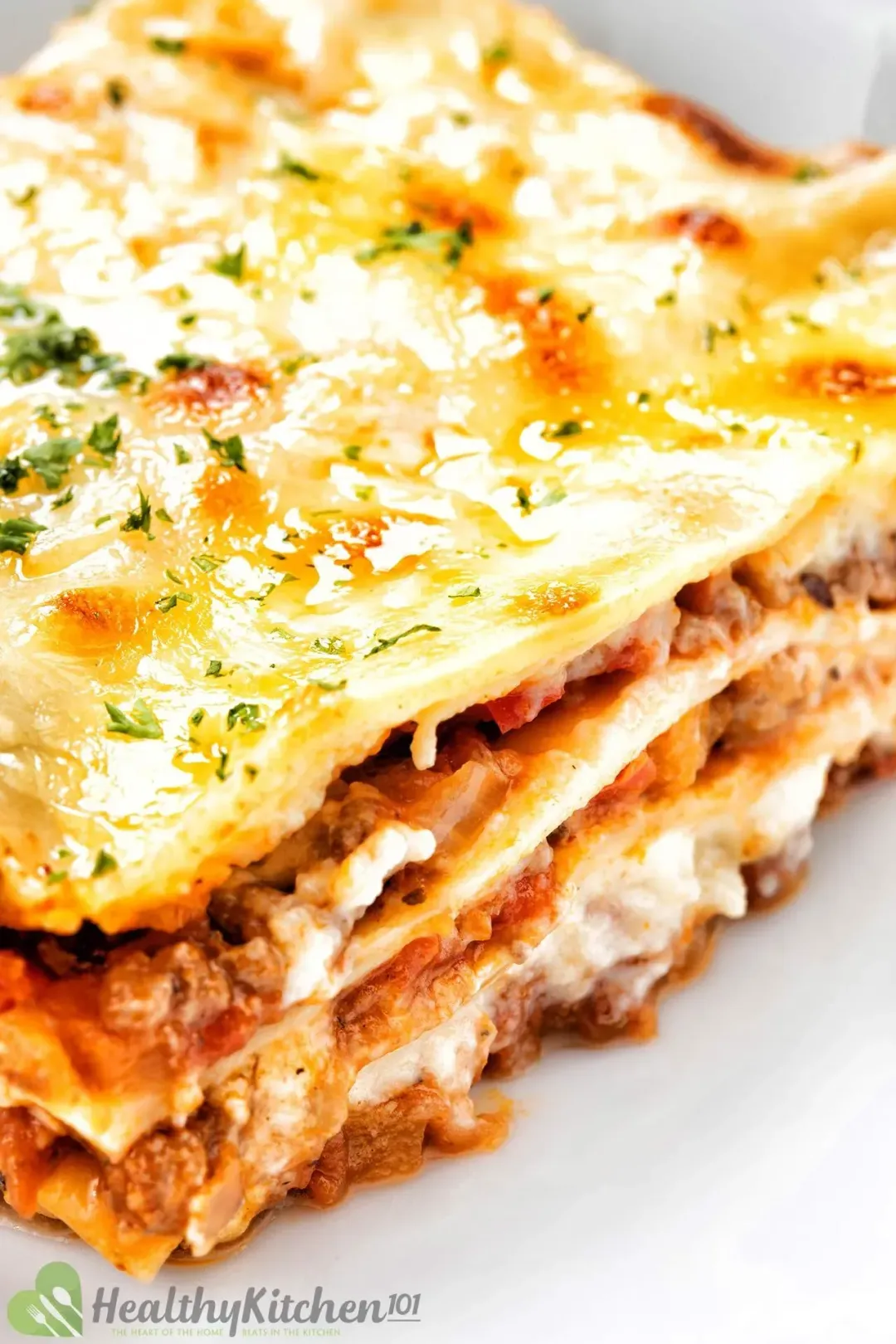 cook TIME

1 hr 5 mins

prep TIME

10 mins

total TIME

1 hr 30 mins

INACTIVE TIME

15 mins
COURSE

Dinner, Lunch, Main Course

CUISINE

Italian

SERVINGS

CALORIES

494 kcal
INGREDIENTS
10 oz

97% lean ground beef

6 cups

water

(to cook the lasagna)

4 oz

tomatoes

(deseeded and finely chopped)

3 oz

bell pepper

(deseeded, diced)

0.5 oz

Hunt's tomato paste

(about ½ tbsp)

2 oz

carrots

(finely diced)

1 1/4 cup

homemade tomato sauce

0.5 oz

parmesan cheese

(grated)

1 oz

mozzarella cheese

(shredded)

1/2 tbsp

Italian seasoning

1/2 tsp

ground black pepper

2 tbsp

parsley

(finely chopped)
INSTRUCTIONS
1
Boil the lasagna: In a large pot or deep pan, fill it with water and bring to a boil. Add 6 lasagna sheets and cook for half the time on the packet. (Ours cooked for 4 minutes.) Once finished, drain the lasagna but don't throw away the pasta water. Preserve 1 ½ cup of this water to make the bolognese sauce.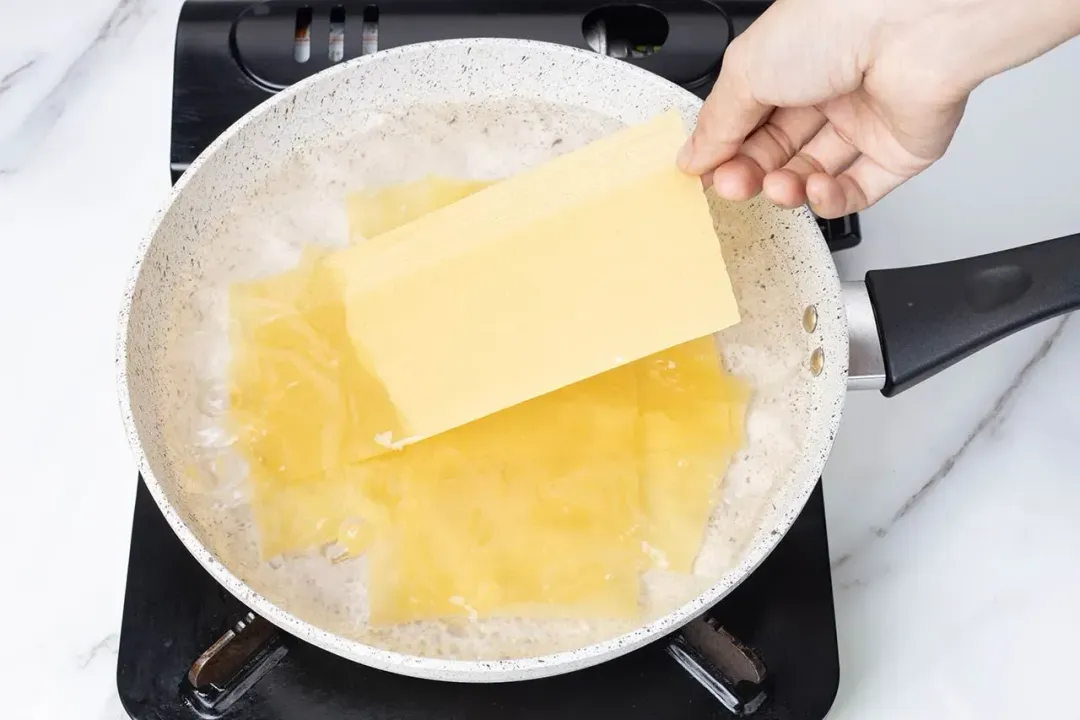 2
Sauté the beef: In a dry medium saucepan, add 10 oz ground beef and sauté over medium heat for 5 minutes.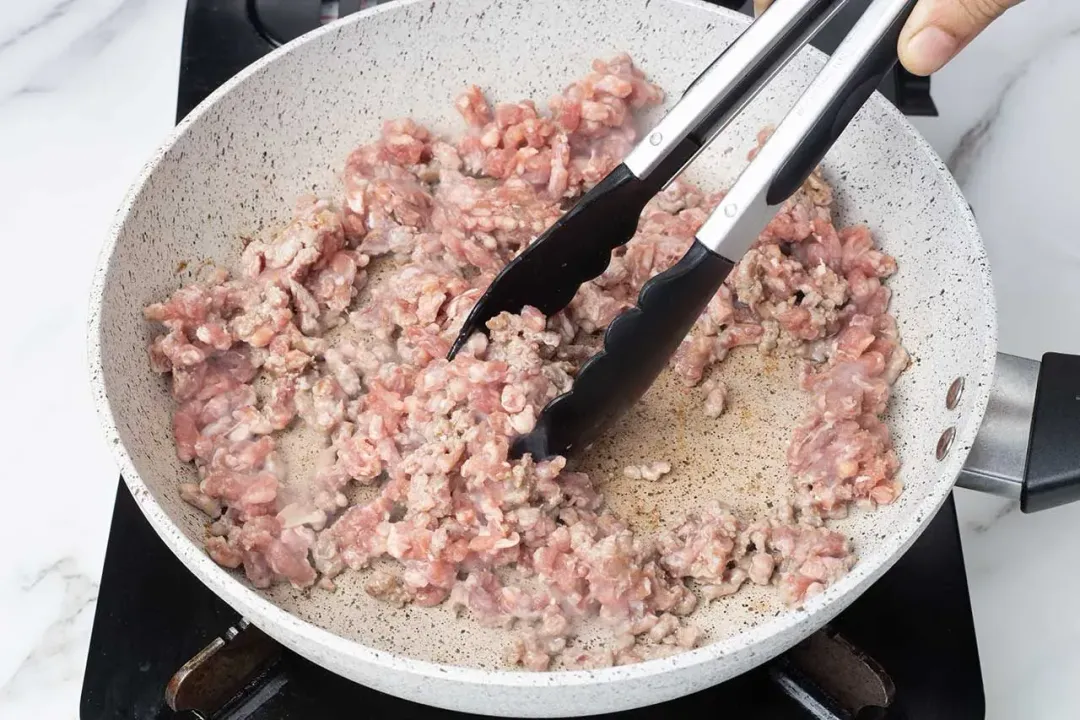 3
Cook the seasonings: In the same saucepan, add 3 tsp minced garlic, 1 tsp paprika, 1/2 tbsp Italian seasoning, 1 tsp dried oregano, 1/4 tsp garlic powder, 1/2 tsp ground black pepper, 0.5 oz tomato paste. Stir for 1 minute to "wake" the spices.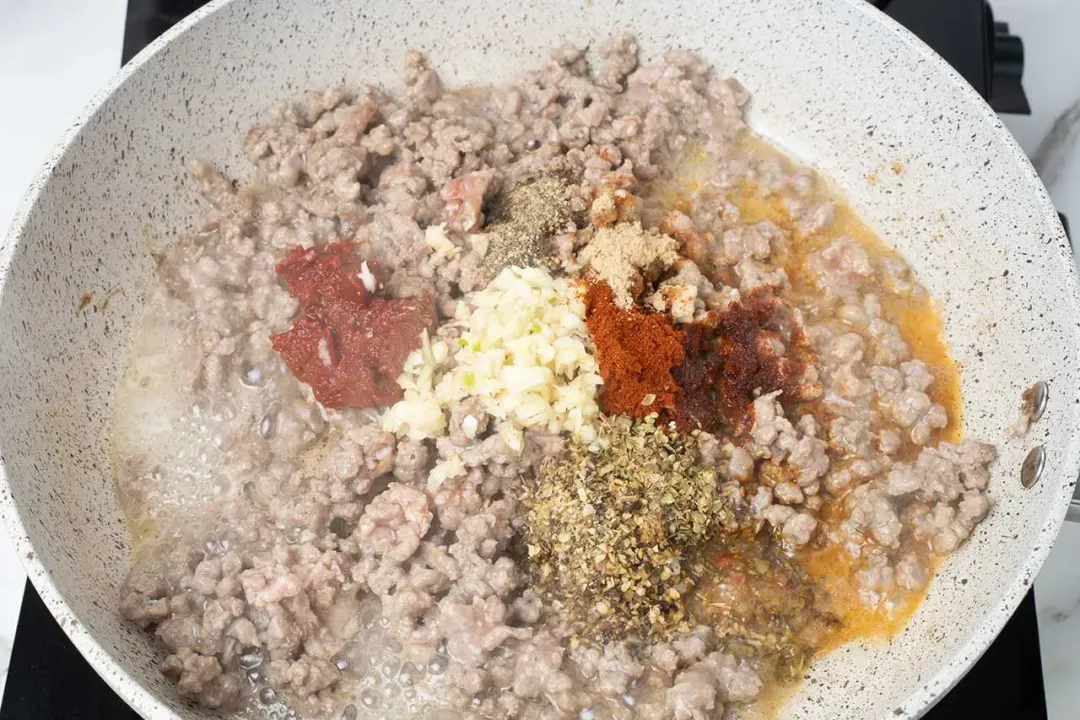 4
Sauté the vegetables: Add the 3 oz onions, 3 oz bell peppers, 2 oz carrots, and 4 oz chopped tomatoes to the saucepan. Continue cooking over medium heat for 5 minutes.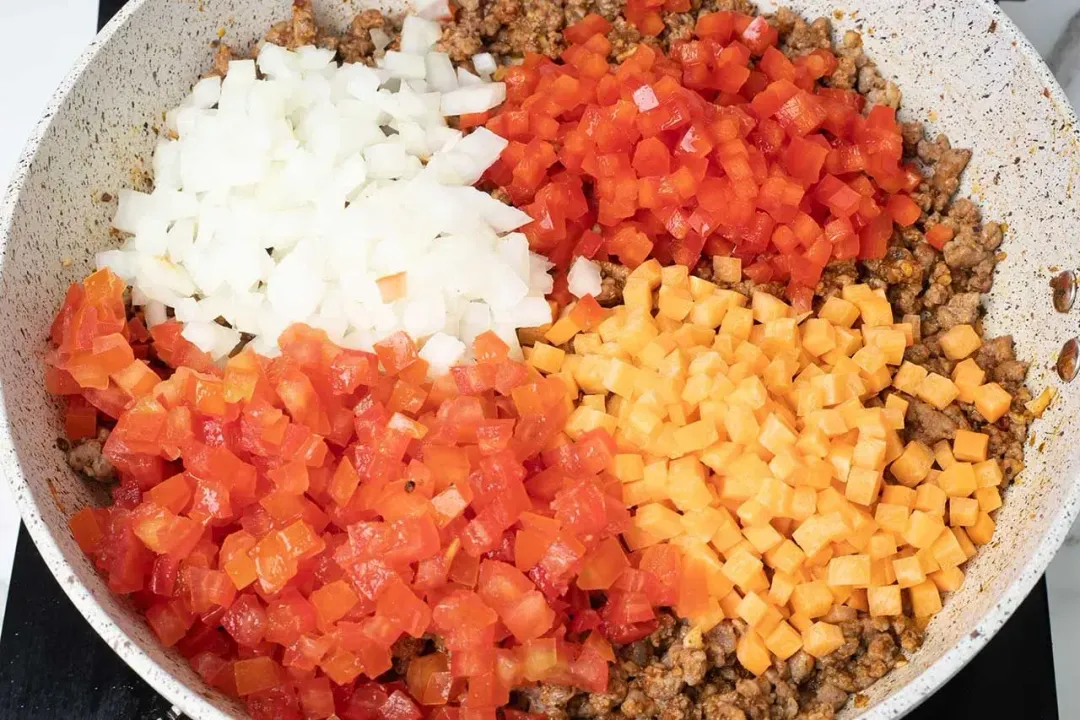 5
Deglaze the pan: Add 1/4 cup red wine, 1 1/4 cup tomato sauce, 1 1/2 tsp sugar, and 1/4 tsp salt. Stir and scrape the bottom of the saucepan.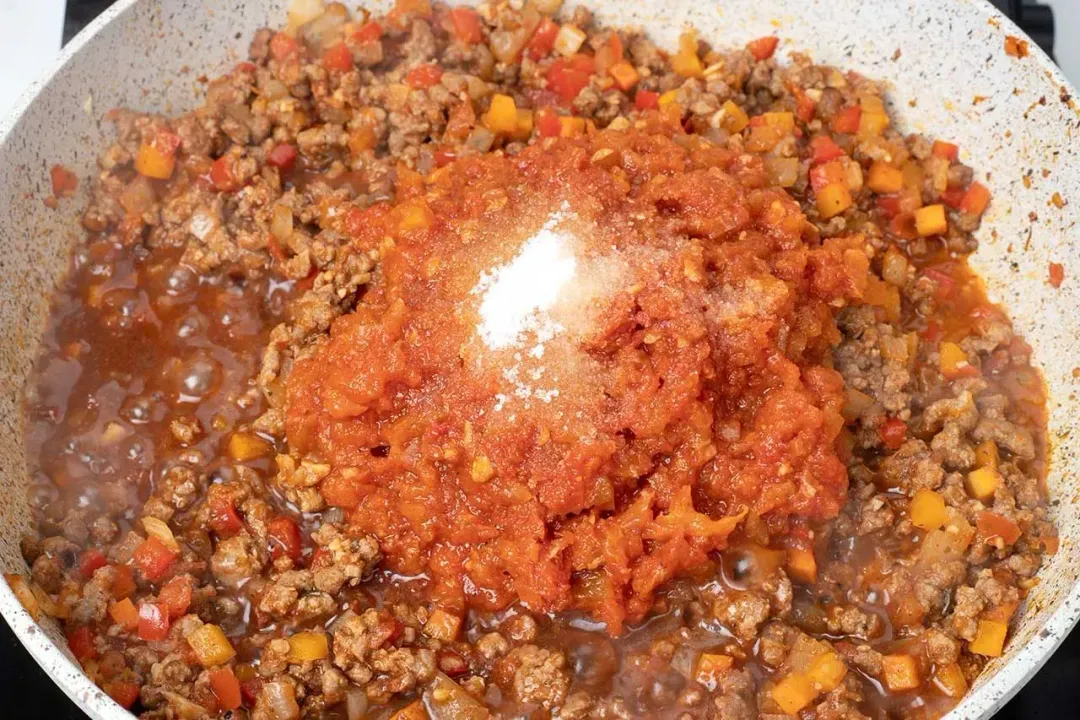 6
Cook the bolognese: Add the preserved 1 1/2 cup pasta water to the saucepan. Turn up the heat to high and bring to a boil. Once boiling, reduce the heat to medium and simmer for 15 minutes or until half of the water is reduced. Transfer to a bowl and set aside.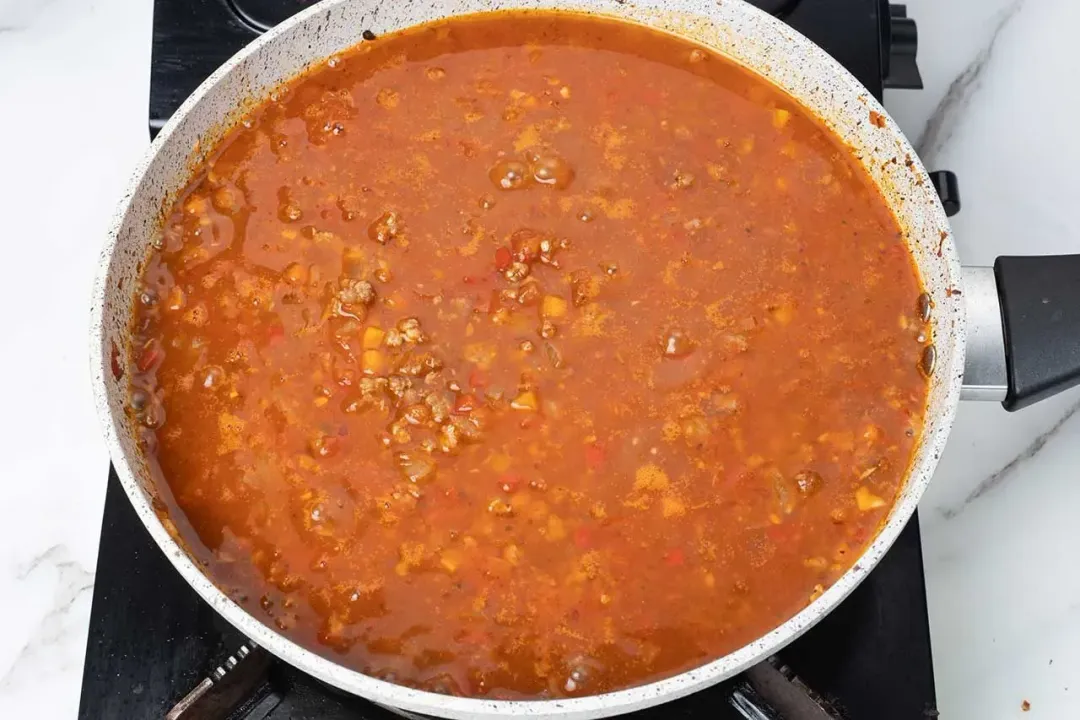 7
Make the white sauce (bechamel sauce): In a clean, small saucepan, add 2 tbsp unsalted butter and 2 tbsp flour. Whisk until the flour is dissolved. Continue to add 1 3/4 cup milk while whisking. Whisk constantly until the sauce thickens. Add the remaining 1/4 tsp salt and stir to combine. Turn off the heat and set aside.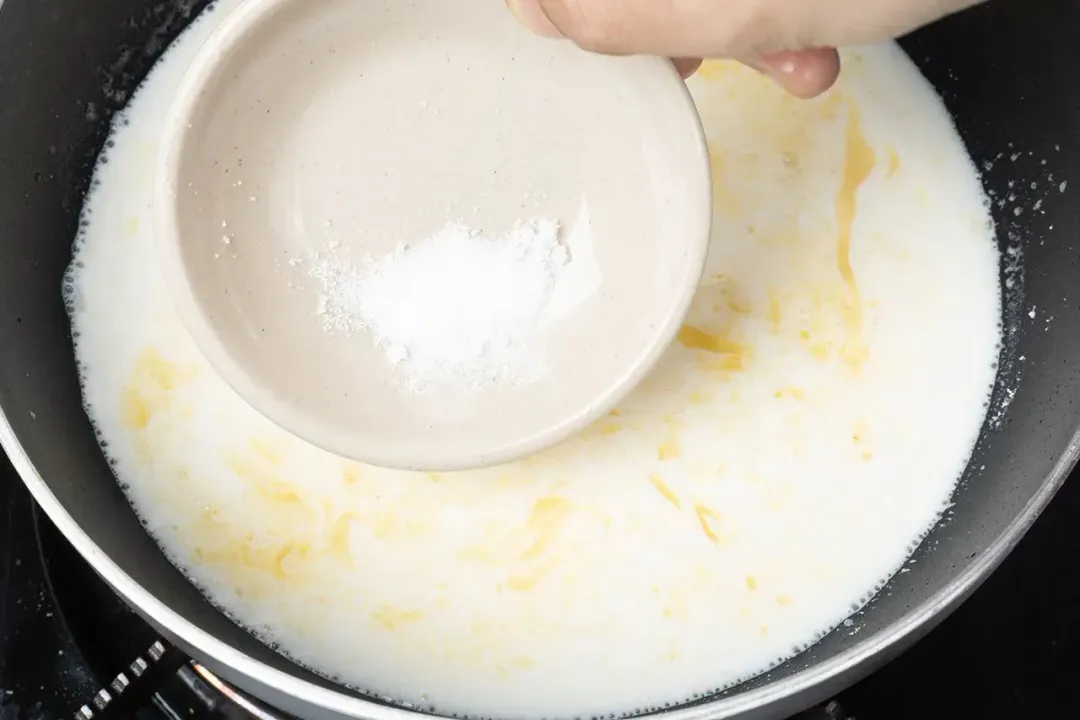 8
Assemble the lasagna: In a deep baking dish, spread a spoonful of the bolognese into the bottom of the dish. Continue to layer with the white sauce, lasagna sheet, another layer of bolognese, and finish it off with the white sauce.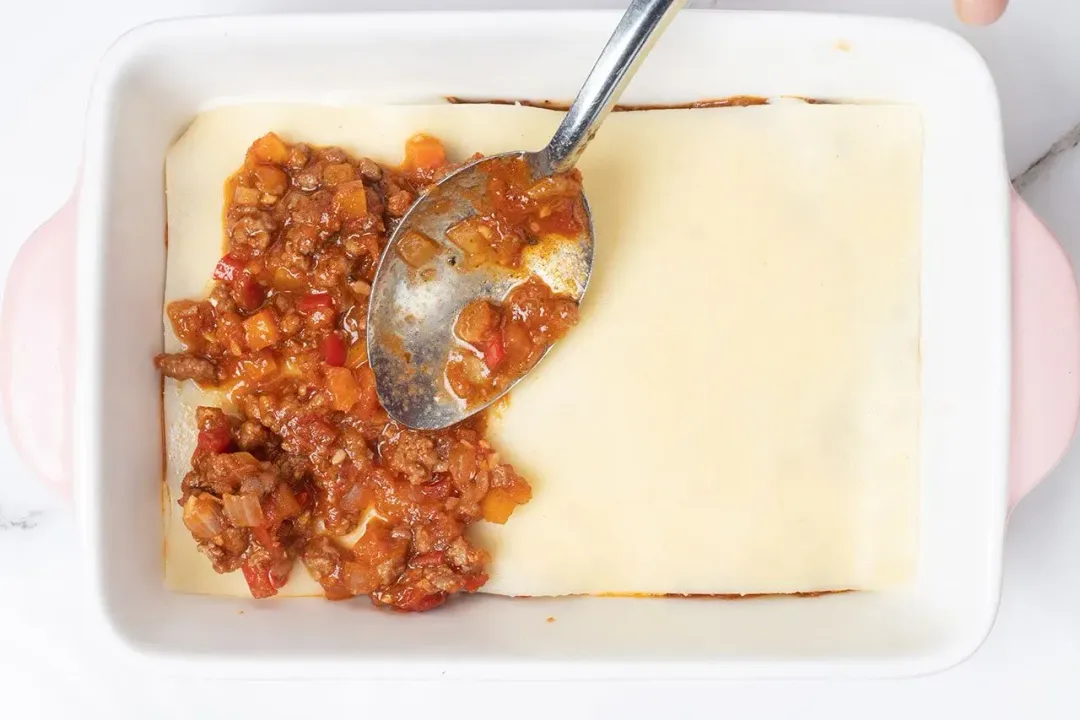 9
Bake the lasagna: Wrap the top of the lasagna with aluminum foil and bake in the middle of a preheated oven at 375°F for 20 minutes.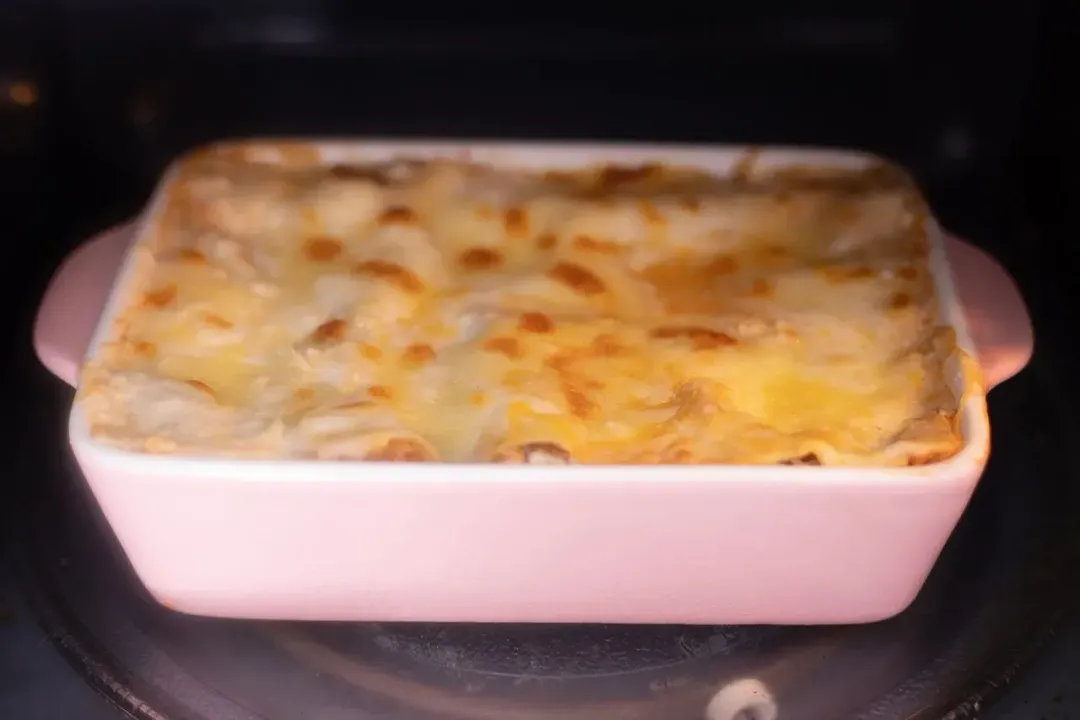 10
Add the cheese: Add 0.5 oz grated parmesan cheese and 1 oz shredded mozzarella on top of the lasagna. Bake again for 10 minutes at 430°F on the top rack.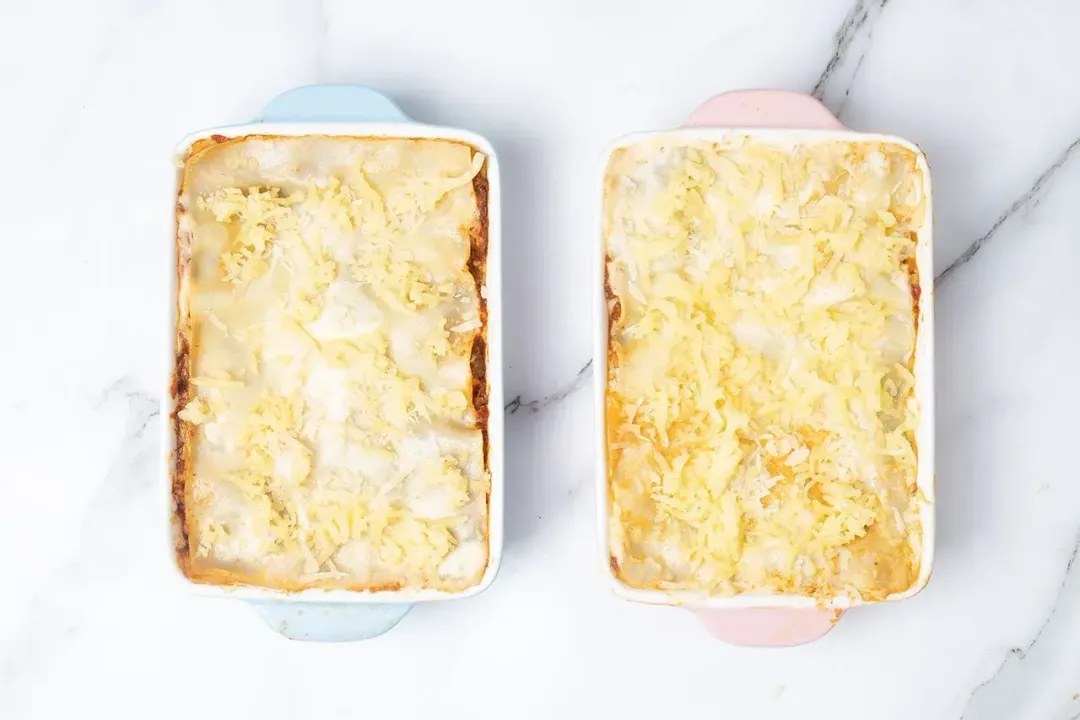 11
Serve: Remove the lasagna from the oven. Allow to cool at least 15 minutes before cutting into the lasagna. Transfer to serving plates, garnish with chopped parsley, and serve.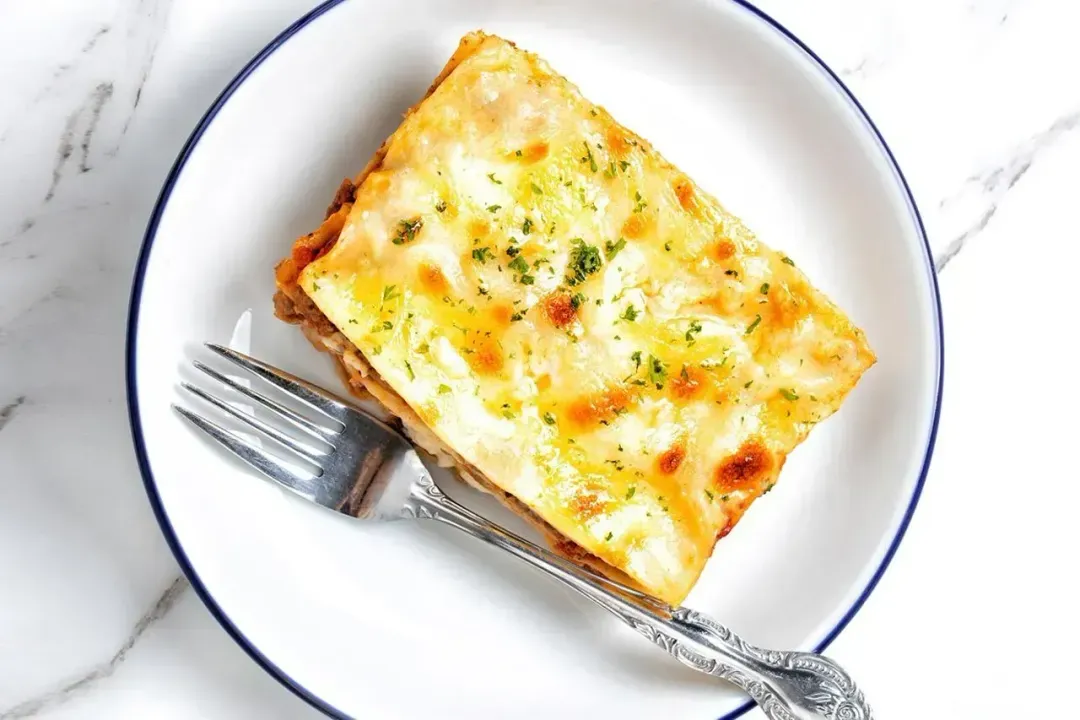 NUTRITION
Nutrition Facts
Lasagna
Amount Per Serving (1 serving)
Calories 494
Calories from Fat 198
% Daily Value*
* Percent Daily Values are based on a 2000 calorie diet.
Keywords: homemade lasagna, how to make lasagna, lasagna, lasagna recipe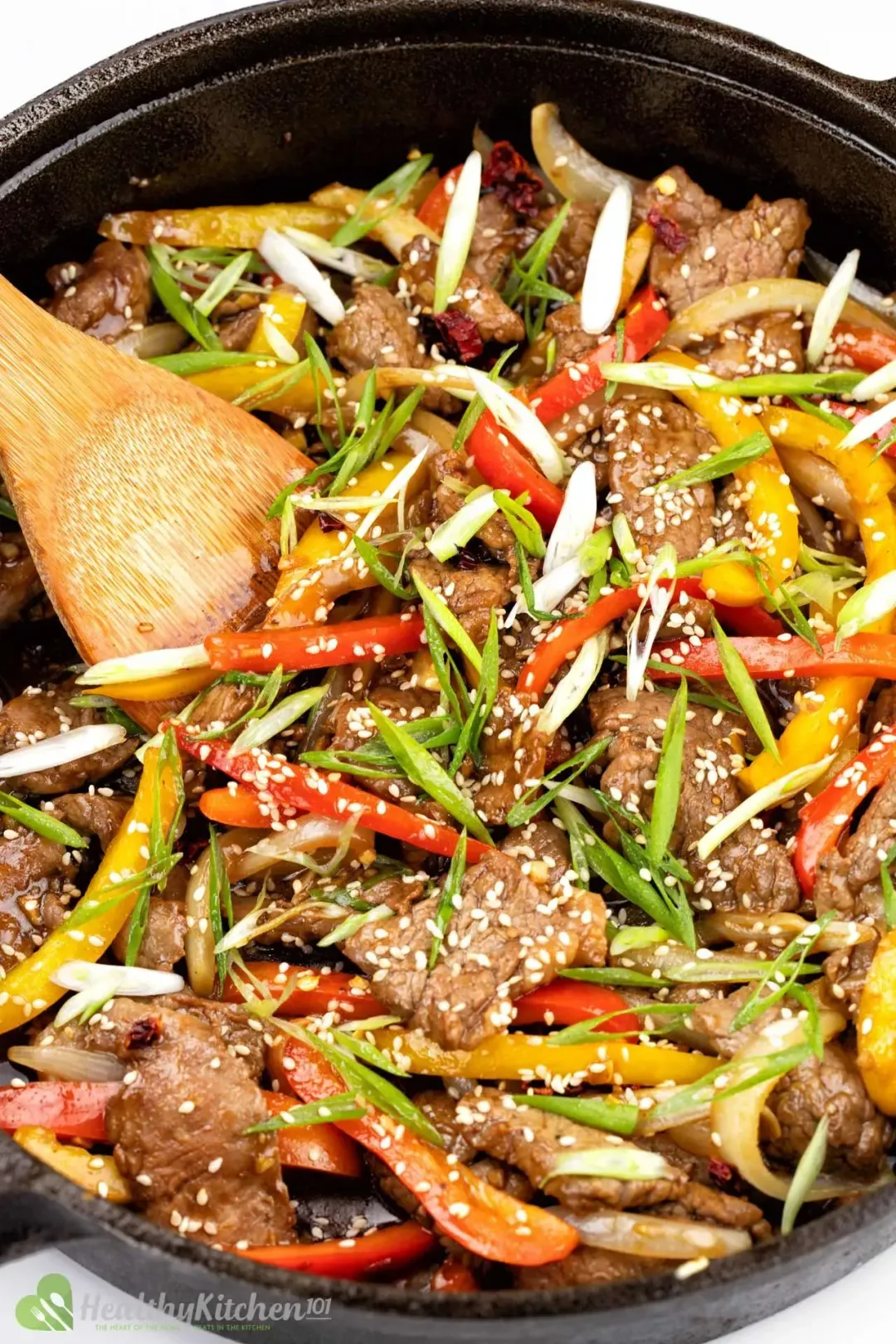 Previous Recipe
Pepper Steak
Pepper Steak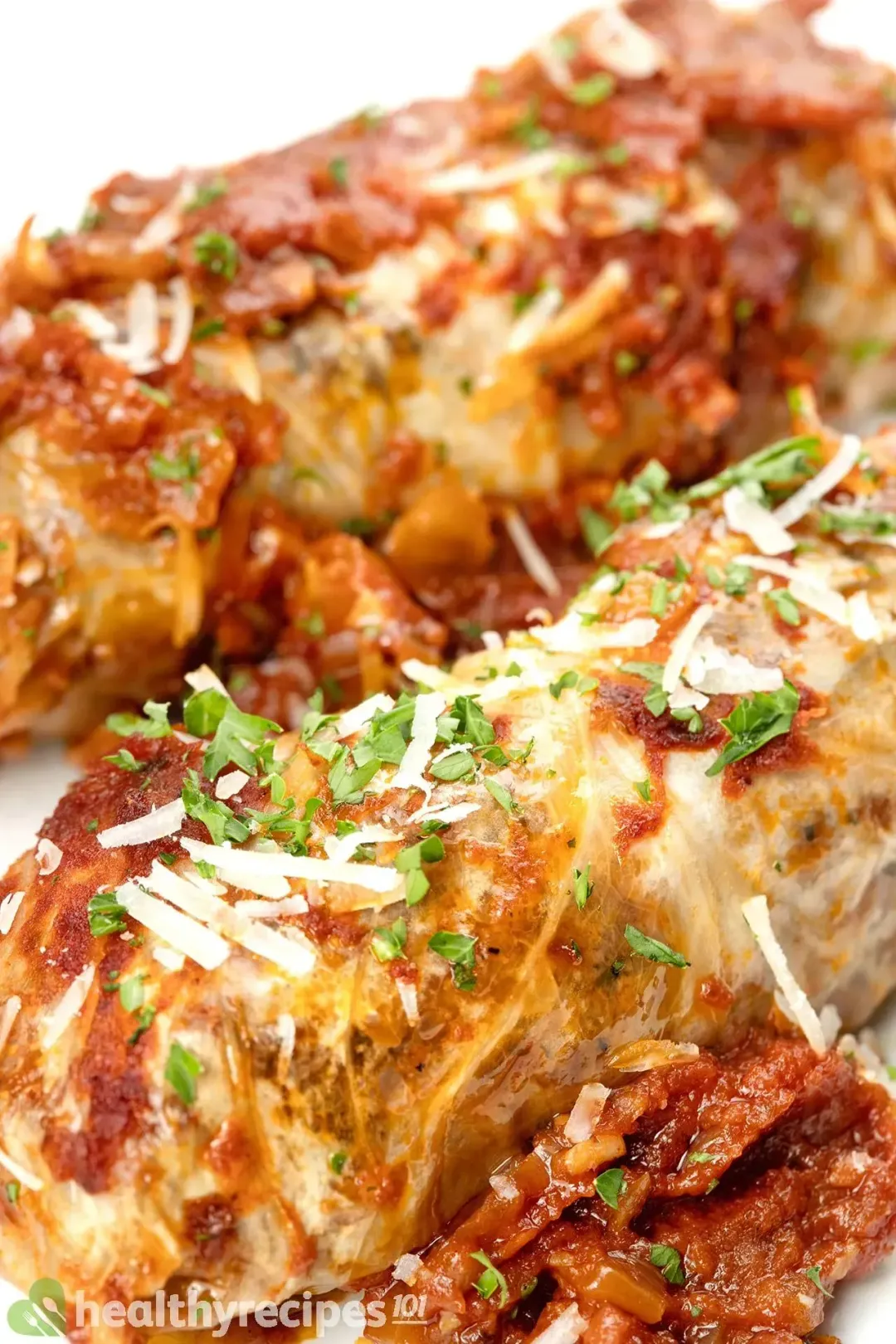 Cabbage Rolls
Head Chef, Culinary Consultant
Tuyet Pham is an award-winning Saigonese chef who believes that joy is the secret ingredient to delicious food. At Healthy Recipes 101, Tuyet personally tests and simplifies every recipe, ensuring maximum flavor with minimal effort. With a background at prestigious French restaurants P'TI Saigon and Le Corto, Tuyet knows how to make every dish exceptional.
Writer, Author
Luna Regina is an accomplished writer and author who dedicates her career to empowering home cooks and making cooking effortless for everyone. She is the founder of HealthyKitchen101.com and HealthyRecipes101.com, where she works with her team to develop easy, nutritious recipes and help aspiring cooks choose the right kitchen appliances.
Nutrition Reviewer
Natalie Butler is a registered dietitian nutritionist with a passion to help others live their best life through food, fitness, safer beauty and a healthy lifestyle. She has expertise with a variety of diets and diseases and believes that there is no one-size-fits-all approach for health.
Wow, I would love to get a big serving of that

This recipe makes one of the best lasagna I have ever tasted!

I will try this Healthy lasagna recipe as soon as I gathered all the ingredients.

So glad you enjoyed it,Rosita!