This ginger beef recipe is exactly what you are looking for in an Asian specialty: juicy beef flavored with garlic, ginger, and Chinese-style sauce. Serving this goodness with a bowl of steamy white rice and stir-fried vegetables makes for a fulfilling dinner.
Is Ginger Beef Healthy?
The cooking process that involves deep-frying the beef may give the impression of unhealthy food, but that's not the case with our ginger beef.
Our chefs aim for canola oil which is low in saturated fat and high in ALA omega-3 fatty acid. Though only a small amount of oil gets absorbed into the food, you should avoid having fried food regularly to maintain a healthy lifestyle.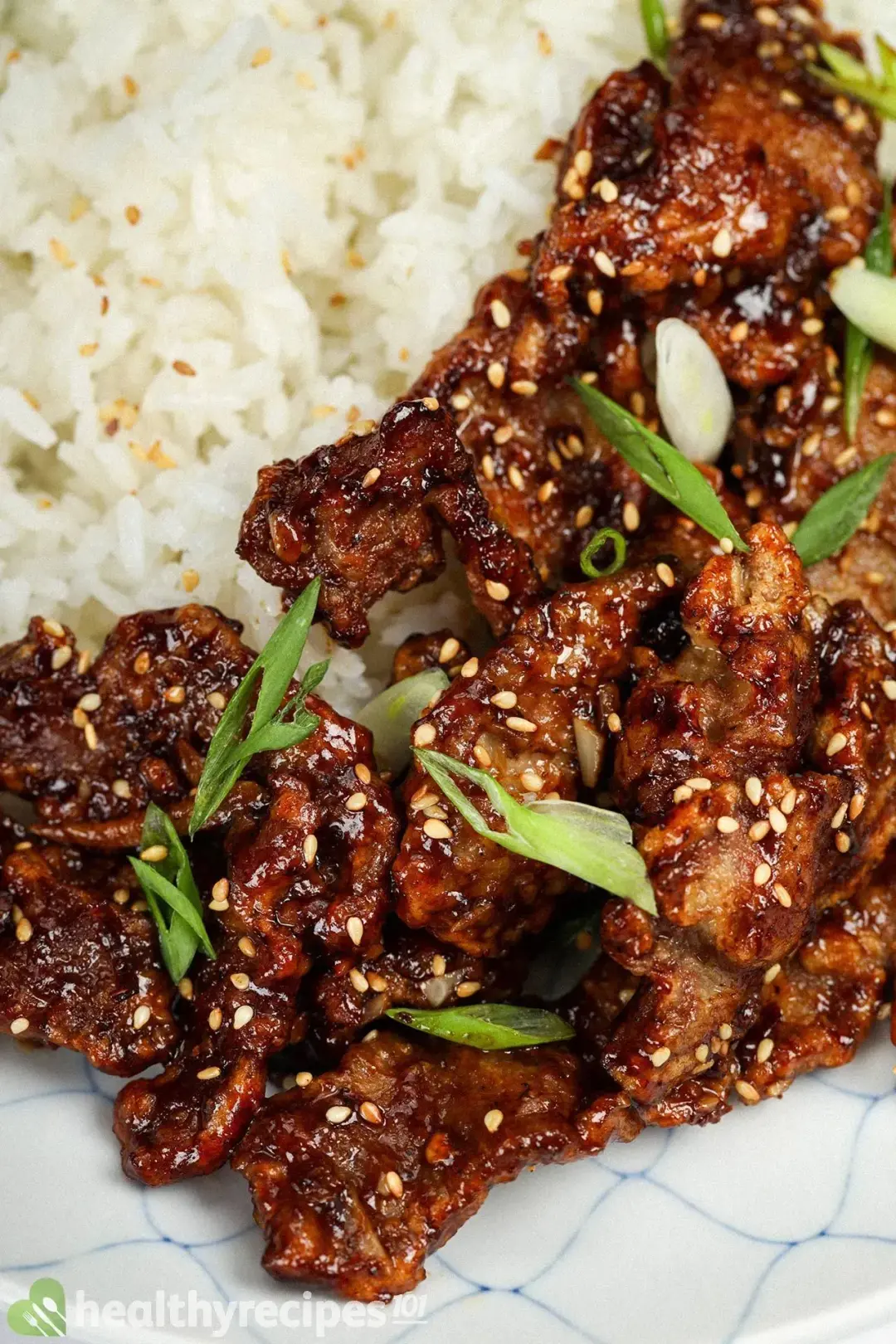 Now, shall we take a closer look at the nutrition profile?
Flank steak is an impressive source of high-quality protein and minerals, especially zinc and phosphorus. Meeting your daily protein needs helps prevent muscle loss, whereas boosting mineral intake has been shown to strengthen your immune system. Also, we decided to serve ginger beef with white rice to fuel your body throughout the day.
Overall, this main dish contains 501 calories, 3 g of saturated fat, and only around 563 mg of sodium, which is very reasonable.
Ingredients for This Recipe
This recipe only requires some simple ingredients you can find at any Asian market—beef, aromatics, and some Chinese condiments.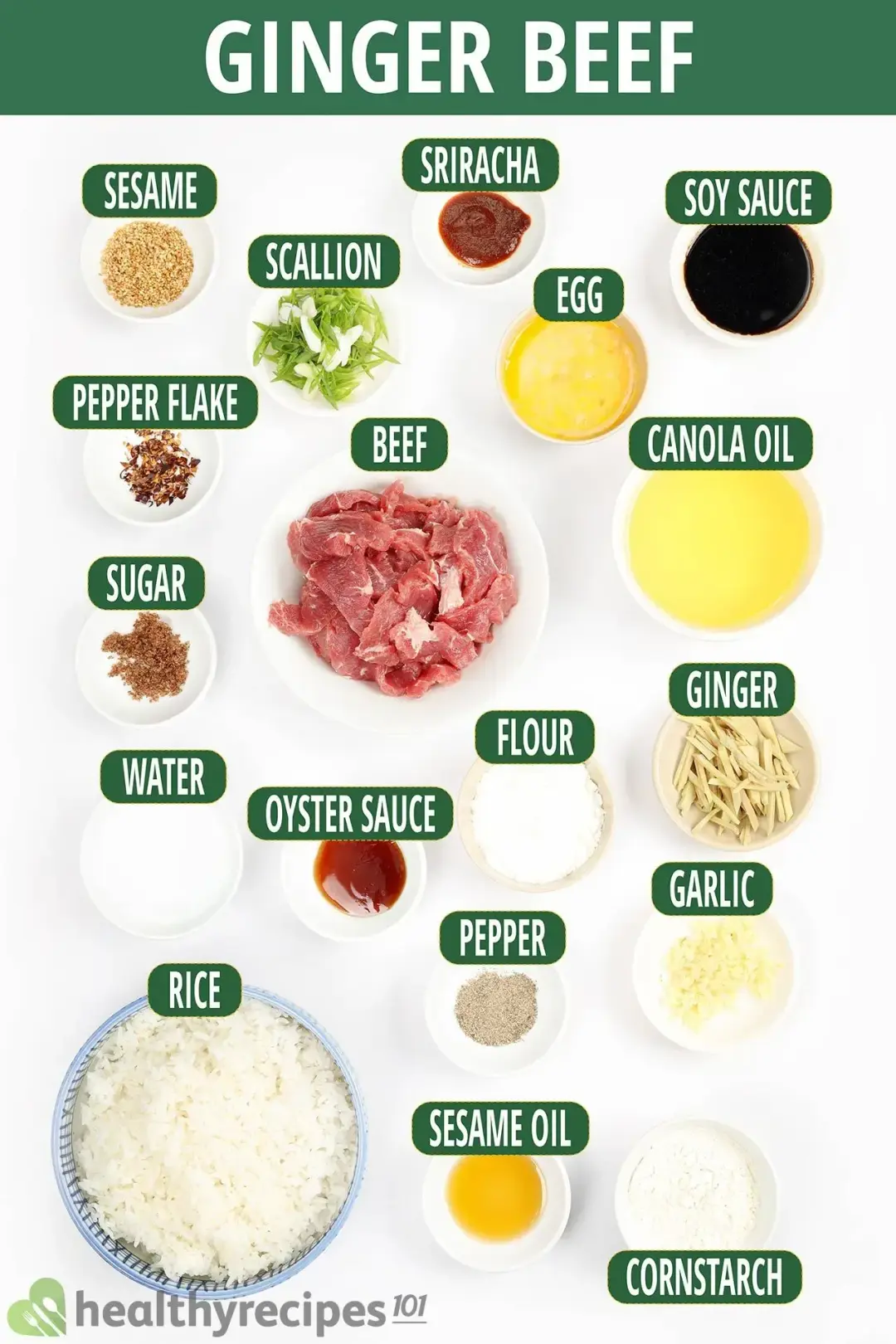 Beef: Flank steak is our go-to cut for many recipes that call for well-seasoned meat. However, this lean steak is quite tricky to work with as it tends to overcook easily, resulting in dry chunks of beef. To prevent this, you should slice your steak thinly and cook to no more than medium.
Ginger: This pantry staple gives off a warm and slightly camphor notes with a sharp and peppery taste.
Garlic: The Chinese adore garlic for its surprising health benefits and the depth it gives to the dish. 
Brown sugar: We prefer brown sugar to regular white granulated sugar as it adds that extra caramel aftertaste to the marinade.
Soy sauce: To reduce the amount of salt, our chefs aim for the low-sodium option. If you can only get your hands on dark soy sauce, dilute it with water, and it will work just fine.
Oyster sauce: This is an essential ingredient for our Chinese-style sauce as it delivers a blast of umami flavor with a distinct sweetness to our beef creation.
Sesame oil: It imparts a pop of nutty and toasty flavor to dressings, sauces, and marinades. For those who want a more pronounced taste, use dark sesame oil instead.
Sriracha and red pepper flakes: If you're a spicy food lover, the intense heat of Sriracha and red pepper flakes will awaken your taste buds.
Coating: Slices of beef are coated in the mixture of egg, cornstarch, and all-purpose flour, then fried to perfection—crispy on the outside yet tender on the inside.
What Kind of Beef Is Best for Ginger Beef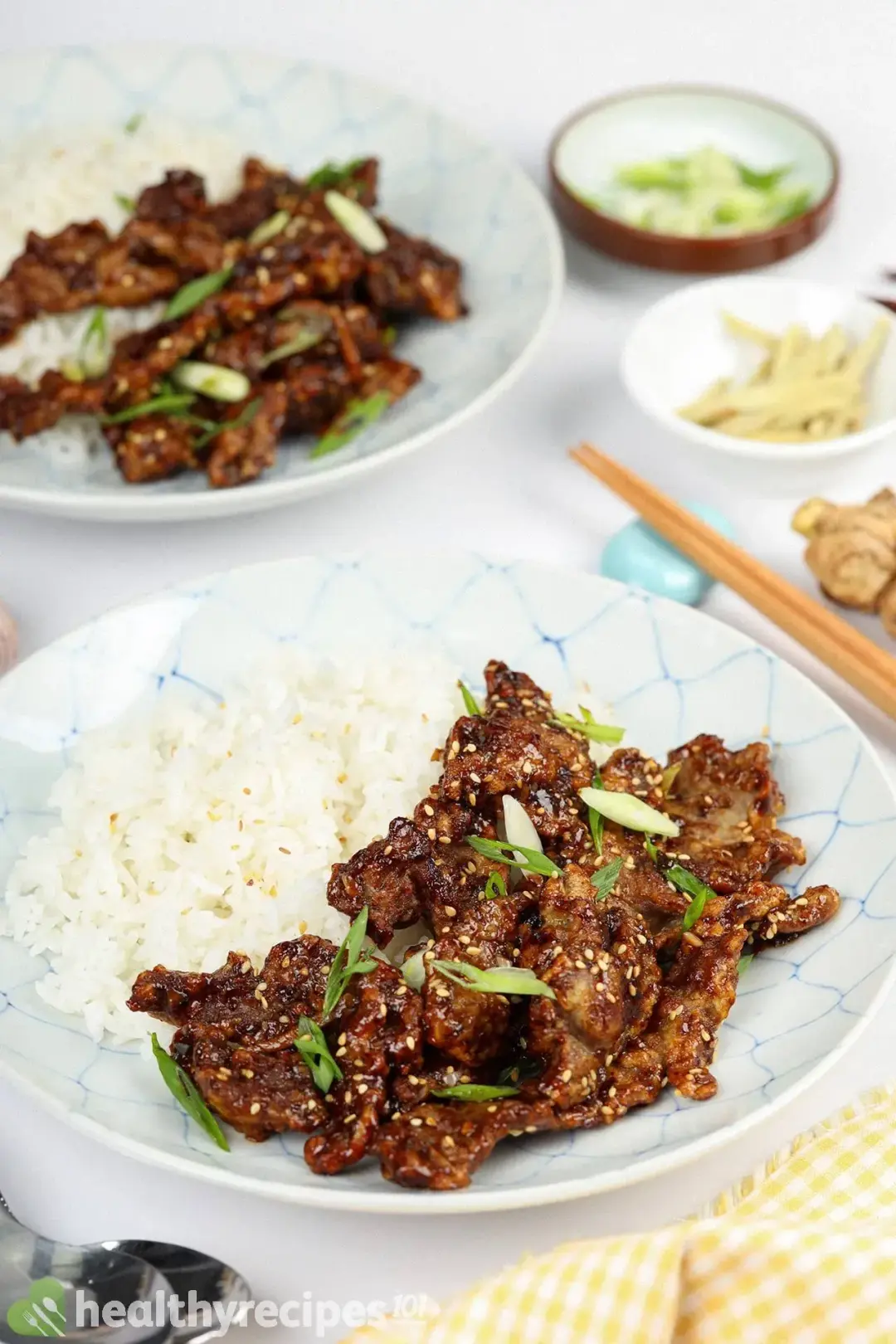 Flank steak: Flank steak, also known as the London Broil, is one of the most versatile cuts. It has a deeper red color and a firmer texture than other varieties due to its thick muscle fibers.
Skirt steak: Skirt steak is an ideal substitute for flank steak. Still, this cut has slightly more fat content and a beefier flavor than a flank cut.
Hanger steak: Belonging to the same flat steak category as flank and skirt, hanger steak can be used interchangeably for this recipe.
Tips for Cooking
Our team has prepared some helpful tips to make your cooking journey more enjoyable.
Freezing your steak for 15 to 20 minutes beforehand will make it easier to slice.
Slicing the steak across its grain will help prevent rubbery steak.
For lean cuts like flank or skirt steak, cook them to no more than medium rare.
What to Serve With Ginger Beef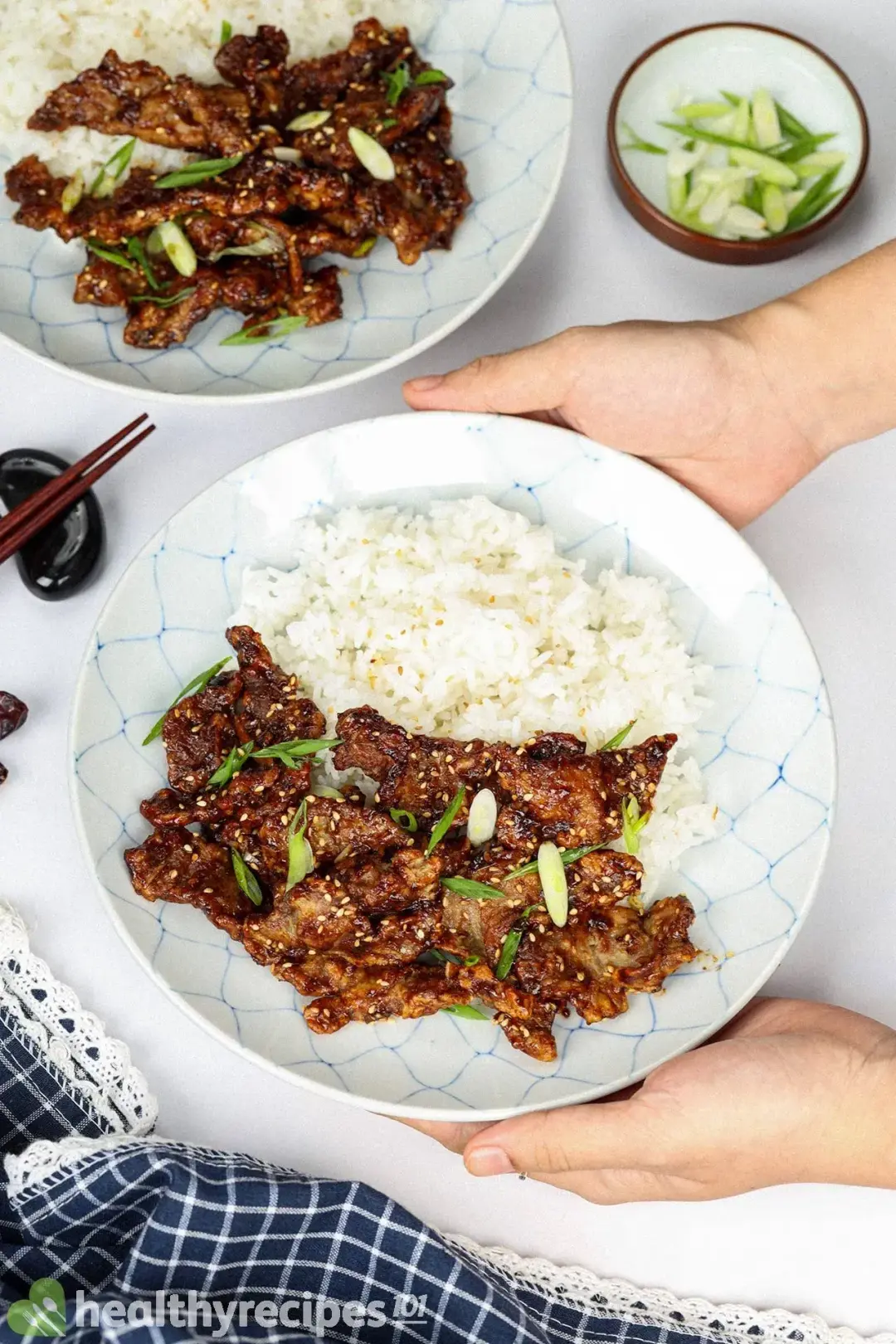 Here are some simple yet delectable side dishes for your ginger beef.
How to Make Ginger Beef
Today's ginger beef recipe only requires 25 minutes to turn some simple ingredients into a Chinese beef delicacy, perfect for any occasion.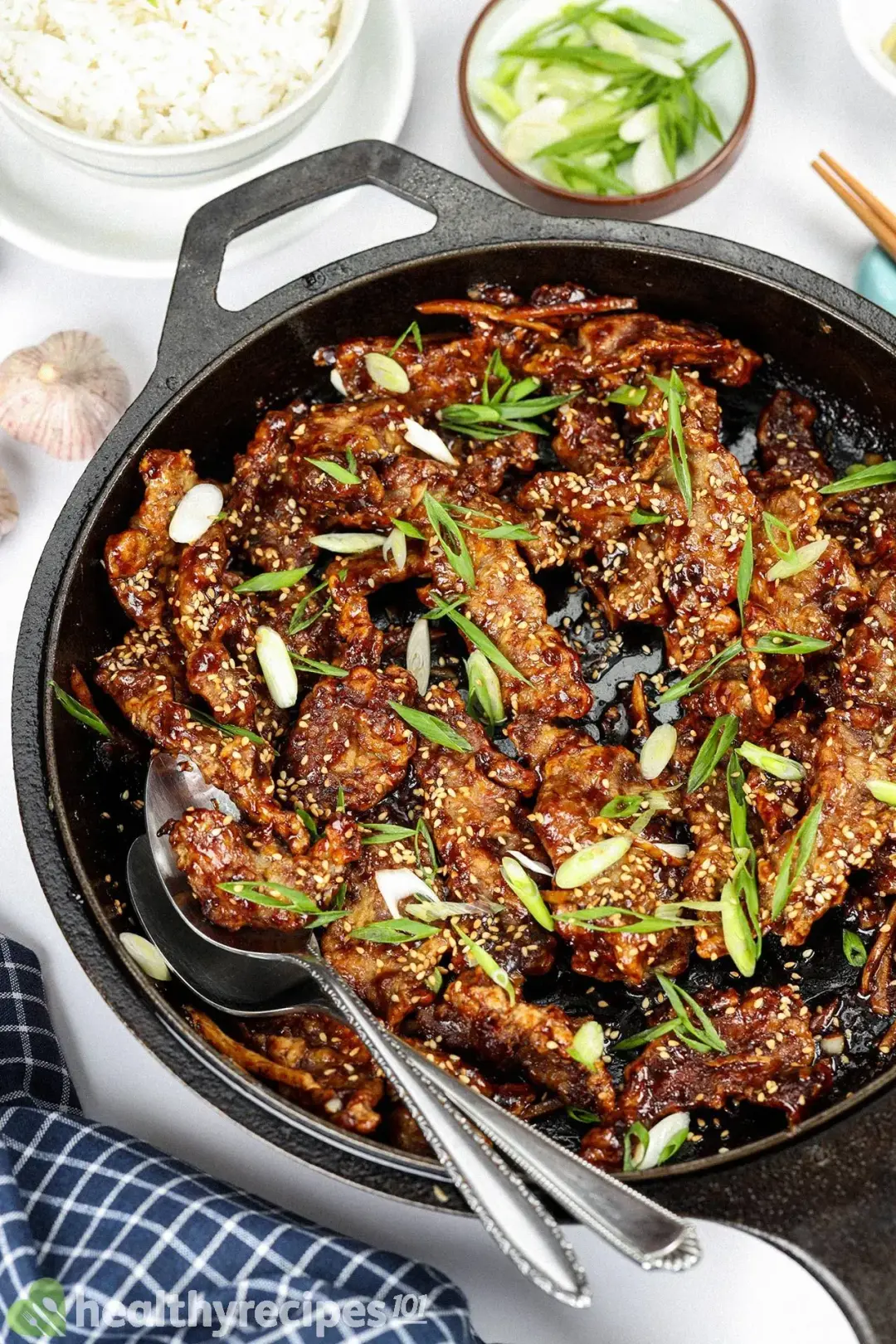 cook TIME

10 mins

prep TIME

15 mins

total TIME

25 mins
COURSE

Main Course

CUISINE

Chinese

SERVINGS

servings

CALORIES

501 kcal
INGREDIENTS
12 oz

flank steak separable lean, 0" fat, thinly sliced

1

small egg

1 cup

canola oil (*)

2 tbsp

garlic minced

2 tbsp

ginger cut into thin strips

0.5 tsp

pepper flakes

3 tbsp

cornstarch

0.3 cup

all-purpose flour

1 tsp

brown sugar

0.3 cup

water

0.5 tbsp

sesame oil

2.5 tbsp

reduced-sodium soy sauce

1 tsp

Sriracha

0.5 tbsp

oyster sauce

0.5 tsp

pepper

0.3 cup

scallion thinly sliced

0.5 tbsp

unsalted roasted sesame seeds

3.5 cups

cooked medium-grain rice from 1 3/4 cups uncooked
INSTRUCTIONS
Prep:
1
Trim off the silver skin and any excess fat on the flank steak using a sharpened knife. If your steak is too thick (more than 2 inches), cut it in half lengthwise. Cut the steak across its grain into 1-inch slices.
2
Slice off the root part of each garlic clove. Use the side of a knife to press down and crush the cloves, then peel away the skin. Mince the peeled garlic.
3
Separate the knobs and slice away the skin of the ginger with a knife. Cut the knobs into thin slices. Stack the slices up, and slice them into thin strips.
4
Slice away the root end and the tough top part of the scallions. Line the scallions on a cutting board and slice them diagonally into thin slices.
5
Cook the rice using a rice cooker or an Instant Pot.
Cook::
1
Make the batter: In a large mixing bowl, combine 1 small egg, 2 1/2 tbsp cornstarch, and 1/4 cup all-purpose flour. Whisk well.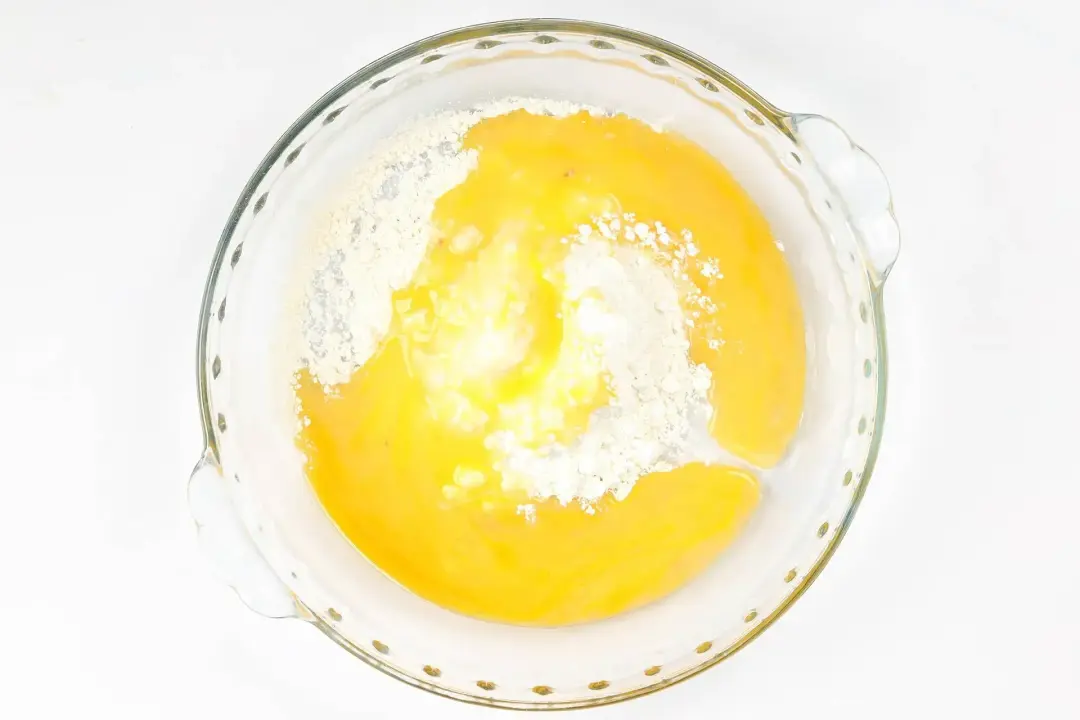 2
Batter the beef: To the batter mixture, add 12 oz thinly sliced flank steak and mix to coat them evenly.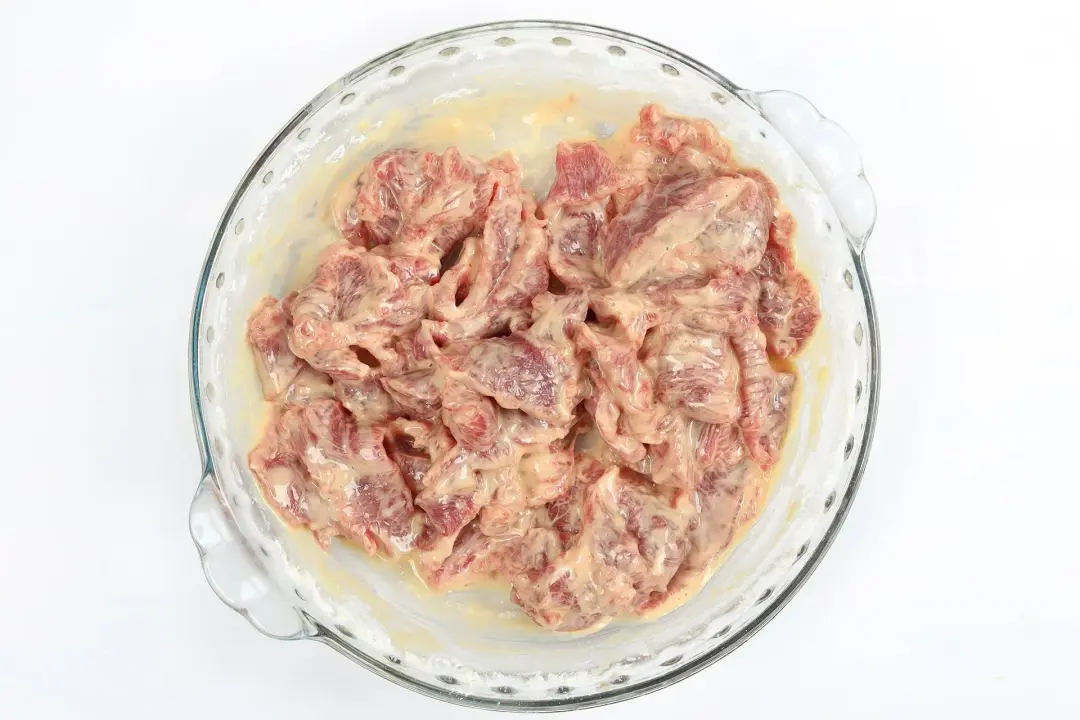 3
Make the sauce: In a small mixing bowl, add 1/2 tbsp sesame oil, 2 1/2 tbsp reduced-sodium soy sauce, 1/2 tbsp oyster sauce, 1 tsp sriracha, 1/4 cup water, 1/2 tbsp cornstarch, 1 tsp brown sugar, 1/2 tsp pepper flakes, and 1/2 tsp pepper. Mix well until the sugar is fully dissolved.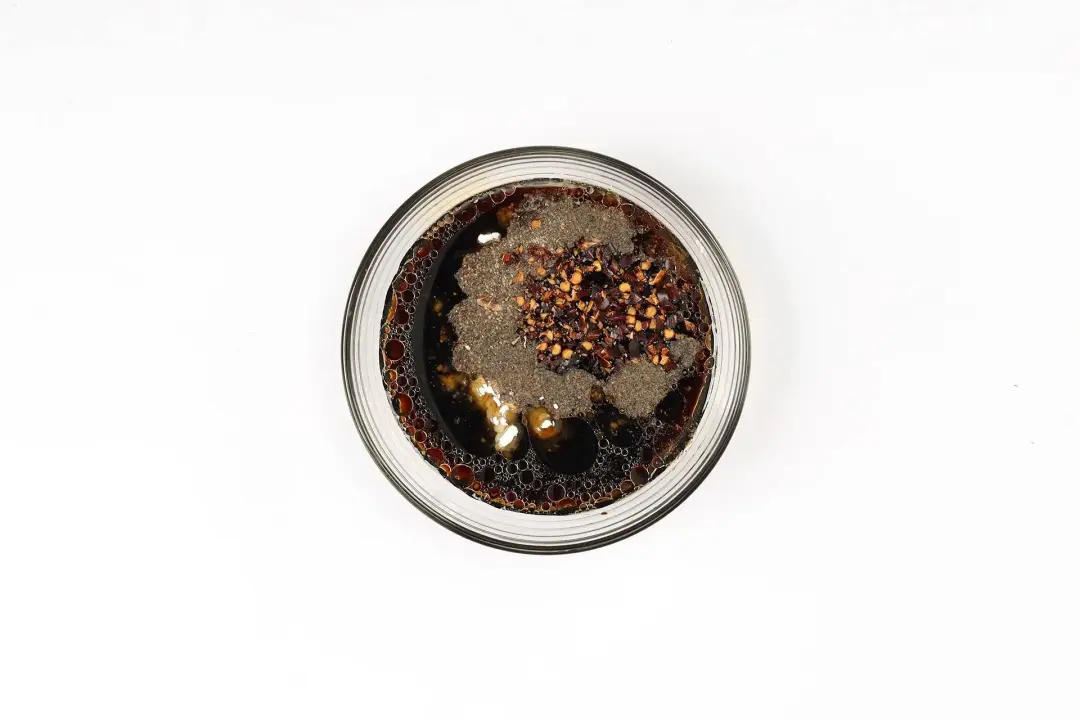 4
Fry the battered beef: Heat 1 cup of canola oil in a skillet over high heat. Dip a pair of chopsticks in and when the tips sizzle, lower to medium heat and start frying your beef. Fry both sides of the beef until golden, about 3 minutes. Transfer them onto a paper towel to drain away the excess oil.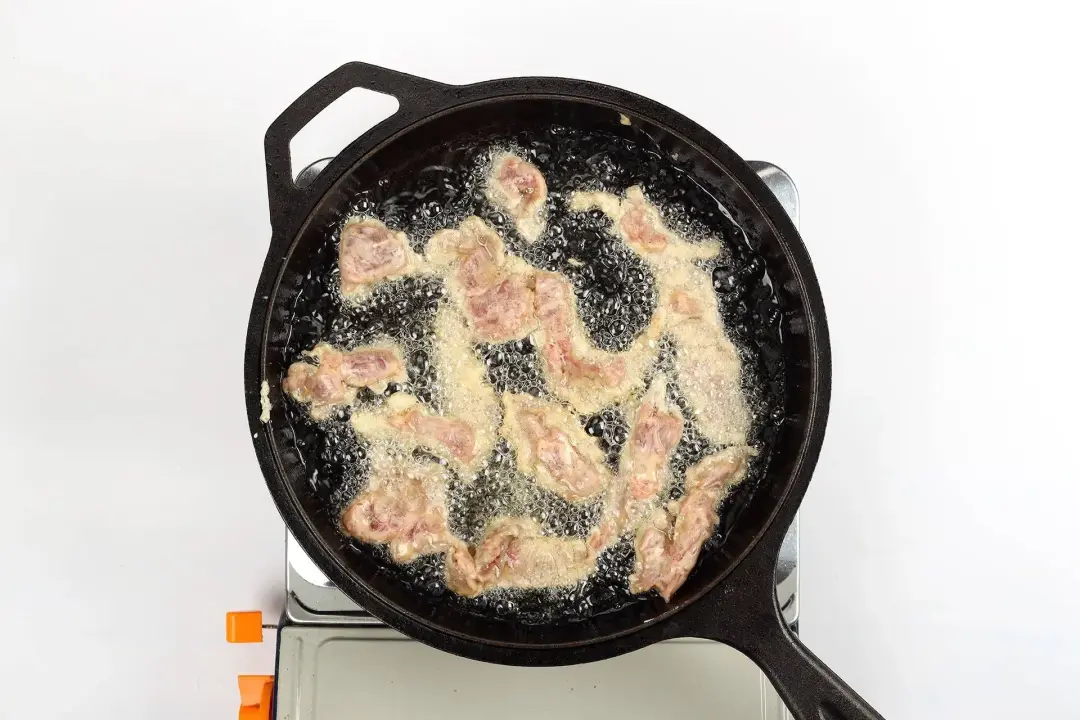 5
Sauté the aromatics: Leave about 1 tbsp canola oil in the skillet and pour the rest of the oil into a small bowl to save for later. Turn to medium heat, then sauté 2 tbsp ginger and 2 tbsp garlic for 30 seconds.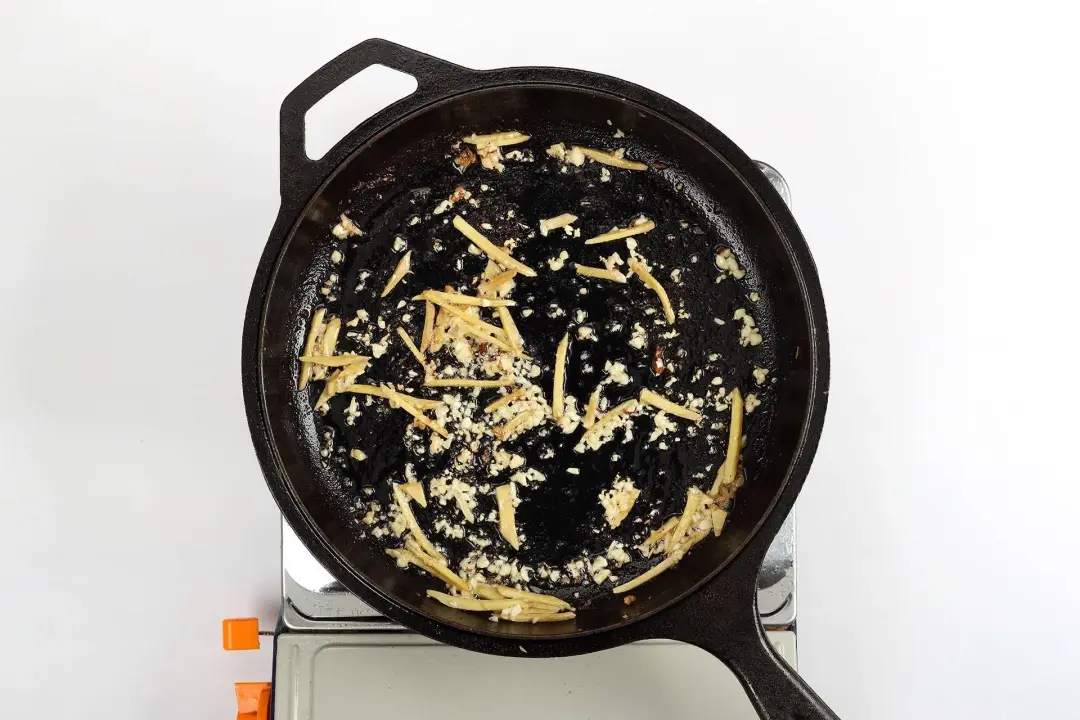 6
Combine all of the ingredients: In a small skillet, add the fried beef and sauce. Stir frequently to cook for 30 seconds. Remove from heat.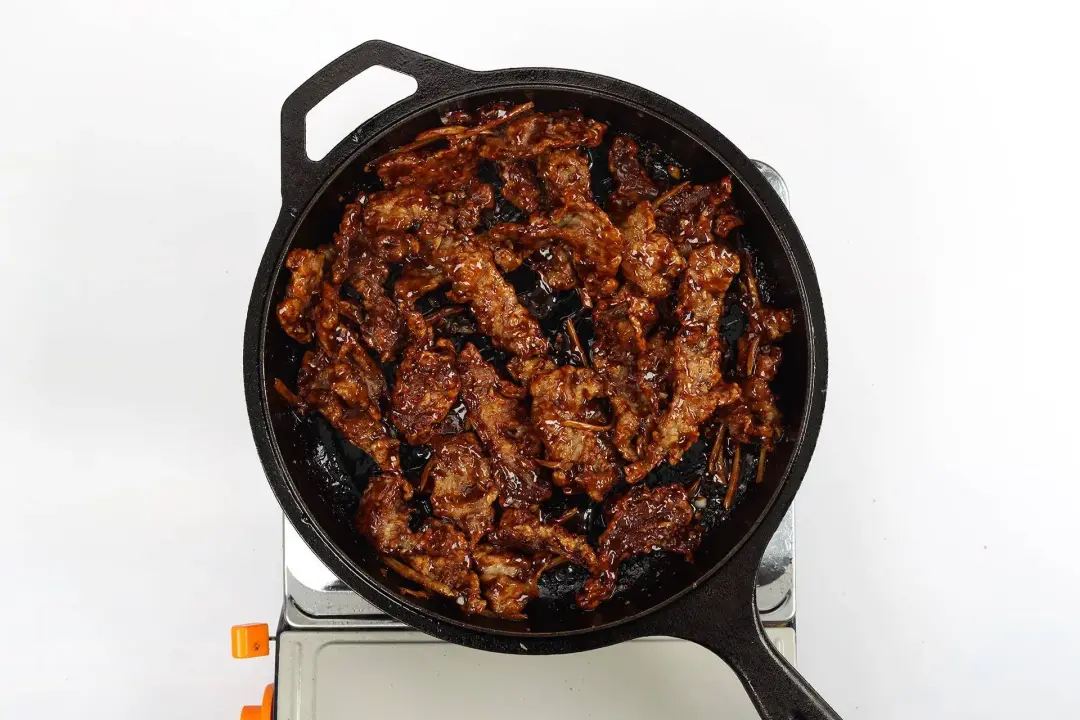 7
Garnish and serve: Transfer your desired portion onto a platter. Sprinkle on the thinly sliced scallions and unsalted roasted sesame seeds. Enjoy with white rice.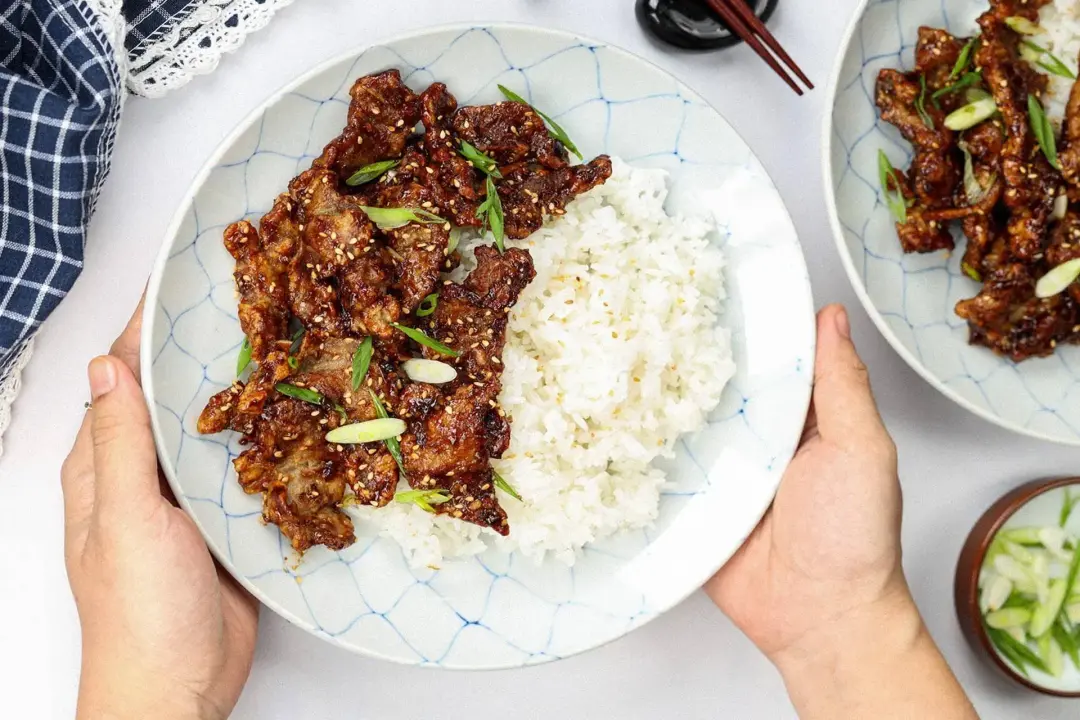 NUTRITION
Nutrition Facts
How to Make Ginger Beef
Amount Per Serving (1 serving)
Calories 501
Calories from FDA
% Daily Value*
* Percent Daily Values are based on a 2000 calorie diet.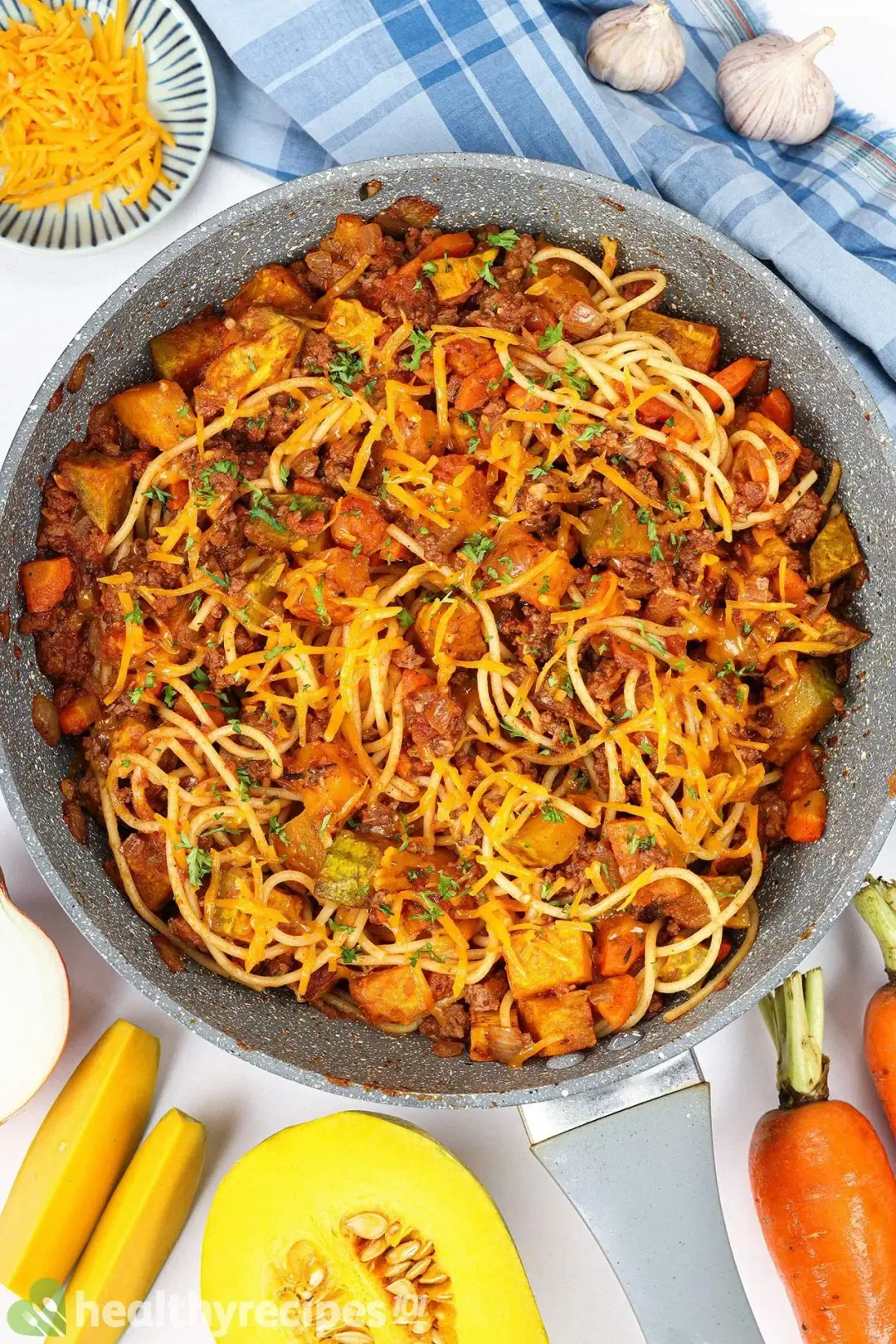 Previous Recipe
Beefy Butternut Squash Pasta
Beefy Butternut Squash Pasta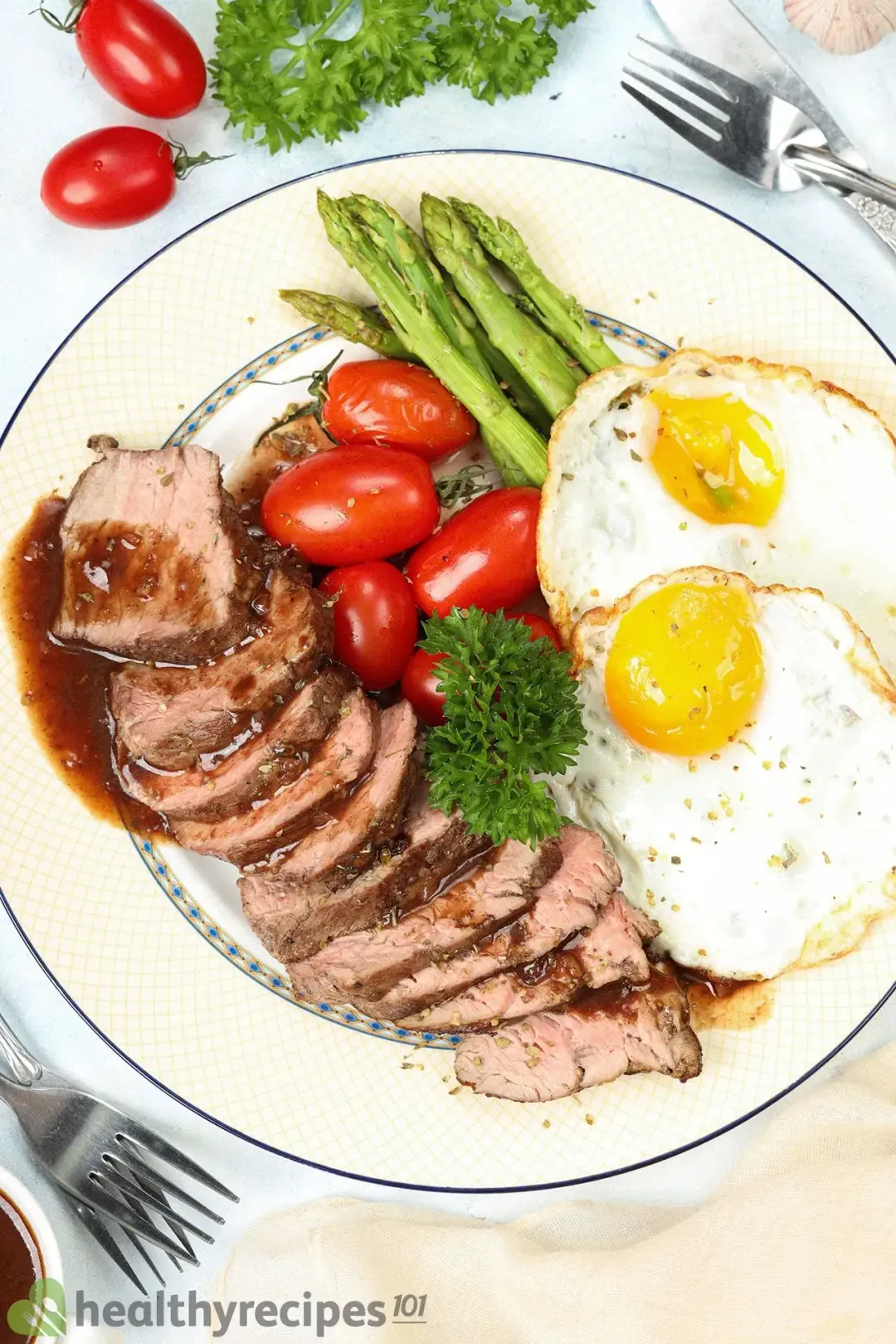 Next Recipe
Steak and Eggs
Steak and Eggs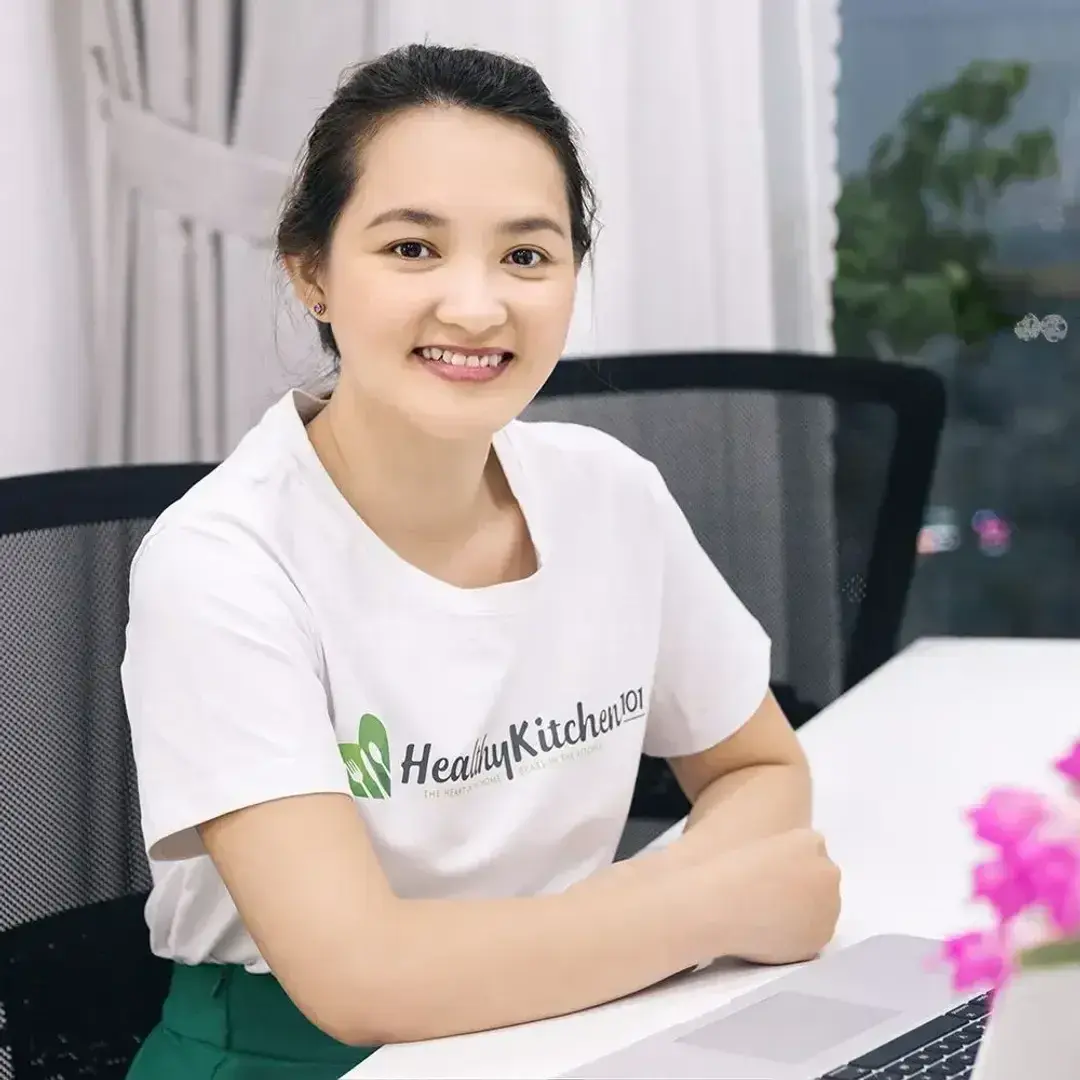 Luna Regina
Luna is the founder and chief recipe developer of Healthy Recipes 101. Apart from cooking, she also loves reading, programming, exploring the outdoors, and collecting useless facts about everything.