Our chicken and shrimp carbonara recipe makes a creamy and super-addictive meal with the delicious combination of earth and seafood. The al dente spaghetti is tossed in a creamy carbonara sauce and topped with pan-fried chicken, succulent shrimp, and crispy bacon.
It is a perfect plate of comfort food that you'll want to make again and again.
Is This Chicken and Shrimp Carbonara Healthy?
The short answer is yes, our chicken and shrimp carbonara recipe is healthy.
Our recipe uses chicken and shrimp as the main source of protein. Each serving contains approximately 40 g of protein — up to 80% of the recommended daily intake from the USDA.
With about 500 calories and only 10 g of saturated fat per serving, we believe our recipe is lower in calories and healthier than most take-out chicken and shrimp carbonara. We also used just enough salt to complement the ingredients' flavors and ensure the main nutrients stayed within the healthy limits.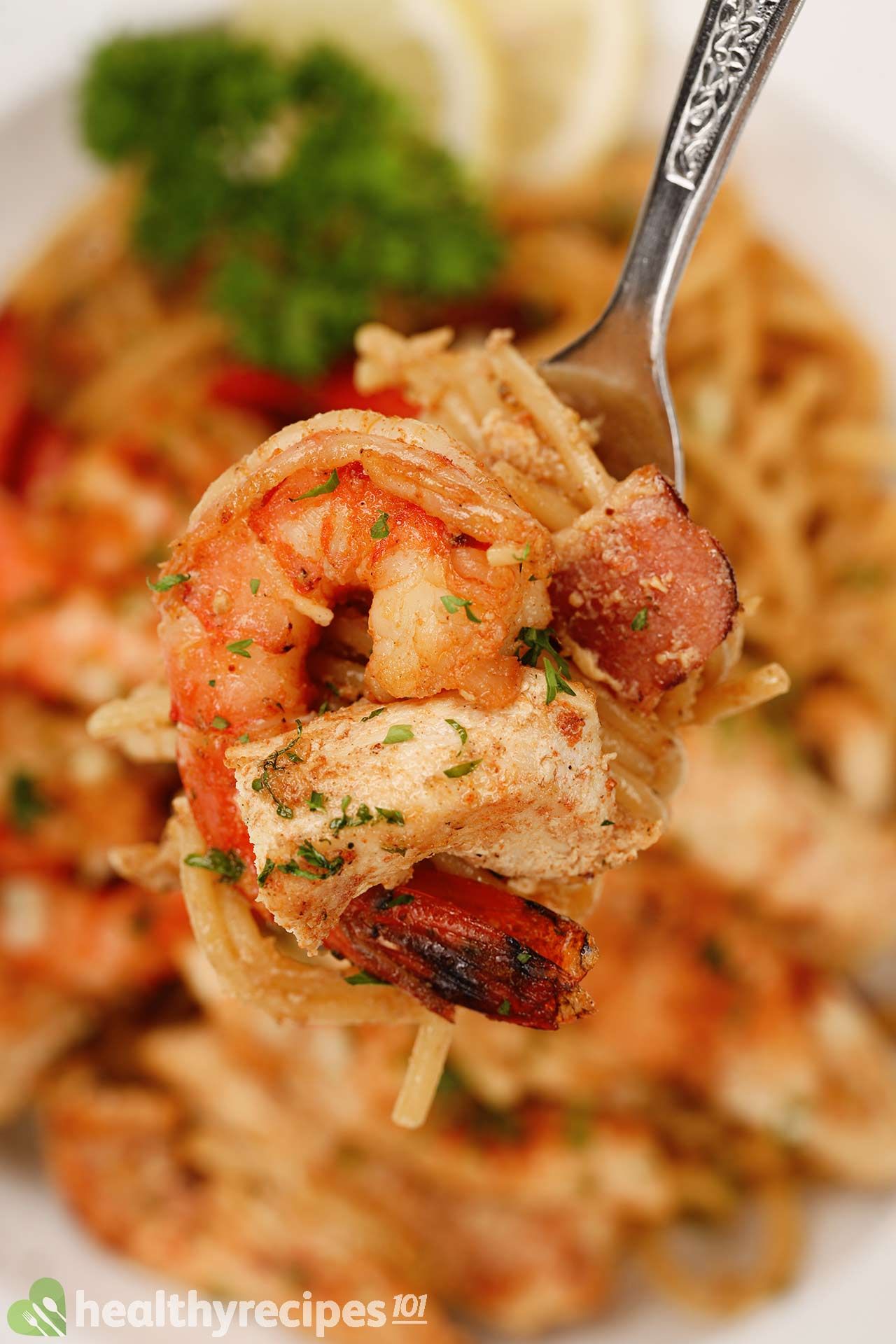 Ingredients for Chicken and Shrimp Carbonara
As with any exquisite Italian dish, high-quality ingredients are key. The list may look a bit elaborate, but the result is worth the time and effort.
Chicken: The recipe calls for boneless skinless chicken breast since it doesn't require much prepping. Once sliced into thin strips, the chicken can be browned in minutes and will retain its tender, juicy texture.
Shrimp: We used large shrimp for this carbonara recipe, as they generally have a similar size to chicken pieces. Both fresh and frozen shrimp are good to go, and if you want to save some time, pick the frozen type that is peeled, deveined, and tail-off.
Sauce: The carbonara sauce is a classic Italian sauce that uses cream, beaten egg, and cheese. More details of the sauce will be provided in the next section.
Pasta: Any long-shaped pasta is perfect for those dishes with a creamy but not too heavy sauce.
Seasoning: Since most of the flavors intensify with the rich and savory sauce, we simplified the chicken and shrimp seasoning. The blend of garlic powder and paprika infuses a nice color and aroma.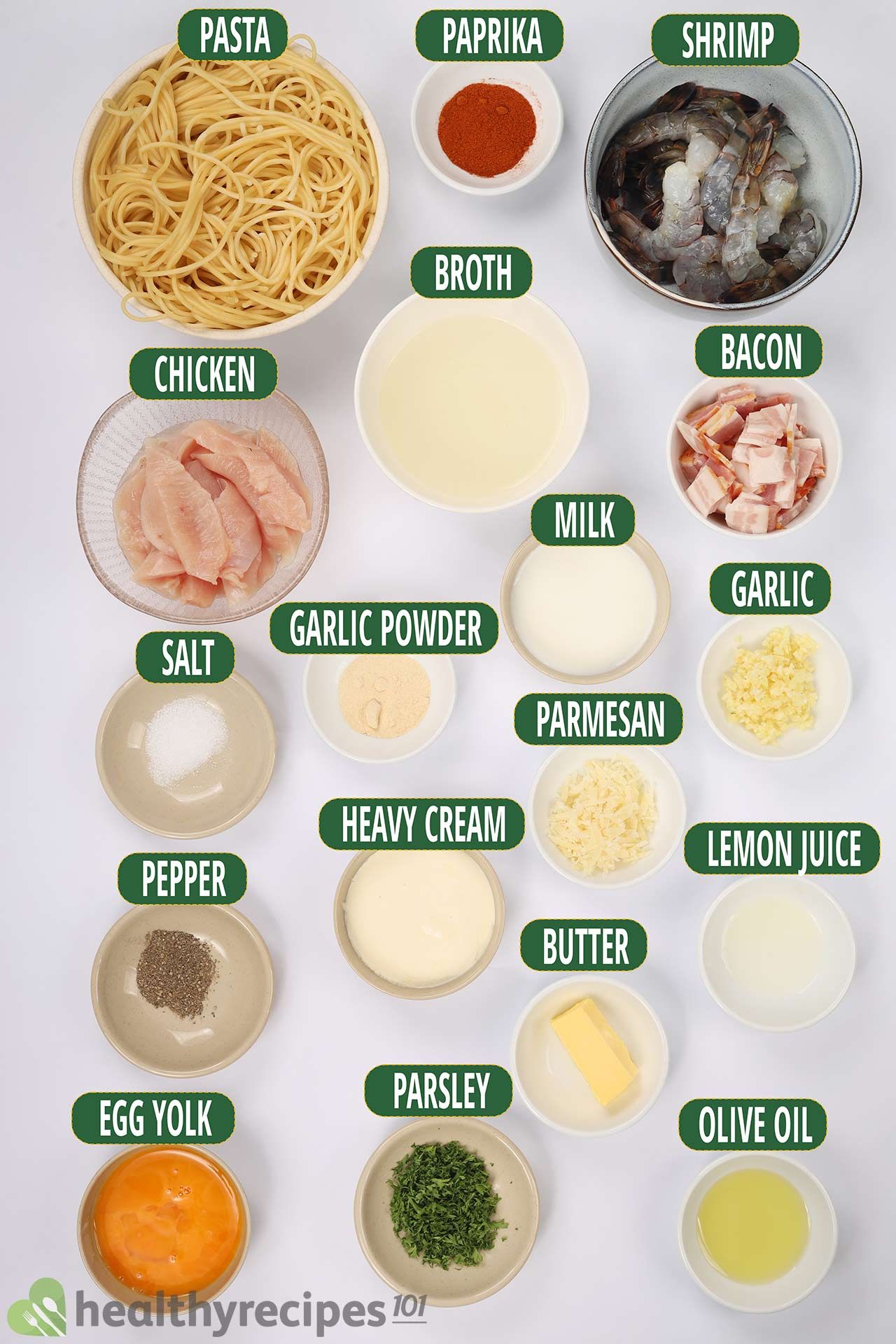 Best Pasta for Chicken and Shrimp Carbonara
Carbonara is actually not assigned to any specific pasta shape or size. Spaghetti is the most common pasta for the dish, but other variants like fettuccine, rigatoni, or linguine also work well in this carbonara recipe. Just follow the instructions on the package carefully since all types require different cooking times.
Carbonara Sauce
Carbonara is a thick, creamy sauce made with garlic, butter, milk, heavy cream, egg, parmesan cheese, and bacon. Our technique to make the sauce is quite simple.
We added the chicken broth and dairy to the sautéed garlic to deglaze the pan. Then we allowed the pasta and bacon to simmer in the sauce for a minute on medium heat.
Once the pasta was cooked, we slowly drizzled the beaten egg and stirred it into the pasta. It works best if you toss the pasta frequently the entire time to coat it and prevent the eggs from turning into scrambled eggs.
The residual heat from the pasta will help to cook the egg until all the ingredients are incorporated. Our finishing touch of parmesan cheese helps thicken the sauce to the signature luxurious and 'sticky' texture. Now your carbonara sauce is ready to serve.
How to Make Chicken and Shrimp Carbonara
This chicken and shrimp carbonara comes together quickly, so you'll want to prep all the ingredients before getting started.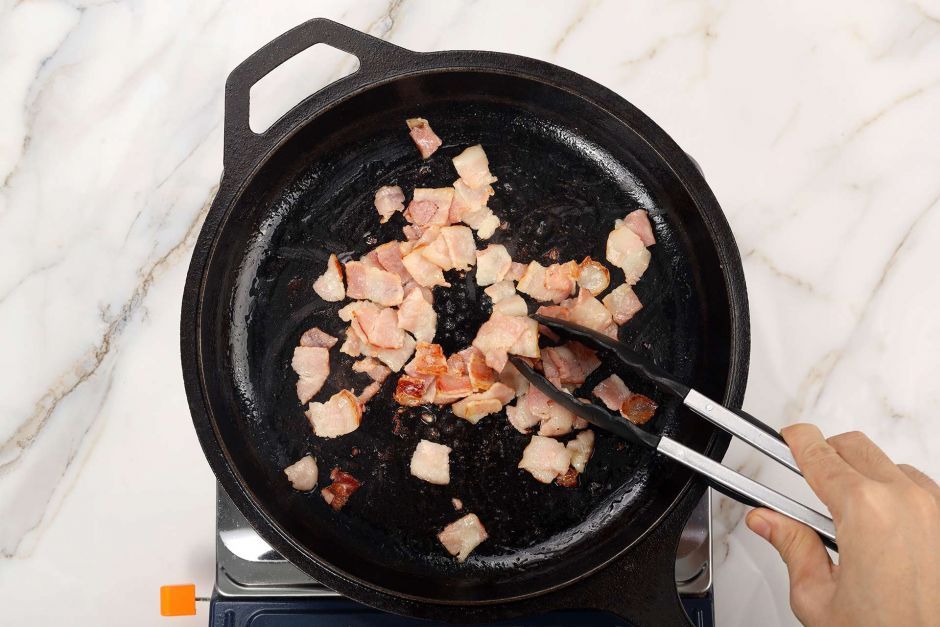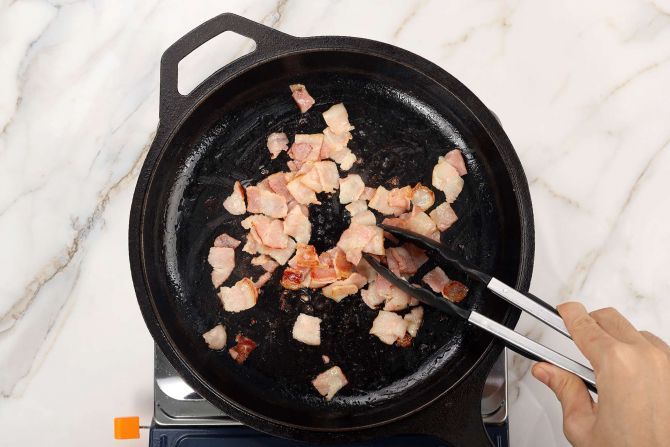 Sear the bacon.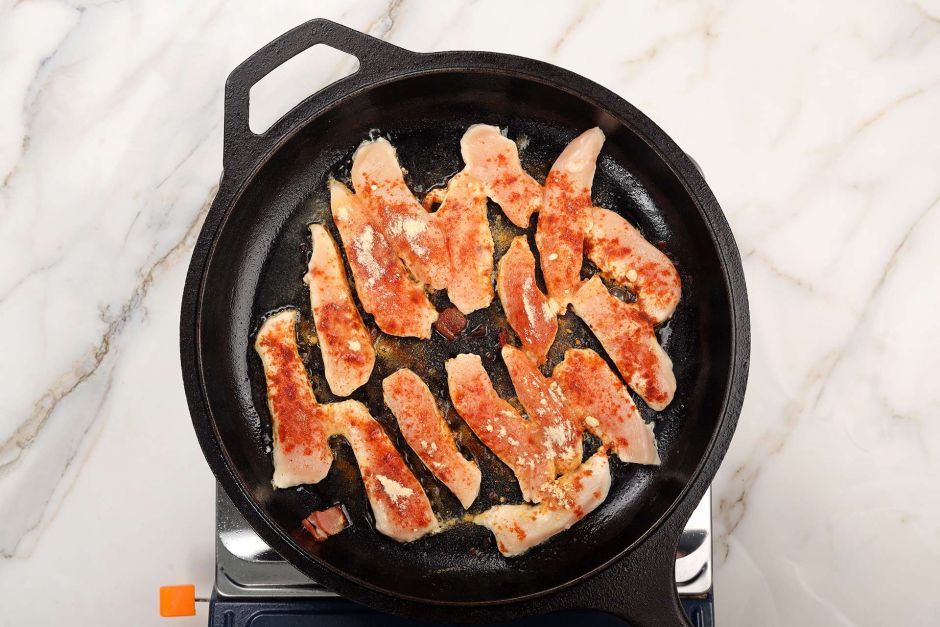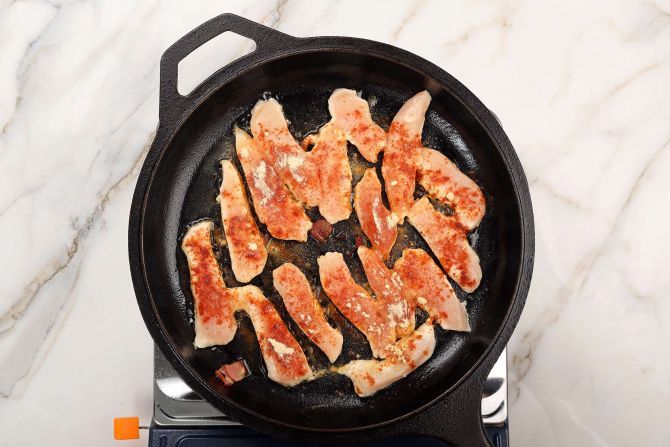 Fry the chicken.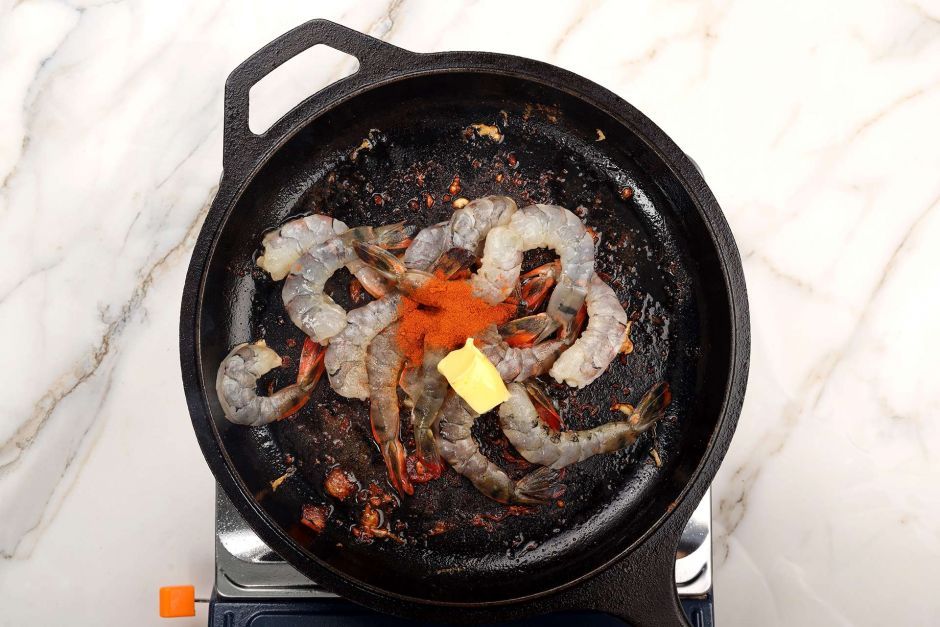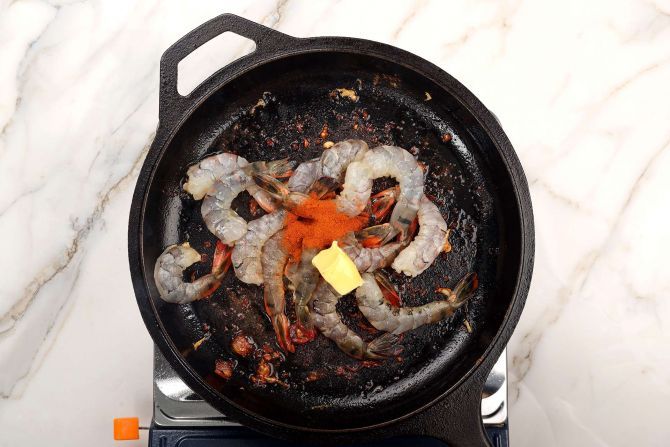 Fry the shrimp.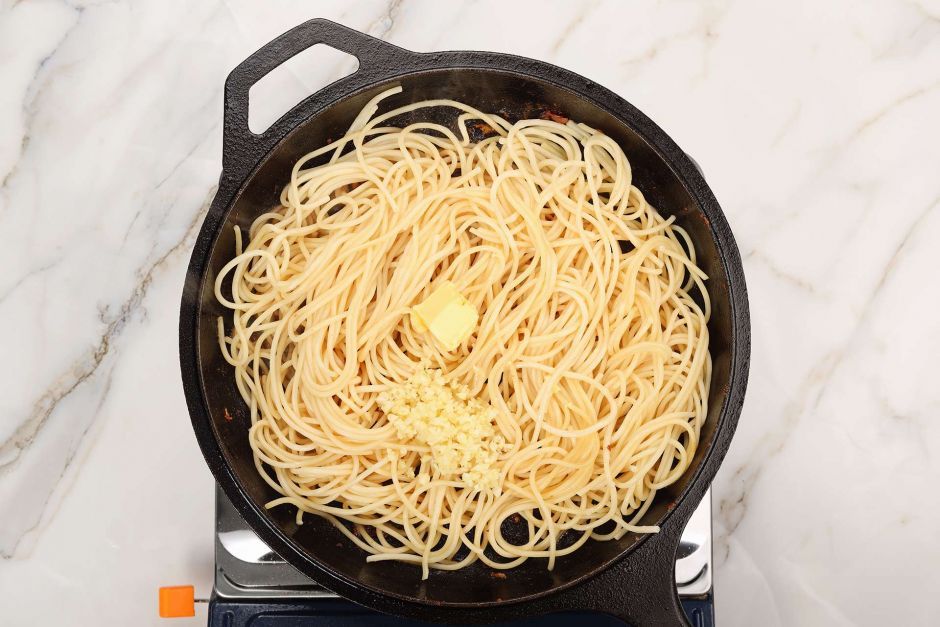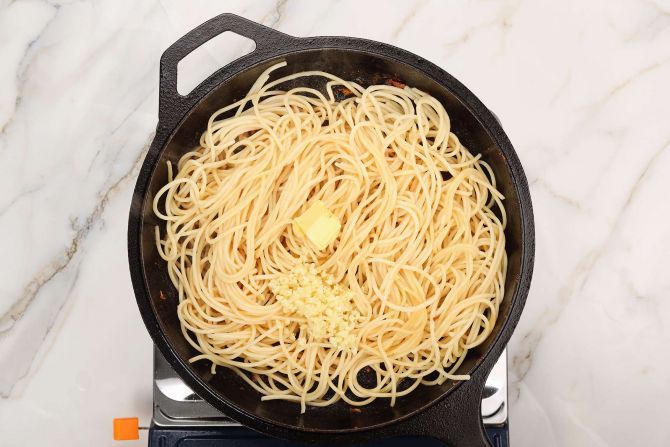 Add the pasta.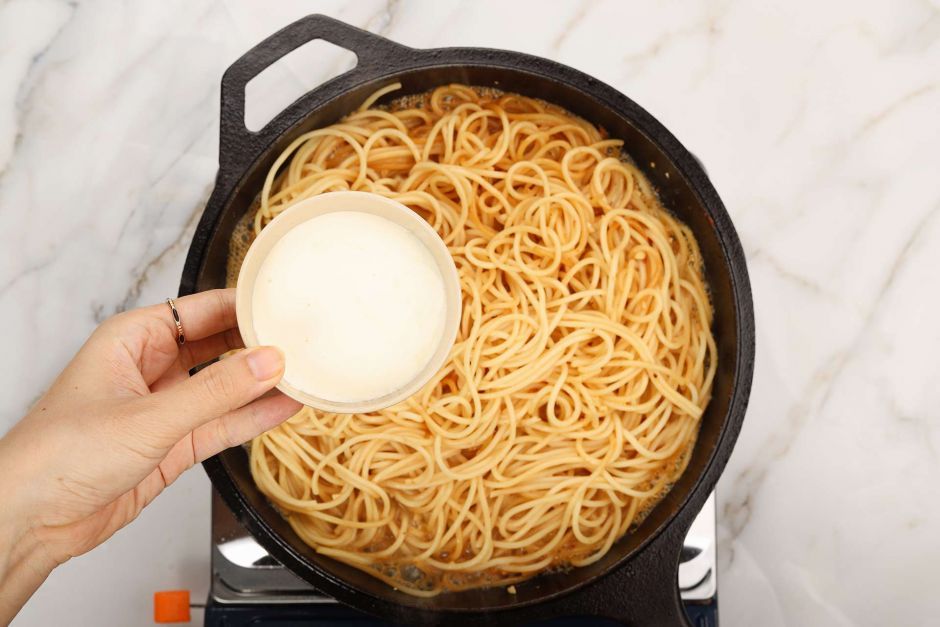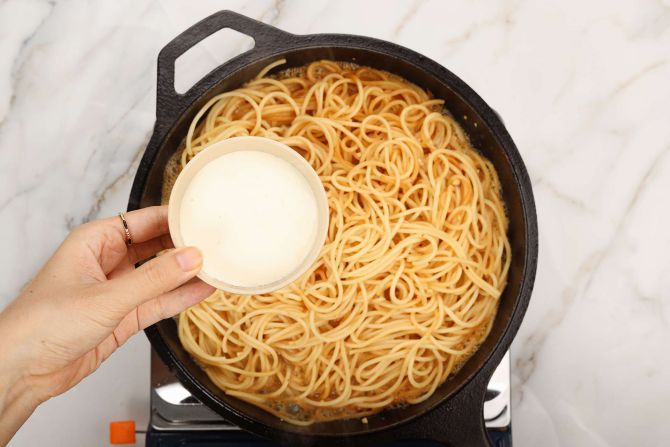 Pour in the dairy and broth.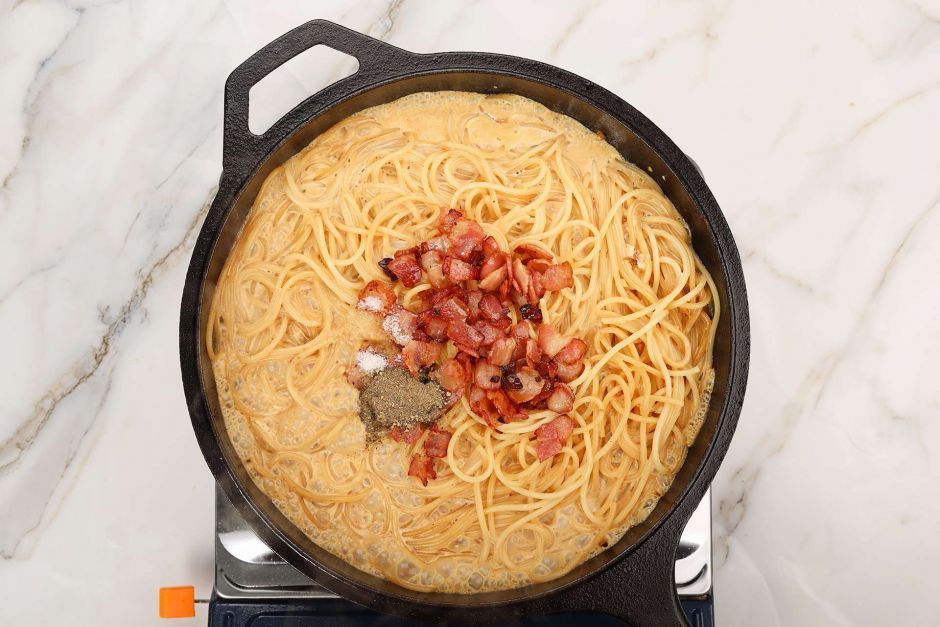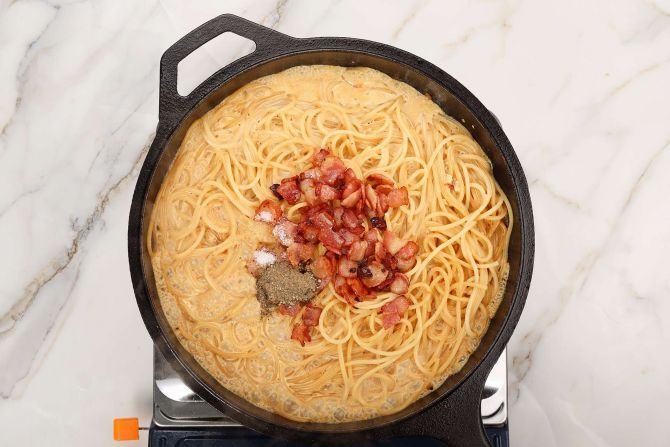 Season the pasta.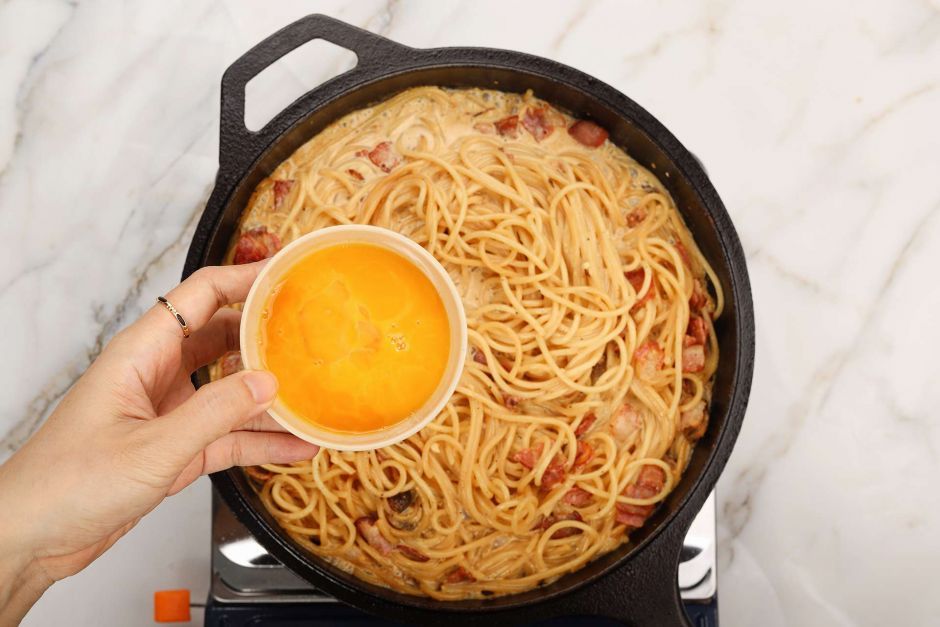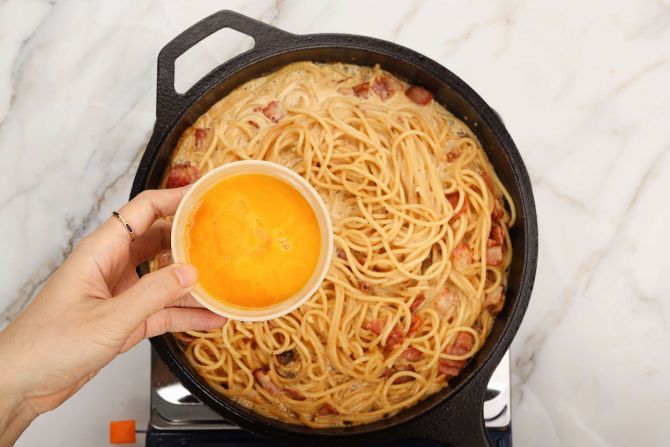 Stir in the eggs.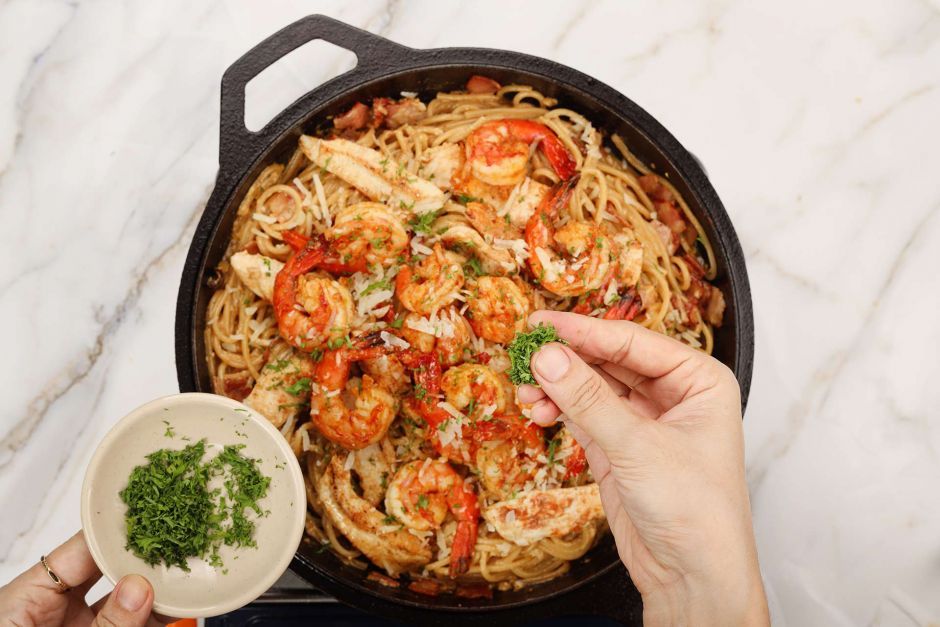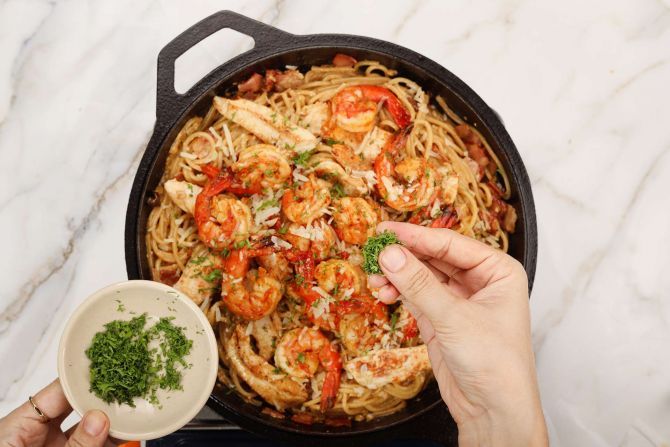 Sprinkle with cheese and parsley.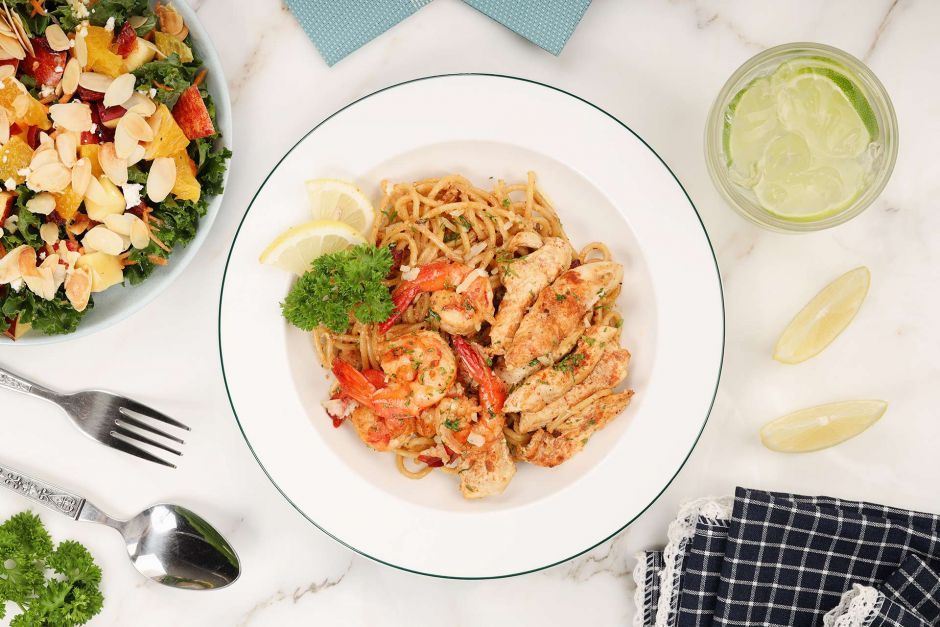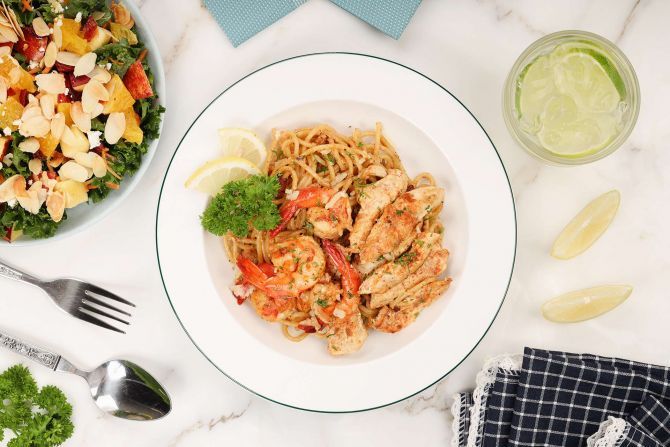 Serve immediately.
Store and Reheat
Containing seafood and dairy, any leftovers from the chicken and shrimp carbonara should be kept in an airtight container or sealed bag in the fridge for later use.
We encourage you to label the container so that you know what's inside and when you're ready to eat them again. The refrigerated carbonara will last for 2 – 3 days and about 2 months in the freezer.
To properly reheat, it's best to let your carbonara thaw overnight. You can either reheat the pasta on the stovetop or in a microwave-safe dish with a plastic wrapper covered. Sprinkle with a little oil or water; this prevents the noodles from sticking together.
What to Serve With Chicken and Shrimp Carbonara
Packed with proteins and carbohydrates, our chicken and shrimp carbonara is often served as a satisfying main dish. We have complemented the dish with a light kale salad and fresh lime juice to make the whole combination a complete meal.
Nutritional values in this table vary somewhat to those below due to different app calculations. Read more...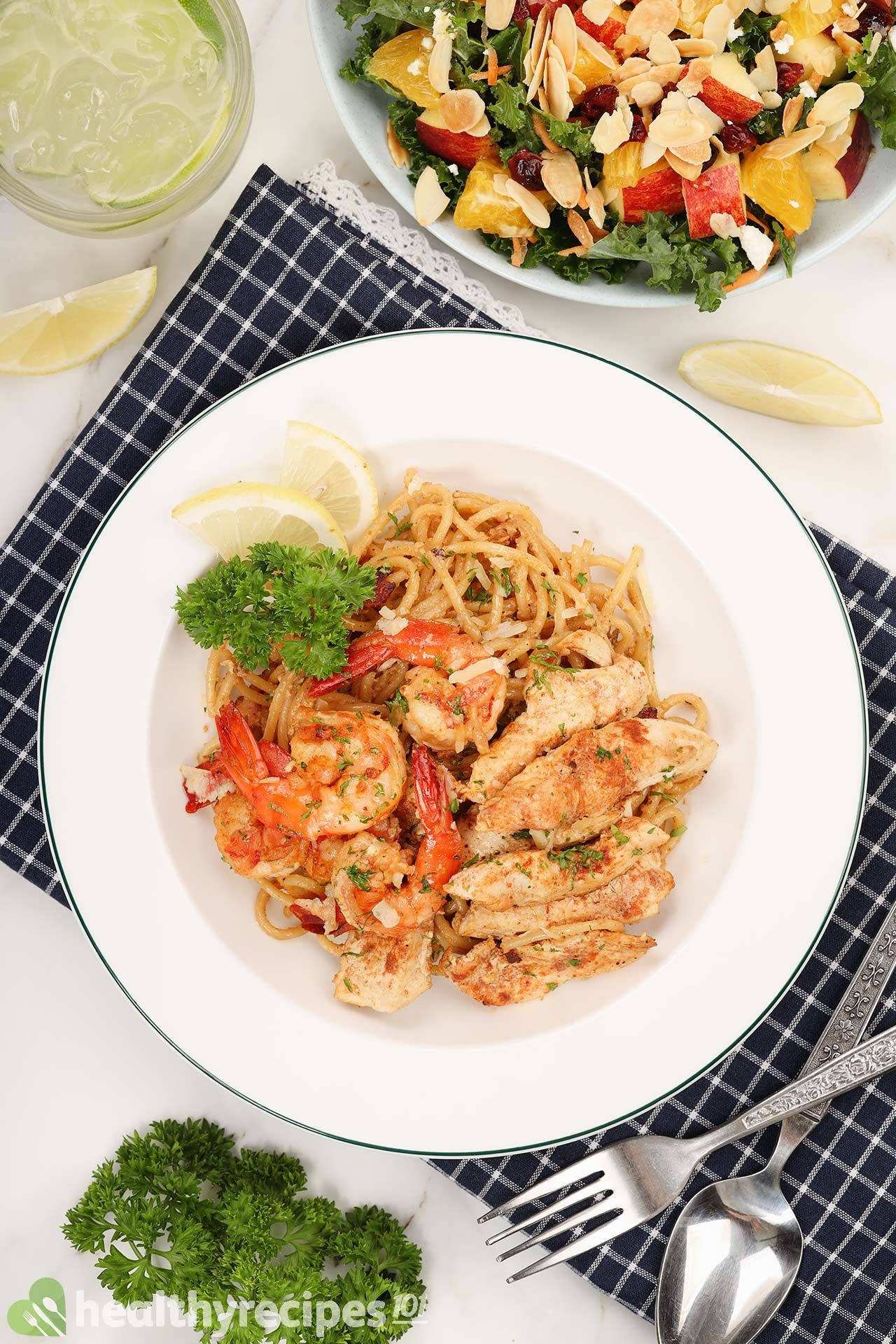 Recipes Similar to This Chicken and Shrimp Recipe
Switch up your diet with these tasty shrimp recipes. They're tasty, easy, and comply with our healthy eating standards: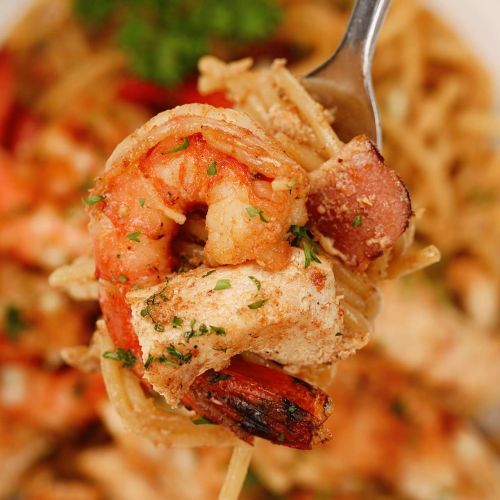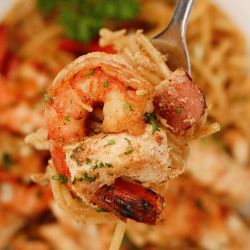 Chicken and Shrimp Carbonara Recipe
Our chicken and shrimp carbonara recipe is one of the most famous dishes in Italian cuisine. It's actually quick and easy to make.
Ingredients
8

oz

skinless boneless chicken breast

sliced

6

oz

peeled deveined shrimp

equals to 12 oz raw shrimp

2.5

oz

bacon

cut into 1-inch cubes

1

tbsp

olive oil

1/2

tsp

garlic powder

1

tsp

paprika

divided

1

tbsp

unsalted butter

divided

12

oz

cooked pasta

1

tbsp

garlic

chopped

1/2

cup

unsalted chicken broth

1/4

cup

milk

4

tbsp

heavy cream

1/2

tsp

salt

1/2

tsp

black pepper

2

large egg yolks

0.25

oz

shredded parmesan cheese

1

tsp

lemon juice

2

tbsp

parsley

chopped
Instructions
Heat a pan over medium heat and add 2.5 oz bacon. Sauté for 2 minutes, stirring frequently. Transfer the bacon to a bowl and set aside.

Heat 1 tbsp olive oil in the same pan. Cook and stir 8 oz chicken breast with 1/2 tsp garlic powder, and 1/2 tsp paprika for 2 minutes. Transfer the chicken to a bowl and set aside.

Add 6 oz shrimp, 1/2 tsp paprika, and 1/2 tbsp butter. Stir fry the shrimp for 2 minutes or until they are no longer white and translucent.

Stir in 12 oz pasta, 1 tbsp garlic, and 1/2 tbsp butter and cook for another 1 minute.

Pour in 1/2 cup chicken broth, 1/4 cup milk, and 4 tbsp heavy cream.

Return the bacon to the pan. Season the pasta with 1/2 tsp salt and 1/2 tsp black pepper and stir the mixture for 30 seconds.

Take off the heat. Add 2 large egg yolks and stir until well blended.

Add the cooked chicken and shrimp. Add 0.5 oz parmesan, 1 tsp lemon juice, and 2 tbsp chopped parsley.

Mix to coat and serve immediately.
Nutrition
Nutrition Facts
Chicken and Shrimp Carbonara Recipe
Amount Per Serving (1 serving)
Calories 508
Calories from Fat 225
% Daily Value*
Fat 25g38%
Cholesterol 315mg105%
Sodium 588mg26%
Potassium 581mg17%
Carbohydrates 30g10%
Protein 41g82%
Vitamin A 598IU12%
Vitamin C 4mg5%
Calcium 136mg14%
Iron 2mg11%
* Percent Daily Values are based on a 2000 calorie diet.