Wondering what to have for tonight's dinner? If you're a fan of rich and satiating food, then this peanut butter chicken is definitely worth a try. It has that delicious nutty taste and tons of savory flavors to keep you satisfied.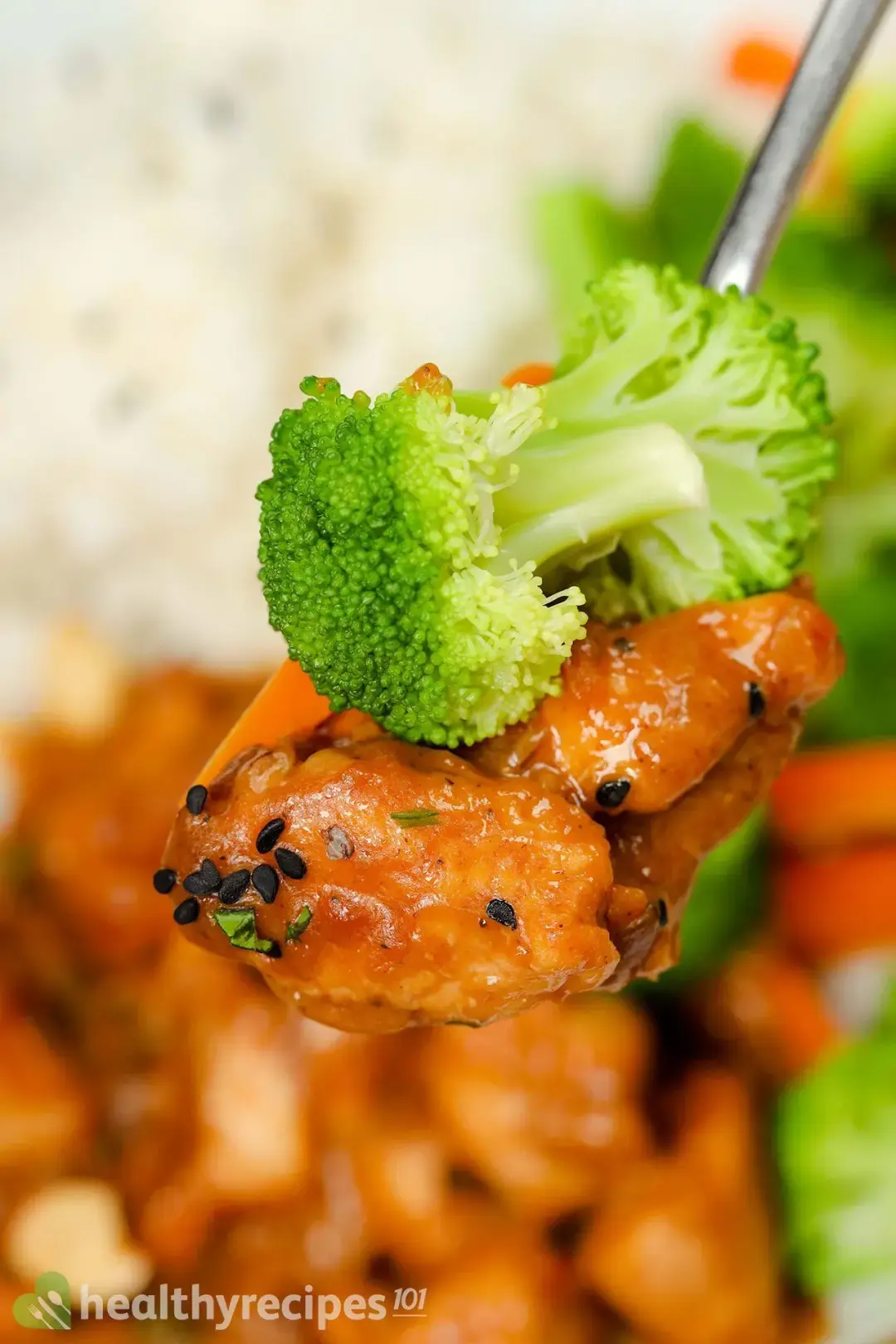 Is Peanut Butter Chicken Healthy?
Yes, it is relatively healthy.
With around 32 grams of protein per serving, our this recipe makes a fulfilling meal. It's the combination of chicken breasts and peanut butter that offers such an excellent source of protein.
On top of that, broccoli and carrots add to the amount of dietary fiber and vitamins, especially vitamins A, C, and K.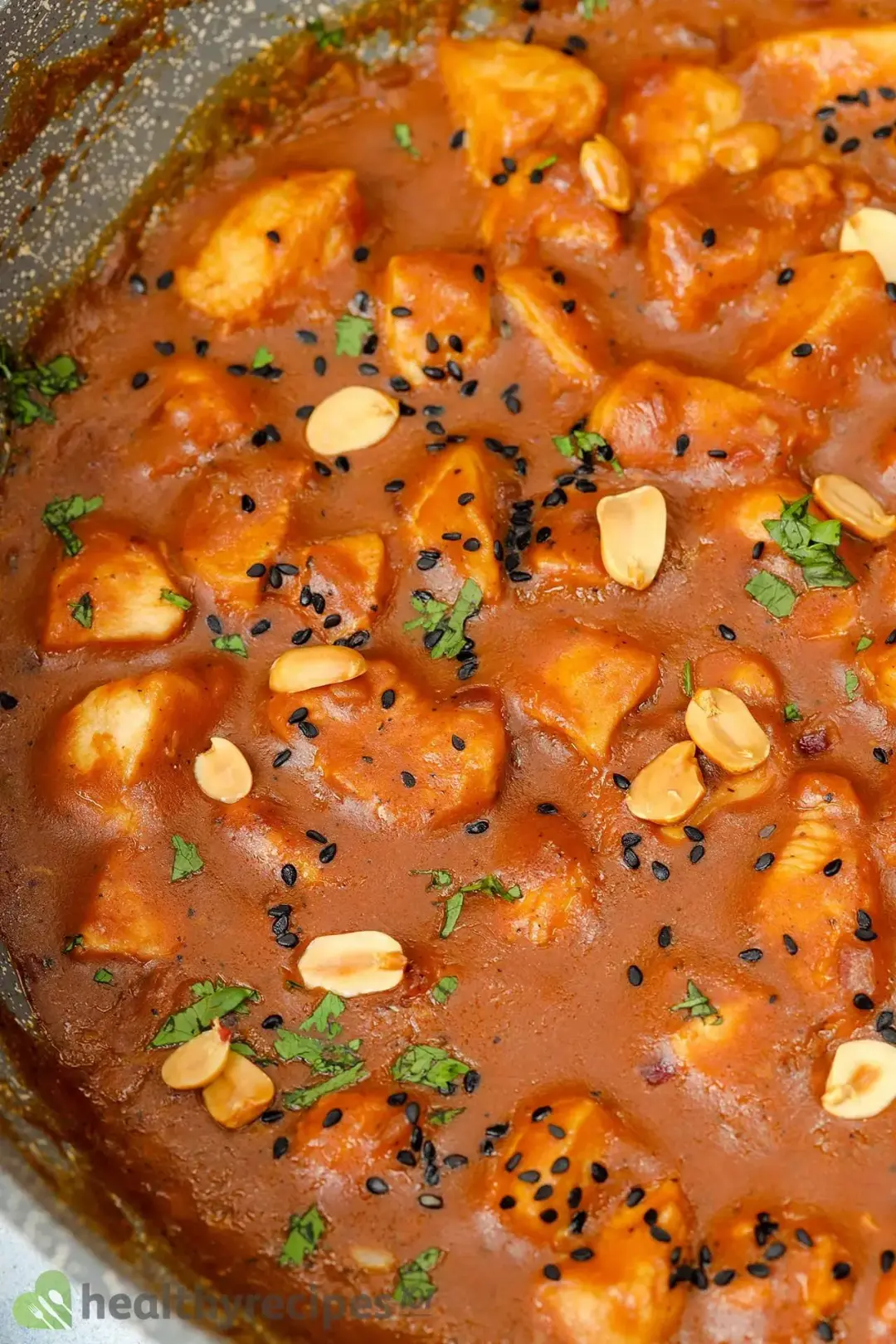 And even though this is a hearty dish, all of the indexes fall under the recommended upper limits of the 2020 – 2025 Dietary Guidelines for Americans. One serving of our this recipe contains around 500 calories, 2.5 g saturated fats, and less than 600 mg sodium.
Ingredients for This Recipe
1. For the Chicken
We use skinless boneless chicken breasts for a leaner eating experience. Plus, chicken breasts are naturally light-tasting and can absorb seasonings beautifully, which makes them fantastic for cooking with a rich-flavored peanut butter sauce.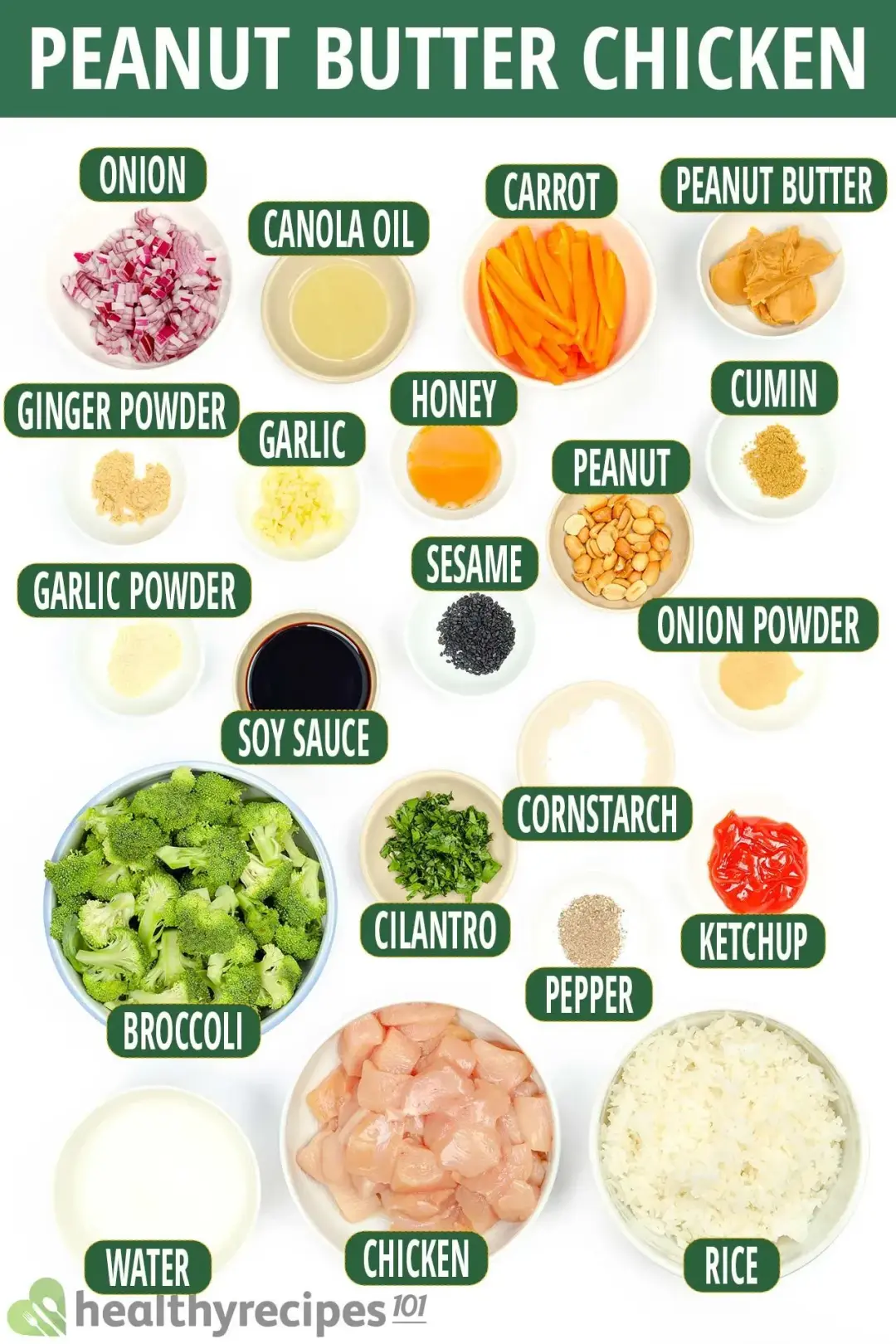 2. For the Peanut Butter Sauce
Our rich nutty peanut butter sauce calls for simple everyday ingredients which can be easily found at any grocery or supermarket:
Peanut butter: We use unsalted smooth peanut butter for our mix.
Honey: To sweeten the sauce.
Spices: We add pepper, cumin, garlic powder, ginger powder, and onion powder for a kick of flavor.
Cornstarch: To give the sauce a thick consistency.
Ketchup: The mildly sweet and sour flavor of ketchup balances the rich savory taste of peanut butter.
Reduced-sodium soy sauce: To add an extra umami flavor to our sauce.
Water: To help the sauce dissolve more easily.
3. For the Sides
Since our this recipe has tons of rich flavors, we serve it along with cooked white rice and boiled veggies for a well-rounded meal. Tender-crisp broccoli and carrots add texture to our creamy dish, while the soft rice soaks up the sauce beautifully, making each mouthful absolutely satiating.
How to Store the Leftovers
You can store the leftover peanut butter chicken in an airtight container in the fridge for up to 4 days. To reheat, simply microwave it at medium heat for 2 minutes.
What to Serve with Peanut Butter Chicken
Our delicious peanut butter chicken makes a rich and filling main course. Serve it alongside these light-hearted dishes for a well-balanced meal: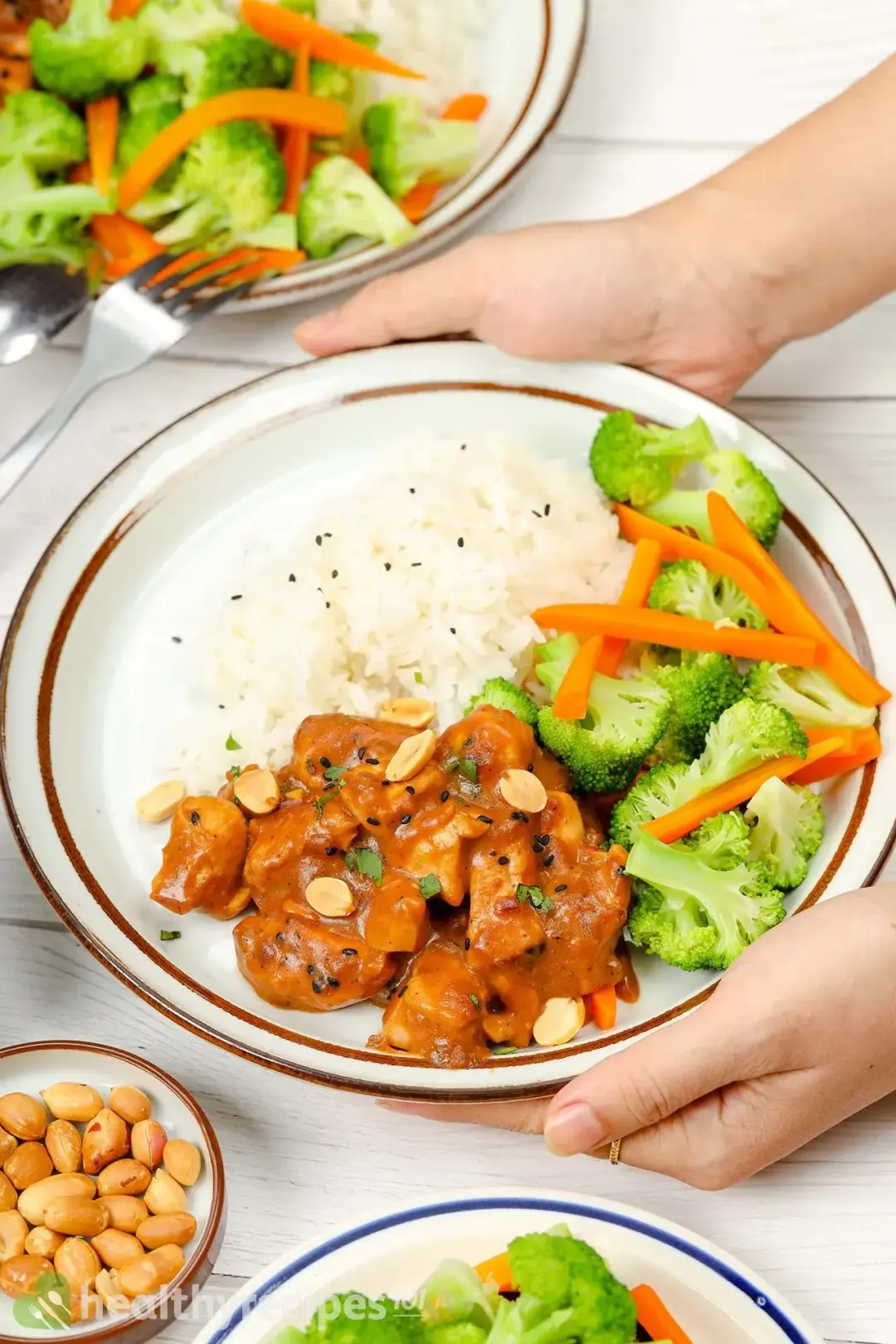 How to Make Peanut Butter Chicken
Today's peanut butter chicken recipe makes a delicious hearty dinner with savory chicken cooked in a smooth and tasty peanut butter sauce. Serve with hot white rice and boiled broccoli and carrots.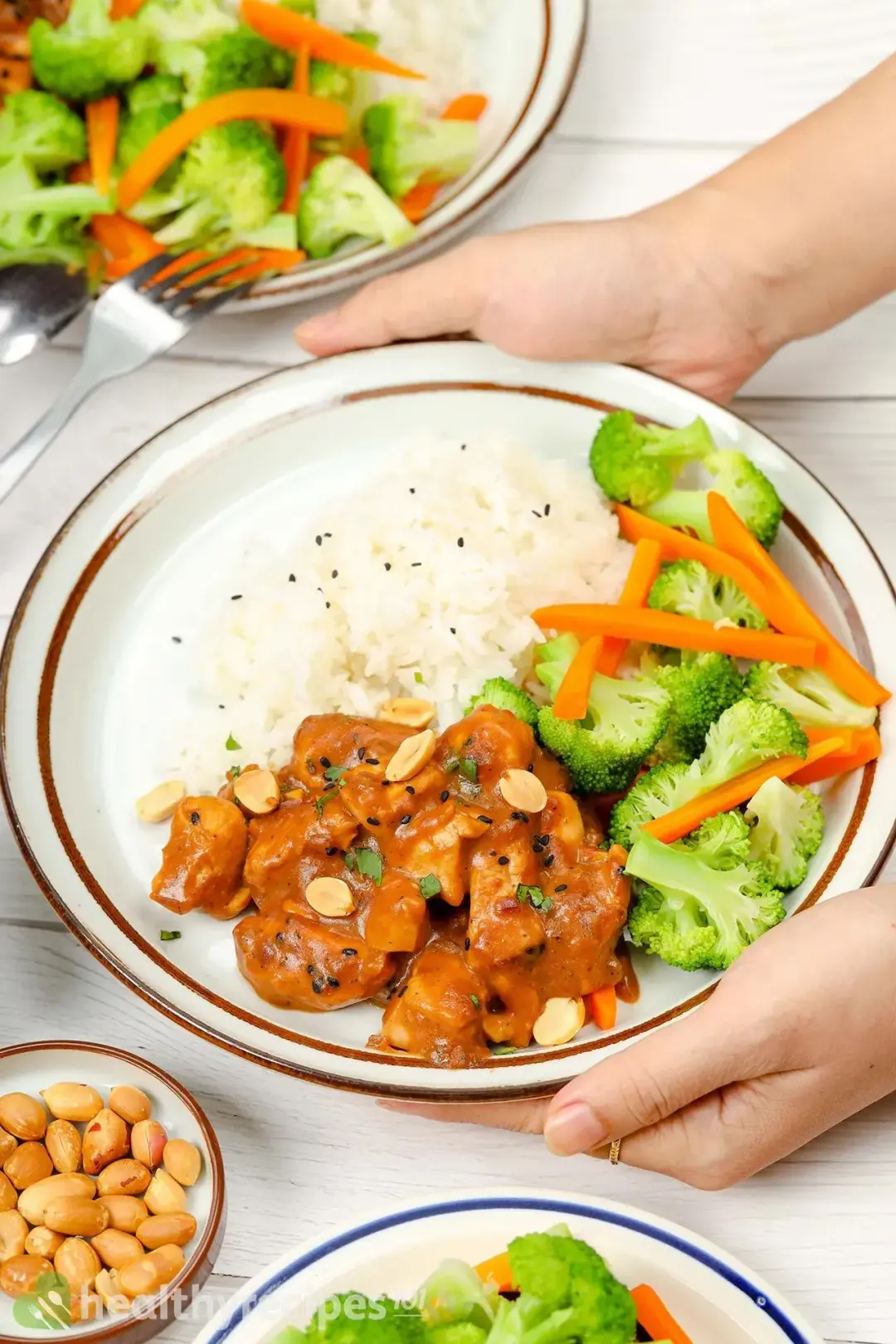 cook TIME

45 mins

prep TIME

15 mins

total TIME

1 hr
COURSE

Main Course

CUISINE

American

SERVINGS

servings

CALORIES

508 kcal
INGREDIENTS
2 tbsp

garlic minced

0.5 tsp

garlic powder

0.5 tsp

ginger powder

1 tbsp

honey

0.5 tbsp

cornstarch

0.5 tsp

onion powder

3 cups

cooked medium-grain rice

0.3 cup

cilantro chopped

0.5 tsp

ground black pepper

0.5 tsp

cumin

8 oz

broccoli cut into florets

14 oz

skinless boneless chicken breast cut into 1.5-inch pieces

3 oz

carrot julienned

2 oz

red onion diced

1 tsp

black sesame seeds

1 tbsp

canola oil

3 tbsp

unsalted peanut butter

3 tbsp

reduced-sodium soy sauce

0.5 oz

roasted unsalted peanuts

1.5 tbsp

Heinz's ketchup

0.8 cup

water
INSTRUCTIONS
Prep:
1
Cut the chicken breasts into 1.5-inch slices.
2
Cut the broccoli into florets: Wash the broccoli under running water, then pat dry. Place the broccoli on a cutting board, the large stem facing up. With a paring knife, slice the large florets away from the large stem, one by one. Half or quarter the florets to have even pieces.
3
Cut the carrot into thin strips (julienne method): Cut off the top and peel the skin. From top to bottom, peel the carrot to have thin slices, then stack the slices up and slice them to have thin strips.
4
Dice the onion: Half the onion lengthwise and peel the skin. Make vertical slices 1/8" apart from each other towards the root, but leave about 1/8" so they're still intact. Turn the half 90 degrees, and grip the root. From the bottom, make horizontal cuts 1/8" apart from each other into the onion, also leaving 1/8" to keep everything intact. Slice the onion to have even cubes.
5
Peel and mince the garlic: Cut to remove the root part of each garlic clove and mash them down with a knife to remove the peel with ease. Mince the peeled cloves.
6
Roughly chop the cilantro.
Cook:
1
Make the peanut butter sauce: In a small mixing bowl, add 1/2 tsp garlic powder, 1/2 tsp ginger powder, 1 tbsp honey, 1/2 tbsp cornstarch, 1/2 tsp onion powder, 1/2 tsp pepper, 1/2 tsp cumin, 3 tbsp unsalted peanut butter, and 1 1/2 tbsp Heinz's ketchup. Mix to combine. Then add 3 tbsp reduced-sodium soy sauce and 3/4 cup water. Stir well.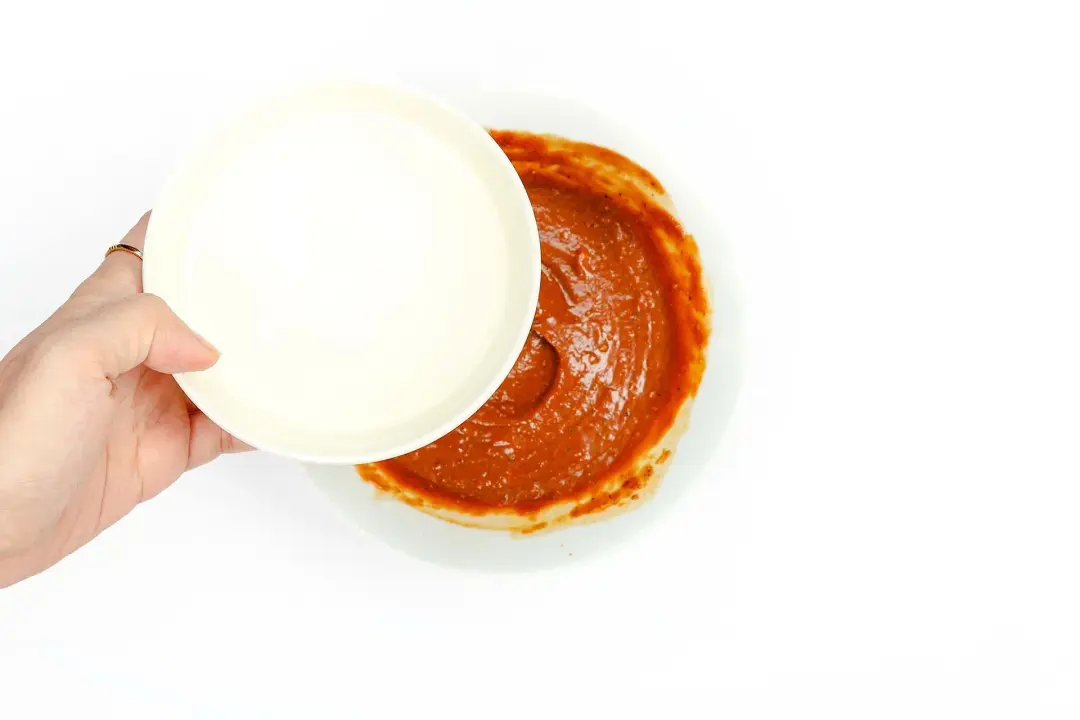 2
Boil the carrot and broccoli: Bring water to a boil in a skillet. Add 3 oz carrot and 8 oz broccoli and cook for 2 minutes. Remove from heat when done, drain them and rinse through water so that their color remains bright.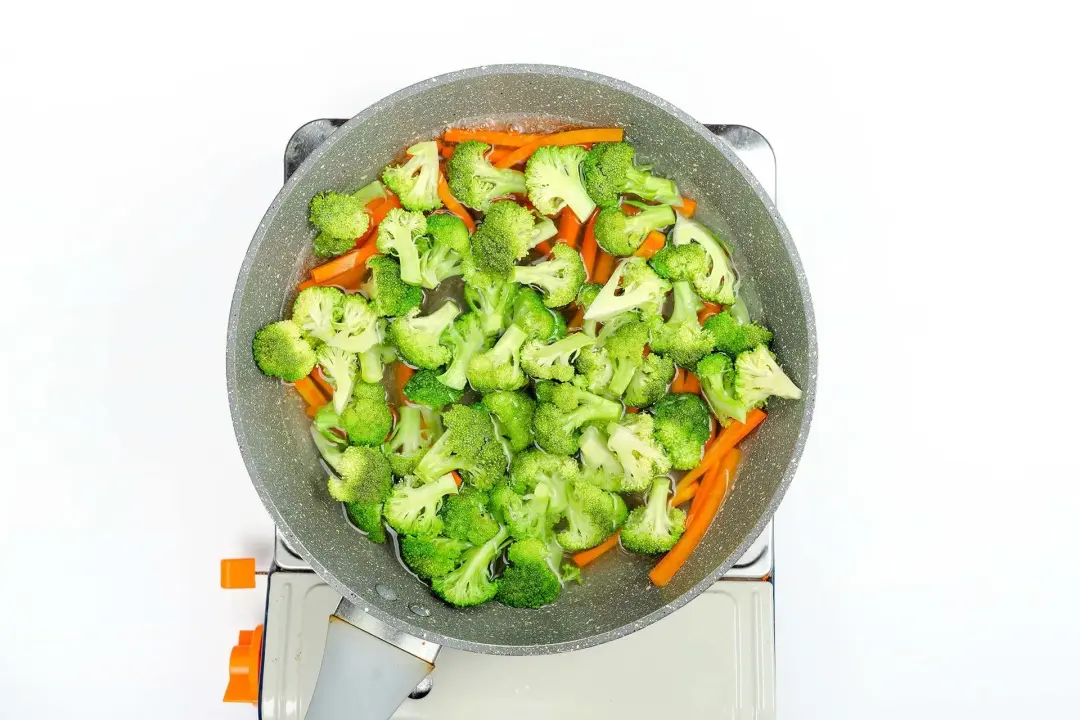 3
Saute the garlic and red onion: In a skillet over medium heat, add 1 tbsp canola oil, 2 tbsp garlic, and 2 oz red onion. Stir well for 2 minutes.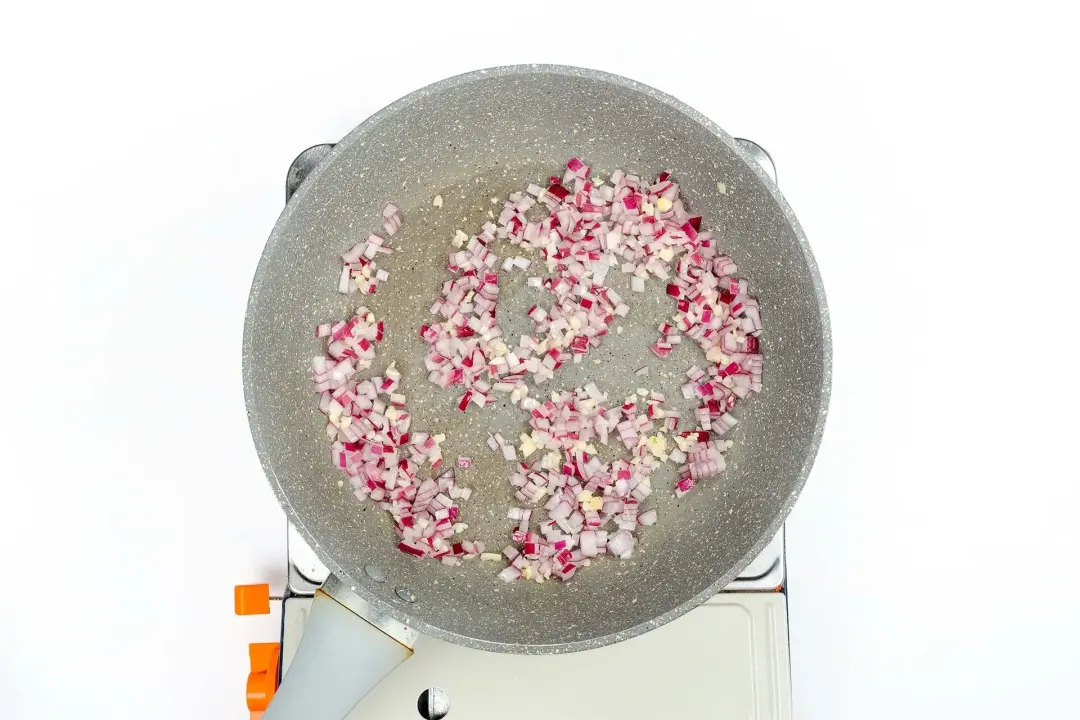 4
Add the chicken: Add 14 oz chicken breast and stir-fry for 3 minutes.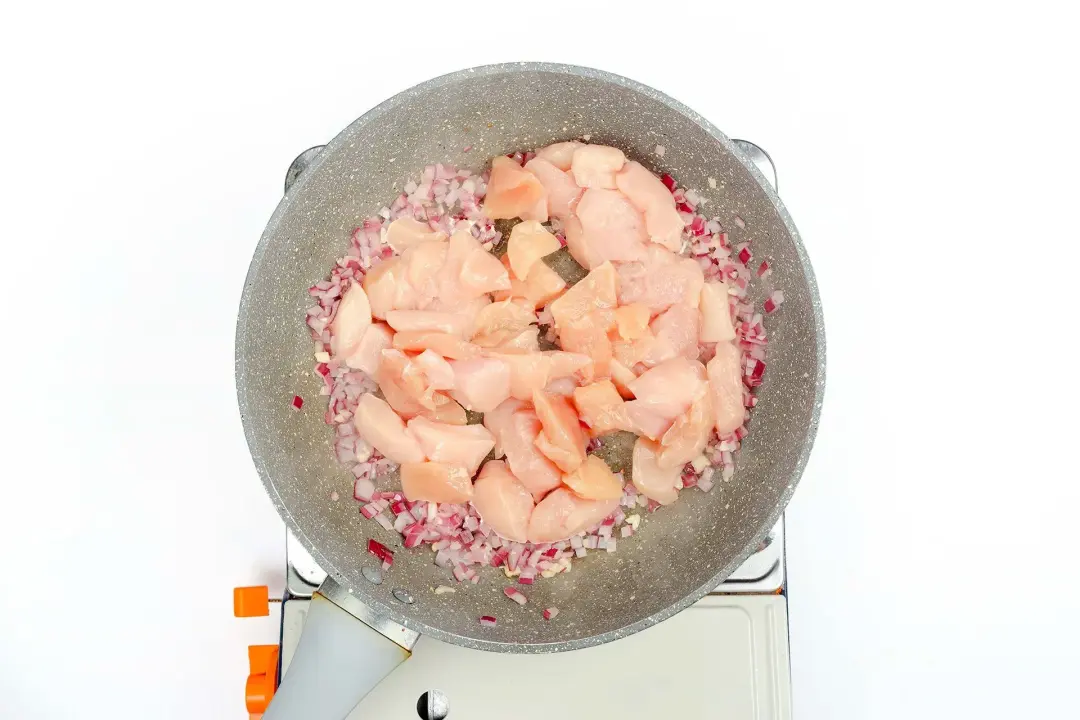 5
Add the peanut butter sauce: Add the peanut butter sauce, stir well and bring to a boil, then cook for another 20 minutes over low heat or until the sauce thickens up.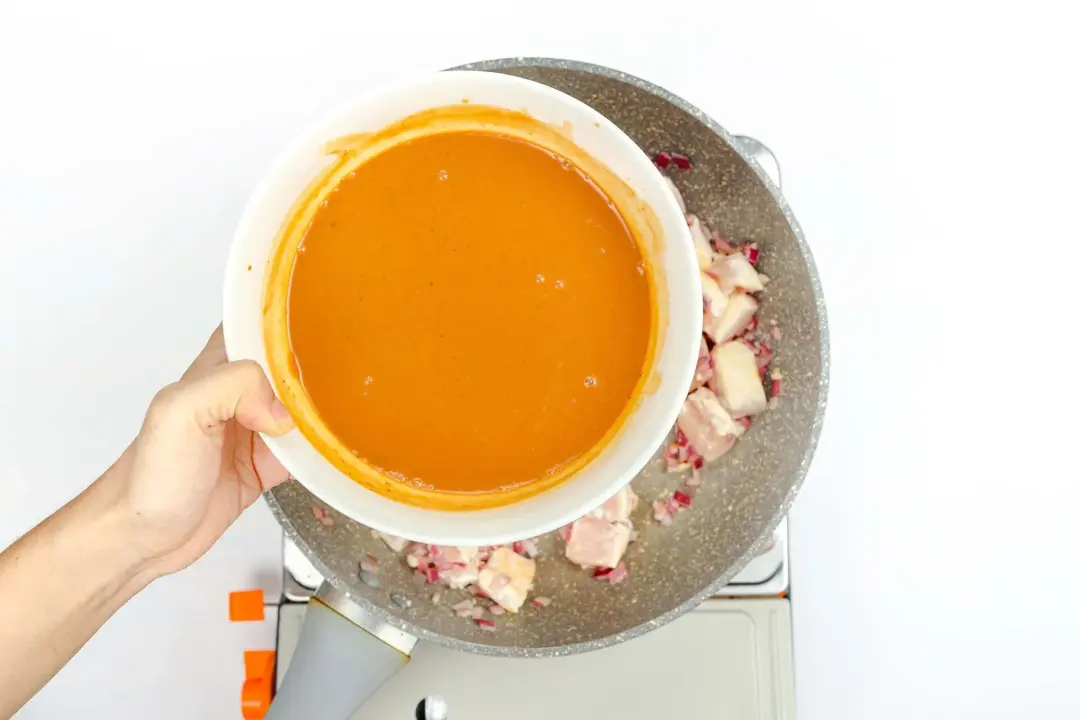 6
Add the black sesame seeds, cilantro, and roasted peanuts: Remove from heat when done, then sprinkle 1 tsp black sesame seeds, 1/4 cup cilantro, and 0.5 oz roasted peanuts on top.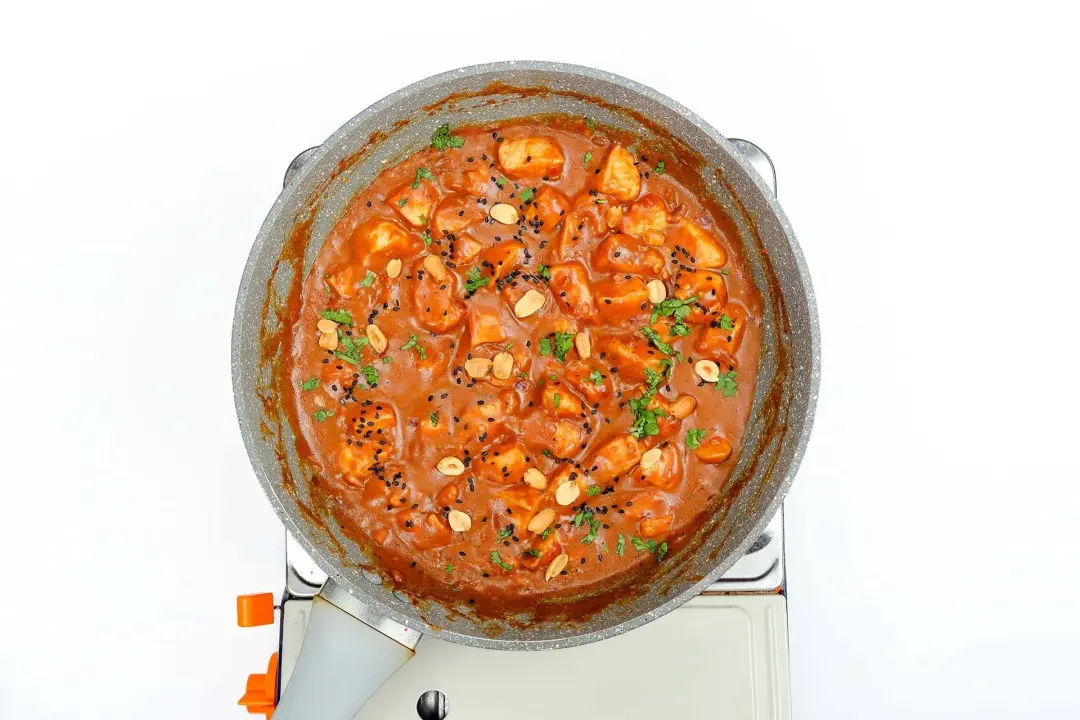 7
Serve with rice and boiled veggies.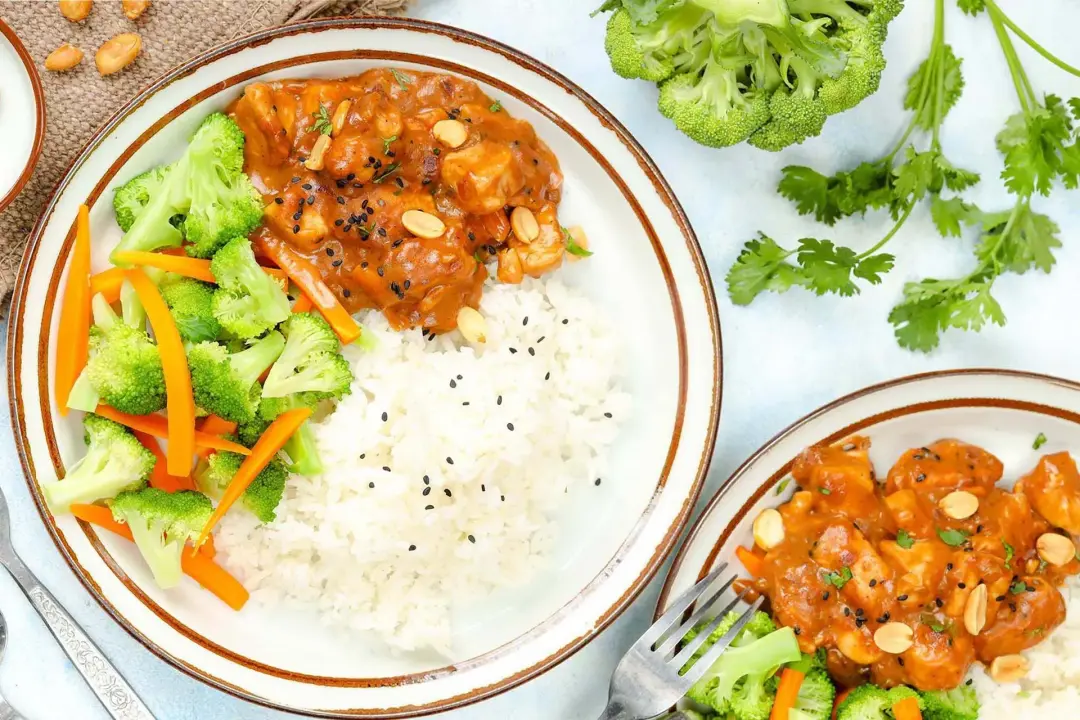 NUTRITION
Nutrition Facts
How to Make Peanut Butter Chicken
Amount Per Serving (1 serving)
Calories 508
Calories from FDA
% Daily Value*
* Percent Daily Values are based on a 2000 calorie diet.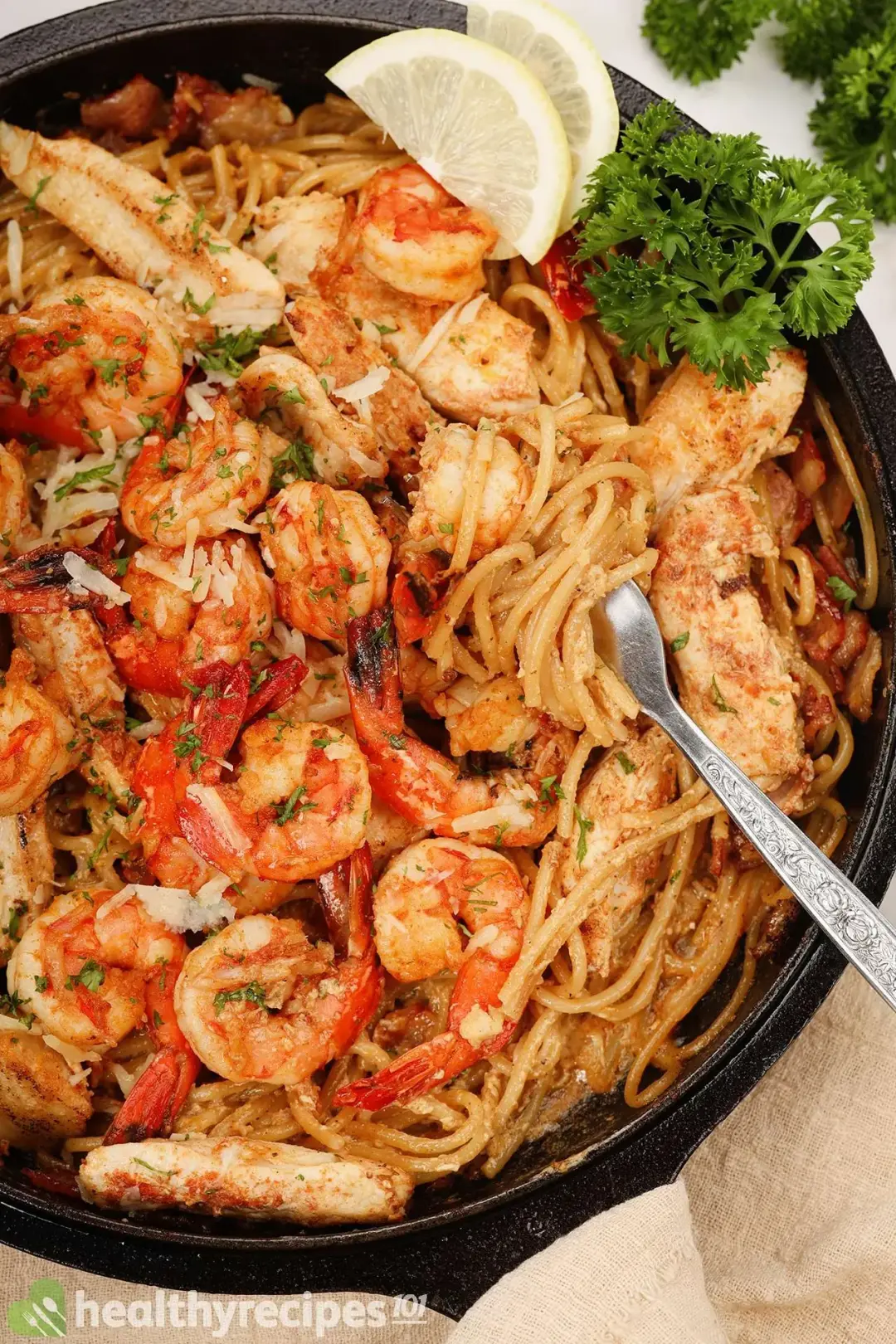 Previous Recipe
Chicken and Shrimp Carbonara
Chicken and Shrimp Carbonara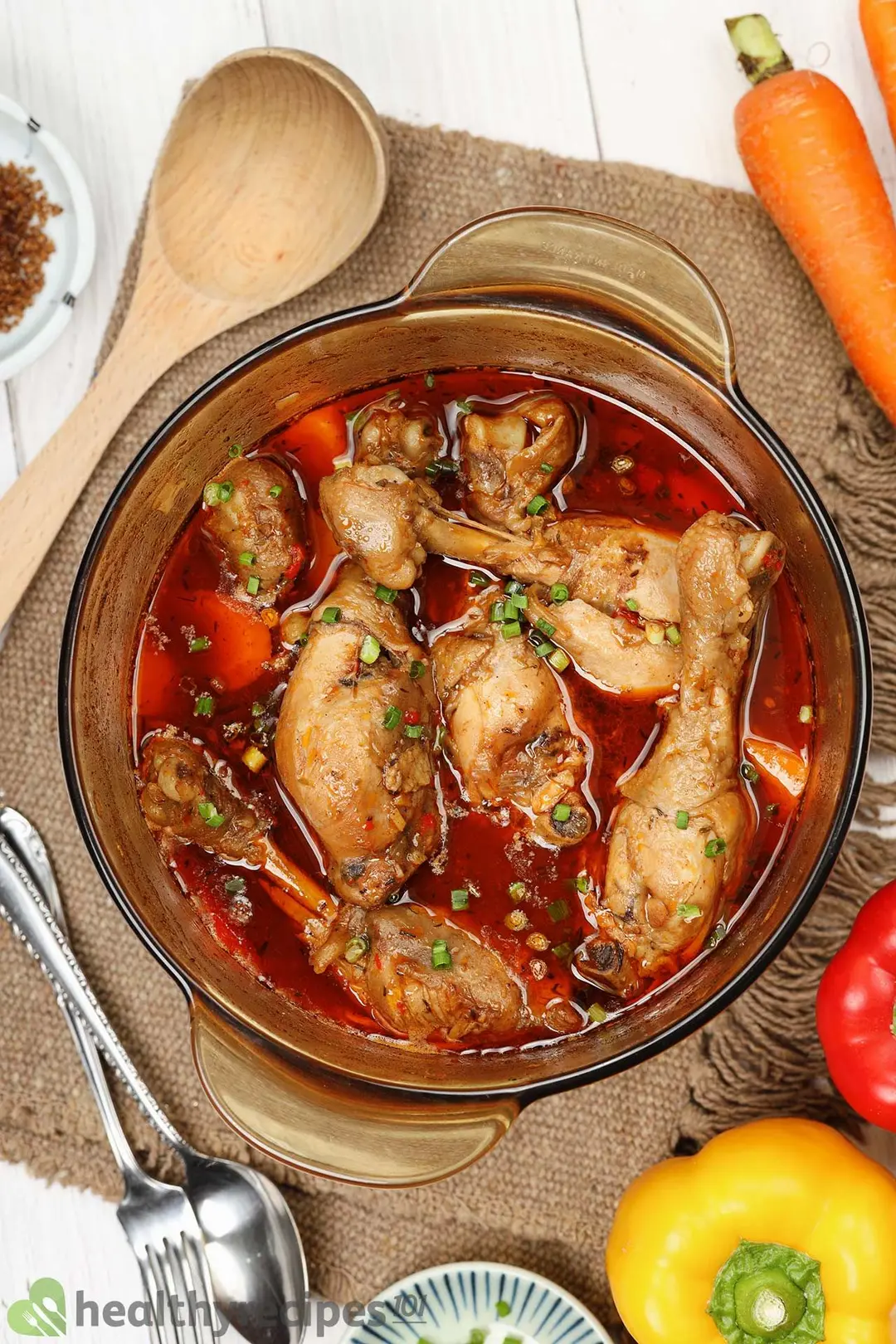 Next Recipe
Brown Stew Chicken
Brown Stew Chicken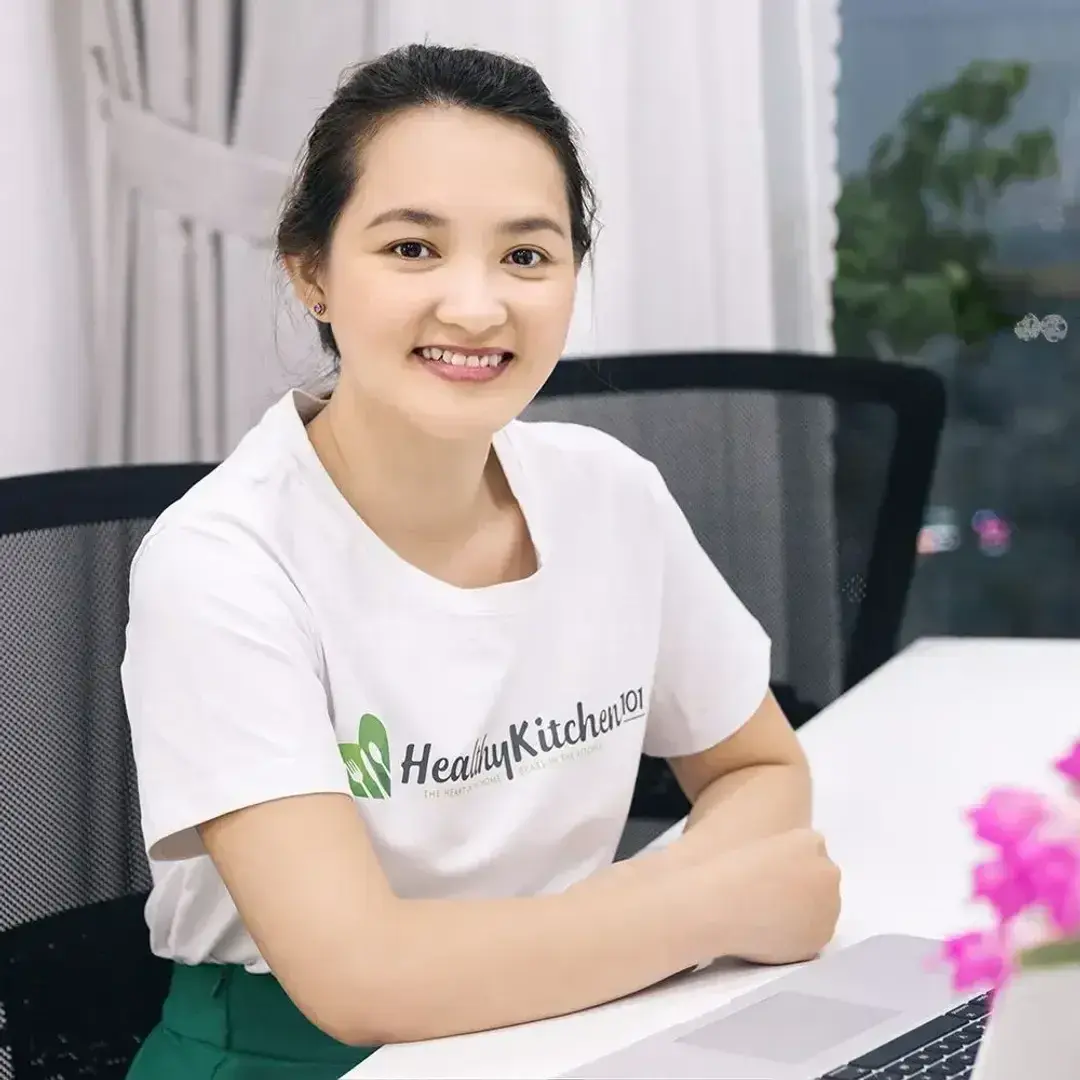 Luna Regina
Luna is the founder and chief recipe developer of Healthy Recipes 101. Apart from cooking, she also loves reading, programming, exploring the outdoors, and collecting useless facts about everything.