Our air fryer sesame chicken recipe will help you cook this Chinese staple without having to clean any pots and pans. Both the sauce and the chicken are placed in a foil faux baking tray, which is simple to make and saves time cleaning.
What Does Sesame Chicken Taste Like?
If you're expecting a lot of sesame seeds, you are correct, but how this Chinese staple tastes is far more complex.
The chicken is cut into cubes, seared, and cooked with a fragrant sauce made from a host of ingredients including soy sauce, ginger, garlic, and sesame oil. It's this sweet, salty chicken glaze that makes it so addictive and delicious on top of cooked rice with some side veg.
Today, we're adding a modern element to this classic treat: air frying. We're going to blast the top with hot air until golden brown, then cook it all in the staple sauce (more on the how-to later).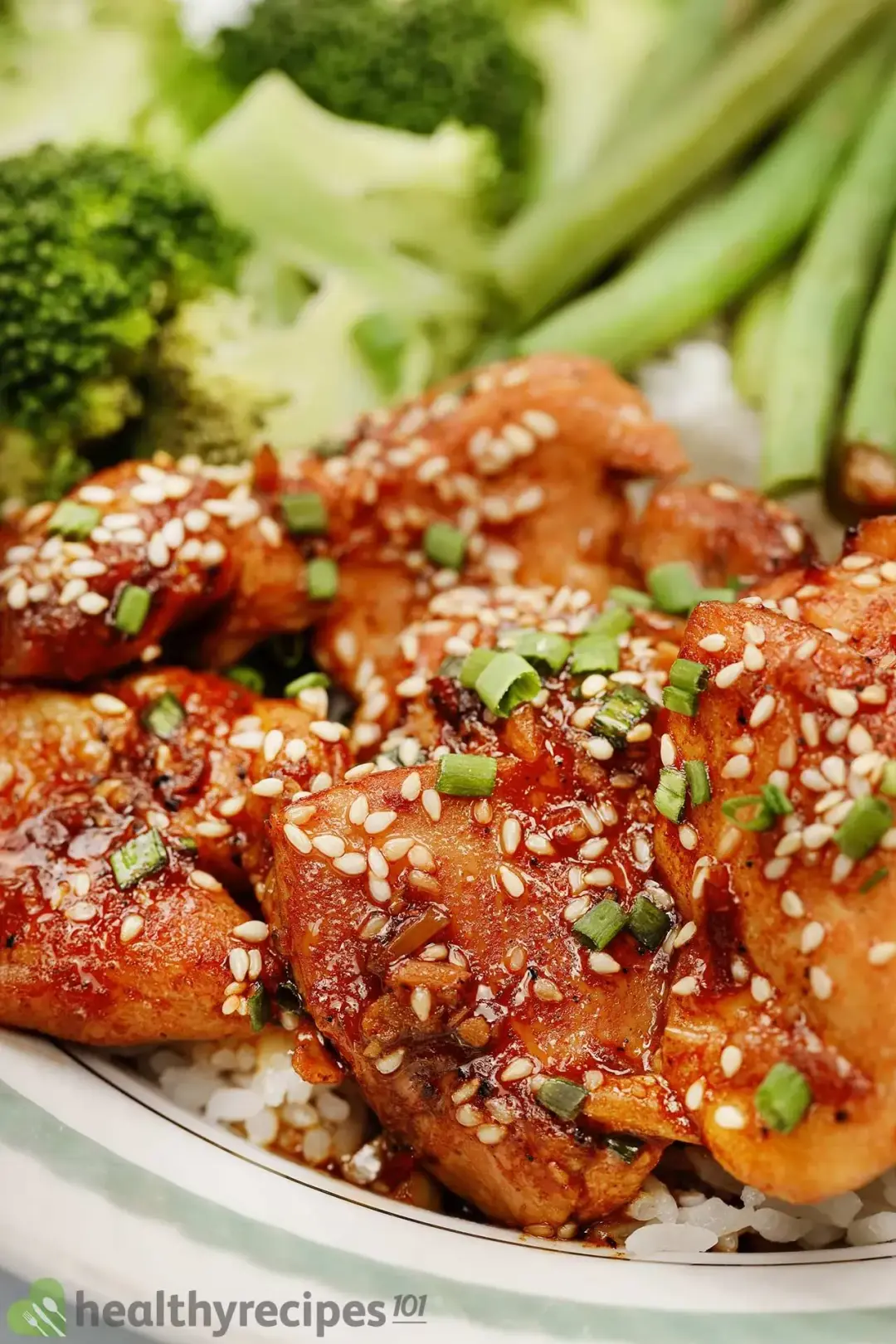 Is Air Fryer Sesame Chicken Healthy?
Air fryer sesame chicken is just as healthy as traditional sesame chicken, with lean proteins, good fats, and fulfilling carbs. Add some cooked veg to have a more well-rounded meal.
Our healthy air fryer sesame chicken recipe has a sound nutritional profile:
503 calories
2.6 g saturated fats
534.8 mg sodium
If you're a fan of sesame chicken, these other recipes might be something to add to your meal prep list:
Honey Sesame Chicken Recipe: it's similar to this dish, but with honey as a sweetening agent. It's served with microwaved/steamed broccoli and cooked rice.
Instant Pot Sesame Chicken Recipe: do you have a pressure cooker in the house and don't use it much? Save time making sesame chicken with this recipe.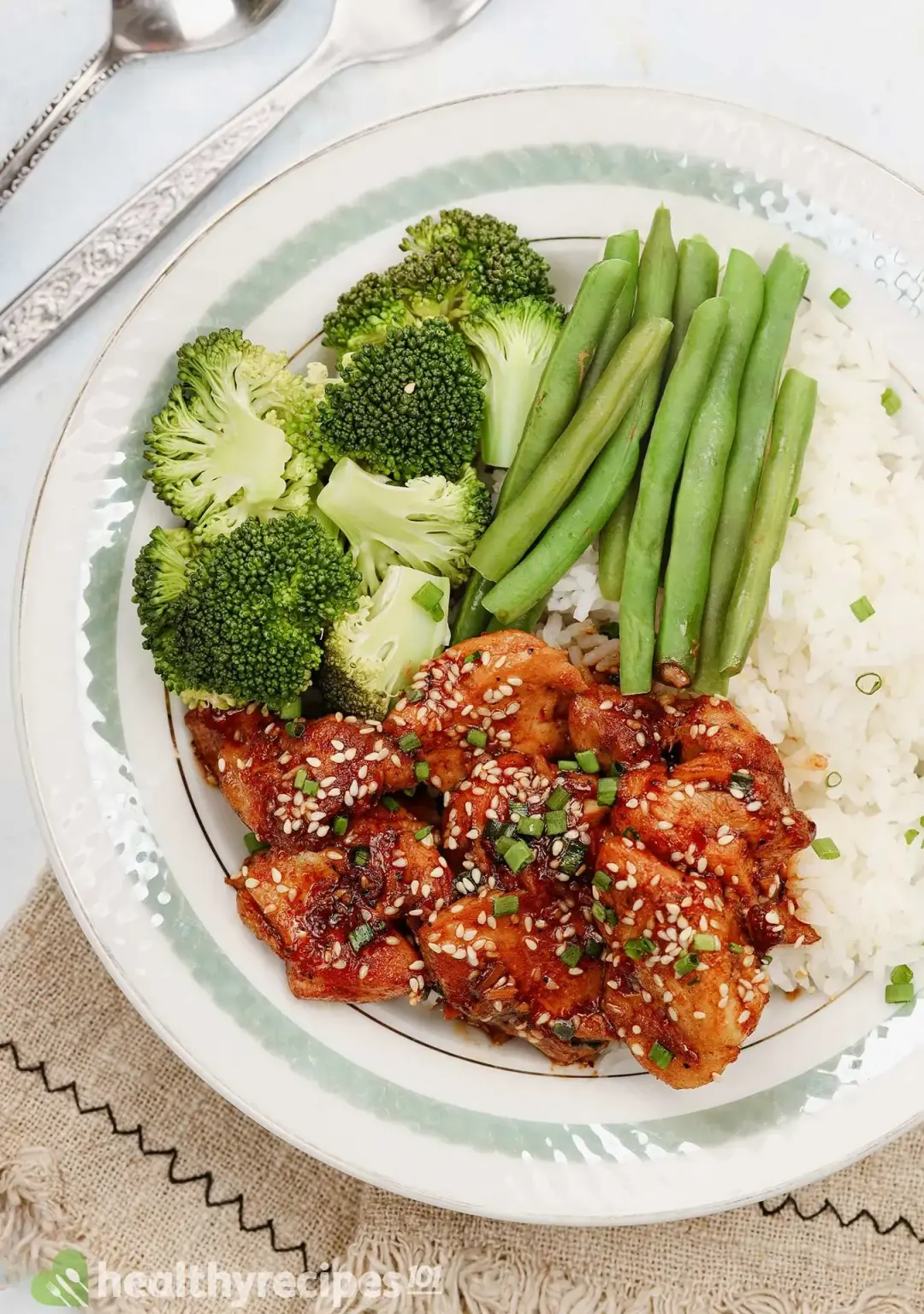 Ingredients for Air Fryer Sesame Chicken
For this air fryer sesame chicken recipe, you'll need chicken, cooked rice, green beans, broccoli, and seasonings.
1. Chicken
Chicken thighs are our favorite, for a simple reason: they become moist and flavorful with a slightly chewy texture when cooked. If you prefer chicken breasts because they're leaner, feel free to swap, but flavor-wise, we'd highly recommend the thighs.
Although chicken skin contains some saturated fat, the levels are rather insignificant, so it's okay to use skin-on chicken thighs if that's your preference. We didn't because the supermarket's stock that day simply didn't leave much room for choice.
2. Sauce
The sauce comprises soy sauce, hoisin sauce, sesame oil, black pepper, sugar, red pepper flakes, and a cornstarch slurry for thickening. These ingredients make for a salty and sweet base with a slightly spicy kick.
To the mix, we're also adding some sriracha and paprika, to up the heat level. If you want a lingering warmth, sprinkle in a few drops of tabasco.
Finally, because it's sesame chicken after all, we scatter on top a large handful of toasted sesame seeds. You can use the black ones instead, or, for a little variety, go for half and half.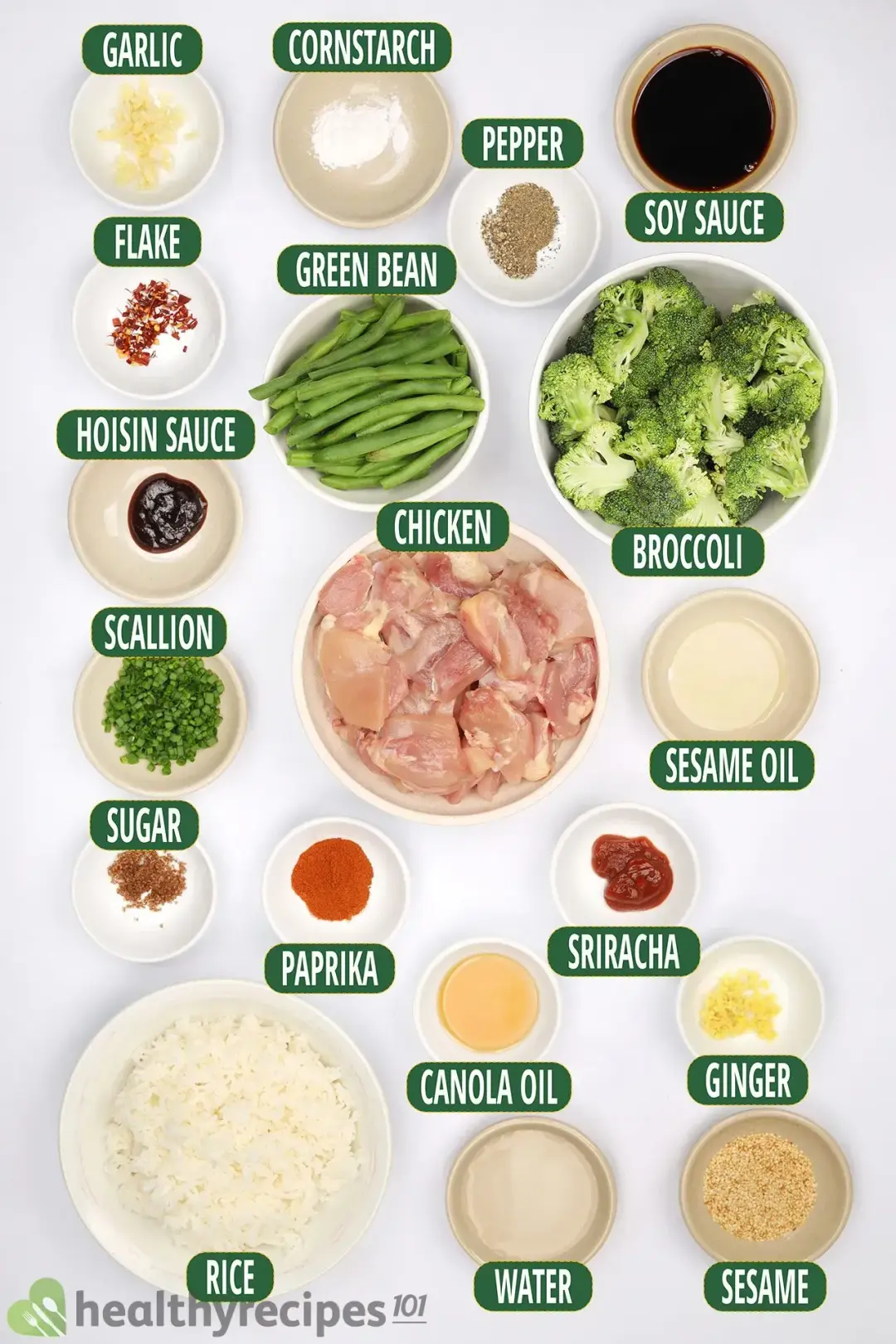 3. Cooked Rice
For this Chinese dish, as always, we used cooked rice. If you haven't got any to hand, cook up your favorite rice in your favorite way before making the chicken.
4. Vegetables
We wanted to use green veg that stays crisp after cooking so we went for green beans and broccoli. You can include other veg of your choice, but make sure they're not starchy veggies like potatoes.
Rather than having to wait for the veg to boil, we spent just 4 minutes microwaving them while we prepared the chicken. It's an easy process: Place them in a bowl, cover with plastic wrap, shoot on medium for 4 minutes, and give them a rinse in cold water to retain their crispness.
How to Make Sesame Chicken in an Air Fryer
To cook both the chicken and the sauce in the air fryer, you'll need a faux baking tray made of foil. Simply tear out a large piece of foil, line the frying basket with it, then fix the corners so no liquid can escape. Origami and cooking might sound weird together, but you'll be glad how useful this crossover turns out to be.
Once that's done: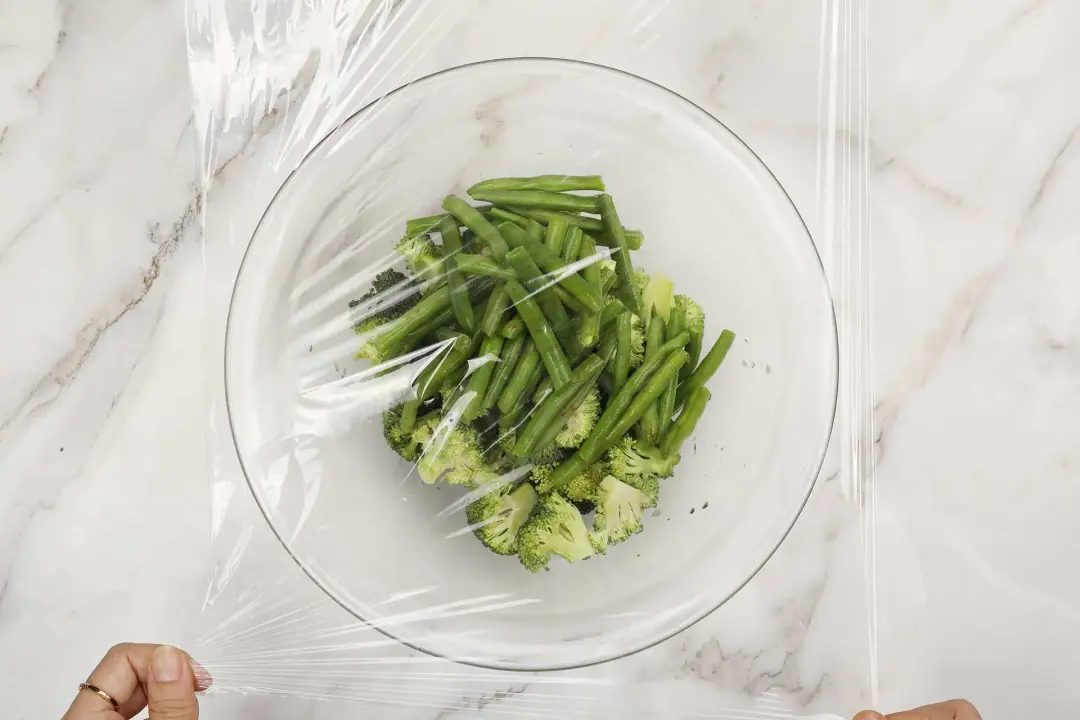 Microwave the veg, then shock them in water.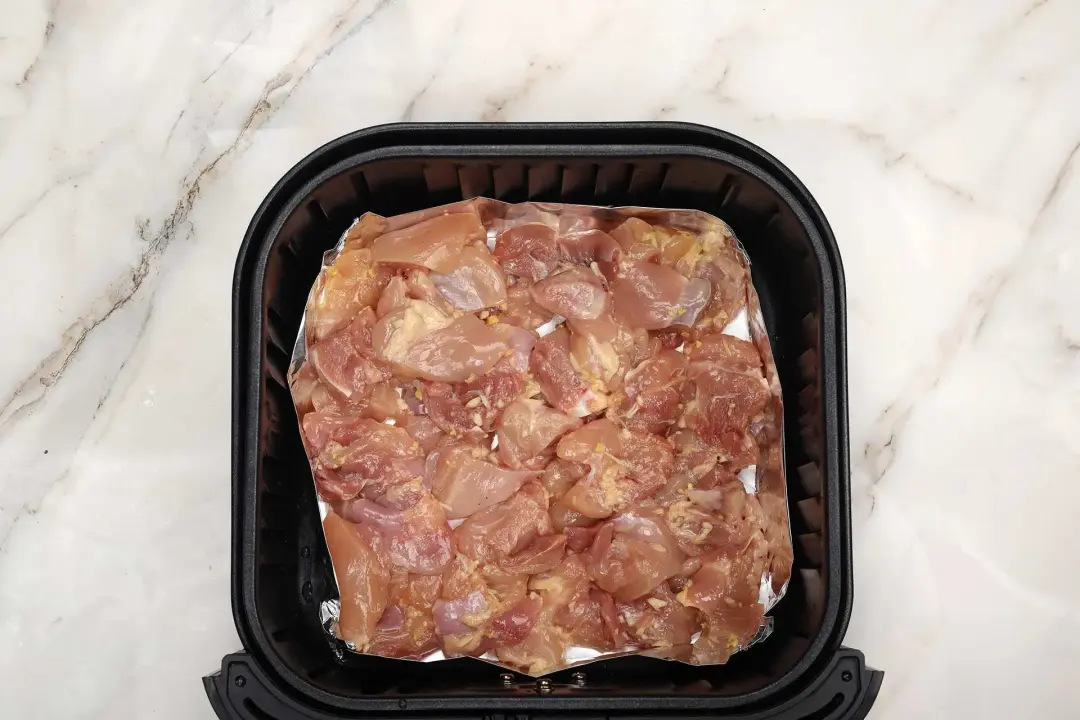 Toss the chicken with oil and aromatics, then air-fry.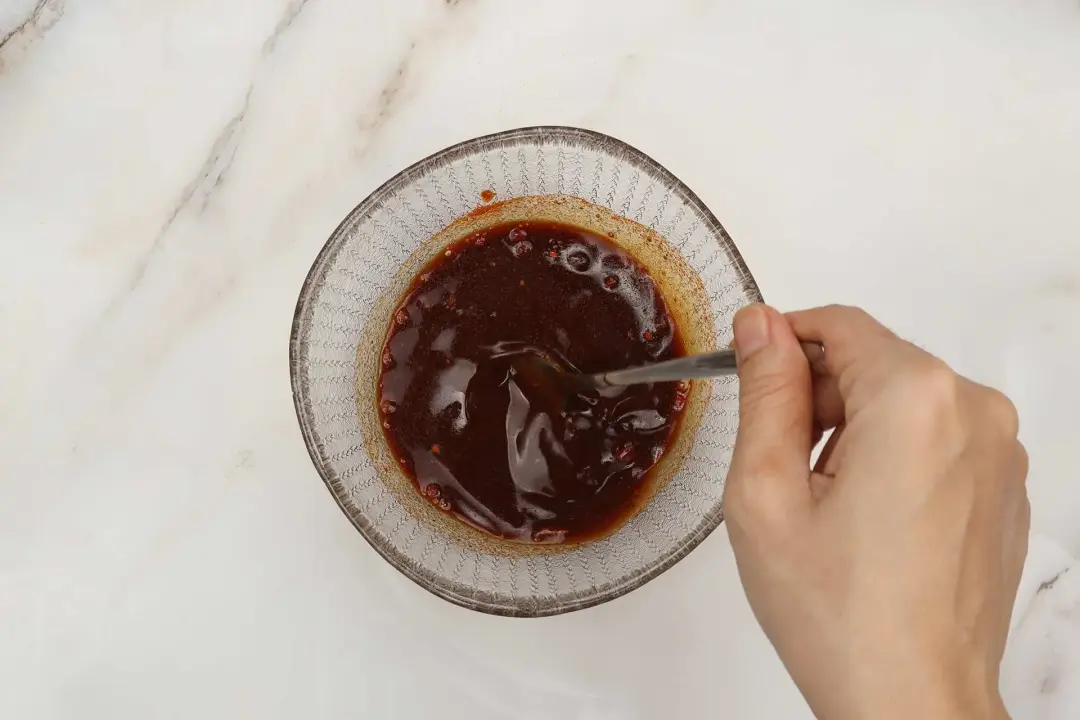 Mix the sauce ingredients while you wait.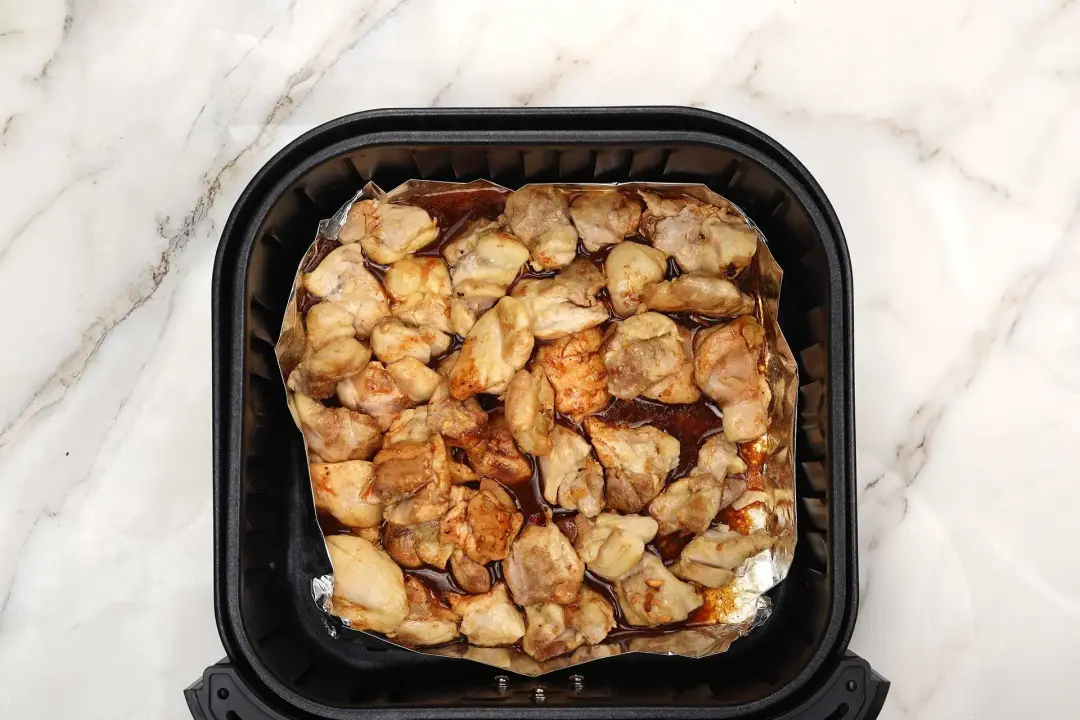 Pour the sauce onto the chicken, toss, and air-fry some more.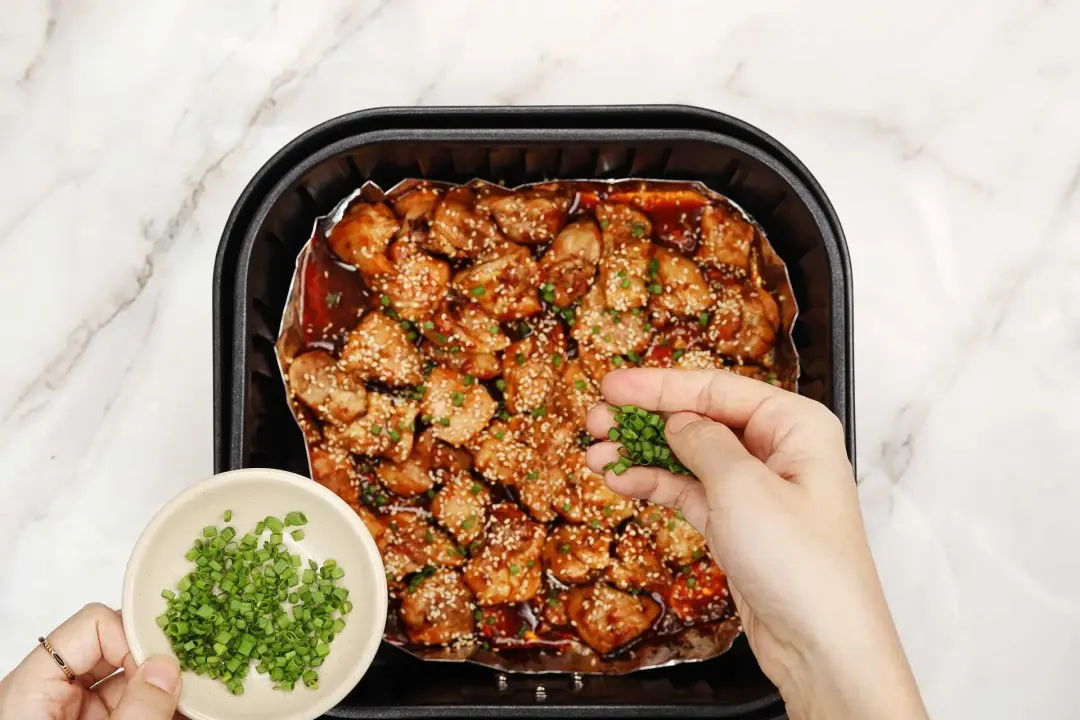 Sprinkle sesame seeds and chopped scallions on top, and enjoy with rice and cooked veg.
This how-to section gives you a general overview of the steps rather than the intricacies. Learn more by scrolling to the bottom and viewing our printable 'air fryer sesame chicken recipe' card.
Tips for Making Sesame Chicken in an Air Fryer
1. Can You Put Frozen Chicken in an Air Fryer?
No, because slicing into rock-hard raw meat is impossible, and a frozen whole piece of chicken can cook unevenly.
If they're already cubed before freezing, however, they simply need a lower temperature and a little longer cooking time. For this air fryer sesame chicken recipe, it's 350 and 15 minutes on the first stage.
2. Can You Use Parchment Paper in an Air Fryer?
You can, but since this recipe involves sauce and parchment doesn't hold liquid particularly well, it'd be a terrible combo.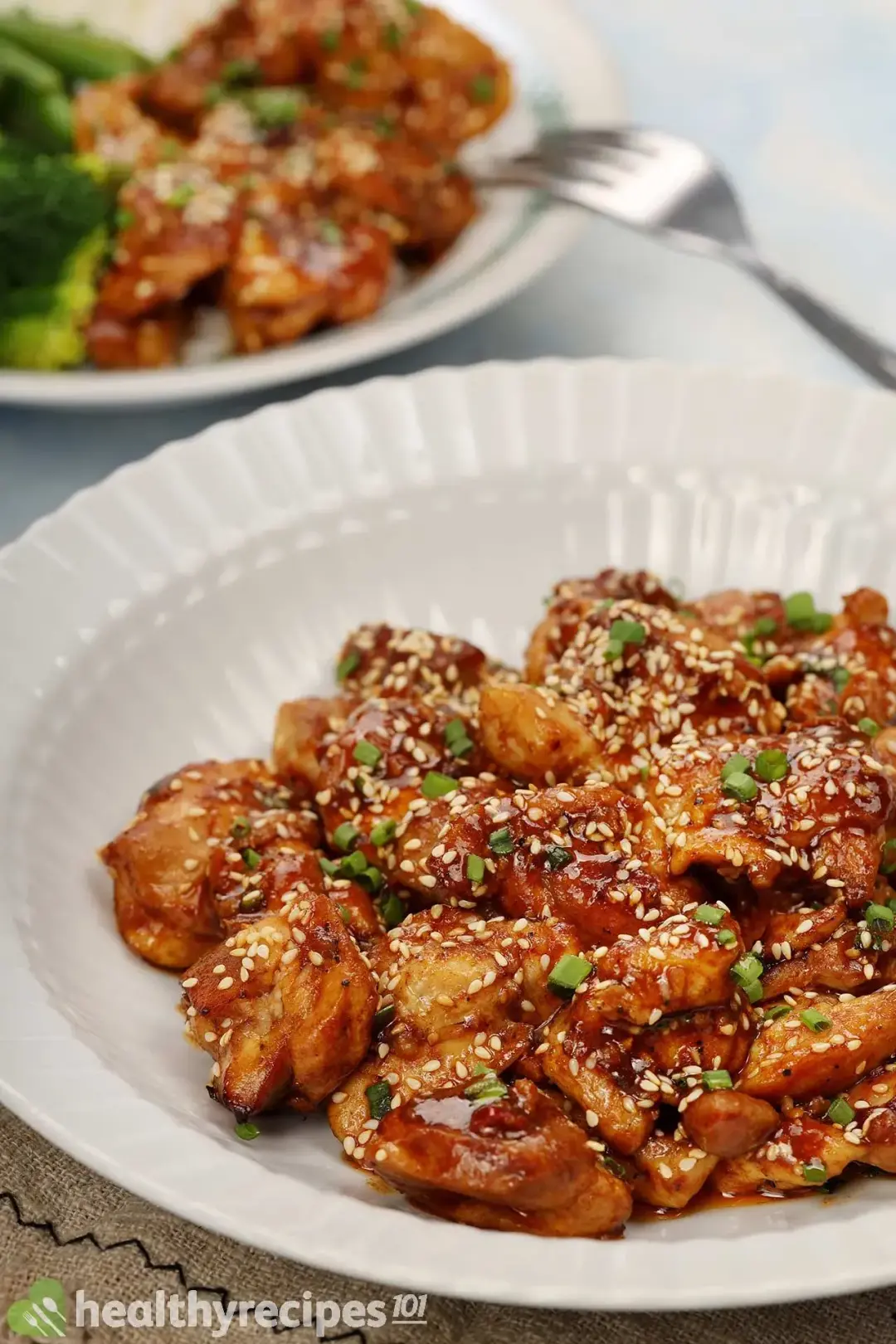 Can You Freeze Sesame Chicken?
You can, and that's one of the reasons why sesame chicken is meal-prep friendly. Divide the portions into biodegradable bags and freeze away. They'll keep for up to 3 months and reheat easily in a saucepan.
If you're consuming them within just 4 days, you can store the portions in the fridge. When our fridge has lots of space, we just place everything in one pan and cover it before refrigerating the whole pan.
What to Eat With Sesame Chicken
Today's accompaniments are a wholesome soup and a simple lemon watermelon juice: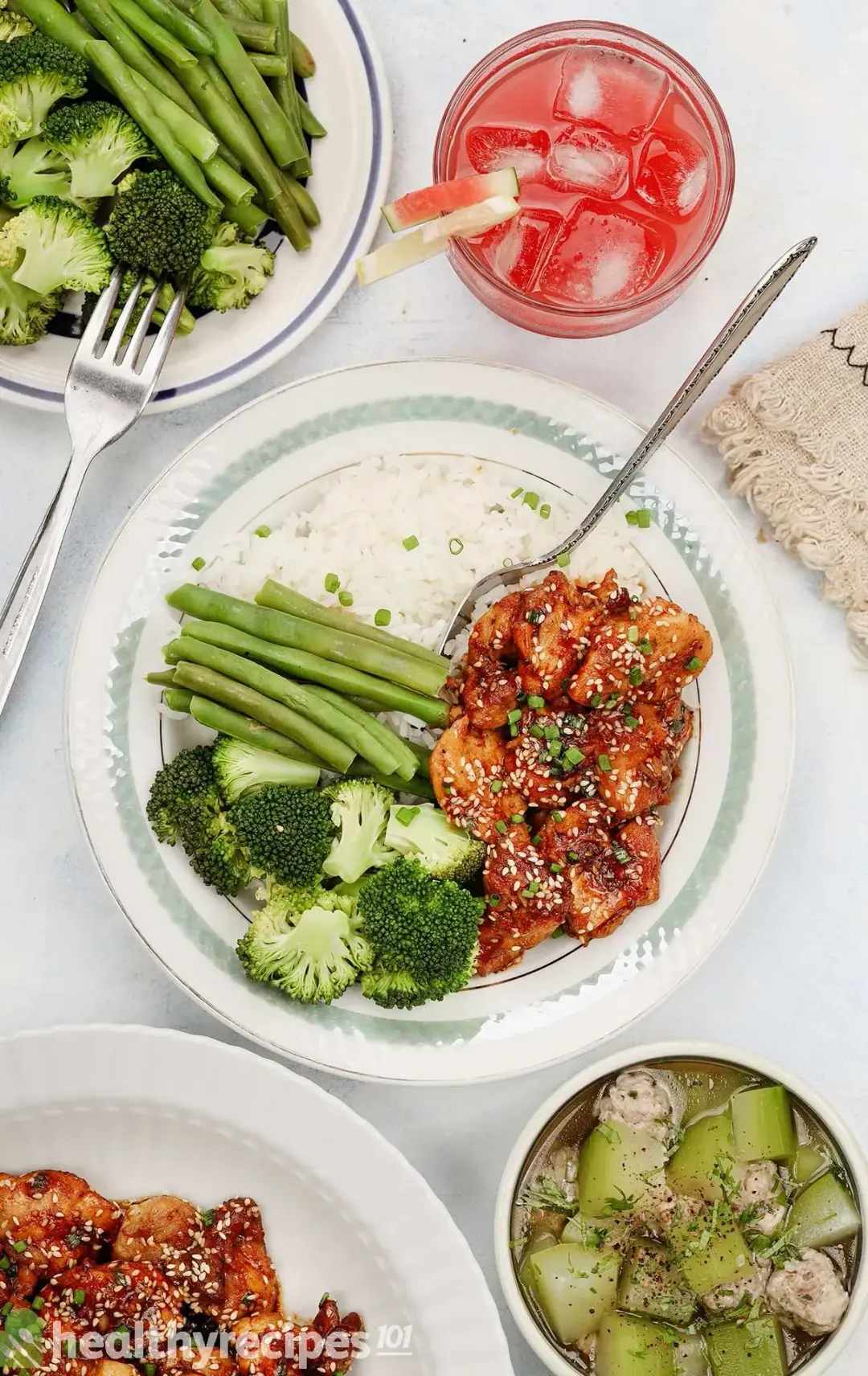 Recipes Similar to This Air Fryer Sesame Chicken Recipe
There are tons of ways to cook chicken into a delicious meal. In case you're short on ideas, we have a few: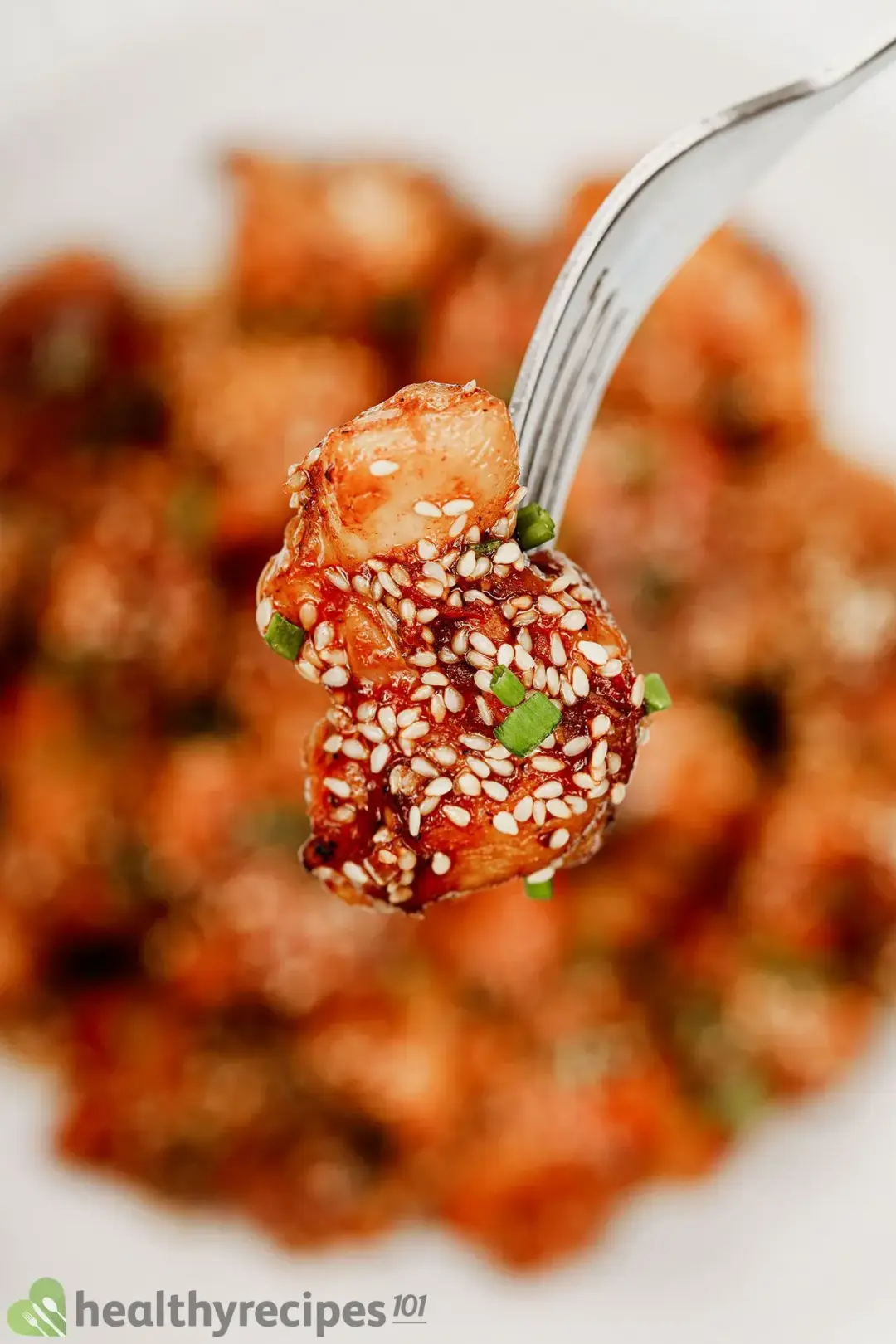 Air Fryer Sesame Chicken Recipe
This air fryer sesame chicken recipe needs 26 minutes to turn out an addictive Chinese dish. It's got chicken, sauce, rice, and vegetables.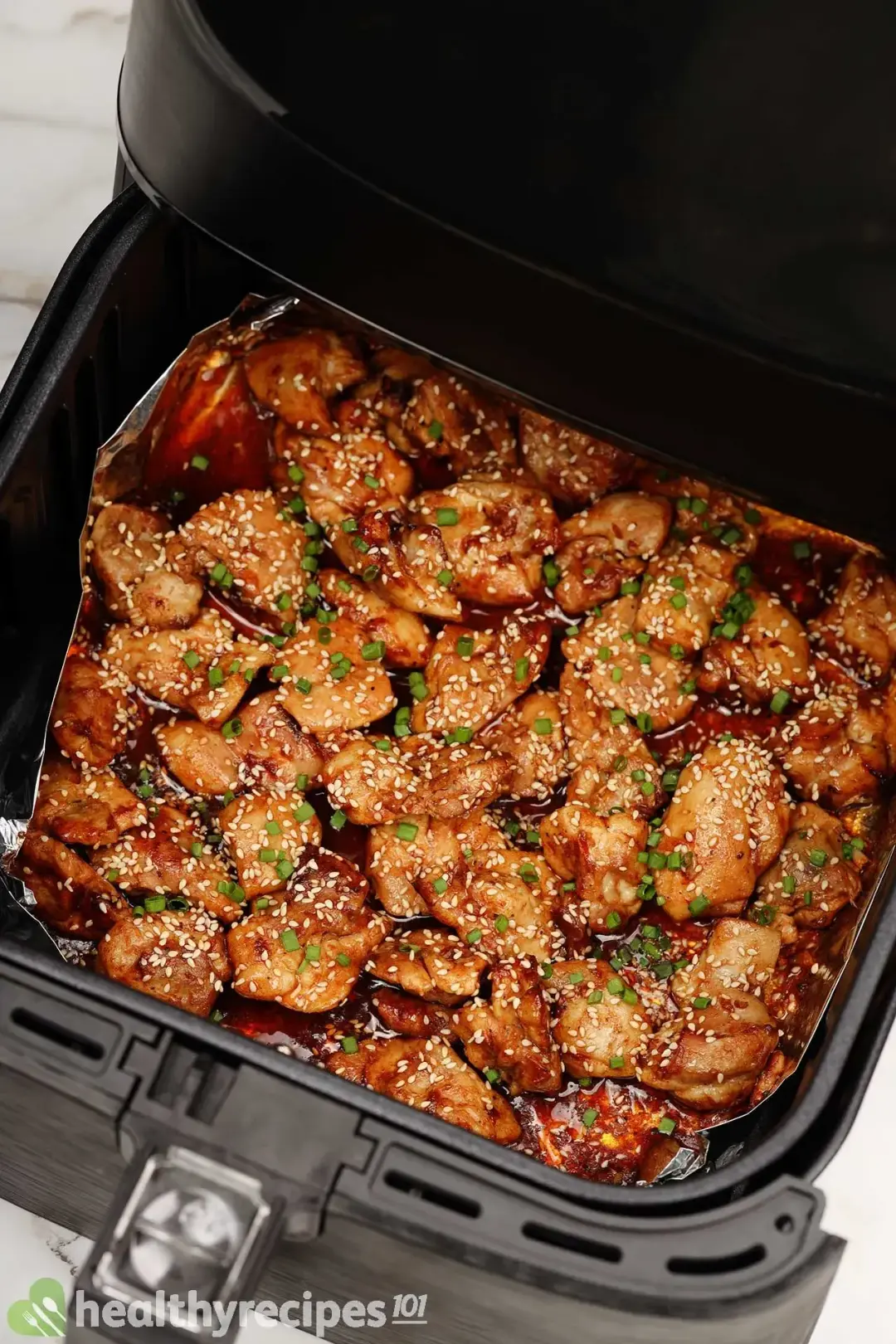 cook TIME

21 mins

prep TIME

5 mins

total TIME

26 mins
COURSE

Main Course

CUISINE

Global

SERVINGS

servings

CALORIES

503 kcal
INGREDIENTS
8 oz

broccoli cut into florets

4 oz

green beans cut into bite-sized segments

20 oz

skinless boneless chicken thighs

0.5 tbsp

canola oil

1 tsp

garlic about a clove, minced

1 tsp

ginger minced

2 tbsp

reduced-sodium soy sauce

1 tbsp

sesame oil

2 tsp

sriracha

0.5 tbsp

water

1 tsp

hoisin sauce

1 tsp

paprika

1 tsp

cornstarch

0.5 tsp

ground black pepper

0.5 tsp

red pepper flakes

0.5 tsp

brown sugar

2 tbsp

white sesame seeds toasted

2 tbsp

scallion chopped

3.5 cups

cooked medium-grain rice
INSTRUCTIONS
1
Place 8 oz broccoli and 4 oz green beans into a large bowl, cover with plastic wrap, and microwave on medium for 4 minutes. When it's finished cooking, shock with cold water to keep them crisp.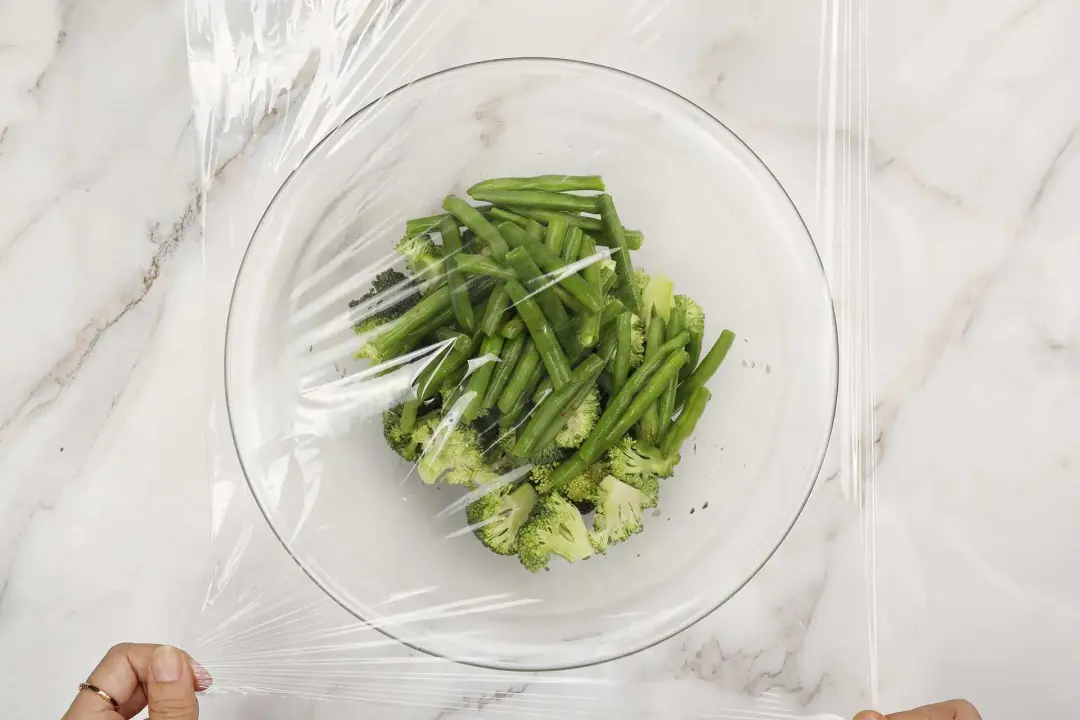 2
Meanwhile, make the foil baking tray. Rub 20 oz chicken thigh with 1/2 tbsp canola oil, 1 tsp minced garlic, and 1 tsp ginger, then place it all into the foil tray. Air-fry at 400°F for 10 minutes.
3
Deal with the veg as aforementioned (it's probably done by now) and mix the sauce ingredients together: 2 tbsp soy sauce, 2 tsp sriracha, 1/2 tbsp water, 1 tsp hoisin sauce, 1 tsp paprika, 1 tsp cornstarch, 1/2 tsp ground black pepper, 1/2 tsp red pepper flakes, and 1/2 tsp brown sugar.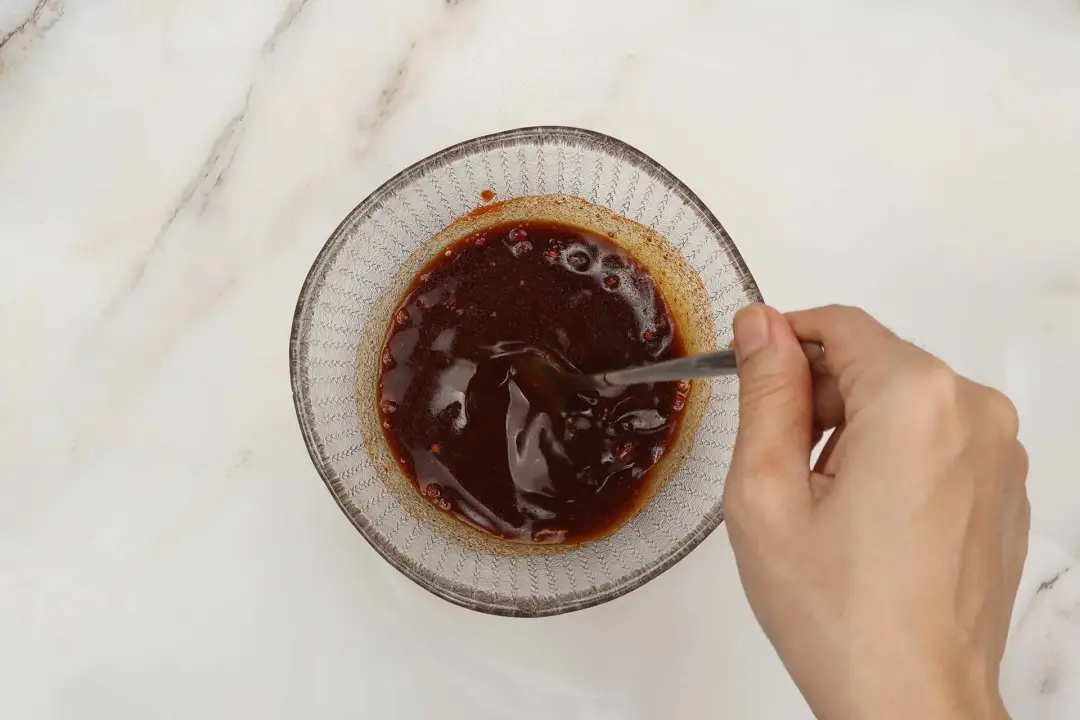 4
Once the chicken is done, pour the sauce on top and give it all a gentle stir. Cook for another 7 minutes at the same temperature.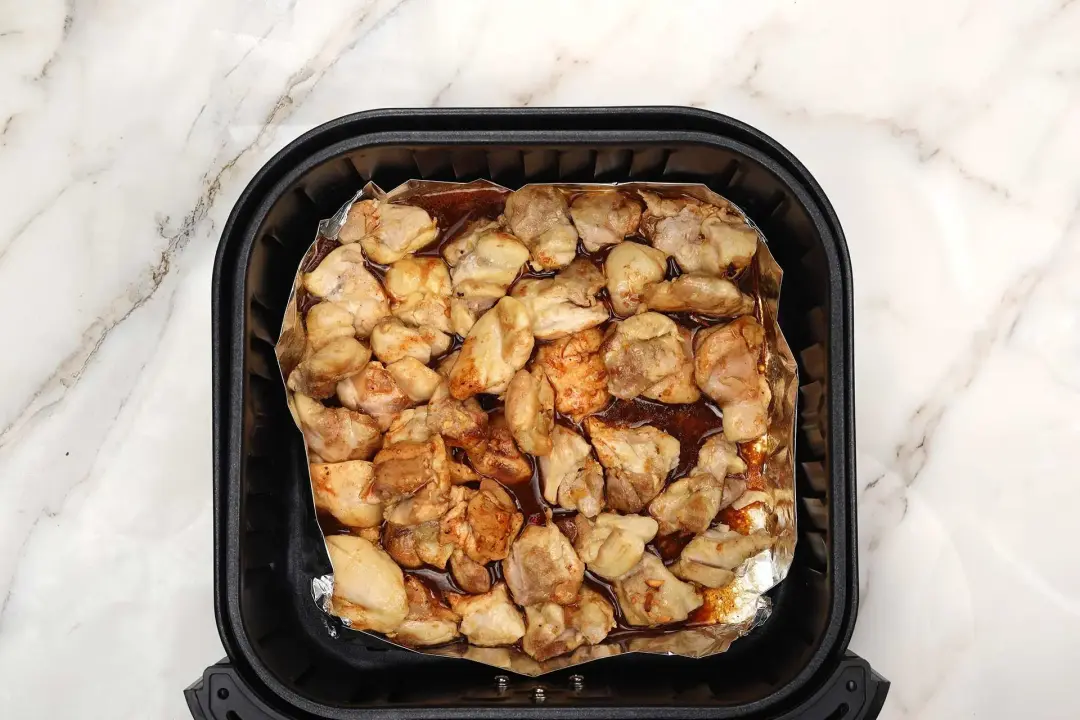 5
Drizzle 1 tbsp sesame oil and sprinkle 2 tbsp toasted sesame seeds with 2 tbsp chopped scallions on top of the chicken. Enjoy with 3 1/2 cups cooked rice.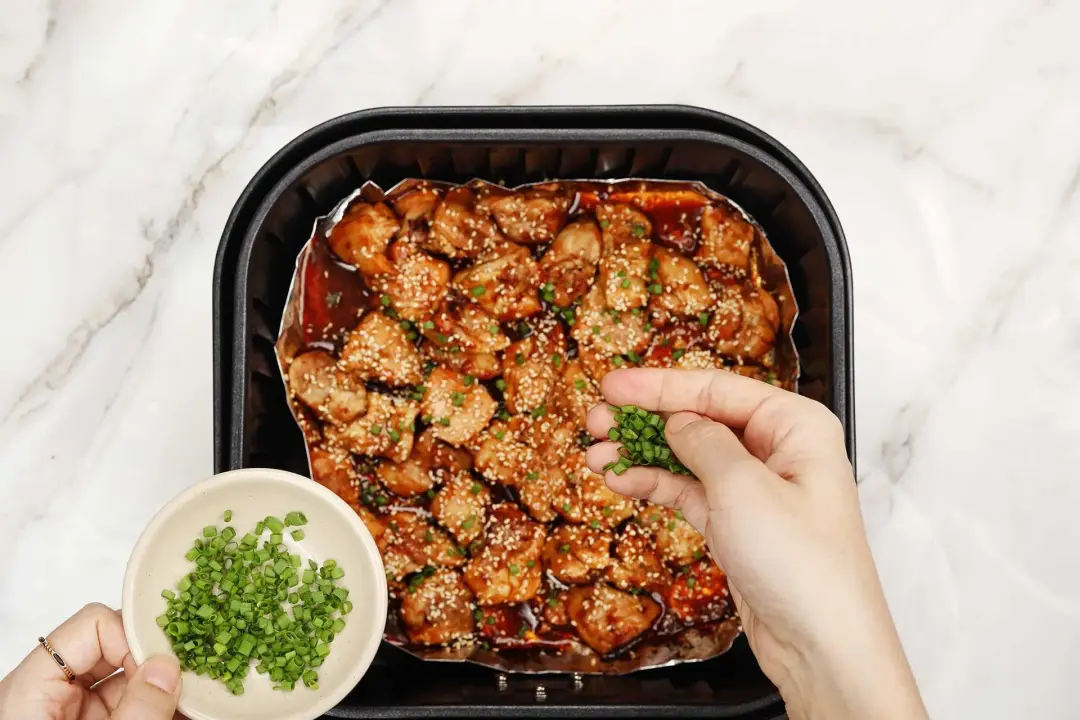 NUTRITION
Nutrition Facts
Air Fryer Sesame Chicken Recipe
Amount Per Serving (1 serving)
Calories 503
Calories from FDA
% Daily Value*
* Percent Daily Values are based on a 2000 calorie diet.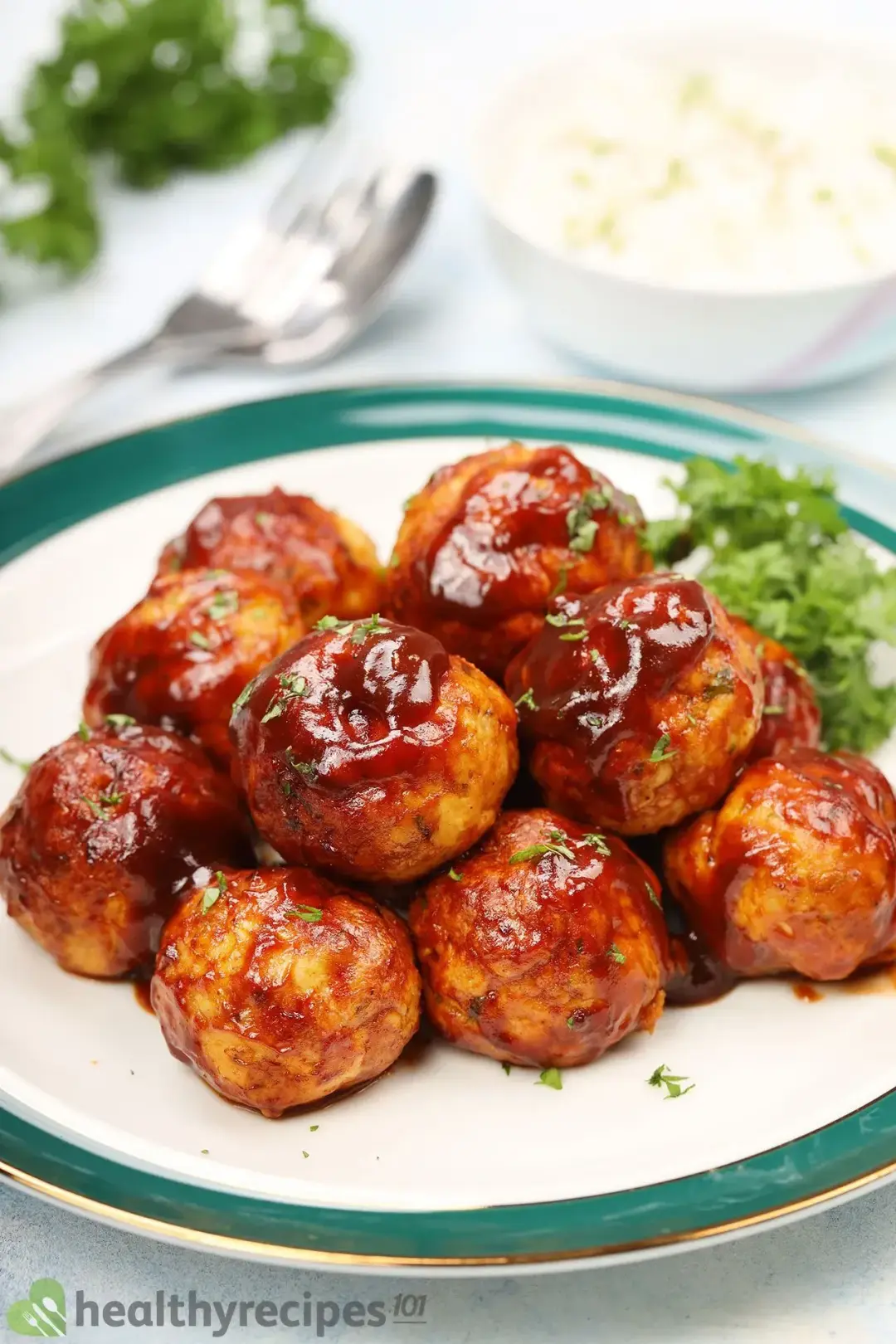 Previous Recipe
Air Fryer Chicken Meatballs
Air Fryer Chicken Meatballs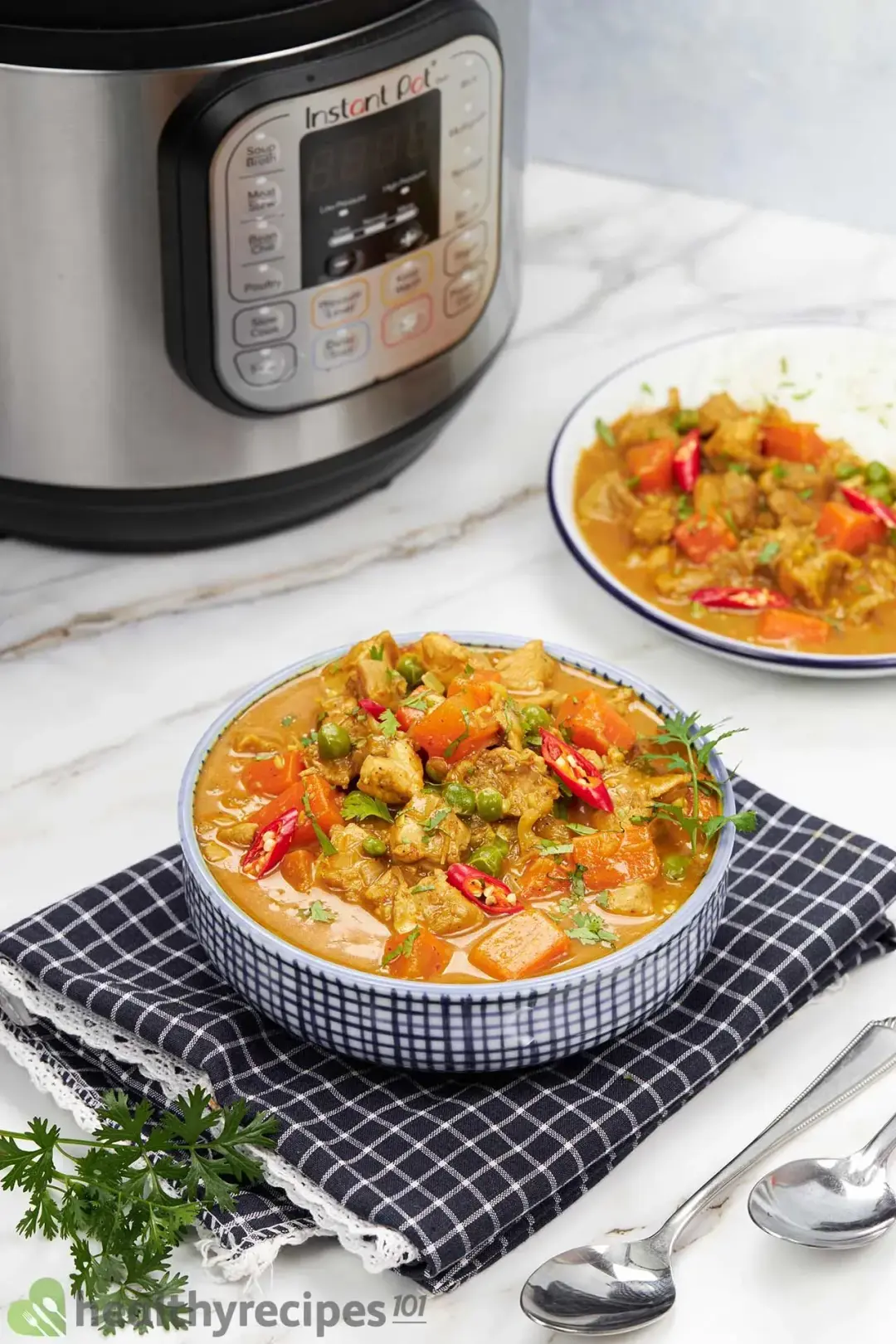 Next Recipe
Instant Pot Thai Chicken Curry
Instant Pot Thai Chicken Curry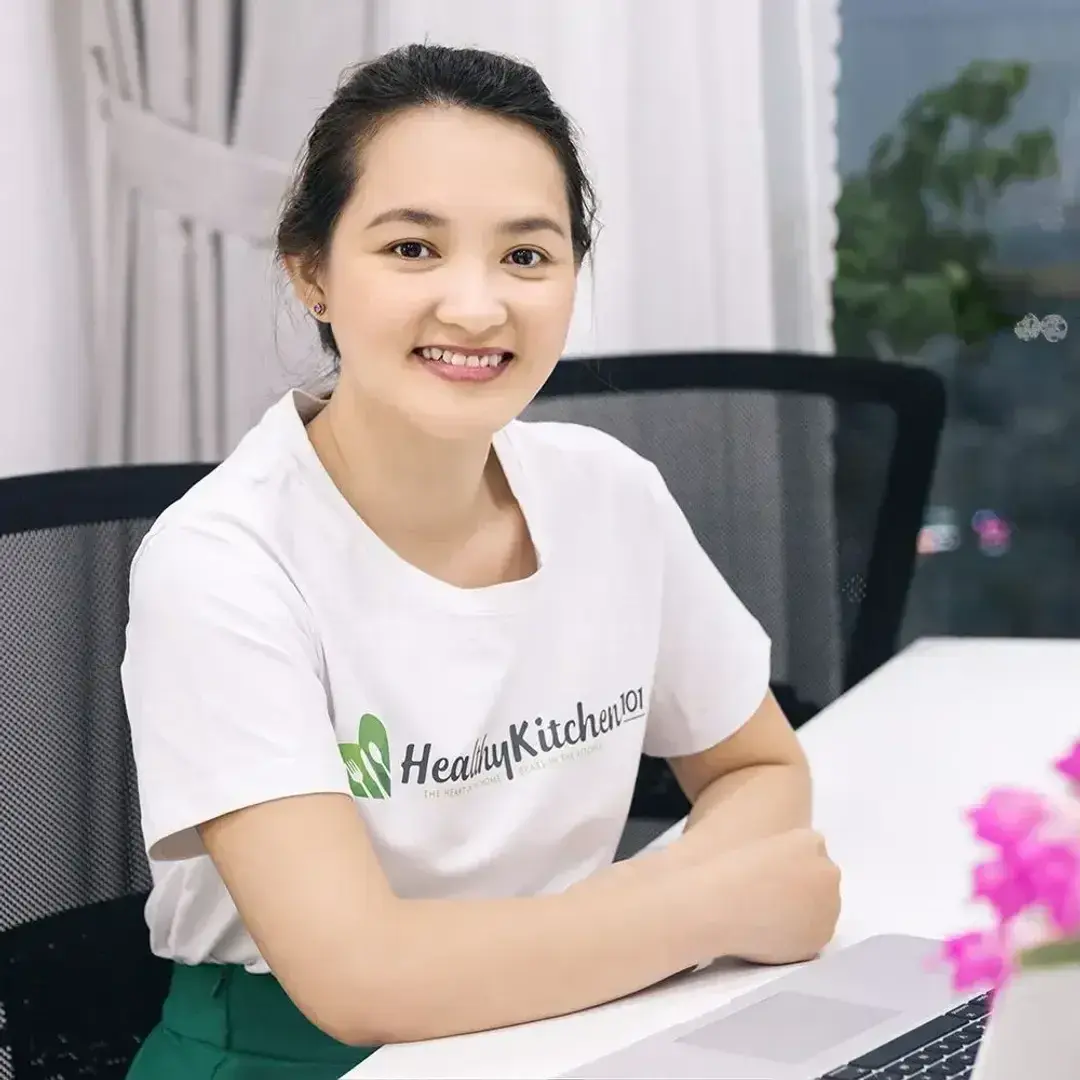 Luna Regina
Luna is the founder and chief recipe developer of Healthy Recipes 101. Apart from cooking, she also loves reading, programming, exploring the outdoors, and collecting useless facts about everything.